Having a travel trailer for weekend adventures or full-time living is super fun and convenient. However, many travel trailers are heavy and require large trucks or other heavy-duty vehicles to tow.
If you want to minimize the weight you're towing (maybe so you can tow with a vehicle you already have), there are tons of options for ultra lightweight travel trailers under 2,000 pounds.
The demand has really exploded over the last 10 years as people are really looking for minimalist camping setups with a small footprint, so there are tons of trailers to choose from. Many even have all the amenities you need for full-time living or extended stay trips!
So, I've compiled this list of 11 of the coolest travel trailers out there that also happen to be under 2,000 pounds…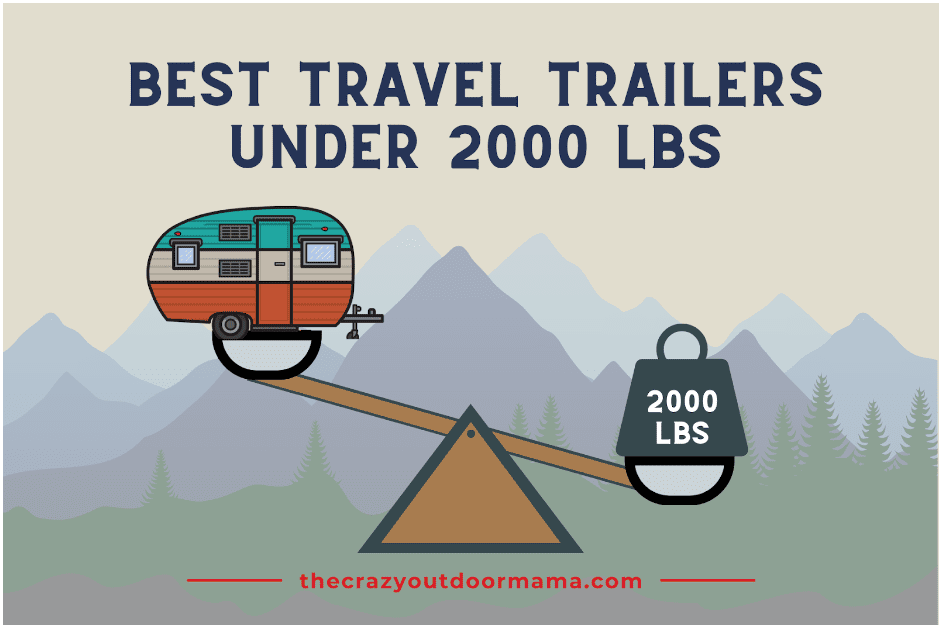 What You Can Expect to Get With a Travel Trailer Under 2000lbs
First, let's go over some expectations while you're shopping. These are some features that you'll typically see in travel trailers under 2,000 lbs. (though, there are always exceptions):
Outdoor kitchens: Ultra-lightweight travel trailers are really short on room. This means that many of them save space indoors by having a kitchen outdoors. It's usually at the back of a camper that has a large swing-out door that acts as an awning for when you're cooking. Not all lightweight trailers have an outdoor kitchen, but many do!
No bathrooms: Most travel trailers under 2,000 pounds do not have bathrooms. Those that do usually have a small toilet and/or an outdoor shower. Very few have both inside the trailer (one being the Scamp 13' front bathroom floor plan).
Off-road capability: Since these trailers are super small and very lightweight, they're easy to tow anywhere you need them to go. Many also come with off-road wheels and high ground clearance so they're made for overlanding.
12 to 14 feet in length: All of these travel trailers under 2,000 pounds will be between 12 to 14 feet in length. This is about the same length as your car, so they'll be able to fit in a normal parking space.
A Quick Note on Travel Trailer Weight
Okay, before we dive in, let me explain a few terms you might see pretty often when researching and shopping for a lightweight travel trailer. These acronyms/terms will show up in the "specs" section of a travel trailer brochure:
UVW: Unloaded Vehicle Weight is also known as dry weight. This will tell you how much the travel trailer weighs totally unloaded as it comes from the manufacturer or dealer.
CCC: Cargo Carrying Capacity is the maximum amount of weight that a travel trailer can handle. So, if your travel trailer's CCC is listed as 500 lbs., you can add up to 500 lbs. of gear, extra amenities, people, pancake syrup, bacon, etc…
GVWR: Gross Vehicle Weight Rating refers to the total weight of the trailer when it is filled to capacity. When comparing the capacity of your towing vehicle, always compare it to the GVWR listed on the travel trailer specs. For example, if the GVWR is listed as 1,800 lbs., and your vehicle can tow up to 2,000 lbs., then you're good to go.
11 Best Travel Trailers Under 2000 lbs
With all the nitty gritty out of the way, let's get into the trailers!! All of these travel trailers are under 2,000 pounds. I've included ultra lightweight travel trailers with varying lengths, and with lots of different amenities so you can choose how bare bones or built-up you want your travel trailer to be.
Dry Weight: 1,570 lbs.
Outdoor fridge, microwave, and sink
Window air conditioning unit included
Lots of storage
Indoor and outdoor bluetooth speaker
The Jayco Hummingbird travel trailer is tiny. It really just consists of a bed and outdoor kitchen. It's Jayco's lightest trailer at just over 1,500 lbs. unloaded.
Inside the trailer, you get a 54 x 74 inch bed that takes up the entire floor in the interior. (The bed has about the same dimensions as a double bed). There's some overhead cabinetry, a shelf, and a TV as well.
​​
Source: jayco.com
Like a lot of its ultra lightweight counterparts, the Jayco Hummingbird travel trailer has an outdoor kitchen. It's located at the rear of the trailer and has a large pop out that covers you when you're cooking. The kitchen comes with a fridge, sink, and microwave, as well a small amount of counter space.
Keep in mind this trailer is super tiny (it's basically a square-shaped teardrop trailer). It doesn't come with a stove and doesn't have a toilet or shower. So, it's probably best for quick weekend getaways for one or two people.
Here's a video tour:
Dry Weight: 1,500 lbs.
Front bathroom with toilet and shower
Convertible dinette
Roof air conditioning
Fully indoor kitchen with sink, stove top, and fridge
Outdoor shower
Scamp Trailers are far and away the most popular and recognizable fiberglass trailers on the market. And luckily, one of the models (the 13') is just 1,500 lbs.!! This is super impressive when you consider all the great amenities that the Scamp travel trailer offers.
Don't expect anything fancy in the Scamp though, the interior is very minimal and modest, and the interior furnishings haven't changed much since Scamp started manufacturing its trailers in the 1970s. Expect wood paneling, carpets, and no super-modern amenities.
That being said, nothing beats the classic retro feel of Scamp trailers, and I personally think they're super cute, inside and out!!

They even offer one floor plan of the Scamp 13' that comes with a wet bath that has a toilet and a shower (that's super rare to see in trailers this light). You'll also get a convertible dinette and an interior kitchen with a sink and stovetop.
Here's a tour of the "front bunk" floor plan of the Scamp 13':
Dry Weight: 1,570 lbs.
Queen bed
Wrap around awning
Pop up rooftop tent
High ground clearance
Pull-out outdoor kitchen
The No Boundaries is a super cool new trailer from Forest River. It's a great example of RV manufacturers following the trend of making ultra-lightweight campers that are great for boondocking, off-roading, and outdoor activities.
The No Boundaries has a pretty common setup for an ultra lightweight camper. Inside is a convertible bed that takes up the whole interior when down. You also get some storage space inside.
Outside, there's a pull-out "kitchenette" that has a refrigerator and a two-burner propane stove.
The coolest feature of the No Boundaries (in my opinion) is the pop-up roof tent, which adds sleeping room for one to two extra people. The trailer has high clearance and off-road tires so it's perfect for trips off the beaten path. Plus, there's a gear storage rack on top and a wrap-around awning that make it the perfect trailer for boondocking or overlanding trips.
Dry Weight: 1,780 lbs.
Outdoor kitchen with stove, sink, fridge, and microwave
Built-in rooftop rack
Rooftop air conditioner
Sport tires
Convertible sofa
The Riverside RV Retro 511 is an adorable ultra lightweight camper with great standard features and an affordable price tag. The Retro is known for its super cute 1950s style. It comes in 10 different floor plans with the 511 being the lightest at 1,780 pounds for its unloaded weight.
This Riverside Retro travel trailer has a Jiffy sofa within, which folds down into a bed (about the size of a double bed). There's storage underneath, and a wardrobe inside the trailer too. You also get a little entertainment center with a TV. Outside the trailer is an outdoor kitchen with a stove, sink, fridge, and microwave.
The outside of the Retro has that cute retro style, but the inside looks very similar to other modern-made camper trailers. It has faux leather cushions and vinyl walls. The trailer itself comes equipped with a roof air conditioner, and racks on the roof for hauling gear.
The base model comes with sport tires to help navigate rough terrain. This trailer will work well for quick weekend camping trips or some off-roading that's not too intense.
Decided you need something a bit larger?: 13 Best Travel Trailers Under 3500 lbs
Here's a quick video tour:
Dry Weight: 1,100 lbs
Sleeps up to 5
Modular interior
Solar ready
Optional toilet and exterior shower
The Happier Camper HC1 is a one-of-a-kind ultra lightweight travel trailer. Really–there's nothing else like it on the market. If you're into total customization, then this trailer is for you. Its stand-out feature is the modular interior. This means that there are dozens of variations of how the interior is set up, and you get to choose.
You can choose how to set up the "pods" inside, and select which amenities you need, or don't need inside the trailer. You can choose to have a toilet, an outdoor shower, and a kitchenette, or none of the above! And with a couple of the setups, you can sleep up to five people!
The camper itself is modern-looking with a cute retro flare. It's solar-ready and has a variety of color options for the exterior paint. The dry weight is just 1,100 lbs. So you can tow it with pretty much any SUV.
If you have some unique wants and needs in your travel trailer, the customizability of the Happier Camper will be a huge plus for you. Plus, it's just so darn cute!
Here's a tour of just one possible setup for the camper:
Dry Weight: 1,800 lbs.
Indoor kitchen with stove, sink, and fridge
Custom exterior color options
Convertible dinette
Can sleep up to five with front triple bunk option
The Armadillo is the very first trailer produced by Armadillo Trailers, which is a small company out of Canada. Similar to a lot of trailers on this list, it has a super cute retro feel and a 60's-looking fiberglass shell.
The interior of the camper is comparable to the Scamp 13'. It has a convertible dinette, a small interior kitchen, and lots of options at the front for whatever other amenities you need.
One option for the front is a triple bunk. Yes, triple!! So this trailer would be perfect for you and your family with three little ones. The trailer also comes with an optional toilet, couch, or another dinette.
Go camping a lot with kids? Check out my Fun and Engaging Printable Kids Camping Journal [25 Pages + Free PDFs]
Maybe my favorite feature of these trailers, though, is the cute little porthole on the back. I think it's so adorable! Along with the custom colors, I think it really adds to the cute retro look of the Armadillo.
For even lighter weight travel trailers check here: 8 Best Travel Trailers Under 1500 lbs
Dry Weight: 1,763 lbs.
Full 8 foot awning
Convertible couch
Outdoor kitchen with stove, fridge, sink, and microwave
Roof air conditioner
Outdoor shower
The Forest River Flagstaff E-Pro has become a pretty popular travel trailer in recent years because it offers lots of amenities in very lightweight trailers. The E12SRK is the smallest E-Pro of the 13 different floor plans offered by Forest River.
Inside the Forest River Flagstaff, you get a large pulldown couch (a Gaucho) and a TV. It also has a rooftop air conditioner and a large window with a pulldown shade. The trailer comes with an outdoor kitchen that has a stove, stainless steel sink, fridge, and microwave.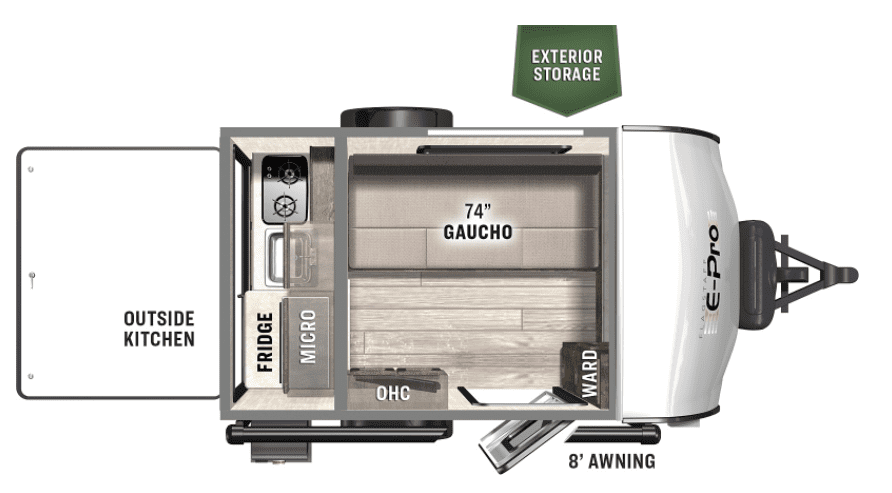 The Forest River Flagstaff is not only an affordable lightweight trailer option, but it also has every amenity you need for a short camping trip. As long as you're comfortable cooking outdoors, the E-pro is a reliable option for a lightweight travel trailer.
Dry Weight: 1,753 lbs.
Sleeps up to 4
Pop-up roof
Portable toilet
Indoor kitchen with sink and stove
All-terrain tires
The Taxa Outdoors Cricket is by far the most unique trailer on this list. It's so freakin' cool!! Taxa Outdoors has taken trailer design to a new level, and it really shows with the Cricket.
The shape of the trailer itself is very unique, but my favorite feature is the pop-up roof, which adds tons of headroom and also some natural light when you're parked. Inside is a large convertible bed that will sleep up to 4 people (2 adults, 2 kids). The indoor kitchen comes with a sink, stove, and room for a cooler.
Inside, the Taxa Cricket offers tons of options for extra amenities. If you need, you can have a window air conditioner, a portable toilet, and other cool features to make your trip a breeze. Plus, I love the rear hatch on the Cricket. It opens up the whole back end of the trailer so you can get a great breeze when hanging out inside.
And with the included all-terrain tires and the high clearance of the trailer, this is an excellent option for off-roading!!
*Like off-road campers? Check out 13 off road trailers with bathrooms!
Dry Weight: 1585 lbs.
Outdoor kitchen with fridge and Blackstone griddle
Futon
Two TVs
Insulated underbelly
The Jayco Jay Feather is one of Jayco's most popular trailer models. The Micro 12SRK floor plan is by far the lightest, its unloaded weight is just 1,585 pounds. The interior of the Micro 12SRK is pretty standard and comes with a fold down futon, a TV, and some indoor storage.
Source: jayco.com
Like many other ultra lightweight travel trailers, the Micro 12SRK has an outdoor kitchen. Though, this one has some pretty unique features. For one, the kitchen comes with a TV as a standard feature so you can have the game on while cooking dinner. And a feature I haven't seen in any other travel trailer–a Blackstone griddle perfect for cooking bacon and pancakes or frying burgers.
The outdoor kitchen also comes with a cooler, and it's covered by the pop out door so you can cook while it's raining if you need to.
Speaking of all weather capabilities–this Jay Feather Micro comes with an insulated underbelly that makes it great for cooler weather…even winter camping!
P.S. if winter camping sounds fun to you, then you might want to check out these 10 Best 4 Season Travel Trailers and RVs
Dry Weight: 1,300 lbs.
Underbed storage
Outdoor kitchen with stove, sink, and cooler
Bluetooth interior speakers
Window A/C
Furnace with thermostat

The Braxton Creek Bushwhacker is a really awesome lightweight teardrop trailer that's perfect for offroading on public land, or just taking out to your local State Park.
The interior of the trailer is taken up by a large bed made up of two mattresses, which have storage underneath. You also get a wall air conditioner inside and a furnace with thermostat controls.
Outside is a pretty standard setup for teardrop trailers. You get a two-burner cooktop, a small sink, and a small 12V cooler.
The travel trailer comes standard with a gear rack on the roof and some heavy-duty stabilizing jacks that are made for rough and even terrain. All that combined with the off-roading tires means this trailer is a good option if you want to do some overlanding.
Related: 9 Of the Coolest Off-Road Teardrop Campers
Dry Weight: 1,630 lbs.
Hardwood cabinetry
Convertible queen size bed
Indoor kitchen with sink, stove, and fridge
Marine style toilet
Interior height over 6 feet
The Ascape Aliner is a tiny travel trailer that packs a lot of amenities into just 1,630 pounds. This small trailer offers a convertible dinette that changes from two large dinette seats to a large bed with a TV mounted overhead.
The trailer also has a fully indoor kitchen with a sink, two-burner stove, and refrigerator. My favorite part of this trailer is the portable toilet. It's tucked away inside a cabinet so you won't even know it's there.
The standing room in this trailer has a height of 6 foot 4 inches, so if you're under that height you will be able to comfortably stand up and walk around inside.
If you want a lot of amenities in a small package at a great price, I think the Ascape is an amazing trailer. I love the unique design and all the features within.
What Vehicle Do You Need to Tow a 2000 lb Travel Trailer?
The great thing about ultra lightweight travel trailers under 2,000 pounds is that they can be towed by a wide variety of vehicles (and potentially a vehicle you already own!!) Most 6 cylinder SUVs have a towing capacity of at least 2,000 lbs.
Here are some really common cars that can safely tow travel trailers under 2,000 pounds: 
| | |
| --- | --- |
| Vehicle | Max Towing Capacity (lbs.) |
| 2022 Honda Odyssey | 3,500 |
| 2022 Subaru Outback | 2,700 to 3,500* |
| 2022 Ford Explorer | 5,000 to 5,600* |
| 2022 Toyota RAV4 | 1,500 to 3,500* |
| 2022 Jeep Compass | 2,000 |
| 2022 Hyundai Tucson | 1,500 to 2,000* |
| 2022 Toyota Highlander | 3,500 to 5,000* |
*The vehicles with their towing capacity in ranges mean that different versions of that vehicle have different towing capacities based on the engine strength. For example, the Hyundai Tucson SE and the Hyundai Tucson Value have a towing capacity of 1,500 lbs. But the Sport, Limited, SEL, and Ultimate versions of the vehicle all have a towing capacity of 2,000 lbs.
See also: 11 Best Travel Trailers Under 5000 lbs (2021) Video Tours, Pics + Floor Plans!
What's Your Favorite Travel Trailer Under 2,000 lbs.?
Whether you prefer all of the amenities of the Scamp 13', or you'd love to design the interior of the trailer from scratch with the Happier Camper HC1, there's definitely a trailer on this list for you.
And now you know, you don't need a big honkin' truck to tow the travel trailer of your dreams!
If you can't seem to decide on which small travel trailer works for you, or if you want to make sure you won't have to load it above its CCC, you can always give one a test drive. Check out RVShare to rent a small travel trailer near you.
Related: 5 Things to ALWAYS do Before Renting an RV (+step by step how to rent the best one!)
While you're here, check out some of my other listicles if you're keen to do more researching: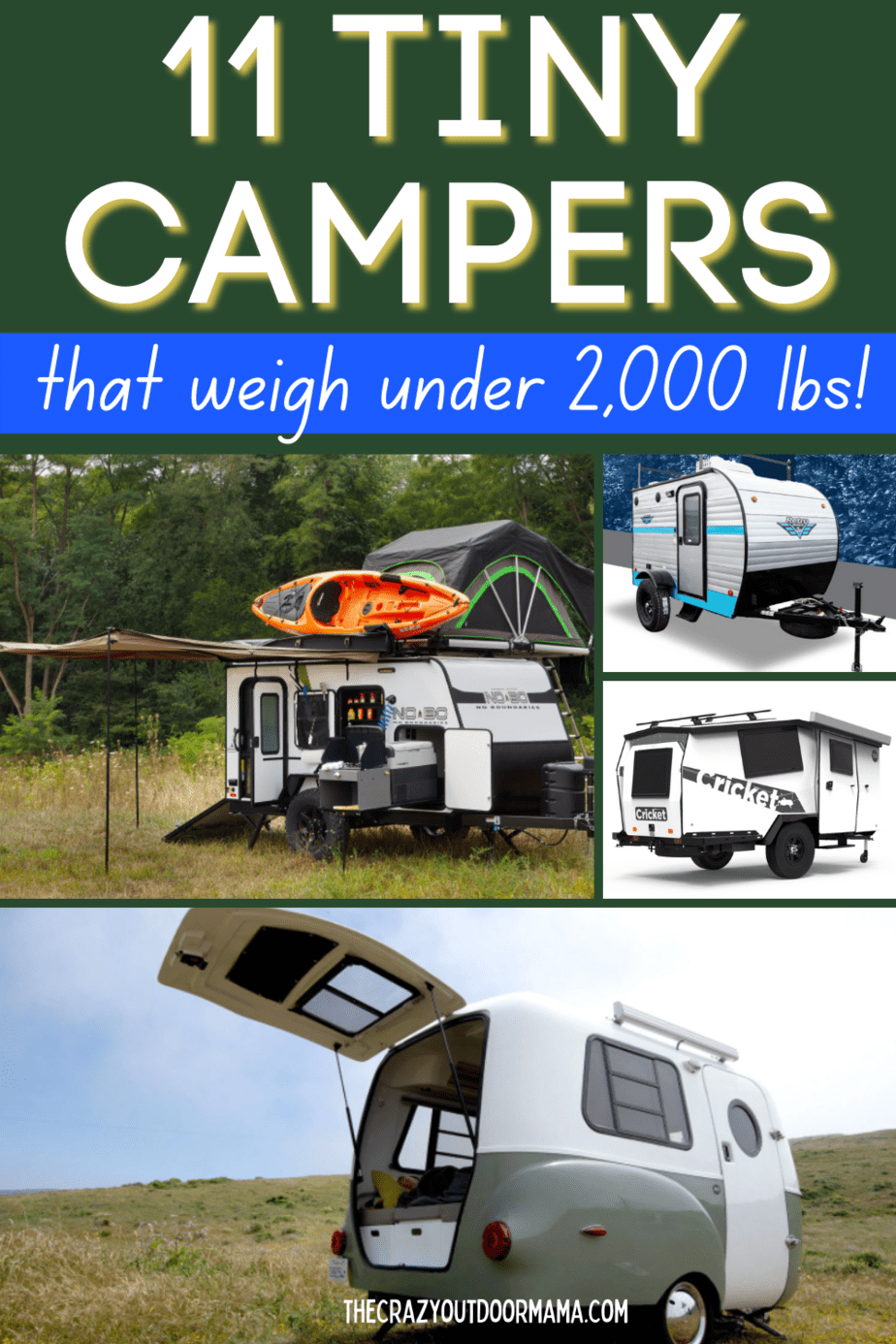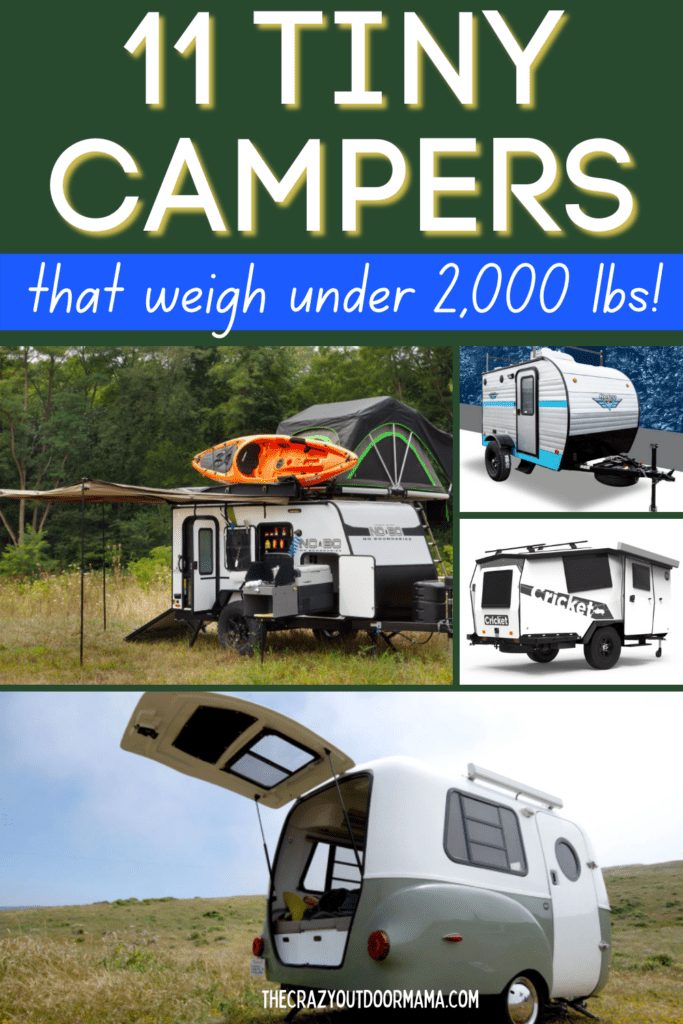 Latest posts by Stacy Bressler
(see all)