There's a lot of lists that include all those "must haves" for your RV – so if you're looking for that, you won't find it here… however, that doesn't mean you won't LOVE these outdoor RV products that, while aren't necessary, can really improve your camping experience!
I recently wrote an article about 13 indoor RV products that were extra (but awesome) and it has had a pretty good response (who doesn't love to camp in comfort??) so I thought I would include these 11 outdoor RV products that you'll love too!
If you're curious how I come up with these lists, I am on ALOT of RV and camping forums, and these are the products that either 1) Have been mentioned time and time again or 2) I have tried and found to be really helpful!
Related: Speaking of helpful, find out how to get those RV "must haves" for cheap here, and learn how to organize your entire camper (from a professional organizer I interviewed!) so that it's functional and manageable!
Anyways, here we go!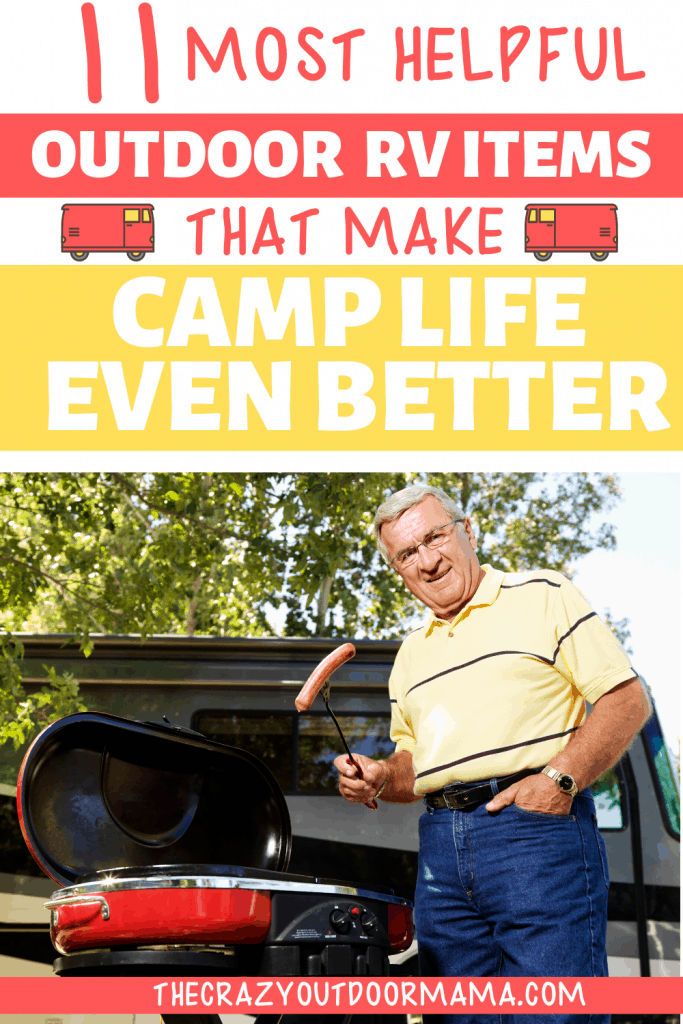 I wanted to let you know that I am an Amazon and Etsy affiliate and will get a very small cut if you purchase anything through these links. But these items are all awesome so don't worry! More info about this is here
Surge Protector
I think this should actually be on the "must haves" list somewhere, only because it is so very important to protect your RV! I didn't even know the seriousness of it till I saw it mentioned so many times (and saw fried RV power cords from not having one!). It turns out, unsurprisingly, that campground power supplies may not always be maintained to the best standards, and factor in all the weather they are exposed to.. well, you have a possibility for some bad things to happen!
I want to add that a normal surge protector (like you would use in your home) is NOT sufficient for your RV! These are more for very temporary losses (second or less) of power, where as the advanced one below is much better equipped for CONTINUOUS over/under voltage situations or wiring problems that can happen in RV Parks.
PROGRESSIVE INDUSTRIES EMS-PT50X Portable RV Surge Protector (50 A)
Once plugged in, if there is a problem with the power supply, will shut off to prevent damage to your RV
Scrolling digital display shows various error codes and more to help you diagnose problems (including if YOU are pulling too much ampage!)
NOTE – There are a couple of types of surge protectors from this company, and many have said "EMS…" style work better (and break less) than the "SSP.." Just wanted to let you know should you look into the other styles!
Rear Anti Sway Bar
My husband has kept talking about these things over and over, and for good reason – they can drastically reduce vehicle sag and travel trailer swaying from wind and simple movements like passing! It will also allow you to tow to the maximum capacity allowed by your hitch!
I am DEFINITLEY no pro at technical things like this (very thankful for my husband who is!) so here is a very informative article on weight distribution and sway bars (including how to pick them!)
You will need your gross trailer weight (the weight of your RV fully loaded) and your tongue weight.
Here is a really helpful guide on how to find your trailer weight – you can get a basic idea by looking for the "dry weight" on your manufacturer's website (don't forget to think about propane, water, extra tires, and all the other stuff you would typically pack!)
Remember, you need to do the research to find the right sway bar system for you.
With that being said, I have found the highest rated brand that has many options for different weights and such (so hopefully you will find one from that that works for you!)
EAZ LIFT 1000 lbs Elite Kit, Includes Distribution, Sway Control and 2-5/16″ Hitch Ball
Hitch ball and sway control ball are pre-installed and torqued to specification on adjustable ballmount
U-bolts and chain package are pre-installed on spring bars
Bluetooth Level System + Nice Levelers
Levelers of some variety are a must – as the name implies, they help level our your camper on uneven ground. This is especially important if you intend on boondocking somewhere (we have ALWAYS had to use levelers when we camp out of established RV parks!)
So, if you're not completely new at this, you know what a pain in the butt it is to have to put some of your levelers down, back up onto them, look at it (and you're not even close to level!) back off, add more / less and try again! This is even truer if you have 3 kids who are hungry, need to use the bathroom etc and you're taking forever to level your RV!
Well, this is a freaking amazing invention someone had!
This is used in conjunction with levelers you already have – you install the system (people said it took less than 10 minutes), get the app, and then use it to see real time when you are level! It even has the ability to help with your trailer hitch by "saving" the correct height it needs to be to connect with your vehicle!
I will link both products – the Bluetooth trailer leveling system, as well as the recommended levelers.
LevelMatePRO Bluetooth® Vehicle Leveling System
Simple set up in 10 minutes, and can be used with pull behinds or RVs and Vans!
Uses installed internal device to measure your exact position real time (you can see it on the app!), so that you are perfectly level every time, the first time!
2-Pack Camper Leveler, Chock Kit | Andersen 3604 x2 |
While these were recommended by the LevelMatePRO people, the bluetooth system is still definitely compatabile with your old school leveling blocks like these (we have them!) it's just that these levelers don't need stacking, so it's alot less work to adjust it!
I'm not so sure they would work in extremely unlevel campgrounds, so just take that into consideration when you choose whether to get these or a block style (the blocks can be stacked pretty high!)
Unlike blocks that need readjusting, you can just drive onto these till you're level, then chock it under the leveler!
Works up to 30,000 pounds, which is fine for most travel trailers, however be aware if you have a beastly one!
A RV specific back up camera
If I had a dollar for every fight we got in while trying to back up the camper well… we could probably buy another one! It's a pretty notorious problem, (that has many memes and such to go with it!) so this is a good way to save yourself the headache and get it right without all the yelling back and forth!
This back up camera is easy to install with most newer RVs as they are usually prewired for it (just plug and go!). If not, many people have wired it into the power from the running lights and have been able to use it successfully (just make sure you have enough power, some mentioned transitioning to LEDs so that the camera has more power available to use!)
Furrion FOS05TASF Vision S Wireless Vehicle Observation System
Clear, crisp picture and maintains signal even at speeds as high as 75 mph!
Includes night vision as well as different size monitors (from 4 to 7 inches!)
An awesome zero gravity camping chair
There are really comfortable camp chairs, then there are ZERO GRAVITY chairs! Why are they so amazing? They put you in a position where there is no force of gravity acting on your body. That is great for everyone, but especially great for people with back problems or swelling (and geez, it seems like everyone, myself included, could use something that feelings amazing on our backs!)
I'll highlight the "name brand one", however this is the Amazon Basics version of the zero gravity chair. It seems to do the job, but you get what you pay for – people complained that the brake button didn't work, and that it rusted easily. However, if you're short on money but still want that comfort, the Amazon basic version might be for you (just take care of it a little better than your typical camp chair!)
Timber Ridge Zero Gravity Locking Lounger Chair
Extremely comfortable, as it feels good on your back and can reduce swelling in the legs and feet
A bit hefty at 17 pounds, but is typically pretty durable (so perfect if you have space to pack it in your camper or car!)
An easy to use pop up canopy for shade + bug protection
This is one of my personal favorites, and it was a life saver at the height of mosquito season with 3 little kids! Having a canopy with mesh allows you to not be near as bothered by all flying insects (including those horseflys that seem to take a chunk of skin out of you!) as well as provide some much needed shade in a spot away from the camper.


I really like having my own shade because it increases the types of campgrounds we can camp at – shade is always a must, so if there's slim pickings for natural shade, we can just pop this guy up! And even if there is alot of natural shade, it's nice to be able to set it up somewhere else cool, such as near the river or lake for the day! Coleman is a pretty reputable brand in the camping world, so it's unsurprising that their pop up has thousands of amazing reviews!
Coleman Screened Canopy Tent with Instant Setup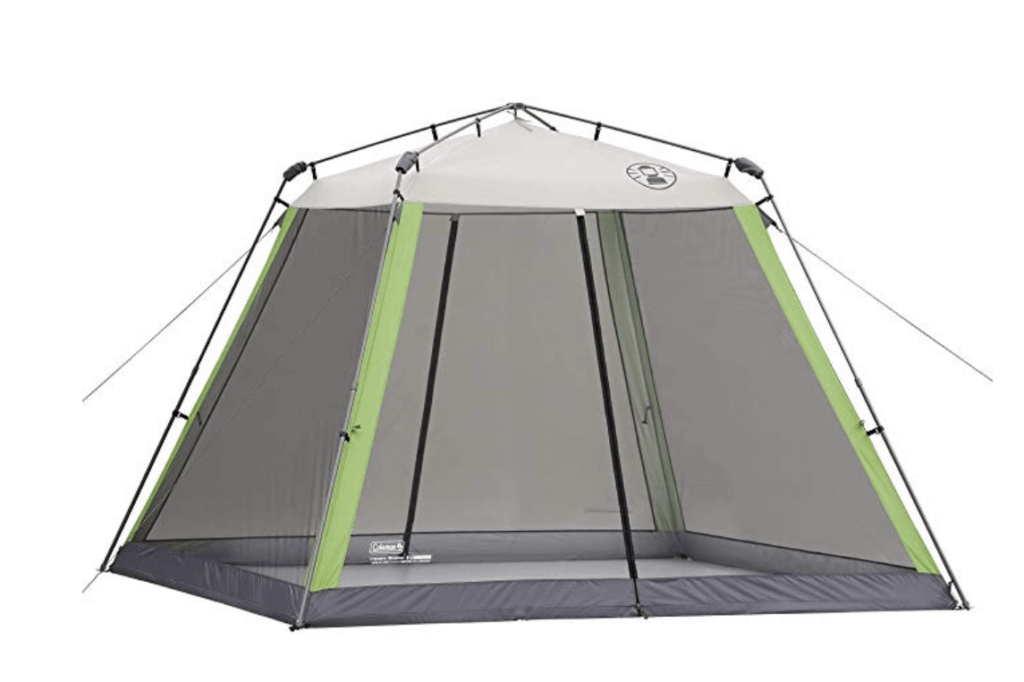 Sets up in around 60 seconds
2 large doors for easy access from both front and back
Tire Monitoring System
With any amount of travel, your tires are bound to get hot and lots of wear and tear (which is normal!) but it's good to keep an eye on things for any abnormalities to prevent blow outs and get the best fuel economy!
We've gotten a few nails in the tires throughout the years, and we would have known way sooner (we really only knew because our car started pulling alot to one side) had we been using a system like this for our RV and car.
EEZTire-TPMS4 Real Time/24×7 Tire Pressure Monitoring System
Can measure up to 26 tires and handle up to 210 PSI
Sends audio and visual alarms when tire pressure or temp drops outside of normal values
Portable, foldable grill (that doesn't cut on quality!)
Even if you have a functional kitchen in your RV or travel trailer, it is still good to have an outdoor cook space for multiple reasons!
For one, no one wants to stink up their camper with food smells – they might smell good at the time, but those smells sink into the walls! Two, pretty much anything taste amazing on the grill! You can't count on a campground having one of those little grills on a stand, and really, you can't even count on being allowed to have a campfire to cook with at your campground either!
It's a great idea to have a good grill that stores well and can take with you everywhere – we have this one, and you've read some of my other camping articles, it's probably been in the picture somewhere when you see our campsite. WE LOVE IT!
Coleman Propane Grill | RoadTrip LXE Portable Gas Grill
Easy-to-clean, cast-iron and porcelain-coated surfaces with removable grease tray
Folds down nice and flat and is easily stored in most RV stroage compartments or car trunks, and includes wheels + handle for easy transport!
A quiet, lightweight generator
Anyone who has been in a campground is likely familiar with that "hmmmmmmmmm" of all the generators going, especially if it's the heat of the day and everyone is just trying to cool off! Generators can be pretty pricey, and obviously the lighter and quieter it is (while maintaining it's power), the more expensive it will be!
There's lot of talk about Yamahas when it comes to the "best" generator for RVS, however this one is comparable (look at the reviews.. .some are very in depth and have compared the generators side by side!) and is almost half the price!
Now, it won't power a massive AC unit, but if you have a reasonable amount of things you plan on using (TV, small ac unit or fan, some chargers and coffee maker) then this is perfect!
WEN 56200i Super Quiet 2000-Watt Portable Inverter Generator, CARB Compliant
VERY quiet, and comparable to a normal conversation according to US Department of Health and Human Services (and only 48 lbs!)
Generator produces clean energy free of voltage spikes and drops, so is safe to charge things like phones and computers!
Can maximize fuel economy by engaging the Eco-Mode, allowing the generator's motor to automatically adjust its fuel consumption.
"Water Bandit" hose adapter
This is a handy item that you should really have on hand at all times when it comes to getting water for your camper tank! Many campground faucets have damaged threads (or none at all!) making it impossible to screw into them with your hose. The water bandit has a stretchy, rubber material on one side so that it can bypass that less than optimal threads and screw into your hose on the other side!
It really can be a lifesaver by allowing you to get water from pretty much any source in your travels!
Camco Water Bandit
Easily connects your hose to unthreaded faucets or ones with stripped threads
Reduces spillage from poor connections
A scissor jack adapter for your drill (no more hand lowering and raising the jacks!)
Oh my gosh, that has to be the most monotonous task when it comes to setting up camp – getting all 4 jacks down and in place. In fact, it actually wears me out after awhile! This simple adapter is perfect to use with your drill to get all of your jacks done REAL FAST!
Camco RV Leveling Scissor Jack Socket Drill Adapter
Seriously reduces effort needed to raise and lower your campers scissor jacks
Works with all 3/4″Hex drive jacks (be sure not to go crazy with this and shear anything off!)
There's so many cool gadgets if you go down that rabbit hole! However, if you have one you have tried and loved, I would love to know (and so would other people!) so leave it in the comments! =)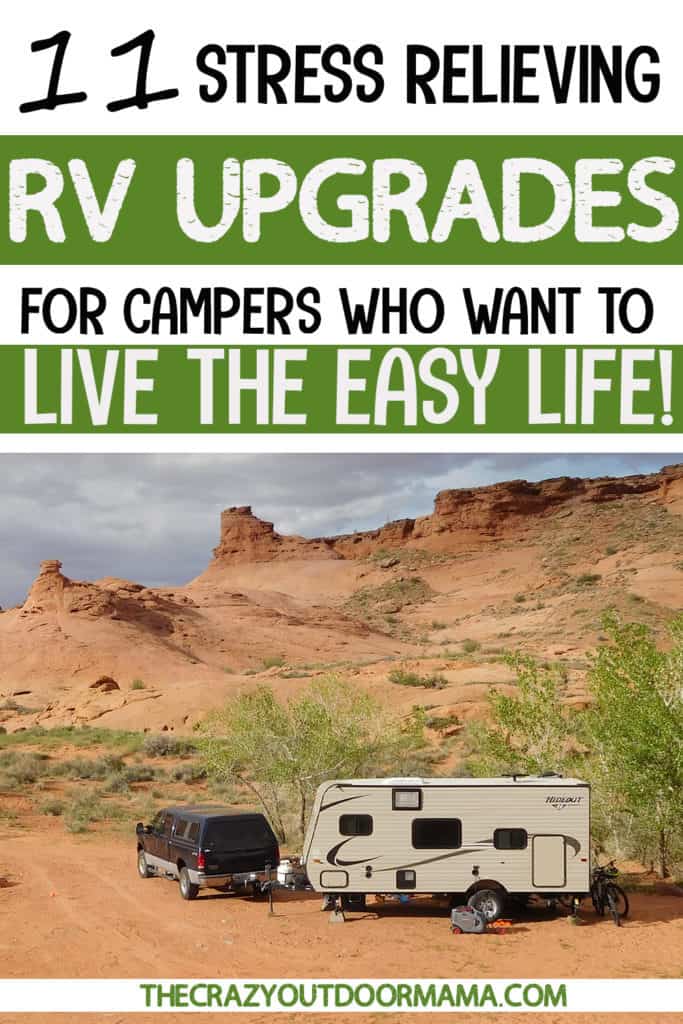 Latest posts by Stacy Bressler
(see all)