Small Class C RVs provide the driveability of a van, with the living space of a mid-sized travel trailer.
This makes them a really popular option for anyone who wants a driveable RV that can maneuver rough roads and hard-to-reach campsites.
But just because they're small, doesn't mean you have to sacrifice basic amenities!!
What is a Small Class C RV?
A Class C RV is a driveable RV Class between Class B (vans), and Class A (large motorhomes). They're typically built on a truck chassis–for example, a Ford E-350, or a Mercedes Sprinter 3500 and can be anywhere from 20 to 40 feet in length.
Pros and Cons of Small Class C RVs
Pros
Can be parked anywhere: unlike trailers and large class As, small Class C RVs can fit into almost any campsite, and they're generally pretty easy to park.
Less $$ on gas: The smaller the vehicle, the higher the MPG. You'll be able to travel farther for less money in a small class C RV compared to a gas-guzzling Class A.
You don't need a towing vehicle: Class Cs are drivable, so unlike with a trailer, you won't have to purchase or own a separate towing vehicle with the tow capacity to pull your trailer.
Easy to drive: Small Class C RVs are a breeze to drive because you aren't towing a trailer. And while you're driving you'll also have access to everything inside of your RV.
Cons
Not always great for families: A lot of Class C RVs sleep just two people. Those that do sleep three or four typically have smaller beds and may feel cramped inside. Class Cs are mostly marketed towards people traveling with just two RVers.
Fewer options: There are only so many floor plans that you can have in a small Class C RV, there are also fewer manufacturers for Class C vehicles so there won't be a ton of floorplan options to choose from.
11 Smallest Class C RVs
Here are 11 of the very best, and smallest Class C motorhomes. I included a variety of price ranges, sleeping capacities, and floor plans so you can find the best small Class C for you.
Key Features:
Rear dry bathroom with shower, sink, and toilet
Just 22 feet
Convertible couch in slide-out
Ford E-450 chassis
Lots of storage
The Phoenix Cruiser is the smallest Class C RV on my list. It's just 22 feet long. The build inside is very simple, and the motorhome is pretty affordable compared to most on the market.
The Cruiser is built on a Ford E-450 chassis and has a rear entry that helps to not break up the living area. In the back is a kitchen with a cooktop and sink, and a bathroom with a walk-in shower.
In the front of the Class C motorhome, you get one slide-out where the pull-out couch is located, and a small dinette across from that.
The Cruiser does only sleep two and doesn't have an over-cab bunk. This Class C motorhome is marketed towards couples since you won't be able to travel with more than two in here. That being said, the Cruiser is a great affordable option that's perfect for one or two people.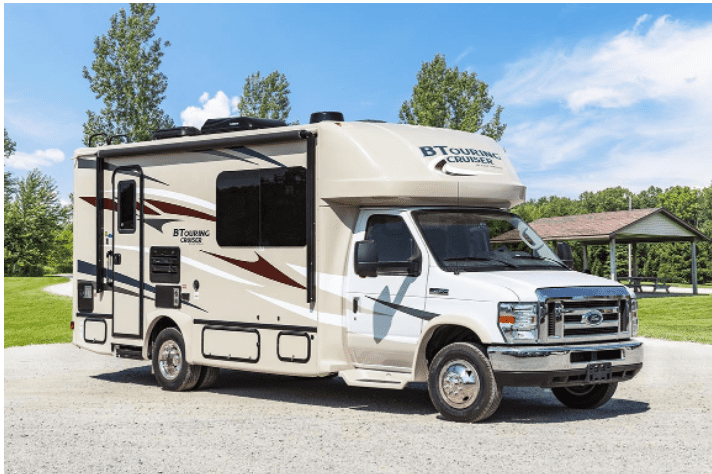 Key Features:
Double convertible jackknife sofas
Three burner gas stovetop
Dry bathroom
Front TV mount
Large kitchen sink with high rise faucet
The Gulfstream BT Cruiser is a small Class C motorhome with some great residential-style features. The 5210 floor plan is built on a Ford E-350 chassis and it's just 22-and-a-half feet long.
This floorplan is a pretty unique one as far as Class C motorhomes go. Instead of two twin beds, or one queen, the BT Cruiser has two jack knife sofas. They both pull out to make one large bed at the front of the RV.
The rear of the vehicle has the kitchen, which is one three-burner cooktop, a microwave, a refrigerator, and a large sink with a high-rise faucet. You'll also get a standard Class C bathroom that comes with a shower, sink, and toilet.
The BT Cruiser doesn't have an overhead bunk. Instead, above the cab is lots of storage and a TV mount. So, this Class C will only sleep two people.
Check out the tour:
Key features:
Sleeps 5
Large convertible U-shaped dinette
Corner bed
Full dry bathroom with walk-in shower
The Minnie Winnie is a really popular Class C motorhome that I see out on the road all the time. It's a bit larger than the smallest of the small Class C motorhomes, but it packs a whole lot into the space.
The 22R floorplan sleeps 5 people!! That's pretty much the highest sleeping capacity you're going to find in Class C RVs.
There's one full-size corner bed in the back, a convertible U-shaped dinette that transforms into a double-size bed, and a full-sized overhead bunk. The Minnie Winnie also comes with five total seatbelts so you can safely travel with five people. Sweet!
Even with all the sleeping room, you still get a full dry bathroom, a large wardrobe, and a kitchen with a three-burner stove and a large sink.
The Minnie Winnie is a popular choice for a reason–you can sleep the whole family in here without missing out on amenities.
*Before you hit the road, make sure you have these 11 Most Helpful Outdoor RV Products
Here's an in-depth tour:
Key Features:
Luxurious interior style
Convertible dinette
Queen sofa Murphy bed
Instant hot water heater
Wood cabinetry and solid countertops
If you're looking for luxury in a Class C motorhome, look no further than the Tiffin Wayfarer. Along with the Airstream Atlas, the Wayfarer is one of the nicest (and priciest) Class C motorhomes on the market.
However, unlike the Atlas, Tiffin's Wayfarer can sleep four people! (An additional two if you go with the optional tri-fold sofa instead of the dinette).
The Wayfarer has one slide-out where the queen sofa Murphy bed and dinette are located which helps make the space feel larger when you're parked.
In the back is a residential-style bathroom that spans the width of the vehicle with a nice spacious shower.
The Wayfarer offers hardwood cabinetry and solid countertops that really give it the feel of a residential living area. Plus, there are privacy curtains throughout the vehicle so you can comfortably travel with all your friends and family.
*If you love staying organized in your RV like me, check out my checklists: The Ultimate RV Camping Checklists for 2022
Here's a quick tour:
Key Features:
Sleeps 4
Wide living space
Convertible dinette in slide-out
Pull out pantry
Corner bed in rear
The Leisure Travel Vans Unity is a travel van that's technically also a Class C motorhome. It's built on a Mercedes Sprinter 3500 chassis and it's just over 25 feet long. I love this Class C for its bright and modern interior.
The Unity corner bed model (Unity CB) that's about the size of a full bed. There's also a convertible dinette in the single slide out for two extra sleeping spaces so the Unity sleeps four total.
There's no over-cab bunk in the Unity, and instead, you get storage over the cab of the vehicle. There's also a ton of overhead storage surrounding the whole interior, plus a wardrobe next to the bathroom.
Here's a helpful in-depth tour from Leisure Travel Vans of this floorplan:
Key Features:
Private rear bedroom
Large dry bathroom
High ceiling throughout
Over-cab bunk bed
3 burner gas cooktop
Thor Motorcoach's Four Winds 22B floor plan really stands out for its private bedroom. This really is not a feature you see in many Class C RVs, since usually, the bed is right in the middle of the living space.
The queen bed in the Four Winds 22B is located in a slide-out at the rear of the vehicle and has a large curtain that closes it off from the rest of the living area. You'll also get one nightstand on the side of the bed and an optional TV. Those touches really make this space feel like a private bedroom.
Along with the queen bed, the Four Winds also has an over-cab bunk that's about the size of a full-size bed. This Class C also comes with a large dinette, a large sink and three-burner stove, plus a bathroom with a shower, sink, and toilet.
*Prepare for a small Class C bathroom with 9 PERFECT Small RV Bathroom Organization Tricks!
Here's the video tour:
Source: airstream.com
Key Features:
Murphy bed with automatic slide down
Luxurious interior feel
Cockpit bed
Entertainment system with soundbar and hideaway smart TV
Stainless steel fixtures throughout
The inside of the Airstream Atlas really feels like a private jet. If you have the funds and you want luxury, the Atlas not only looks high-quality, but it really is high-quality.
The Atlas is built on a Mercedes Sprinter 3500 chassis and comes in one floor plan called the Murphy suite. It has one slide out where the sofa and Murphy bed are. At night, the Murphy bed comes down with the push of a button so it's very simple to set up.
The Atlas can sleep up to three and is equipped with a cockpit bed. This might not be the most comfortable option but it works if you have a guest along with you for a few nights.
In the back is a large wardrobe and storage, a two burner stovetop, and a bathroom. The Atlas is a gorgeous Class C with all the amenities and high-quality features. However, if you don't have the budget this may not be the best small Class C for you.
But don't worry! There are tons more options out there.
*Planning to work from home on the road? Check out 27 RV Office Ideas to Transform Your Space
Here's an in depth tour:
Key Features:
Rear double bed
Separate rooms for shower and toilet
Convertible dinette
Over-cab TV
Under-bed outdoor-accessible gear storage
The Coachmen Cross Trail is a small Class C RV built on a Ford Transit chassis. Traditionally, most Class C RVs are built on the Ford E-350 Chassis, but the Transit is slightly smaller and weighs less.
The interior layout is pretty standard, with a bed, convertible dinette, and full bathroom. However, if you want something bigger than a double bed, this Class C may not be for you.
The most unique feature of the Cross Trail, I think, is the under-bed storage. The bed is lofted providing tons of room underneath for outdoor gear. The storage can be accessed from inside or outside of the RV.
Here's the tour:
Key Features:
Solar ready
Four seasons prepped
Optional pop top for more sleeping room
Desk space
The Ekko is also built on a Ford Transit chassis and has a more modern and unique design compared to a traditional Class C RV. Plus, at just 22 feet in length, the Winnebago Ekko is one of the smallest Class C RVs out there.
The Ekko's floor plan includes two twin beds that are lofted. It also has a really unique space-saving wet/dry bathroom and an optional pop-top with extra sleeping space.
It's prepped with solar and is four seasons ready so it's perfect for boondocking and camping in any climate.
*For more options check here to see the 10 Best 4 Season Travel Trailers and RVs
Check out the tour:
Key Features:
Slide out with queen bed
Over Cab bunk
Built in backup camera system
Dry bathroom with high-pressure showerhead
Forest River is an RV manufacturer known for its affordable RVs with conventional floorplans, and the Sunseeker LE is no exception. It comes in nine different floor plans, the smallest of which being the 2250SLE which is built on a Ford E-350 chassis and is just 23 feet long.
For the small size of this Class C, Forest River really manages to pack in a lot of amenities. You essentially get a "master bedroom" setup as the queen bed is located in a slide-out next to the bathroom. And all of this is separated from the living area with a curtain.
Also, the overhead bunk in the Sunseeker is queen size, which is rare to see in a compact Class C motorhome.
Here's a quick tour:
Key Features:
Murphy bed
Lots of storage
Large sofa for daytime seating
Sleeps 4
The Jayco Melbourne Prestige is built on a Mercedes Benz 3500 chassis and all of the floorplans are just over 25 feet long. The 24 NP floor plan is very unique since it comes with a Murphy bed in the back.
During the day, you have a sectional sofa, and at night you'll pull down the double size Murphy bed. Plus, there's extra sleeping room in the bunk over the cab.
The Murphy bed design allows for lots of interior space during the day which makes the inside of this compact Class C RV feel pretty roomy.

Here's the walkthrough:
Things to Keep in Mind When Choosing Your Tiny Class C
To get a feel for how you should be rating each of these Class C RVs, try to make a mental checklist of everything you'll need in your RV.
Here are some things I recommend keeping in mind while you do your shopping…
Look for a Queen Bed
Most Class C RVs come with a queen bed, but not all. Some have two twin beds, a double bed, or a full bed. If you are traveling as a couple, a Class C with a queen bed will definitely be the most comfortable option.
However, if you're traveling solo, or you really need some extra sleeping capacity, a queen bed is not a necessity.
*3 Ways to Deal with Your Uncomfy RV Mattress (+how to order a custom replacement!)
Over Cab Bunk is a Plus
One of the best things about Class C RVs is the over-cab bunk. The over cab bunk is a great way that the Class C can add extra sleeping capacity without taking away from living space. Even if you aren't expecting to travel with more than two people, having an extra sleeping space could come in handy. (At the very least you'll have a big open space to store extra camping gear!😜)
Make Sure You'll Have Enough Seatbelts
This is a big one. A lot of small Class C RVs only come with two seatbelts, both in the front cab of the vehicle. If you ever expect to travel with more than two people, you absolutely need to have more than two seatbelts. It's super unsafe (as well as illegal) to travel without everyone in the vehicle buckled in.
Try to look for a Class C that has two extra seat belts, usually in the dinette area.
Look for Full Dry Bathrooms
One plus of Class C RVs compared to Class Bs is that most of them come with full dry bathrooms (as opposed to a wet bath which can get messy and uncomfortable).
However, you also want to make sure that the bathroom is large enough for you to comfortably use the toilet and shower.
Slide out or No Slide out?
Lots of small Class C motorhomes come with slide-outs that help increase living or sleeping space when you're parked at a site. These can be super helpful in a small Class C RV, which can be really cramped on room.
If you're worried about feeling like you don't have enough living space in a small Class C, try to find one with a slide-out. It'll add an extra few dozen square feet of living area which can help a Small Class C RV feel significantly more comfortable.
A great option if you don't know which features you need in your Class C is to rent an RV from RVShare. This will help you narrow down your list, and maybe even decide that a Class C just isn't right for you. But whatever you decide, it's always a good idea to try before you buy.
Related: 5 Things to ALWAYS do Before Renting an RV (+step by step how to rent the best one!)
What's the Difference Between a Small Class C and a Class B RV?
Okay, this is a bit confusing but just stick with me. Class Bs are a smaller type of RV that takes an already manufactured van body and builds a living space within it. So Class B RV manufacturers work within the structure of an already-built van.
Class C RV manufacturers, on the other hand, build a boxy RV shape on top of a truck or van chassis (which is an engine, cab, and frame). With the boxy rear-end, Class Cs will generally be larger and taller with more sleeping room, more storage space, and more living space than a Class B.
Is a Small Class C RV for You?
Class C RVs are a great choice for couples or small families who want a driveable RV that isn't huge, but still has enough storage space and amenities for full-time RV living.
If you're unsure which option is the best small Class C for you, remember you can always rent one using RVShare to take a Class C for a test run.
Wanna do more shopping? My other lists can help point you in the right direction:
Latest posts by Stacy Bressler
(see all)