Sleeping in your huge king bed at home may feel like a big luxury, but sleeping in a king bed in a travel trailer feels even nicer.
Especially after a long day of hiking, biking, or swimming, nothing feels better than coming home to your comfy king bed.
There are tons of travel trailers out there with large, king sized beds so you don't have to sacrifice your sleeping comfort just because you're in a trailer.
Whether you want to sleep 3 in a single bed, or you just want to sleep by yourself starfish-style, there are plenty of travel trailers with king beds to choose from…
Why a Travel Trailer with a King Bed?
More sleeping room: Of course, this is the obvious one. If you have a king bed at home and don't want to downsize, you don't have to! King beds mean you can fit one more person in your RV since three people can sleep relatively comfortably in a king bed.
Bedroom suites: Many travel trailers with king beds have enclosed, private bedrooms. This means if you're traveling with family, you'll be able to escape to your bedroom suite that's usually separated from the living area and other sleeping areas.
High-end trailers: A travel trailer with king bed is definitely considered a luxury amenity. This means that trailers with king beds generally have "fancier" amenities overall. If you pick a travel trailer with a king bed you'll likely have other amenities that are just as luxurious as a king bed.
Are Camping Trailer King Beds the Same as Regular King Beds?
A residential king bed is 76 inches wide, and 80 inches long. They're the same length as a queen bed but they're over a foot wider.
In travel trailers with king beds, it's very rare to find a bed that's 76 inches wide. Typical travel trailers will have an "RV king" which will be between 70 and 74 inches wide.
King size beds in travel trailers are not as wide as residential beds simply because there's only so much space to work with inside a travel trailer.
Top 12 Travel Trailers with a King Bed
Okay let's get started!
Here are my top 12 travel trailers with king beds. I've included a mix of small, mid-sized, and very large travel trailers with king beds so there are plenty of options for you…
Key features:
Gel-infused king mattress
Residential interior doors
Sleeps 4
3 burner cooktop
Double bathroom sinks
The Heartland North Trail is a mid-sized travel trailer with residential-style features. Seriously… the inside of the trailer really looks like you're inside a luxury condo.
The king sized bed is gel-infused and it's located at the front of the trailer. The bedroom area has overhead cabinetry storage surrounding the bed and led lighting.
On either side, you'll get a small shelf that acts as a nightstand, underneath two nicely sized windows. There's a sliding privacy door that separates it from the kitchen area.
​​
Source: heartlandrvs.com
In the kitchen and dining area are a four-person dinette, and a large lounge. At the back of the trailer, you get a large bathroom with TWO sinks and a large walk-in shower.
Altogether, the Heartland North Trail sleeps four people.
Watch the walkthrough tour:
Key Features:
Comfortable king mattress
Washer/dryer prep
Three slide outs
Kitchen island
Outside kitchen
The floorplan of the Venture RV SportTrek Touring has some great privacy that gives the bedroom a true master bedroom feeling.
The 70" x 80" king-size bed is located all the way at the back of the trailer, and there's an electric fireplace right in the bedroom!!! Plus, you get washer/dryer prep right in your bedroom closet.
Separating the bedroom from the living area is a large bathroom with a walk-in shower.
The kitchen has tons of floor space with an island in the middle and a residential-style dining table.
The tri-fold sofa sits at the very front of the trailer and adds extra sleeping room.
The Venture RV SportTrek Touring also has an outdoor "campfire kitchen" with a griddle, sink, and refrigerator all underneath one of two awnings.
Check out the interior:
Key Features:
Patent-pending king-size sliding bed
Tri-folding sofa
Sleeps up to 6
Exterior speaker system
Underbelly storage space
At just 25 feet, the Cruiser RV Embrace is on the smaller end of travel trailers with king-size beds.
Cruiser RV markets the Embrace EL210 as a "couples coach", but it can sleep up to six people with the tri-fold sofa.
The Embrace has a couple of pretty unique features, like a full underbelly storage system, as well as exterior speakers.
The most unique feature of the Cruiser RV travel trailers is the patent-pending sliding king-size bed.
The system allows you to slide the bed over to one side. This creates 12 inches of extra floor space in the bedroom whenever you need it. The bedroom, though, isn't much of a "master bedroom" since it's basically in the same room as the kitchen and living room area.
So, this Cruiser RV travel trailer will definitely work better for just two people who may occasionally bring friends or family along.
Here's the walkthrough:
Key Features:
Opposing slide outs
Washer/dryer prep
Kitchen island
King size bed with nightstands and wardrobes on either side
Large kitchen pantry
Tri-fold sofa
The Winnebago Voyage V3235RL is a larger travel trailer with a king bed and residential-style amenities. The two slide outs in the living area make the space feel very large. The kitchen area comes with an island and a large sink surrounded by counter space.
Plus, there's a four-person dining area, reclining theater seats, and a tri-fold sofa. Sweet!
The master bedroom offers tons of privacy as it's separated by a door from the rest of the trailer. Winnebago offers an upgrade to a king-size bed in all of the Voyage floor plans for a few hundred bucks.

The bedroom has a wardrobe and nightstand on either side of the 72" x 80" king size bed. You've also got washer/dryer prep in the closet of the bedroom. The bathroom is between the living area and the bedroom and has a really nice large walk-in shower.
Key Features:
U-shaped dinette
Tri-fold couch
Double basin kitchen sink
Double bathroom sinks in the master suite
TV cabinet space facing king bed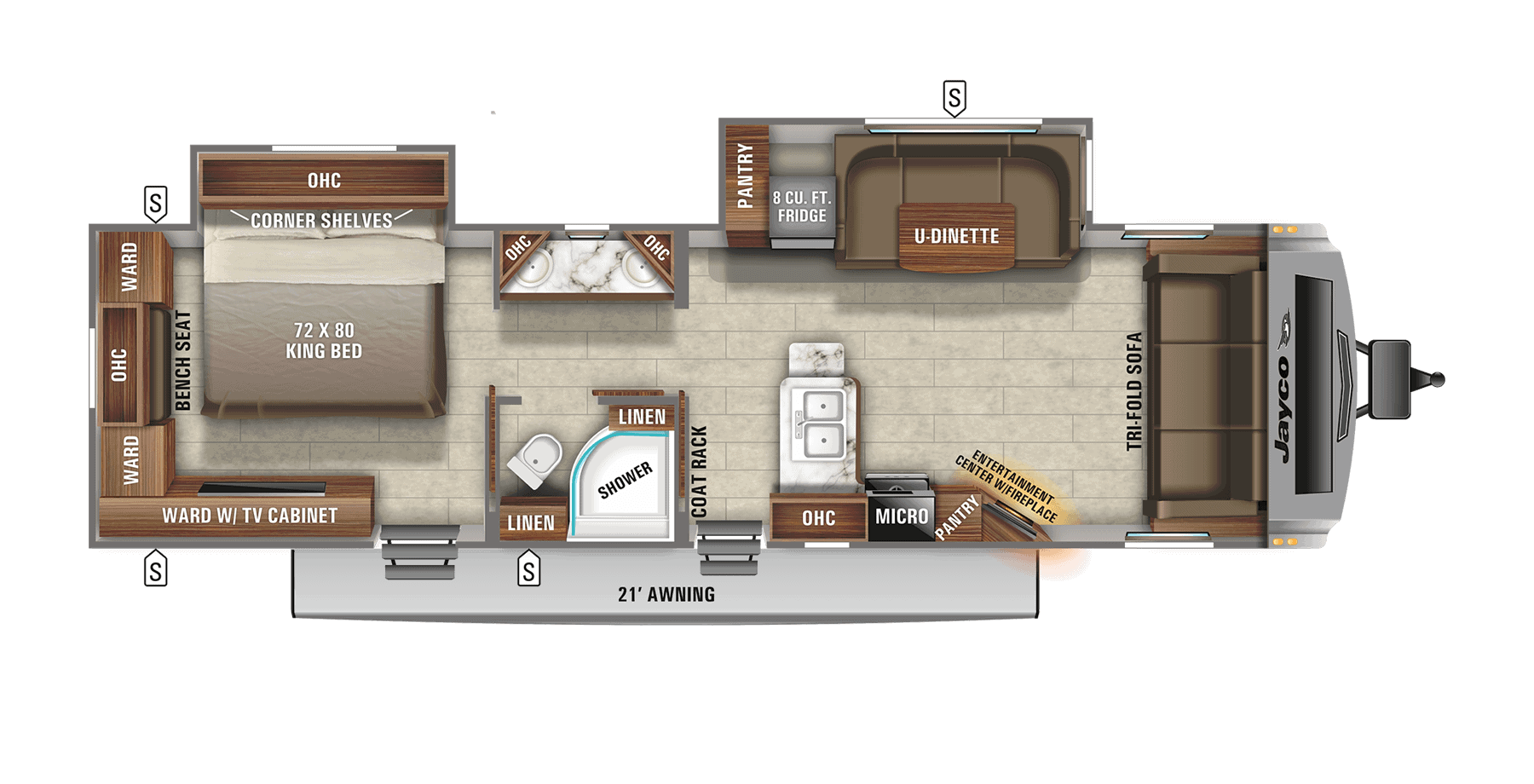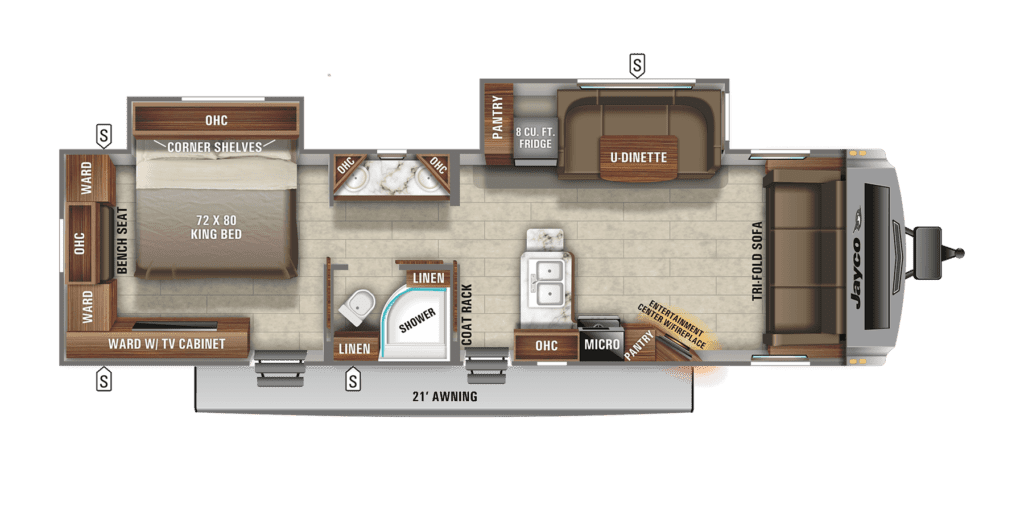 The Jayco White Hawk is a very popular travel trailer with a king bed. The bedroom itself really feels like you could be in a master bedroom at your house.
The 72" x 80" king size bed is tucked under overhead storage cabinets and faces a wardrobe with a TV. On one side of the bathroom, you'll also get two large wardrobes and a bench in between them.
(The master bedroom also has its own private entrance!)
​​
Source: jayco.com
In the middle of the trailer is the large bathroom area, which has two sinks and lots of counter space.
The living area in the Jayco White Hawk has a u-shaped dinette and a tri fold sofa, along with a large double basin sink.
The entertainment center in the living area faces the tri-fold sofa and has an electric fireplace underneath.
Watch the tour:
Key Features:
Hinged cabinets cover entryway
Electric fireplace in master bedroom
Tons of counter space
Booth dinette
Electric reclining seats
Heated underbelly
The Dutchmen Kodiak has one of my favorite floorplans I've seen in a travel trailer. The king bedroom is completely private, separated from the living area by the bathroom with doors on either side.
In the bedroom, you get three large windows, an electric fireplace, and an entertainment center. Plus overhead storage cabinetry, LED lighting, and two wardrobes.
The living area is completely closed off by a hinged door, so you can't even tell you're in an RV when you're hanging out in the kitchen.
The pullout offers lots of extra floor space and natural lighting from the windows above the entertainment chairs and booth dinette. The kitchen in this trailer has maybe the most countertop space I've seen in any travel trailer. 
So, this kitchen is great if you love to cook when you're on the road and find you need to use a lot of counter space for prepping.
*Are you a master camp chef? Check out my article with 25 easy camping meals for kids.
Key Features:
Sliding king size bed
Work from home desk space
Just 22 feet in length
Sleeps up to 6
Curtain for master bedroom privacy
Cruiser RV's Shadow Cruiser is the smallest travel trailer with a king bed I've found. It's just 22 feet long!
The Shadow Cruiser is another couple's coach from Cruiser RV. It's made for two but can sleep up to six. The king size bed is enclosed by a curtain and has Cruiser RV's sliding system for extra elbow room on either side of the bed.
The living area has a u-shaped dinette and an L-shaped kitchen with lots of kitchen space.
At the back is a space that's designed for you to use if you work from home–half the back wall is a desk with some storage underneath. Next to the work area is a mid-sized bathroom with lots of counter space.
If you don't have the towing capacity to lug around a huge 40 foot trailer, the dainty 22 foot Shadow Cruiser is a great option for you.
It's especially great if you plan to travel by yourself, with a partner, and you really need a good workspace with you. Plus, there's lots of extra sleeping room in case you want to bring friends and family with you.
P.S. Think you need something even smaller? Check out the 12 Best Small RVs and Travel Trailers in 2022 (Video Tours!)
Source: palominorv.com
Key Features:
Outdoor kitchen
Reclining chairs in front of entertainment center
Lots of kitchen counter space
Heated floor
High rise kitchen faucet
Private bedroom with king bed
The Palomino Puma is a large trailer with a large living space and a private master bedroom. The living space is a large room with a tri-fold sofa, a dinette, and reclining seats that face the entertainment center.
The kitchen area has a three-burner stove and an overhead microwave. You'll also get a large kitchen sink with a high-rise faucet and tons of counter space.
The king-size bed is located in one of two pull-outs in the trailer, which makes the room feel very spacious.
There isn't any room on either side of the king bed, but you do get overhead cabinet space and a large wardrobe. Plus, there's a closet with washer/dryer prep in the corner of the bedroom.
Related: For more trailers with washer/dryer prep or a washer and dryer included, check here: 10 Top RVs and Travel Trailers with Washers and Dryers
The bathroom in the Puma is pretty standard. It separates the king bedroom from the living area and has a shower, sink, toilet, and small linen closet.
But the biggest plus? The whole trailer has heated floors so you can have nice warm feet on cold mornings. YES!
Check out this video tour:
Key Features:
Washer/dryer prep
Walk-in closet
Walk-in pantry
Large bathroom
Outdoor shower
Solar equipped
Forest River's Vibe 28RB has tons of fancy amenities and built-in features that might catch your eye if you're looking for a trailer that feels like home.
The bedroom is totally private and has a 72" x 80" king size bed with storage underneath. There are nightstands with USB charging ports on either side of the bed, and overhead storage above.
​​
Source: forestriverinc.com
The bedroom also offers a walk-in closet with washer/dryer prep behind a barn door. The whole bedroom area is enclosed by a really gorgeous country chic barn door.
The living area features in the Vibe are pretty standard, except that it has a very large refrigerator and a walk-in pantry!! In the bathroom, you'll get two large linen closets, a toilet, shower, and sink. Outside, the Vibe has a little outdoor kitchen with an induction cooktop.
Plus, panoramic windows wrap around the living area. And the whole thing comes with solar in the standard package.
Here's the tour:
Key Features:
Outdoor shower
Hardwood cabinetry
King bed with underbed storage
Indoor stereo system in entertainment center
Double basin kitchen sink
The Cougar Half-Ton is a mid-sized trailer from Keystone RV with a really gorgeous interior. The travel trailer has hardwood cabinetry throughout, and heated flooring.
In the kitchen, you'll get a large double basin stainless steel sink with a high-rise faucet. Plus a booth dinette with a TV above it, and a large pantry.
The bathroom is pretty standard, with a toilet, sink, shower, and sliding door.
The king bedroom is separated from the rest of the space by a curtain. You'll get underbed storage in the 70" x 80" king bed, and nightstands on either side.
The nightstands are set up with USB charging ports. The bedroom comes fitted with a "platinum series" king mattress which Keystone claims is very comfortable.
This travel trailer also comes with some pretty sweet extras, like a shoe cubby right when you walk in the door, and solar panels in the base package.
Here's an in-depth video tour:
Key Features:
Kitchen island with sink
Lots of daytime seating
Two pullouts
Outdoor kitchenette
Laundry chute in bedroom
The Highland Ridge Open Range is a larger travel trailer with a king suite and tons of living space.
The king bedroom is pretty roomy for a travel trailer bedroom. It has lots of storage space, plus nightstands on both sides of the bed.
The bedroom also has a laundry chute, which is a super unique feature I haven't seen in any other travel trailer. You'll also get a wardrobe with washer/dryer prep inside.
The bathroom has a large walk-in shower, a sink, and a toilet, and is enclosed by a sliding door. The living area has lots of floor space because of the two opposing pullouts.
On one side are two theater seats and a dinette, and on the other are all your kitchen appliances, an entertainment center, and an electric fireplace. There's also a kitchen island in the center of the space. In the very back, you'll get a tri fold sofa for extra sleeping space.
Check out the video tour:
Key Features:
Heated and enclosed underbelly
Large window in master bedroom
Large shower
Included roof rack system
40" TV facing king bed
The Lance 2465 is a great mid-range travel trailer perfect for couples.
The king size bed is located in a pull out, which makes the bedroom feel super spacious. The large windows in the bathroom add a lot of natural light to the space.
There's a huge entertainment center in the bedroom, with a 40" TV, and wardrobes on both sides. The second pull-out is located at the dinette, and has wrap-around windows.
The underbelly of the trailer is totally enclosed and heated, so this trailer is perfect for winter camping.
The standard package also comes with a roof rack for hauling kayaks, skis, or whatever outdoor equipment you have!
Related: Here are some more travel trailers built for four seasons: 10 Best 4 Season Travel Trailers and RVs
Here's the video tour:
What Types of King Mattresses Can You Get for Your Trailer?
Although many RV manufacturers claim that their mattresses are ultra-comfortable, this isn't always the case. RV mattresses are notoriously thin and uncomfortable, so many people opt to purchase a mattress separately.
If you do want to pick your own mattress, there are a few different options out there. I'll explain them and why I'd recommend (or not recommend) any of the following options.
Air Mattress: Not Recommended
Air mattresses are one option for a king mattress in travel trailers. However, I really do not recommend them because they can be really uncomfortable. Plus, you have to inflate them pretty often.
If you're going to invest in a king sized bed for your travel trailer, invest in a quality mattress as well. An air mattress doesn't really cut it unless it's just temporary use.
Residential Memory Foam Mattress: Comfortable But Might Not Fit
Memory foam mattresses like the ones you buy online and are shipped to your house in a box are super comfortable. (If you have one, you know).
These are a super comfortable option for an RV king mattress, but you'll have to make sure they will fit in the given space.
Since some RV king beds can be as small as 70 inches wide, the extra 6 inches on a residential mattress just might not fit in the layout of the RV.
Mattress Toppers: Great to Boost Comfort
Memory foam mattress toppers are a great option if you find your mattress is a tiny bit uncomfortable. A mattress topper will not fix all your problems, but it'll just boost the comfort of a thin mattress a bit.
Source: mattressinsider.com
These are inexpensive and can be cut to fit the size of your mattress. You can also order a custom-sized topper from Mattress Insider.
However, they might slide around a bit and aren't a permanent solution to a highly uncomfortable mattress.
Custom RV Mattress: My Recommendation
You're already going all-out for comfort by getting a travel trailer with a king bed, why not purchase a custom, super comfy mattress to go with it?
With a custom RV mattress, you'll get the comfort of a residential gel/memory foam mattress, and the fit of a mattress that's custom made for your travel trailer.
To design your custom mattress, head over to Mattress Insider's custom mattress builder. Choose the mattress type you want, and select the dimensions of your travel trailer's king bed. 
Add any corner cuts applicable to your king bed space, and order it! Your new comfy travel trailer mattress will be shipped to you in a box in a few weeks.
For more info on Mattress Insider, check out my full review here:  Mattress Insider's RV Mattress Review – Is It Worth the Money?
FAQs
Are there king-size murphy beds?
There aren't currently any travel trailer manufacturers that offer king-size murphy beds. This would be an upgrade you'd have to take on yourself.
If you want to shop through travel trailers with queen size murphy beds check here: RV Murphy Beds – Are They Worth It? Which RVs Have Them?
Can I use a regular king mattress in my travel trailer?
Yes you can, though it might not be a perfect fit.
Typical king bed dimensions in a travel trailer are between 70 and 74 inches wide whereas a residential king mattress is 76 inches wide.
Check here for some pro tips: 3 Ways to Deal with Your Uncomfy RV Mattress (+how to order a custom replacement!)
What is the smallest travel trailer with a king bed?
The Cruiser RV Shadow Cruiser might be the smallest travel trailer out there with a king bed at just 22 feet long.
Can I put a king bed in a queen sized space in my travel trailer?
If your travel trailer has a queen size bed and you want a king, it is possible to put a king bed in the travel trailer.
You'll need to make sure, most importantly, that there's enough room on either side of the queen bed for a king bed to fit in the space.
Then, you may have to add some extra supports for the overhang of the mattress.
Conclusion
A king bed in a travel trailer may seem like a big luxury, but it's not really such a huge reach.
You don't necessarily have to shell out a ton of cash or purchase a huge rig to find a travel trailer with a nice comfy king bed.
Fortunately, there are plenty of options out there, from large trailers with king beds in master suites and tons of extra sleeping room, to studio-style couple's trailers.
And why not amp up the comfort even more by adding a custom mattress to replace the thin mattress that usually comes with travel trailers??
If you've done some shopping and you're completely unsure which trailer is right for you, you can always test-drive any of these trailers and more on RVShare.
Looking to shop more? Here are a few more lists of mine for further inspiration:
Latest posts by Stacy Bressler
(see all)