If you are a current RV/trailer owner, then you know how many little things seem to pop up AFTER purchasing that are just plain annoying! And you wonder why in the heck didn't you try it out or think of it before you bought it?
The truth is that sometimes the excitement of getting a camper is overwhelming and we tend to forget to think about all the little details – this is even more true for soon to be full timers or first time buyers!
I compiled a list from one of the RV groups I'm in about all the things that really irk them about their camper in hopes that you can be reminded to think twice about these features!
There were 753 comments, so I've tried my best to sort and organize them for ya!
P.S. If you are buying a camper for the first time, I made this handy guide and printable on how to pick your perfect camper!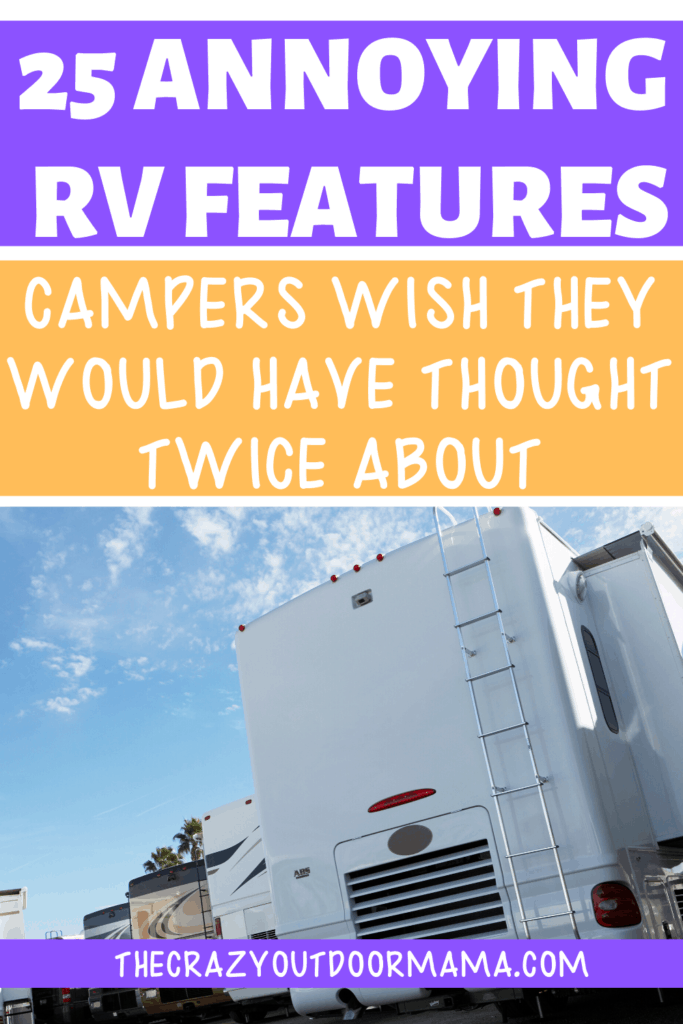 Outdoor RV Features
Door to awning distance – Distance from top of the door to the awning (the awning has to be almost straight out for the door not to drag!
Slides in general – while providing more space, they can also cause many more problems than it might be worth. Specifically water damage and electronic problems that are costly to fix
Lack of clearance – if you plan on going places other than RV parks, it's pretty important to have a little bit of clearance to be able to get into the cooler spots. While there are after market modifications (such as flipping the axel, which we did) it's a pain in the butt to do and just way easier to get a camper that's already high enough!
No winter package – this usually includes having an insulated underbelly as the main feature to let you camp in colder temps without freezing any pipes/tanks. This is really only important if you live somewhere that it actually gets cold and want to camp more early spring and late fall days when it gets pretty cold at night still.
No outdoor kitchen – these are really nice for people who have different sleep schedules! Some RV kitchens aren't even accessible when the beds are out and in use, so it's nice to be able to head outside and get your coffee and breakfast there!
RV Bedroom and Living Space
Little space around the master bed – this may be a concern for people with less mobility when it comes to putting sheets on
Not enough master bed space! If you are traveling with large dogs, the queen might not be enough. Many dog owners said they wish they had found a king size bed to fit their dogs.
No private master area – this is a regret of ours too with three kids! Look for the campers that have a wall divider between the living area and the master bedroom if you value time alone when camping with family!
No washer dryer or dishwasher – this mainly applies to full timers or extended travelers since most of us can just do that once we get home, however it's important to consider that laundromats and handwashing get very old after awhile!
Not enough AC units or poor placement of them – Campers are like little ovens in the sun! If you get hot quick, make sure that there are enough AC untis for you and that they are centrally located. If you are looking at a unit that has an upstairs area (the really big ones!) make sure there is an AC to cool it since heat rises, so they tend to get even hotter than normal! They can also be pretty loud so if it's located RIGHT ABOVE the bed, that can be pretty annoying!
Too many steps – some of the bigger campers (such as those giant RVs or 5th wheels) have around 6 large steps to enter. This can be alot for older people who may have joint issues!
Poor TV Placement – If you are someone (or know someone) who likes to relax and watch a show, then make sure there is seating facing wear the TV is facing!
RV Kitchen
Counter space height Little space between bottom of the top cupboards to the counter top
Very small fridge – this is ok if you only plan on weekend trips and can just use a cooler if needed, but if you plan on more travel than that… those big refrigerators are very handy!
No pantry / awkward pantry space – It's really nice being able to store some non perishable staples in your camper pantry so that it's easier to go for the next camp trip. Having little to no pantry space makes that very difficult!
The shape of the dinette – there are usually two layouts in a camper dining area – a u shape dinette and a picnic table style. If you don't have kids and don't expect much company, don't waste space on a large u shape dinette!
Microwave in awkward location – one woman's microwave was, for some reason, below the counterop! She had to to get on the floor to use it!
Low kitchen counters – if you're tall or have a tall family member who cooks, it can wear out your back pretty darn quick!
Oven located too low and is awkward to light – First off, electric starts really should be on all appliances anyways! However some are extra annyoing and you need to be able to reach your arm into the back of the oven to reach the "on" lever. This can be hard for older people with joint or mobility issues!
RV Bathroom
Size – Too small to maneuver in, too small of a tub to actually use
Functionality
Cost of gas – Not factoring in gas mileage as a large expense (when we pull our light 18 footer with our diesel truck, we only get about 5 mpg!)
Too tall – if you plan on traveling out of your hometown and around the country, you will be able to access more places if you don't get such a tall camper! For reference, 13 feet is VERY tall and might not go under some bridges.
No Bathroom access with slides in – Some campers are desigend in a way that makes getting to the restroom with your slides in (such as when you're in transit and just need a potty break) very difficult or impossible!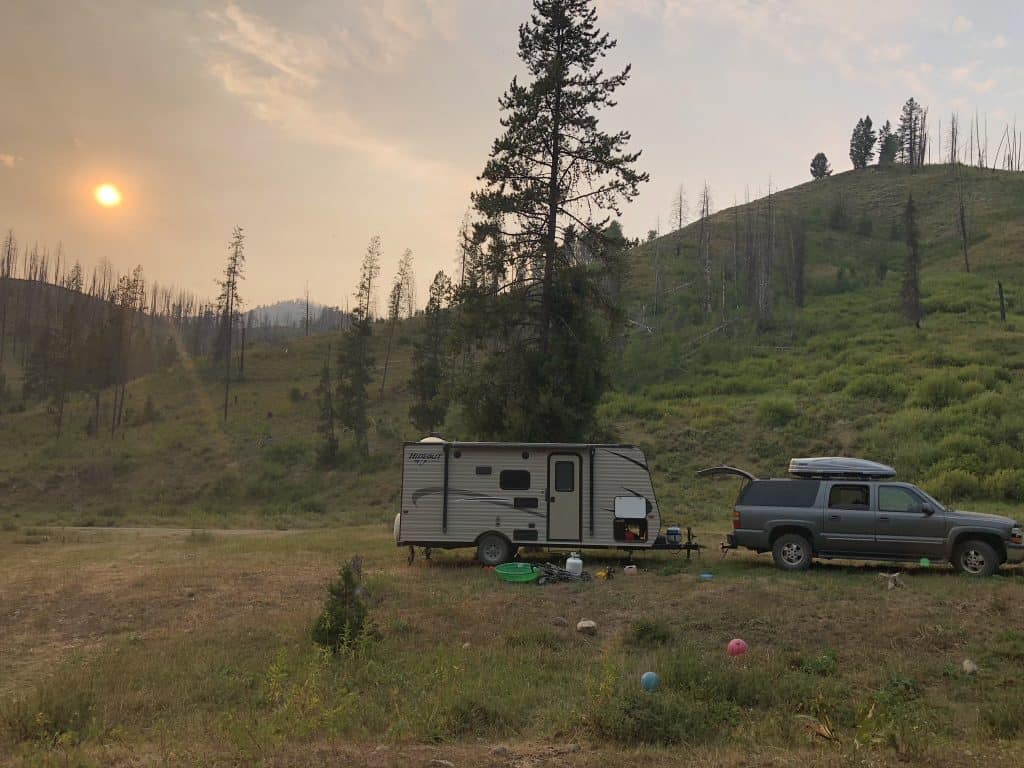 Other RV ownership regrets
Assuming the warranty would be helpful – even if you buy new, there can be alot of issues with your camper! There are notoriously bad wait times for some repairs if they have to go back to the manufacturer. One camper mentioned he used his camper for 3 weeks, something went wrong with it and he had to send it back, and it has now been gone for three months! They also might cover alot less than you think!
Getting a pop up vs hard side – while you will save some weight, most pop ups require quite a bit of setup every single time you stop. You also can't access any of the interiors unless it's set up, so it's not convenient if you like to have access to things while in transit. Lastly, some National Parks (notably Yellowstone) don't even allow them due to bears.
Actually getting enough use out of it to justify the payments – it's kind of a debbie downer thing, I know, but it's important to make sure you'll actually make your investment worthwhile by getting out and using it! You can always start small and trade up once you camp for a bit!
Do you have any things you wish you would have thought about more?
We still wonder if we should have gotten atleast one slide out – we intend on bringing the kids friends camping too if we want to, and the extra space would have been nice!
Other than that, we just tend to make due with what we have.
Our only goal is to perhaps get a cab over camper when all the kids are of a reading age so that we'll be fine with less space but can get into even cooler spots to camp!
Here are more RV articles you'll love!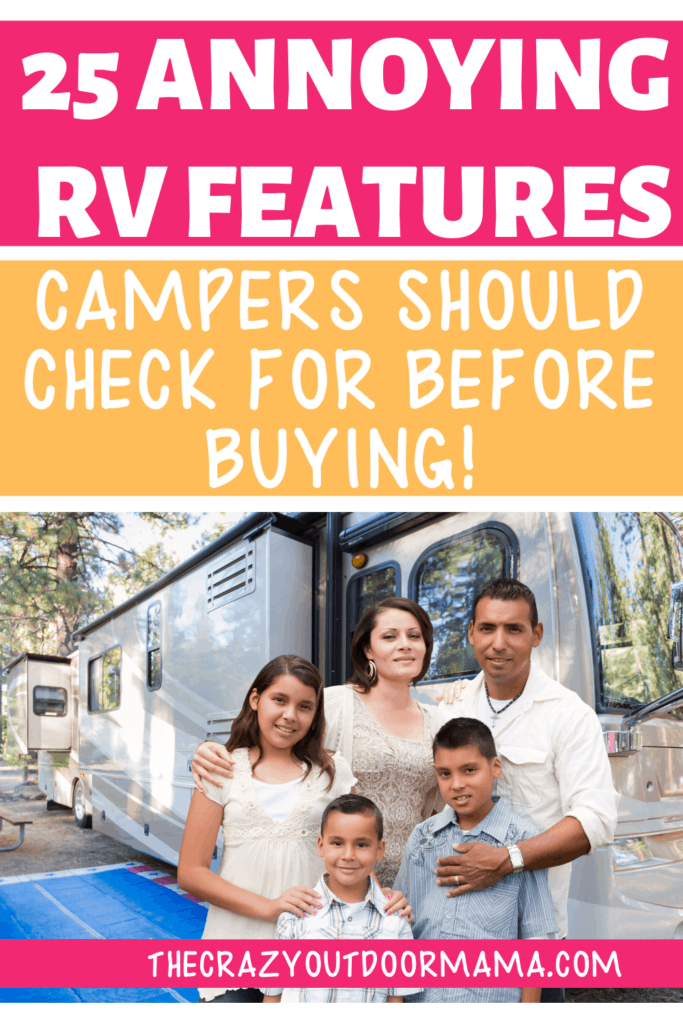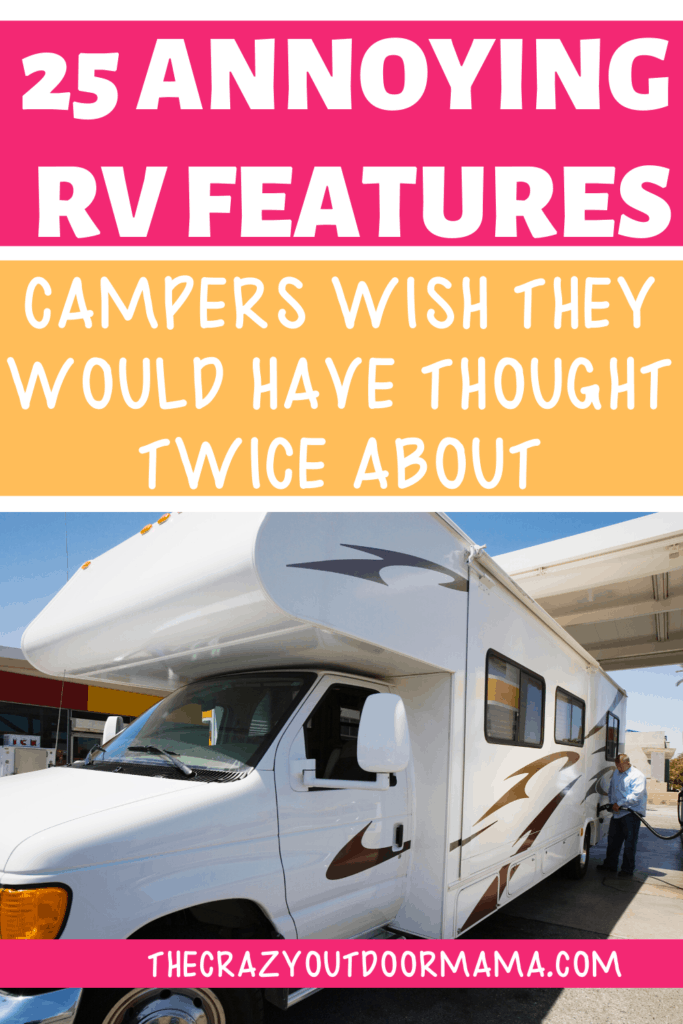 Latest posts by Stacy Bressler
(see all)