Huge 5th wheel campers with all their comforts might be nice for paved roads and established campgrounds but they won't make it off-road. So if you're more of an "off-the-beaten-path" kind of camper, an off-road teardrop camper trailer is the way to go.
They're small, lightweight, and easy to tow. Plus, most offroad and overlanding teardrop trailers give you a galley, extra storage space, electric hookups, and even a hot shower! Sweet!
Fortunately, the off-grid camper market has exploded in recent years, so you've got more options than ever. Here are 9 super awesome off-road teardrop trailers that should be at the top of your list!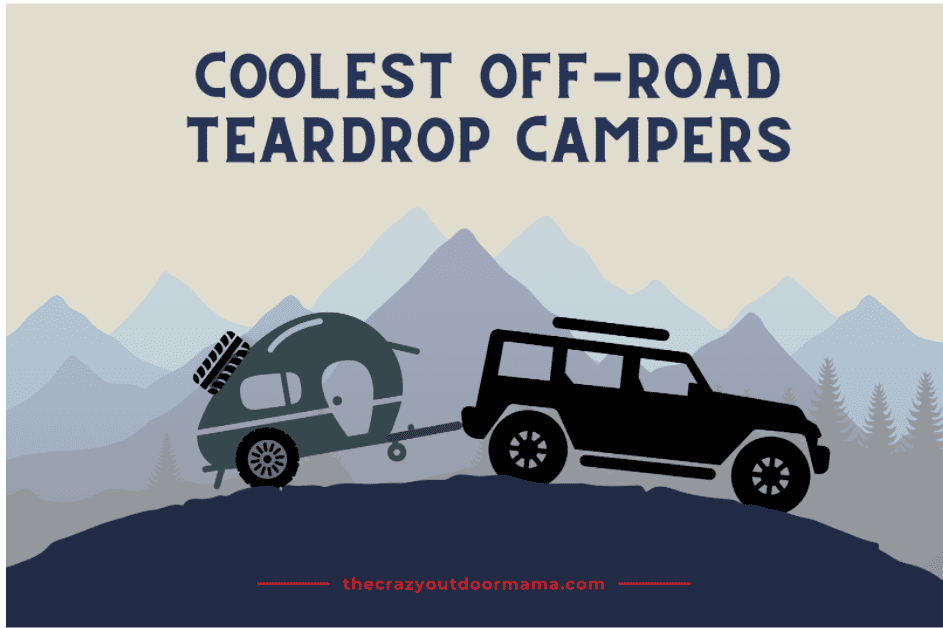 The 9 Best Off Road Teardrop Campers and Trailers 
Keep in mind that these camping trailers aren't organized from best to worst, biggest to smallest, or prettiest to ugliest. Choose the one that fits your needs and go have fun!
What it is: This is Oregon Trailer's most off-road capable teardrop trailer. If your vehicle can make it, the DDA can make it too!
What sets it apart: Don't let its small size fool you. It's got a big personality! Personally, I love the flat black color option…so cool!
It's similar to some of the regular Do Drop trailers, but it's been reinforced in about every way possible — rugged long-travel suspension, reinforced chassis, jeep style fenders, and off-road tires. And with the available roof rack, you've got a place for a roof top tent.
The base model is pretty basic, but Oregon Trailers gives you plenty of ways to upgrade.
Electrical system with battery
Front-mounted cargo box
Rear leveling jacks
Electric brakes
Roof rack and Road Shower solar shower system
Check out the Do Drop Alpha.
What else does this teardrop camper brand have to offer?
Oregon Trailers currently offers four different trailer options. In my article about the best off road trailers under $10,000 I featured the regular Do Drop since it starts at just under $7,000. If you're looking for something a tad larger but still with off-road capabilities, go with the TerraDrop Alpha.
See more from Oregon Trailers.
What it is: At 5'x10' and a 1,900-lb dry weight, this is TearDrops NW's largest teardrop trailer.
What sets it apart: This trailer isn't just a tiny place to sleep, this is a base camp. Its larger footprint means this trailer is a great option if you're looking to use your trailer for some extra storage space as well.
Plus the galley gives you a comfortable place to cook a hot meal after a long day on the trails. There's an optional 53-quart Dometic fridge/freezer pullout and a large pull-out stove drawer. Those pullouts make really great use of space in the galley so you have plenty of countertop area for meal prep.
What else does this teardrop camper brand have to offer?
TearDrops NW offers 4 different off-road teardrops (Scout, Recon, Ranger & Commander) and 2 highway versions (Trek and Sojourn).
They come with a lot of nice standard features like LED lighting, interior cabinets, electrical outlets, a deep cycle battery, and a shore plug. Plus, there are plenty of cool optional features you can add to make your off-roading a little more civilized — hot water system, awning room attachment, fridge/freezer, roof rack, and a rooftop tent.
Check out more of what TearDrops NW has to offer.
What it is: This is pretty much the Cadillac of off-road teardrop campers. However, it does start at $40,000 (so technically you could get a Cadillac base model for less…but it's not a solar-powered off-road adventure machine!🤣)
What sets it apart: There aren't many off-road or overlanding teardrops that give you this many creature comforts. It's powered by a massive 400 amp-hour lithium battery and a 240W solar panel on the back. As you're driving, it's charging.
Then, when you get to camp it's ready to power the induction stovetop for off-grid cooking that makes you feel at home. There's on-demand hot water in the galley, heirloom-quality interior cabinets, and an overbuilt frame with a composite unibody camper top.
What else does this teardrop camper brand have to offer?
The NS-1 is the only camper they currently offer and you have to make a deposit to grab your build spot.
What it is: A lightweight yet spacious teardrop with several different trim levels for varying degrees of off-road adventure.
What sets it apart: Instead of just having a dedicated off-road model, you can choose from Standard, All-Road, and Off-Road trim levels.
The All-Road version can handle roads you might take a Subaru Outback or similar crossover SUV down. The Off-Road version with its 33-inch tires, 4" lift, Max Coupler articulating hitch, and front corner rock sliders is made to go pretty much anywhere your truck or off-road SUV can take it.
All versions of the Timberleaf Classic come with an awesome skylight! That's right, you can lay in your queen size bed at night and watch the stars! Plus, there's a spacious galley with a sink as well as stove and fridge slideouts.
What else does this teardrop trailer brand have to offer?
Timberleaf Trailers has two other models — the Pika and the Kestrel. Both offer a nice blend of quality craftsmanship and reasonable prices. The Pika has similar features as the Classic, just in a smaller package.
The Kestrel is their most compact teardrop, starting at a dry weight of just 860 pounds! Its minimalist design doesn't have a rear galley hatch, skylight, or built-in power. But fortunately, it does come in All-Road and Off-Road trims. That makes it a great choice if you want a budget-friendly off-road teardrop trailer.
Check out Timberleaf Trailers.
What it is: One of the largest and most feature-filled off-road teardrops on this list. It's also tied for the most expensive.
What sets this teardrop trailer apart: Bean Trailers thought of everything with the Black Bean. In addition to the big things that make it off-road ready (like 20-inch ground clearance, 3,500 Timbren independent suspension, and a Cruisemaster DO35 articulating coupling) there are loads of other small, yet practical features.
Keyholders
RGB dimmable LED lighting
Paper towel dispenser molded into the back hatch
Optional solar panels
Instant hot water
Pass through cabinetry that you can access from inside the camper and from the outside galley
And one of my favorite optional features…a pop-up table so you can transform your sleeping area into a couch and table. It's hard to find a teardrop trailer with an interior table and seating area. That makes it a nice option for when you need to spend a few hours inside on a rainy day.
What else does this teardrop camper brand have to offer?
Bean Trailers currently offers 5 models ranging from the largest (the Black Bean) to the smallest (the Bean Stock). The Mean Bean and Meaner Bean models are also off-road camping ready.
Check out Bean Trailers here.
What it is: Not your traditional teardrop. It's much boxier than your normal teardrop, but it's definitely worth including in this list. (It also made it on my list of the best campers under 1,500 lbs)
What sets it apart: One thing that definitely sets Taxa campers apart is their unique design. All of the Taxa models are feature-filled, but at the same time super simple. Plus, they all have a boxy shape that doesn't seem to have a 90-degree angle anywhere on it. The TigerMoth is no different.
The interior is a truly multi-purpose space. Open up the full-size bed for a two-person sleeping space. Or set up the table for a spacious 3-4 person lounge and dining area. The interior may not be as large as some of the other teardrops on this list but with the taller ceiling height and the large dual hatches, it feels bigger than what it is.
Plus there's a host of other practical features:
Slide-out galley
Optional rooftop tent
Mosquito netting
Window A/C unit
What else does this off-road camper brand have to offer?
Taxa offers two larger habitats (Cricket and the Mantis) as well as an off-road basecamp trailer (the Woolly Bear). All — including the TigerMoth — are available in extra-rugged overlanding editions. 
The Cricket and Mantis are nice options if you're traveling as a family or just want a little extra space. They each have pop-up roofs and a variety of available options including an onboard cassette toilet.
See more from Taxa here.
*Check out my articles about the best pop-up campers with bathrooms and the best travel trailers under 3,500 lbs where I feature the Cricket and the Mantis.
What it is: A tiny, minimalist offroad teardrop trailer for no-frills off-the-grid exploring.
What sets this camping trailer apart: It's a classic teardrop trailer design in a tiny package. At a dry weight of just 600-lbs, this is the smallest off-road trailer on our list. You can even pull it with some UTVs!
But it's not just its size that sets it apart. The Boony Stomper also has a custom, long-travel suspension system that gives you a surprisingly smooth ride on rough roads.
As far as other features go, honestly…there's not much to talk about. No galley, no electric hookup, no fancy LED lighting, no stargazer windows. But the rugged simplicity is kinda what makes the Boony Stomper so awesome.
What else does this teardrop camper brand have to offer?
The Boony Stomper is the only trailer they offer.
Check out the Sunnyside Offroad brand.
What it is: A capable, yet budget-friendly off-road teardrop trailer with plenty of customization options.
What sets it apart: With a base price of around $10,000, this is one of the cheapest off-road trailers on my list. But it still comes with a nice list of standard features like a custom 3500lb Flexi Ride Torsion Axle, front storage platform, and all-terrain tires.
Plus Vintage Trailer Works gives you plenty of ways to customize your trailer with:
Upgraded galley options
Lock and Roll multi-axis hitch
Heavy-duty roof rack
ARB awning
Stargazer window
Tongue box
Propane water heater
And more…
What else does this teardrop camping trailer brand have to offer?
Vintage Trailer Works (VTW) offers at least 9 different models. The XTR toy hauler has an extended front storage area that's big enough to haul a 4-wheeler. And the XTR XL has a larger camper body with an extra bunk in addition to a front storage area for plenty of extra gear.
See more of what Vintage Trailer Works has to offer. 
What it is: A top-of-the-line off-road teardrop trailer with luxurious standard features for outdoor adventures in style. The base price is $32,500.
What sets it apart: As a high-end teardrop trailer, even the Pando's base model isn't that basic. It comes with a host of standard features that are only included in other trailers' upgrade packages. It's also an all-metal trailer so it's completely mold, mildew, and fire resistant. But don't worry, it's still insulated so it'll stay warm or cool inside depending on what you need.
And if you have the budget to upgrade, you've got plenty of ways to do that with…
A variety of awnings
Shower enclosure
360 degree Max Coupler articulating hitch
2000w Pure Sine inverter
A/C rough in
6500 BTU furnace
What else does this teardrop camper brand have to offer?
Off Grid Trailers offers three models — the Expedition (a tad smaller than the Pando), the Pando, and the Switchback (an off-grid overlanding trailer).
See more about Off Grid Trailers here.
What to Look For In Off-Road Tear Drop Campers
Here are 3 big things to consider when looking at off-road and overlanding trailers:
Rugged design: That means a heavy-duty frame and axle, all-terrain tires, and long-travel suspension. The farther off-road you plan to go, the more rugged these need to be. Most of the more rugged off-road trailer models have lifts and axle-less suspension for up to 20 inches of ground clearance.
Articulating hitch: An articulating hitch has a larger range of motion for technical trails. If you're planning on sticking to smooth dirt roads with a few potholes, then a normal 2" ball coupler hitch will work just fine.
Off-grid electric: Since it's less likely you'll be hooking up to shore power at campgrounds, pay special attention to the electrical systems and battery capacity. Some base models don't come with electric hookups or batteries. Others like the Campworks NS-1 have massive 400 amp hour batteries (a normal car battery has about a 48 amp hour capacity). Also, look for solar panels or at least solar panel hookups so they're easy to install later if you want.
What If I Need More Sleeping Room? 
Add a roof rack and a roof top tent. Most teardrop camper companies offer roof racks and roof top tents as an option.
*Check out my article with more rooftop tent options.
What Is the Cheapest Off-Road Teardrop Camper?
Based on the base price without any options it's a close tie between the Vintage Trailer Works XTR, the DoDrop Alpha, and the Timberleaf Kestrel Off-Road. All start at around $11,000 and are well-equipped for anywhere your vehicle can go. *The Boony Stomper may be a tad cheaper, but they don't publish the price on their site. 
There are some cheaper off-road teardrop trailers but they're not quite as rugged as those three I mentioned. Check out my article to see more budget-friendly off-roading trailers.
What Are the Most Expensive Off-Road Teardrop Trailers?
The answer will depend on which camping trailer options you choose. But according to the base prices, it's probably a tie between the Campworks NS-1 and the Bean Trailers Black Bean Off-Road. Both have starting prices of about $40,000. 
What Is the Smallest Off-Road Teardrop Camper? 
The smallest off-road teardrop camping trailer is definitely the Sunnyside Boony Stomper. It only weighs about 600 pounds so you can pull it with virtually any vehicle with a tow hook, including some UTVs.
Ready to Ditch the Pavement? 
An offroad teardrop camper gives you the freedom to go anywhere. So whichever you choose from this list, you'll be ready for an off-grid adventure.
Cross country road trip on back roads? No problem.
Off-roading in the Utah desert? You betcha.
Boondocking in New Mexico? Let's do it!
Don't miss my other camping, overlanding, and RVing articles!
Latest posts by Stacy Bressler
(see all)