This healthy raspberry muffin is about to rock your taste buds!
These coconut powered muffins are a completely guilt free snack that even kids love!
As you might know if you've been keeping up, I have not been able to go outside as much as I'd like due to a recent surgery that I have had. So, what do you do when you're stuck inside during winter? BAKE!
I don't actually like to that much, but every couple weeks I get a wild hair and crave some sweets. Even more so now since I haven't had time lately to hang out in my favorite coffee shop and get my sweet tooth satisfied!
I was actually in the process of making some not so healthy muffins when I found my bag of Nutiva Coconut Flour and saw a super amazing sounding recipe on the back of the package.
It was for "Coconut Blueberry Muffins", but I had just finished making some raspberry lemon muffins and figured I'd change it up a little to use what I had. Again, credit to Nutiva for this inspiration, I only changed two ingredients so I can't claim it as my own. However, definitely wanted to share it!
Besides being a sugar-free raspberry muffin, what else makes it so tasty?
It is gluten and dairy free, which even if you don't have any health problems that require these special accommodations, you just feel better avoiding! I do, at least, but maybe that's a placebo effect. =P
Coconut flour is high in fiber, and has 32% of your daily value in on serving!
Raspberries which are a great antioxidant
Chia seeds which are high in omega 3 fatty acids.
No processed sugar as well, so the idea is that your body will be able to break down the natural sugars that are in it better!
Do these muffins have greek yogurt?
Mine do not, but this recipe gives a great variation on using greek yogurt! I'd love to add it to mine because of the added protein, but was trying to avoid dairy! Check it out here !
Are these muffins really
sugar free
? AND they taste good?
Yes! While honey does still contain sugar, it is much less inflammatory as it is not as processed. If you can, be sure to use raw honey! I think it really adds a lot to the flavor, and doesn't have that "fakey" taste like normal white sugar does!
If you're looking for other healthy baked goods (dairy free,

sugar free

, egg free, etc) check out my most popular recipe for Peanut Butter and Chocolate No Bake Cookies!
For many years I dumped cups and cups of sugar into these guys, but since I started nursing, I wanted to change them up a bit to be healthier!
This recipe has been pinned thousands of times, so I'm sure you'll love it just as much!
And guess what – if you happen to be nursing, they can be powerful boosters as they have brewer's yeast and oats in them!
Check out these super moist no bake chocolate, peanut butter, and oats recipe here!
Anyways, here is the raspberry muffin recipe!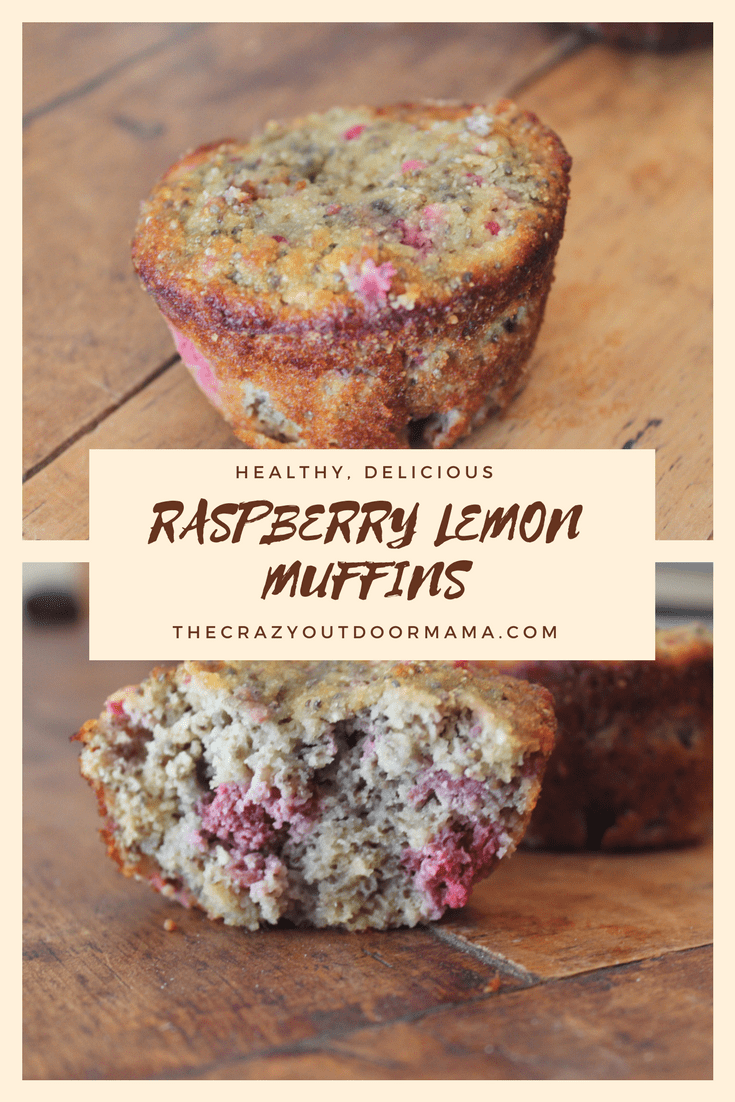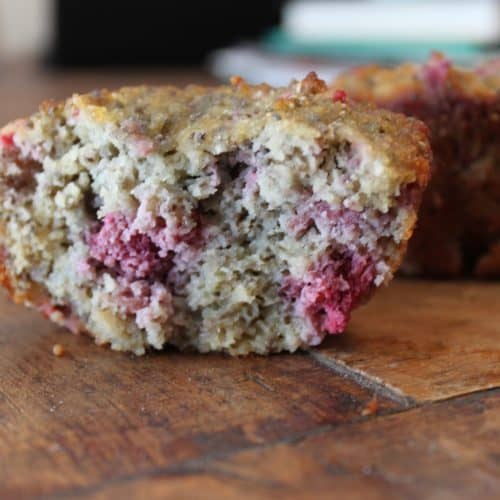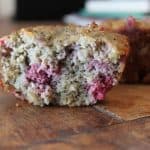 Moist and Delicious Raspberry Lemon Muffins
These nutrient power houses explode with the rich flavor of coconut, tang of raspberry, and subtle hints of lemon. They stay super moist, and are a hit with kids!
Ingredients
1

cup

Nutiva Organic Coconut Flour

1/2

Tsp

Sea Salt

1

Tsp

Baking Soda

1/2

Cup

Honey

1

Cup

Coconut Milk

6

Eggs

1/4

Cup

Nutiva Organic Coconut Oil

Melt first so it blends easier!

4

Tsp

Vanilla Extract

1/4

Cup

Nutiva Organic Chia Seeds

1 1/2

Cup

Raspberries

1

Tbsp

Lemon Juice

1

Half Lemon Zest
Instructions
Preheat Oven to 350 degrees

Stir up Coconut Flour, Salt, Baking Soda.

Add all your wets, including the lemon juice and zest (Hold off on the berries!) I melted my coco oil first so that it would blend more evenly into everything. Also, if you're using raw honey you should just get a power whisk as it's extremely thick and it will be hard to really blend it well by hand. Don't be afraid to over beat it. I was at first, because I was obsessed with getting it all liquidy with no chunks, and mine came out perfect!

Combine the wets into the dries, then add your chia seeds.

Add the raspberries into the mix; I used frozen and it worked out great!

Bake for around 22-25 mins; check it by sticking a knife or toothpick in the middle. If it comes out mostly clean, they're done! Warning, they will be SUPER moist; this is ok!
These muffins are an easy, healthy raspberry recipe to keep in mind when they all pop during summer! Do you have any raspberry favorites?
I am a big fan of fresh fruit, especially when it's in abundance and it gives me an excuse to dump them into something tasty!
Latest posts by Stacy Bressler
(see all)