These 6 steps to a cleaner kitchen will make the chore a LITTLE less awful!
OK, so some people who come here will say to themselves "Duh, you put the dishes away, wipe the counters and sweep!"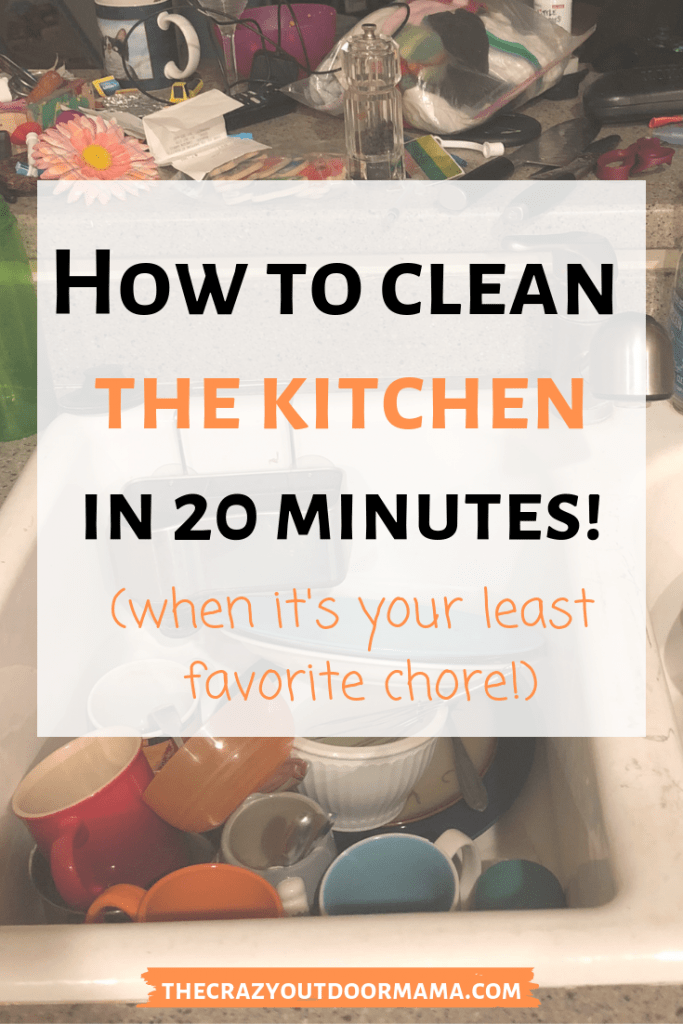 BUT, this post is not for those people – this post is for the person who intends to clean the kitchen, looks at it, then forgets that they needed to buy something on Amazon and conveniently gets lost in that rabbit hole for the 15 minute cleaning window they had.
Or maybe opens Pandora to get music going for some motivation, and end up skipping all the songs, starting a new channel, then hearing a new artist and looking all their videos up on youtube.
I could think of atleast 5 other things that happen daily INSTEAD of cleaning the kitchen – which coincidently, is the one area I want to be the cleanest, and that gives me near anxiety when I see it looks like a wreck!
It starts something like this – you get a half hour to yourself. You could do chores, or you could enjoy your thrice warmed up coffee… you look at the kitchen, and figure you still have clean dishes so it's alright.
But then you keep doing that for 2 or 3 days, and it's turned into this monster that is just way too overwhelming now, so you don't even want to bother!
This summer felt like that for me!
With our three kids under three, and constantly camping, there were a lot of other chores to be done to prepare for those activities. And prepping for camping or hiking is WAY more fun than boring household chores!
However, with fall here, it's time to face the projects and such that I've been putting off all summer. For us in Wyoming, fall tends to be a chore period. It's a bit cold for camping, and there's no snow for winter sports, so it's a good time to knock things out!
I've decided to focus a bit on the mundane household chores that I hate, find a solution, and write about it to help others (and hold myself accountable too!)
Don't get it twisted – if you come unannounced, it's likely there will STILL be food on the floor, dishes in the sink, and papers in various places. BUT, this is becoming a lot less common, especially as the kids get older
How to clean your kitchen in 20 minutes when you despise it!
Here's my 6 step technique to cleaning the kitchen (that will make it decent enough for most house visits!)
Set a timer for 20 minutes – If I know I only have to clean for a certain amount of time, then I am more likely to be productive because I know I will get my me time at the end! If you don't know how much time you have (such as newborn days or napping troubles) then just set it for 5 minutes! It's amazing what you can do in a short time! Just check out the magic fairy that visits when friends announce they're coming in 10 minutes who I KNOW are super neat people!
Put your phone out of reach! – I'm talking put it in a whole other room! Maybe one close enough so that you can hear of calls, but even then I find it helpful to change the settings in my phone so that only people like my husband actually make a notification! Otherwise, I'm checking out every Facebook update and IG story!
Put all the dishes in the sink – This might help really reduce the amount of clutter around, and make it not look so intimidating! For me, once I start to see progress I feel more motivated to keep cleaning!
Do ONE section of counter at a time! – While the whole kitchen might be a wreck, it can be helpful to focus on one area. I've heard that professionals who help hoarders (I'm sad that I'm relating my kitchen to this) say that they foucs on just one area at a time – even if it's only 2 foot by 2 foot big! Once you do one, and see your progress, the rest seems easier!
Wipe all horizontal surfaces with a rag – Don't bother catching crumbs! It's faster to put everything onto the floor and just sweep after!
Sweep up the mess and call it good – The cherry on top!
Some things to think about to make cleaning the kitchen easier
Over time, I've noticed that if I incorporated these habits into my life, cleaning has gotten way easier!
Have a home for everything
The biggest way to reduce the amount of time it takes to clean is to make sure every thing has a home. I'm not talking about a junk drawer or bin (I still have those…) but a place it actually belongs!
I find that if I know where something goes, then I'm way more likely to put it there!
This is still something I'm working on in our home. We have way too many hobbies, and paired with a smallish house, that means things have to be stored very precisely.
So if we go looking for something, everything telse has to be moved out of the way. AND PUT BACK! Which doesn't always happen!
If cleaning during naps isn't an option, involve your kids!
A routine I like that I have developed recently is cleaning the kitchen with my three year old during my one year old twins first nap.
As sad as it is, I sometimes need someone to constantly remind me to get up and do it, and that person happens to be three! It also helps to have a routine – if I am mentally prepared for it, things just go smoother!
He really enjoys "cleaning" the dishes (I give him a pot or two to work on with his scrub brush) and this helps him feel involved, as well as keeping him occupied so that I can do the heavy lifting.
I try to tell him what all needs to be done IE "We need to put the clean dishes away, dirty dishes in the dishwasher, and pick up all the stuff of the floor so we can sweep!"
Get a screentime monitoring app
My Iphone recently got an update that scared the crud out of me! It tracks your screentime if you choose! I thought I wasn't THAT bad… after all, I feel so freaking busy all day!
But I was slapped with reality when it said I had two hours of screen time for the day (This did include times like naps that I looked at my phone, so it wasn't super bad but….)
WHAT!?!
With the realization I have alot more time than I think , it made me a little more productive.
I actually set a screen time limit for myself so that I can be aware of when I'm about to go overboard with it!
Yes, you can dismiss the warning once it pops up. But the point is, it reminds you that you've been looking at your phone alot and kind of guilts you into reducing that.
Or me, anyway. I always feel bad if the kids did something cool but my face was in my phone.
Cleaning the kitchen isn't fun, but having one less "chaos" area in your home can really help with stress!
While this isn't going to make your kitchen spotless, it will help you have a plan! If I just keep my phone away, and worry about one area at a time, I get alot more done.
Notice that I left out do the dishes? You can definitely do them! I just didn't mention it because once everything is in the sink, it's easy enough to wash one here or there throughout the day.
Or don't do anything, and drink a redbull when it all becomes too overwhelming!