Let me show you how to spend a couple extra seconds each purchase to possibly save TONS on Amazon!
If you are like me, and have no time to go to a store, prefer to shop in your pjs, or obsessively read 100 reviews on an item before buying it, then I have good news; Amazon Warehouse deals are about to up your money saving game!
I only found out about it recently, and am SO excited to tell you about it!
I'm a thrift store junkie; When I go to the thrift store, I most definitely get pumped like a college kid going to a party and blast "Thrift Shop" by Macklemore in my head! So when I found out I can do something very similar from the comfort of my own home, without dragging the three kiddos out and spending half the time telling them to not break anything? I was pumped!!
I have saved hundreds of dollars in only a couple of months!
Having three kiddos, I'm always looking for deals. Whether at the thrift store, on FB Marketplace, FB Garage sale sites, or just actual garage sales, I am always trying to save a dollar here and there. And guess what?
In 6 months, I saved $270.71 on 8 purchase from Amazon with only about 5 seconds extra effort for each purchase!!
There are two ways do to this; one is through the Amazon Warehouse page, and the other is a quick way to check if you are already at the item's page. This is most often how I check!
The first way to save some money; starting at the Amazon Warehouse homepage!
1. Head over to Amazon.com
Nothing fancy here folks!
2. Select Amazon Warehouse Deals
In the drop down menu by the search bar, select "Amazon Warehouse Deals"
3. Hit the search button!
You don't have to have anything written in the search box; this will bring you to the Amazon Warehouse homepage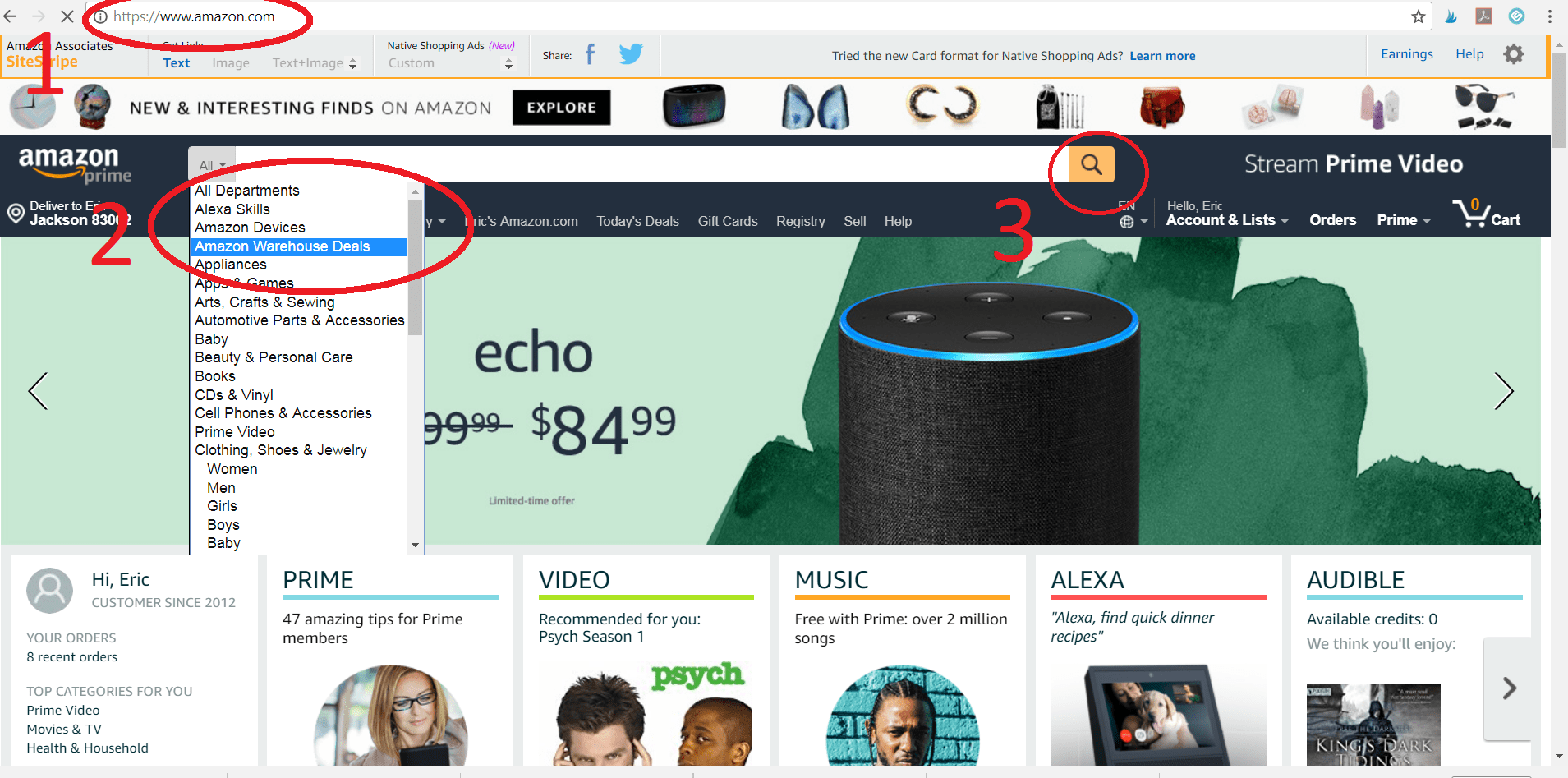 Now you are at the homepage!
I like checking here to see if they have any good deals going on before I move on to what I was actually looking for. This is sometimes bad because I find stuff I didn't know I needed until I saw it! And I can't pass up on a good deal!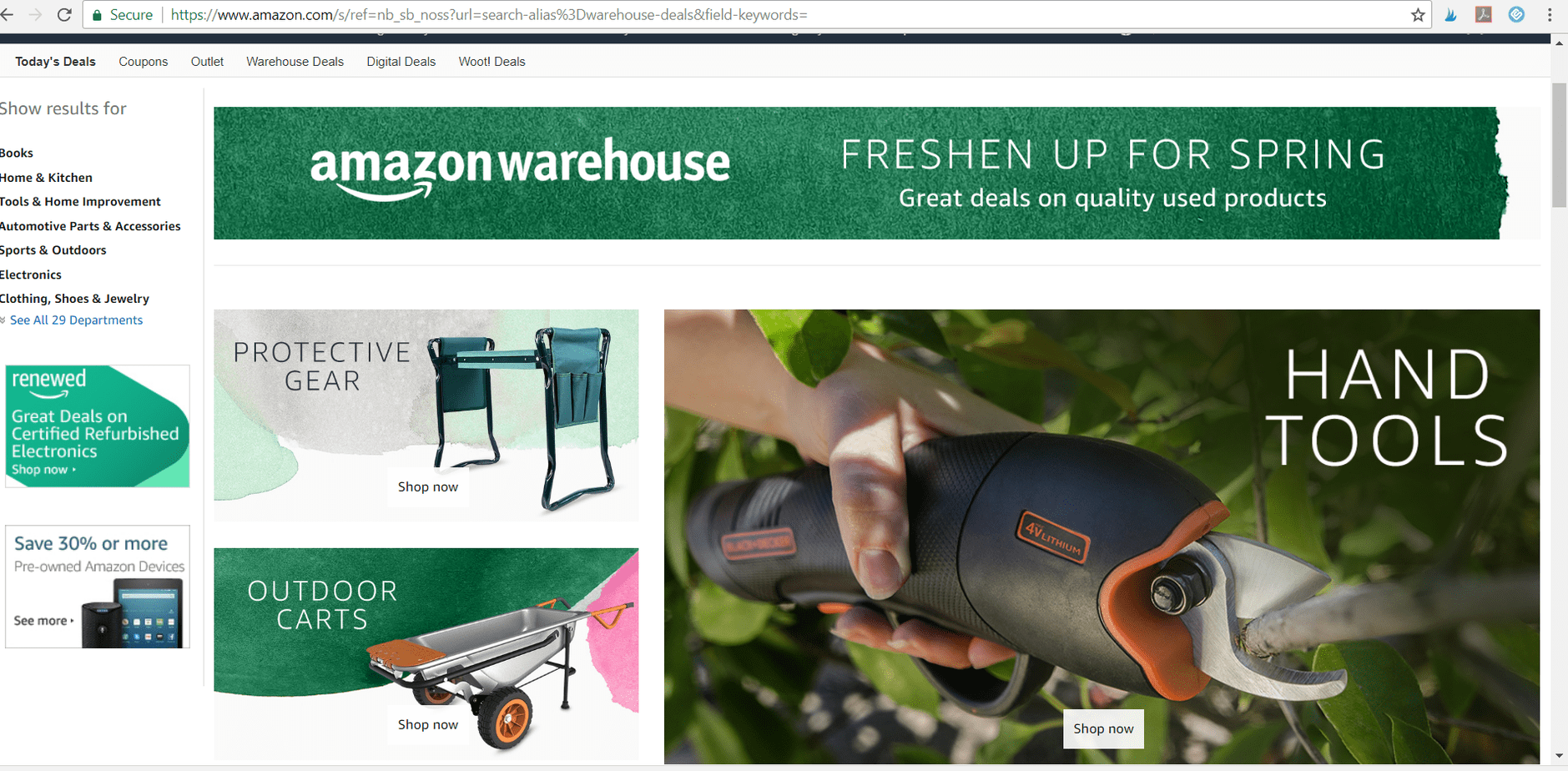 4. Type in your item name
Type in whatever item you are looking for. For example, I typed in "Baby Monitor" in the search bar and hit search. This is what came up. Depending on the item, you may or may not have tons of selection as shown in the example.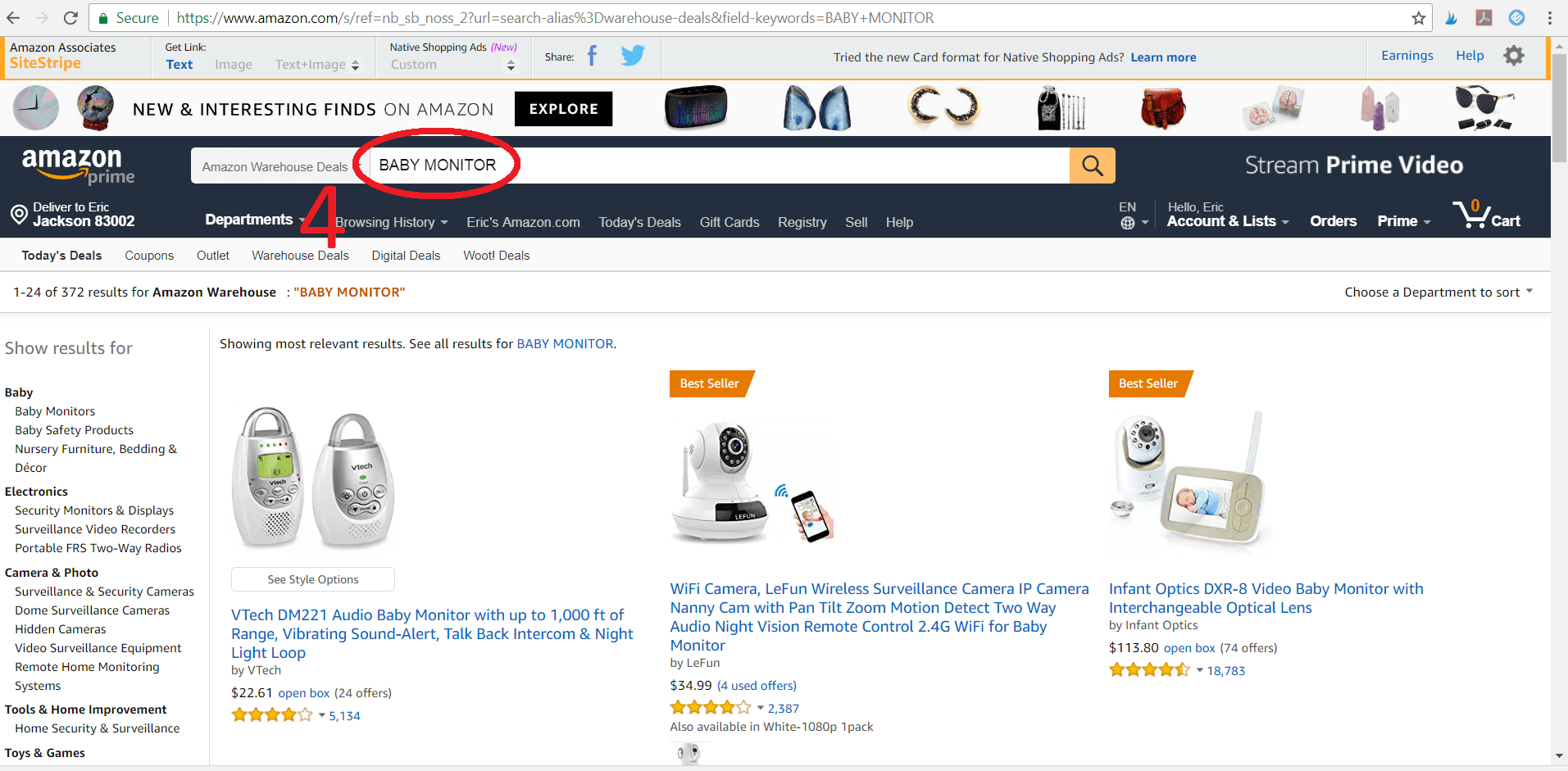 5. Select your item
By default, all the items here will probably show as "Open Box" since you searched from the Amazon Warehouse page, but make sure when you click on your item, you are clicking on "Open Box". That means that the item may have been opened, but it is still in good shape. That's how you save money with Amazon Warehouse Deals!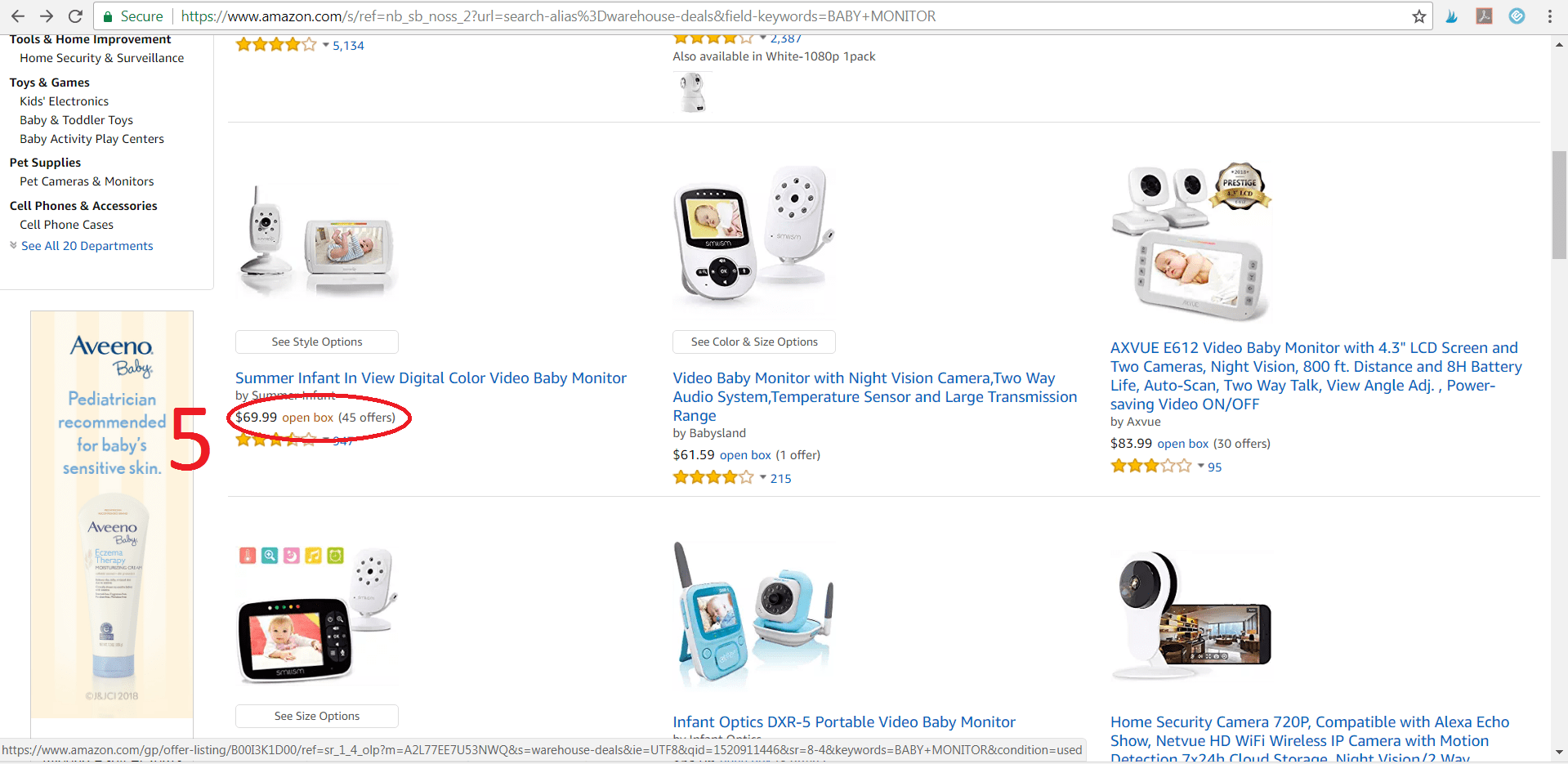 6. Find a price you like with conditions you accept!
There will be a list of all the sellers, and what condition they are in. For this item, Amazon Warehouse had a lot. Often times, warehouse deals seem to exist because of slight cosmetic imperfections or perhaps someone got an item and ended up not wanting it after already opening it. Amazon is super awesome though and is normally pretty detailed with what is "wrong" with the item.
If you notice on the left, I have "Open Box" selected with everything under it selected as well. If, perhaps, you were looking for a gift and didn't want it to be as "messed up" you could narrow your results by selected the "Like New" option or "Very Good" option.
As for me, I'm all for saving the most money, and acceptable is good enough!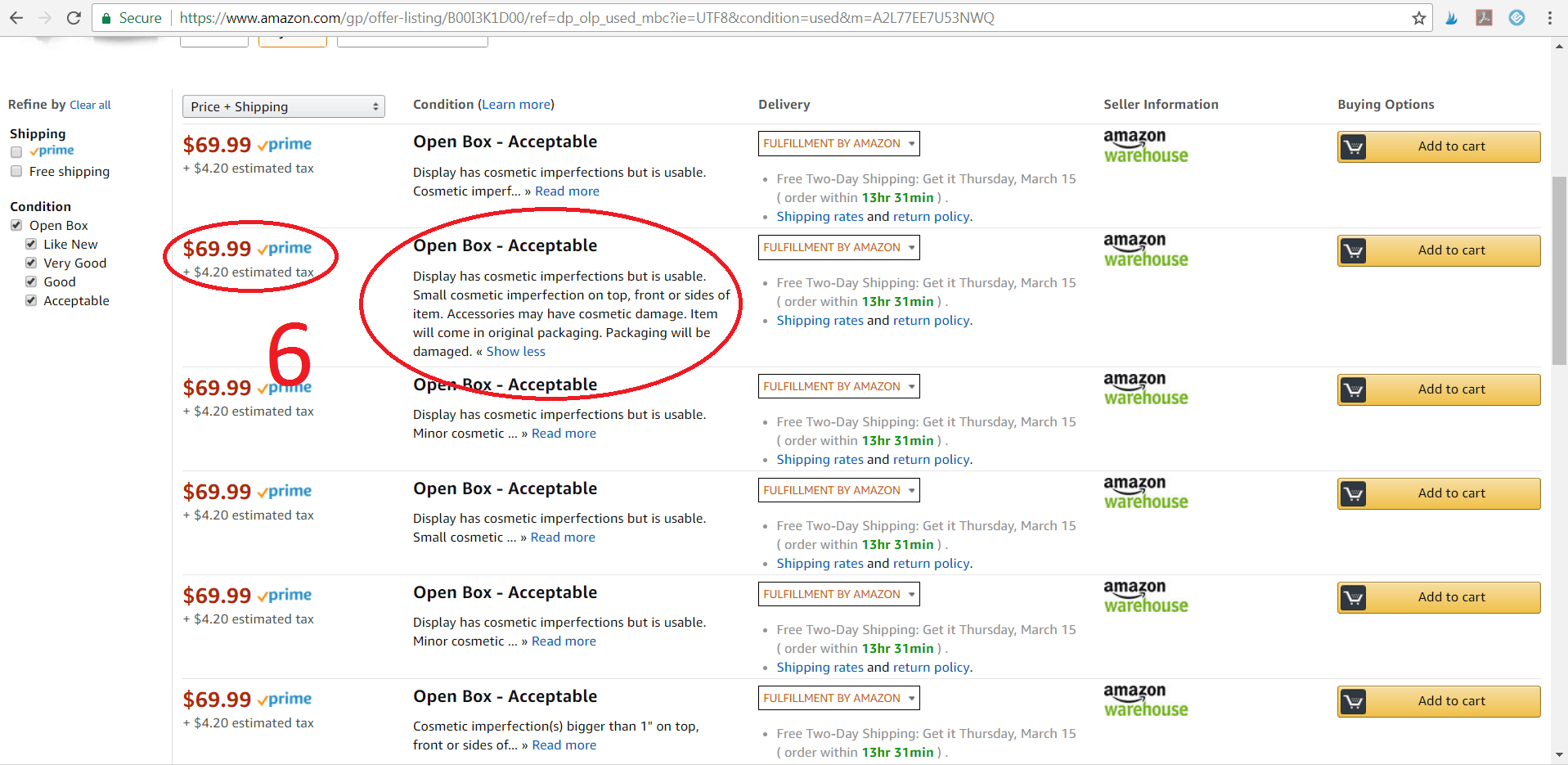 7. Check to see if the savings is worth the possible defects/damages!
I always do this for a couple of reasons. For one, I love to see how much money I saved compared to buying it new.
For this example, we would have saved about 30 dollars if we purchased this item through Amazon Warehouse Deals!
Also, if something kind of bothers me about it (such as if I were buying a nice wood item and it had a giant scratch in it) I need to see if the savings are big enough for me to be ok with what's wrong with it.
To compare prices (on Amazon, anyways) deselect the "Open Box" option on the left side, and select "New". If Amazon does have any of it in stock, it will show up on this page.

The second way to find Amazon Warehouse Deals; when you're already at the item!
Say you're browsing, and you find a great item, but you don't feel like going opening another tab or going back to the Amazon Warehouse page to see if there is a better deal. Good news! If you are looking to save time, you can check from the item's page! I'll show you how!
1. Check for the "More Buying Choices" option
Imagine you were already looking at an item, and just want to check really quick if there's some savings.
Look below the item price to the tiny print that says "More buying choices". Click on the highlighted blue part under it "Used and New Offers" if there seems enough of a difference in the price to be worth checking out! If the option is not available, there may not be any Warehouse deals at the moment. Bummer!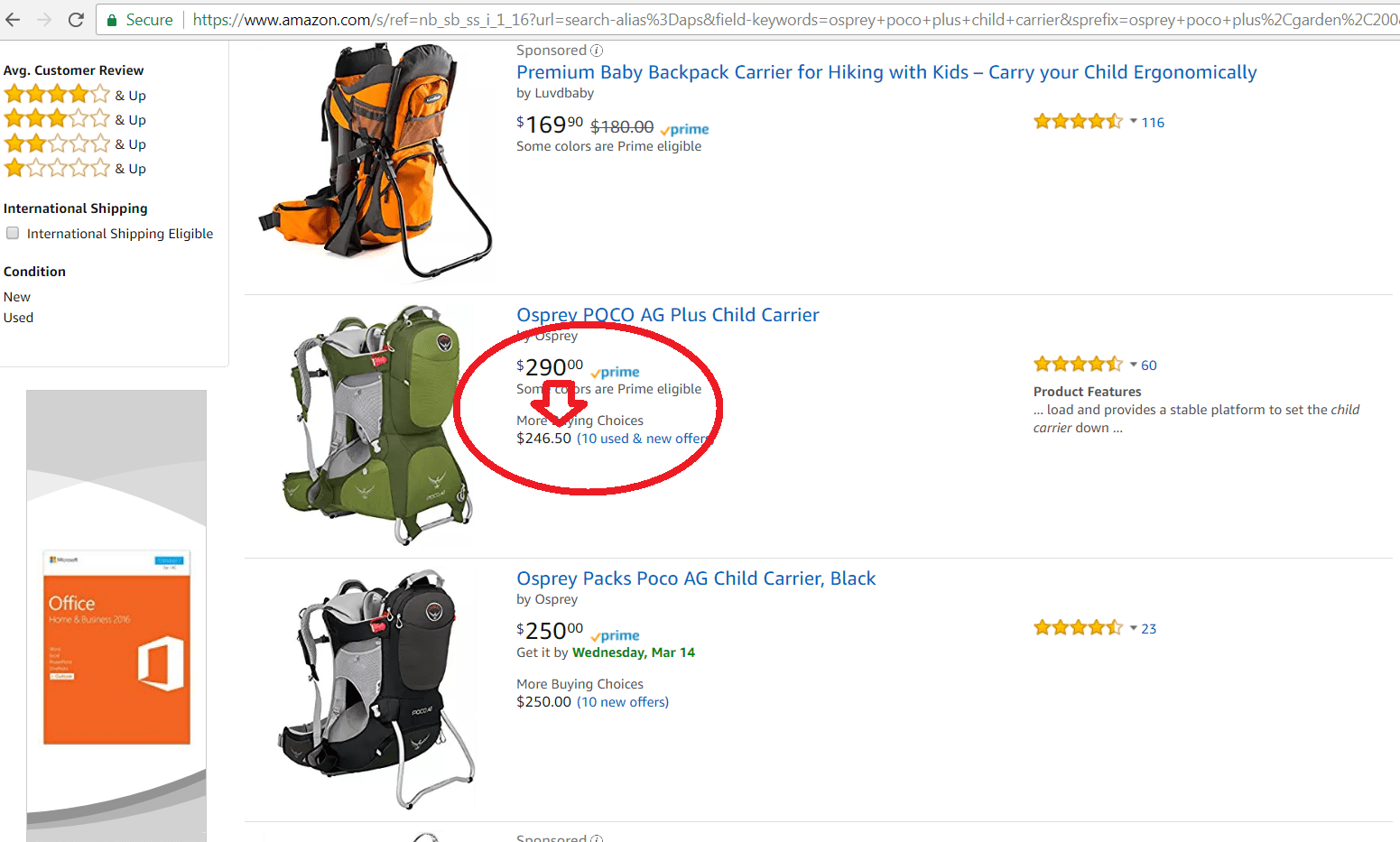 2. Compare prices and save with an Amazon Warehouse Deal!
Clicking on the "Used and New Offers" will bring you to a list of just that; Amazon as well as third party sellers who are offering the same item. Just like with our example baby monitor, the condition will be listed. It seems this item is just going to be repackaged, and we would have saved 40 bucks!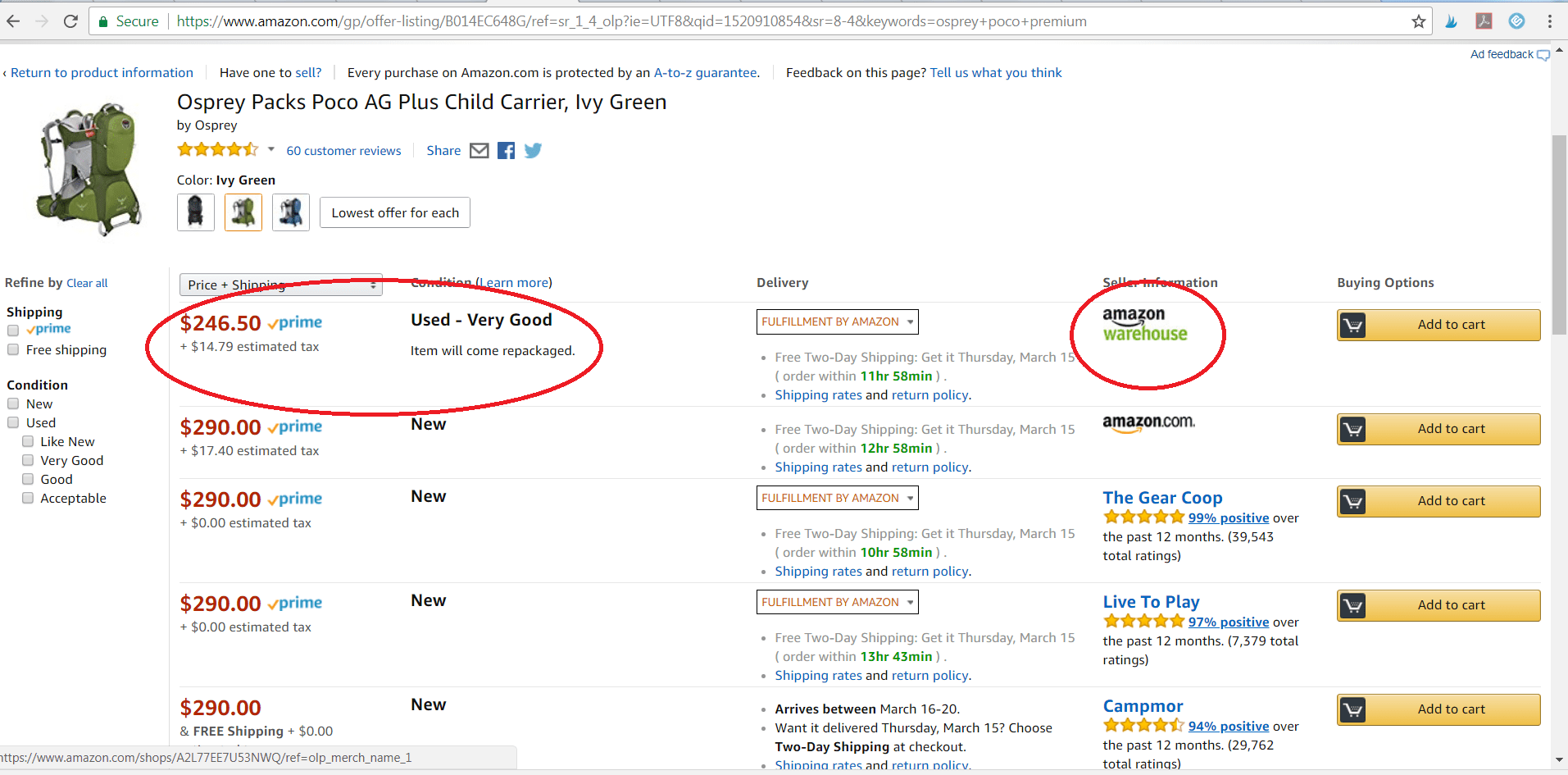 Pin this to spread this little known trick!