When you think of a murphy bed, you might just think of a tiny 500 square foot studio apartment in a big city that costs a bazillion dollars a month, but that's not the only place you'll find them!!
There are actually tons of RVs out there that have murphy beds because they're a great way to save space in a tiny home on wheels.
If you're interested in RV murphy beds, but you're totally unsure if an RV with a murphy bed would work for you, you've come to the right place!!
I'm gonna go into everything about RV murphy beds, from what they are, to how they work in RVs, some pros and cons, and then I'll talk about a few great RVs that have murphy beds.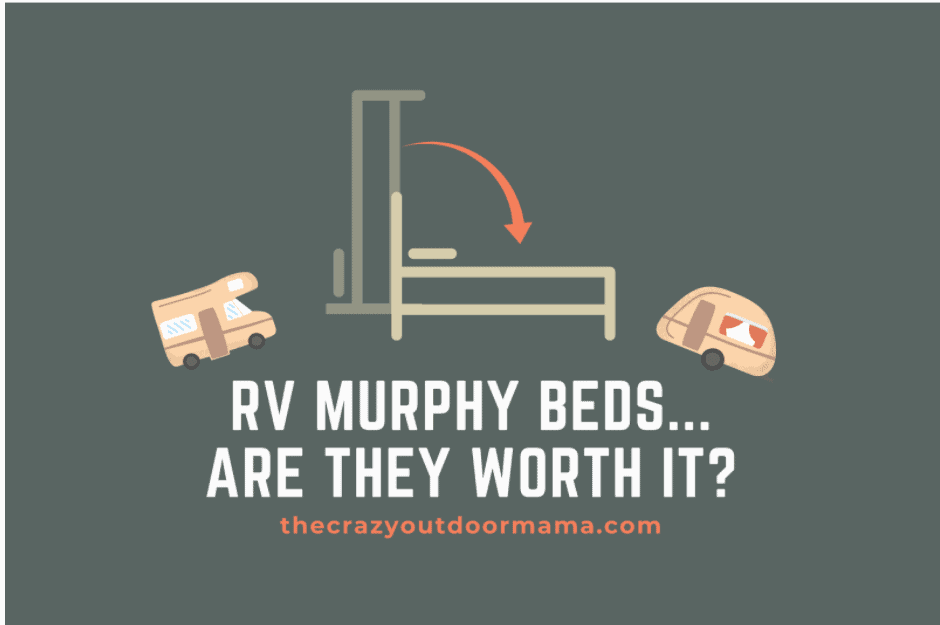 What Is an RV Murphy Bed? 
A murphy bed is any bed that folds up into an unused space so it takes up less room. In RVs, murphy beds fold up completely into the wall, and the space they leave is often taken up by a couch. They're made to be folded up during the day and then folded down at night to be used for sleeping.
They're mostly seen in smaller RVs because they increase sleeping capacity without taking up valuable floor space that can be used during the day.
How Does an RV Murphy Bed Work? 
Setting up a murphy bed can take some getting used to, but once you've done it a few times, it becomes way easier.
Every RV murphy bed is going to look a little different but the setup is generally the same across different RVs. An RV murphy bed is typically latched to the wall by two strong metal latches or another securing mechanism. You basically just undo the latches and slowly pull the bed out of the wall.
Most RV murphy beds (if not all) have special hinges that ensure the bed comes down in a controlled way so it doesn't fall down and crash on top of you. Plus, you don't really have to hold the whole weight of the bed as you bring it down since those special hinges kind of take some of that weight for you.
To put the bed back up, just do the process in reverse! Lift up the bed, push it towards the wall, and secure it back into the wall. 
This process will vary a bit from RV to RV. Check out this video that shows a quick demo of how the murphy bed comes up and down in an Airstream Atlas if you're curious what the process really looks like.
Boom! Not so difficult after all.
Are Murphy Beds in Campers Comfortable to Sleep On?
If you've ever slept on an RV bed, you know they're usually thin, and uncomfortable (though, this does vary by manufacturer). Murphy bed mattresses are especially notorious for being uncomfortable because they typically have to be thinner than regular mattresses in order to fit into their spot in the wall.
If you purchase an RV and find that the murphy bed is incredibly uncomfortable, there are a couple of solutions, so don't fret.
Firstly, you can purchase a memory foam mattress topper. They're usually around a hundred bucks and dramatically increase the comfort of a bad mattress.
If you really want to upgrade the mattress for your RV murphy bed, you can order a custom RV murphy bed mattress from Mattress Insider. You can use their custom mattress builder to select the comfort and exact size of your mattress. They'll make the mattress and ship it to you!
Even if you're unsure, it's fun to play around with the mattress builder, and see how much it would cost to get a custom mattress for your murphy bed.
Check out my full review on my custom mattress from Mattress Insider here. 
Related: 3 Ways to Deal with Your Uncomfy RV Mattress (for all budgets!)
RV Murphy Beds Pros and Cons
An RV murphy bed is a great choice for some RVers and not such a good one for others. Here are some benefits and drawbacks of having an RV with a murphy bed to help you decide if you want one.
Pros of an RV Murphy Bed
The most obvious, and probably the best benefit of having a murphy bed is that it saves space. No matter how large an RV or travel trailer is, you're probably going to be short on space, so it's nice to free up that extra living space using a murphy bed.
The only time it takes up room is when you're actually using it. Other than that, it's completely out of sight and leaves more floor space that can be used for seating, dining, or just extra room to move around.
They're also great for any RV that doesn't have a designated bedroom. In most floorplans of RVs with murphy beds, during the day, the bed area is a part of the living room or kitchen area. That means you can easily shift the space from a bedroom at night, to a living room or kitchen during the day.
Cons of an RV Murphy Bed
I'd say the biggest drawback of having a murphy bed in your RV is that you have to fold it down every night, and up every morning. This process isn't long or time-consuming, but it is one extra step that you have to do before bedtime, and after waking up.
RVs with murphy beds are also not going to have a separate bedroom as the wall bed is usually located in the living area, so if you travel with other people, you likely won't get that extra privacy.
If you're tired of complicated sleeping arrangements, a murphy bed might not be the best option for you.
Another thing to consider is that murphy bed mattresses might be pretty uncomfy. But now you know you can remedy that issue pretty easily by buying a foam mattress topper or ordering a custom mattress.
6 Travel Trailers & RVs With Murphy Beds
Okay, if you've decided that you might want an RV with a murphy bed, you'll want to do some shopping around to find which RV or travel trailer is best for you.
To get you started, I've compiled this list of 6 RVs with murphy beds. I included a nice mix of smaller and larger motorhomes, driveable vehicles, and travel trailers so you can get a feel for what's out there.
Most of these are considered affordable to mid-range options, but I've included a couple of fancy-dancy RVs with murphy beds in case you want to see what those look like as well.
Alright, let's go shopping!!
Jayco Jay Feather Travel Trailer
The brand new 2022 Jayco Jay Feather now has two different floor plans that include murphy beds. These trailers are super popular in the RV community for their affordability and great floorplan options.
The floorplan I'm showing here is from the model 20MBH, which is a large version of the Jayco Jayfeather. But Jayco also has a Jay Feather Lite that offers a murphy bed. The 20MBH is a great option if you need lots of sleeping space, but don't want that sleeping space to take up a ton of floor space in your RV.
The murphy bed is queen-sized and folds down over a couch at the front of the trailer. In the back, you get a full (pretty large) bathroom as well as double bunks.
This model also comes with an outdoor kitchen covered by an awning, which is awesome for cooking at your campsite in all kinds of weather.
At the time I'm writing this, this trailer is brand-spankin' new and Jayco doesn't have any video tours of it, but to get a feel for what the design looks like inside, here's a video tour of another 2022 Jay Feather travel trailer floorplan.
Forest River Flagstaff E-Pro Travel Trailer
Forest Rivers Flagstaff E-Pro is an excellent smaller travel trailer with a murphy bed. It's just 20 feet in length and super lightweight. The E-pro is actually designed to be driven by fuel-efficient vehicles. At just over 3,000 pounds, this travel trailer can be towed by almost any mid-sized car, so you don't have to buy a huge pickup truck to tow it.
Forest River offers several floor plans for the E-pro that come with murphy beds, including the E19FDS and E19FD (that one's shown here). The murphy bed in this travel trailer is just around the size of a queen bed, at 54" by 74". When the murphy bed is up, a sofa takes its place so you have a nicely furnished living room area.
Check out this video tour of the 2021 E19FDS. You can really see how easy it is to put the murphy bed up and down in this travel trailer.
Grand Design Imagine 17MKE Travel Trailer
The Grand Design Imagine XLS is a pretty popular murphy bed-equipped travel trailer. It's a nice, smaller trailer, at around 21 feet.
The 2021 Grand Design Imagine offers two floor plans that come with murphy beds, the 21BHE and the 17MKE (that's the one I've shown here).
The trailer has a queen-sized murphy bed and still packs in tons of storage underneath and around the bed. It's super easy to put up and down as well.
The layout also has some other nice features like the large rear bathroom with a linen closet. This model in particular has lots of living space, which you can even see in the diagram of the floorplan. So even though it's a small trailer, it feels nice and spacious inside.
Check out this video for a full tour of the 2021 Grand Design Imagine 17MKE that also shows how the murphy bed comes up and down.
Coachmen Catalina Summit Series 184BHS
​​
Source: coachmenrv.com
Now for the most affordable travel trailer with a murphy bed on my list!
This is the 2021 Coachmen Catalina Summit 7' wide with floorplan 184BHS. Coachmen are known for having really affordable RVs, and there are definitely some benefits and drawbacks to this camper…
​​
​​source: coachmenrv.com
First off, this is a pretty small camper (at 23'), and it's rare to see double over double bunk beds in a camper this small, so that's an awesome bonus that really raises the sleeping capacity of this small trailer.
However, the murphy bed in the Catalina Summit is folded. That means the murphy bed folds to go up into the wall, and then you have to unfold it when you bring the bed down. So that's one extra step. Plus this trailer really lacks storage space in my opinion.
But really…all that being said, you're getting a good amount of sleeping room as well as a nice bathroom packed into a smaller trailer.
Check out this video tour of the 2021 Catalina Summit 184BHS. They demo the murphy bed being put down in this video.
Airstream Atlas
If you're not on a budget, the Airstream Atlas is a SUPER nice Class B motorhome with a murphy bed. Seriously. This thing is fancy!!
It's built on a Mercedes Sprinter chassis and is known for having great build quality. However, these only sleep two people, so if you're vacationing with the whole family, this may not be a great option.
Airstream only offers one floorplan for the Atlas–the "Murphy Suite". The floorplan includes two captain's chairs, a kitchenette, lots of counter space, and a full bathroom.
The wall bed is located behind a luxurious leather couch. The sofa folds down with the push of a button and then all you have to do is pull down the bed. It's pretty large compared to some others on this list at 73" by 73", and takes up pretty much the entire room.
Pulling the bed down also reveals a nice wide window above the head of the bed for some natural light.
With all these fancy features, though, you still miss out on counter space as well as a dining table.
Check out the super in-depth video tour of this fancy travel van. This video shows a demo of how to set up the Atlas' murphy bed.
Tiiffin Wayfarer 25 RW
The Tiffin Wayfarer is another luxury RV similar to the Atlas as it's built on the same Mercedes Chassis. But the Tiffin is slightly more affordable and the interior (in my opinion) doesn't look quite as luxurious as the Atlas'.

Source: tiffinmotorhomes.com
Tiffin offers four different floor plans for the 2022 Wayfarer. The only one with a murphy bed is the 25RW. The murphy bed in the Tiffin Wayferr is queen-sized (60" x 74") and sits towards the back of the vehicle. The bed goes up and down with the push of a button so setting it up is super easy.
The Wayfarer doesn't have much counter space, but it does have lots of food storage space plus a full bathroom area that takes up the whole back end of the vehicle.
This model includes an optional tri-fold sofa which adds additional sleeping room. That means the Wayfarer can sleep more people compared to the Atlas.
Here's a nice walkthrough tour of the 2022 Tiffin Wayfarer 25RW that also shows how the murphy bed goes up and down.
Can I Install a Murphy Bed In Any Camper?
You can install a murphy bed in a camper but it's not gonna be easy. You'll need…
The space for it
A solid knowledge of RV construction
Macgyver-like building skills
A project like this definitely takes some time and effort, but if you have already purchased an RV that doesn't come with a murphy bed, and you REALLY want to make one yourself, it could be a fun project.
You'll get the best results if you're starting with a blank slate — like an empty conversion van or trailer. That way you can build a murphy bed that'll be an exact fit.
Here's some video inspiration!
So Are RV Murphy Beds Really Worth It?
Are they? You tell me!!
For some RVers, murphy beds are an awesome space-saving option, and for others, they seem like just another hassle of RV life.
Hopefully you got to browse through some good options here, but if you've decided an RV with a murphy bed isn't right for you no problem!! I have lots of other lists of great RVs and travel trailers to help you shop:
Latest posts by Stacy Bressler
(see all)