Welcome to the great battle between two of the most popular mini wood-burning camp stoves — the Solo Stove Lite and the Ohuhu.
On the one hand we've got the Lite, the crowd favorite from the popular Solo Stove firepit brand.
And on the other hand we've got the Ohuhu, the budget-priced and what some would call "knock-off" version of the Lite that you can find for a fraction of the price on Amazon.
Both claim to do the same thing — give you an efficient and lightweight mini wood burning stove you can take backpacking, camping, or picnicking.
So in a head to head competition, which comes out the winner?
IMPORTANT! – This is NOT a review based on other people's reviews. I personally put both of these stoves to the test to find out which you should buy. DON'T waste your money. You need to read this review.
That's because on paper, one of them looks like the clear winner. But it's a different story in the real world. Don't miss the last section where I share my surprising experience with both. The one I thought was going to win failed miserably!
Let's start with a quick overview of each.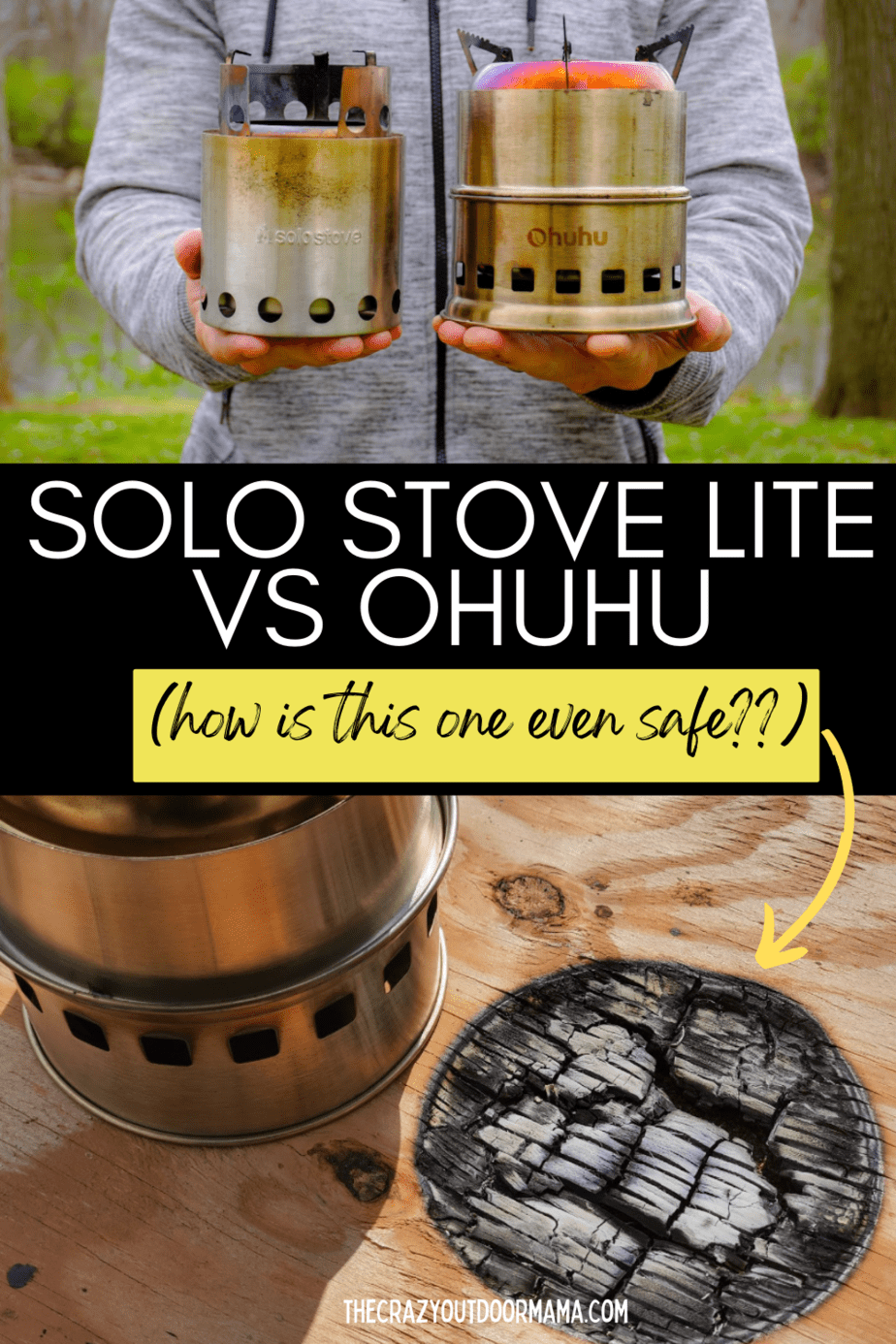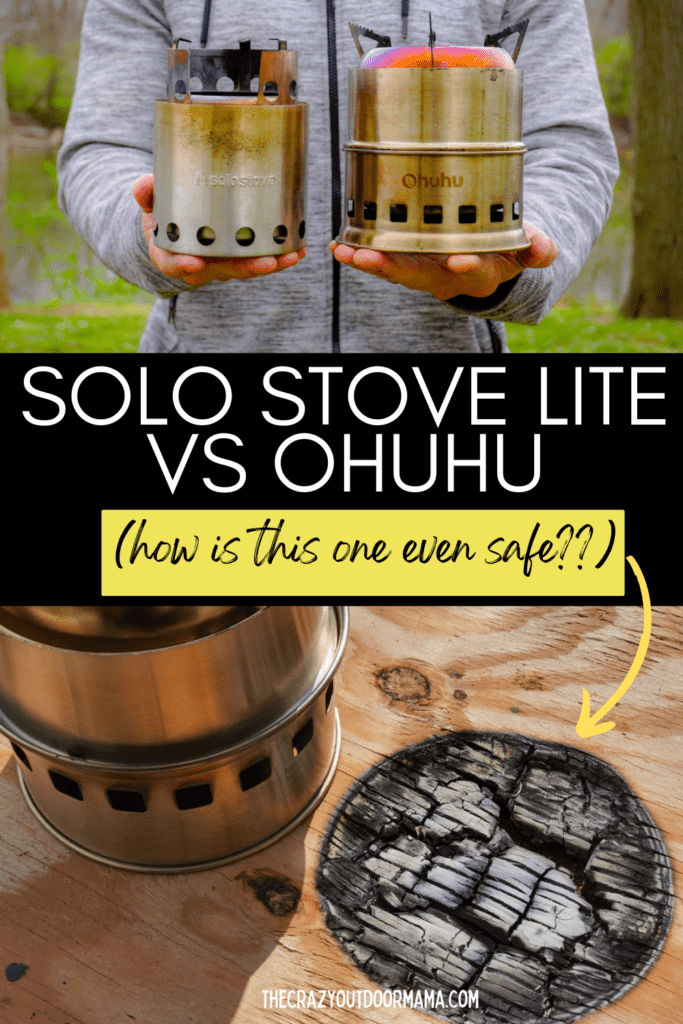 Solo Stove Lite Overview
Here are some of the Solo Stove Lite's features.
Price: List price is $89.99 but it often goes on sale for $65-70
Weight: 9 ounces
Size: 4.25 inch diameter, 3.8 inch height (5.7 inches with the cooking ring)
Construction: Two-piece stainless steel body with a nichrome wire grate in the ash tray. Gasifier stove (*read my Lite review to learn what a gasifier stove is)
Comes with: The two-piece body (base and a cooking ring), a Solo Stove sticker, and a black carrying bag.
It's easy to see why the Lite is such a popular choice with backpackers. It weighs about the same as a backpacking stove and fuel canister. And best of all, if you're in the woods, you have unlimited fuel.
Its sturdy construction is elegantly simple and is sure to last through many years of camping trips. Sure, it's not as fast or as easy as using a gas canister stove, but for pete's sake…you're camping! What's the rush?
The Lite is also available with some accessories like a windscreen, alcohol burner, and a stainless steel pot in which the Lite nests perfectly, but you need to purchase them separately.
*Check out my full Solo Stove Lite review article to see all the accessories you can get for it.
Ohuhu Camp Stove Overview
Here are some of the Ohuhu mini camp stove features.
Price: List price is $21.99 but it's usually on sale on Amazon for $19.99
Weight: 14.2 ounces
Size: 5.3 inch diameter, 6.1 inch height
Construction: Multi-piece stainless steel body gasifier multi-fuel stove.
Comes with: The multi-piece body, bowl for alcohol fuel, mini grill top, and a black carrying bag.
It's easy to see why the Ohuhu is such a popular alternative to the Solo Stove Lite. The Ohuhu promises to do everything the Lite does and more. I mean, it even comes with an alcohol burner stove and a mini grill top.
And at a fraction of the price!
So on paper, it looks like the Ohuhu is the clear winner. But how do they compare in real world usage?
Here's my experience…I was a bit surprised.
My Experience With the Lite and the Ohuhu
Anytime I test products, I take a scientific approach to it. Because the only real way to know how two similar products compare is to test them both in the exact same conditions.
So here was my testing criteria for the ultimate showdown between the Lite and the Ohuhu. I didn't take it easy.
I didn't test these in perfect conditions because when you're out on the trail, rarely do you encounter perfect conditions.
I used small dead twigs from a maple tree as the fuel for each stove. It had rained the day before so they were a little damp.
I used the same type of natural firestarter in each stove.
I filled a Stanley Adventure cup with 32 ounces of water from the tap for each.
It was somewhat windy out so I used the same makeshift windscreen for each stove.
I planned to timed each test from lighting the firestarter to boiling.
I started with the Ohuhu. Quite frankly, the Ohuhu can be a little confusing to put together since there are so many parts. And oddly enough, the pieces fit together several different ways, not all of them being the correct way. The Solo Stove Lite, on the other hand, is pretty much idiot-proof.
The final piece on the top of the Ohuhu has three tabs that unfold. That's where you put your pot. Those tabs handle wider pots a lot better than the Lite.
However…
Those 3 tabs feel really flimsy when you're unfolding them. To be honest, I would be surprised if it would make it more than 20 uses without at least one breaking off. And guess what? When one breaks off, the Ohuhu no longer works as a stove since there's no place to put your pot! Hopefully Ohuhu makes those a little more rugged in the future. 
*If you want a Solo Stove to handle larger pots, go with the Titan or the Campfire.
So I added the firestarter, packed some twigs around it and lit it. FIRE! I put the Stanley Adventure cup on top and waited.
With the LITE, you need to feed the fire regularly. And for that, the top cooking ring has an open space where you can easily check on the fire and add more fuel, even thicker pieces.
The Ohuhu stove is a little different. There's no place to easily feed the fire while a pot is on top. True, there is about a ¼" gap between the cooking ring and the bottom of the cup so you can slide in some really thin twigs, but it's not easy.
So anytime you want to add fuel, you have to remove the pot with one hand, add fuel, and then sit the pot back on top. Not a deal-breaker, but definitely an inconvenience.
So I waited, added fuel to the fire, and waited some more.
With the Solo Stove Lite, the very first time I used it, I boiled a quart of water in 10 minutes from the time I lit the fire. I thought that the Ohuhu could easily match that time, especially since it's larger than the Lite and has space for more fuel.
Waiting on the Ohuhu, 10 minutes came and passed. No boiling water.
More fuel. More waiting. 15 minutes. A few small bubbles on the side. Still no boiling water.
I waited until 20 minutes and then called it. I could not get it to boil that quart of water.
And another odd thing happened.
I was used to the Solo Stove Lite being able to sit on pretty much anything without damaging what was underneath. The Ohuhu however, does not have a solid bottom. Essentially, the ash tray is the ground.
Since I was curious to see just how much the Ohuhu would damage what was underneath it, I placed it on a ¾" piece of plywood.
By the end of the 20 minutes of the Ohuhu burning, I started to see smoke coming from UNDER the plywood.
"That's odd" I thought.
I removed the Ohuhu and guess what? The ash and coals that fell down from the burning tray had burnt a hole completely through the piece of plywood! Note to self…the Ohuhu is going to damage whatever is underneath.
After this first fail, I thought "Well, maybe I was being too hard on the Ohuhu. I mean, damp wood, a windy day…those are tough conditions for a little stove like that."
So I did the same exact test with the Lite.
Same temperature tap water
Same firestarter
Same twigs
Same day
Same wind
Same windscreen
15 minutes after lighting the firestarter, the Lite had the water at a rolling boil. And it easily stayed at a rolling boil even without the pot's lid.
During those 15 minutes…
I used about half the fuel I used with the Ohuhu
And the Lite smoked waaaaay less
But I didn't want to give up so easily on the Ohuhu. So I tried again in the same exact conditions as the first time. I still could not get it to boil the water. Sure, it got hot. Little bubbles formed on the side. But no boiling. 
Still not giving up.
I TRIED A 3RD TIME! This time I even sat the stove on a flat rock so that the burning plywood underneath wouldn't somehow affect the airflow.
20 minutes and half a dozen handfuls of sticks later, still no boiling water.
MAJOR FAIL for the Ohuhu.
Now don't get me wrong…I'm not saying the Ohuhu can't boil water. I'm sure it can when the conditions are right. 
But it's super obvious that it is waaaaay more finicky than the Solo Stove Lite. Finicky is not good in the woods. You need something you can rely on, something that can perform well even in less than favorable conditions.
So based on my real world results from this Lite vs Ohuhu testing, what are the real PROS and CONS of each.
Solo Stove Lite vs. Ohuhu Pros and Cons
Here they are.
Ohuhu Pros
Cheaper
More stable when using larger pots
Comes with an alcohol burner
Comes with a mini grill (that you'll probably never use because you could only fit like one chicken wing on it)
Ohuhu Cons
Airflow is not as good as the Lite (which causes a lot of the following cons)
Less efficient so it needs more fuel to heat and doesn't burn up fuel as completely as the Lite
Smokes more
Needs really good conditions (super dry wood and no wind) to work properly
Heavier
Bulkier
Little tabs will probably break off at some point rendering it useless as a stove
Burns and leaves marks on whatever is underneath
Confusing to put together (easy to get wrong)
Difficult to feed without first removing the pot from the stove
Solo Stove Lite Pros
Lighter and smaller
Simple design is easy to understand
Durable construction should last a long time
Doesn't damage what's underneath
Better airflow – the top cooking ring does a really good job of directing the heat
Super efficient – only uses a few handfuls of twigs to boil a quart of water
Works even in less than favorable conditions
Easy to watch the fire and add fuel without removing the pot
Solo Stove Lite Cons
More expensive initially
Accessories are extra (but let's face it…the sealable Solo Stove Alcohol Burner is way better than the simple metal bowl Ohuhu gives you)
Not as stable with larger pots
No tiny grill option for cooking your single chicken wing🤪
So considering all that…
The One You Should Get Is…
In my personal opinion, it's a no-brainer. You should go with the Solo Stove Lite.
*Check out my full Solo Stove Lite review article. Watch it fry an egg in a cast iron skillet!
*Or just skip the full review and get your Solo Stove Lite now. Here is the current price.
If you're just looking for a novelty stove to use a handful of times to roast marshmallow in the backyard with your kids, then yeah… go with the cheaper Ohuhu.
But if you're a camper or backpacker looking for a mini wood-burning stove you can depend on for years to come…DEFINITELY save yourself some frustration and go with the Solo Stove Lite.
Yeah, it's more expensive initially. But you'll probably go through 5 Ohuhu stoves in the time one Solo Stove will last. Not to mention, the frustration you'll save yourself everytime you have to cook on it.
Go with the Solo Stove Lite and get a camp stove that:
Cooks faster
Doesn't use as much fuel
Will last longer
Takes up less space in your pack
And don't miss my other reviews of Solo Stove firepits and camp stoves:
Latest posts by Stacy Bressler
(see all)