It's common knowledge that there are adult camping journals.. so why not give your child their very own KIDS camping journal so they they can record and remember all the awesome camping activities they did??
I know I hold onto WAY too many things my kids do but this is one I won't feel gulity about. Our camping memories are some of the best, most connected ones we have. To travel around together and explore new campsites is a a memory I'll always cherish, and I love having a way for my kids to do this!
Check it out!
FULL DISCLOSURE: I designed this journal, but I think you'll love it as much as I do =)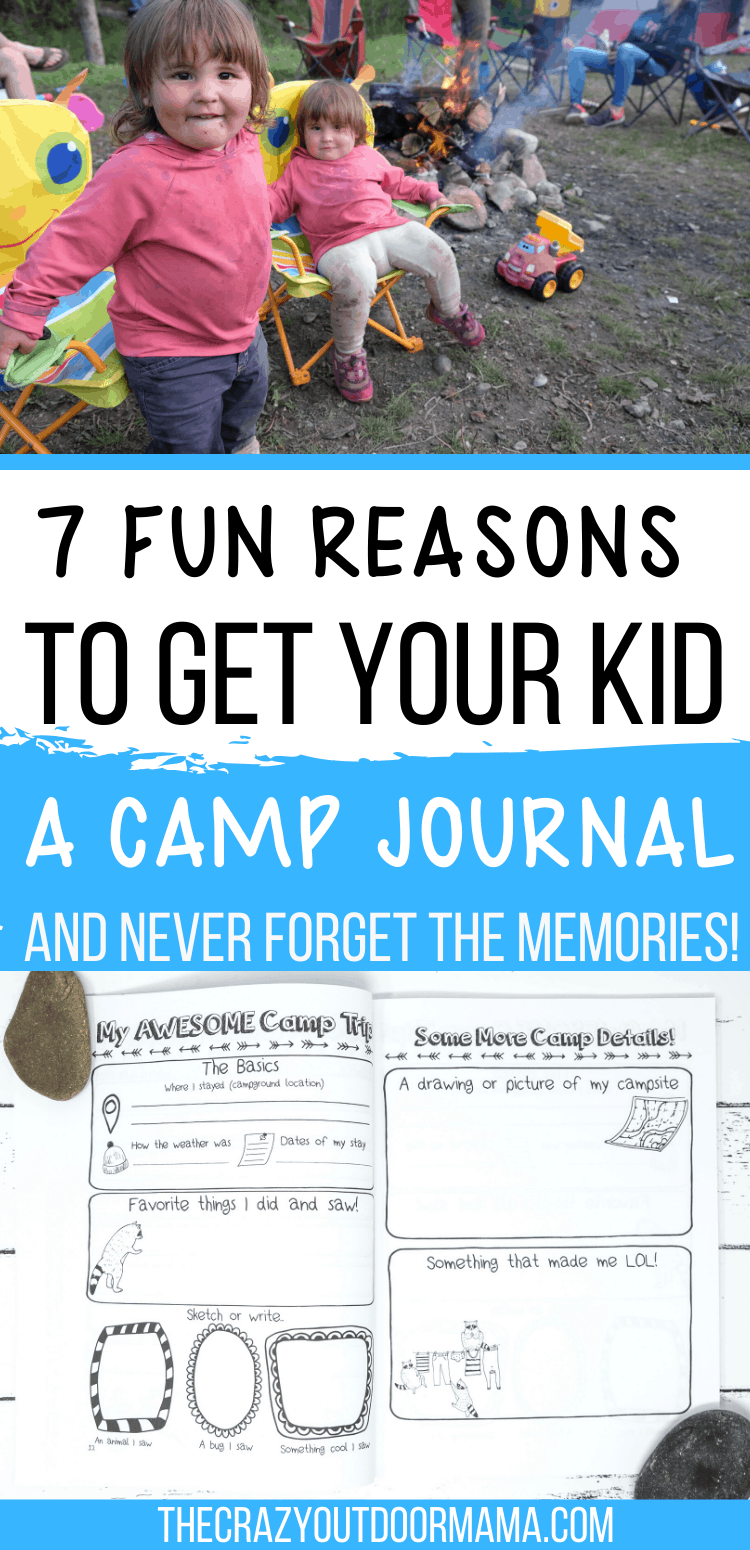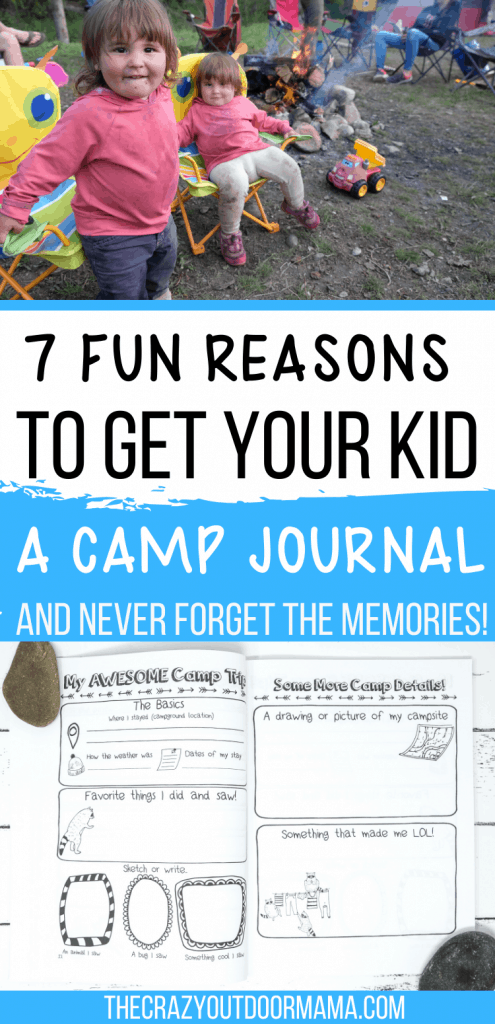 1. For kids who are new to camping, their own camp journal can get them excited about it!
I LOVE filling out a new journal, so I find it's really helped other kids feel some of the same excitement too!
This kids camping journal gives them a ton of ways to really make it THEIRS, including a spot to write down their favorite parts/dreams about camping and plenty of photo spots.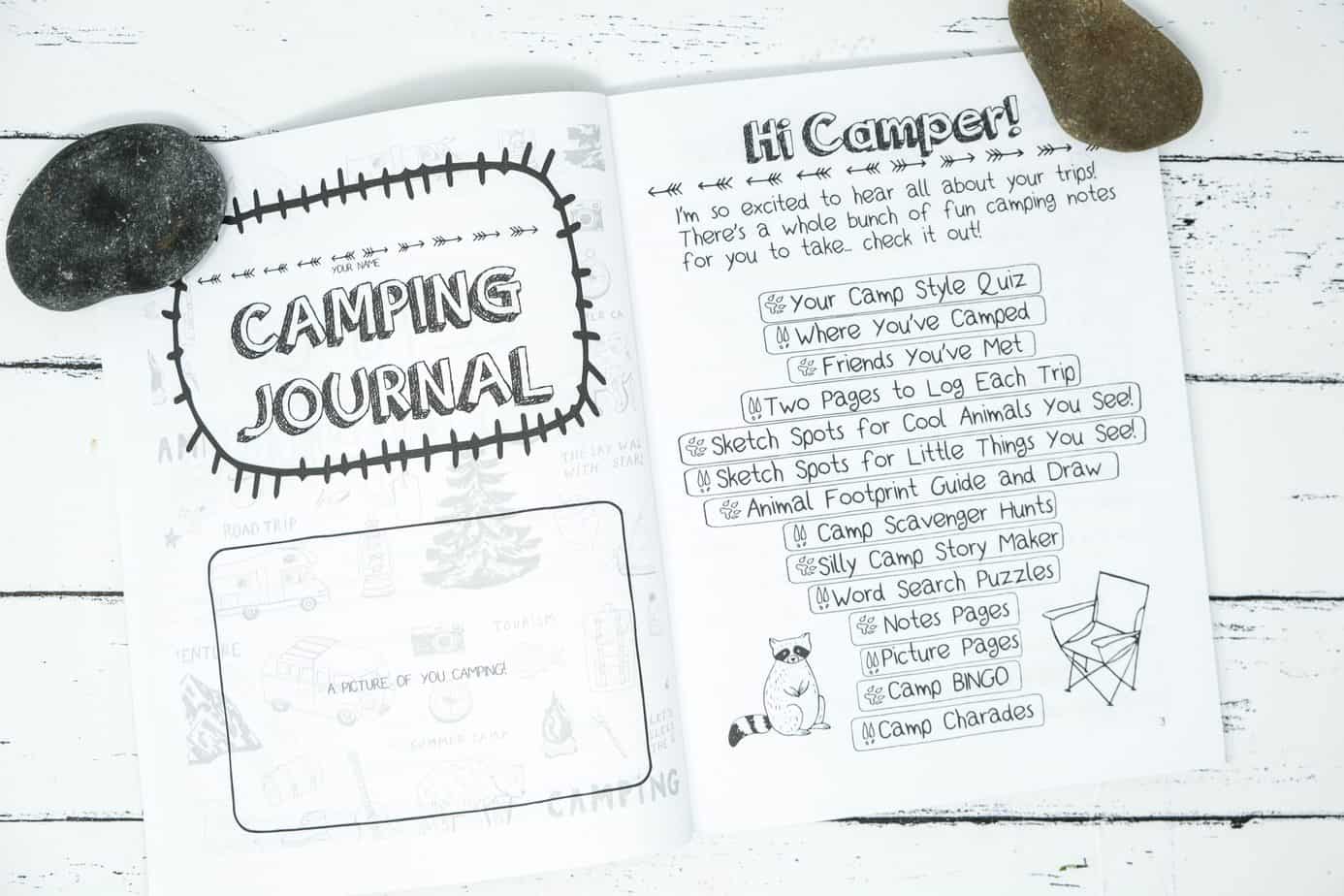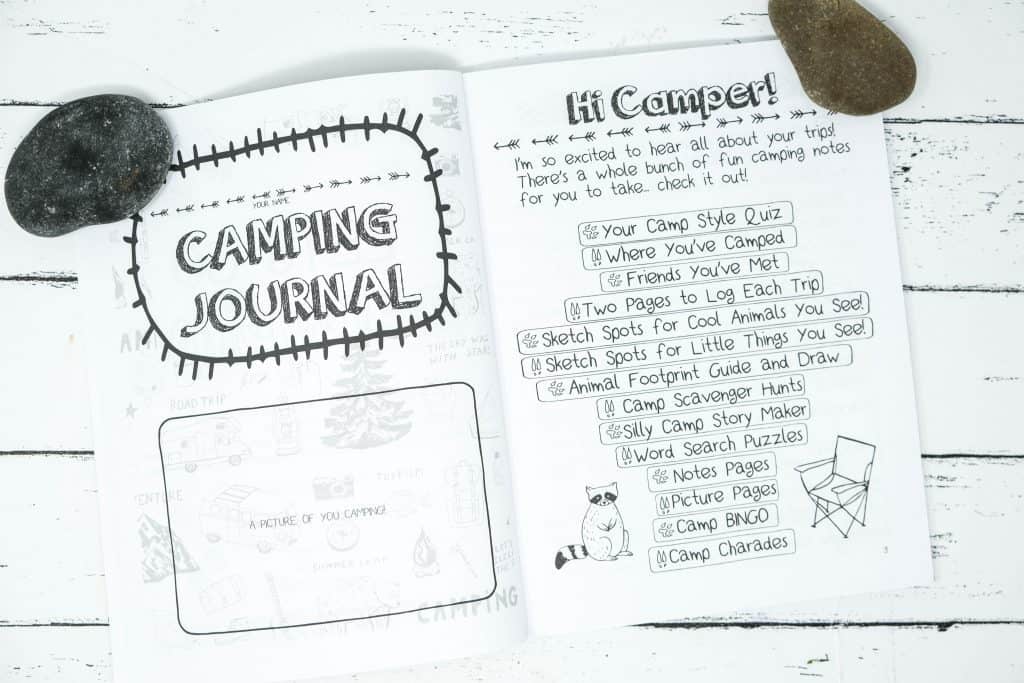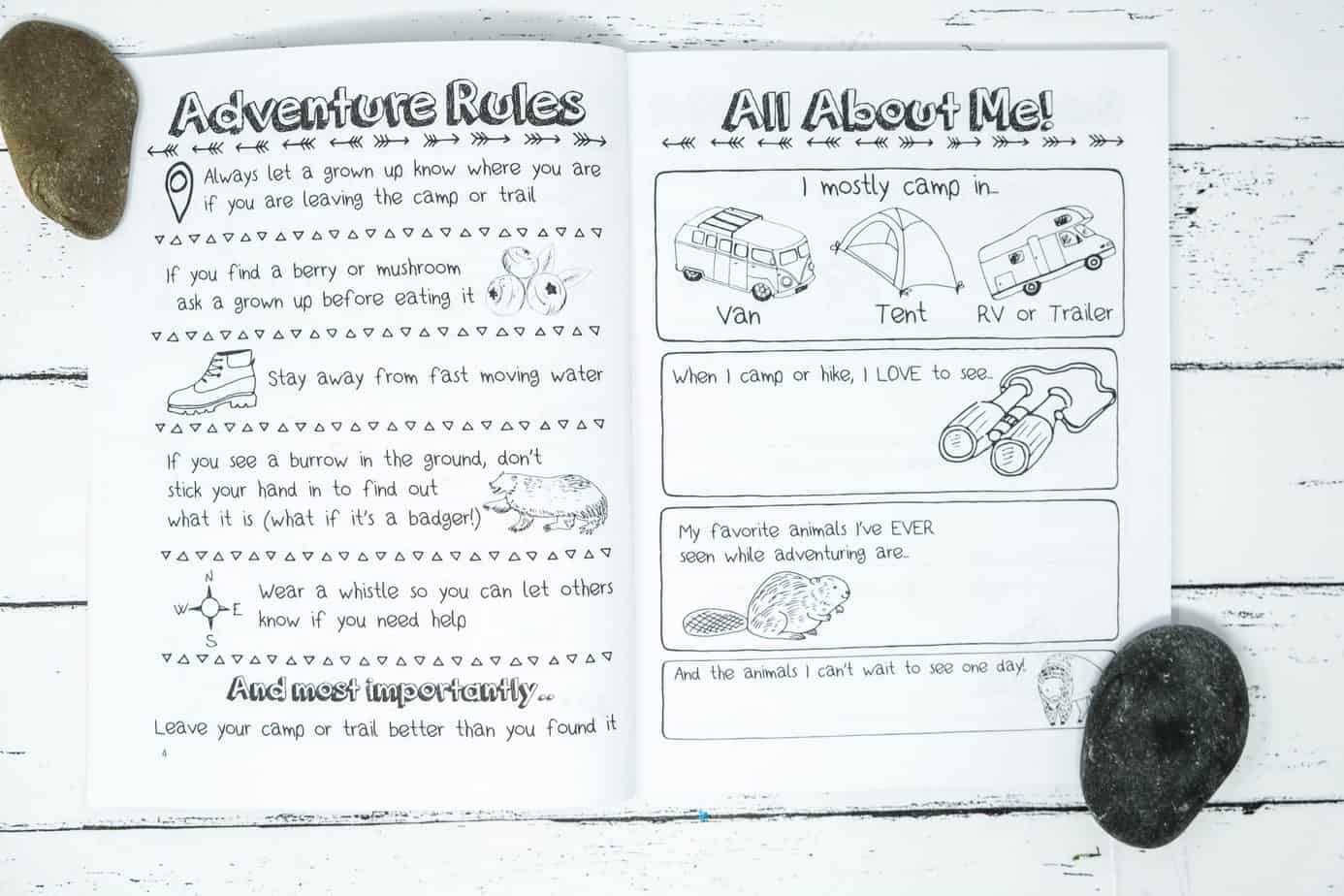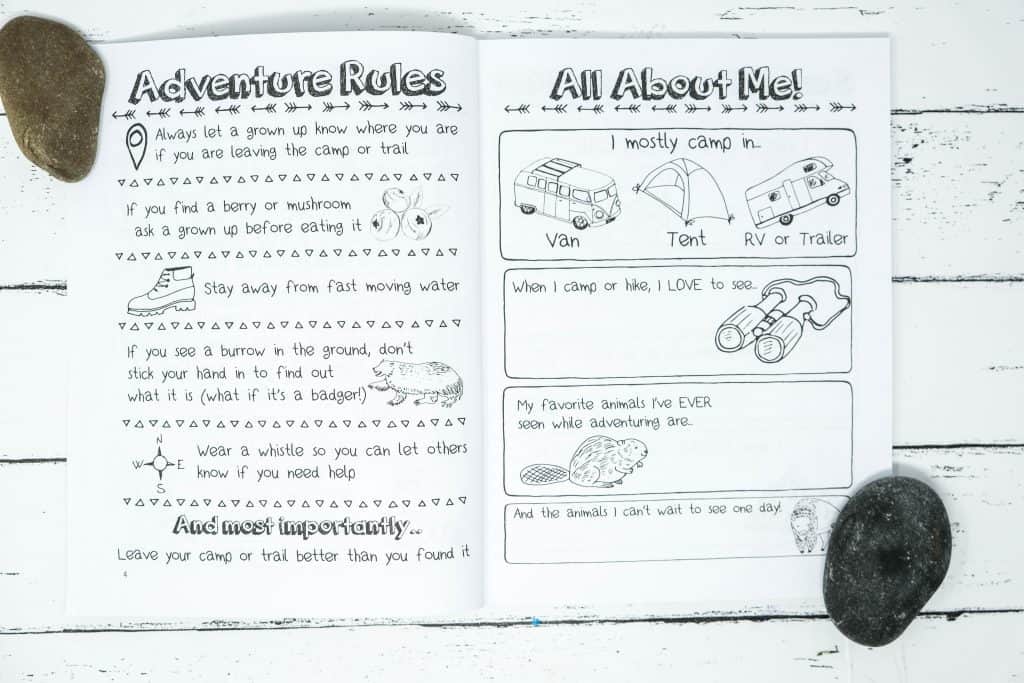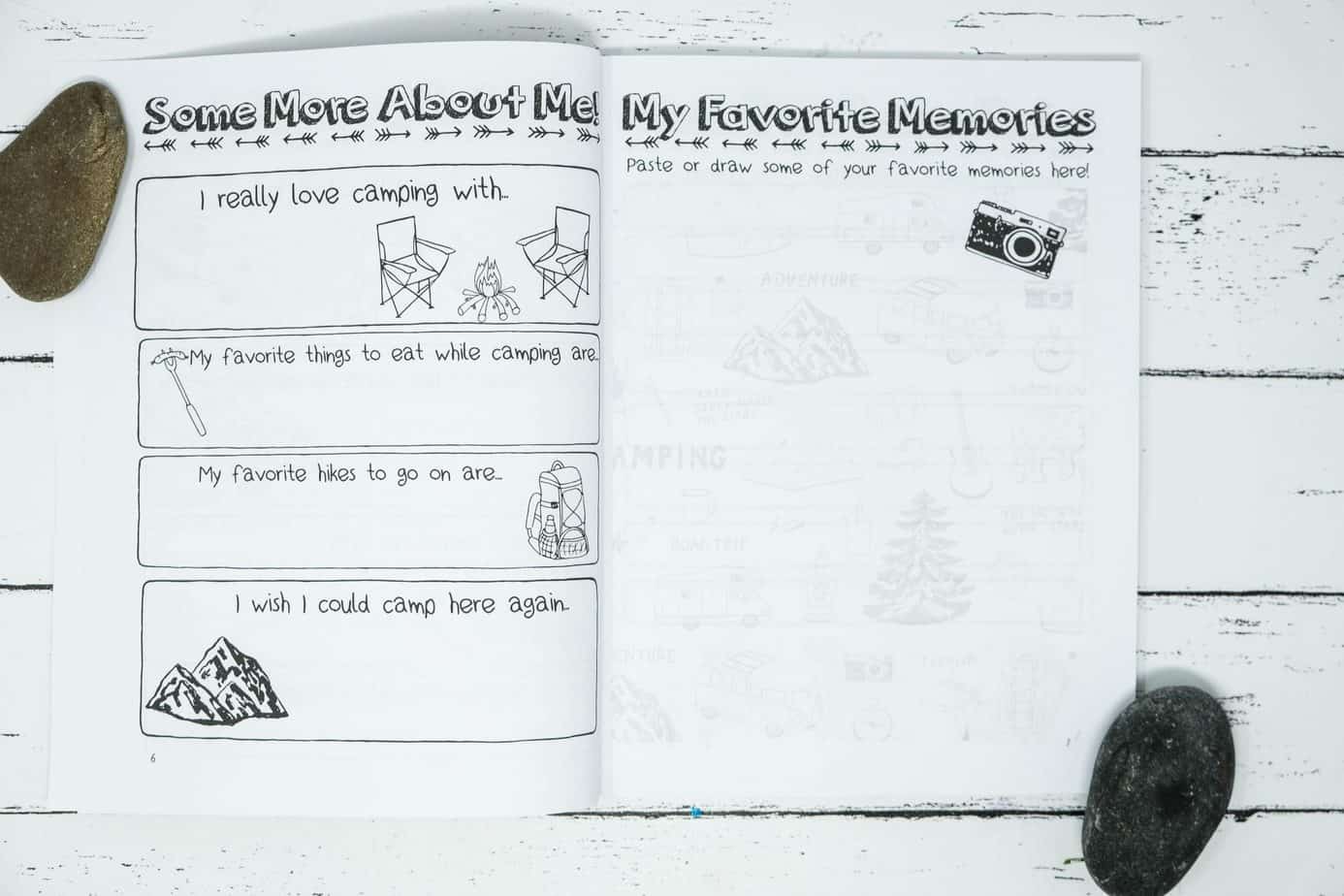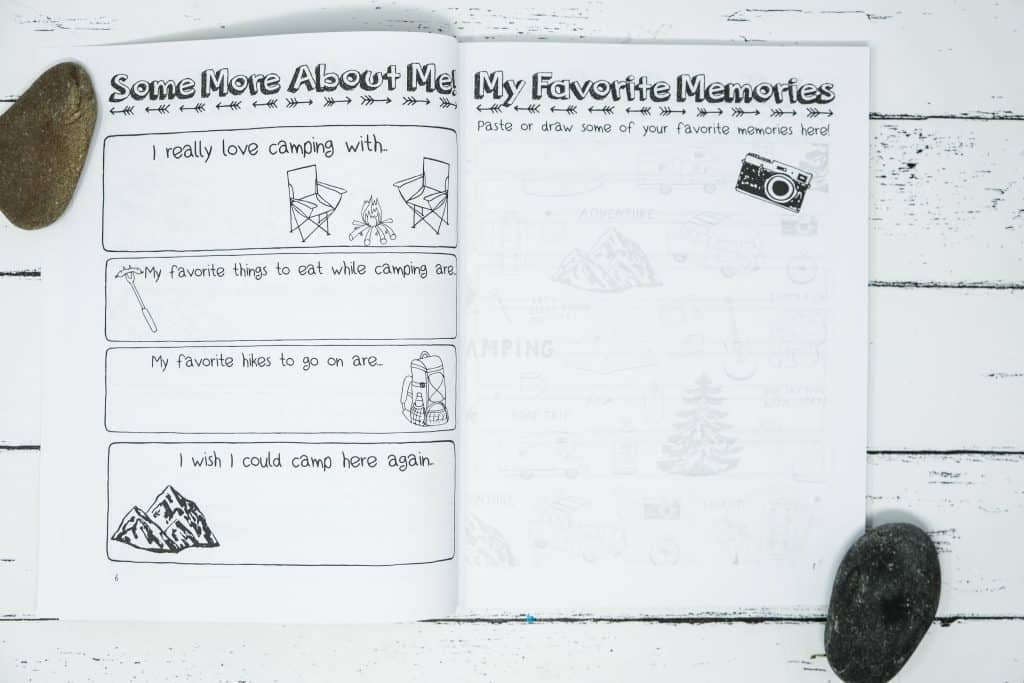 2. A camp journal provides an easy way to keep track of details like places they've camped (and friends they've met!)
I have the memory span of a gnat, so I love that my kids have a way to answer their OWN questions about where we've camped and who we have met!
Kids can write down each campsite in a log (don't worry, there's a more detailed page coming up) so that they can remember exactly where and when they went somewhere.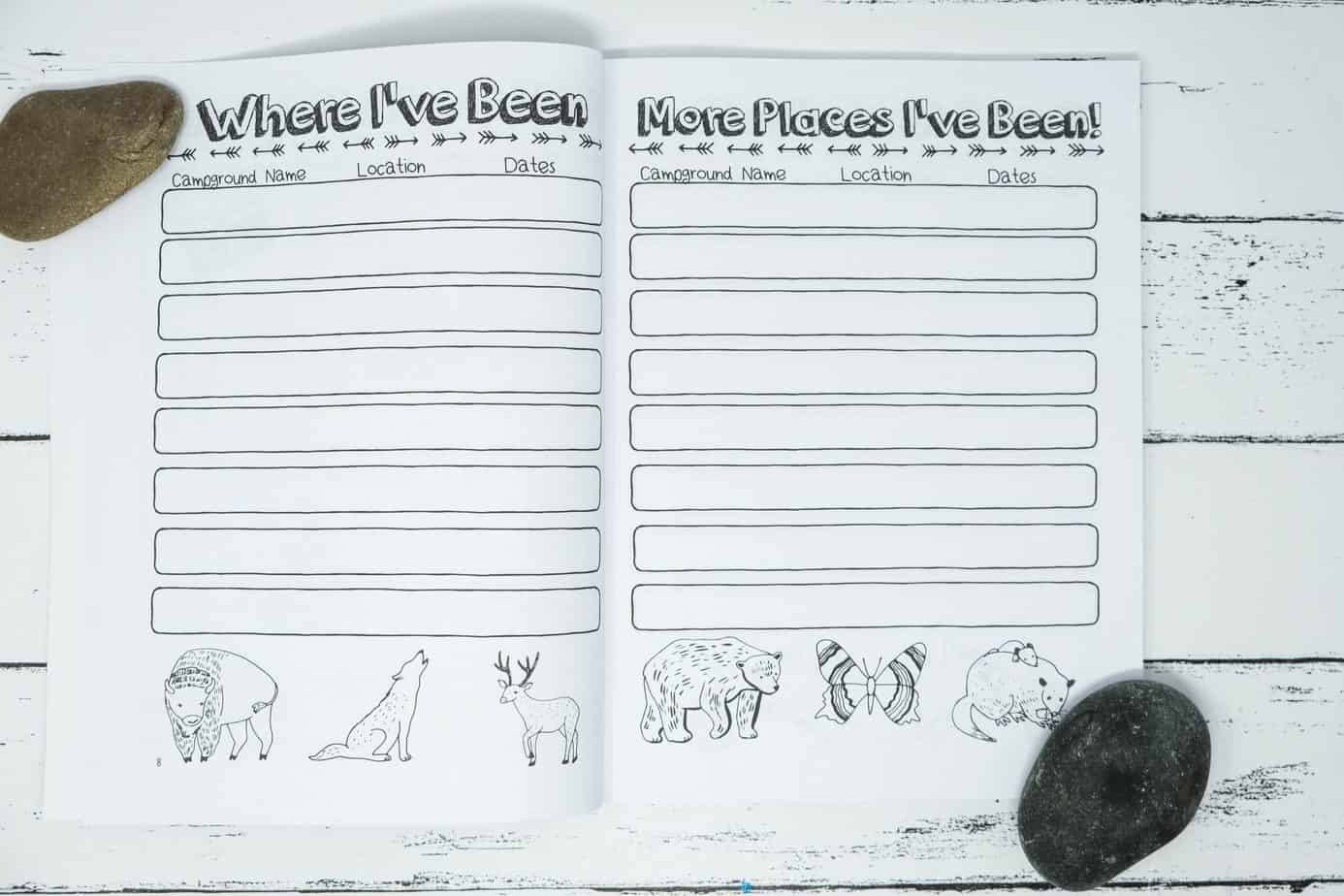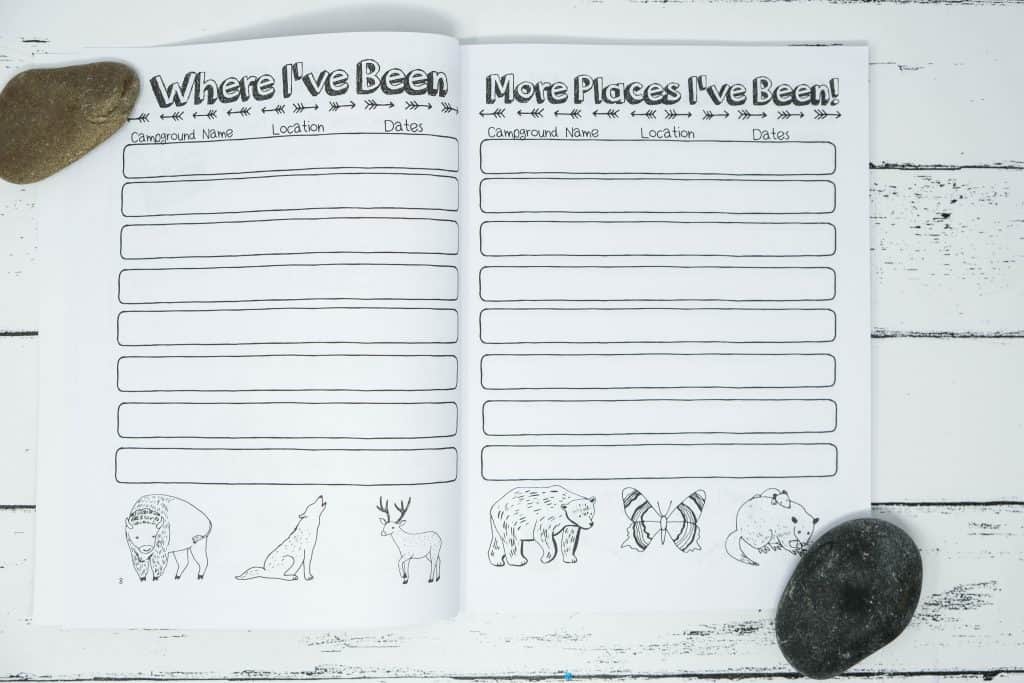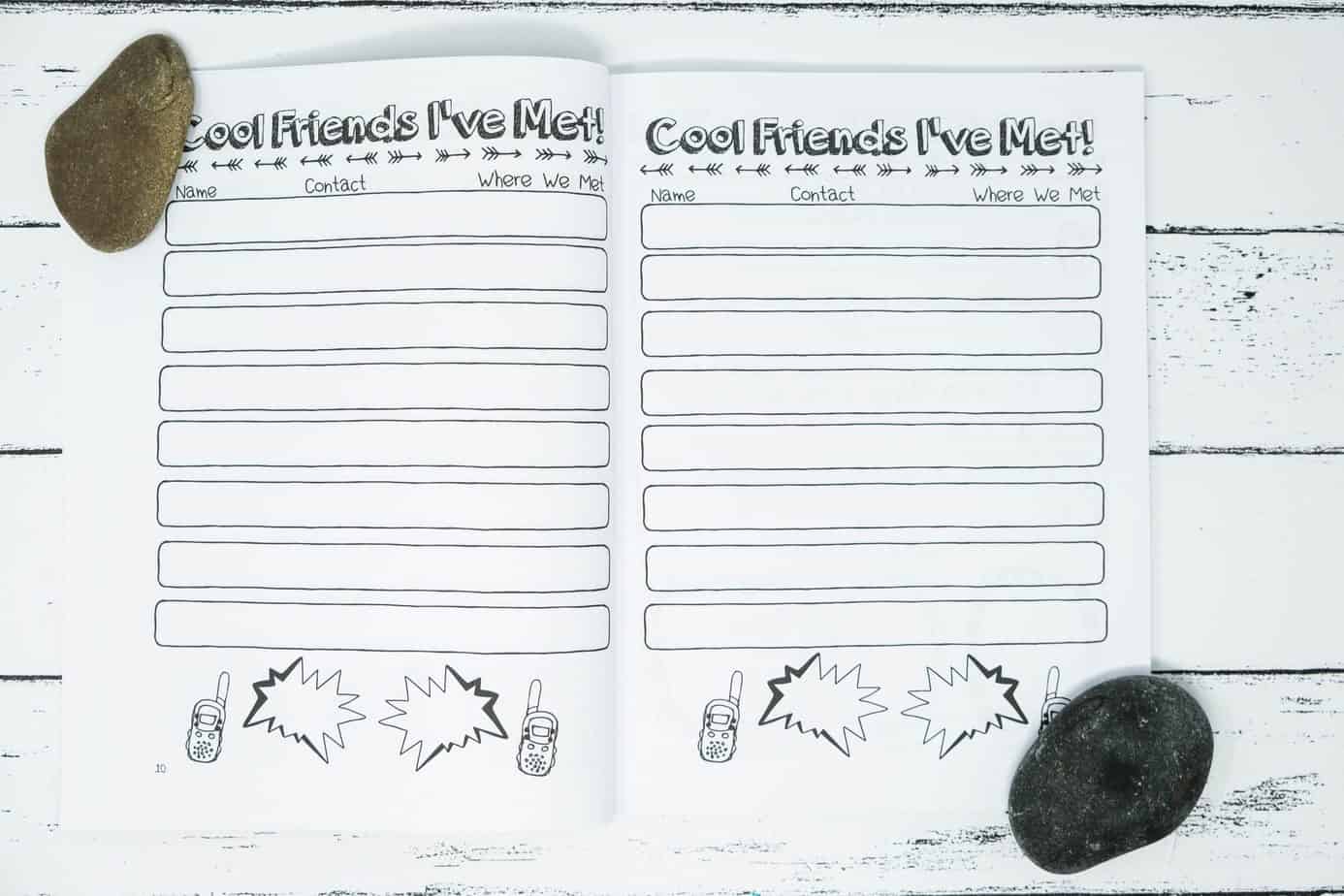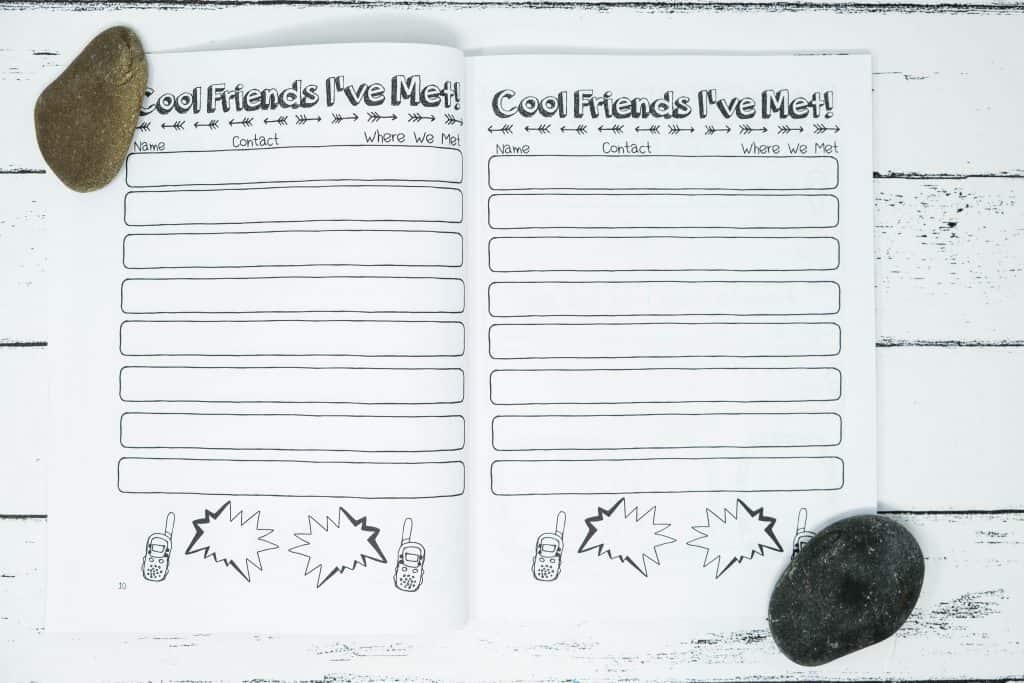 3. Journaling, especially in nature, has a ton of proven benefits for a child mental health!
Here is a quote from How We Montessori about some benefits of journaling for kids:
Allows the child to slow down, breathe, relax, refocus, it can calm a busy mind.
Encourages observation – observing the big picture to the small detail.
Use senses such as sight, sound, smell and touch.
Helps to create a connection to the natural environment.
Can assist in self-expression.
Promotes creativity
So if camping is your family's favorite thing to do, get them their very own camp specific journal to enjoy these benefits!
Each campsite log entry encourages kids to journal the following details:
Campground location, weather and dates stayed
Favorite things they did and saw
3 sketch spots to fill in – one for an animal, bug, and something cool they saw
A drawing of their campsite
Something that made them LOL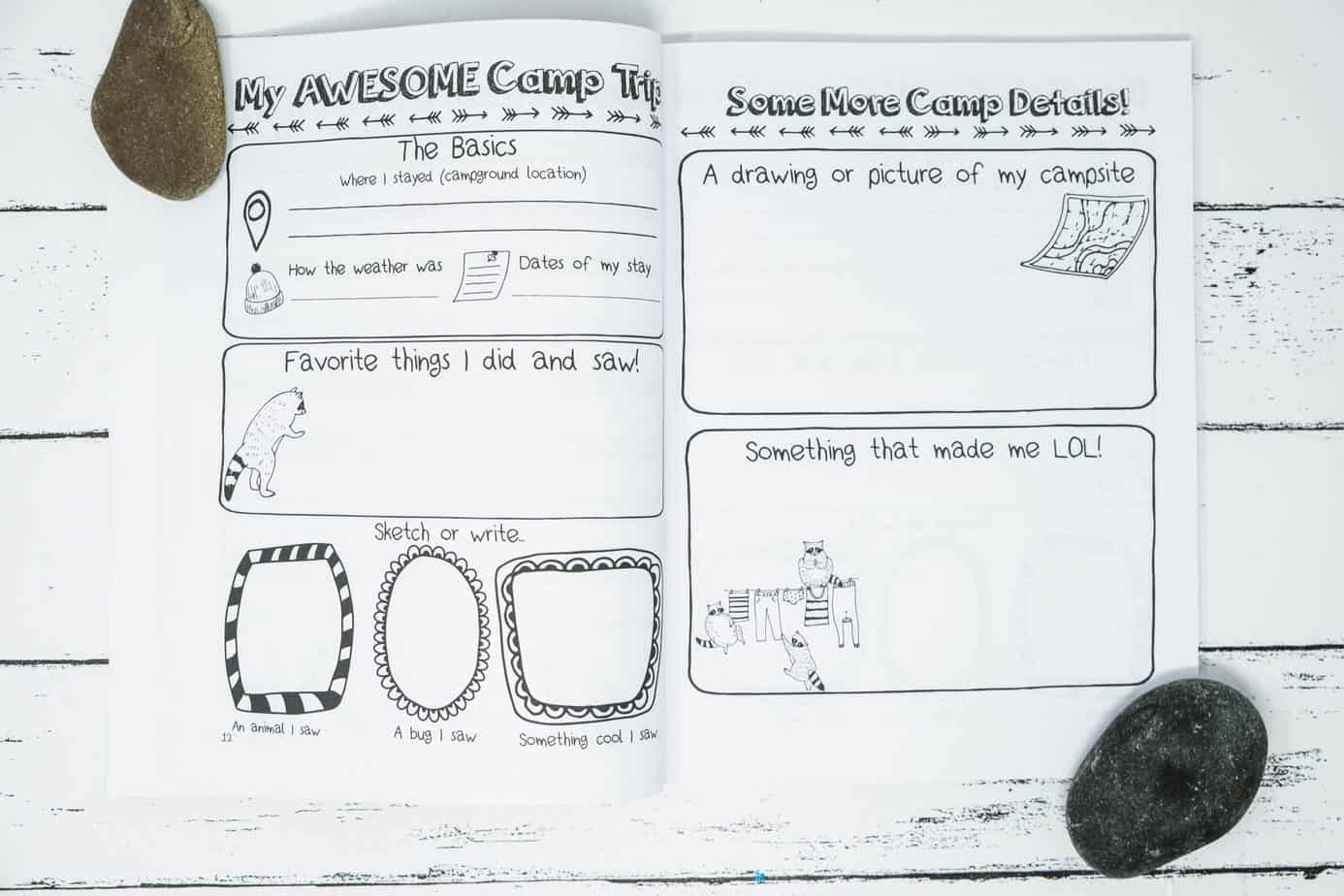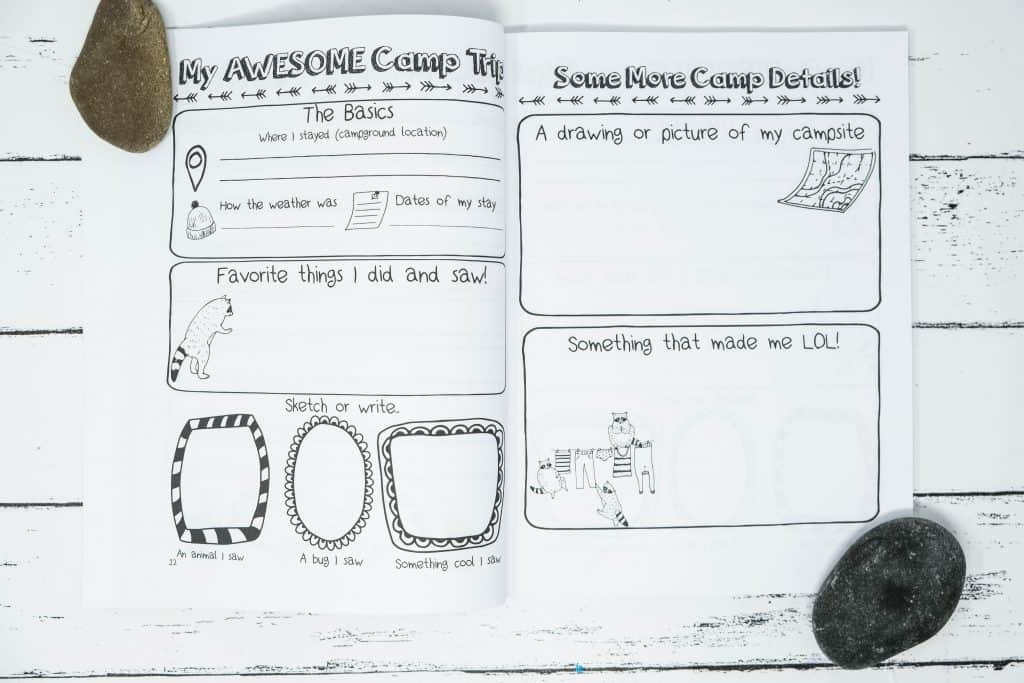 4. It encourages a direct connection to nature with animal track and plant life sketch sections
I loved this section from Rain or Shine Mama's article (who also has an amazing book, There's No Such Thing as Bad Weather) where she talks about some benefits of animal tracking.
It connects them to nature in a very direct and hands-on way.
It teaches them to be aware of their surroundings and the creatures that live there.
It gives them a chance to use critical thinking skills and scientific inquiry methods.
It gives them a chance to experience nature with both body and mind.
It's an incentive for both you and them to learn about different animal species in your area.
It gives kids a chance to lead and problem solve in nature.
It's an incentive to go outside.
It's fun!
That's why I wanted to include a TON of spots for kids to sketch things from the area around them! I included three sections to sketch – animal tracks, plant life, and animals they've seen.
It's a perfect companion to a visitor guide you might pick up – learn about the animals in the area from the visitor center, then try to find signs of them around your campsite!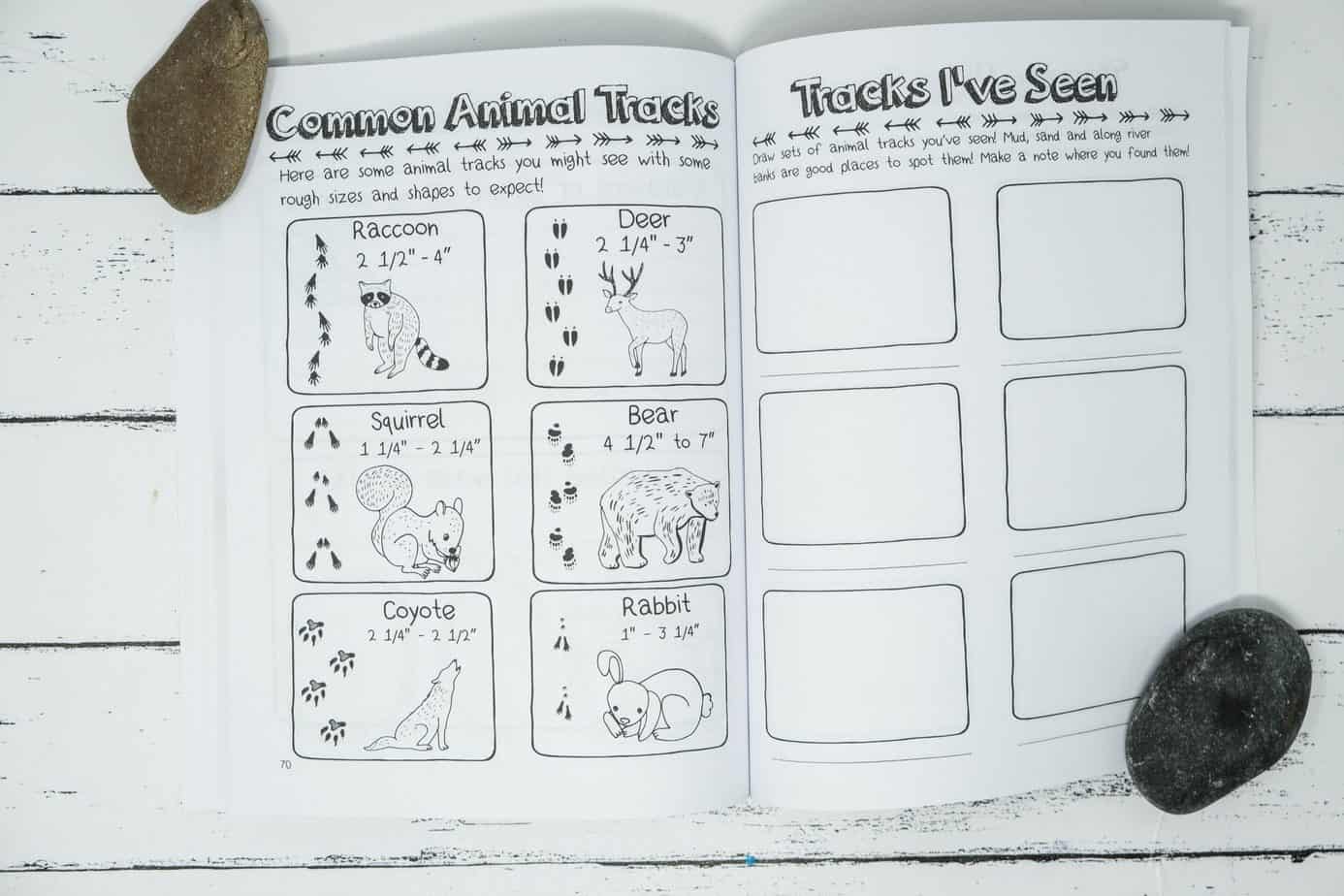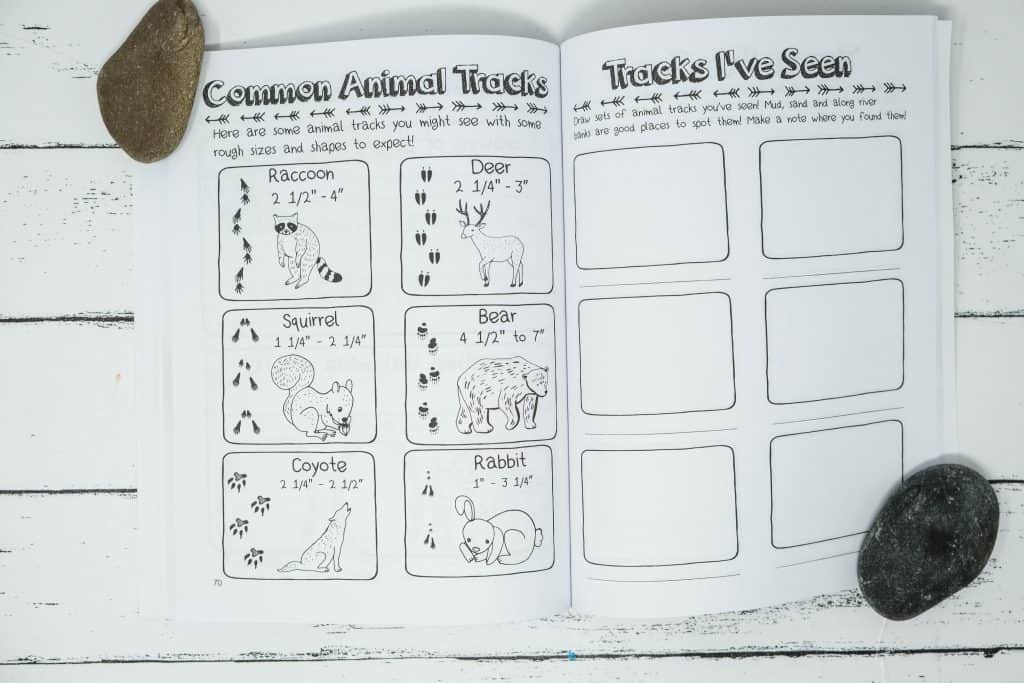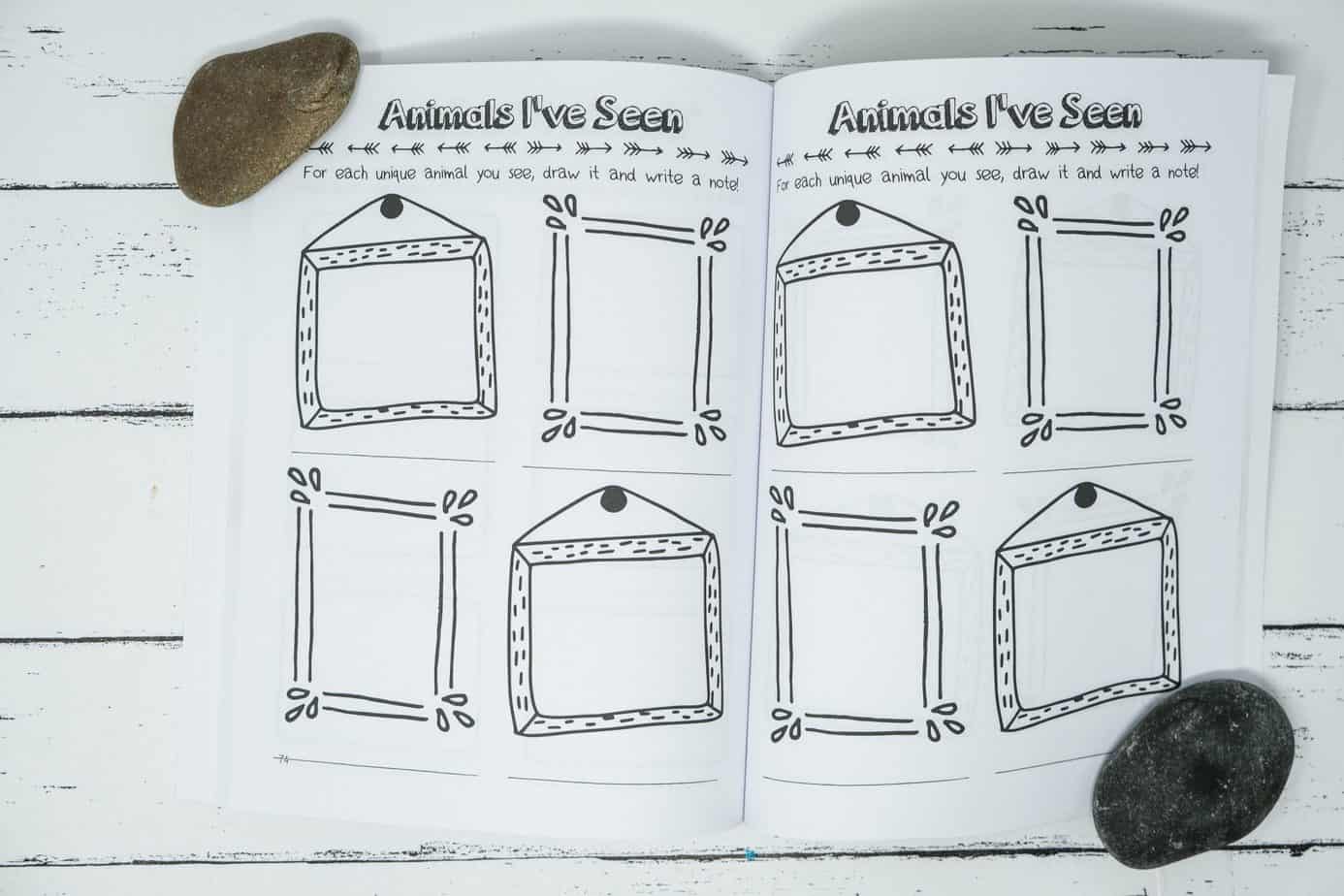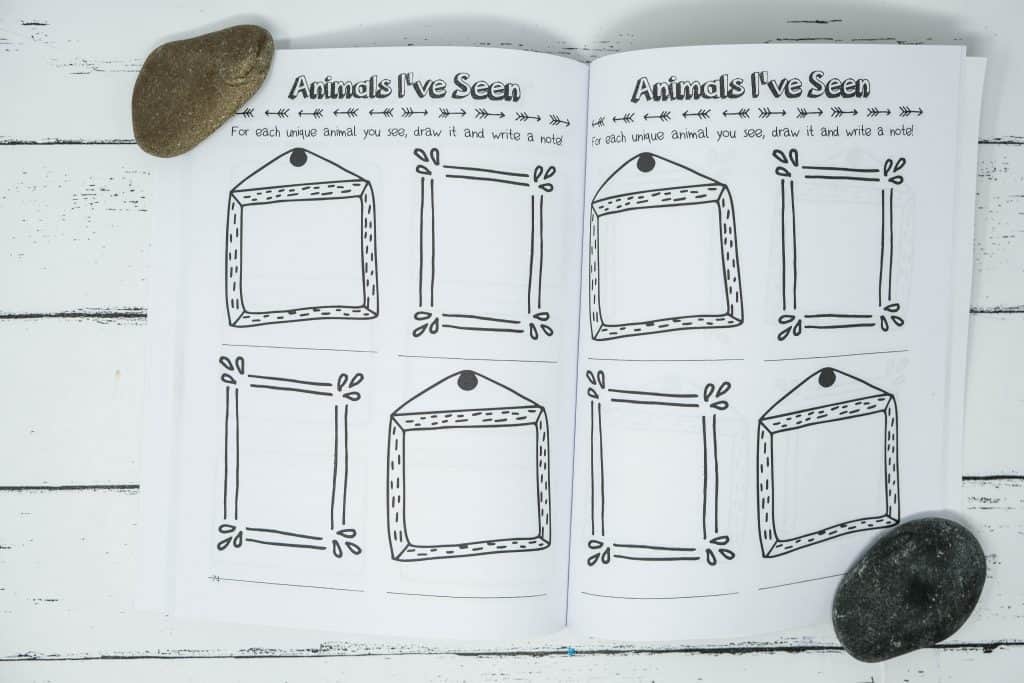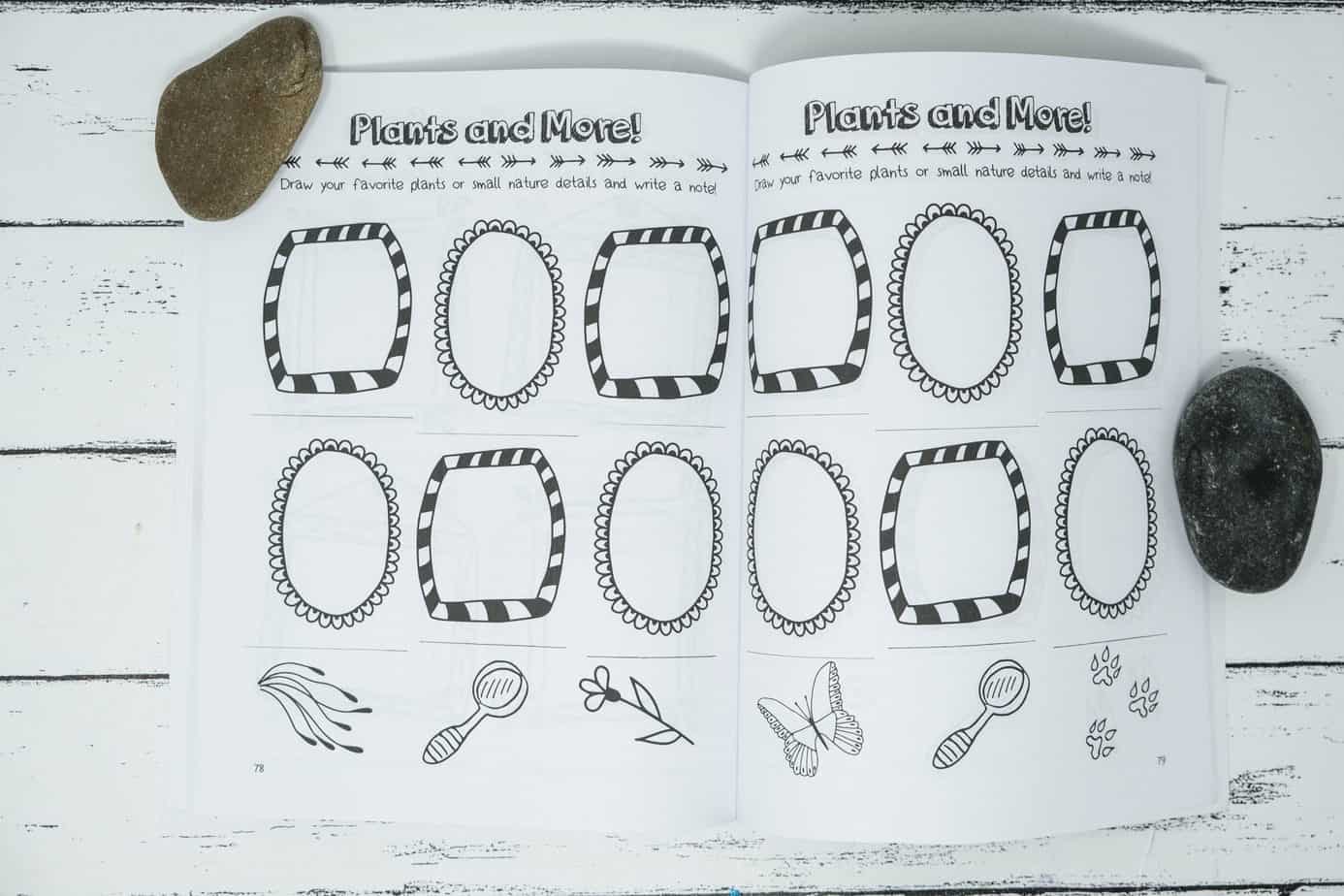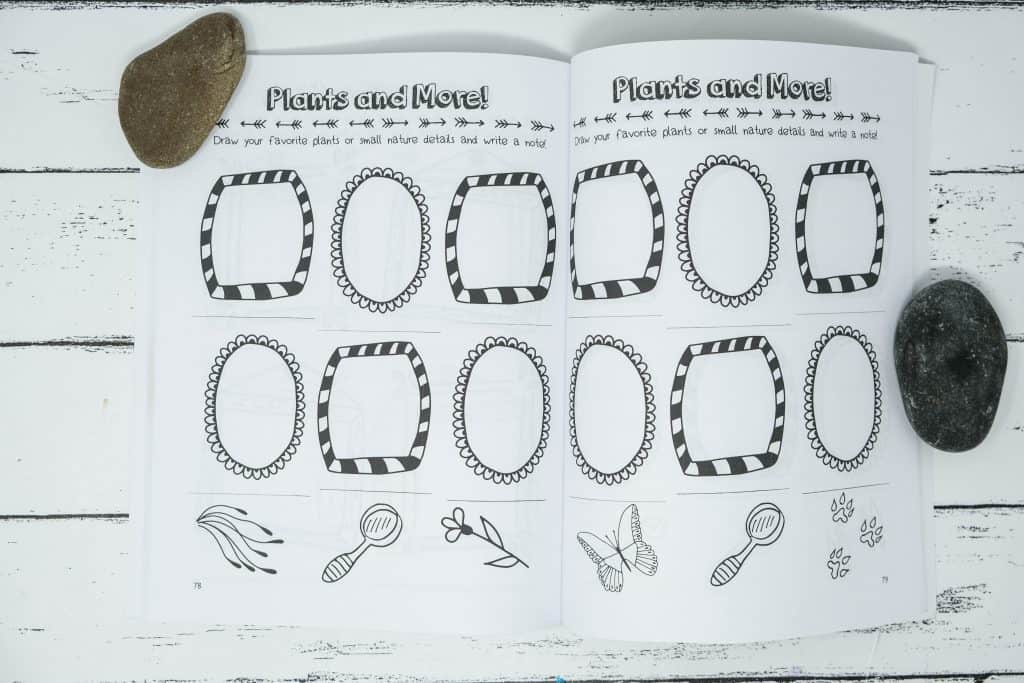 5. Kids, somehow, get bored at camp sometimes… so give them some fun things to look for!
I don't know what age kids can appreciate being able to sit in a comfy camp chair, but it certainly isn't for quite awhile… so give them somethign to do in the meantime when they inevitably say "I'm bored!"
The ABC Scavenger Hunt and the Camp Experiences Hunt are a great way to keep them occupied while encourage them to notice the little details of nature.
I especially love the camp experiences hunt for new campers – it can be pretty exciting to even look at it and see what's in store if you haven't been camping before!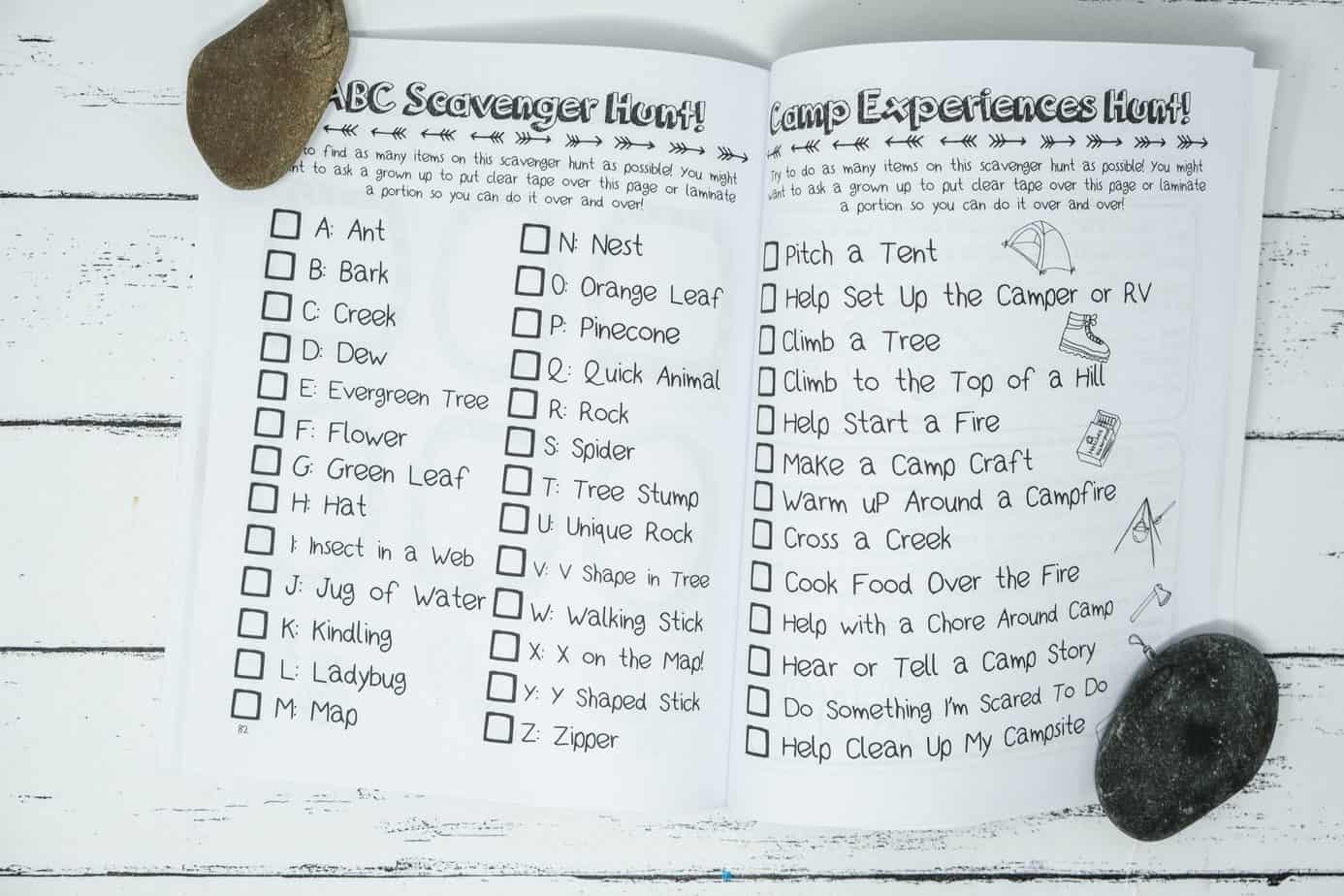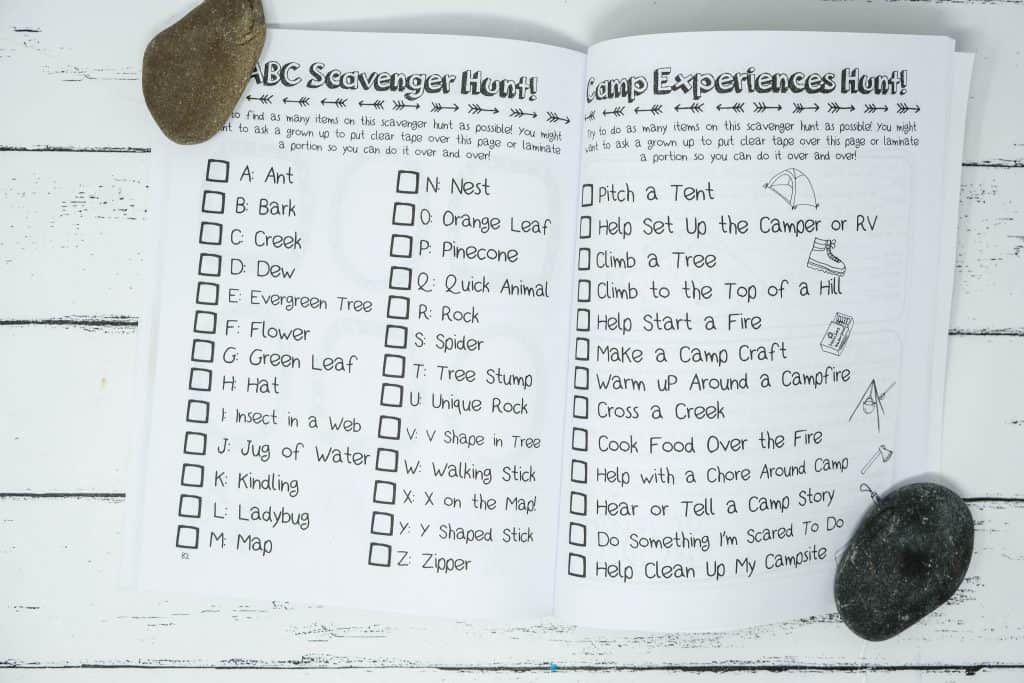 6. Because your campsite isn't always close, and you might get tired of "Are we there yet??" being asked the whole drive!
Unless you're super lucky and live close to campsites you love, it's likely you'll have to drive a little to get there…. which is why I made sure to include some fun games to play along the way!
This section is primarily for the older kids who can read and write, but they will have a blast finding fun camping words in the two word searches or making their own silly camp stories with the "Mad Lib" style story generator!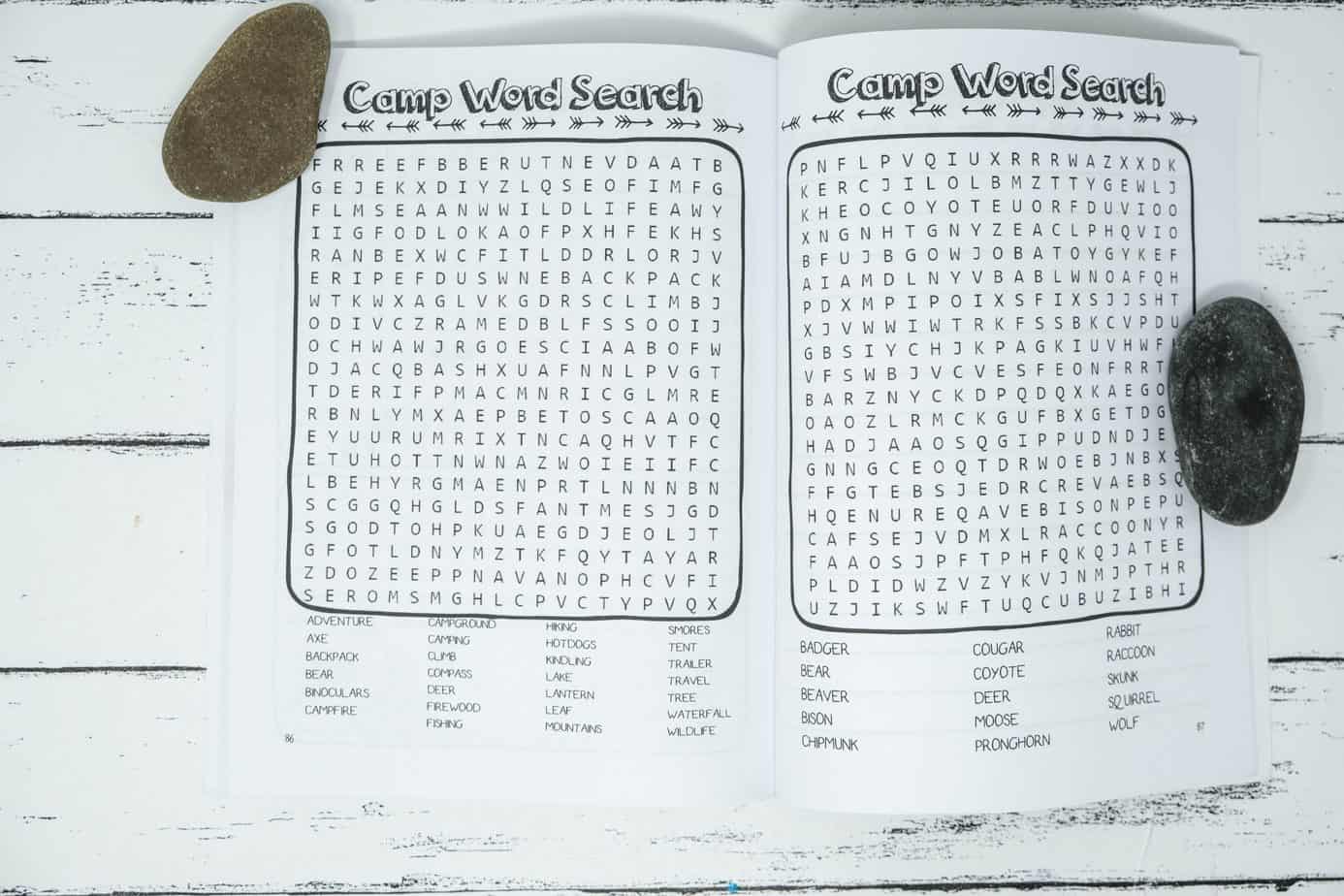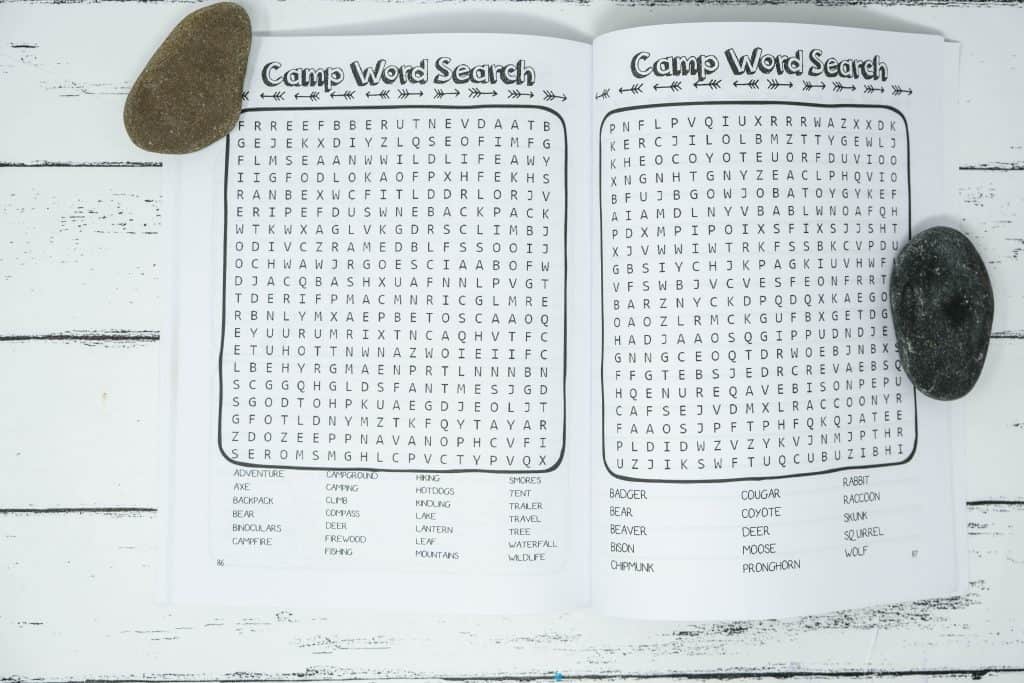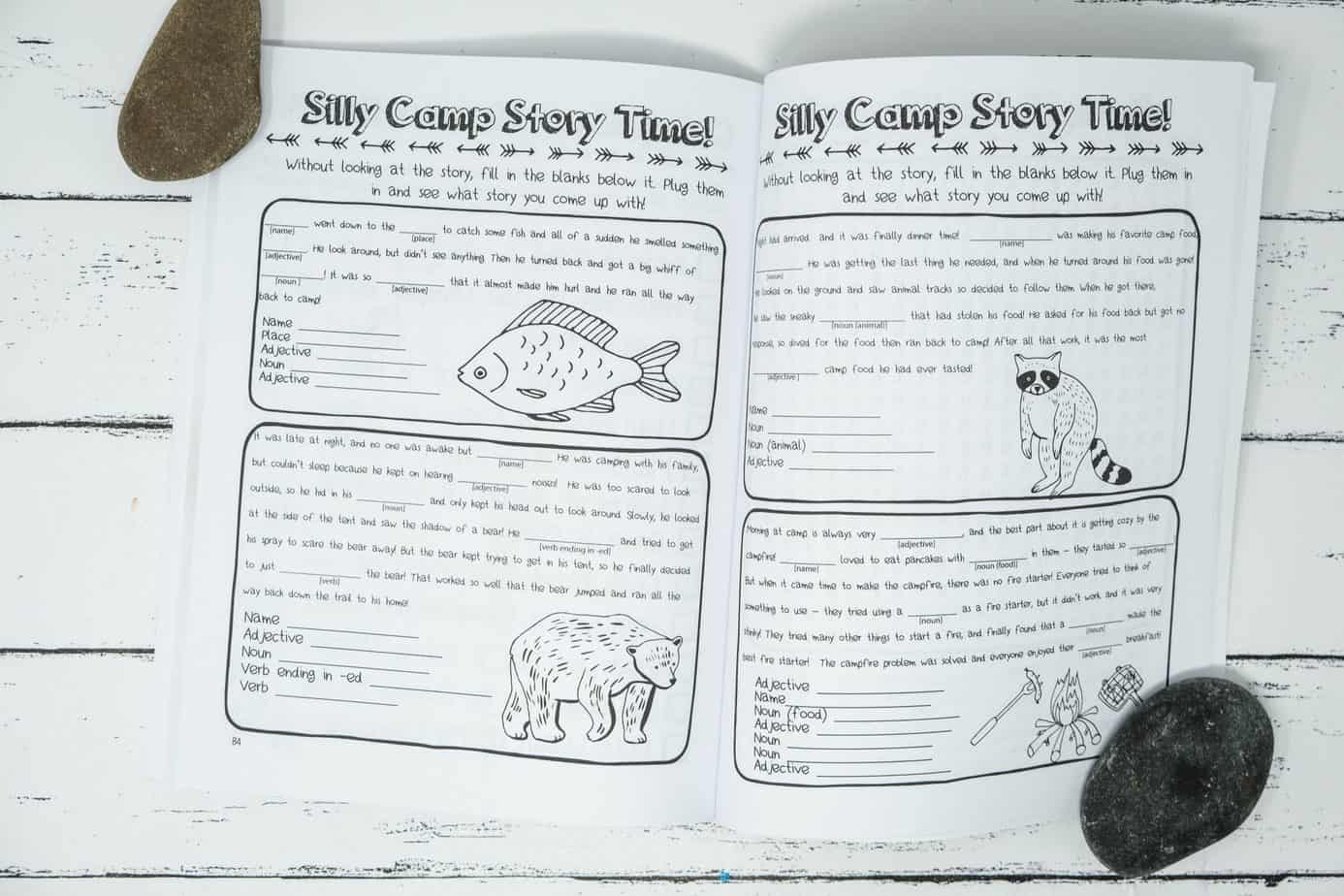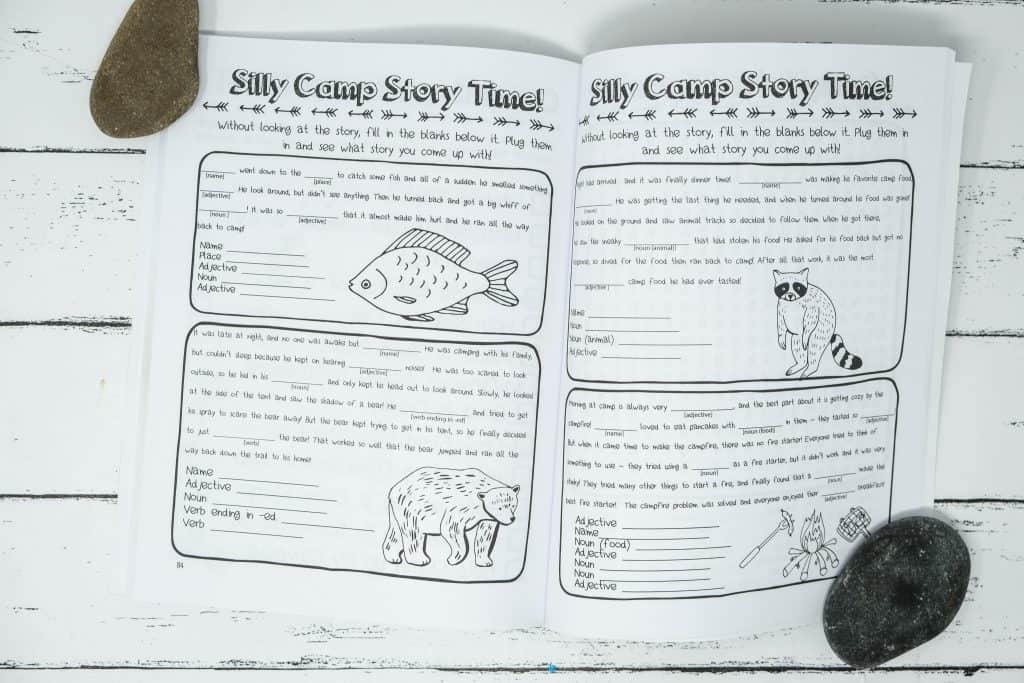 7. Games like Camp Charades and BINGO are a fun way to enhance family relationships at camp!
If you haven't laughed your butt off at your kids pretending to park the RV then you're missing out! Enjoy acting out 28 different camp themed charades by either cutting out the pieces I included in the journal or just write down your favorites and put them in a jar to pick from!
There is also a camp BINGO card which can be played as a sort of scavenger hunt – challenge your child to try and experience or find as many as possible!
Don't forget to bring some other fun activities like these free printable kids camping songs!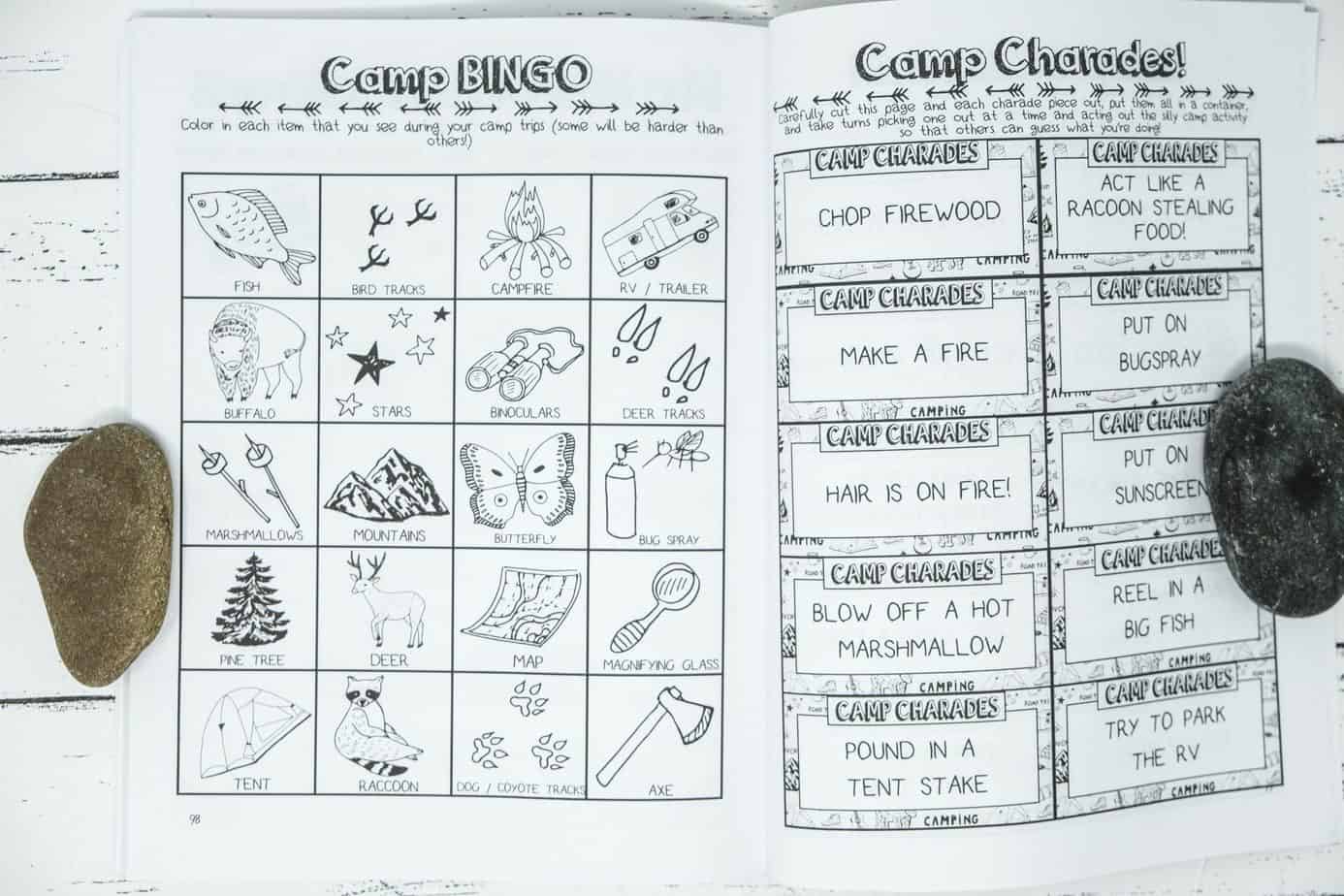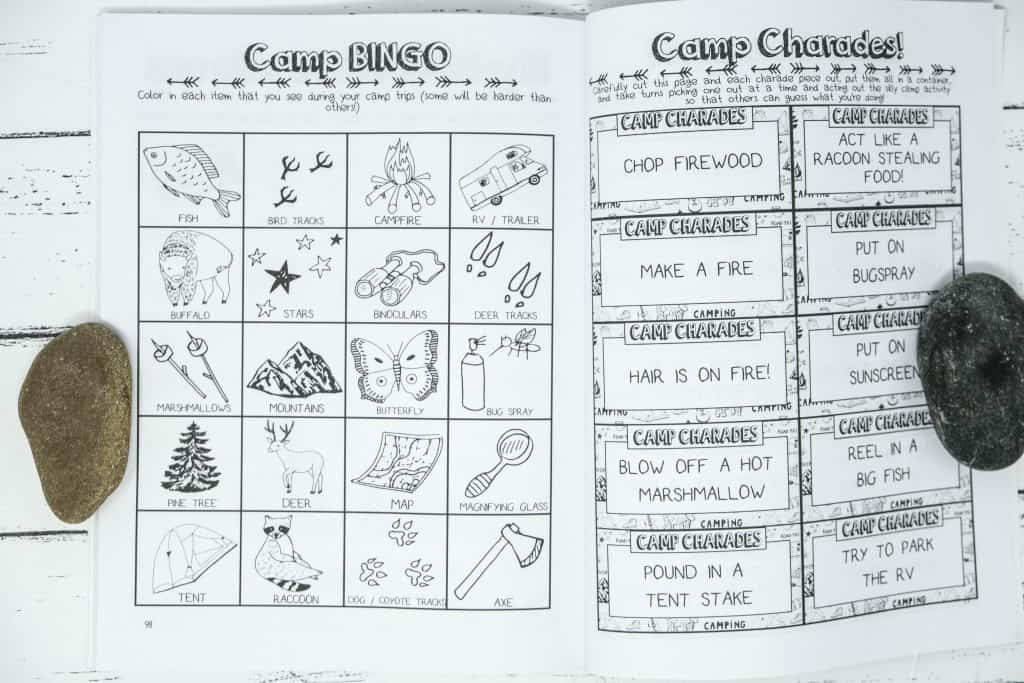 And lastly… once the journal is filled out, you can hold onto it forever to look back at all your camp memories through your child's eyes =)
It's pretty magical how kids view the world compared to us! I loved listening to my kids tell stories when I'm not around or create epic adventures with their toys. I can't wait to have them fill out this camp journal and remember how magical each camp trip was!
If you are interested in checking it out, it's available on Amazon for $8.99, and

you can check it out here. =)
See it on Amazon Now!
I hope you have felt inspired to create some special camp memories with the children in your life!