Tired of scrolling Google or Pinterest endlessly for the best new camping hacks? I've scoured the internet, Facebook Groups and more to find some pretty crazy, new ideas that make things WAY easier (plus some tried and true classic camp hacks!) Check out this list of the best camping hacks found around the internet!
If you love to camp, you know there are always ways to make the experience better. From little tips and tricks that make life easier, to fun ideas that make camping more enjoyable for everyone – there's always something new to learn!
One of my favorite things about camping hacks is that they often utilize items you already have around the house – so you don't have to go out and buy anything new (unless you want to, of course).
So whether you're a seasoned camper or just getting started, be sure to check out this list of the best camping hacks found on the internet! You might just find your new favorite way to camp!
In order to make things easier to find, I have sorted the camping hacks into three categories – you can click on any of them to jump to that specific section!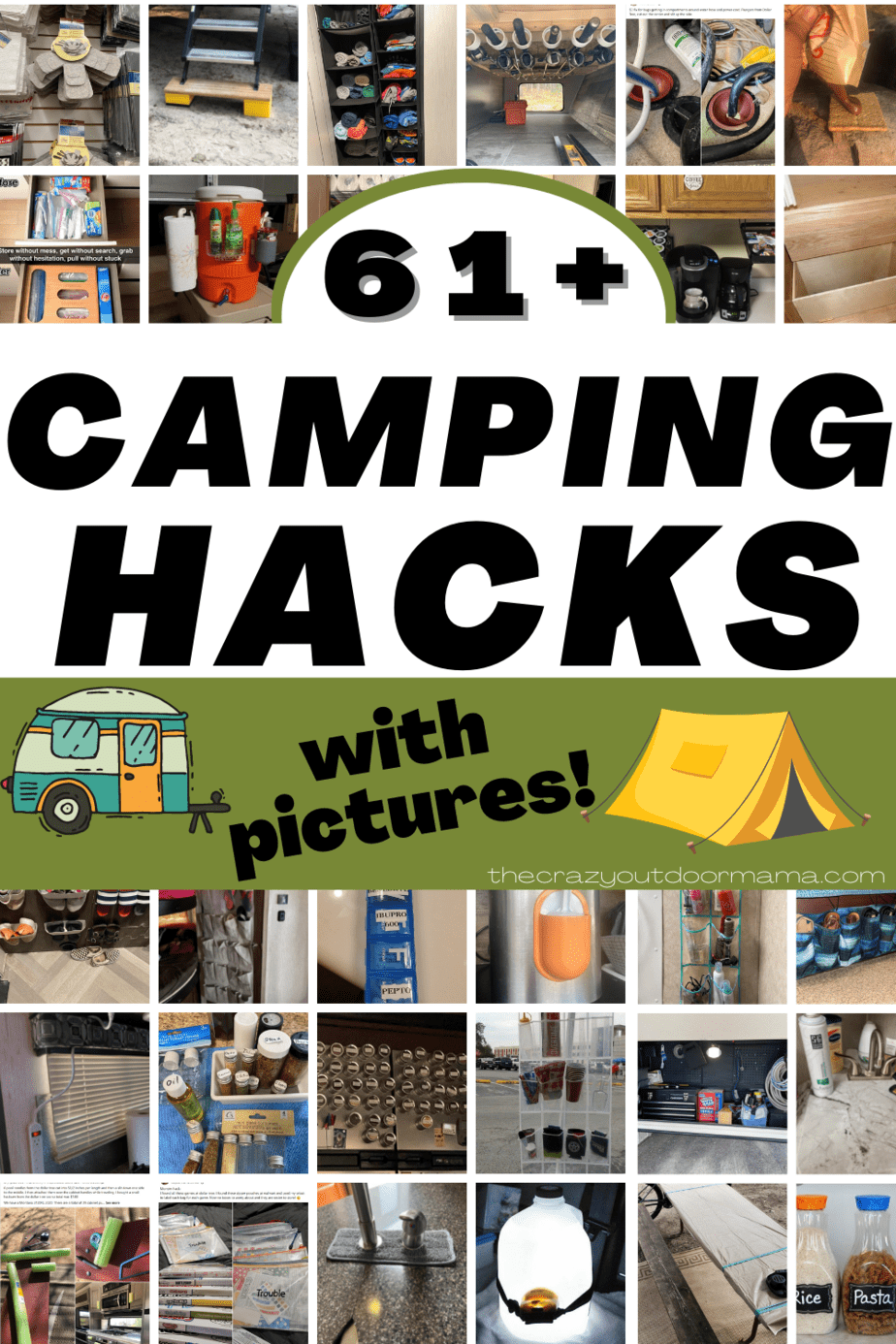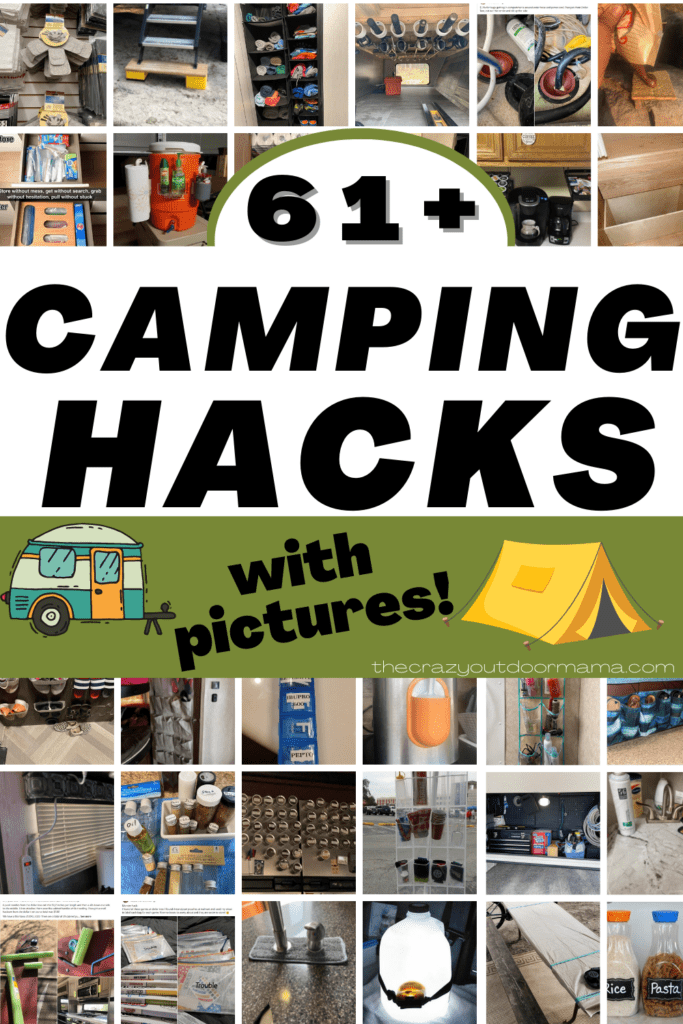 As an Amazon Associate, I will receive a commission should your purchase anything through my linked recommendations at no extra cost to you.
RV Specific
These RV Camping Hacks are the best I've seen overtime in various RV Groups and my own experiences. I got so tired of seeing the same rehashed Pinterest screenshots, so here's the freshet stuff as of 2022!
I have tried to find the product as close to the picture (when applicable) and haved added a "($1)" next to items you could also likely find at your local Dollar Tree!
If you're especially interested in organization tips for your RV, you may appreciate this RV Organization article too!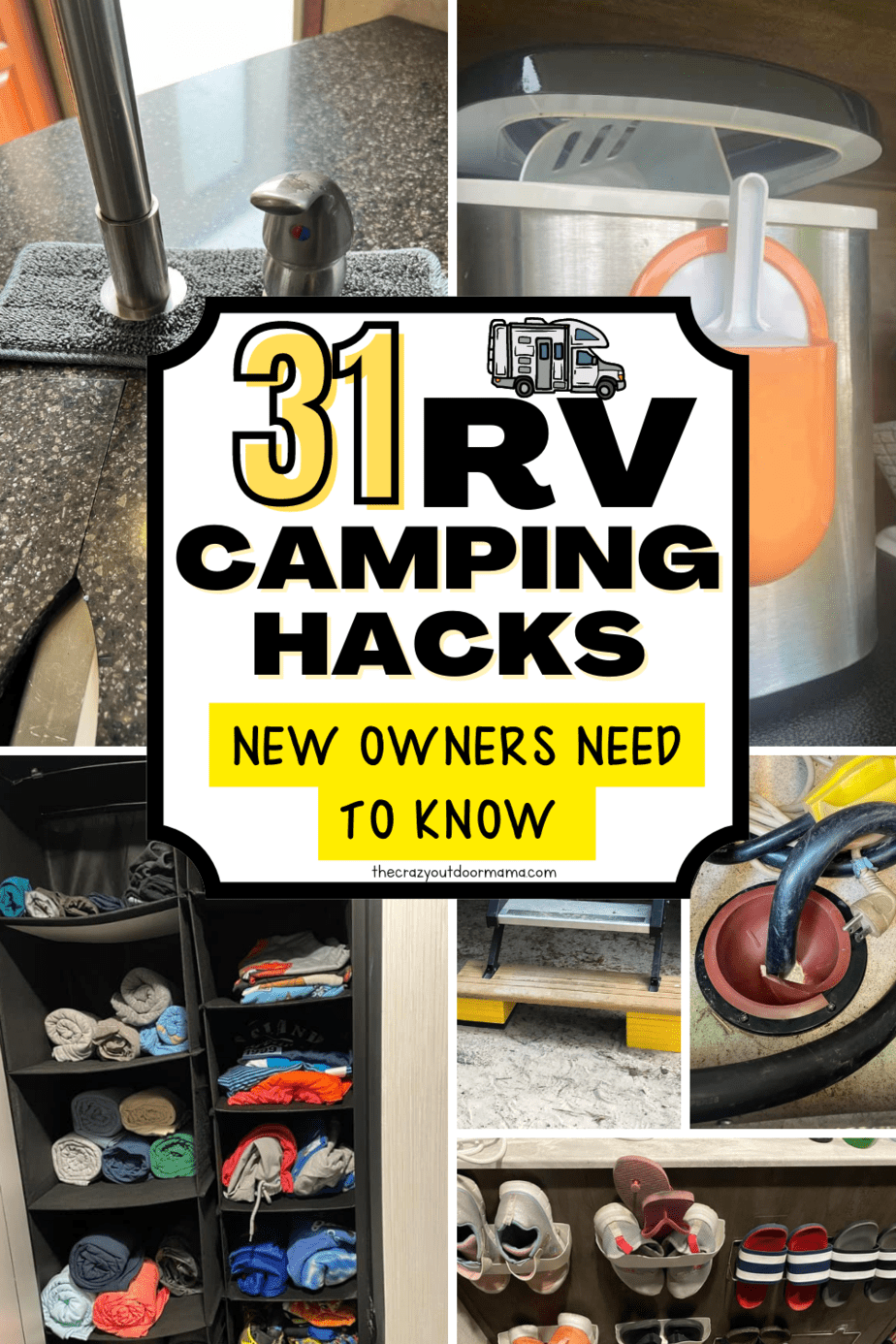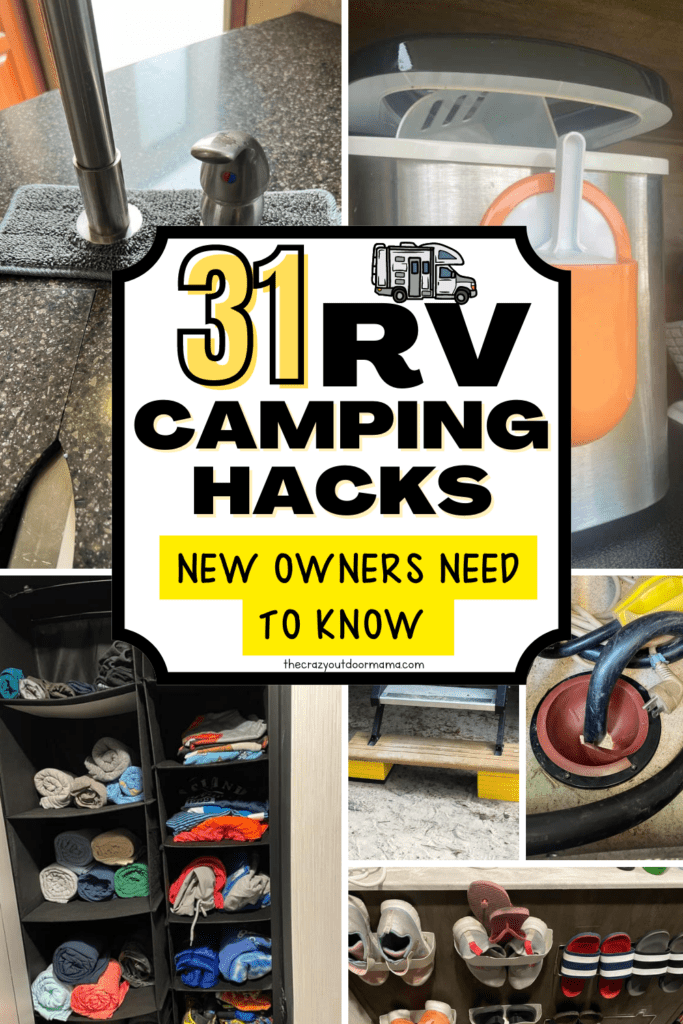 Keep all of Your Bags Organized
A ziploc bag organizer like this cuts down on box clutter and… well heck, it just looks cute! You'll especially appreciate this if you have kids and are constantly getting lunches and snacks ready!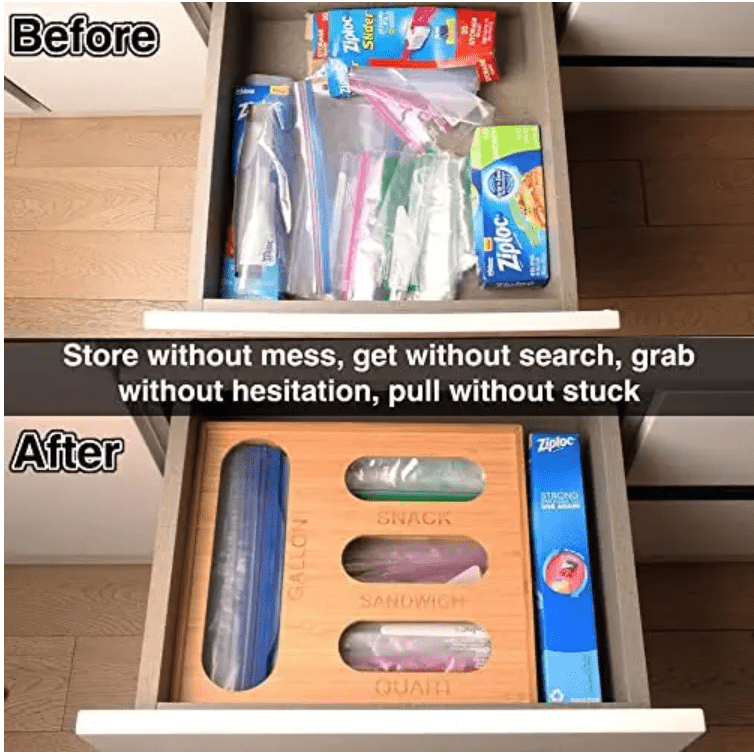 Add Elastic to Keep Your Cabinet Contents from Falling
A roll of wide elastic and some tacks are an easy and practical solution if you don't want the traditional tension bar style.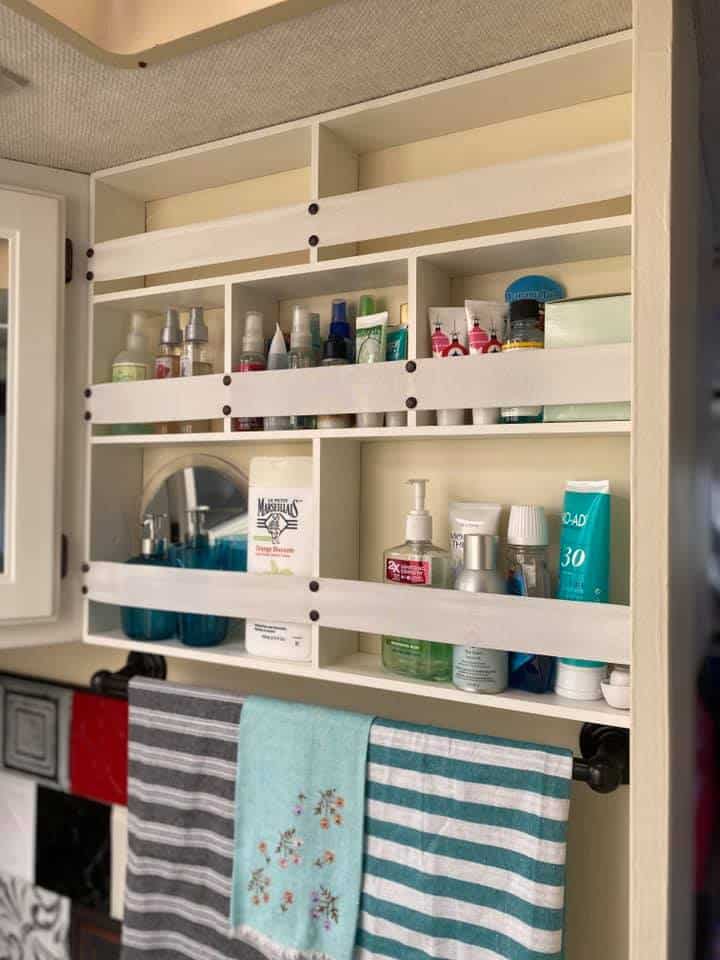 DIY a Fishing Rod Storage Solution
It can be hard to find the space needed to properly store your favorite fishing poles (especially if they don't break down!) so check this interesting idea out – make a hanger in your RV basement area! Just a couple of cut PVC pipe and screws will change your rod storage game!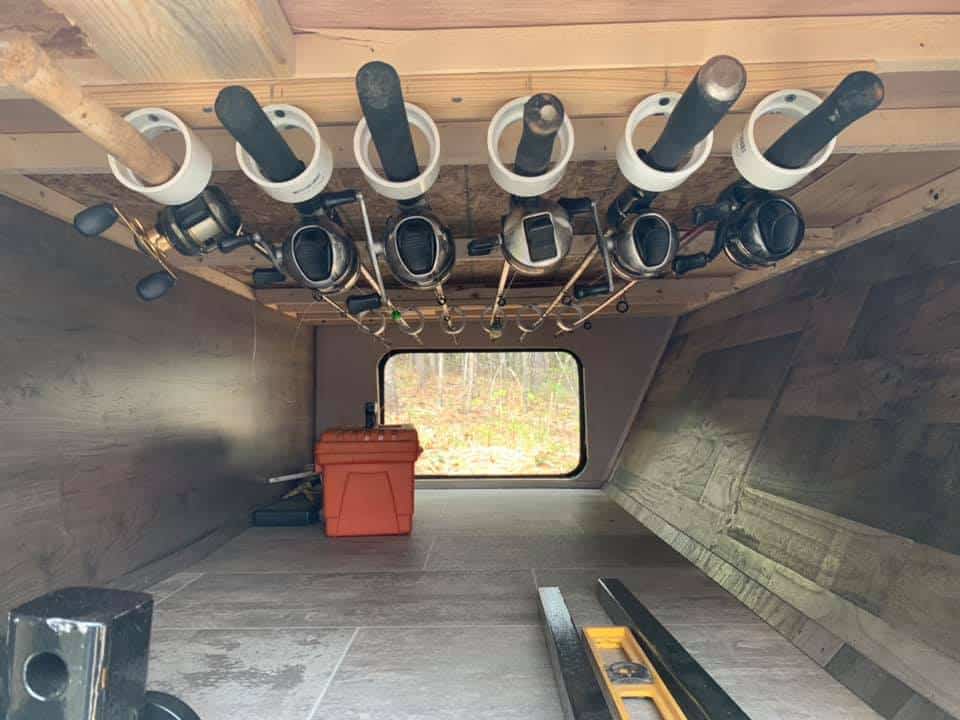 Install a Fold Out Shelf for WAY More Counterspace!
If you are only bothered by counterspace during actual meal times, then you'll love this quick and easy solution. There are tons of sizes and options, but all these fold out counter options are pretty simple to install thankfully.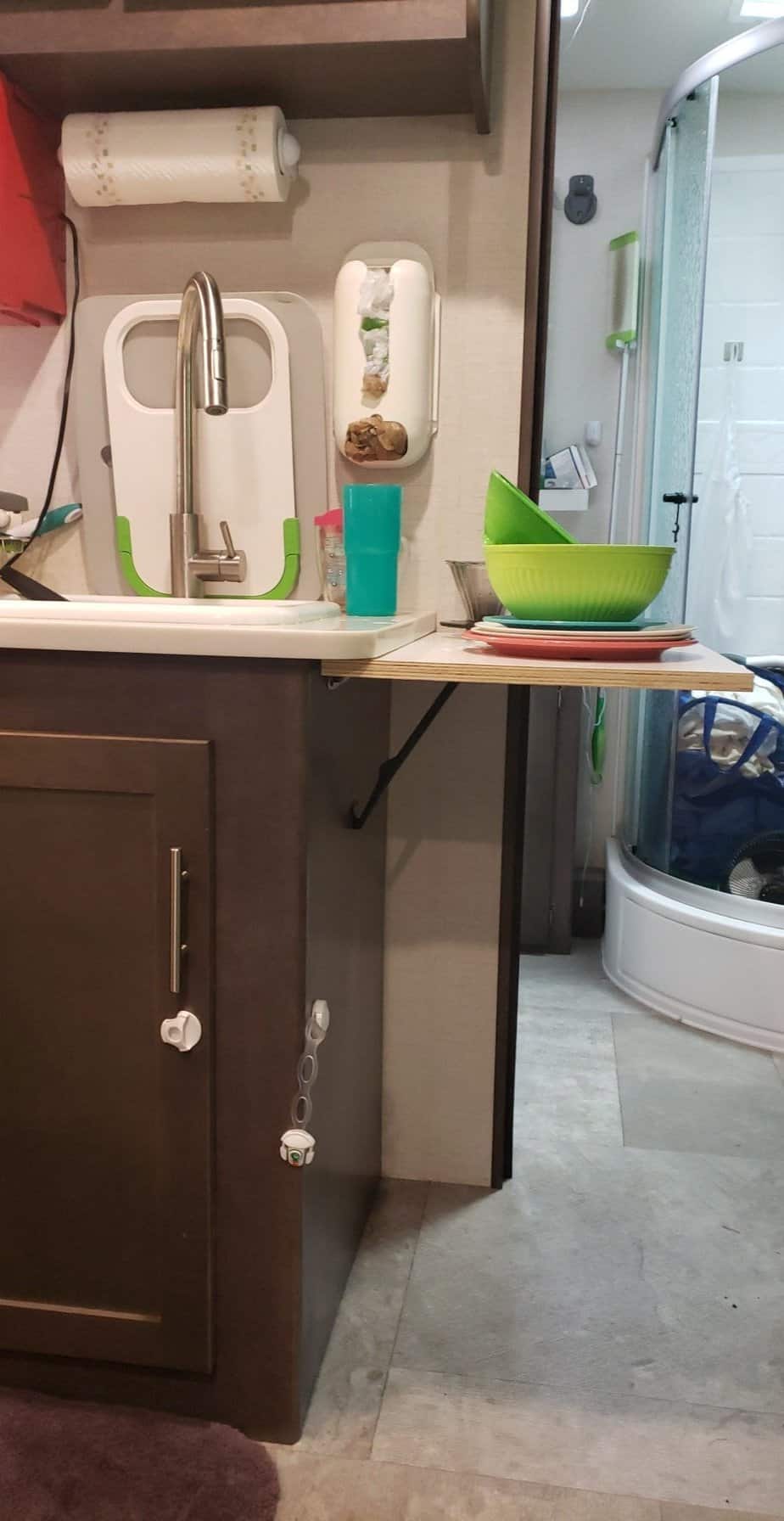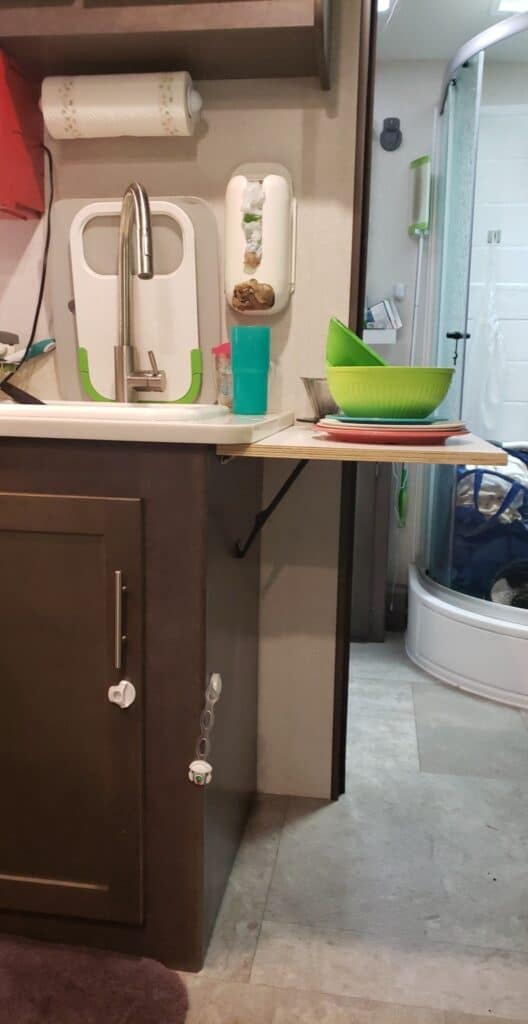 Frame in Spots for Your RV Equipment
Generators are awesome… as long as they don't tip! While some RVs (mostly the bigger/expensive ones) have built in, on board spots for the generator, there are many that don't. By using a couple of 2x4s in one of your storage areas, you make them way more secure for travel!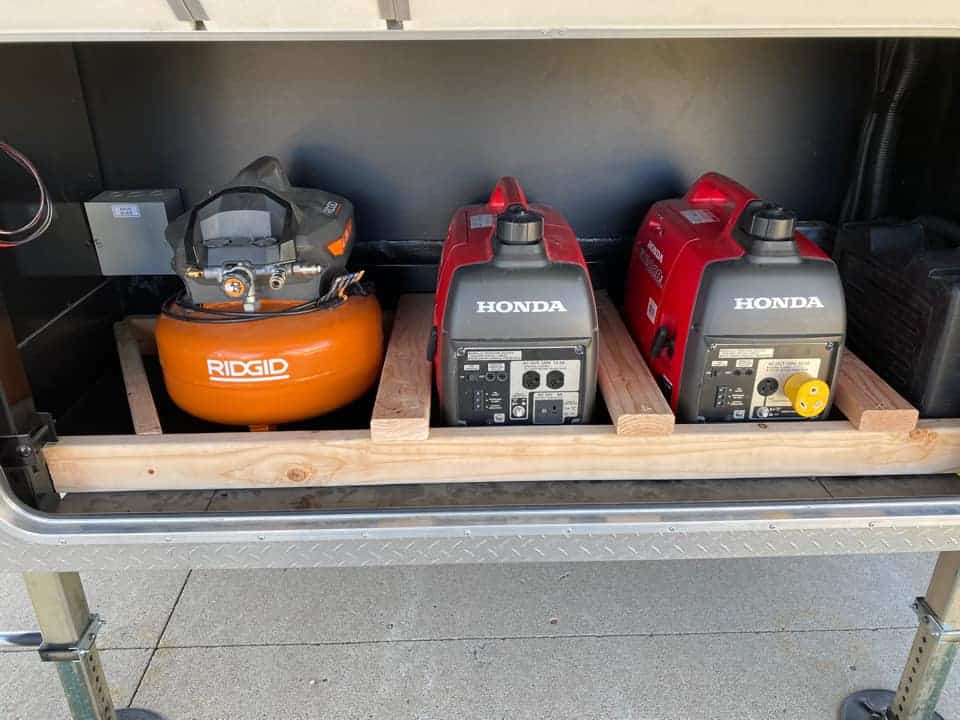 Hang Up All Your Cords and Hoses
A heavy pile of cords and hoses can be a hassle to deal with – not to mention you can't see beyond the top 1 or 2 things on the pile! Instead, try hanging them up in a basement area. To be fair, you have to have a fairly sturdy way to mount the hooks they will hang on, but once in place… it will be WAY worth your while!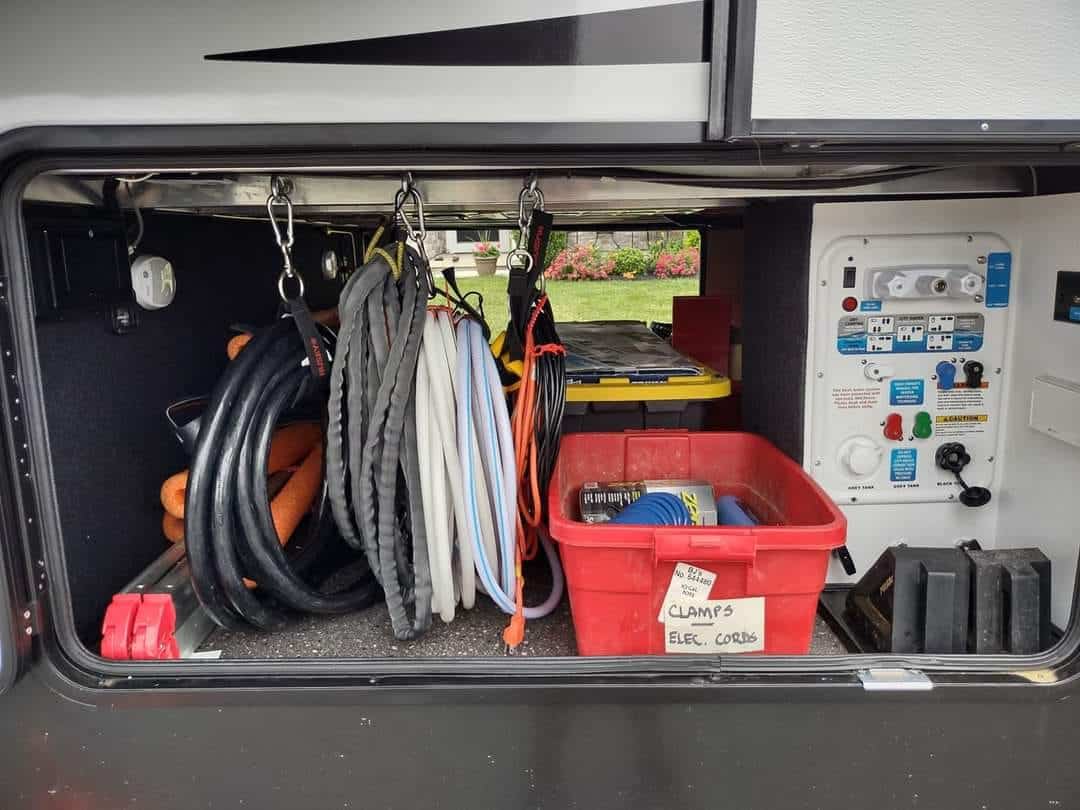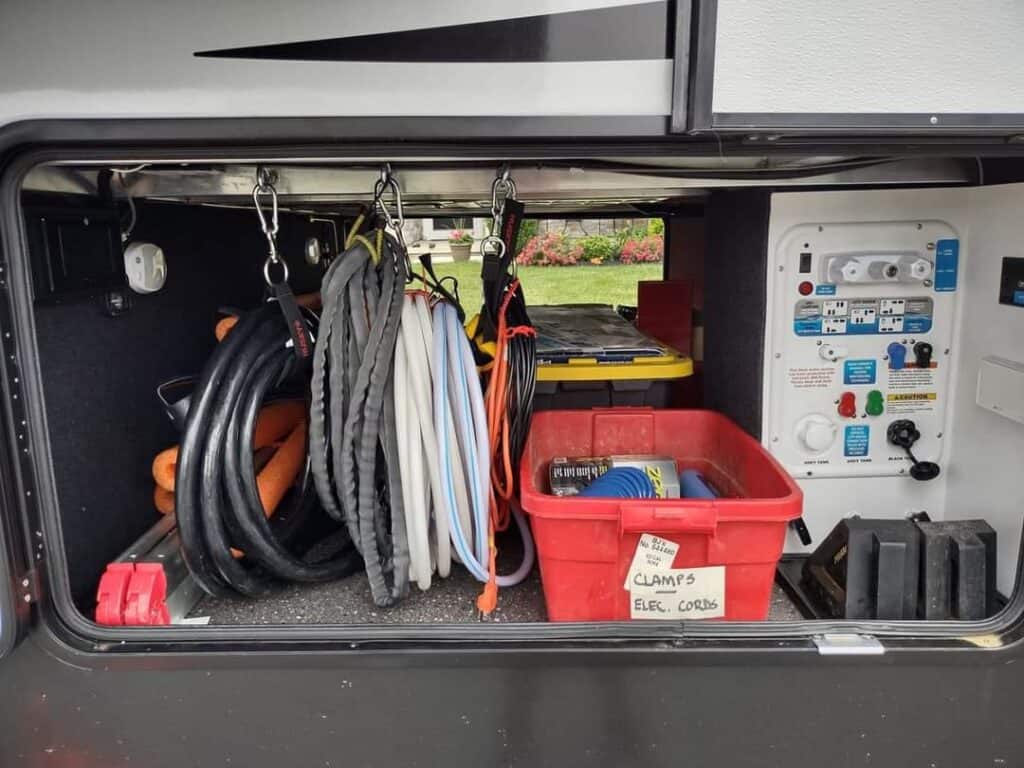 Use a Pegboard for RV Basement or Side Compartment Organization
Pegboards are incredibly versatile – they can be used to mount a custom design of hooks, bins, wire storage devices and more. I love how organized it all looks!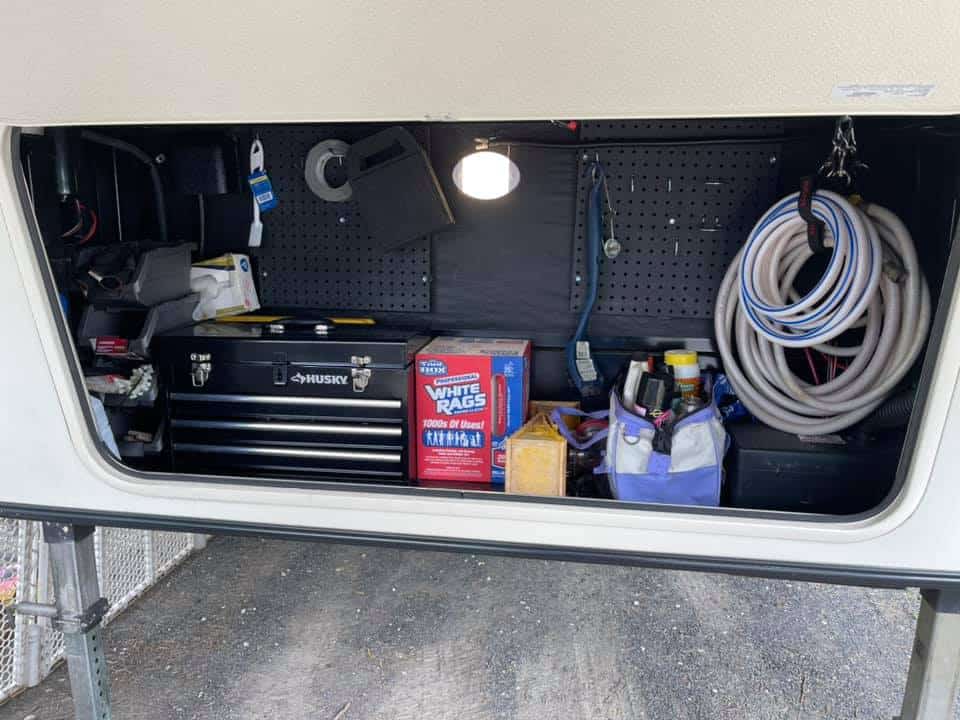 Decorate with WAY Less Nail Holes
Honestly, nailing ANYTHING to a wall in a camper takes a big of work to make sure it's actually secure, so skip it all together and use Museum Putty! According to their website, it can hold up to 40 lbs – I wouldn't push it though with all the travel and movement campers endure!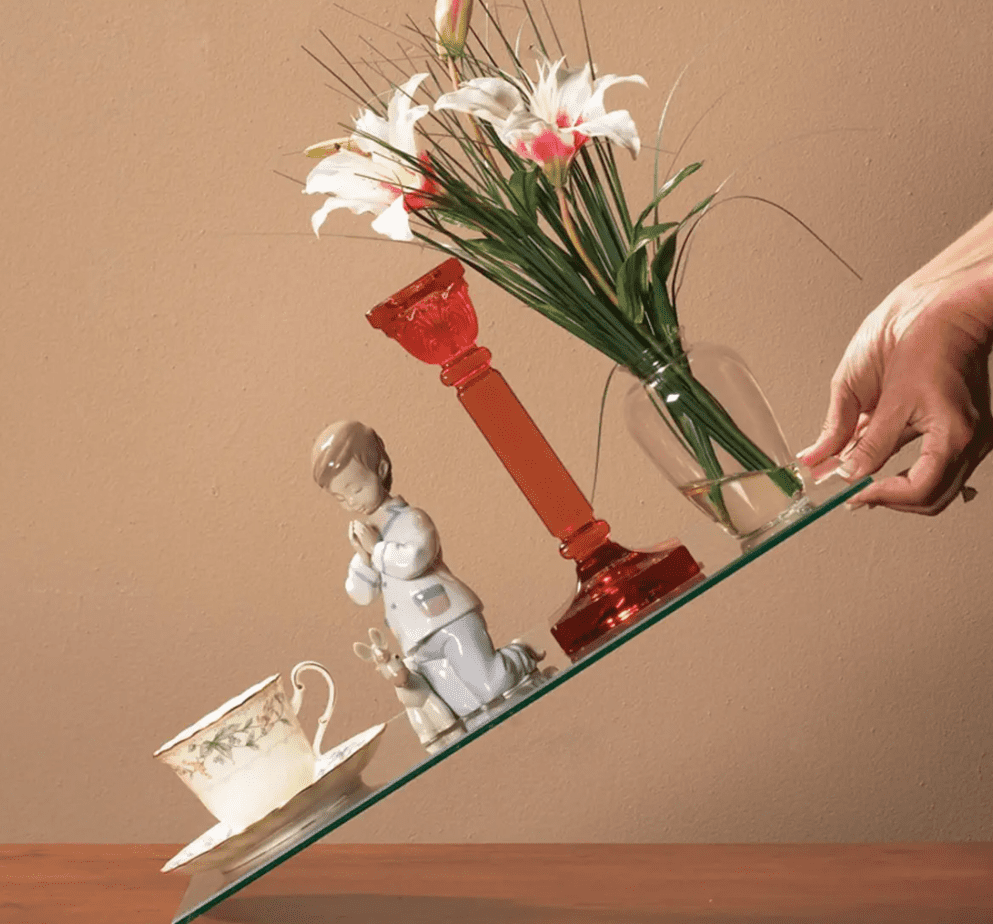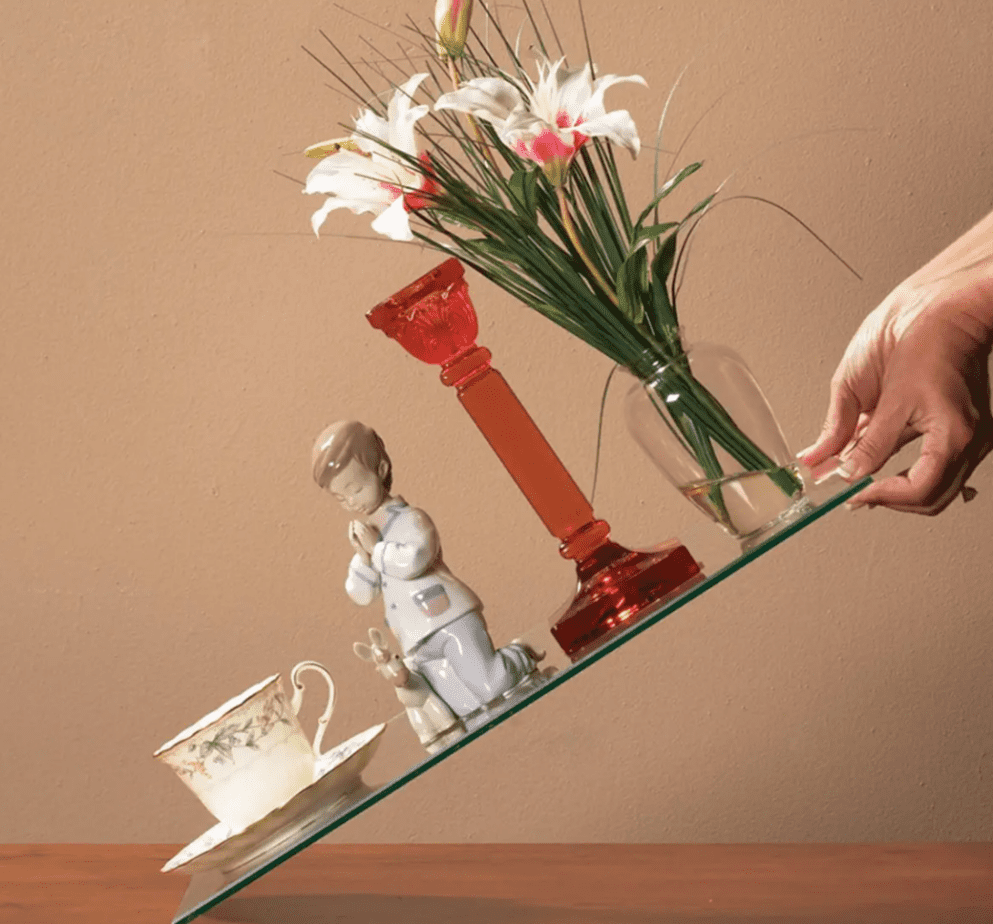 Keep Those Pantry Cabinet Doors Held Up
With just a simple 3M Command Hook, you can keep those awkwardly hinged pantry cabinet doors in place so you don't have to hold it up the whole time you're trying to get things from the pantry!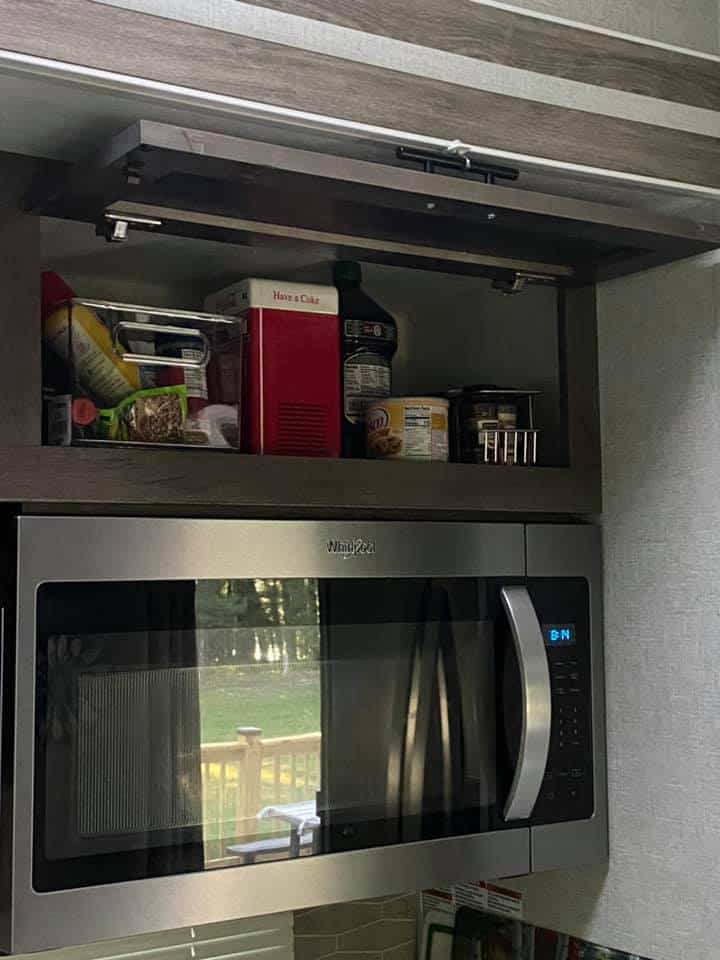 Command Hooks Are a MUST!
After writing about the previous tip, I couldn't help but include some other awesome hacks using 3M Hooks around your camper. I love them for hanging our big kitchen utensils, keys, hats, and even the kids jackets! Here are some more examples of 3Ms in RVs!
Hang keys at the entryway
For oversized utensils in the kitchen
Small jackets/hats
Lightweight bins for TP and towel storage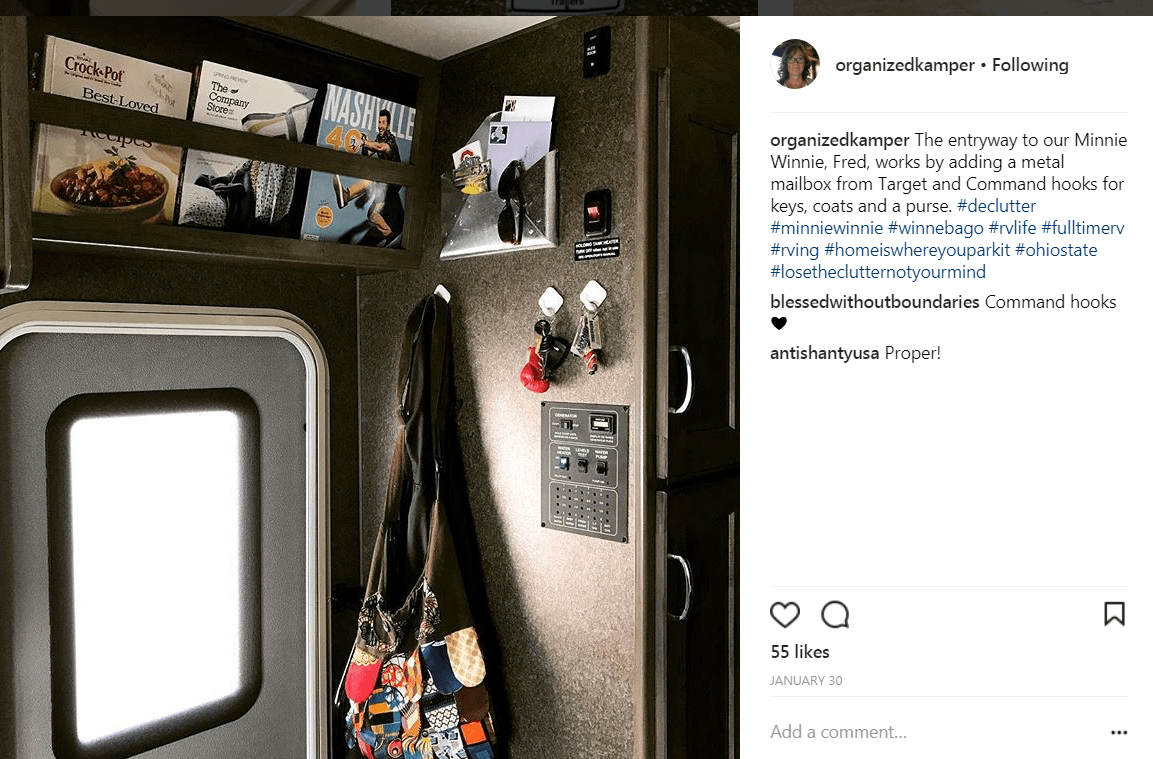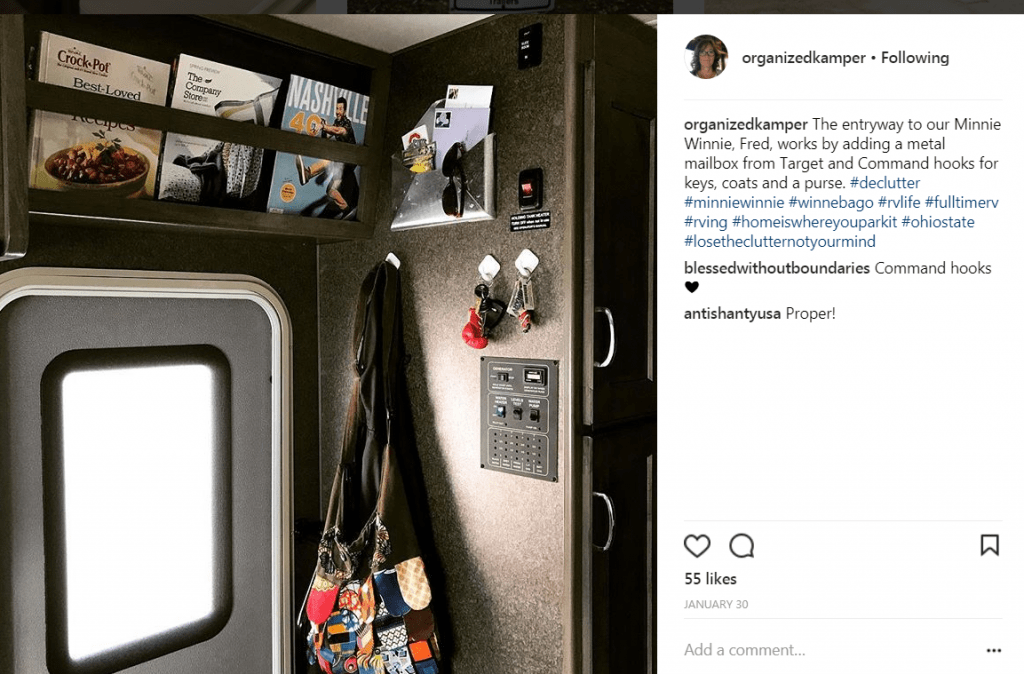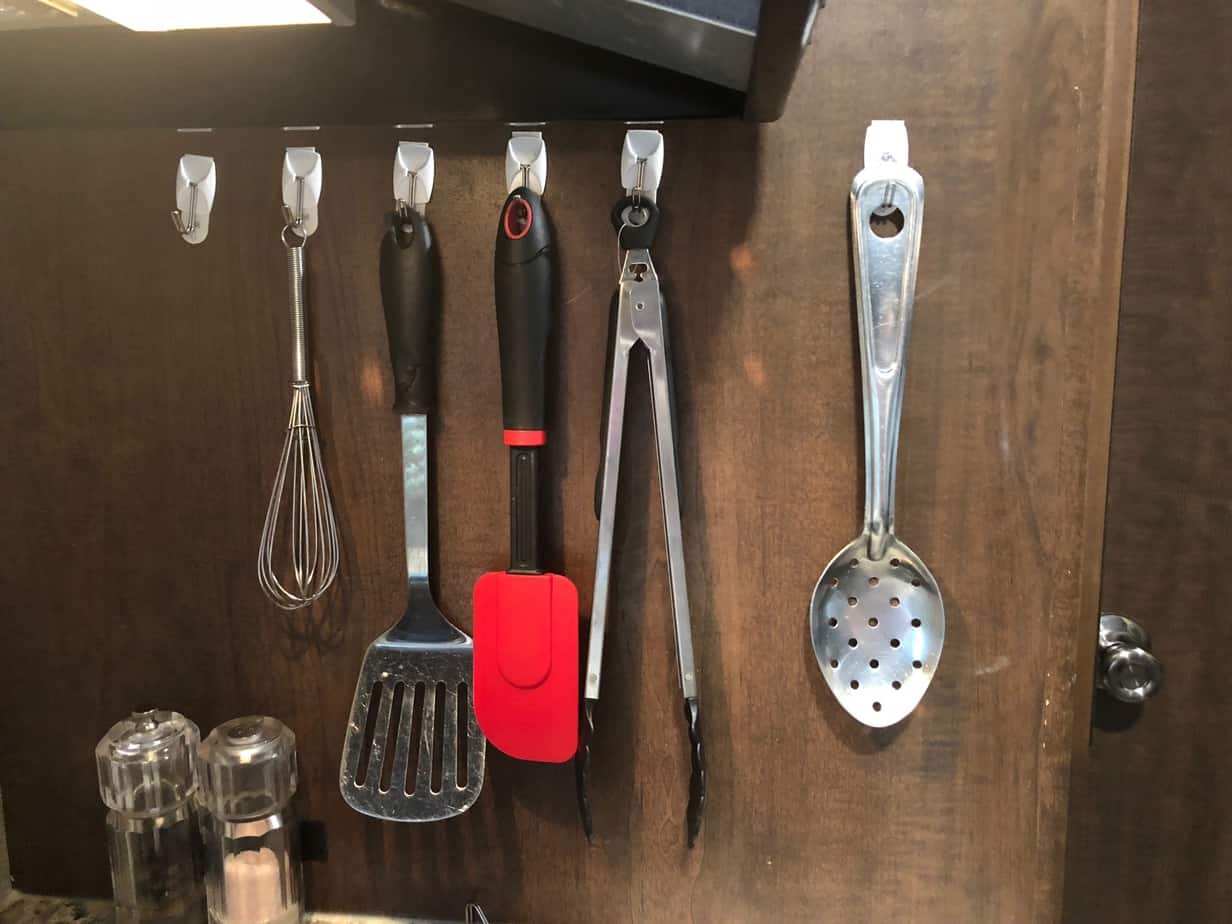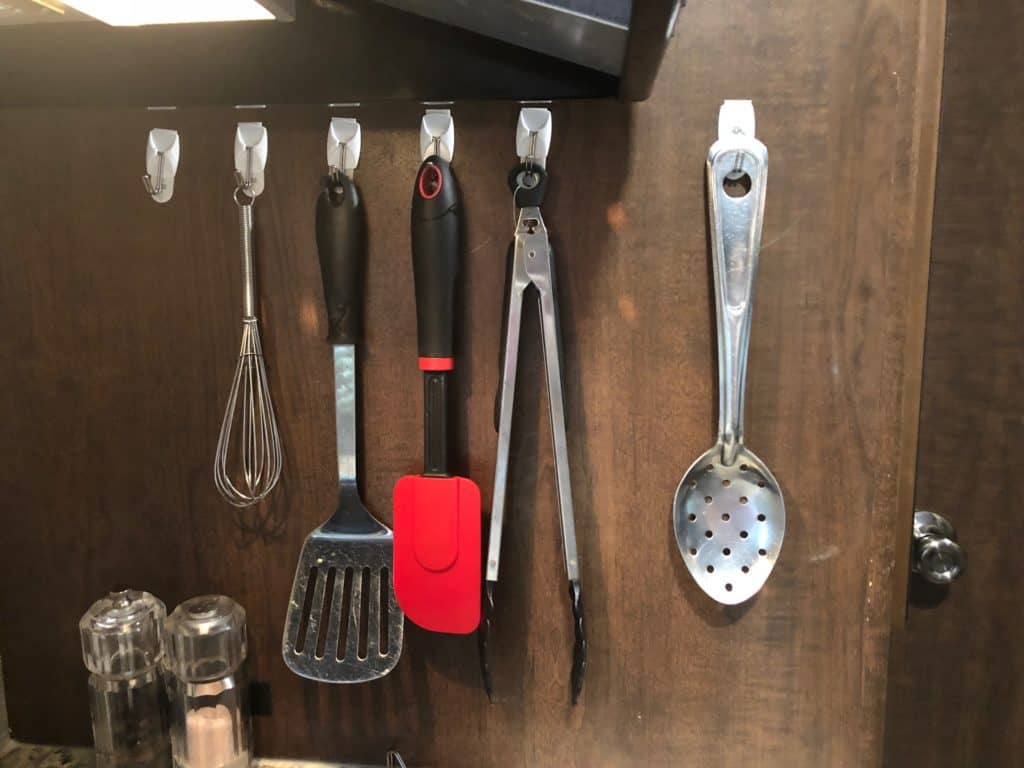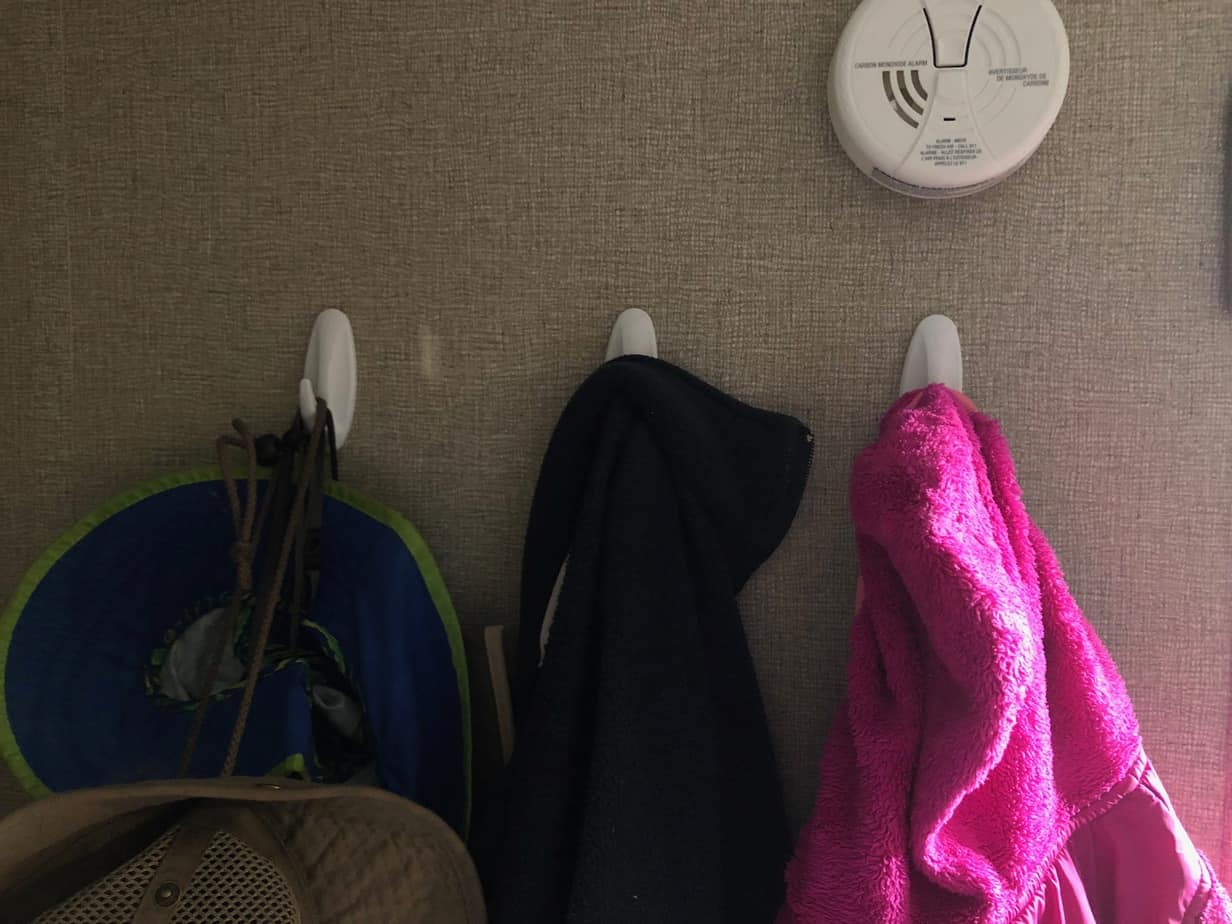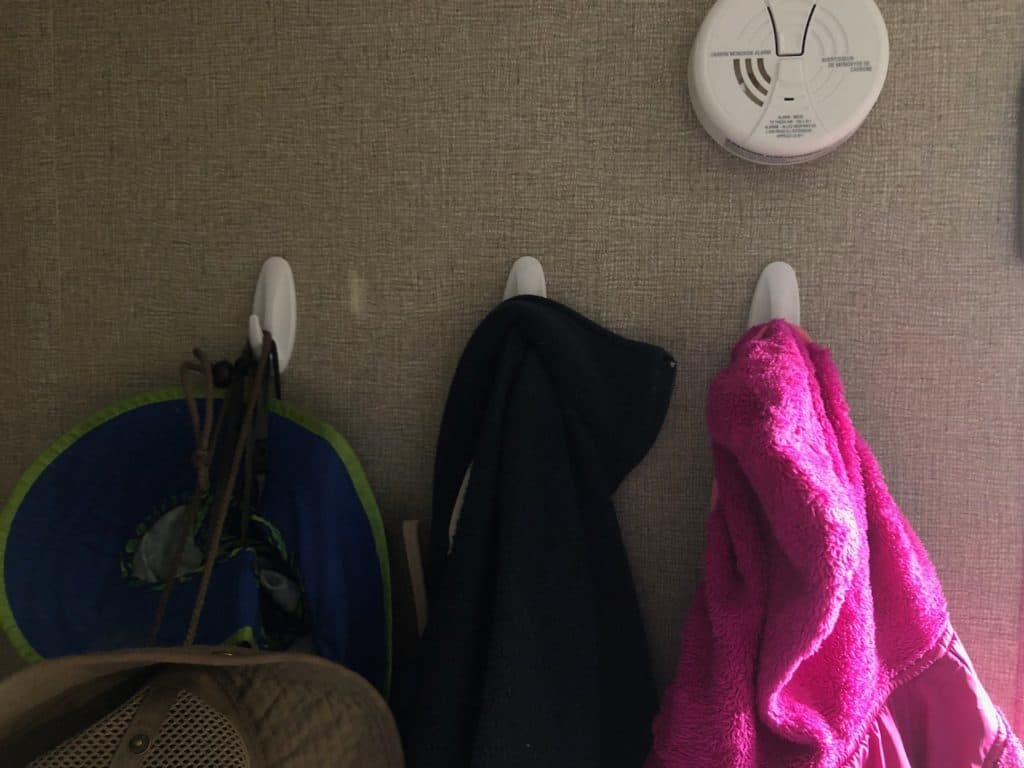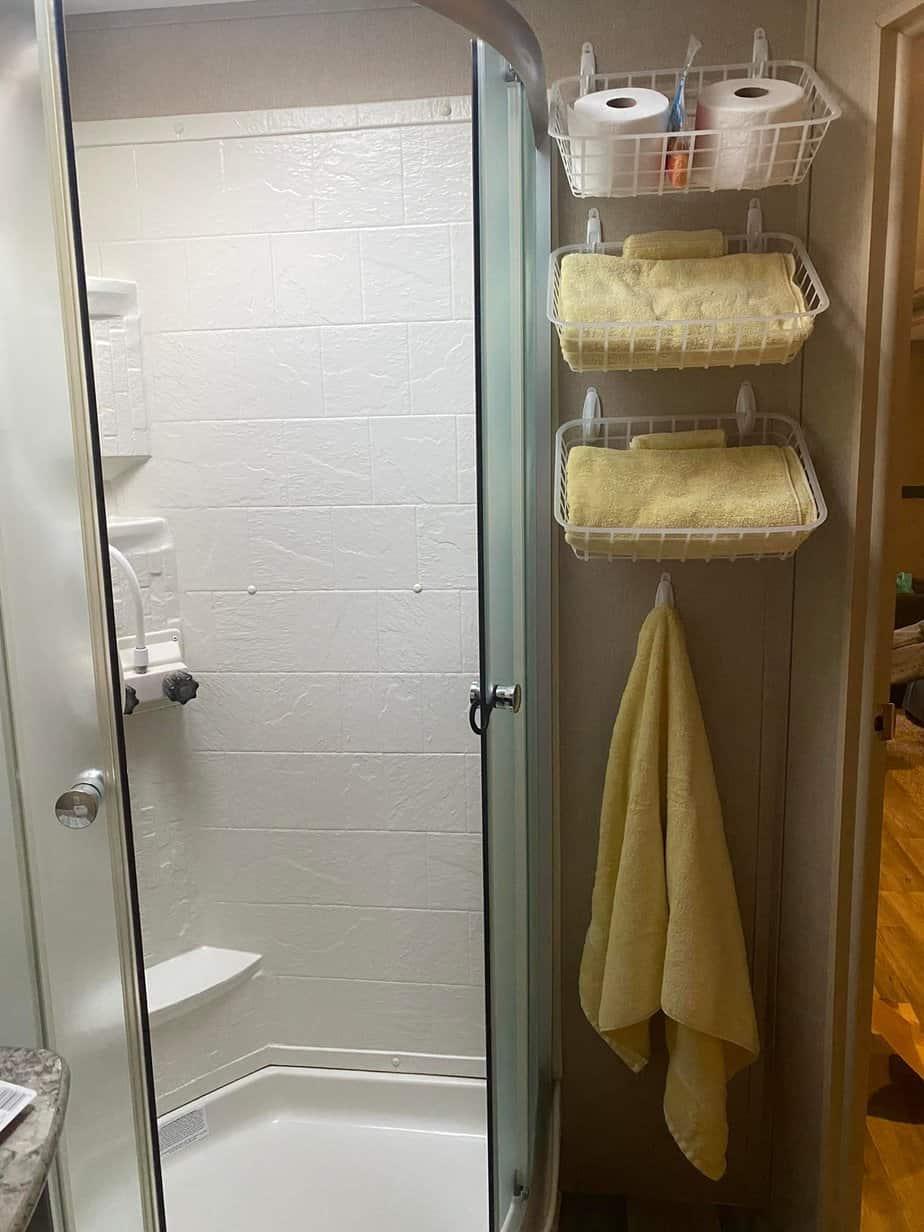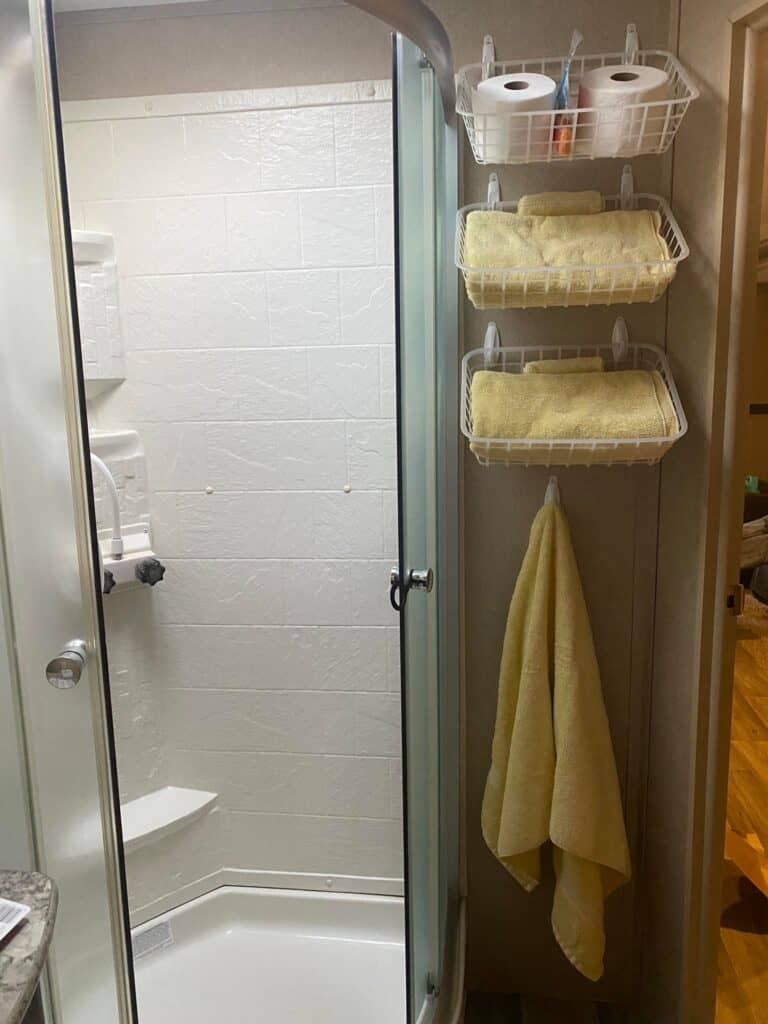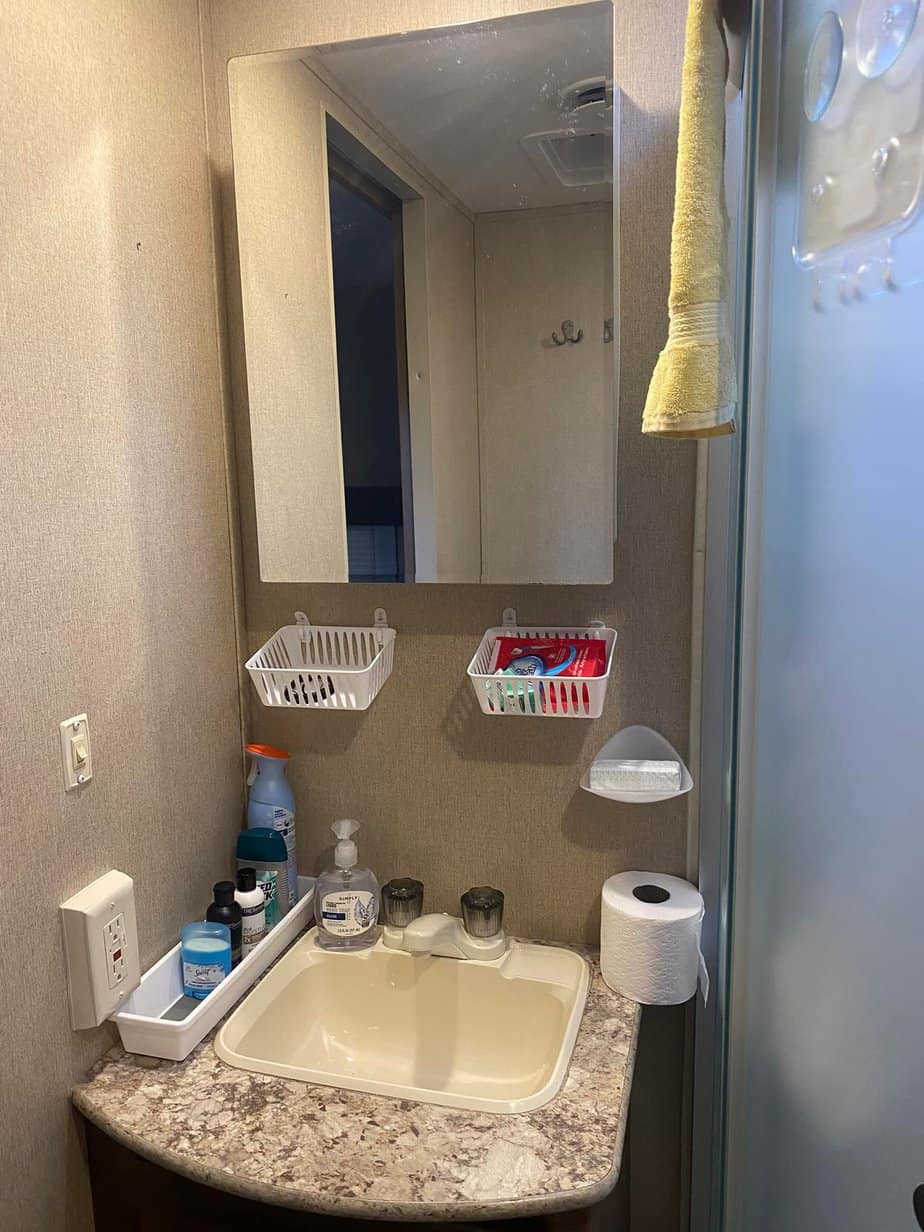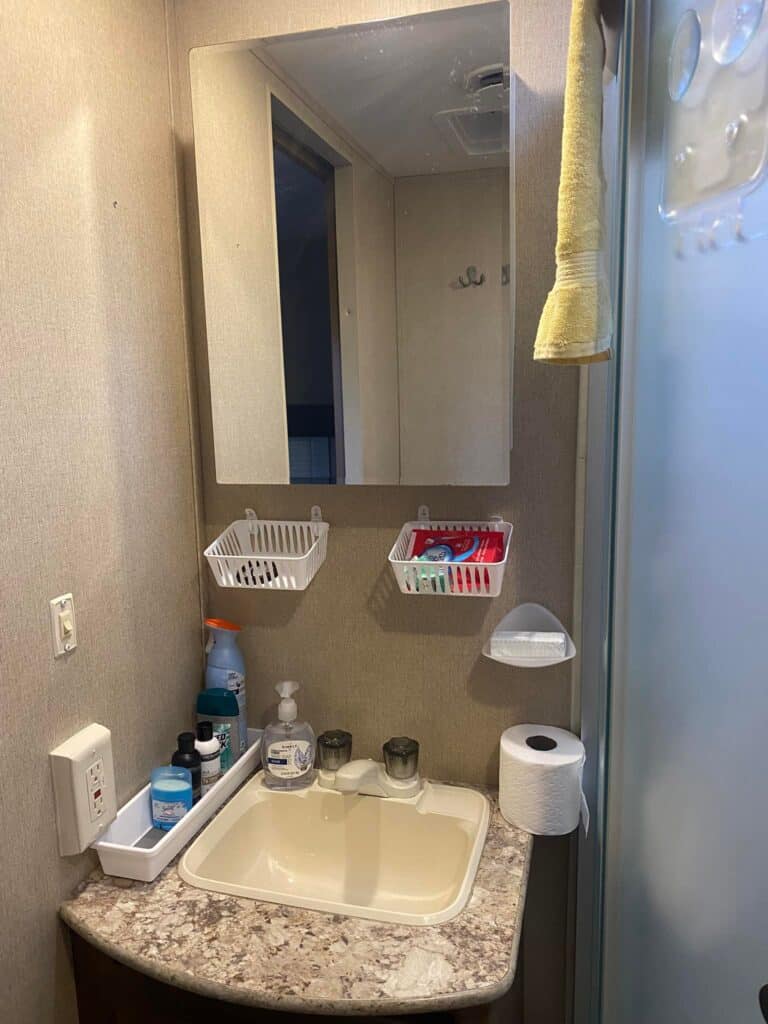 Make Use of ALL Your Pantry Cabinet Space – Including the Doors! ($1)
Long items such as foil and various cooking papers are hard to store neatly sometimes… unless you use the free space behind your cabinet door! There are many styles and options, but this one can hold 4 rolls!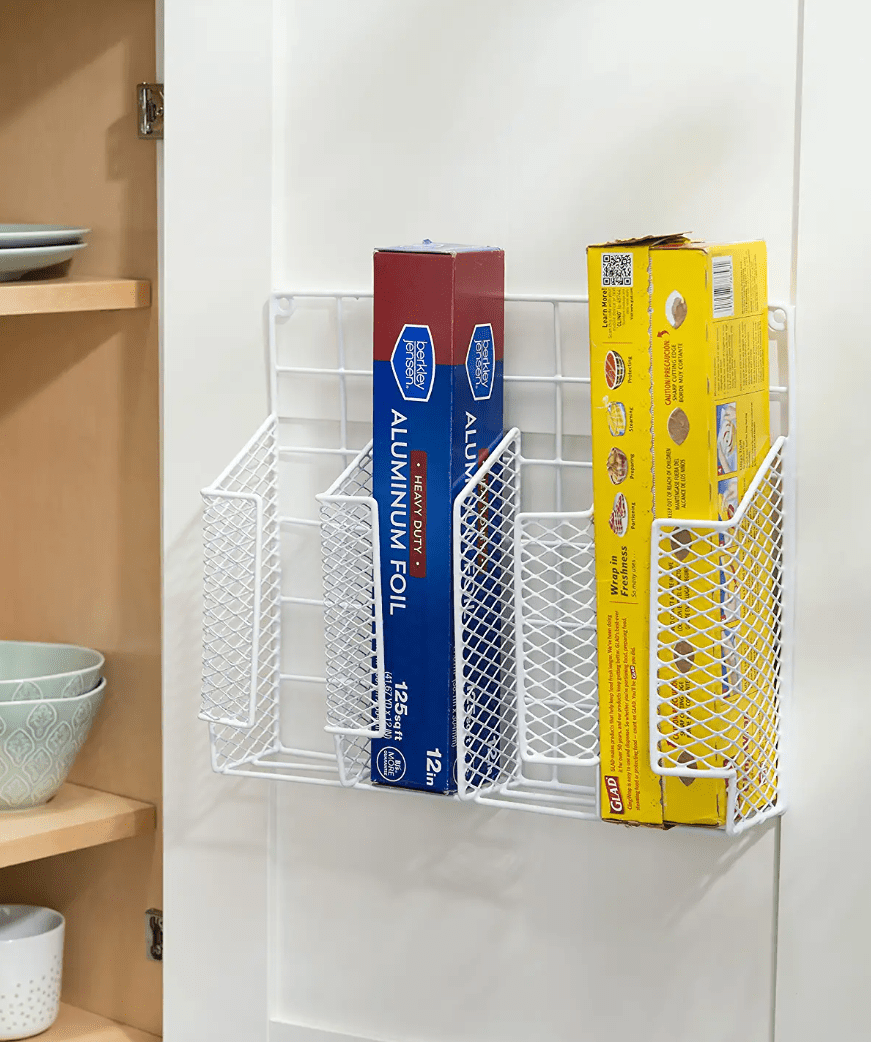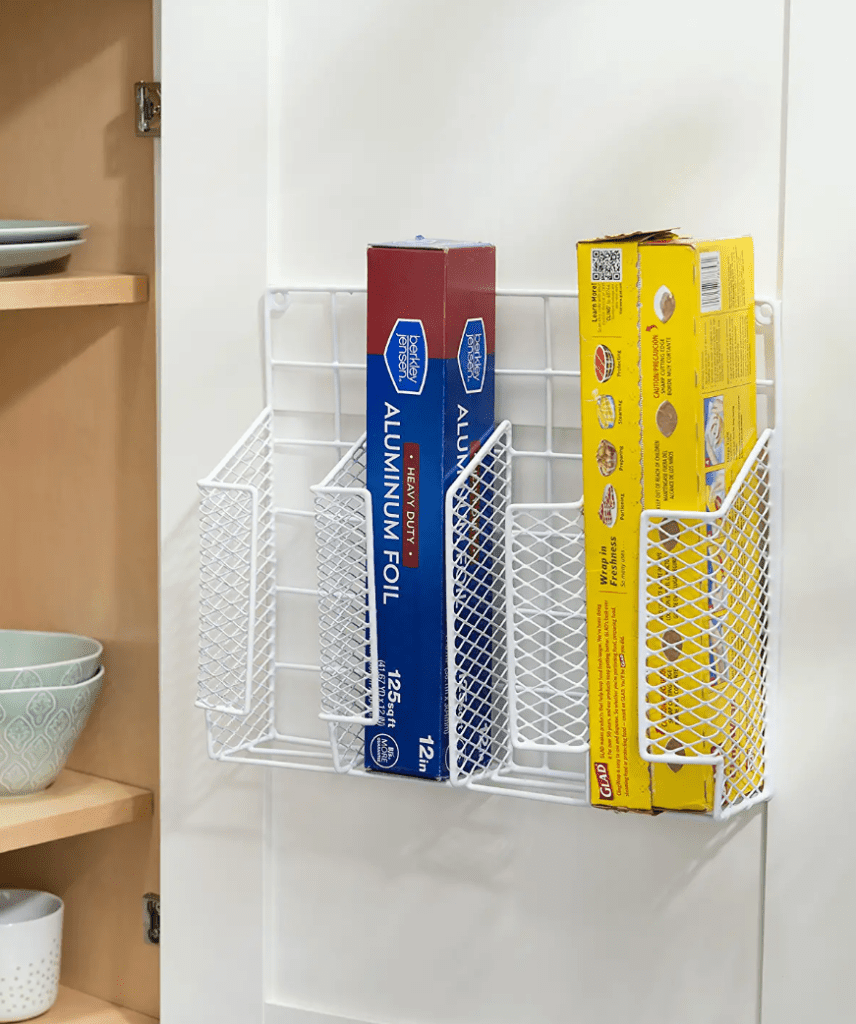 Speaking of Cabinet Space… You're Gonna Need Shelves! ($1)
Many RV pantries are strangely shaped – very deep and tall. That means a ton of vertical space will get wasted unless you get some shelves in there! School locker sizes seem to be best for super narrow ones, but you'll have to measure your own to find a perfect fit.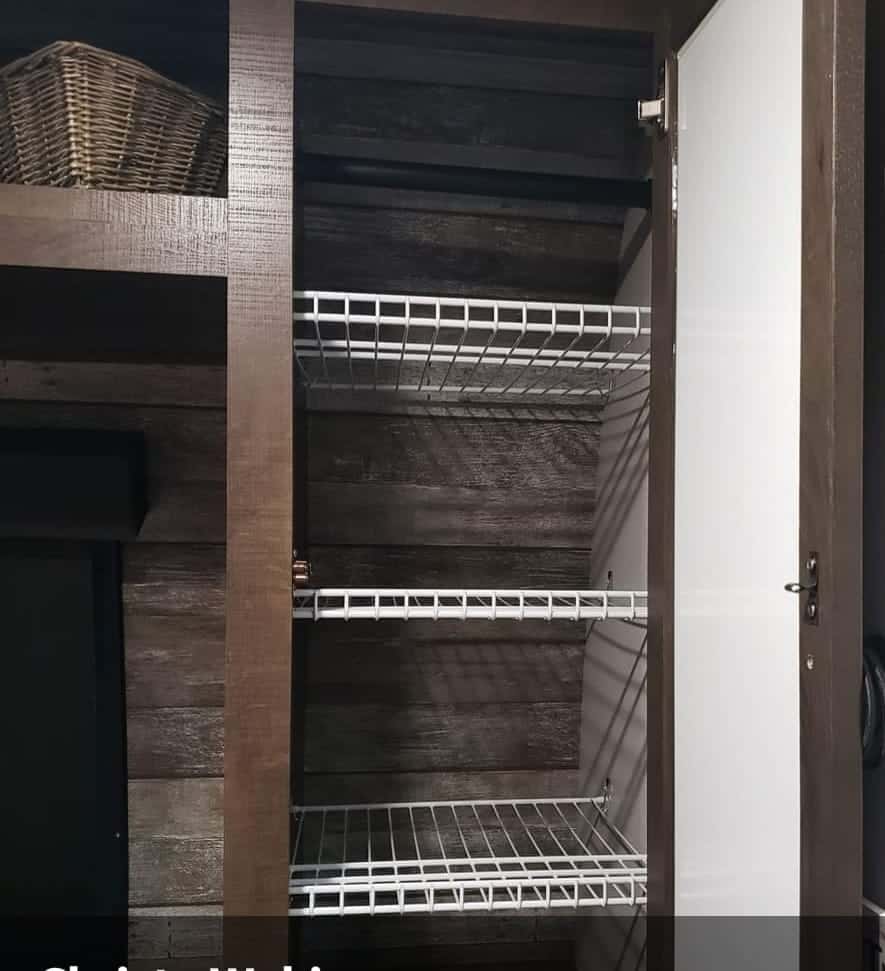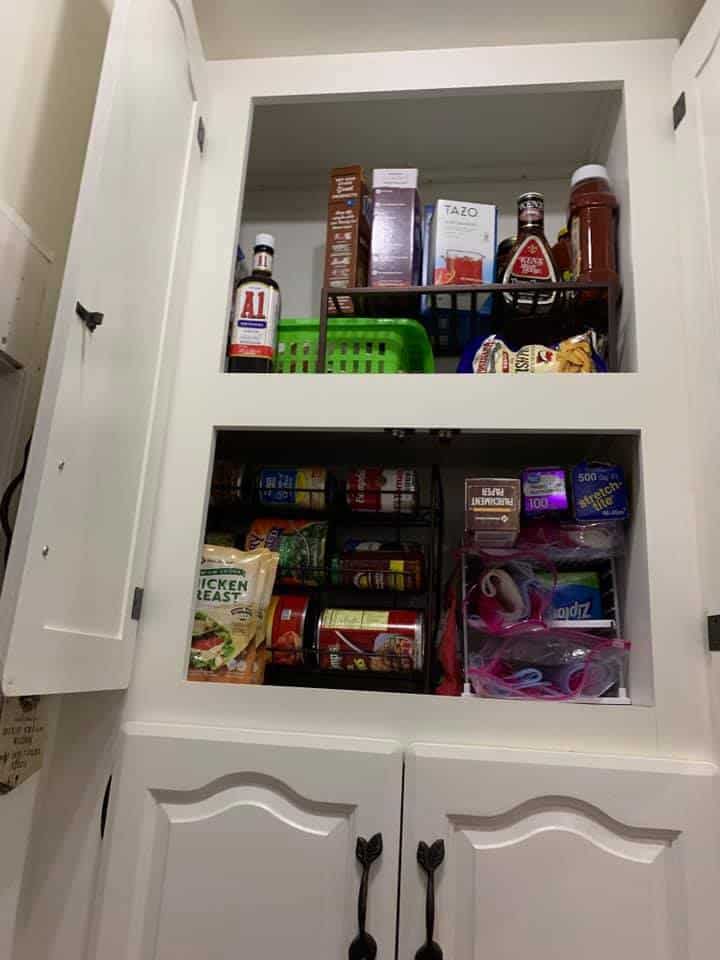 Make your RV Screen Door Dog Proof
We've ALL likely seen that picture at some point – the one of the dog that chewed/dug through the bottom of the camper door! While this solution may not work for THAT determined dog, it will likely work for many others. Reinforce the bottom of your screen door with a screen door grill (like this one from Camco) to keep your dogs inside.
Note – Sadly the one I could find and link to is not near as cute as the one pictured below with the adorable dog (I screenshotted it along time ago for my cat, and I don't remember which group it was from!)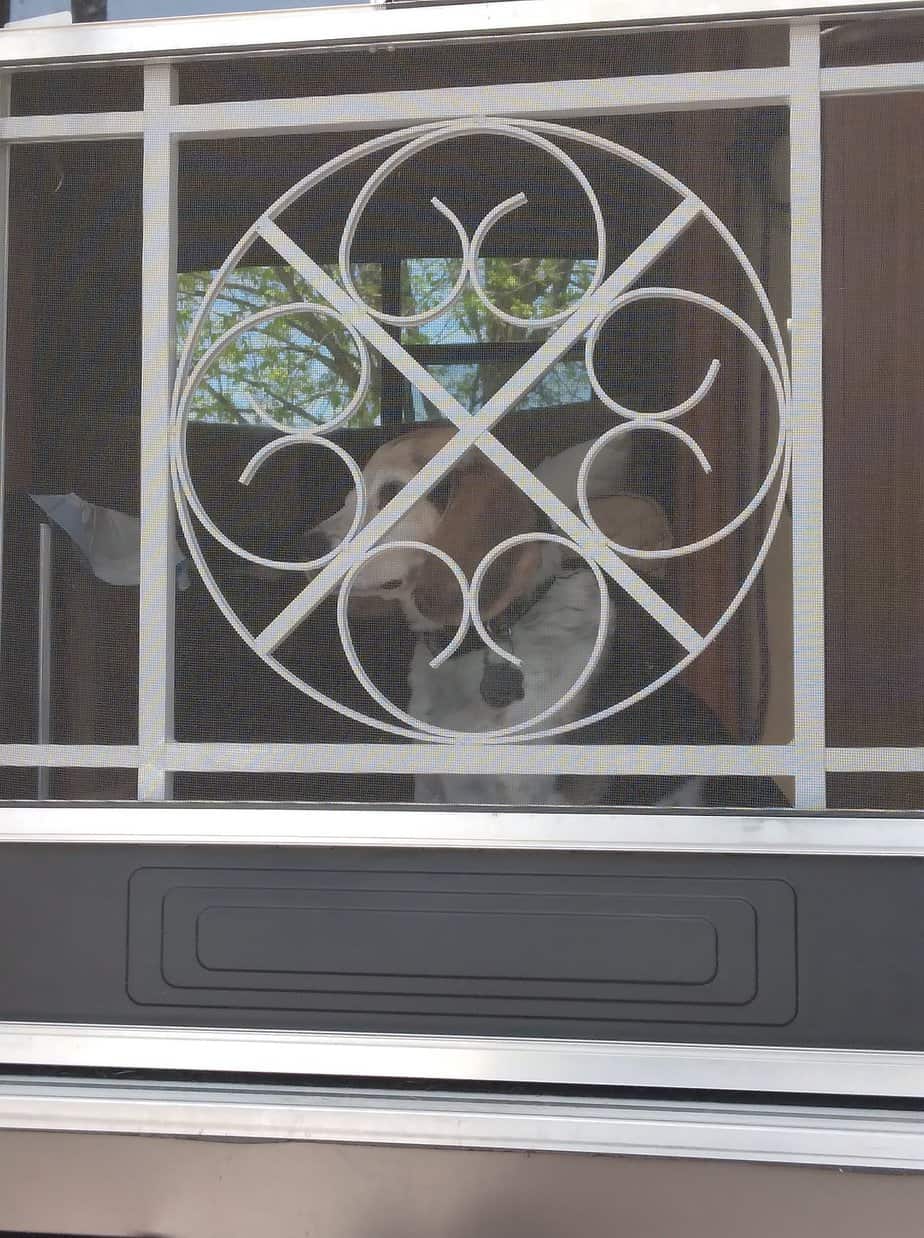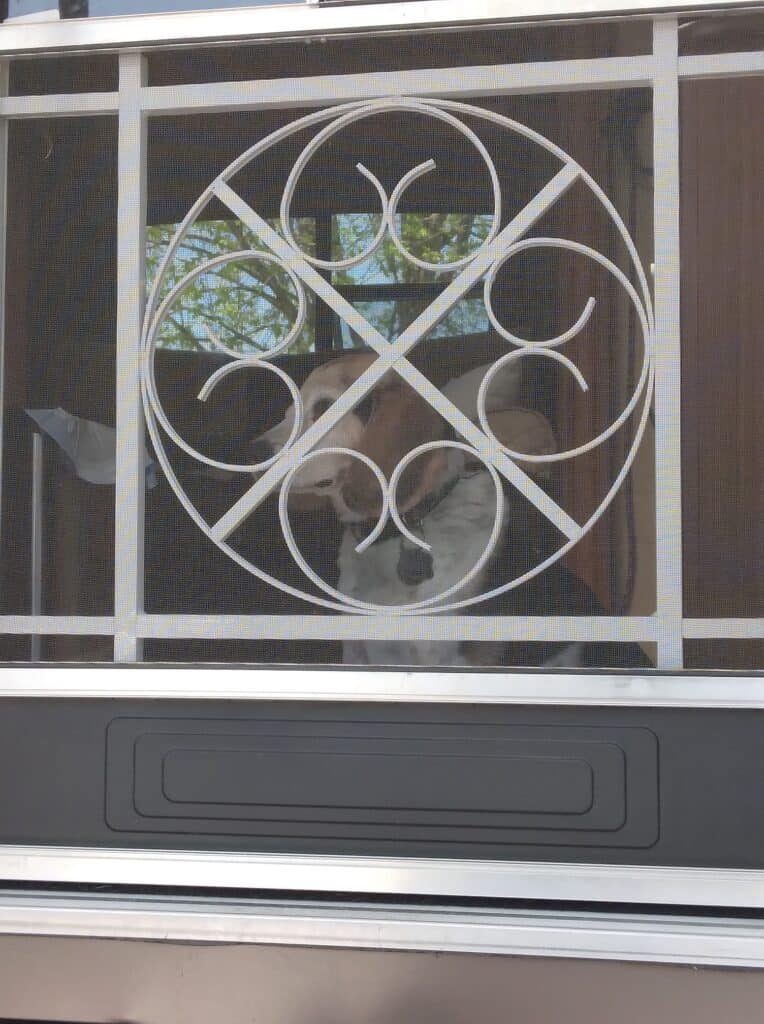 Use a Retractable Screen Gate
These are WAY easier to open than a normal screen door, easier to replace should your dog/child mess it up, and allows for quick passing of things in and out of the camper. There *is* a non punch/screw in option, but I wouldn't trust it to hold up (and the texture of typical campers is too textured for it to stick to)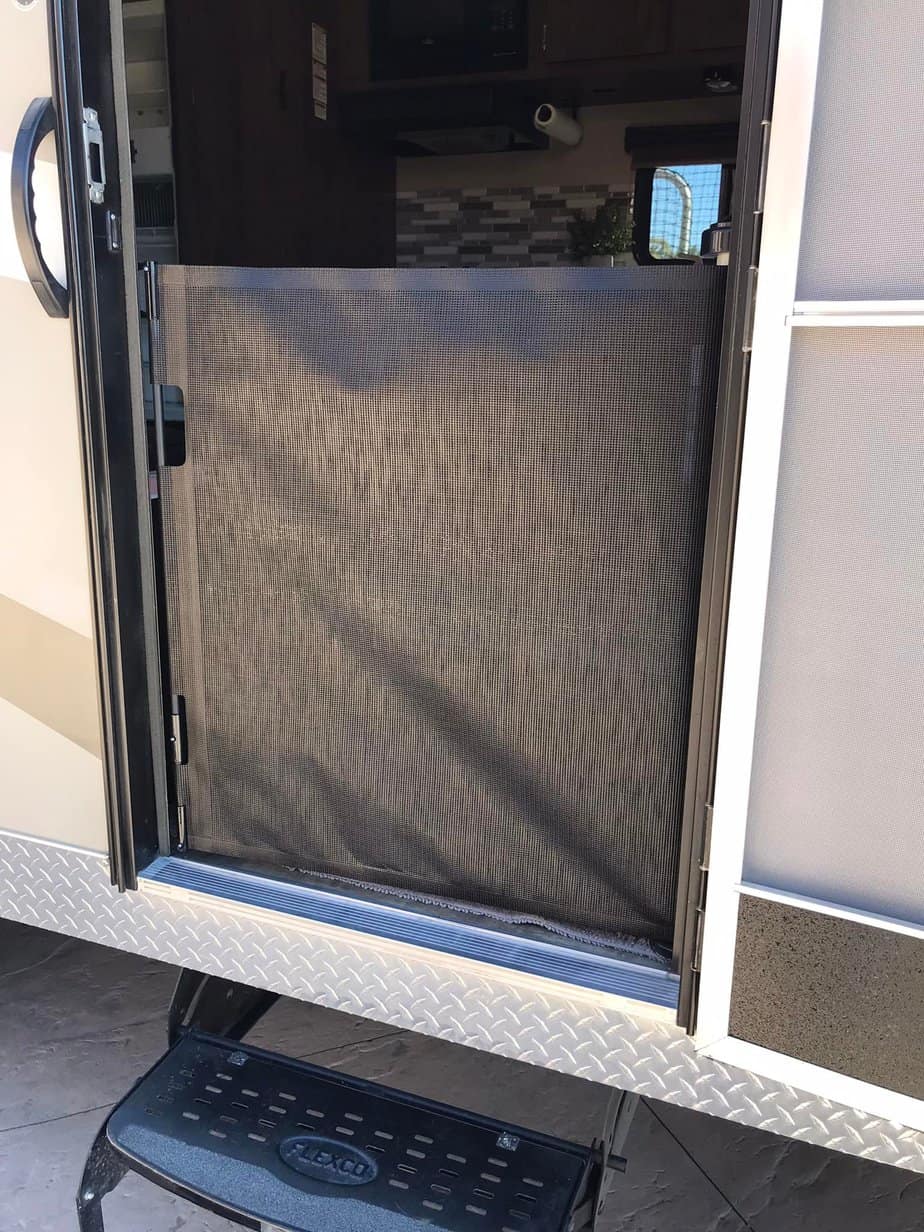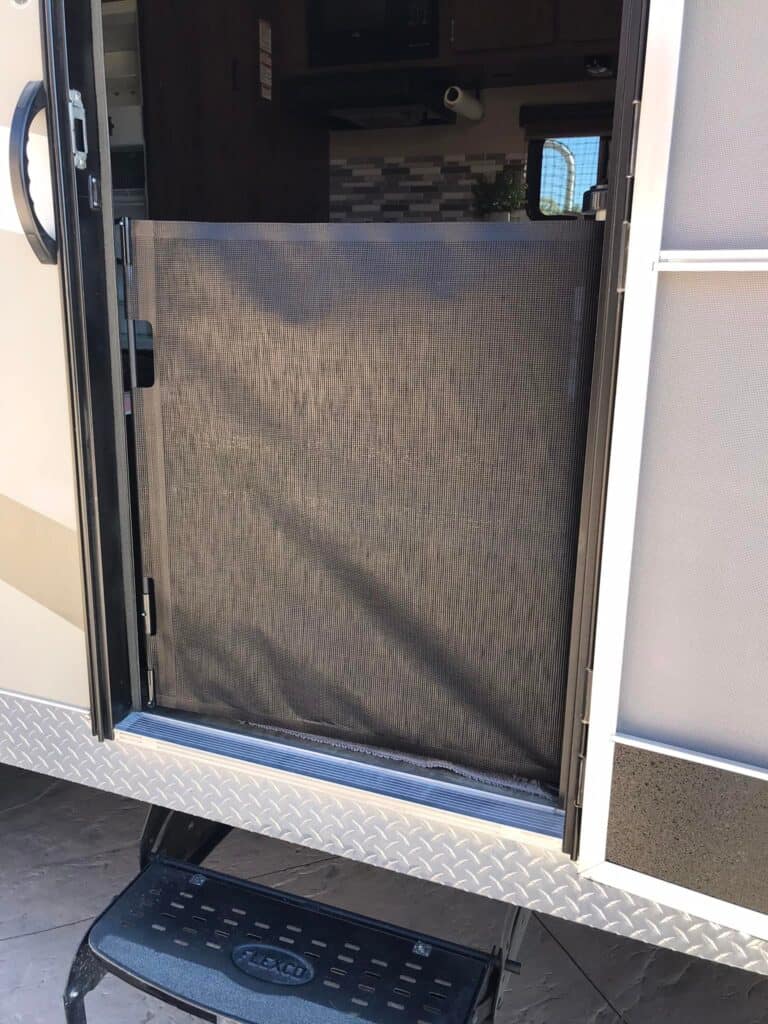 Mount Your Spices for More Cabinet Space ($1)
Whether it's a magnetic style or gripper style, freeing up valuable cabinet space is worth it. It doesn't hurt that it looks super cute too!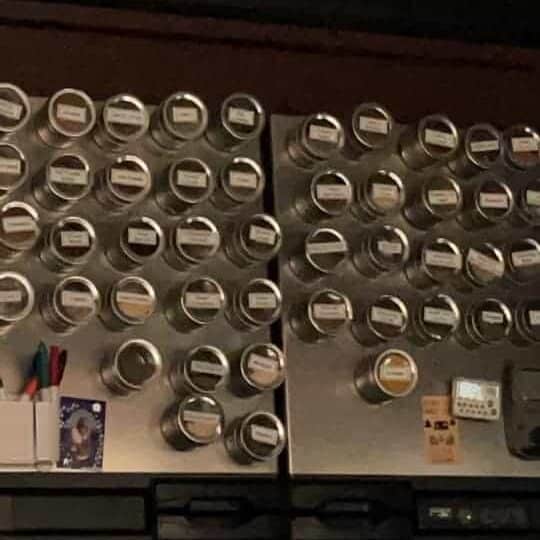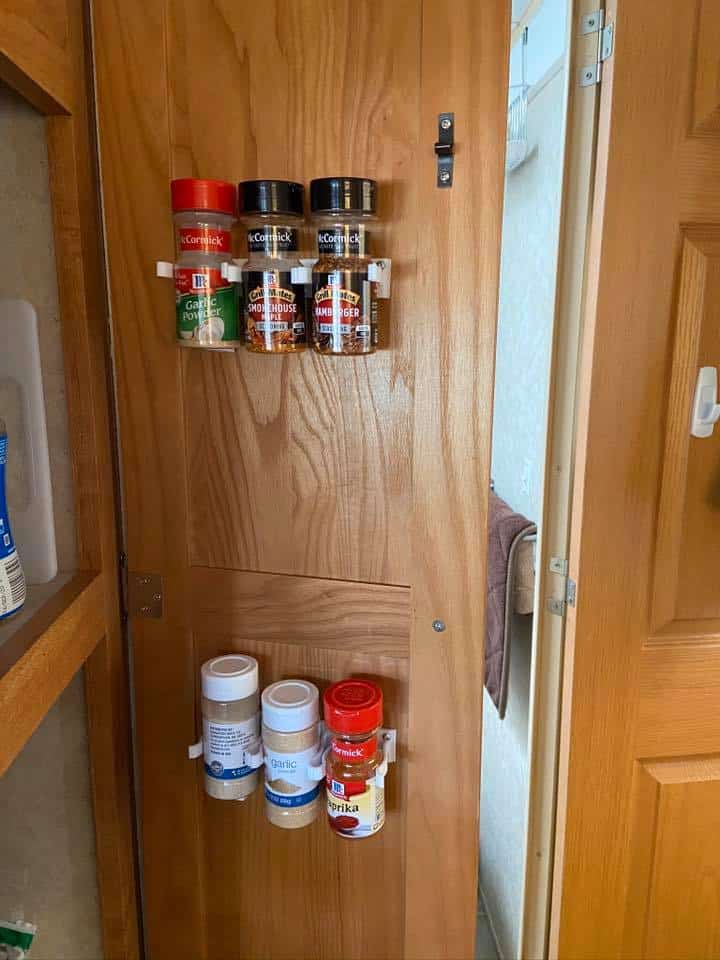 Fabric Compartmented Bins for Bottle Storage ($1)
If you are someone who entertains, or just has alot of cute cups that you don't want to break, you may want to store them in a compartmented fabric bin like this. It prevents them from tipping over as easily as well as reducing how often they touch during transit.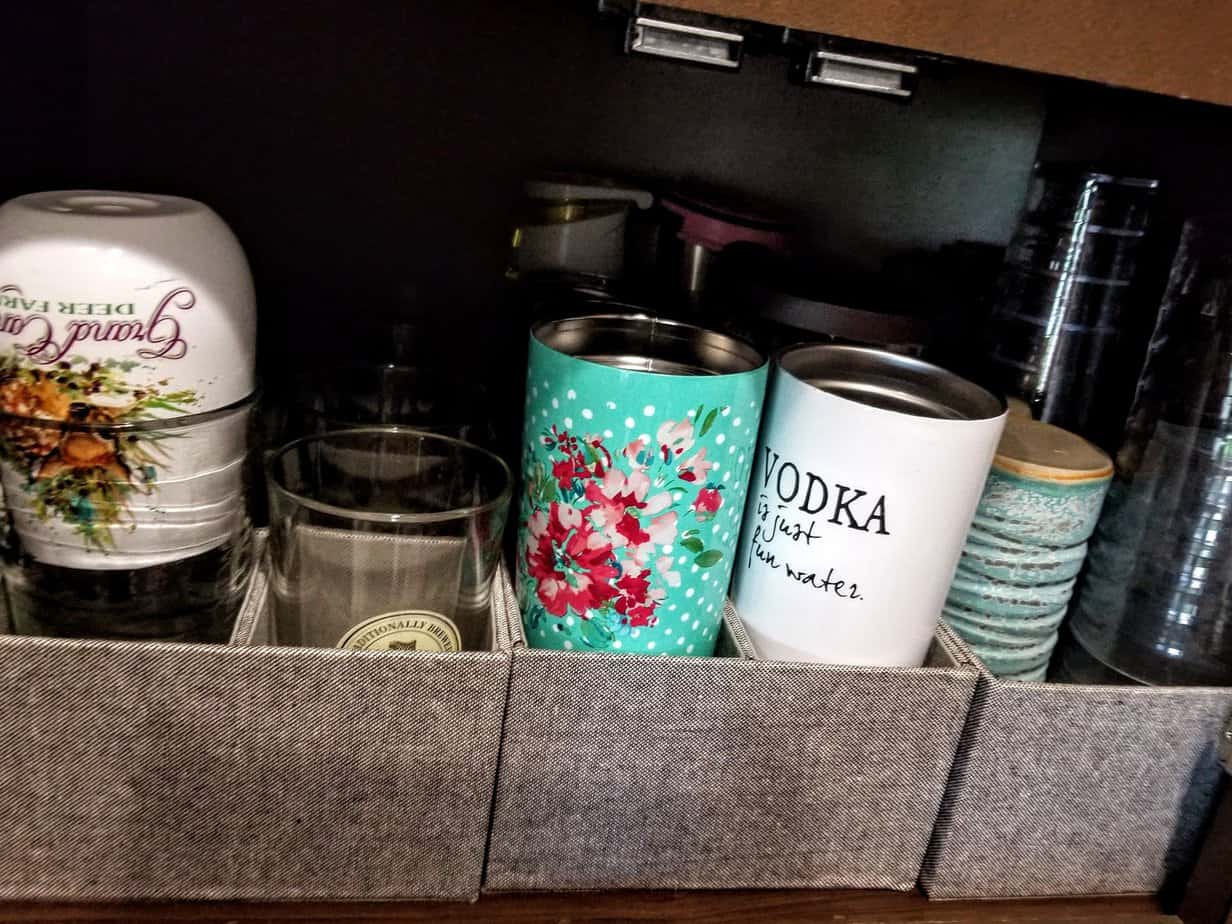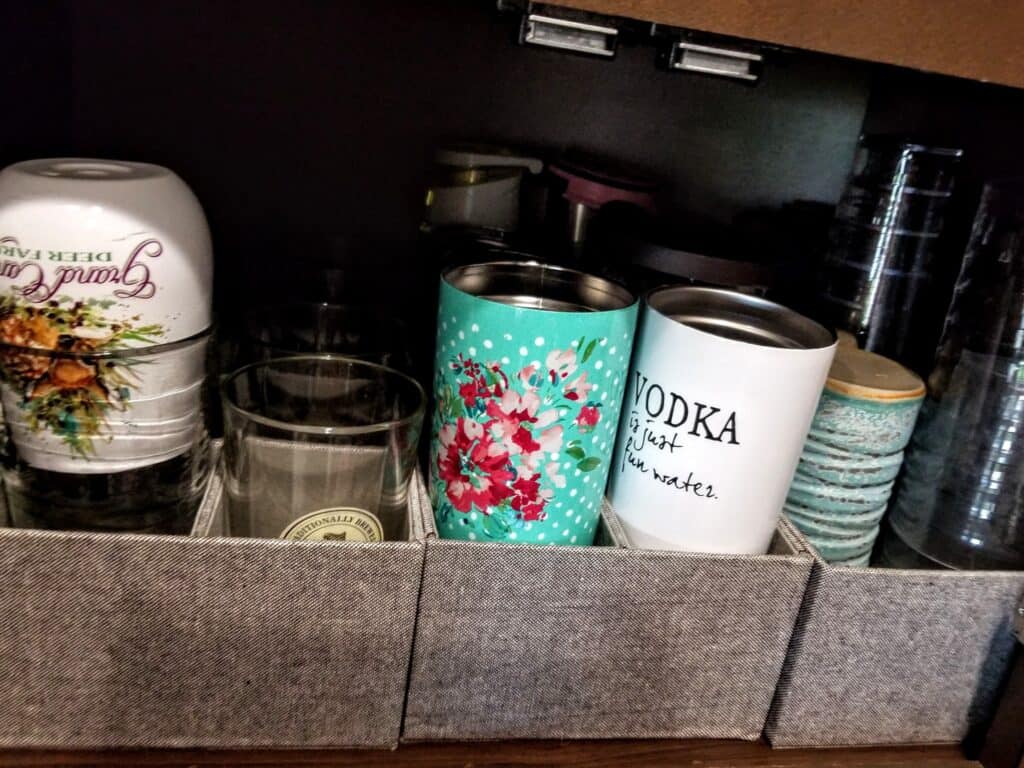 Optimize Your Weird Shaped Closet Space
If you aren't up to mounting shelves or building anything in your RV closets, a quick and simple solution is a hanging fabric shoe/sweater organizer! They hang from a curtain rod (if you don't have one, just grab a tension rod too) and come in all shapes and size. I love being able to cut them to size!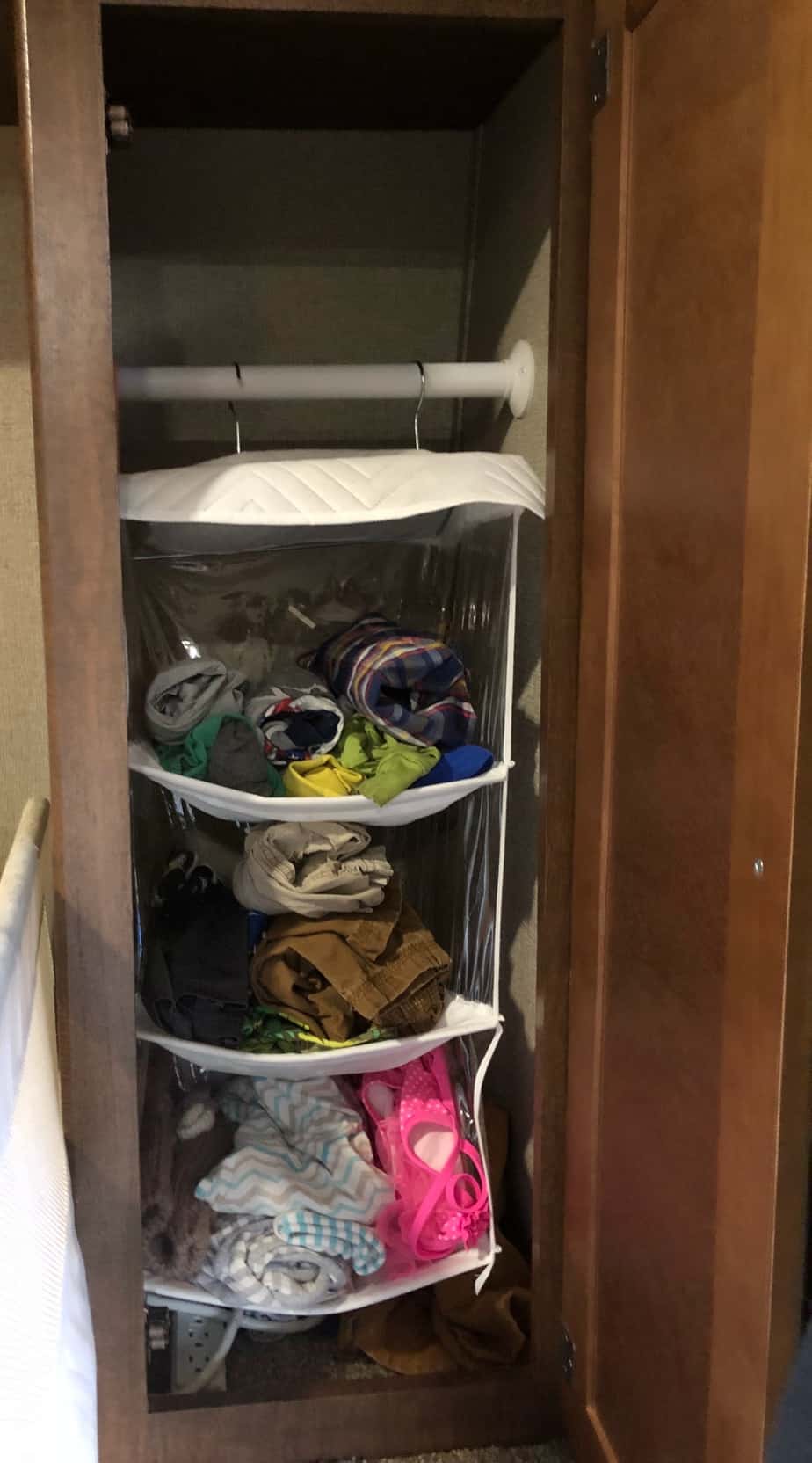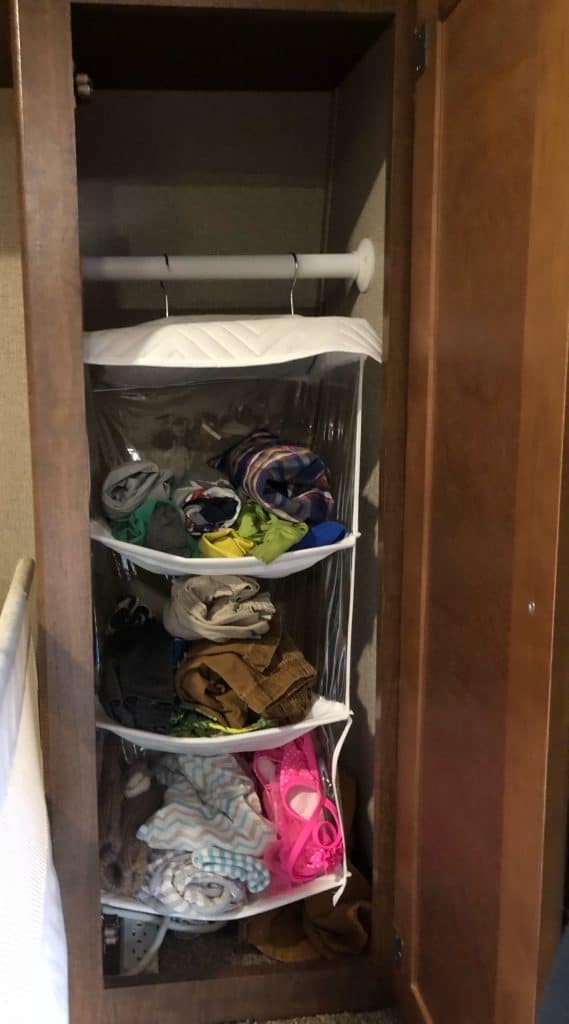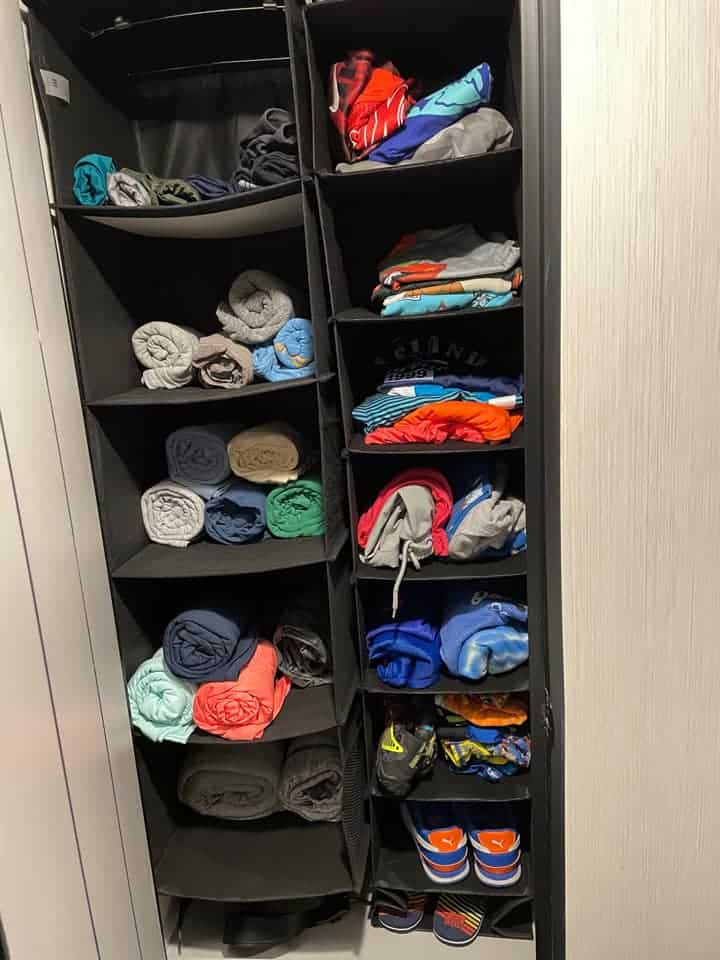 Triple Your Plug Real Estate
Have a plug located somewhere hard to reach, or just have more than two things that need to be plugged in? Try instead plugging a surge protector power strip into it and mounting it somewhere easier to reach. Use safely – just because there are more plugs available doesn't mean you should use all of them!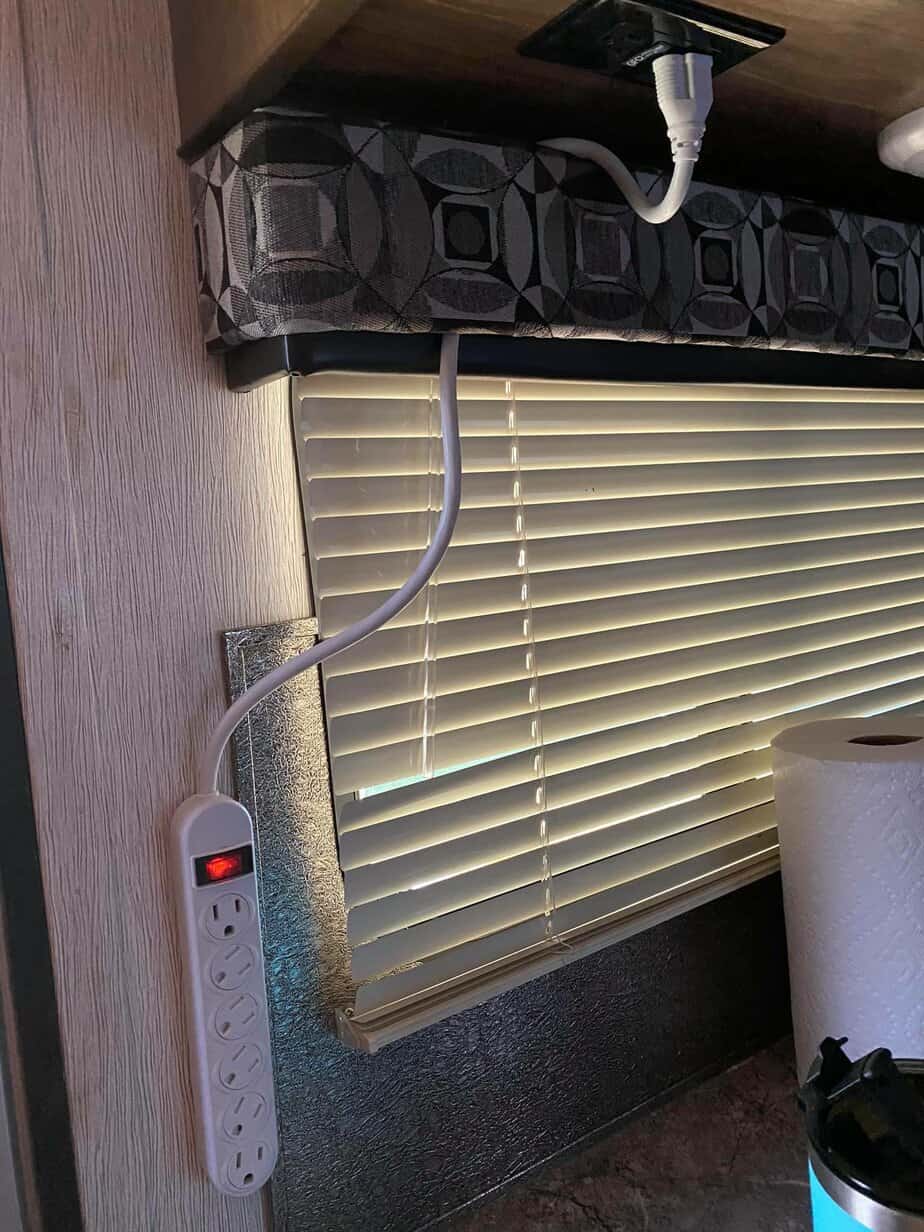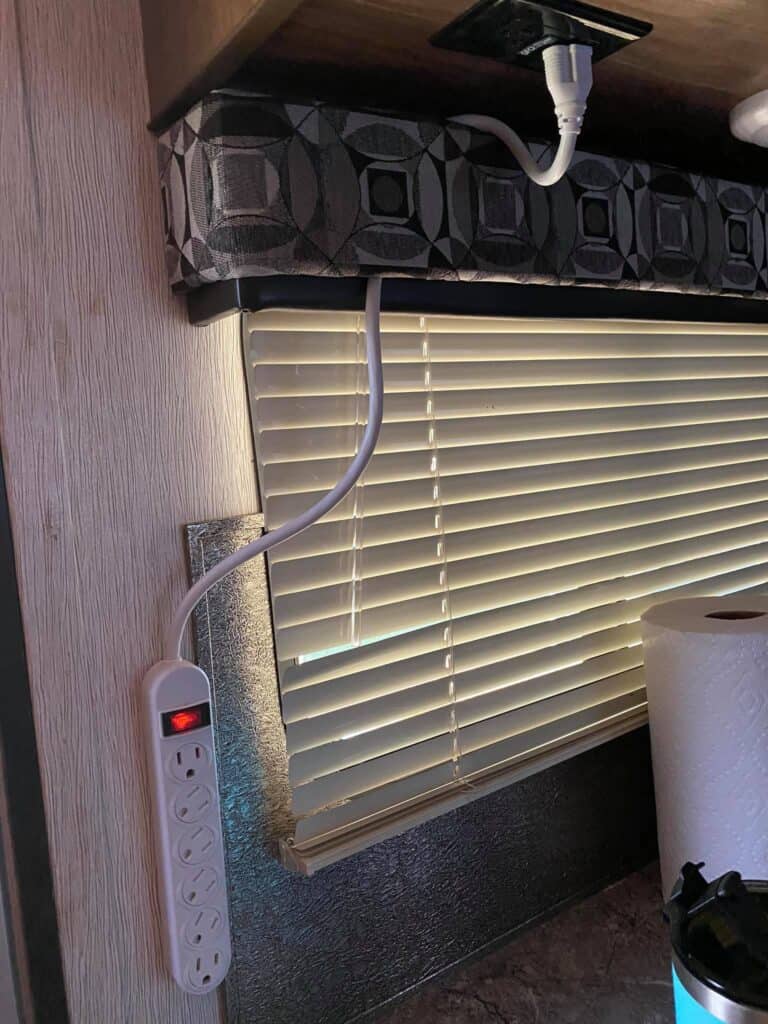 Add Privacy
Have little kid who need less distraction in their bunks? Older kids who would like their own space? Or maybe you just love taking an afternoon nap and don't want everyone to see you. No matter your reason, a mountable track and curtain like this can be a big help!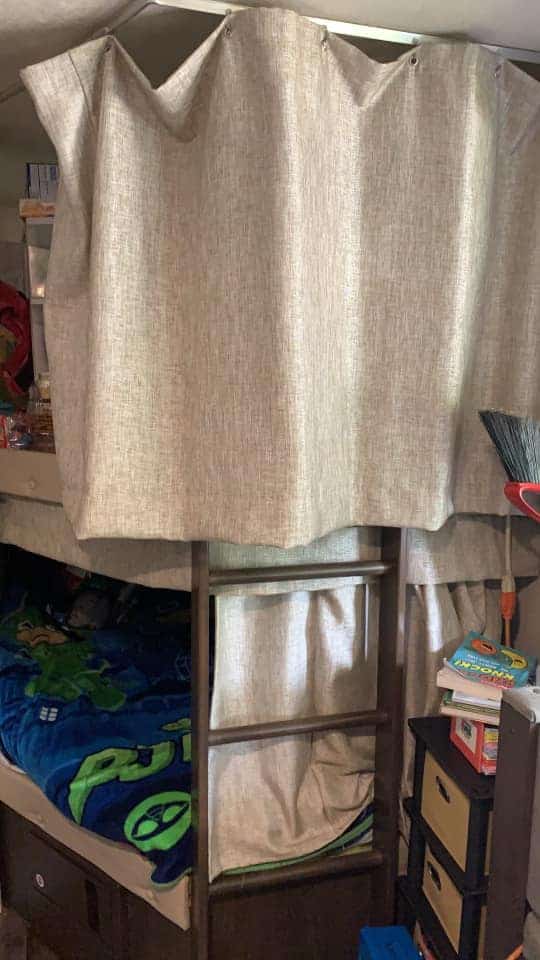 Opt for Nesting Kitchen Items ALWAYS
You wouldn't believe how quick your pantry space will fill up – one of the few things that's actually worth dropping the money on (most other kitchen items can be found at a thrift store) is a matching set of nesting pots, measuring devices and cups. If possible, getting a nesting pot set with removable handles will free up even more space!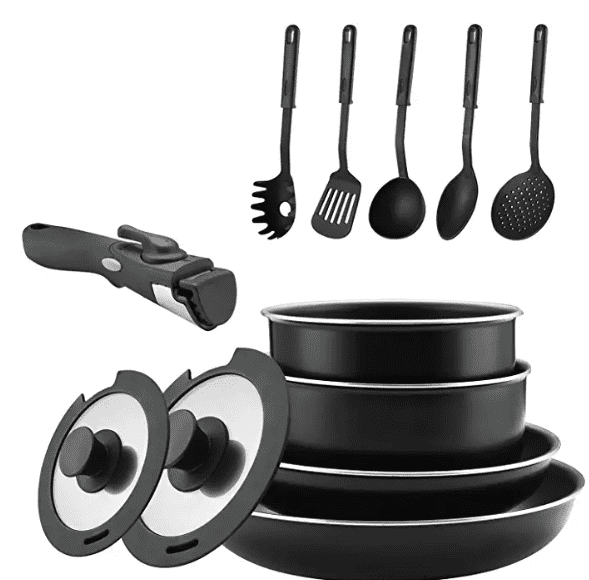 Add Space to Your Bathroom Counter Area ($1)
For some reason we always think of increasing the kitchen counter size, but not the bathroom! There's not as many purpose built options (RV sinks are VERY tiny and vary in size quite a bit) but a cheap cutting board almost always works! This is especially helpful if you have alot of hair or makeup stuff.
Interested in organizing your bathroom more? Here's 9 Things I did in my camper that SERIOUSLY tidied up my bathroom!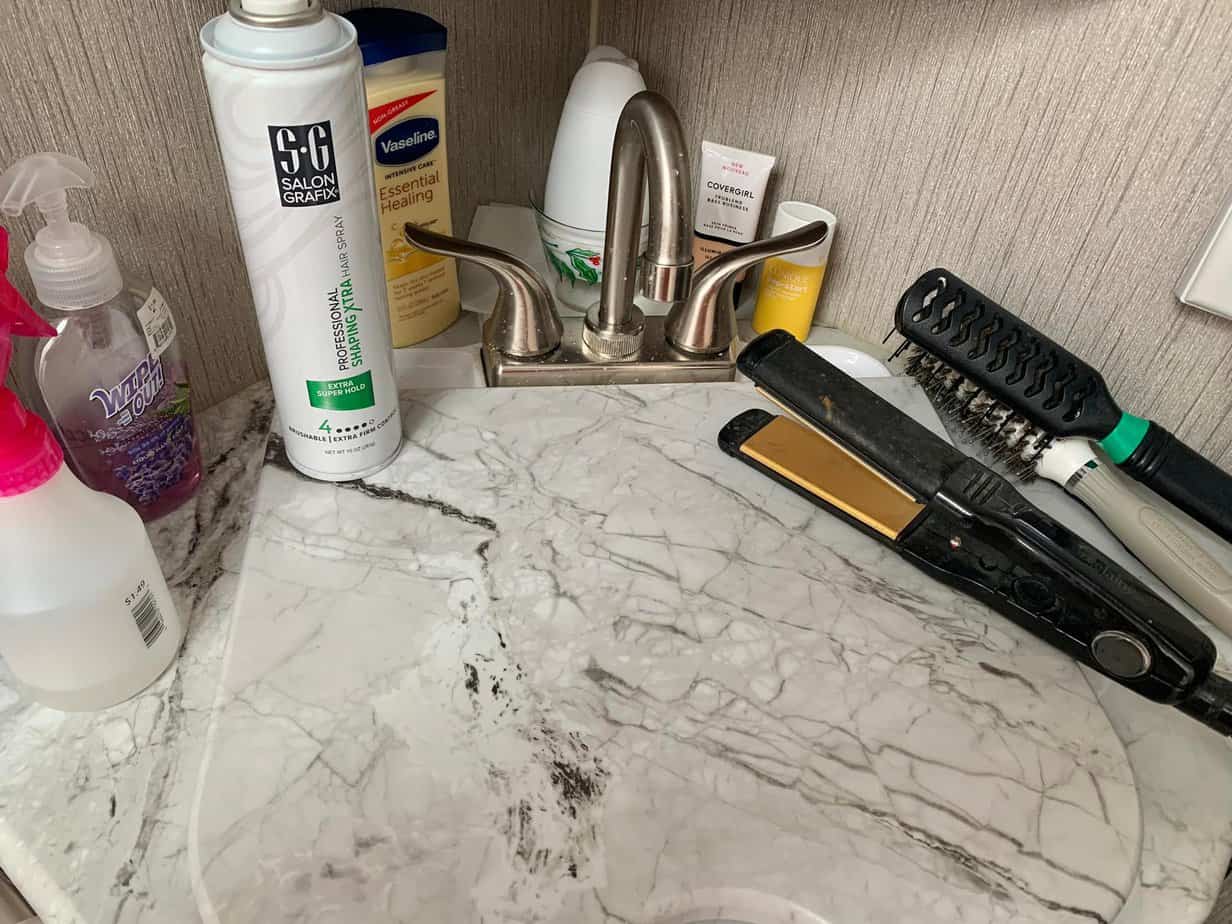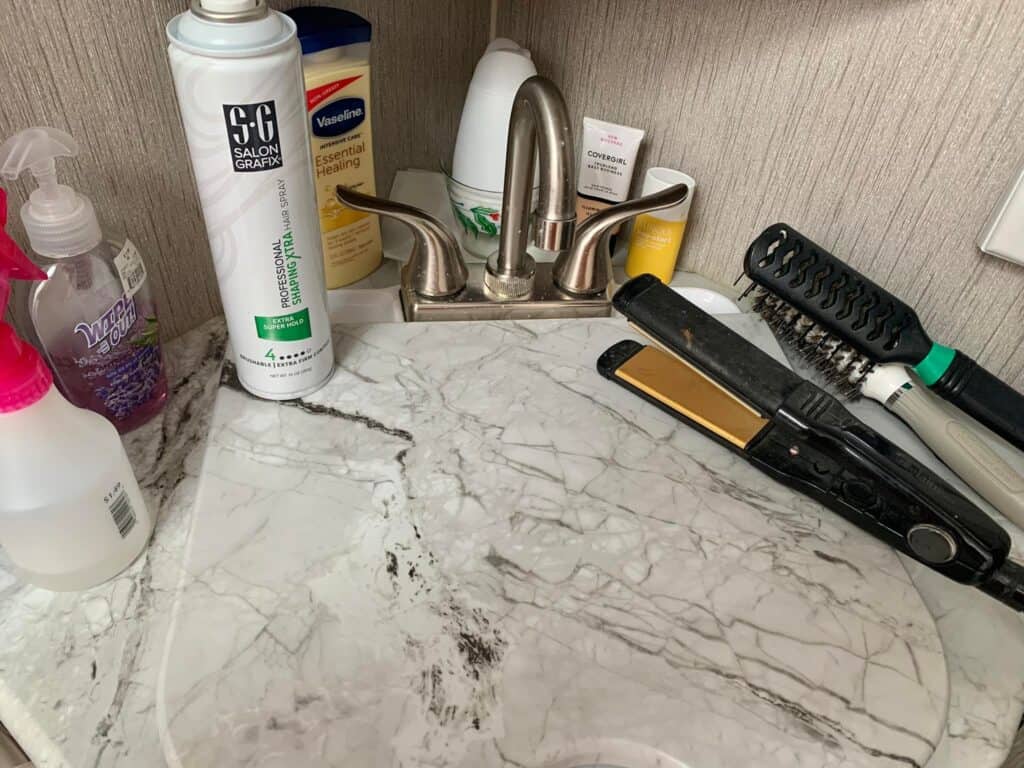 Use Portable Hose Reels for Extra Water Hoses and Power Cords
Keep your campsite clean and tidy by using only the EXACT amount of your water hose and power cord that you need to reach the hookups. Then simply roll up the rest. I couldn't find the exact one in this picture, but here is another compact, portable reel that could work!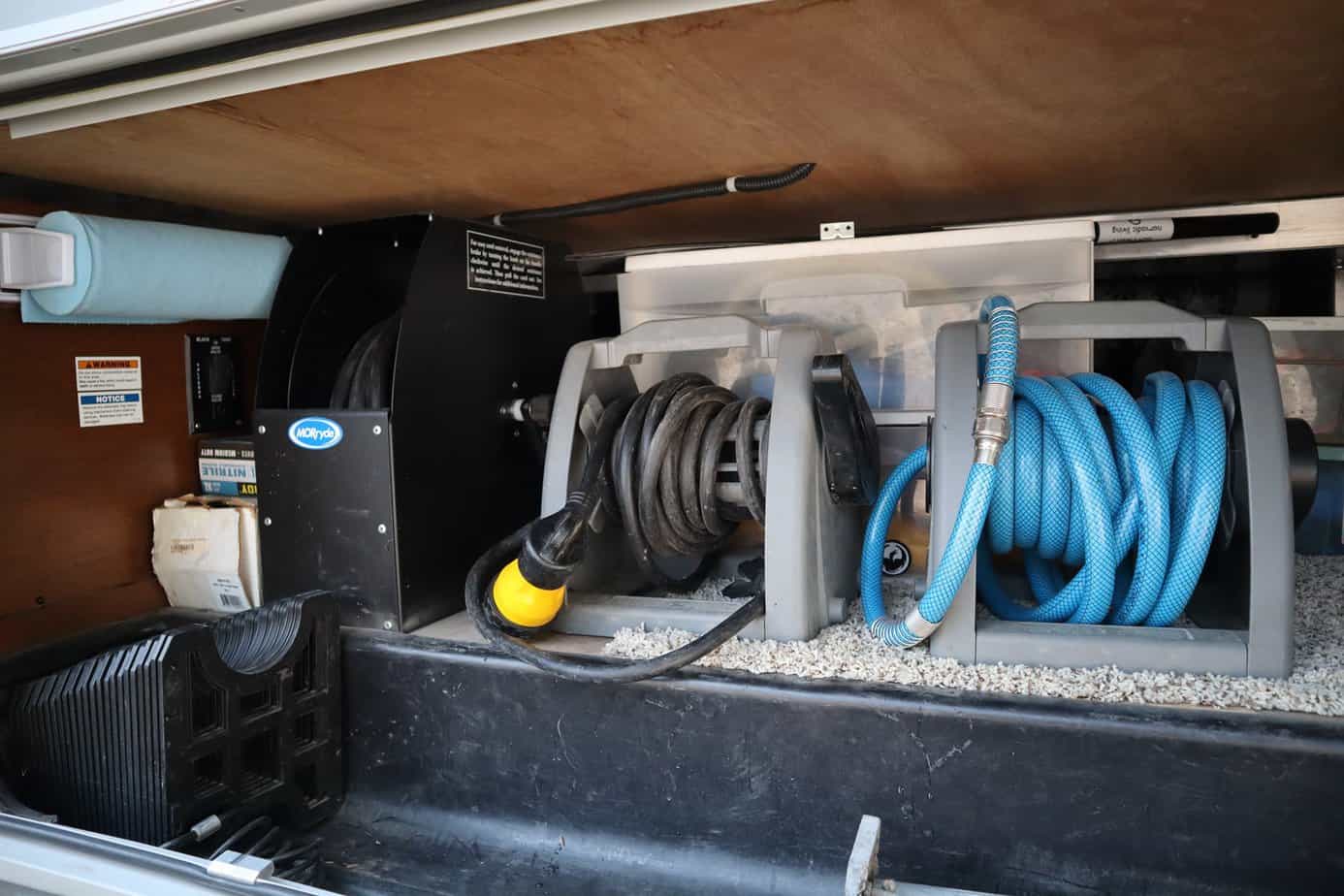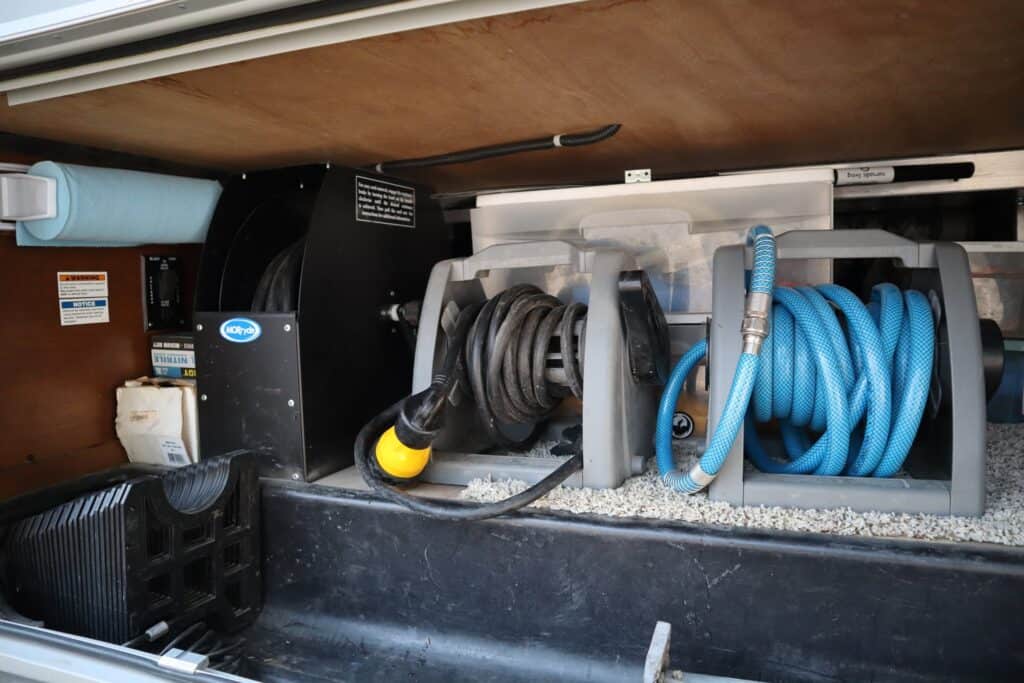 Liner to Prevent Sliding and Easy Clean Up
A roll of this kitchen cabinet liner will likely cover most of your camper. It's also way easier to clean up spills that happen over time!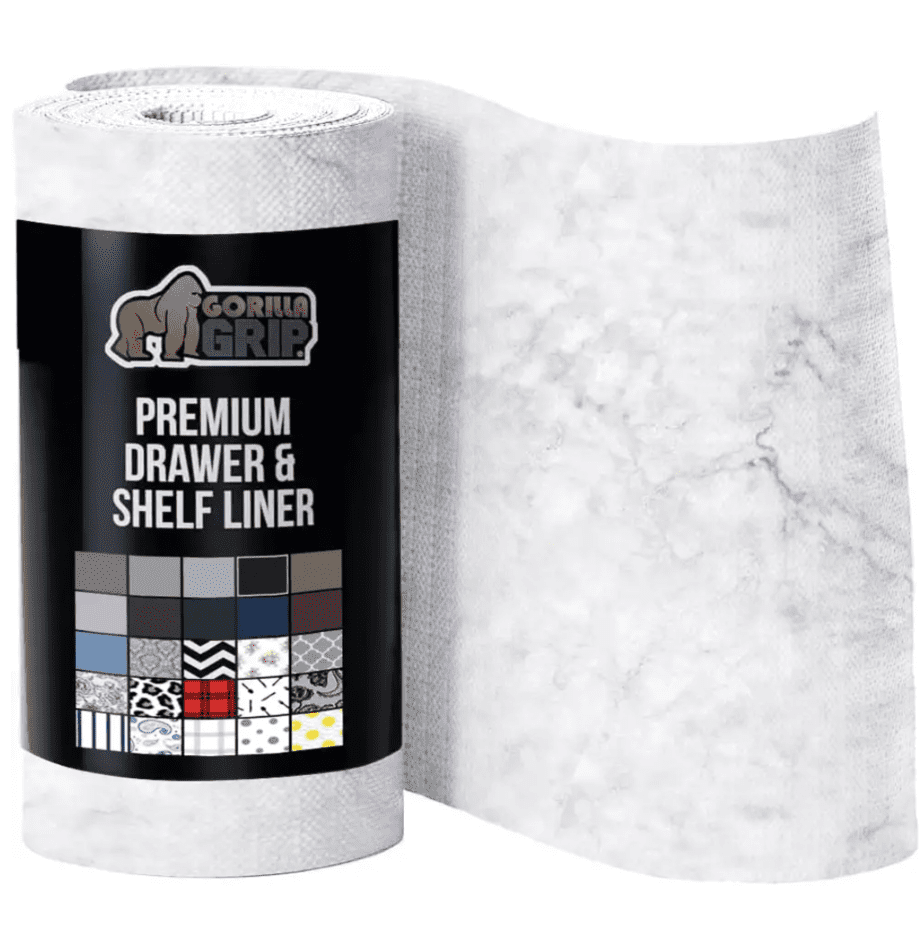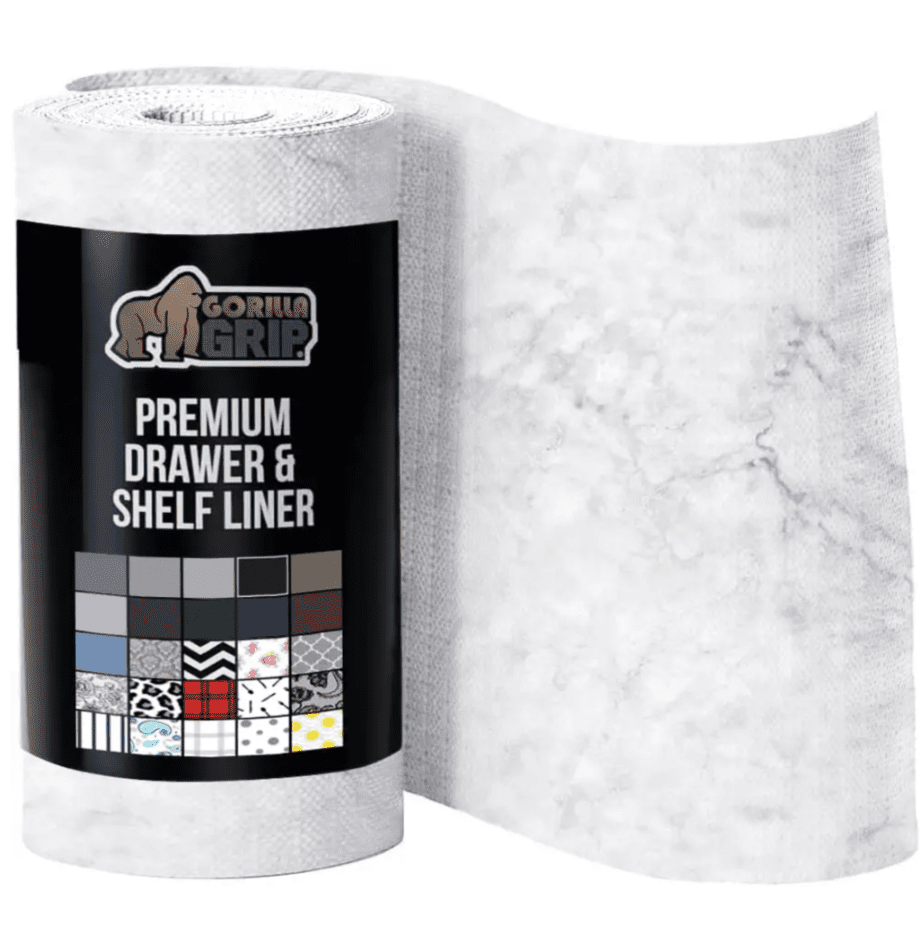 Add Vertical Hanging Space in Your Shower
The shower really is one of the most underutilized storage secrets in a camper! A tension rod will add SO many more options for storage – this picture has individual items hanging from it, but you could also buy some hanging shoe/sweater organizers for more space. Best of all, it's really easy to take down when you want to use the shower!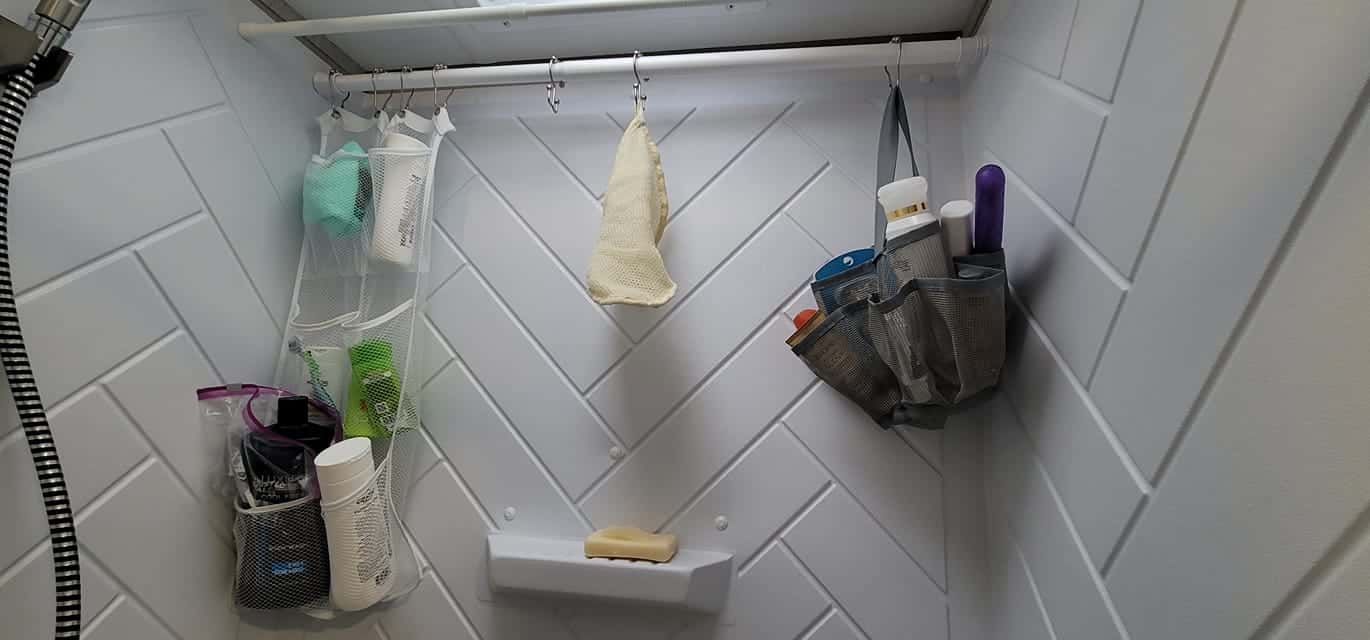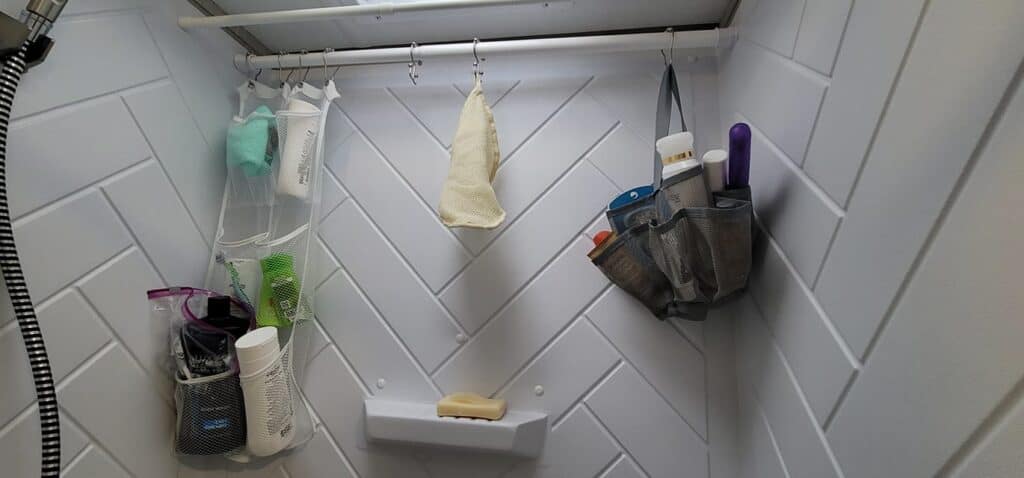 Mount Shoes Off the Floor
There are a variety of options to keep your shoes from cluttering the camper (see all the pictures!) by mounting a storage solution on the wall!
The Dollar Tree often has some good budget options that can hang over or screw in if you have a good spot! If you just want to order it now though, here are a couple of the more popular RV Shoe Storage solutions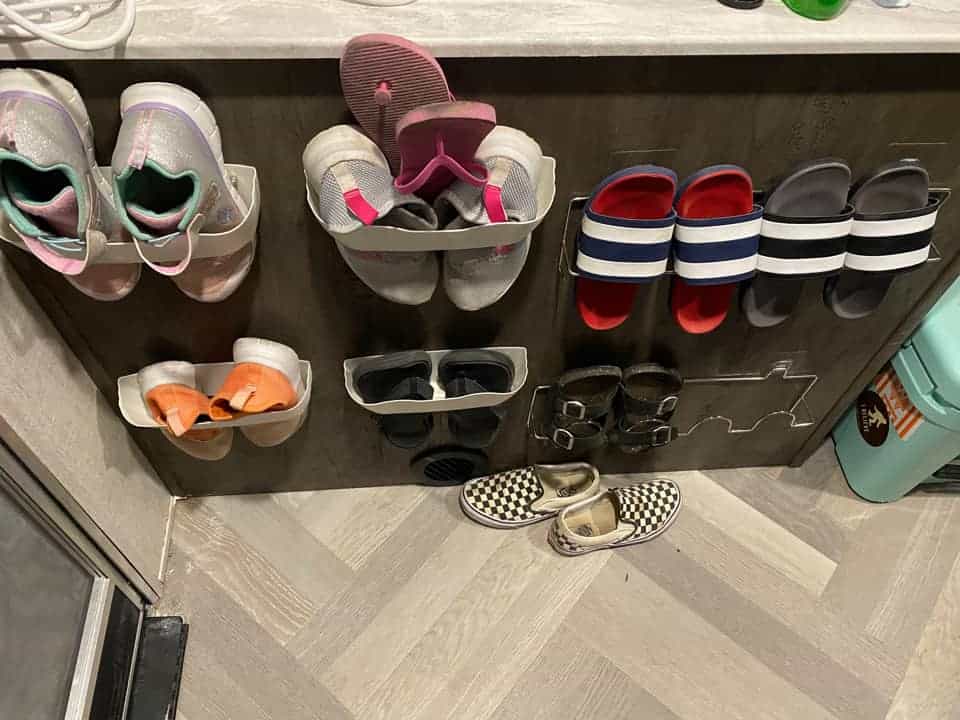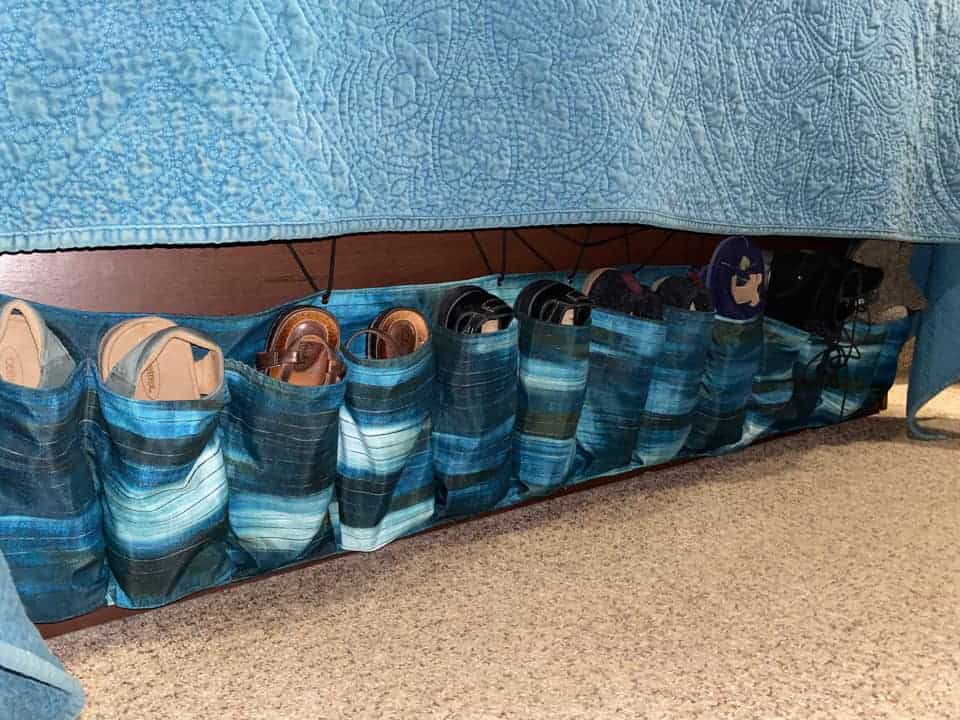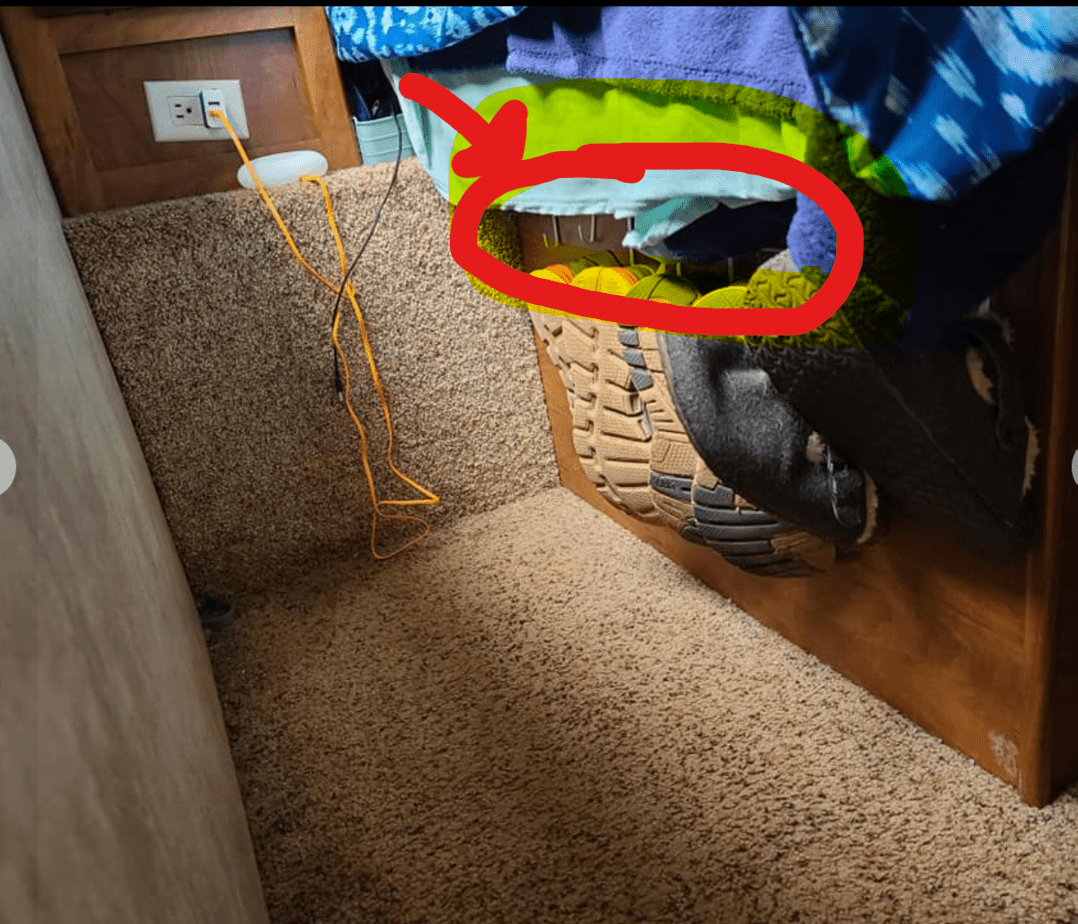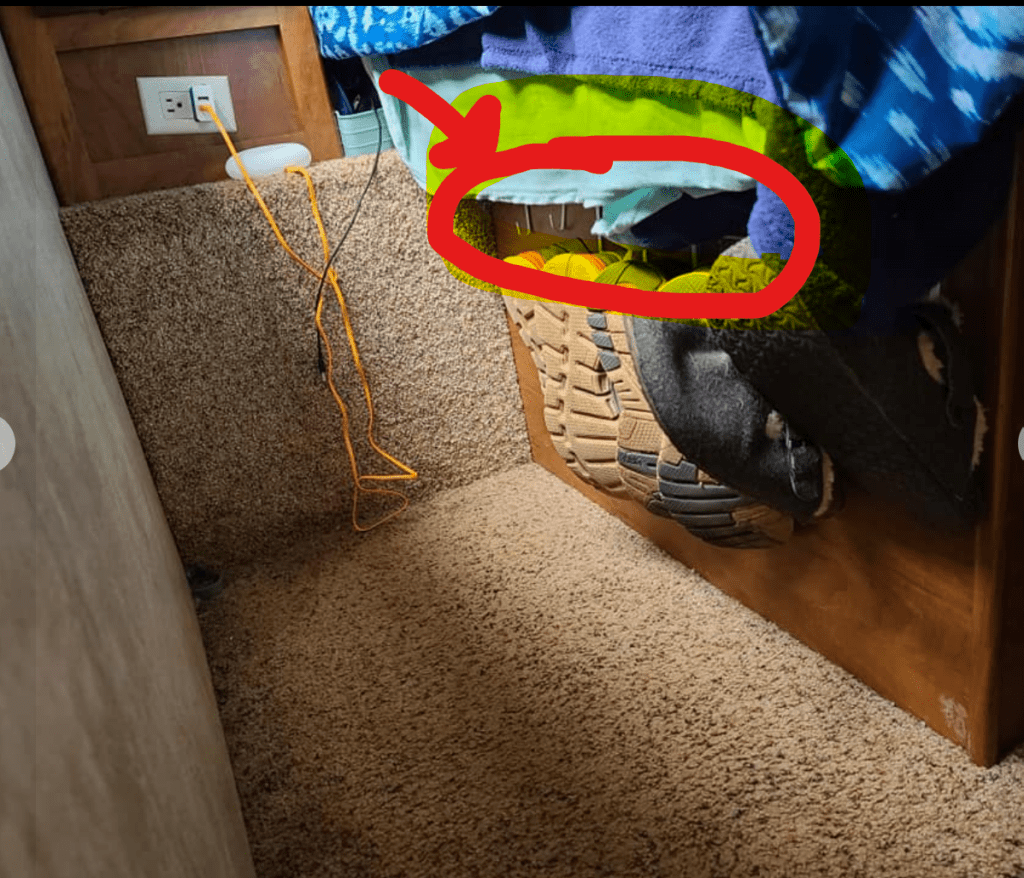 Make a Snack Station from Some Magazine Holders ($1)
Tiny bagged snacks (gummies, cheez its, goldfish, chips etc) are sometimes a struggle to keep organized and tidy since they slide around so easily! Grab some magazine holders and create a snack station like this in a free cabinet space.
These are super common to find at the Dollar Tree or Walmart/Target.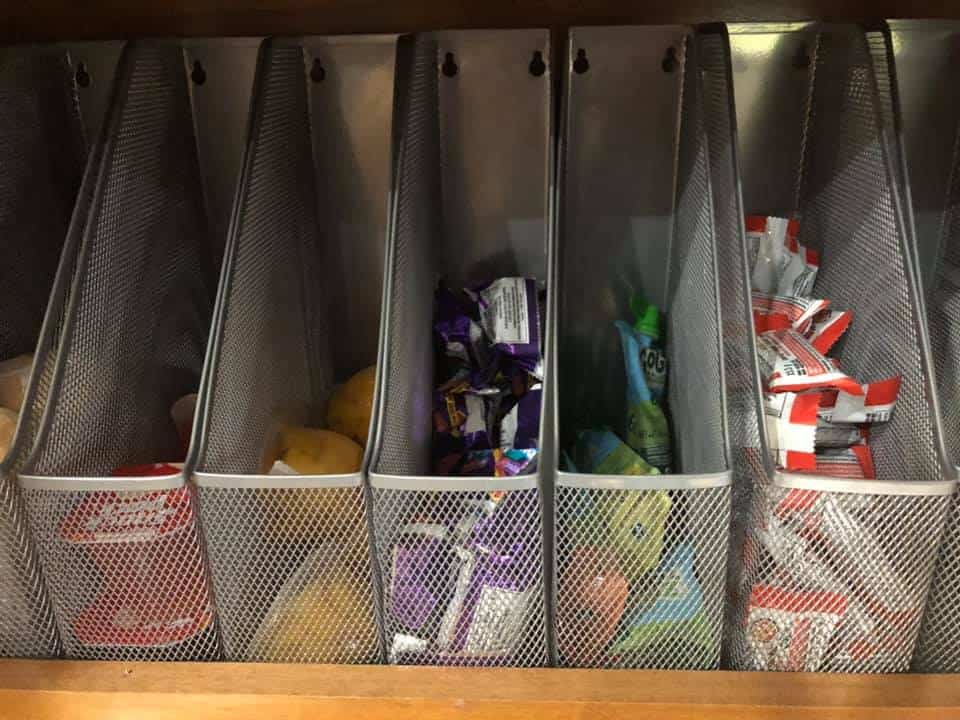 Utilize Hidden Space (like in the stairs!)
If your RV has two levels, you likely have a TON of wasted space! There are obvious ones, like behind empty panels, but have you thought of checking the steps? Many campers have found it pretty easy to lift the top or under step boards and use it to store shoes!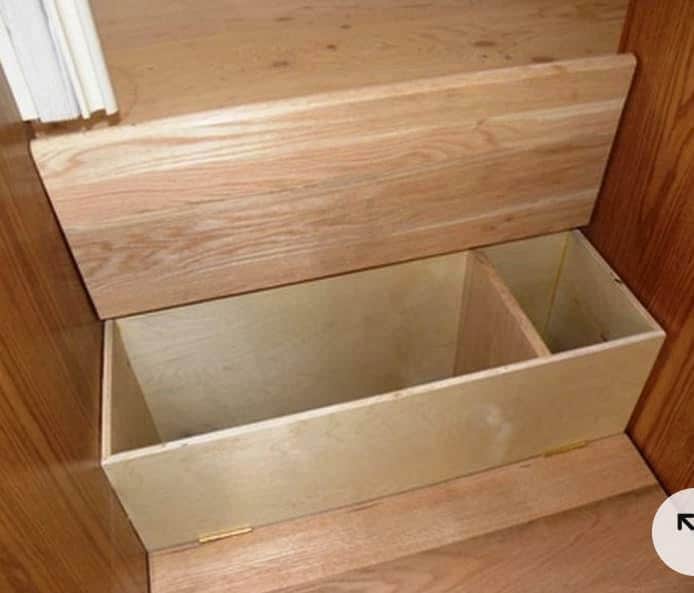 Tension Bar for Shallow Cabinets ($1)
Finding any pre made shelving solutions for the shallow cabinets common in many RVs can be pretty hard… so instead, utilize any extra vertical space by installing a small tension bar! You can hang things on it directly or use a carabiner system.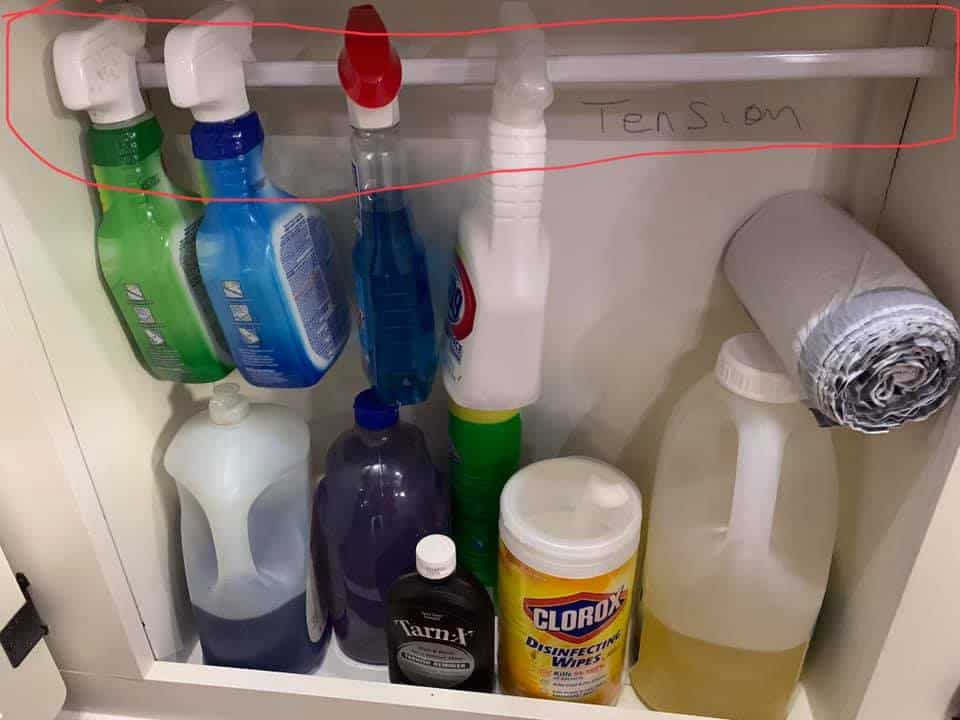 Add storage… under your cabinets!
This is, admittedly, a pricey RV hack (unless you know someone handy!) but if you feel like splurging these under cabinet drawers can add a ton of space into your camper kitchen.
There are a couple of different options, but this one had RV specific reviews that sounded awesome!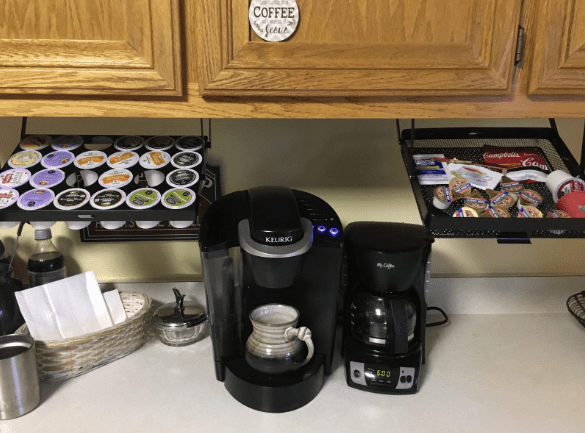 Toilet Plungers for… Pest Block?!!
Yup! While most RVers use steel wool or spray foam to fill in holes near wire entrances/exits in their campers (mice and bugs LOVE to use these!) you can get a clean and tight fit by just using a plunger top! Dan F. shared his DIY – Just cut a hole in the center big enough for what you need and a slit to the edge to have your very own custom sized pest deterrent!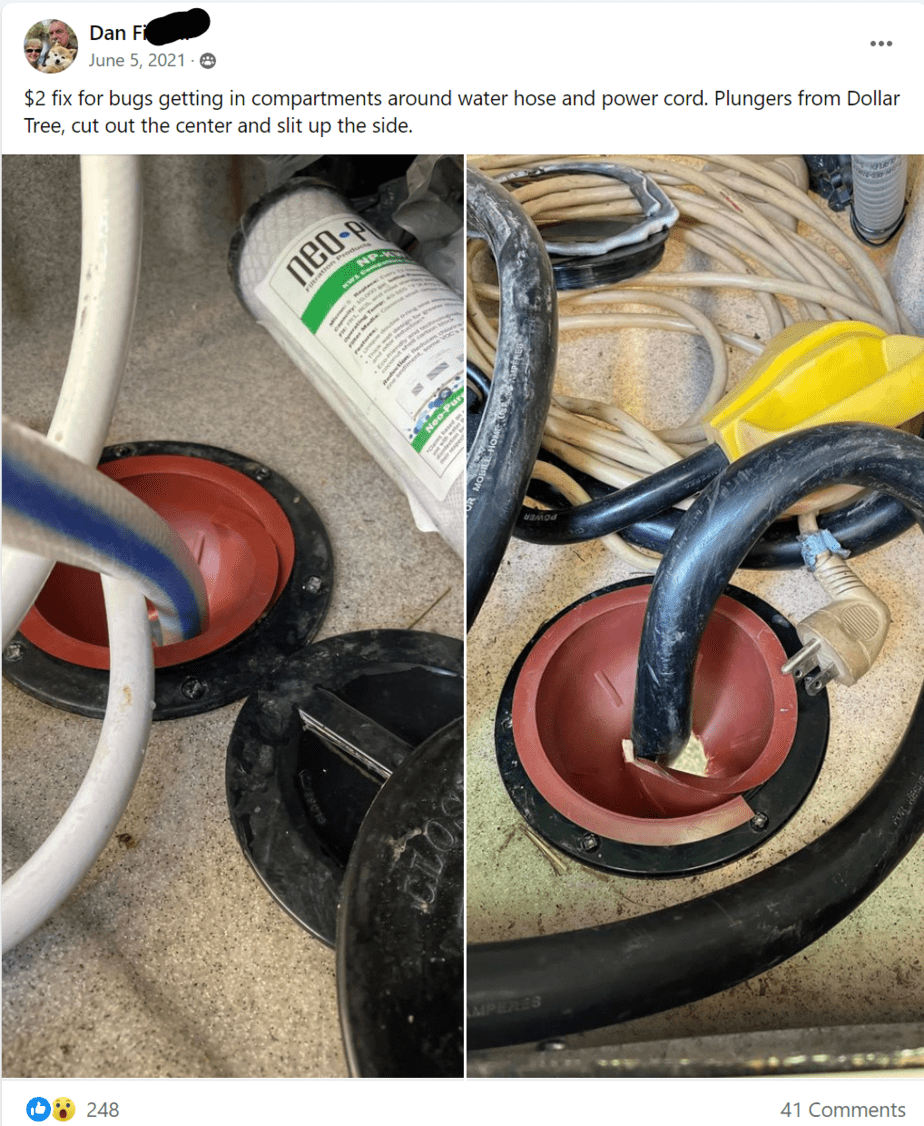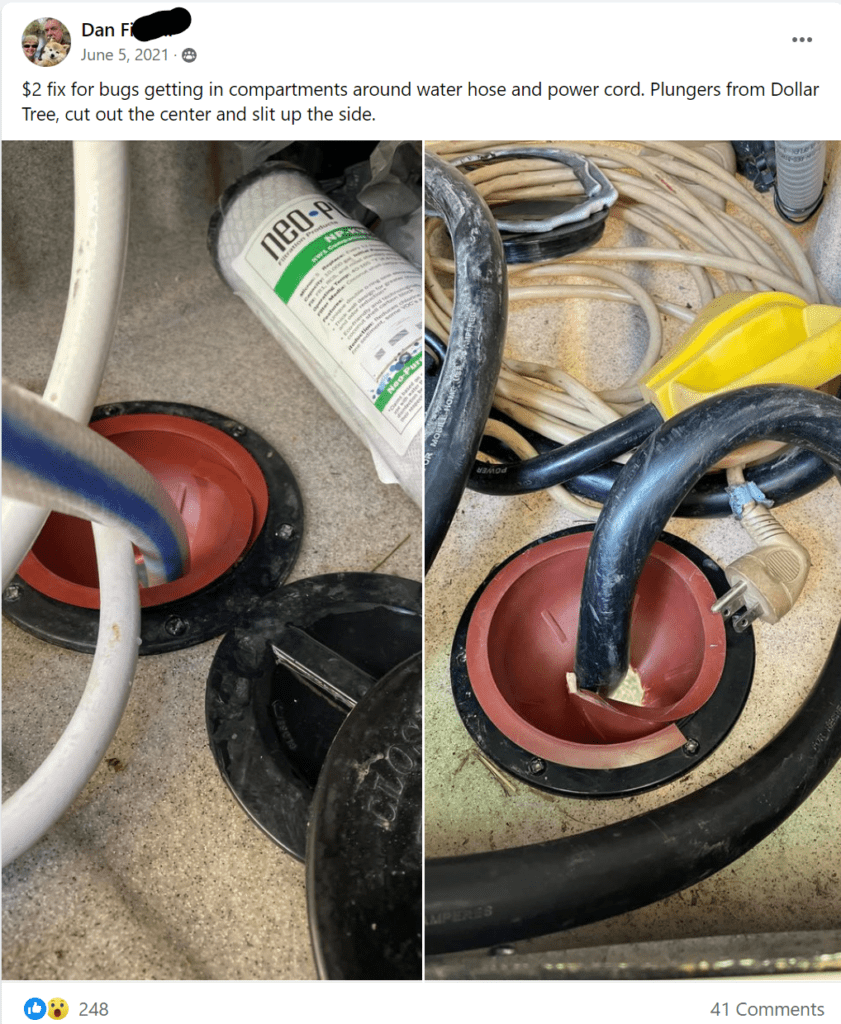 Use Velvet Lined Hangers ($1)
If you are someone who stores their clothes on hangers, then you should grab some velvet hangers! The extra traction from the velvet texture stops your clothes from sliding during travel.
There are usually some of these at the Dollar Tree, but if you prefer to order, the Amazon Basics version is pretty nice (and come in a ton of pretty colors!)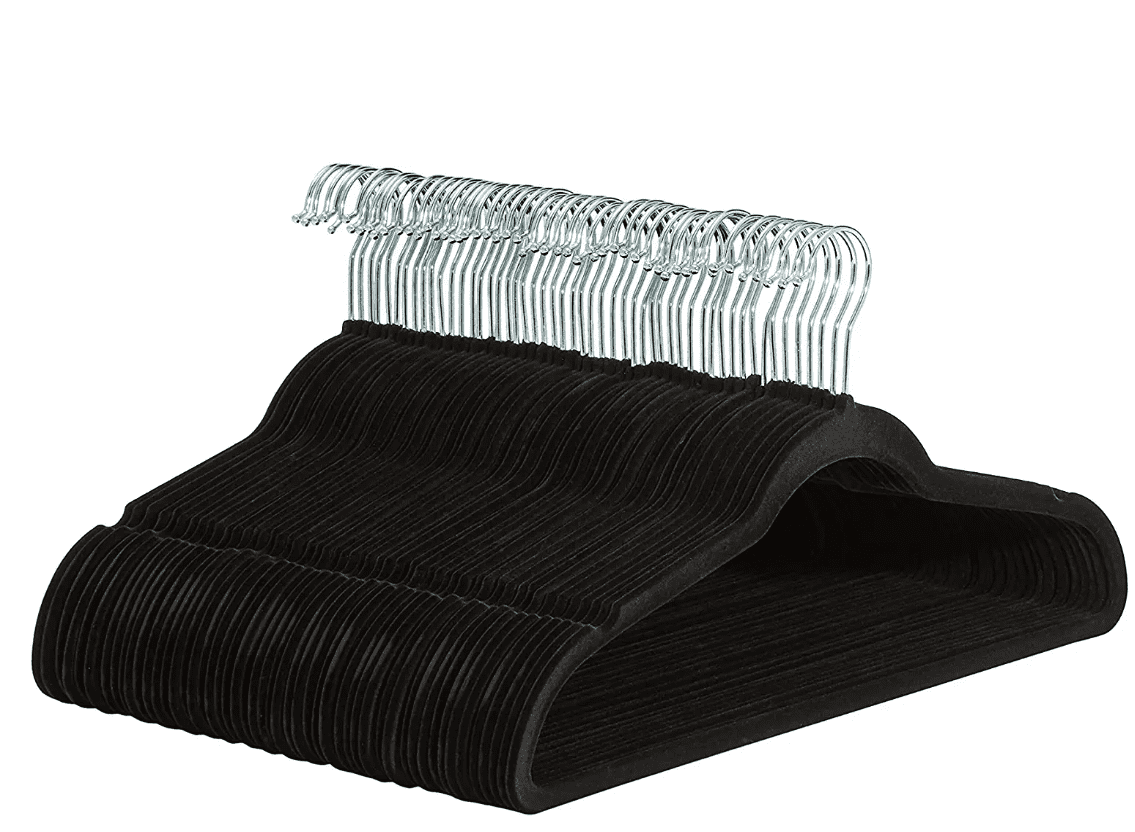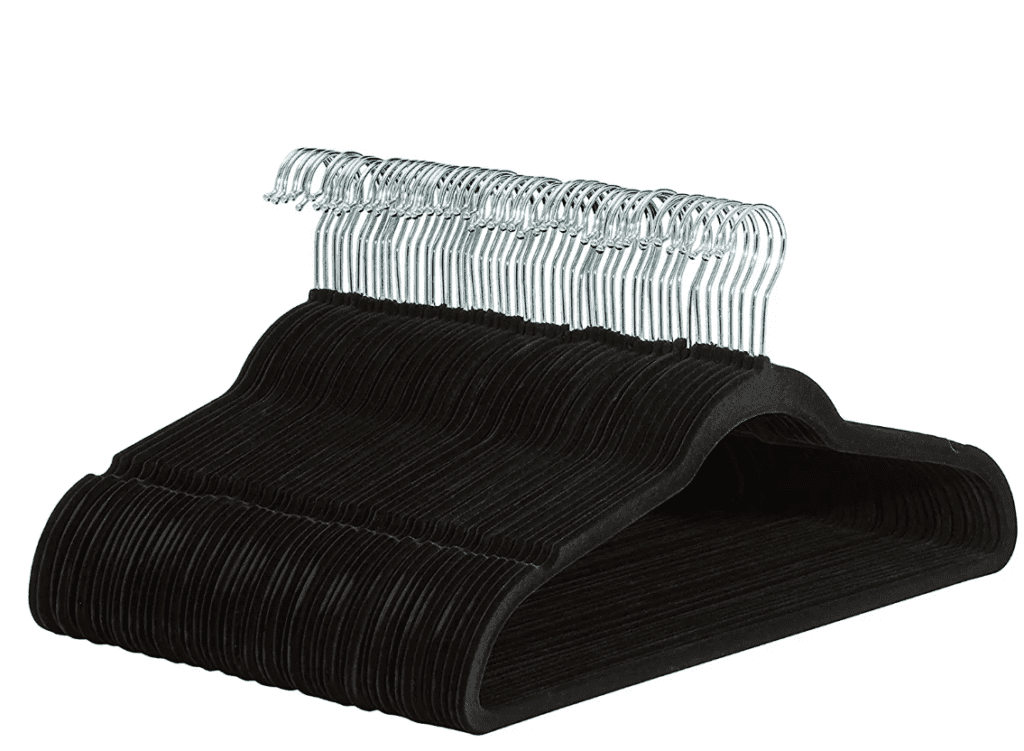 Mount Your Cleaning Supplies
Ever got bonked by your broom or Swiffer? I have – because I just stuffed them in the corner of my bathroom, and about every 1 in 50 uses they would have gotten moved enough to finally fall on an unlucky user… We ended up buying something similar to this and they even hold during travel!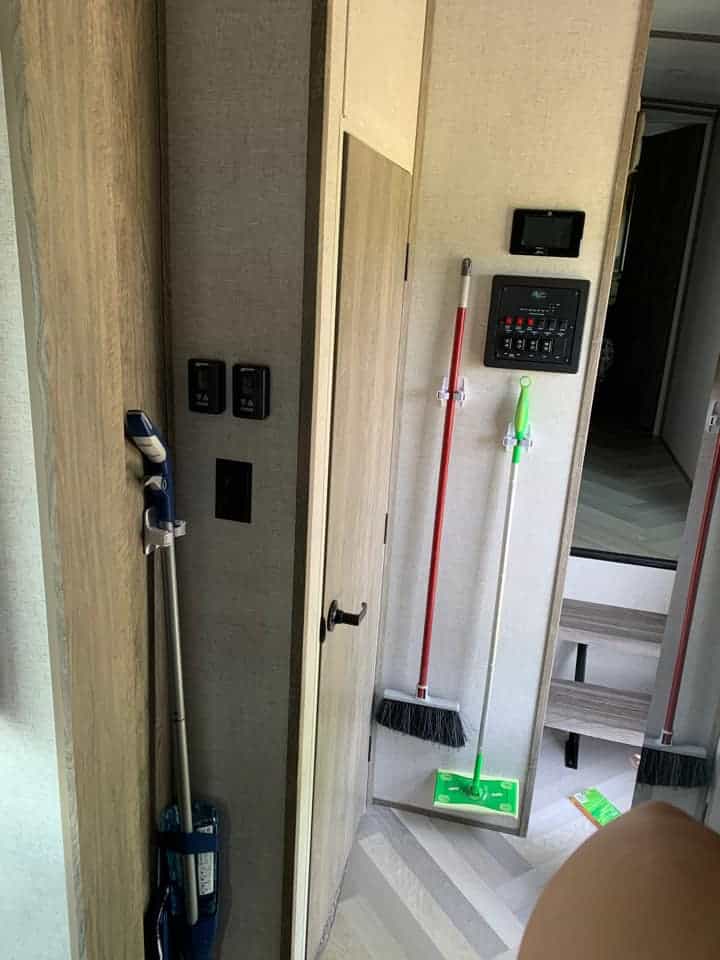 DIY an Extra RV Step
If you need some extra height in a pinch, stack your jack blocks and put something across them that is a bit bigger than the stairs (check the picture!) Now no more awkward giant step down!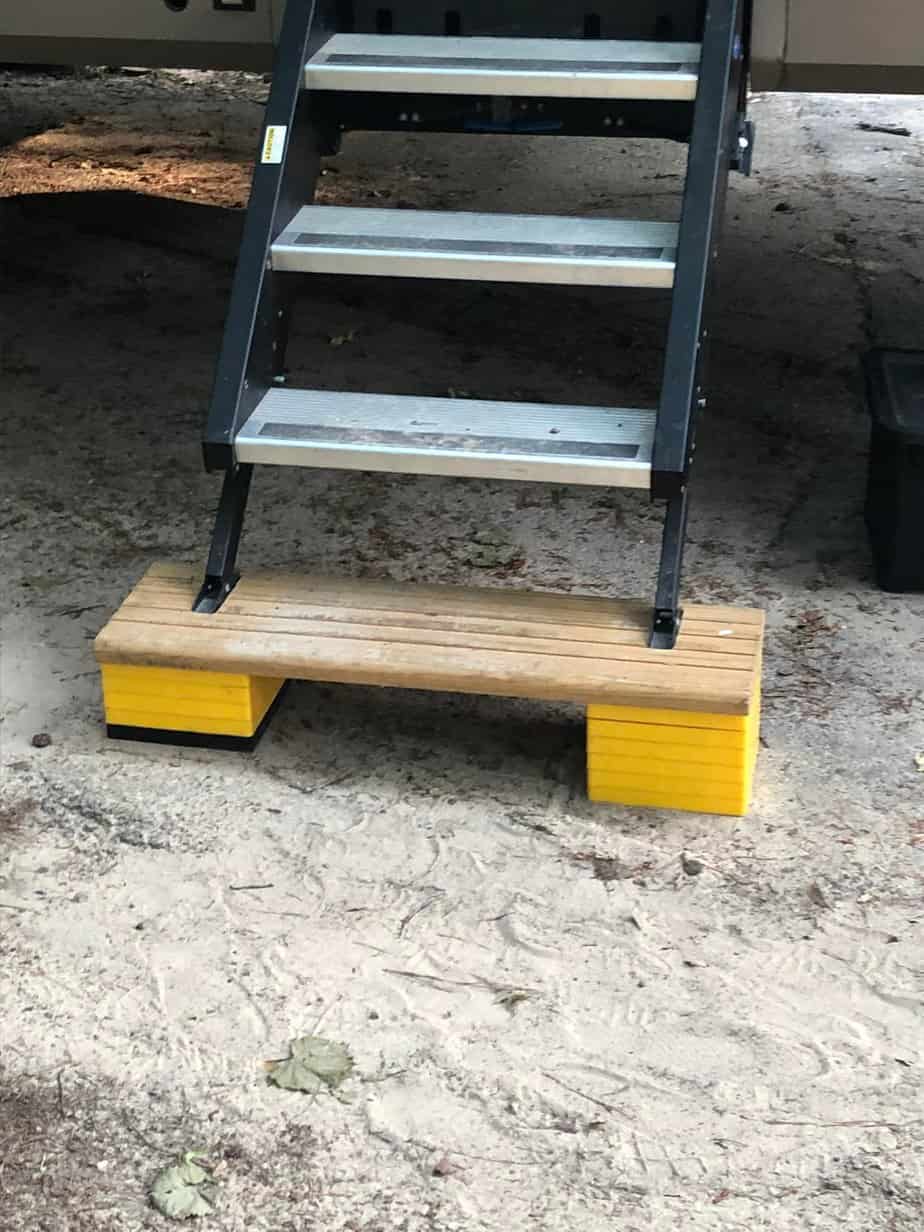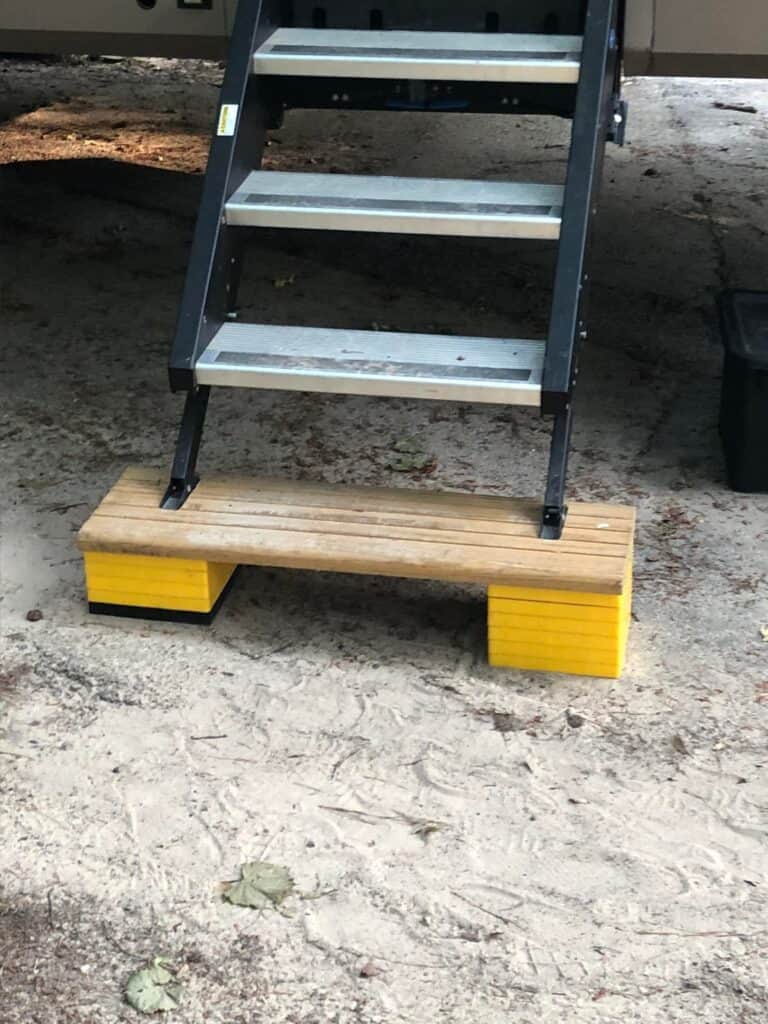 Add Extra Traction to Your Steps with a DIY
For extra traction, try DIYing your own wrap around step mats for your RV stairs! I saw this awesome tip from Jessica S. and I couldn't help but share it!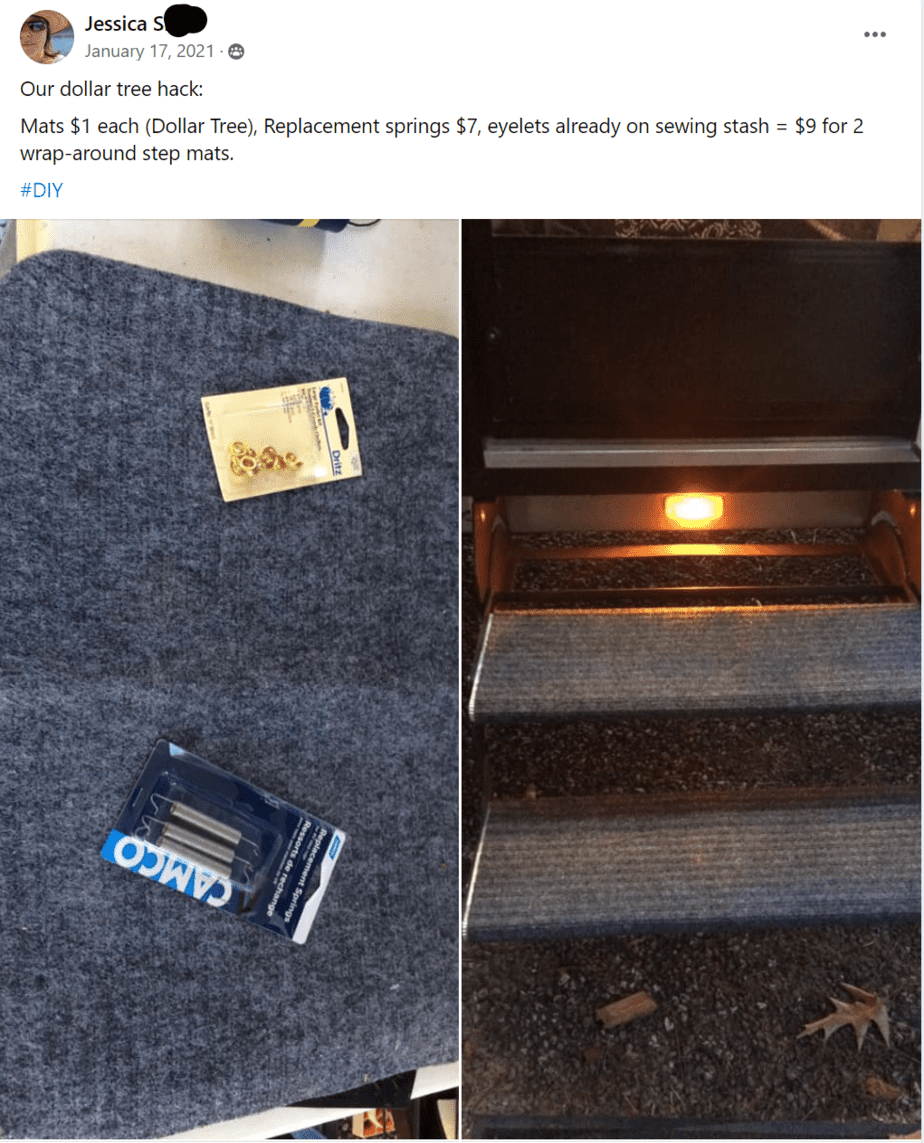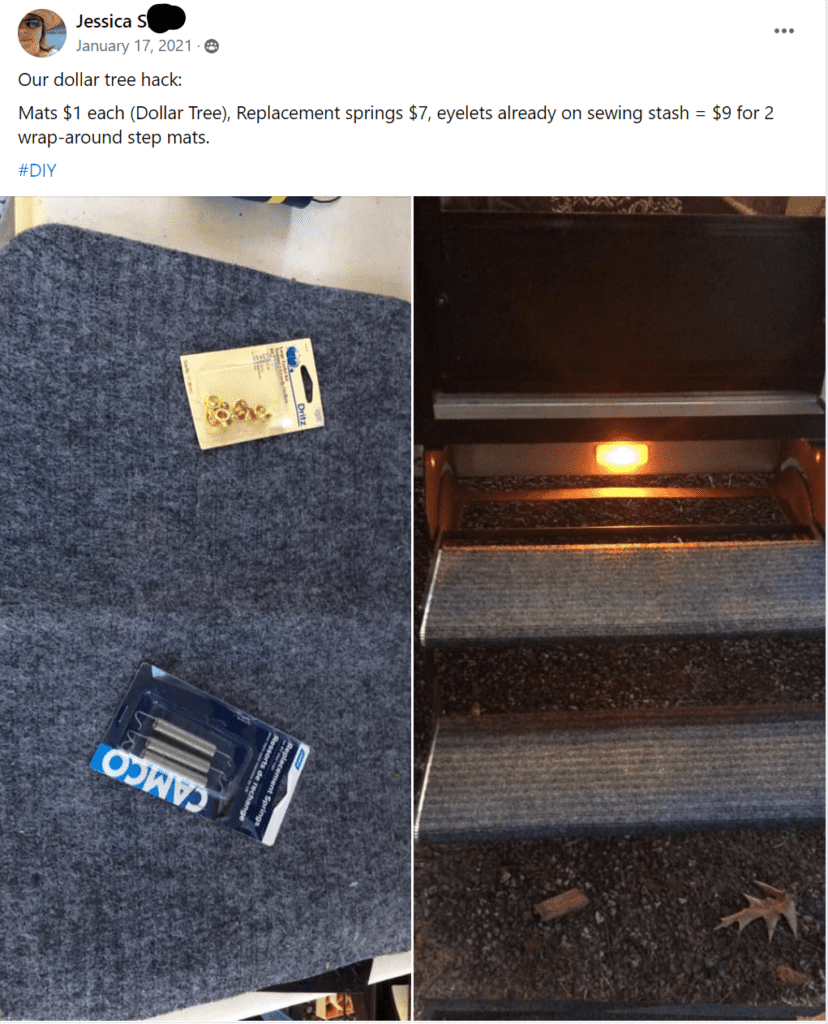 Dollar Tree Camping Hacks
If you're looking for ways to save money while camping, try some of these Dollar Tree hacks! From organizing your gear to keeping your food fresh, there are plenty of great ways to use items from the dollar store.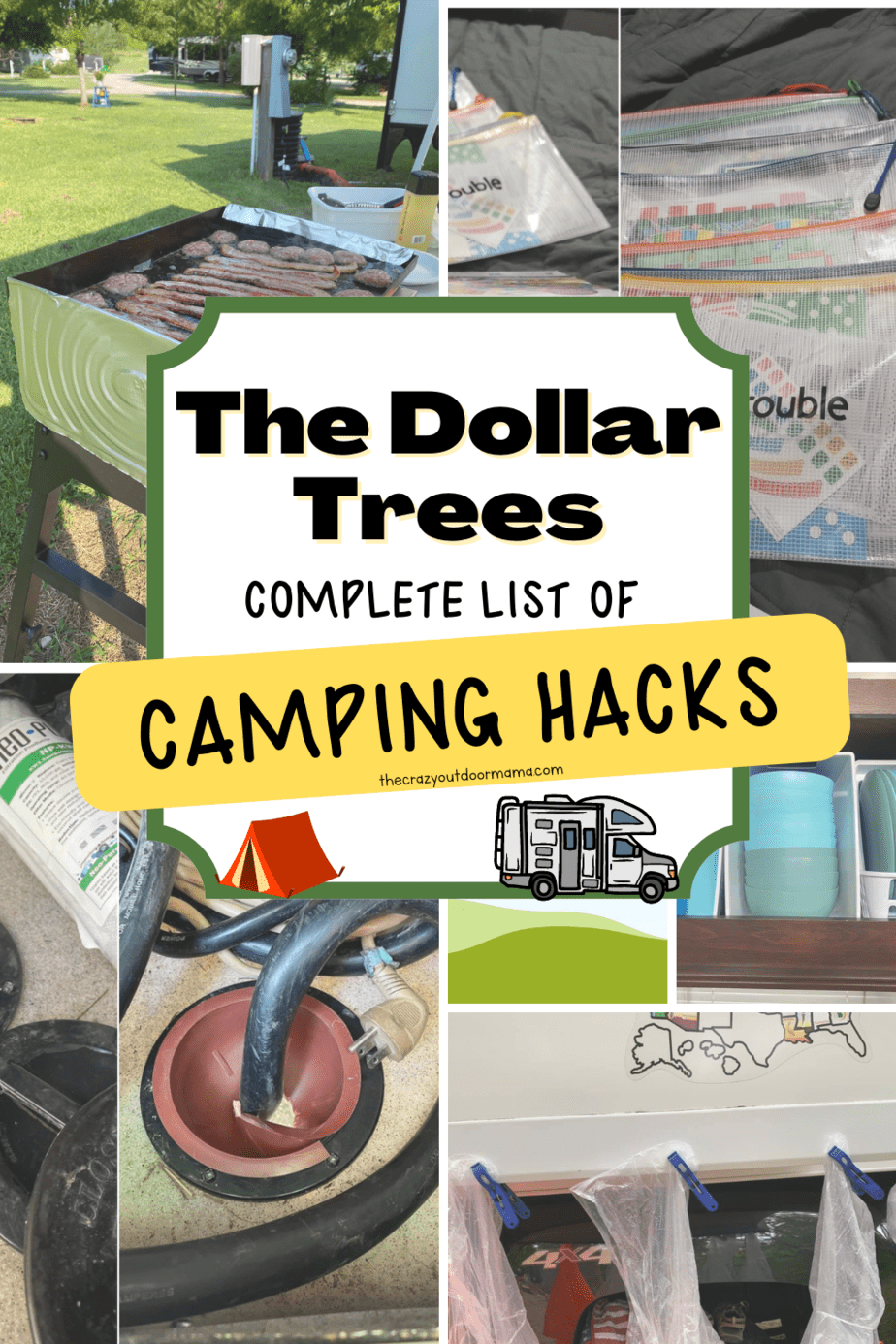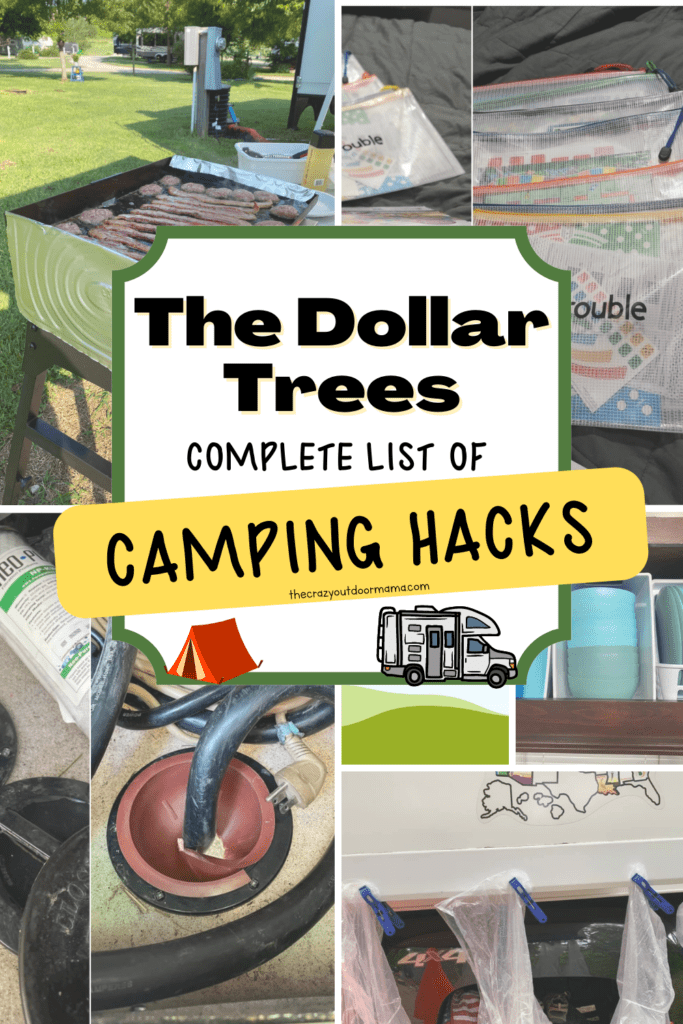 Aluminum Baking Pans as Windguards
If you are using a camp stove and the wind is giving you trouble, set up two aluminum baking pans on either side and one in the back to make a mini wind wall. Now you can cook in peace! This is especially helpful for the Blackstones!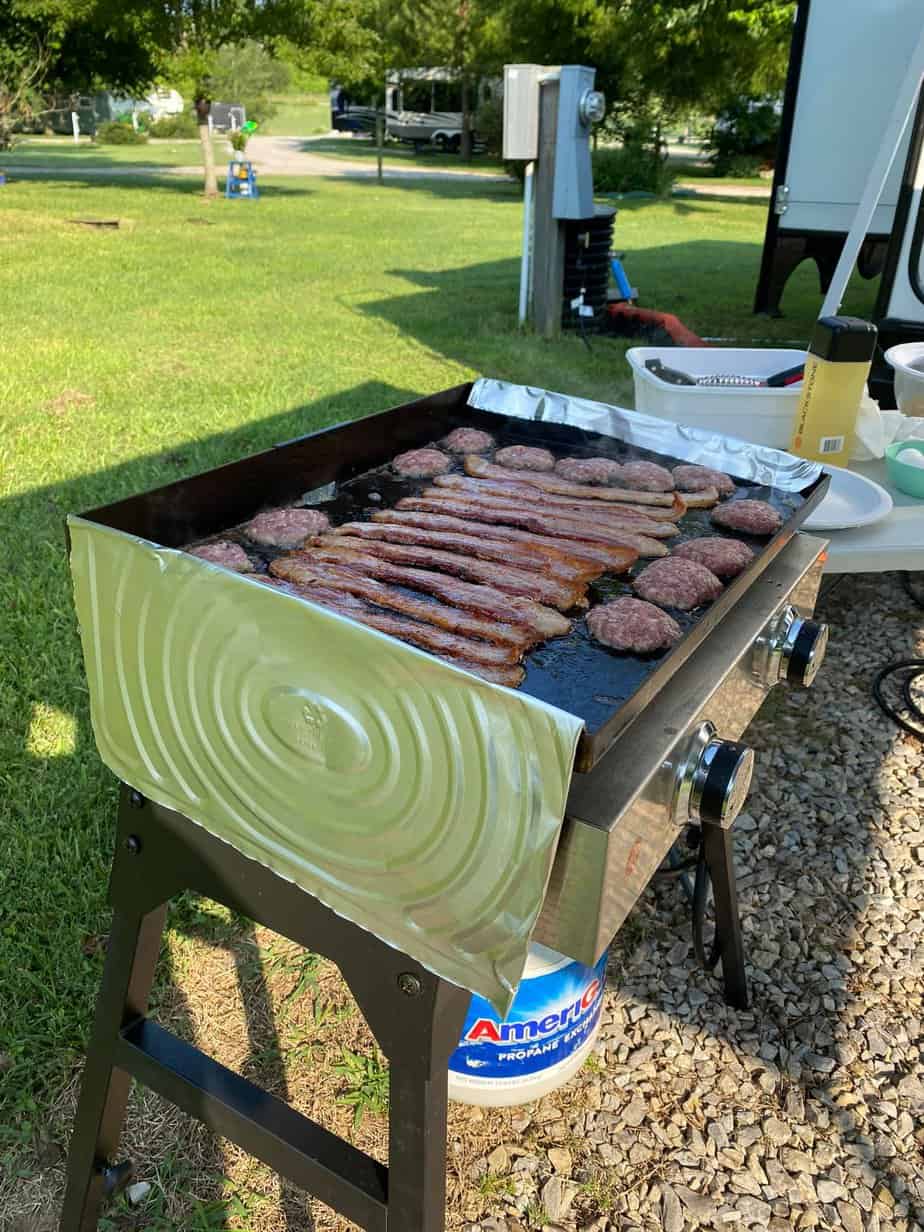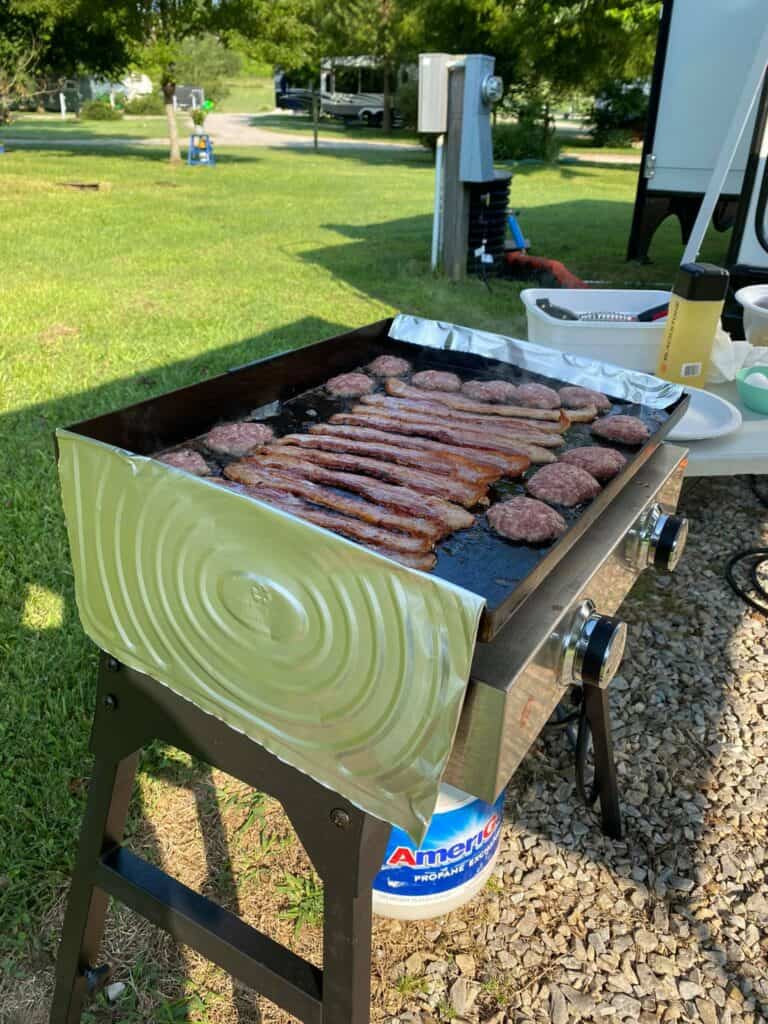 Grocery Bag Hanger
Make use of all those plastic bags and make meal prep clean up easier by picking up one of these cabinet door hanging bag holders.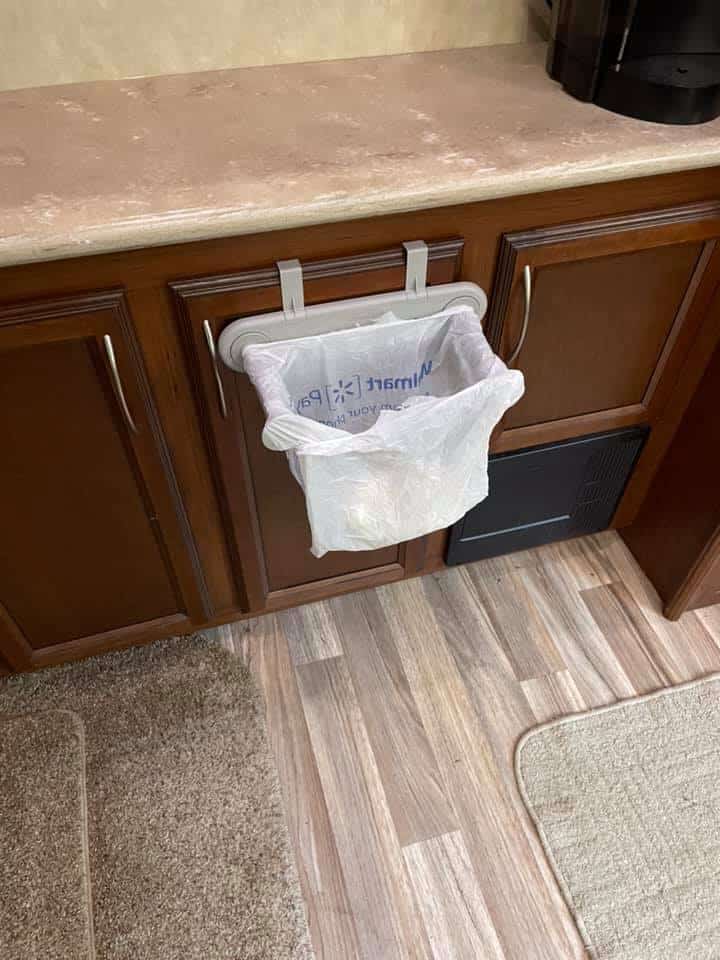 Grab a cute Door Mat
Stay in budget AND keep your camper cute with the selection of entry way mats at the Dollar Tree! One of the biggest camping hacks of all is knowing how and where to save money… and Dollar Tree decor is the biggest kept secret!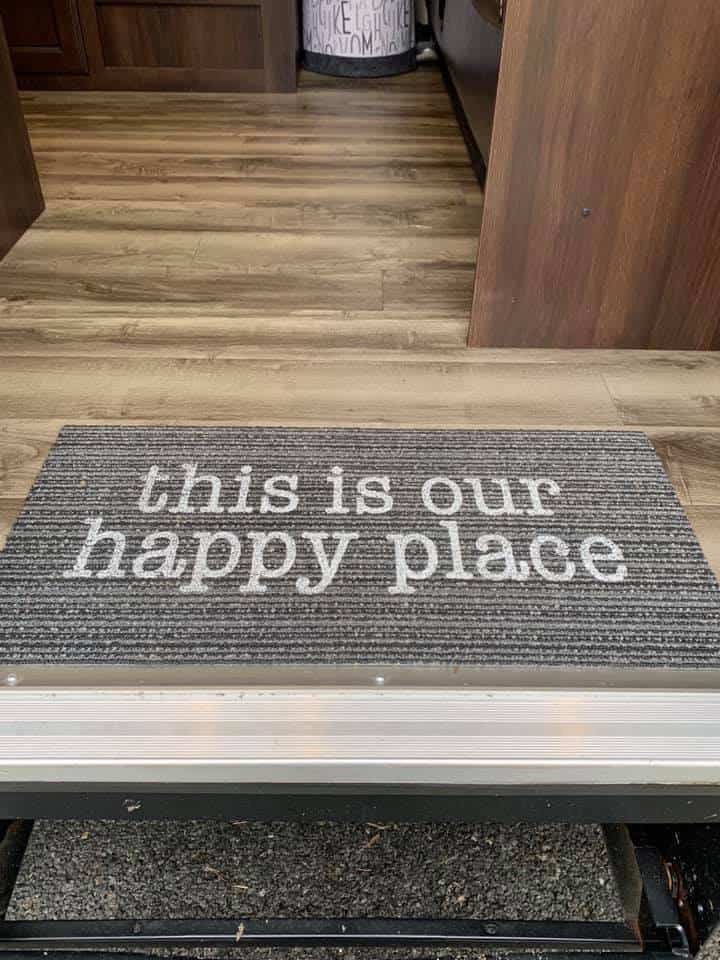 Diapers for Moisture Control!
If you can't find a moisture wicking solution that's cheap, just grab a pack of diapers! Stick them in closets, pantries, under sinks… all the places moisture might build up in your RV. Best of all, you can visibly see the moisture collected.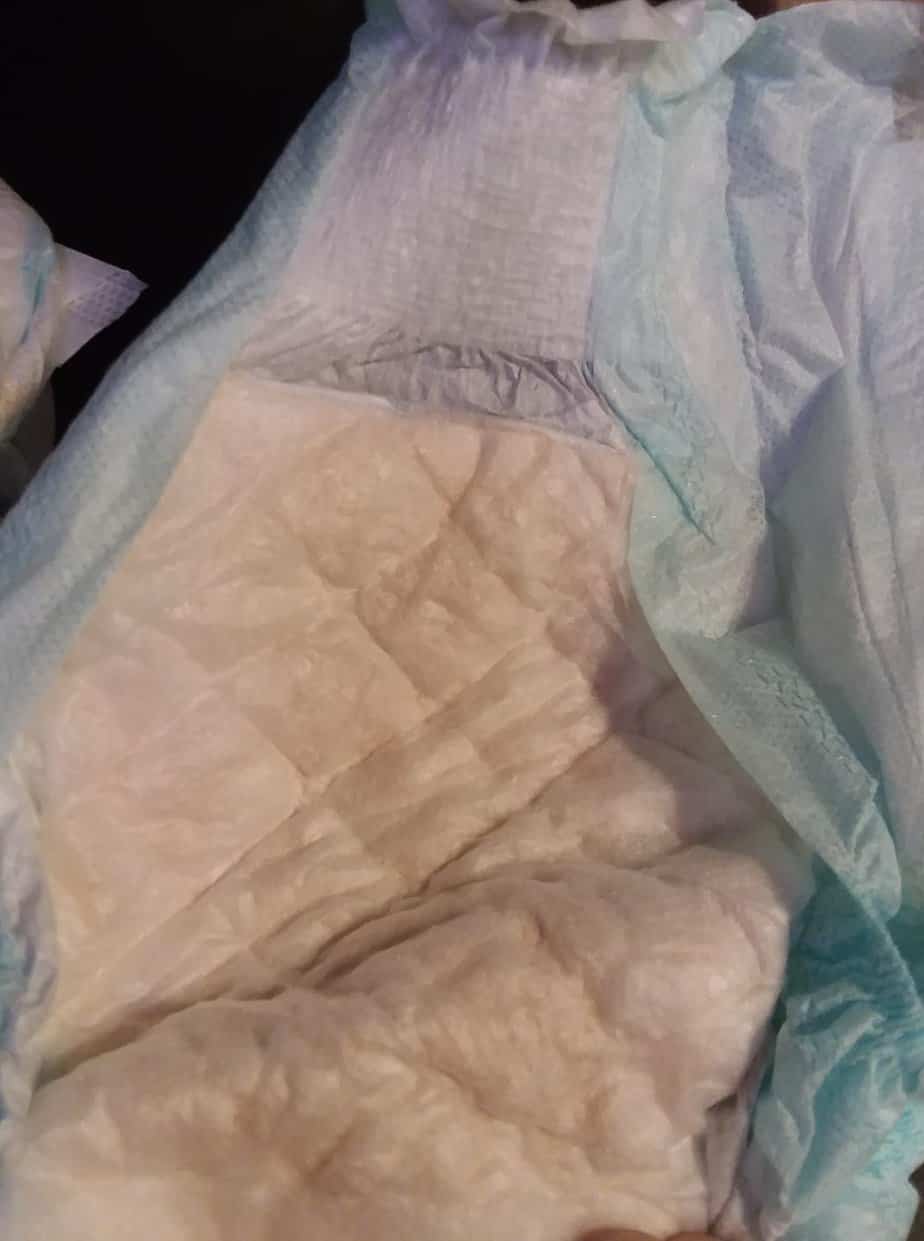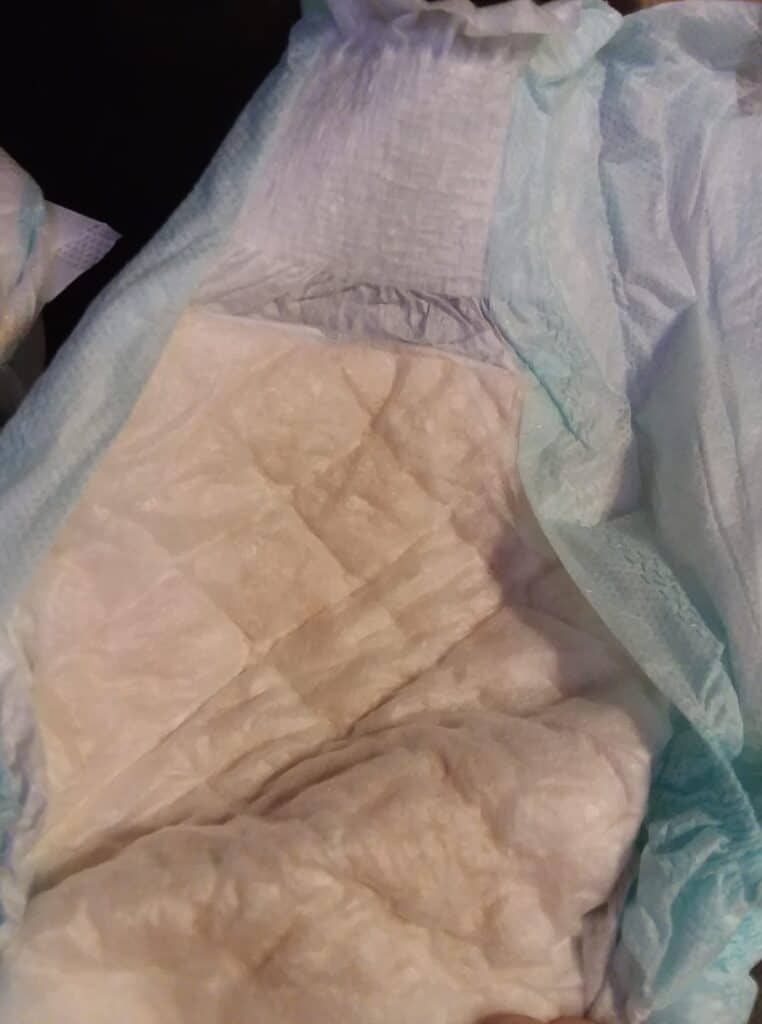 Dish Protection during Travel
Pad your bowls and pots for noise and crack reduction with a couple of these dish protectors. The last thing you want to do is arrive at your campsite with your favorite bowls cracked!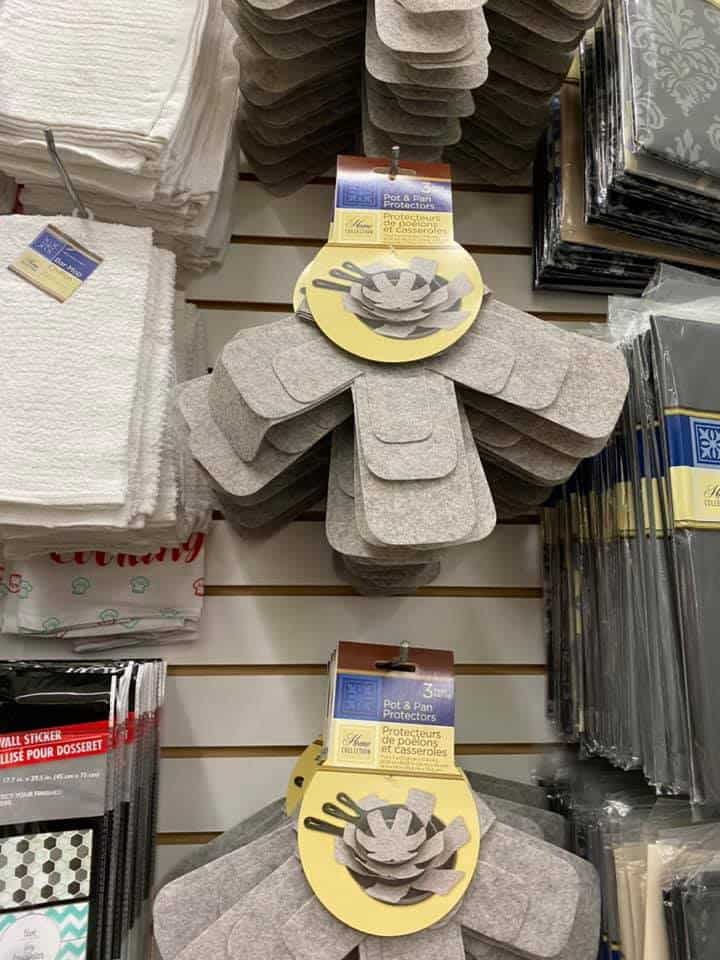 Give your Awning a Wipe Down
There are tons of methods to restoring the white of the awning underside, but the Dollar Tree "Totally Awesome Cleaner" and a couple of sponges can do the trick! Kim B. tells more about her method below.
If you're interested in more ideas like this, check out this article all about getting your awning cleaned and restored!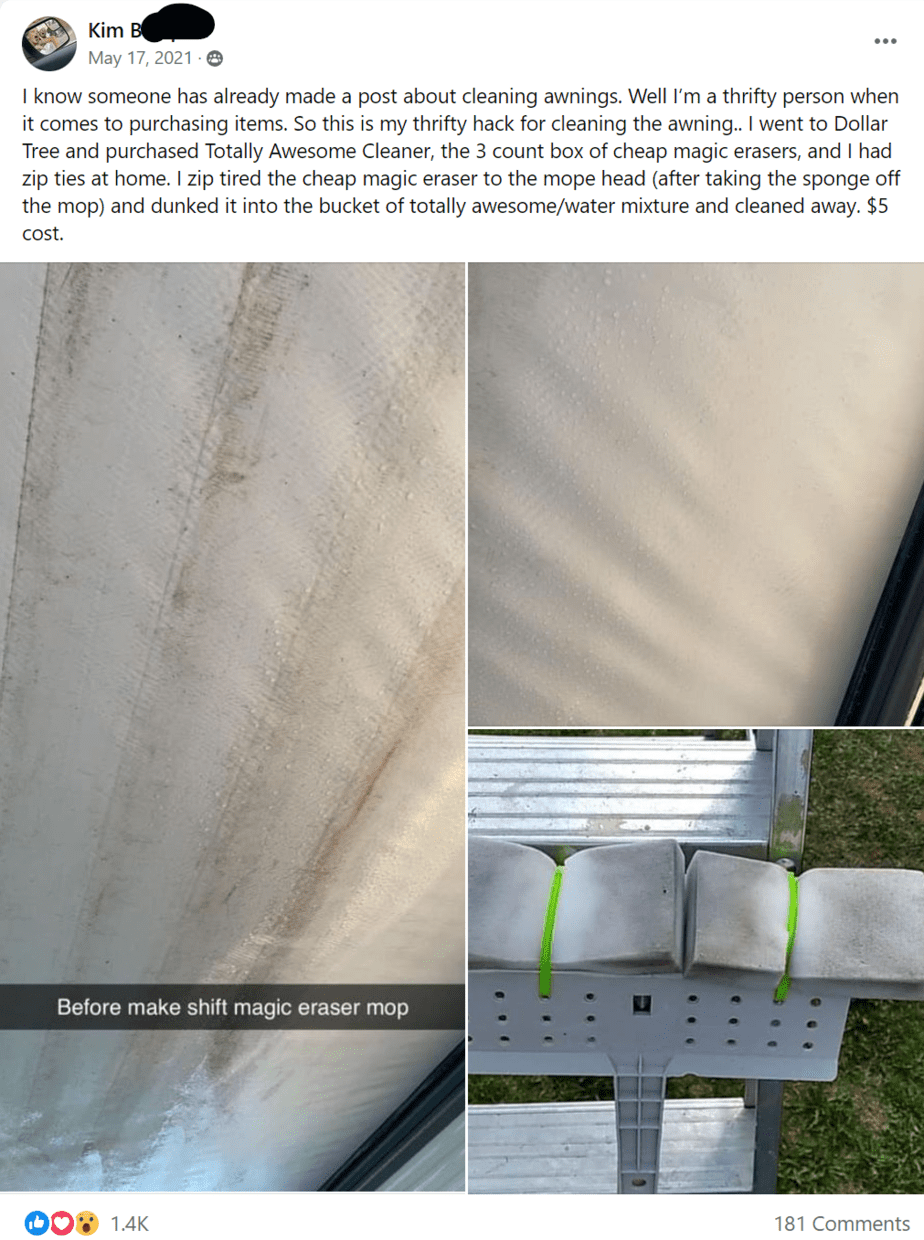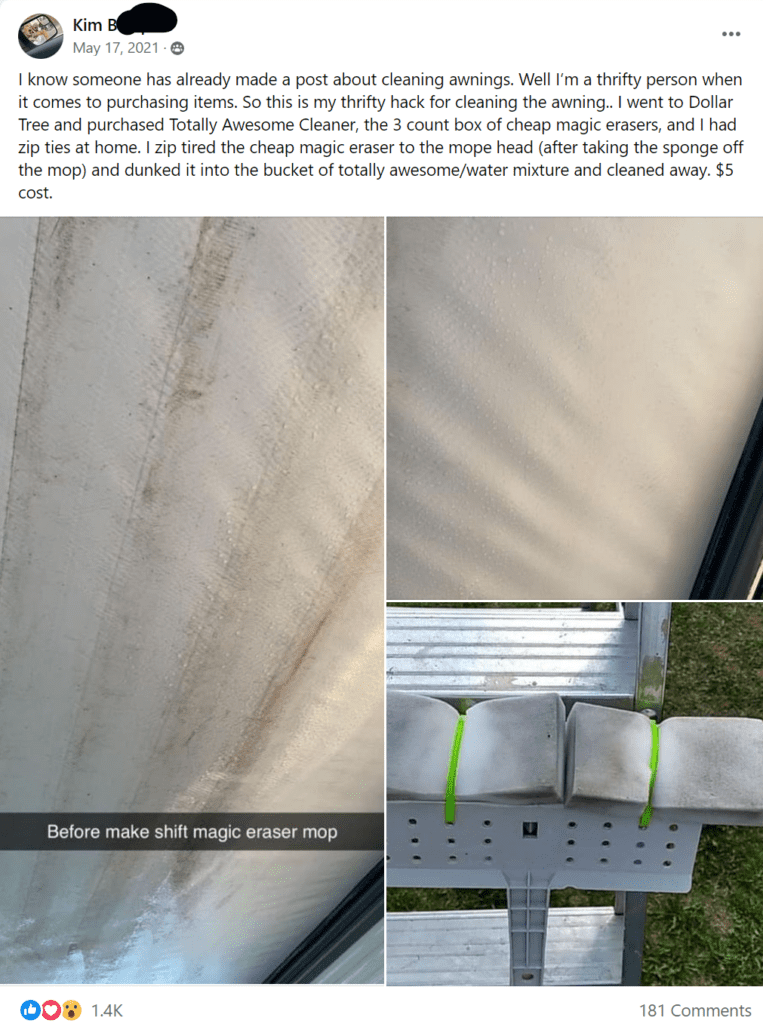 Get Organized with TONS of Bin Selection
If there's one thing the Dollar Tree is known for in the in camping world, it's their massive selection of organizational bins! All colors, sizes, and applications can be found here, so make sure to check it before ordering something pricey on Amazon.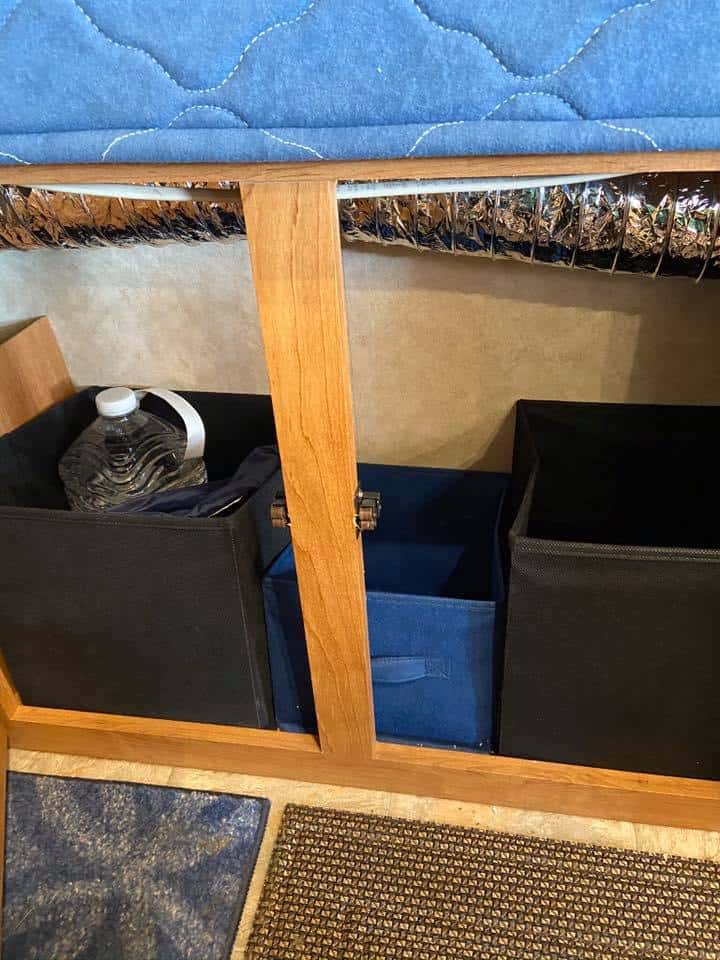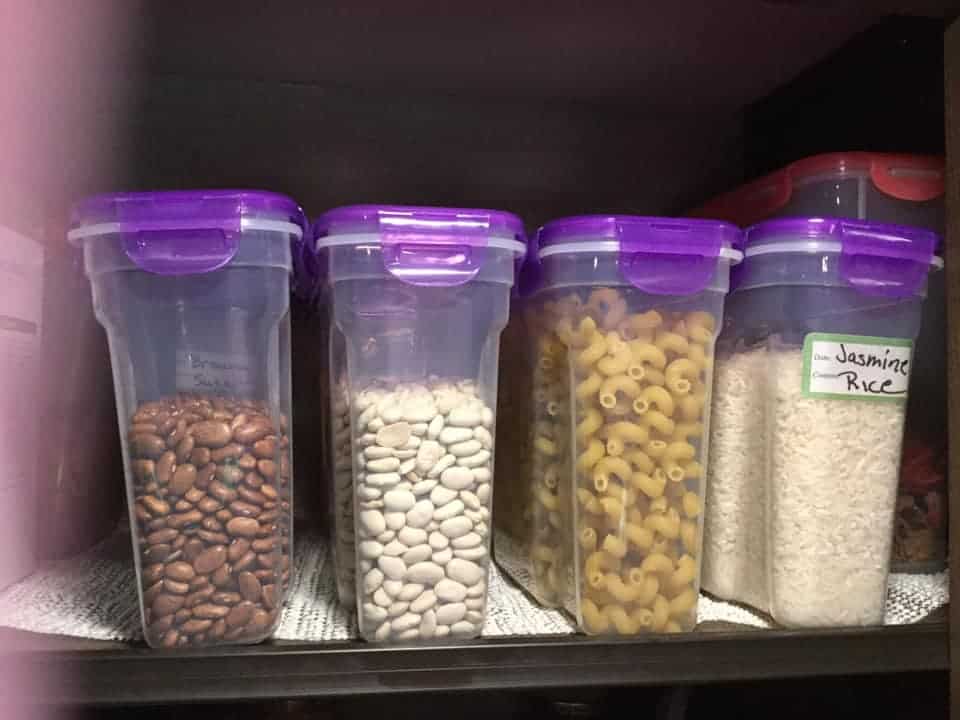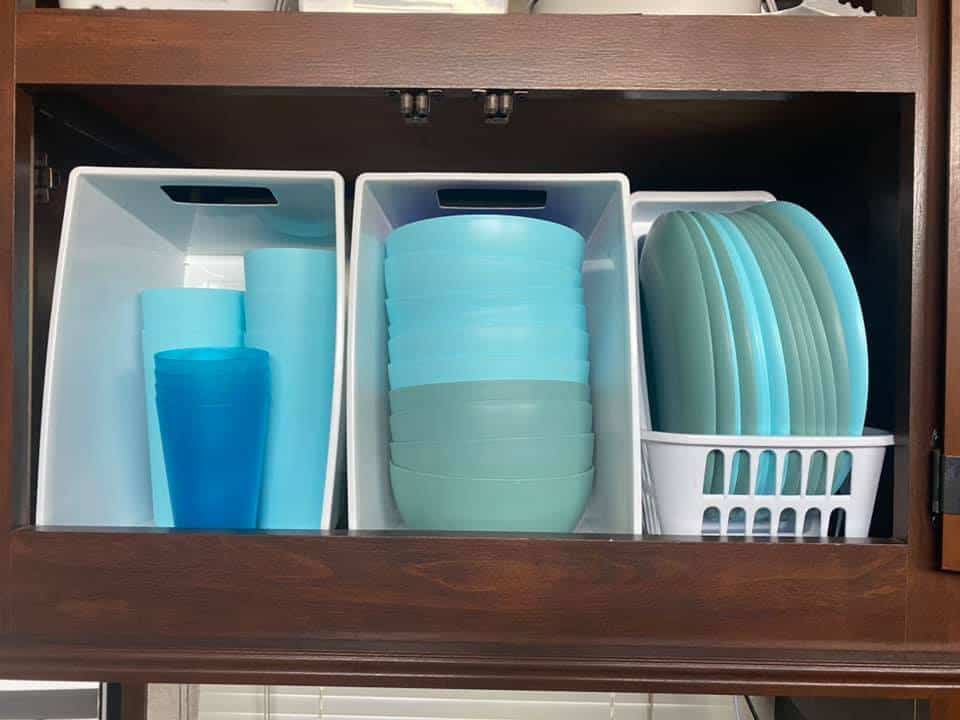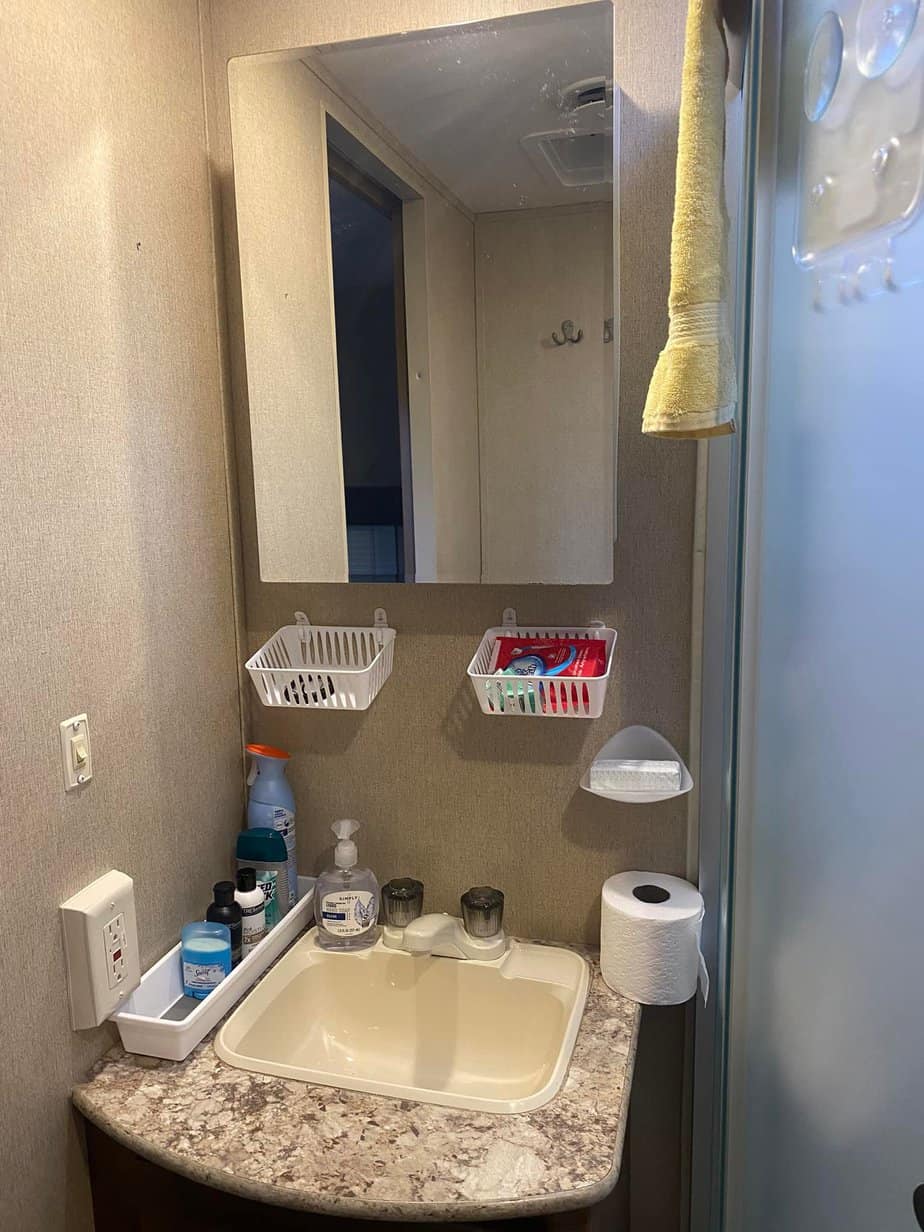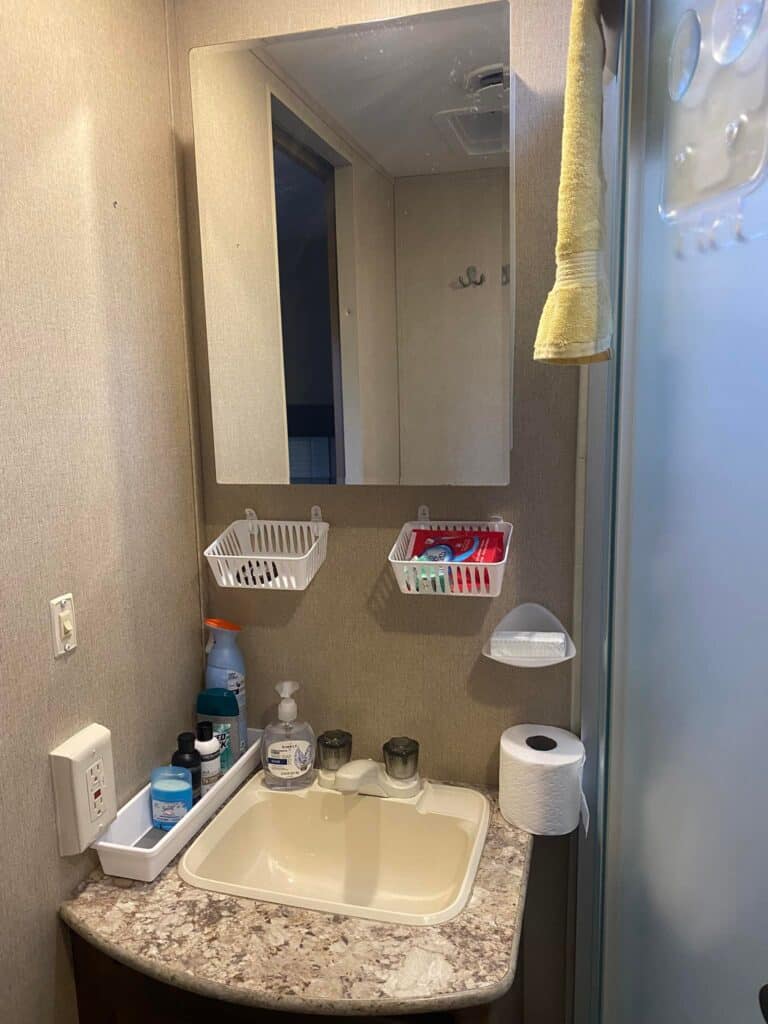 Go Mini for MORE Space
Like to have all of your spices when you're cooking in the RV, but don't have the pantry space for them all? Try making a mini camper set – these containers from the Dollar Tree are perfect!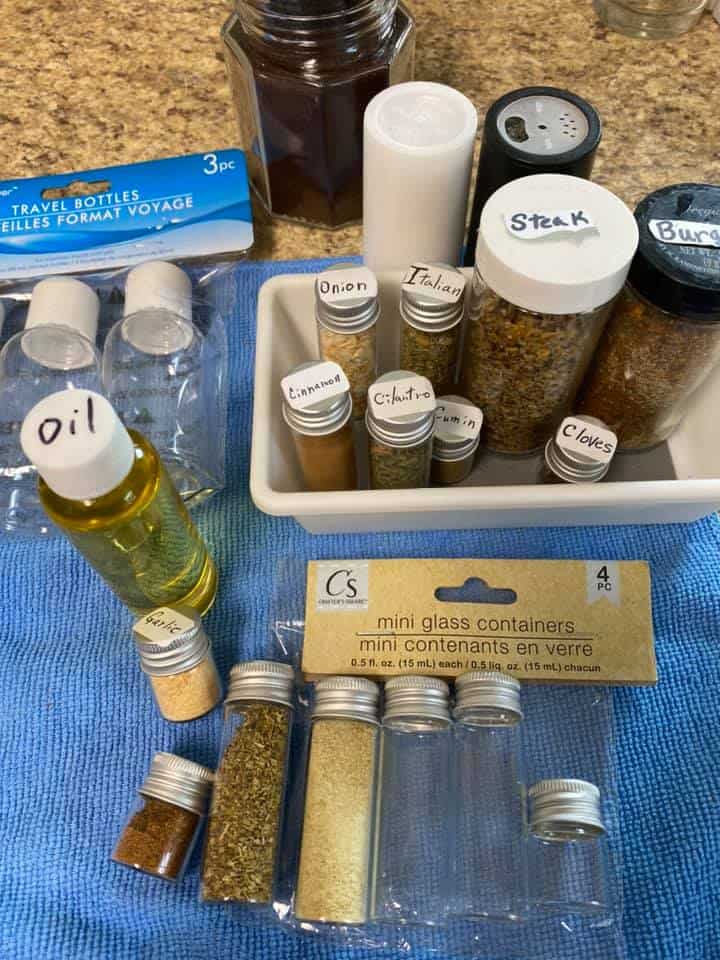 Add a Touch of Green
Every realtor knows that adding some plants can liven up any space – so why not do that to your camper? While they may be small, there's not exactly a ton of space in an RV anyways. So next time you're at the Dollar Tree, look out for these cute camper planters.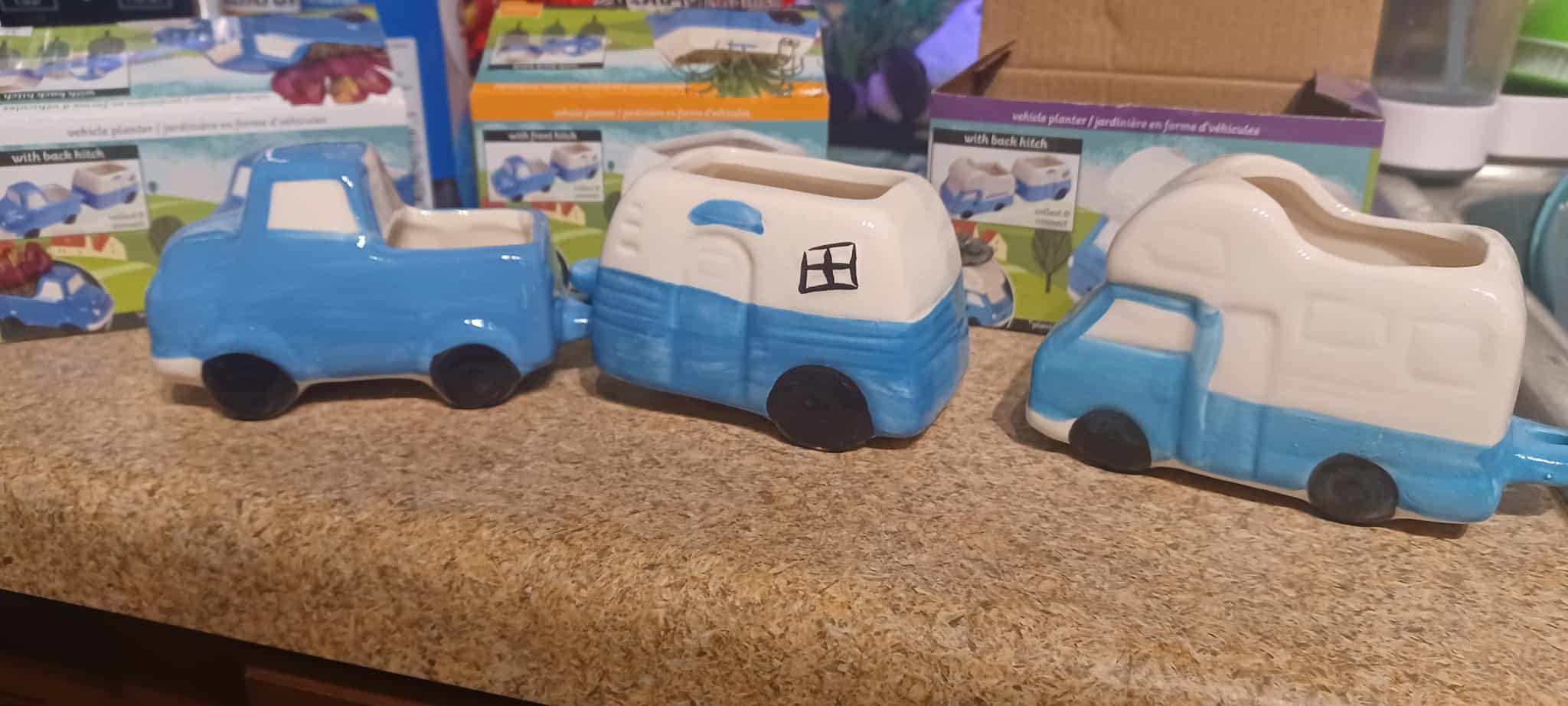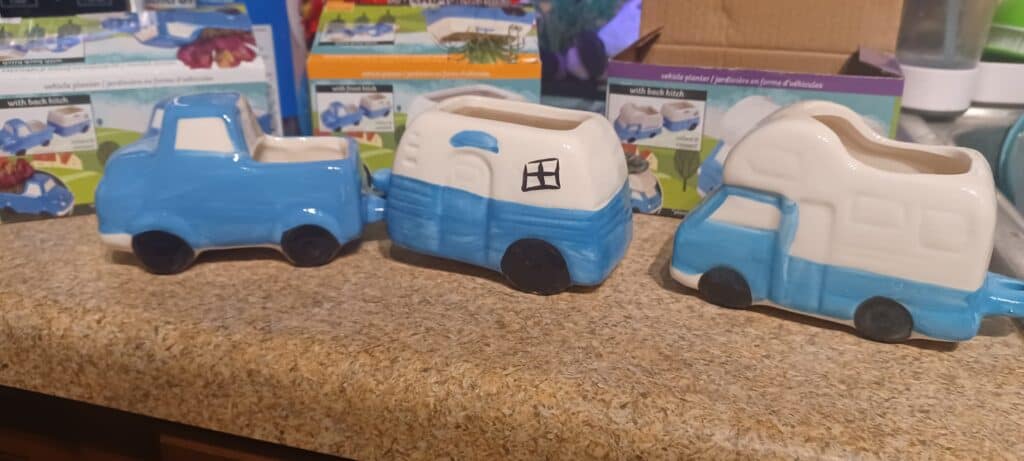 Grab Some Clips
They are sold as table cloth clips (which are still helpful just as they are for keeping your tablecloth on the picnic table) but have TONS of other applications! We love using them to dry our swimsuits… and as chip clips!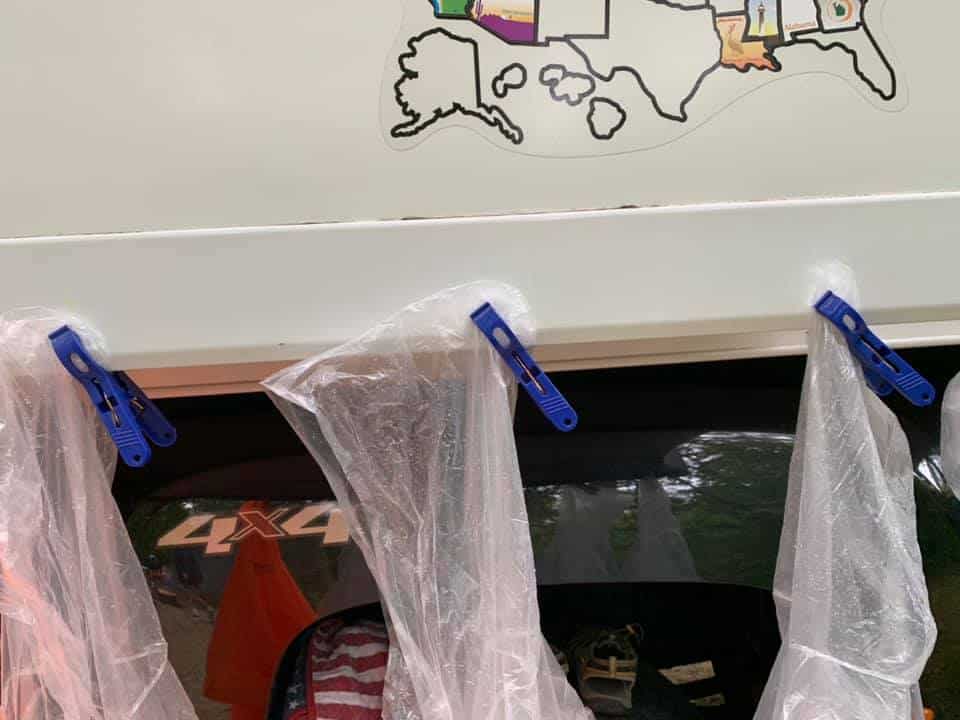 DIY a Kitchen Sink Faucet Bib
Sitting water is the bane of any RV Camper, so whip up this quick solution to keep this problem camper kitchen area dry. The Dollar Tree dish drying mat is the perfect material to cut custom holes in create your own version.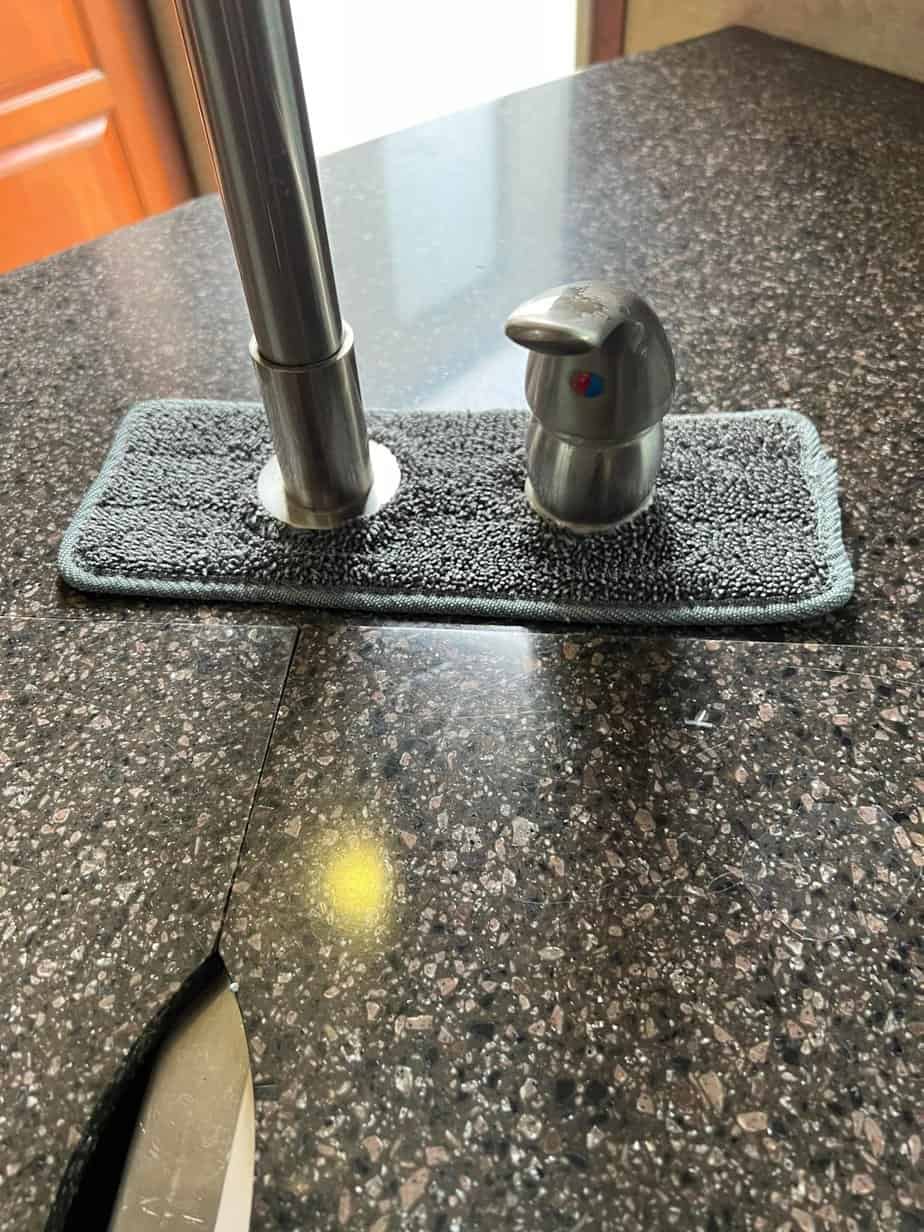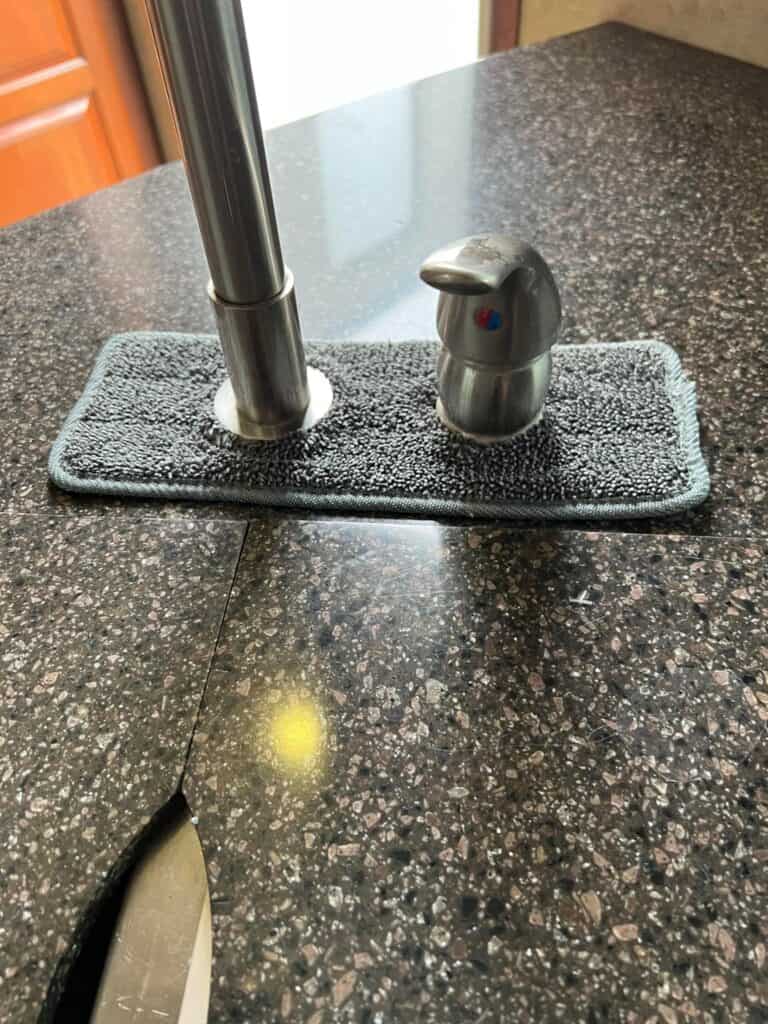 Kitchen Drawer Organizers
RV Drawers are usually smaller than "normal" house ones, so it can be hard finding a utensil organizer that actually fits. Instead, try buying some singles to make a custom setup for each drawer in your RV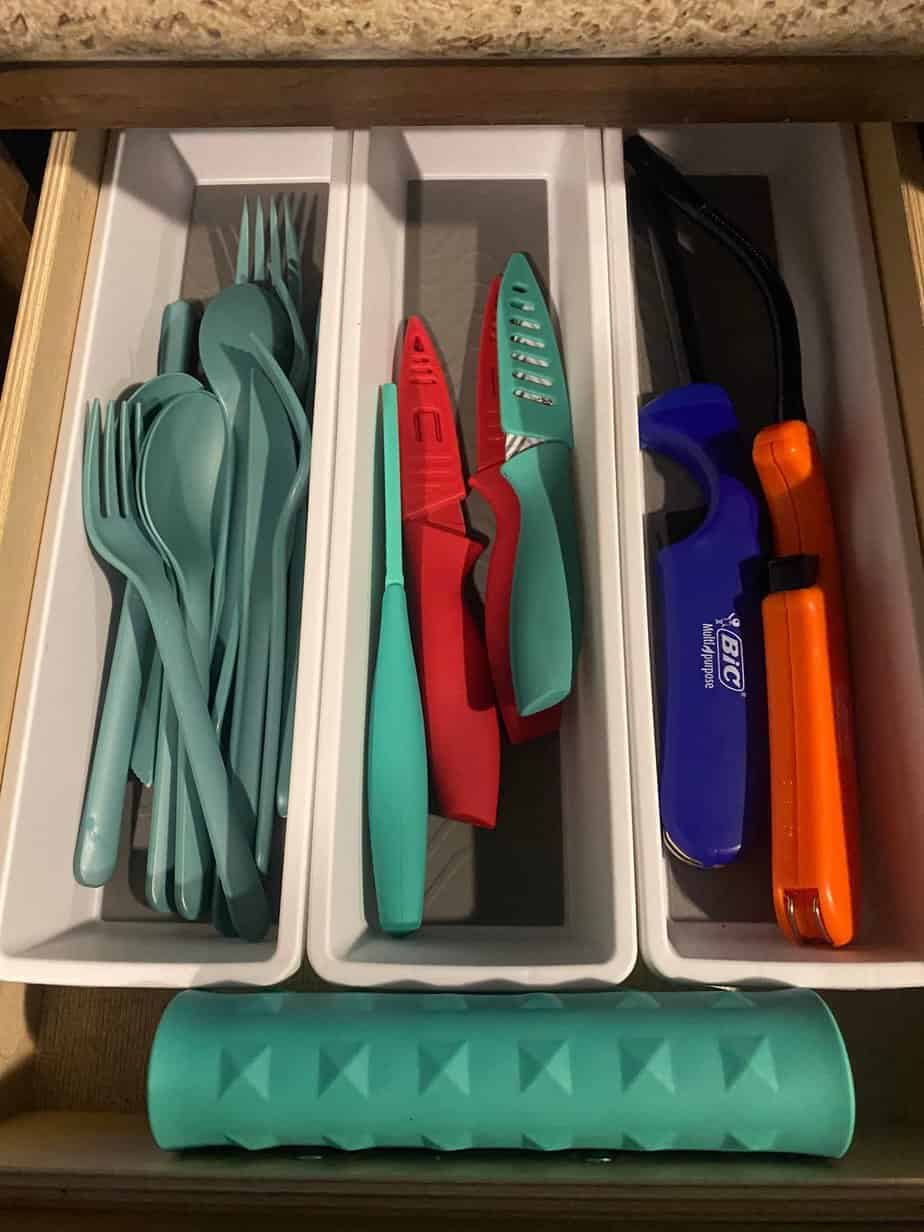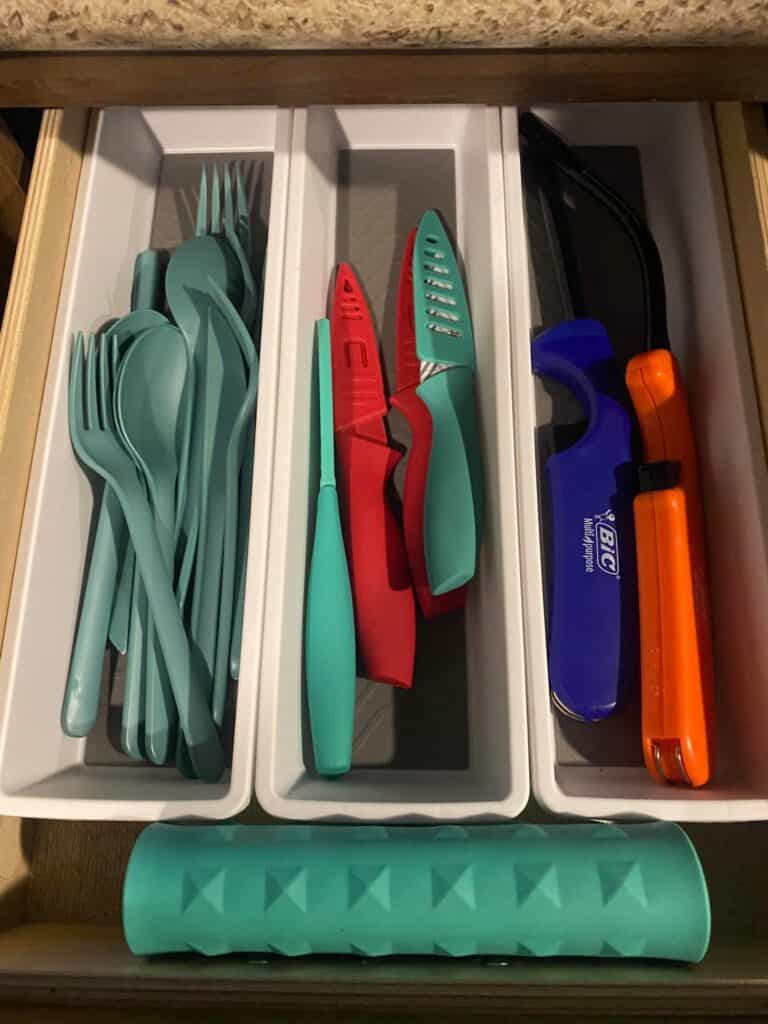 Stock up on Games (and save space!)
It's good to build up a camper specific set of things overtime, so get your games at the Dollar Tree so you don't have to worry about transferring things back and forth after every trip. Tresha C. recommended to also head to the school section and pick up some of the zip pouches for condensed storage.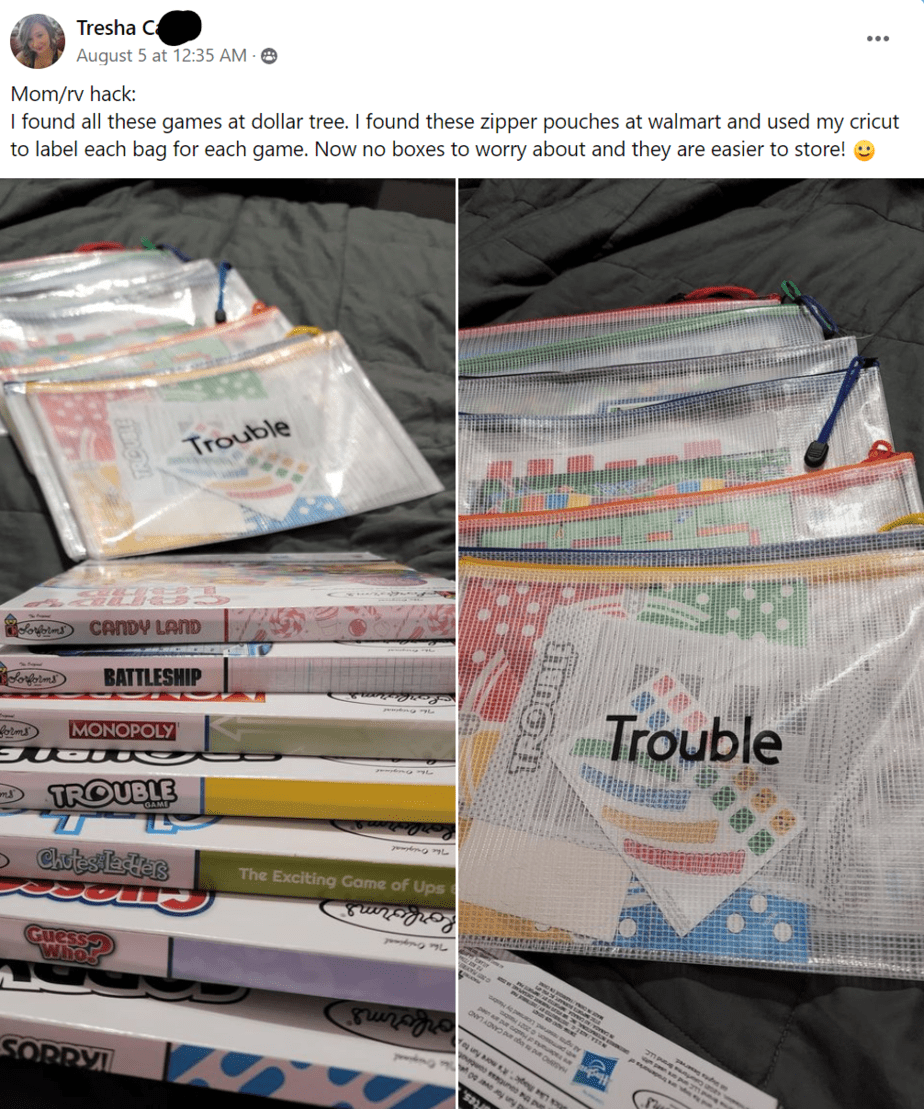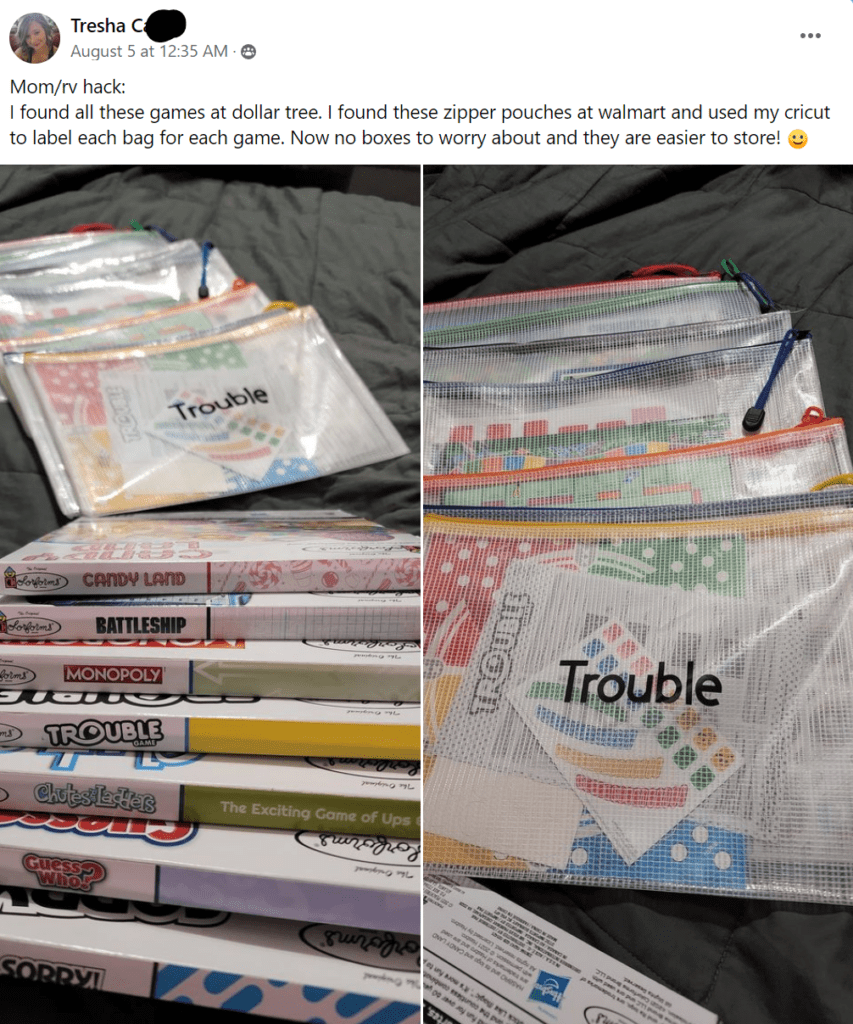 Decor For Your Campsite
The Dollar Tree has a surprisingly large amount of cute camping themed things (especially around the start of summer and Christmas!). While these cute lanterns aren't camping specific, they sure are perfect for hanging from the awning or a tree!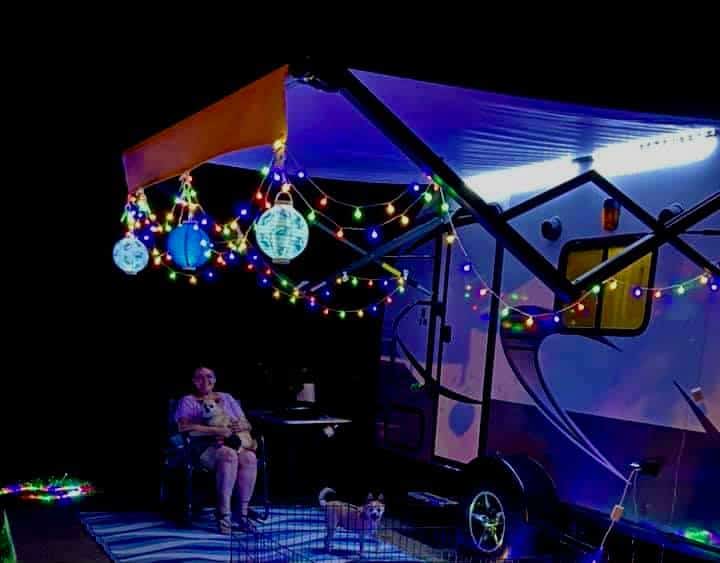 Shoe Storage Hooks
It's so easy for shoes to make a space look cluttered (especially when it's as small as a camper!). There's tons of ideas out there, but this one is cheap and discreet! Grab an over the door hanger, but instead use it under your bed! Most have a lip this hanger can be on, and your shoes can all be stored out of the way.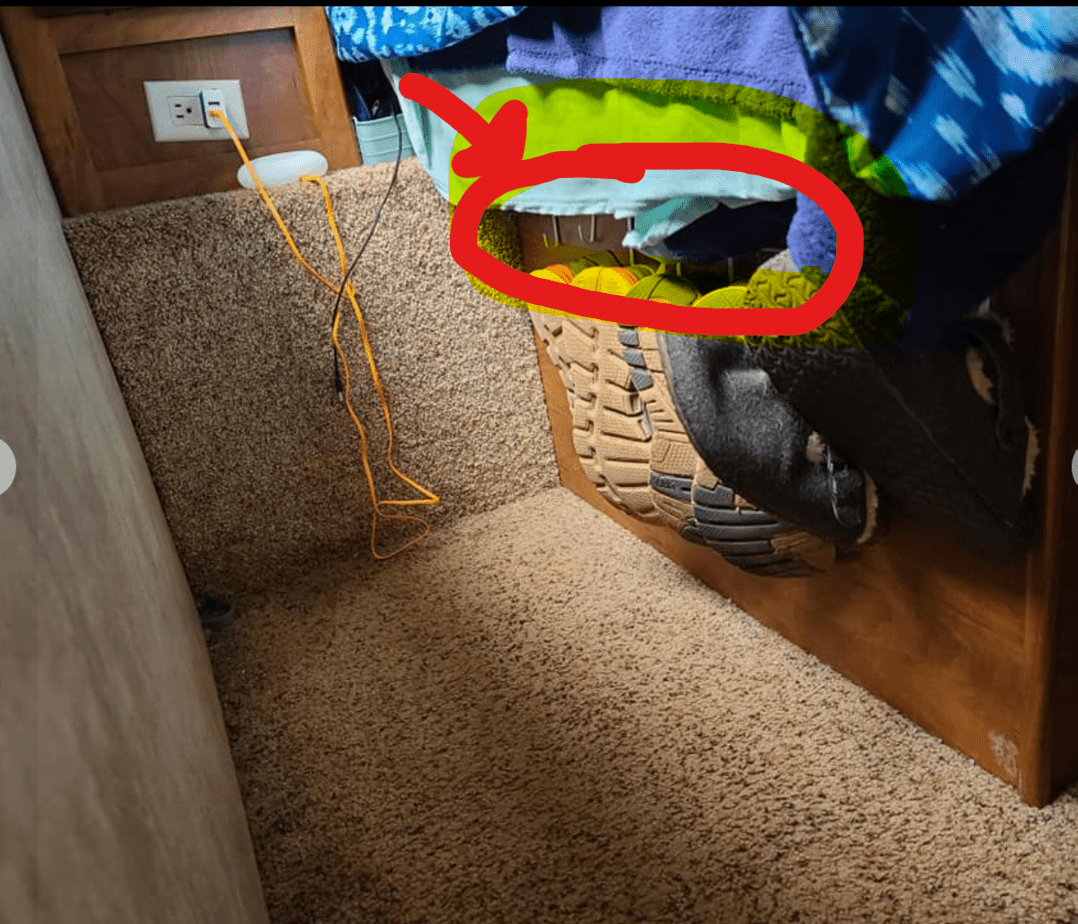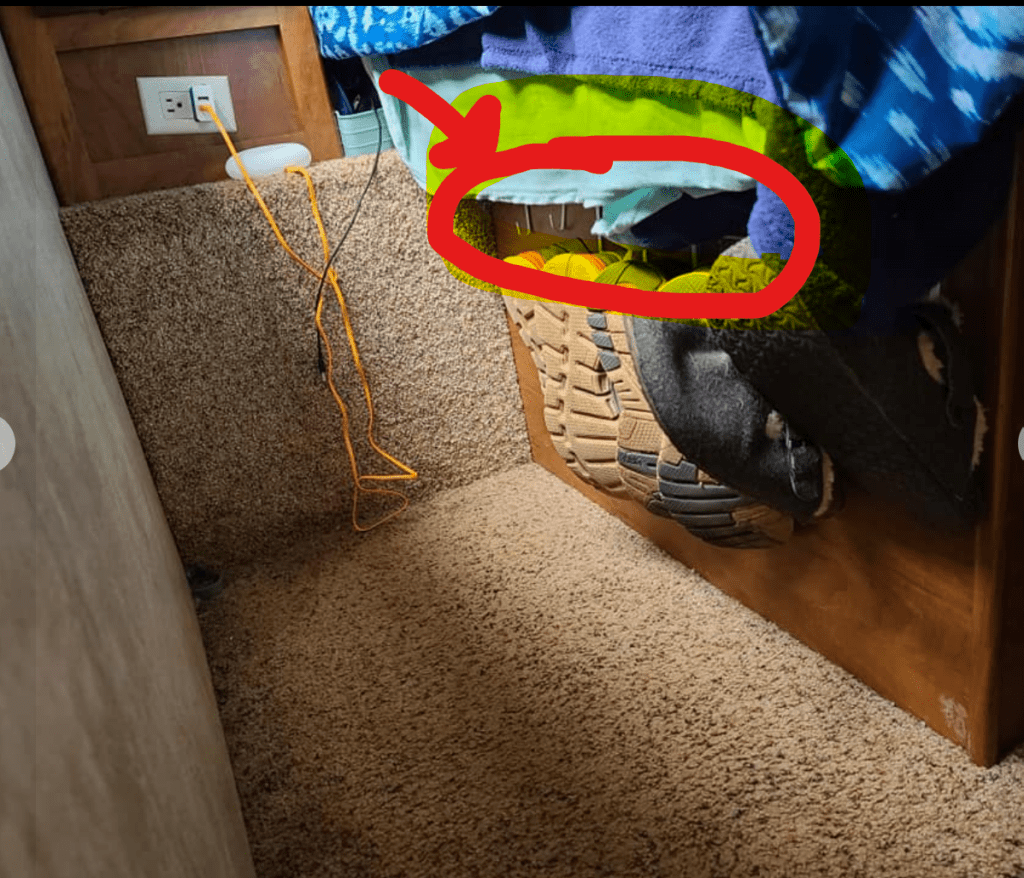 Organize the Junk Drawer
Every house and camper has one… but that doesn't mean it has to be TOTALLY out of control! Customize an organization solution with the variety of drawer size bins so that it's easier to keep clean.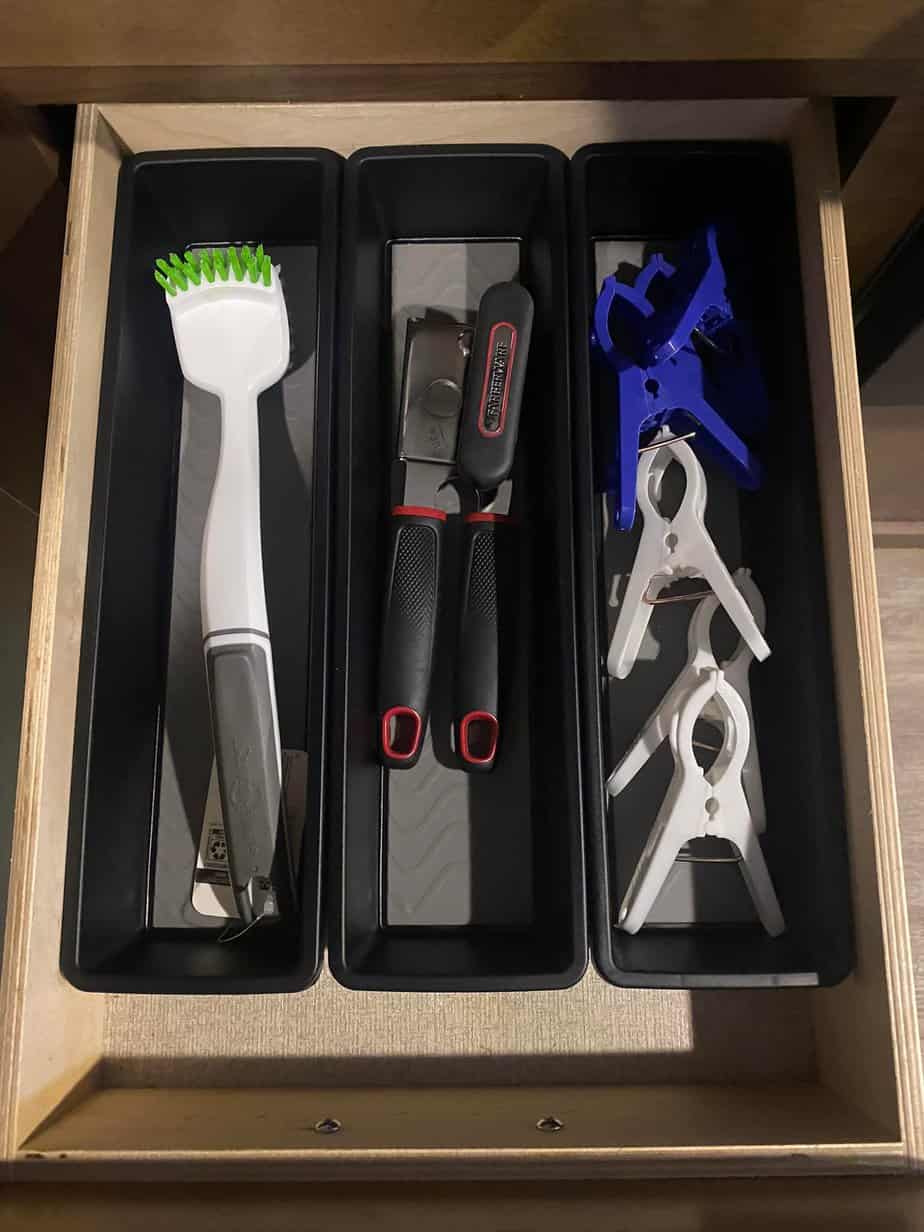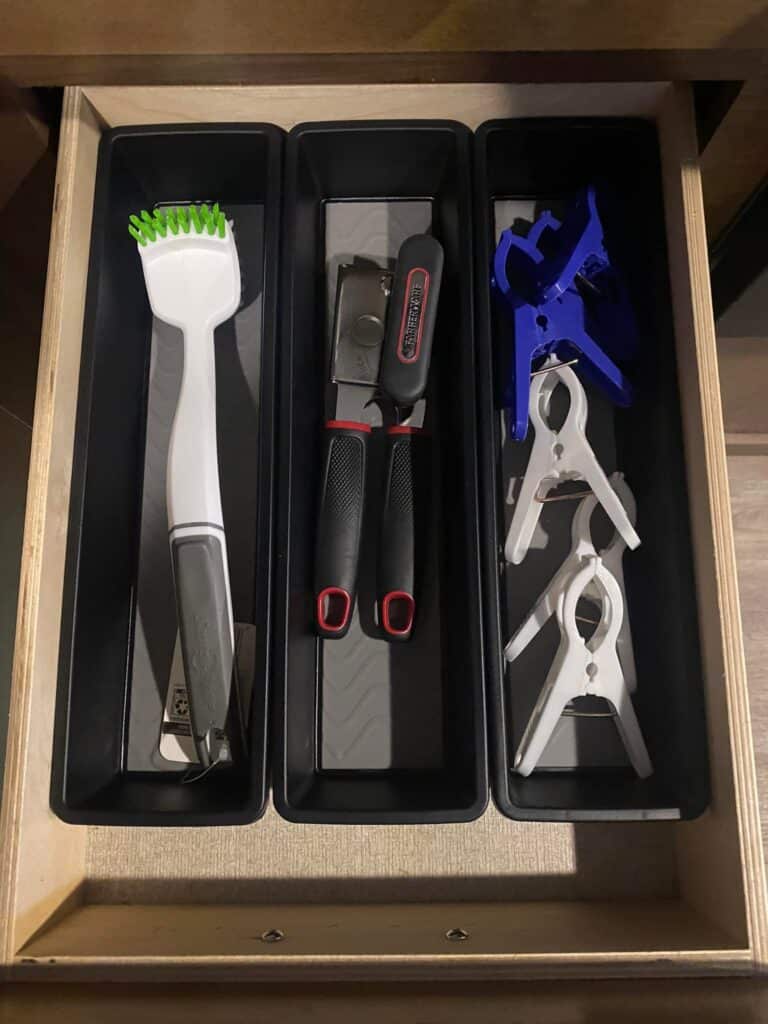 Mount Your Paper Towel Holder
Horizontal surface area in just about any RV is limited, so free some up by grabbing a mountable paper towel holder. We love having ours under our kitchen cabinets – don't forget to use one of the clips I mentioned earlier to hold it in place when traveling!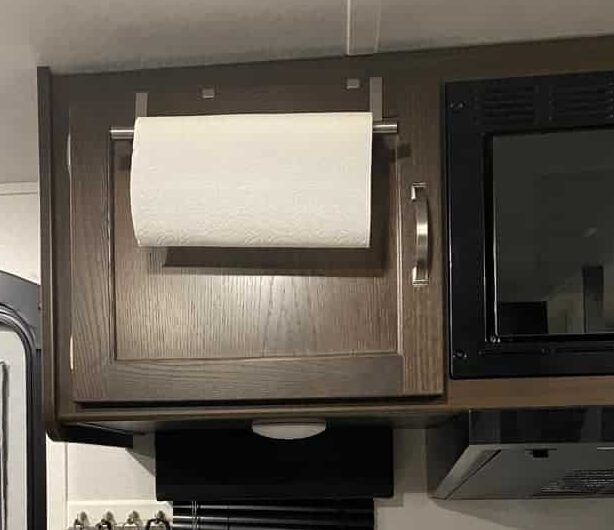 Food Tent for Food Safety
I don't know about you, but I OBSESS over keeping flies away from our food when we're camping! A food tent like this has room for a couple of plates AND you don't have to worry about fly barf all over your fresh cooked meal!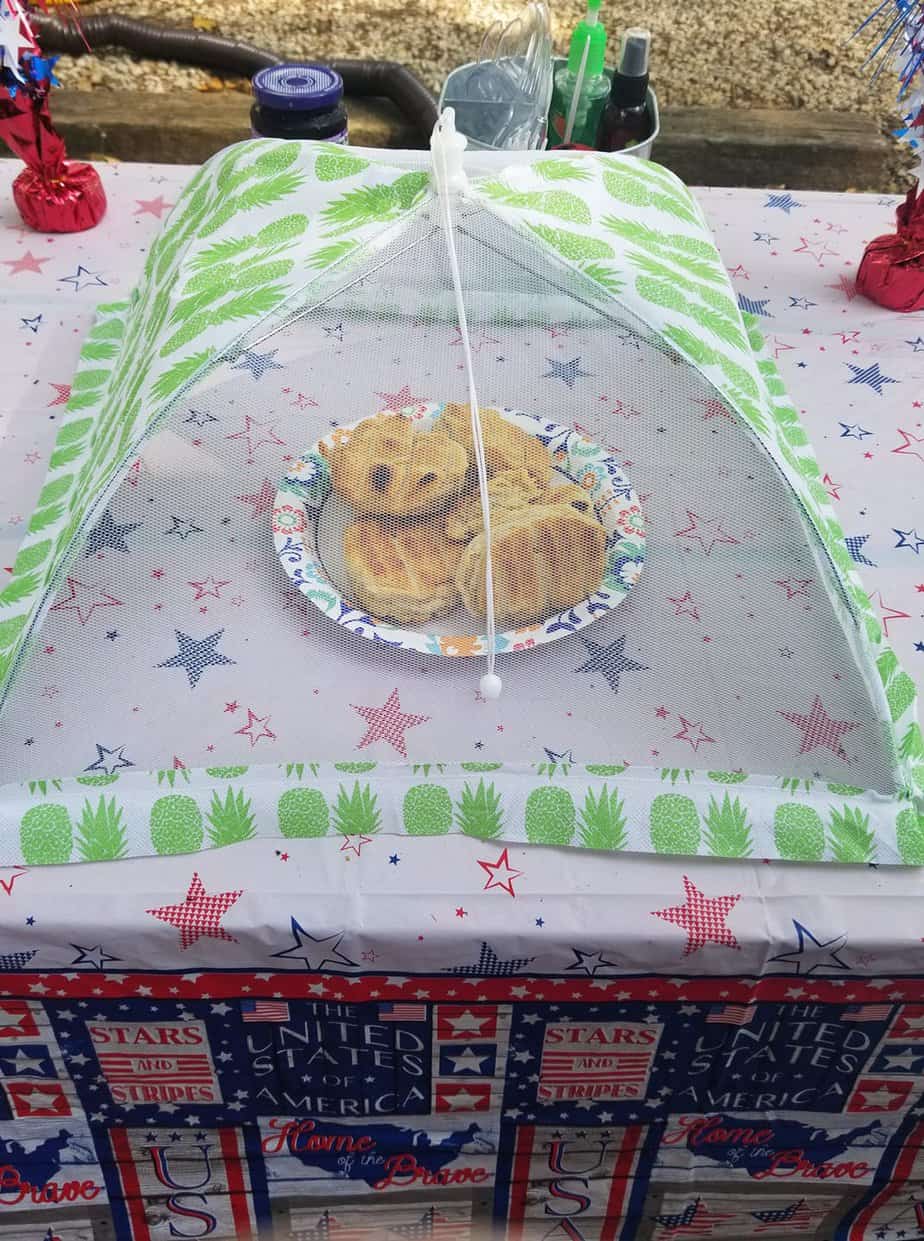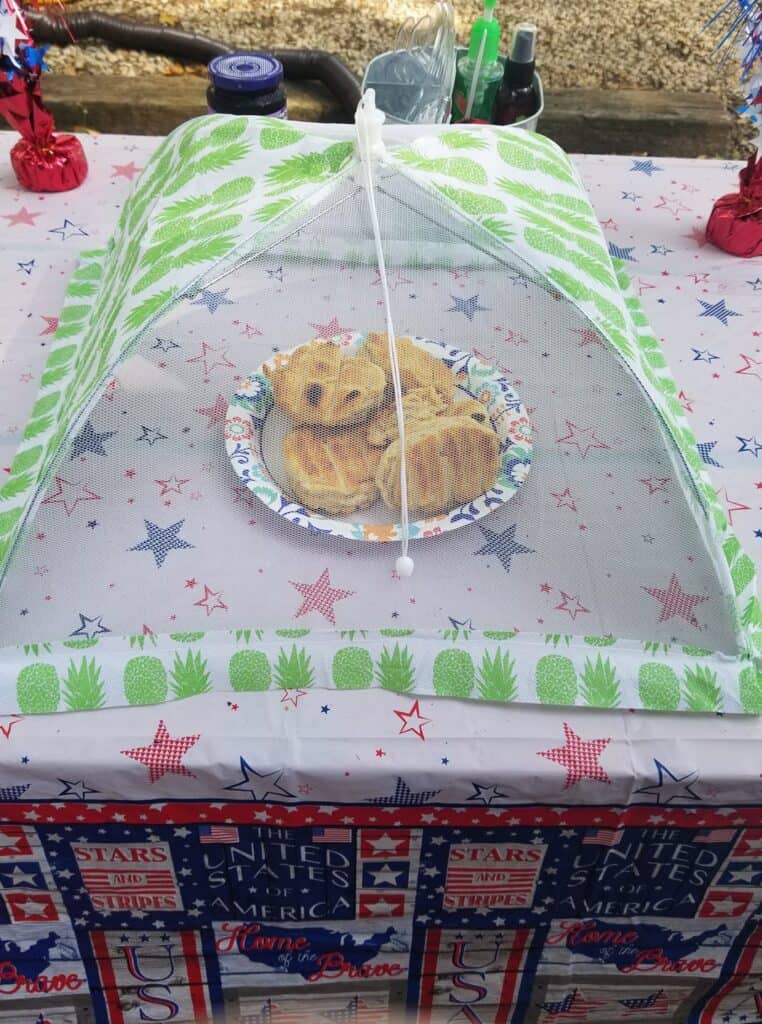 Foam Noodles for Travel Protection
If you've ever excitedly arrived at your campsite, only to open your RV and see broken glass everywhere, you KNOW how important it is to secure all doors before traveling so they don't swing open and destroy things midtrip. Kristen G. shared her trick – Cut a couple of foam noodles to size, and slide them over all your handles before traveling.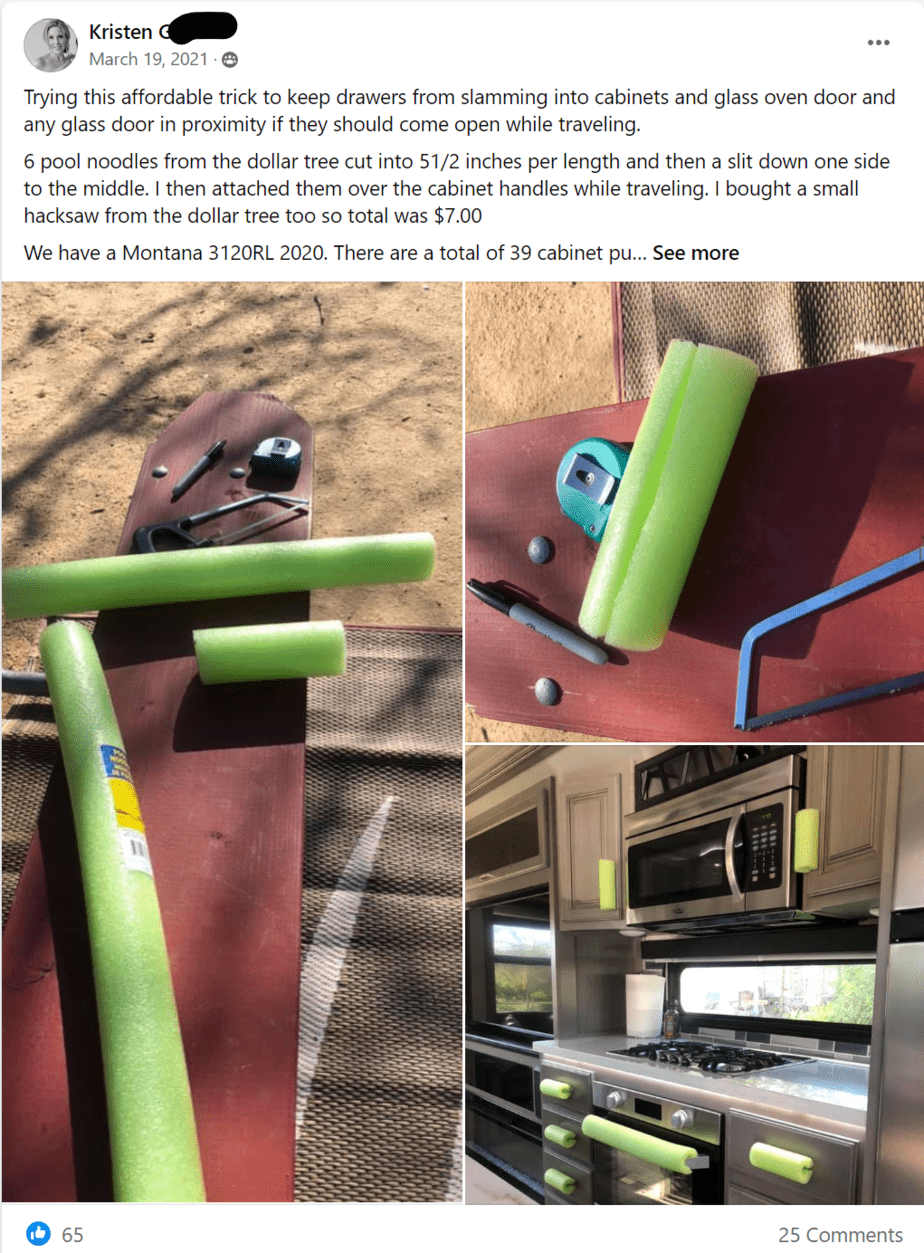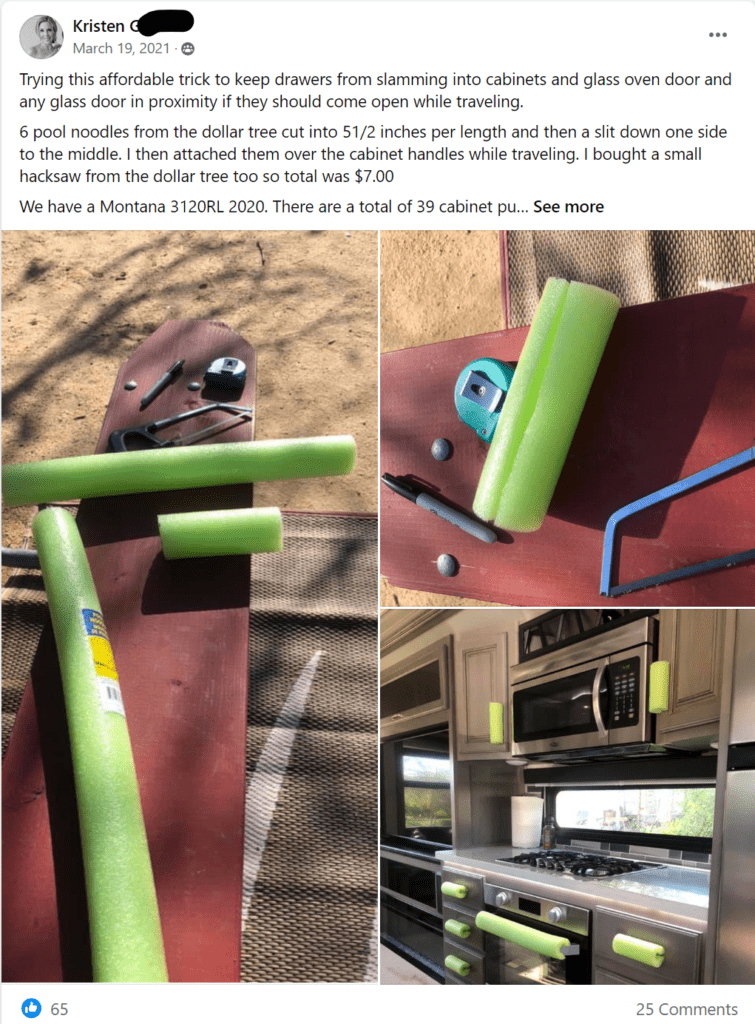 Mount Your RV Ice Scooper to Keep it Clean!
Loose things on the counters never look good, and are more likely to get dirty. Keep your ice scooper handy AND sanitary by simply sticking a adhesive mountable pencil holder to the side of your ice maker.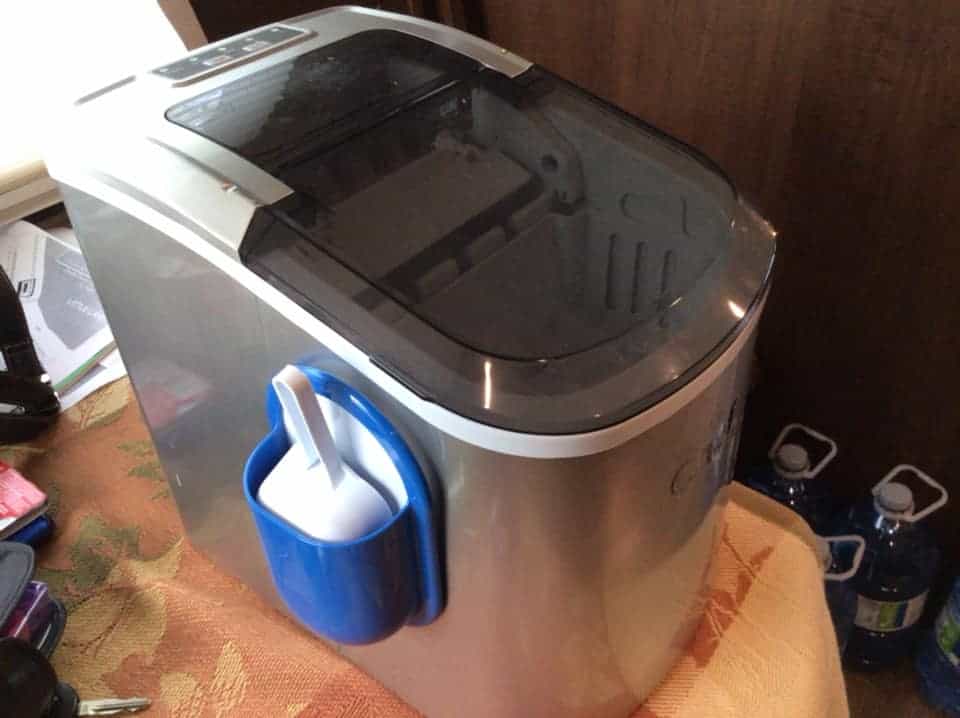 Classic Camping Hacks
I had to include this section so that new campers can see these hacks too!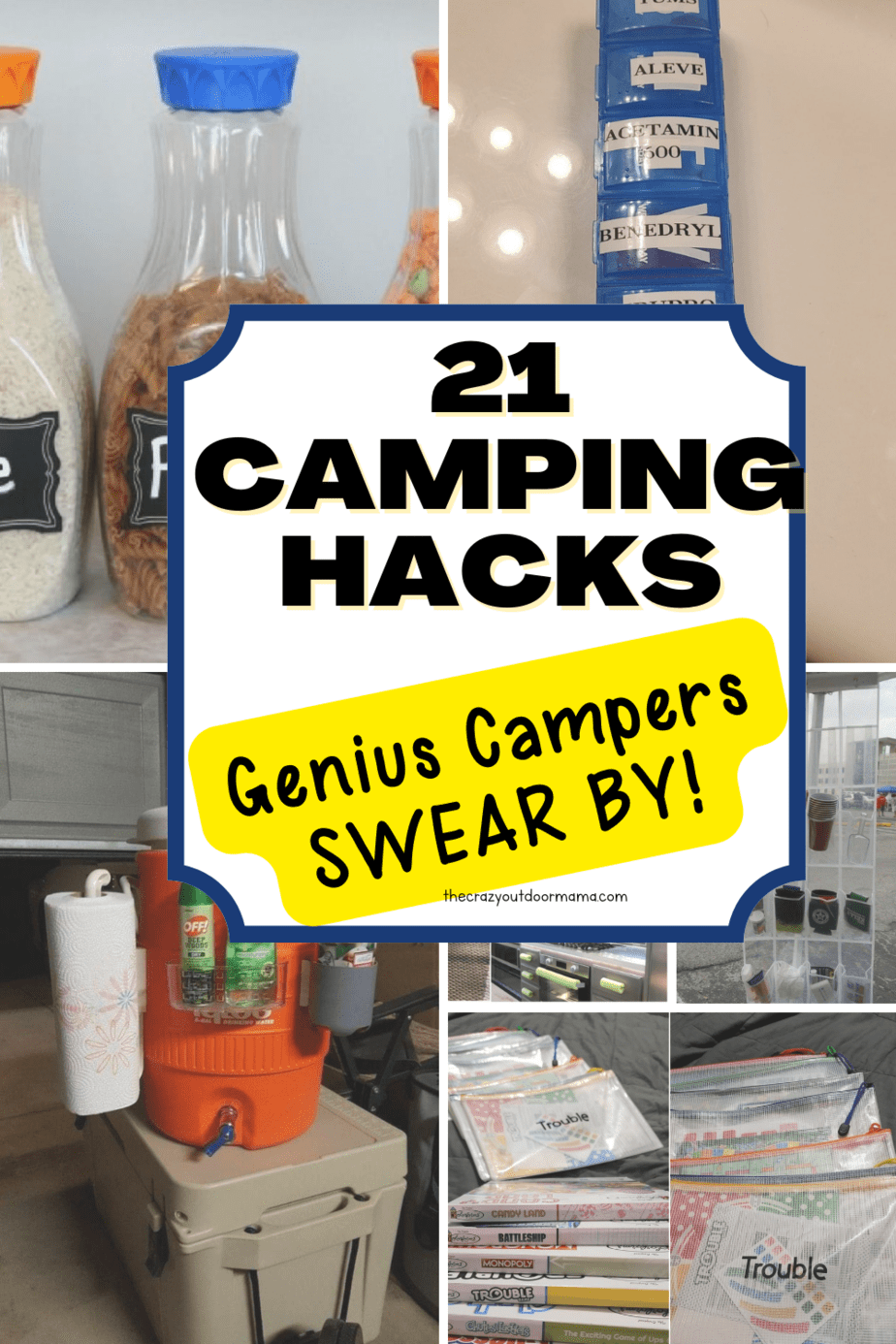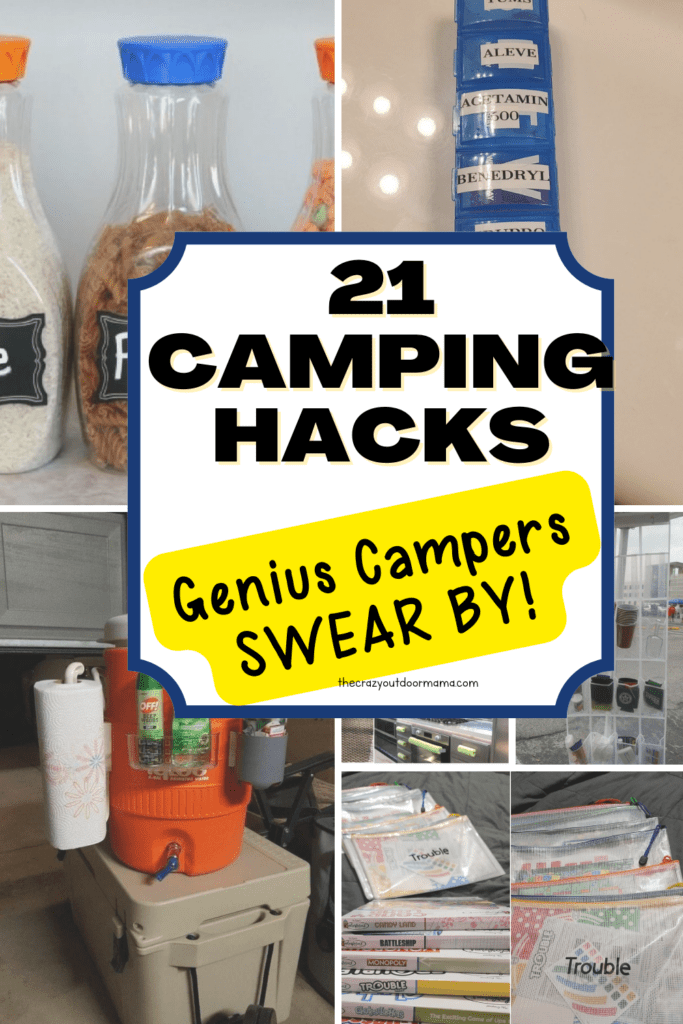 Use a 7 Day Pill Container as a First Aid Meds Container
Instead of having to bring a ton of big bottles or baggies, dedicate one of these style containers to stay in the camper and stock it with medicines you commonly use. Advil, Tylenol, Melatonin, Benadryl and any other personal prescriptions are great to start with.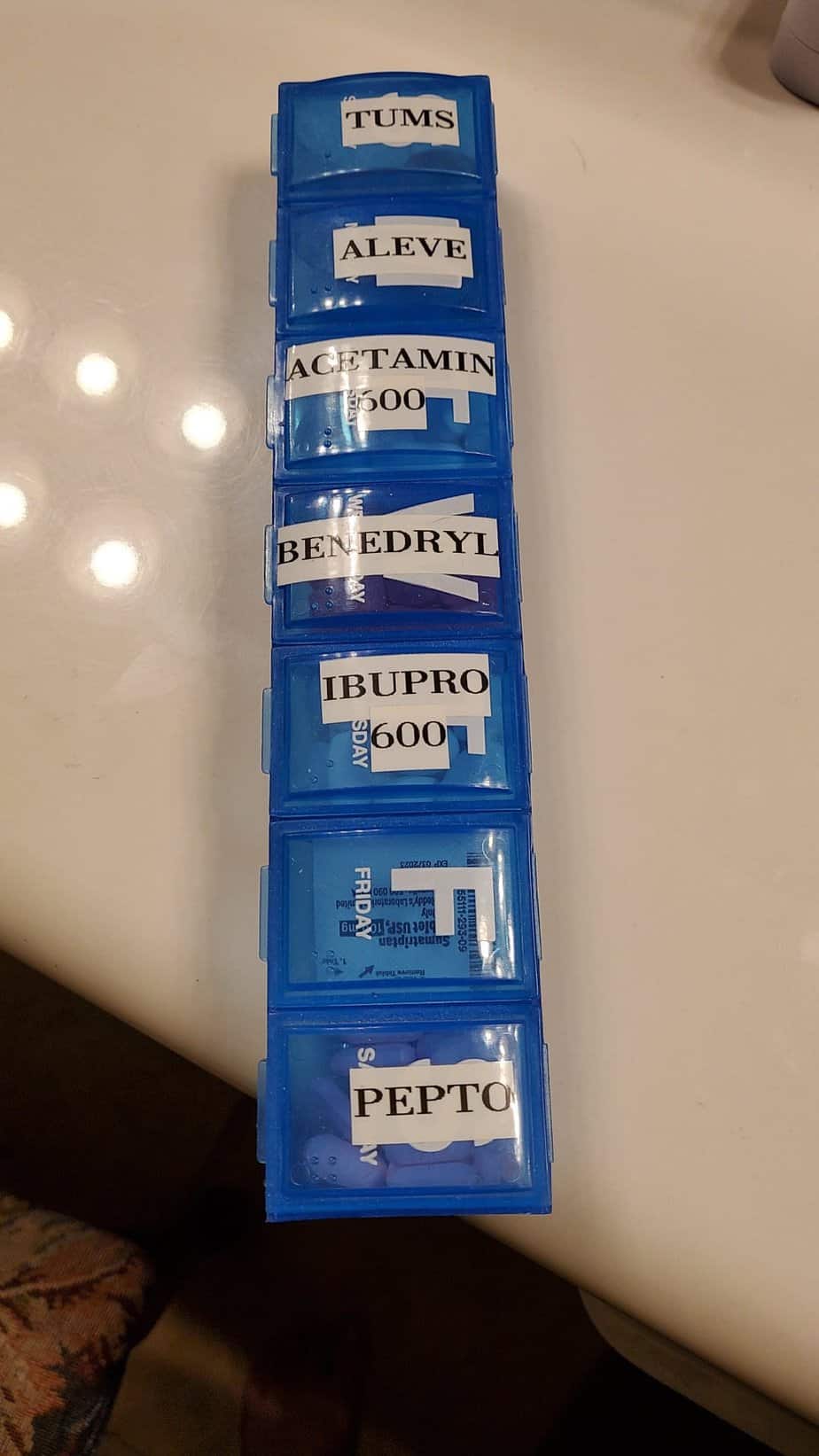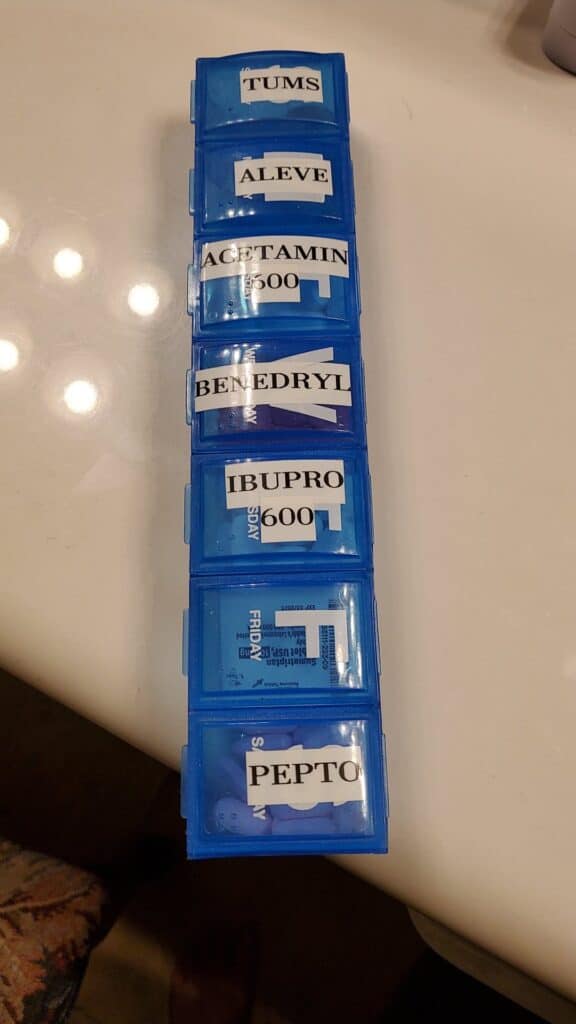 Use Silica Gel Packs
If you're worried about your electronics or gear getting wet, try using silica gel packs! You can often find these little packets in the packaging of new shoes or purses – just save them and pop them in with your electronics when you camp. They help absorb moisture and will keep your things nice and dry.
Keep Your Picnic Table Cloth in Place
Instead of tablecloth clips, try switching to a couple of these giant rubber bands! They store smaller and are way less breakable than the clips are.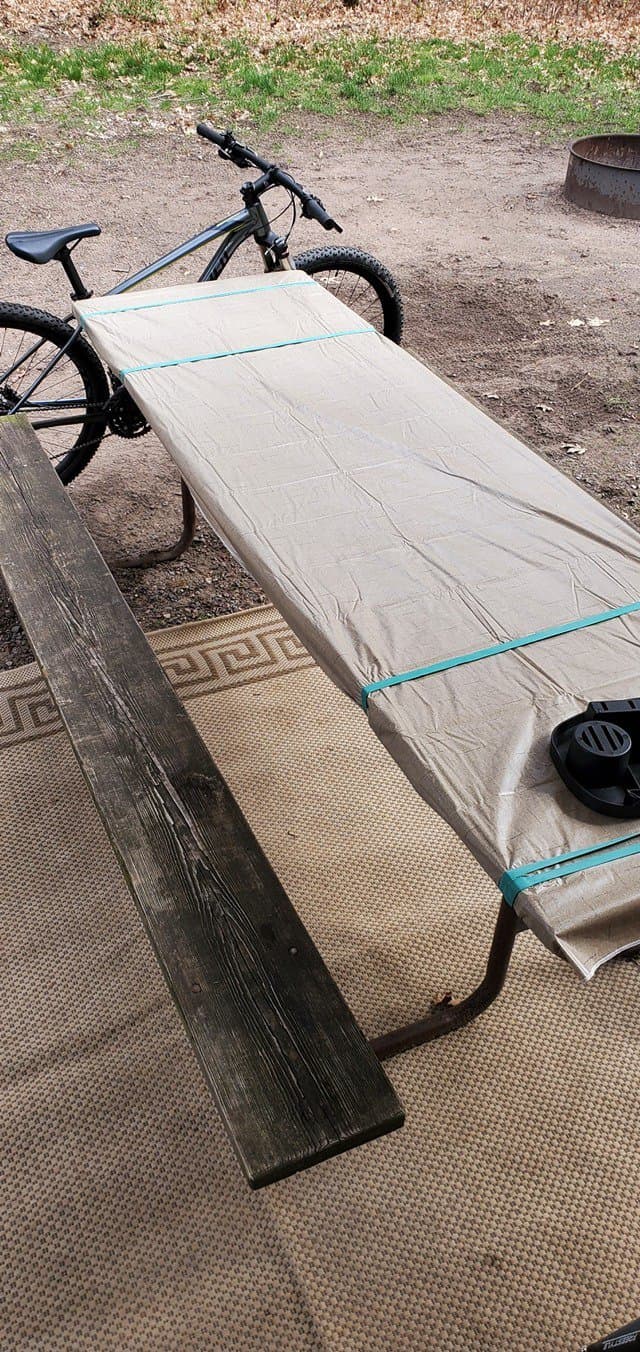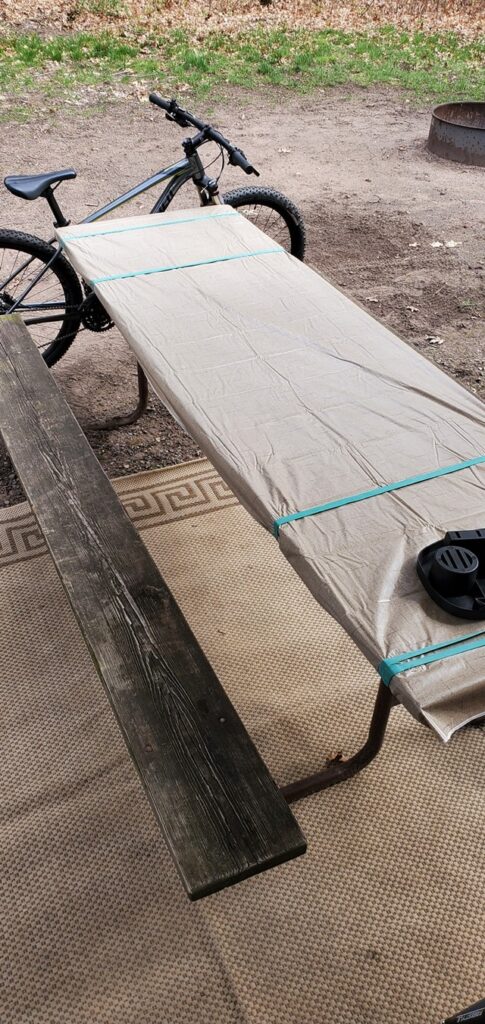 Reuse Your Old OJ/Creamer Containers for Dry Good Storage!
Rinse out and reuse those heavy duty feeling jugs! We always get this style from our Orange Juice, but any aesthetically pleasing thing works well!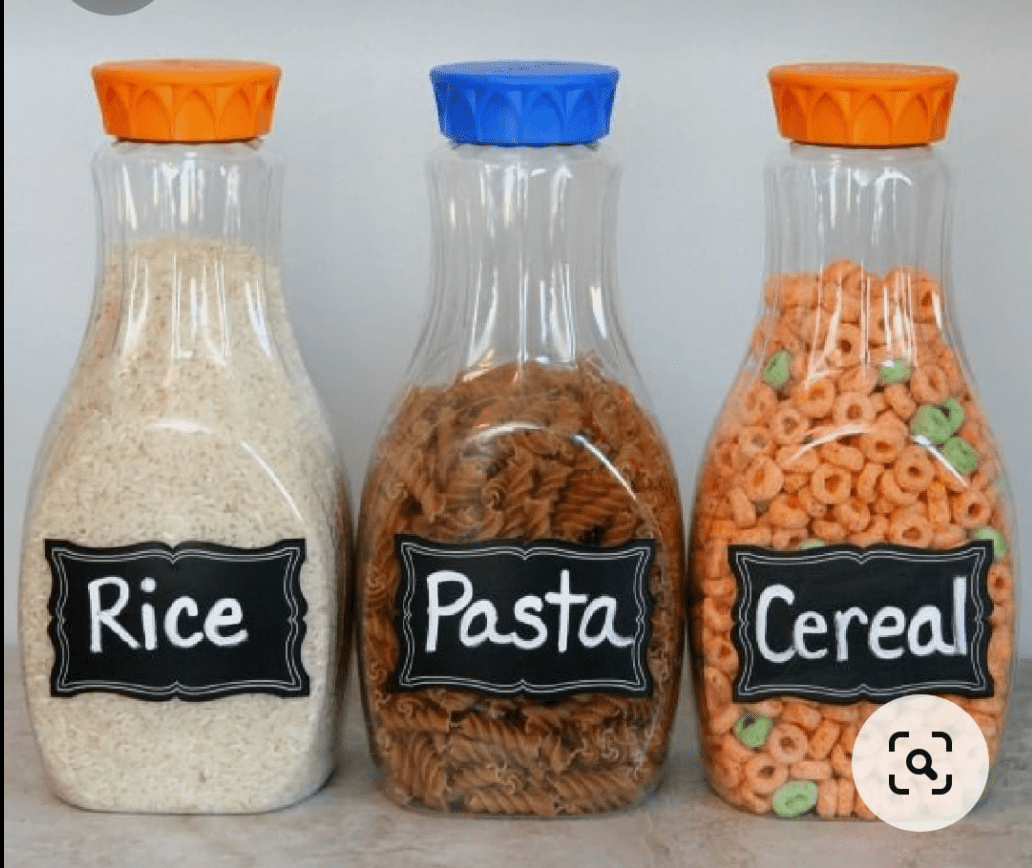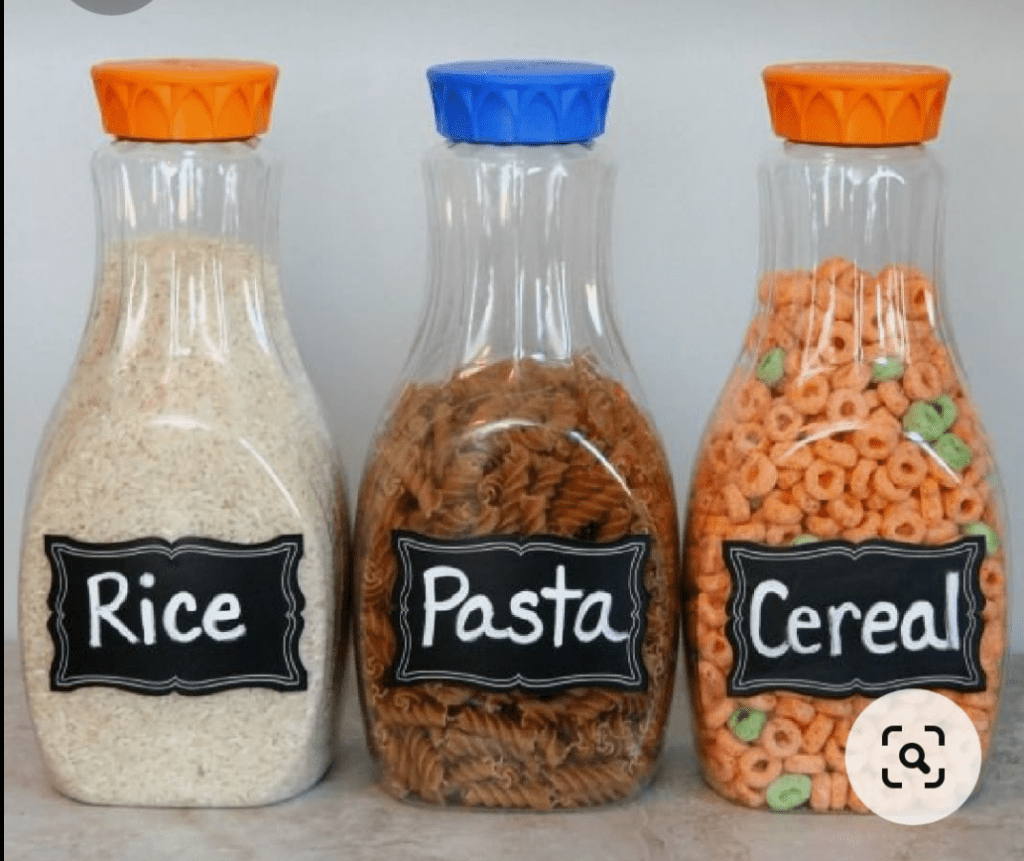 Bread Tags as Clothespins
If you're looking for a way to hang up your clothes without traditional clothespins, try using bread tags! They work great and you probably have a bunch of them lying around the house already.
DIY Jug Lantern
One neat hack that I've seen is using a jug of water as a headlamp. All you need is a clear jug of water, a headlamp (preferably one with a red light setting), and some tape. Simply attach the headlamp to the outside of the jug, pointing in, and voila! You've got yourself a makeshift headlamp that will help you see in the dark without waking up your entire campsite.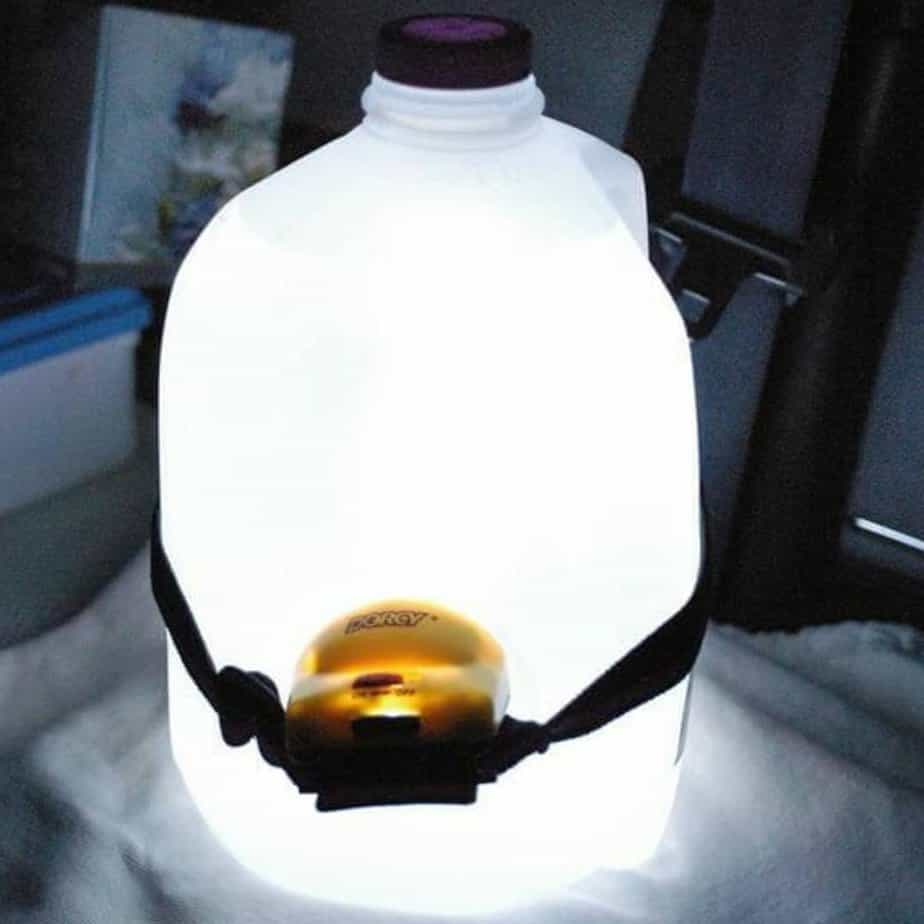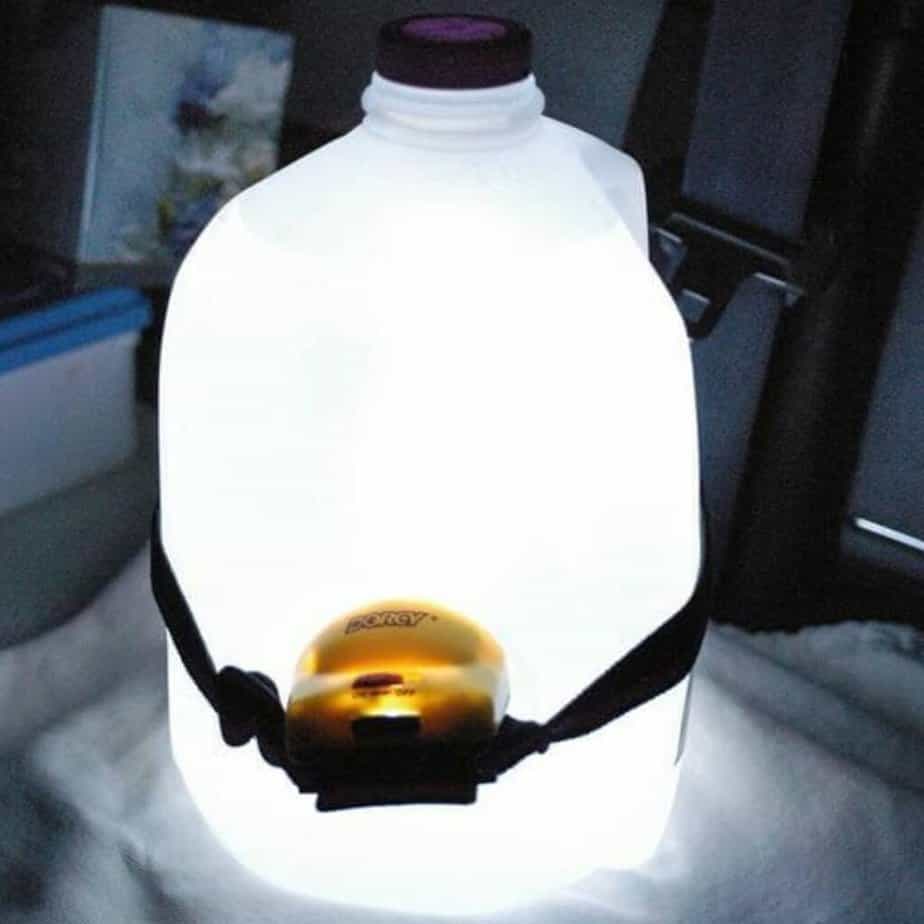 Burn Sage to Repel Mosquitos
This is an oldie but a goodie. If you're worried about mosquitos, try burning some sage. The smoke from the sage helps repel mosquitos and can keep them away from your campsite.
Grab a Hanging Jewlery/Shoe Organizer for Camp Organization
Most people don't hang out at their tent all day, but instead have a sunshade/netted area away from the tent so there's more space and less trip hazards (you wouldn't BELIEVE the amount of times I have somehow still managed to trip over tent lines though!). To make relaxing easier, grab one of these types of organizers so you can easily see everything you might need throughout the day – and take less trips back to the tent to get things.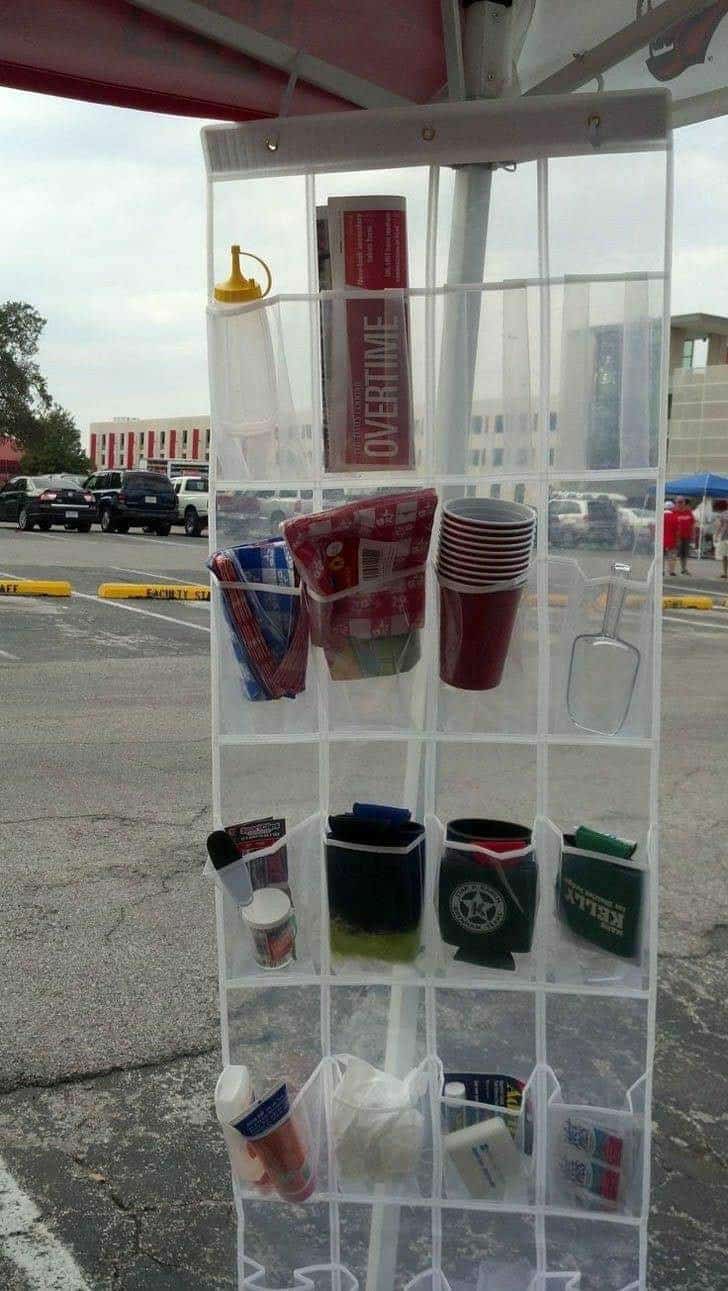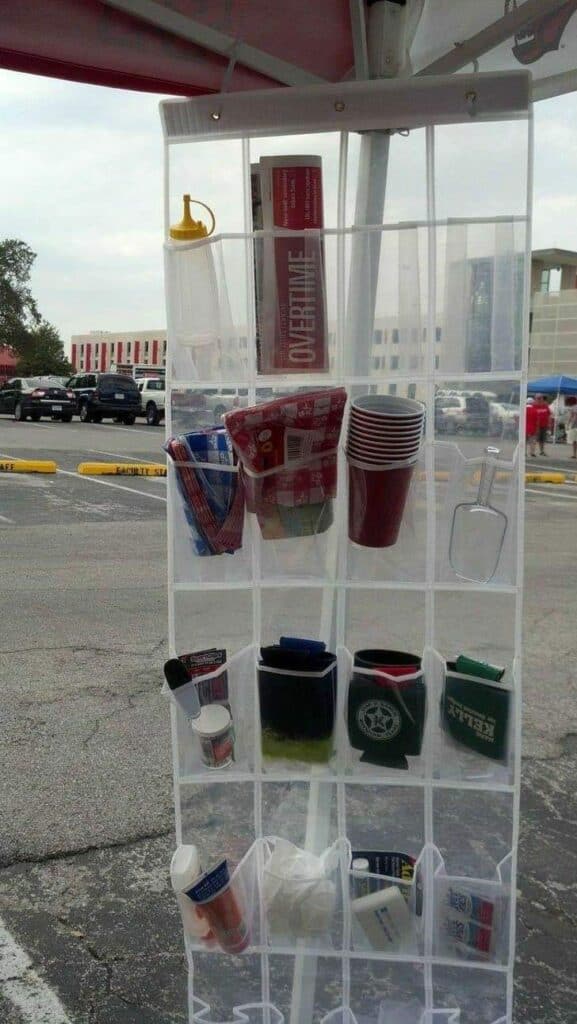 Use Doritos for Kindling
If you're having trouble getting your fire started, try using Doritos! The chips are full of oil and fat, which makes them great for starting a fire. Just make sure you don't eat them all before you get the fire going!
Crack and Store Eggs Before the Trip
If you're planning on making breakfast while camping, crack and store your eggs before you leave. This will save you time and hassle when you're trying to cook over a campfire.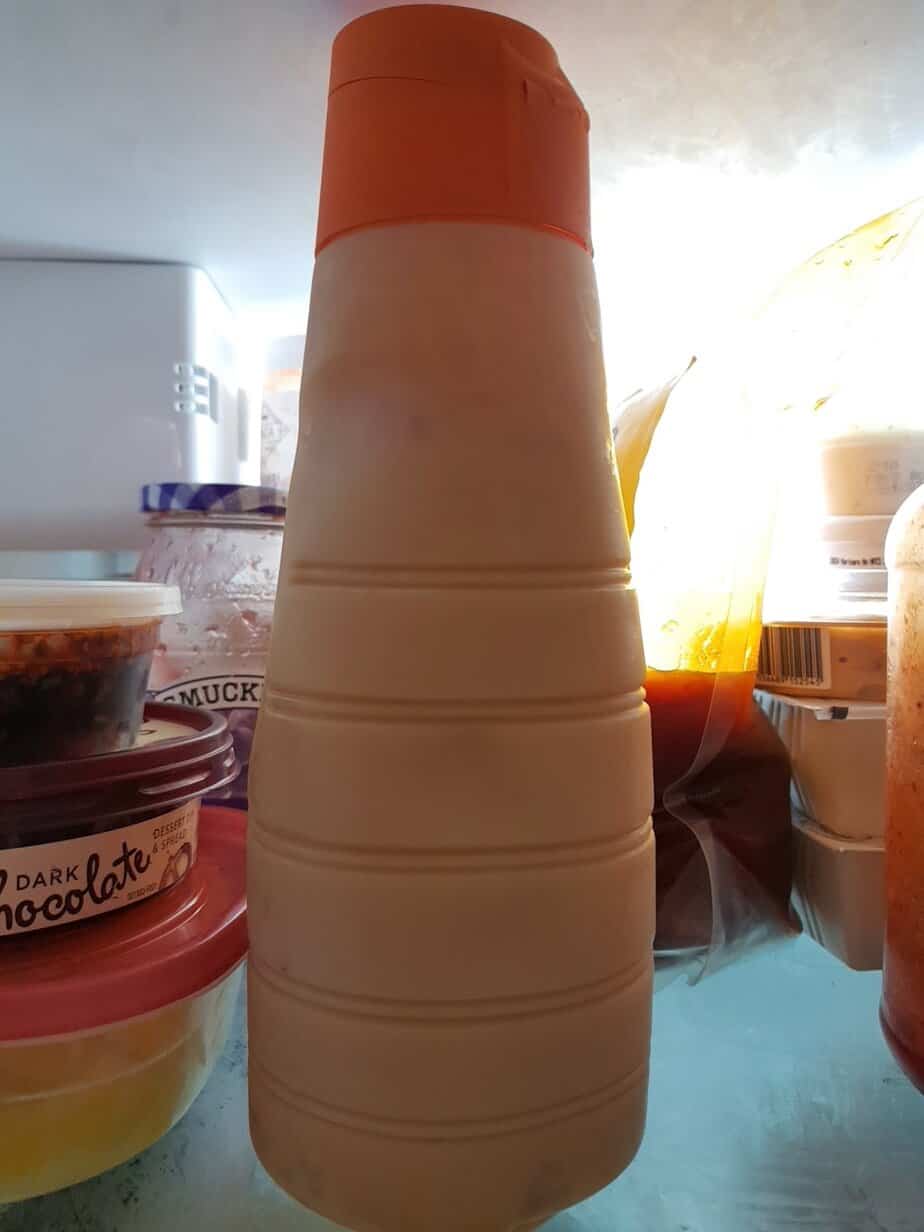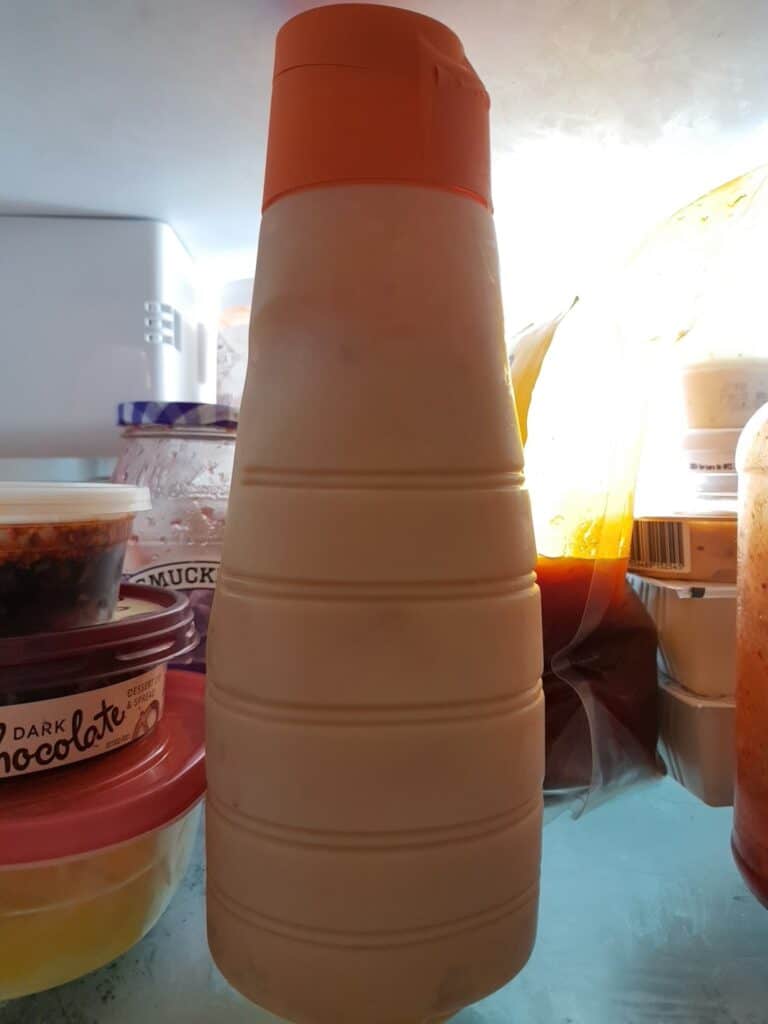 Use a Hot Water Bottle to Keep Warm in Your Sleeping Bag
If you're worried about being cold at night, try using a hot water bottle. Just fill it up with hot water before you go to bed and tuck it into your sleeping bag. It will help keep you warm all night long.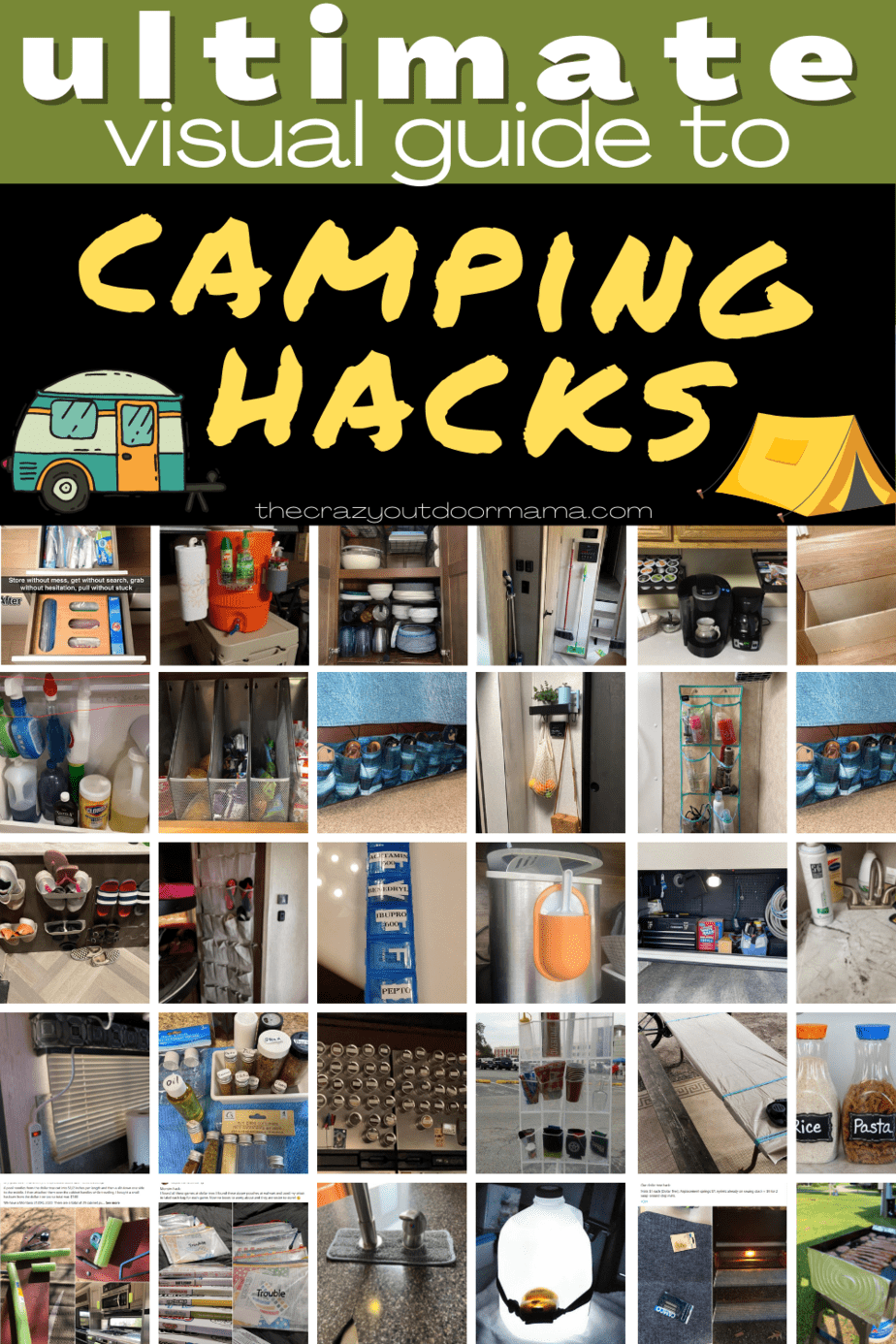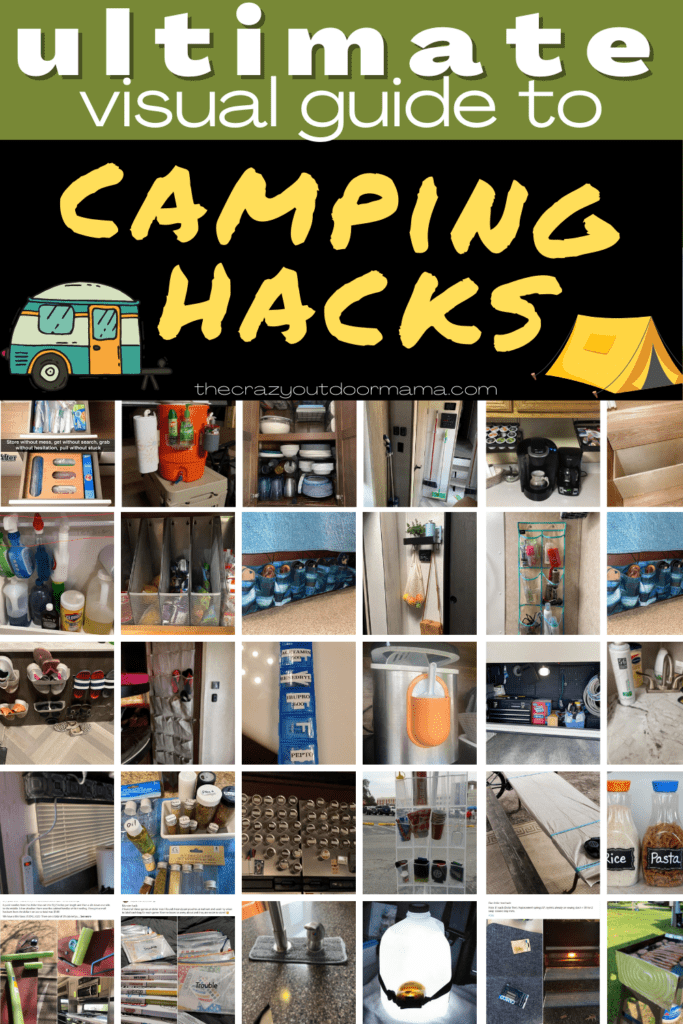 Latest posts by Stacy Bressler
(see all)