If you love camping but are just about done with having to make an eight point turn just to get into your RV bathroom because of all the stuff everywhere… then I hope some of these ideas to organize that RV bathroom will help you!
I am quite a bit smaller than my husband, but even I used to find myself frustrated with barely being able to fit in our bathroom! Not only was it small, but we had to have our stuff PLUS our three kids belongings all stuffed into that tiny thing as well!
The good news is that many of these solutions can be bought from the dollar store if you're trying to save some money! There are of course some pretty handy (and more attractive!) gadgets on Amazon but I don't want you to think that you have to set aside some money for a little organization inside your camper bathroom!
Now with that said, let's jump into some quick actionable tips you can do to transform your RV bathroom!
P.S. if you're here for that handy checklist, it's at the end of this article!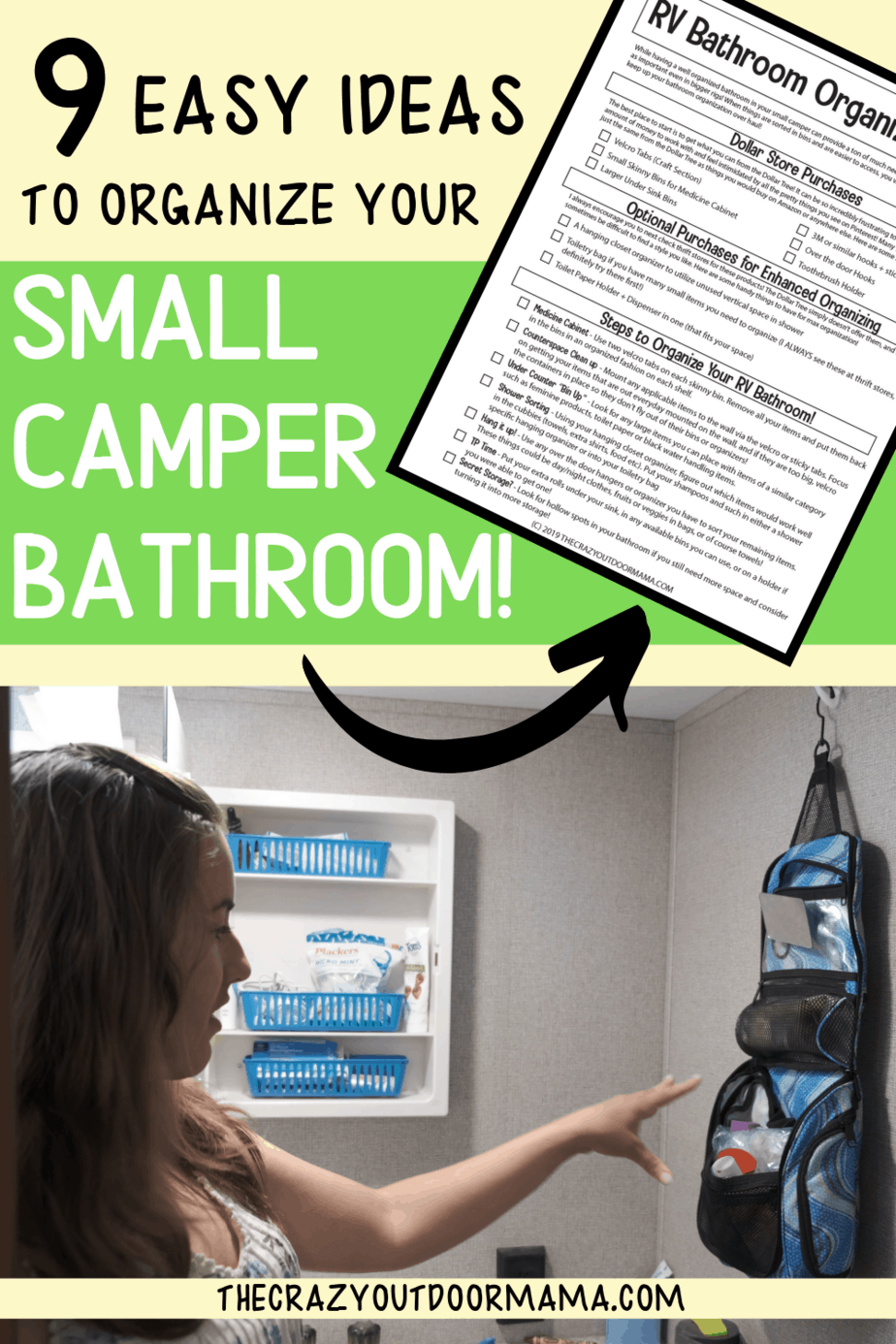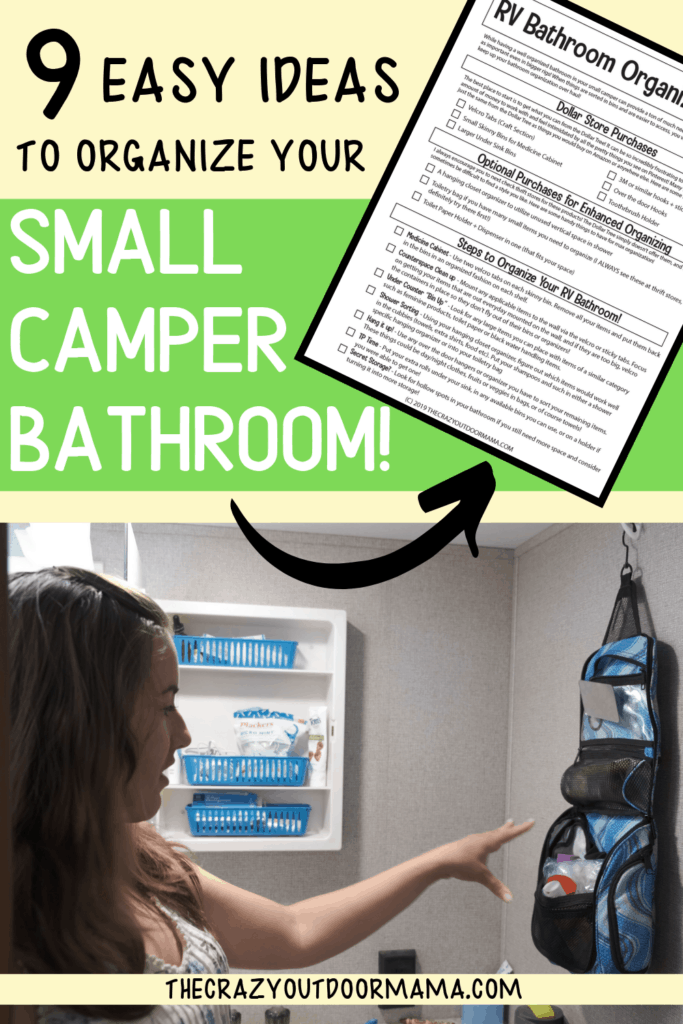 Organize your RV medicine cabinet

(and keep it secure!)
Do all your medicines and things come flying out when you open your cabinet? Is it a jumbled mess whenever you park and you have to spend time to reorganize it? Well guess what – this tip cost two dollars (well, tax I guess too!)
We use some skinny plastic bins from the dollar store with the dot style velcros at the bottom of the shelves to ensure everything stays in place while we travel!
Not only does this keep things grouped together and organized, but it also prevents things from possibly breaking or spilling!
With three kids that are three and under, we DEFINITELY are always stocked with children's Tylenol.. and I can't tell you the number of times I was so frustrated because the bottles would tip and not only would there be a sticky mess everywhere, but we'd be out of Tylenol (NOO!)
We knew we had to get some simple organization in place, and this was the result!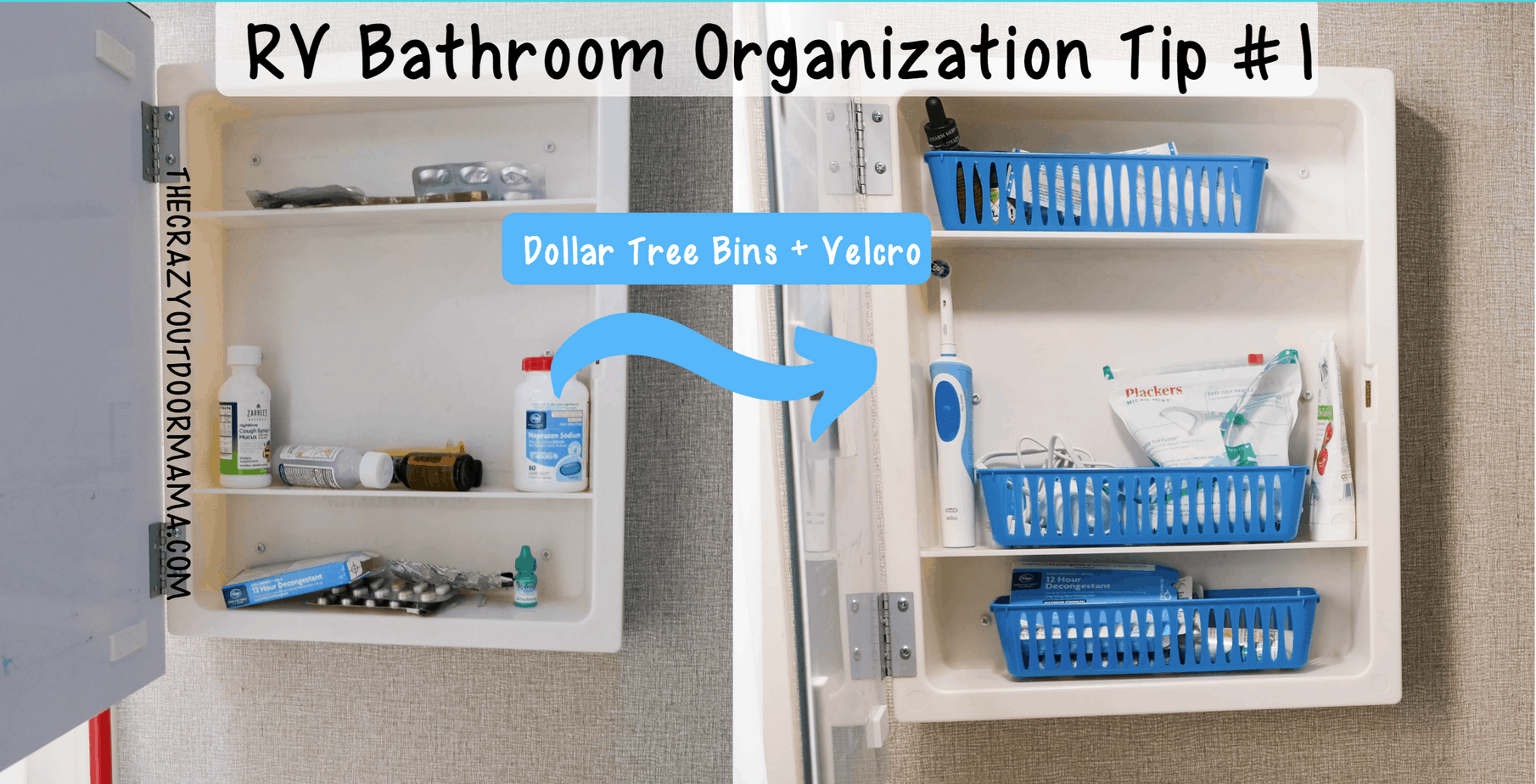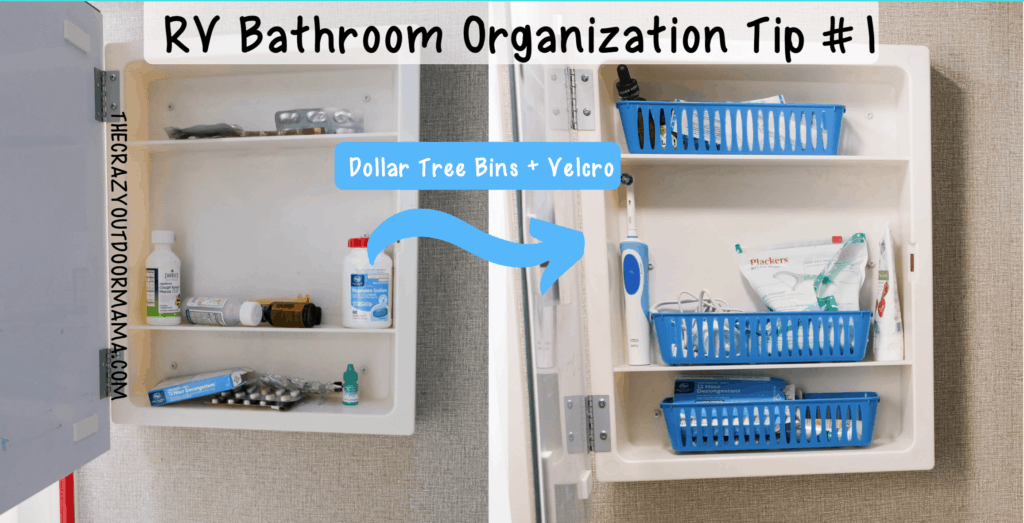 Utilize your RV shower area (especially if you hardly ever use it!)
Our camper tub has been many things – firewood storage, overflow food storage, trashbag holder, kids toy box… but only about once or twice an actual shower!
If we are gone long enough that we need to shower, we tend to use that as an excuse to go into town, get a hotel room (and take an AMAZING hot 45 minute shower!) and just generally unwind!
Ours ended up just being a pile of stuff that was a major pain in the butt to look through!
That's why we ended up settling on getting a hanging organizer!
This solution would leave room at the bottom of the tub for the heavy clunky stuff (such as our firewood or big kids toys) but we could use handy fabric bins to sort and easily access all the other junk that was stored in the tub!
There are a ton of styles of hanging organizers, so it's important to choose one that will best suit your needs (do you need a large one for towels and things, smaller one for extra shoes or clothes etc)
This hanging organizer is pretty close to what we have!

Keep all your shower needs in an organizer that actually ROLLS UP when not needed!
While not needed if you don't use the shower often in your camper, it could really be great if you do utilize it!
Unlike most shower organizers, this handy one doesn't need to suction to anything and best off, it will roll up when you're done with it! That means no more fear of big bumps knocking over all your nice hair products and bursting them on the floor!
Not only that, but this makes it nice and easy to bring all your hygiene items to the hotel or campground showers!
Mount your countertop items so that you keep any precious bathroom counter space!
It's pretty common to keep things like toothbrushes out at all times, but with such a small amount of counter space available in most small travel trailers, I find it a much better idea to mount them!
And if you don't want to spend money on a set up like this, I HIGHLY recommend you either store those sorts of things while moving, or velcro your current countertop organizer in place!
Who the heck wants to use a toothbrush that fell on the floor? Or even worse, the one that fell into the toilet after a particularly bad bump!
"Bin Up" any undersink storage areas in your camper
So if you can't tell, I'm a big fan of bins! I think it really helps sort things out and make everything easier to access!
The added bonus though of using them in your camper is that they can be SECURED with a little velcro so all your stuff isn't a mess when you arrive!
Now this is one that will vary a bit RV to RV… but if you have any under sink storage area without any doors, then it's even more important to lock down what you have stored there!
We used some bins with a couple of spots of velcro to hold ours! This area tends to store the bigger stuff that is hygiene related such as feminine products, extra soaps and toilet paper.
For my readers with bigger campers (and hopefully bigger sink areas!) this adjustable undersink organizer might be AMAZING for you!
And if you're like me with a puny wierd shaped under sink area in your travel trailer.. well stick with your trusty small plastic bins!

Store your extra TP and currently in use toilet paper all in once place (while still looking good!)
Campers require a special kind of toilet paper that breaks down a bit easier than the traditional type, so you don't want to be caught in the middle of nowhere with no extra toilet paper!
That's why I love this cute fabric sling toilet paper holder and dispenser – it can carry a couple of extra rolls and even has a sturdy frame!
Store all your really small bathroom items in a toiletry bag!
This might be an unpopular opinion, but I've never been a fan of those massive clear plastic organizers that hang on the back for your bathroom door and show every single little thing you own! It's alot going on, and I just hate to imagine any big bump knocking all that stuff out!
Instead, I opt to use a toiletry bag!
Nearly all of them zip up for transport and can be unzipped and hung on a hook when you arrive at camp!
I also really like it because since it contains items like my toothpaste, floss, travel shampoo and such, I am able to take it with me to any hotel room we happen to go or even to the campground shower if I choose!
I got mine a LONG time ago as a gift but if I ever upgrade I think I'd buy this hanging organizer (a special flap that allows you to air dry your toothbrushes conveniently AND it includes travel size bottles for you to use? Yesssss!)

Utilize the back of your camper bathroom door!
No space should be left unused when it comes to making tiny bathrooms work! I love having some handy over the door hooks to hang our daytime and nighttime clothes as well as to hang dry any towels we used during the day.
I also sometimes even use them as overflow storage for fruits and veggies – I just poke a hole in whatever bag they're in! If they didn't come in a plastic bag, then I have my reusable bag I can hang as well to store all of our extra fruit! My kiddos eat a ton of fruit, so it's nice not to fill up our one tiny pantry with all of it!
Here is a basic multi hook rack that hangs on the door like ours!
And guys… after clicking around, I found some pretty darn cool ones that might meet your needs!
Last but not least… look for any "hidden" storage compartments you can create!
You guys wouldn't BELIEVE the amount of hollow space there is in a camper! Now, maybe it's just because we bought a pretty darn cheap one and the space wasn't utilized right but…
We've found and created four storage compartments in our camper!
If you're handy with tools, you might just be able to knock around for hollow spots and find some yourself!
My husband simply unscrewed the panel, put magnets on both sides (one set on the panel he cut, one set on the part attached to the frame… see the picture!) and left the screws partly out so that we could easily access them!

Ready to organize your RV bathroom now? Download your checklist and guide!
You wouldn't think that such a small room would need so much organization, but it really is the key to maximizing your available space!
I created this quick guide to keep you on track if you decide to tackle your RV bathroom… it can be overwhelming! I find having something physical that I can mark off as I go really helps to keep me motivated!
Don't worry – yours won't have that big watermark!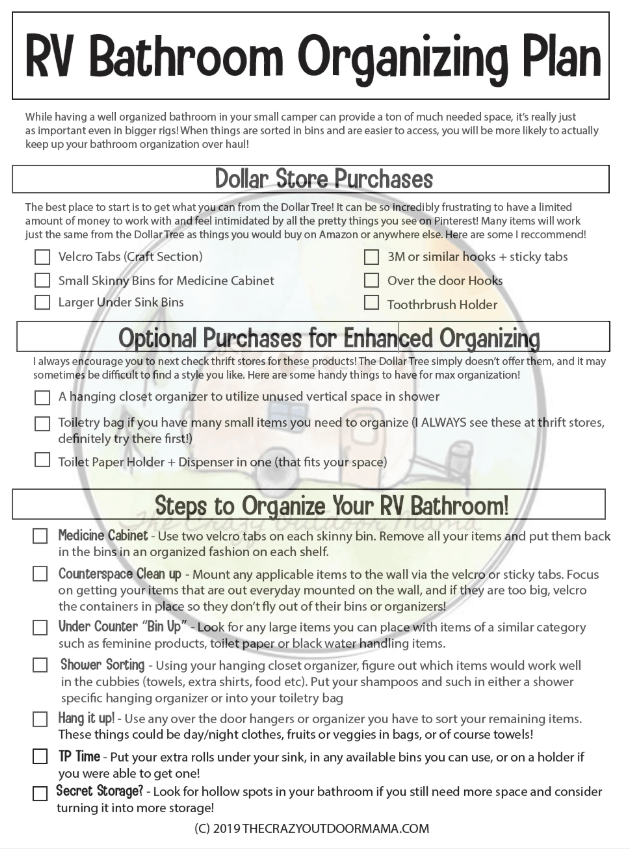 Other RV articles that will help you!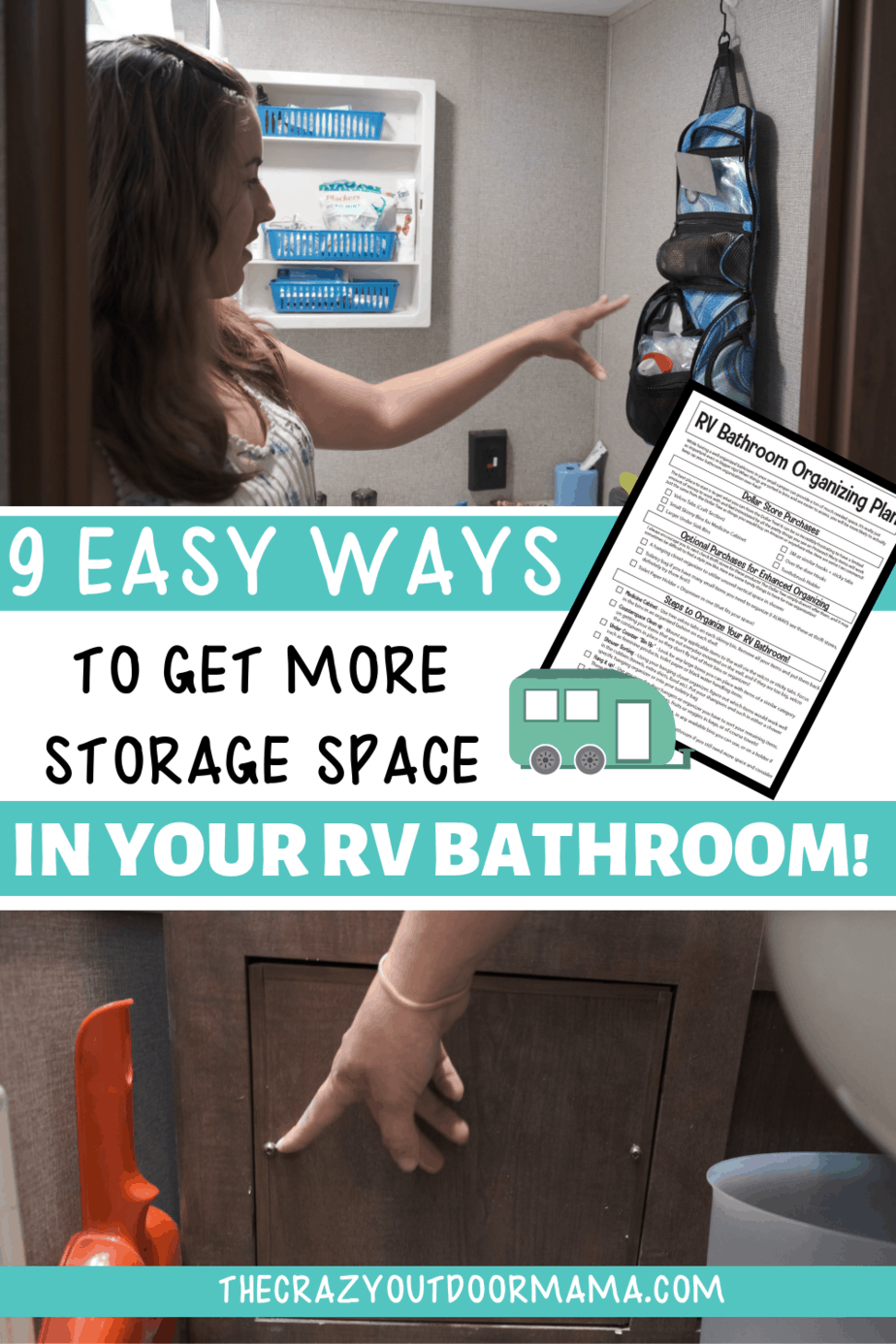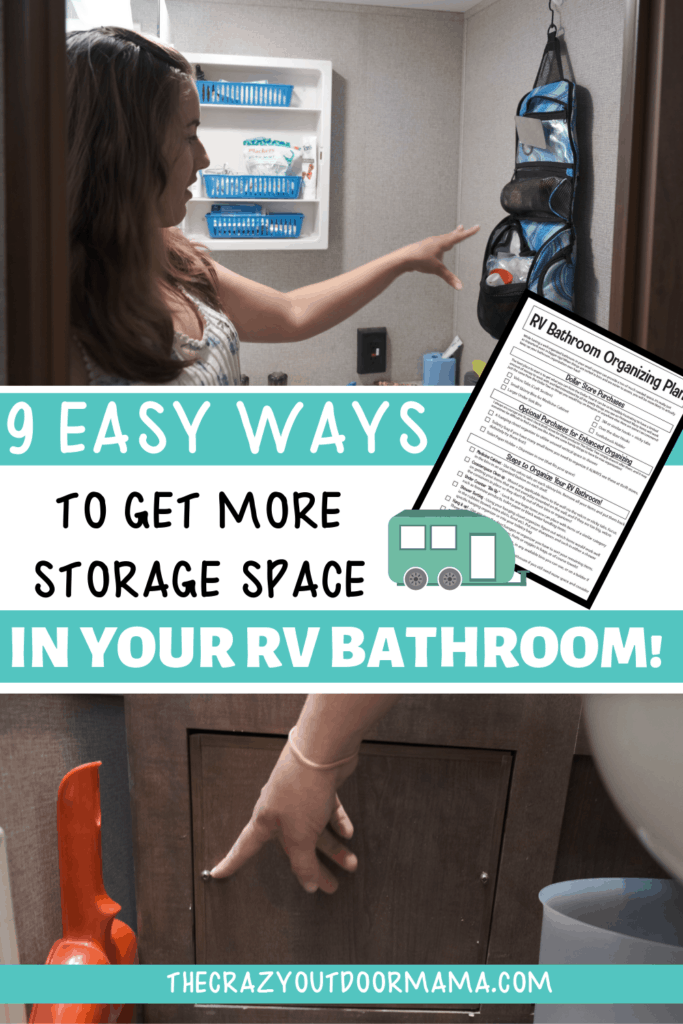 Latest posts by Stacy Bressler
(see all)