Products Updated: April 2022
The best RV backup camera can save you a mountain of headaches! No one wants to start their camping trip by backing into a poor old oak tree at the edge of your campsite.
Why risk causing thousands of dollars of damage when you could just get a simple RV backup camera? A rear view camera will make it waaaay easier to park your rig without risking damage so you can start relaxing by the fire sooner!
But trailer backup cameras come in all different varieties (CCD vs CMOS sensor, wired vs wireless, license plate vs bumper mount, etc.) and it can be confusing to decide which is the right pick for your RV. I want to make it easier for you to decide.
So let's have a quick look at some of the best RV backup camera systems you can get in 2022 and some things you should keep in mind before buying. And don't miss the RV backup camera FAQ at the end to help answer any extra questions you might have.
Are you ready to not back into things anymore? Yes!
Let's get started!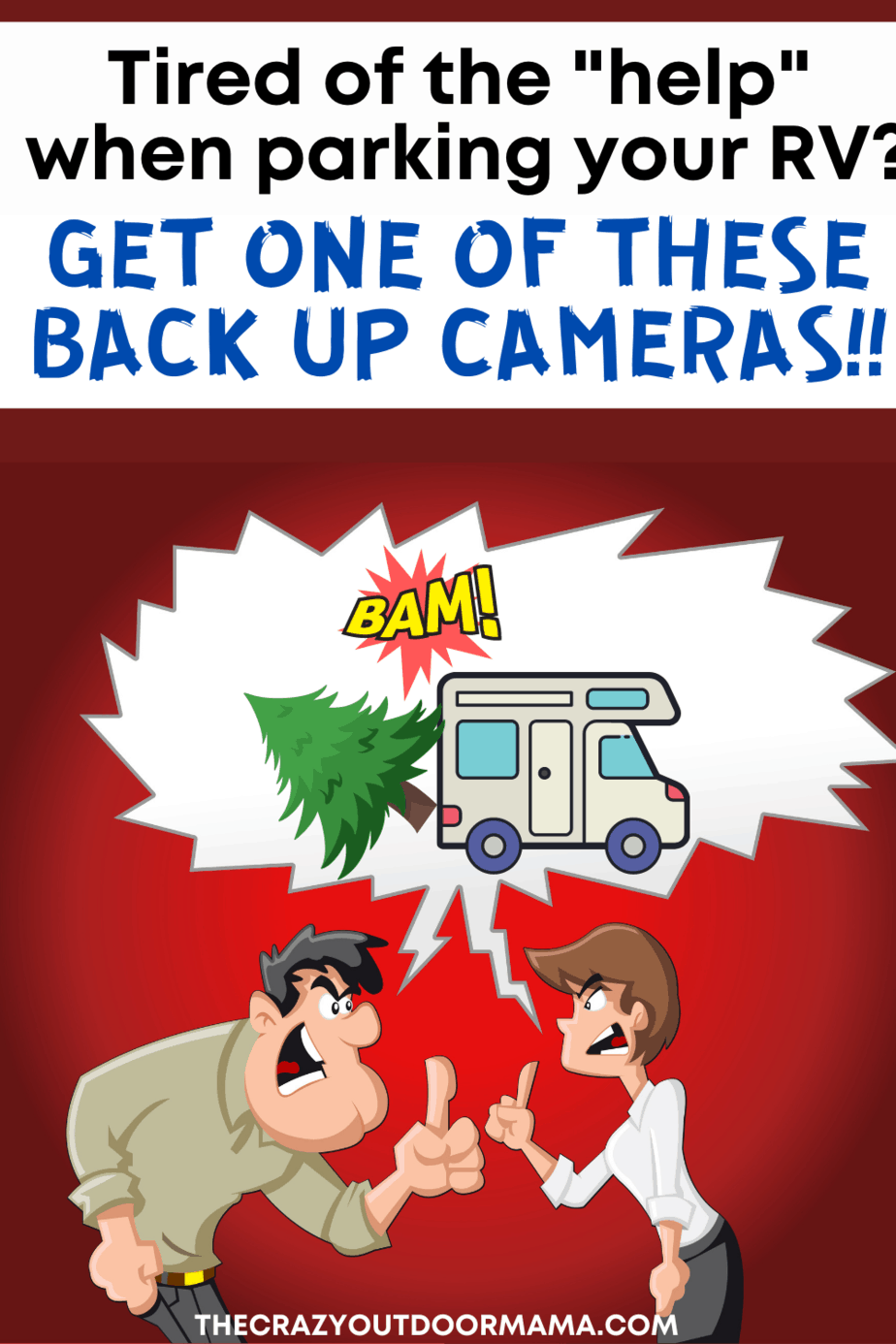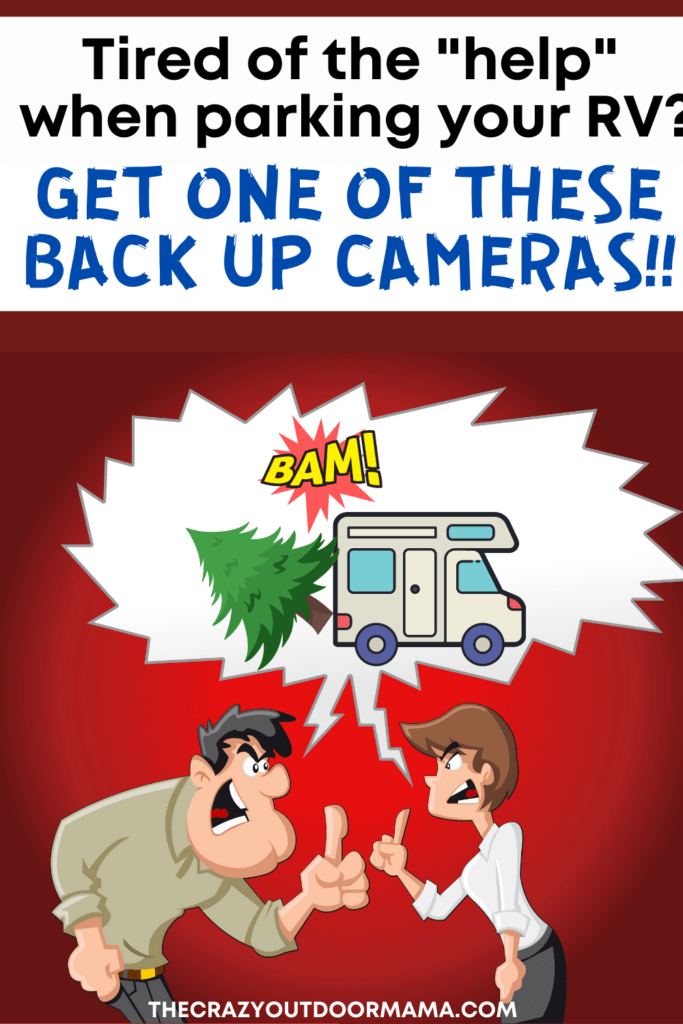 Why You Should Use an RV Backup Camera
So, do you really need a backup camera?
The short answer… NO.
You can head to the campground and probably park your RV just fine without a backup camera system… I mean, people have been doing it for many years.
But people have also been backing into trees, gas pumps, other RVs, or worse for many years. And with an RV backup camera system no longer being a luxury item, it's definitely a sensible purchase.
Your RV backup camera will make it way easier to…
Get Into Tight Campsites: That means no more heated debates with your significant other after you somehow backed into a poor old oak tree as they were helping guide you into your campsite.
"Why didn't you warn me about the tree?!! You were supposed to be directing me!!"
"I DID. I said to turn right."
"But I did turn right"
"No, I meant… turn the WHEEL right, obviously. There's a big tree here… why would I tell you to turn the whole thing right into the tree?!!"
Save your marriage. Save your sanity. Buy a backup camera.
Avoid Accidents and Keep Your Family Safe: Each year, more than 200 people are killed and 12,000 injured because of "backover" crashes. That's why all new vehicles in the US need to have a backup camera system as a standard feature.
It's hard enough to see someone behind you when backing up in a normal-sized vehicle, let alone in a 40-foot class-A motorhome.
A backup camera system is a must-have for helping keep your family safe.
Keep an Eye on Your Rig While On the Road: While RV backup cameras are a huge help while backing into a campsite or parking spot, they also come in handy while on the open road. Some of the options on my list of the best backup cameras have multiple cameras you can mount in various places around the outside of your rig.
They'll help you check your sides before merging and changing lanes. On long trips, you can also keep a better eye on your rig while on the road to make sure it's ok without having to stop, get out, and look around.
Quick Top Choices for the Best RV Backup Cameras of 2022
If you don't need to read through the backup camera buyer's guide and just want my top picks… here they are!
Pros
Strong wireless signal for good image quality on most RVs
Easy install
Doubles as a security system for your RV
Large 7-inch touchscreen monitor
Good low-light viewing
Cons
Still may experience some signal loss on longer RVs, toy haulers, and airstreams
A bit pricey
The Furrion Vision S 4-Camera system is the most expensive option on my list but let's face it… it is the premium option. I mean, look at what you're getting.
You're not just getting a single boring backup camera. You're getting a 4-camera system that gives you virtually a 360-degree view around your RV.
This is great for eliminating blind spots while driving and maneuvering, but it also helps this system double as a security camera system for your camper. When your camper is stationary, the monitor will automatically turn on when the cameras detect motion.
This is nice for checking on what furry creatures are curiously inspecting your rig or who has been sneaking in at midnight to steal your cookies!
The install is super easy since many RVs come pre-equipped with places to mount the Furrion cameras. And it's super easy to just pull out your RV's existing marker lights and replace them with the camera+marker light combos.
And of all the wireless backup cameras out there, with its reliable 2.4 GHz wireless technology, this one seems to have some of the best signal transmission so you don't have to worry as much about losing your video feed or running extra wires.
If you're seriously concerned about security and safety, you should seriously consider the Furion S wireless backup camera system.
CHECK THE CURRENT PRICE.
But what if you'd prefer a system that was a bit more budget-friendly?
Pros
Cheap price
Wide 130-degree viewing angle
IP69 Waterproof Rating
Relatively small and discreet camera
Two different monitor mounts
Remote control
Infrared night vision
Cons
Picture isn't as clear as the nicer options
If you're on a budget and just want a basic RV backup camera that helps you avoid large obstacles when in reverse, the Dallux Backup Camera Kit is a solid choice.
You get the reliable picture of a wired RV backup camera connection along with the surprisingly large 7-inch monitor. It even comes with a remote control so if you have to mount the monitor up high, you can still control it from your seat.
The rearview camera mounting bracket is versatile and lets you mount the camera just about anywhere. Plus, it does have somewhat of a "night vision" mode with 18 infrared LED lights but it doesn't work as well as some of the nicer models.
Regardless of its downsides, if you're just looking for a basic camera and monitor, this one will do the trick.
CHECK THE CURRENT PRICE.
Pros
Reasonable price
You can add up to three cameras
Large 7-inch screen
Infrared night vision
Guidelines
Microphone
Vibration and shock protection
Cons
Installation can be challenging since it's a wired setup
The Rear View Safety brand makes a variety of backup camera systems, both wired and wireless. This wired system with a 7-inch display is a decent mid-range system that'll work for most campers.
Since it's not a wireless backup camera and the video cable is quite thick, the installation might be a bit of a challenge. But once installed, it works really well.
The picture is decently clear and it even has the guidelines on the screen as a reference to see how much room you have behind you.
If you're parking in complete darkness, the 18 infrared lights and night vision mode will help you see where you're going.
And even if your partner still insists on getting out and guiding you while in reverse, the camera has a microphone so you can hear what they're saying through the monitor's speakers. (You can also turn the volume down if you don't need their help because the only reason you got a backup camera was so you didn't have to listen to someone telling you how to drive. LOL!)
So if you'd prefer not to go with the cheapest of the cheap but can't shell out the big bucks for a Furion backup camera, I would highly suggest this Rear View Safety RV backup camera system.
CHECK OUT THE CURRENT PRICE.
So now that you've seen my top picks, let's have a look at a few things you should consider before choosing which backup camera to get for your trailer or motorhome.
Types of RV Backup Cameras
We can put most trailer backup cameras into one of two categories, wired or wireless.
Wired vs Wireless Backup Cameras – Which is Better?
That's kind of like asking: Which is better – a fork or a spoon? Each has its advantages and disadvantages. It's up to you to decide which is best for your circumstances.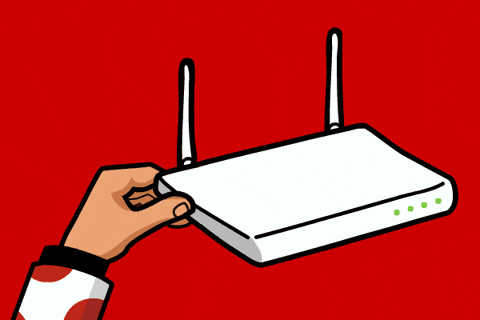 Wired Backup Cameras Pros and Cons
Pros
Better image quality
Stable picture that won't cut out right when you need it the most
Best for long rigs
Little to fuss with once it's installed
Cons
Harder and more time consuming to install
Wireless Backup Cameras Pros and Cons
Pros
Easier to install
Easier to use when pulling a trailer since you don't have to worry about running wires from the trailer to your vehicle
Can be easily transferred from one rig to another
Cons
Less reliable image quality and stability (especially with longer RVs)
Not a good choice for RVs with a lot of metal reinforcement like Airstreams or toy haulers.
*IMPORTANT! Don't be disappointed when you open the box to your wireless backup camera and notice a bunch of wires. Even a wireless backup camera needs a wired connection to your RV's DC power.
If you don't mind spending a little extra time (and money if you hire someone), a wired backup camera system is the way to go. It'll provide the best quality and most reliable image long term.
And since you'll already have to run a few wires to connect to your RV's power, you might as well run a few more to get a better quality and more stable image.
I'll be sure to include several different wired and wireless options in my list of the best RV backup cameras.
But what other things should you keep in mind when buying?
Trailer Backup Camera Buying Guide
Camera Video Quality
As you're looking for a backup camera system, look for a camera with a minimum resolution of around 800×400. But remember that resolution isn't everything. You should also look for cameras that work well in low-light conditions.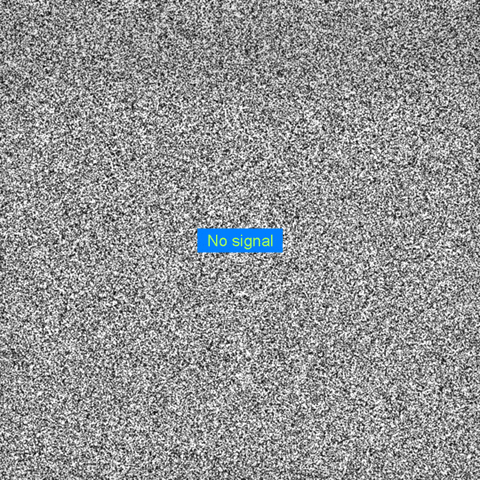 Monitor Quality and Size
This is one of the biggest things that'll make your new backup camera system easy to use. I would really suggest going with a 5 to 7-inch monitor.
If you have a big rig with a huge dashboard, then it's best to go with a 7-inch monitor since the monitor will likely be farther away from your position in the driver's seat.
If you have a smaller rig and/or can mount the monitor closer to the driver's seat, then you could opt for something a little smaller.
If you're planning on installing multiple cameras around your RV, then it's smart to go with the bigger monitor so it's easier to see all the camera views at once on a single split-screen
Ease of Install and Mounting Options
Before purchasing an RV backup camera, it's a good idea to have a look at your RV and plan where you'll mount it and where you'll have to run the wires (if you go with a wired camera).
That can give you a better idea of which style you'd like to get. However, many of the newer ones can be mounted in a variety of places like your bumper, license plate, or back of the RV.
Backup Camera Field of View
The field of view is the width of the rearview camera's viewing angle. A wider field of view will show a wider area behind your RV but may have somewhat of a distorted image. (Kind of like a fisheye camera lens.)
A field of view of at least 90 degrees is standard, but you should opt for a camera with at least a 120-130 degree field of view for best results.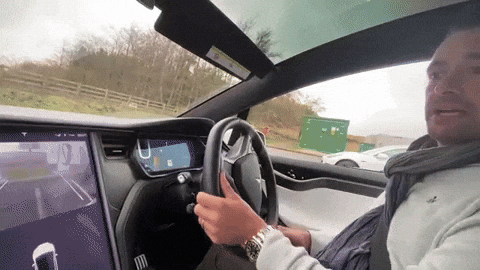 Backup Camera Price – Will I Have to Take Out a 2nd Mortgage?
Don't worry, a new RV backup camera (even a wireless one) isn't going to eat into your kids' college funds.
They've come down in price a lot in recent years and are no longer a luxury item. You could even add one to your riding mower! 🤪
Most backup camera systems fall in the $100-$600 range, with most being right around $200-$300.
CCD or CMOS Backup Camera Sensor?
The short answer… CCD.
CMOS camera sensors have their applications, but when it comes to cameras like backup cameras and security cameras with a wired power source, CCD sensors are the best choice.
This is especially true in low-light conditions. You know… when you took the wrong turn about 100 miles back and are now pulling into your campsite at night. A rearview camera with a CCD sensor will provide a better image with less noise (grain) in low-light conditions like that.
*Tip! Look for a rearview camera with infrared lights. These will give you "night vision" so you can see several feet behind your trailer even in pitch black!
4 More of the Top RV Backup Cameras
If you'd like to weigh some more options, here are a few more popular trailer backup cameras to choose from.
Another budget-friendly option for short RVs
Pros
Impressive features for the price
Can even record to an SD card
Guidelines on the camera
Cons
Works best for shorter trailers and RVs.
With a 1080p camera, a large 7-inch screen, and the ability to add a 2nd camera, this is a budget-friendly option packed full of features.
But remember, it is a wireless system so it will have its limitations. Don't think you can plop this on the end of your 40-foot toy hauler and get continuous crystal clear image quality. This is best for shorter trailers and motorhomes.
CHECK THE CURRENT PRICE.
A simple Furrion camera system that's closer to a mid-range price
Pros
Trusted Furrion quality
Ability to add more cameras in the future if needed
Easy install on most RVs
Microphone
Stable signal up to 50 feet even at highway speeds
Cons
The smaller monitor may be harder to see especially if you get more cameras down the road
If you're interested in the Furrion wireless backup camera systems but aren't ready to start with the big 4-camera setup, this single-camera kit with a monitor is a good place to start.
Then in the future, if you'd like to add extra cameras from the Furrion Vision S line you can do that to expand the safety and security of your RV.
CHECK THE CURRENT PRICE.
Small package with a big value
Pros
Easy to use for hitching up your trailer or parking your RV
Completely wireless (the camera runs on batteries)
Decent resolution
Cons
Since it's battery-powered, it's not for leaving on your camper all the time
If you'd rather not deal with running and connecting wires, even if it's just for powering your backup camera, and you only need a rear view of your camper for just a few seconds when parking, the Rear View Safety Magnetic Hitch camera is for you.
This is the only camera on my list that is truly wireless. The camera runs on a 9-volt battery and the 3.5-inch monitor just plugs into the 12V power port.
When it's time to put your RV in reverse, just pop the magnetic camera on the back of your RV, plug the monitor into the 12V power port, and you're ready to go! No wires/screws/tearing apart your camper needed.
And of course, it works great for hitching up your trailer.
CHECK THE CURRENT PRICE.
Easy connections to your trailer or fifth wheel
Pros
Eliminates some of the hassles of installing wired cameras between your trailer or fifth wheel and truck
Has 18 infrared lights for better night vision
Reliable image
Microphone
Gridlines
Cons
A bit pricey (compared to some of the other wired camera setups)
If you have a travel trailer or fifth wheel, it can be a real headache figuring out the best way to run the wires for your backup camera system, especially if you have multiple cameras.
That's why you'll love this Rear View Safety system with a quick connect kit.
The kit allows you to install up to three cameras on your trailer and combine them into a single coiled cable at the hitch. That means you only have to connect and disconnect a single cable instead of having to manage multiple cables at the hitch.
CHECK THE CURRENT PRICE.
So there you have it, seven of the best RV backup cameras. Regardless of the type of motorhome, trailer, or fifth wheel that you have, you'll be able to find a backup camera that works for you on this list.
RV Rear View Camera FAQs
How do I install my RV or motorhome backup camera?
A lot depends on the type of camera system you get. If it's a wireless backup camera system, you'll just need to find a place to mount the monitor and camera where you'll be able to connect to your RV's power.
If it's a wired system and you have a long RV, the installation will be a little more involved. If you don't want to tackle it yourself, take your RV to either an RV dealer and service shop, or a place that installs vehicle electronics and stereos and they'll probably be able to tackle the job for you.
If you want to try it yourself, here's a helpful video that can show you what you might be in for.
Can I do anything else with my trailer backup camera?
Some backup camera systems come with adapters that let you connect it to a larger monitor or TV (like in the video above). Some will also have microphones so you can hear audio from behind your camper while backing up. And others have motion-sensing capabilities that help your backup system double as a security system.
What about WIFI backup cameras?
If you're rolling in a rig with onboard wifi, you could try a wifi camera. Basically, you just install the camera on the back of your camper, connect it to your wifi network, download the accompanying app on your smartphone, and voilá! You've got a backup camera.
Since most of us already have some kind of dash mount for our phones, this is a nice option if you'd prefer to not install another monitor on your dash. When you're ready to backup, just open the app and view the video feed on your phone.
However, any wireless camera system like that may suffer from interference and poor image quality. And depending on where you're traveling and what type of wifi you have, if the speed is slow, the image quality will suffer.
*Check out tips for getting better wifi in your RV
Ready to Not Back Into Things Anymore?
It's time to get a trailer backup camera and…
Avoid disputes with your partner over which way they told you to turn.
Avoid embarrassing moments of backing into gas pumps, trees, or your neighbor's RV.
And best of all, avoid serious accidents and keep your family safe.
Don't miss my other articles with practical tips (and FREE printables!) that help you have fun as a family while RVing!