Your RV steps take a lot of abuse. When you're at your campsite, your RV steps are the gateway to a warm shower and some much-needed A/C. When you're inside, your RV steps lead you to the great outdoors, that big world beyond, mother nature and all her… (maybe I got a little too dramatic there).
Even without my outdoorsy poetic ramblings, the fact is… your RV steps are a humble, yet important part of your trailer which is why a lot of us add extra RV step covers.
So let's have a fun look at the best RV step covers and rugs (I promise no more dramatically poetic outdoorsy ramblings… maybe).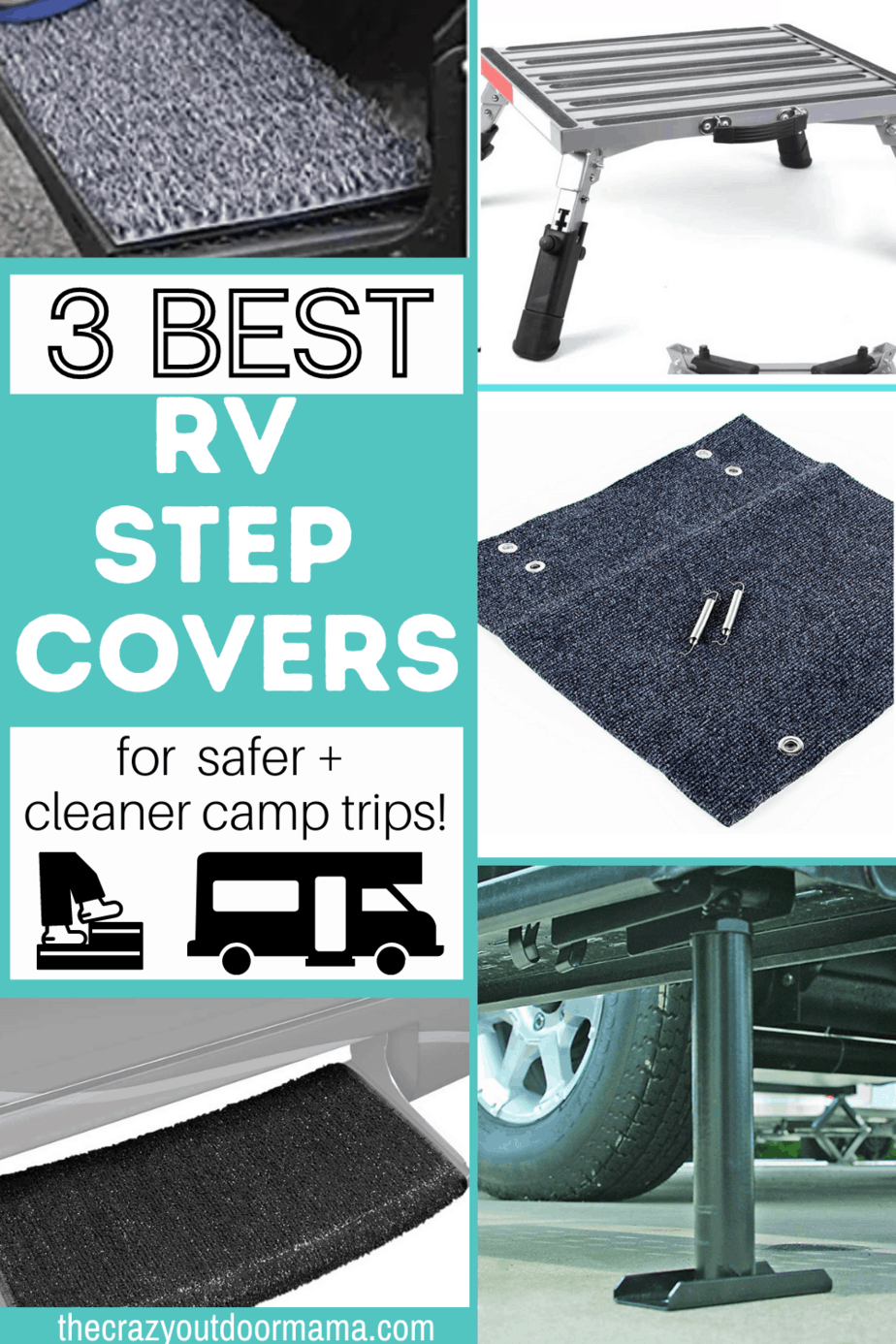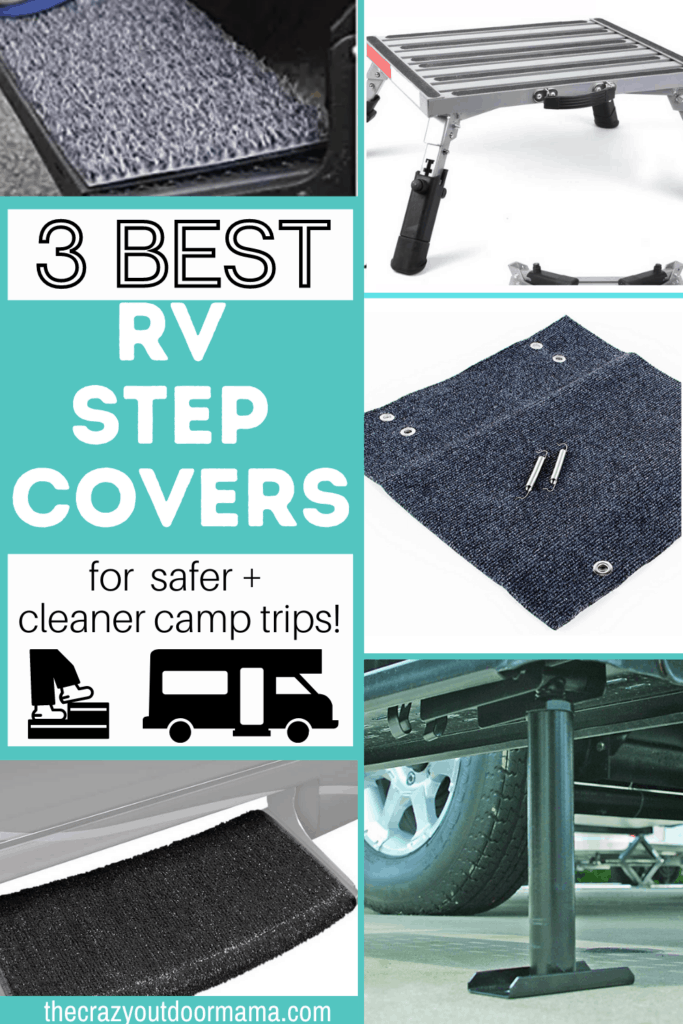 As an Amazon Associate, I earn a small commission from each purchase made through my links.
Why do you need RV step covers anyway?
4 simple reasons…
Safety
A lot of RV steps have just a bare metal textured surface or if you're fortunate, a bit of anti-slip tape. That's all fine and dandy until it starts to wear off or the metal gets wet and slick.
Plus, RV steps are notoriously not the most stable. They can creak and wobble a little – obviously never when I use them, but when anyone heavier steps on them, yes.
Ever try coming out of an RV with an armful of pancake batter, bacon, and a fresh cup of coffee? You're gonna want RV stair covers that you don't have to worry about slipping on.
*Just to remind you about the dangers of slippery steps (or if you just like to watch people fall down)…
Keep your RV clean
RV step covers act like little welcome mats to help keep dirt and debris, sand, pine needles, bear scat, and other outdoor dirtiness where it belongs, outdoors. That'll help save you time later when you're cleaning your RV after the kids forgot to take their shoes off before going inside.
Protect the real steps
The RV step rugs reduce wear and tear on the actual step surface. Years later when you go to resell your RV, just imagine the prospective buyers looking at the shiny, "like-new" steps and thinking… "Ooooh, this RV's been barely used. We need to buy this now!"
Keep your pets happy!
Dogs are all protective and fearless…that is until they have to go up and down metal RV steps. If you have a dog, you know what I mean.
There's something about the texture of some metal steps or the holes that their claws get stuck in that most dogs just hate.
So by getting step covers you're dog can now go in and out of your RV without you having to pick it up and carry it over the steps.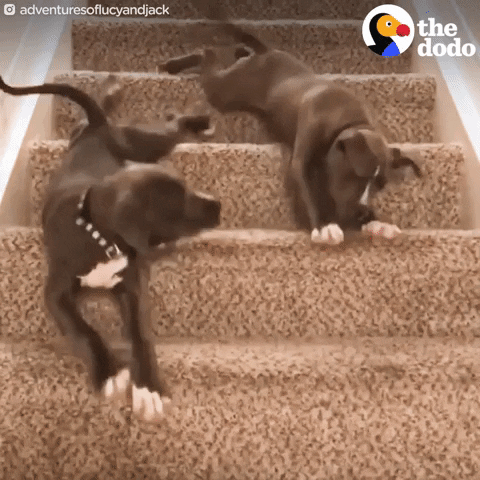 Add a touch of style and comfort
Having the rough, bare metal of your steps covered with a durable rug-like surface gives you the opportunity to add a touch of color to your RV.
Plus, step covers keep your tootsies happy. Now you (and your kids) can take your shoes off outside without having to worry about stepping up those bare metal steps (and not to mention avoid the possibility of your toe getting stuck in one of those small holes – OUCH!)
So, are you convinced that you need a few RV step covers? Not yet? Maybe you need to go back and watch the slippery steps fail video.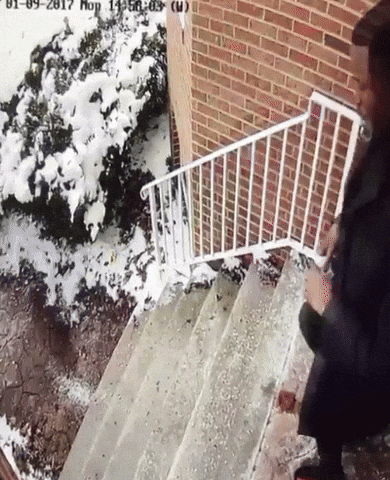 Or you could just keep reading to see the top options for the best RV stair covers and rugs. There's something here for every budget and every RV! Or you can scroll to the end to start with the RV Step Cover Buying Guide to see everything you need to know about RV step covers before buying.
Quick Overview: Top Things to Consider + TOP 3 RV Step Cover Reviews
Size: Make sure they fit your step. It seems like a no-brainer, but RV step covers aren't universal. You should also confirm how much space you have between your steps when folded in the stored position if you want step covers you can leave on all the time. Also, confirm if your RV has straight or curved steps so you can get the appropriate step cover.
Material: Do you want a step rug that's gonna feel soft and cuddly on your tootsies or be rough enough to scrape mud off your boots?
Installation method: While most RV step covers feature similar installation methods, it's still best to confirm that they'll work with your RV steps.
My top 3 picks for the best RV step covers are…
*Keep in mind that my lists aren't in order from best to worst. These are just some of the top picks. You choose which will be the best RV step covers for you and your camper.
Good grip and premium looking colors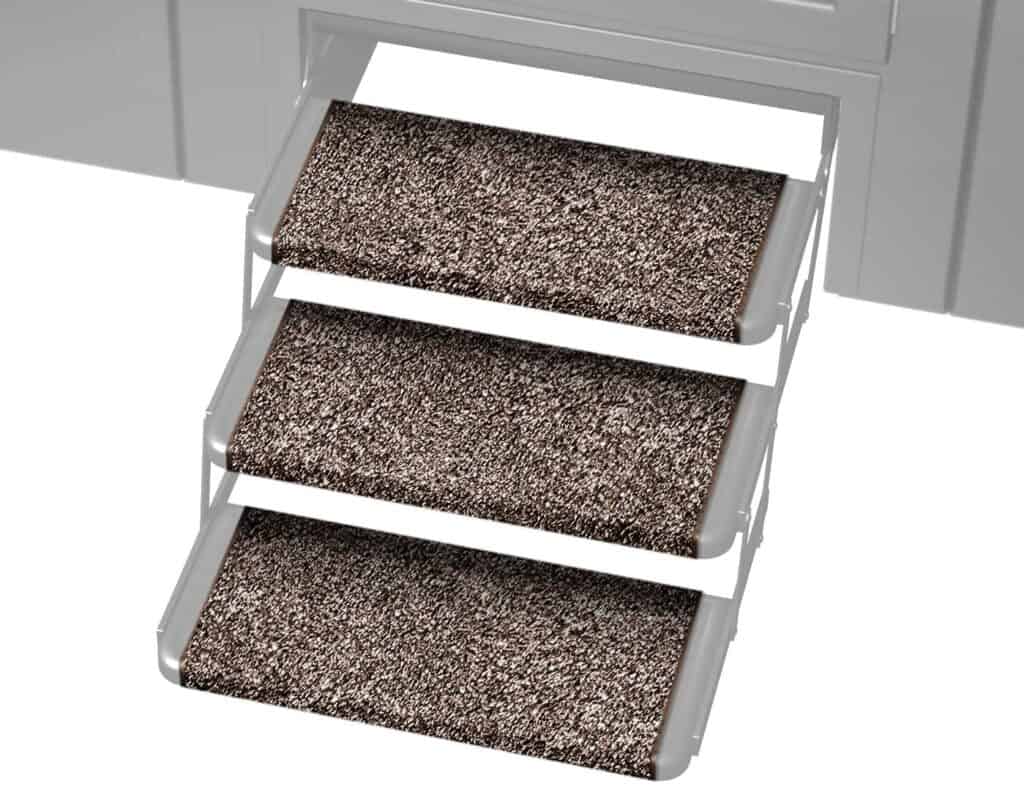 The Good
Excellent grip so they're nice if your steps get wet a lot
Relatively thin so they don't add a lot of thickness to your RV steps
Easy to clean
The So-So
Not the best for super dirty shoes
The Prest-O-Fit Outrigger RV Step Covers have a nice combination of features. Their RV Step Rugs are made with quality outdoor carpet instead of the turf-type carpet that a lot of other step covers use. 
This makes it really nice for stepping on it with your bare feet. (Astro turf doesn't always feel the best on bare tootsies.) And since it's a carpet material, most pets won't mind stepping on it either.
Although these are relatively thin covers, the carpet has ridges running the length of the cover that makes it easier to clean your shoes. However, if you want maximum mud/dirt/bear scat cleaning abilities, you may need to choose an RV step rugs with a more aggressive tread.
Fortunately, these are thin enough that many manual and electric RV steps will fold up just fine with the covers still attached.
Even if you have to remove them while traveling, they're not too difficult to install and remove. They just use the normal spring and grommet installation method that you find on most RV step carpets.
And if you like to have everything all matchy-matchy on your travel trailer, you'll love the five premium colors available that will match most RVs' exteriors.
See more about the Prest-O-Fit Outrigger RV Step Rug 3 pack here.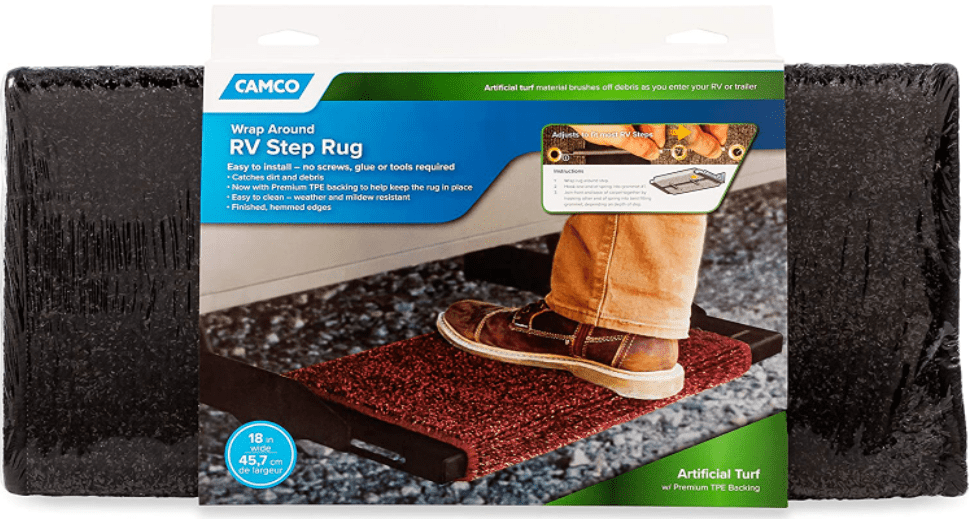 Cushioned cleaning power
The Good
PVC textured material traps a lot (I mean a lot!) of dirt
Has a nice "cushy" feel when you walk on it
Easy to clean, just spray with water
Doesn't stay soggy when wet
The So-So
A bit thick so it may prevent steps from fully folding up
Wouldn't it be nice to have the dirt-trapping power of a turf material with the cushy comfort of outdoor carpet?
You can come pretty close with this Camco Premium Wrap Around PVC Step Cover which is why it made it on this list of the best RV step rugs.
It's made from a turf material that creates an abrasive design that works really well for cleaning off your shoes. And in between all the turf rows is a lot of space for trapping all the dirty stuff you don't want in your camper. 
The turf material creates a kind of spring-like surface that cushions your steps. This is really nice on older knees or if you just tend to step heavy when coming out of your camper and heading for the campfire. 
If you leave your shoes outside you know what a bad start to your day it can be when your first step is onto the soggy carpet on your RV step. Fortunately, these RV step covers are weather resistant and won't stay soggy even after a hard rain. The texture is made to let water drain right through them. So come outside wearing your socks with confidence.
Just remember… The steps won't stay soggy, but everything after the steps is probably still wet.
Check current price on Amazon here.
Major dirt-scraping abilities
The Good
Aggressive turf-like material keeps your shoes clean
Traps a lot of loose dirt and debris
Available in curved and straight versions
Easy to install
The So-So
Doesn't feel the best on bare feet
A bit pricey
Do you have a pack of little ones (or a significant other) who seem to always forget about taking off their muddy shoes before heading into your recently cleaned RV?
If you need to increase the time between RV cleanings, try getting a more aggressive RV step cover like the Safety Step Sand Away Step Rug. The top of the cover has tall and stiff turf material – similar to a lot of door mats – that aggressively scrapes in all the nooks and crannies on the soles of dirty camp shoes.
Instead of a wrap-around piece of fabric or carpet, the Safety Step Sand Away Cover has a unique design that simply sits on top of your RV steps (just make sure you get the right size and shape for your steps). Then, just attach the hooks underneath and you're ready to go.
This design keeps it from wanting to roll around the step. (This happens sometimes with normal wrap-around step covers.)
However, you should keep in mind that since these are designed with an aggressive texture to remove caked-on mud and dirt from the bottom of shoes, it's not going to feel the best on bare feet. Some sensitive pets may not even like the texture on their little paws.
Check the current price of the Safety Step here!
So there you have it! My top three picks for the best RV step covers.
But if you're the kind of person who likes to weigh ALL their options before choosing, keep reading to see a few more RV step cover reviews.
…Or you can skip to the end to check out the RV Step Cover Buyer's Guide. (Or as I like to call it… How To Make Sure You Don't Mess Up and Buy the Wrong Step Cover Guide!)
Some More of the Best RV Step Covers
A budget-friendly option
If you've already spent your entire camping budget on gifts for other campers, but still need a few RV step covers for your own RV, go for the basic Camco Wrap Around RV Step Cover.
It's a basic outdoor carpet step rug with an easy-to-use grommet and spring installation system.
The ribbed texture that runs lengthwise along the step catches dirt and debris without being too aggressive that you can't easily step on them with your bare feet.
They're available in both 18 and 23-inch versions so they'll fit a variety of step sizes. They even come in four different colors including bright blue and green if that's your thing. 
Although seriously, having brightly colored steps actually makes them safer since they stand out more from the ground around them. Get the bright colors and reduce your chances of landing on a future FailArmy video!
Check the CURRENT PRICE.
A nice pick for a basic turf RV step cover
If your RV has wide steps, this jumbo step cover could be the choice for you. It's 23-inches wide and fits steps that are 8-11 inches deep.
This Prest-O-Fit step cover has a basic turf-like surface that works to clean off lightly soiled shoes or paws while not being too hard on your bare feet. Even your pets probably won't mind the light texture.
They're UV-protected and fade-resistant so the step covers will stay nicer for more than just one camping trip. Plus, they're also mold and mildew resistant so you don't have to worry about them getting wet.
They say "variety is the spice of life". (Garlic is the spice of my life.) So if you want more color options, check out the different colors this step rug comes in, from black to espresso brown to imperial blue.
Check the CURRENT PRICE.
Turf-style step covers for radius (curved) steps
These RV step covers are made to fit curved steps so don't try to put them on straight ones, it won't work.
They have a nice artificial turf surface(similar to the last step cover) and even have a pad under the step section that makes it even nicer to step on.
It comes with grommets for three different step depths and is easy to install. Best of all, with the step pad and the multiple width adjustments, these covers do a really good job at staying put once installed.
Check the CURRENT PRICE.
Ribbed, rugged, and ready to clean your shoes.
These Prest-O-Fit RV step covers are made with heavy-duty outdoor carpet and a rubber backing so they're perfect for families with kids (or husbands) who always seem to have mud on their feet.
The heavy-duty outdoor carpet has a thick ribbed texture running the length of the steps with plenty of texture and deep grooves to stop outdoor dirtiness at the door.
But fortunately, they're still thin enough that you can leave them installed even when folding up your steps.
And another HUGE plus of these step covers is their universal fit system. They work both on curved AND straight steps!
Check the CURRENT PRICE.
A big step cover for big steps
If your RV has big steps, make sure you get a cover that fits. This Camco Premium Wrap Around RV Step Rug is made to fit big steps.
It's 23 inches long, 22 inches deep, and has three different grommet attachment points so it'll even fit steps that are more than 11-inches deep.
The spring hooks are really easy to install and the premium TPE backing helps the covers stay in place on your RV steps.
The outdoor carpet isn't too rough on your feet and most pets won't mind the micro-ribbed texture.
Check the CURRENT PRICE. 
Ok… so now that you've made it through the reviews, let's have a look at some things you should keep in mind when buying your step covers.
Buyer's Guide: What Should You Know Before Buying RV Step Covers
Basically… how to not mess up and buy the wrong RV step covers!
RV Step Cover Materials
RV step covers come in all the standard materials of normal outdoor carpets and door mats – PVC, rubber, polyester, polypropylene, micro-ribbed textures, artificial turf, etc. But let's not get all scientific here, this isn't high-school chemistry.
Since your RV step covers need to stand up to camping wear and tear, look for covers that are…
Weather-resistant
UV-resistant
Mildew and mold resistant
Most RV step covers will be made out of a variety of materials. Some have polyester carpet and a PVC or rubber backing to add extra wear resistance or comfort where needed.
When it comes to materials, you should also consider the feel and roughness of the surface material you'll be stepping on.
Think… Why do I need the step covers?
Is it just to cover up the metal holes in the steps that freak my dog out? Then look for a material that's a little softer on their paws.
Or maybe you and your family like to take long walks on muddy trails in the woods? Then you might want to get some RV step rugs with a rougher texture that'll work better to scrape dirt and debris off the bottoms of your shoes. Since it's trapping a lot of dirt, it's also important that it be easy to clean.
And if you want something that's kind of in-between (to console your dog's phobia of step holes while being strong enough to clean dirty shoes) look for a rugged outdoor carpet with large ridges running lengthwise along the step. Those are kind of the best of both worlds.
And if you want a step cover that you can leave on all year round, look for ones that are more weather-resistant and mold and mildew resistant.
Just remember…the step covers take a lot of abuse, so even the best ones will only last a few seasons max.
RV Step Cover Installation Methods
Almost all RV step carpets are installed in one of two ways.
Spring hook and loop method: You place the wraparound cover on your step and attach springs with hooks to the appropriate grommet on the underside of the step cover.
Zip tie method: You place the wraparound cover on your step and attach zip ties through the appropriate holes on the underside of the step cover.
Some step covers don't completely wrap around the RV steps, but even those usually still have holes for springs or zip ties.
Zip ties are a nice option if you plan to leave your covers on the RV steps permanently. The springs hooks are better if you plan to remove the covers after each camping trip since the installation process is quick and straightforward.
Fortunately, even if you buy RV step covers with a spring-type installation, you can always substitute zip ties for the springs if you want a more secure fit or even if one of the springs breaks in the future.
Important! – As you're considering which step cover to get, pay attention to how many different springs and attachment points you have along the step. Some of the more budget-friendly options only have two places where you can attach springs or zip ties.
The best RV step covers have 4 different springs or zip tie locations. This will give you a more secure fit, especially on wider steps.
RV and Motorhome Step Cover Size
I don't care what people say, size does matter!
Before purchasing your new step covers, I'm gonna need you to do something.
Go find a tape measure.
Measure the width(left to right) and depth(front to back) of your RV steps.
While you're measuring them, take notice if they're straight or curved steps.
I know, I know… it's hard to get up out of the recliner and go do that, but it's worth it.
Poorly fitting steps covers not only look bad, but they can be downright dangerous! So measure your steps and make sure you get the right covers. It'll save you time (and not too mention a trip to the first aid kit and subsequent appearance in a YouTube Fail video).
Once you've got the measurements, now you can shop.
Keep in mind that the width of the covers should be an inch or two less than the total width of your RV steps. So for example, if your RV step is 24 inches wide, a 23-inch wide step cover will do the trick.
Regarding the depth of your RV steps, fortunately, most step covers have multiple holes where you can attach the springs or zip ties to adjust to steps of different depths.
RV Step Cover Budget and Prices
Just like anything, there are RV step covers for a variety of budgets. It seems like the sweet spot is about $15 per step cover with some being as high as $30 per step and others less than $10 per step.
Some of the most popular RV step cover brands like Camco and Prest-o-Fit even offer packs with 3 different step covers in a pack that can help you save a few bucks.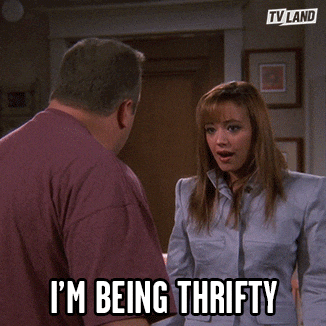 If you have a really tight budget and mainly just want the step cover as a place to clean your shoes before entering your camper, you can also try just getting a mat for the first step. That gives you a handy place to clean your shoes before heading inside.
It's also a good way to test out a mat. If you like it, then you can get two more mats for the other two steps.
RV Step Cover Cleaning
Outdoor carpets and rugs are made to be easy to clean.
Basically, you just sweep dirt and debris off with a stiff broom to keep them relatively clean from day to day.
If they've collected a lot of dust, hang them on a clothesline, give your kids a baseball bat, and teach them the rug cleaning game "Another One Beats the Dust".
And when you want to give them a more thorough cleaning, just get out the hose and spray them clean with a blast of water.
Can't I Just Make My Own RV Step Covers?
If you're a die-hard DIYer and want to make your own RV step covers, you can do it!
You'll need:
A piece of carpet
Something to cut the carpet
You can get pieces of carpet at Lowes or Home Depot. You can even go to a carpet store and get carpet remnants for super cheap.
*This is really nice if you want to make step covers to match the rest of your RV or if you want to use a fun carpet pattern.
Then, just measure and cut the carpet to size, add the grommets, and attach it with some zip ties.
Depending on the type of carpet you get, you should probably consider binding the edges of the carpet so it doesn't fray. You can do this yourself with DIY rug binding or you can take it to a local carpet store and they can do it for you.
Just to be honest, by the time you buy the carpet, buy the grommets, and get the carpet bound, you're probably going to end up spending more than if you would've bought some of the premade RV step covers from this list.
Some Extra Accessories to Make It Easier to Get In and Out of Your RV
Let's face it… all the step covers in the world won't make it any easier to get up and down your RV steps if they're rickety and the first step is 2 feet off the ground.
Some of you may have freakishly long legs and the balance of a tightrope walker. For the rest of us, we have these RV step accessories.
If that first step's a doozy and just a little too far off the ground, don't worry. You can add another step.
One of the top options is this folding RV step stool. It gives you a stable platform you can use as an additional step. You can adjust the legs from 8 to 9 ½ inches. And the platform has a generous 14 ½ x 19 inch size.
Plus, when it folds up it's less than 3-inches thick so it's easy to stow in your RV when travelling or if you don't need it.
Check the PRICE.
Another good option for an additional RV step is this Quick Products XL Platform Step. This has a larger platform (24"x15") than the first option but no additional legs.
With the legs extended it provides a 7 ½ inch step. You can also use it with the legs folded up to get a small 3 ½ inch lift.
And the entire surface of the step is covered with anti-slip material to make sure you foot stays right where you place it.
Check the PRICE.
If your steps feel a little rickety (obviously because of poor construction, not because you've been hitting the snacks too hard lately), you can add a small stabilizing brace under the RV steps.
Camco makes their Save-A-Step Brace which is simple and easy to use. Just place it under your steps and spin the top to adjust the height where needed.
It's a simple way to add a touch of extra support under your RV steps.
Check the PRICE.
If you'd rather not have another extra accessory piece to keep track of, you'll like the Camco Self-Stor Step brace.
It actually mounts to the bottom of your RV steps and folds up to the underside of the bottom step when you're not using it. Just make sure it's compatible with whatever type of folding steps you have.
Then, when you need to stabilize your RV steps, just fold it down and spin the leg until it adjusts to the height you want.
Rickety steps no more!!!
Check the PRICE.
Ready for Your New RV Step Covers?!
So which ones from the list of the best RV step covers are you going to get?
Whichever you choose, I'm sure you'll love having an RV that's safer and cleaner for your family.
And don't miss all my other great camping and RV articles like…
Latest posts by Stacy Bressler
(see all)