Life is better around a campfire. In fact, if the outdoors were a nightclub, the campfire would be the disco ball. It's the centerpiece of a good time.
But creating traditional fires can be inconvenient and sometimes just impossible. That's where a portable propane fire pit comes in handy.
A portable propane campfire gives you a convenient way to enjoy a campfire, show everyone you're the Marshmallow Meister, and tell scary stories without having all the mess of a normal campfire… you know what I mean — splinters, smoke in your eyes, and ash all over the place.
So take a look at my list of the best portable propane camping fire pits and enjoy a no-mess fire in your backyard or at the campground. Plus, I'll give you some tips to help you choose your portable fire pit, along with some things you should keep in mind when buying.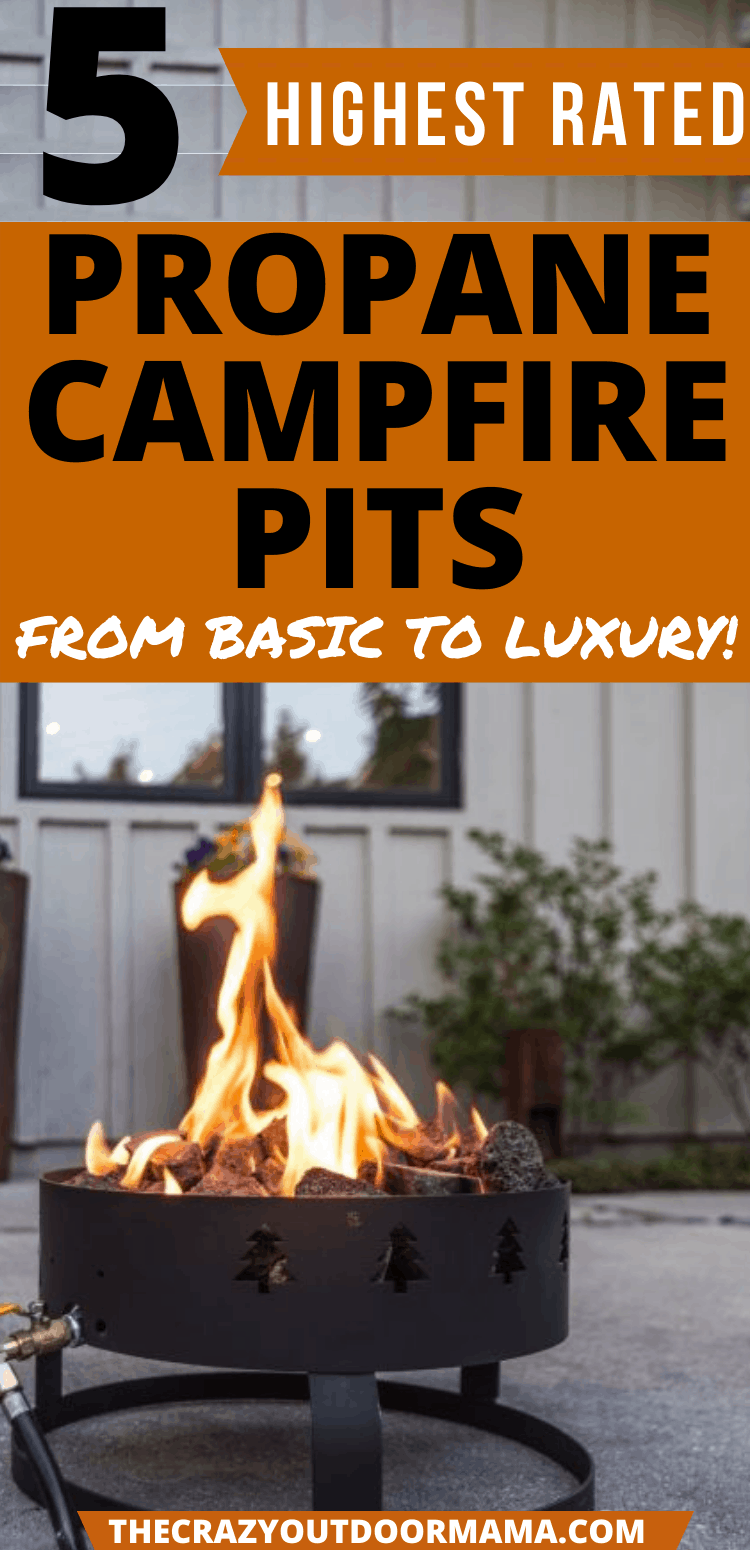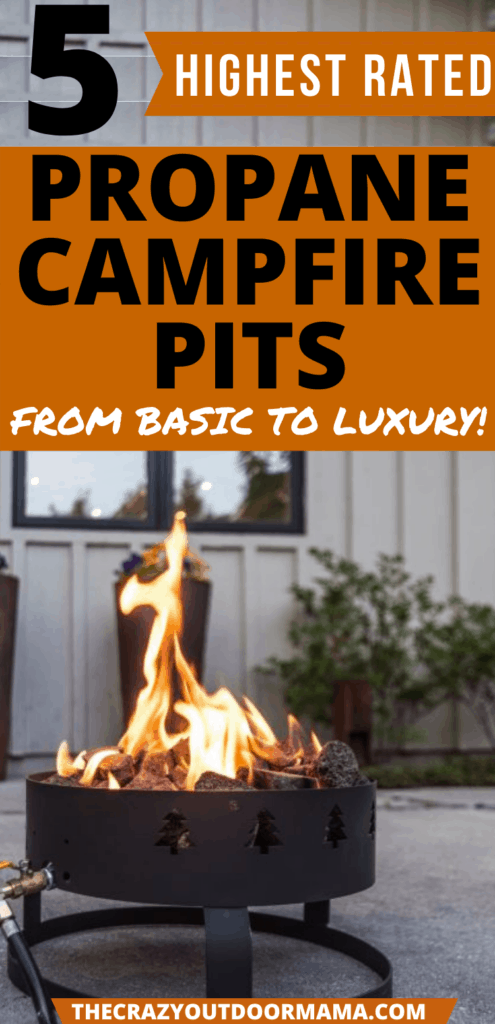 ---
Why a propane campfire pit?
Although it's hard to beat the crackling warmth of a real wood campfire, they do have some downsides.
Takes time to get it going
You need a supply of dry wood
Your clothes smell like smoke the next day
Smoke burns your eyes
Splinters hurt
Wood fires are prohibited in some campgrounds and everywhere when there's a fire ban
When there's lighter fluid around, someone always ends up losing an eyebrow or two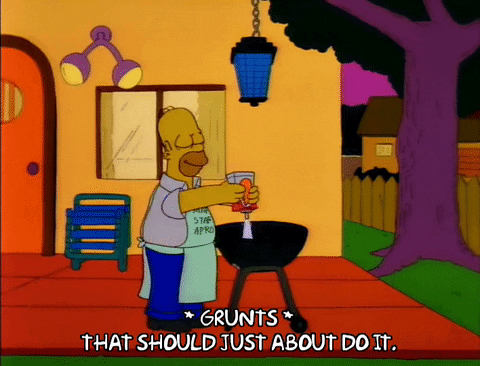 But portable propane fire pits let you get the look and warmth of campfire flames without many of the disadvantages of a traditional fire.
With a portable propane fire pit…
You get instant heat
There's no smoke to burn your eyes
Cleaner than dealing with all that wood
Easy to control the flame
Use it almost anywhere, even during some fire bans
You can still

solve the world's problems

around a propane campfire 😜
When you're done, just turn it off
Convinced yet? Check out my list of the 5 best portable propane fire pits, plus two BONUS fire pits that'll look great on your patio.
*If you still want to try a wood-burning firepit, don't miss my in-depth review of the SOLO STOVE BONFIRE.
---
The 5 Best Portable Propane Fire Pits
So before we get to the reviews, please keep in mind that a lot of these products are very similar but they may have small features that will make the campfire experience better for your family. Be sure to check out their product pages carefully and don't forget to watch the video reviews.
Outland Firebowl Gas Campfire Pits
Outland living is one of the most popular brands for portable propane fire pits and gas fire tables. They have several different models that share similar features. Let's look at two of their most popular gas fire pits.
*Important for areas with fire bans! Both of these models are CSA-approved which means they can sometimes be used even when fire bans are in place, but it's always good to check local regulations before lighting it up.
Best Overall
An all-season fire ring perfect for most families
Nice features
Auto-ignition so you don't have to worry about matches or a lighter
Approved for use during most fire bans
Long 10-foot hose so you can keep your propane tank far away from the fire
Comes with everything you need including a cover, lava rocks, and a carrying strap
So-So Features
Would be nice if a carrying bag were included and you didn't have to buy it separately
This portable propane fire pit is an excellent choice for most families. It's super easy to set up and use since everything comes preconnected (except for the propane tank, you have to get one of those yourself).
The fire control knob is easy to use and the included lava rocks do a good job of enhancing the look of the flames to get a realistic campfire effect.
The fire pit has a 19-inch diameter and puts off 55,000 BTU of heat. This is enough that 4 or 5 people can sit around it comfortably and still be able to feel the heat.
Here's an unboxing video from Outland Living that makes it easy to see what you're getting and how the fire looks in this portable fire pit.
See it on Amazon Now!
---
Best for Big Groups
This is a big gas fire ring.
Nice features
No tools required for setup so you can enjoy your first fire minutes after unboxing (as long as you already have a compatible propane tank)
Large 24-inch diameter means this big gas fire ring is perfect for large families and big groups
Long 10-foot hose to go to your propane tank
Approved for use during most fire bans
So-So features
Weighs over 30-pounds
No automatic ignition
If you've got a big family or a large group of friends who like to sit around the campfire, you need a big gas fire pit like this one. Its big gas burner puts off a whopping 58,000 BTU of heat that's easy to control with the large valve knob on the side.
This larger version comes with more lava rocks to fill up the pit and give a natural campfire look to the flame.
Go ahead and leave the Mega Firebowl out on your patio since it comes with a slip-on cover to protect it from the elements. You can even purchase a separate carrying bag which really comes in handy if you travel a lot with your fire pit.
Here's an unboxing video from Outland Living which makes it easier to visualize the size of this big propane fire pit.
See it on Amazon Now!
Now let's move on to some options from other brands.
---
Best Budget Pick
A simple propane fire pit for those of us on a budget.
Nice features
Comes with a large bag with 12-pounds of lava rocks to completely fill the fire ring
Comes with two roasting sticks
Compact 15-inch diameter is easy to transport and nice for small groups
So-So Features
Would be nice if the hose were a bit longer than 5-feet
Valve to control the flame isn't as easy to use as the round knob types
If you're on a budget but need your campfire fix, this Camp Chef portable propane campfire is a nice choice. Despite its smaller diameter, it still has a 55,000 BTU burner so it'll put off some nice heat.
The legs fold under and it comes with a convenient carrying bag with straps so it's easy to transport to your campsite. Check out the video below to see this portable propane fire pit in action.
See it on Amazon Now!
---
Compact and Easy to Carry
Unique square design that's ultra-portable.
Nice features
Weighs less than 20 lbs

Comes with carrying kit for easy transportation

Comes with 4.4 lbs of lava rocks

Round knob makes it easy to control the flame
Long 10-ft hose
So-So Features
Get ready to enjoy a campfire anywhere! This portable propane campfire ring is one of the smallest on this list. It's just 14 inches across and weighs about 20 lbs so it's easy to throw in the back of your truck or in your RV's basements.
Don't let its small size fool you. This baby puts out a whopping 58,000 BTU/HR so you can still get cozy warm on a cool evening.
---
Best Output
A surprisingly powerful little fire pit.
Nice Features
Legs fold up underneath it to make it easier to transport
Powerful 60,000 BTU burner
The firepit's design and large chrome control knob have a nice, refined look
Lid locks in place so it doesn't come off during transportation
So-So Features
Gas hose isn't as long as the Outland Living options
Last but not least, we have this little propane campfire pit. Don't let its 15-inch pit diameter fool you, this little thing can put out some major heat.
It has a push-button igniter so you don't have to worry about matches, and a stabilizing base for your gas tank to keep it from falling over. See it in action in the official video review below.
See it on Amazon Now!
Fire Pit Table
Well, there you have it… 5 nice options for portable propane fire pits. But what if you want the look of a campfire on your backyard patio or deck, but with a touch more style?
Try a…
A fire table functions in a similar way as a portable propane fire pit, except that the small fire pit is set as the table's centerpiece and you usually have some usable space around the fire to set your drinks or food.
A fire pit table is really an impressive piece to add to your patio that provides a luxurious look your neighbors will be drooling over.
Sure, it's not something you'll take with you camping, but it's a way to enjoy the feel of a campfire from the comfort of your home.
Here are two nice options for gas fire tables.
---
What to Look For When Buying a Portable Propane Fire Pit – Mini Buyer's Guide
BTUs
The more BTUs, the hotter the fire and the taller the flames will be. Most portable gas firepits will be around 50,000-60,000 BTU/hr.
Go bigger if you'll be using the campfire for larger groups since you'll have to sit farther away from the fire. If you'll only be 3-4 people, then you can opt for something smaller.
But also remember that the more BTUs, the faster your firepit will use up the propane.
Hose Length
Most gas fire pits have hoses that are about 5-6 feet long. This gives you enough length to keep the propane tank a safe distance away from the fire, but someone will probably end up sitting right next to the tank.
If you can get one with a longer hose (like around 10 feet), then you can keep the propane tank far enough away that it's out of sight.
Handy Tip: Some make a special cover to go over their propane tank that doubles as a table so you don't have to see the tank and you have an extra place to sit your drinks.
Built-In Lighter
To not have to fiddle with matches or worry about singeing your arm hair, look for a fire pit with an automatic lighter (similar to what you might find on a propane grill).
Ease of Transport
Some propane fire pits can be quite bulky which can make them hard to pack in a small car. So if you're limited on space and plan to travel a lot with it, look for one with foldable legs and a nice carrying bag.
And if it has a lid that stays securely on during transport, you won't have to worry about the lava rocks spilling everywhere.
Common Questions About Portable Propane Fire Pits
If you've never owned one of these before, here are answers to a few questions you might have rolling around in your head.
Can I cook over it?
Technically, yes. A propane fire pit is basically the same thing as a normal propane grill, so there's no problem in cooking a few things over the flame.
But have you seen the inside of your grill lately? After the grease of a few hamburgers and grilled vegetables, the inside becomes a sticky mess.
So if you don't want your new portable propane fire pit to look like that, it's best to limit cooking over it to just some marshmallows, hot dogs, and other things that aren't too messy.
How long will my propane tank last?
A standard 20-pound or 5-gallon propane gas tank – like the one you have for your grill – will last about 6-8 hours with the flame turned up on high.
If you love math, here's how you can figure that out.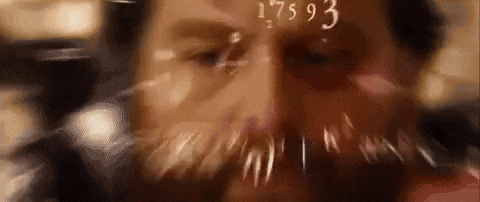 -20 pounds of propane has about 432,000 BTUs
-Take 432,000 and divide it by the max BTUs of your propane fire pit
Example: 432,000/55,000 = 7.8 hours on max heat
You might be thinking… that's gonna be expensive! A propane tank refill could cost $20 and might only last 2-3 nights of camping.
But if you have to buy firewood at a campground, it can easily cost 5$ or more for a bundle that'll only last 2-3 hours.
And remember too that with a propane fire pit, you're also paying for the convenience – no splinters, no smoke, easy to light, and safer.
Will it smell like propane?
Sometimes yes, they can have a faint smell. Just like I mentioned before, they're very similar to a standard gas grill and so just like a grill, you might get a faint whiff of gas from time to time. (That means if you're feeling the effects of last night's bean dip, you can blame it on the fire pit.)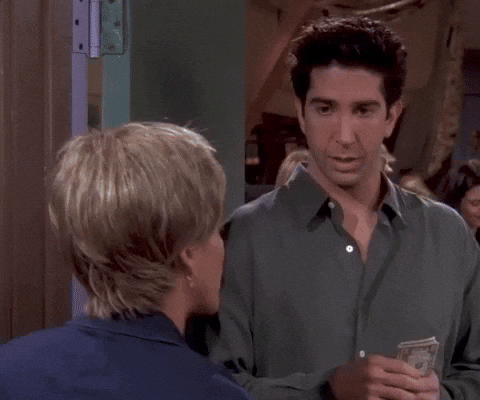 When you first use a new batch of lava rocks, you might notice a distinct smell and hear some popping for a few minutes. Any time you add new lava rocks, it's best to "cure" them by turning the heat on full blast for a few minutes. After that, the smell and any popping should subside.
Can I use it indoors?
No. Never ever use it indoors. Your propane fire pit puts off carbon monoxide, so you need to be outdoors in a well-ventilated area or else you could risk carbon monoxide poisoning which can be fatal.
How much heat do they give off?
Unlike a traditional roaring campfire you can pile up with logs, you're limited by the size of the burner on your propane fire pit. So they won't give off as much heat as a big roaring fire, but remember – it's instant heat.
This makes it really convenient for those mornings when you're camping and you want a quick fire to warm you up before your day's adventures but don't want all the hassle of a normal campfire.
How safe are portable propane fire pits?
When used correctly, just as safe as your backyard barbeque grill.
Always make sure your propane tank is as far away as possible from the fire and that all the hoses are properly connected. If you want to be extra sure, use the soapy water trick to check for leaks.
And remember, NEVER use your propane fire pit indoors. Always use it outside where you have plenty of ventilation.
The Best Propane Campfire Accessories (and most unique!)
Take your propane fire pit (or any normal campfire) up a notch with these fun accessories you can use to make snacks over your gas campfire.
This style roasting stick is actually a fishing pole – and it really works (it's not a novelty gift!)
The roaster actually hangs down over the fire so it's a heck of a lot easier for kids than trying to hold the sticks straight in the right position.
For added fun, you can "flip" the fish (where the marshmallows and hotdogs are) to get the other side perfect!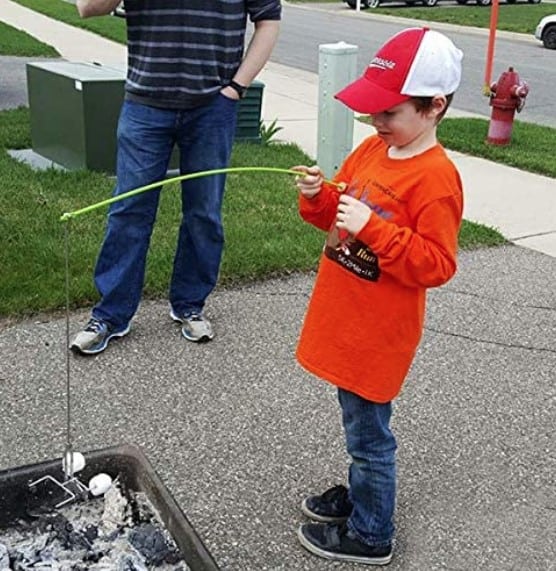 If you're not a fan of spending time sharpening a stick for every single member of your family, but you don't want to go FULL pre made roasting stick yet, then check out this handy doo dad!
Just attach it to the end of a stick and it's ready to roast!
As of January, 2022 these aren't currently available. Hopefully they'll be back soon! (Dang supply chain issues😣) The same brand does offer something similar — a mini camping grill that fits on the end of a stick.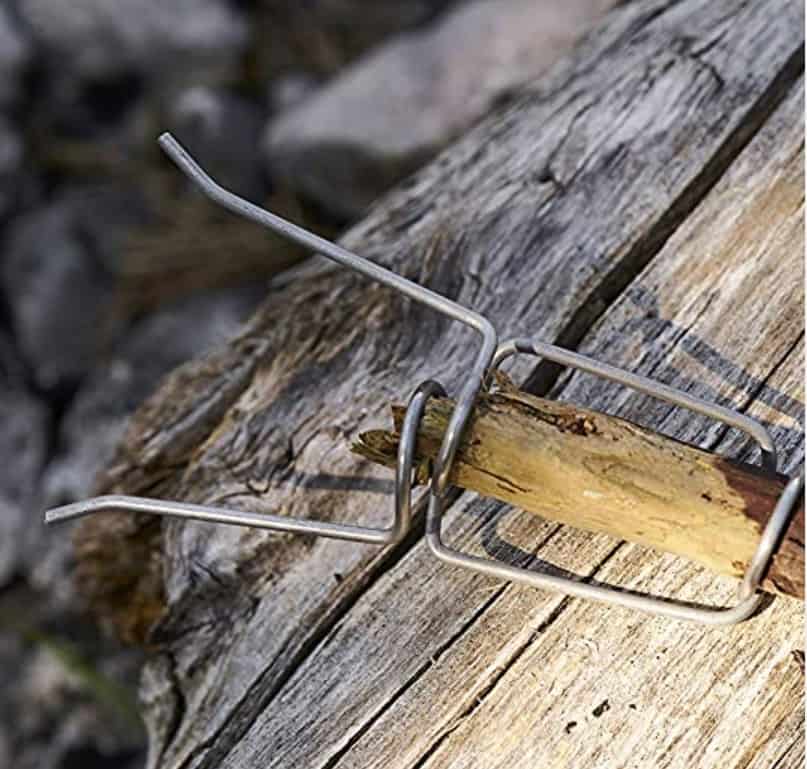 While not necessarily an accessory, it still really makes the campfire experience even more fun. While you might think it's just for kids, even my husband and I loved looking into the fire with the colors!
Throw a packet it and enjoy!
And for those who like to eat a little more fancy during camp…
---
Get Ready to Enjoy Your New Campfire Pit
Why not try a portable propane fire pit and say NO to the smoke, the splinters, and the wet wood that won't catch fire no matter how much lighter fluid you pour on it.
If you don't mind dealing with real wood fires, but just want to avoid the smoke, check out the Solo Stove Bonfire. See my full review here.
But whatever type of fire you have next, be sure to pull up a chair, relax, turn off your phones, roast some marshmallows, and enjoy your time as a family.
Then when the fire burns out, turn your phone on again and follow me on Facebook, Pinterest, or Instagram. I'd love to swap some epic campfire stories!
And don't forget to check out my other articles to help you make the most of your campfires!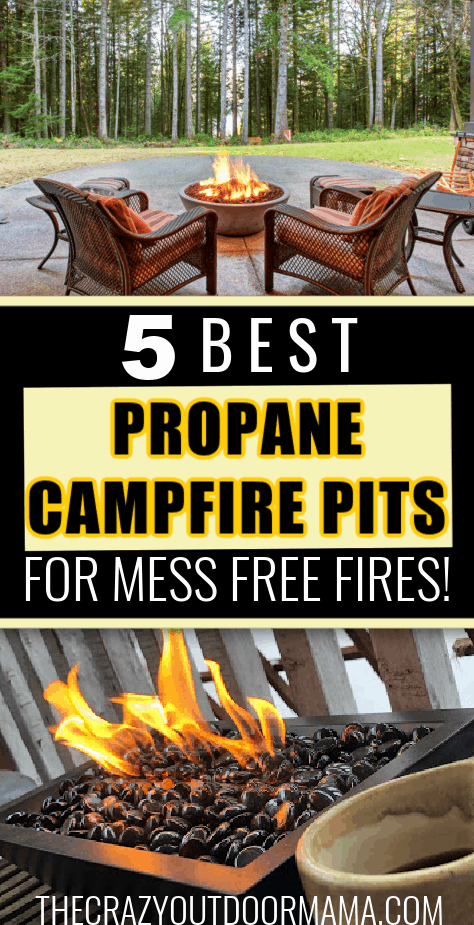 Latest posts by Stacy Bressler
(see all)