If you're someone who loves a campfire but doesn't want to be bound by a firepit, then you'll love this Solo Stove Bonfire deluxe portable fire pit!
I know our family LOVES camping away from the campgrounds to really find those unique spots (and let's face it, spots my kids can be wild in and they won't bother anyone!) but a drawback has always been the lack of a fire ring.
While we could make our own, we tend not to as it takes away from the "wildness" of the spot and it's not as safe as the established campfire rings. And with kids, we especially like fire pits that are raised up more than fire rings we just make ourselves with rocks since they tend to be harder for the kids to see when they're running around camp.
So in my Solo Stove Review, let me show you everything you need to know to figure out if the Solo Stove Bonfire (or other Solo Stove sizes) are worth it for your camp set up!
I also wanted to let you know that I received the Solo Stove fire pit in exchange for my honest opinion, and some links you click are affiliate links that I get a small percentage of.
Overview of the Solo Stove Bonfire
Solo Stove Bonfire
I want to give you the quick pros and cons about the Solo Stove Bonfire first and then tell you all the details!
As an Amazon Associate and member of other affiliate programs, I earn from qualifying purchases.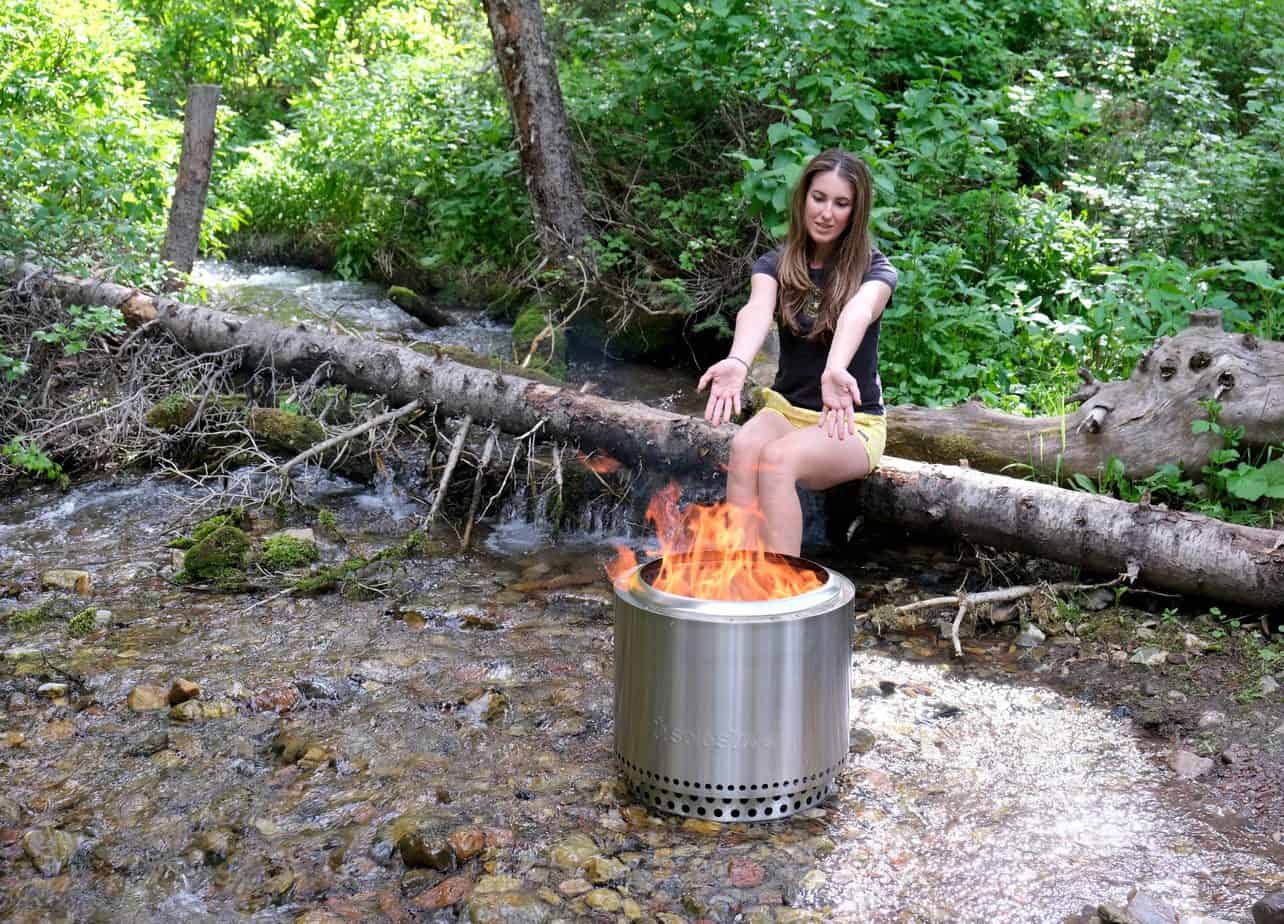 Pros
Can have a fire anywhere with no damage to the ground underneath (IE grasses, lawn etc)
Burns extremely hot reducing the amount of smoke and ash left behind
Light enough to carry (around 23 lbs) but heavy duty enough that it doesn't get dinged easy
Cons
Can be difficult to clean ash out out - you need to tip over the whole thing once cooled
Can be difficult to put out if you're ready to be done before the fire has burned out - it's best to make a fire if you have at least an hour to enjoy it!
Full Solo Stove Bonfire Review and FAQ
What we liked
I was very impressed with how quick and easy it was to start the fire, even if the wood was a little damp. This is because the design of the fire pit has vent holes that allow air to get under the fire, so you don't have to spend forever blowing on it!
The set we got came with the stand – this is the piece of metal that the firepit can be set down on to reduce damage to the ground underneath, and I'd say it's something you should definitely buy with it if you plan on taking it camping.
Speaking of the set we got, we did not have to assemble anything! I LOVE that we can just have the Solo Stove in the back of the truck, pull it out whenever (it only weighs about 20 pounds) and we can have a campfire right away!
It was really nice to not see ANY damage to the grass after our fire was done (not even a wilt!) This makes me feel way more confident about using Solo Bonfire during fire season when traditional fire pits could be dangerous.
And, of course, I can't forget to mention how little smoke there is! One of the Solo Stove's biggest selling points is that it creates a smokeless fire. It's kind of hard to believe, but it really does create an almost smoke-free fire!
We started our fire with some pine needles and dry moss, so there was some initial smoke for about 2 minutes, but then it was gone! This made our whole camp experience WAY easier because my kids are young and at the age where they get super affected by smoke. I almost always have at least one kid squinting their eyes as hard as they can and screaming for me because of the smoke, but with our Solo Stove, there's less smoke so that issue never happened!
Lastly, I love that I can have a campfire ANYWHERE. Just to say that I did it, I actually set my Solo Stove Bonfire in a stream and enjoyed the water next to the crackle and warmth of the stove. It was awesome! Try that with a normal fire pit!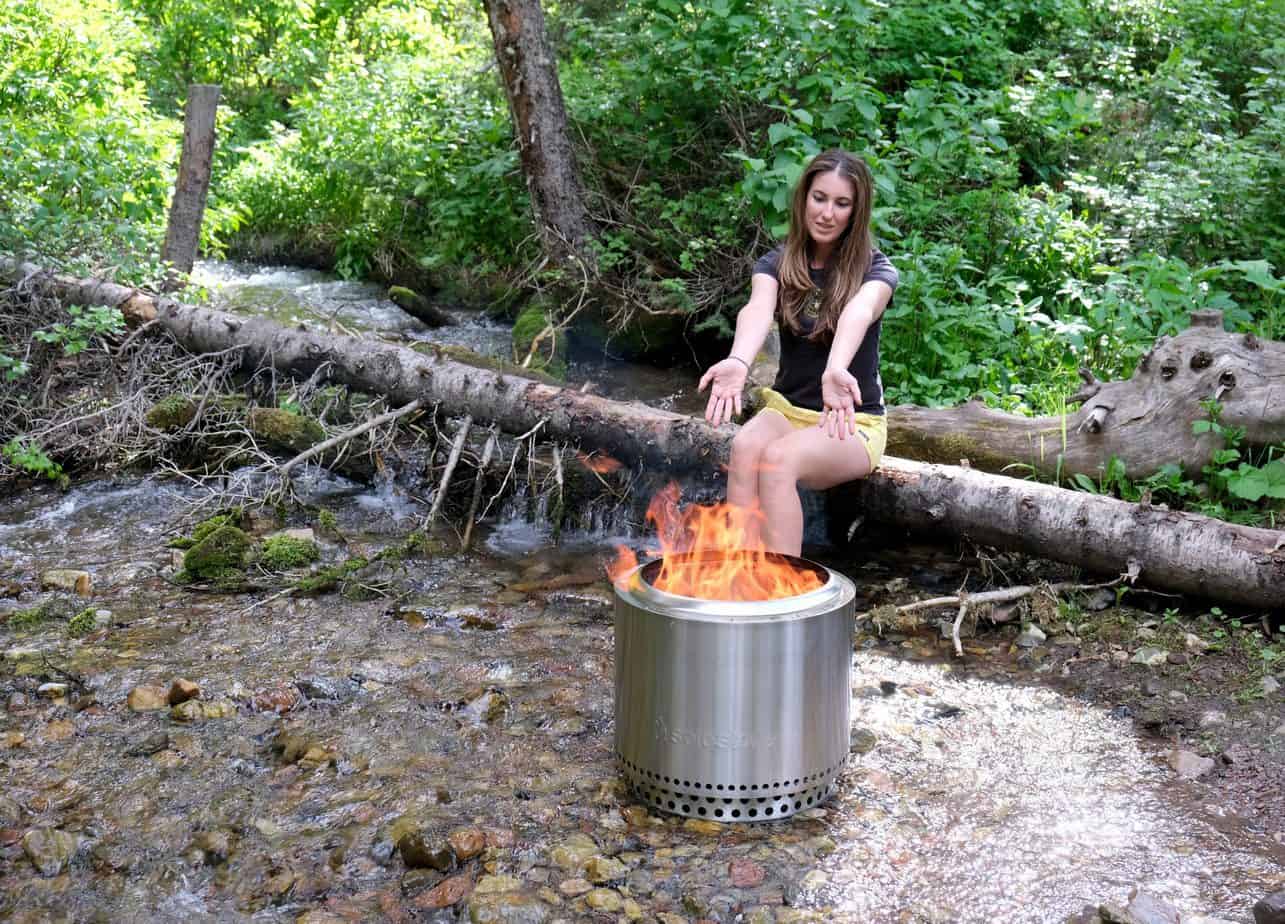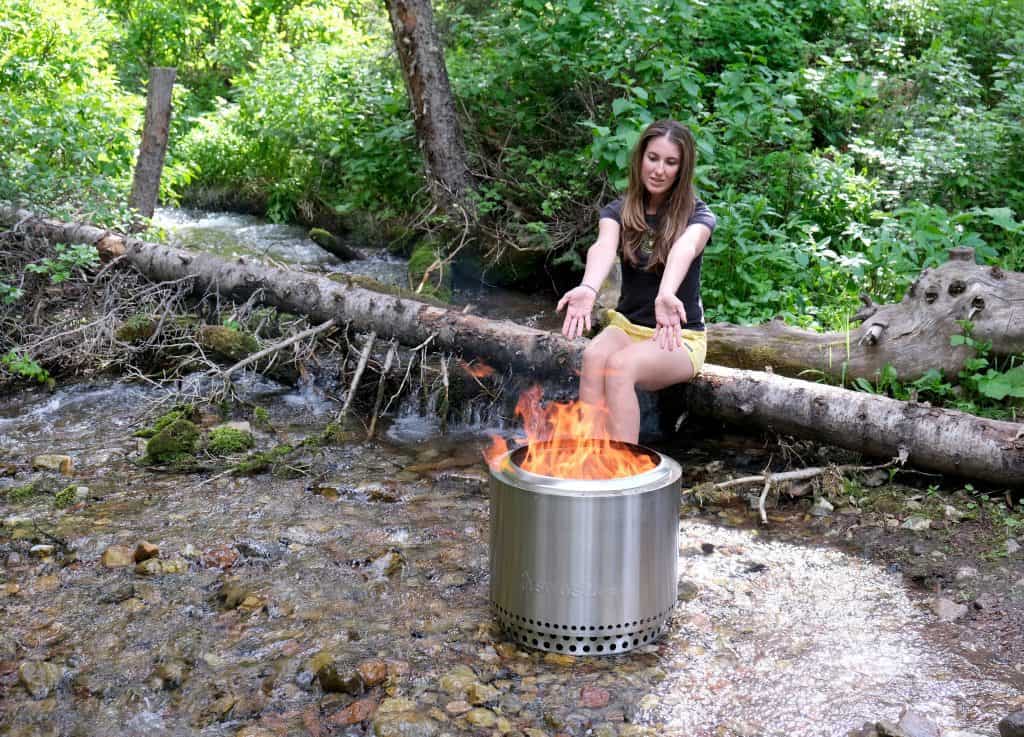 Solo Stove Bonfire Review – What We Didn't Like
We really wish there was an easy way to dump the ash after we're done, such as a removable ash pan that could slide out. We wanted to dump the ash into a hole before we left, but it was a little difficult to get the ash out of the stove since you have to dump the whole thing.
Another concern we had with the Solo Stove is putting out the fire – it burns super fast (due to how hot it burns), so usually it's not an issue waiting till it's all burned out. But I felt terrible having to dump water into it while it was still super hot. I was nervous it would affect the Solo Stove's stainless steel body, so we did small amounts of water at a time. To their credit, I looked at the stove after and I didn't notice that the crazy temp change left any damage to the stove.
FAQ about the Solo Stove Bonfire Portable Fire Pit
Does it put out similar amounts of heat compared to a traditional campfire (and a DIY deflector if you'd like to boost the heat)?
Yes! If you compare it to the normal wood-burning fire pits or fire rings at a campground (the ones that are like 3 feet high) the warmth is similar if not better. I actually had to give it a little more space than I'm used to because it's so hot!
Some people install deflectors on top for increased heat around the area – you can DIY it or check out something like this on Amazon.
Here is a DIY beautiful and functional heat AND spark deflector that cost less than $40!
This is one of the most liked designs I've seen! This was created by Anthony Rizzo, and he has shared the info… thank goodness! Here are some basic instructions, and the materials list is below.
Measure around the solo stove edge and cut the steel lath the same size. Attach the ends together with the rebar tie wire, then the aluminum pain to the lath. If needed, screw on a handle. It all should cost less than $40!
aluminum drain pan (with handle on top if possible so you don't need to add one later!)
steel lath
15.6 gauge rebar tie wire
Pliers + snips for twisting and cutting wire/lathe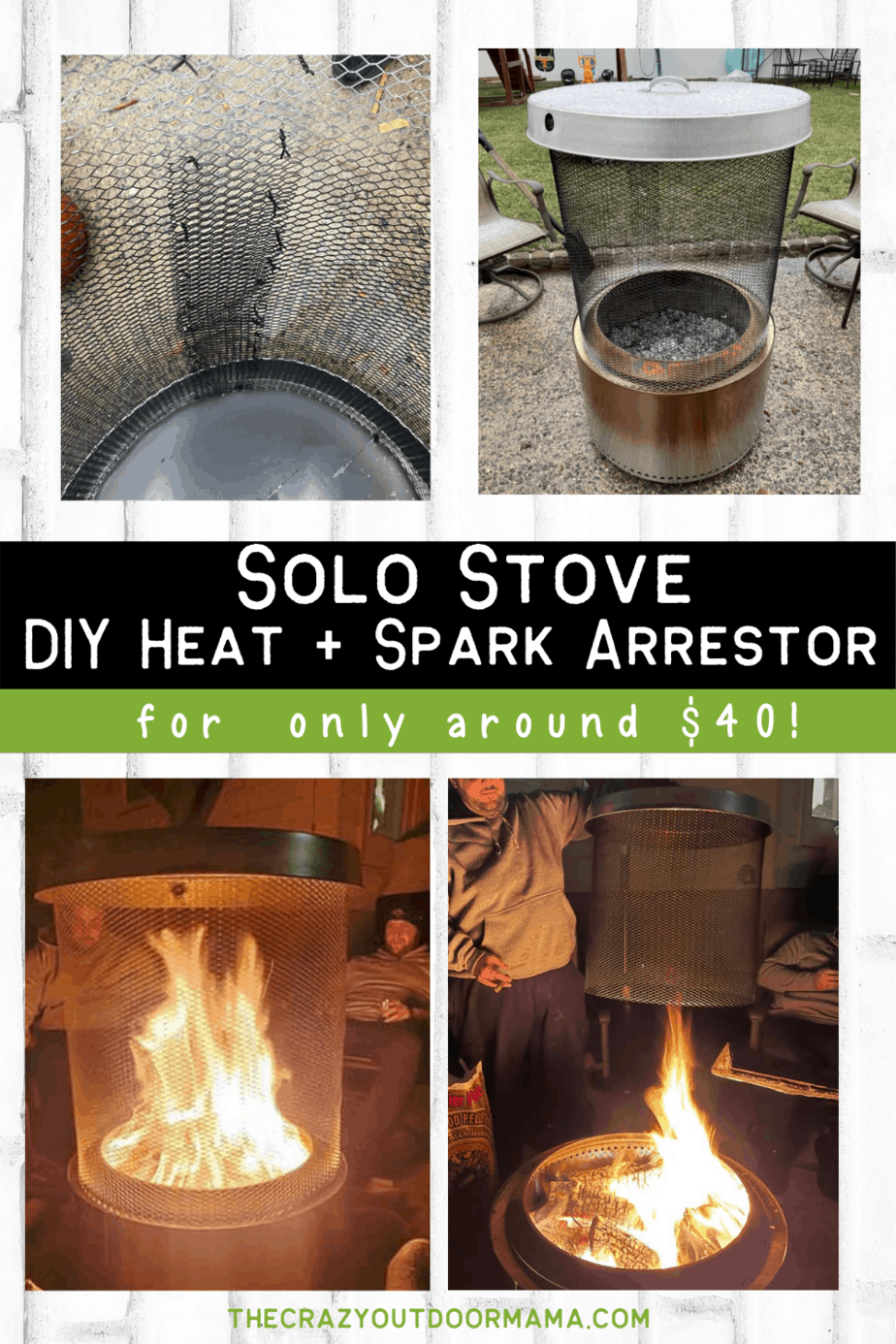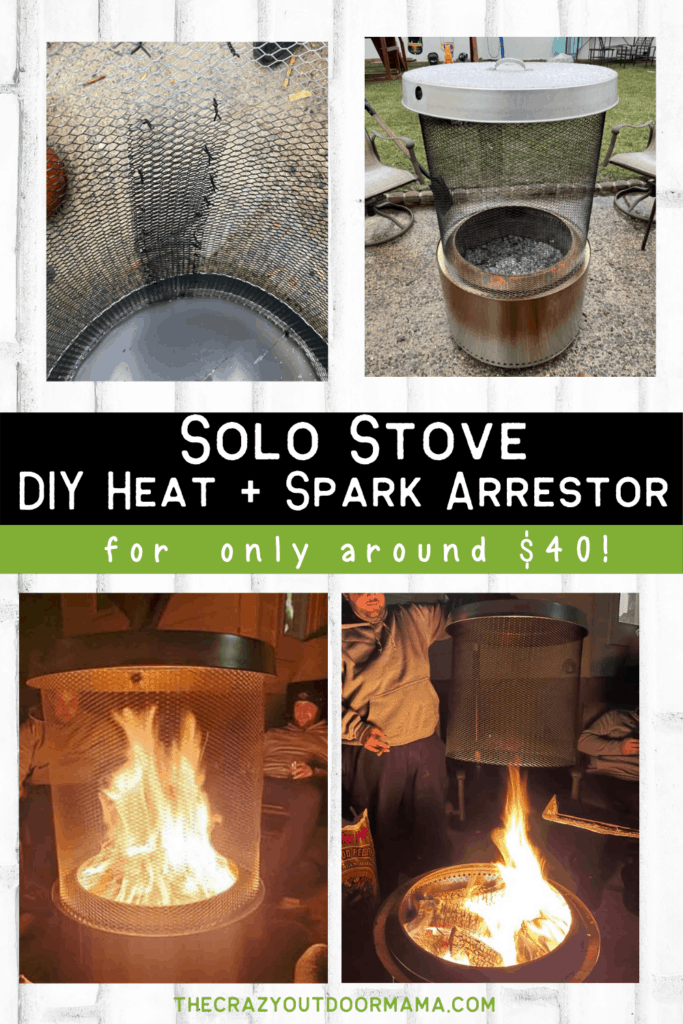 Does the Solo Stove really put out no smoke at all?
For the most part, YES it creates a smokeless fire. In the beginning, when the fire's just getting started there is a little smoke. But as soon as it heats up you can't even see it! It's so awesome to have a smoke-free wood-burning fire pit because we all know how it feels when the smoke seems to follow you everywhere!
Can you cook on the Solo Stove Bonfire?
Yes and no – they don't currently have any "official" ways. As of 7/15/21, Solo Stove is taking preorders for their new grill system! I guess they heard the people and answered! Read on if you want to know what's possible without it.
You can cook all the normal stuff on a stick, but for anything that needs a long amount of time to cook you may have to play with it. I plan on bringing a grill top for our next trip to set on it and see if we can cook some sausages or hobo meals. My thought is, if you get the embers low enough (ie no massive flame) then maybe. But the Solo Stove burns so well that it might just burn out before your food is done. I will update this after trying it!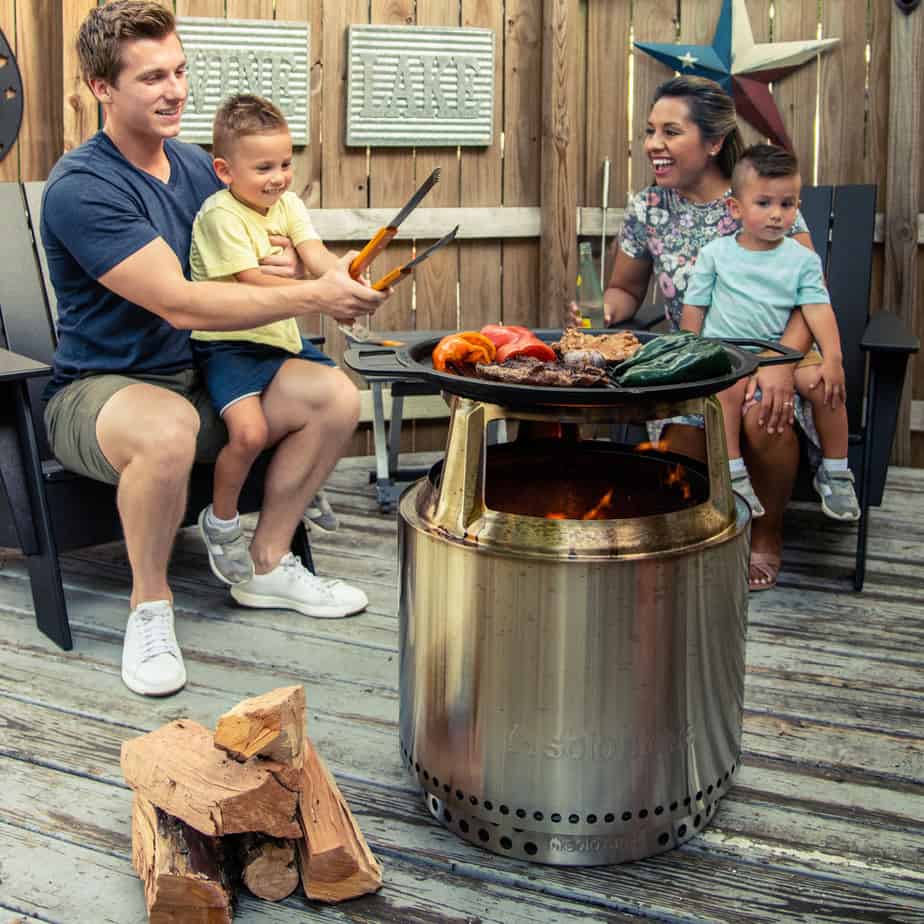 Is the Solo Stove Bonfire big enough for my family?
We fit six chairs around it and weren't crammed, so I'd say for most families, this firepit is big enough for everyone to enjoy! And it puts out a lot of heat so you don't have to cram intogether to feel it.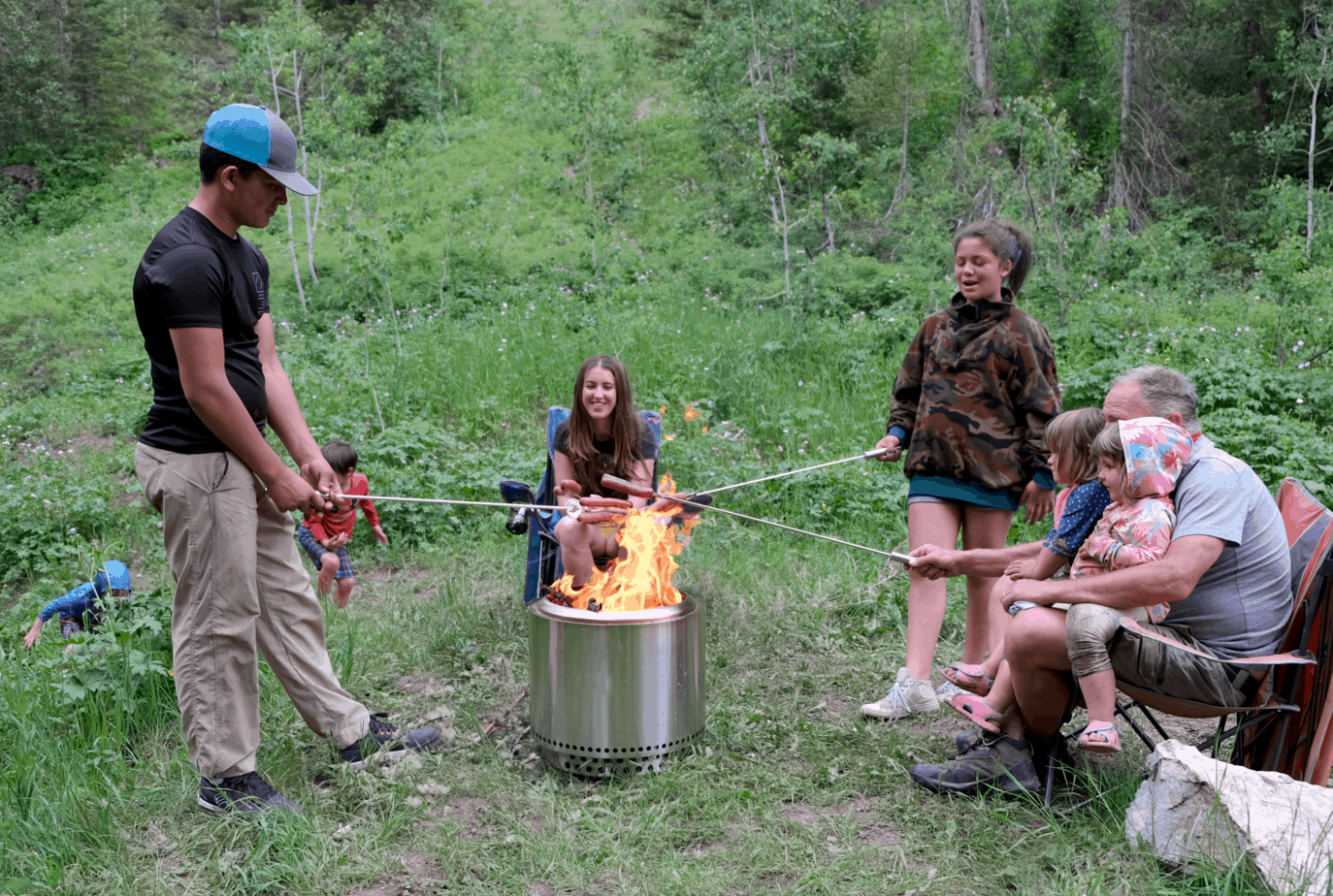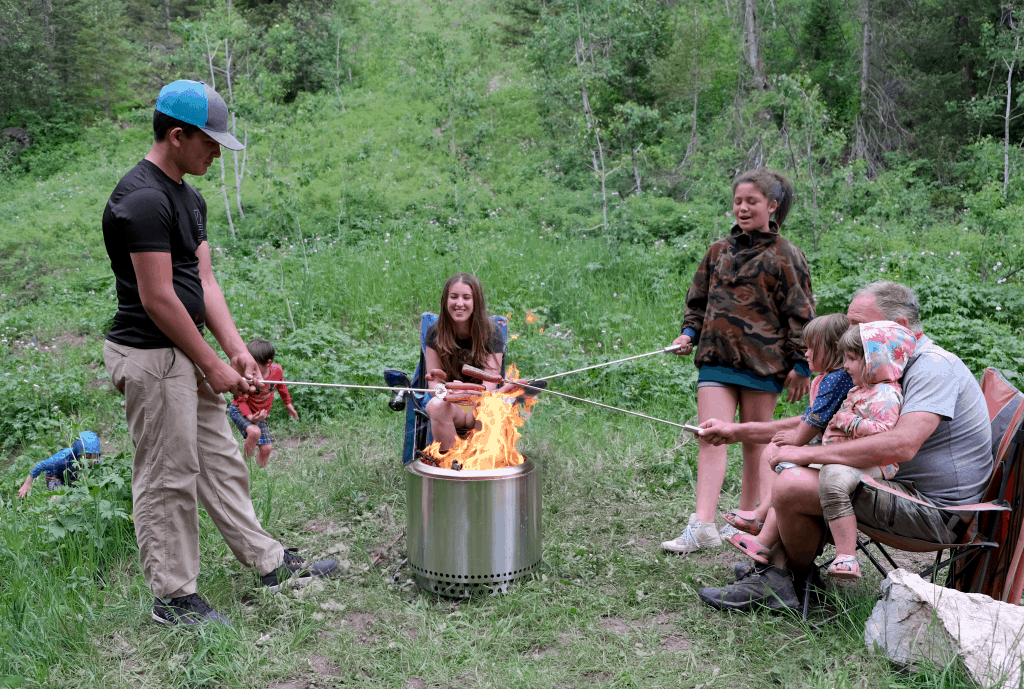 How do I prevent rain from getting in when I'm using it at camp?
Fortunately, the Solo Stove is made from stainless steel so it shouldn't rust if it gets a little wet. But if you want a cover, there are two options – the Solo Stove company sells both a full fabric cover and a stainless still lid! The lid is helpful for when you are actually at the campsite – you're likely not done with it enough to put the cover on, but instead just to keep junk out of it till you use it again tonight/ in the morning.
Many people also use it when their fire is out, but still warm, so that nothing accidentally falls into the potentially still hot embers. While the Solo Stove company doesn't sell one, I've heard that this lid is a perfect fit for the bonfire if you remove the top ring.
Check out the lid here!
Can you set it on a patio or other surface without damaging anything?
The company sells a base for it to sit on so that creates some separation between the heat and the ground – I HIGHLY recommend that for just about everyone! I have not tried my Solo Stove on my deck yet, but I did try it on top of some grass and there was absolutely no damage to the ground (the grass didn't even wilt!)
Will it use way more wood since it burns so hot?
No! It would seem like it would burn more wood but the Solo Stove Bonfire actually just burns much more of the wood than a traditional wood-burning fire pit. You won't be left with a bunch of half-burnt logs once the fire goes out. The Solo Stove seems to actually use less wood than normal, and I think that's because it really completely burns up each log.
It's actually really nice to bring camping because it's so easy to start. And if you're in a spot where you're allowed to forage wood/cut trees it can burn stuff that is normally too wet since it gets so hot!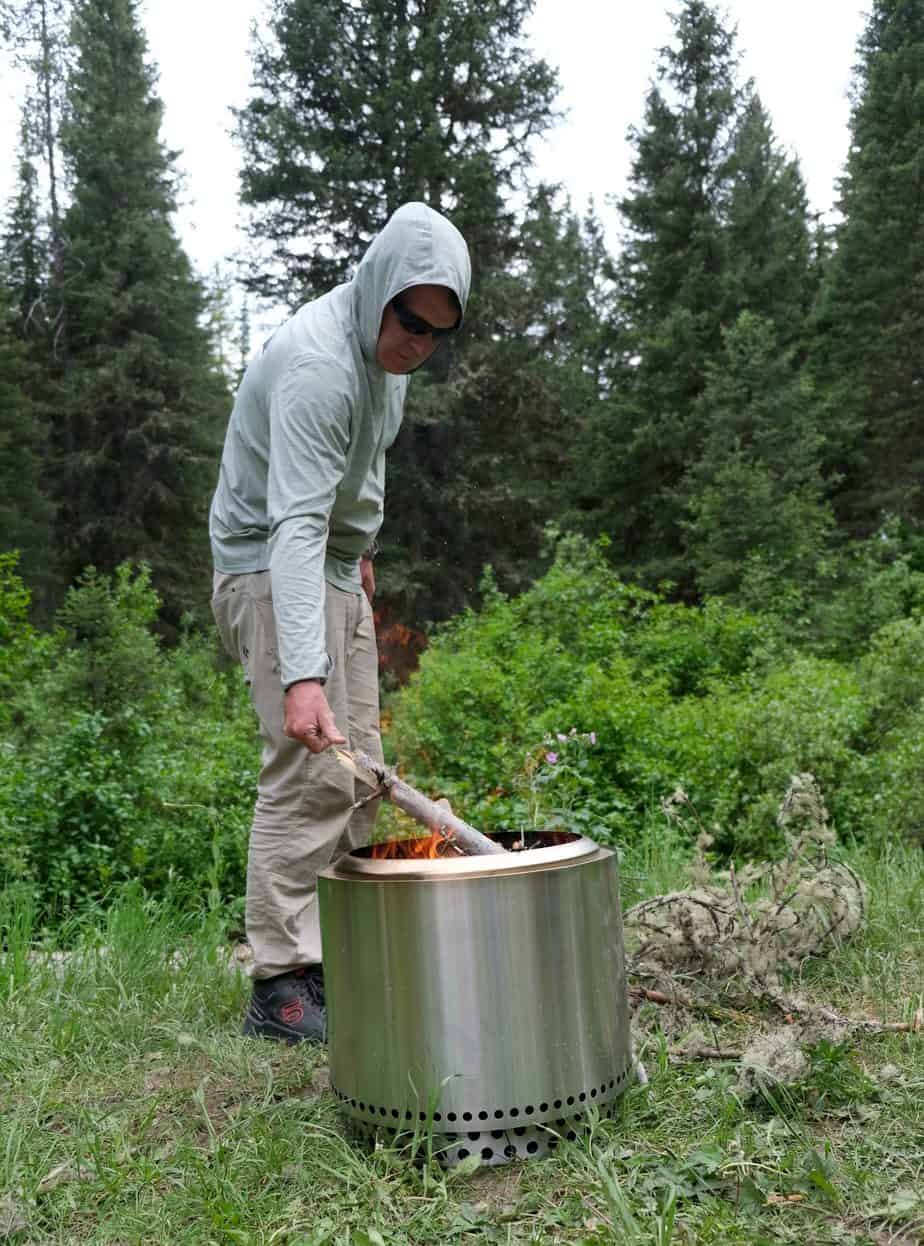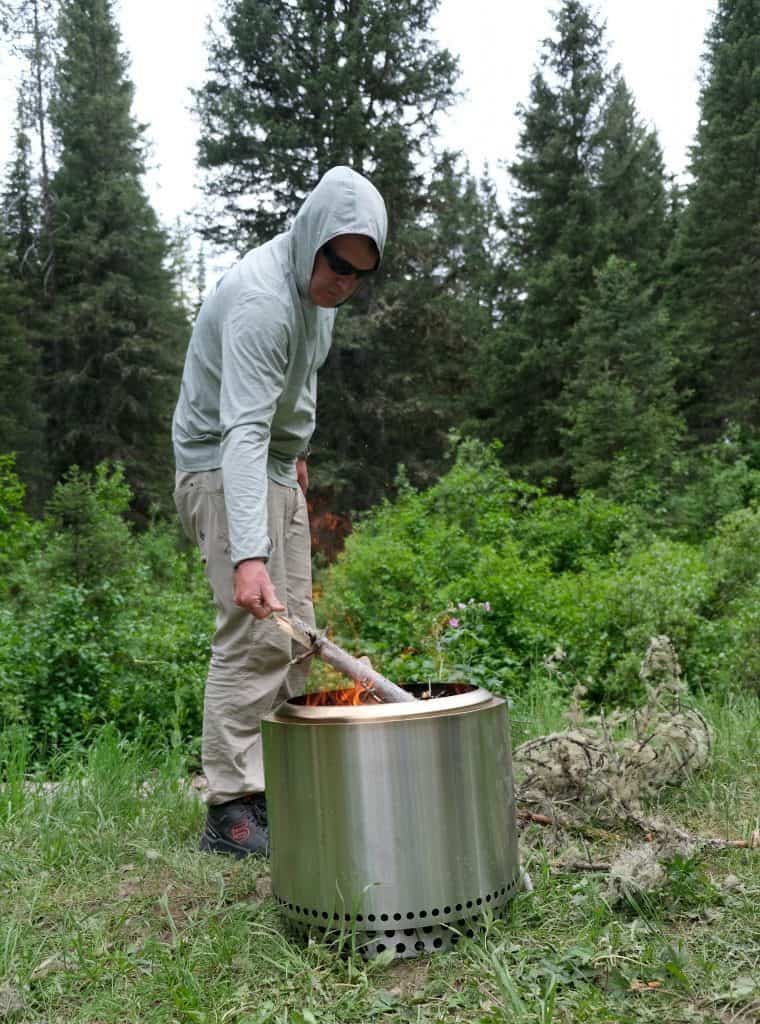 Can the Solo Stove be set inside a permanent fire pit (both at home and at the campsite)
It can, but the company recommends giving it some space so that the design can still work. The vent holes need good airflow to keep the low smoke, pretty flame going! They recommend 2+ inches of space around the whole thing so it can get enough ventilation.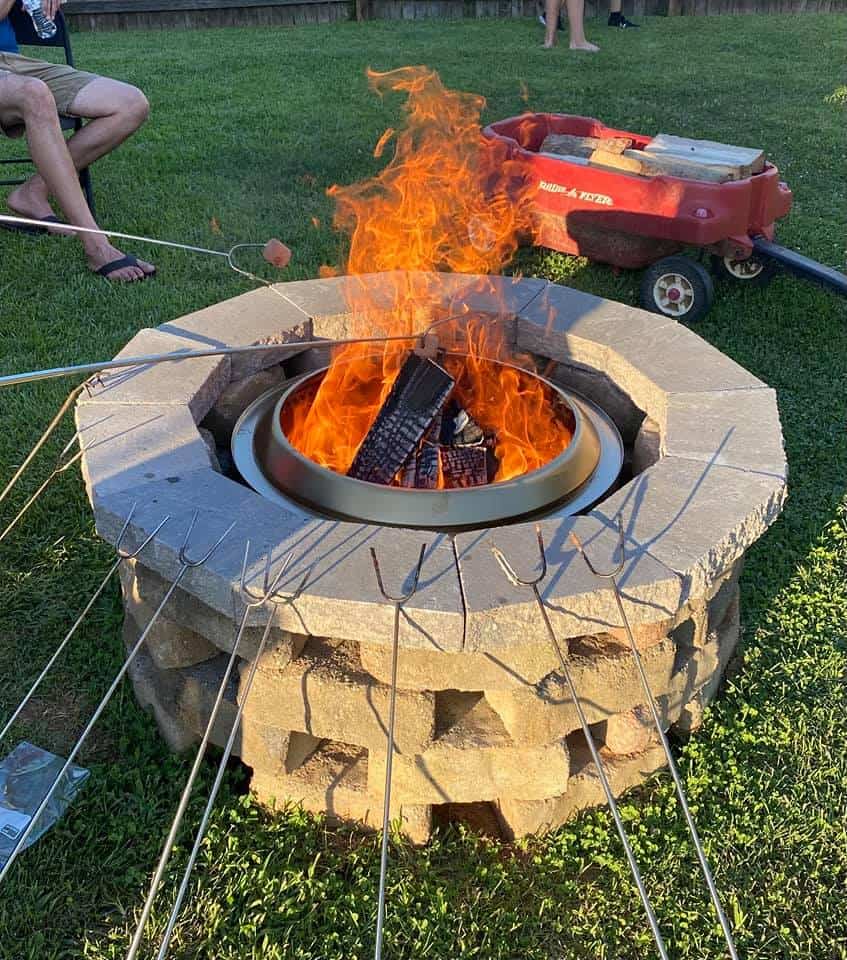 Recommended accessories for the Solo Stove Bonfire Fire Pit
If you use the link I listed above for the Bonfire fire pit, it will include a stand and carrying case which are must-haves. The stand is what gets the Solo Stove off the ground to prevent damage, and the carrying case is a convenient way to carry it (it can be hard 'cause it's so round!)
However, this list will include some other items that will make the Solo Stove Bonfire even better for your next camping trip!
Best accessories for the Solo Stove Bonfire
If you don't buy a bundle, here are the top accessories to make your camp or backyard experience even better!
Need something smaller for backpacking? Check our their smaller version – it doesn't even need propane or anything!
If you love the idea of having a campfire anywhere, but are thinking of something smaller, don't worry – they got that too! Let me quickly show you the backpacker version of the Solo Stove.
Backpacking Solo Stove – the Solo Stove Lite (utilizes small twigs and has a cooking ring!)
This version of the Solo Stove is super compact and meant to be used while backpacking. It doesn't need any propane or other cooking gas. Instead, it just uses small sticks, little pieces of wood, and even pinecones that you can find wherever you're camping or backpacking.
It nests inside of the set of pots that comes with the set I linked to. It has vent holes, like the big Solo Stove Bonfire, that help the fire burn fast and with less smoke. It can even boil water in around 4 minutes!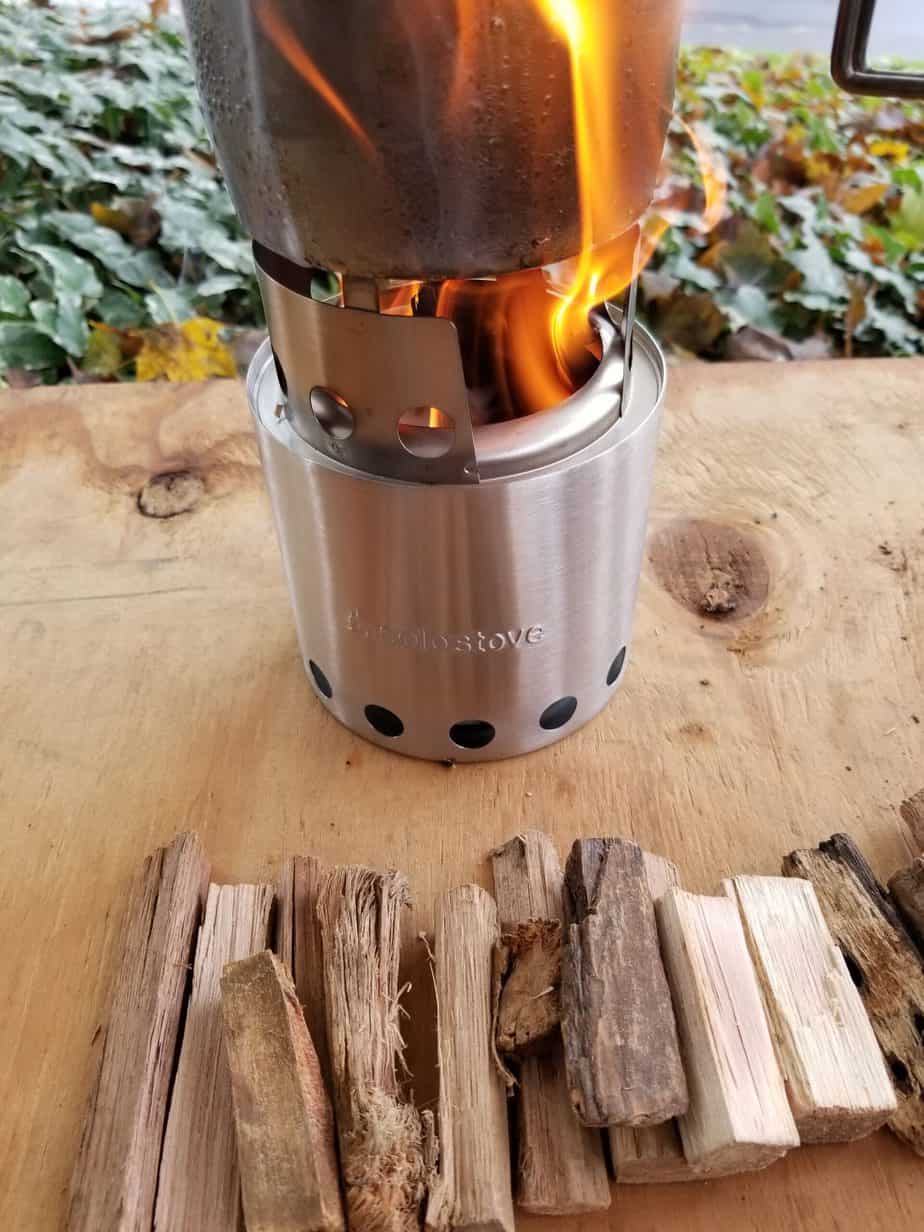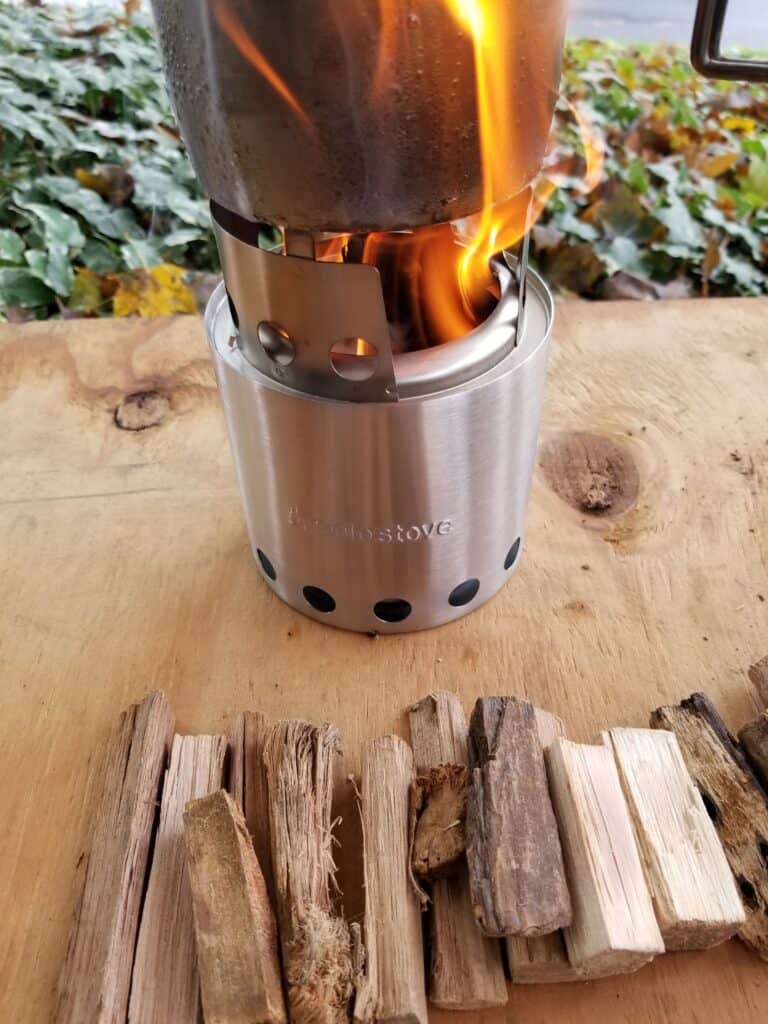 If you're ready for a smokeless, campfire anywhere kind of experience, I encourage you to check this out! If you have any questions, leave them in the comments!
I have absolutely loved the Solo Stove Bonfire fire pit and how it lets us have a fire anywhere – especially since my kids aren't constantly complaining that the "smoke won't stop following them!"
I know it's pricey (around 300) but it's one of those things that can really improve your camp experience. The Solo Stove's quality and craftsmanship shows and it just looks so clean!
So happy camping, and I hope my Solo Stove Bonfire review has helped you understand more about this awesome portable fire pit. <3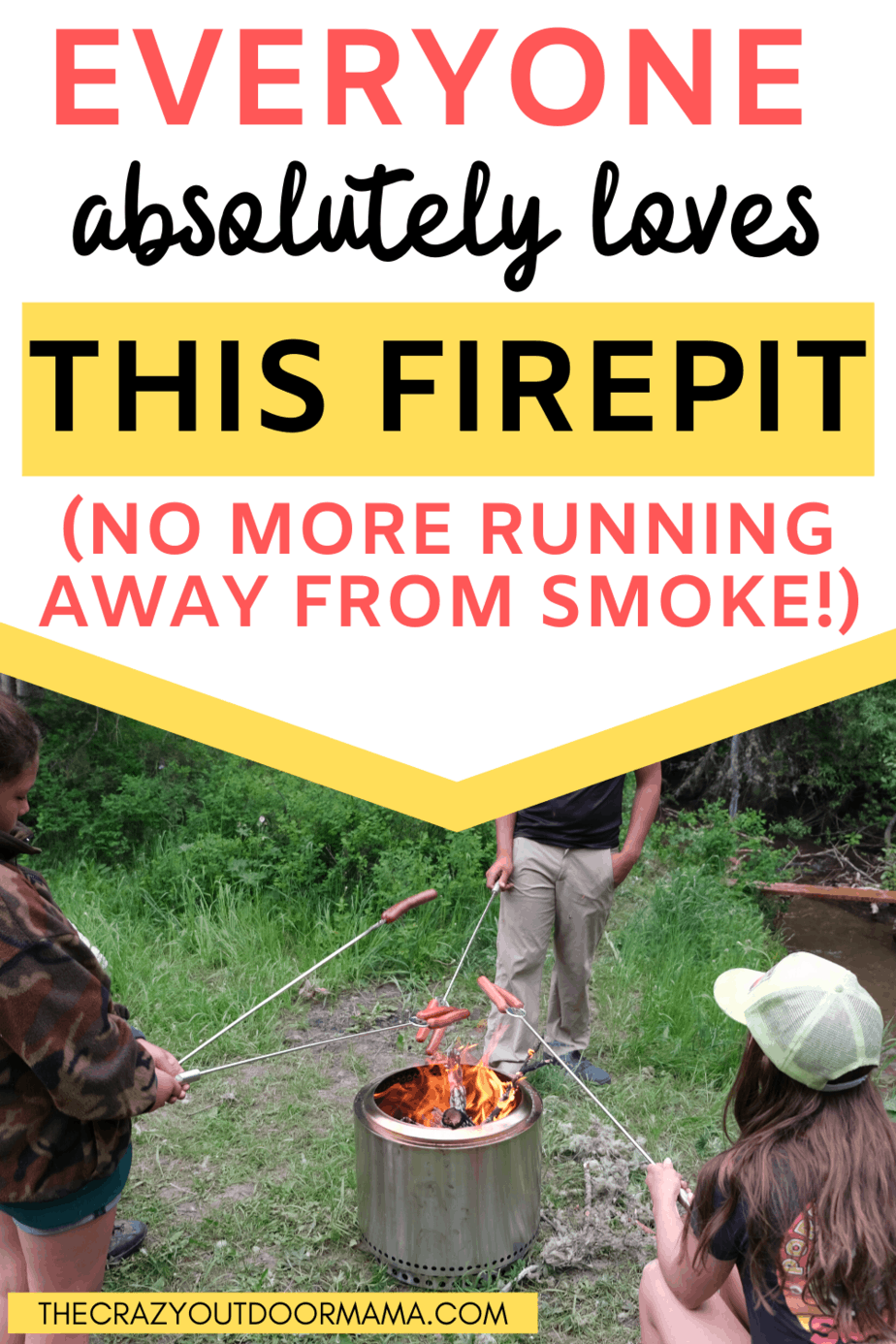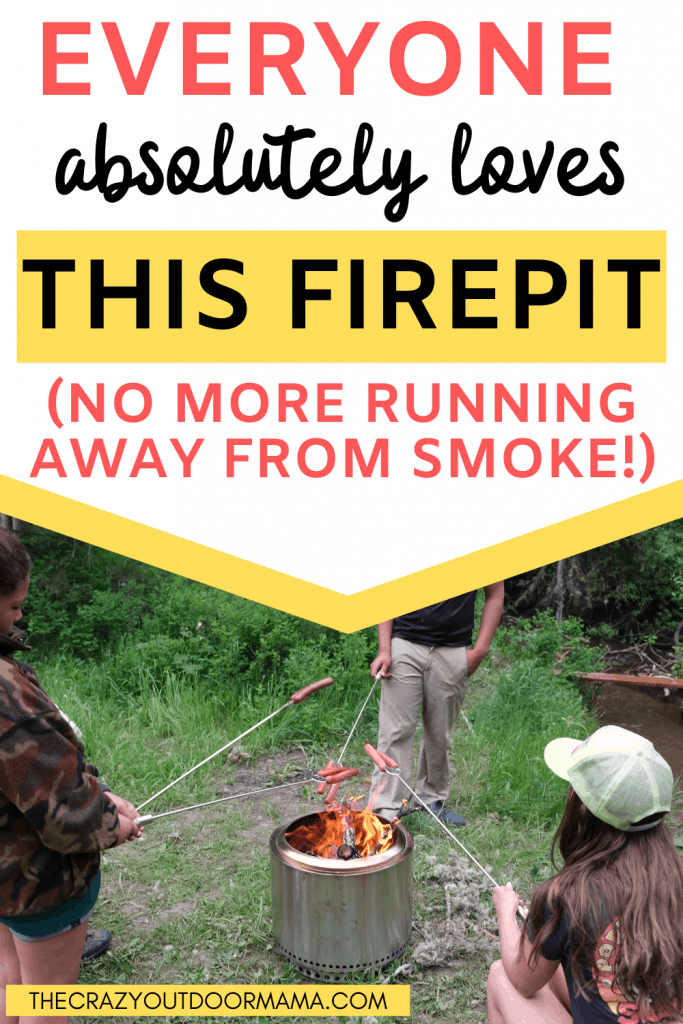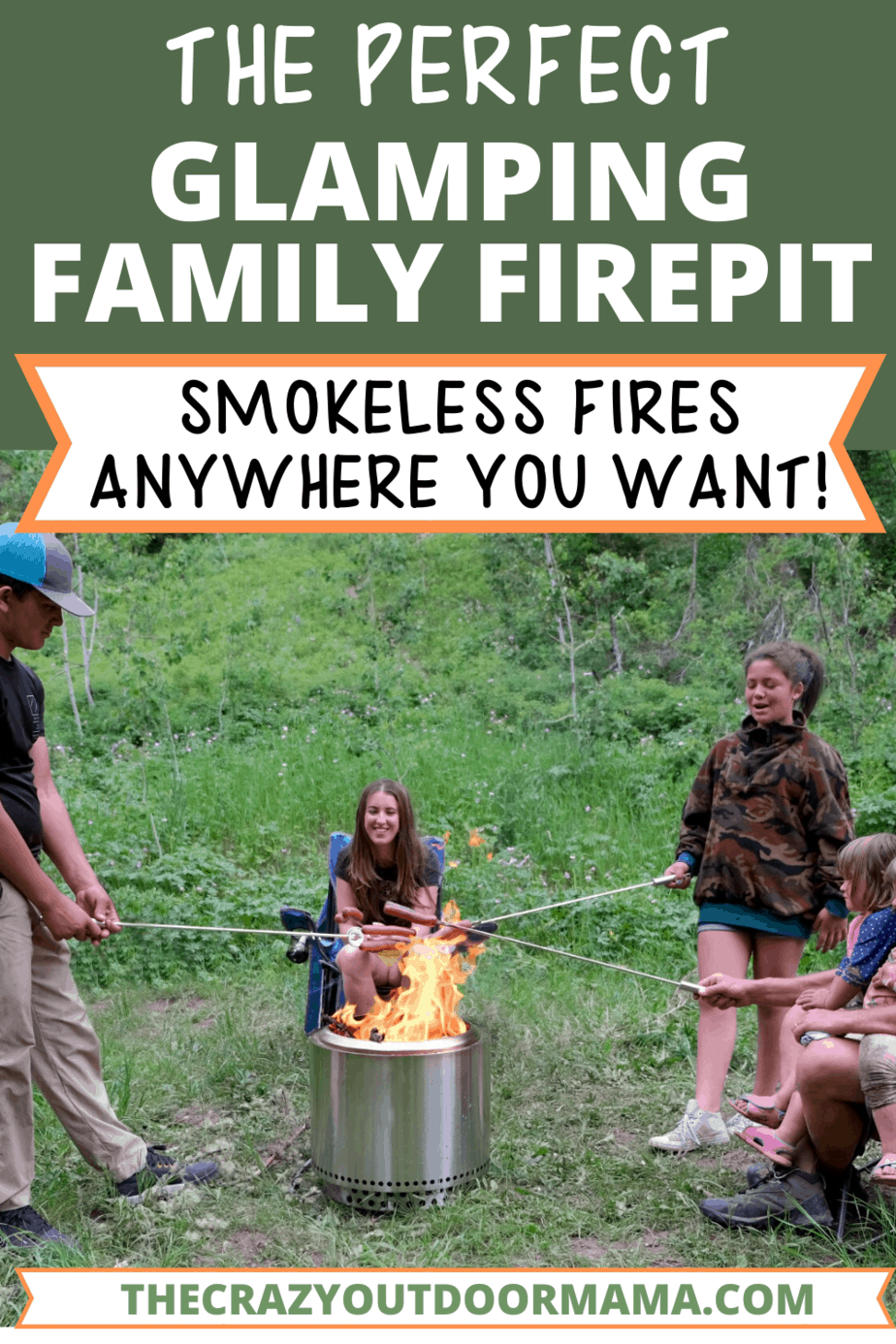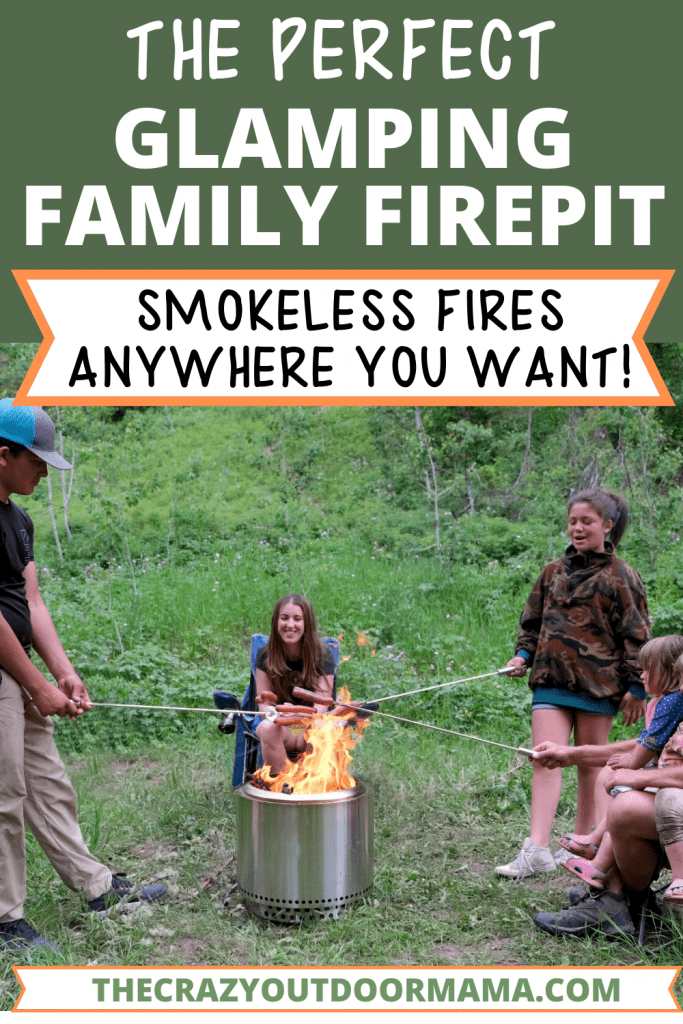 Latest posts by Stacy Bressler
(see all)