If you've ever stepped out of your RV in the morning only to feel dirt and rocks… well, it's time you invest in an RV patio mat! It's nice to not have to wear shoes every time you want to go enjoy the shade of your RV awning. And it's also nice if you have kids to prevent trips and scrapes!
When deciding on which RV mat to buy, you're probably wondering about how easy they are to clean, their effect on the grass, as well as how durable they are – I'll include a bit of everything so you can find exactly what you need!
P.S. I've picked the top 5 RV patio mats (there are quite a few junky ones!) I really hate review articles that are full of fluff and like a billion options – if you wanted to read all of that you might as well just head over to Amazon! I'm here to simplify it for you =)
So let's take a quick look at my top picks for RV outdoor rugs.
**Update 7/31/21 – after testing an up-and-coming brand of outdoor gear, I have to recommend you check out Gili Gear whole sand free line of patio mats and storage solutions here. It looks super cohesive, is eco friendly, and made in the USA!**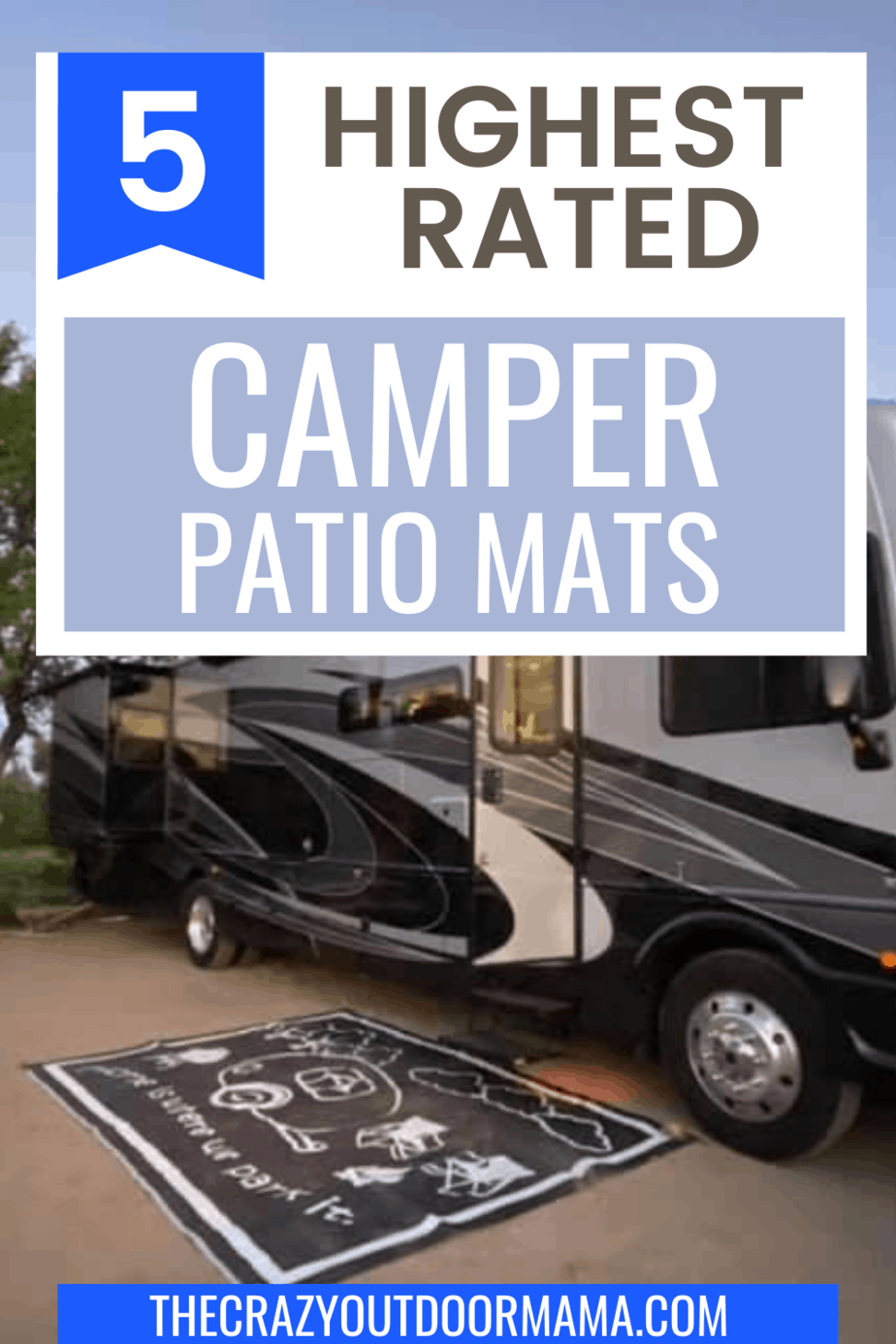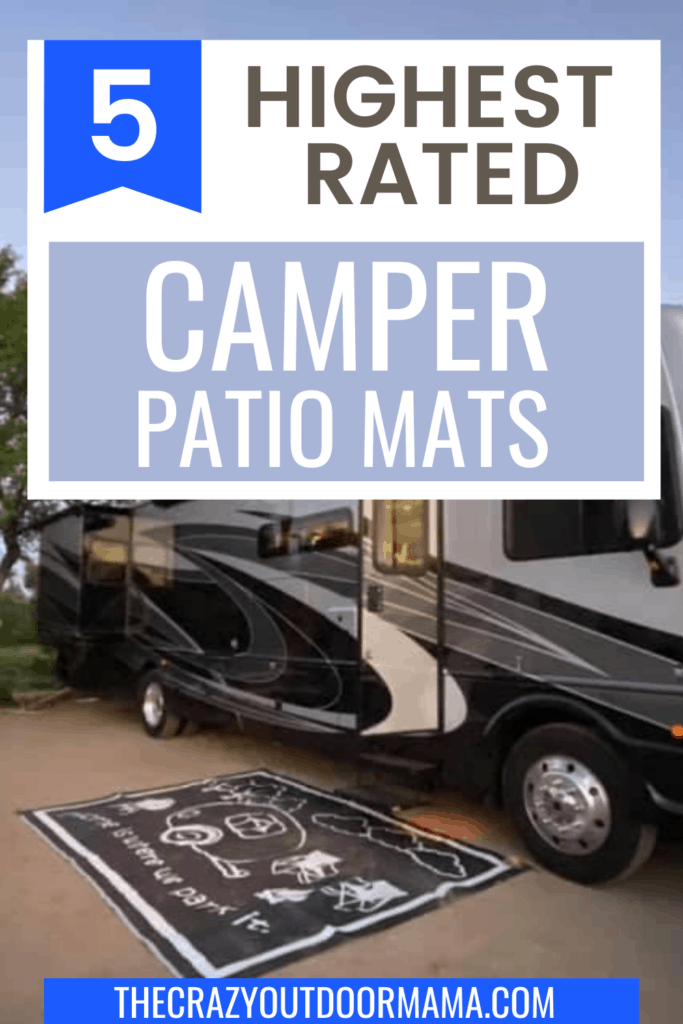 Best RV Patio Mats
Here are the highest rated travel trailer patio mats that are perfect for making your awning area even more enjoyable!
As an Amazon Associate and member of other affiliate programs, I earn from qualifying purchases.
Photo Credit: giligear.com
If you're looking for the newest in sand free, durable technology that's both eco friendly and American made, then you need to know about Gili Gear! This is just the patio mat, but they have multiple sizes options for mats and bins giving a very cohesive look!
Sand easily sifts out on it's own
Made from repurposed Vinyl Mesh that's UV and mildew resistant
Stain proof
Corner loops and carrying case
Made in Colorado!
This plastic extra large RV mat is perfect for the big RVs! One reviewer said
"Good woven plastic, thick and look good. Took out this week-end our site was sandy, we had a full afternoon of heavy rain and this rug performed very well easy to clean and dries quickly."
made from breathable material so there's no damage to the grass below the mat
UV coated to protect from sun damage
includes corner loops to stake it down
This 8x18 ft polypropylene camping mat has a cute saying on it and includes a carrying bag!
Mud sweeps right off
Doesn't kill the grass below it
Dries fast
While this is super cute, the only con is that it doesn't come with stakes or holes to hold the corners down.
If you love nature and don't need a massive mat, this is the one for you! Featuring wolves, bears, elk, pinecones and trees, this reversable awning mat comes with a carrying bag too!
easy to clean
easy to fold into storage bag
mold and mildew resistant
With multiple color options, this is a perfect camper awning rug for those who like things to all match!
resistant to mold and mildew
heavier than other awning mats
doesn't seem to be affected by chairs or dog claws
If you prefer more stylish and bold prints for your camper, then this brand offers a ton of options! This is only one of many styles you can choose from!
made from recycled polypropylene
stain and mildew resistant
has loops on the corners for easy anchoring
Most RV patio mats don't include anchors or stakes, so don't forget to grab some like these!
While you could use tent stakes, these low profile ones were designed for the job and are much easier to avoid tripping over!
Things to Consider When Choosing Your RV Patio Mat
I think the five RV patio mats I featured are some of the best. But there are TONS of different options out there. So whether you're gonna choose one from my list or another, what should you keep in mind before choosing an RV mat for your next camping trip?
Weight
The RV outdoor rugs on my list only weigh about 10-15 pounds and that seems to be the case with most outdoor rugs. Heavier ones will usually be a bit more durable. Lighter rugs will be easier to handle and will pack up smaller which is nice if you're short on space.
Another thing you should remember is that lighter outdoor mats will get blown around easier by the wind so it's best to have a way to stake them down.
How Easy Is It To Clean?
Patio mats have to put up with a lot of dirt and grime – mud, sand, and the occasional spilled bowel of pancake batter. Some of the dry stuff is easy to sweep off with a broom, but it's also important to be able to hose it off and hang it to dry. Fortunately all the RV outdoor rugs on my list can be hosed down with water to clean.
Ease of Transportation
Trying to handle a rolled up patio mat can seriously feel like wrestling a limp anaconda. Four of the options on my list come with convenient carrying bags with handles which make it super easy to fold up and store.
Durability
If you want a patio mat that'll last several seasons, buy one that can stand up to the elements. Look for a mat that has some UV protection so it won't start fading after camping a few trips on sunny campsites. It should also shed water easily and be mold and mildew resistant to stay nice even after a few rainy camping trips.
How Do I Keep the Wind From Blowing It?
Even if you have a picnic table or some chairs sitting on top of your awning mat, it's still worth it to have the corners staked down. Just imagine… you sit down to an awesome camp dinner. Along comes a gust of wind and flips up a corner of your mat along with a bunch of dirt and pine needles that are now all over the table. Yuck!
Look for an RV patio mat with little loops on the corners where you can put some stakes to hold it down (so you can enjoy your camp meal in peace!)
Don't Kill Your Grass
If you'll be laying out your rug on a dirt campsite you don't have to worry about this. But if you'll be using your RV mat on grass, you should look for a mat that's breathable. This will help protect the grass beneath the RV mat so you don't end up with a mat-sized patch of dead grass.
Did you find the perfect RV Mat?
When it came to choosing our RV mat, weight wasn't as important as durability. We have 3 kids, a ton of camp gear (mainly kitchen stuff) and tend to camp out of campgrounds – that means sand, rocks, and just overall rougher terrain campsites.
I didn't include the fake grass mats here as I honestly don't think they would count as camping or awning mats (we have camped A LOT, and the only people I see using those types of RV mats are permanent people).
If you're someone who needs to see and feel the mat in real life before buying, I do see them often at Costco during summertime. And of course, you can always find RV mats at camping dealerships as well!
What's your favorite outdoor camping rug? Did I miss your favorite RV mat here? Leave it in the comments below.
Don't forget to check out these RV gear articles too!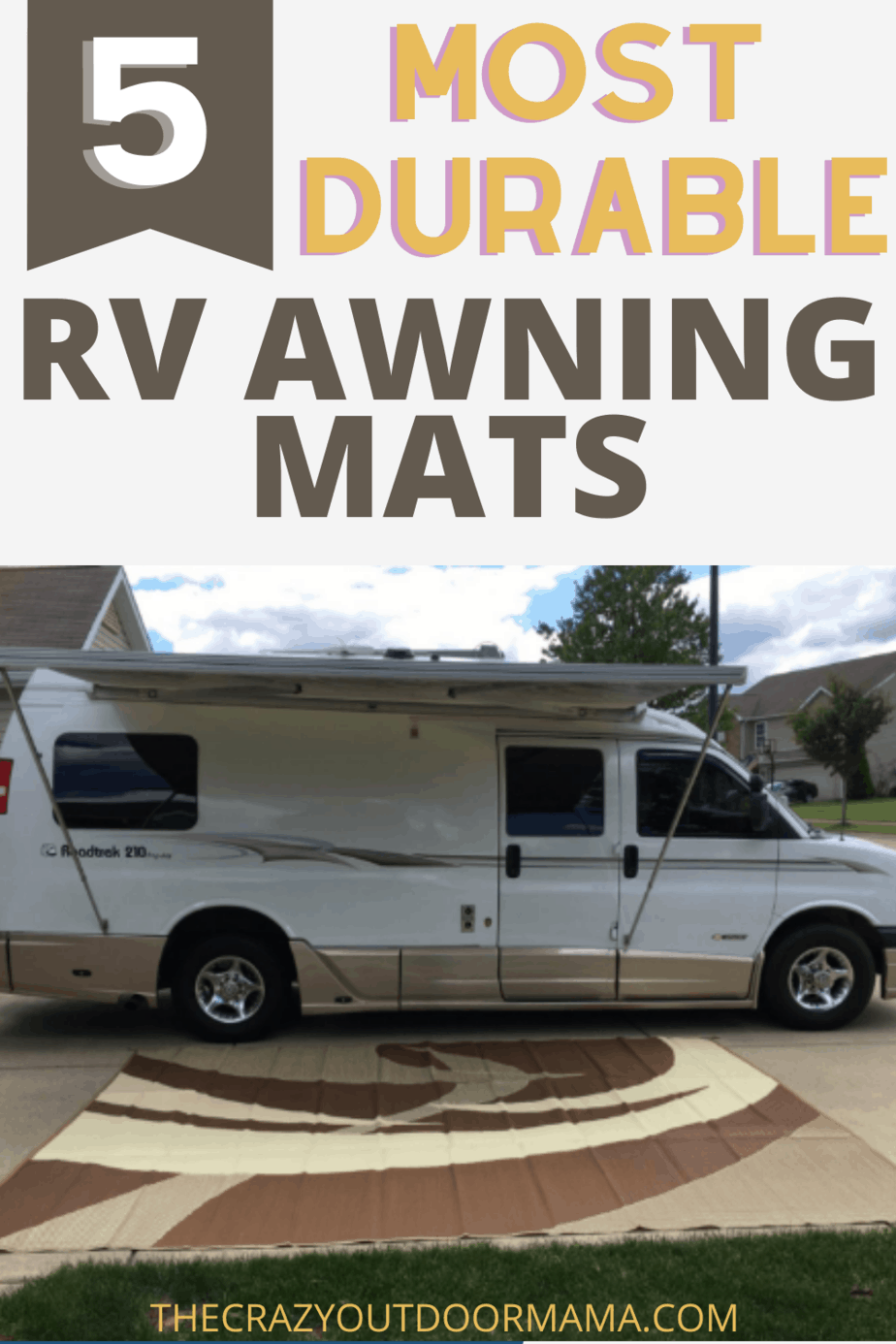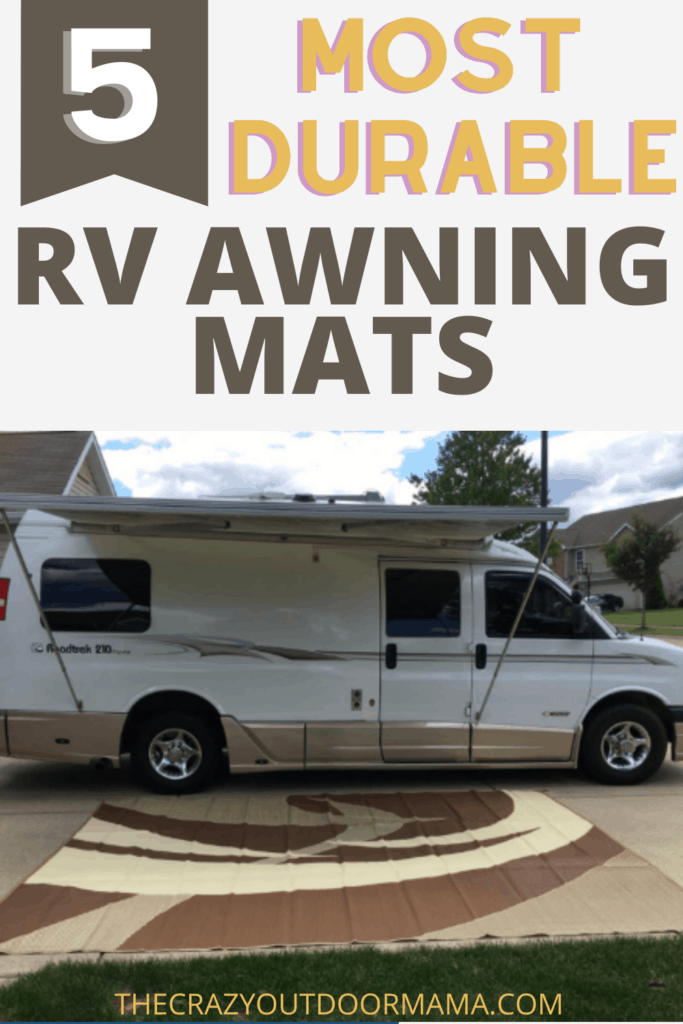 Latest posts by Stacy Bressler
(see all)