Winter's almost here 😥 which means for most of us it's about time to give our RVs a rest for a few months. It's also a time when a lot of us RVers ask themselves…should I put an RV cover over my rig?
You might need to. You might not.
This is the article that'll help you make the right RV cover choice and potentially save you loads of money and unnecessary headaches.
So let's look at what you should consider before you go out and drop a few hundred bucks on a camper cover.
And if you decide that you need one, I'll give you 10 of the best RV covers that should be at the top of your list.
Let's get started!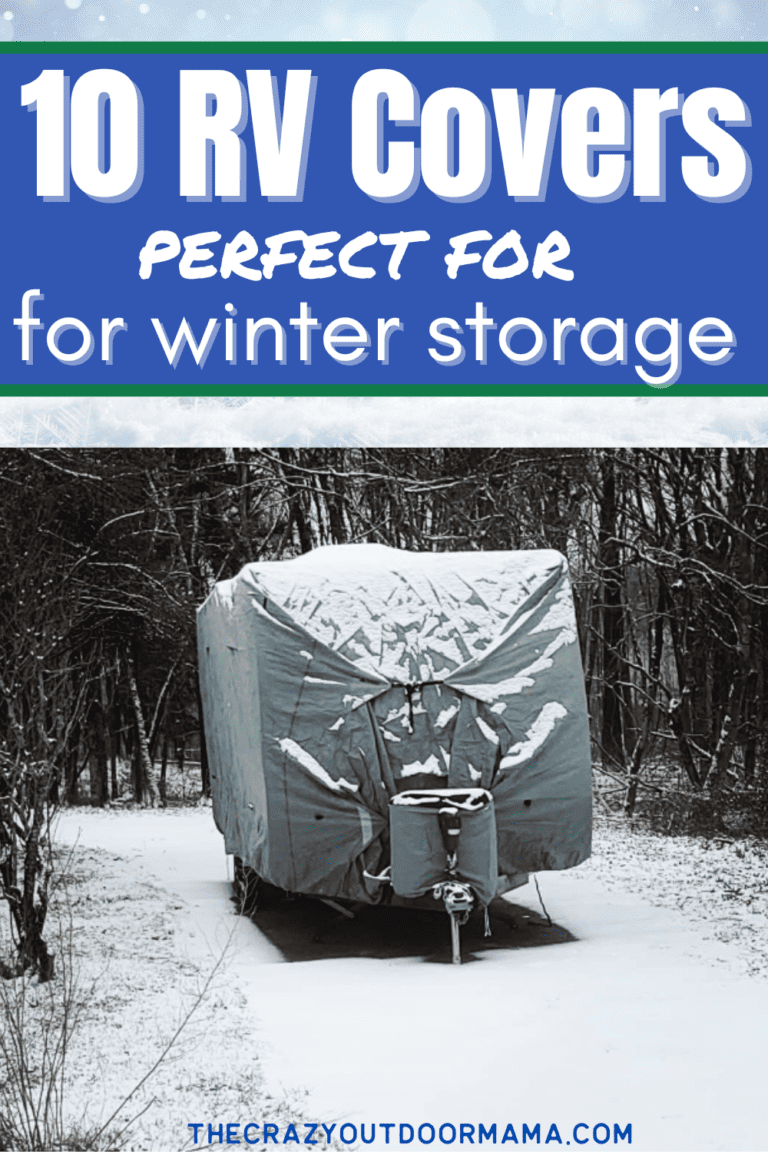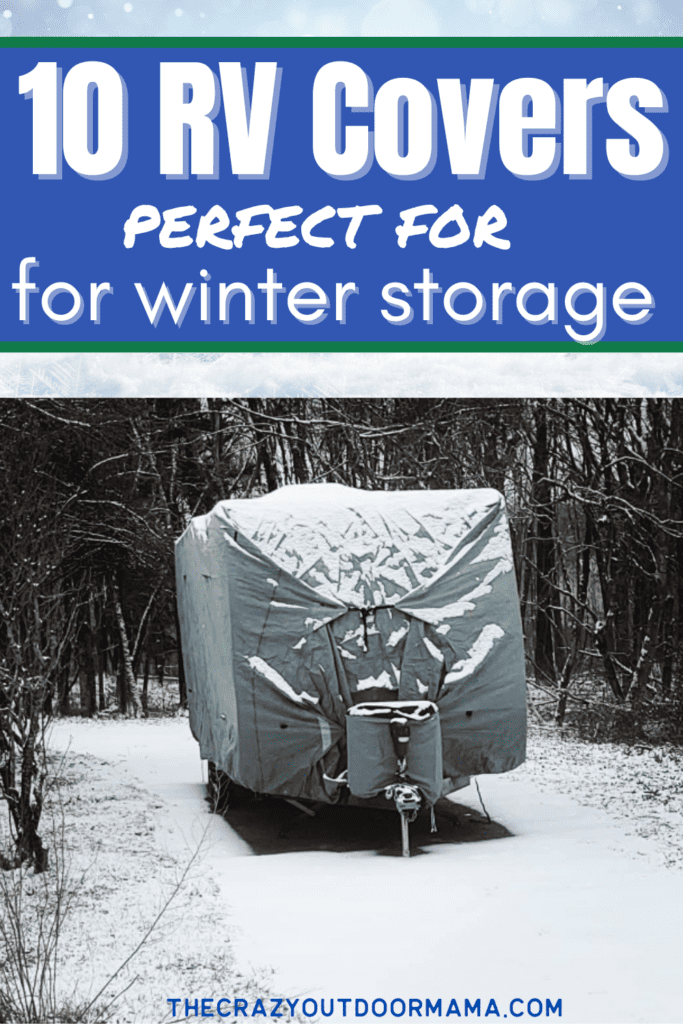 Pros and Cons of RV Covers
Yup, there are definitely some reasons why you should get an RV cover. But there are also a few reasons why you SHOULDN'T get an RV cover.
And really, this is a big debate amongst RVers. But when it comes down to it, whether you should or shouldn't get one of these RV covers depends on a lot of different factors, so it's up to you to figure out what's right for your RV.
Either way, this article will give you everything you need to make the right decision.
So let's start with the CONS of RV covers.
CON #1 – Extra Cost
RV covers can get a little pricey with some being $300-400 or more. And it can seem like even more when you consider that it'll probably only last for a few seasons at best.
However, when compared with the price of your RV, it's small beans. And when you break it down by year, even expensive RV covers can seem a little more reasonable.
I.e. If you get a quality RV cover with a 3-year warranty for $300, then you're really only paying $100 per season to keep your RV looking nice.
CON #2 – Damage to Your RV's Finish
What?! I thought RV covers were supposed to protect my finish, not damage it! Well, sadly it has happened.
Some RV owners have removed their covers in spring only to find that a poorly positioned strap or buckle rubbed a mark in the finish over the winter. Argh! 😣
Fortunately, most quality RV covers are designed to avoid that frustrating scenario. And a lot also has to do with proper installation — making sure straps are tightened and positioned correctly and even using some foam insulation around straps where necessary.
CON #3 – Extra Hassle
Dealing with RV covers can definitely cause you some extra hassle. Hassle putting it on. Hassle taking it off. And hassle finding a place to store it.
*Important! If you'll need to walk on top of your RV in order to install the cover, weigh the risks carefully. A fall off the side of your RV could permanently cancel any future camping trips. At the very least you could damage your RV roof or vents.
CON #4 – Moisture Issues
Wait a second? Why am I gonna have moisture issues if I keep my RV covered with a waterproof cover?
Here's why…
Moisture that gets in your RV isn't good. But if there's moisture in your RV that can't get out…that's also bad (leads to mold, musty smell, etc.)
Cheap RV covers that are waterproof but not breathable can potentially cause problems like that. But most quality covers are made with fabric that's both water-resistant and breathable. They also usually have thicker roofs for extra waterproofing and thinner sides for better breathability.
CON #5 – Is It Really Necessary?
I don't know if this is a con so much as just another reason why you might not need an RV cover. Basically, there might be some circumstances in which RV covers won't really do you much good.
For example…
Do you already store your RV indoors or under a roof? In that case, your RV is already protected from the elements.
Do you only store it for a month or two a year in a mild climate? Then it might not be worth it to get an RV cover for such a short time.
Are you covering your RV to keep little critters out? Don't bother. Unless you wrap the entire thing in plastic (like those machines at the airport that do it to your suitcase), small rodents can still find their way in if they want to.
*If you want to keep mice out of your camper, follow the tips in my article How to Actually Keep Mice Out of Your Camper (No Irish Spring Soap!)
Ok, so we considered the reasons why you might NOT want to use an RV cover. What are the RV cover PROS? When should you use RV covers?
PRO #1 – Keep Your RV's Finish Looking Nice
If you don't have a dedicated indoor storage for your RV, an RV cover is the next best thing.
The sun's UV rays can damage just about everything on the outside of an RV — rubber roofs, paint finishes, seals, and caulking. If it's going to be sitting in one place for several months, covering it will go a long way to help all those components last longer.
But the best RV covers don't just keep the outside looking nice. If you store your camper in a sunny area, UV light shining in through the windows can even cause interior elements to slowly fade and deteriorate. So a cover will also help keep the inside looking like new.
PRO #2 – Easier to Keep Clean
As long as you wash your RV before you put the cover on, come springtime, all you have to do is remove the cover and you're ready to go. No more scrubbing off piles of pine needles, leaves, dirt, grime, bird poop, and caterpillars.
PRO #3 – Less Chance of Leaks Through the Winter
With a water-resistant RV cover on, there's less of a chance that you'll open it up in the spring only to find a puddle of water on the floor.
Most RV covers have multi-ply roofs for extra water resistance that helps keep water out of seals, vents, and other perforations in the roof.
PRO #4 – Extra Protection Against Thieves and Prying Eyes
Although most RV covers have a way to access the interior without having to remove the cover, it does add an extra layer of protection that keeps people from looking inside or even trying to get inside.
PRO #5 – Increase Your RV's Resale Value
There's a reason why well-maintained and GARAGE-KEPT cars sell easier. They just look a whole lot better than ones that have been kept outside for years on end.
The same is true with RVs. Cover yours religiously anytime you store it and in a couple of years when it comes time to sell it, you can impress potential buyers with how good it looks.
There you have it! So is an RV cover for you?
-Do you have a new RV that you'll store for months at a time in a wooded area? Then yeah, you should probably get one.
-Do you have a used RV that you store outside but under a roof? Well…it's up to you. I mean, covering it can't really hurt, but it might not really be necessary.
-Do you park your RV outside for a months at a time at a separate storage facility lot? RV covers will definitely help keep it nice.
RV Cover Buyer's Guide – What to Look For in a Camper Cover?
As you look at the different types of RV covers, here are a few things you should consider:
Size
Fabric Material
Access
Vents
Price
Tire Covers
Size
Probably the biggest consideration when choosing your RV cover is its size. If it's too small, well then duh…it won't fit.
On the other hand, if it's too big, then you'll have a bunch of extra fabric. An oversized RV cover will be more likely to flap around in the wind, tear, or even damage your RV.
So how can you make sure you get the right fit? It's time to get out the tape measure.
Here's how to measure your travel trailer for an RV cover:
Start by measuring the length of your rig. Be sure to include any spare tires, boxes, or ladders that might be on either end. Just don't include the hitch in the total length.
Then measure the total height, excluding the ground clearance. Basically, you just want to go from the middle of your wheels to the top of the trailer. Don't worry about adding any inches for vent covers or A/C units. Most covers are designed to fit over them.
You can measure the width as well, but in most cases, it's not really necessary. Most campers have standard widths that don't vary enough to affect how the cover fits.
*In most cases, travel trailer covers are sold simply by length. However, it's good to have the total height and width measurements as well just to double-check the fit before buying.
If it's still unclear, check out this how-to video from Makarios RV.
Fabric Material
There are several different types of fabric materials that are commonly used for making RV covers. Each has its pros and cons so make sure you choose the one that'll work best for your climate and the kind of protection you need. Some RV covers even have a combination of materials to capitalize on each of their strengths.
Here are some common fabric materials you'll see when looking for RV covers:
Polyethylene – Strong, water-resistant, and breathable. Polyethylene is a great fabric for wet and windy climates. It's durable and wear-resistant so it won't tear as easily if you get a lot of wind. Plus, it's got a great combination of water resistance and breathability. It'll keep the rain out while still allowing the inside of your camper to breathe.
Polyester – Good UV protection. Polyester is a good choice for when you store your RV in a sunny and dry climate. It'll hold up well despite being baked in the direct sun. However, polyester fabric by itself is not waterproof. So if you want protection from the rain too, be sure to look for polyester that's been treated with a waterproof coating.
Polypropylene – Acid-resistant, breathable, and somewhat water-resistant. Polypropylene is a really common fabric to see in RV covers. It's breathable and partially water-resistant. Since it's not 100% waterproof, sometimes it's layered or treated with a coating for extra protection.
Solution-dyed acrylic – UV resistant and waterproof. This fabric is a great choice for durable all-weather protection — harsh sun, rain, snow. It's made with UV-resistant dyes so it'll be less likely to fade and break down over time. Plus, it's got a special coating that makes it waterproof.
Access
Do you want to be able to get in your RV at some point while it's stored? Maybe to check for leaks or to get to your secret stash of snacks? 😋
Then it's good to look for RV covers with zippered entry doors. All you'll have to do is unzip and roll it up or fold over that section of fabric to get to your RV's door. That sure beats having to remove the cover.
Vents
Vents can serve several different purposes.
For one, they help prevent wind damage. In fact, wind is the leading cause of RV cover damage. The more wind gets up and under the cover, the more it'll flap and billow which will quickly lead to it tearing. And a cover that flaps a lot in the wind is also more likely to damage your RV.
That's why most covers have strategically placed vents that allow the wind to pass through the cover. Basically, instead of being a parachute that catches all the wind, your cover becomes a parachute with holes. If you live in a windy area, you should definitely choose a cover with vents.
Another benefit of vents is extra breathability. If your cover is made out of a waterproof fabric that lacks breathability, the vents will help it breathe.
Price
As with most things, you get what you pay for. Get a cheap RV cover and it might last a season or two. Pay a bit more and you'll get one that offers better protection, is easier to handle, and lasts for several seasons. You probably end up paying the same amount per season so you might as well go with the cover that provides better protection.
Tire Covers
If you're storing your RV for long periods in a sunny, dry climate, it's also worth investing in some tire covers. Tire covers will protect your tires from UV damage and dry rot. So instead of throwing money away and needing to buy new tires while the treads are still fresh, just throw on some tire covers anytime you're planning on parking it for a while.
*Some of the RV covers on my list even come with matching tire covers!
10 Best RV Covers That Should Be at the Top of Your List
As with a lot of my review articles, this list of the best RV covers isn't organized from best to worst, prettiest to ugliest, or fattest to skinniest. Consider your needs and choose the one that'll work best for you.
Pros
Intelligent design
Comes with 4 tire covers
Side access panel
Cons
2-year warranty is nice, but other brands offer a 3-year warranty
The King Bird RV covers are some of the most popular and well-reviewed covers on the market. They seem to strike the right balance between price, features, and quality. Plus, they're constantly improving their cover design.
While you can still get older models on Amazon, their most current upgraded version is worth the few extra bucks.
It's got tons of straps so you can adjust it for a snug fit. Plus, there are two straps that wrap the entire way around the body of your camper. And for windy areas, the 6 air vents will help reduce wear and tear on the cover.
The King Bird cover is made from UV-resistant fabric so it's less likely to deteriorate in harsh sunlight. Plus, it's got a full 5 layers of tear-resistant fabric on the top and 3 on the side.
*Just be sure to have reasonable expectations when you hear the phrase "tear-resistant". Any cover that's flapping in the wind over a sharp, unprotected corner will eventually rip. SEE TIPS FOR INSTALLING YOUR RV COVER.
All in all, the King Bird RV cover is a solid choice for just about any RV owner.
Watch the King Bird RV Cover Video Review.
---
Pros
Two color options
Decent price
Comes in a nice variety of sizes
Cons
Company's support can be problematic
These Leader Accessory camper covers come in at almost $100 cheaper than the King Bird covers. But they still have some nice features.
The top panel is a 4-ply fabric that's protected with an Anti-UV composite and a waterproof coating. Then the side panels are single-ply fabric for moderate protection and decent breathability.
There are air vents to reduce wind damage and an elastic hem around the corners for a snug fit. And for easy access while it's stored, this RV cover has a zippered access panel that rolls up when you need to get inside.
*Since the sides are single-ply, it's important to fully protect and hard corners or protrusions with a pool noodle or pipe insulation. If you don't, prepare for this cover to rip.
*Looking for other ways to winterize your camper? Check out my article 17 Essential Products To Winter RV Living (without freezing!)
---
Pros
Tie-down straps galore!
Comes with 4 tire covers
6 layer top and 4 layer sides
Side access panels
Cons
A little pricey (similar to the King Bird cover)
The first thing you'll notice about the Quictent camper cover is… "Wow! That's a lot of straps!" Yup, instead of 4 or 5 straps on each side, this one has a whopping 10 different straps that wrap around the bottom of the camper.
Where each strap attaches to the cover is always a weak point. But this one's got a blue PVC strip that runs the length of the trailer with grommet holes where you can attach the straps. Since the blue PVC strip is sewn the entire length of the trailer and the force is divided up over 10 straps (instead of 5) it's a lot less likely to rip out.
The roof has 6 different layers for optimum UV and rain protection. Then the sides are 4-ply (similar to the tops on other cheaper covers) for extra protection and durability.
The 6 wind vents reduce stress on the cover and increase breathability. And the reinforced corners help keep the cover from ripping (although if your RV corners are sharp, you should still protect them with something else).
Watch a Quictent RV cover review video and see how it's installed too.
---
PROS
Design on the side looks nice
Available for just about any RV or trailer size
Nice for wet climates without a lot of sun
Available in a toy hauler version with a zippered flap in the back
CONS
Not designed for strong sun and heat so don't choose this one if you live in central or southern USA
ADCO has been a popular name in the RV cover industry for a while. Their Designer series covers have everything you'd expect from a mid-level RV cover.
It's got an SFS AquaShed top panel and triple layer polypropylene sides with multiple zippered panels for access to your RV while it's covered.
The SFS AquaShield has multiple layers that repel water but still maintain its breathability. The extra roof fabric is also made to extend down several inches on all sides for extra protection around the edges.
It's got 3 roof vents on each side to prevent billowing. Plus it comes with rain gutter protectors and a ladder cover to help prevent rips and tears.
This cover is a great value for the money. However, DO NOT purchase this if you live in a hot, sunny climate. The fabric only has moderate UV protection. If you try to store this in full Arizona sun, it'll start to disintegrate in no time. This cover works best if you're storing it in wet, mild climates like the northwest (or in full shade).
*If you want an ADCO Designer RV cover for high-UV areas, go with their DuPont Tyvek covers.
Watch an ADCO Designer RV Cover video review.
---
PROS
Super budget-friendly price
Comes with a patch kit
Breathable
CONS
No air vents
No zippered side panels
The Wolf by Covercraft (made by the same company as ADCO covers) travel trailer cover is about as simple as it gets. There are just a few straps, no vents, no fancy fabrics and coatings, no access panels, no included tire covers, and no options for class A or C RVs or 5th wheels.
But that's probably also why this RV cover costs less than half of some of the others on this list. Fortunately, it does come with rain gutter protectors, a patch kit (that you'll likely need), and a storage bag.
So if you need a simple cover, are super careful about padding any sharp corners or protrusions, and are storing your trailer in a somewhat protected area, this could work for you.
Check the Wolf by Covercraft Travel Trailer RV Cover price.
---
PROS
Comes with 4 tire covers, a jack cover, and gutter covers
UV-resistant fabric
6-ply top
Side zip-up panels
CONS
Latches on the straps are a bit weak and can come undone in really strong winds
A little pricey for the features
The RVMasking cover has a lot of the features you'd expect to find on a mid to high-end RV cover — 8 air vents, zippered side panels, and multiple tie-down straps.
It is however the only one on my main list of RV covers that comes with both tire covers and a jack cover! And it's one of the few with a 6-ply top that extends down from the edges several inches.
Another convenient feature on this RV cover is the heavy-duty handles on the top corners which make it really easy to remove.
Watch an RVMasking RV cover unboxing and installation review video
Here are 5 more RV cover options that didn't quite make my main list….but you still might want to consider.
---
Umbrauto's Upgraded Waterproof Cover has a Tyvek Anti-UV top so it's a great option if you store your camper in full sun.
Check the current price.
They've also got a nice variety of covers for other types of campers. They even sell a pop-up camper cover.
---
Source: Amazon
The LATCH.IT cover seems promising — thick handles for easy installation, zippered doors, UV-resistant coating. However, with so few reviews it's best to wait and see how it does in real life.
Check the current price.
---
Camco is a heavy hitter in the RV industry. So it makes sense that they'd also make RV covers. The sides are made with a 3-layer non-woven polypropylene fabric and the top is DuPont Tyvec for water resistance, breathability, and UV protection.
Check the current price.
---
The Fruno 300D also has a promising design. It's made with a high-density 300D Oxford fabric top and a 150D side with waterproof PU coatings. It's got a bunch (12 to be exact) of tie-down straps, air vents, and even some thoughtful accessories.
Check the current price.
That's it! You did it! You made it to the end of the list, woohoo💥🍻😎
Before you go, you should check out these other tips that'll save you a bunch of hassle and help your cover last longer.
---
How to Install an RV Cover
Whether you're planning to install an RVMasking, ADCO, or any other kind of RV cover, the process is almost the same. Just be sure to refer to the owner's manual to make sure you don't miss any differences between models.
So here are the steps to install your RV cover:
Clean your rig first. It's just good practice to cover your rig when it's clean and dry.
Look your camper over for sharp corners and protrusions that could rip the RV cover. Look at the corners, gutters, steps, antennas, and other accessories. Then, cover them using pipe insulation, pool noodles, or other protectors.
Find a friend. You might be able to put the cover on yourself, but it's waaaay easier (and safer) with a buddy.
Pull the cover over the RV. There are different ways to do this. One of the easiest is to: open up the cover, turn it inside out and fold the sides in towards the center, and roll it up from back to front. Then, pull it up and over your RV until the entire cover is laying on the roof. Then simply fold down the sides.
See it demonstrated in this RV cover install video from ADCO.
Position the cover evenly over your RV paying special attention to any corners to make sure you don't pull off the protectors.
Fasten and tighten the straps according to the manufacturer's instructions.
Tips for Maintaining Your RV Cover So It'll Last
No RV cover is going to last forever. In fact, if you get 5 seasons out of yours, you should be jumping for joy 🤣. (And then you should send me a message on Instagram telling me which one you bought so I can get one too!)
Anyway…here are two things you should do to get the most out of your RV cover.
Repair Your RV Cover Right Away If It Gets Damaged
Let's say you've had it in storage for a month and head out to check on your RV. Uh-oh! There's a sharp edge you didn't protect and now it's rubbed a small hole in the RV cover.
Whatcha gonna do?
FIX IT. And do it right away. A small rip won't stay small for long. So get out your RV cover patch kit and go to town. And don't forget to fix whatever it was that caused your cover to rip in the first place.
Store Your RV Cover Properly When You're Not Using It
I'm sure that at the start of camping season you just want to rip the cover off your rig, throw it in the garage, and head to the nearest campground. But that's a good way to end up with a musty and moldy RV cover.
So before you store your RV cover for the season, be sure to clean it off and let it fully dry. The best way is just to lay it out in the sun on a patch of clean grass. Hose it down and use a soft scrub brush to tackle any stubborn stains. Be sure to do this early in the day so it has plenty of time to dry in the sun.
---
Other Useful RV Cover Accessories
Here are a few useful accessories that can also help protect your rig and cover.
If the cover you end up purchasing doesn't come with wheel covers, these are the ones you want to get. They come in a two-pack and are available for 6 different size tires so you know you can get ones that fit.
Check the current price.
---
Remember the #1 tip for maintaining your trailer cover? Fix rips and tears right away! This Camco patch kit is made to work with most of their RV covers and it should work on other brands as well. You can also opt for general-purpose repair tape.
Check the current price.
---
Source: Amazon
Not all RV covers will fit big enough to cover the tongue jack on your trailer's hitch. And if it's an electric jack, it's probably a good idea to keep it covered and protected if your RV's sitting out in the elements for a couple of months.
Check the current price.
---
Make sure you have some of these around when it's time to put your RV cover on. Can you really ever have enough pool noodles? I mean there are just so many ways you can use them!
---
RV Cover FAQs
Which are the best RV cover brands?
Some of the best brands are King Bird, ADCO, Covercraft, Quictent, and Camco. However, you should always read the specs carefully since most brands offer premium and basic versions of their covers.
Are RV covers waterproof?
Some RV covers are waterproof. Look for fabrics that have been treated with a waterproofing sealer, especially for the roof panel.
How long do RV covers last?
Sadly, not that long. You should plan on replacing your RV cover every 2-3 seasons. If you live in an area with mild weather and are super careful with how you care for it, you may get an extra season or two out of it.
When should you cover your RV?
Anytime you want to give it some extra protection. If you store your RV inside or under a roof, it's already protected so you probably don't need a cover. But if you store it outside for months at a time, an RV cover can definitely help keep it looking nice.
Are RV covers worth it?
If you have a new rig that's going to be sitting for months at a time outside in the elements then yes, RV covers are worth it. If you live in an area with harsh sun and lots of trees, then even more so. Even though an RV cover is an extra expense, it'll keep your rig looking nice and increase its resale value down the road.
Which RV Cover Is For You?
If you decide that you need to cover your rig for the winter season, which RV cover are you gonna choose — the King Bird with its solid feature set or maybe the Quictent with its unique strap system to handle heavy winds?
Whichever you choose, don't forget to take your time putting it on (especially when you protect all those sharp corners). And most of all…
Don't fall off your camper😣😜!
Getting ready for the winter season? Check out these other RV articles so winter doesn't catch you with your pants down!
Latest posts by Stacy Bressler
(see all)