Whether you're a seasoned RVer or a newbie who wants to take their RVing to the next level and stay in your camper year-round, a 4 season travel trailer might be right for you.
So I've created this humungo list with all the very best 4 season campers I could find, plus… full walkthrough video tours!
But first… what the heck do I mean by a "4 seasons" trailer??
What Is a 4 Season Travel Trailer?
So, this term is pretty self-explanatory. A 4 season travel trailer is a camper you can live in summer, spring, winter, and fall!
That means they're equipped with some special specs (insulation, a high-power air conditioner and furnace, etc.) that keep them cool in the summer and warm in the winter–we'll talk more about those specs later on.
I'll talk about both four-season travel trailers as well as RVs for this article.
Let's start with travel trailers, though…
The 6 Best 4 Season Travel Trailers
Travel trailers are a popular choice for all-weather RVing because they're often easier to tow through snow than drivable RVs are to drive in snow. ❄
Here's my list of the top six four season travel trailers built tough enough to live in all year-round:
Let's take a closer look at these four season travel trailers…
*Before we get started though, I just wanted to note that all the prices I have listed are what manufacturers have listed for the most recent models at the time of writing (2021).
Source: keystonerv.com
Best Luxury Travel Trailer
Price: Starting at $69,000
Pros:
Gorgeous interior space
Weather package comes standard
Advanced solar power system
Cons:
I'd really consider the Keystone Montana an all-inclusive, luxury travel trailer. It comes with beautiful hardwood cabinetry, full-sized stainless steel appliances, a gas fireplace, heated massage recliners, and tons of other fancy perks.
But the best thing about this travel trailer is that it comes with a weather package, meaning its four-season traveling ability comes included with the cost of the travel trailer. In the weather package, you'll get insulated flooring and siding, heated holding tanks, a heated underbelly and dump valves, plus a few other nifty features.
The travel trailer has been rated by a third-party company to maintain warm temperatures throughout the fifth wheel (pipes included) in temperatures of 0 degrees Farenhieght. So, if you're looking for a travel trailer you can take out in the winter, this may just do the trick.
The price tag is hefty on this one, but you also have to consider that on most travel trailers you have to pay extra for a four-season package. However, the Keystone Montana comes with all the specs you'll need to stay comfortable in hot and cold weather.
Click here for a walkthrough tour: 2022 Keystone Montana High Country 331RL | Team Montana Fifth Wheel Tour
Source: northwoodmfg.com
Best for RVers on a Budget
Price: $33,700
Pros:
Unbeatable insulation
Lots of storage space
Budget-friendly
Great natural light inside
Cons:
Not the prettiest interior (in my personal opinion)
This travel trailer is literally named for how well it performs in the cold! You can't go wrong with the Arctic Fox. The one is truly four-season. I mean everything is insulated… literally everything from the windows, to the pipes, to the tanks, to every little outside door.
Along with its great weatherproofing, the travel trailer also has really nice natural light from windows and the bathroom skylight, as well as from the light fixtures and LEDs in and outside of the travel trailer.
The 22G I'm talking about here is nice and compact at 22 feet, but it still feels really spacious inside. Plus, it has tons of little storage compartments which are always nice when you're living in a small space–we all have more stuff than we think we have, right?!
My only qualm with this one is I'm not a huge fan of the interior design, there's just a little too much brown for me. But I know style varies from person to person so that's really not a big deal.
Check out this tour: Quick Tour of The New Arctic Fox 22G Travel Trailer
Source: forestriverinc.com
Best for families
Price: $68,378
Pros:
Spacious enough for the whole family
Lots of floorplan options
High-powered furnace and air conditioner with elemental protection package
Auto-leveling system
Cons:
Might be difficult to tow since it's so large and heavy
On the Forest River Cherokee Arctic Wolf, you have to purchase the additional Elemental Protection Package to ensure it's fully weatherproof. This package comes with a boosted furnace and air conditioning system, extra insulation, extra fans, and a fireplace. YES!
The Forest River Cherokee is actually considered a 4 season travel trailer without the package, but the protection package just ensures that the travel trailer will keep you comfortable for hot and cold weather camping.
The standard package comes with some nice perks like an auto-leveling system, heated massage theatre chairs, great LED lighting everywhere you need it, and some nice appliances.
What stands out about the Arctic Wolf to me is its size — it will easily sleep your whole family. Plus, there are tons of floorplan options so it should be easy to find one that suits your needs.
Here's a nice walkthrough tour of one of the models: 2021 Forest River Cherokee Arctic Wolf 251MK – ½ Ton Towable Fifth Wheel – Only 29 Foot Long
Source: olivertraveltrailers.com
Best compact travel trailer
Price: Starting at $57,000
Pros:
Compact
Good for boondocking
High-quality build
Beautiful interior
Cons:
Likely too small for more than two people
How can you not love this cute little travel trailer! The Oliver company is dedicated to design and build quality, and it really shows. The Legacy Elite has that classic 1960s Airstream Trailer feel but with a double-hulled fiberglass shell and a modern interior.
It comes standard with some pretty typical weather-proofing features like double-paned windows and insulated pipes and holding tanks. Plus there are some add-on packages that make this travel trailer great for boondocking.
Other than being the cutest travel trailer on my list so far, it might also be the highest quality. Oliver owners really trust their 4 season travel trailers–and for good reason.
If you need a high-quality, compact travel trailer that's ready for winter, this might just be it!
Check out this walkthrough tour to see more: The 2020 Legacy Elite Oliver Travel Trailer Walkthrough Tour
Source: Jayco.com
Best for extreme weather
Price: $66,985
Pros:
Included extreme weather protection
Spacious interior–sleeps up to 6
Large bathroom
Included washer/dryer prep
Cons:
May be difficult to tow since it's so large
Whether you're planning to spend winter in Alberta, or summer in Arizona, you'll be comfortable inside the Jayco Eagle. The Climate Shield and Helix cooling system technologies include extreme insulation, a fully heated underbelly, a high-output furnace, and insulated air ducts.
The weather-proofing technologies allow the Eagle travel trailer to stay warm at freezing temperatures, and cool in 100-degree heat. Check out this video where the Eagle's weather-proofing is put to the test.
This four season camper has some other special features like an outdoor kitchen, a really nice bathroom, a full-sized fridge, and an island with a stainless steel double-sink.
Check out this video for the full tour: 2021 Jayco Eagle 330RSTS | Walk Through Tour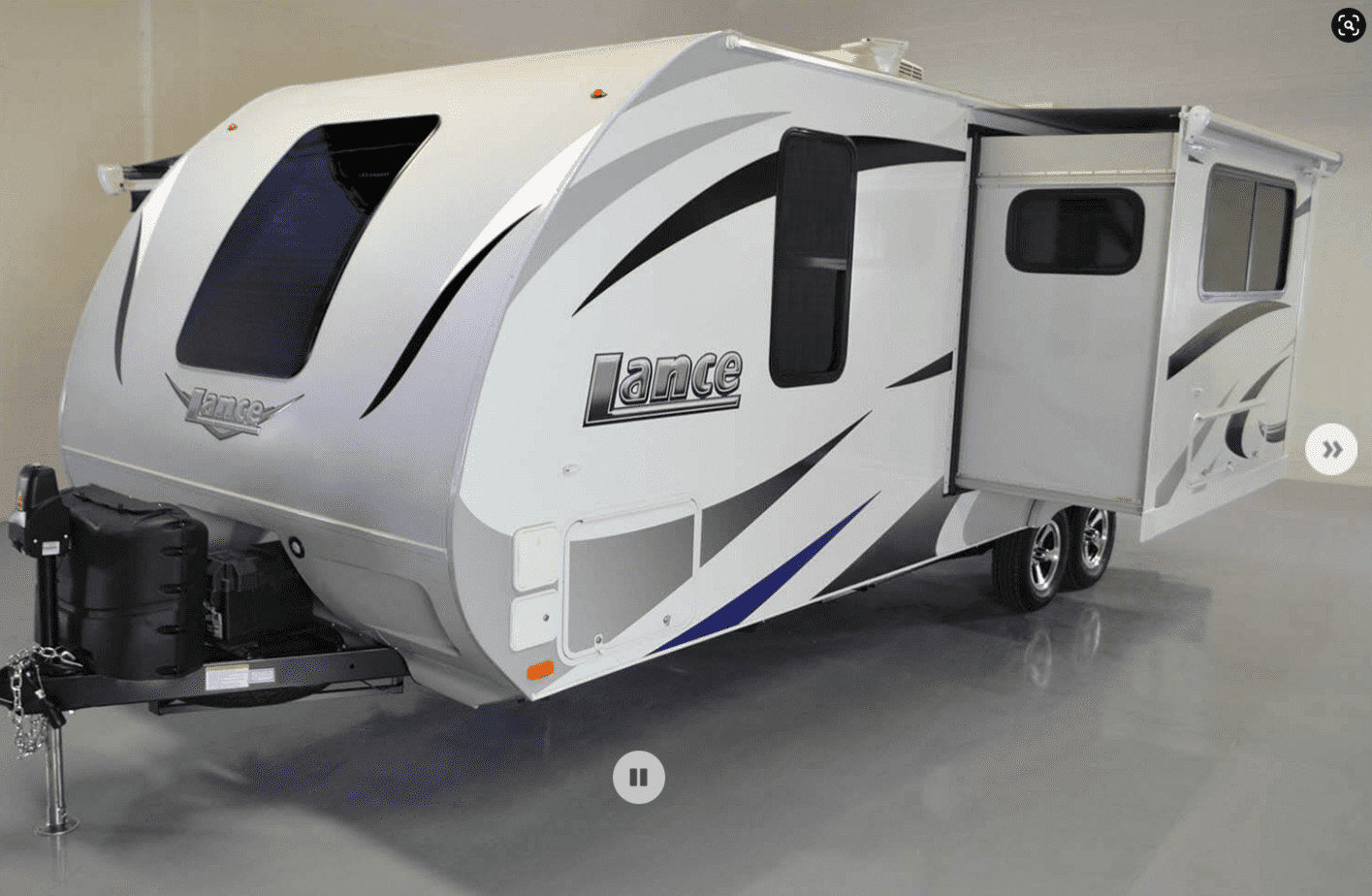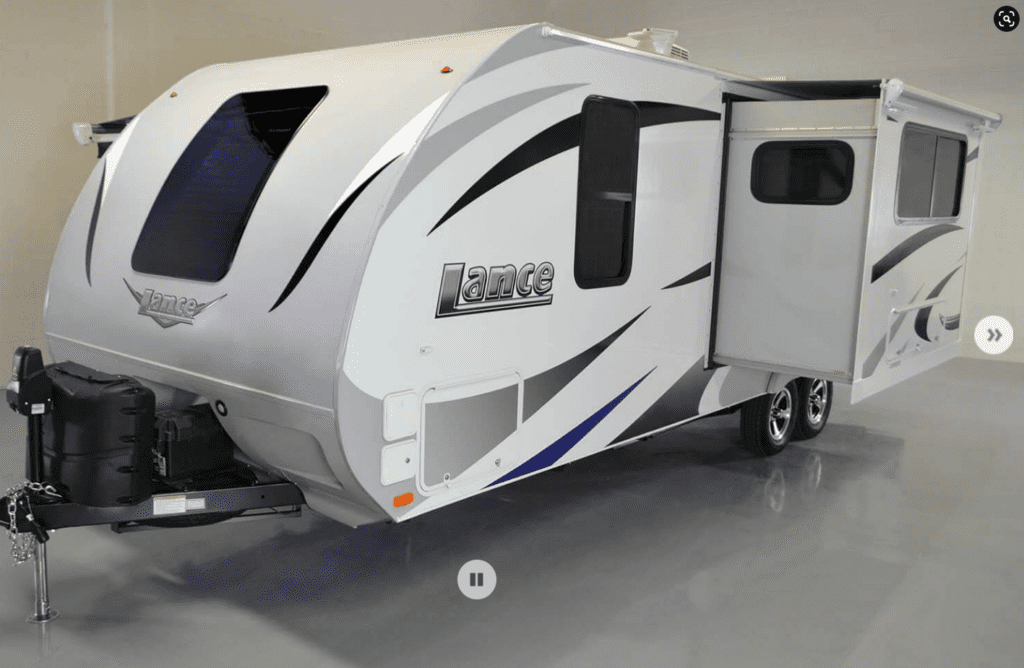 Source: lancetrailersdirect.com
Best for milder weather
Price: Starting at $34,092
Pros:
Nice large bathroom
Lightweight
Included four seasons package
Has a fireplace!
Cons:
Only includes a full-sized bed
Maybe you won't be camping in 110 degree heat or in below zero temperatures. You probably don't need extreme weather protection but still want some nice insulation for unexpected temperature changes. I'd say the Lance 2295 with its weather package is perfect for you.
The weather package comes standard in all Lance campers and includes a ducted heating system, insulated battery and tank compartments, and insulated hatch covers. The weather package is not as beefed-up as, say…the Jayco Eagle, but it will definitely work well for milder winters.
The four season trailer has a nice, pretty standard layout. The only thing I dislike about this camper is that the bed is just a full size. I think every other travel trailer I've listed comes with a queen-size bed, so it's a bit of a drawback. But if you don't mind a smaller bed, this is a great, lightweight travel trailer.
Check out this in-depth tour of the Lance 2295: 2017 Lance 2295 | Luxury Travel Trailer | Roadster – RV Review
If you're looking for something lighter weight, and maybe not as weatherproof, check out my list of 11 lightweight travel trailers: 11 Best Travel Trailers Under 5000 lbs (2021) Video Tours, Pics + Floor Plans!
The 4 Best 4 Season RVs
Driveable 4 season RVs are a bit harder to come by compared to four season camper trailers (since they have to have some heavy-duty tires and whatnot), but they're out there!
Here are my top four finds:
Jayco Redhawk Class C Motorhome–Best Budget
Newmar Dutch Star Class A Diesel Motor Coach–Best Class A
Tiffin Wayfarer Class C Motorhome–Best Luxury
Forest River Sunseeker Classic–Best Value
Source: jayco.com
Best Budget
Price: Starting at $99,893
Pros:
Easy to drive
Tons of special features
Standard weather protection included
Cons:
Not roomy enough for a big family
This Jayco Redhawk really has it all. Even if you're not looking for a four seasons RV, this is a nice RV for the price. It's got a hefty engine, a 55-gallon fuel tank, lots of storage, a double-door refrigerator, and overall a really smart layout for a smaller RV.
Its weatherproofing features include bead foam insulation on the exterior, heated holding tanks, and a winterization drain system. So this Class C can withstand pretty cold temperatures.
Check out this walkthrough tour: 2021 Jayco Redhawk 26M Walkthrough
Source: Newmar.com
Best Class A
Price: Starting at $432,491
Pros:
Tons of space (sleeps 6 plus lots of storage space)
Awesome layout with several options to choose from
Luxurious interior
Cons:
Not great for driving in the snow
If you're a go big or go home type of person, the Newmar Dutch Star might just be for you. It's absolutely huge!! And super fancy inside.
This one does it big in every respect–even the price tag! If you're on a budget, the Dutch Star is definitely not for you. And I don't blame you, I mean, you could buy a house for this much money!!
But hey, this thing is a serious luxury vehicle. You'd be here all day if I started to list out all the awesome features the Dutch Star has. My favorite features are the huge living room area, the biggest shower I've ever seen in an RV, a nice big kitchen, and lots of closet and storage space.
If you're planning to stay in cold weather, this will keep you warm. However it'll probably be pretty scary to drive in super snowy conditions, so definitely keep that in mind if you're considering this RV.
Click here for a nice tour of the Dutch Star: 2022 Newmar Dutch Star Motorhome, Official Tour | Diesel Class A RV
Source: tiffinmotorhomes.com
Best luxury
Price: Starting at $185,000
Pros:
Great insulation
Good for winter driving
Gorgeous interior
Fancy special features
Cons:
Tiffin makes really stunning RVs, and the Wayfarer is their latest feat. They take a high-quality Mercedes-Benz Chassis and build a beautiful and sturdy RV on top of it.
Since this is a luxury RV, it has some impressive specs and nice special features, but it also has some great four-season features. The Wayfarer comes standard with heated holding tanks, a powerful ducted furnace, and an instant water heater. Plus it has a 7 speed, 6-cylinder turbo diesel engine to keep you trucking even in snowy weather.
Check out this video for a walkthrough: 2021 Tiffin Wayfarer Model Walkthrough by Trent Tiffin
Source: forestriverinc.com
Best Value
Price: Starting at $129,498
Pros:
Great for winter
Lots of layout options
Large kitchen and bathroom
Water filtration system comes standard
Cons:
Not great natural lighting inside
The Sunseeker Classic is a very popular option with RVers, especially if you're looking for four seasons capabilities. It's not too pricey, it's got lots of room but isn't difficult to drive, and the arctic package will make sure that you're good to go in cold weather.
The arctic package offered by Forest River gives you dual-pane windows, heated holding tanks, heated sewage pipes. The standard package also has some great winter features like heated mirrors.
If you're not looking for anything too fancy, but need a drivable RV that's great for the wintertime, I think the Sunseeker Classic is a great reliable option.
Check out this full tour: My First Motorhome Video! 2021 Sunseeker Classic 3010DS Tour by Forest River RV!
Things to Look for in a 4 Season Camper
Okay, there are tons of campers out there and it's not easy to figure out which one is perfect. And here's the thing.. you also don't necessarily need to get one that is marketed as "4 seasons"!!
As long as the camper has these three things I'm about to list, you should be good to go whether you're in hot weather or cold weather.
Insulation…Everywhere!!
Insulation is a huge part of what makes a four season camper winter-ready. A camper that will stay warm in the cold and cool in the heat will have insulation everywhere!
That means insulation around the whole body, over the underbelly, around the holding tanks and pipes, in the doors, and in and around each hatch door on the exterior.
If your rig doesn't have good insulation, a powerful furnace won't matter because the heat will just leak out!!
There are tons of different types of insulation out there, but one of the best for insulating the body of the vehicle is closed-cell rigid foam insulation. It's lightweight, stays the driest, and is one of the hardiest insulators out there for RVs.
Dual-Pane Windows
Windows are a huge weak spot for heat loss in an RV. They can't be insulated the way the rest of the exterior can, so you absolutely need to look for dual-pane windows. This is the best way to keep heat from escaping from windows.
If you're looking to reduce heat in hot temps, I'd also recommend looking for campers with UV-tinted windows, those will help your air conditioner be more efficient.
Powerful Furnace and Air Conditioning
This is another absolute must-have for a 4 season travel trailer. If your furnace and air conditioner aren't powerful enough, they just won't be able to keep up with super cold or super warm temperatures. You'll end up either sweating or freezing inside your camper.
For furnaces, you'll want to look for a BTU rating with around 50 BTUs per square foot if you're staying in cold climates. So a 500 square foot travel trailer would need a 25,000 BTU furnace.
PRO TIP! – To make sure you have enough power to cool your camper in hot summer temps, I'd recommend purchasing an additional generator if you're trailer doesn't already have one.
Check out my article 13 Best Quiet RV Generators (2021) for Camping in Peace for some nice options.
Tips for RVing in Cold Weather
Winter RVing may not be for the faint of heart…but it's not as scary as it sounds!
Plus there are some simple things you can do or buy that will help keep you warm and cozy in your RV even when it's freezing outside. Let's chat about those now…
Skirt Your Camper
If you're serious about winter RVing and plan to do it long-term, skirting your RV is a great way to reduce heat loss and use up less power to keep your camper warm.
RV skirts are vinyl panels that go around the bottom exterior of your RV and prevent wind and cold from entering the interior of the vehicle from underneath. These can reduce heat loss from inside the camper up to 25%!!
They're definitely an investment because they have to be custom-made, but they're worth it if you want to live in your RV year-round.
Get a Space Heater
Even if your RV is advertised as winterproof, there may be those little corners of the camper that aren't getting as much heat as others. For me, when I'm working or watching TV in my RV in cooler weather I always like to have a space heater blowing on my feet to keep them warm.
Source: amazon.com
Space heaters are small, and pretty inexpensive, so if you struggle with keeping your feet warm like me, I recommend trying one out. Of course, these can be a safety hazard in an RV, so make sure you get one that has auto-shutoff mode if it overheats, gets tipped over, or is left on too long. This one is a nice option.
These are also great to have as a backup in case you have any issues with your RV's furnace so you don't get stranded without any heat at all.
Get a Heated Water Hose
If you've been out in your RV in cold weather and your water hose freezes, you know how frustrating this issue is. If you're planning to camp in freezing temperatures, you absolutely need to purchase a heated water hose.
Source: amazon.com
The hose provides some insulation and just a small amount of heat to ensure the drinking water you're pumping from a campsite won't freeze inside the hose.
They're a bit pricey, but they're also super necessary for winter RVing. Check out this one from Camco. It's pretty much the standard for winter RVers and protects the hose in as low as -20 degree temps. (They also have one that is rated to -40 degrees!!).
Buy Holding Tank Heaters
If your RV doesn't have holding tank heaters included in its four season package, you absolutely need to purchase them separately!! They basically just stick to the outside of your holding tanks and use a tiny bit of energy to keep them from freezing.
Source: amazon.com
They're easy to install and essential for RVing in freezing weather. Check out these heating pads with built-in thermostats on Amazon.
Cozy Up With Blankets
Okay… this one might seem super obvious, but for some reason when I'm traveling in my RV, I always forget to bring blankets!!
Blankets are the kind of thing that you forget you need until you're sitting in your RV or around a campfire shivering and wishing you had one.
Lucky for us RVers, the camping blanket market is kind of exploding right now, and there are some really cozy ones out there that are still packable and won't take up room in your RV.
Check out my list of the best and coziest camping blankets.
*Worried about how cold is too cold for camping with babies? Check out my article on that here: How Cold is Too Cold to Camp With Baby (+How To Keep Babies Warm While Camping at Night!)
Dehumidify!!
Okay I've got a joke for you… what's an RVers worst nightmare?
Mold!!
Okay, maybe that wasn't really a joke…🤣
Anyway, if you live in wet conditions in an RV you know that mold is your worst enemy. It can get in teeny cracks and completely destroy your interior. With time, that means serious and costly renovations.
Mold is especially an issue to look out for if you're RVing in cold weather and constantly have your furnace on. Having the furnace on can make for some moist conditions and condensation that creates a perfect environment for mold growth.
Source: amazon.com
So, I definitely recommend a dehumidifier. It's really not a necessity, but if you've had problems with mold in your RV in the past and want to avoid it like the plague (I know I do), it's a good add-on for winter camping. Here's a nice compact one on Amazon that's not too pricey.
*And if you're looking for more goodies you might need for winter RVing check out my list of 17 additional products here: 17 Essential Products To Winter RV Living (without freezing!).
4 Season Travel Trailer FAQs
Are Airstream Campers 4 Season?
Airstreams are technically not four seasons campers.
However, you can absolutely add some upgrades, and follow winter RVing tips if you're staying in an Airstream in cool or warm climates. They're probably not great for extreme weather though.
Can You Live in an RV in Winter?
Absolutely!! Some RVs are actually made to live in in the winter. You just have to make sure your RV has great insulation, double pane windows, a powerful furnace, as well as enclosed and heated tanks and pipes.
How Cold is Too Cold for an RV?
About -20ºF is when insulation starts failing, pipes freeze, and your furnace just can't keep up. There are some extreme-weather RVers that take their RV into below-freezing temperatures but you might do some damage to your rig if it's too cold.
What Happens if RV Pipes Freeze?
If your RV pipes freeze, nothing will be able to move through them, so you can't take showers or use the sink, plus there's the potential they'll burst 😯.
Burst pipes can be a super expensive repair which is why RVing in the winter requires that your pipes are well insulated and kept warm.
Ready to Brave the Winter in Your All-Weather Camper?
So hopefully I gave you some useful information about all things four-seasons RVs and travel trailers.
Even if you don't pick one from my list, just make sure you keep a lookout for good insulation, dual paned windows, and a high-powered heating and cooling system.
While you're here, don't miss my other RV and travel trailer articles!!
Latest posts by Stacy Bressler
(see all)