For those who live in their camper full time, winter tends to limit travel choices.. but when you have an RV Airskirt system, set up and take down is WAY faster!
This is a relatively new product (first established in 2020) and I saw them in person at an Escapee event I was a vendor at. This style of skirting is surprisingly durable and just much more functional than having to deal with foamboard, hay or some other inconvenient (but neccessary!) form of RV skirting insulation.
I'll share the basics about how they work, and go from there!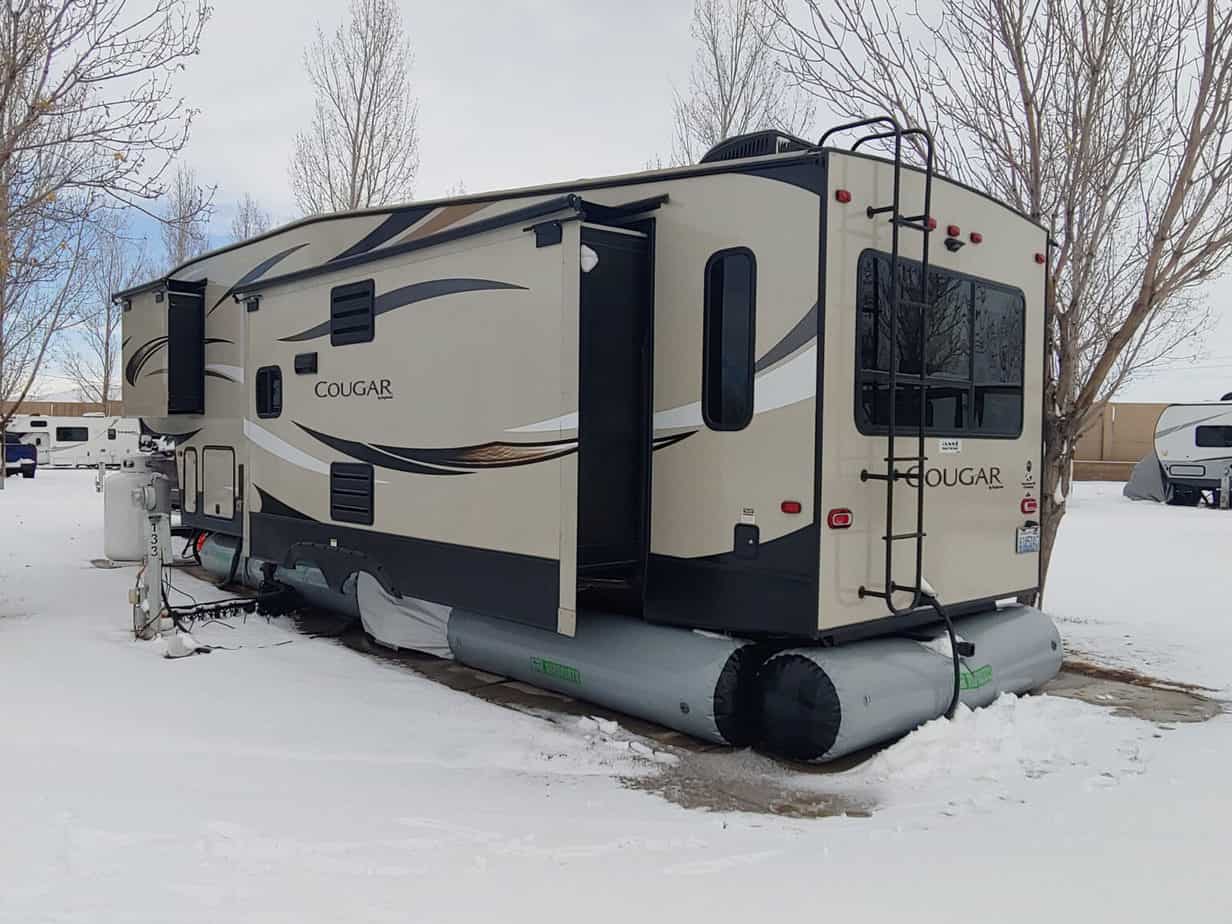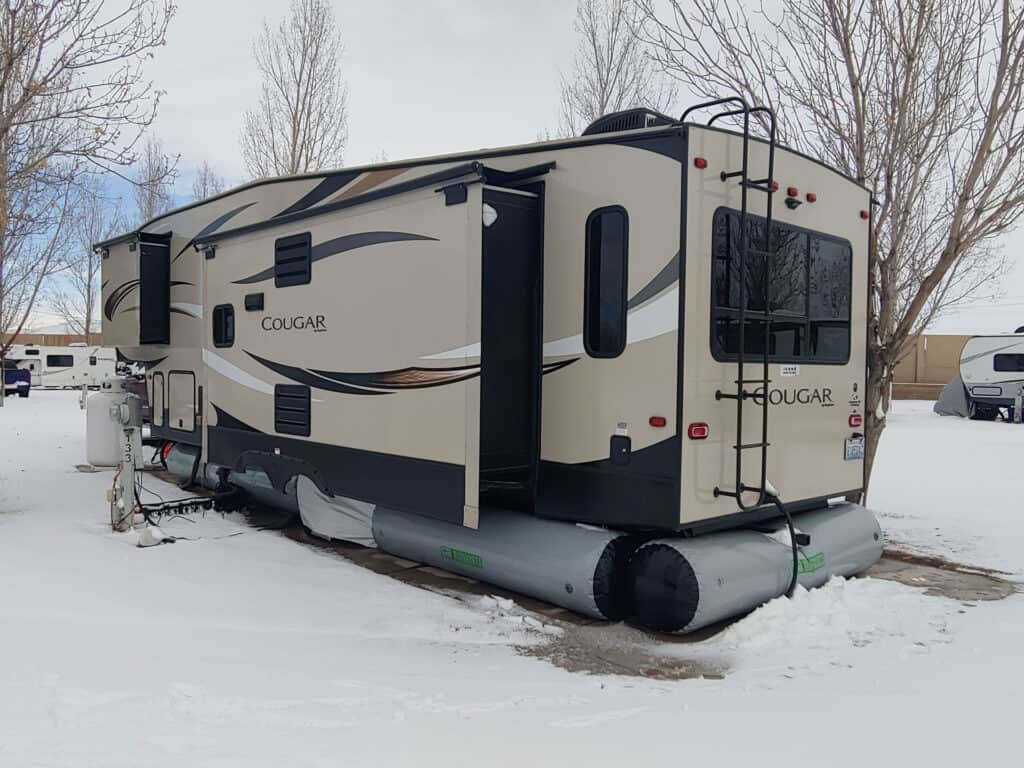 What are Airskirts?
The Airskirt system consists of a complete set of inflatable, heavy duty tubes (custom to your rigs length and type) that creates a seal all around the perimiter of your camper.
Once you inflate them in place, they create an insulating cushion of air that repeals wind and snow.
Here are some other quick facts (and an equally quick video for more info!)
Requires NO installation – No putting holes, grommets, velcro, duct tape, or whatever else that's been needed in the past to ensure a secure seal that will last all winter. These are the EXACT fit for your camper!
Sets up in 30 mins (perfect for on the go RVers) – Using the included air pump, the whole system can be set up pretty quick! No more dreading set up/break down!
Visually appealing – The Airskirts are a neutral gray and don't take away from your RV!
All in one kit (easy store carry bag and 800W Air Pump!) – No need to piece together everything you need. As RVers, we need everything to be compact and packable… and these meet that mark!
https://www.airskirts.com/rv-skirting-kits?ref=stacybressler&tap_a=102296-58a3b2
How Airskirts compared to foamboards
If you value time, money, and quality…. then you'll likely already be drawn to these!
While foamboards are cheaper initially, there are a couple of factors that really make the Airskirts stand out. They have more benefits for RVers who travel during winter vs. those who winter somewhere stationary, but everyone can benefit from a better insulated underbelly!
Also, this isn't to say that the classic foamboard set up isn't good – this is just another option to think about!
Foamboards vs Airskirts
Reusable and able to be packed away each year – Foamboards, besides being extremely bulky, also tend to only make it one season. Airskirts come with an easy to pack cube carrying bag that takes WAY less space… and won't be falling apart!
No holes in your RV – This helps resell value and overall just accessibility for eveyrone who isn't comfortable enough with tools/modifications to just drill some holes around their camper!
30 min set up makes winter travel way more doable – If people commonly re-set up their foam/haybales, which they typically don't, it would certainly take more than 30 mins!
Insulates better so reduces costs – Since a virutally airtight seal is created between the ground and your camper, a natural air cushion barrier is created… which is awesome for insulation!
Don't get me wrong – if you don't plan on moving, and don't mind paying more to keep warm, the cost may not be worth it to you. But for many RVers, just the reduced work in setting these up is worth it.
(Pictured below – set up to prepare for winter. As you can see, they go completely flat)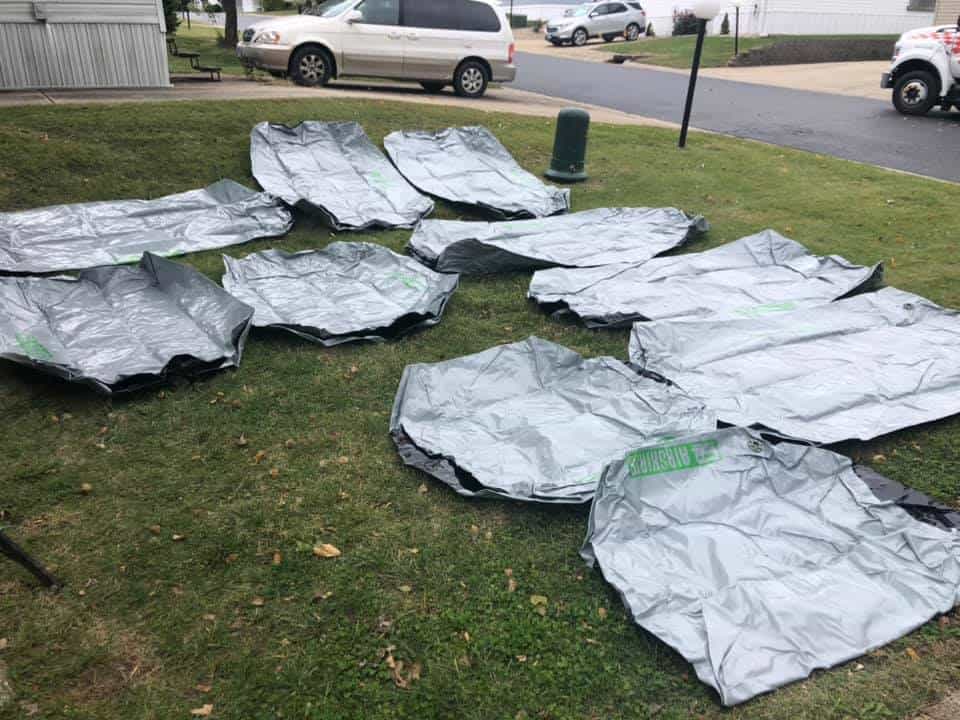 Ensuring the right fit for your Airskirt
With so many shapes and sizes of RVs, their hitches, jacks, stairs etc, it can be hard to imagine this system working (I get it!). But, after seeing them in person, and now seeing more RVers with them in campgrounds, it's become a pretty streamlined system.
The only information you'll need that you don't already know is the ground clearance – so make sure to get that info before sitting down to find your kit!
Select the type of RV you have – 5th wheel, RV, bumper pull etc
Select who makes it – I have a Grand Design, but virtually EVERY brand of camper is listed as an option.
Select the length – No need to be exact, most options give you 6 feet of wiggle room
Select Ground Clearance – This is important and NOT the time to guestimate! The system works by ensuring a tight seal… so make sure it's right (20″ or under, 20-32″ and over 32″ are the options!)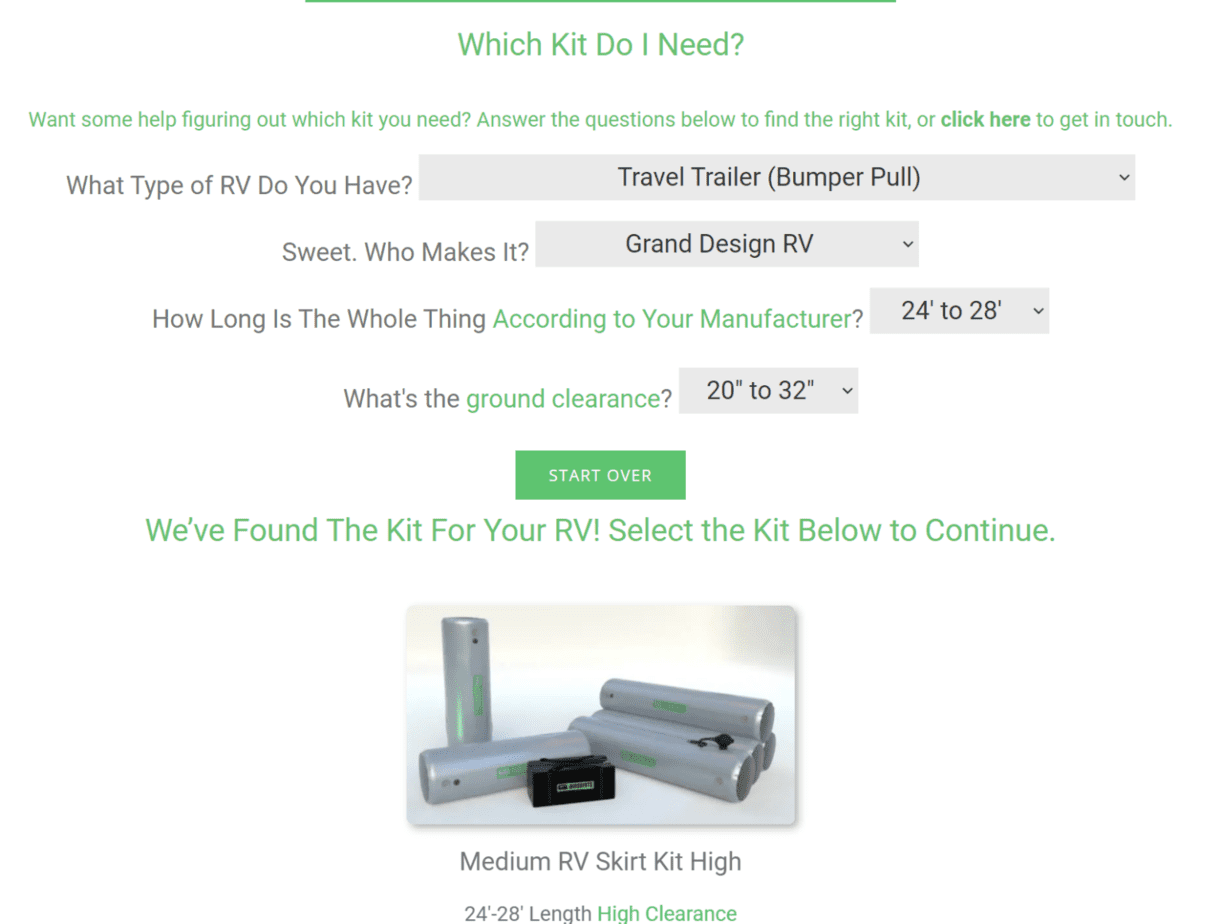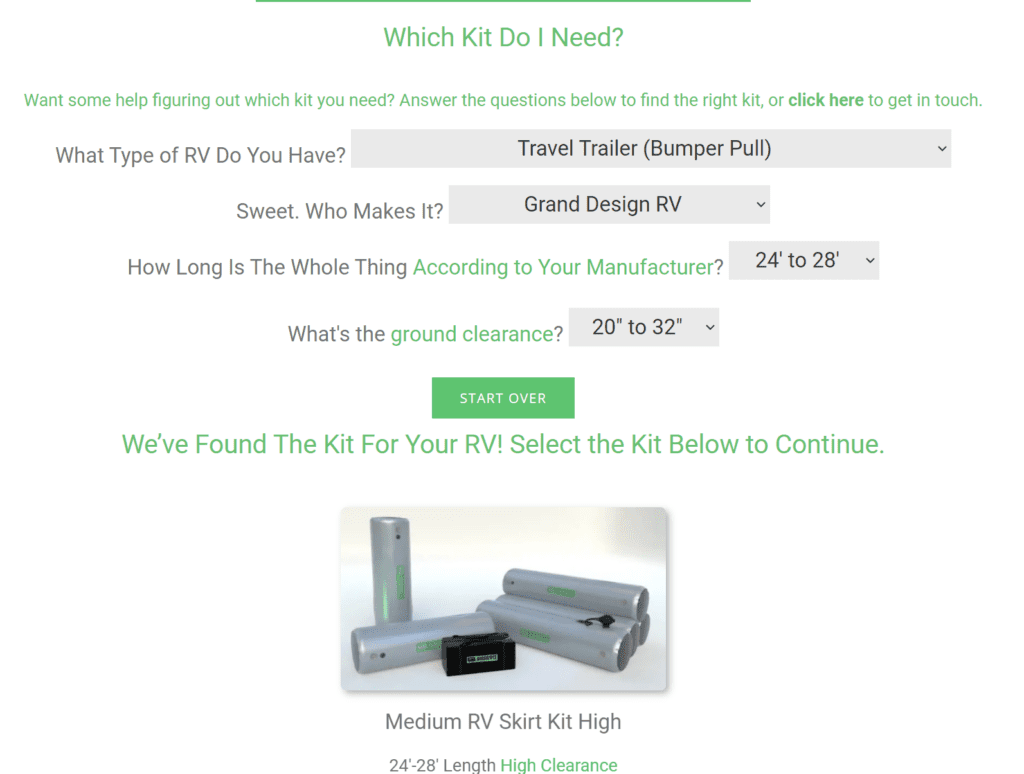 FAQ About Airskirts
How hard are they to install? Can 1 person do it?
Yes! It may take more than the half hour (although he did it in 14 mins!) , but the system is composed of individual tubes so they're easy to carry and move.
All you need to do is unpack, lay them under your camper, then inflate! Make sure to check for gaps.
Do I need to bring my RV in somewhere to prep it for use with the Airskirts?
Nope, that's one of the reasons they are so easy! They come ready to inflate and don't need any modifications to work.
How heavy are the airskirts? What size can they pack down to?
These things are durable, and it shows in the weight! The smallest size is around 30 lbs, but the largest kit is around 130. It also packs down to a storage bag that measures 3′ x 2′ x 2′.
Will it work for 5th wheels?
Yes – it will still protect the core of your RV (the bottom perimiter) just not the really elevated parts.
Can these handle some wind and/or snow accumulation?
Because of how they work (by creating a super tight seal between your camper, the airskirt, and the ground) they are actually pretty stout! In fact, you can purposely kick it and they wouldn't move. They also do fine with snow build up – it helps create an even better insulated underbelly area!
That's alot of $$$… how's it compare to other RV skirting options?
The sticker shock can be strong, but take a minute to breathe and remember… these come with a warranty for a reason! They're nice!
Also, they can take payments via Affirm (your total cost is split into four parts.. this makes it way more affordable for those of us who can't afford a giant upfront cost!)
Vs. Custom Skirting – Less or comparable in cost. That, combined with the fact that you DON'T need to bring in your RV for any custom measurements or work, it's pretty reasonable
Vs. Stuff on Amazon – This product is based in Oakdale, Connecticut. So it's American made and is of a way higher quality than "cheap" options you might find while browing.
Vs. DIY Options – Cheaper, but besides often not being reusable, these tend to have a lower insulating value and are alot more work to set up. This is usually only better if you are somewhere long term.
5 Year Warranty – Something that sets this company aside from the others… they are willing to stand behind their product for 5 years, which certainly adds alot of value!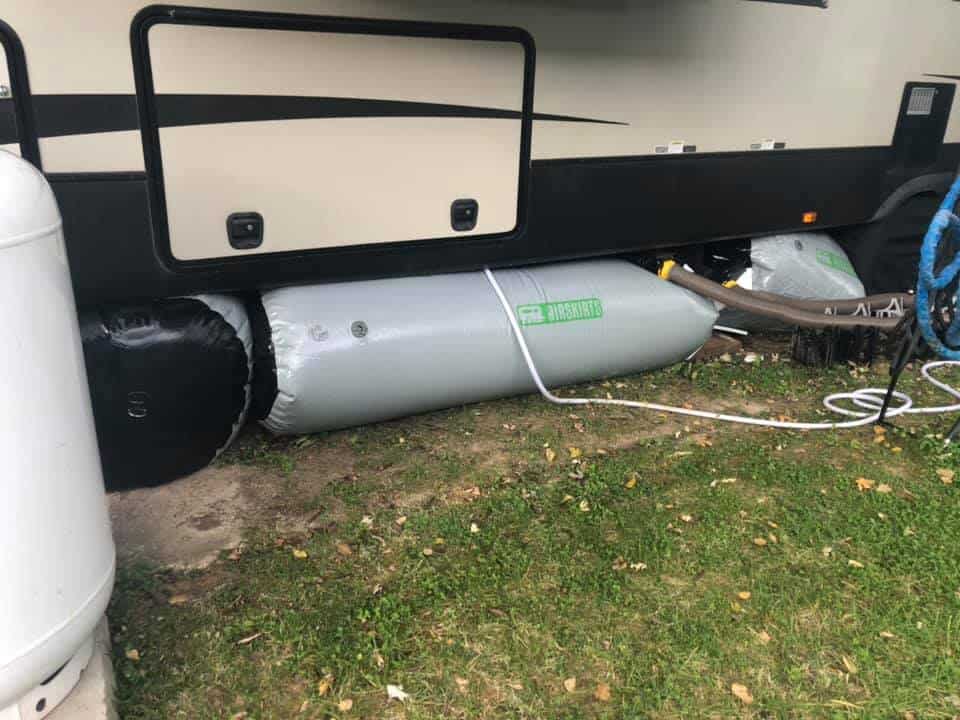 Ready to invest in a warmer, easier RV experience? I have an exclusive RV Airskirts coupon to use to get you on your way!
In talking with the company about the review, I was able to get a sweet discount for you guys!
Use my coupon code "outdoormama" to save $100!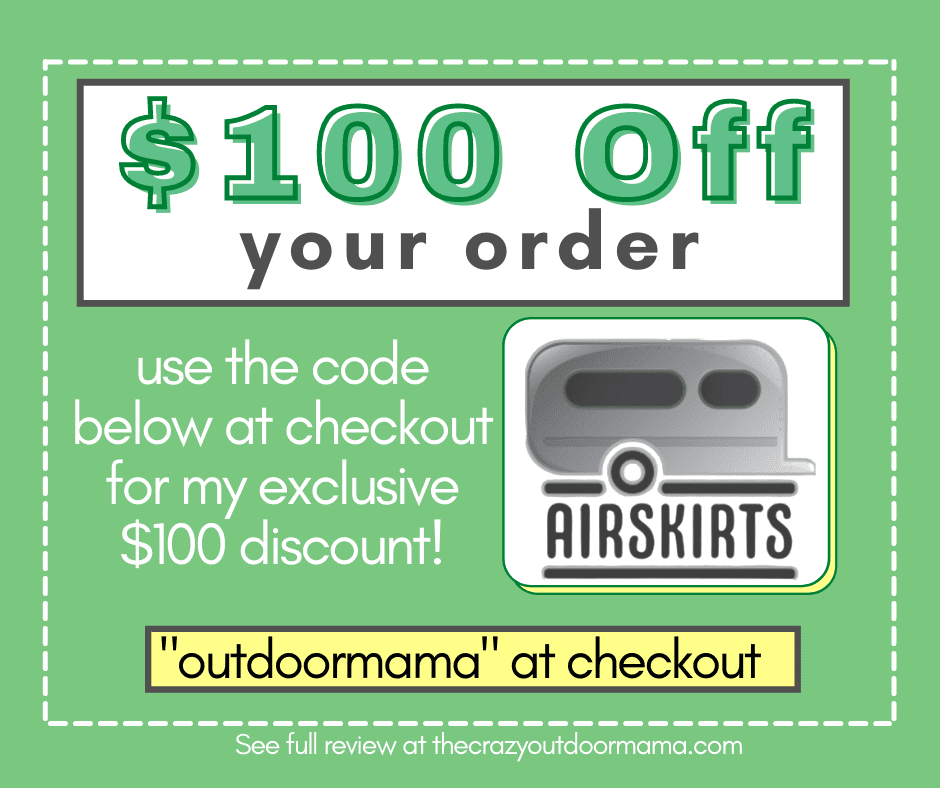 Looking for more ways to prepare for winter RV camping?
Skirting is only a piece of the puzzle (a large one, for sure!) – here are some more helpful tips to help you have a cozy camping winter.
Latest posts by Stacy Bressler
(see all)