You might be thinking… wait a second… a blanket for camping?! I'm no glamper!!
But picture this… you're cozied up by the fire in your camp chair drinking a mug of hot cocoa watching the stars all bundled up in a blanket. Do I have you convinced now??
Even if camping blankets seem like a bit of a luxury item they can be seriously practical.
Other than just staying warm by the fire, I like to use camping blankets in place of sleeping bags, as picnic blankets, as a hammock, pretty much anything you can think of! And you really don't have to sacrifice comfort to save space or money with most blankets.
Believe it or not, there are tons of camping blankets out there, so I've narrowed them down to the 15 best based on what you need a camping blanket for most.
The 15 Best Camping Blankets
If this article is way too long for you to read right now, here's my full list of best camping blankets:
Now for some more detailed descriptions and pros and cons…
Source: amazon.com
Best for cold, blustery weather. If you need a camping blanket for cold weather, down is really your best option. Synthetic down can be great but nothing will give you the insulation that a real down blanket will. This blanket is also wind and water-resistant, so it's great to cozy up in chilly, windy weather. It also packs down really small in the included stuff sack.
Since it's down, the Get Out Gear blanket is on the pricey side (check the current price here), but it's really worth it for the warmth that this blanket will give you. It's also wearable and doubles as a sleeping bag… awesome 😊.
Pros:
Super warm
Lightweight
Water and wind-resistant
Wearable
Doubles as a sleeping bag
Cons:
Pricey (but not that pricey)
Source: amazon.com
Best for spring and fall. This is a lighter-weight blanket compared to the Get Out Gear blanket, but it still has some nice insulation to keep you warm in those cold-but-not-that-cold months. One side is a sort of weatherproof sleeping bag material and the other is a nice soft brushed fabric you can cozy up into.
This is a pretty great all-around blanket that you can just keep in your car or RV. It's affordable (check the price here) but high-quality. Honestly, my favorite thing about the Kelty Bestie blanket is that it comes in some super cute prints. It is kinda small but if you're just looking for something to throw around your shoulders while lounging at your campsite, I think it's the perfect size.
Pros:
High-quality
Cute prints
Affordable
Cons: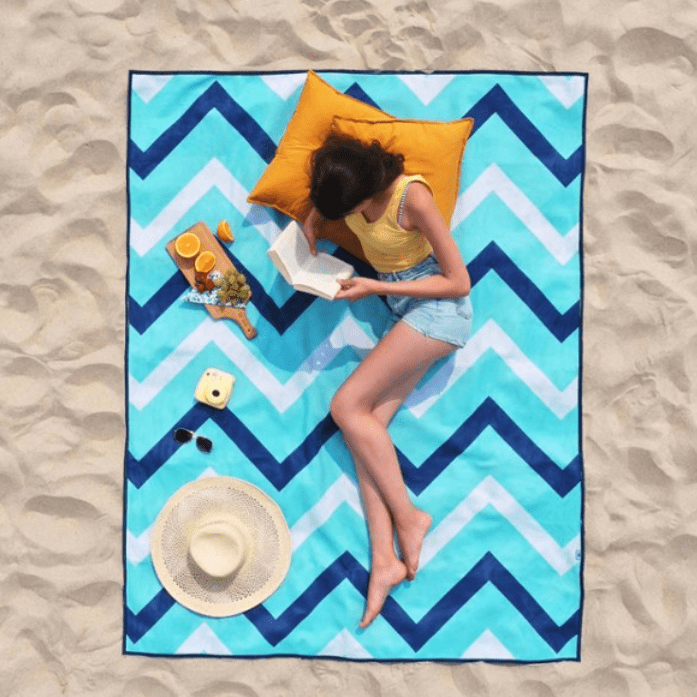 Source: rei.com
Best for the beach. There's really nothing worse than coming back from the beach and tracking a whole bunch of sand into your car or RV. This sand free mat prevents this frustrating sand issue because it has a laminated bottom side that sand won't stick to or get stuck in. 
This is a nice, big blanket that you can fit your whole family on. It's easy to pack and won't leave a ton of sand to fall out in your car during the drive!
Pros
Sand and water-resistant bottom
Large size
Cool designs
Easy to wash
Cons

Source: amazon.com
Best for doubling as a picnic blanket. This super cute Nomadix festival blanket is great for picnics. Kinda like the Rumpl Stash Mat, it has a nice water and sand/dirt proof bottom. But its top is a nice plush material that's cozy to lay on or wrap yourself in. It also has some nice anchoring corners to keep it from flying away.
This one also has some really cute designs and it's nice and big so it can fit your whole family plus all your yummy picnic food.
Pros:
Made partially from recycled materials
Waterproof bottom
Plush top
Cute designs
Easy to wash
Cons:
Source: amazon.com
Best for couples. Whether you're cozying up with your significant other, your dog, your cat, or heck, even a stuffed animal 🤣, the Kelty Biggie Blanket is the perfect larger camping blanket. It's soft and warm and cozy, and nice and big.
This Kelty blanket has all the same features as the Bestie blanket but it's much wider so it's the best camping blanket for two people…or just one if you want to wrap yourself up like a burrito 🌯.
Pros:
Large size
Nice and cozy
Affordable
Cons
Heavy and takes up more space compared to a more packable option
Check the price for this one here.
Source: rumpl.com
Best for kids. This is Rumpl's classic puffy blanket–but kid-sized! It's really warm, packable, sleeping bag material. So, it can be used in place of a sleeping bag for your kid, or just to wrap up your little one by the fire.
It's also wearable. It has a little clip attached to it so your kid can wear it like a cape. Its size and ability to turn into an awesome cape really make it the best camping blanket on this list for kids.
Check the price on this one here.
Pros:
Made of 100% recycled materials
Wearable
Warm
Packable
Cons:
Only large enough for small children
​
Source: amazon.com
Best for the budget-conscious. This is an all-around great blanket that's perfect if you're not looking to spend a ton of money. There are so many expenses when buying camping supplies and they really add up, so I definitely understand the need for a good solid camping blanket that doesn't cost $100.
While it's inexpensive, this is a nice down-alternative, weather-resistant blanket that will pretty much work for any purpose you need it to. It's soft, comfy, and packs small into a stuff sack There's not much more you can ask from a budget camping blanket.
Check the price here.
Pros:
Nice and cheap
Cozy
Lightweight
Cons:
Source: pendleton-usa.com
Best for rugged conditions/heavy use. I had to put a bougie option in here for all of you who like to splurge on some nice camping items (I definitely do once in a while.) But really–it's hard to find a camping blanket with quality as good as this one. Pendleton Yakima blankets are made of really premium, durable material and it's great if you want a blanket that will last you a lifetime.
Although wool technically isn't waterproof, this wool blanket is designed to be worn in cold, rainy, blustery weather, and you never have to worry about them wearing down or ripping like you will with any camping blanket made of sleeping bag material. It's also perfect to use as bedding if you're car camping.
Check that hefty price here.
Pros:
Super high quality, durable
Very warm
Will last forever
Gorgeous designs
Cons:

Source: amazon.com
Best for…anything! This is a great multi-use blanket for wrapping yourself up by the campfire, having a picnic, staying comfy at a concert, going to the beach, really anything you can think of. They pack small into the included stuff stack and they're, waterproof, and very warm.
Rumpl is the most popular camping blanket company for a reason–they just make really good blankets. They're on the pricier end (check that here) but you'll find yourself using the blanket so often that the price will seem super reasonable.
Here's a nice review video so you can see the blanket in action.
Pros:
Great for any use
Warm
Weatherproof
Packable
Cool designs
Cons:

Source: amazon.com
Best for rainy weather. This Catalonia waterproof blanket is absolutely perfect for staying cozy and dry in the rain. Honestly, I hate wearing rain jackets and if I'm cozied up outside somewhere and it's raining, I'd much rather be wrapped in a blanket. This one is wearable and it's the only camping blanket on my list that comes with a hood so you can keep your head and your whole body dry while staying warm with the cozy fleece inside.
Check the price right here.
Pros:
Wearable and has a hood
Waterproof outside
Fleece inside
Cons:
Source: voited.com
Best for the eco-conscious. Honestly, I'm so in love with this VOITED camp blanket. It's made entirely of recycled plastic bottles, it's warm, it's machine washable, made with durable ripstop nylon fabric…basically everything you'd need from a camping blanket.
And it does all this and more without harming the environment! Also, each blanket comes with buttons to attach to other VOITED blankets so you can make a mega blanket… love that!
Check the price here.
Pros:
Eco-friendly
Attaches to other blankets with buttons
Cool designs
Super comfy
Machine washable
Cons:
Not great for really cold conditions
Source: amazon.com
Best for emergencies. This is a great technical blanket to keep in your first aid kit for emergencies. It's freakin' huge (5' x 7'), heat-reflecting, and waterproof. It packs into a super tiny stuff sack so it's not a hassle to throw in your day hiking backpack. (It's also freakin' cheap, check the price here).
Unlike most other emergency blankets, it can be used more than once, however, this is definitely not for everyday use and it really should just be kept for emergencies.
Pros:
Lightweight
Packable
Nice and big
Great to keep in first aid/emergency kit
Cons:
Source: REI.com
Best for backpacking. This Kammok Firebelly quilt is pretty much the best of the best in the world of backpacking blankets. It's incredibly warm and nice and big but packs super small. Make sure you bring a packable pillow too, check those out here.
If you're doing some backpacking or hiking, and you want a versatile blanket that can serve as a poncho, sleeping bag, quilt, and hammock, other camping blankets really don't compare.
It's pricey (check that price here), but it's just a really nice blanket.
Pros:
Ultra-lightweight
Packable
Multi-use (blanket, hammock, sleeping bag, poncho)
Waterproof
Very warm
Cons:
Source: matadorup.com
Best for space-saving. The Matador Pocket Blanket is by far the smallest-packing camp blanket on my list. It folds out nice and big, but it will literally fit in your pocket. It's made with waterproof ripstop nylon fabric so it's perfect for creating a nice comfortable seat on rocks, sand, wherever you are.
This isn't really made for snuggling up by the fire, but it is great for doing day hikes or going to the beach.
Check the price on this super cool blanket here.
Pros:
Packs small
Super lightweight
Waterproof
Durable
Cons:
Source: yeti.com
Best for pet-owners. This is a great all-around blanket, especially if you have pets. Dog hair is so annoying and will really stick to a lot of blanket materials, but this one has a comfy soft inside that is designed to repel pet hair so you don't have to deal with it.
The Yeti Lowlands Blanket is nice and big, it's durable, it's got a nice waterproof bottom, and you and your doggies can snuggle up on here. What more can you ask for?
Pros:
Pet hair resistant
Large size
Waterproof bottom
Soft, plush top
Cons:
Types of Camping Blankets
To help you narrow down this huge list of blankets, it might be helpful to consider what material you want. So here are some different types of camping blankets and what they're best for.
Down
Down camping blankets are typically best for campers or backpackers. They pack light but they're super warm. Down is made from goose and duck feathers that keeps birds warm in the cold winters, and it'll keep you really warm too.
However, if the whole duck/goose feather thing freaks you out. There's also synthetic…
Synthetic Fill
Synthetic-filled blankets are basically down-alternatives. So they're any material that mimics the warmth and comfort of down. These can actually be just about as warm as down if you get a blanket with a high-quality synthetic fill.
Synthetic fill is usually made of polyester. It's more affordable and won't cause reactions to people with down allergies. So, these camping blankets will be just about as warm as down blankets, but a whole lot cheaper.
Wool
Wool is a great camping blanket material because it provides durable warmth and great protection from the elements. Sheep's wool is made to withstand freezing temperatures and blustery winds, and wool blankets will do the same for you. The only downsides are that they're expensive (a la Pendleton's Yakima Blanket), and difficult to wash.
Minimalist
A minimalist camping blanket is great if you're a no-fluff kinda person (pun intended🤣). They are lightweight, not stuffed with any fancy material, and can be good for just about any use. The best example of a minimalist blanket on my list is the VOITED Ripstop Blanket. Blankets like these are great if you want to pack light and you don't need any special features.
Waterproof
Waterproof camping blankets are great if you often find your campsite rained out and don't want to wear a rain jacket. They're also just nice if you have kids that spill a lot… or if you're clumsy yourself (I definitely am).
Some blankets will have one waterproof side (like the Yeti Lowlands Blanket), and some will be waterproofed all the way around (like the Matador Pocket Blanket). What you choose just depends on your preferred balance between waterproofing vs comfort, since waterproof material isn't exactly warm and fuzzy.
What to Look for When Choosing a Camping Blanket
No matter what material or insulation you choose, you want to make sure that your blanket is meeting some basic requirements for versatility, warmth, and durability.
Versatility
It's important to look for a camping blanket that's designed to serve more than one purpose. I don't want my camping blanket to just be a blanket, I want it to be a poncho, a pillow, and a picnic blanket. You don't want to have to buy different items for each use, just find a blanket that does it all!
Insulation and Warmth
Camping gets chilly no matter the season, so insulation and warmth are a must-have. Whether you want fleece, down, synthetic, or wool, just make sure that your blanket gives you enough warmth for the climate you're usually in. Just remember, the more insulated, the heavier but the warmer the blanket will be.
Durability
If I'm spending like $100 on a blanket I want to make sure it's going to last. If you go camping a lot and plan to use the blanket a ton, look for materials like wool and ripstop nylon in your camping blanket.
Camping Blanket FAQs
What is the Warmest Camping Blanket?
The warmest camping blanket is one that provides a down or down alternative fill plus a wind and water-resistant outside. Some good warm ones are the Rumpl Nanoloft Puffy Blanket (down alternative) or Get Out Gear's Down Blanket (real down).
Are Down Blankets Good for Camping?
Yes! Down blankets are perfect for staying warm while camping. They provide the best insulation out of any material out there.
Is a Fleece Blanket Good for Camping?
Fleece is a nice lightweight option for camping. It's considered an affordable alternative to wool. It's not the warmest material but it's definitely very cozy.
Can I Use a Camping Blanket Instead of a Sleeping Bag?
Yes! Many campers and backpackers prefer to use camping blankets instead of sleeping bags because they are more versatile. As long as you aren't in super cold temperatures, a nice down or down alternative blanket will keep you warm and cozy all night.
What is the Lightest Camping Blanket?
The lightest camping blanket is the Matador Pocket Blanket. It weighs 3.8 ounces–less than a quarter-pound!
Conclusion
Whoever said that you should just get used to being cold and uncomfortable when you're camping was wrong…just get a darn blanket! There's no shame in being cozy.
Whether you need to cozy up by the fire or pack light for a backpacking trip, there's definitely a great blanket out there for you.
Don't Forget to Check Out My Other RV and Camping Articles:
Latest posts by Stacy Bressler
(see all)