Here are some of the best camping pillows you can buy today so "roughing it" doesn't have to be so rough.
Just because you're camping doesn't mean you have to eat bugs and sleep with your head on a rock. In fact, there are more ways than ever to make your next camping trip a little more comfortable. One of the best places to start is with one of these top camping pillows.
From plush pillows for car and RV camping to ultralight inflatable backpacking pillows, there's something here for everyone.
Even if you're a side sleeper just looking to rest better while hiking, there are camping pillow options for you.
So stop using your wadded-up khakis as a pillow and waking up with a neckache. Check out this list of the best camping pillows. And don't miss the camping pillow buyer's guide and FAQ at the end of the article to make sure you actually get a good night's sleep while camping.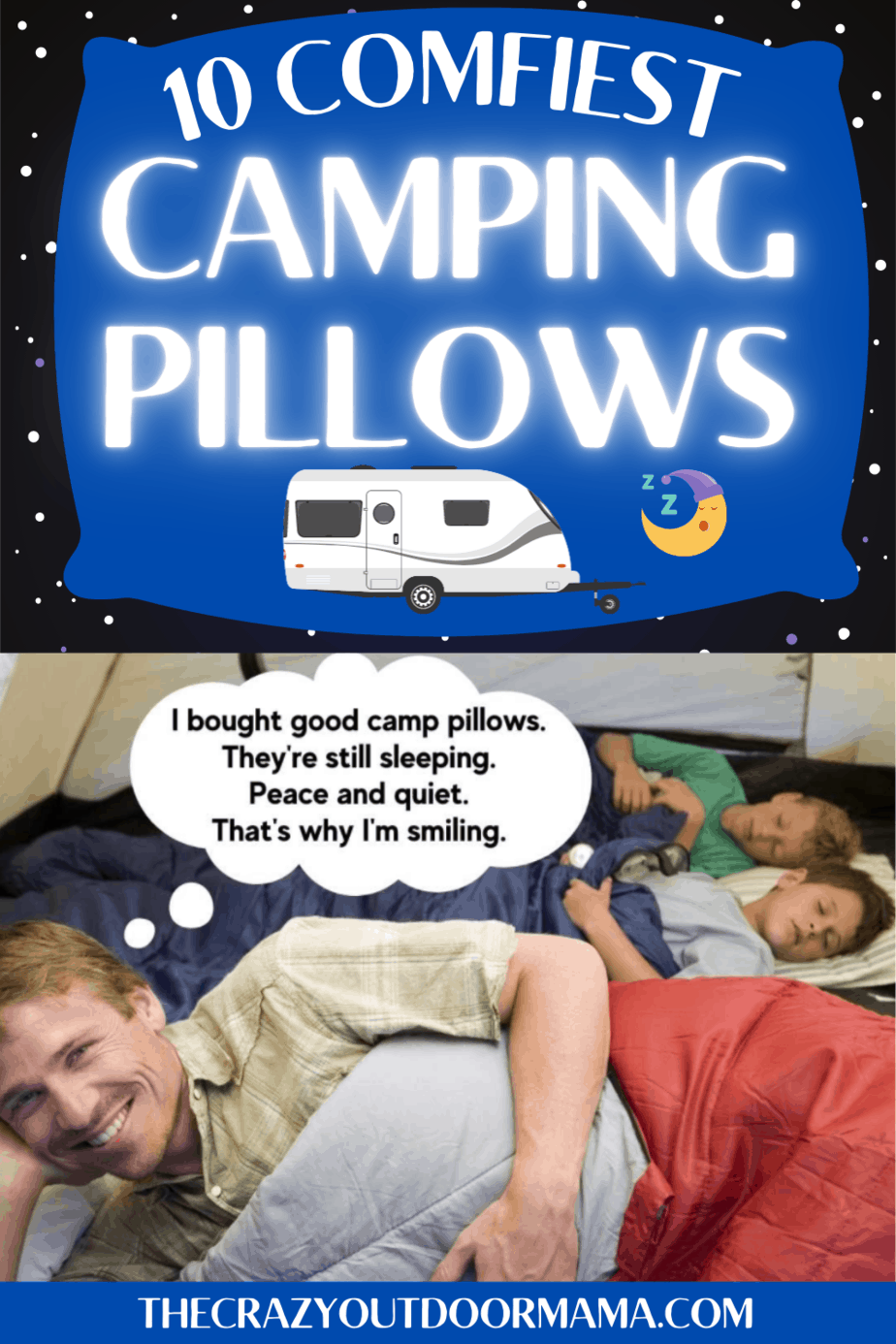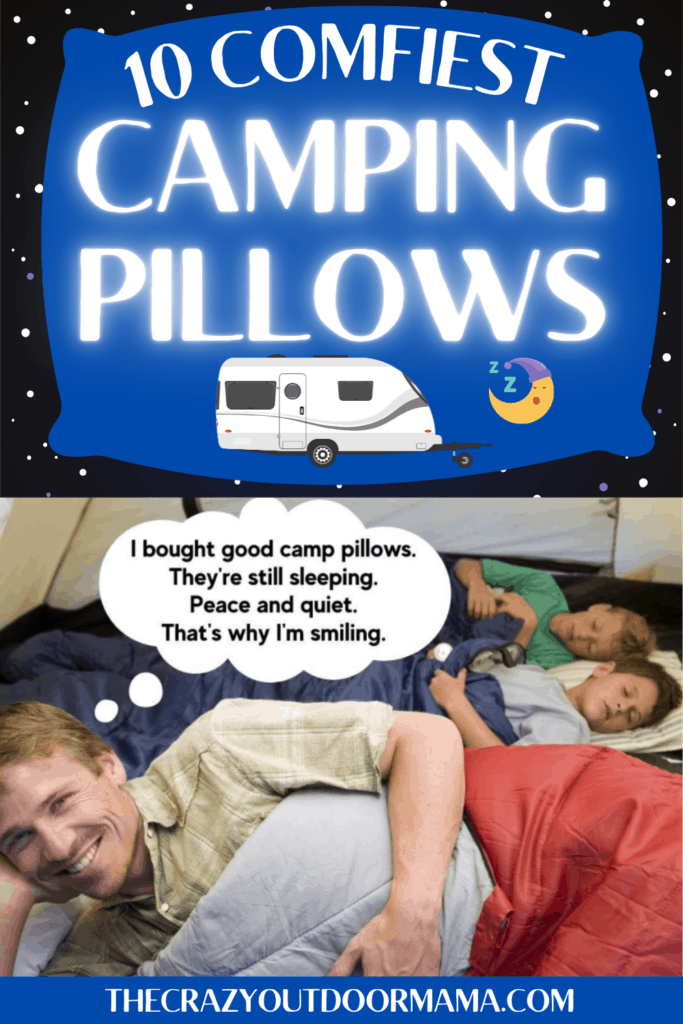 What Types of Camping Pillows Are There?
You've got a couple of pillow options to choose from.
Stuff Sack Pillows
With their light weight and compact size, these are super popular with backpackers. Basically, it's just a sack with a soft outside that you stuff with a jacket or clothing. Some are even dual-purpose and work as a dry sack during the day and pillow at night.
Source: REI, Rumpl Puffy Pillowcase
One of the downsides of a stuff sack pillow is that its comfort depends on what you stuff it with. Stuff it with rocks and it'll feel like you're sleeping on, well… rocks. Stuff it with the freshly trimmed wool of baby Swiss mountain sheep and you'll be in heaven.
Most of us (who don't have access to baby Swiss mountain sheep) will just use a soft winter coat, some extra clothes, or a spare blanket.
Inflatable Pillows
Inflatable pillows are like mini air mattresses that are shaped to cradle your neck and head. These are also a nice option as a lightweight backpacking pillow since they don't take up a lot of space and are relatively lightweight while still providing a decent amount of support.
However, some inflatable pillows aren't as soft and plush as other options. And if you inflate an air pillow too much and you might as well be sleeping on a rock.
Compressible Pillows
These are some of the most comfortable camp pillows since they're really similar to normal home pillows. They're made from lightweight foam that's easy to compress. These are perfect for RVing, car camping, or short backpacking trips.
Source: amazon.com
But a compressible pillow might be too big and heavy to take along on longer backpacking trips when you're really strapped for space.
Hybrid Pillows
Source: amazon.com
If you want some plush comfort without the bulk of the compressible camping pillows, a hybrid camping pillow is a nice middle ground. They have an inflatable air chamber that's covered by a layer of foam insulation.
They're still bigger than a stuff sack pillow or air pillow, but most will appreciate the extra foam insulation.
So now that you understand the different types of camping pillows, let's have a look at my 4 super-duper top picks!
*Pssst…
Don't miss some of my other articles so you can have camping trips that are more fun and LESS HASSLE. Open and bookmark these pages to read once you're done here.
Top 4 Best Camping Pillows
Without further ado… here are my top four picks for your next outdoor adventure, one for each type of pillow.
The Best Stuff Sack Camping Pillow
Versatile lightweight comfort
Weighing in at just 3.2 ounces, this "oh-so-comfy" Rumpl Puffy Pillowcase is a great choice for a camping or backpacking pillow. It features a two-sided design that helps minimize bulk and maximize comfort.
One side of the Rumpl Puffy is a durable ripstop polyester while the other is made from recycled polar fleece. The polar fleece side is super soft and won't stick to your face like some cheap fabrics.
This pillowcase is just the right size to be stuffed with a down jacket or hoodie. And when stuffed with something like that, it becomes a nice pillow for cool weather since the insulated fill from your jacket combined with the fleece surface will help protect your head from the cold ground.
While you do have the extra step of actually having to stuff it with something, you might like the control of customizing the support for back sleepers, side sleepers, or stomach sleepers.
Then, when it's time to break camp, just empty it out and stuff it in its own integrated stuff sack.
Check the current price.
The Best Inflatable Camping Pillow
Surprisingly compact and supportive
Once you get the Sea to Summit Aeros in your hands you'll probably ask yourself, "Is that it?". When this backpacking pillow is packed up it's about half the size of a water bottle! It comes in three different sizes, the smallest of which only weighs 2.7 ounces. A Snickers bar only weighs 2.07 ounces (don't ask me why I know that).
But once inflated, the Sea to Summit Aeros provides great support – enough even for most side-sleepers.
It's super easy to inflate with just a few breaths. And if you were a little over-zealous and blew it up too hard, then just press the release button a few times and let a bit of air out. It even makes a nice camping pillow to have on long RV trips since it can double as a lumbar support pillow.
One thing a few people don't like about the Sea to Summit Aeros is that the materials on the inside make a slight "crinkling" sound any time you move around, so if you're a super light sleeper this may not be the one for you.
Check the current price.
*Need more summer camping comfort? Check out my guide to… 11 Best Warm Weather Sleeping Bags for Summer of 2022
The Best Compressible Camping Pillow
Therm-a-Rest Compressible Travel Pillow
The pillow that takes you from camping to glamping
If you value your comfort and want your tent or RV to feel a little more like home, give this Therm-a-Rest Compressible Pillow a try. The Therm-a-Rest is a little heavier than most of the other options on my list, so choose wisely based on how you'll use it.
If you're looking for a backpacking pillow, go with the small size. It's still a generous 12×16 inches (similar size to the first two on my list) and only weighs 7 ounces.
If you're looking for a comfortable pillow for your RV, go with the Therm-a-Rest Compressible large or XL sizes that are up to a whopping 16.5×27 inches in size and only 15 ounces. That might be bigger than some of the pillows you have at home! But when rolled up into its built-in stuff sack, it's just a hair larger than a big zucchini, so you'll have some extra space for a few extra pounds of bacon.
And best of all, it comes in a bunch of fun colors!
Check the current price.
The Best Hybrid Camping Pillow
The best of both worlds
Maybe you don't want an inflatable pillow that feels like you're sleeping on a balloon.  But you probably don't want the extra weight and bulk of a compressible camping pillow. 
And you won't be camping in an area with baby Swiss mountain sheep you can shear in order to fill your stuff sack pillow case.
Then get a Nemo Fillo Pillow! It's kind of the best of both worlds.
It weighs a moderate 9 ounces and has an inflatable air pillow section with a luxury foam top. There's an air valve that makes it easy to adjust the pressure so you can leave it fully inflated if you're a side sleeper in need of some support, or let a little air out if you're a stomach sleeper looking for a plusher feel.
It's got an integrated stuff sack that lets you pack it up to about the size of a big avocado. (I know I started with a Snicker's size comparison, but I had to move on to zucchinis and avocados. We gotta stay healthy people!)
Check the current price.
Other Top Camping Pillow Options
If you still want to explore your options, here are some other solid choices for your next best pillow for camping.
Lightweight Hybrids
Lightweight comfort for sleeping well on the trail
If you're looking for a lighter hybrid inflatable pillow, the Therm-a-Rest Air Head Pillow is a nice choice. It's even shaped in order to nestle and stay in place at the top of your sleeping bag.
The regular size Therm-a-Rest Air Head only weighs a little over 5 ounces and the pillow packs up to the size of a small grapefruit.
Check the current price.
Warm, supportive, and compact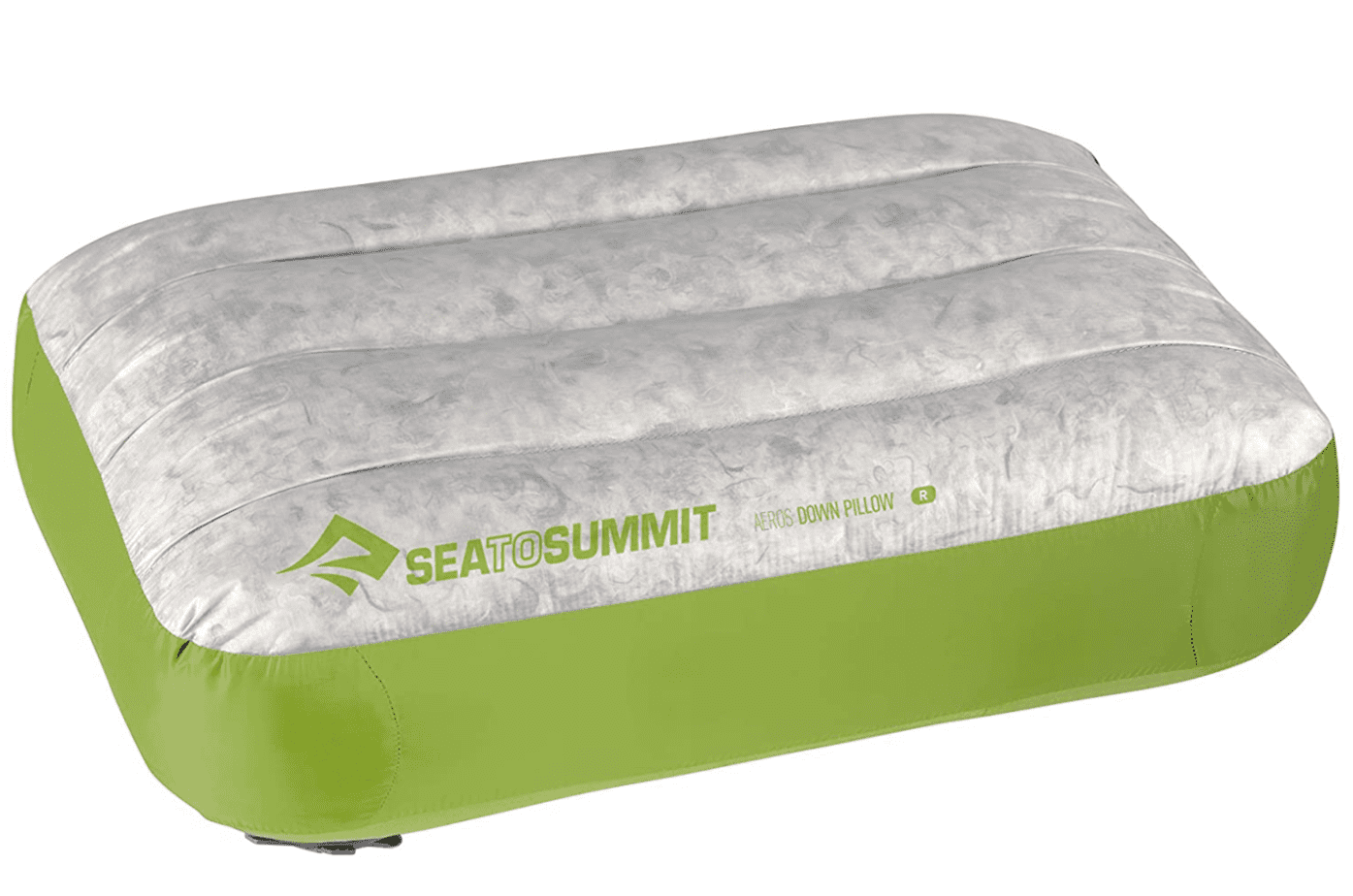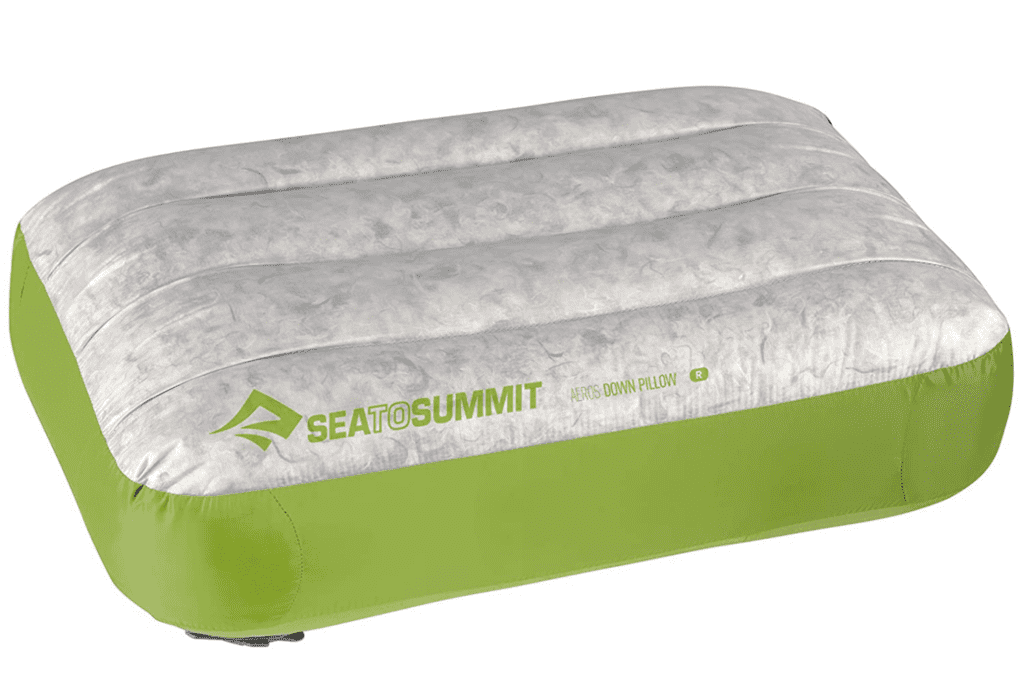 If you like the standard Sea to Summit Aeros Pillow I reviewed above but want something with a tad more comfort and warmth for chilly winter camping, try the Sea to Summit Aeros Down Pillow.
This Aeros premium camping pillow is similar to the standard version except for the luxurious down pillow top. That extra layer of down helps insulate your head from the cold ground and adds a touch of comfortable down cushioning.
Check the current price.
Ultralight Pillow
So light you'll barely feel it.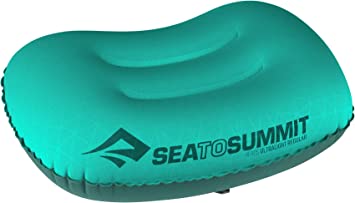 If weight is your primary concern, then the Sea to Summit Aeros Ultralight is about the best you can get. It's similar to its big brother — the Aeros — but this one has a slightly different design that shaves off a couple of grams.
The regular size version weighs an unbelievable 2.1 ounces (so basically the same as that Snickers bar)!
It's got a curved headrest and an ergonomic shape that cradles your head. And like most Sea to Summit inflatable products, it's got a unique inflation valve that makes it suuuuper easy to adjust the firmness.
Check the current price.
Best for Side Sleepers
Tons of loft and support
It's hard to be a happy camper when you're a side sleeper who always wakes up with a kink in their neck. If that sounds like you, you probably need a camping pillow with some extra height and support.
Try the Nemo Fillo King. It's similar to its baby brother in that it's a hybrid pillow with a foam top and an inflatable air bladder. But while the standard Nemo Fillo has just 4 inches of height, the Nemo Fillo King pillow comes with a whopping 6 inches of adjustable support thanks to the taller air core.
Check the current price.
Budget Pick
Surprising amount of comfort for the price
Camping and backpacking pillows can get expensive. If you're pinching pennies, don't sacrifice your comfort just to save your budget. Try the Wise Owl Outfitters pillow.
It might be a tad big for most ultralight backpackers, but it's the perfect camp pillow for tent and RV camping. You'll love the memory foam fill, 5 inches of support, and machine washable cover.
And they come with their own stuff sack so you can compress them to about the size of a pineapple.
Check the current price.
Another Great Inflatable
A unique design for warm and cool nights
The Cocoon Ultralight Air-Core is another nice mid-range camp pillow. It offers an easy-fill air bladder with adjustable support. The pillow is shaped to fit nicely in sleeping bags and even hammocks.
And depending on the temperature, you can use the soft quilted side to keep you warm or the opposite side to help you stay cool.
Check the current price.
Ok… so now that you've seen my picks for the best camping pillows, let's move on to the pillow buying guide and FAQs so you know you'll be able to make the right choice.
Camping Pillow Buyer's Guide – Which pillow type is best for me?
The best camping pillows can seem a little pricey, so you want to make sure you get the right one. First, you need to determine…
How Will You Use It? Is it for RVing, Backpacking, or Car Camping?
If you're looking for a pillow just for RV and car camping, then you can afford to worry more about pillow comfort and less about its overall weight and packed size.
On the other hand, if you're planning on using the pillow mostly for overnight hiking trips, then some of the first things you'll need to check are the total weight and packed size.
Total Pillow Weight
The weight of camping and backpacking pillows can range anywhere from just an ounce or two (ultralight pillows) to a full pound (large compressible pillows).
If you're a backpacker, look for a pillow that's about 5-7 ounces or less. If you mostly go on one or two-night hiking trips, then you can probably get a backpacking pillow that's more on the heavier end of that range.
Pillow's Packed Size
Whether it's compressible pillows or inflatable pillows, backpackers especially should check how much space the pillow takes up once it's deflated or packed into a stuff sack.
You don't have to use a super-healthy vegetable size comparison system like I do, but you need to know how much space the pillow will take up in your pack.
For backpackers, it's best to look for a pillow that's about the size of an eggplant or smaller.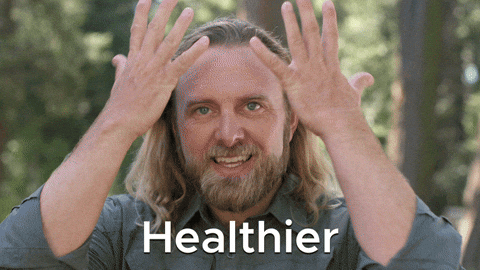 Pillow's Full Size
You might be disappointed after you order your super ultralight pillow that packs to the size of a baby carrot, only to inflate it and find it's so small only half your face fits on it at a time!!
Most camping pillows on the market have an inflated or full size of about 11×16 inches. That seems to be just the right size for some camp sleeping comfort without taking up too much space.
Based on your needs, how much weight you can carry, and the space you have for packing, you can go bigger or smaller accordingly.
Comfort
Let's be honest. None of these camping pillows are gonna be as comfortable as your ultra-plush gel-infused memory foam pillow you've got at home. So have reasonable expectations.
If you value your comfort more than saving a few ounces in your backpack, you should definitely go with either a compressible pillow like the Therm-a-Rest Travel Pillow or a hybrid pillow like the Nemo Fillo Pillow.
A simple stuff sack pillow or inflatable pillow without extra synthetic fill cushioning works well, but if it's maximum comfort and the best night's sleep possible while on the trail, go with a compressible or hybrid pillow.
Crazy Camping Pillows FAQ
Are Camping Pillows Worth It?
Yes! Have you ever tried hiking up a mountain with a kink in your neck after not sleeping all night? Sure, a pillow will add a few extra ounces to your backpack, but it's a small price to pay for the extra comfort and a better night's sleep.
What about RV or car camping? Can't I just take my regular pillows from home?
You can and there are probably a lot of people who do. However, most probably don't want to expose their expensive home bedding to campfire smoke, sunscreen, bug spray, and all the other wonderful dirt and smells of the great outdoors.
And having a compact pillow means those extra pillows won't take up tons of space while stored at home in a closet or garage.
How Do I Wash My Camping Pillow?
A lot depends on which pillow you buy. Some can be thrown whole into the washing machine. Others come with a removable cover you can wash. And some inflatable ones can just be wiped down with a damp cloth. Just make sure to follow the instructions.
How Do You Keep a Pillow on a Sleeping Pad?
A lot depends on what type of sleeping pad and camping pillow you have. If they both have a slick surface, then you could have a slippery problem.
There are several different things you can do to combat this.
Wrap your pillow or the top of your sleeping pad in a t-shirt
Nestle your pillow in the top of your sleeping bag
Add a few stick-on velcro tabs to the back of your pillow and matching locations on your sleeping pad
Wrap the top of your sleeping pad and pillow together in a t-shirt or elastic net. See more about this here.
I'm confused by the pillow to vegetable size comparisons. Can you give me those again, but with Snickers bars this time?
No. Learn more about veggies.
Any Other Tips for Sleeping Well While Camping?
Get the right sleeping pad.
There are tons of different sleeping pad options but most fall into three basic categories – air pads, self-inflating, and closed-cell foam.
Of course, you also have your good old-fashioned air mattresses. But if you're trying to save on weight, you can still find some moderately comfortable options among the sleeping pads.
Air pads have a nice combination of lightweight, compact size, and comfort. However, the ultralight versions tend to be a bit expensive and can lack some durability.
Self-inflating sleep pads have a combination of open-cell foam that expands and sucks in air automatically. They're quite comfortable and offer good insulation against the cold ground, but they tend to be bulkier than air pads.
Closed-cell foam sleeping pads have been around forever. They're simple, lightweight, versatile, and super durable since you won't have to worry about them puncturing like the air pads or self-inflating pads. However, they're not as comfortable as their air-filled cousins.
*INSIDER TIP – Try a combination of two pad types for optimum backcountry sleeping comfort. Bring along a closed-cell foam pad as your first layer. It'll provide some insulation from the cold ground and protect your more expensive air pad from sticks and rocks that could puncture it. Then put your lightweight air sleeping pad on top for a layer of plush comfort.
And of course, don't forget to top it all off with your sleeping bag and your new favorite camping pillow!
Which of the Best Camping Pillows Will You Choose?
So which of the best camping pillows will you choose for a good night's sleep on your next camping or backpacking trip – the ever so comfy Therm-a-Rest Compressible Pillow or the ultralight and compact Sea to Summit Aeros?
Whichever pillow type you choose, remember to consider the pillow's overall weight, packed size, support, and of course the overall comfort.
Say NO! to sleeping with your head on a rock.
Say NO! to kinks in your neck.
Say NO! to balled-up khaki pillows.
Say YES! to backcountry comfort and get one of these top pillows for camping, backpacking, and RVing.
Don't forget to check out my other gear guides to help make your family's camping experience even better.
SOLO STOVE BONFIRE REVIEW – THE MOST PORTABLE FIREPIT EVER! (PROS + CONS)
5 BEST PROPANE CAMPFIRE PITS FOR NO MESS FIRES ANYWHERE
17 ESSENTIAL PRODUCTS TO WINTER RV LIVING (WITHOUT FREEZING!)
61+ BEST RV ORGANIZATION ACCESSORIES AND PRODUCTS OF 2020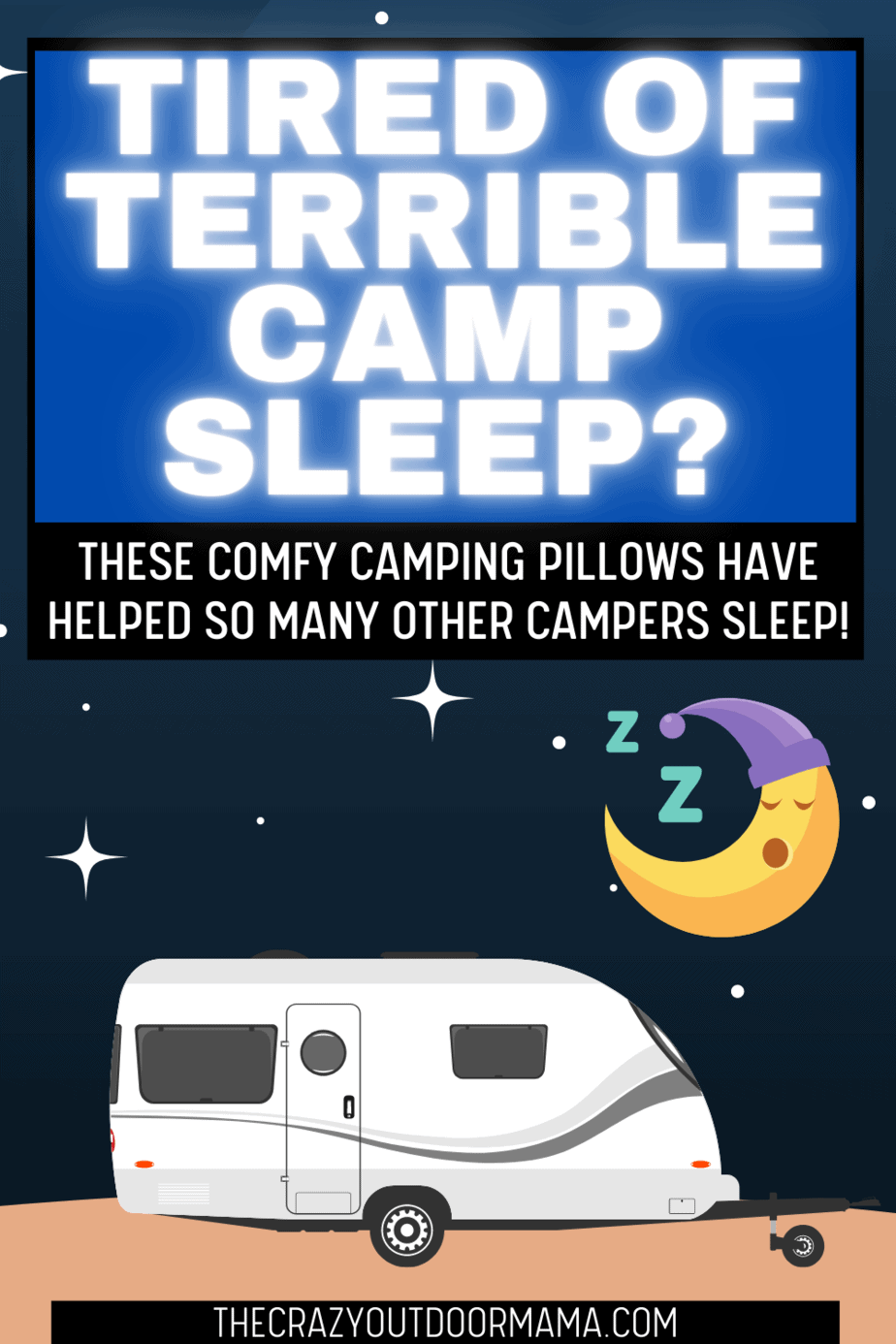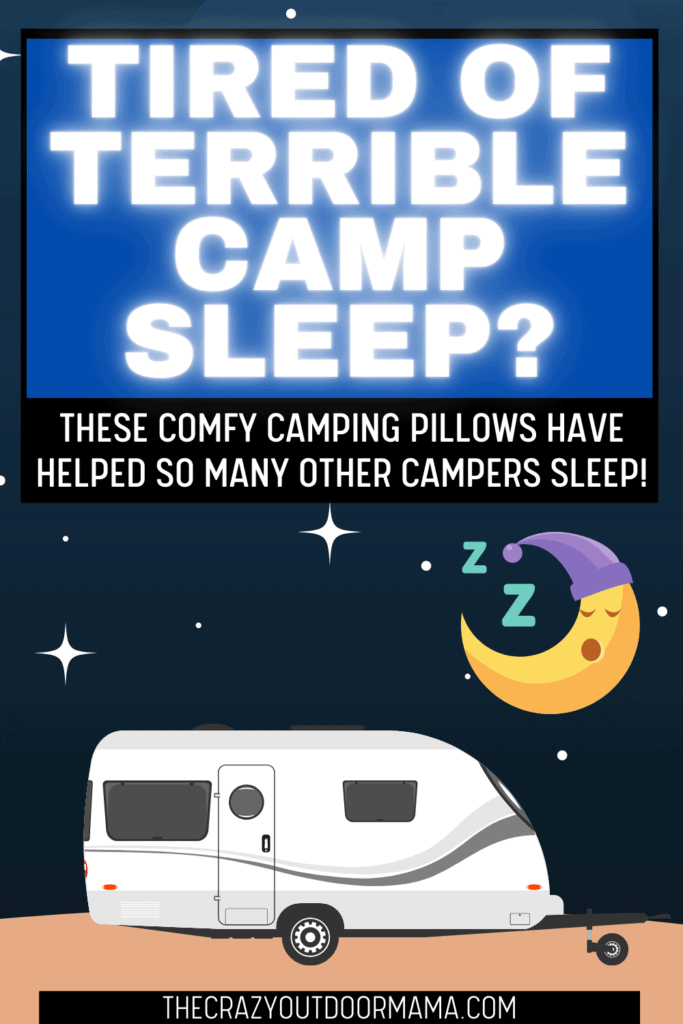 Latest posts by Stacy Bressler
(see all)