If you're a long-term RV owner, sooner or later you're gonna need to hire a mobile RV repair service. It'll usually go something like this…
It's a beautiful long summer weekend. You pack up the family for a few days in your RV. Beautiful weather, beautiful scenery, family time… what could go wrong?
Halfway through Saturday, you notice a strange smell coming from your RV's toilet. Yuck! But wait! Now the fridge isn't working either! The bacon for tomorrow's breakfast is spoiled. 
Whatcha gonna do? You're at an RV park 300 miles from your favorite RV repair shop. Kinda seems like you're up the creek without a paddle (and bacon!)
Don't let a situation like this spoil your weekend. Now's the time to call a mobile RV repair service. 
When it's your turn to deal with a situation like this, how can you make sure you get quality repairs done to your RV as fast as possible so you can get back to enjoying your camping trip?
You don't have to learn the hard way, just take a few minutes to read this article with tips for finding and hiring a mobile RV repair service. In about 5 minutes you'll be ready for almost any broken toilet, warm refrigerator, or other RV problems you'll have to face!
*Psst! And don't forget to check out my other RV and camping articles with the best tips on RV organization, planning, and more ways to have a blast as a family while camping!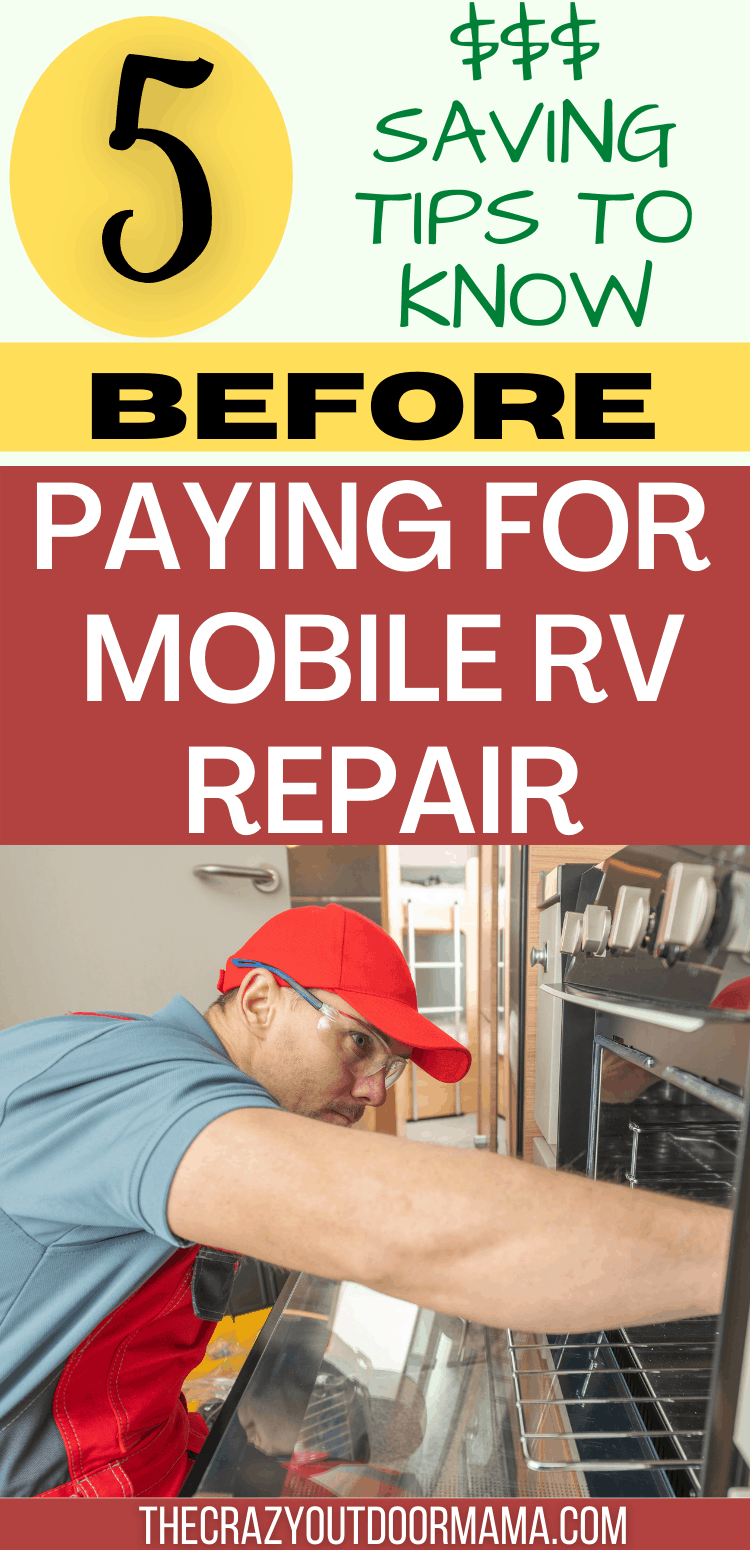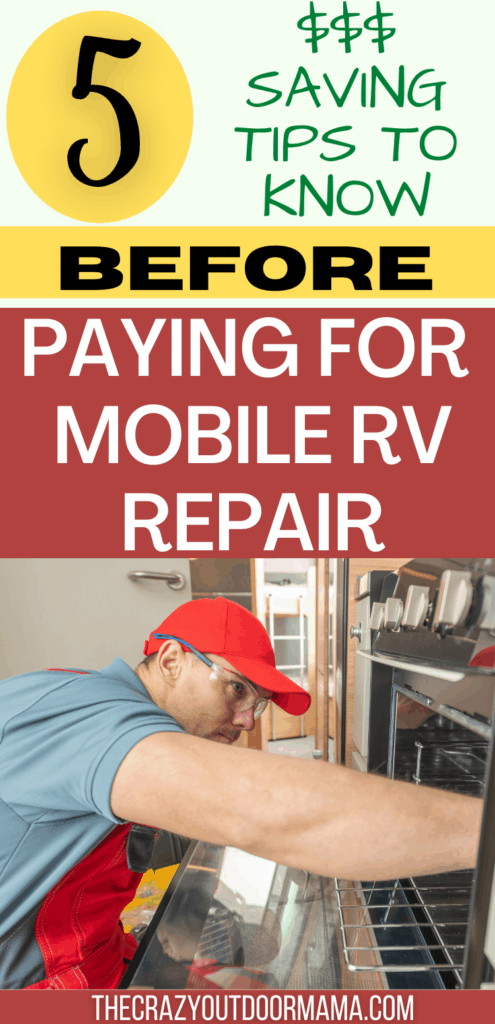 So What Is a Mobile RV Repair Service?
A mobile RV repair service is one of the most convenient ways to get your RV fixed. An RV mechanic or technician will come right to your RV to diagnose and repair (hopefully!) whatever problem it might be, it's that simple.
You'll probably need to call a mobile RV repair service when you're in the middle of a camping trip and don't want the problem to put a damper on your fun. Or you might need an RV technician when the problem doesn't allow you to safely move your camper. 
What Are My Options for Different Types of Mobile RV Repair Services
Mobile RV services usually come in three different types:
#1 The RV Handyman (General RV Repair Technicians)
Just like you probably have a handyman you call for general repairs around your home, you can usually find an RV handyman or jack-of-all RV trades who can diagnose and fix most general issues with your RV.
Ask around at the campground office or other RV owners and they can probably direct you to a local general RV repair tech. 
#2 Mobile RV Repair Specialists
The next step up is a mobile RV repair specialist. This could be a single-person operation or a larger business with several RV mechanics and technicians specializing in mobile RV repairs. A quick google search for "mobile RV repair near me" will usually bring up a few local results. 
You could even just go straight to a company like RVForce. They're a nationwide, full-service mobile RV maintenance and repair provider.
These are a nice middle-ground for mobile camper repairs. A lot of these RV service providers carry some kind of certification and can troubleshoot and repair more complicated systems in your RV. They usually end up being a bit more expensive than your general RV handyman, but a little cheaper than an RV dealership or repair shop.
Speaking of RV repair shops and dealers…
#3 RV Dealers and RV Repair Shops
If you're far from home, can't find an available RV technician or a mobile repair specialist, and are facing an RV emergency (like when your RV radio won't work so you can't listen to your favorite Taylor Swift song! Oh nooooo!!!), call an RV dealer or RV repair shop. 
While mobile RV repair might not be their bread and butter, many make house calls (or campsite calls), although they'll probably charge a premium price to do so.
So now you know who to look for when you need an RV repair while traveling. But how can you actually find mobile RV repair businesses and what should you expect when the repair tech checks out your RV?
Let's see.
Need to Hire Mobile RV Repair Services? Here are the Top 5 Things to Keep in Mind
It can be nerve-wracking to face a problem with your RV while you're trying to stay within your vacation budget and make sure your family still has a nice time camping. Here are a few things that can help!
1. Ask the Campground Office for a Referral
Not sure who to call to diagnose an issue with your camper? Try checking first with the campground or park office.
Chances are they've dealt with issues like this before and can point you in the right direction. If the camp office has some kind of information or bulletin board, you might even find flyers or business cards for mobile RV repair businesses there. 
2. Ask Fellow Campers
Does your campground have a campground host who could recommend a mobile RV repair service? Or do you notice any others at the RV park who seem like experienced RV owners? Why not ask them if they know an RV mobile service provider in the area. 
Some of them might even be handy and willing enough to help you troubleshoot minor issues. If there's anything we learned from watching RV's Poop Geyser scene, it's that fellow campers are usually ready to help.
Howie to Robin William's character… "We are gonna get this fixed up for you buddy."
Just make sure whatever referral you get has more experience than JoJo and Howie.
3. Expect to Pay Just For Them to Look at the Problem
Remember, a mobile RV repair service has to come to you. They have to take the time and put the miles on their vehicle to come out to your rig. You're paying for the convenience of a mobile service appointment and that often means a fee just for them to look at and diagnose the problem.
That's another reason why you should make sure to call a reputable technician with the skills to take care of your repair. Make sure to clearly explain the issue to them on the phone before paying for them to come the whole way out to the campground.
The last thing you want is to pay an RV technician $100 for a quick service call only to find out they can't fix the issue and you need to call another repair service to come out and actually fix the problem.
4. Be Smart
Here's how NOT to be smart:
You're at a campground and your A/C stops working in your RV.
You find someone on craigslist advertising RV repairs – no website, no Facebook page, just a "Joe's RV Repair" craigslist ad.
Joe comes out in an unmarked pickup truck that looks like it's seen better days.
After a few minutes of tinkering around your RV, he "figures out" which part went bad.
He says he'll only charge you $20 for the labor to fix it but he needs to go buy the part which costs $150.
You give him $150 to go buy the part.
You never see Joe again and sleep in a hot RV the rest of the trip.
Hire a professional RV service. Don't be afraid to ask on the phone or check on their website if they have any RV repair certifications. (Yup, they actually exist! RVSA, NRVTA, and the RVIA offer training courses and certifications for RV repair.)  And to avoid surprises, request an estimate in writing with how much the repairs are likely to cost. 
5. Learn How to Troubleshoot Basic RV Problems Yourself
You can save yourself a lot of time and hassle by learning how to do your own RV repair and maintenance. No one likes to pay an RV service technician $100 to come out and look at your RV only to find out it was a simple $5 fuse that needed to be replaced.
You could start with a video like this one and learn about 5 Common RV Problems and How to Fix Them or you could even join an RV Repair Club if you really want to roll up your sleeves and learn more about in-depth RV repairs while on the road. 
If you're a DIYer, then I also suggest checking out my article on 9 tools we carry in our camper that fix just about anything (good enough to save the trip, anyways!)

Just in case you still have a few questions…
Mobile RV Repair FAQs
How can I find a mobile RV mechanic near my campground?
Whether you're having trouble at a campground or are broken down and need some roadside assistance, google can be your best friend. Do a quick search for "mobile RV repair services near me" or "RV repair technician near me". Regardless of where you are in the US, you should be able to find a business the offers mobile repair services.
You can also try local camping or RV Facebook groups. And another option I haven't mentioned yet is a local RV parts store. RV service technicians come to their shops to buy replacement parts so they might know someone who can help.
Should I avoid mobile RV repairs?
A lot depends on what the issue is and how desperate you are to fix it. Mobile repairs will likely cost more than repairs at a normal shop, so if you can deal with the issue until you get home and head to your normal RV service shop, it'll save you some money.
But if it's a serious issue that could risk your safety while on the road or completely ruin your vacation, by all means, call a professional to come fix the problem.
What if I'm not traveling? Should I still call a mobile repair service?
There are advantages and disadvantages to mobile RV repair services. The fact that they come right to your RV makes them a really convenient option even if your RV needs a repair while sitting in your driveway at home.
There's no need to take time off work or to find someone to pick you up when you drive your rig over to the repair shop. The mobile repair tech just comes to your home and works on your rig while you go about your day.
I Hope You NEVER Need to Call a Mobile RV Repair Service!
But if you do, remember to follow my tips in this article for finding and hiring a mobile RV repair service. That way you can get back to enjoying your vacation sooner while saving time and money you'd rather spend on bacon and new camp chairs!
Want some more awesome tips for having a less stress, more fun RV trip with your family?
Check out my other RVing articles!
Latest posts by Stacy Bressler
(see all)