I don't know about you, but we've had a couple of close calls in regards to our camping trip being ruined if we hadn't have had certain tools with us! We tend to boondock way more often than use campgrounds, so it's even worse if something breaks while we're out!


Thankfully, my husband is REALLY handy – I'm not sure if there has been anything in our house (or car!) that has broken that he hasn't figured out how to fix! I wanted to really learn from him what basic tools to have that'll get you out of MOST sticky situations when you're out camping in your travel trailer… I tend to leave that to him normally, but it's been trip chaning, so I wanted to learn it and get that info out to all of you guys!
Besides, even if you DO camp in campgrounds, many things can still go wrong – too much water pressure, burst pipes, electronics not working etc… and while the nature of "camping" for some people is to get back to a simpler time… I REALLY enjoy my cuppa in the morning and AC during the heat of the day!
Some of these items will not be "tools" but spare parts for things in your camper that are easy to lose… and really annoying to be without!
Here we go!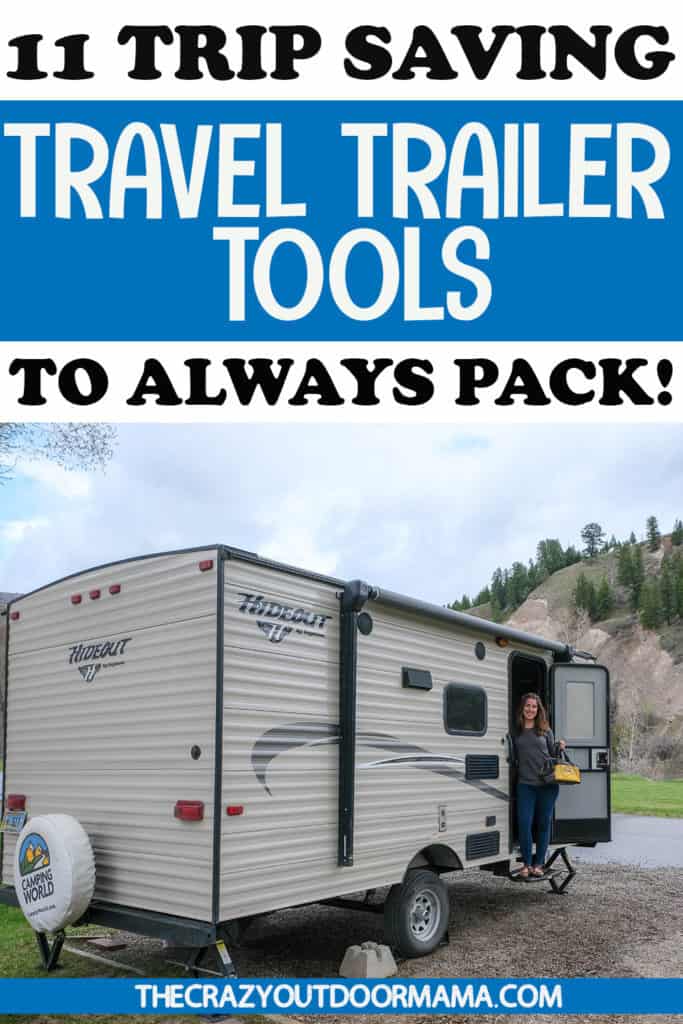 Short on time? Let me send you the PDF RV Toolkit Checklist!
If you're like me, and you read something cool then forget it 5 minutes later, then you'll want this printer friendly checklist!
It's helpful to keep in hand while figuring out what you need to buy, and what you already have (or just to skip reading this whole thing and get the meat of it!)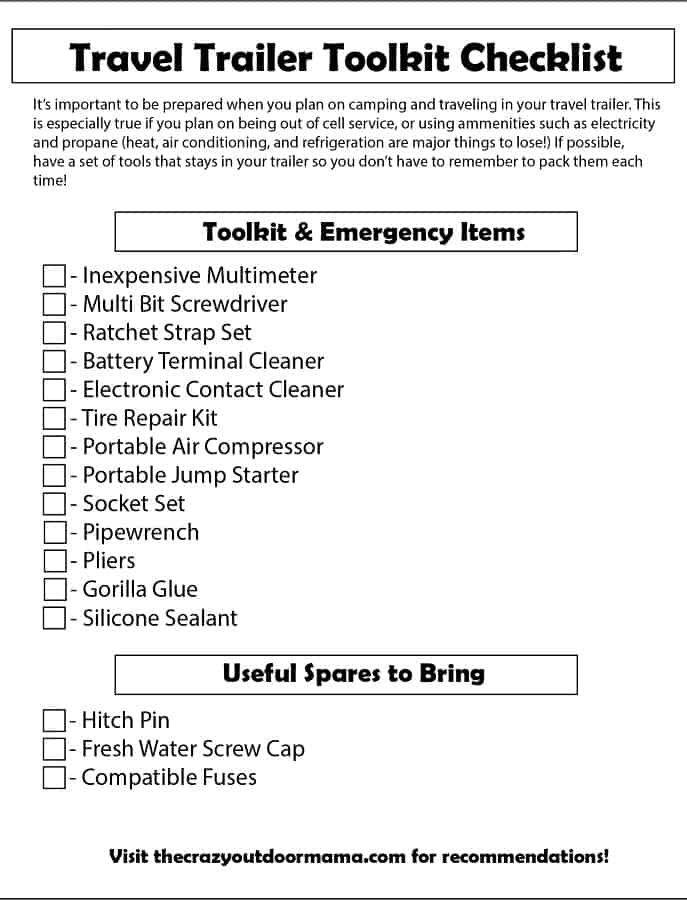 Inexpensive multimeter / voltage tester
This is really handy to check your batteries as well as when troubleshooting power issues. We use our solar panels sometimes to charge our batteries, and it's nice to know how much charge our batteries have, or if the system is even working right if our devices in the camper don't seem to be working right.
If you have a Harbor Freight near you, you can probably swipe up one of these for pretty cheap – you don't need anything amazing! If not, I have found this basic one on Amazon with decent reviews!
Etekcity Digital Multimeter, MSR-A600 Auto-Ranging AC/DC
Tests both AC and DC
Kickstand for easy viewing!
Multi Bit Screwdriver
You might think you have everything the way you like it in your camper, until you're acutally LIVING in it for a little while… then you start noticing little things you don't like, or pieces that have come loose here and there.
It's good practice to have a multi screwdriver that can tackle it all! We have a really handy one that is short and has an interchangable tip for almost every screw there is! We even used it this past trip when we were all sick and tired of the blind holders (those two plastic pieces at the bottom of the blinds that are meant to hold them in place during travel) hitting our heads at night… so we took them off!
NoCry Stubby Ratcheting Screwdriver Kit with 12-in-1 Mini Bit Set
Small size makes it easy to store and get into small RV areas
Ratchet style, so less work and easier to use than traditional screwdrivers!
Ratchet Strap Set
A ratchet strap set is so multi functional, and it doesn't really take up much space so it's a must for your next camp trip! We use it to secure our gear inside the trailer for transport so it doesn't fly and hit stuff, but it's also good to have for emergencies when you just need to keep things closed or somewhat together until you can get it fixed!
These aren't super heavy duty, but will accomplish most things the casual user would need!
Premium Ratchet Tie Down – 4 Pk – 15 Ft – 500 Lbs Load Cap – 1500 Lb Break Strength
Comes with nice carrying bag so they don't get messy while in storage
Rubber coated S hooks so they're less likely to ruin your gear!
Extra Hitch Pin
Who else here has gotten into fits of near rage trying to find a misplaced hitch pin? The only thing close to that feeling is attempting to help my husband back in the trailer..
ANYWAYS, this is one of those things I mentioned earlier that it's good to have a couple spares of!
CURT 21510 Trailer Hitch Pin & Clip with Vinyl-Coated Grip
Protected by a durable zinc-plated finish which helps it be corrosion resistant
Made of solid steel for durability!
Battery Terminal Cleaning Brush
Battery issues are pretty frustrating, so be prepared with this cleaning brush! It's perfect for removing the corrosion that can build up over time, and is super small to store!
Schumacher BAF-BI Terminal Cleaning Brush
Has internal clamp cleaning brush inside

Bristles are chrome plated making it way more efficient at scrubbing off corrosion!
Electronic Contact Cleaner
We actually had to make an emergency stop at a Home Depot our last trip because our trailer lights weren't working.. all to pick up a small bottle of this! We do keep it in our trailer now, but it would have been nice to stay on the highway instead of having to head into town!
Hosa D5S-6 CAIG DeoxIT 5% Spray Contact Cleaner
Helps to improve conductivity (and won't damage nearby plastics)
Helps reduce intermittent connections and abrasion
Tire Repair Kit
Now we're getting into items that that can save you alot of time and headache when it comes to your tires! First and foremost is a quality tire repair kit!
Depending on where you are, you may not have cell service or have help available very quickly. And even if you did, why pay someone to fix something when you can do it yourself??
This is a quality set that comes with an organized case – I'd just store it in the back of your towing vehicle so that you're always ready!
Tooluxe 50002L Universal Tire Repair Kit to Fix Punctures and Plug Flats
Fixes punctures in tires without having to take them off the rim
Includes multiple strings of plug material – great value for the price!
Portable Air Compressor Pump
This is something that is handy to have so as to avoid having to stop somewhere to refill your tires! It's not necessarily a must, but my husband absolutely loves his air compressor and insists it is useful for everything (he fills the kids plastic bouncy balls with them!)
I will say that if you intend to be boondocking and possibly out of service, this becomes a much more important thing to take with you so that you're able to get yourself out should you get a flat!
EPAuto 12V DC Portable Air Compressor Pump
Plugs directly into the cigarette lighter socket of your vehicle, and even has an auto shut off when you reach the set pressure (which is great for people who don't do this often and are scared of "exploding" the tire!)
Includes other adapters including a needle for balls and cone for kayaks
Portable Jump Starter




I want to preface this by saying to double check that the jump starter you purchase is actually powerful enough to start your vehicle!
Now, with that being said, portable jump starters are incredibile peace of mind. I'm not super tech savvy, and when our car battery died I was freaking out because I had never had to jump a car, especially using someone elses battery! I was always freaked out by somehow forgetting how to hook things up and frying both!
Anyways, I like this because it is easier to use, you don't have to rely on anyone, and it goes wherever you go! And if you have 3 kiddos like me, it's not unlikely that someone might forget to turn off a light inside the car leaving you to wake up with a dead battery!
DBPOWER 600A 18000mAh Portable Car Jump Starter
Small enough to store in your glovebox, making it perfect for the limited space of travel trailers!
Includes adapters to charge other things including phones and laptops on the go!
Other handy basic tools to bring for your camper (that you might already have extras of laying around!)
If you're a handy person like my husband, you might have a couple of these useful tools laying around (I swear, he has what seems like 5 versions of the same darn wrench!) and you might be able to just throw them in your toolbag.
If you don't, you might want to pick up a sort of all in one toolkit such as this – you will have some overlapping stuff, but make sure it includes the following
Socket set
Pliers
Pipewrench
Duct Tape
Do you feel a little less stressed now about being stranded?
Not going to lie, when we started camping out of cell service, I was always pretty fearful of something happening and we wouldn't have an easy way to get help. But with all these tools, we have been able to fix near about anything!
Here are some other RV related bits you'll love!