Who else loves to nap during the day, but are blinded by the sunlight streaming through those cheap camper blinds, and swear you'll buy the fancy black out blinds for your camper next time??
But if you're like me, and super cheap, you probably never do! I have a TON of things in my "Save for Later" section of my Amazon cart, and I can tell you, nice blackout blinds are one of them!
This is especially true after our first camp trip of the year with all 3 kids in a new sleep set up – my son moved to the top bunk (no window!) but my twins are now in the bottom where there is both a window and blinds… and the blinds seem especially fun when they are going to sleep! I imagine it's like some fun crunchy baby toy in their eyes for them!
Anyways, I wanted a quick and cheap way to do a couple of things – block out the light, help regulate the temperature a bit in our camper, as well as hopefully reduce the need to have those crunchy, cheap blinds that little kids love to wreck!
And I got it!
These cost around 5 dollars to make each, and you can bump up their quality with additional material (or even the actual black out material they sell at the store!)
Here we go!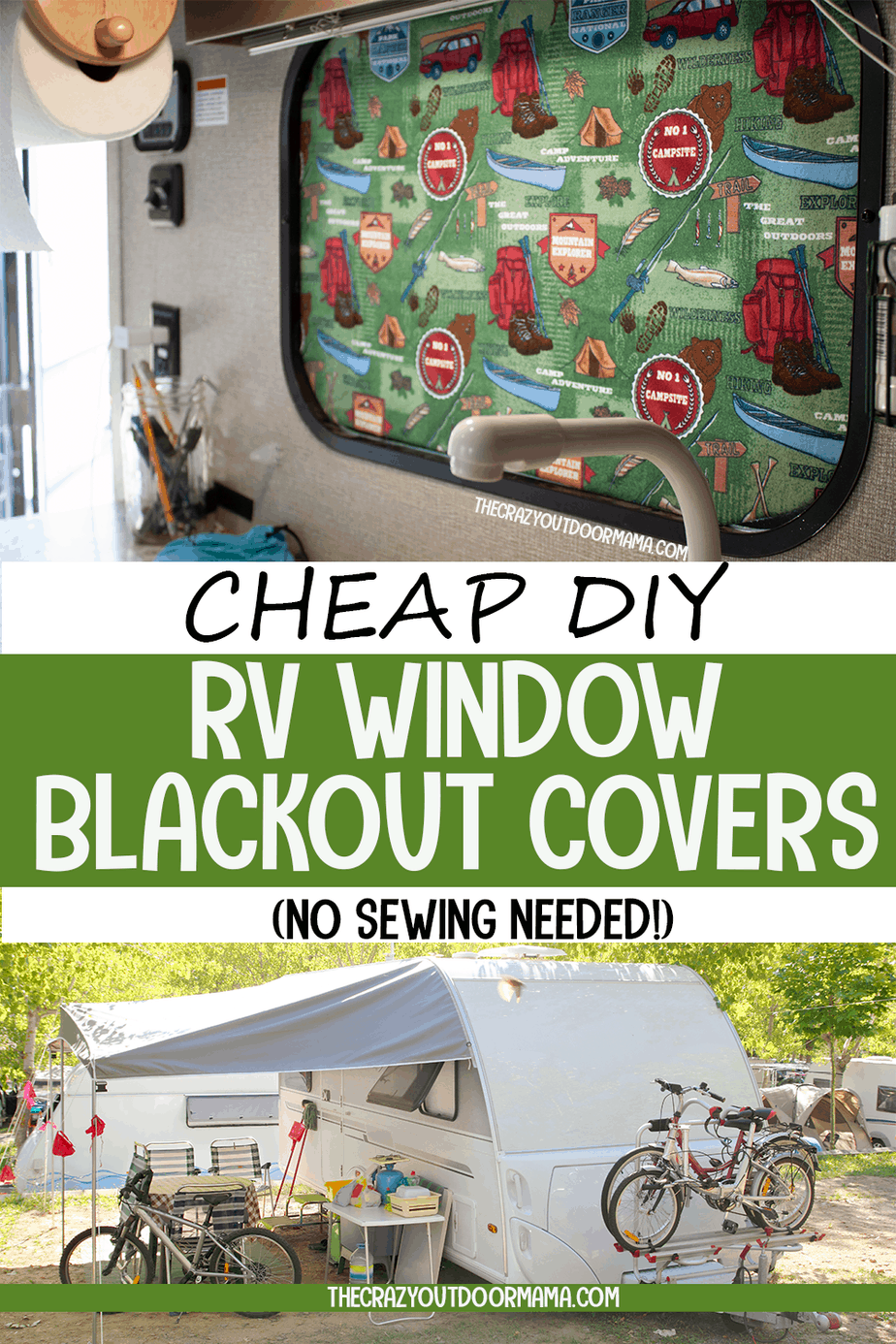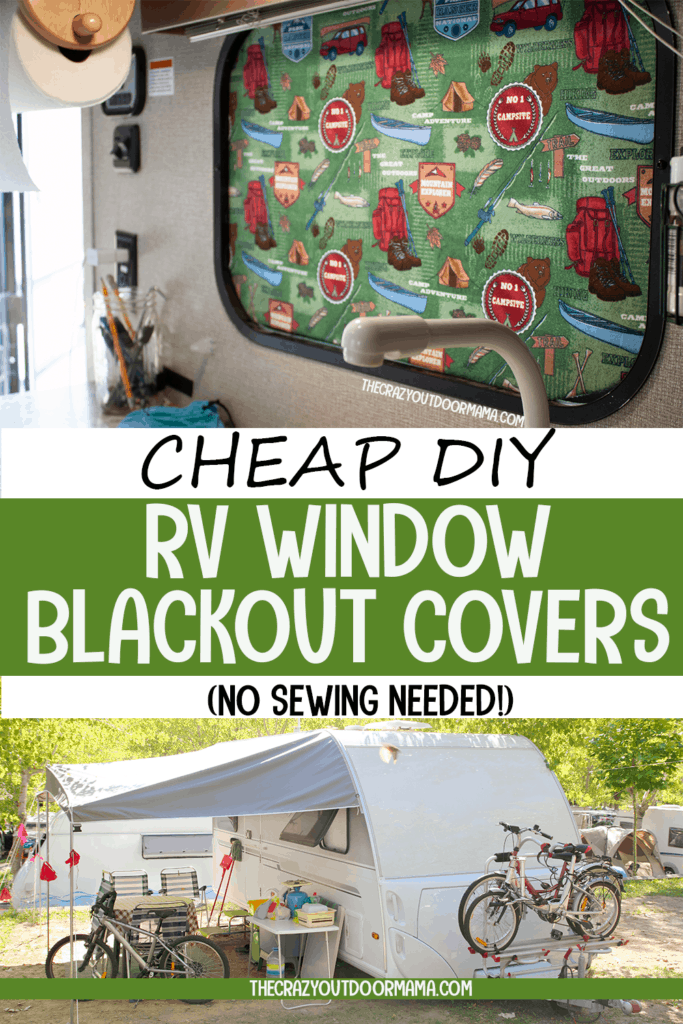 How to Make Custom DIY RV or Camper Window Blackout Covers (For Cheap!)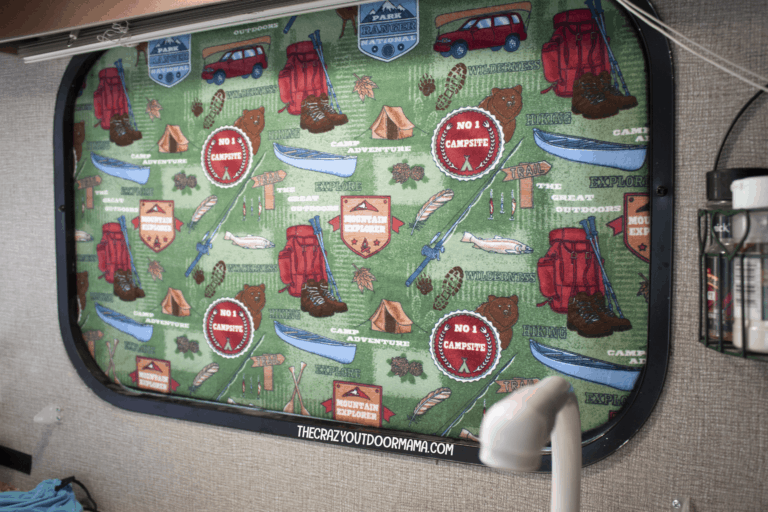 Make your own DIY RV window blackout covers for cheap with just a few materials! You can modify this to make it more "blackout" as needed!
Materials
Tissue paper, contact paper, or some other thin, see through paper for tracing your window shape onto
Tape
Foam Board (You can get it at the dollar store)
Material enough to cover board (get enough for both sides if you want more black out and temp control power!)
Marker to trace
Tools
Hot glue gun
Exacto knife
Instructions
Tape your see through paper over your window.
Trace the contours of the window (you should be able to use the frame of the window as a guide) Remember, this is to be placed INSIDE the frame, so trace the inside, not the outside! (see pic)
Remove see through paper and tape it to your foam board
Start cutting out the window shape with an exacto knife Leave a small notch so that it's easy removable!
Once cut, make sure it fits by testing it in your window. It's good to fit snug!
Bring it in the house to prepare to glue the material to the foam board. A note on materials - Mine was thin, so isn't as "blackout" as some desire (and I only had enough for one side!), so make sure to pick a thick enough / dark enough material for your needs! They do sell black out material near the curtain fabric section in walmart!
Trace around your foam board window, leaving an inch or two extra around it for gluing over the edge
Glue all straight edges first
Go back and do your corners (I'm no seamstress, but I found cutting them a bit helped to make them lay flat better!)
Done!
How did it go? Send me a picture!
These work perfect for the windows that don't open, such as our kitchen window in our camper. I do have an issue with our kids bunk window, as the slide handle sticks out and makes it not lay flat (don't worry, I have a solution!) I think more of a traditional curtain style might be best, but instead we would use velcro to secure it all in place.
Anyways, I'd love to see if you did it, or of any cool recommendations you have to make this even better! Now go on and enjoy that mid day nap so that I may live vicariously through you (with 3 kids 3 and under, it ain't happening for awhile for me! =P )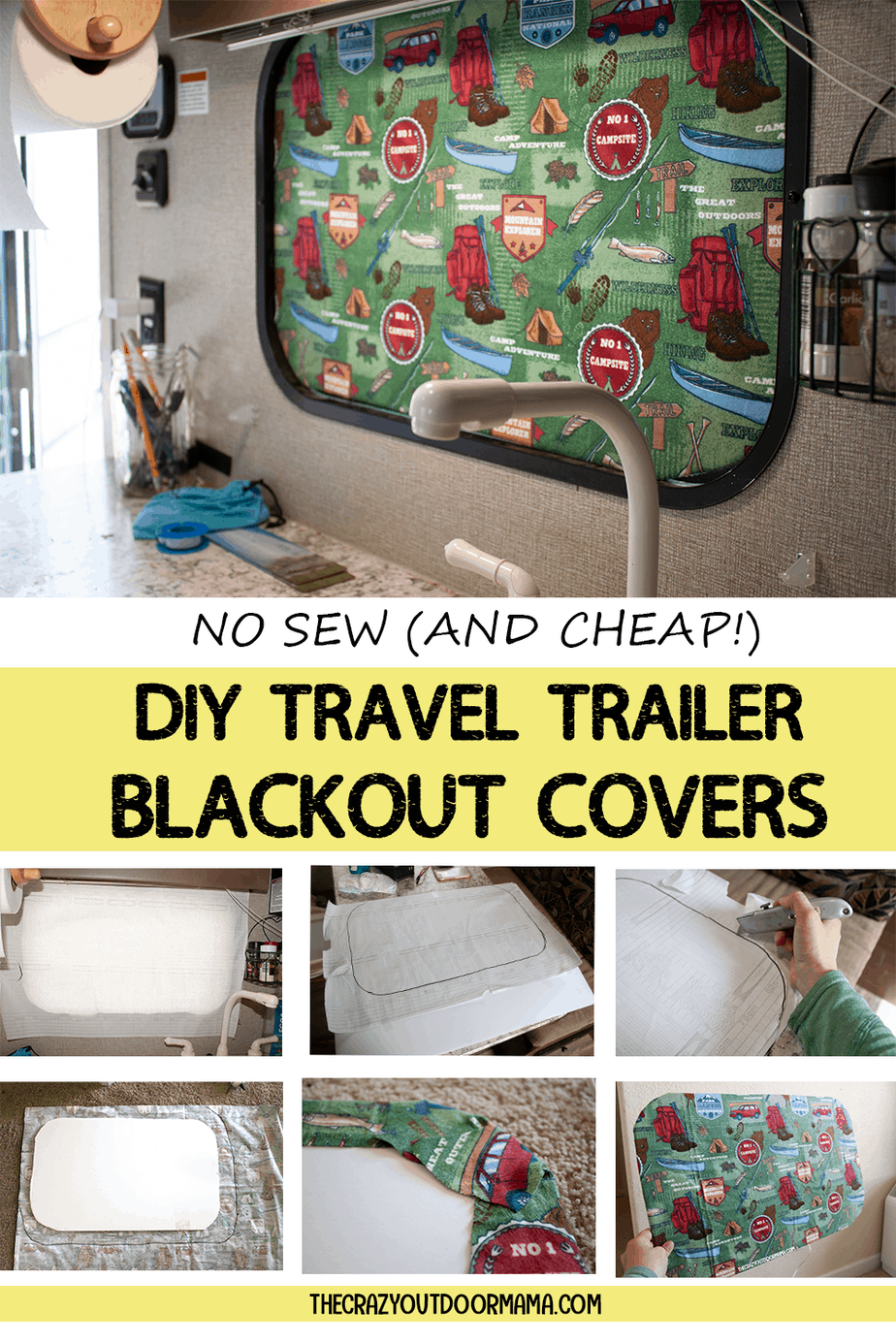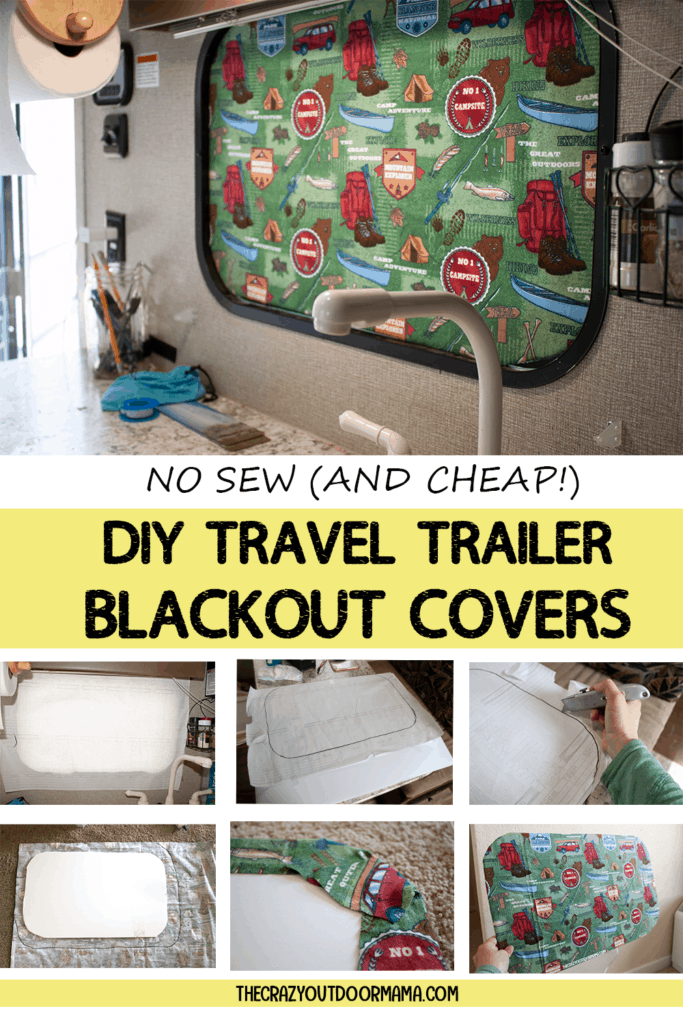 Do you like RV stuff? Then you will love these other travel trailer articles!
With 3 kids, myself and my husband all in our little 18 footer Keystone Hideout, we try to make everything count when it comes towards organization, purchases, and function! Here's some cool stuff we've learned!
Latest posts by Stacy Bressler
(see all)