Genius Camper Organization Hacks and Accessories from a Pro!
I don't know about you, but I seriously struggle in the camper organization department, and am ALWAYS in search of camper tips and hacks to make better use of my small space.
BTW If you're short on time or just want to have all the best products on one page..
I am too focused on having fun, or chasing kids, or just plain tired to really do any serious organizing!
And let's be honest – it can be DAUNTING to find homes for all the little things we need to have a fun camp trip.
Luckily for me (and you now!) I happened to meet Barb through the Instagram, and have since learned so much from her!
She has 6 grown kids, and was a certified professional organizer for FIVE YEARS – she owned her own business! She started RVing full time in July of 2017 in Fred the Minnie Winnie, owns the Organized Kamper, and is sharing her best tips for camper life today!
P.S. – Barb's Instagram feed (which is where I got a ton of these pictures!) is chock full of helpful RV tips, and I really encourage you to follow her here! You can also check out her site, organizedkamper, if you want even more RV organization tips than what are given here!
I also wanted to let you know that I am an Amazon Affiliate, and do get a small cut if you purchase anything through my links. But do know these are all awesome items and I'd never recommend junk!
You can get a preview of some of the information below in this quick video I put together about some camper organization strategies we use!
Common camper organization questions
I asked Barb a couple of questions that I had, as well as some other popular organization problems that come up!
RV Bathroom Organization Ideas
Barb – While it's hard to make a blanket statement about organization, since each RV layout is different, there are a couple of ways to really make use of the space you have!
For how I organized my tiny bathroom you can check out my article "Marking the Most of Tiny Spaces in Your RV Bathroom" here!
Camper Bathroom Organization Tips
Hooks or a Plastic Shoe Holder on the Door – Besides shoes, it's also great for toiletries or anything that's small!
Command Hooks in the Shower – These are great for hanging wet bathing suits and keeping the drips contained
Clear Shoes Boxes Under the Sink – If you have any storage space below the sink, use clear shoe boxes to store any bathroom essentials. They are easy to see what's in them and stack nicely!
Open Bins for Larger Items – I use the other side of the bottom cabinet area to store my blow dryer and hand mirror
Clear Drawer Organizers for the Medicine Cabinet – A lot of campers don't have a full size cabinet above the sink, and this works really well to keep things contained and organized. You could additionally add velcro to the back of the containers so that they all don't spill out when you open it for the first time during set up at a new site!
A Caddy for Everyday Items – Toothbrushes, hair brushes and more can go in this. It's also easy to carry if you choose to use the campsite showers! (Her caddy she used is listed below on Amazon if you love it!)
RV Storage Ideas for Clothes? 
Camper closets are often way deeper than a normal closet would be, so it's hard to make use of that space. I know ours ends up being a pile of kids clothes that I need to dig through every day to find what I need!
I (Stacy, The Crazy Outdoor Mama) only have one closet for all of our clothes – there are five of us! I was really excited about this answer, and I wasn't disappointed!
Camper Closet and Clothes Organization Tips
Barb – I have a TON of drawers in my bedroom (one of the reasons I chose Fred) so I kept my closet as it is and we hang clothes in there. If
you don't have a lot of drawers though, here are some tips for more storage space
Remove the Hanging Rod – You can either build shelves or buy a plastic unit with drawers. While the clothes may get more wrinkled this way, you can fit many more clothes in the closet!
Check Under your Bed for Available Storage – A lot of people have room under their bed for storage. There is normally a light piece of plywood that the mattress sits on that can be easily lifted and accessed. This is great for bulkier items such as jackets and extra towels.
"File" your Shirts, Pants and Shorts – Fold them in a way that they are standing on end. Using this method, you can fit more clothes in your bins or drawers, and are able to see everything so that more items get worn!
Use Drawer Inserts to Further Organize Drawers – Small items like undies and socks get messy easy! These keep everything looking pretty! I have included a similar product as what Barb uses below available through Amazon (hers were purchased at The Container Store!)
Daily RV Organization Ideas?
Barb – As far as a daily routine, Brent and I joke that if you leave a jacket on the sofa and a cup on the counter the place looks "trashed"
and it's not that bad, but you know what I"m saying.  You can't leave a lot of stuff out without it looking cluttered so my advice is this:
Have a Home for Everything – This makes it easier to clean up since everyone knows where things go and they don't pile up.
Spend 10 minutes in the Morning and 5 in the Evening Pick Up – If you put things away in small amounts, you won't end up with an overwhelming mess at the end of the day!
Do Dishes After Every Meal – Who wants to see that as soon as they walk in? I don't want to walk in the door of Fred and stare at a bunch of dirty dishes! They might also attract bugs or mice if left sitting for too long!
If you have kids, make a game of cleaning – Barb suggests to set the timer for 30 minutes (although you may not need as much) and telling the kids to clean as much as they can in that time! You can even bribe them for some extra "encouragement!"
Label all containers, and include pictures for young kids! – This kind of goes with the 1st tip, but it really helps to put everything away if everyone knows exactly where each item belongs!
Tips for RV living with kids
For each child, keep daytime / bedtime clothes on a easy to access hook – I have a hook with each kid that has their day and night clothes. In the mornings when I'm half alive, it makes it easier to change everyone into their "Adventure" clothes as I call them because they are ready to go on a hook by the door. At night, when everyone is exhausted and screaming, it's super easy to grab their pjs (and swaddles!) and get them to bed without digging around looking for the things they need!
Hang an organizer on one side of the bathroom door to store diapers, medicines, toys etc – We have one on the front of our bathroom door (the side that faces into the camper) that has all hygiene and medication related items for the kids. We also keep the bottom storage pocket for small toys that would otherwise get lost. It's nice to have everything visible and easy to get to – quick diaper changes, a toy or two to give them in a pinch if we need to do something real quick
Keep a rag handy to wipe up sticky hands and surfaces – With smores, peanut butter, syrup, and all the other goodies camping brings, it's super easy to get the camper messy! Since they are so small, it doesn't take much to make it look dirty. Keep a rag by the sink so that IMMEDIATELY after meals it's easy to clean up!
Camping with kids? Check these out!
RV Kitchen Organization Ideas
Barb – "I think everyone's problem spots might be different.  For me, it's a lack of counter space in the kitchen.  All I can leave out are the
coffee maker (because hubby uses it constantly) and a metal canister with my most used cooking utensils in it.
Again, it depends on how you live.  If you eat out a lot, you may not need counter space but you really need to take a step back and ask yourself what your goals are and how you use each "room" in your RV.  I've just come to accept that this is one area of Fred that I wish were different, but isn't. So we have an uneasy truce in this area!"
Camper Kitchen Organization Tips (and Products!)
On top of Barb's advice to ONLY keep what you need on the counter, here are some additional good organizational practices to follow!
Utilize vertical storage as much as possible! – If you have to store things on the counter, make sure they are stackable.
Hang large utensils from command hooks – Spatulas, whisks, large spoons, and tongs can all be hung near the stove on hooks. This makes use of normally unusable space (there is not much room between the stove and the wall, so there would not have been room to put a container there anyways) and keeps what counter space you have available!
Use velcro to keep what's needed on the counter in place – This might be handy for salt and pepper, a "junk" bin (such as a very small container with keys, change, and other small things) and whatever else might move in transit. This isn't as important if you stay in one place for long periods of time, but if you are constantly moving, velcro can really reduce the amount of set up time needed!
Get a drying rack that fits in your sink – This is handy so that when the dishes are done, you can set the whole rack in the sink instead of using up table or counter space. It's also helpful because all the drips will go there instead of having to use a rag or drying mat! – Stacy
ONLY keep what you need on the counter – Just wanted to restate this info from Barb. Unless you are using the items every hour, or need to be able to access it quickly, it doesn't need to be out. It's much easier (and your camper stays neater) if you just take the 10-30 seconds to remove the item from the cupboard/pantry, then put it back when you're done!
Get a paper towel holder than you can mount – Though it may not seem like much room, they take up a bit of space, especially when you think about the fact that you have to have room to pull a paper towel off the holder! We bought one that mounts under our cabinet area (we have a small cabinet for dishes above out counter) and it is convenient to use and out of the way!
What stops people from being organized?
Barb -The biggest two problems for people when they want to get organized is actually STARTING to do it and having an end goal. 
When I worked in Nashville, most of my clients were so overwhelmed that they didn't know where to start and they certainly didn't know what the end goal was other than some vague notion of things looking better.
Sometimes it was helpful just to talk them through what they wanted to use the space for, what was working in the room, what they hated about it, etc.
Interestingly enough, another issue was that they needed PERMISSION to get rid of things.  If I would take their unwanted items to Goodwill,
they felt much better about letting it go, knowing that someone else would use it.
I always told people things would look worse before they got better because to do a great job everything needs to leave the closet,
cupboard, or whatever space you are working in. Then you sort like with like, pitch or give away extras or things that are worn out or you don't use, and then decide how to put them back.
I cover this topic (and many others) more thoroughly in the blog section of my website called "Organizing Your Kamper"
Actionable tips for organization in your camper!
Get an end goal in mind – Do you hate that your closet is a pile of clothes (like mine?) Start there! Just do one section at a time so as not to be overwhelmed
ACTUALLY plan for a day or couple of hours to work on organizing – Don't just wait for the next day you have time; that will never come! Instead, write it on your calendar, tell your spouse, and make a plan of it. If you are already mentally prepared for it, then it won't be as bad or overwhelming. And if a day seems like a lot, commit to organizing one space, or organizing for a certain amount of time such as 1 hour.
Things will look worse before they look better – This isn't as big of a deal if your camper is new, but if you've accumulated a lot of junk over time, things will get crazy before they get better! To really organize something, you have to take everything out, and only put back what you REALLY need
Get rid of duplicate items – Unless you really need them, get rid of the 3rd whisk, 4th extra blanket, etc. I'm really bad about stockpiling blankets because I always fear a sudden ice age will come – or so you think based on the number of extra think blankets I bring!
Put your phone away! – This isn't from Barb, but in my personal experience, I get alot more done if I don't have my phone easy to access. I usually start with good intentions, such as before I met Barb, looking for "Camper Organization Hacks" on Pinterest. However, I then go down the rabbit hole of related pins, and before I know it my hour slot I had to clean during kids naps is up and I'm left frustrated that I accomplished nothing!
A few more camper organization products!
After combing the Organized Kamper's Instagram, I found a ton of small but handy items to make your RV life that much easier! If you want a full list of what she uses, check out the Product List here!
A Battery Organizer – Even at home, my battery drawer is a wreck. It's combined with a random kitchen gadgets drawer, and all the batteries tend to fall out of the package so that I don't ever know how many I actually have. Not only does this keep them contained, it's also an easy way to keep track of what you're running low on!

A handy coin-op laundry holder – Whenever it's time to do laundry, it seems the first trip I ALWAYS forget either the coins or the laundry pack. Barb suggests just using one of these and throwing it in your bag! I seriously need this! I wasn't able to find it on Amazon, but she said she found it at Target. You could alternatively put a bag of packs inside the bag of coins!
Instacrate Collapsible Storage – These are super handy for things that only need temporary storage, such as counter items or toys for the kids. This is such a space saver!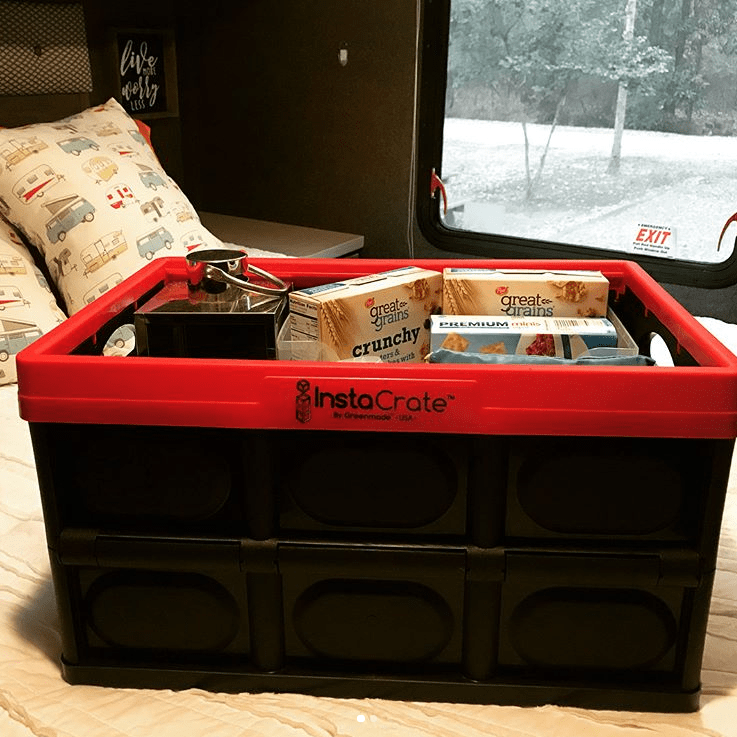 Pin this for later, and don't forget to leave a comment with any of your organization tips and tricks for RV life!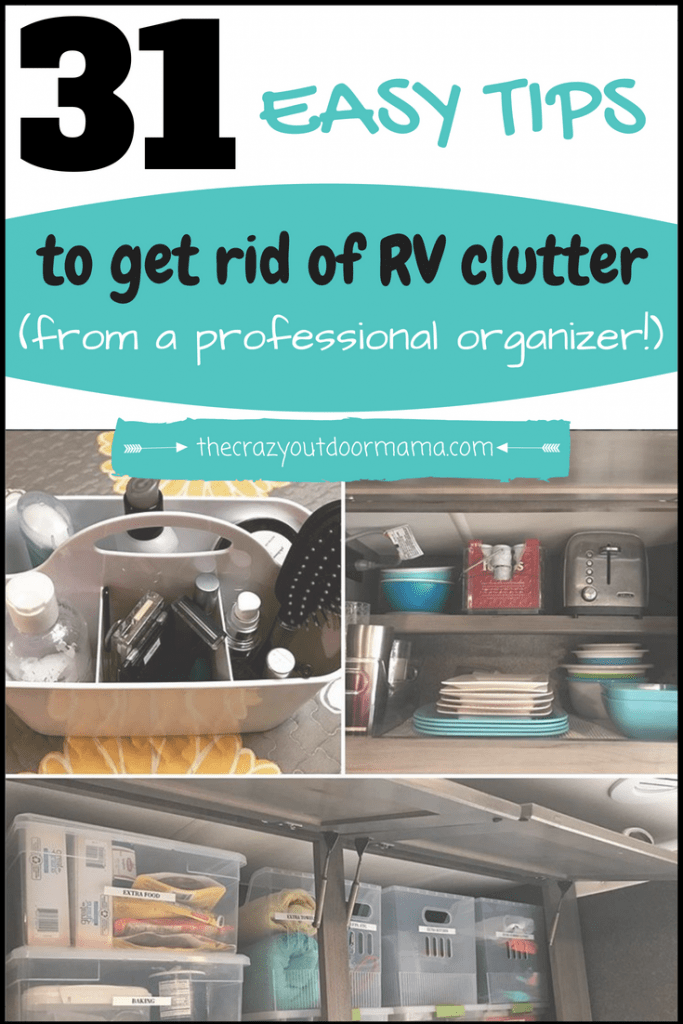 I frequent thrift stores, and so found some of these items used for a lot cheaper!
If you want to know what I think is worth buying used, head over to my article here and check out over 27 items that you'll need for your RV, but DON'T need to buy new!
https://www.thecrazyoutdoormama.com/31-easy-tips-to-kick-rv-clutter-from-a-professional-organizer/