If you just bought an RV and are now looking for a checklist of everything you need to go, you might be a little intimidated… but don't worry, I'll break down everything you need to get to camping!
Not going to lie, this list does seem pretty big, but the good news is that once you get everything in place, you shouldn't need to buy new things for your RV very often!
We personally bought ALOT of stuff used – check out my article on what to buy used for your RV here! This helped us save alot of money on the basics such as kitchen and organizational items so that we could have more for travel or for buying the things that were important to us bure more of a "luxury".
I will include my premade checklist you can print as well as each list item so that you can copy and paste what you want and make your own .
For those in a hurry and would like to skip the previews – scroll to the bottom to sign up and download or purchase this set of 9 RV camping checklists!!
I wanted to let you know that I am an Amazon and Etsy affiliate and will get a very small cut if you purchase anything through these links. But these items are all awesome so don't worry! More info about this is here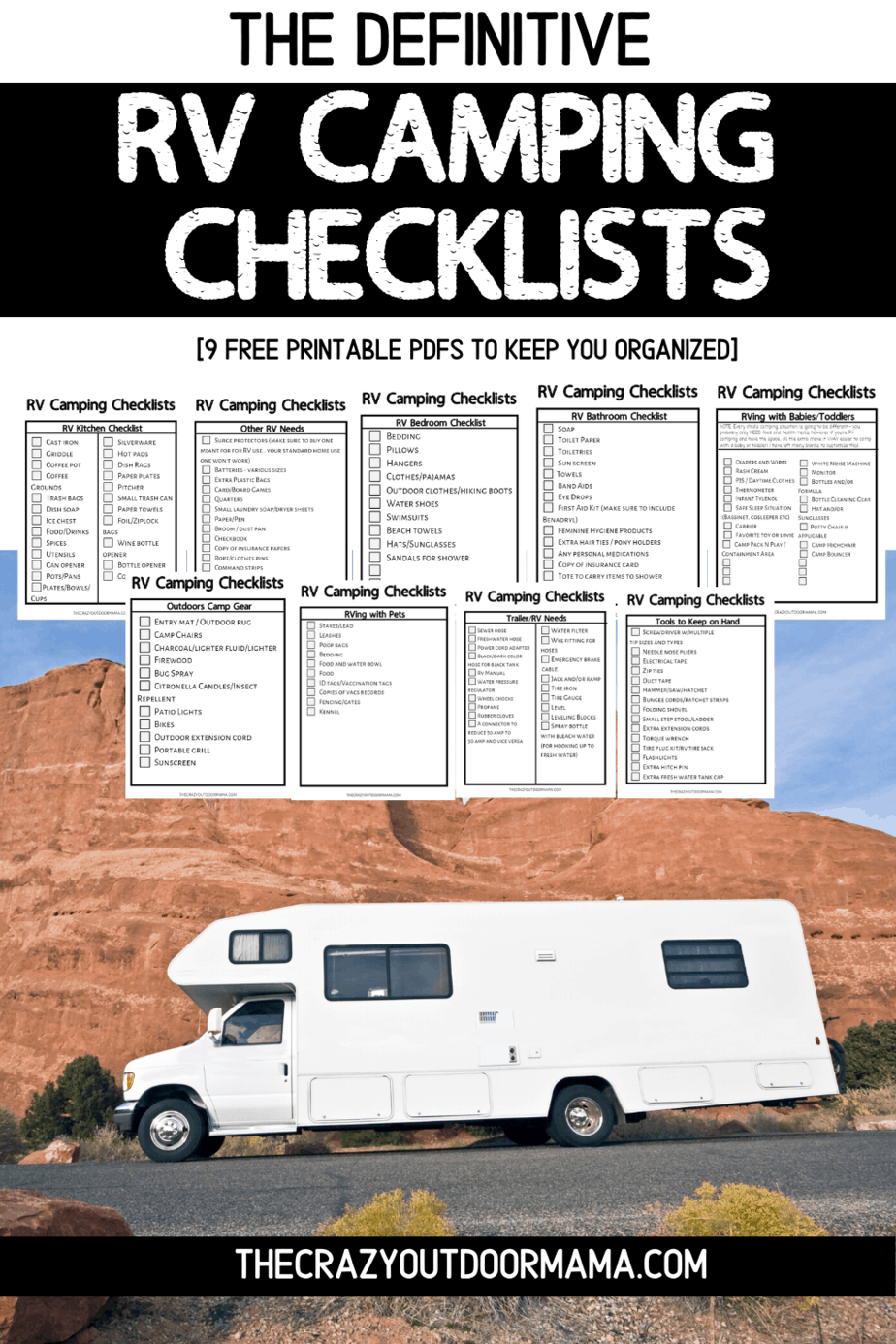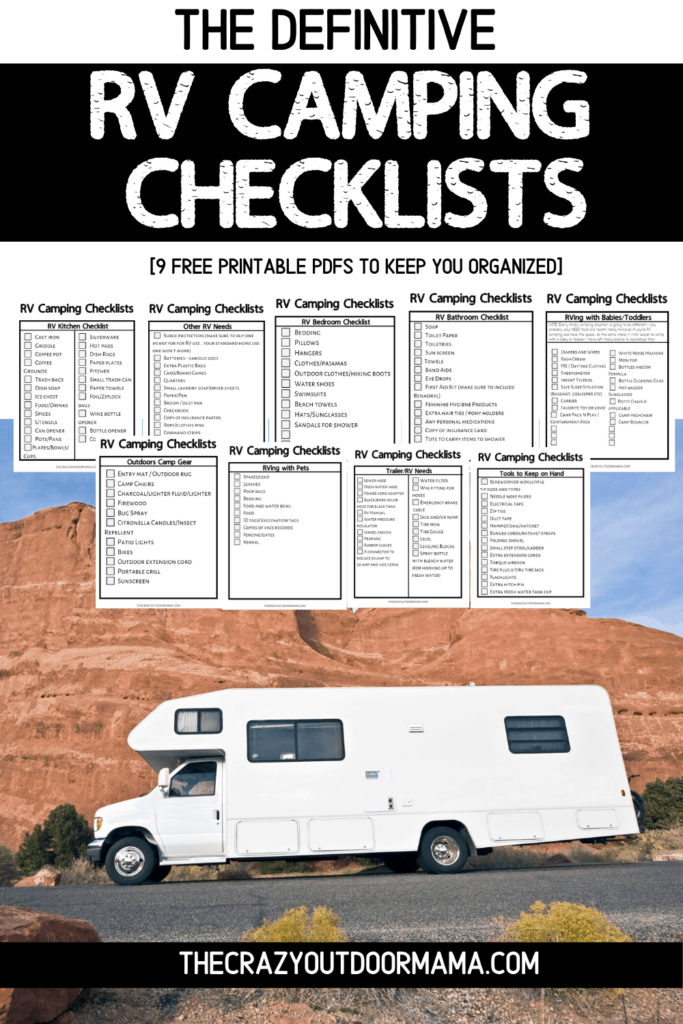 Trailer Hook ups Checklist
This is probably the only one you will have to buy new, and pretty darn quick – alot of these items are necessary for RV travel.
⬜ Sewer hose
⬜ Freshwater hose
⬜ Power cord adapter
⬜ Black/dark color hose for black tank
⬜ Rv Manual (You won't have internet access everywhere should you have a question!)
⬜ Water pressure regulator
⬜ Wheel chocks
⬜ Propane
⬜ Rubber gloves
⬜ Water filter
⬜ Wye fitting for hoses
⬜ Emergency brake cable
⬜ A connector to reduce 50 amp to 30 amp
and vice versa
⬜ Jack and/or ramp
⬜ Tire iron
⬜ Tire Gauge
⬜ Level
⬜ Leveling Blocks
⬜ Spray bottle with bleach water (for hooking up to fresh water)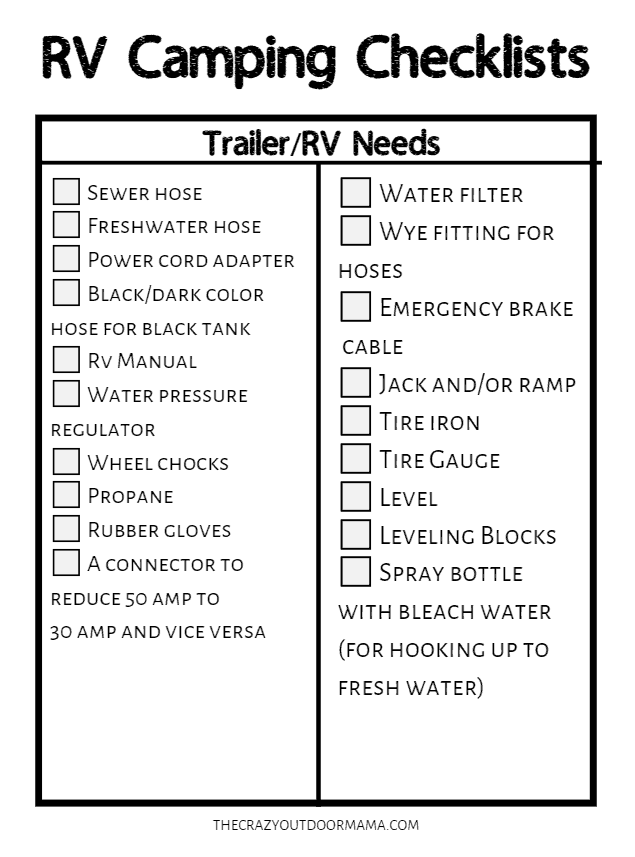 RV Tools to Keep on Hand
Probably one of the most important lists that you won't realize the importance of until something breaks! This is especially true if you plan on full timing or traveling long distances since there isn't always cell service or a repair place nearby (that won't cost you an arm and a leg!)
Check out this article to see all of our exact RV tool recommendations (with links!) We have three little kids, so we definitely are sure to be very safe and prepared in the tool department!
⬜ Screwdriver w/multiple tip sizes and types
⬜ Needle nose pliers
⬜ Electrical tape
⬜ Zip ties
⬜ Duct tape
⬜ Hammer/saw/hatchet
⬜ Bungee cords/ratchet straps
⬜ Folding shovel
⬜ Small step stool/ladder
⬜ Extra extension cords
⬜ Torque wrench
⬜ Tire plug kit/rv tire jack
⬜ Flashlights
⬜ Extra hitch pin
⬜ Extra fresh water tank cap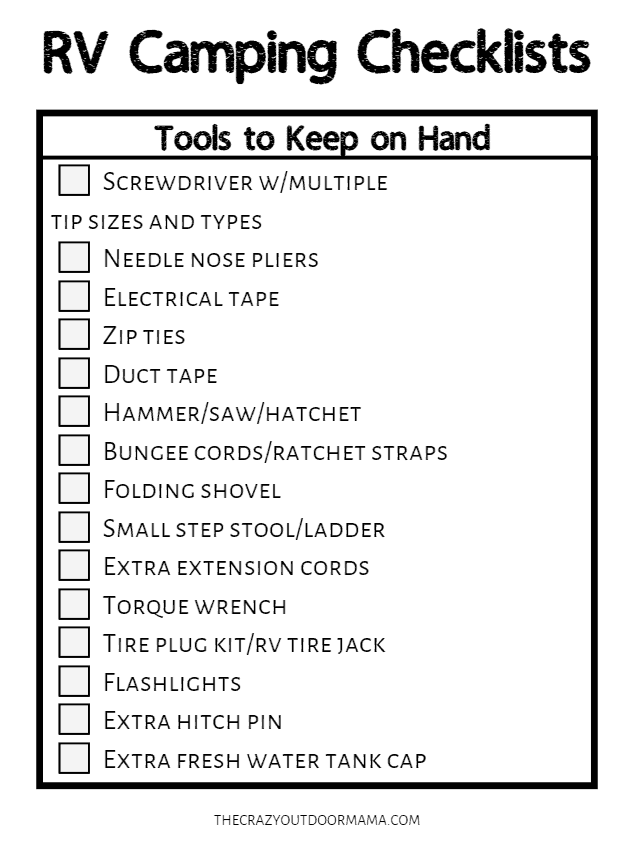 Outdoors Camp Gear
All you reallly need are some chairs and a way to start a fire… but these are all nice to have if you want to slowly add on to your collection!
I compiled a list of RV outdoor gear upgrades here if you want to see some deluxe stuff!
⬜ Entry mat
⬜ Camp Chairs
⬜ Charcoal/lighter fluid/lighter
⬜ Firewood
⬜ Bug Spray
⬜ Citronella Candles/Insect Repellent
⬜ Patio Lights
⬜ Bicycles
⬜ Outdoor extension cord
⬜ Portable grill
⬜ Sunscreen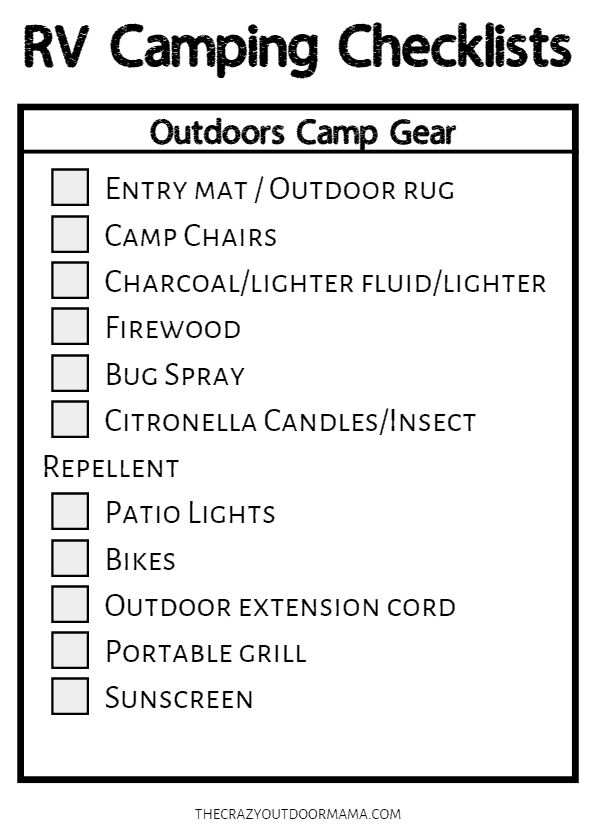 RV
Kitchen
Checklist
⬜ Crock pot or Insta pot
⬜ Cast iron
⬜ Griddle
⬜ Coffee pot
⬜ Trash bags
⬜ Dish soap
⬜ Ice chest
⬜ Food/Drinks
⬜ Spices
⬜ Utensils
⬜ Can opener
⬜ Pots/Pans
⬜ Silverware
⬜ Hot pads
⬜ Dish towels/Dish Rags
⬜ Plates/Bowls/Cups
⬜ Paper plates
⬜ Picnic table cloth
⬜ Pitcher
⬜ Small trash can
⬜ Paper towels/napkins
⬜ Foil/Ziplock bags
⬜ Wine bottle opener
⬜ Bottle/can opener
⬜ Can/bottle koozies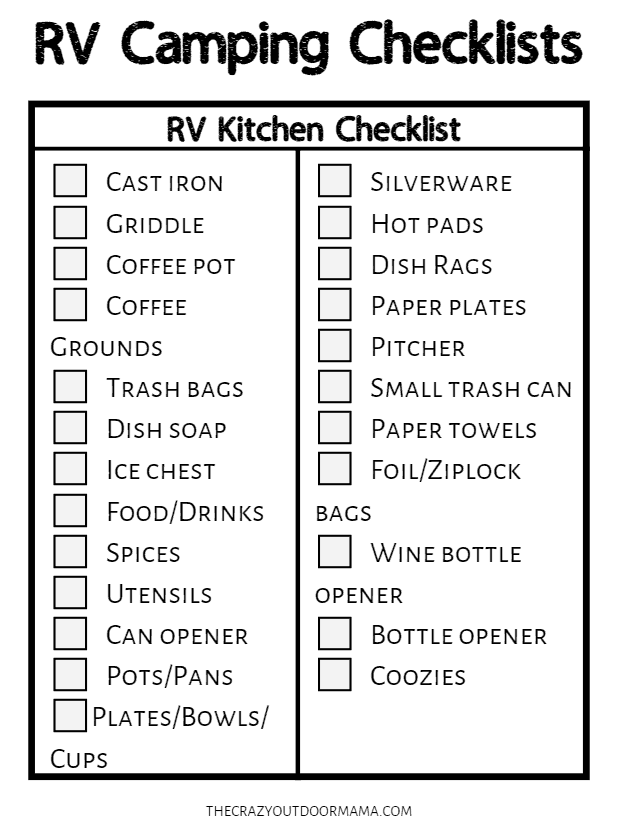 RV Bathroom Checklist
Depending on how far you're going and if you're going to use the shower in your RV, this list should be pretty easy!
We don't often use our shower for short trips, and long trips we try to pepper in some hotel showers as an excuse to explore town. If you plan on using yours often though, make sure you got the basics (+ some medical items!)
⬜ Soap
⬜ Toilet Paper
⬜ Toiletries
⬜ Sun screen
⬜ Towels
⬜ Band Aids
⬜ Eye Drops
⬜ First Aid Kit (make sure to include Benadryl)
⬜ Feminine Hygiene Products
⬜ Extra hair ties / pony holders
⬜ Any personal medications
⬜ Copy of insurance cards
⬜ Tote to carry items to shower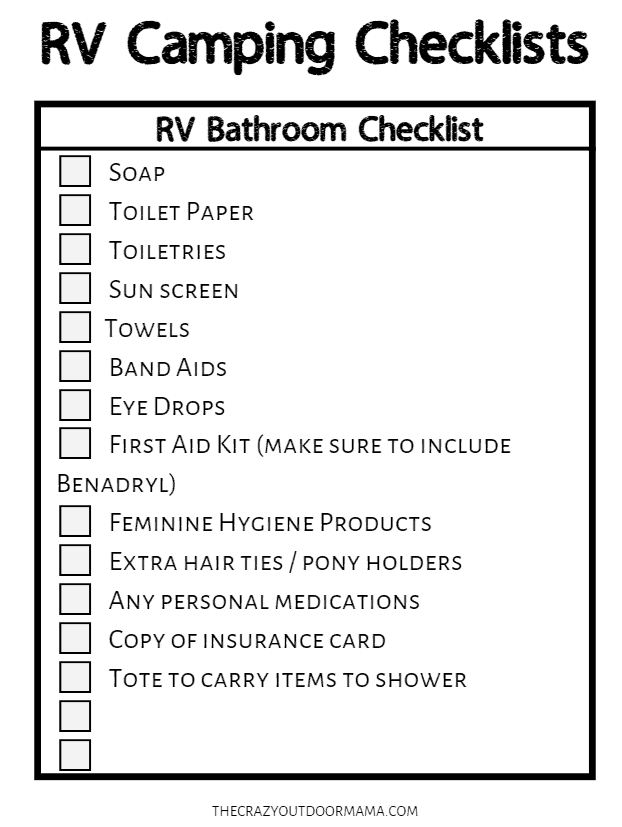 Bedroom
⬜ Bedding
⬜ Pillows
⬜ Hangers
⬜ Clothes/pajamas
⬜ Outdoor clothes/hiking boots
⬜ Water shoes
⬜ Swimsuits
⬜ Beach towels
⬜ Hats/Sunglasses
⬜ Flip flops for shower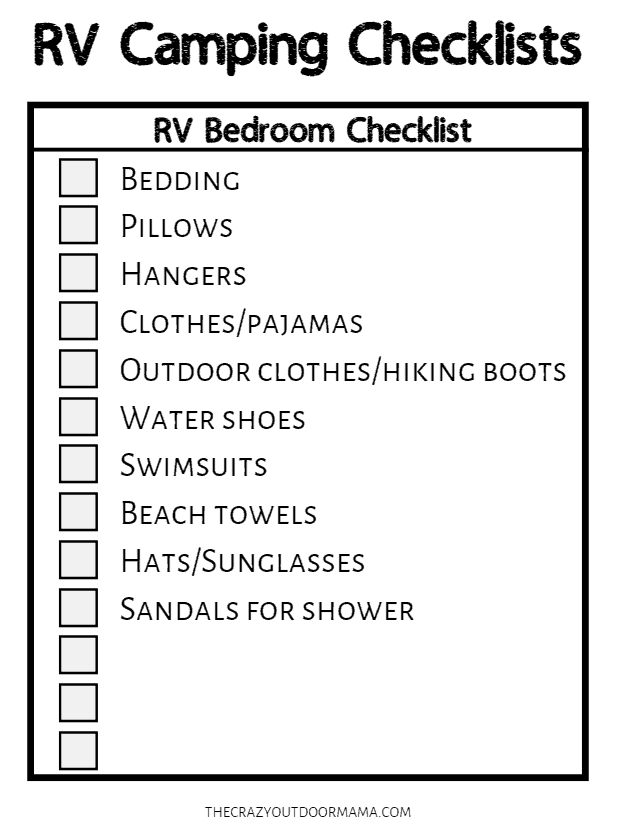 Other
RV Needs
Here are some miscellaneous things to think about bringing to your camper!
Two things I want to point out – the surge protect you'll need for your RV when hooking up to campsites is NOT the one you use at home! RV Surge Protectors like this like this are built for RVs that often plug in to new power sources. They monitor for spikes and will auto shut off should they detect something dangerous!
Secondly – Always bring a checkbook! Alot of campgrounds don't accept credit cards (especially the ones out of cell service) and you never know if you'll be out of cash (ATM machines are hit or miss in small towns). We have used it as a last resort a couple of times when our other methods of payment fell through!
⬜ Surge protectors
⬜ Batteries – various sizes
⬜ Extra Plastic Bags
⬜ Card/Board Games
⬜ Books
⬜ Quarters
⬜ Small laundry soap/dryer sheets
⬜ Paper/Pen
⬜ Broom / dust pan
⬜ Throw rugs
⬜ Checkbook (in case campgrounds don't take cards and you don't have cash)
⬜ Copy of insurance papers
⬜ Rope/clothes pins
⬜ Command strips
⬜ Extra fuses
⬜ Spare bulbs indoor & out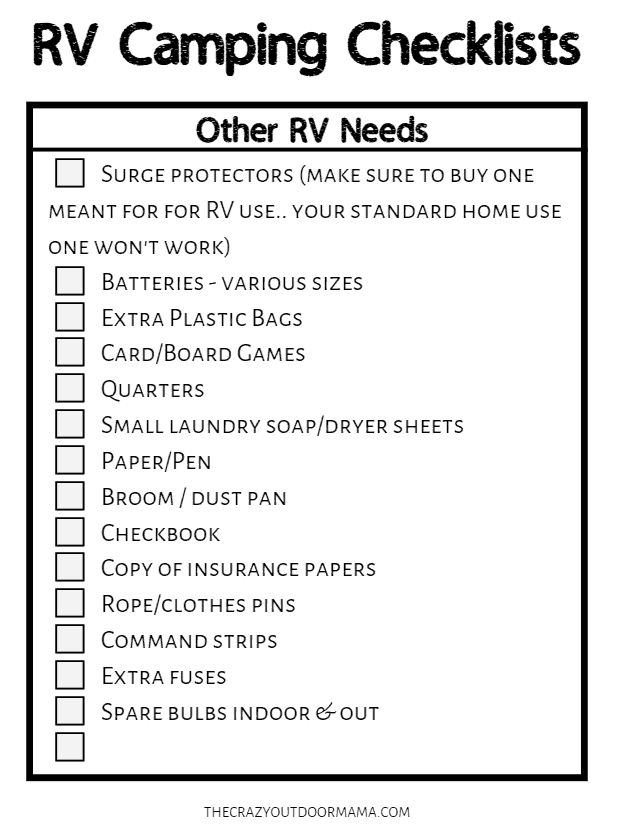 RVing with Babies/Toddlers
There's going to be way more gear now than when they get older, but it's worth it to still go out and adventure! At the time of writing this, I have a four year old and two year old twins!
Try to keep in mind that there's minimal you need to bring, but there is a bit you can pack that will make camp life easier with your young child!
All you REALLY need are the meds + diapers and wipes… but after camping with three babies now, I will say that all the stuff below that helps ALOT!
Here we go!
⬜ Diapers and Wipes
⬜ Rash Cream
⬜ PJS / Daytime Clothes
⬜ Thermometer
⬜ Infant Tylenol
⬜ Safe Sleep Situation (Bassinet, cosleeper etc)
⬜ Carrier
⬜ Favorite toy or lovie
⬜ White Noise Machine
⬜ Monitor
⬜ Bottles and/or Formula
⬜ Bottle Cleaning Gear
⬜ Hat and/or Sunglasses
⬜ Potty Chair if applicable
⬜ Camp Highchair
⬜ Camp Bouncer
⬜ Camp Pack N Play / Containment Area
⬜
⬜
⬜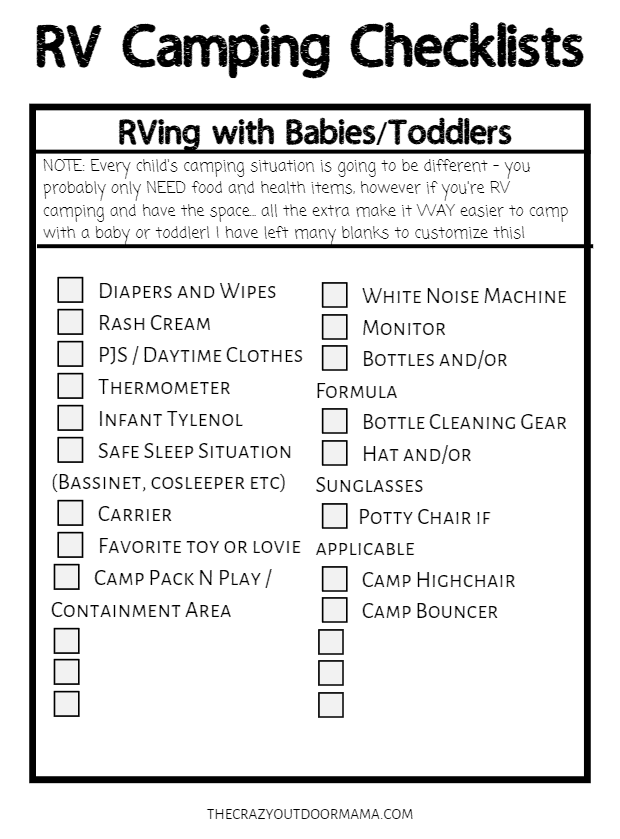 RVing with Pets Checklist
We don't have any, but have camped with ALOT of dogs! Here are some things you don't want to forget if you want a successful camp tip with the pets!
⬜ Stakes/lead
⬜ Leashes
⬜ Poop bags
⬜ Bedding
⬜ Food/water bowl
⬜ Food
⬜ ID tags/Vaccination tags
⬜ Copies of vacs records
⬜ Fencing/gates
⬜ Kennel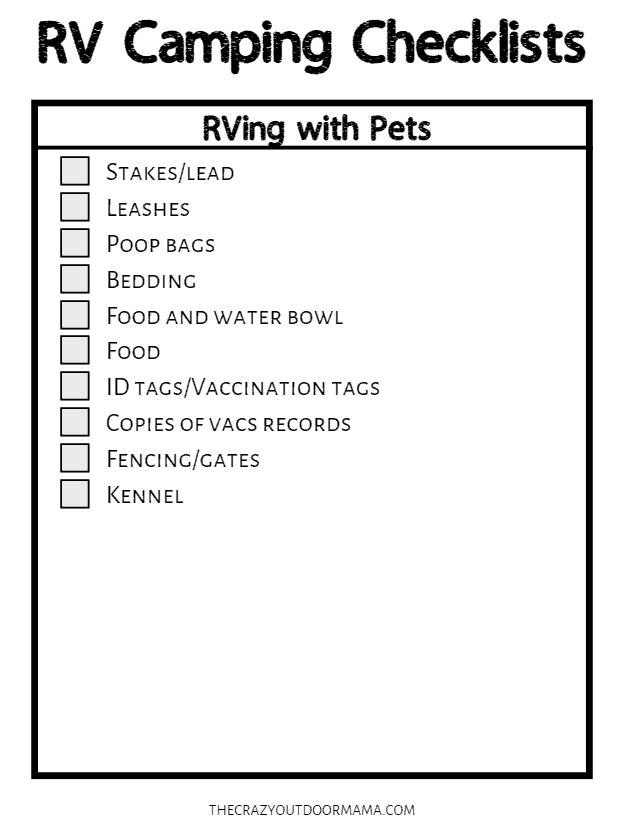 Leave in the comments any items you think I should add to these checklists!
I want these to be the absolute most helpful RV checklists around, so help me improve them by letting me know in the comments anything I'm missing!
Sign up to download your 9 RV Camping Checklists now!
Whether you're a first time camper or seasoned expert looking to get more organized, these checklists have everything you could need!
This includes camping with babies/toddlers and animals!
Alternatively, copy and paste the checkbox list I created for each section and make your own custom checklist that's perfect for you!
Lastly, if you prefer not to share your email or just want it now (with some cover options, meal plan and updated font!) you can purchase it on Etsy!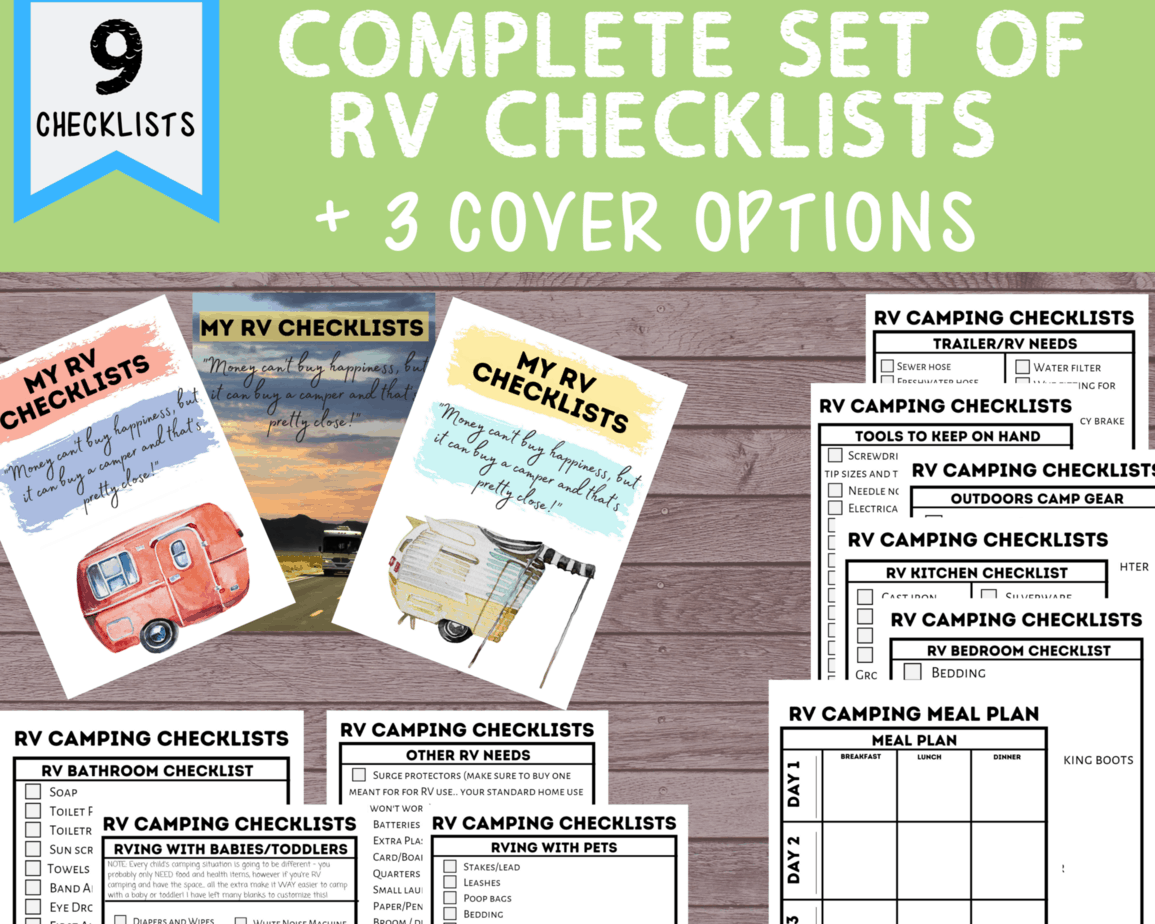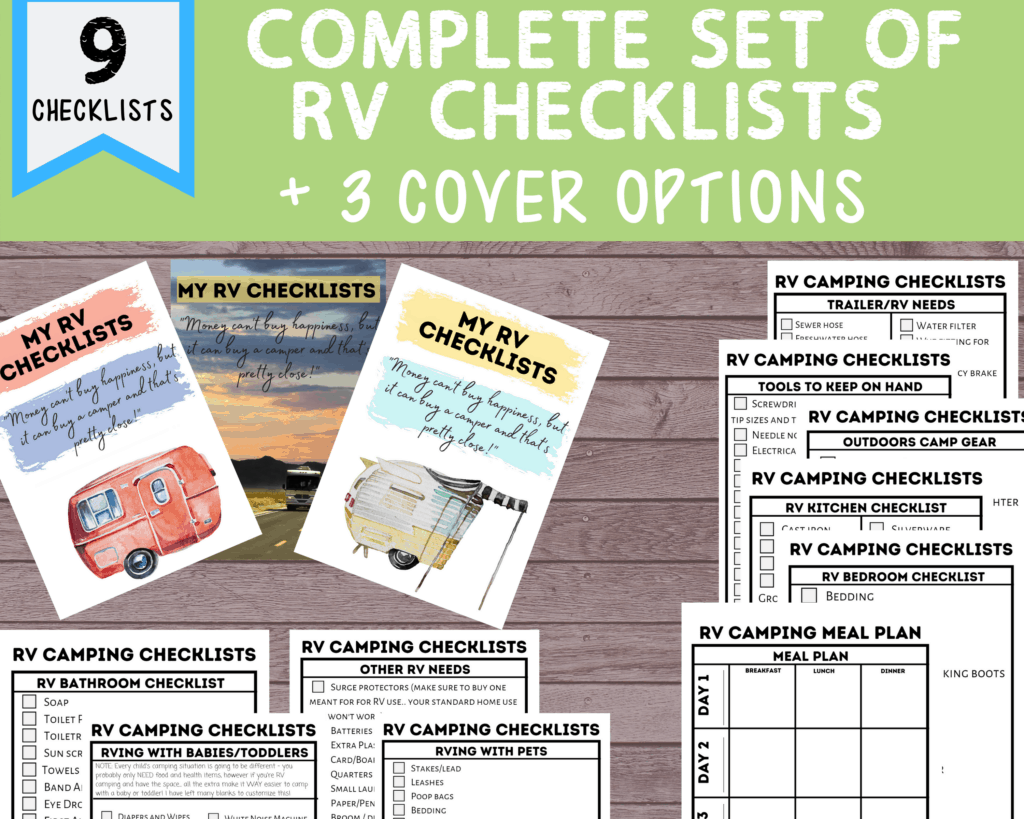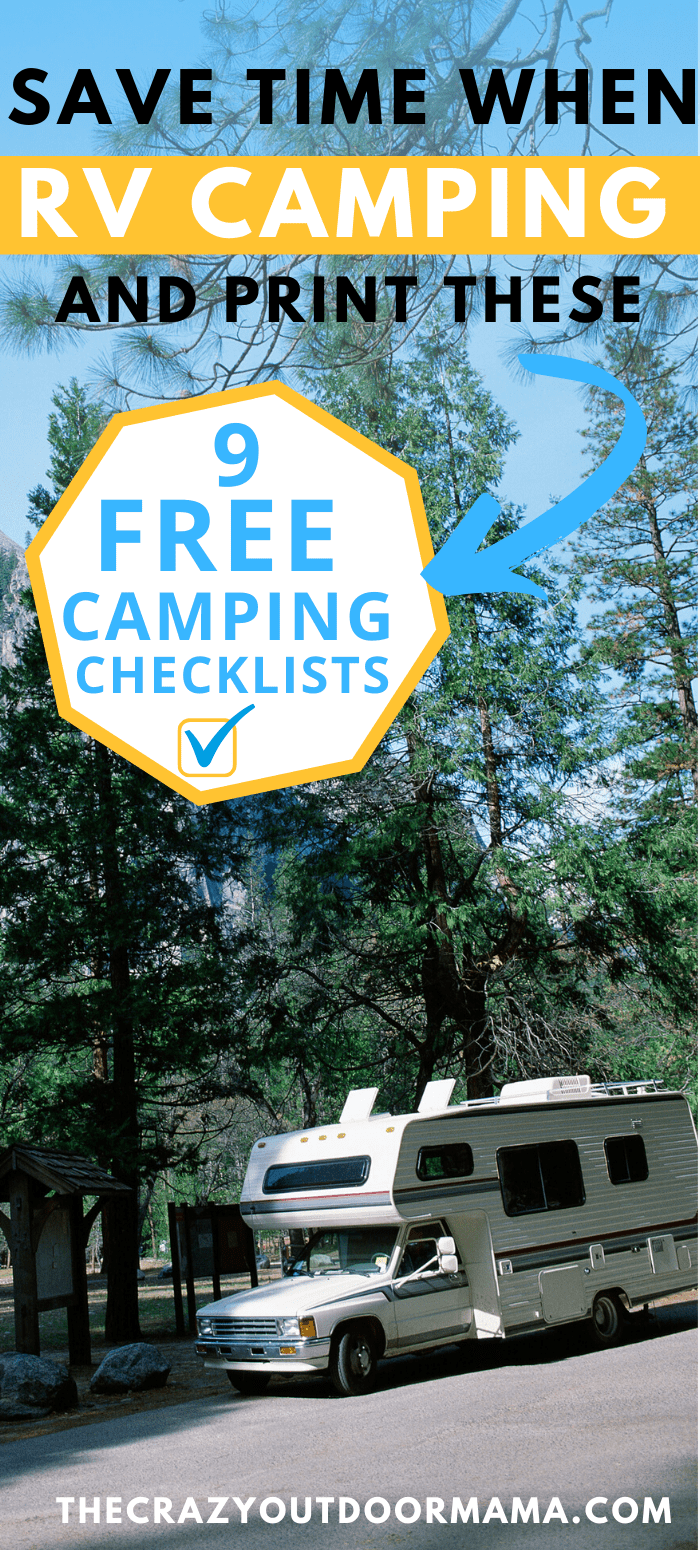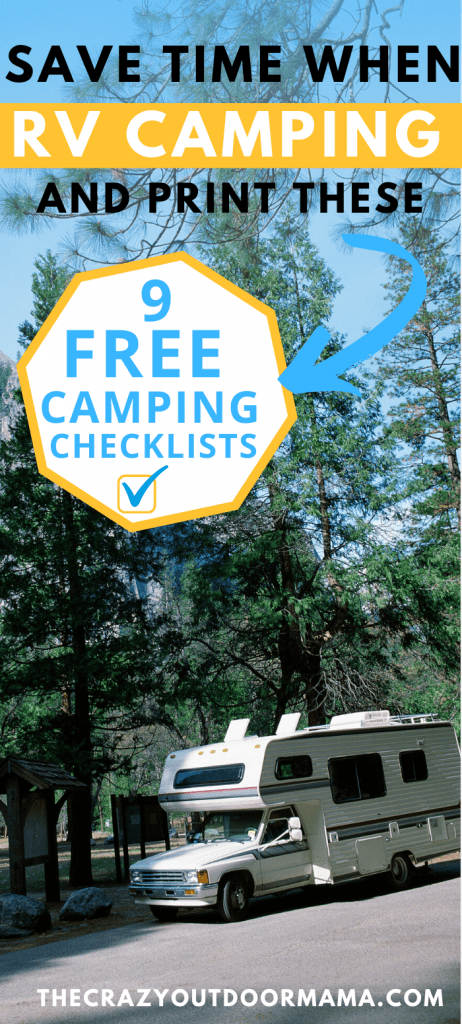 Here are some other RV related articles you'll love!