If you've ever wanted something delicious, homemade and sweet at camp, then you're in for a treat – we made some of the moistest, most perfect cupcakes EVER right at camp in our dutch oven!
So if you've read any other articles here, you know that I (Stacy) am NOT a cook, however, my husband Eric is amazing! He grew up on dutch oven cooking, and is now bringing it to this website!
We are currently on a weeklong camp trip in the Bighorn Mountains (near Sheridan, Wyoming) and Eric's mom came up to visit us at camp for a day… so, of course, we had to have the kids bake cupcakes with Grandma!
These are pretty easy to make, so don't be intimidated by the "dutch oven" aspect of it – you mix everything just the same, but instead just cook it in something different! I have to say, after helping to write up all these recipes even I am not so nervous about cooking in the dutch oven (Especially bakes goods!)
P.S. I love all things campy so you know I had to decorate the cupcakes in proper camp style! Totally not necessary though for your dutch oven cupcakes to still taste amazing!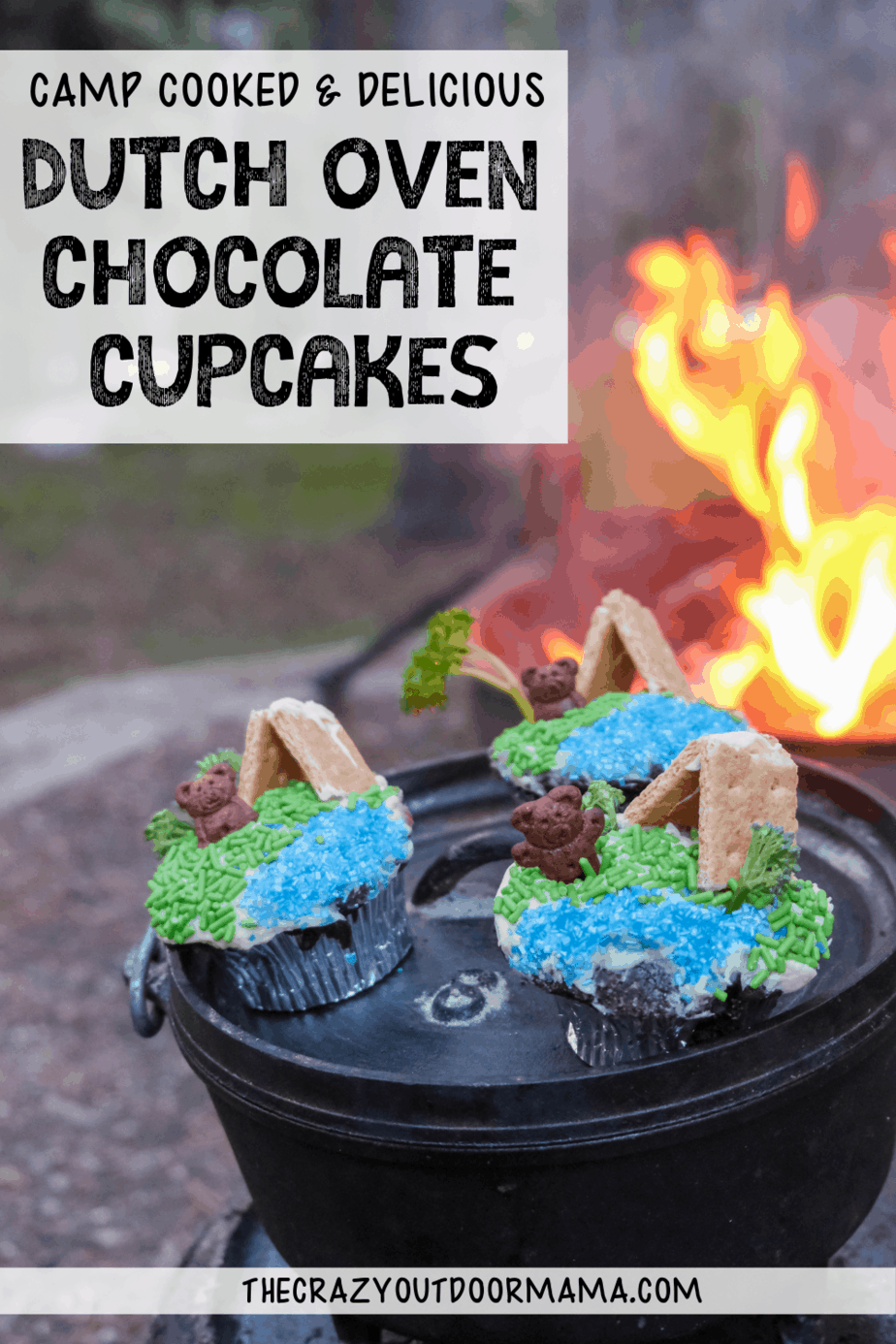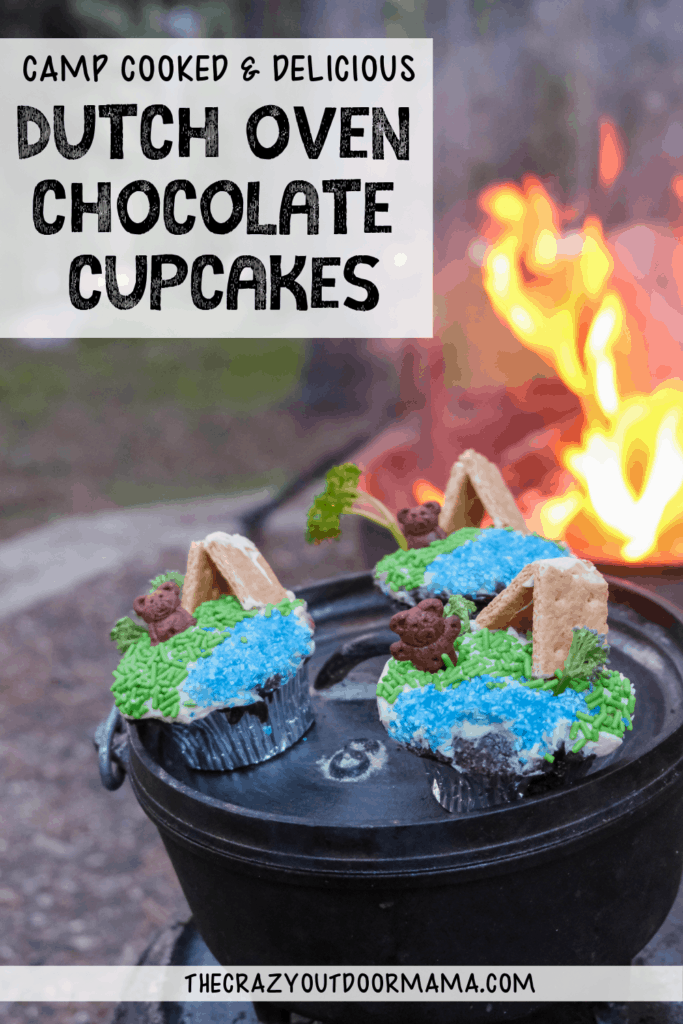 Yield: 24
Decadent Dutch Oven Chocolate Cupcakes (Baked at Camp!)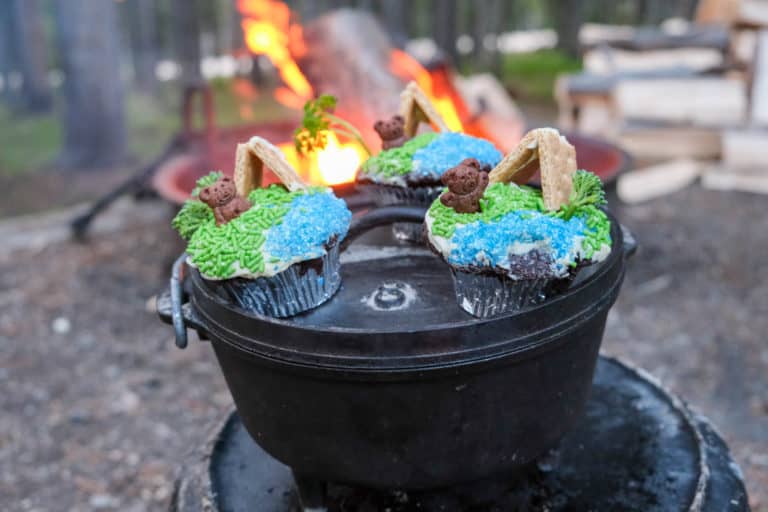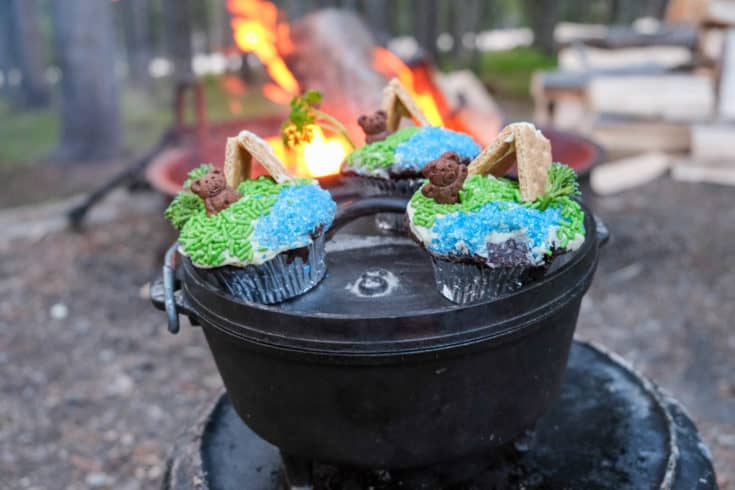 Take your next birthday party to camp with these delicious chocolate dutch oven cupcakes you can bake right at camp!
Ingredients
Betty Crocker cake mix (super moist triple chocolate fudge cake mix)
Oil
Eggs
Any extra cupcake decorations (I used graham crackers, teddy grahams, sprinkles and buttercream icing!)
Disposable aluminum cupcake baking tray
Instructions
Prepare the cupcakes according to the instructions
Cut our rip 6 individual aluminum cupcake holders from the disposable cupcake baking tray (or as many as your dutch oven can fit)
Place the aluminum cupcake holders into the dutch oven (we were able to fit 9 at a time)
Put a cupcake liner in each aluminum cupcake holder and fill 3/4 full with batter
Prepare your coals for the dutch oven, you'll need around 24 total to reach a 350 baking temperature in a 12" dutch oven (this number will vary based on the size of your dutch oven!)
Rotate the lid and the whole dutch oven every 5 minutes for even cooking.
At 15 minutes, remove the lid and check if cupcakes are ready by inserting a clean knife or toothpick. If it comes out clean, they're done!
Notes
If you want to decorate the cupcakes with the tent scene like I did (complete with a little bear outside the tent!) here are those instructions:
1. Put icing over cooled cupcakes

2. Using your finger as a barrier, sprinkle your blue "lake" on onside of the cupcake

3. Sprinkle your green "grass" sprinkles on the other side of your cupcakes

4. Use a single section of graham cracker (¼ of it, they should have perforated lines) and break that in half for your "tent". Use icing to sort of glue the pieces together at the top

5. Stick a teddy graham in front of the tent, and any "trees" you want around it (we used broccolini… what a surprise those kids are in for! HAH!)

Recommended Products
As an Amazon Associate and member of other affiliate programs, I earn from qualifying purchases.
Are you ready to enjoy this dutch oven deliciousness at camp with your family?
These were really fun to do with the kids! My oldest is still talking about these cupcakes he got to make with grandma… and of course all the sprinkles and such he got to add!
These taste SO much better than store brought, and it's so yummy and fresh to cook it right at camp!
Check out our other yummy dutch oven camping recipes!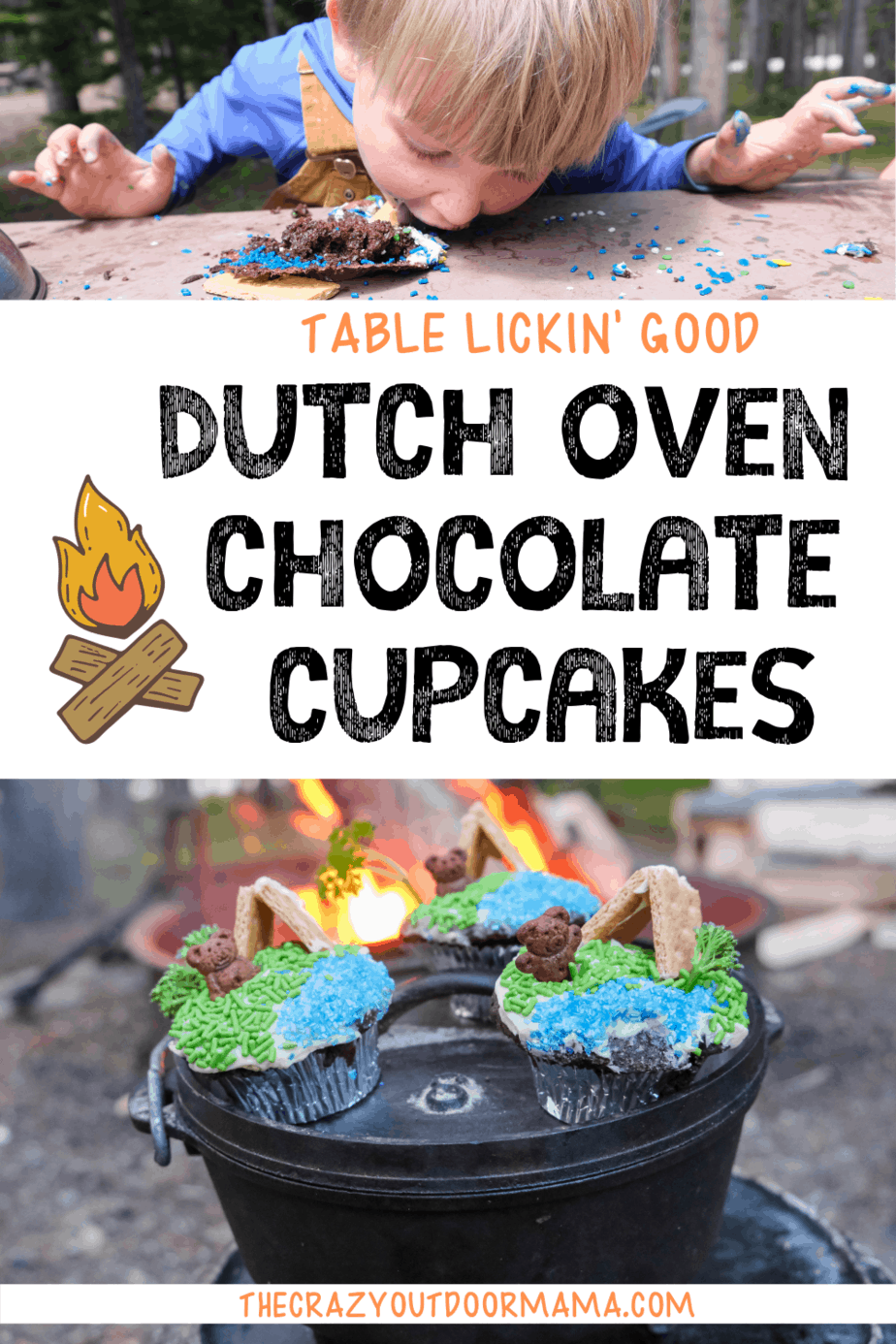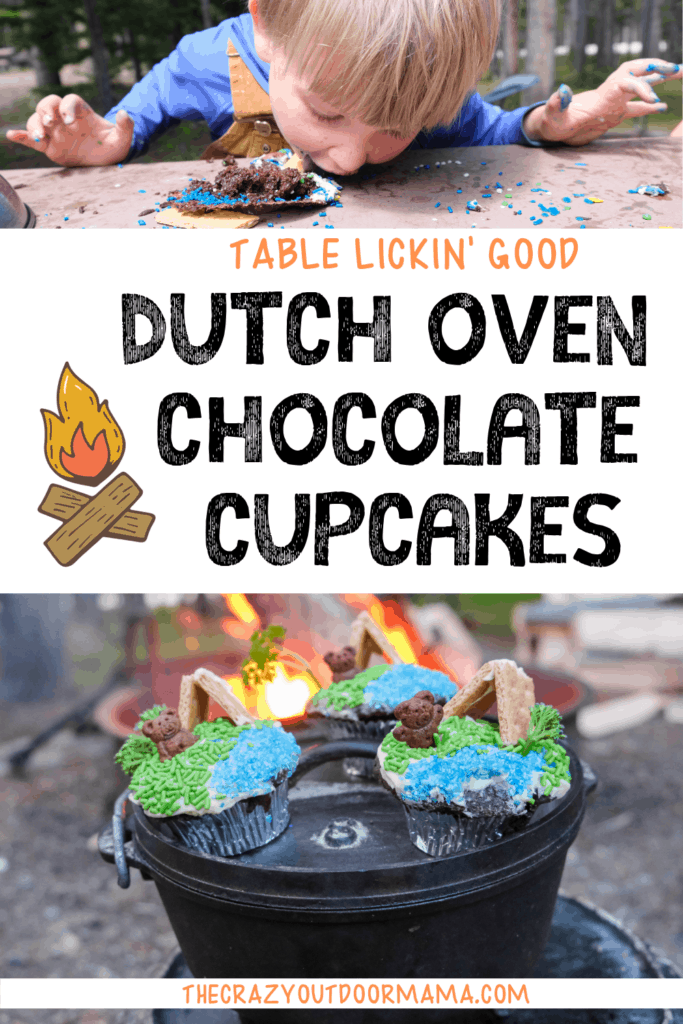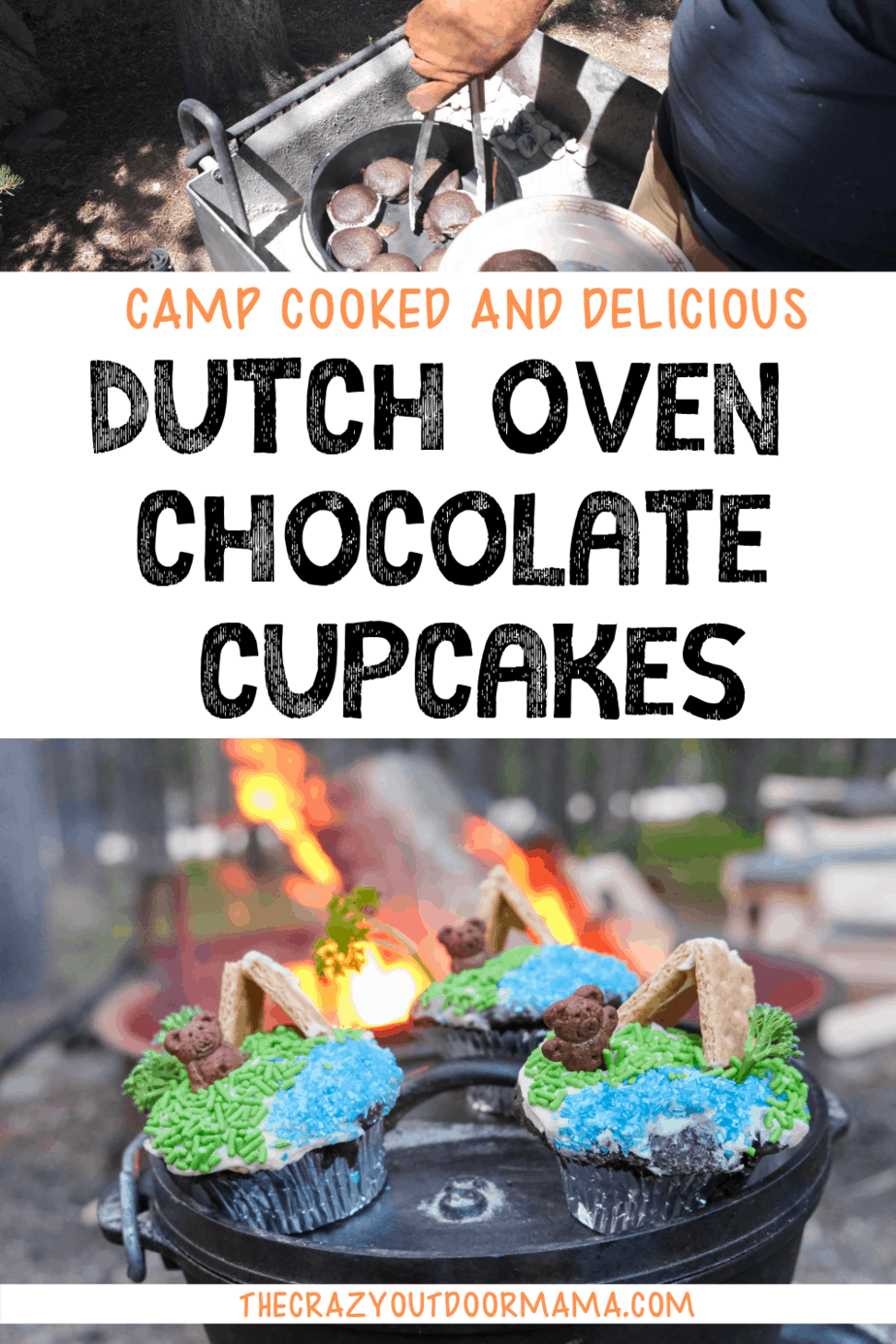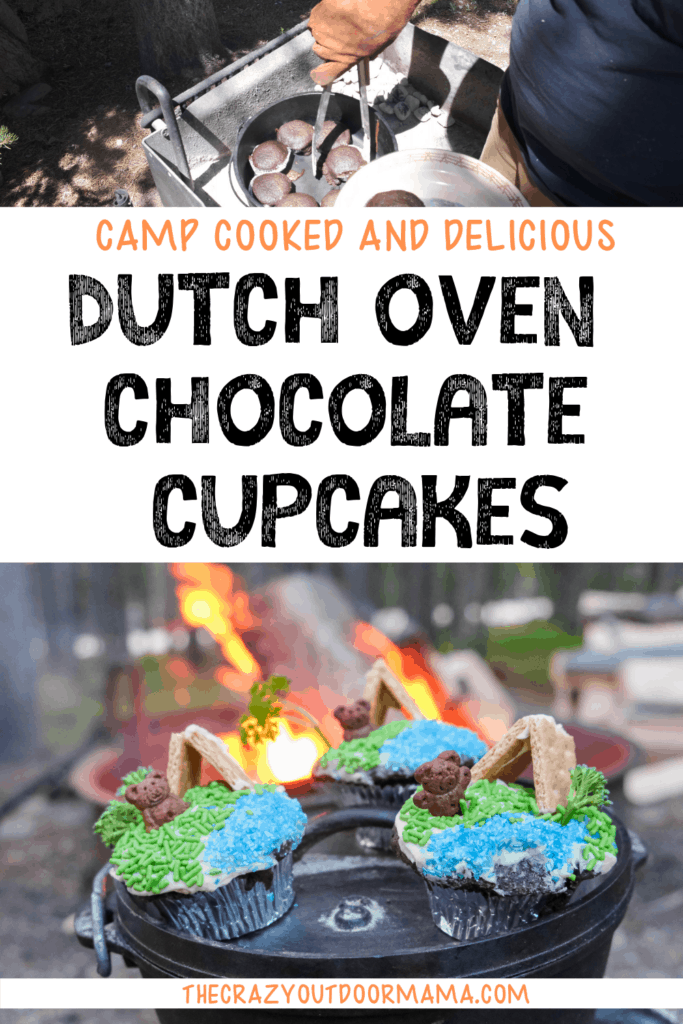 Latest posts by Stacy Bressler
(see all)