Get restful, safe sleep with your toddler while RV camping with this easy idea!
Are you worried about safe sleeping in your RV for your toddler, and worried he will roll right out of his bunk?
Don't worry, we were too! (And in fact, he did roll out. Luckily he was on the bottom bunk and not the top!)
While there are camper and RV bed rails designed for this, we will go over what you can do in a pinch. And if you have small children, it's likely you have what you need laying around!
And with this simple tip, you will get the added bonus of darkness for his bed as well as dulling down some of the noise!
I don't know about you, but after the kids go to sleep, we like to clean up for the day and have a glass of wine together! And it's pretty darn hard to do either of those things with no light and silence!
I really like this set up because you can have more freedom around your camper or RV with less risk of disturbing your little one!
P.S. Head on over here for a FULL GUIDE on camping with toddlers (from planning the trip to packing up camp and everything in between!)
General helpful sleeping tips for the first time camper with a toddler!
Keep a similar routine – Try to keep the routine you have at home as much as possible when traveling! For example, my toddler takes vitamins, reads some books, and has a blanket and animal he likes at home. So we take all those things with us (assuming you have space) so that his routine is as close as possible!
Talk about what will be different while sleeping at camp– Talk about things that might be different when you're camping; books are a great way to start the conversation. Check out my list of awesome camping books for kids, which all do a great job of describing different sounds and things that might be seen or heard while camping that are different from home!
Camping is exciting, so bed time will likely be later! -Be mentally prepared for a later bed time and a longer time to fall asleep. Even though you think they'd be exhausted after a full day outside, kids get really excited when hiking and camping and might need more wind down time than normal!
Pick an "easy" campsite (preferably one where your camper is close to the fire or hangout spot!) – This makes it way easier to hear them at night, and might even let you get away with not having a monitor! What things to avoid when picking a campsite (so that you can actually relax and your toddler can play safely!
Have some simple activities planned to keep them busy (and wear them out!)– Some easy ways to keep toddlers busy around camp and break up the day!
My trick (and what you will need) create your RV toddler travel bed
While there are some pretty darn awesome toddler camping beds you can buy, not all of them will work with your RV lay out.
This one turns an RV bottom bunk into a dark, cozy, and safe toddler RV bed!
1 Baby Gate or Bed Rail- Scroll below to see some great options!
1 Thick Blanket
1 Small towel to cover any windows that are in the bunk
White Noise Machine if you have one (I linked what I use, which has TONS of options and sounds but many different kinds that work well!)
1. Get any windows covered and set up your white noise machine in your RV bunk of choice
If you have power/hookups, I'd seriously consider setting up a noise machine! This works really well to help block out noises that might prevent your toddler from sleeping in such a small space. It is also helpful if it's the same one used at home so that there will be some consistency in the night time routine!
If there are any windows (ours has a small one) I'd also recommend cover that up with a towel or pillowcase. It may not block out all the light, but it will help signify that it's "bedtime" by making the bunk darker!
Please keep in mind to make choices that are best your family; this method does include loose blankets! If that makes you feel uncomfortable in regards to safe sleep for your toddler, just skip it or find a blackout curtain to install there instead.
It might look nicer than something just thrown up anyways! =P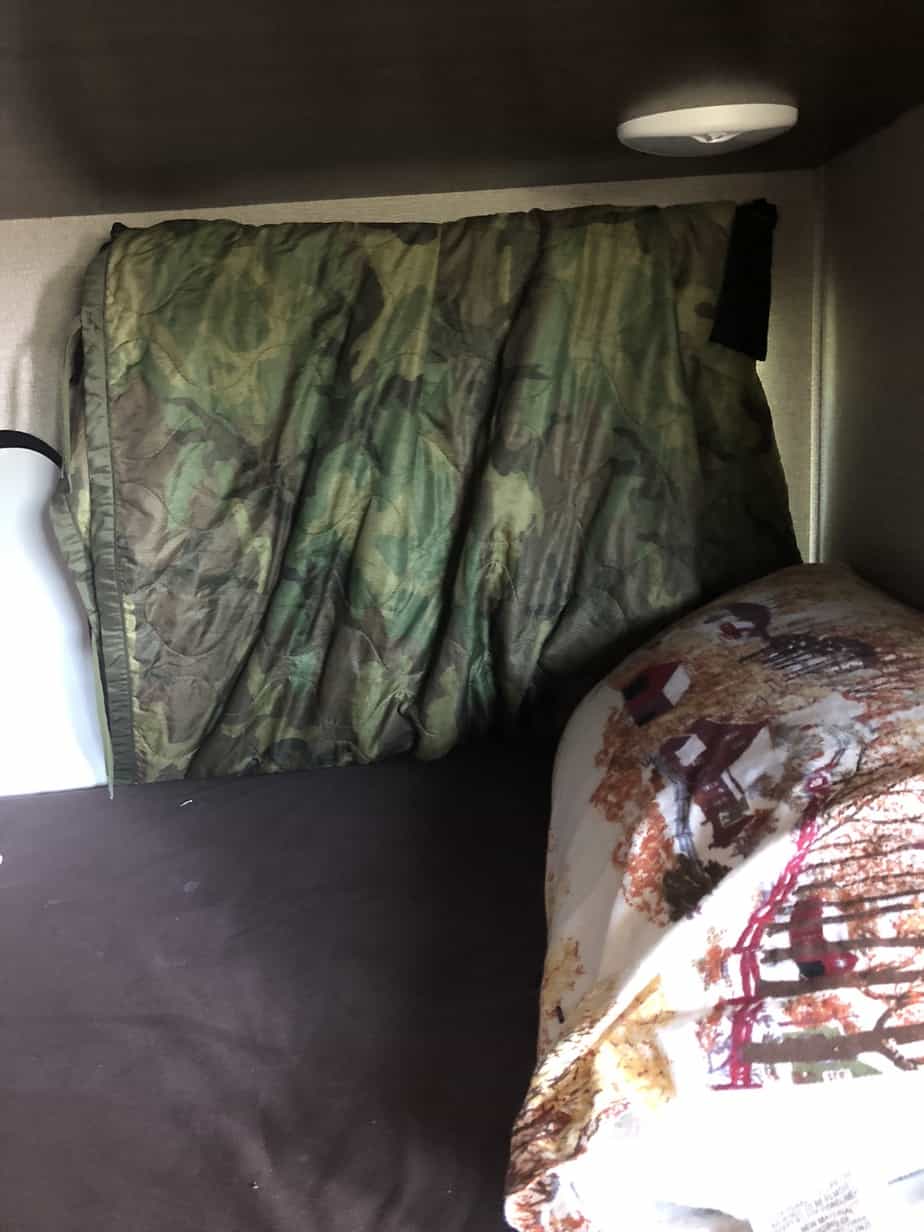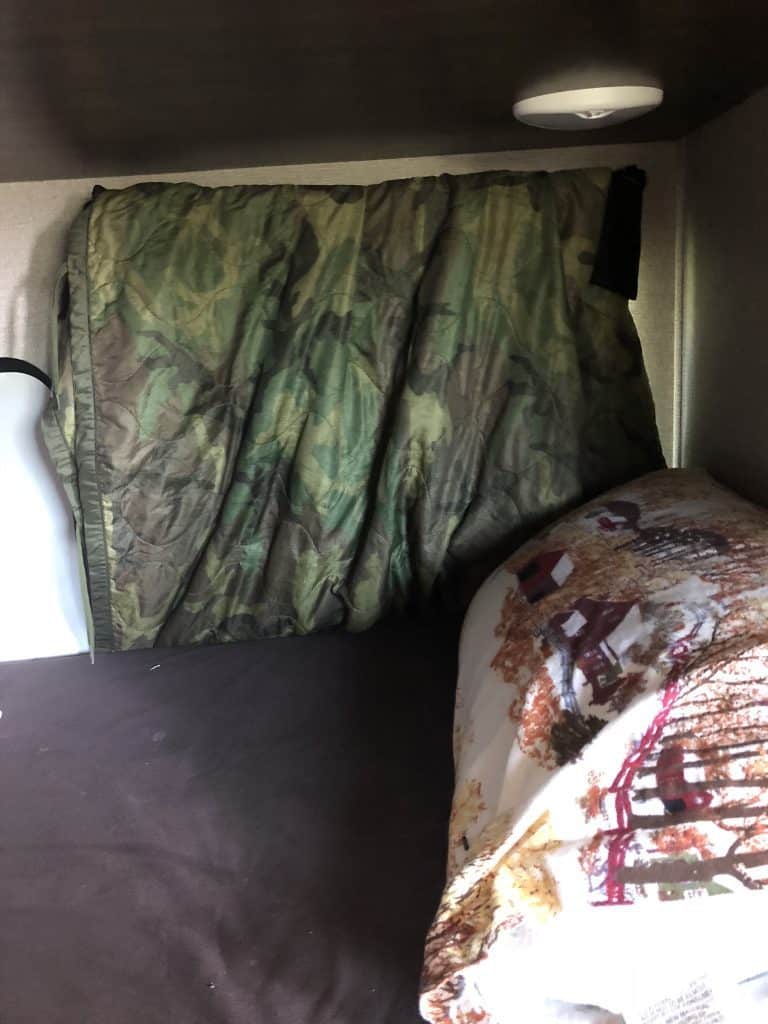 2. Set up your Baby Gate (or bed rail) of choice in the lowest bunk
I want to preface this by saying these things aren't bomb proof; it's possible with intense thrashing that they will come down. I always choose to have my toddler sleep in the lowest area in our camper.
While it does prevent general rolling out, I use it mostly as a deterrent, and as just another part of the RV camper bedtime routine for our toddler.
I really like the simple wooden ones with the adjustable bar as pictured because they are so versatile! (I use it on my porch too!)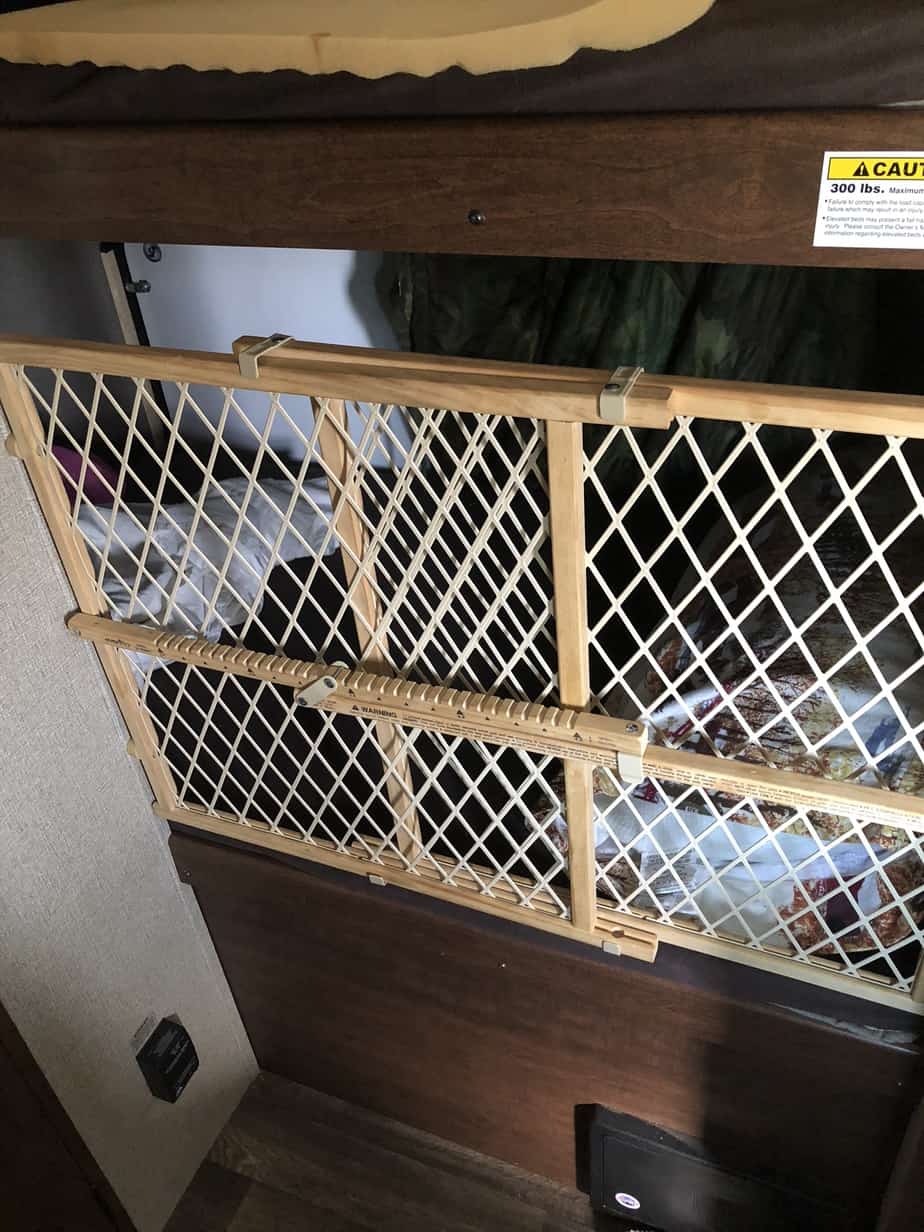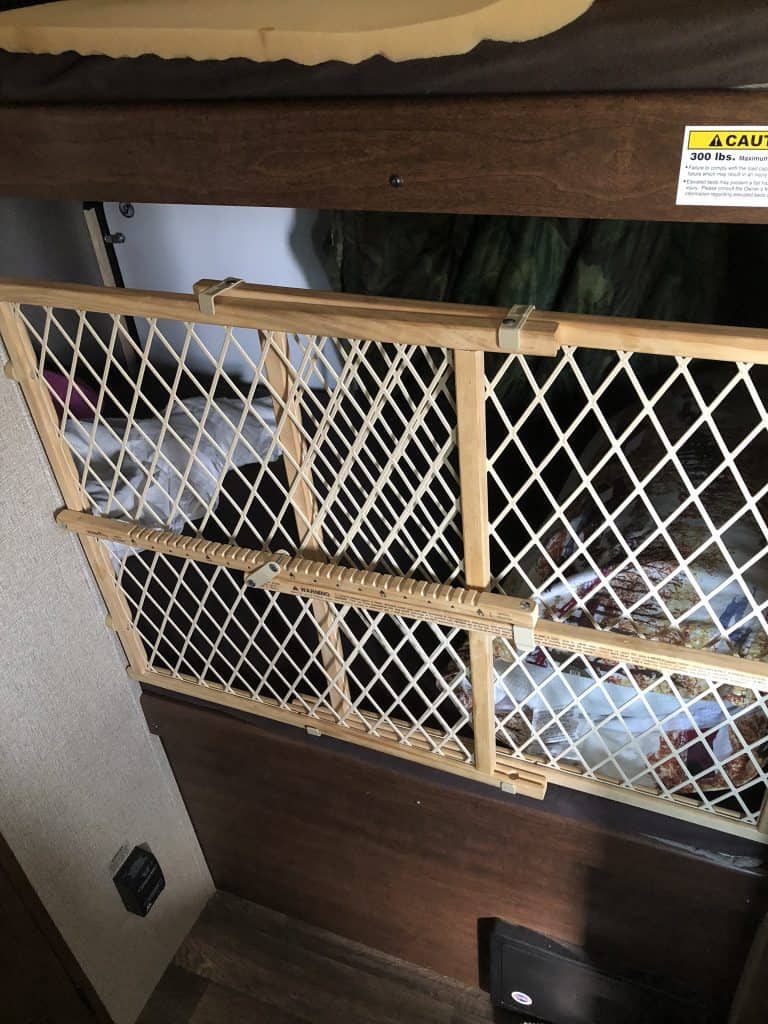 3. Put a Heavy Blanket over the Baby Gate for Darkness!
We have a wool blanket we use for this step, but any blanket will do!
We just tuck it under the mattress from the bunk above our toddlers and hang it OUTSIDE of the gate! This is great so that your little guy doesn't accidentally pull it into his bed at night!
The blanket is great for many reasons!
It creates a dark, separate space so that there aren't near as many distractions. As we all know, especially those in smaller campers or RVs, you hear everything and there's sometimes a lot going on!
This is really nice too if you enjoy hanging out after the kids go to bed; my husband and I often have a drink and play a game or something together after everyone is asleep!
Here are some other toddler bed rails for the camper or RV!
If you feel uncomfortable with a pressure mounted baby gate as a barrier to falling out (which might be the case if you have some heavy rollers!) these options are a little more stout!
Toddler Bed Rail – This idea could work similarly with a bed rail, assuming that it would fit in the door of the bunk! We tried this in our camper this year, and actually it worked AWESOME!
"Shrunk" Inflatable and Super Compact Bed Rails -This is something I found when I was shopping around on Amazon – It is an inflatable bed rail system that compacts down super small! It obviously may be better for slightly older kids, but I really love that you could use it anywhere; at a hotel, at home, or in your camper! It should fit right under the thin mattress of the bunk!

P.S. – If your toddler is little, or perhaps you're looking at this for a baby, find out how to master making a FAST warm bottle without electricity or hook ups while camping! Don't let concerns like sleep or bottle making hold you back from exploring with your kids!
Are you ready to go camping with your toddler now?
Sleep (For everyone!) is one of the most important things when on an activity intense trip! So be sure to use these tips and tricks for a restful night in your RV with your kids, and prepare for a new day of adventure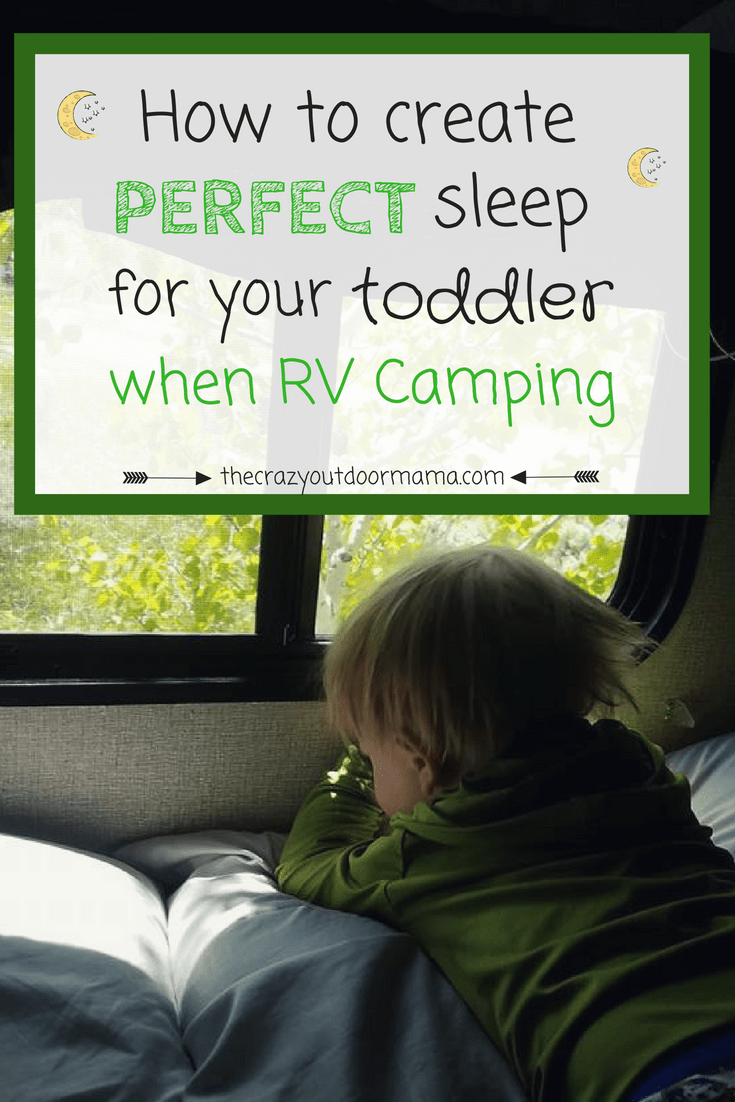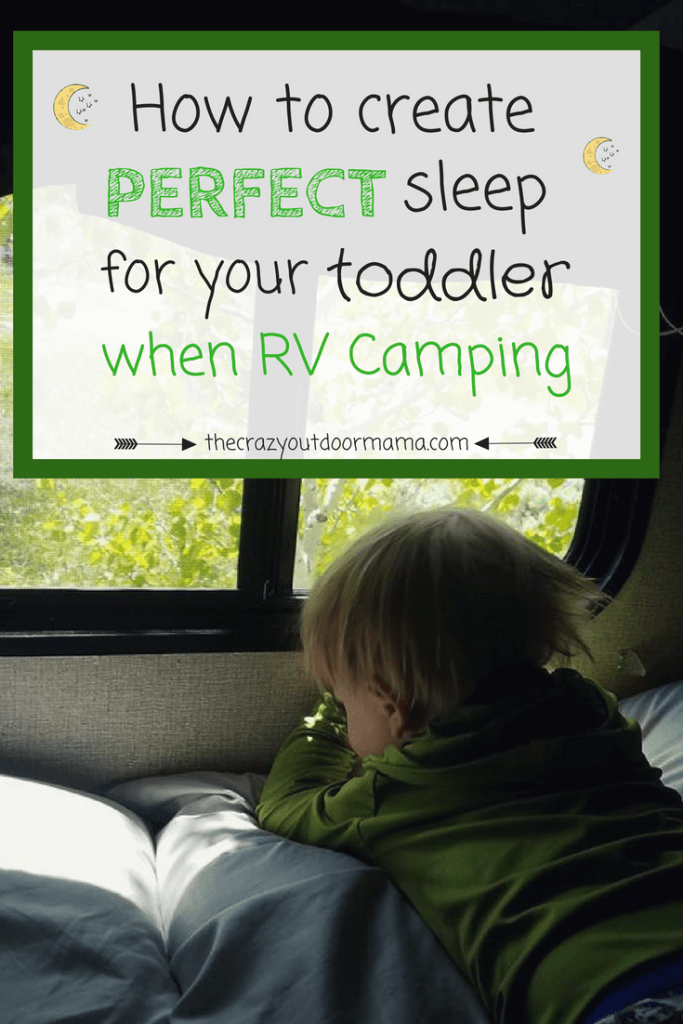 Latest posts by Stacy Bressler
(see all)