Get excited about going out in nature with these cute toddler camping books!
What better way to get toddlers excited about camping than reading some awesome camping books?
I don't know about you, but my toddler loves to read! From the time he was able to crawl, he brought books to me in our recliner and we read all the time! So much, in fact, that the book box only came out in the morning or else the boy would read all day.
Anyways, if this is the first time you are going camping with your baby or toddler, reading to them about it is a great way to introduce the idea!
Camping books written for kids often emphasize how beautiful being outside can be, as well as acknowledge the differences there are not being at home!
Books are a great, easy to pack item to bring camping with toddlers! You can take it in your pack while hiking, or use them as campfire stories at the end of the night!
Related: Check out how to camp stress free with toddlers, and bring some of these fun camping toys with you too!
I do have to disclose I am an Amazon Associate, and I will get a small commission if you were to buy these. BUT they are all amazing and so worth it if you're trying to get your little one excited for camping!
Before you go, don't forget to download this fun camping activity pack to make camping with a toddler FUN!
Besides bringing good camping books, some fun camp crafts and camping songs for your toddler can really make the trip great!
Included is a camping activity planner, packing checklist, campgroud selection guide, camping songs, plus a meal planner and 3 fun activities!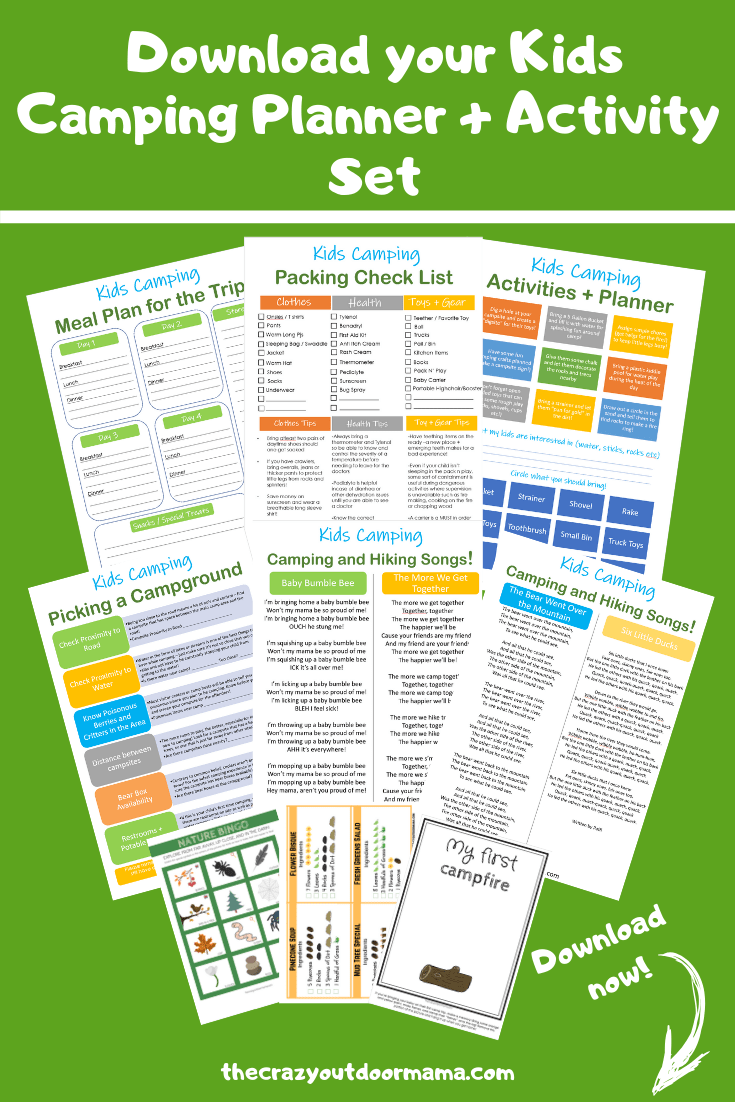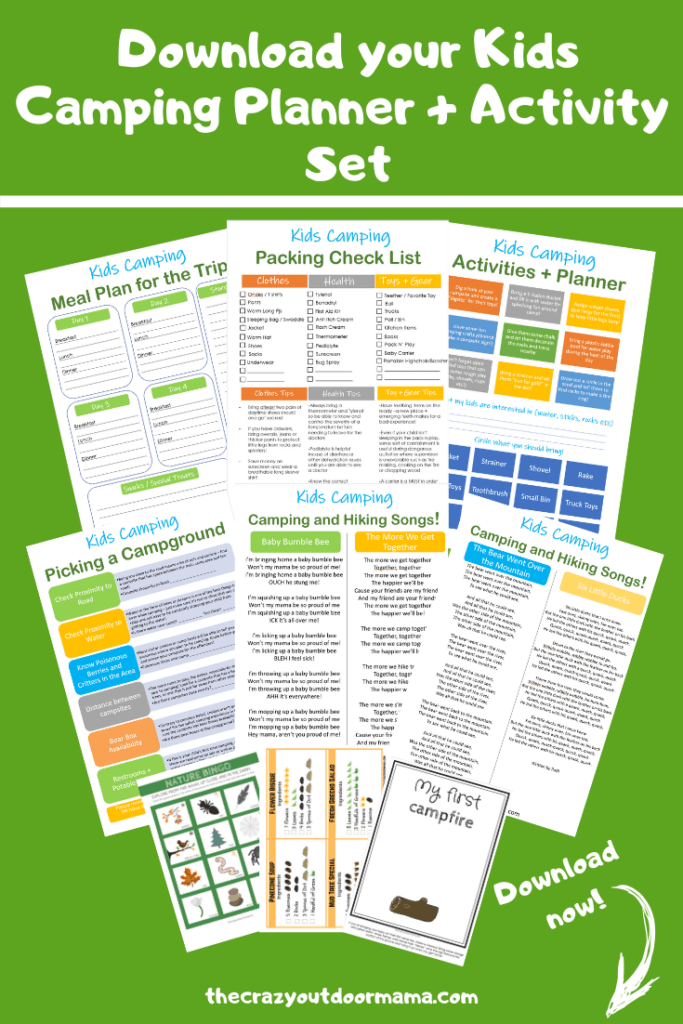 Here's a list of great camping books for pre-schoolers, toddlers, or anyone looking for some fun things to bring camping!
1.Oh Beautiful Camping Site
Oh Beautiful Camping Site – This book is 44 pages long, and talks about all aspects and kind of camping with kids. It includes RV camping, tent camping, and all the beautiful sights there are to see! Hiking and fishing are covered as well! It's available on Kindle as well in case you're super last minute like me and can't wait for your two day prime shipping!
2. Curious George Goes Camping


Curious George Goes Camping – Curious George is a beloved childhood character, and your toddler will love hearing about his camping experience! Find out how Curious George attempts to be helpful around camp (Sound like trying to do anything with your toddler? LOL!) and gets into all sorts of trouble and adventures! Again, available for kindle!
3. Little Bear Dover's Camping Adventure
Little Bear Dover's Camping Adventure – This is a great book to prepare any baby or toddler for camping who has not yet gone! It's about a bear and his friend camping with their dad, and investigating a scary noise they hear! As we all know, there's the occasional hoot or maybe even a coyote how when camping. This is a great way to show your toddler to be brave while camping; it's going to be OK!
4. Maisy Goes Camping
Maisy Goes Camping – This book is about another lovable kid's character, Maisy, and the adventures she encounters when trying to make all of her friends fit in her tent! They also investigate an interesting noise! A great book for the curious toddler camper!
5. The Berenstain Bears Blaze a Trail
The Berenstain Bears Blaze a Trail – I loved the Berenstain Bears as a kid, and am so excited to pass the love on! Another cute book about the mishaps that can happen while camping, but how to have fun with it all!
6. Goodnight, Campsite
Goodnight, Campsite – This is one of my favorites because it lets your toddler know what a day of camping might look like. Hiking during the day, and resting at night! It covers RVs and tent camping, and even has a campsite bingo game! It also has a cute hide and seek squirrel activity to keep toddlers interested during the read!
7. Bailey Goes Camping
Bailey Goes Camping – A super cute book about a determined little bunny to go camping, even though his siblings both say he is too young! What better way to get your toddler excited about camping than reading him a story about someone else who was told no!
8. Fred and Ted Go Camping
Fred and Ted Go Camping – YES! The beloved characters from Big Dog Little Dog (If you haven't read that yet, it's a great book for toddlers to learn differences in sizes in a fun way) go camping and tell us all about it! From fishing to setting up camp, toddlers will be PUMPED to go camping after seeing their favorite dogs have fun with it!
9. When We Go Camping
When We Go Camping – I really love this one because it has realistic pictures of a campsite, and it lists all the fun things to do around camp! Exploring, fishing, chopping the morning wood, supper, stories, and of course, sitting around the campfire! Although the recommended age is 4, which is on the edge of "toddler" this book can still be awesome if you just make up your own story, and adapt it to stuff your family will be doing while camping!
10. Bert and Ernie Go Camping
Bert and Ernie Go Camping – Almost every toddler loves Bert and Ernie from Sesame Street, so this is a natural favorite! Bert and Ernie follow tracks, discover what floats and what doesn't, as well as some other easy to understand (and recreate possibly) camping adventures! I really love books that have camping and outdoor activities that can be done in real life! It's a great way to engage a toddler in the outdoors, and offers some great tips for parents who are taking kids camping as to what to do around camp!
11. Caillou Goes Camping
Caillou Goes Camping – *CRINGE* I know, it's Caillou… but it is so worth tolerating if your toddler loves him! This is a super cute lift the flap book! Caillou hears a story about his grandpa camping, and now wants to go too! They end up camping in the backyard and do all the normal fun stuff; smores, stories, and a campfire. But they also hear some scary noises at night! This is another great book to introduce toddlers to camping noises, and that they will be ok in a new place!
12. Biscuit Goes Camping
Biscuit Goes Camping – I love getting books my toddler may already be familiar with when introducing new ideas; Biscuit is one of them! This is a great book about camping because it talks about embracing the experience of getting outdoors no matter the weather! In this case, it starts to rain while out camping!
13. Do Princesses Make Happy Campers?
Do Princesses Make Happy Campers? – I know this only applies to girls, but I love how it shows you can be a princess AND outdoor master! All of her questions about camping are answered, such as what to do when it rains, and if princesses can ride bikes over mountains (YES!) There is another book similar to this called Do Princesses Wear Hiking Boots that would be awesome to get at the same time if you plan to include some hiking on your camp trip with your toddler!
If you're camping with your toddler or baby, don't forget to check these articles out too!
Get some camping books and enjoy your adventures!
With these pretty picture books about camping and nature, are you excited to get the family camping now? Don't forget, these make great gifts for the camping baby in your life as well! Skip the plastic junk and get a gift the kid will grow to love!