Let me give you the low down on how to get perfect sleep when camping in a camper with a baby!
One of my biggest concerns once we started RV camping with our twins was definitely in regards to figuring what the best camping gear was to get them to sleep at night; how in the world would it work in such a small place?
I didn't have room to set up a pack n play, much less one for each baby. We also had a toddler to consider and wanted him to have room to run around and get to the restroom after they went to bed.
While there are portable foldable cots that are awesome (I will talk about those as well!) I wanted a relatively cheap solution that could also accommodate my co-sleeping!
I wanted a way to keep it dark and quiet for the babies, but also be able to do normal camp things like finish up dishes, or maybe even have a glass of wine in the camper after all the kids went to bed.
I'm going to go over an awesome, easy, buyable options to include in your camper (or tent) when camping with your baby, as well as my DIY sleep solution!
For all my tent camping parents, I have written an awesome guide to comfy tent sleep camping with your baby, including things like selecting the best baby camping sleeping bag and different sleep set ups!
P.S. – I am an Amazon Affiliate, which means I get a small cut if you click on my links below. BUT I really love them and think you will too! More info is here
The 7 Best tips to prepare for sleep success when RVing with your baby!
I thought I'd cover some must know tips in regards to camping with a baby before we dive into this article. If this is your first time getting out with your little adventurer (Woo, awesome! ) then you may find this helpful!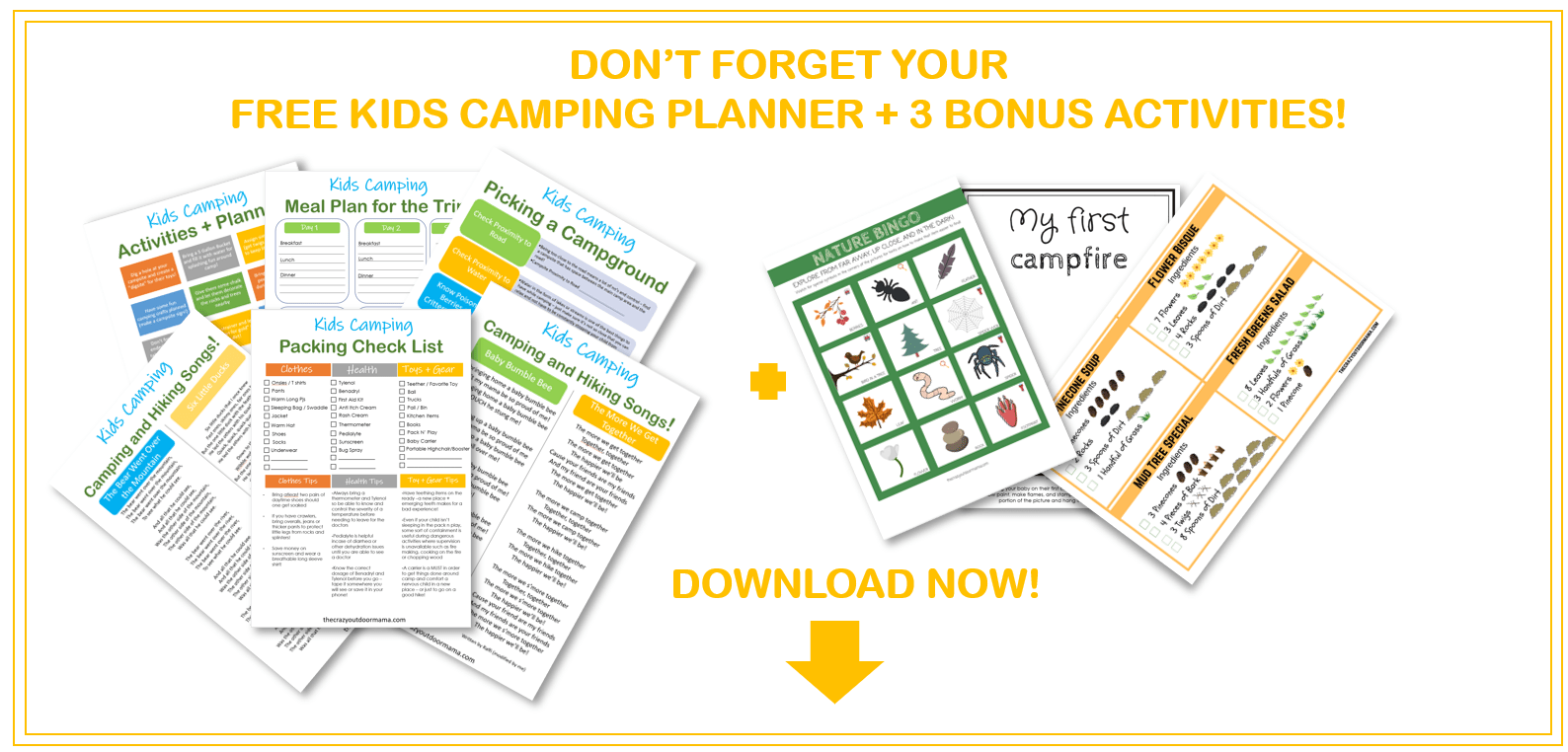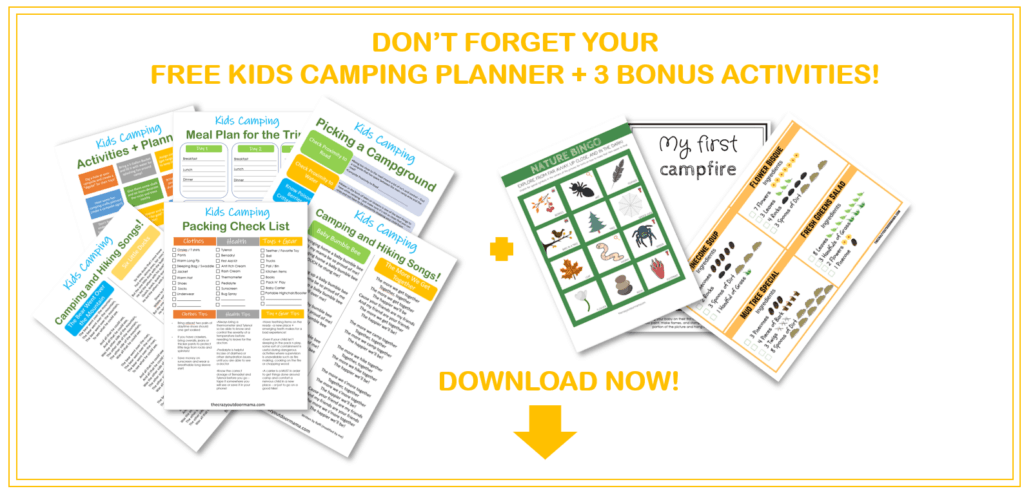 Keep your baby's before bed routine as close to normal as possible when camping

IE, bring the certain book he/she reads before bed, bring the noise maker they are used to, and some sheets or loveys that smell like home. If you have no current books, what better time than now to introduce some cute camping picture books, especially if your baby is a little older!
HOWEVER, don't be afraid to mess up your schedule a little bit!
Your baby will likely be super stimulated and may not get sleepy at the normal time, or perhaps get sleepy too early because of all the activity. It's normal! And don't worry, it's pretty likely they'll adjust right back to normal once they get back home!
Get whatever sleep area / set up you're going to use ready as much as possible ahead of time
This might mean getting bottles cleaned and ready, the noise machine on, and the tent set up. You can even have their diaper, clean clothes, and swaddle laid out on the bed (this is what I do!) I can't count the number of times we got back late from a hike and our twins were freaking out, which in turn made me freak out because I couldn't find all their sleep stuff.

Bring a bed rail to make RV camping sleep safer, as well as to create a play space!

Even if you're not co sleeping, it's great to convert your queen bed (or whatever the biggest bed is) into a play place for the babies during the day! My twins love to watch my toddler run crazy in the camper while they are sitting safely up on the bed! Besides, it's a lot more area to crawl around inside the camper than being on the floor!
If you are using bottles while camping, get them cleaned and ready for night time!

I supplement, and at night I do occasionally need to give my babies a bottle. I hate having to try to get them ready in the middle of the night, especially if we don't have access to water! I did write a tutorial on how to master baby bottles while camping – it took some trial and error for sure, but now it's no big deal!
Bring a baby monitor so that you can have fun after the kids go to sleep!
You might think you'd be able to hear them from outside your camper if you're hanging out later in the evening with friends and such, but unless it's VERY quiet, you likely won't. Especially if you are in a campground, or just want to have a conversation! I didn't bring a monitor the first few times and I spent most of the time they were asleep peeping in the door every 3 minutes to make sure I didn't miss them crying or falling somehow! It's such peace of mind to hear everything that's going on!
Don't forget the white noise machine to dull camper noises!

There will always be some cleaning up to do, or just hanging out after the kids go to sleep. Bring a white noise machine so that you don't have to creep around them and whisper!
Check out this awesome ready to use travel baby tent if you don't have time to DIY!
The KidCo Peapod kid tent could be used in a similar fashion as my DIY. And if you only have a single, it may be cheaper or easier to actually go this route instead! (I would have had to buy two, or else I probably just would have stuck with using this!)
When my son was born, we used this super compact and foldable baby tent that could fit anywhere! It was shaded and zipped up too! This was really handy to keep the bugs out and him in, just in case he was to wake or try to roll!
While hiking with him as a baby, it was popped up every time we stopped to take a break. We could set up our day campsite, and put him in his tent so that he could get a good nap in!
Our baby girls slept in the peapod tent too when they were super little! Again, it was a great spot to keep them safe and cool.
If you aren't tent camping, the little tent could easily just be popped up in a spare bed in your camper or RV.
The KidCo Peapod Tent
Some more quick pros about this baby tent
Folds up as small as a carry on
Only weighs 2 something pounds
Has optional anchors to keep it on the ground if you're outside
Comes with a sleeping pad (that fits inside the carrier when folded up too!) which is super handy for softening rocky or pokey ground
It's the ONLY baby travel bed/tent that passes Consumer Product Safety Commission (CPSC) testing. This is good to know because there are a couple you'll find on Amazon that look similar and are cheaper, but that's probably because they are not as good!
There is a toddler version of the KidCo Peapod that goes up to 5 years old in case you're reading this and thinking of your bigger kiddo!
I also have a neat RV sleeping idea for my toddler using our spare bunk that you may be interested in!
Here is the Pop up Toddler / Twin Baby Tent I will be using in my DIY.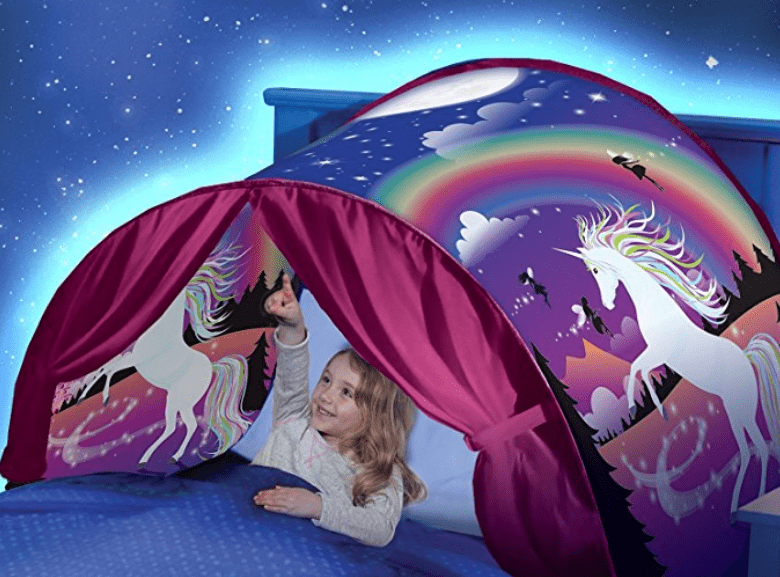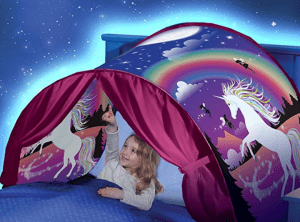 Some quick reasons why I love this little gem!
It's compact, and takes seconds to put up or take down!
It can be used for more than just your camper; my toddler loves it over his bed, we use it while traveling in hotels to make everything less distracting, and it can become a familiar item to make sleep easier and less stressful if you travel a lot!
They have a couple super cute designs! If you click the link above, you can see it in related products; they include dinosaurs and princesses as well!
It's a cheaper solution than one of the little kid tent / pods like I listed below. If you have the set up for it, this may save you 20 or 30 dollars!
Create your little camping baby sleeping space with a DreamTent!
Before I start, I want to say this sleeping set up is ideal for swaddled babies who can't squirm around and mess up the blanket! Only use this method if you feel comfortable with it – I felt fine, but it's up to you to make the best choice for your family!
I know it may sound or look cheesy, but my toddler loves it and while we're camping, it fits perfectly across our queen bed for our girls to sleep under!
There are other materials that may work, but this is just really convenient because it folds up super small making it easy to store, and pops up in literally a second.
I also like that it has little fabric doors that make it really easy to pop in and nurse or give them a bottle!
(P.S. I'm sorry, the tent is facing the other way in this picture! I wanted to block the light more so I faced the fabric the other way! )
The Dream Tent is fairly sturdy as well, which makes it perfect for draping a thick blanket on top of it so as to darken the babies little spot even further!
I also add a white noise machine and a pillow in between them.
When your babies are younger it's not such a big deal, but when they get older and flail and smack each other the pillow is important to prevent that! It also stops them from rolling on each other!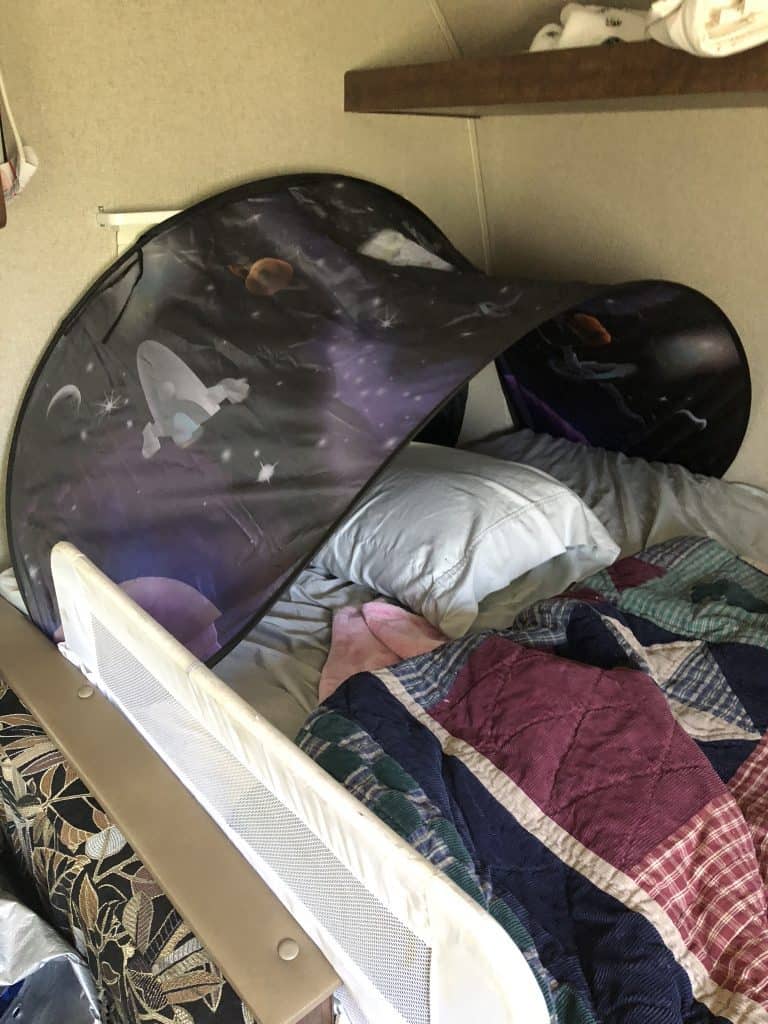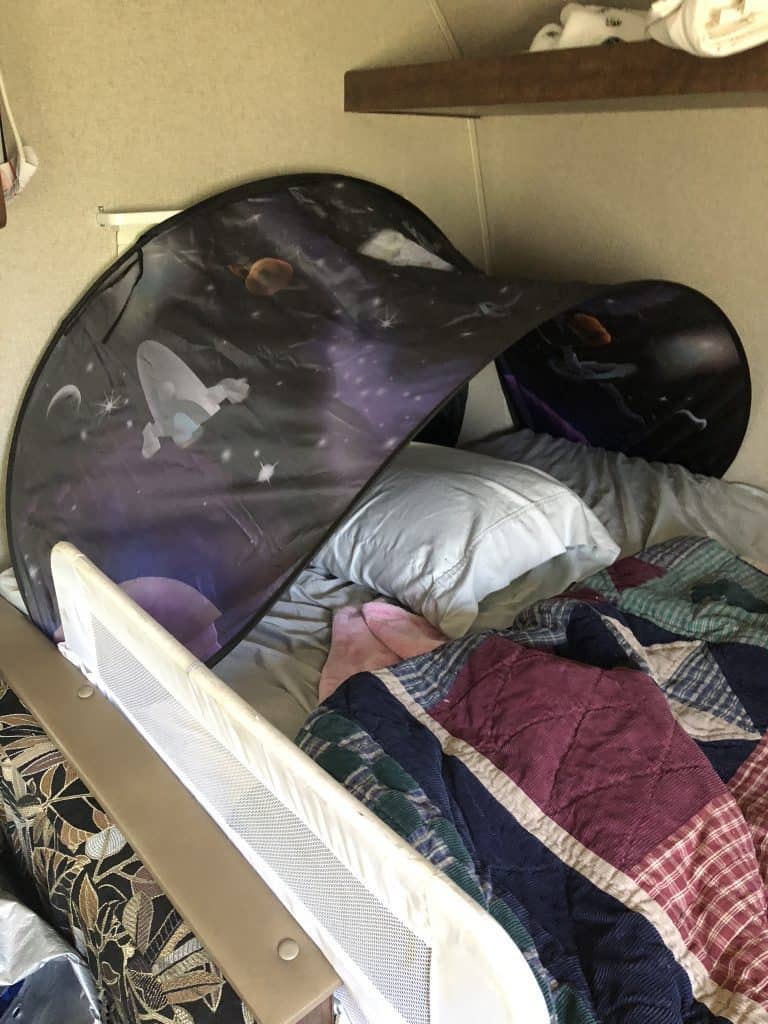 Get a thick sheet to put on top of the Dream tent to further block out light
This also helps to reduce the noise. I personally use a white noise machine, but you should use whatever your baby is used to!
If there is a window by your bed, make sure to drape something small over that as well!
I have a cute thicker blanket I like that works perfect for this!
I also like putting a big comforter at the bottom so they can't scoot off the bed. This is helpful for when I'm outside doing chores and can't see them!
Put a baby monitor right in the tent, and do occasionally check in!
I absolutely love my children, but I also love that time at the end of the night I get with just my husband and me!
When everyone is asleep, we usually either hang outside by the fire or do chores and such to get ready for the next day (especially if we are going on a hike early in the morning)
The monitor is helpful for leaving the camper so that we don't have to be super quiet to try and keep an ear out, however, it's still good to peep in every so often to make sure everything is still set up right!
This is especially true if you have very mobile babies who could perhaps wake without you knowing and move stuff around!
So now that you're prepared to get a baby to sleep while camping, what's next?
I know it can be intimidating at first, but you will end up having so much fun!
When my husband suggested we camp with our newborn twins, who were still on supplemental oxygen BTW (they were born a little early) my head was spinning!
However, once we got in our flow, and figured out logistics, it was a lot easier!
If you haven't already, check out the camping essentials we used for our babies and toddler. They are used and approved by our 3 under 3 kiddos, and really helped make our camping experience much more enjoyable for everyone involved!
If you're scared it will be too much work to relax around camp, check out these 11 easy activities for kids around camp!P
Here are some other articles you might enjoy too!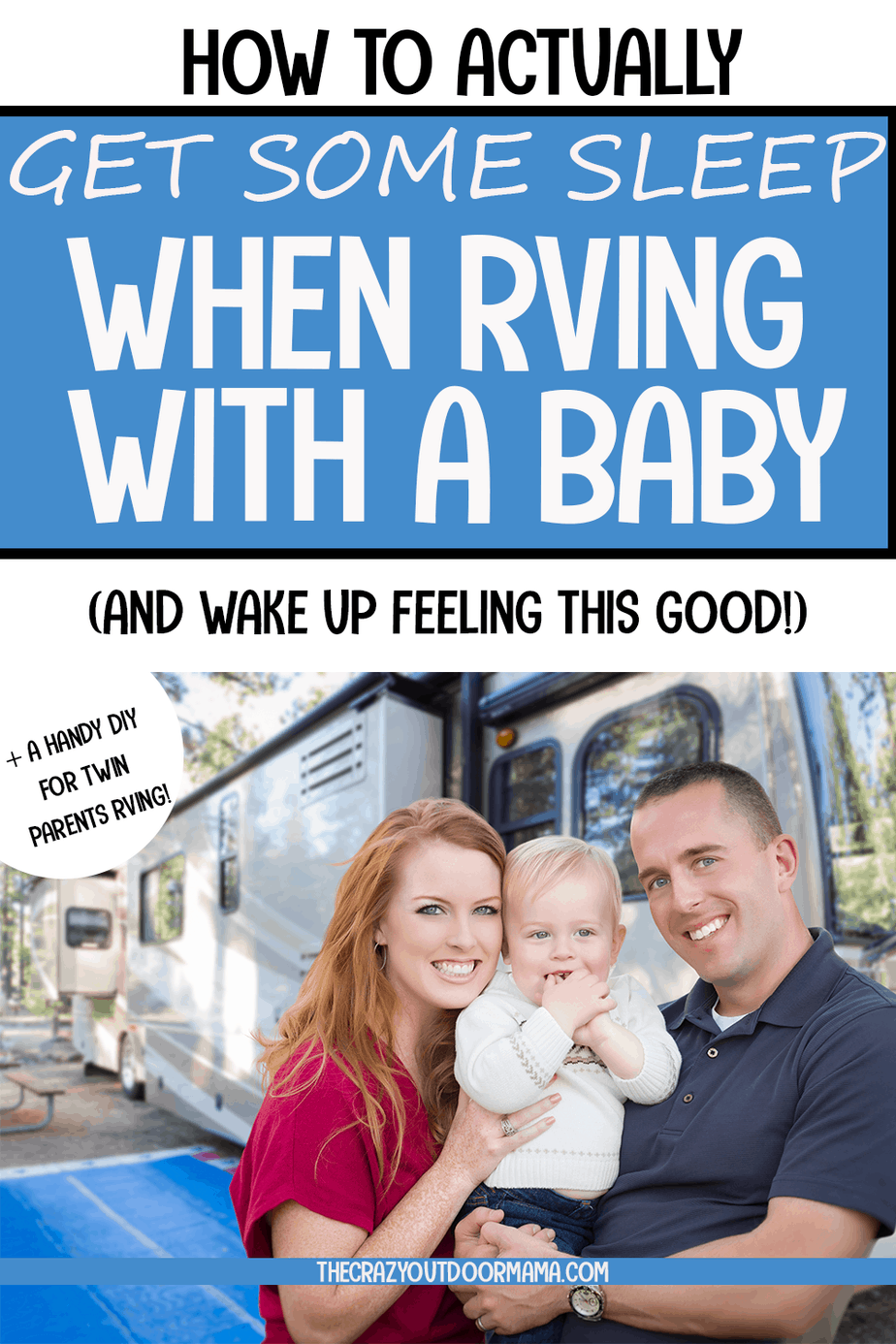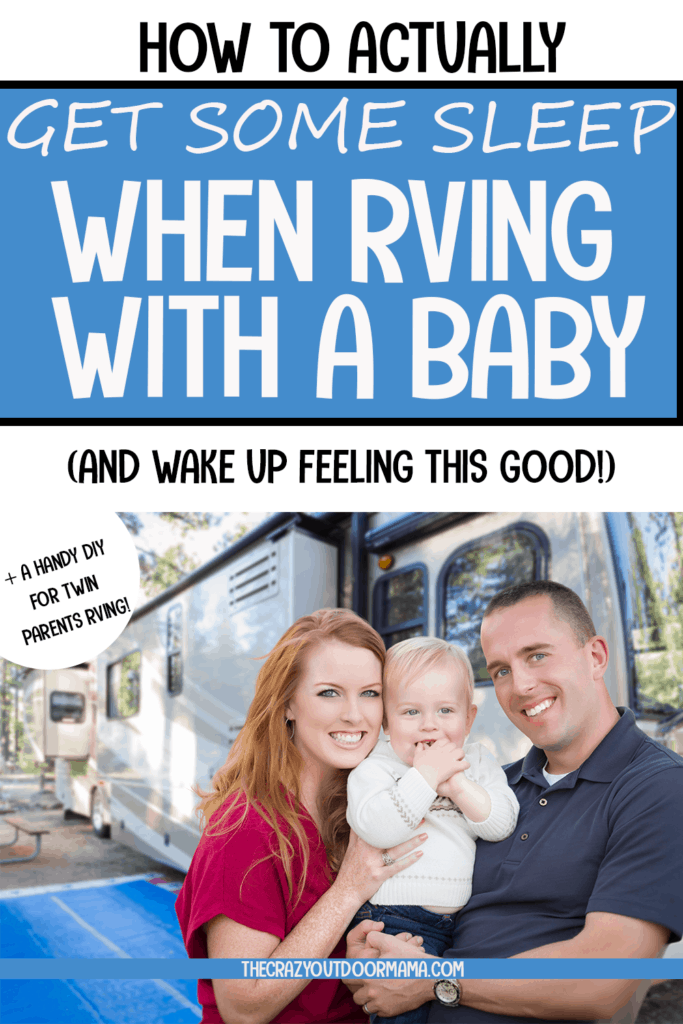 Latest posts by Stacy Bressler
(see all)