Keep your toddlers busy around camp with these fun camping activities for toddlers! 
Camping is so fun, until the newness wears off for the toddlers and you become desperate for ideas to keep them busy around camp!
Whether you are pitching a tent, or setting up a camper, it is no joke that keeping toddlers and babies entertained while you get everything done is sometimes really difficult!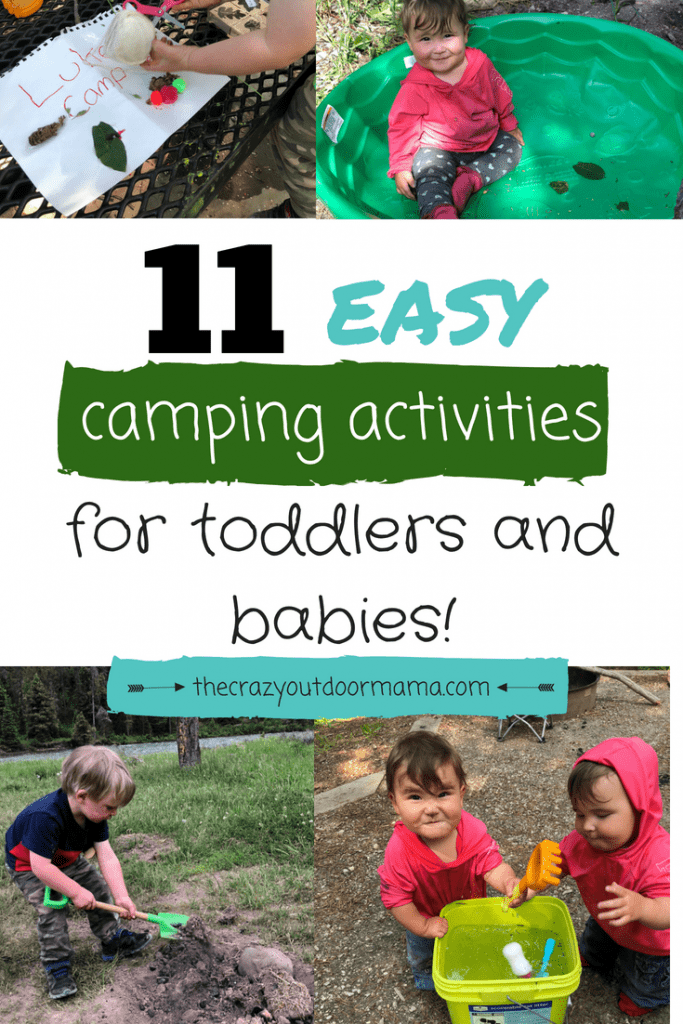 I know, for example, if I don't give my toddler some task, he will either start putting rocks in our SUV's exhaust pipe or start smacking things (sometimes people) with a stick!
Babies are sometimes a little more difficult to entertain, as occasionally they just want to be held.
BUT, it is worth trying a couple of these ideas first to make your camping life a little easier!
P.S. I am an Amazon Affiliate and do get a small commission if you purchase something through these links! But these are all items I have purchased and love!
Dig a hole and create a "Dig Site" for your kids in your campground!
I discovered this one by accident! My kid found someones old dutch oven cooking hole that was only loosley covered, then proceeded to dig in it.
I was pretty overjoyed when he entertained himself for over half an hour just digging around with his shovel and dump truck!
The icing on the cake was when his sisters decided to join!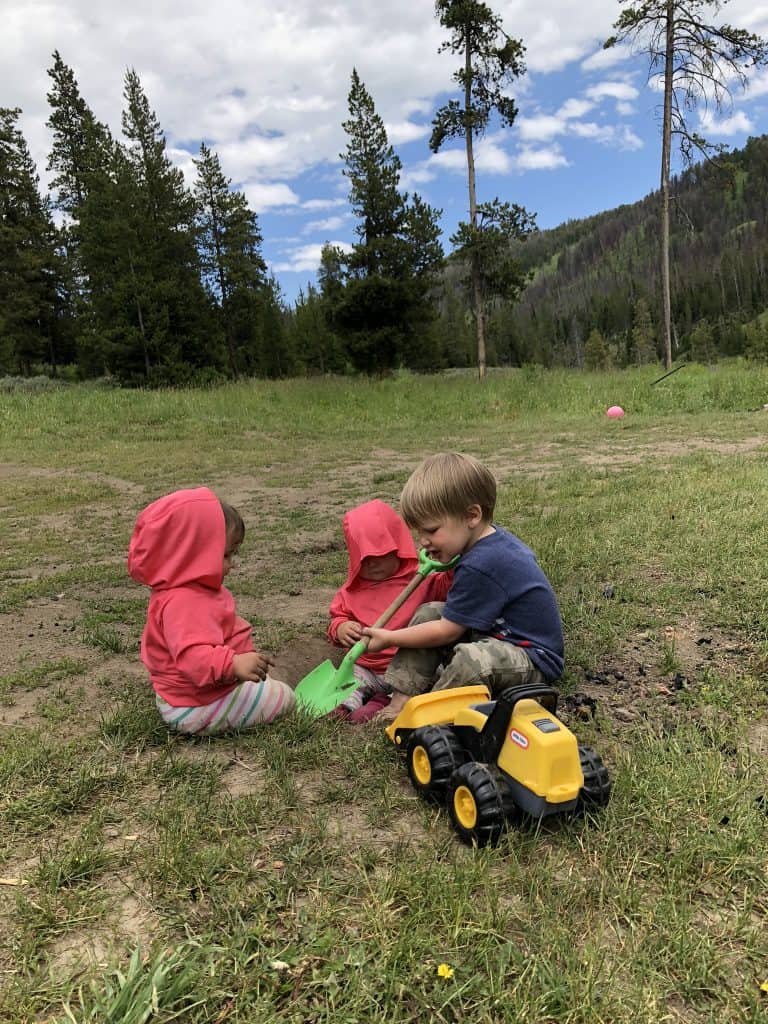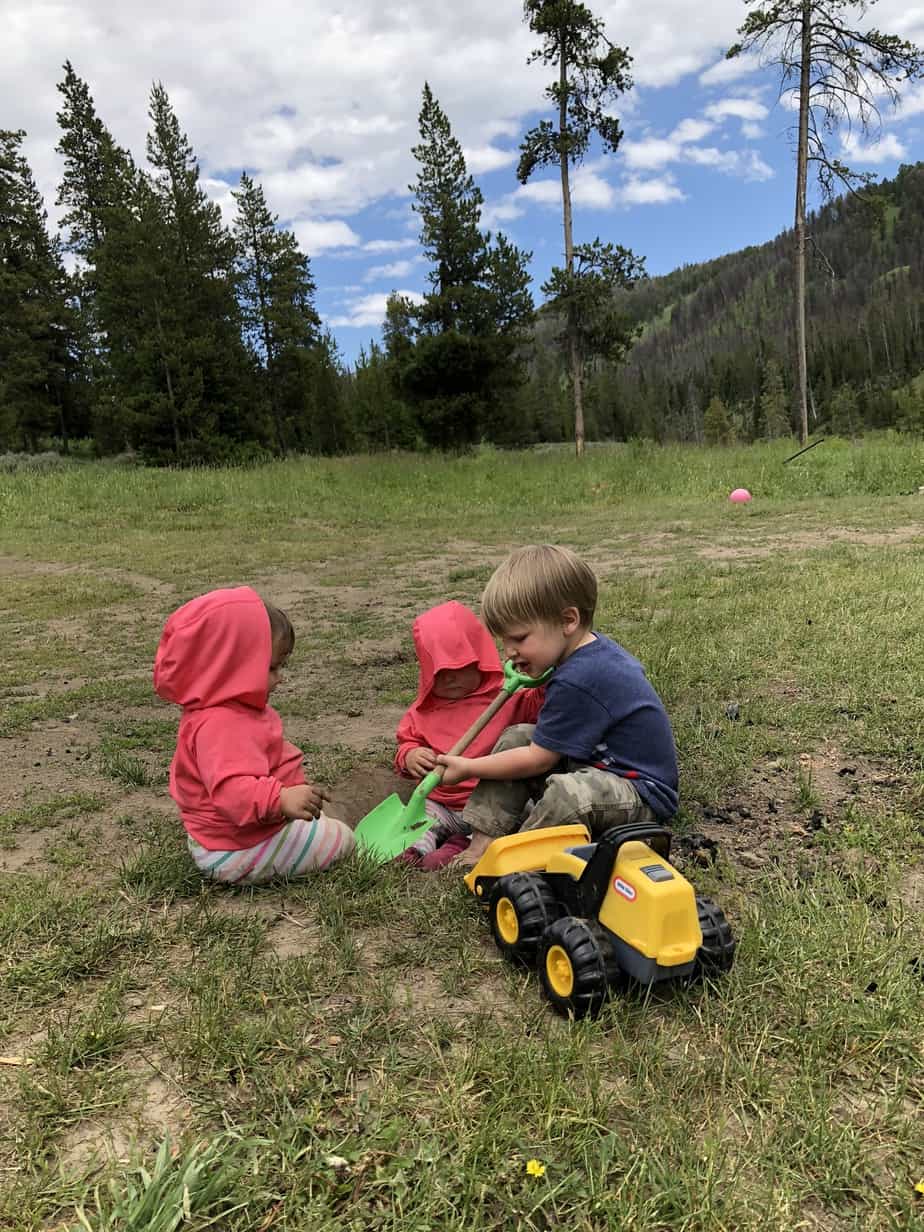 Bring a 5-gallon bucket to keep kids splashing and busy at the campsite!
A little warning about this one – yes, you must monitor your child when it comes to any water play! But I was able to just sit in my campchair while they had a blast!
This one really is a boredom buster for babies who are able to stand up a little, as they love splashing around and dropping things in the water!
A 5 gallon bucket is often heavy enough that they cannot tip it over, but if you're concerned, just put some heavy rocks at the bottom!
Assign some simple chores to keep your toddler busy around camp!
I'm talking SUPER toddler level – such as help move firewood from one place to another!
Even if you don't actually need it moved, it really helps to involve them and make them feel like they are helping you rather than getting in the way!
Some other chore ideas include throwing trash away, gathering kindling (some small sticks) or getting the toys out from wherever they are stored.
Have fun doing some easy camping crafts to bust campground boredom!
I'm a BIG crafter, and I pretty much take any opportunity to craft!
If I need to get things done though, I do try to give my toddler a craft that he can do mostly on his own.
This might include a play-doh nature craft, or just getting the materials for his campsite sign!
If you know your kids love things like legos or other activities, be sure to bring a small pack of them with your camping to keep them entertained!
I bring my own "camping craft pack" because I know my guy loves to make stuff from nature!
P.S. If your toddler or child is old enough to do some camp crafts, they might also enjoy reading some cute camping books!
Give your toddler some chalk and let him go wild decorating nearby rocks and trees!
Chalk has been so great in our toddler's camping life!
He loves to decorate the rocks, trees, and sometimes the grill provided in camp!
You can give some additional direction by asking him to only color certain items, such as little rocks or pine tree etc..
Just be sure to wipe down obnoxious things such as stuff around the picnic table and grill (it should come off easy with water) before you leave!
Bring a plastic kiddie pool to entertain the babies around camp!
While my toddler likes the pool, my babies love it way more!
The best thing about it is that it doesn't even have to have water in it to be fun!
Just put some fun noise making toys (I know, normally awful but while camping, everything is much more fun!) in the pool, and watch your babies have fun climbing in and out!
You could definitely fill this with water too! This is really great for extended camping trips with kids where you just want to break up the day a little!
Make sure to have some fun "open ended

"

toys while camping with kids!
Some of these might include shovels and buckets, trucks and cups, as well as maybe some kitchen stuff too!
If you really need to get camp chores done, you might not have time to constantly help your child play or participate in games with them.
That's when these toys, that they can play with independently, really come into play!
Don't get me wrong, I LOVE playing with my kids!
Sometimes, though, work has got to get done before play!
Check out these fun outdoor activities for kids if you want even more ideas!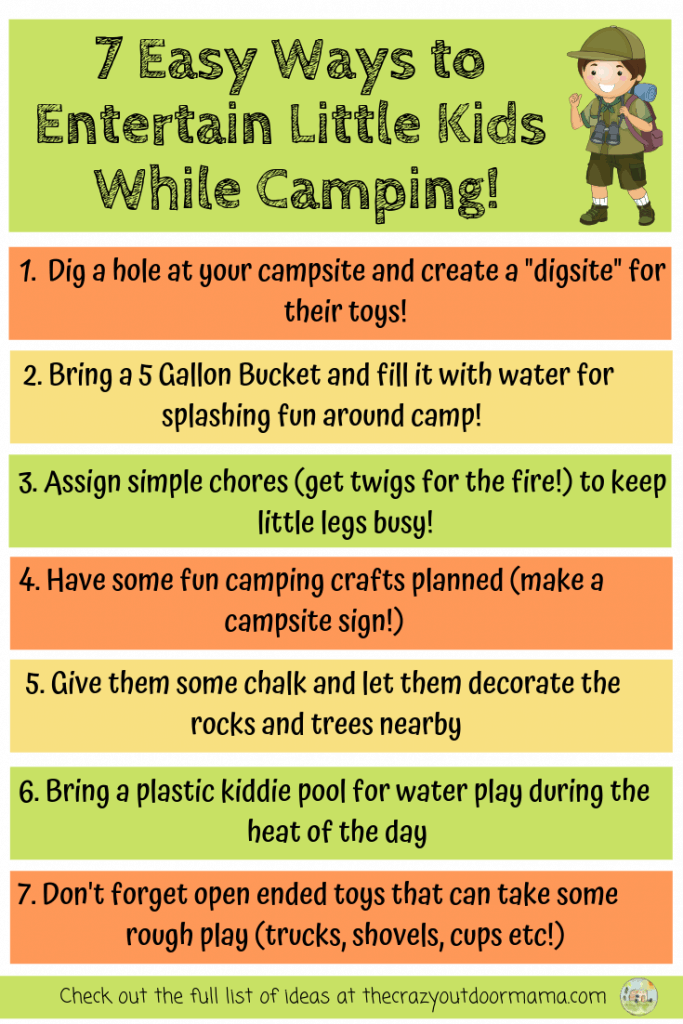 Some Infant Camping gear that comes in really handy if you just need to get things done!
Sometimes, babies just can't be entertained!
That's why it's really helpful to have some backup plans and products to take when camping with a baby!
As there are different ages and stages, be sure to pick an appropriate one.
For example, SUPER little babies (under 3 months) likely cannot support their neck enough for a backpack. You can still use a front carrier if necessary though!
If your babies are crawlers, keep them contained and entertained at the campsite!
Now that my twins are a little older, they know not to eat rocks. They might still lick them (ew!) and such, but they no longer try to swallow them.
That wasn't always the case!
There were a couple of camp trips that really wore us down because most of it was spent telling them not to eat rocks, and getting rocks out of their mouth.
"The Octagon", as we call it, is when we finally got a break long enough to cook some food or set something up!
It is super easy to set up, light, and a decent size. It also comes with a sunshade!
And the best part is that your babies will only eat things that you put in there!
Bring a bouncer as a fun activity to do around camp with babies!
Sometimes it helps to have the comforts of home brought to the campground when it comes to babies!
For us, having bouncers really helped keep the babies busy around camp!
Not only were they contained, but they had toys to play with and an area we could put snacks on to keep them even more occupied!
Don't forget a camping highchair to keep the snacks coming!
I don't know if it's all the extra energy burned, or maybe just the lack of a schedule, but all my kids eat 2 to 3 times more it seems while camping!
That's why you should bring some food you know they'll love, but also some special "treats" to break up the day or reset everyone if they get cranky!
Most special treats tend to be sticky, and are best eaten sitting down.
That's why we love our camping high chairs!
They fold up easy, store well and are easy to clean.
They also seem pretty sturdy on the rocky, uneven ground that is common in campgrounds!
If you want to check out more baby highchairs, check out the ULTIMATE list of the 15 best camping chairs for toddlers and babies!
Bring a jogging stroller for naps on the go when camping with your baby!
I didn't bring our Chariot the first couple of times, and I really regretted it!
Here's why – most babies fall asleep in their stroller. It is relaxing, comforting, and most importantly, a place they know!
If you don't camp too often, your baby might be having fun, but could also get overstimulated by all the fun stuff going on and have a really difficult time being put down somewhere new.
That's why you should just skip the 30 minutes it would take to put them down for a nap, and just walk them to sleep!
If your lucky, your babies might not even need to actually go anywhere and just be fine being pushed back and forth right in camp!
The more enclosed the better, so as to remove all the distractions of camp.
We really really love our Thule Chariot Stroller!
I don't mean to go on about it, but it can be pulled behind your bike, be a jogging stroller, regular stroller, and even attach to skis! And the cherry on top, when it comes to "off roading" in campsites with it, is that it even has a custom shock system that you adjust based on the weight of your children!
If all else fails… wear your kid in a backpack to expedite camp set up!
Sometimes nothing works to get your baby or toddler into a better mood!
They might be growing and needing those extra cuddles, but that's hard to do when you're trying to get the jacks down or set up the grill and trash cans and such!
My husband and I each have a backpack that is useful for so much more than just hiking!
It may be because we started putting our babies in them at 2 months, but ours REALLY enjoy being in the backpacks!
I have always preferred it over a front carrier because it frees up a lot of working space I need with my arms and such!
Pin these toddler and baby camping ideas for later in case camp ever gets boring!
I know, nature itself should be exciting enough for everyone!
But it is sort of a learned skill, and you sometimes need to help make it exciting!
Here are some more ideas for kids fun while camping 
If you're looking for some fun camping games for kids, then check out this post!