Tons of easy camping crafts, one small bag! (It's worth packing!)
While camping is exciting for everyone, there's no denying that midday lull where it's too hot to do much, and this is when I absolutely love to do some outdoor themed nature camping crafts!
If I am on a shorter camp trip, it's not as necessary since the "newness" of camping is still fresh, but once I'm 3 or 4 days in, sometimes it's nice to break it up!
I especially like to bring my camping craft kit if we are strictly camping; sometimes we camp somewhere that there's a lot of hiking, in which case there won't be too much time for creating.
My toddler loves our "Camp Craft Pack" and it's kind of turned into a tradition for us. He only gets to use it if we're camping, which makes it that much more special. That translates to an engaged, busy toddler so that I can do some chores around camp!
Let me tell you a couple of reasons you should pack your own craft kit if you have kids, and what I have packed in mine!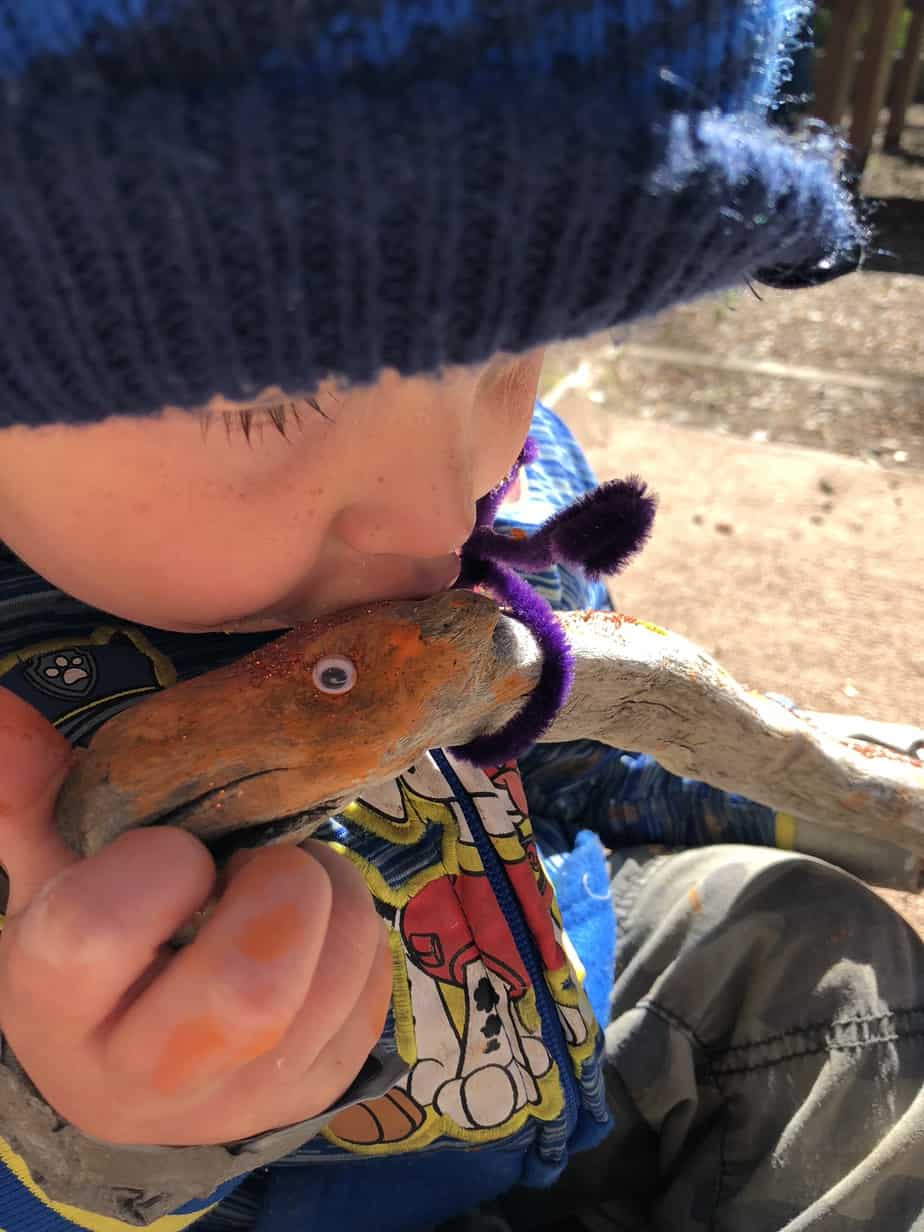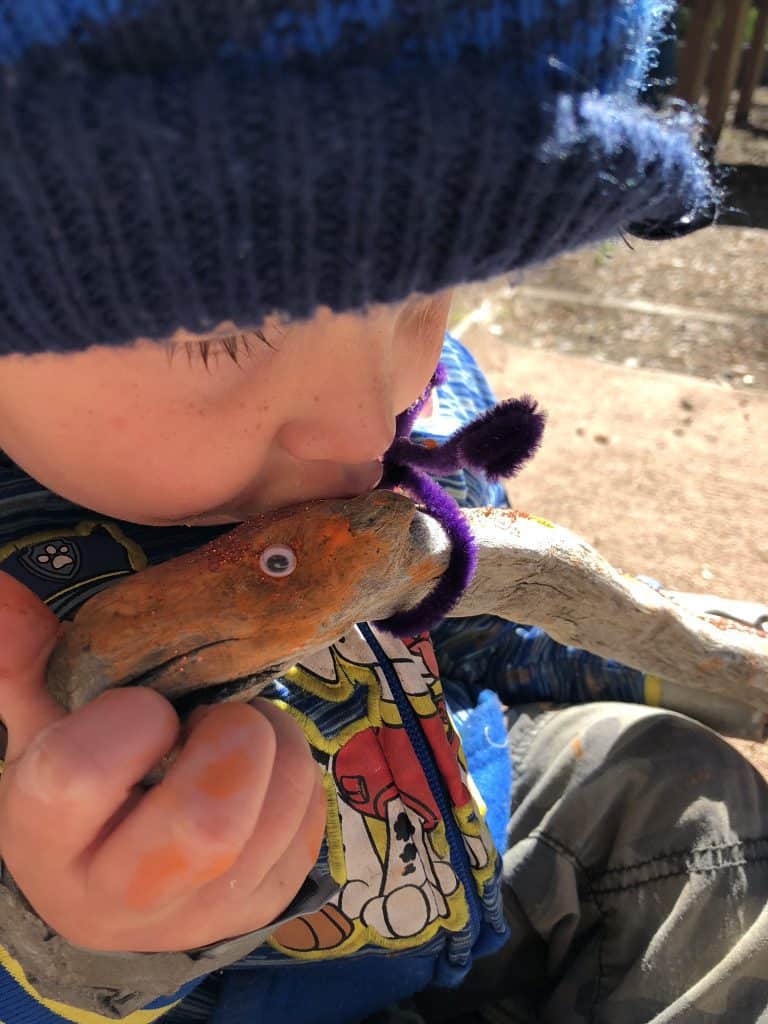 How can crafting in nature help my toddler?
Besides just being fun and breaking up the day, there's actually quite a few reasons to get your craft on with your kiddo!
You might be surprised at how much a little mud and leaves can help your little one's development!
1. Crafting with nature inspires kids to problem solve
Nature is beautiful in the sense that no two leaves are the same – every item is a little different, and so may work better or worse for the project in mind.
For example, if we are building a house out of play-doh and sticks, my guy might get a stick that is too big and won't be held in place by the play-doh. He then has to figure out why it didn't work and find a smaller stick.
Though it might be hard to not intervene, it's super important to let kids, especially when they are younger, figure out the problem themselves!
2. Nature crafts outside let kids get messy
While there are so many no's in the house, getting to craft outside has endless opportunity for messes that are completely OK! There's no worry of glue getting on things, glitter spilling, or paint on things that won't come off!
Mud, leaves, water, pinecones – this is all great for sensory play! You have probably already heard of the importance of this for young kids (you can read more here ) and getting messy outdoors is fun for everyone involved!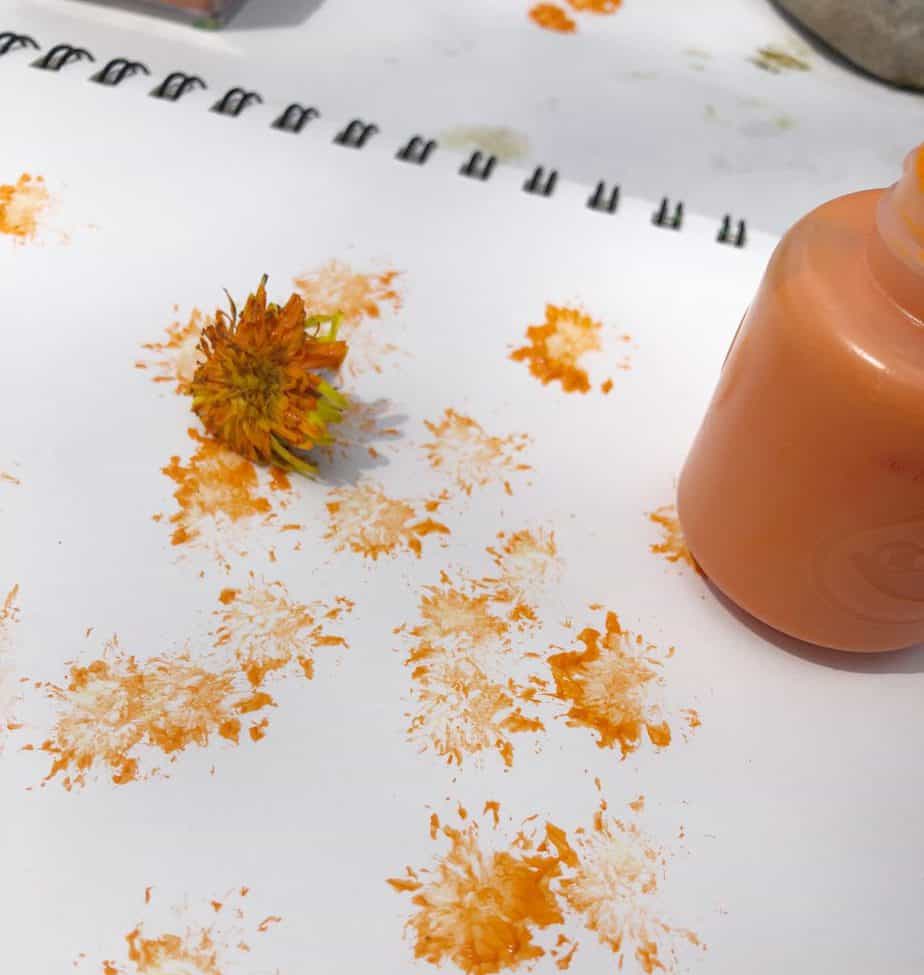 3. There are endless opportunities for open-ended play and creation when using items from nature
Letting kids practice their creativity, without any direction, is such an important skill! As many studies have shown providing kids with the environment and materials to engage in open-ended play is vital to their creativity and independence!
What is open-ended play you might ask?
It's a toy or item that doesn't have a certain, specific way to play with it. This might include blocks, animal or people figurines, a play kitchen, or natural items such as pinecones and rocks.
Items that are NOT open-ended include most electronic toys – children can only press the same exact buttons, and receive the same response every time.
Giving your child the opportunity to use what they find outside to create something will surely engage their imagination!
4. All the sights and smells of crafting in nature are good for the brain!
The wet mud, pokey pinecones, dry sand, fuzzy leaf are all important for brain development in young children! As Michigan state University says in their study on sensory play here "Science and technology skills, which are cognitive skills too, include observing, experimenting, drawing conclusions, predicting and learning about the natural and physical world.".
So in the process of finding the materials for their crafts, toddlers will be able to get that slimy rock from the water, a delicate and smooth flower petal, and so much more – and it is all good for their mental development!
5. Creating something together promotes teamwork and fosters social skills!
While some crafts toddlers can do on their own, there will be quite a few that they may need some assistance or guidance with. This is a great time to teach them how to work together to create something!
For example, if we are building a leaf boat, I can ask my toddler to find sticks that will help the boat float, while I find some leaves for the sails. By building the boat together, he can see that we are able to build it faster!
It's also a great way to work on communication skills. My toddler might bring me a stick that is way too big for our little boat, so I can tell him, in a constructive way, why that stick won't work and ask him to find another.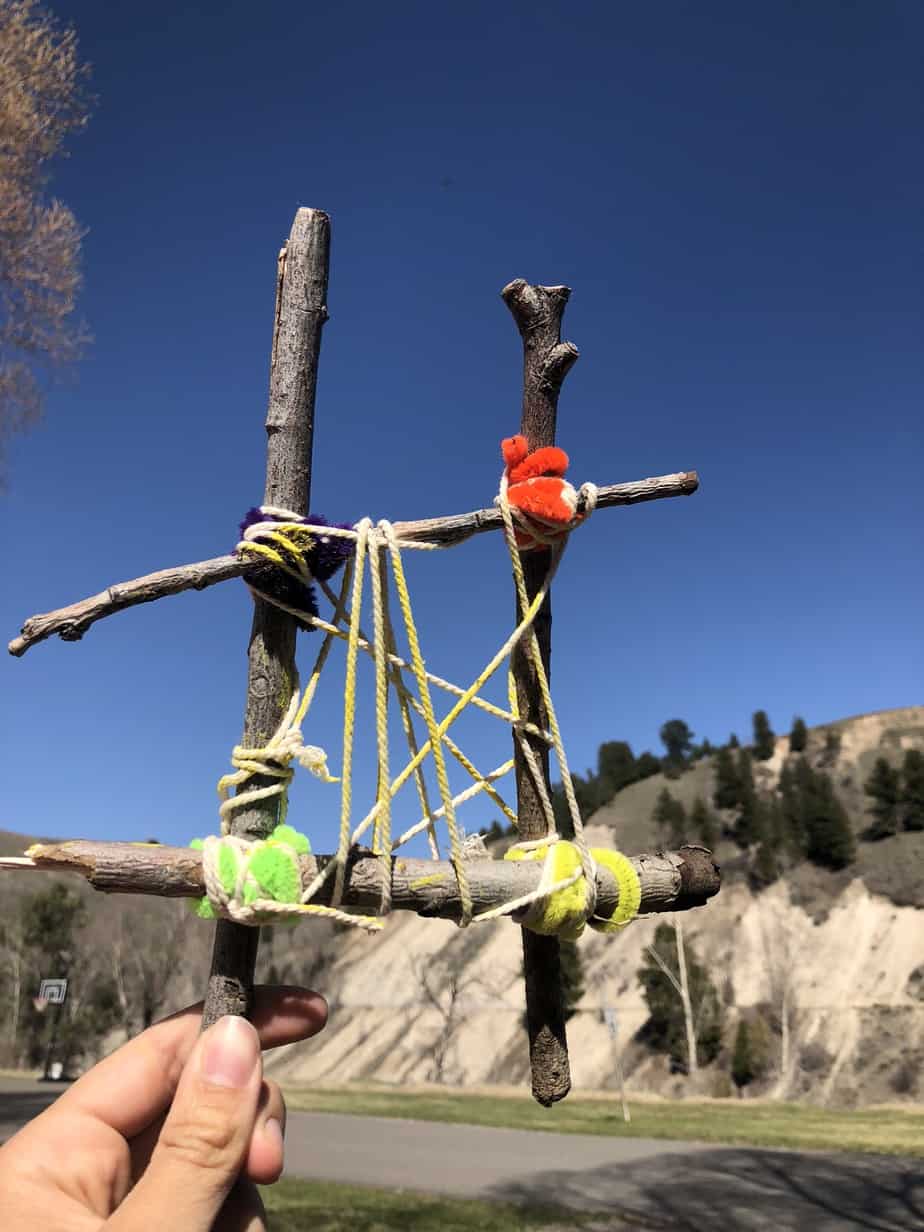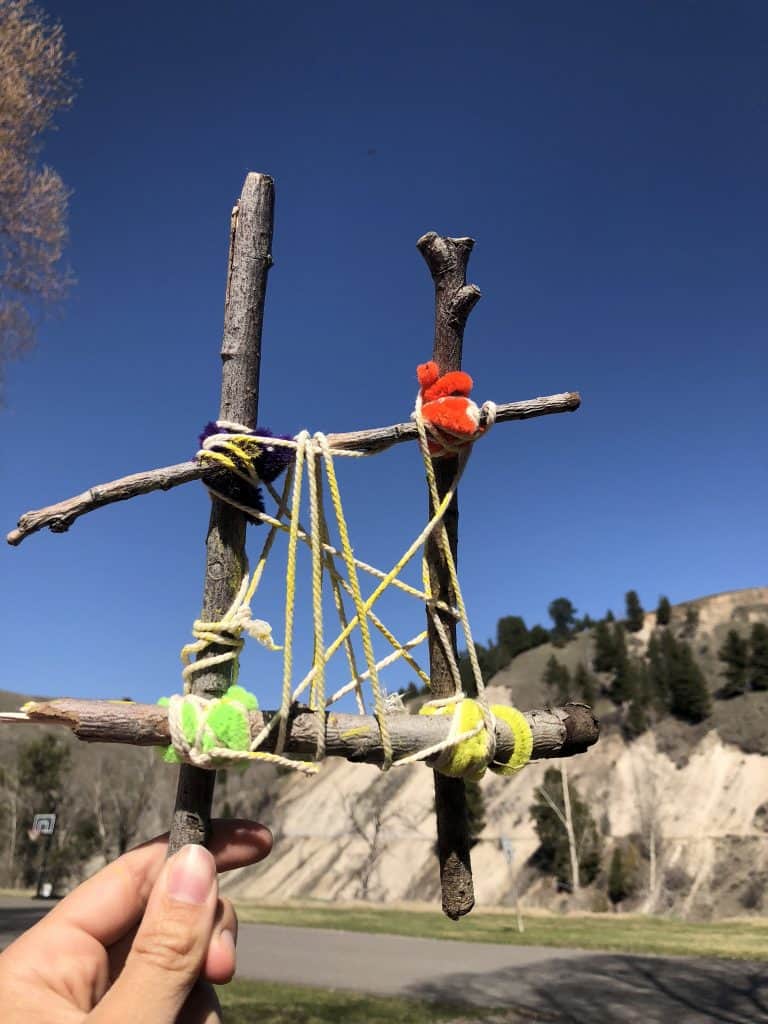 What's in my "Camp Craft Pack"?
With all the above benefits in mind, now let's cover some ideas of what materials to bring for your camp crafting adventures!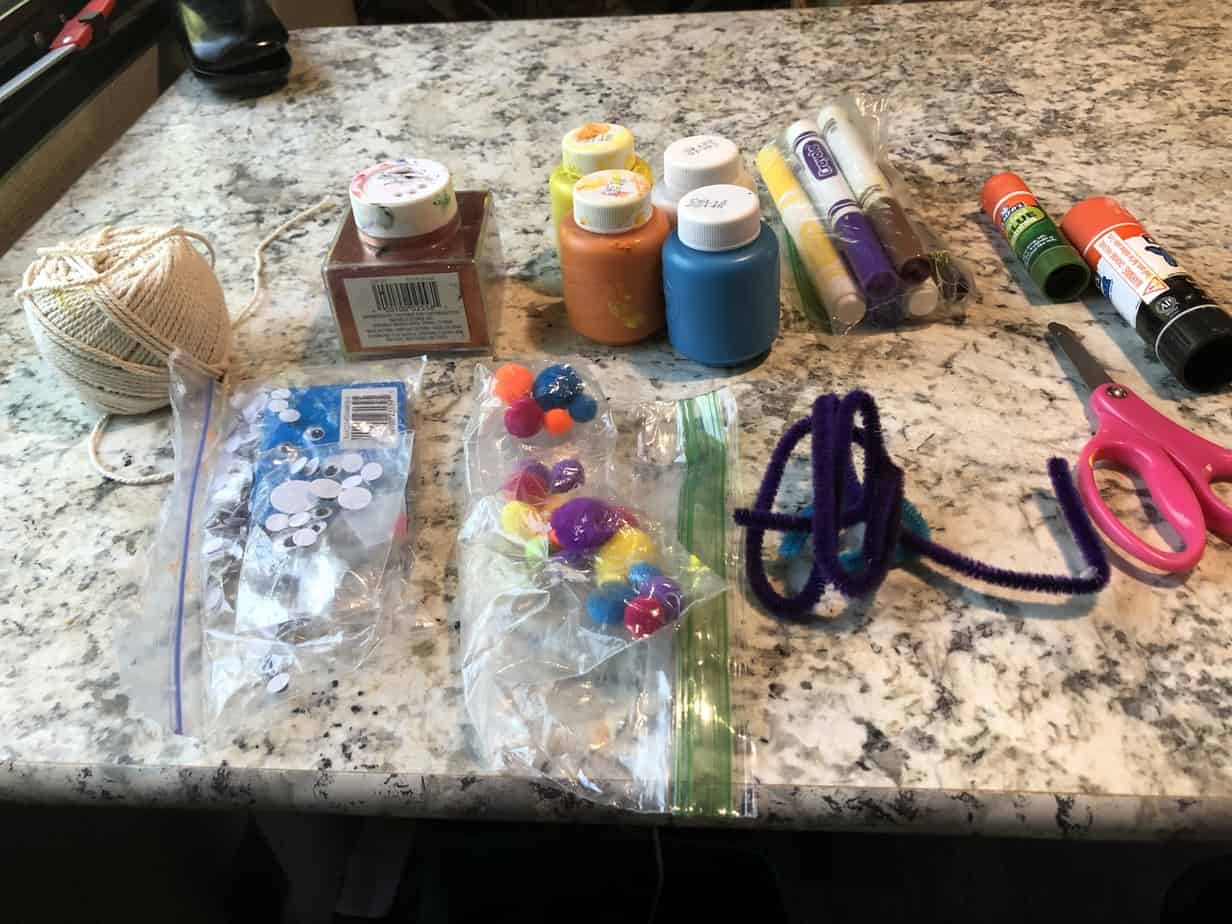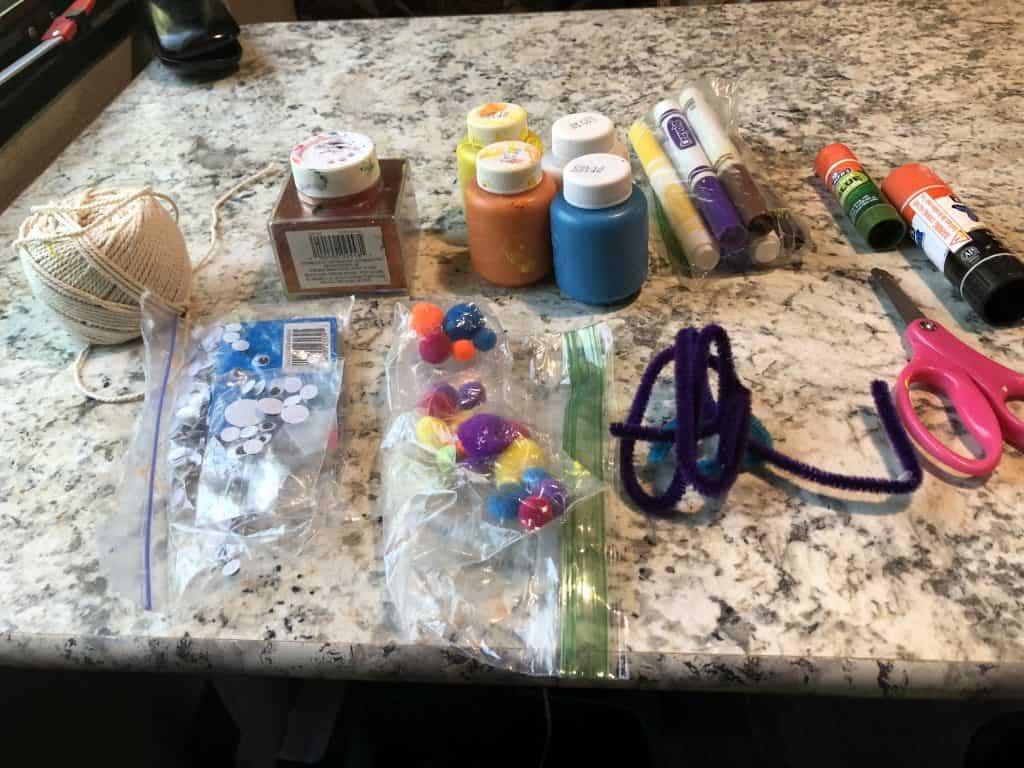 This is a list of what I bring – you can obviously modify as you like. For example, some people HATE glitter and may not want to include that! You can do just about anything with these items, and it's kind of fun to brainstorm what to do, and how to decorate items you find outside!
paint
markers
glue sticks and glue
scissors
paper
tape
glitter
pom poms
googley eyes
piple cleaners
play doh
You might be saying "That's a lot of craft items to bring camping!"
Hear me out though!
It all actually fits inside a small bag! I use a twin sheet bag – you know, those handy zipped bags that you save because they seem too useful to throw away! But if you don't have one, you could use a gallon zip loc, or some other secure container.
Most of the items are pretty small, and some are not even necessary.
Just be sure to still bring all the "binding" materials, such as the tape, glue, and string.
What are some crafts I could do around camp with these materials?
Make a "garland" – Find stuff around your campsite, and tie each item your toddler finds to a string!
Decorate some rocks or pinecones – Try to make people or animals out of them!
Create swords, animals, or teepees out of pieces of wood! – A little paint and some googly eyes can go a long way!
Use playdoh as building material to hold sticks and leaves together – Create houses, animals, people, or unidentifiable other creatures! Here's a quick guide on the benefits of sensory play using

play-doh

and nature

, and some ideas to get you started!
Personalize a Hiking Stick – Ask your toddler to find a stick he likes, and decorate it to make it his own special "Hiking Stick"
Squish some flowers and leaves and see what color they make – Experiment using different squishing devices (rocks, stick, feet or hands!) and squash plant pieces onto a paper! Dandelions are a favorite for my toddler because of how plentiful they are, and their bright color! Here's a list of other dandelion crafts (squishing them included!) you might love as much as he does!
Trace nature items with markers – Some end up being pretty fun shapes when taken out of the context of being just a leaf or rock! Try and brainstorm with your toddler what else the outline could be!
Create a nature bracelet –  Put a piece of tape around your child's wrist and asking them to stick leaves and flowers they like to it! I love this craft because it's something most toddlers can do on their own, which is super important when chores need to get done, or I just need some time to relax! Here are some other nature crafts I love that are so easy you can even do them in your own front yard!
Use items found in nature to paint with! – Using a little tape, attach different kinds of leaves and flowers to the end of a stick to create a nature paintbrush! Experiment with different patterns and ways each kind of item holds the paint, and the designs they make!
Create a "My Campsite" Sign with your child! – With just a piece of paper and some glue, create a sign with your child that tells everyone this campsite is theirs! This is a great way to keep kids busy while you set up camp!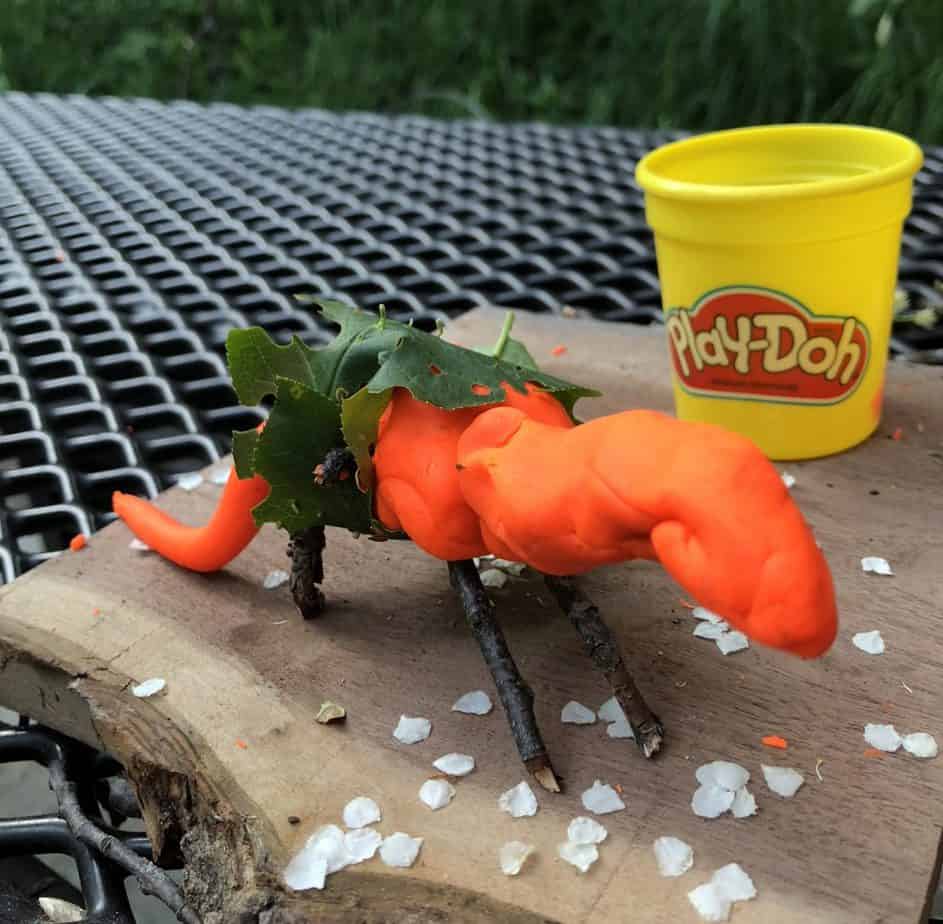 Now that you know the benefits of crafting in nature, what to bring in your camping craft pack, and some ideas of what to make – are you ready to craft with your toddler or preschooler?
It might seem kind of intimidating at first, but it's so fun!
I love getting to a campsite and looking around to brainstorm some fun new outdoor craft ideas to do with my toddler. The craft process is actually almost as fun for me as it is for my little guy!
Are there any favorite crafts you like to do when camping? Let me know! I'd love to add them to this list!