If you've been camping with your kids, or are planning your first kid camping trip, you're probably excited to get them their very own camping chair!
While the cute one at Walmart will do, if you are an outdoor enthusiast you likely want to get something a little higher quality (and comfortable).
And, depending on the situation – backpacking, RV camping, car camping, on vacation etc.. there may be a specific chair that will work way better for your situation.
For your convenience, I've organized them by what kind of camp chair they are!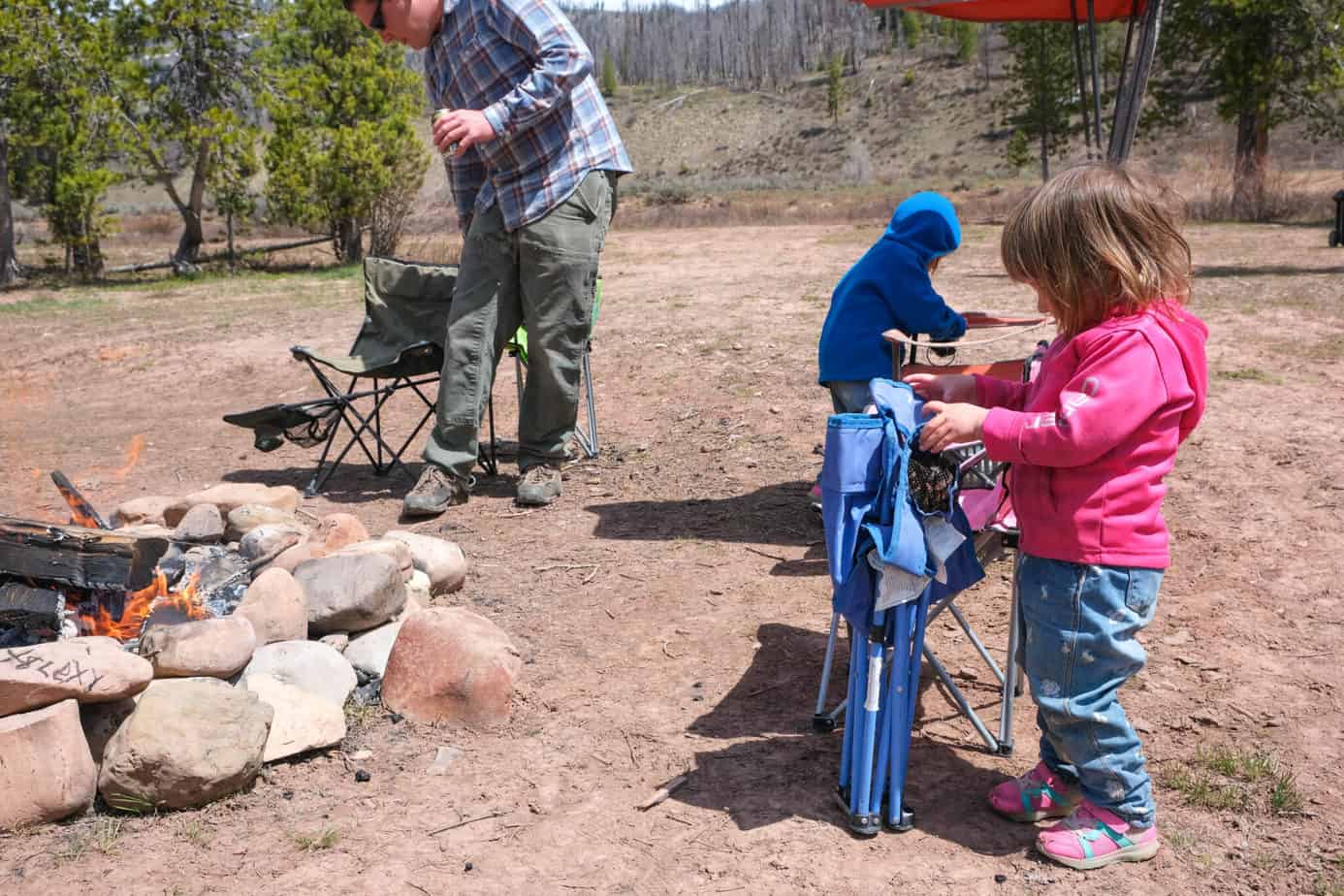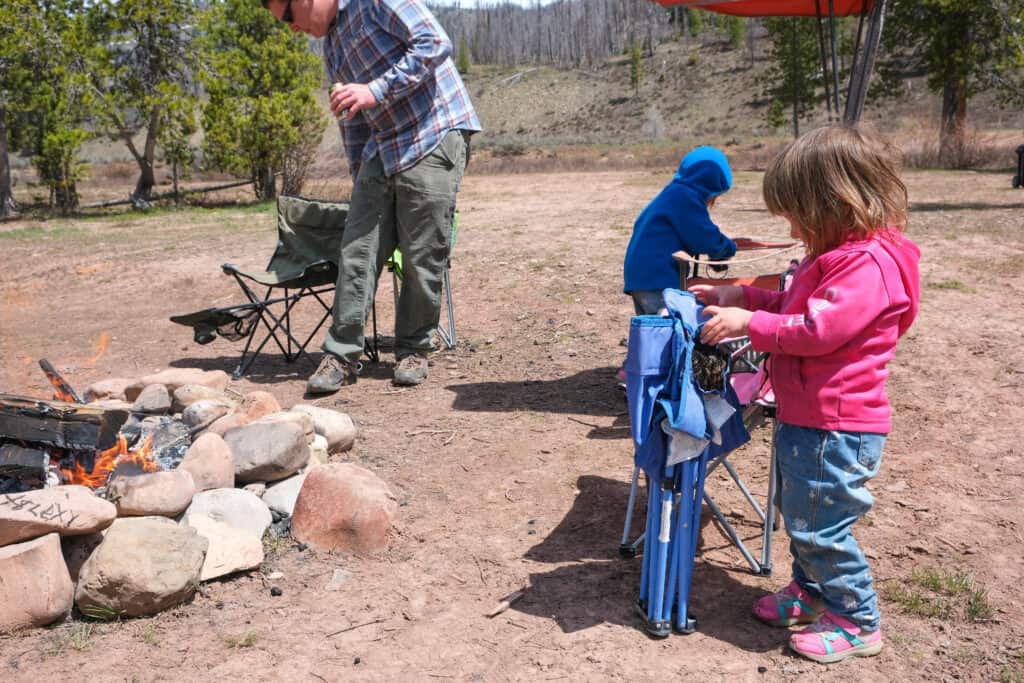 Quick Guide to Picking the Perfect Kids Camp Chair
Here are some things to think about before buying – these are more important for younger kids who have more stabilization needs, but it's still not a bad idea to skim these!
Related – These 21 camping activity ideas for kids will make sure the whole camp trip is perfect!
Seat height – You need to ensure that the chair you buy that LOOKS LIKE it will be close enough to the ground for your kiddo to sit in safetly and easily actually is! Simply have your kiddo pretend to sit (knees at 90 degrees) and measure the distance from the ground!
Think of how you'll use it – The kids camping chair you'd pack for a tent camping trip is NOT the same you would pack for a deluxe RV trip! Be sure whatever extras you get (shade, footrest etc) are worth it for the space (and will logically work for how you intend for it to be used!)
Some styles of adult camp chairs work well for kids too – Any of the low to the ground style will work great – and to be honest, they seem to be more stable and harder to tip (and even if they do tip, they don't fall far!) If you have any of this style camp chair, you wouldn't be the first to skip the kid chair phase and just use what you already have.
Opt for a portable kids size picnic bench – I'll talk about this more later, but this is what we use 90% of the time. They can eat there, do crafts, and it NEVER tips! Ours was from Sams Club for only $39 at the time, but there are some other brands that offer something like this.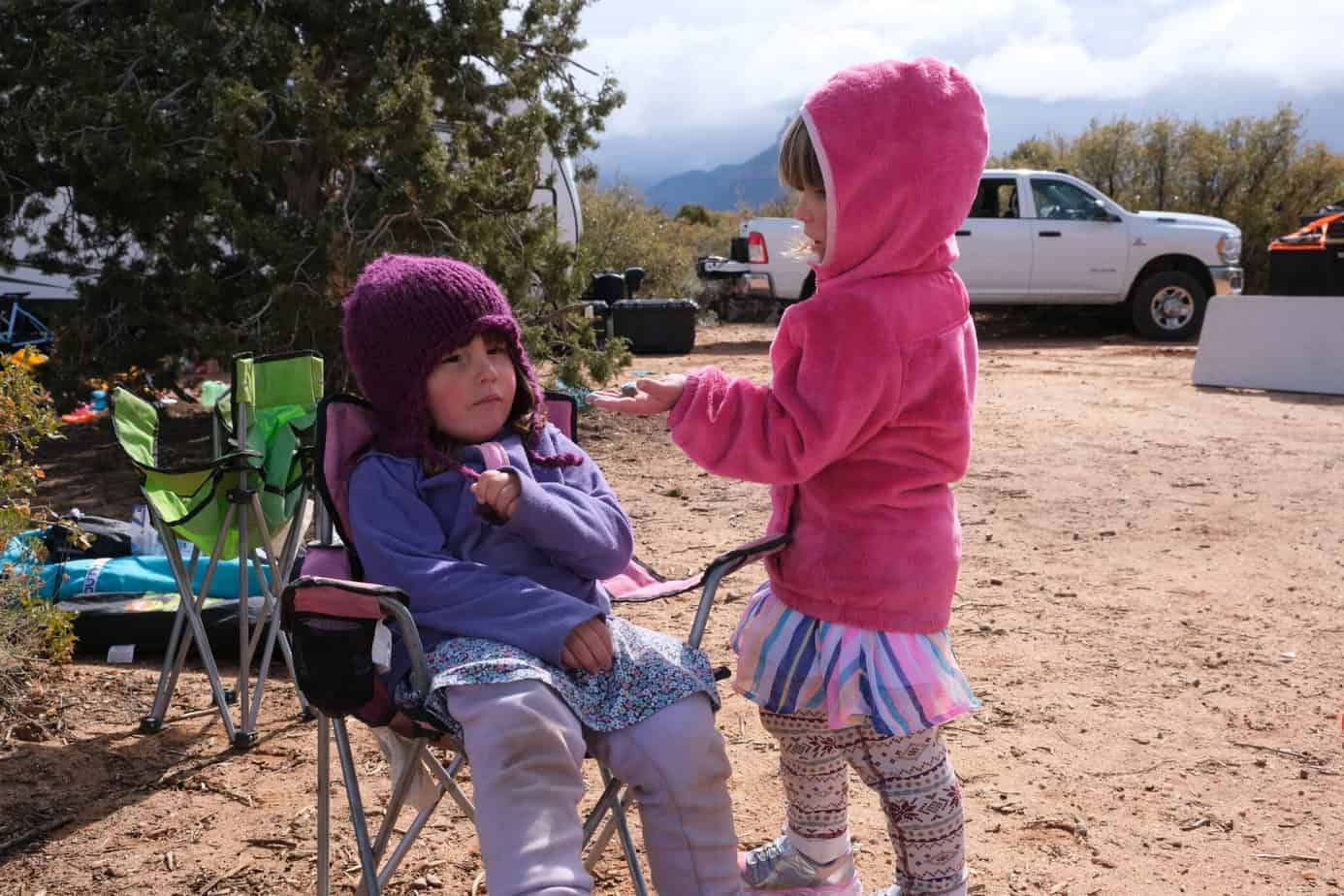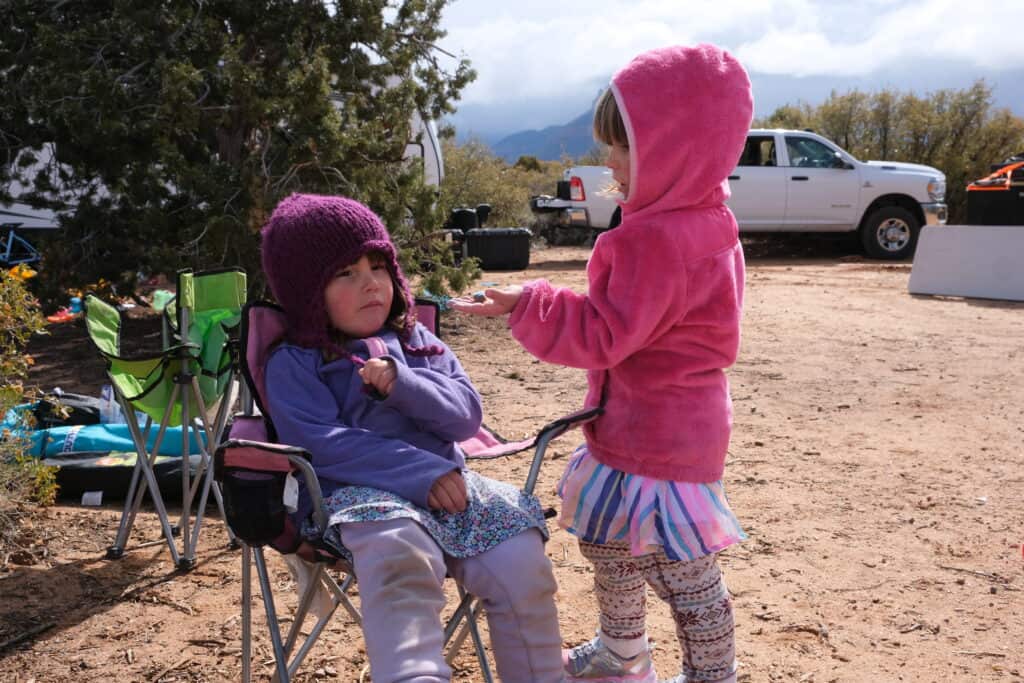 Basic Folding Kids Camping Chair For Each Sit Height
Kids don't need much to be happy camping, and sometimes it's nice to get the basics so it doesn't get ruined with all the crazy camp horse play! Here are some of the best basic folding kids camp chairs for each sit height – I purposely did not include age range as it's not an accurate way to find an appropriate sized chair.
Pay attention to the weight capacity and seat height (I have bolded them so it's easier to see!) for each camp chair to ensure a good fit!
Coleman Kids Quad Chair (10.2″ Seat Height)
Coleman is another trusted outdoor brand that's stood the test of time, and I like that it's a little beefier than the Camping World one AND lower to the ground as well (sit height is 10.2″ vs. Camping Worlds 15.25″!)
Reviewers say this chair is good for ages 4-8, but as we all know, height varies a ton for each age (I did include a reference picture below so that you can see the size in comparison to an adult chair)
Weight Capacity – 160 lbs
Seat Height – 10.2″
Weight – 3.4 lbs
Includes a drink holder + carrying bag
Locking steel frame ( a MUST for kids)
See the current price on Amazon here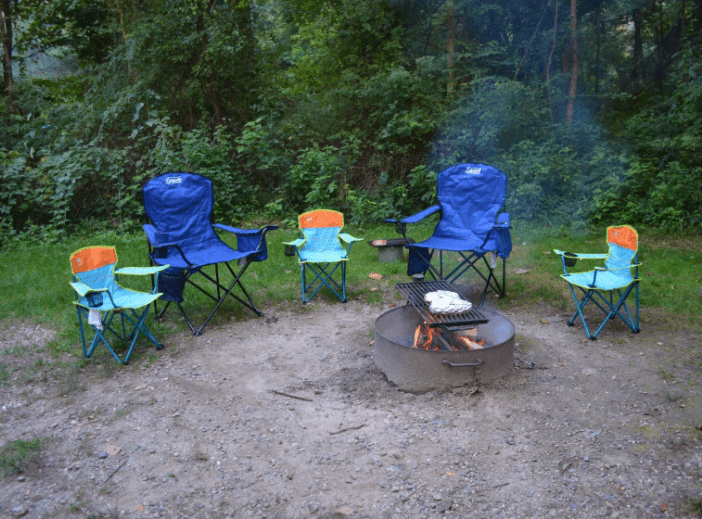 Kids Base Camp Chair from LL Bean (12″ Seat Height)
With reinforced corners, a mid range seat height (12″) and a mesh backing, this chair from LL Bean is a great option! I especially love the mesh backing for summer time – my kids are able to cool off even faster with the increased airflow!
Weight Capacity – 150 lbs
Seat Height – 12″
Weight – 4 lb 3 0z
Mesh back for better airflow
Carrying bag and drink spot, as always
See the current price on LL Beans website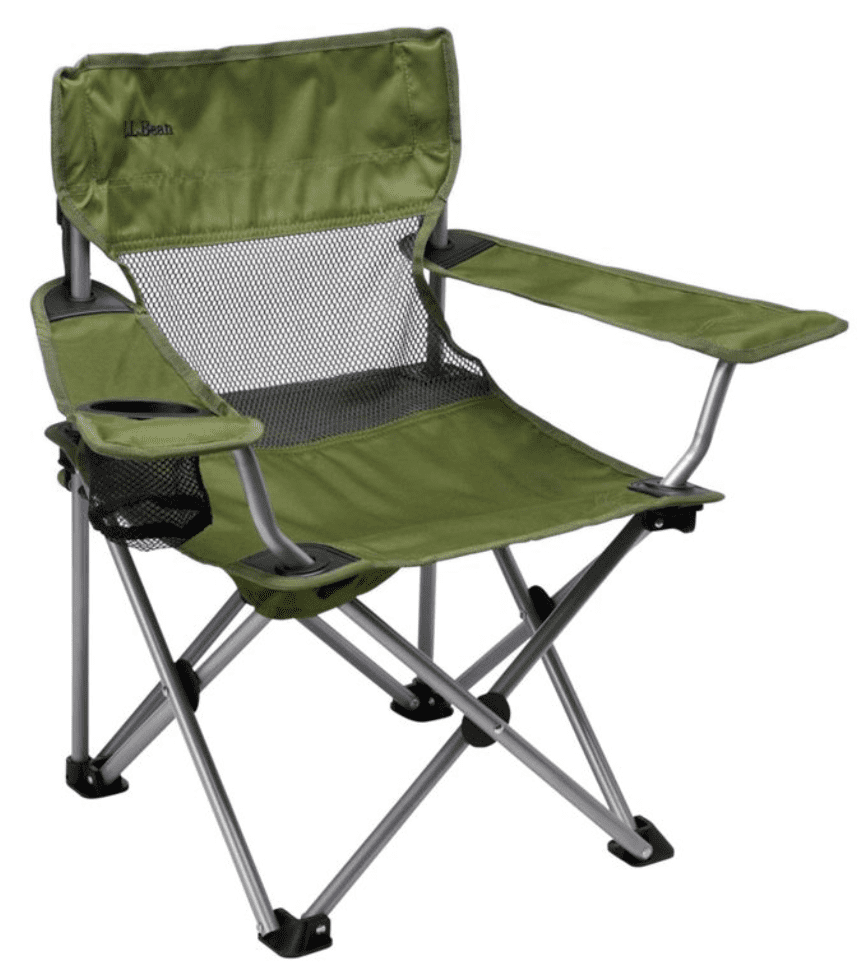 Camping World's Kids Camp Chairs (15.25″ Seat Height)
Camping World is one of the few camping specific brands that make kids chairs! For me, trust in the brand is important, and just about all of Amazon has junky stuff from brands that haven't existed that long.
These are cheaper than the Coleman chairs, but they also have a lower weight capacity, so take that into consideration.
Weight Capacity – 125 lbs
Seat Height – 15.25″
Weight – 3.3 lbs
Has a drink spot and carrying bag
Includes a locking mechanism (listen for the click!)
See it here at Camping World (don't forget to check out both designs!)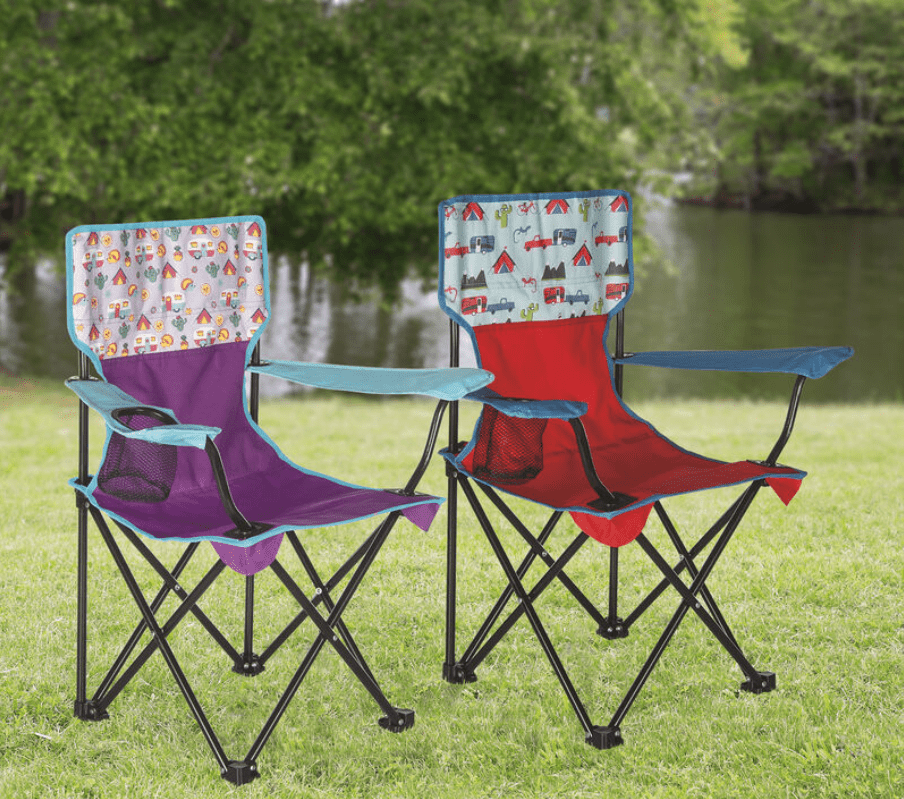 Melissa and Doug Butterfly Kids Camp Chair

(no seat height listed)
With Melissa and Doug being primarily a kids brand, not an outdoor brand, they bring some fun and kid specific functionality to their camp chair designs (we have the octopus one, but they also used to have some cute bug ones!)
They also, not being primarily and outdoor brand, lack a little in durability (seems to be an issue with loose screws/fraying) but unless you plan to camp multiple times a month, that likely won't be an issue for ya!
Weight Capacity – 125 lbs
Seat Height – NOT LISTED =( Runs on the short side though
Weight – 2.76 lbs
Easy to clean material – Melted s'mores, juice and overall grime are guaranteed to happen! While I don't care THAT much about keeping it pristine, it is nice to know it will be looking cute for awhile!
Grooved feet for traction – This is WAY more helpful than you might think for little kids who can be clumsy at times =P
Bag and drink holder
---
Kids Camping Chairs with Features + Non Traditional Styles
If you and your crew love relaxing at camp, or they just insist on getting a kid sized version of whatever you have, these kids camping chairs all have extra features such as a shade, tray or are multifunctional.
Kids Swinging Camp Chair
My three are OBSESSED with my version of this, so I was super excited to find someone makes a kid size version! The weight limit isn't as high as others, but that's probably just partly due to the different design and how it holds weight differently.
This is perfect for the kids who need to be moving – the ability to swing and move around in this chair makes it way funner for my kids to sit in… and so they end up hanging out with us around the fire longer!
Weight Capacity – 125 lbs
Seat Height – Not listed, but should factor in differently with this style of chair. It's 28″ tall, to help ya visualize!
Weight – 5.39 lbs
Has safety lock – Always needed to keep the chair open securely!
Bag, NO Drink Holder – We really like the little drink holder spots in our kids chairs – they hold their designated camp cup, snacks, and even little toys! It's something to consider before buying.
See current price here (don't forget to check out both designs!)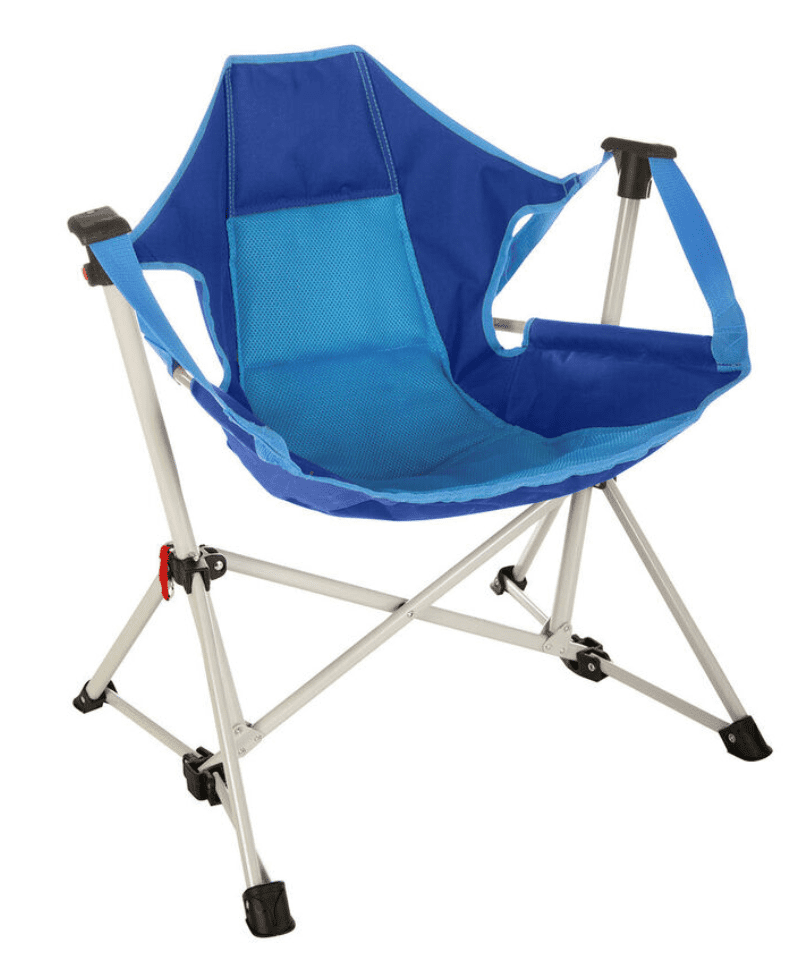 Kids "Director" Style Camp Chair with Tray
Concerned about where all the snacks, toys and drinks will go at the campsite? Well, getting a camp chair with a tray can definitely help!
The Director style camp chair is really one of the most functional – very stable, spacious and of course… that handy tray! Kids will have a way easier time eating with a place to set their plate down when needed, and it's great having an assigned spot to put their drinks and things when not in use.
Keep in mind, that while easier to have a place to set things, that also means it's easie to get knocked down! So I wouldn't recommend this style if your kiddo is in the age of (or has a sibling that is) "swiping everything off horizontal surfaces is fun" stage. =P
P.S. keep scrolling to the baby section if you were looking for a kids camp chair with a tray IN FRONT (which is a design specifically for babies and young toddlers)
Weight Capacity – 125 lbs
Seat Height – 12.6″
Weight – 5.59 lbs
Tray Dimensions – 11″ x 7.5″
NO Bag, NO Drink Holder – Don't worry – while both of these seem alarming, it's not a big deal. Director Chair styles usually just fold flat and have a built in handle of sorts, so they don't need a bag. The drink holder part isn't AS big of a deal because you get a whole tray instead.
See current price here (don't forget to check out both designs!)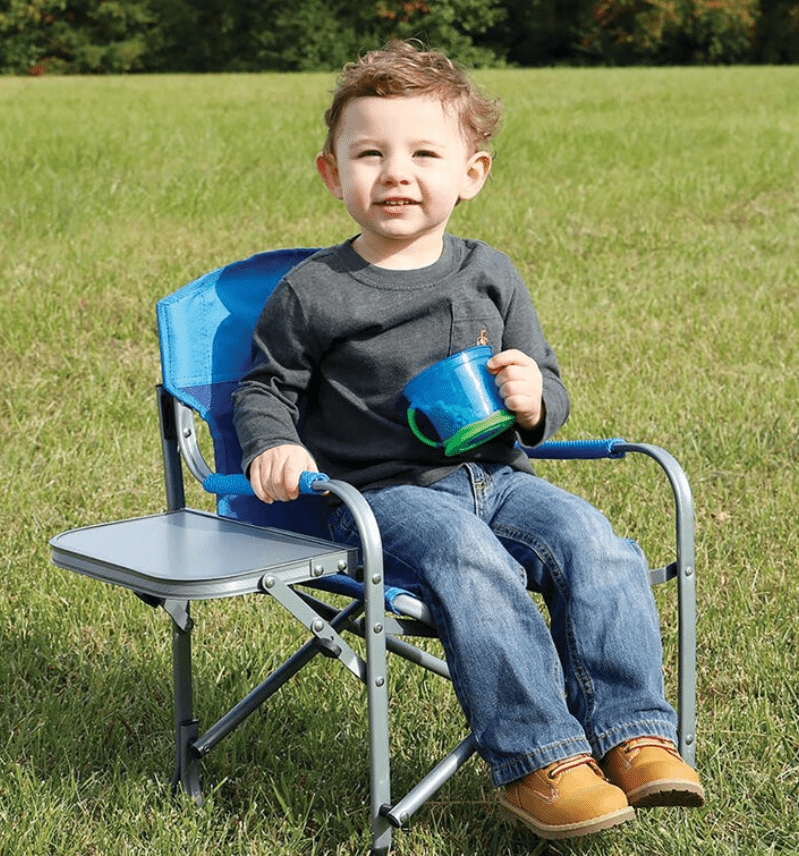 Picnic Table Style – Fits multiple kids and stores easily!
At this point in our camping journey (my kids are now 4, 4, and 6) I've found more of their time is spent playing, crafting or exploring. Not just sitting in a chair.
For that reason, we've kept camp chairs for campfire time and have started using this awesome foldable kids picnic table for our meals and crafts.
Now, if you only have one kiddo and/or don't camp with other families who have kids, this multiple kid table might not make sense. But if you do, give it a chance! We have saved a ton of hassle dealing with camp chairs tipping from siblings, fights about where to put each individual camp chair etc by just making this thing our main spot!
We found ours at Sam's Club or Walmart on sale (so keep an eye out!), but here it is on Amazon!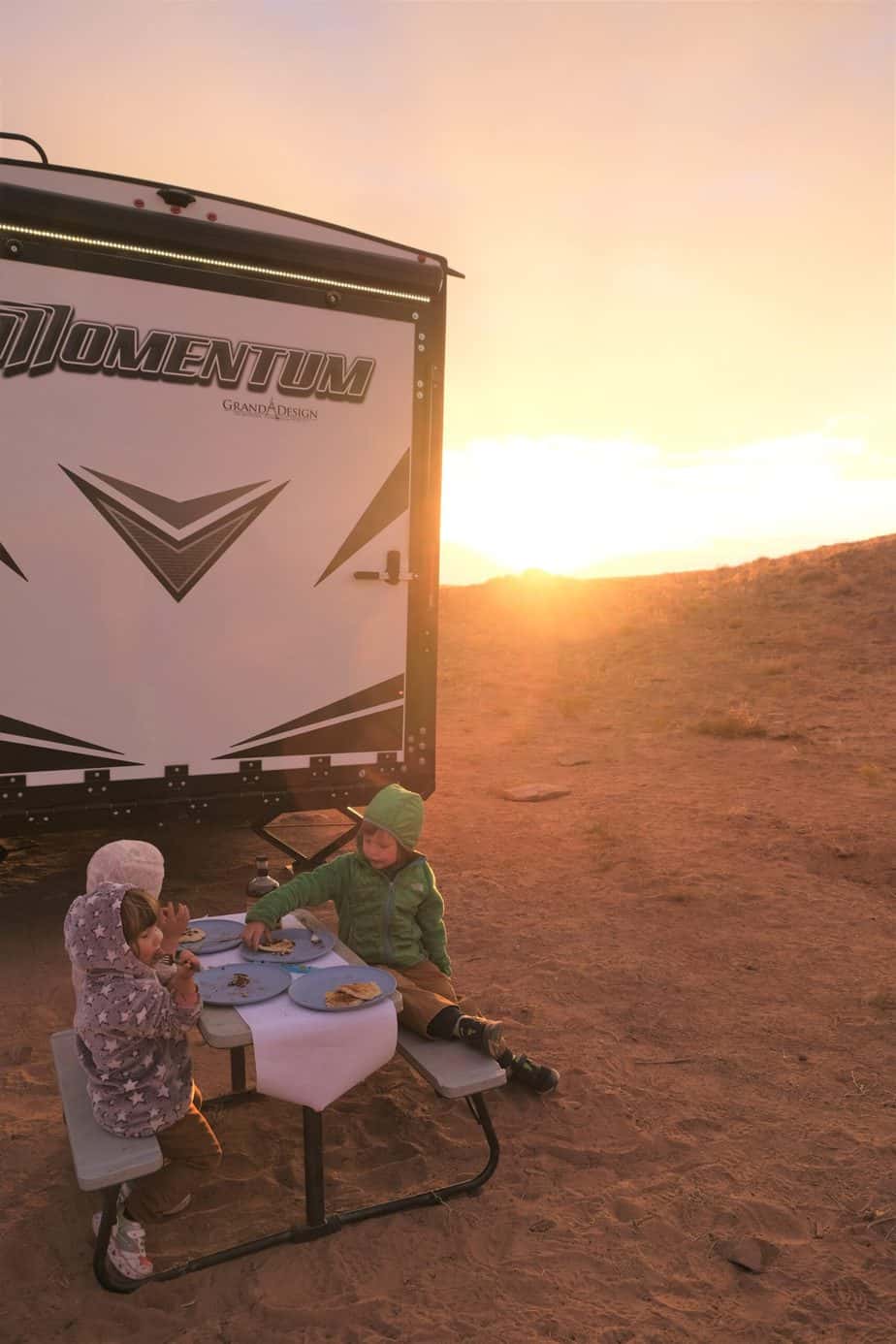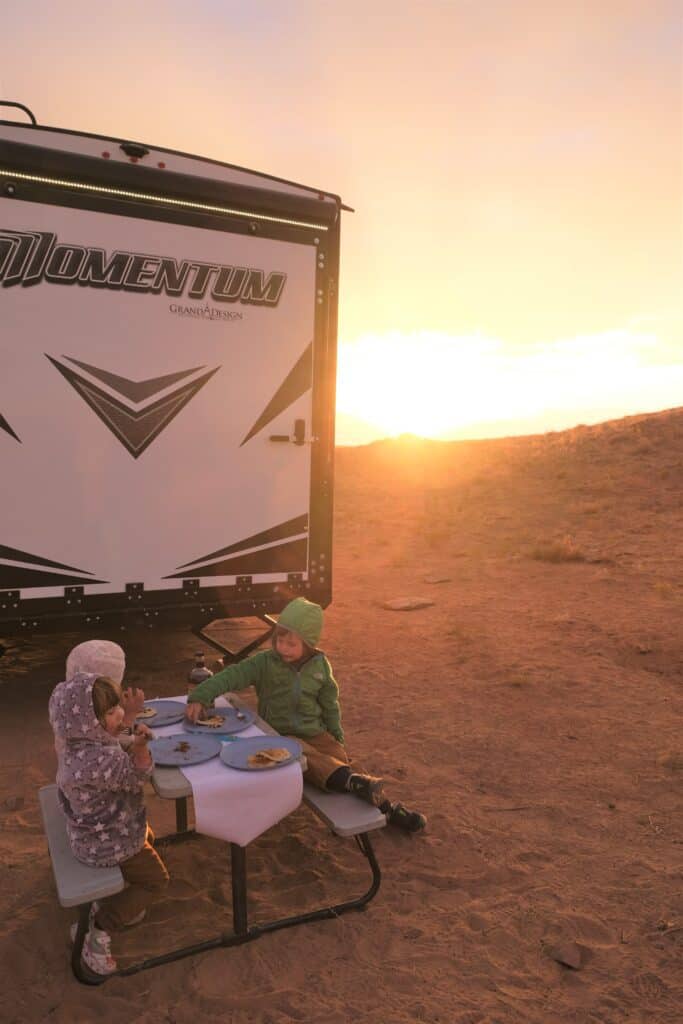 ---
Best Portable Highchairs for Camping

with a Baby
If you're eager to get out camping with your baby, then you might not wait till 2 years old when they're able to really use a "kid" camping chair. This is when portable highchairs, or baby camping chairs, come in handy!
They have traditional camping chair features (portable, easy to clean, lighweight etc) but they usually also have
Seatbelt or harness system to secure them inside the chair
Easy clean and move front tray for play and eating snacks (I don't know HOW MANY cheerios were eaten on ours!)
Almost fully enclosed so they are fully supported
MUCH wider base – this helps the stability tons! Even when ours rocked, the highchairs stayed in place!
Doubles as travel highchair – Offtopic, but we also used ours in restaraunts and at friends' houses who didn't have baby proofed places as it kept them out of trouble and instead eating snacks happily while the adults chatted and hung out!
Related : Make sure to check out these 53 handy tips to make your baby or toddler camping trip a whole lot easier!
"Go With Me" Portable Baby Camping High Chair!
This is a great investment you can make when it comes to camping or portable chairs! You can modify to fit every stage, from a baby that can't even sit yet, to a 6 year old child! It's also only 7 pounds, and has a canopy!
Ciao Baby Portable Camping Highchair
This highchair is made from a really durable tarp material, and the tray portion is thick plastic that is easy to wipe off after use!
It folds to the size of a camp chair and has a nice safety restraint system!
Summer Infant Portable Baby Camping Highchair
A favorite camping highchair for babies!
The tray is solid so that food won't all slide off, and it swings to the side to make taking your baby in and out really easy!
I also love the wide base of the legs becuase most campgrounds aren't level, so in my expereince this has made the highchair way more stable than other camping highchairs!
Summer Infant Pop N Jump Portable Activity Center
While this isn't necessarily a highchair OR a camp chair, it does accomplish all the same things, just in less space and with way more entertainment and energy usage potential. If you're in the bottle/puree/puffs stage (maybe around 6 months to 2 years) you'll find these portable jumpers a multi use space saver!
Here's some quick reasons to consider one of these over a highchair for your baby camper!
2 in 1 – It functions as a highchair and play yard! Anytime you need to get lengthy chores done, or they're just fussy but you got to get some things done, this is a great place to set your kiddo down where they'll have food and play
Safe play in the elements anywhere – If you look at he picture, you'll notice there's a tarp there. That means, I could bring this thing ANYWHERE and have a ready to smooth surface for them to use this on.
Has loops for toys to save on cleaning time – Cleaning stuff at camp is harder with limited water supply – if you're someone who's serious about dirt on toys, you'll be happy to know there's TONS of loops to clip on your own special toys. It does come with it's own though, so don't worry!
See the current price on Amazon here.
KidCo GoPod
I love the simplicity of this one and the fact that it has extra loops to add your baby's own special toys for us while camping!
---
And if you RV Camp, a portable booster seat for eating indoors!
If you have a small camper like we do, you know the value of space! While you could use the highchairs in the camper, most people only have a hallway to walk through, and don't want to take up that space.
With a compact booster seat, you can put it on the bench of the dining area of your camper!
This was really important to us, since mornings are all about getting food cooked and everyone dressed. With 3 under 3, that meant keeping the kids contained and out of the way while we got everything ready for the day!
Summer Infant Pop N Sit Portable Booster
I really like how small this folds up and that it comes with a nice carrying case! It could also be used outside on the campground since it seems fairly stable!
While not NEEDED, having kid specific camping gear can make the whole trip way easier!
I can't even begin to explain how much of a difference having the right gear makes to a kids outdoor and camping experience. While you don't NEED alot to actually camp, going the extra mile to make sure your child is comfortable and having a good time will help to ensure they want to do it again!
If you're taking a toddler camping, it's even more important to make him feel included and excited about the trip!
Here are some other kid camping articles you may be interested in
It's never too early to start camping with your kids – the younger they learn how to have fun outdoors, the sooner you'll be able to really enjoy it with them!
Don't forget to make your camp trip with your toddler AWESOME by preparing for fun with this camping planner!
Camping with your toddler can seem pretty intimidating at first – but after doing it with my 3 kids now, I've got it down pretty good and want to help you have an awesome time too!
Check out this free camping planner that includes
Camping Checklist for making sure you pack everything!
An activity planner to beat boredom at the campground
A 4 day meal planner + shopping list so everyone stays happy and full!
An easy guide to picking a campground to ensure the safest and funnest camping experience for your baby or older children!
4 camping and hiking songs they'll love!
3 crafts and activities to making camping with your baby even more fun!