These kids camping chairs are not only adorable but functional too!
If you've been camping with your kids, or are planning your first kid camping trip, you're probably aware of that camping staple everyone loves to relax in – a camping chair!
I've had a couple, and I have different ones I like for different situations. Shaded ones, ones with trays, bare bones ones, or super deluxe camp chairs I use for our campsite.
Naturally, my toddler wants to do what I do and have his own camp chair!
Related: 53 Tips for camping with a baby or toddler!
There's a lot to consider when it comes to picking a kids camp chair!
Do you want a tray for their food?
A shaded camp chair?
A basic camp chair so that it's smaller and saves space?
A super comfy camp chair in hopes it will make them sit longer (LOL!)
Or maybe you want to make sure your kid loves camping so you want a cute camp chair with their favorite character on it!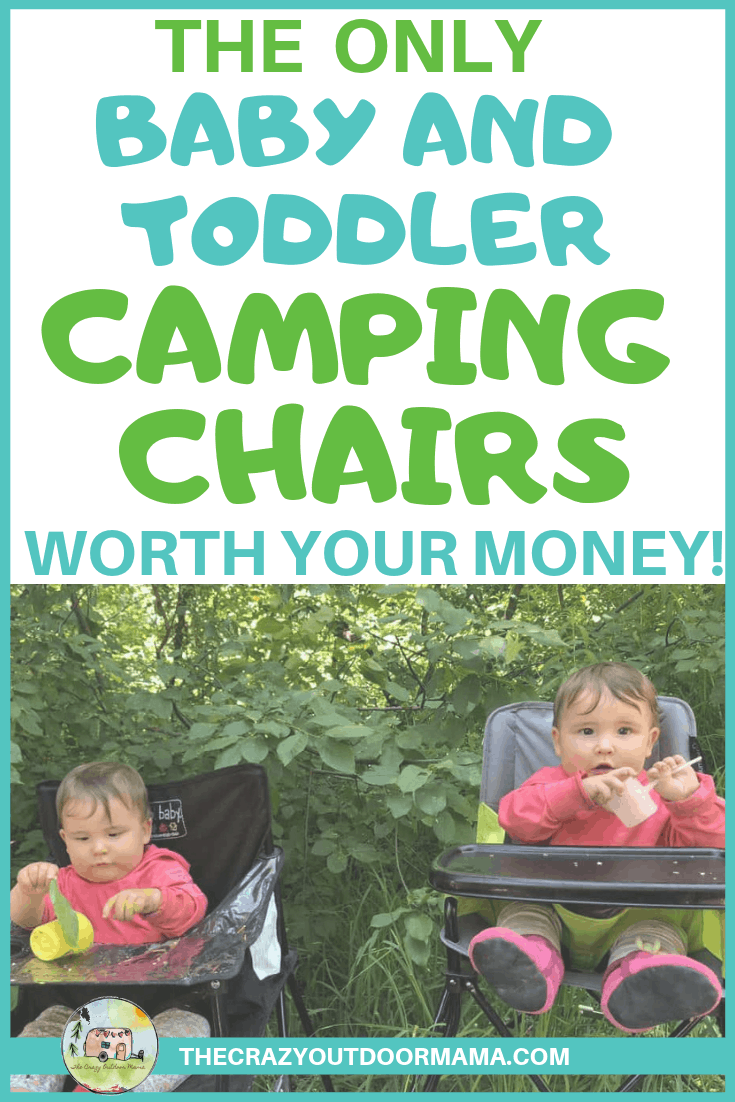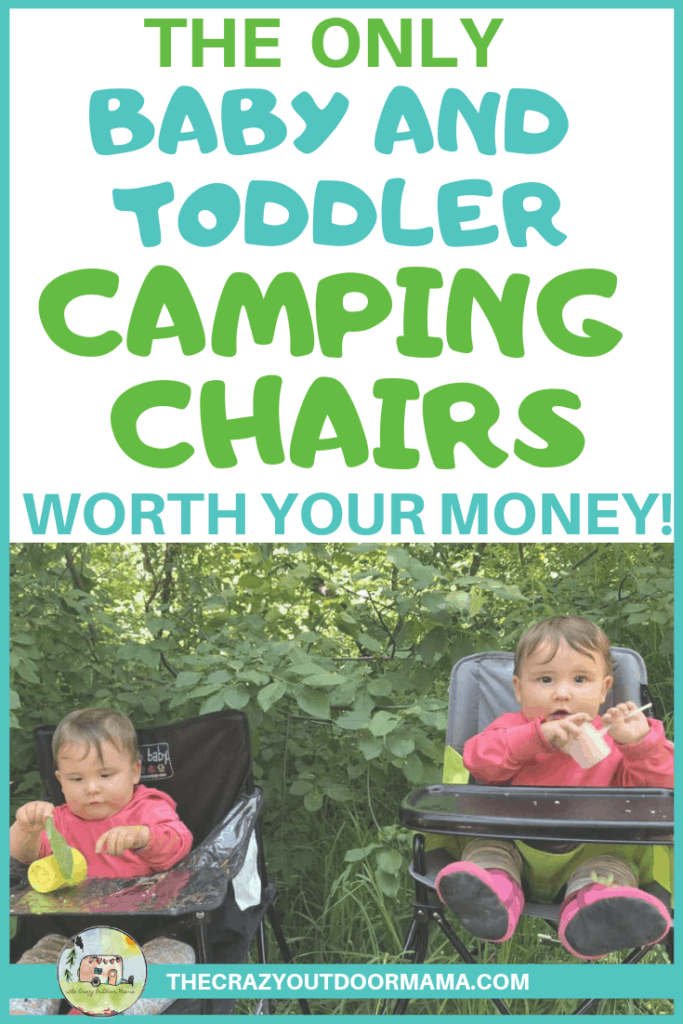 Regardless, I kind of obsess over cute camping thing, especially when it comes to kids.
Related: The Best Kids Camping Toys, Games and Activities of 2020!
For your convenience, I've organized them by what kind of camp chair they are!
Kids camping chairs that are functional but awesome!
There are a ton of kids camping chairs out there from the basic to the deluxe (kids have SHADED canopy chairs?!?!) so check out this list of the best kids camping chairs of 2020!
Basic Folding Kids Camping Chair
Kids don't need much to be happy camping, and sometimes it's nice to get the basics so it doesn't get ruined with all the crazy camp horse play! Here are some of the best basic folding kids camp chairs!
Ozark Trail Kid's Folding Camp Chair (S'mores Design!)
Made of steel and polyester, this cute kids camp chair
Can hold up to 125 pounds!
Coleman Kids Quad Chair
Glow in the dark design for fun camping at night
Locking steel frame and lower seat
Supports up to 160 pounds
See it on Amazon now!
Coleman Double Quad Low Camp Chair (Kids double camping chair!)
Low profile makes this perfect for plenty of kids to use since it's much harder to tip
Can fit 2 large adults or around 3 to 4 kids (depending on age of course!)
225 pounds per seat weight limit
Don't forget to make your camp trip with your toddler AWESOME by preparing for fun with this camping planner!
Camping with your toddler can seem pretty intimidating at first – but after doing it with my 3 kids now, I've got it down pretty good and want to help you have an awesome time too!
Check out this free camping planner that includes
Camping Checklist for making sure you pack everything!
An activity planner to beat boredom at the campground
A 4 day meal planner + shopping list so everyone stays happy and full!
An easy guide to picking a campground to ensure the safest and funnest camping experience for your baby or older children!
4 camping and hiking songs they'll love!
3 crafts and activities to making camping with your baby even more fun!
I wanted to let you know that I am an Amazon and Etsy affiliate and will get a very small cut if you purchase anything through these links. But these items are all awesome so don't worry! More info about this is here
Cute Toddler Camping Chairs!
I'm a sucker for cute designs!
Yes, I'm the person who often chooses beer or wine based upon the coolness of the label!
Anyways, these make cute gifts – especially if you know a kid who will love the design on the chair!
P.S. Find out everything else you need (once you pick out your perfect chair of course!) to camp with a toddler, and actually really enjoy it!
Melissa and Doug Butterfly Kids Camp Chair
This is absolutely adorable, and my twins will likely get a pair of these for Christmas since next camping season they will be able to use them!
Melissa and Doug Octopus Camp Chair for Toddlers!
While this is marketed as a beach chair, it could also be used as a camping chair! I know my boy would love this cute chair!
Wilcor Kids Black Bear Camp Chair
Bears are sort of a part of camping – bear safety, bear stories etc (oh the ridiculous amount of bear stories when camping with my kiddo!) so this is a perfect first camping chair for your toddler!
Paw Patrol Foldable Toddler Chair
While my guy is Team Daniel Tiger, I know plenty of toddlers who go bonkers over Paw Patrol! Get them hyped about camping with their very own piece of it to take with them!
Basic Toddler Folding Camp Chairs
These chairs are great if you are limited on space, such as when you're tent camping or car camping! Or maybe if you're just worried your kid will wreck them and don't want to spend too much!
Related: Check out these awesome toddler camping and travel beds (that your toddler will actually sleep in!)
Coleman Kids Quad Chair
I mentioned this chair earlier, however I wanted to mention it again because it comes so highly recommended!
This chair is great because it has a locking mechanism that prevents the chair from closing if it gets tipped over or sat on wrong. The little firefly in the corner also glows in the dark!
Lucky Bums Folding Arm Chair
This comes in pink and blue, and the mesh is awesome for hot summer days! This chair is lightweight and perfect if you are doing a little hiking to your camp destination!
Shaded Canopy Camping Chairs for Kids (Toddler

and older!)
If you are short on space, these are a great idea!
We always bring a shade tent, so having a canopy camping chair isn't super important, but it might be nice if you're camping near the lake or beach!
Paw Patrol Shaded Canopy Camping Chair For Kids
This is a GIANT shade which will be great for hot summer days! I love that the canopy is the actual bag to transport it in so that it won't get lost (like 90% of mine are!)
Redmond Kids Umbrella Camp Chair
While not your typical toddler camping chair, it is pretty useful that the umbrella part can come off and be used wherever you need it!
Best Baby Portable Highchairs for Camping
If you're eager to get out camping with your baby, then check out highest rated ones include the "Go With Me Chair" "Ciao Baby" and "Summer Infant" and include the following
They are portable, lightweight, and often clean easy after a day of sticky hands and dirt!
We have two of these – this one though is by far the best!
"Go With Me" Portable Baby Camping High Chair!
This is a great investment you can make when it comes to camping or portable chairs! You can modify to fit every stage, from a baby that can't even sit yet, to a 6 year old child! It's also only 7 pounds, and has a canopy!
Ciao Baby Portable Camping Highchair
This highchair is made from a really durable tarp material, and the tray portion is thick plastic that is easy to wipe off after use!
It folds to the size of a camp chair and has a nice safety restraint system!
Summer Infant Portable Baby Camping Highchair
A favorite camping highchair for babies!
The tray is solid so that food won't all slide off, and it swings to the side to make taking your baby in and out really easy!
I also love the wide base of the legs becuase most campgrounds aren't level, so in my expereince this has made the highchair way more stable than other camping highchairs!
Portable Baby Jumpers for Camping
These can double as a highchair, and babies love them! You can also use them for around the house – I know I used mine just to keep the babies in sight while I did things like dishes and laundry!
Summer Infant Pop N Jump Portable Activity Center
This is what I have, and I ABSOLUTELY loved it! It has tons of fun toys, the babies love to jump in it, and it's really easy to wipe down. As a bonus, it also has a shade that is easy to set up! My babies are over a year and still enjoying this jumper when we camp!
KidCo GoPod
I love the simplicity of this one and the fact that it has extra loops to add your baby's own special toys for us while camping!
Travel Booster Seats for Camper and RV use
If you have a small camper like we do, you know the value of space! While you could use the highchairs in the camper, most people only have a hallway to walk through, and don't want to take up that space.
With a compact booster seat, you can put it on the bench of the dining area of your camper!
This was really important to us, since mornings are all about getting food cooked and everyone dressed.
With 3 under 3, that meant keeping the kids contained and out of the way while we got everything ready for the day!
Summer Infant Pop N Sit Portable Booster
I really like how small this folds up and that it comes with a nice carrying case! It could also be used outside on the campground since it seems fairly stable!
Summer Infant Deluxe Fold Flat Booster Seat
This is the one we have in our little pull behind camper!
The tray is dishwasher safe, and the restraint system works well to keep babies in!
This booster seat fits perfect in our RV dinette area, and fold flat for easy storage when we don't need it!
With the best camping gear for your baby and toddlers, your trip can be SO much easier!
I can't even begin to explain how much we've learned that having the best outdoor gear when camping with your babies or toddlers is worth the money!
Babies that are secured and able to eat on their own (without you having to hold them the whole time) in their own special camping highchair is such a timesaver!
If you're taking a toddler camping, it's so important to make him feel included and excited about the trip! That's why having his own camp chair is just the first step in the process of getting your kids to love camping!
Here are some other articles you may be interested in