As anyone knows, kids naturally loooovee to explore, and what better way to do that than through a fun camping scavenger hunt!
I love them because it allows children to focus on the little details around them, as well as have some fun sensory play too!
Sometimes I bring a premade one, but sometimes I sort of scout around, see what's there, and make one that's unique for wherever we are camping at!
For example, when we camped in Moab, Utah there was vastly different trees and rocks there than our mountainous hometown of Jackson, Wyoming!
To be honest, sometimes camping makes me a little too relaxed (who doesn't love to hang out in a camp chair around a campfire??), and I need a reason to get up and explore!
With a scavenger hunt, there is actually a goal and I love being able to walk around and help my little guy find anything we can!
Anyways, I just wanted to give you some scavenger hunt ideas for the outdoors that include idea pools, templates, and heck, even some blank templates so that you too can have a fun scavenger hunt and explore around your camp area!
P.S. if you're looking for camping scavenger hunts for older kids, check out my selfie + emoji photo camp scavenger hunts here!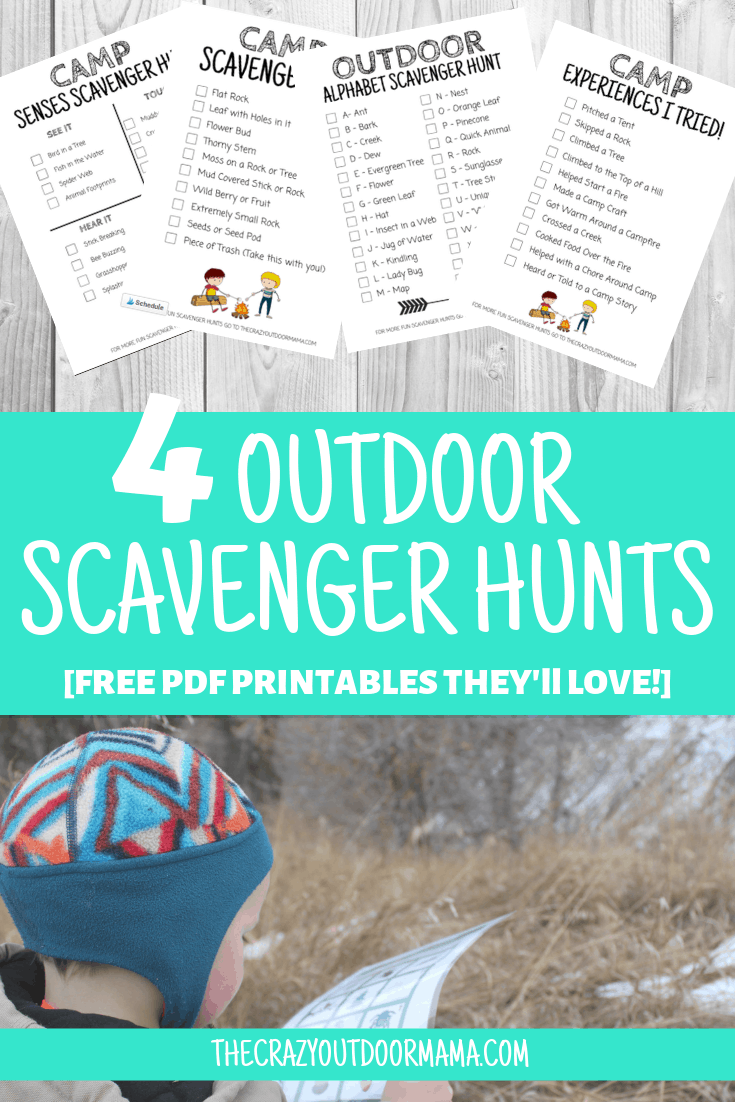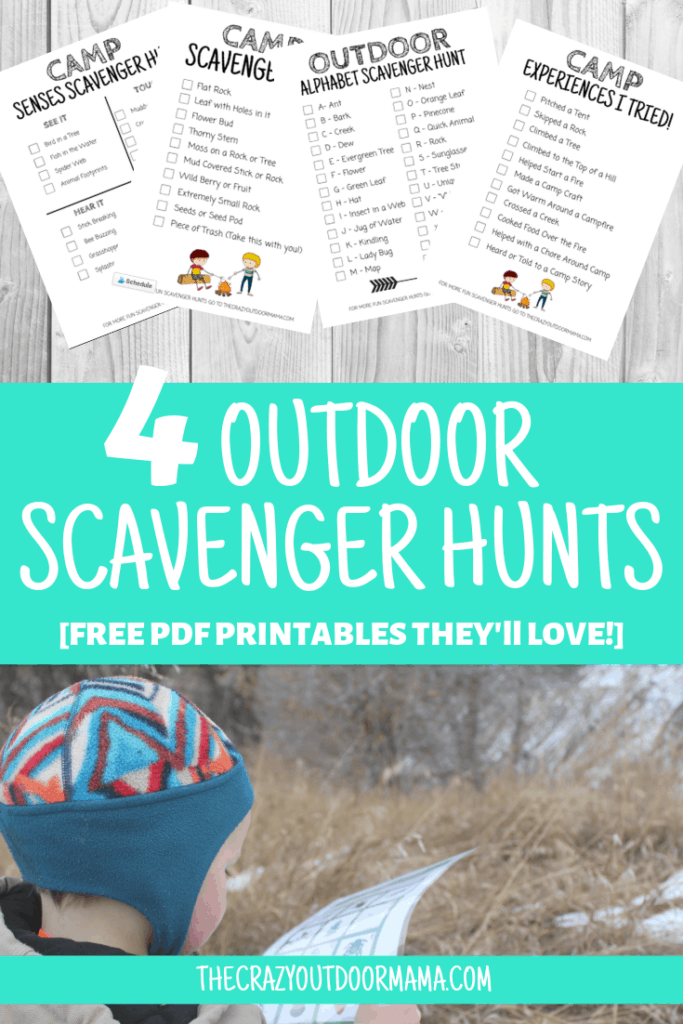 What are some fun ideas for a camping scavenger hunt (more than just the traditional one?)
There are actually quite a few different ways to go about having a scavenger hunt!
This can depend alot on where you are as well as how old your child is.
It's important to not make the scavenger hunt TOO hard or it might frustrate the younger ones- that doesn't mean though that you can't have those couple really rare things on the list that they'll feel awesome if they find!
Don't forget – it's not a bad idea to have an adult go with small groups of kids (if you're camping with more than just your own) so as to make sure no one gets themselves into a dangerous situation trying too hard to find something on the list!
Anyways, here are a couple different kinds of scavenger hunts!
Don't forget to check out these other 11 fun campground activities for kids here!! as well as these free printable camp themed kids songs and 45 other favorite campfire songs for the big kids!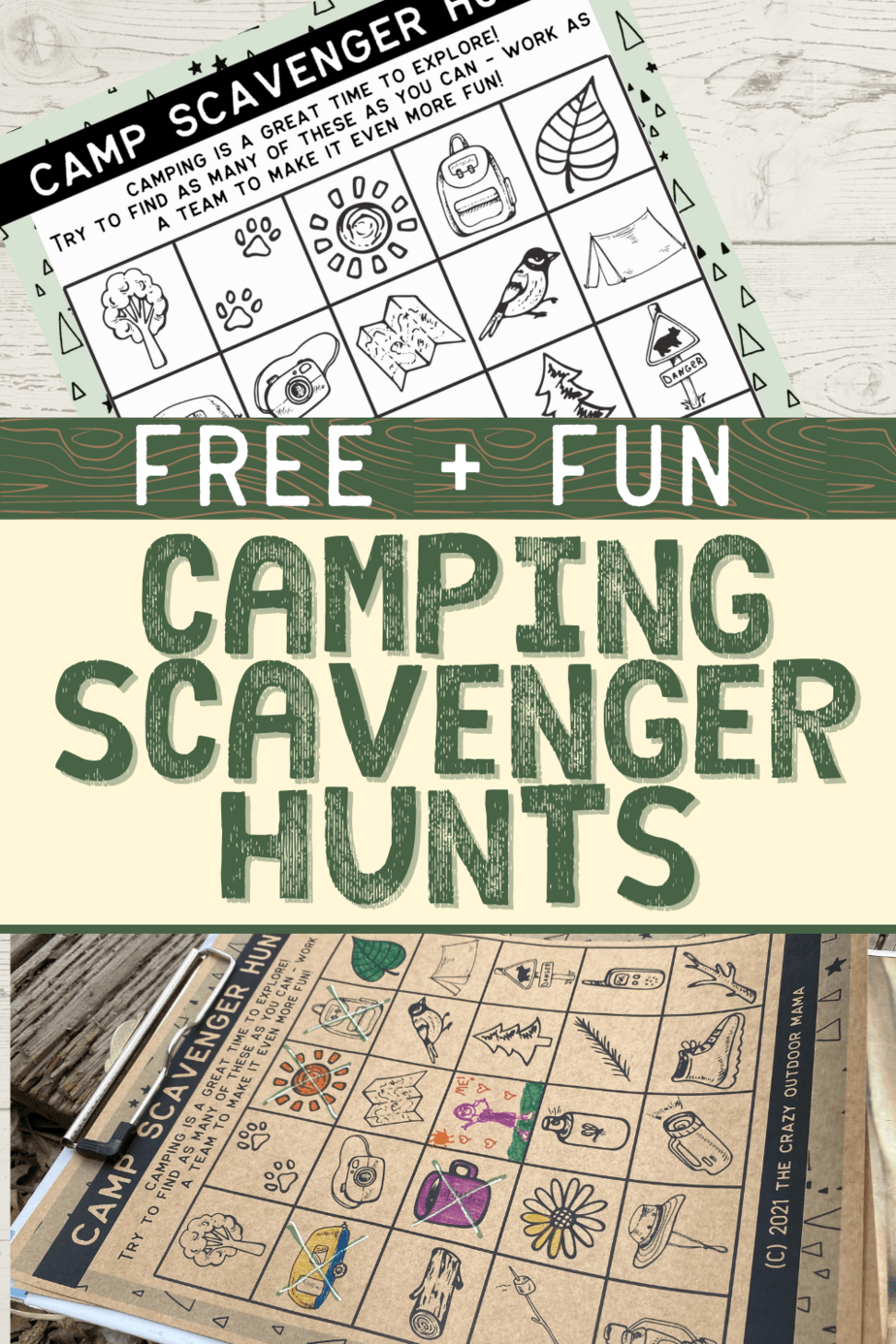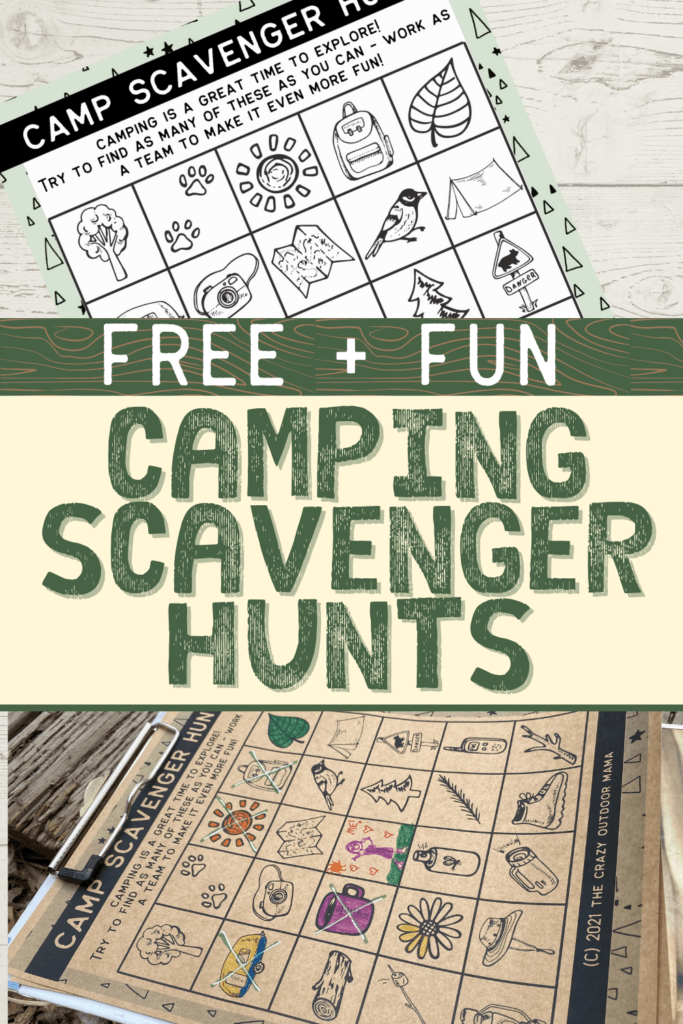 Traditional Camp Scavenger Hunt
This is usually a simple list of items that just need to be seen!
It's best not to encourage kids to pick the items up so that everything is left as it was found for other to enjoy!
A couple of rocks or twigs won't hurt of course if you are somewhere that is legal (National Parks do not allow you to take anything out of them – even flowers and such!) for younger children since it's pretty darn fun to be able to take your treasures with you!
Related: The Best Camping Toys for Kids of 2022 (Can I buy some for myself???)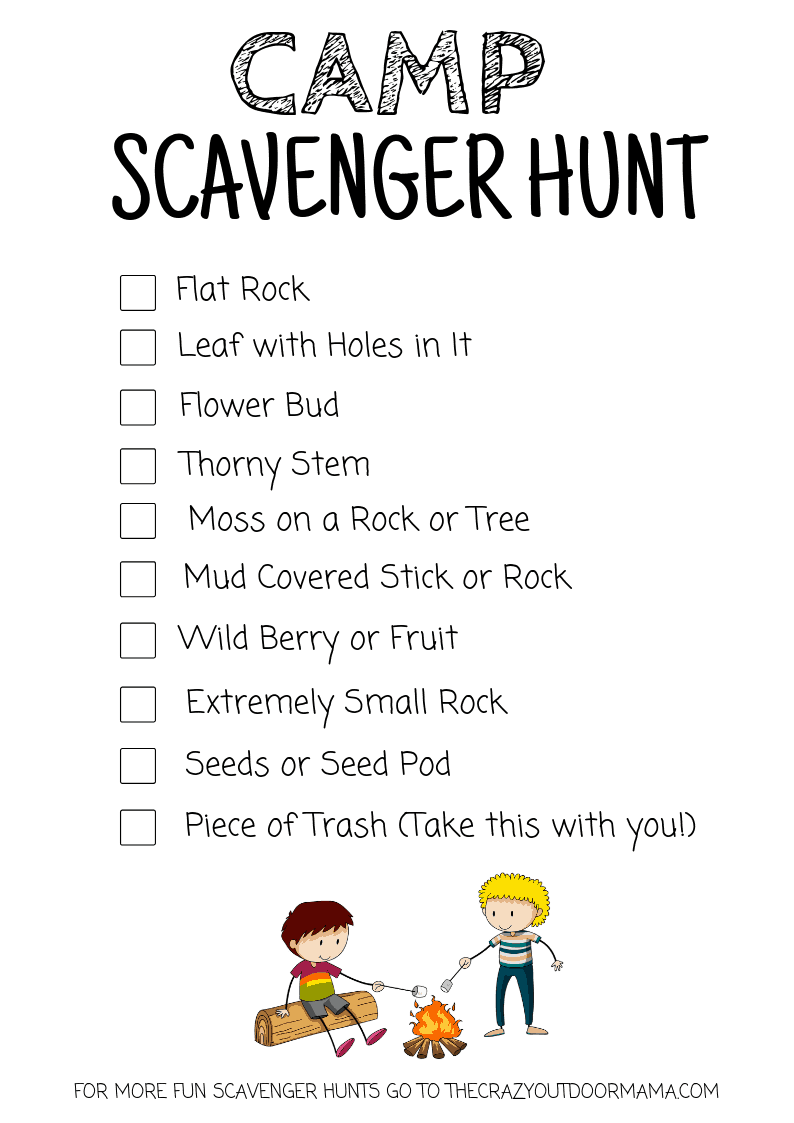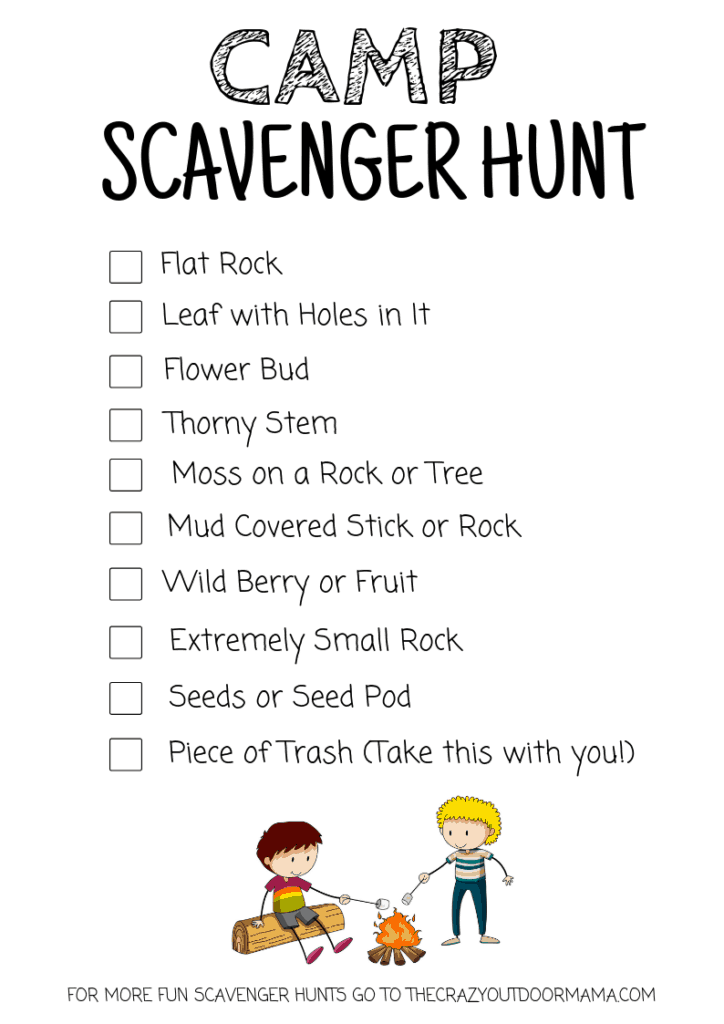 Camera Hiking Scavenger Hunt
This is a really fun twist that is geared for older kids who can opearte a phone camera or anything else that takes pictures.
I also like that this adds a little accountability to the scavenger hunt – with older kids, it's fun to add small prizes for whoever finds the most items, and kids can be really competetive!
By taking pictures of each item, not only are you leaving nature undisturbed for others to enjoy (especially for harder to find things!) but they could also be made into a fun collage to remember the big scavenger hunt they had at camp!
Related: Something fun to do with various treasures kiddos find is make sensory soup!! Printable "recipe cards" included!
Sensory Scavenger Hunt
Sensory scavenger hunts are fun at camp because they really encourage true exploration of the world around them!
This type of scavenger hunt for camp is usually a list categorized by the senses "Feel, Hear, Smell, See" (Taste is the last one, but it's not a good idea to encourage kids to taste stuff they might they find without pretty intense supervision!)
For example, "Listen to a bee buzzzzzing" , "Touch squishy mud" "Smell a flower" "See a bird in a tree"
Related: Toddlers love sensory activities – check out all you need to know about camping with toddlers for even more fun!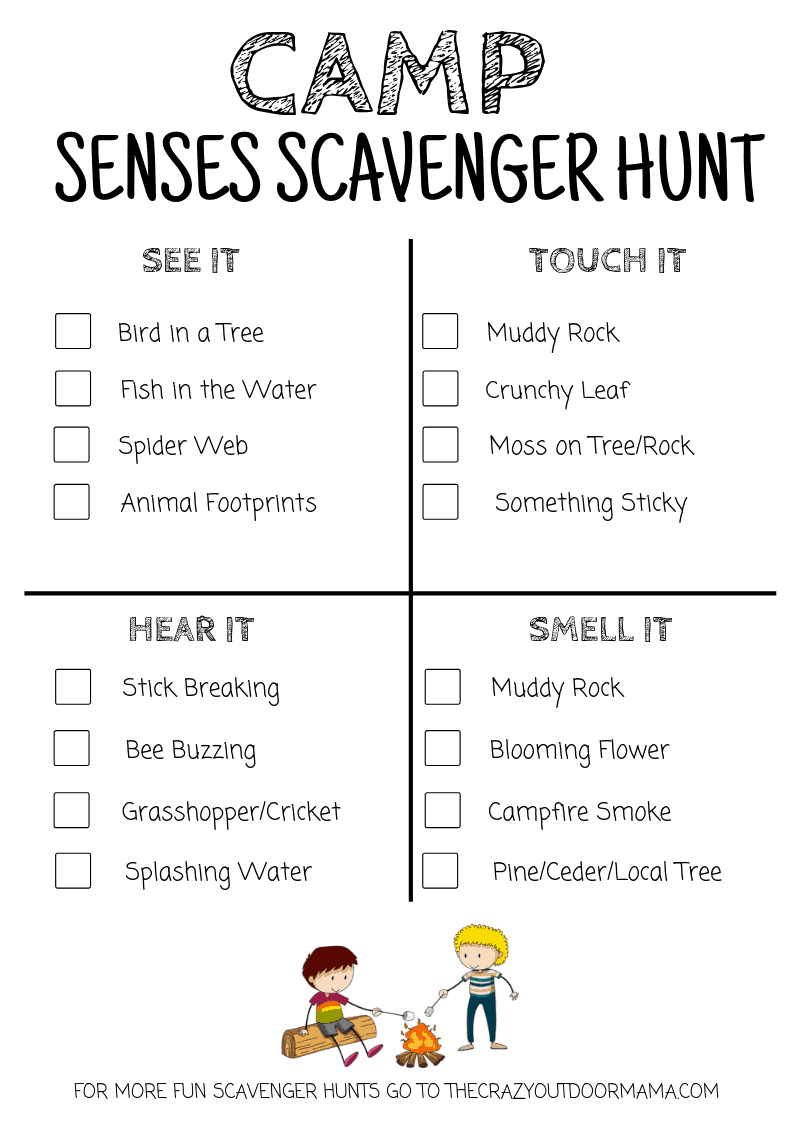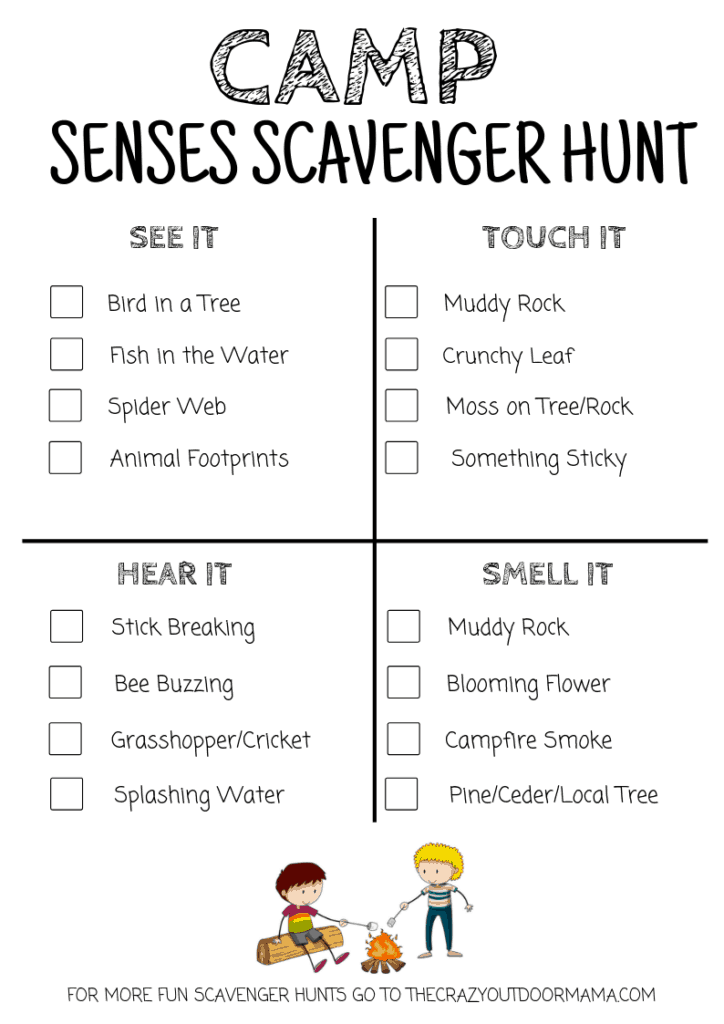 Scavenger Hunt Experiences
This is a perfect scavenger hunt for the outdoors for the kiddos! I especially love this idea if summer camp or the big family camp trip only happens once a year – it's a big nudge to experience as much as you can!
Some of the items might include cooking marshmallows, swinging from a rope, starting a fire, finding some edible berries, pitching a tent…..
This one will really ensure memories are made, and at the end of the camp trip, it will be a good reminder of how much fun each child had!
Camp crafts are AMAZING experiences – try making these!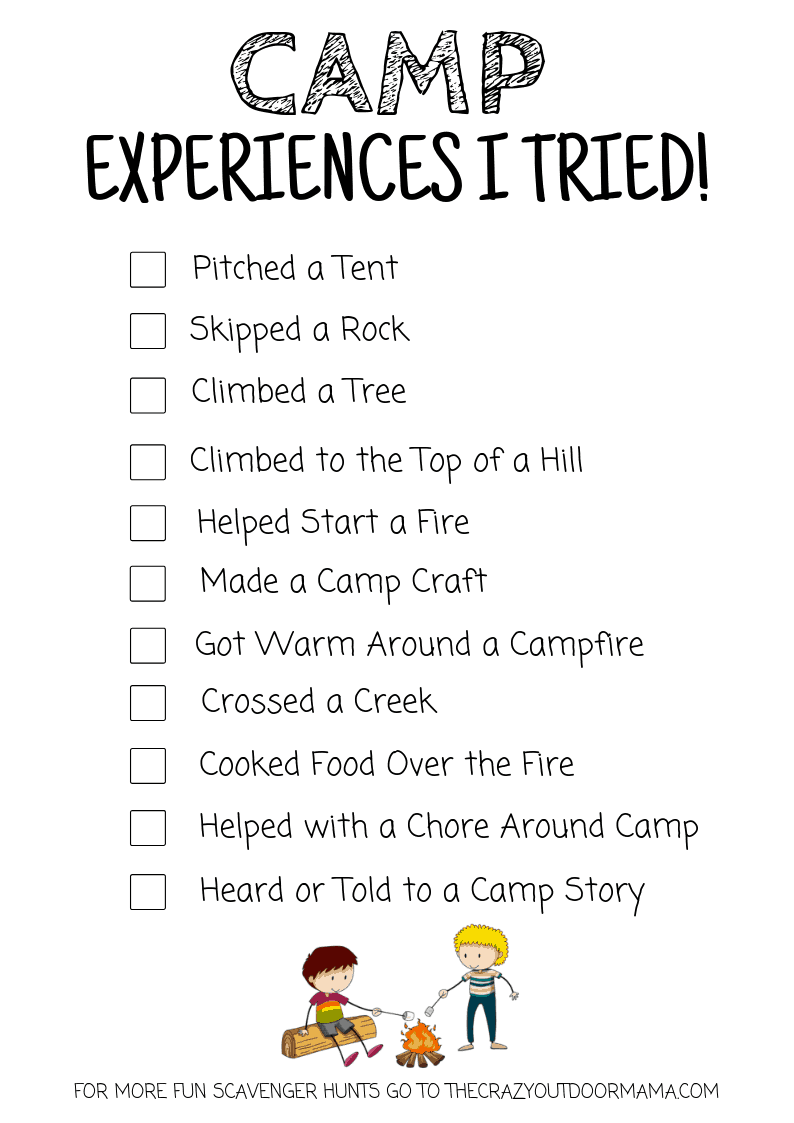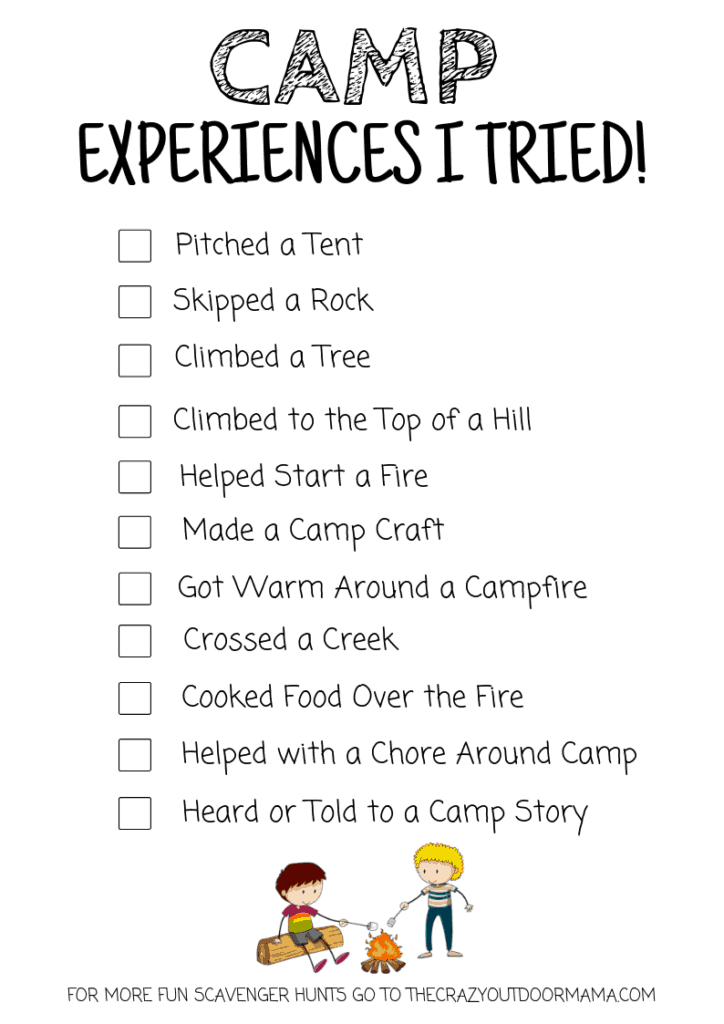 Alphabet Outdoor Scavenger Hunts
I definitely wanted to specify "outdoor" in this one because it's pretty likely you won't be able to find everything around camp!
I know you're first thought is probably going to be "Well what do I put on the list for the hard ones like X, Y and Z?
Honestly it was mine too once I first had the thought – but here is what you could do!
X could be something "Xtra special" to the child such as a really cool rock, or fun waling stick they find along the wya.
Y could be a Y shaped stick
Z would have to be the bZZZZZing of a bee!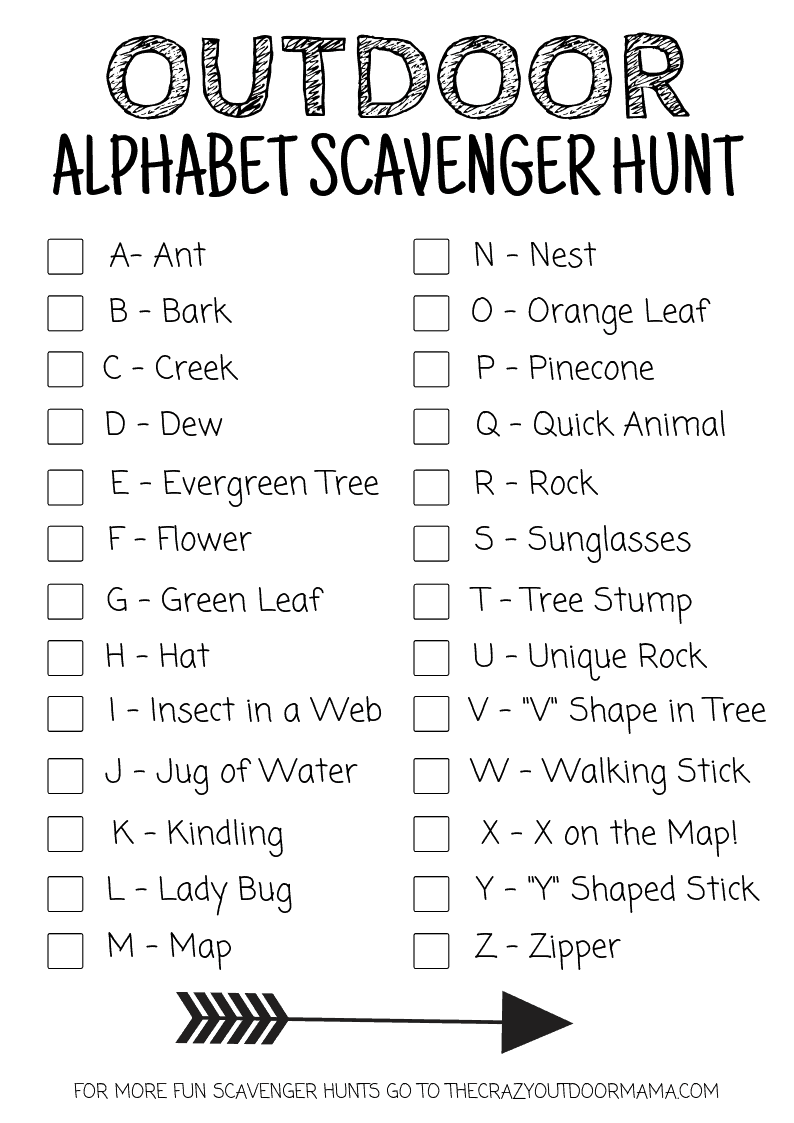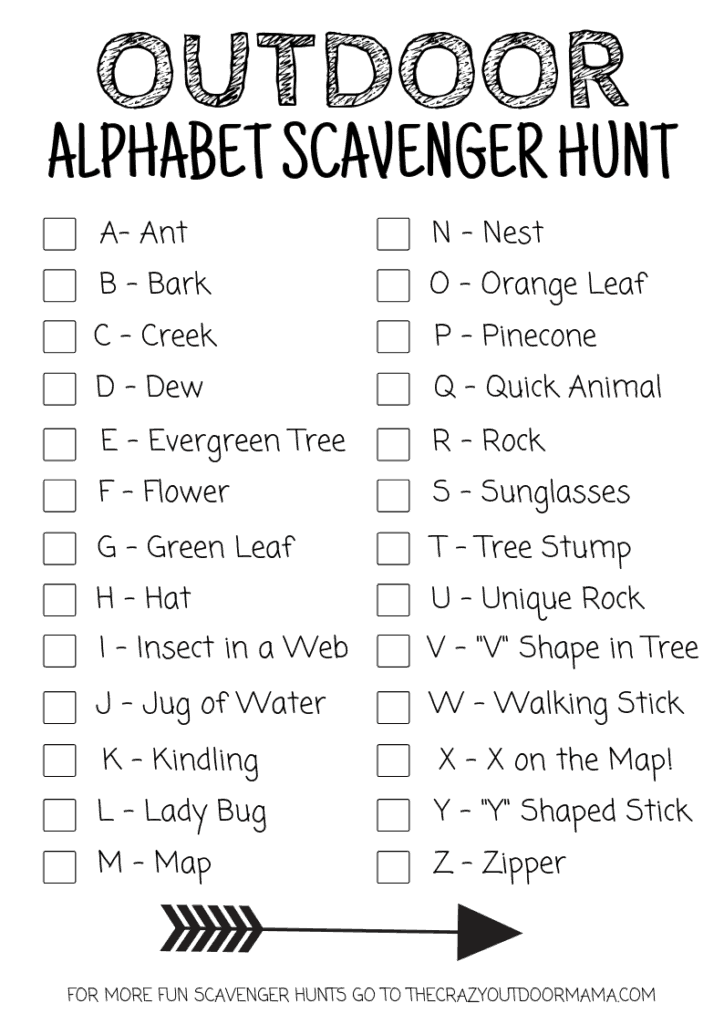 Picture Based Camping Scavenger Hunt (perfect for pre reading camp kids who love to color!)
If you have pre readers, then you'll love this picture based scavenger hunt! I purposely didn't include any words so that kids can get creative when it comes to finding everything. I also made the images black and white to allow for optional coloring and creativity!
My favorite with this one was when my kids saw the "Bear Aware" sign at our campsite and said it counted because it did have a picture of a bear on it, after all! Don't worry, we agreed! =P
Don't forget that if you'd like to download this, keep scrolling to the bottom to sign up for access to download it!
P.S. if you prefer to not give out your email address (I get it, no hard feelings =P ) or would like to check out the bonus colors in the premium version, click here!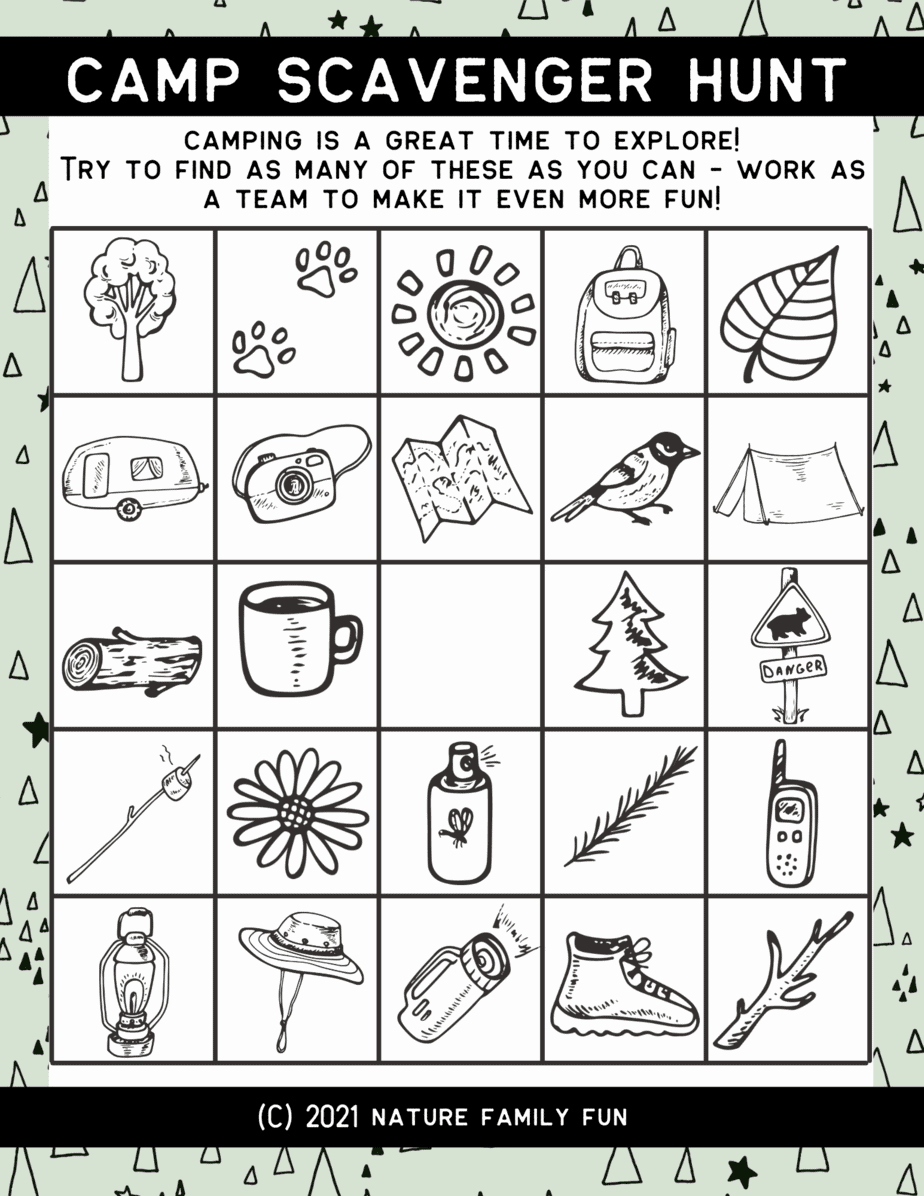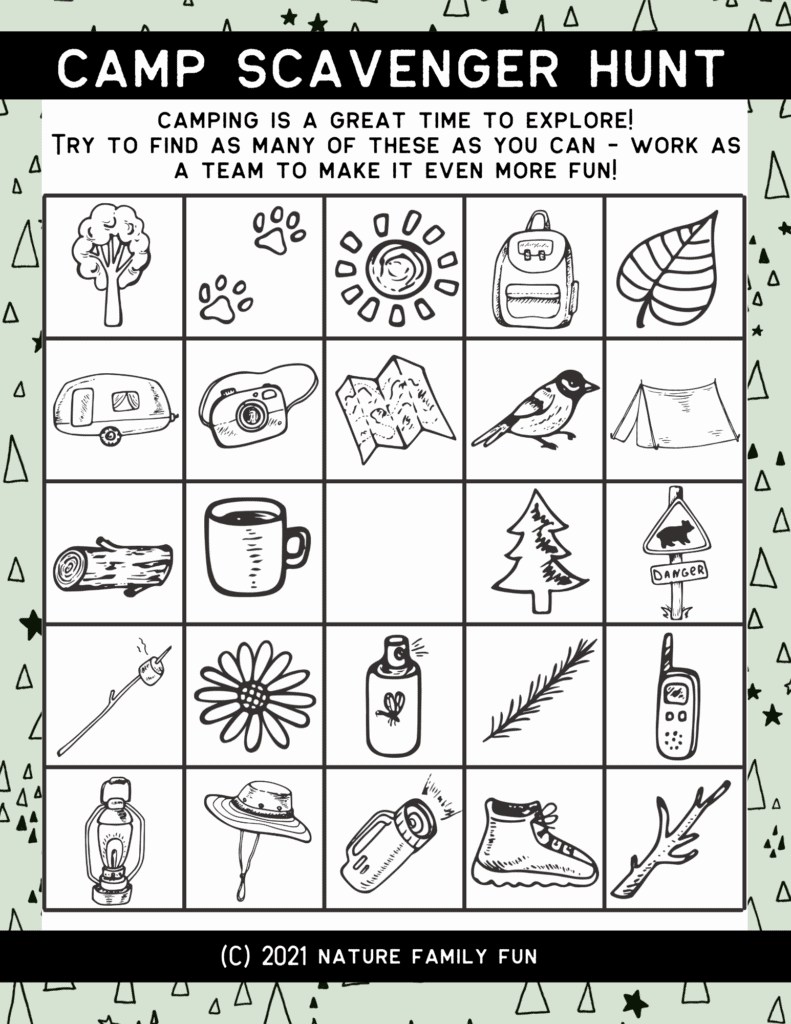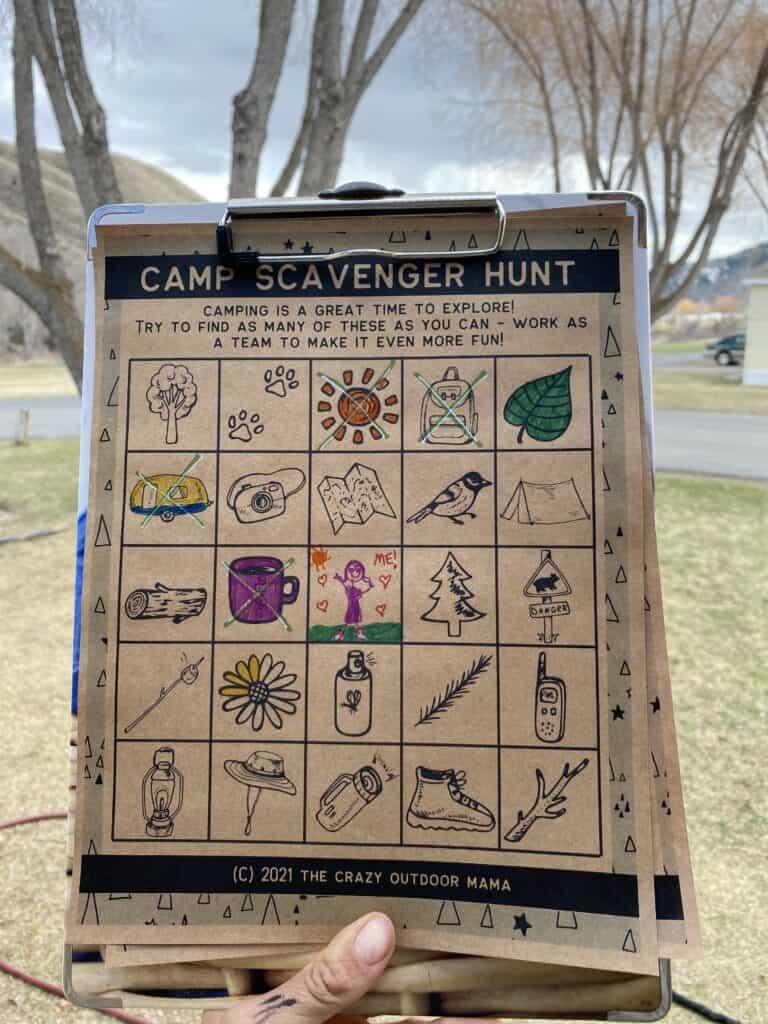 Cutesy Fun Camping Scavenger Hunt
If you're looking for a more cute, party glamping version then you might like this! I have twin girls and, while they do like the more "natural" looking ones, they love how cute these camping icons are!
I included 5 different colors and mixed up the icons just to make it more fun!
Don't forget that if you'd like to download this, keep scrolling to the bottom to sign up for access to download it!
Check out the whole set on my Etsy if you want more than the sample available in my resource library =)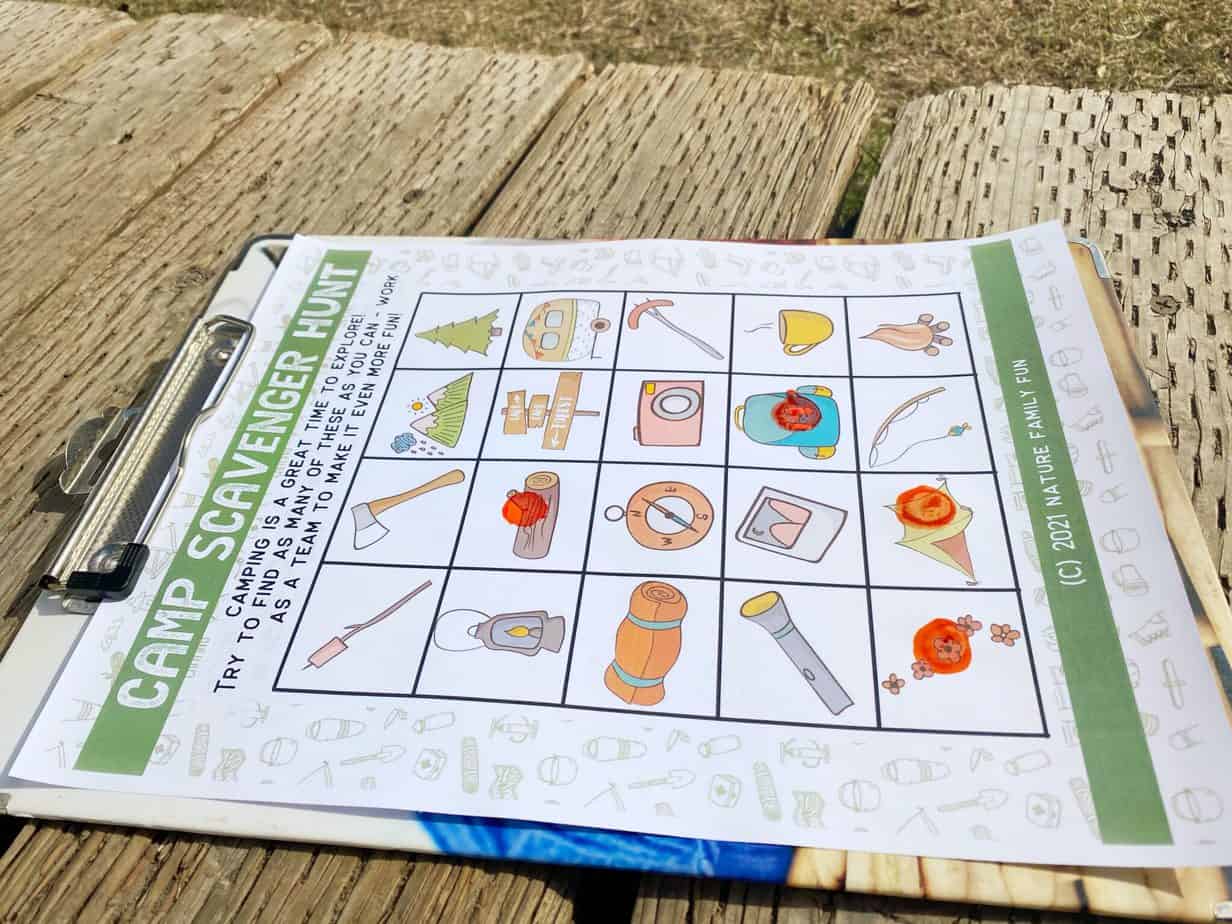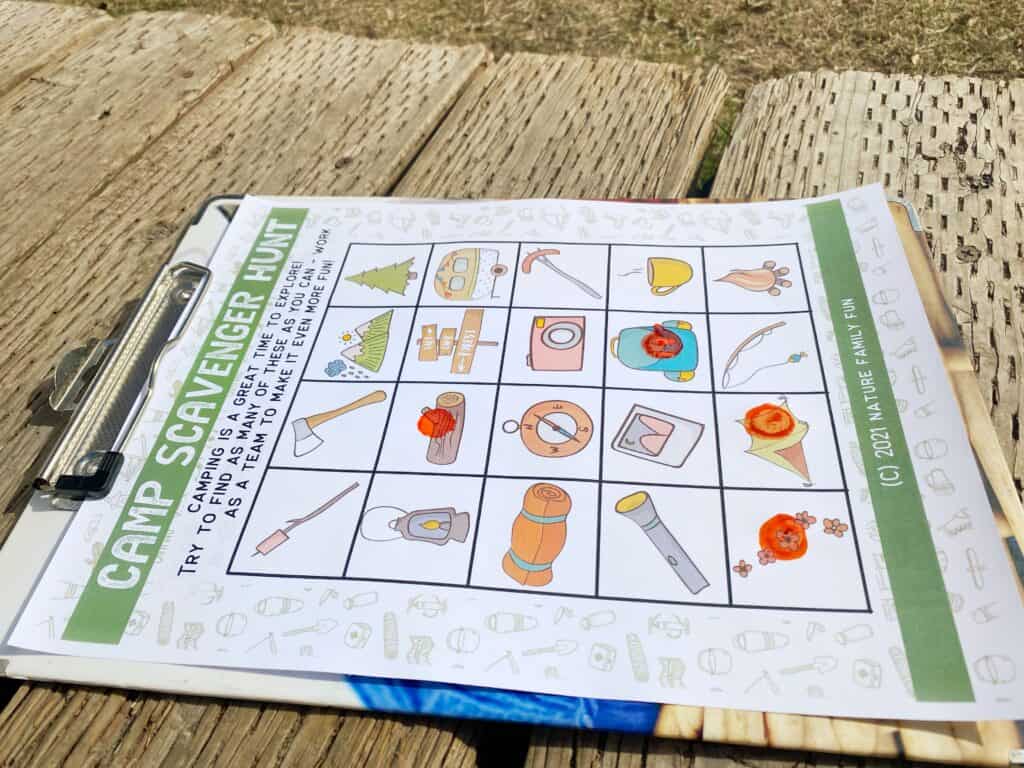 DIY Your Own Camping Scavenger Hunt!
Some of these items on my scavenger hunts may not be in your area or campsite, so if you'd like, copy and paste the items below to create your own list!
Here's what's included on my premade ones, plus some extras I thought of!
Camping Alphabet/General Scavenger Hunt Ideas
⬜Ant
⬜ Acorn
⬜Bark
⬜ Bug
⬜ Bird
⬜ Bee
⬜Creek
⬜ Clouds
⬜ Camp Chair
⬜ Cliff
⬜ Dew
⬜ Dirt
⬜ Evergreen Tree
⬜ Flower
⬜ Flashlight
⬜ Fog
⬜ Forest
⬜ Green Leaf
⬜ Grass
⬜ Grill
⬜ Hat
⬜ Insect
⬜ Jug of Water
⬜ Kindling
⬜ Lady Bug
⬜ Map
⬜ Moss
⬜ Moon
⬜ Nest
⬜ Orange Leaf
⬜ Pinecone
⬜ Petal
⬜ Quick Animal
⬜ Rock
⬜ River
⬜ RV
⬜ Sunglasses
⬜ Stream
⬜ Spiderweb
⬜ Sleeping Bag
⬜ Tree Stump
⬜ Trail
⬜ Tent
⬜ Travel Trailer
⬜ Unique Rock
⬜ Umbrella
⬜ "V" Shape in Tree
⬜ Walking Stick
⬜ Water
⬜ X on the Map
⬜ Zipper
⬜
Camp Experiences Ideas
⬜Pitched a Tent
⬜ Skipped a Rock
⬜Climbed a Tree
⬜ Climbed to the Top of a Hill
⬜ Helped To Start a Fire
⬜ Made a Camp Craft
⬜Got Warm Around a Campfire
⬜ Crossed a Creek
⬜ Cooked Food Over the Fire
⬜ Helped with a Chore Around Camp
⬜ Heard or Told a Camp Story
⬜ Went Fishing
⬜ Took a Hike
⬜ Went on a Nature Walk
⬜ Swam in the Lake
⬜ Sang Campfire Songs
Camp Senses Ideas
See It
⬜Bird in a Tree
⬜ Fish in the Water
⬜ Spider Web
⬜ Animal Footprints
Touch it
⬜ Muddy Rock
⬜ Crunchy Leaf
⬜ Moss on Tree/Rock
⬜ Something Sticky
Hear it
⬜ Stick Breaking
⬜ Bee Buzzing
⬜ Grasshopper/Cricket
⬜ Splashing Water
Smell it
⬜ Stagnant Water
⬜ Blooming Flower
⬜ Campfire Smoke
⬜ Pine/Cedar/Local Tree
Are there any different outdoor scavenger hunt ideas or templates you would like to see?
I had originally wanted to do a more BINGO style, but I also know that not everyone wants to use a ton of color ink when they print these!
I hope these scavenger hunt ideas are something you'll enjoy with the kids the next time you go hiking or camping!
Don't forget – to receive these scavenger hunts (+access to even more printables), you'll need to sign up to my email list! (don't worry, I won't spam up your inbox!)
Pin this if you loved it, and check out these other fun camping activities!
I have a ton of prinables in the works, but most of these are saved so I can modify things for you as long as I have time!
Camping Crafts
Here are some other camping activities you'll love to do with your kids!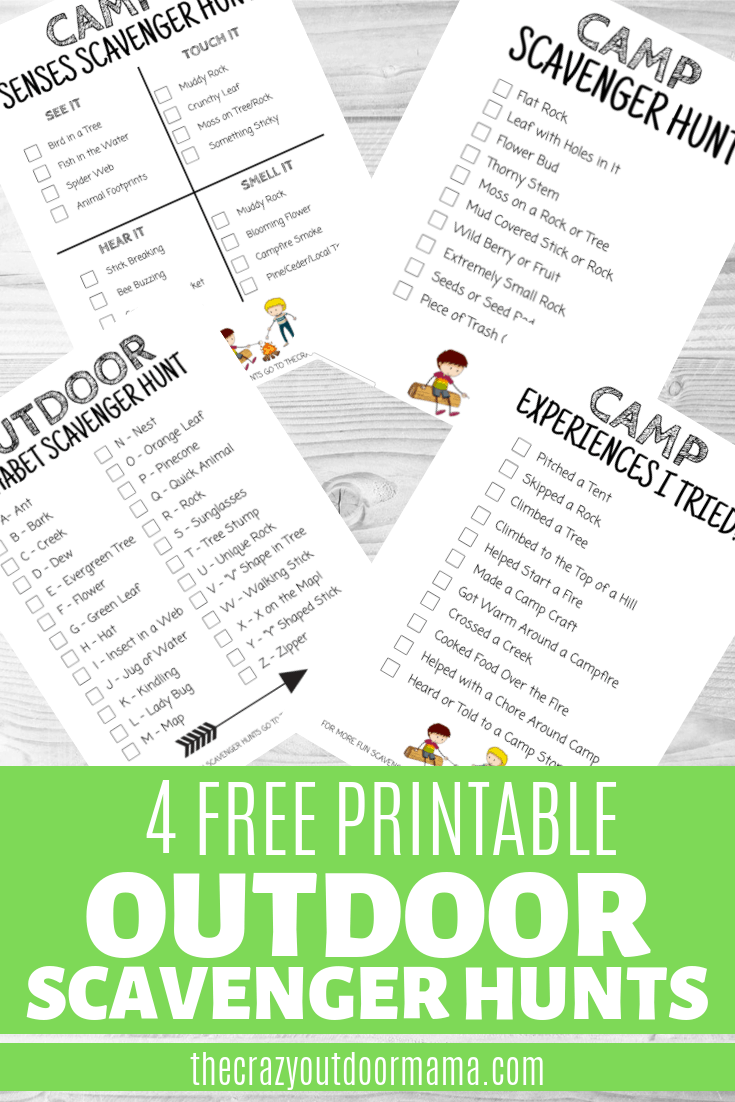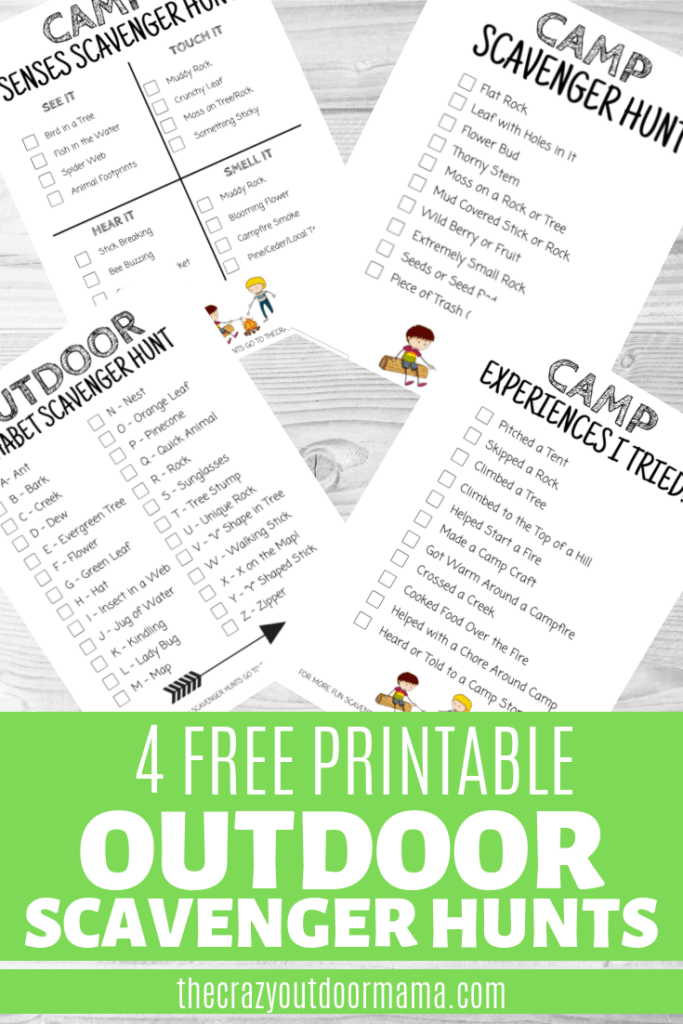 Latest posts by Stacy Bressler
(see all)