If you're looking for a fun cootie catcher game to enjoy with the kids outdoors, then check out this camp themed paper fortune teller!
I ABSOLUTELY loved these as a kid – I mean, what other magical piece of folded paper knew your freaking DESTINY like this thing did? I'm just kidding! But we did use them quite a bit, and I was reminded of how awesome they were when I started getting more into this whole paper craft thing (check out this cute foldable camping journal I just did!)
I love all camping crafts, but I'm really getting a soft spot for these origami style ones!
Side note – Did you know it got it's name from kids pretending to use the pinchers on it to catch cooties such as lice and other bugs?! This whole time I thought it was something to do with how boys had cooties and it seemed the cootie catcher was always being used with that sort of stuff!
Another interesting bit… it was originally called a "salt cellar" and placed on tables to put small pieces of food items such as spices in by turning it upside down (points down on the table like legs) and filling the compartments with said items!
Alright, I know you didn't come here for random trivia, so let's get to it!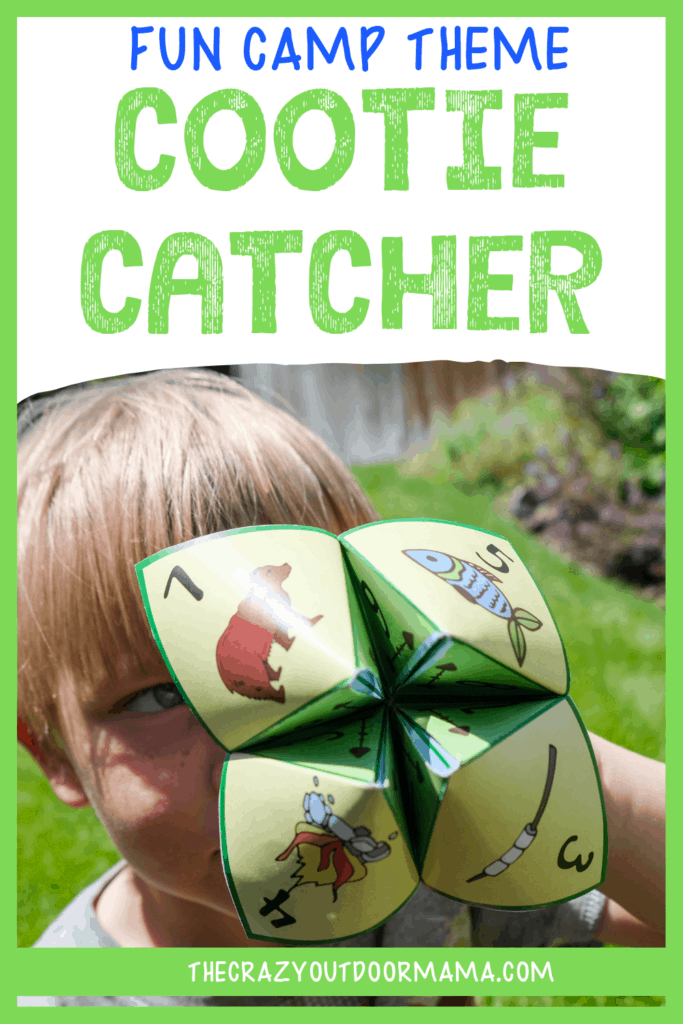 How to make this fun outdoors cootie catcher for kids!
Most importantly, be prepared to be silly – you'll be doing some things like:
a bear boogie
donning a stick 'stache
marshmallow challenges
acting out some silly camp situations!
My preschooler absolutely loved this, and he kept asking to do it over and over (and honestly, I love a good excuse to act silly!)
All you'll need is to purchase the camp cootie catcher template here, print and cut it out! I will give you the directions below!
Camp Cootie Catcher Printable For Kids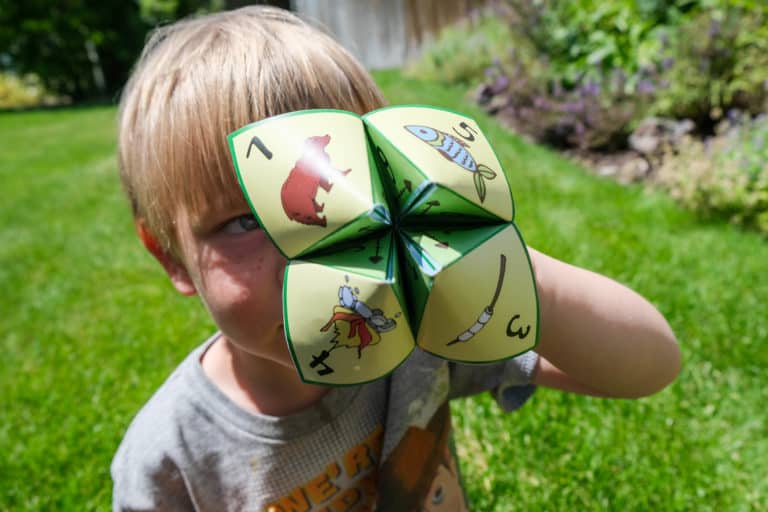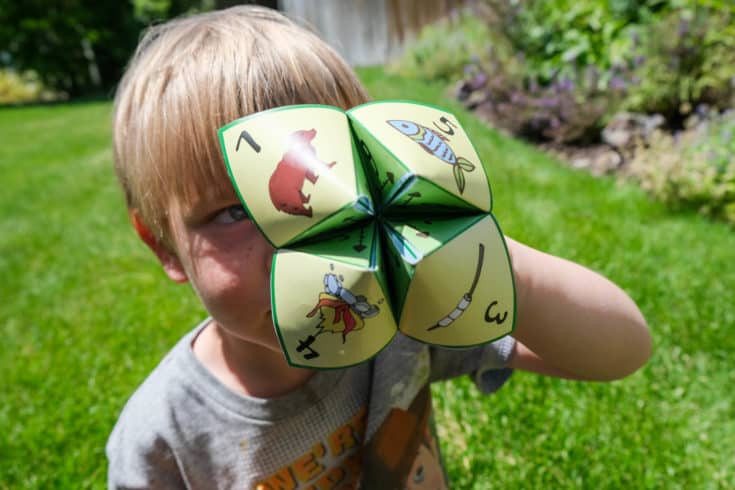 Bring this fun printable camping cootie catcher game for kids with you to create some laughs and tons of memories!
Instructions
Cut out the template and begin by folding in half one way. Unfold, and fold in half the opposite way.
With the template completely unfolded, flip it over so that the blank side is facing up (pictures facing down). Fold the corners into the center of the template (it may help to use your creases as guides for this fold)
Now flip the paper over again so that the parts that you just folded (the numbers) are facing down, and all the prompts are facing up towards you. Fold in each corner to the center again.
With the numbers side of the cootie catcher facing up, fold it in half so that the pictures are on the outside.
Slide your fingers (pointer and thumb of each hand) under each of the two flaps created by the previous fold. "Pop" out these flaps then push in to finish up!
DONE! Go have fun!
Notes
Make sure to use your nail or something else solid to make good creases!
Don't forget you will need to purchase this camp cootie catcher template here!
How do you play this cootie catcher (or sometimes known as fortune teller) game?
It's simple, and a perfect game to either pass around camp for the older kids or to practice turn taking, counting, and number recognition with little kids!
Traditionally, you would put answers such as "yes, no, maybe, definitely not etc" so that when you ask a question, you would spell out whatever decorates the it (IE, blue is four letters so you'd open and close four times if you pick the blue flap) and proceed from there.
Mine is activity based but the game is still played basically the same!
Anyways, here's how to play the cootie catcher game!
Pick out a picture and open and close the cootie catcher the amount of times listed above the animal (older kids could skip that number if they chose and instead open and close it based on the number of letters it takes to spell the picture they picked)
Pick a visible number, then open and close the cootie catcher that amount of times.
Pick a visible number again.
Open the flap and read the prompt under the corresponding flap!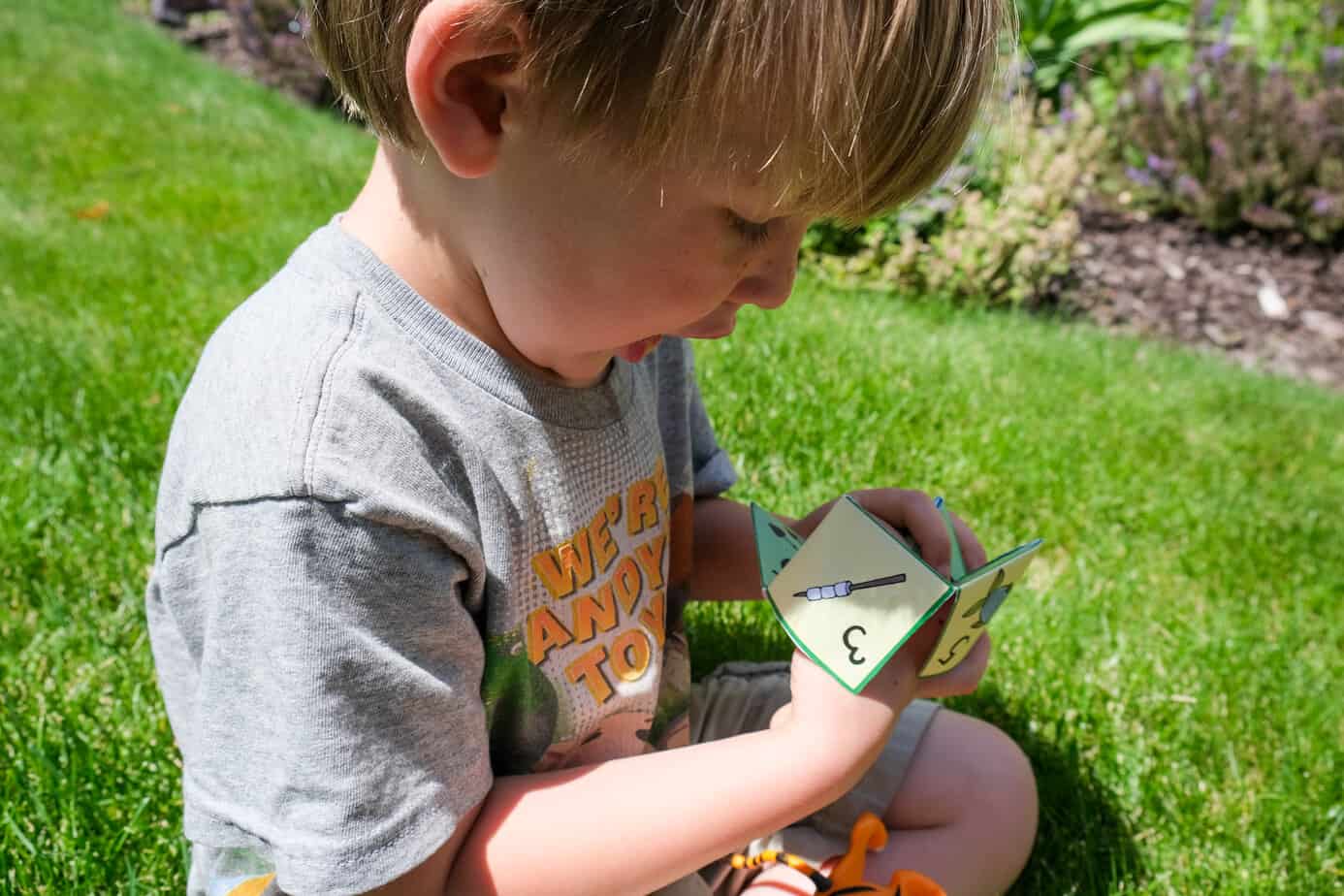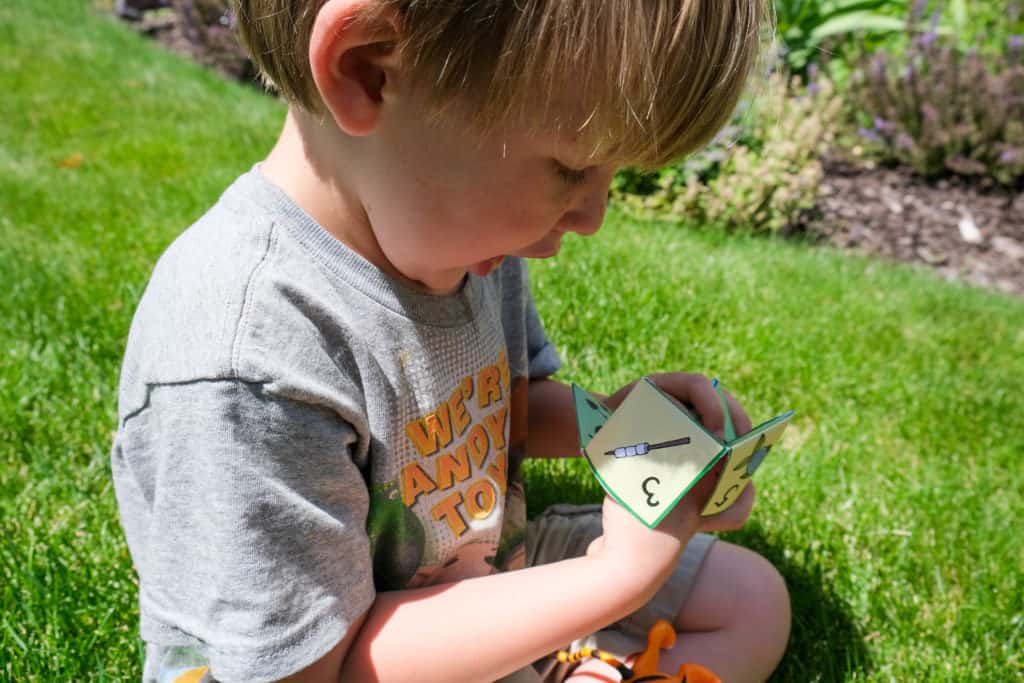 What are some fun ideas for my own cootie catcher game?
There are a TON of fun ways to use this style of game for fun with the family!
Some cootie catcher game prompt ideas (the flaps you open!) might include
Funny opinions on certain topics (Eat an onion or drink an onion EW lol!)
Fun physical activities (hop like a frog, kick like a kangaroo X amount of times)
Challenges (who can find 3 leaves first)
Team challenges (the person who picked the flap gets to challenge someone else to compete with in completing the task)
And of course your basic questions you probably remember from school (yes, maybe, no, definitely not, GAG etc) that makes this more of the traditional "fortune teller" game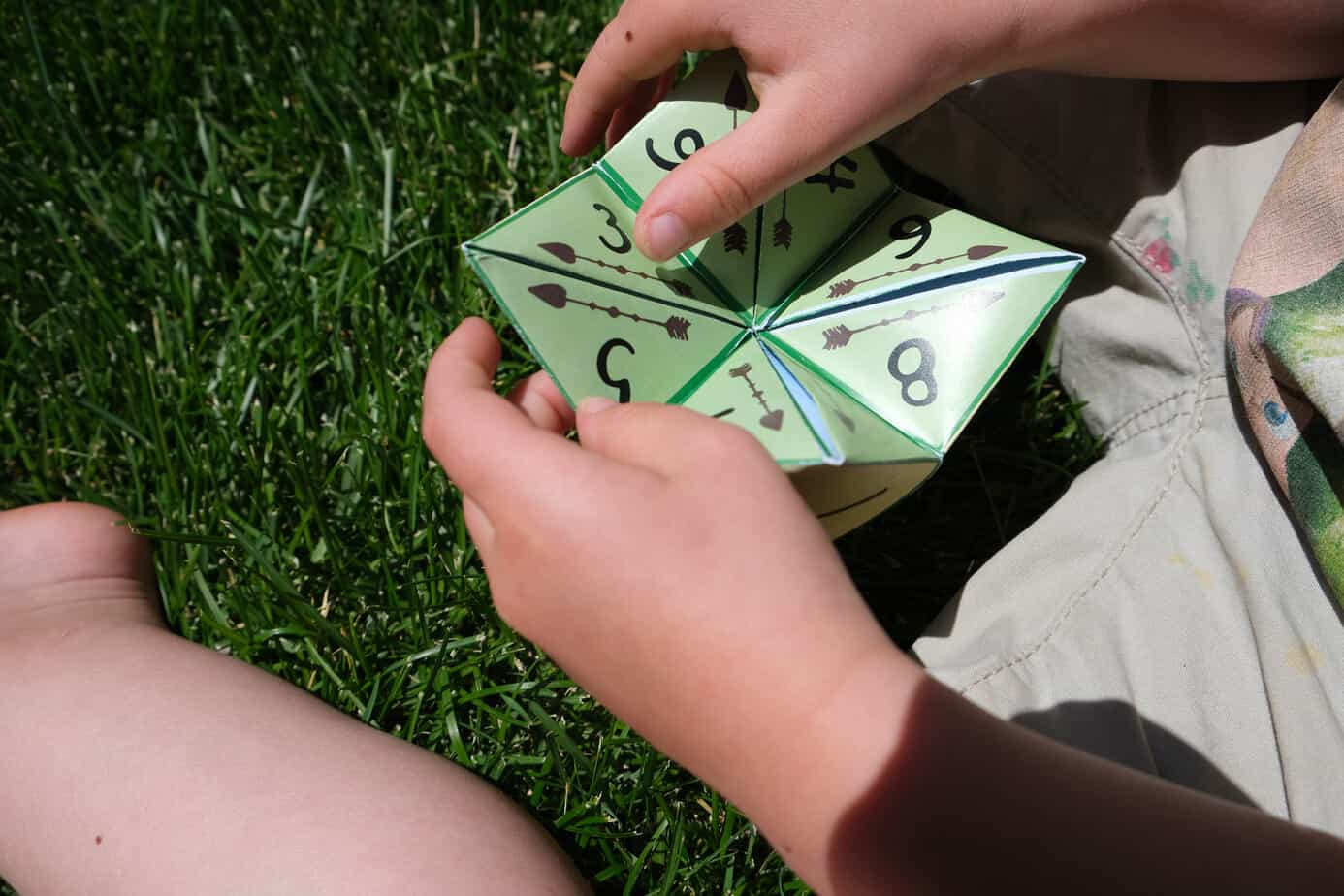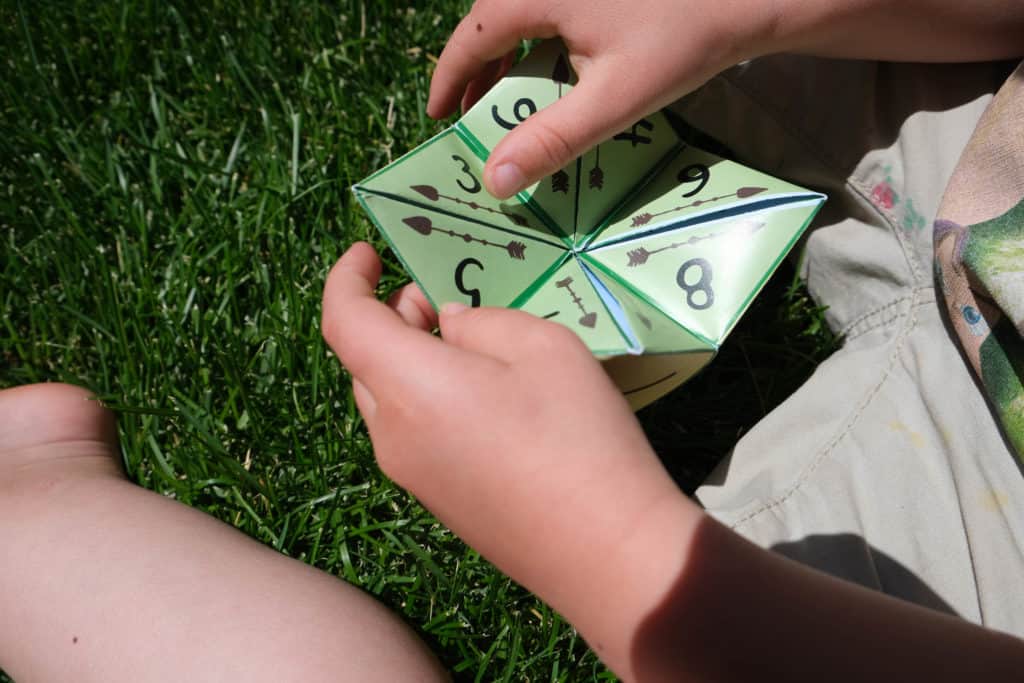 Look, I don't want to leave ya'll hanging! Here's your free cootie catcher template (with labels!)
Even though the camp cootie catcher here is really beautiful and easy to use in the sense that it's done for you, I DEFINITELY get if you're trying to find the free goods!
So I created this blank cootie catcher printable template so that you can use your own creativity to make your own unique version!
I have put super tiny labels to help you fill it out so you don't got to compare it over and over again to make sure you're doing it right.
Download your FREE blank cootie catcher template here
To create your own cootie catcher from the provided blank template
Put numbers (or if you opt for spelling things out, pictures or colors) in each of the boxes labeled with a "#" sign.
In each of the boxes labeled with "text", write your own words in the direction that the "text" is written so that it makes sense when you open it up!
Follow the directions above to fold it!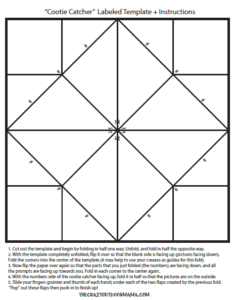 Do you have fond memories of cootie catchers like this?
I definitely do, and I love that it's something easy to slip in your pocket for almost anywhere! We really like our camp themed cootie catcher because it's an easy way to get some laughs and conversation going around the campfire!Don't forget to purchase your own camp cootie catcher here or use the free blank one above if that works better for you!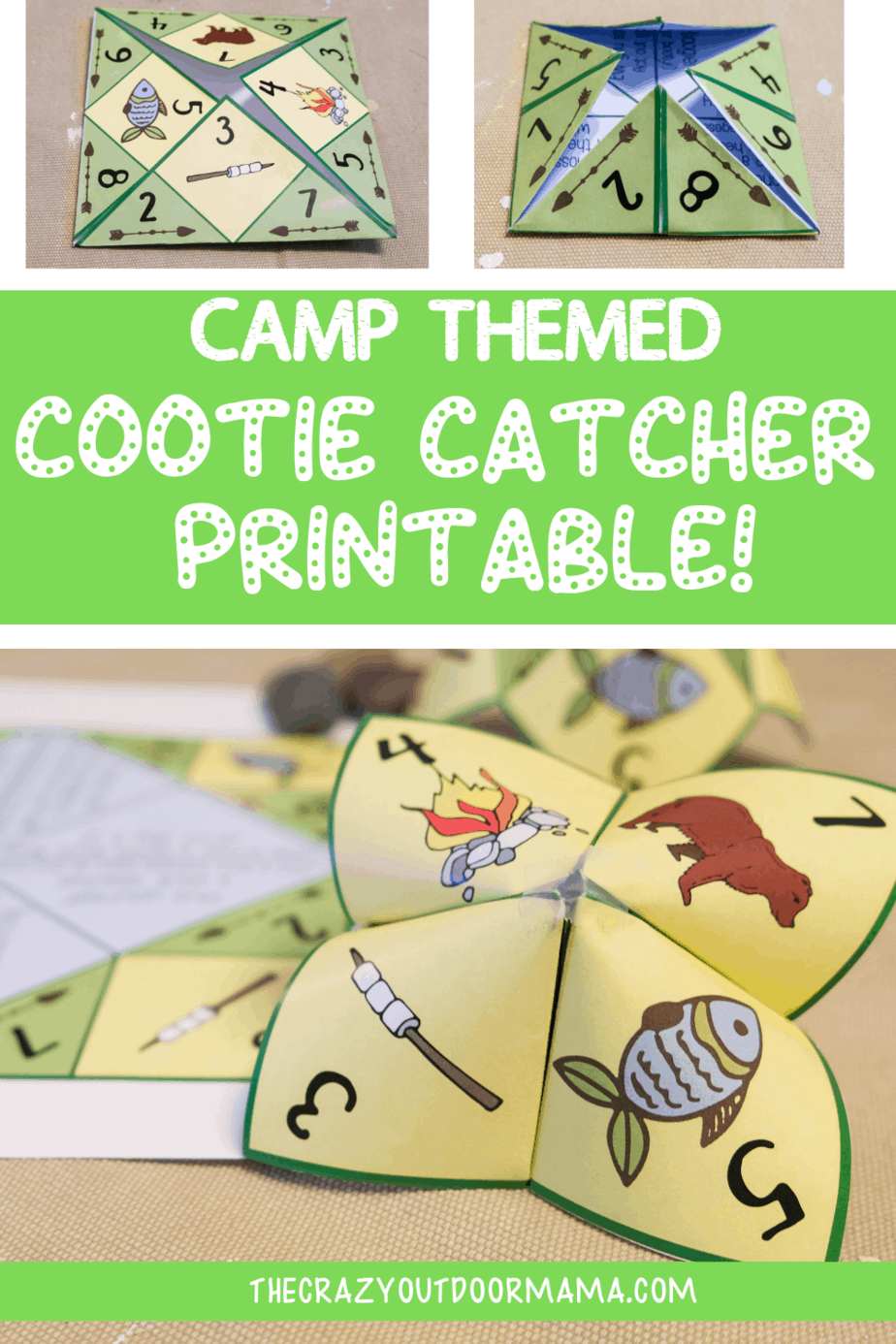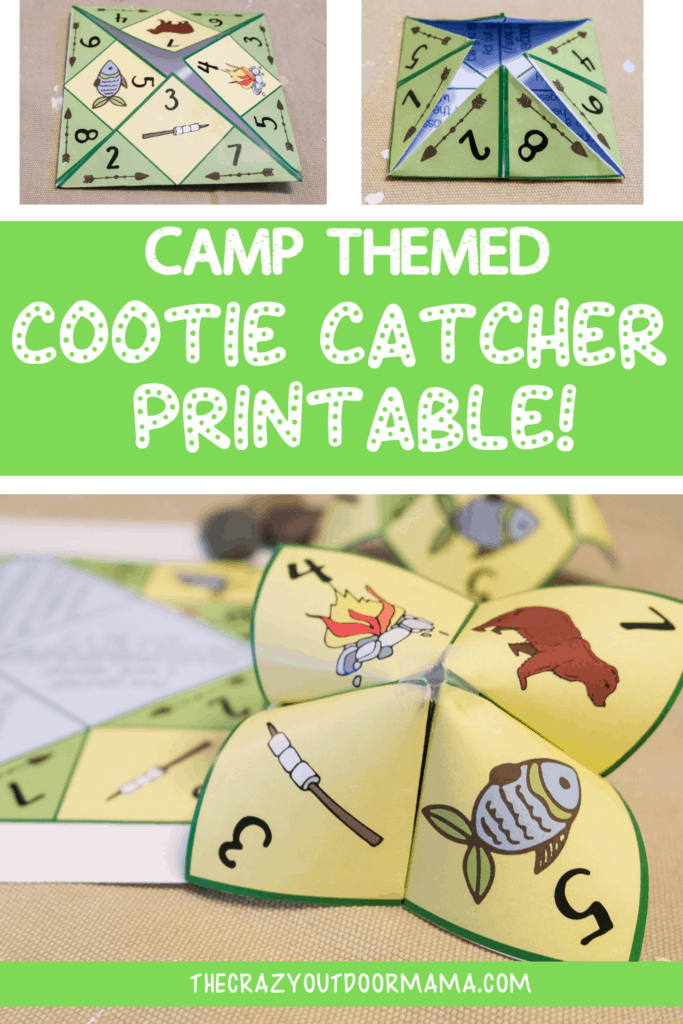 Latest posts by Stacy Bressler
(see all)