Camping crafts with kids are so fun for so many reasons – to break up winter, celebrate with at a camp themed party or preschool week, or even while you're camping to have a fun memory!
I love them because not only are they fun for imaginary play, but alot of times camping crafts can be used with items found outdoors too!
Anyways, here is a big list of all the best camping crafts I have, as well as the ones I've found online!
P.S. I REALLY hate big lists with no pictures, so I've made numbered collage posts for each camp craft category so that if you're interested, you can match up the picture and the craft (and follow the included link to do it yourself!)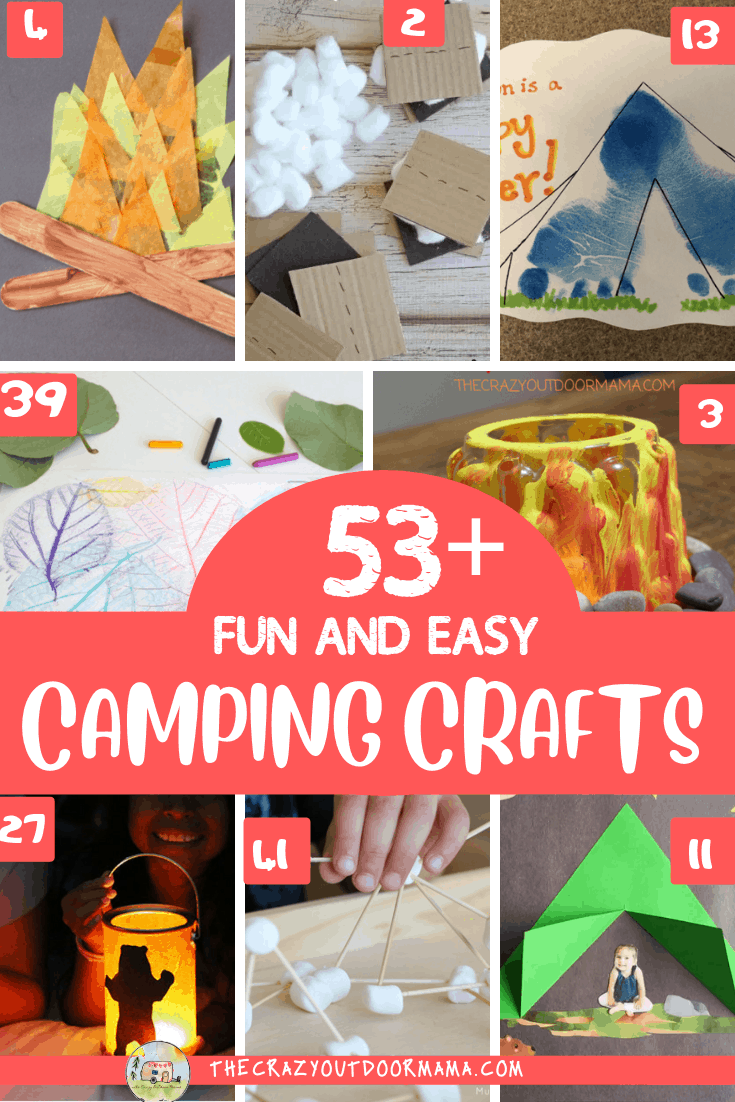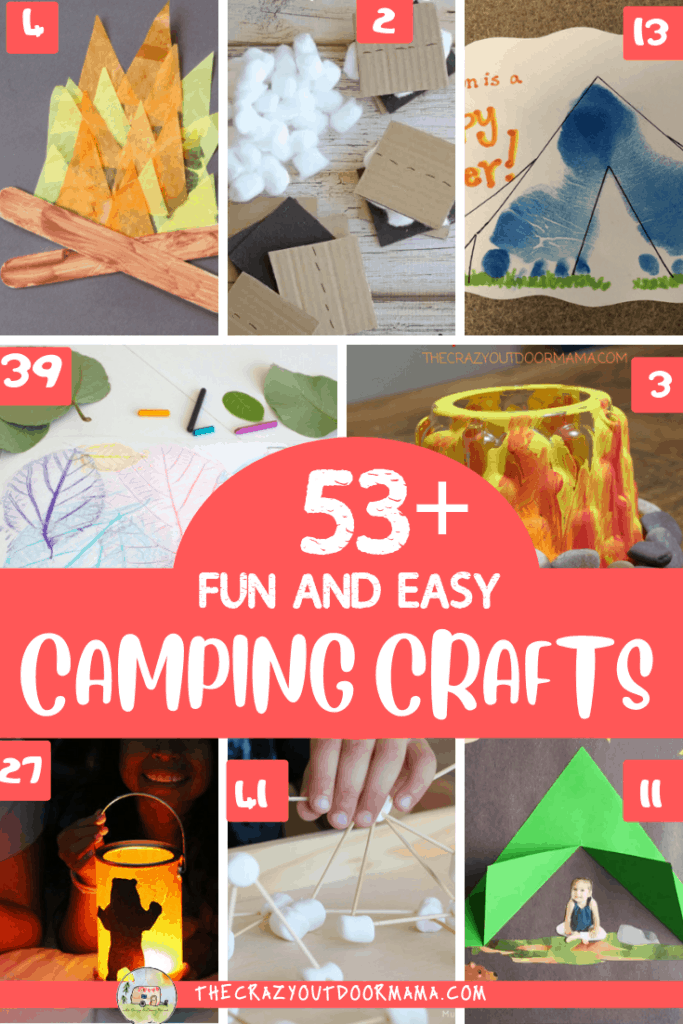 S'more Camping Crafts for Kids
Possibly every kids favorite part of camping (unless they are a fire bug like my preschooler!), s'mores are a traditional camping must!
Here are some awesome s'more crafts to do with your child!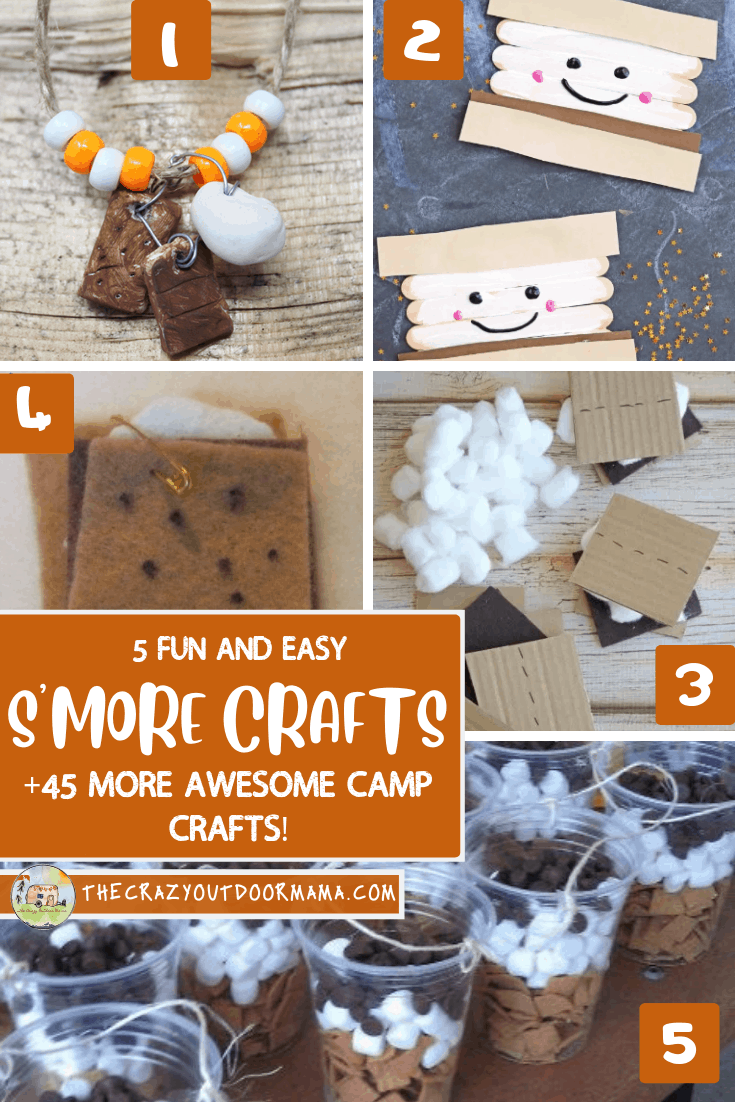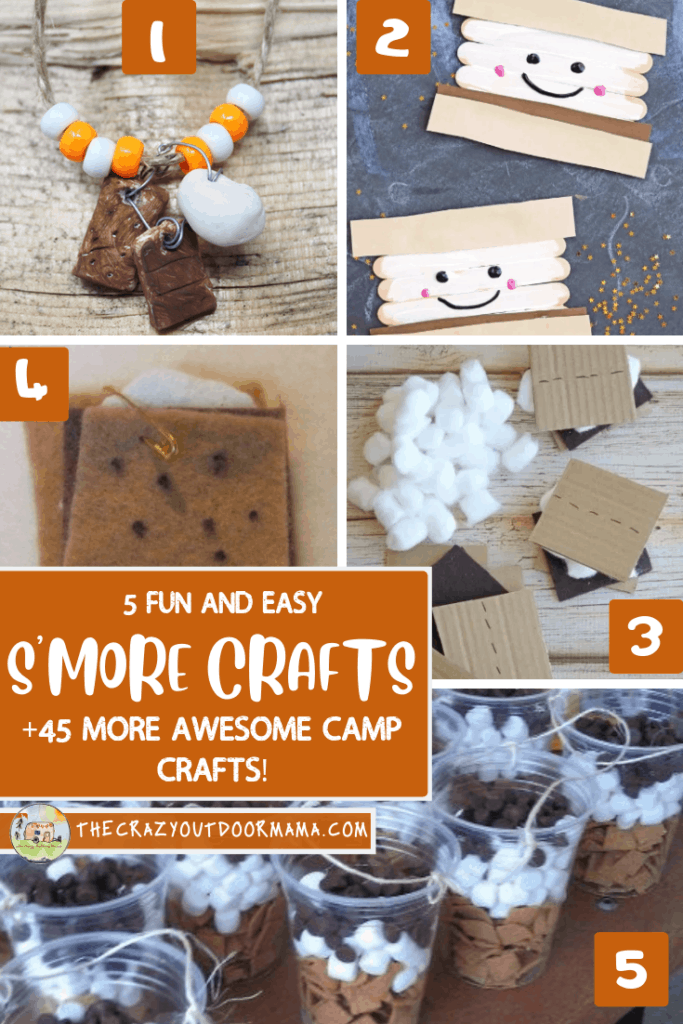 S'more necklace
This fun s'more necklace (as well as other camping necklaces!) is easy to make with some clay and paint! Kids will love making their very own s'more to remember that awesome summer camp!
S'mores Made from Popsicle Sticks
Glued to my Crafts is AMAZING, and her cute popsicle s'more craft doesn't disappoint! See it Here!
S'more Pretend Play DIY
The best play for kids is imaginary play, and get that in with this cute DIY s'more playset! It's simple to make, and the kids can play with it forever!
Print and play a cute game of S'more BINGO!
Whether you're having a camping party or just want something extra fun to do at camp, here are these cute printable s'more bingo cards! S'mores… with cute EMOJI FACES!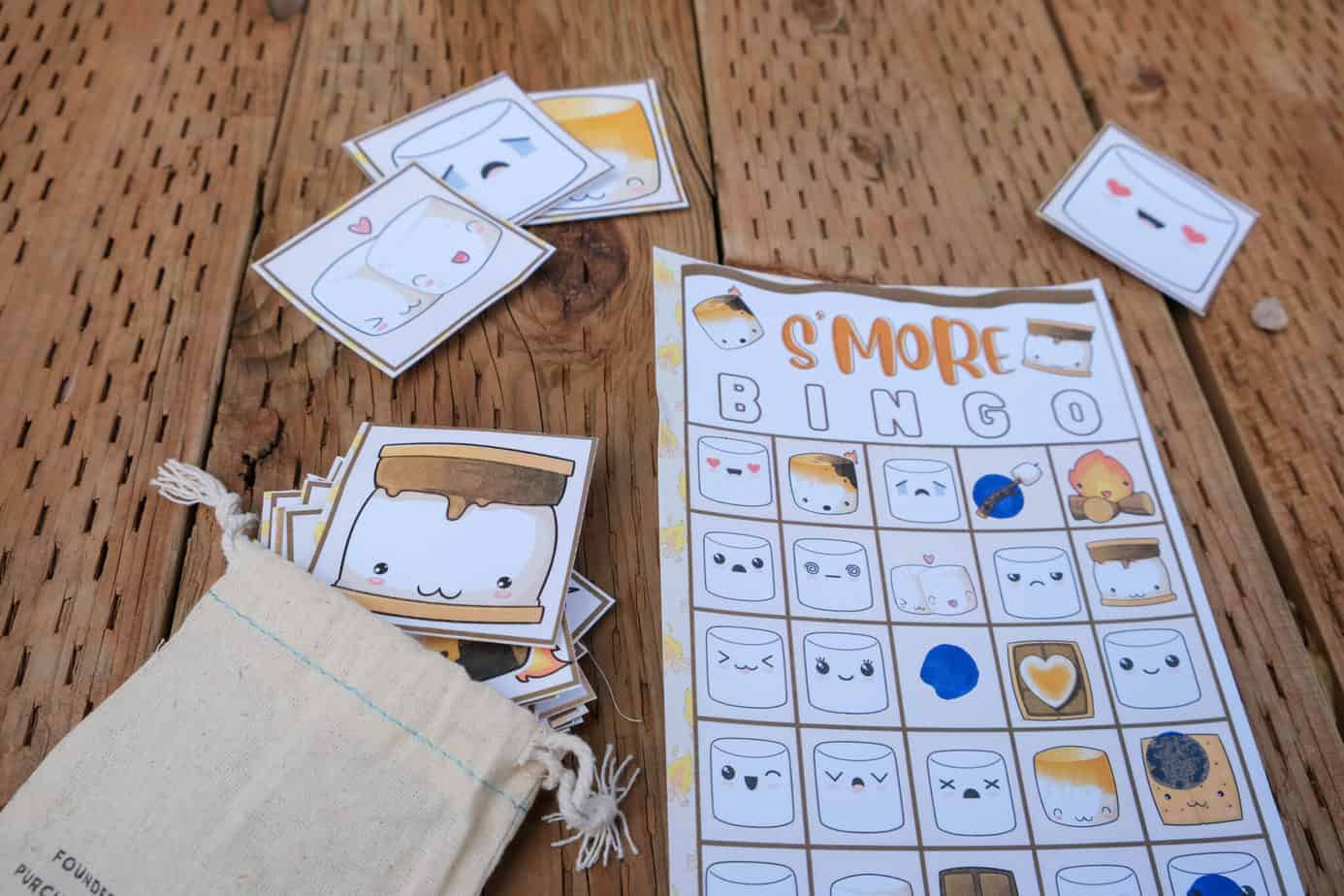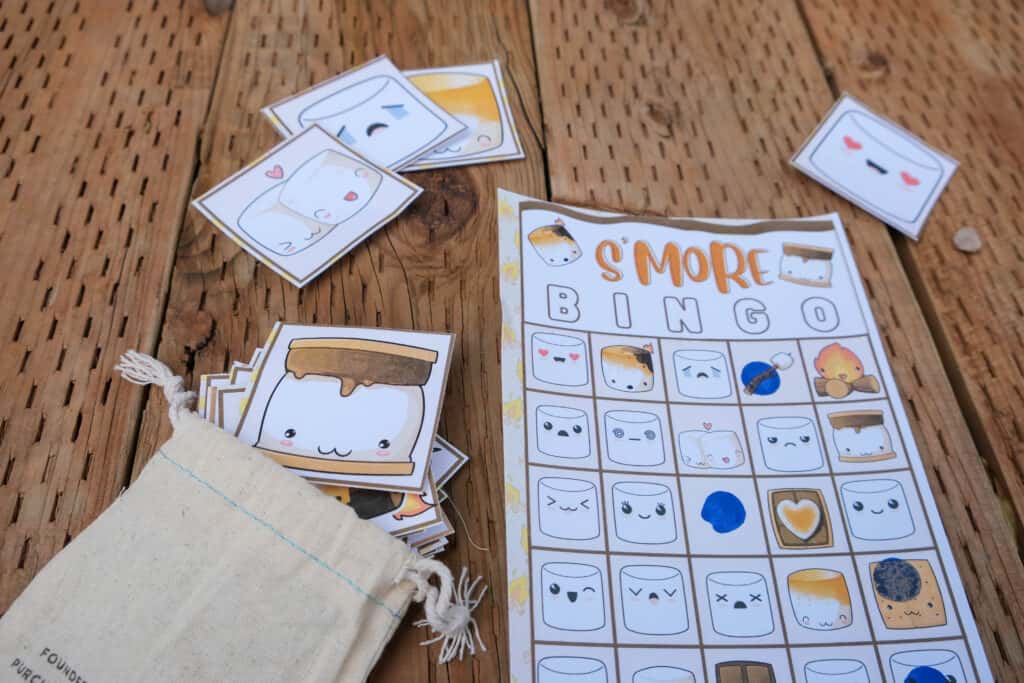 Felt S'more
It's simple, but fun! This s'more is made from just felt and a cotton ball, but it's super cute and small (so perfect to keep as memorabilia!) See it here!
S'mores cups to go!
This edible s'more activity will be a hit at your next camp themed party! If you want to skip the actual s'more cooking, but still get to have fun with the ingredients, this s'more cup is for you!
Make a shelter for a Peep Marshmallow
While not available all year, I especially LOVE camping around Easter because Peeps become available to enjoy! In this activity, kids can gather items in nature to make a "home" for their peep marshmallow!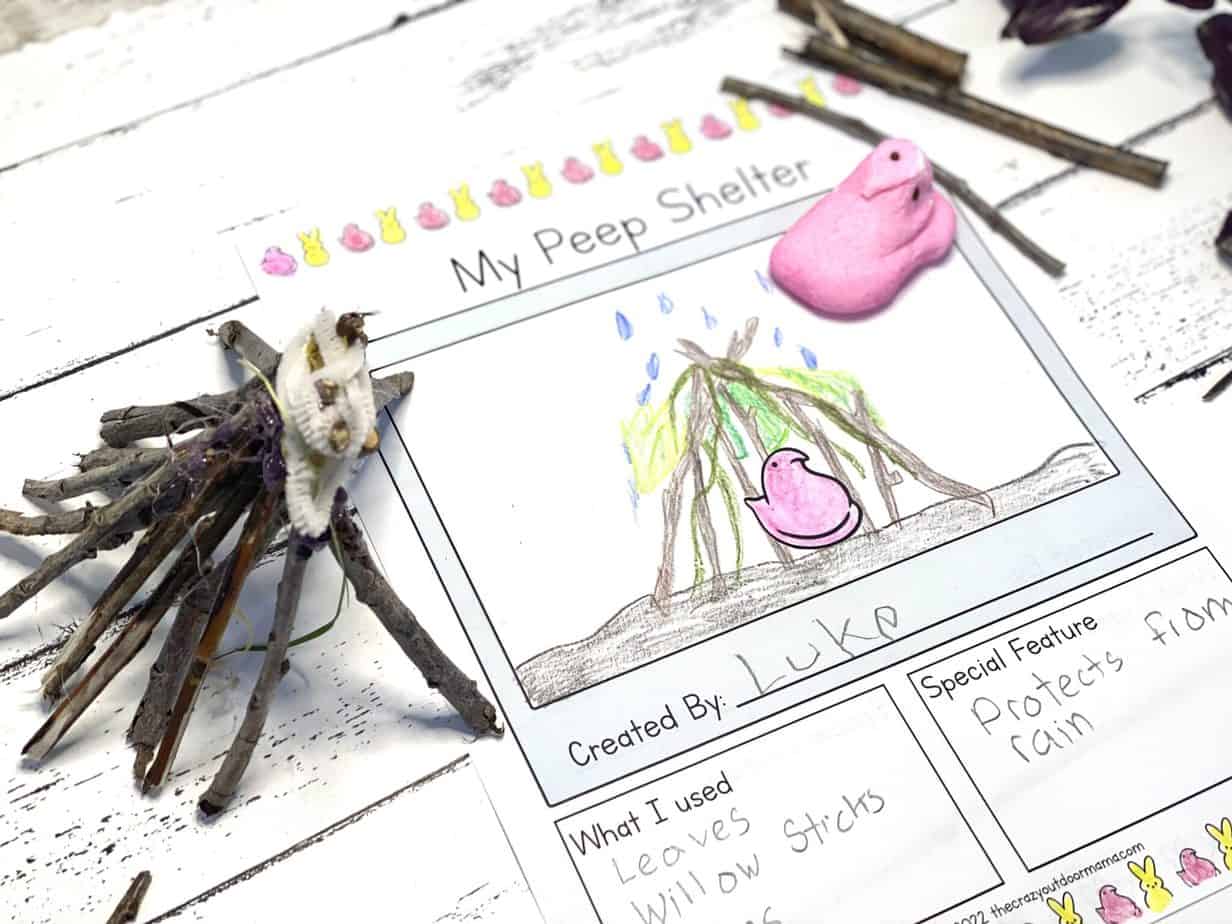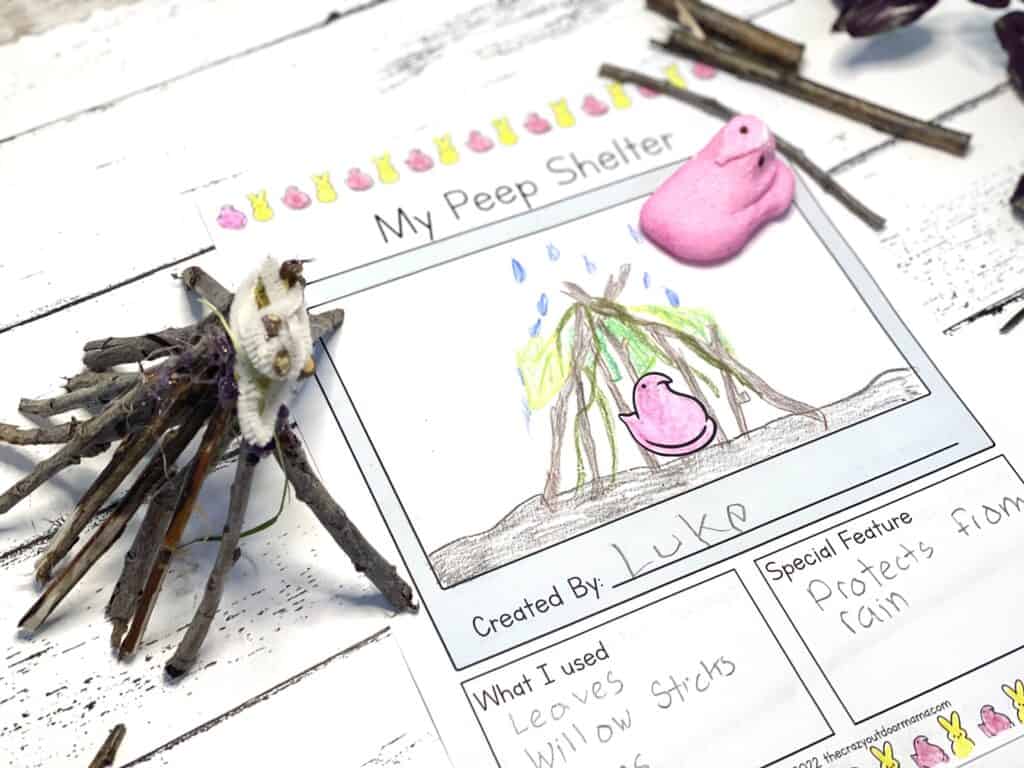 Campfire Crafts for Kids!
Yet another must for camping, campfires are so fun to recreate! Though they might not be quite as warm, these campfire crafts are still pretty magical!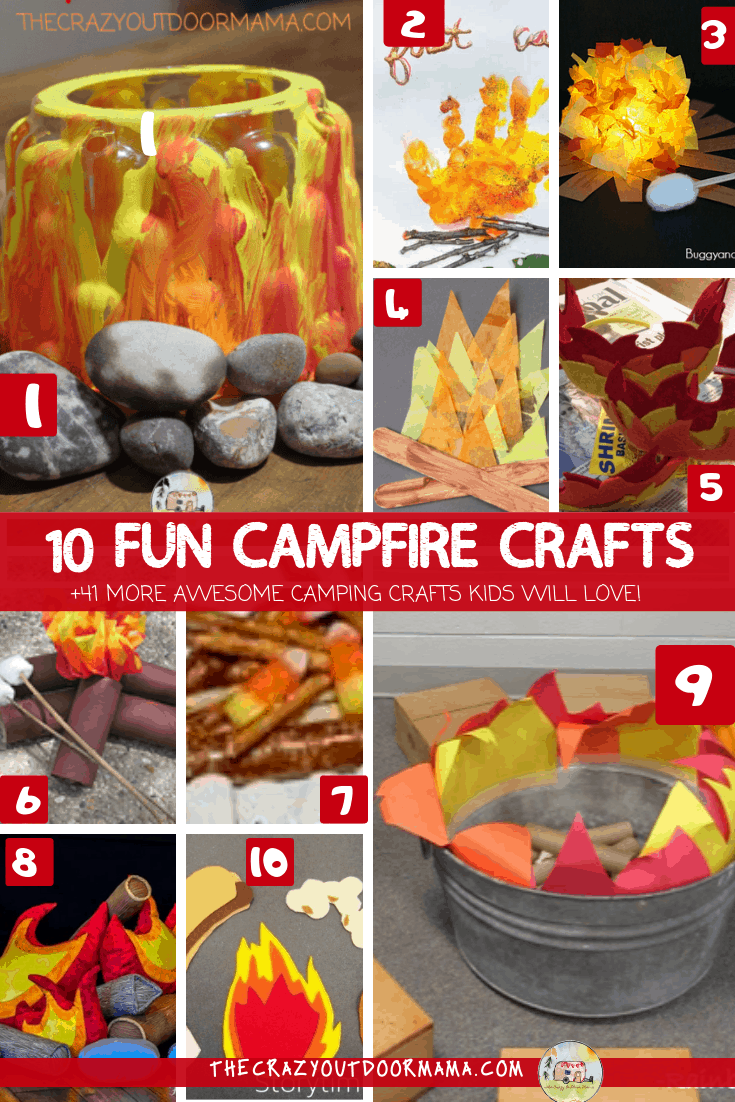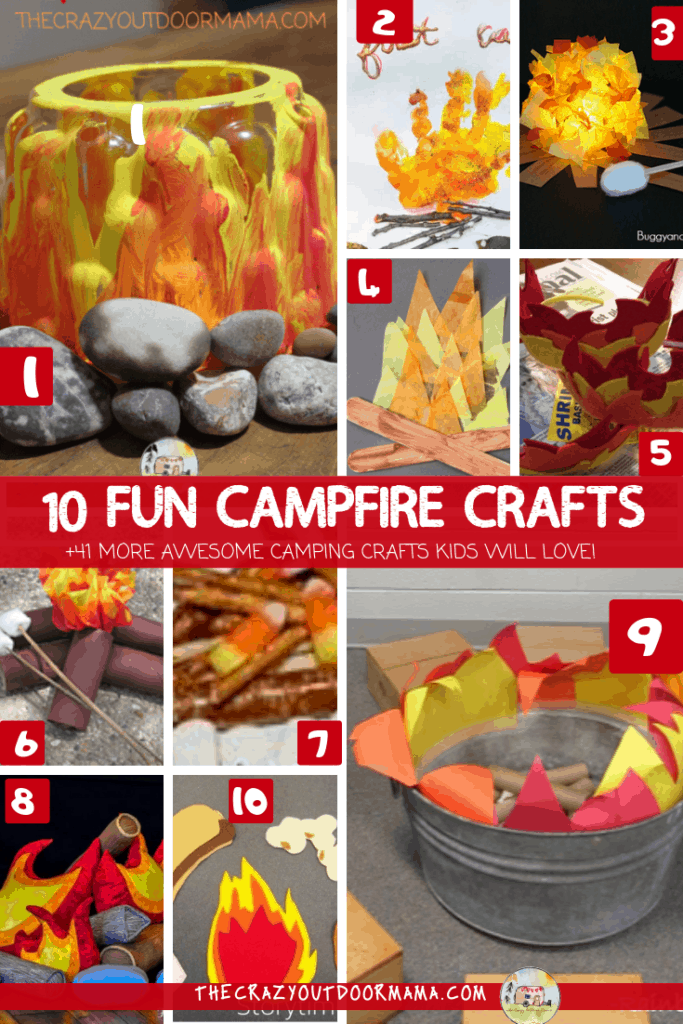 Recycled Glowing Campfire!
Don't throw out that next plastic container – instead, reuse it and make an awesome glowing campfire craft! It's easy to paint, and it feels good getting a second use out of something!
Handprint Campfire Craft
What better way to remember that first camp trip, or even a fun camp themed party than with a cute campfire hand print?? It comes with a cute printable template so that you can frame it when you get home!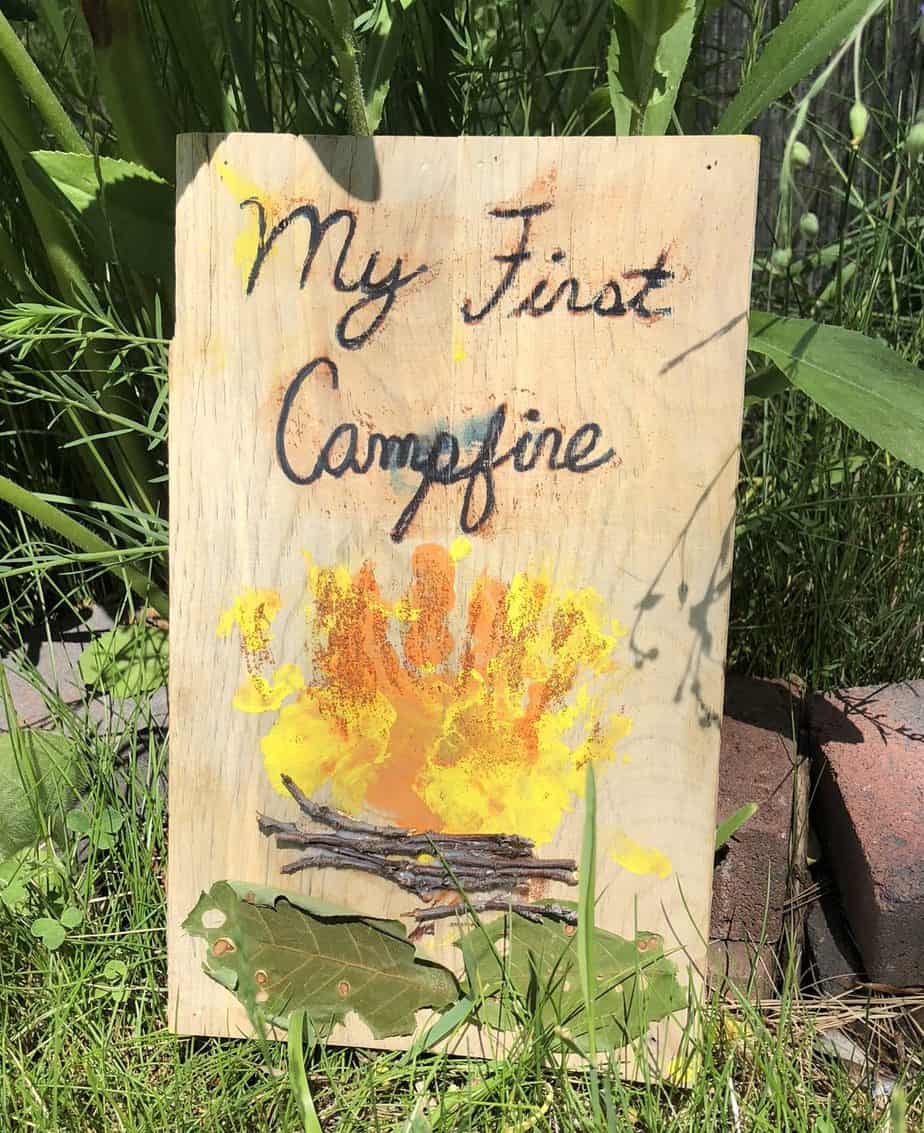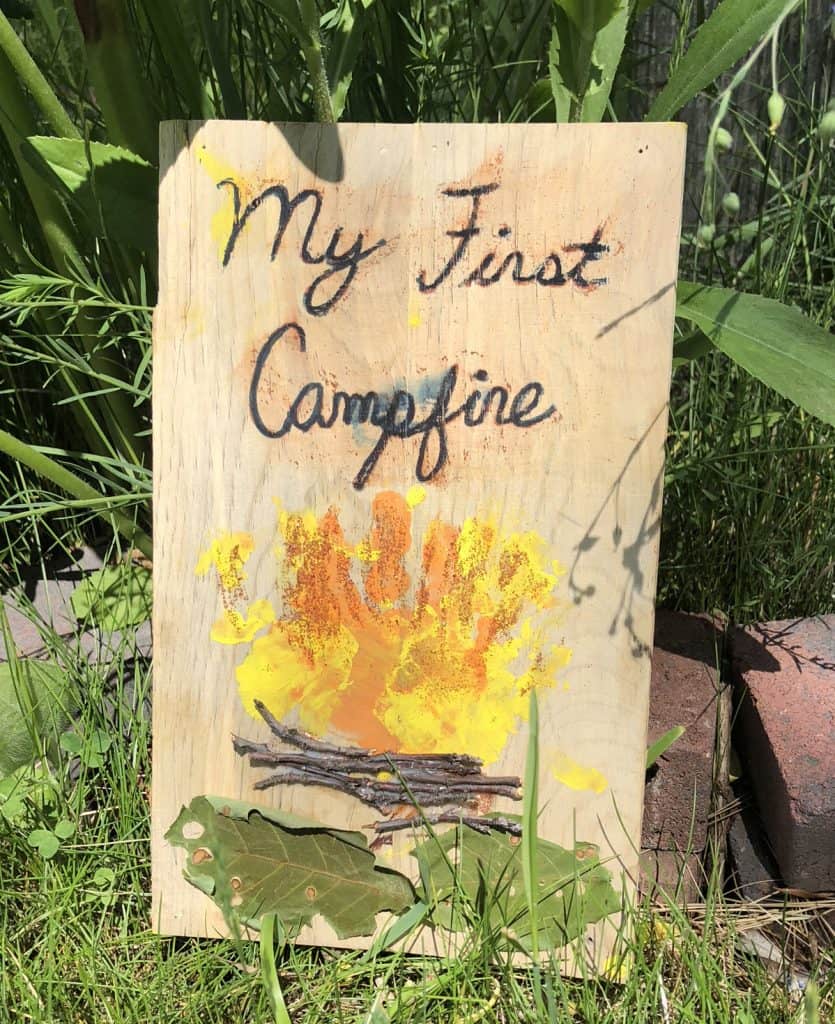 Tissue paper and cup campfire craft
I love this campfire if you're trying to avoid paint use (see it here!) and it helps kids with their fine motor skills! Also… it's real looking and cute!
Tissue paper on construction paper campfire craft
If you don't want to have to collect any plastic, then let the kids tear up some tissue paper and turn it into a campfire! Easy, fun, and mess free!
Campfire Crown!
This is perfect for camping games with kids, IE who can get campfire stuff together fastest, makes the best s'more etc… what kid wouldn't love a flame crown??
Cardboard tube campfire
Some paint can do magic when it comes to crafting, and in this case turning something boring into something awesome – a campfire! See it here!
Campfire safety craft (that you can eat!)
It's so so important to learn about campfire safety, and since kids learn best through play, why not add a little more inspiration with yummy treats to really get them excited to learn about campfire safety! This little campfire project uses food to understand safety… and it's never looked so delicious!
Sew your own cute campfire set!
For the REALLY crafty moms, here is an adorable DIY campfire sewing tutorial! It looks so freaking cute, that it might actually inspire me to get out my sewing machine.. I know my kids would love it!
A large pretend campfire for parties or school!
If you have a camp themed week or party coming up, sometimes the cute smaller crafts above this won't do, and you'll need a campfire diy everyone can enjoy! This big campfire is perfect, and pretty easy to make (she also includes other ideas to camp-ify your room!)
"Campfire Pokey" song and flannel board!
I had just learned about flannel boards a couple weeks ago, but I want to do the campfire pokey NOW because it's cute and it encourages movement through song! The pieces are easy to cut out, and the song is fun to sing!
Tent camping crafts for kids
Tents have always created get aways for kids and adults alike! Check out these tent crafts that are almost as fun as camping!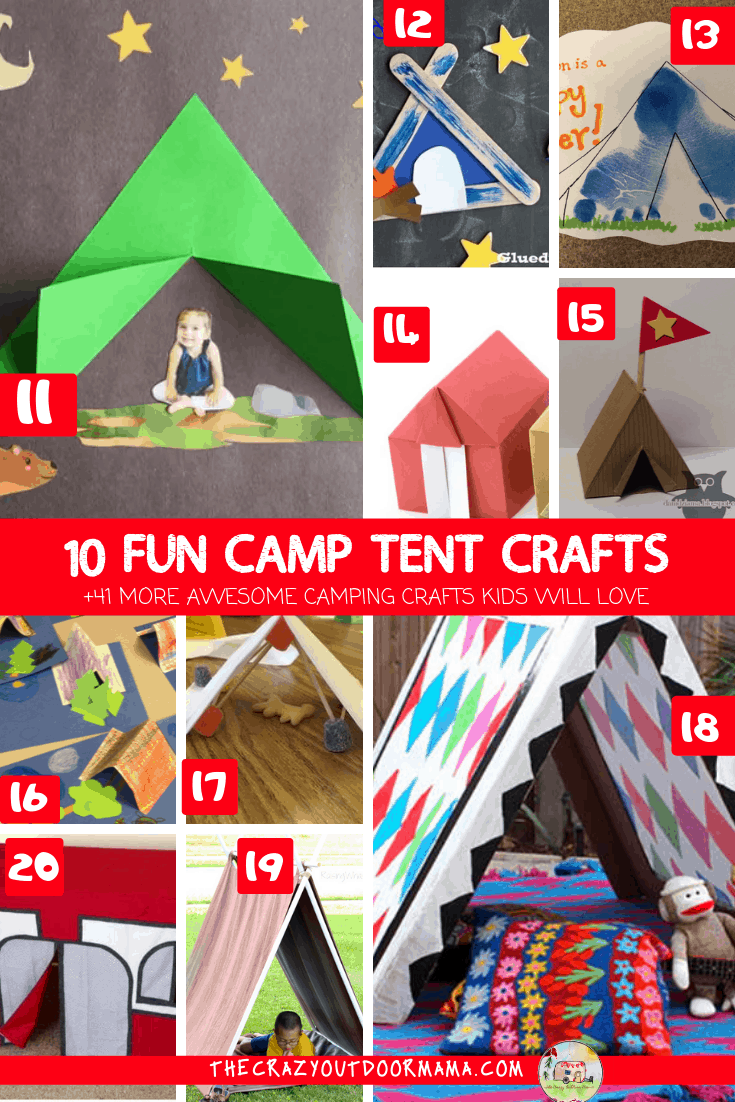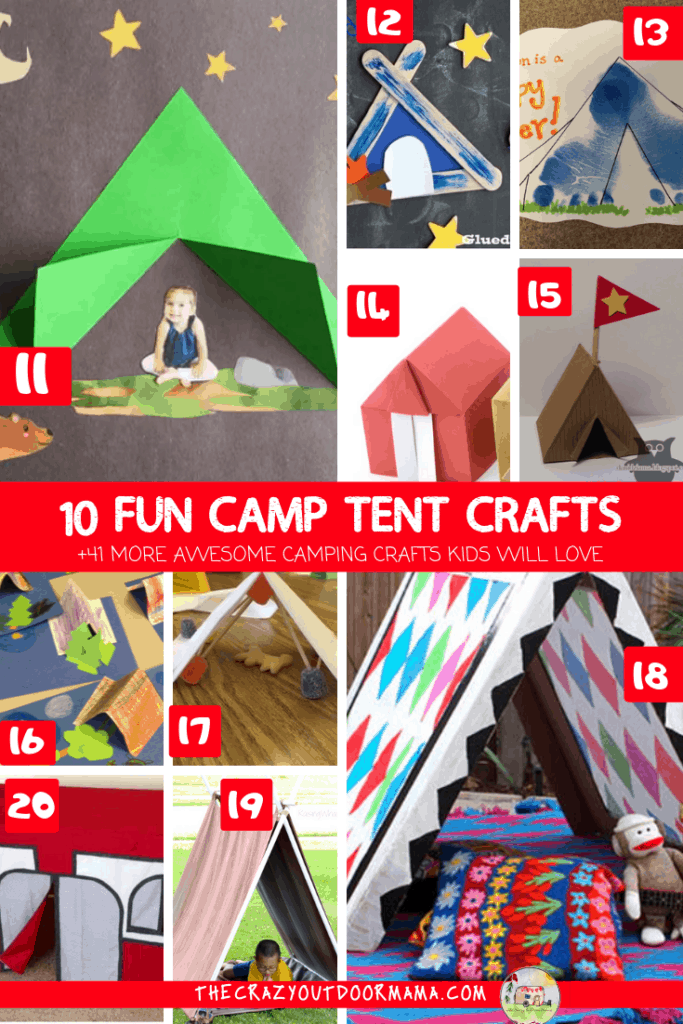 Cute fold out tent craft (starring your little camper!)
This is simple (you only need some paper and glue!) but I love that it can feature your child! Check it out here!
10 Count Fold Out Tent Craft
Perfect for campers who are learning to count, this fold out tent craft for kids is super fun to make and includes personalization options (such as adding a picture of your little camper into the tent window!)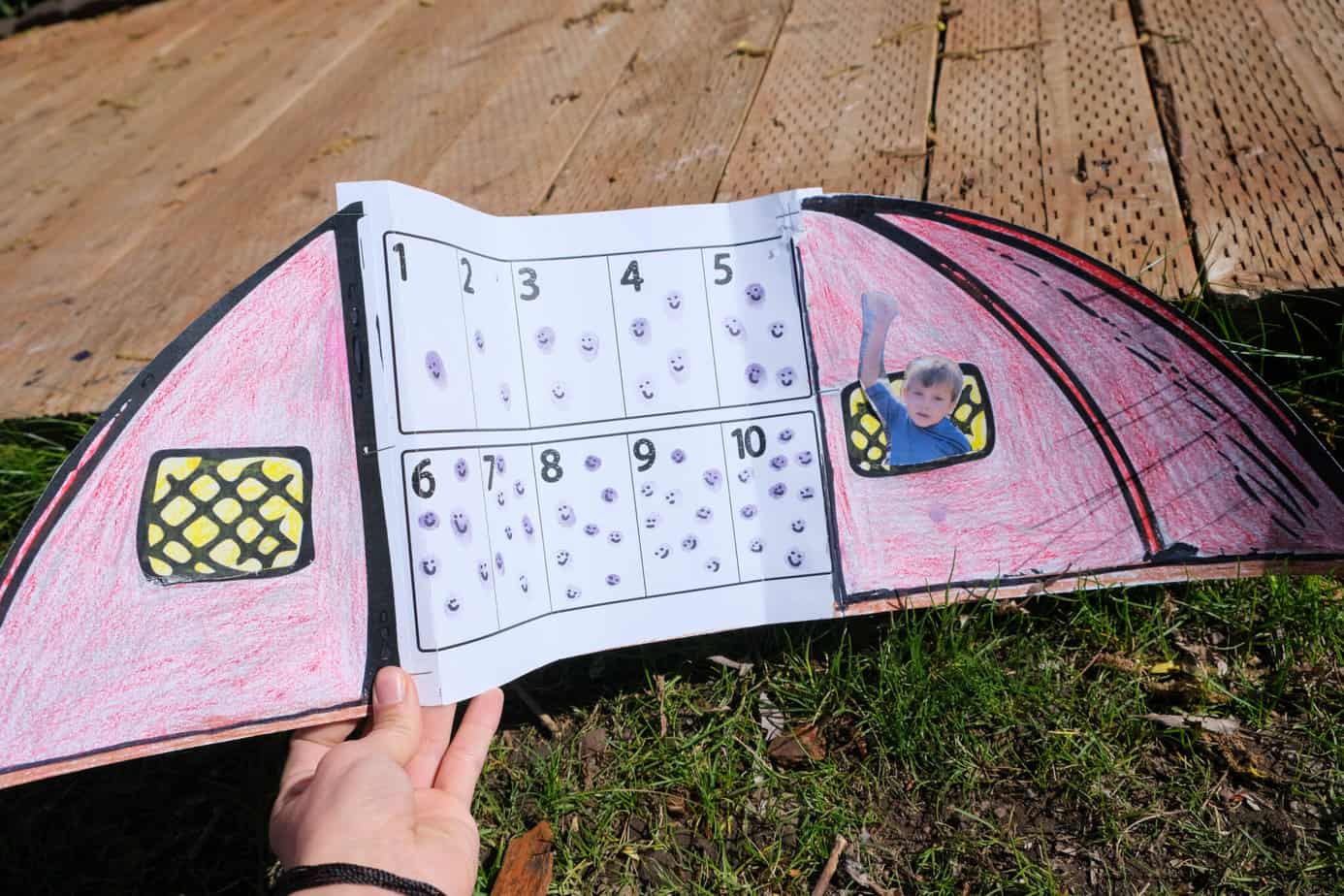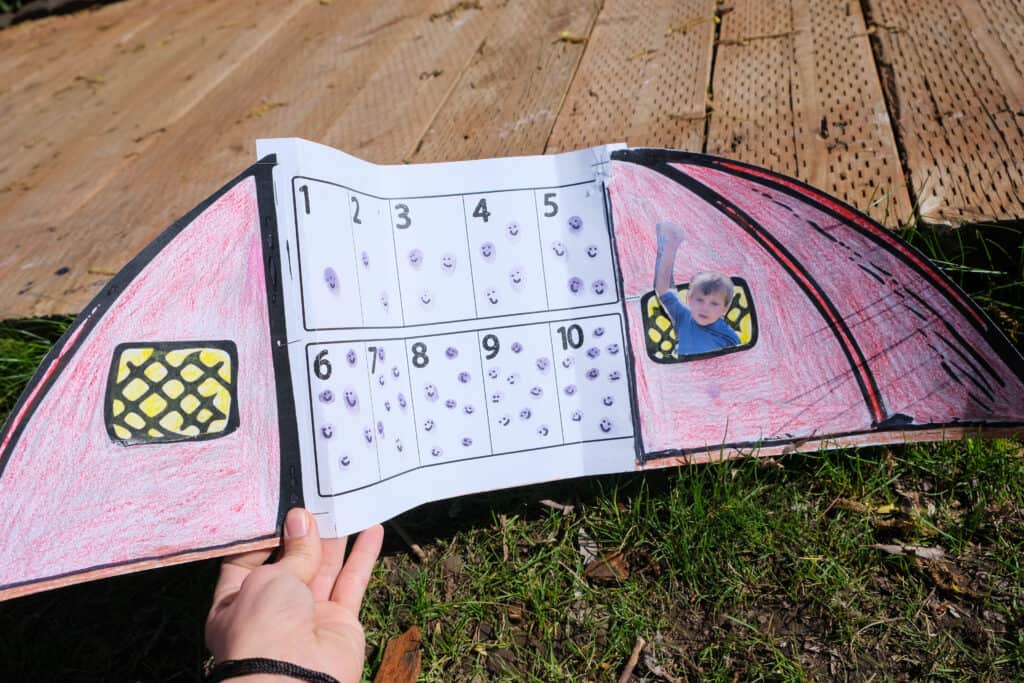 12. Popsicle stick camping tent craft
Popsicle sticks are so fun to use, especially when it's something fun to create with your preschooler like a tent! This tent popsicle craft is another easy but cute way to celebrate a camping theme!
13. Footprint "Happy Camper" tent craft
Do you love camping, and are eager for your baby to love it just as much? Well why not start with this cute tent footprint craft to remember how small their feet were when you took your first camp trip!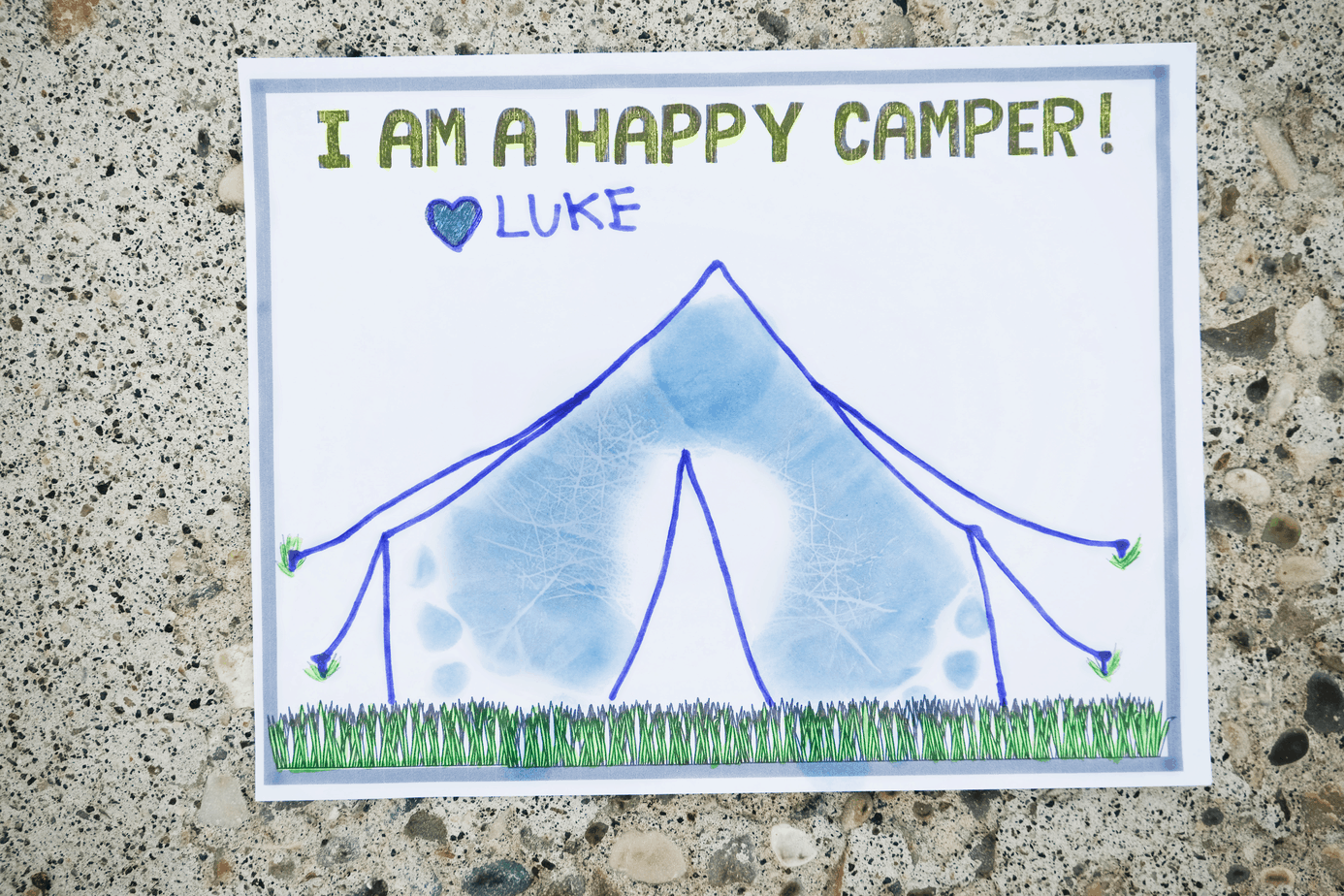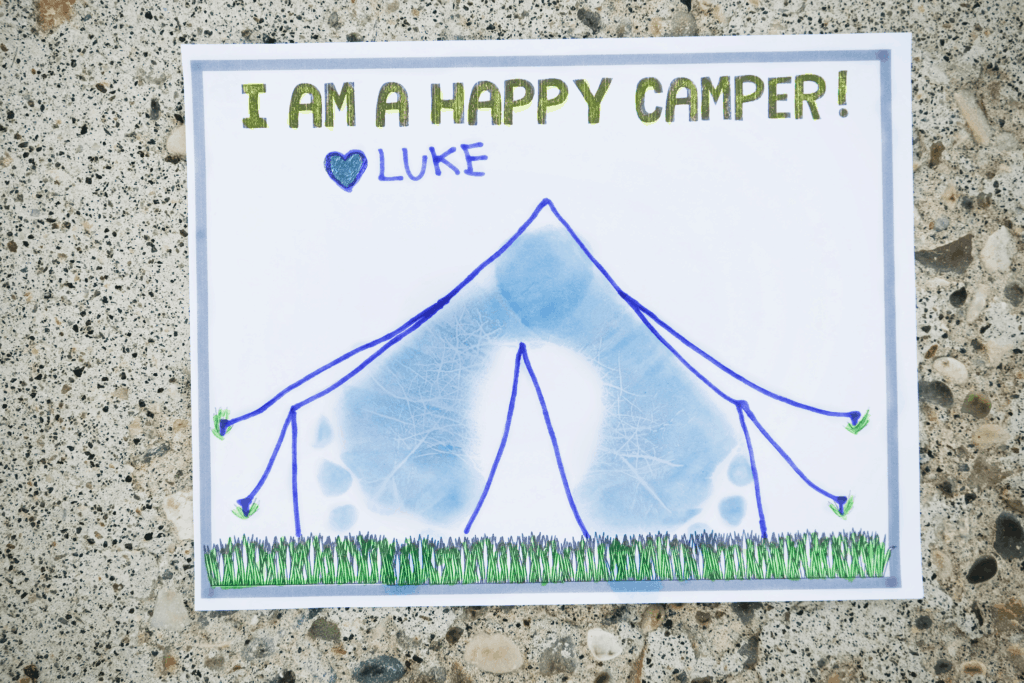 14. Origami tent (for older kids or heck… adults!)
This thing looks real, and I honestly would make it just for myself as decor I think! Check out this origami camp tent – it even includes a video for those like me who struggle with making this kind of stuff!
15. Camping tent favor box
This tent is similar to the origami one, except it actually has a printable tent template that might make it easier to use! It can hold some goodies inside too, so it might be perfect for your camping themed birthday party!
16. Paper tent camping scene
I love how this tent craft has room to really imagine and draw a whole tent camping scene! The tent is easy enough to make, and kids can add on what they want to the rest of the paper!
17. STEM tent project!
This STEM tent project challenges students to create a tent that can shade an animal with just toothpicks, a tissue, and gumpdrops! I'd of course swap the gumdrop for marshmallows (assuming they still worked the same!)
18. DIY Cardboard play tent
Now we're going to move onto tents that have room for kids to play in! This cardboard tent is great for using up those massive, awkward cardboard boxes we somehow get…. and it's even funner because that allows the kids to decorate it themselves!
Camp Story Sticks (Perfect for pretend play!)
Make camp story time even more fun by using these representative camp popsicle stick crafts! Either take turns drawing them and try to make a story from what you picked or just use them with the kids for their next play time!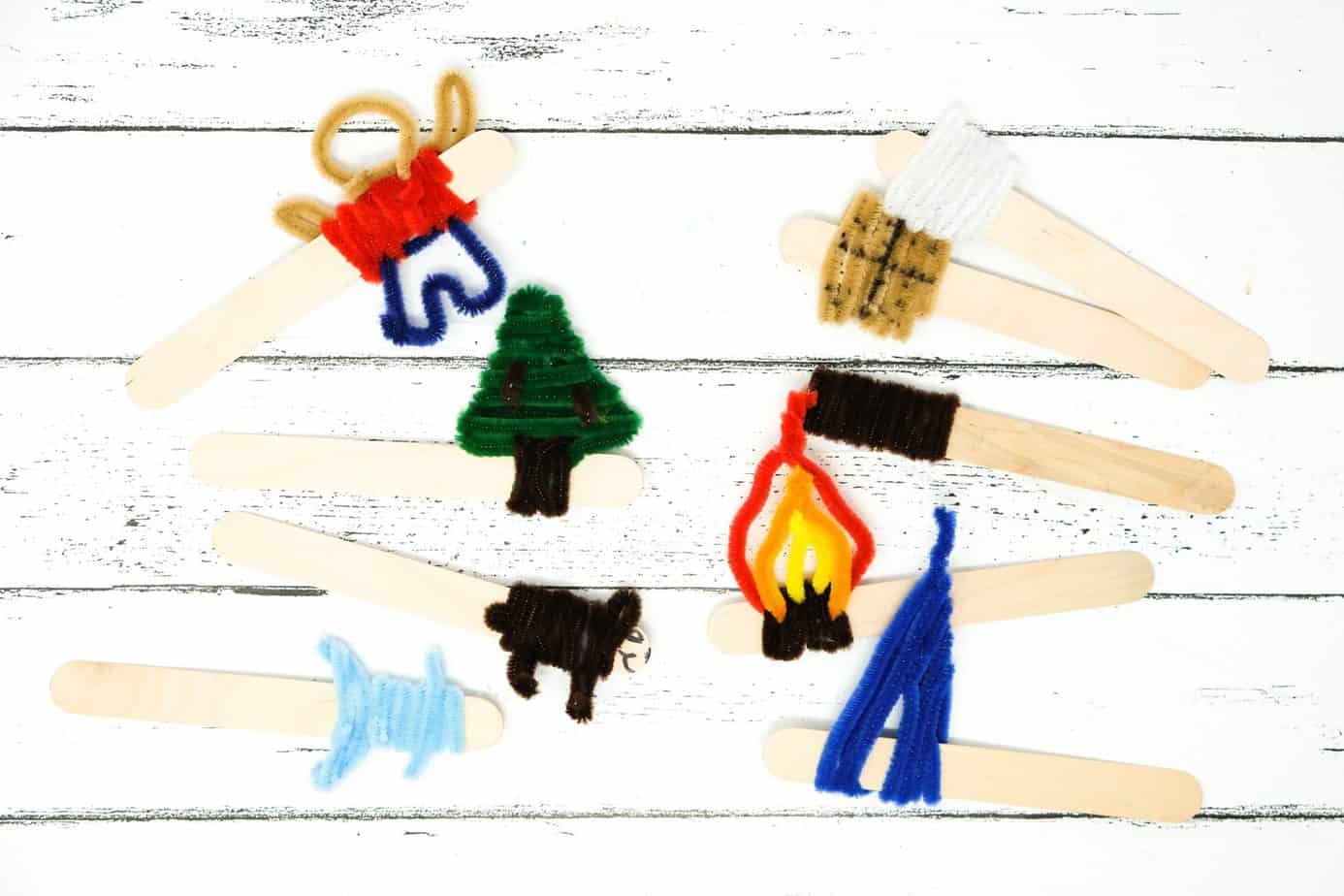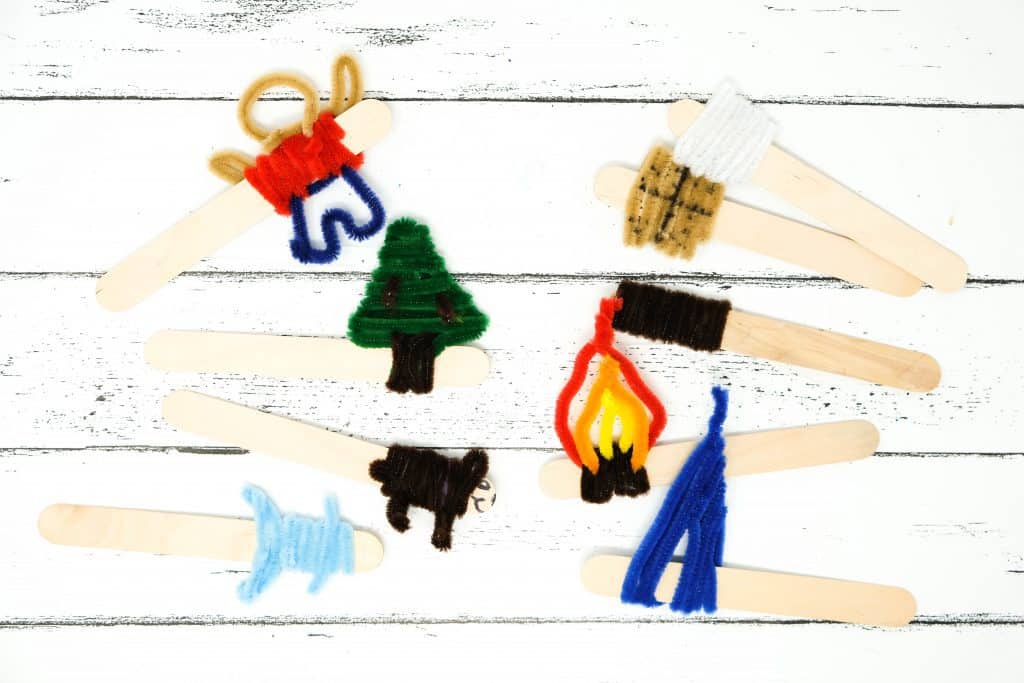 19. No sew camping reading tent
While it could be used indoors, this simple design is really perfect for outdoors on hot sunny days! I love that it's a no sew tent because sometimes I'm sort of intimidated by sewing tutorials, so this make it way more doable!
20. No sew tablecloth playhouse tent
So I know this isn't TECHNICALLY a typical camping tent, but there are quite a few that are this shape! Besides, if you have more than one kids to entertain with a tent, you'll need the extra space this playhouse tablecloth tent offers!
Camping Lantern Crafts
Even though we tend to use plastic lanterns now a days (or let's get real.. phone flashlights!) there is something magical about an old school camping lantern! Check out some of the lantern crafts that the kids will love!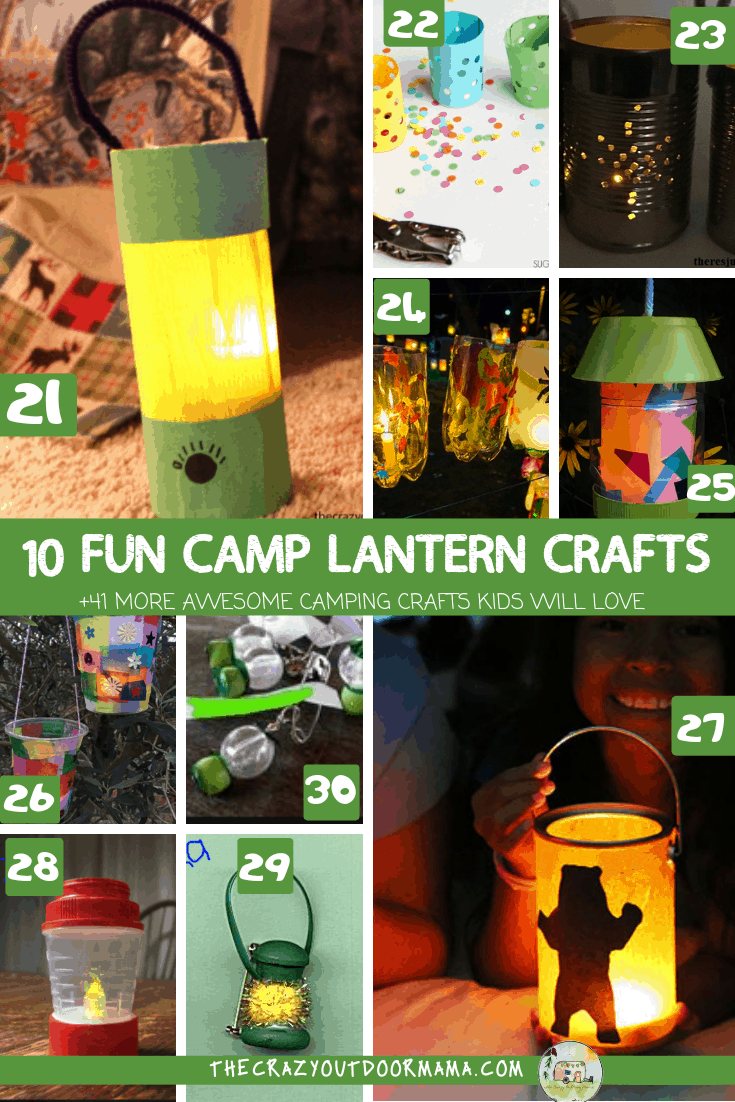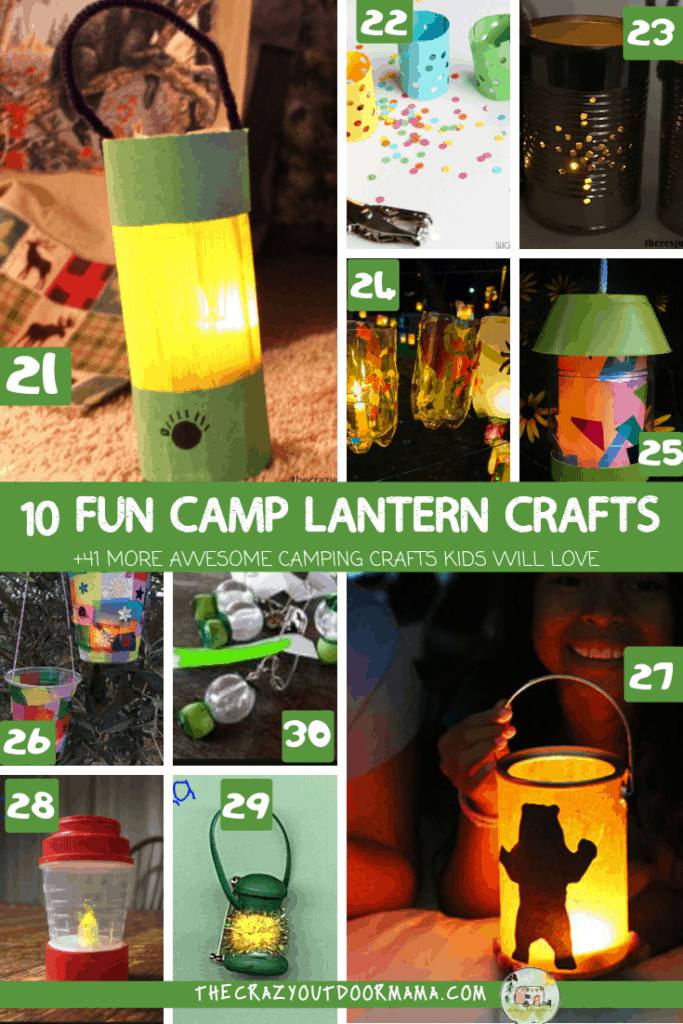 21. Glowing water bottle lantern craft
This "coleman" style camping lantern craft recycles a plastic bottle and uses some construction paper to make this cute lantern the kids can carry!
"Rip and Stick" tissue paper lantern (with bears!)
A little modge podge and tissue paper can create something pretty magical! Check out this fun sensory based camping lantern craft that the kids can modify with their favorite animal!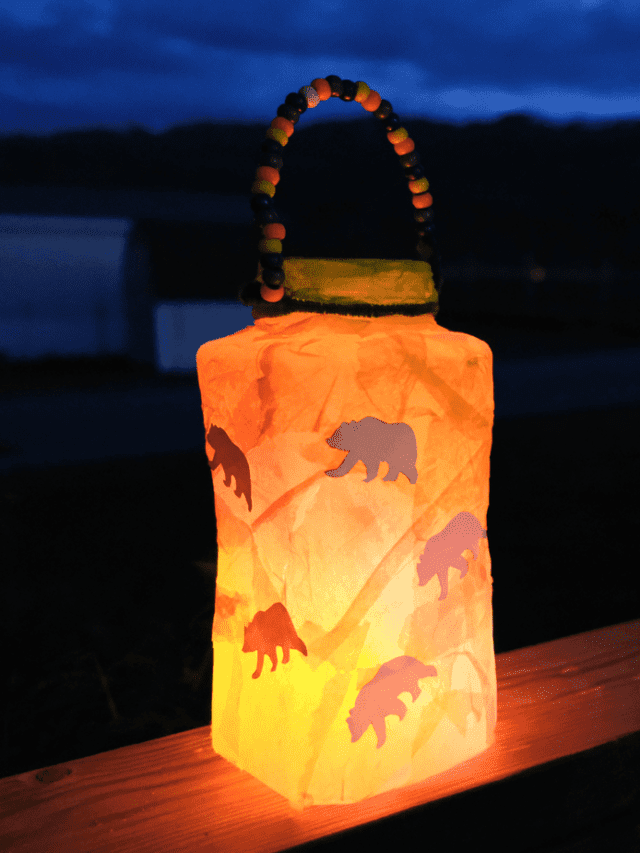 22. Fine motor hole punch lantern craft
This is definitely the best bet for toddlers who want to make a lantern! The OT toolbox has this super simple but adorable craft that preschoolers could actually do all by themselves!
23. Tin can camping lantern
I love how perfect his lantern is for parties and for actual use at a campsite! Since it's tin, it can hold up to some rough play and repeated use! See it here!
24. String lantern lights
This mom was inspired by the Boston Lantern Parade, and made some of her own! I love this for bigger groups to string around the campsite or for getting a fun campy theme in the classroom!
25. Peanut butter jar lantern
Peanut butter jars are the perfect shape to make a lantern, especially with the lid color and texture of it! This one even uses pretty tissue paper to really make it fun!
26. Plastic cup tissue paper lantern
These are easy camping lanterns to make for even preschoolers! Just a plastic cup, tissue paper, and a handle will be fun to decorate! See it here!
27. Camp scene silhouette camping lantern craft
This is adoorrable, and pretty easy to do! Let the kids pick their favorite animal to really personalize their lantern!
28. Doll camping lantern!
For the kids who love to pretend play with their toys, this little doll lantern is perfect! It's made from one of those tiny medicine cups you get with kids medicine! See it here! (P.S. scroll about half way down the page)
29. Super mini pom pom lantern!
Speaking of dolls, this one is even smaller than the last! It actually uses a pom pom as the "lit" lantern portion! This doesn't have instructions, but it seems to use a button, the pom pom, and perhaps another button on top!
30. Mini bead and sequin camping lantern craft
Another cute mini lantern craft! This one doesn't have instructions, but it does seem like they used a green bead, clear bead, then a green button or sequin. Even cooler, it can be pinned on your kids shirt since it's on a safety pin (just like the one above this!)
Outdoor crafts and activities to do while at camp
Now that we've gone over all the camp inspired crafts for kids, lets take a look at some awesome crafts you can do while actually camping!
Since I have preschooler and under kids, alot of these activities will be for the younger crowed, however it's pretty surprising how much big kids still enjoy camp activities!
Alot of these are nature inspired, or can be done with some printables that you can prepare before hand. It really is the best way to keep the kids busy at the campground so that you can relax! I know it's how I keep my toddler busy!
P.S. while it's not really a craft, printing out some cute camping songs can be a fun thing for the whole family to sing around the campfire at night!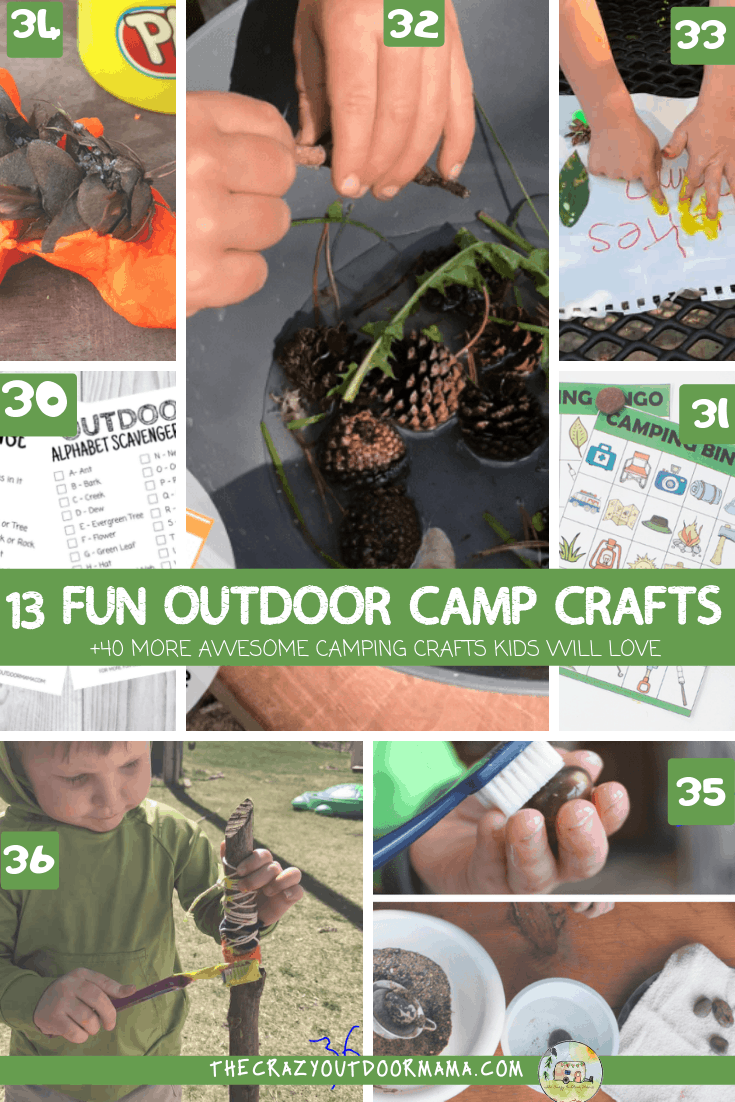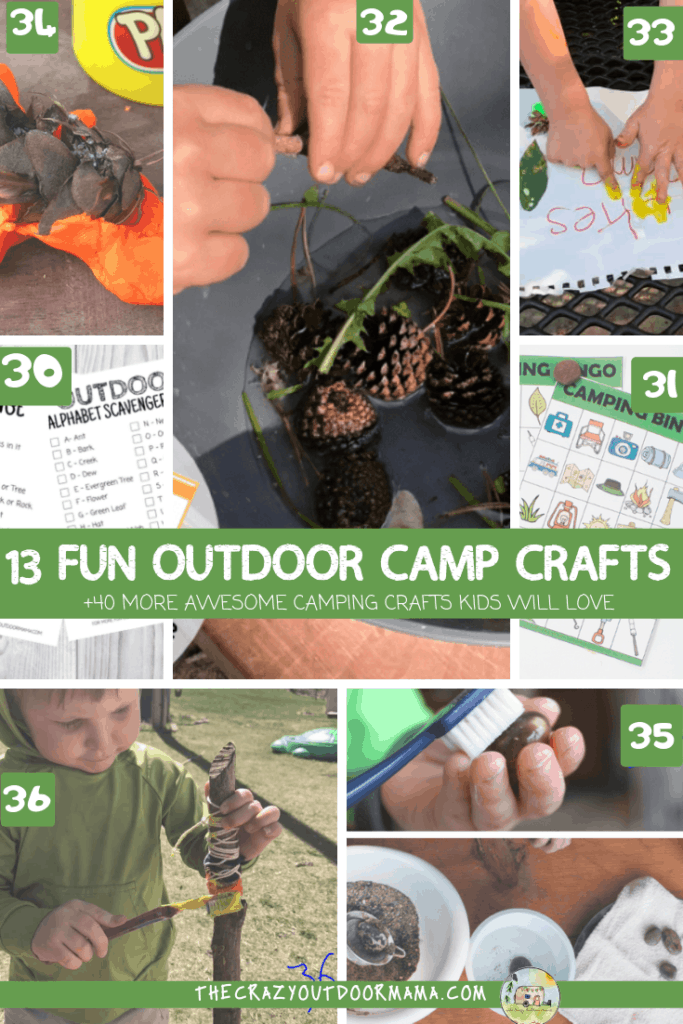 30. Camping scavenger hunts (this has 4 printables included!)
This has to be one of the easiest things to keep a kid busy while camping – print out one of these scavenger hunts (senses, experiences, alphabet etc) and let them try and find them all!
31. Play Camping BINGO!
These camping BINGO cards are handy to have because they can either be used as normal, or turned into a scavenger hunt as well since these are all items that can be found at a campsite!
32. Make some "Sensory Soup" with items from around camp!
It's no secret that kids love playing in water, and with a fun "recipe" factor, sensory camp soup becomes a hit! There are 4 printable recipe cards that can encourage your little camp cook to create!
33. Make a campsite sign!
Let your kids mark each new campsite as theirs (and keep them occupied while you set up camp!) with a DIY campsite sign! It's fun to let your toddler find what they like around camp and glue it to their sign (+it makes for a fun memory to take home!)
34. Use playdoh and nature to create something awesome!
Whoever said playdoh is just for fun at home?? It is actually a great medium for building houses, animals and fun murals! Bring the playdoh to camp for some fun creations!
35. Clean the rocks!
Going along with the same theme above, kids can keep busy for hours with just the fascination of cleaning off rocks! I like giving mine some extra stuff like a toothbrush and towel, but it really is a boredom buster for toddlers camping!
36. Crate a special hiking stick with your kids!
If you plan on doing any exploring around camp, kids will love the opportunity to really customize their own walking stick! Paint, string, and whatever else they can use will also be a fun reminder at home of their great camp trip!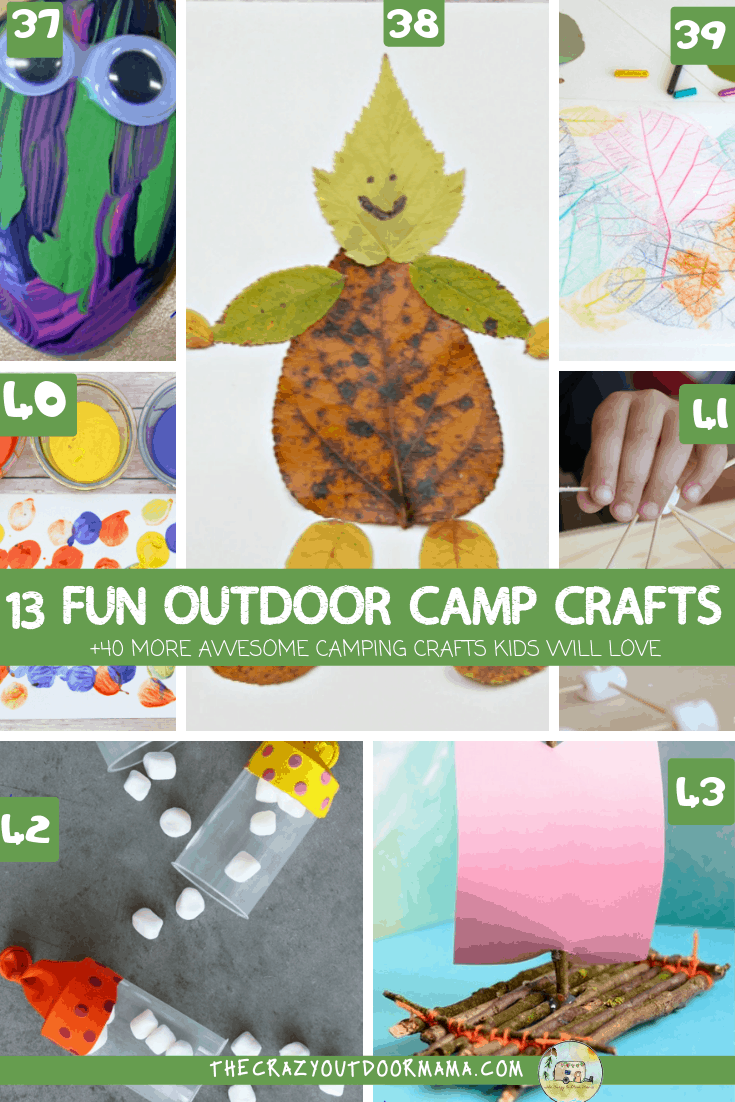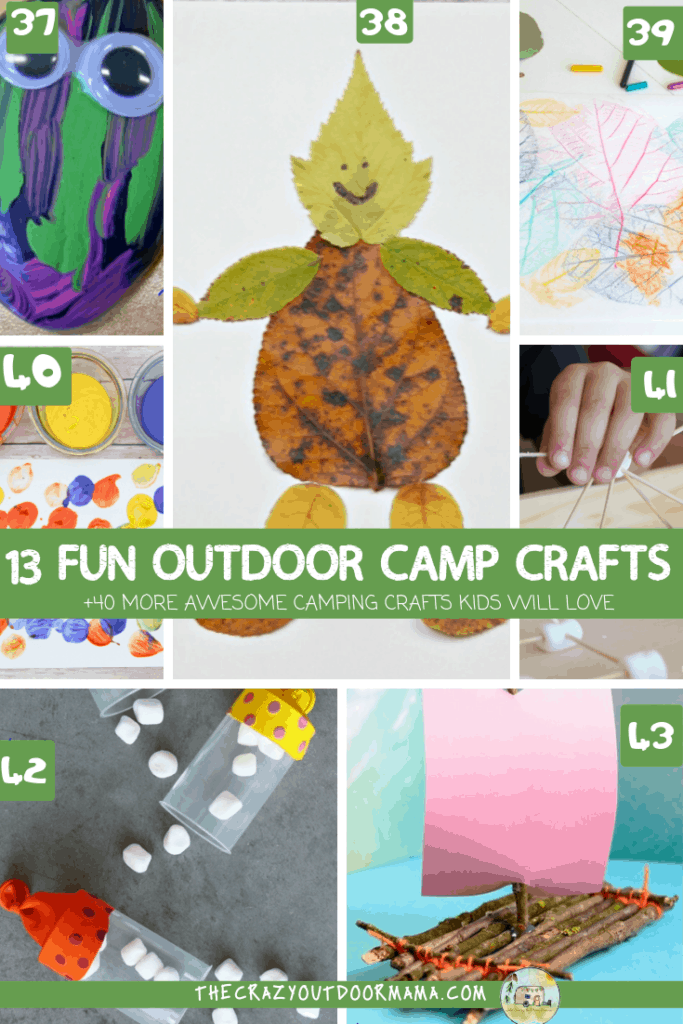 37. Make some rock pets!
Rocks were actually sold in "rock pet sets" in stores for a reason… putting some paint and googly eyes is really fun! Bring it back to the basics with this fun rock pets like these while at camp!
38. Create leaf people with leaves from around camp!
There are so many kinds of leaves, so it's really fun to take advantage of all those shapes and textures and make leaf people! For younger kids, make the outline of a person and ask them to fill it in with leaves!
39. Speaking of leaves… make leaf rubbings!
With so many textures, leaves can really make some pretty art when you color over them like this! The beauty of nature is amazing!
40. Paint with marshmallows
Marshmallows are almost always the highlight of any camp trip with kids, so why not use them for something more than eating like this!
41. Build with Marshmallows
Continuing with marshmallow activities for camp, check out this fun idea to build with them! Turns out they are pretty sturdy, as well as yummy!
42. DIY Marshmallow shooters!
This one will probably be the biggest hit with the kids yet… and it's actually really easy to make! Set up some cups and try to shot them ( or each other, let's be real!) with these marshmallow shooters!
43. Build a twig boat!
Have some fun binding sticks together to make a little boat! Kids will love experimenting to find the best design (like this one!)
44. Make a nature impression frame
These are a perfect way to use all those "nature treasures" your kids get in a fun way – they can look for specific things they want for their frame, find them in nature, and lay them out just how they want!
Go on a nest scavenger hunt like a bird
Kids already love acting like animals, so why not capitalize on that with something even funner… getting to forage and build a nest like one! The included printable scavenger hunt is even cuter!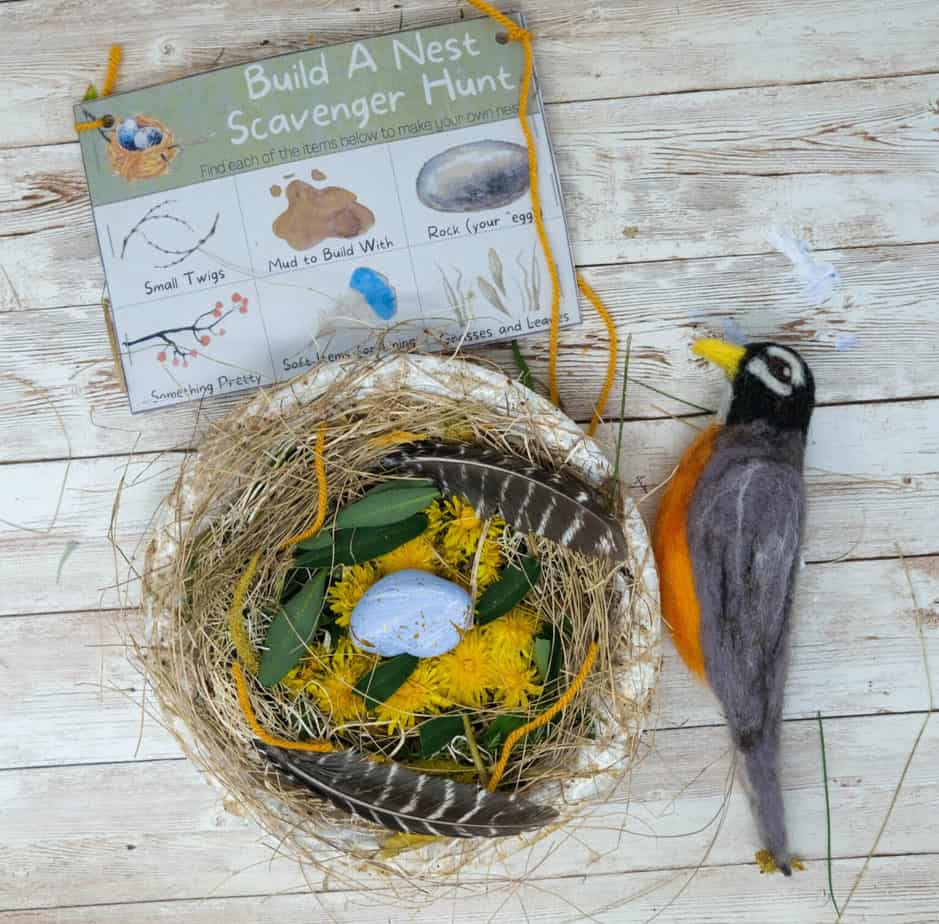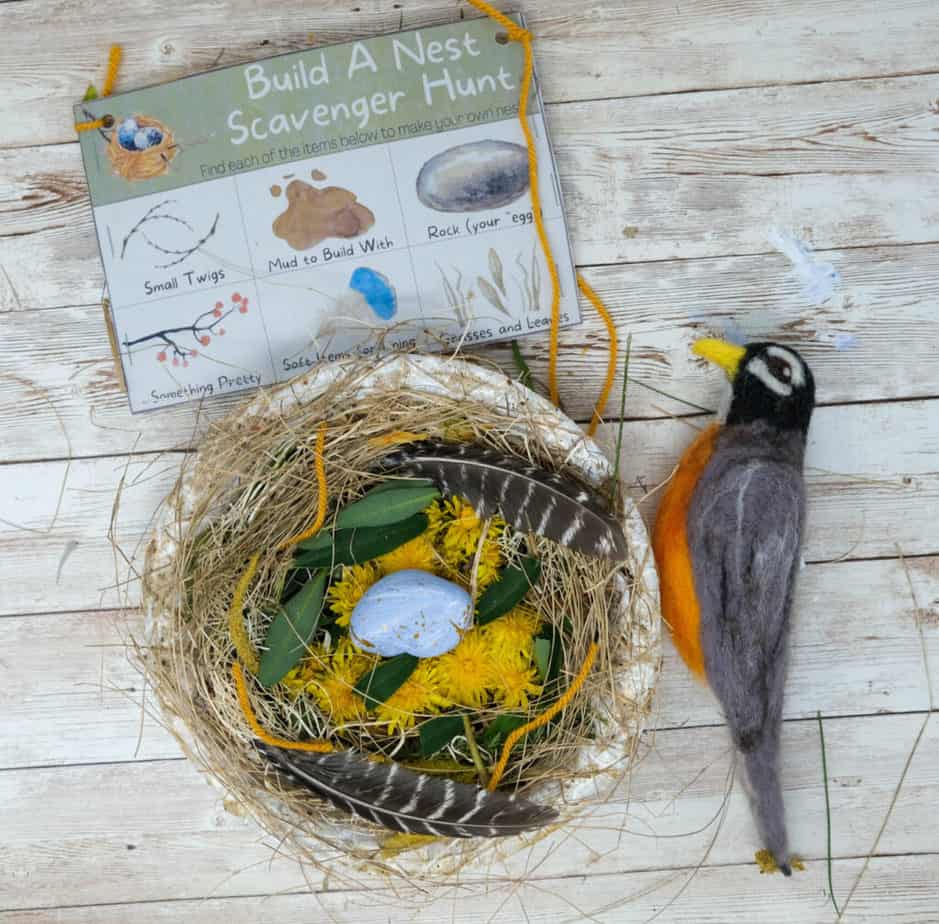 Printable Camping Crafts and Games for the Whole Family!
This list is seriously some of the best camping crafts of the internet – if you want to add yours, email me! Kids love to craft, and even better, it really keeps them busy while camping!
In the meantime, here are some printable activities we love to do while we're camping – I hope you enjoy them as well!
"Roll a S'more" Printable Board Game
If you're like me, and tired of using the excuse that the kids are too young to play board games while camping, then you will absolutely love this fun s'more building board game for kids that is not only fun, but educational too!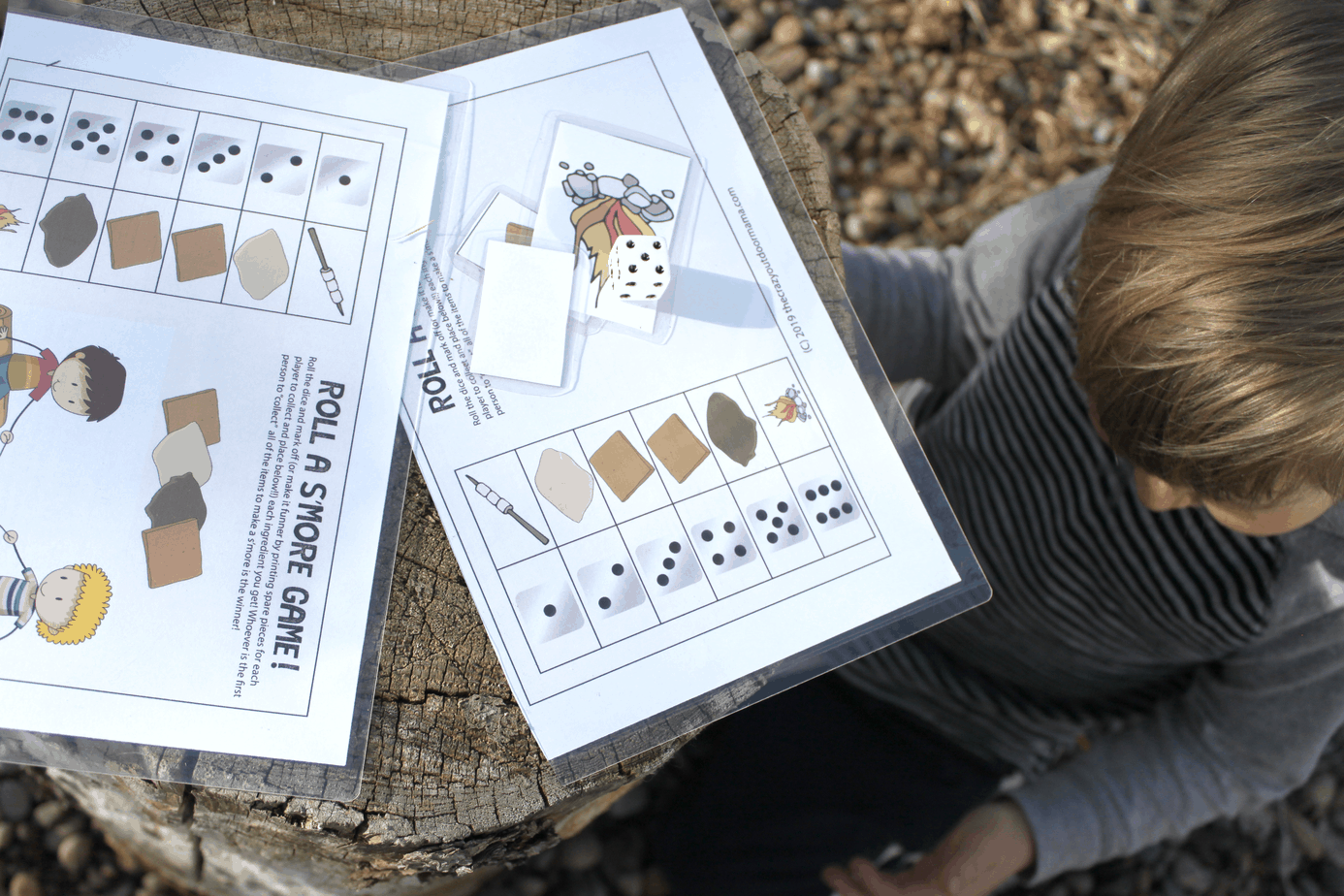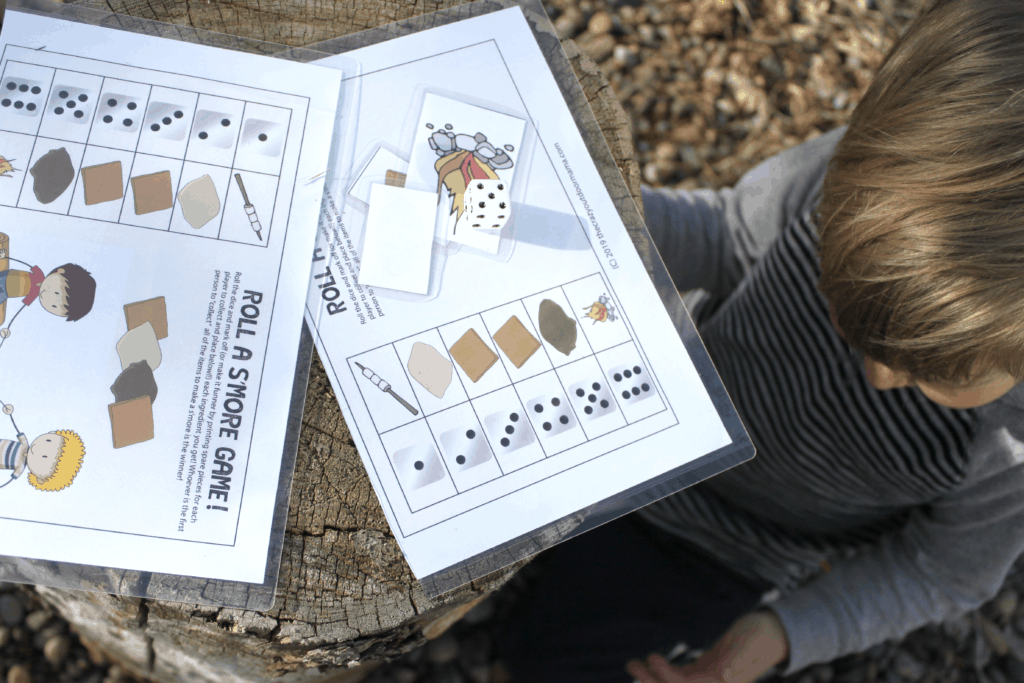 Kids Camp Mini Journal
This pocket sized printable camp journal is perfect for a quick weekend trip or a backyard camp out! With a few fun prompts, it will inspire creativity and story telling in your kiddo.
Printable Set of 27 Camp Charades
I'm always on the lookout for an easy game that's also super minimal… so we bring charades! This is a camp specific set of charades that includes 27 different prompts. None are too hard, but they're super fun to act out!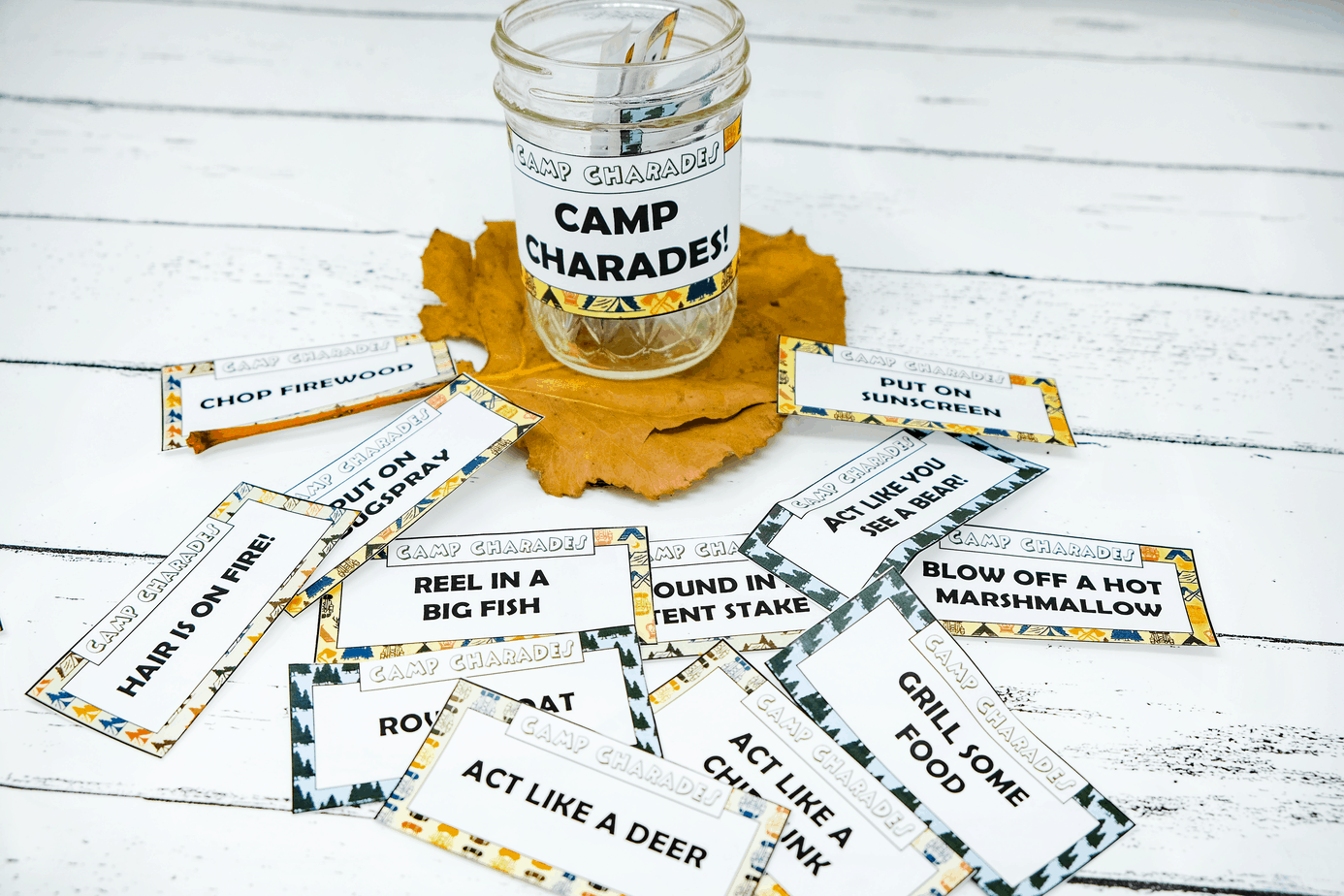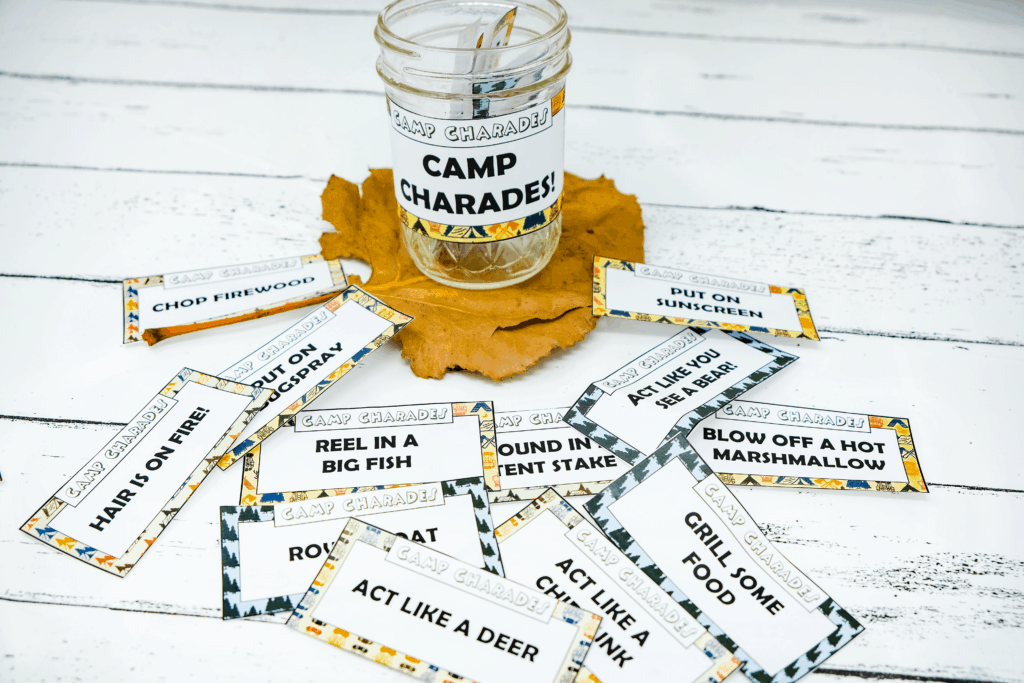 Week Long "Summer Camp" Printable for Kids
If you're needing some structure during summer I've created a fun 5 day summer camp activity pack (badges included!) that will teach your kids some camping safety and how tos through activities and play! Each day of the week will have a theme and multiple options to participate in it including crafts, worksheets, or actually doing the real thing!
Camping Scavenger Hunts (for all ages!)
Crafting is fun, but so is exploring at camp! Send the kiddos off to complete these printable camp scavenger hunts while you enjoy some down time or just try to set up camp. There's a variety of them, so you'll find something for all ages (ABC, experiences, picture based and more!)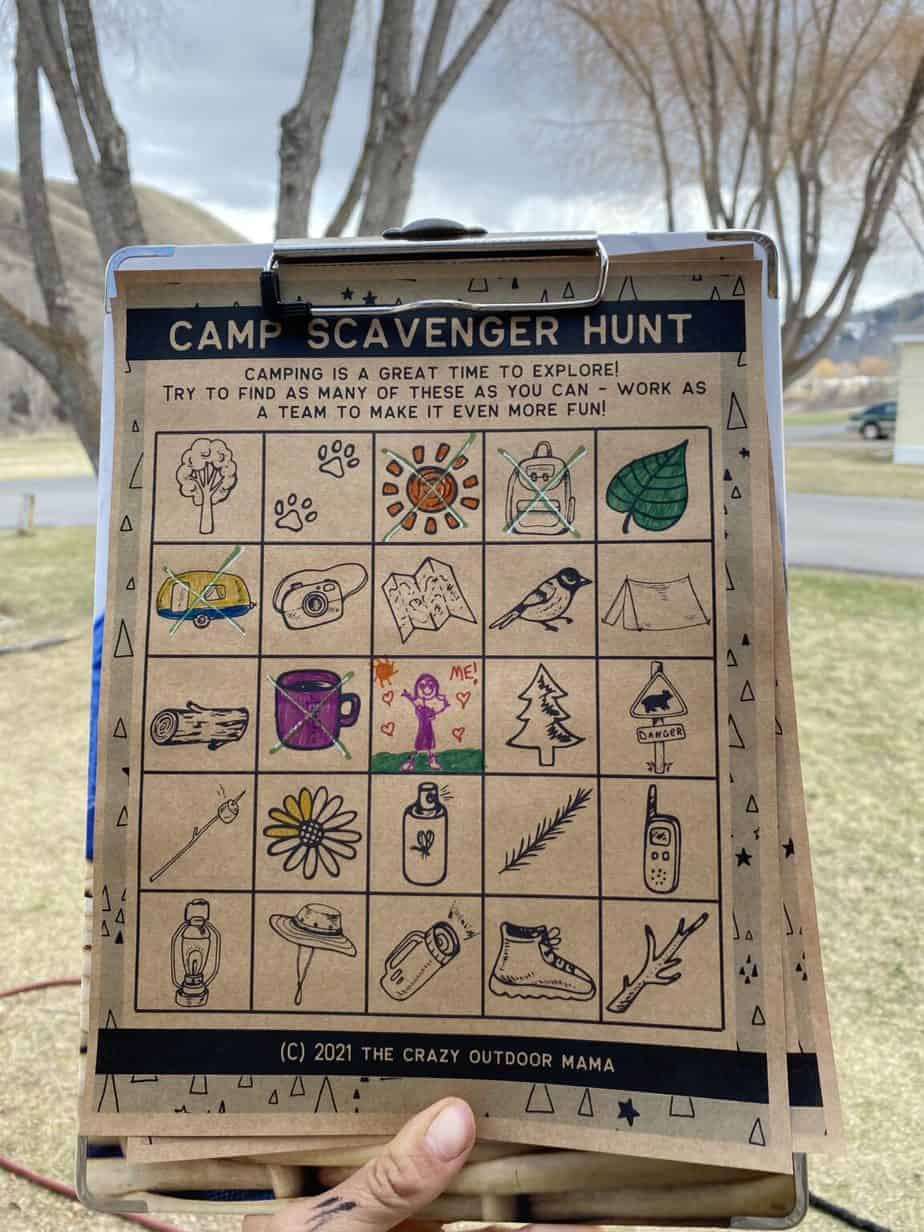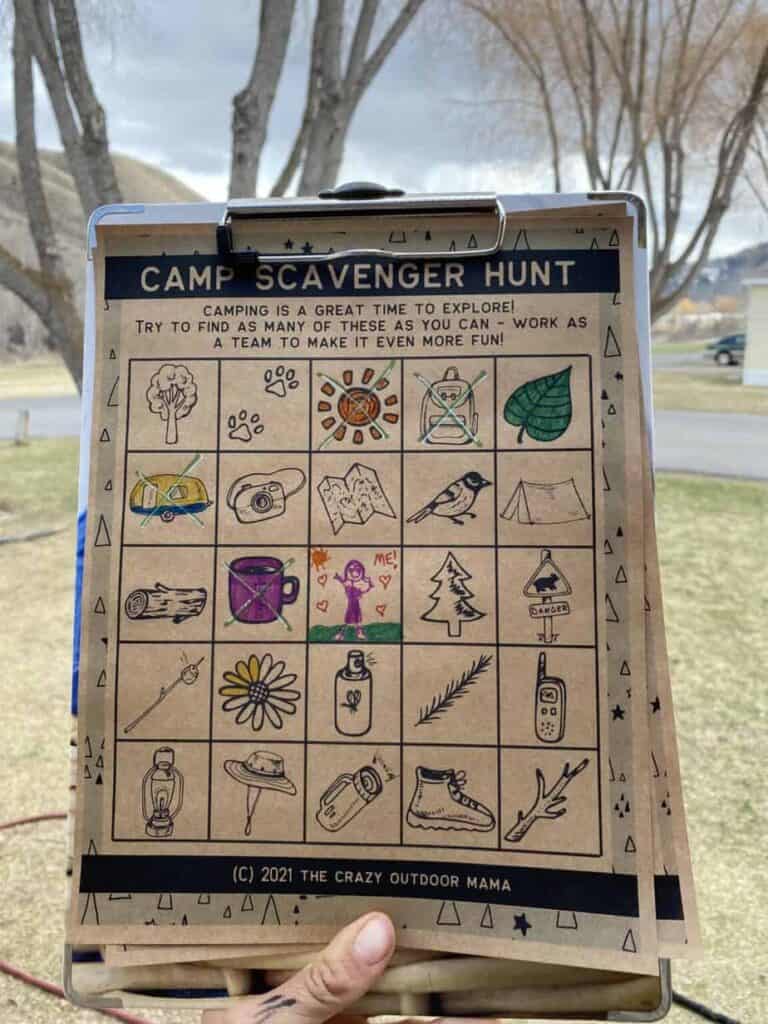 Latest posts by Stacy Bressler
(see all)