Spring is here – with the sounds of the American Robin in the air, I wanted to make a super fun nest building craft that was fun and easy for my kids to do!
I've been absolutely fascinated with this common bird, and it's so fun to watch them in the yard! Nests are fun to make in almost any form, but I thought it would be fun to do a bit of research to find out how birds actually do it.
I've made a fun printable scavenger hunt + instructions that can actually be turned into a sort of "scavenger satchel" (don't worry, you'll get it when you see the pictures!) so that the nest process is fun for everyone involved.
Now let's get nest building (based on the American Robin!)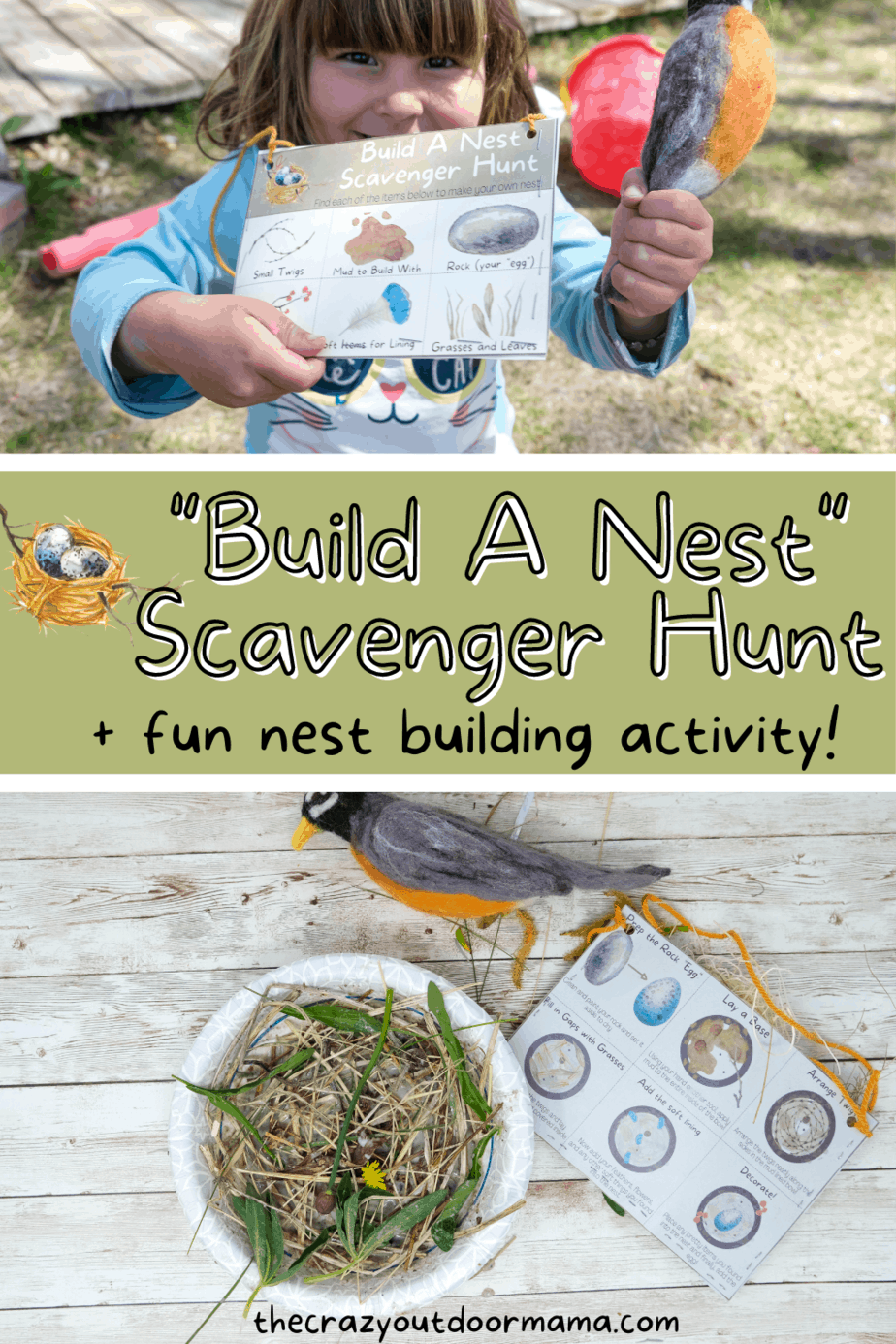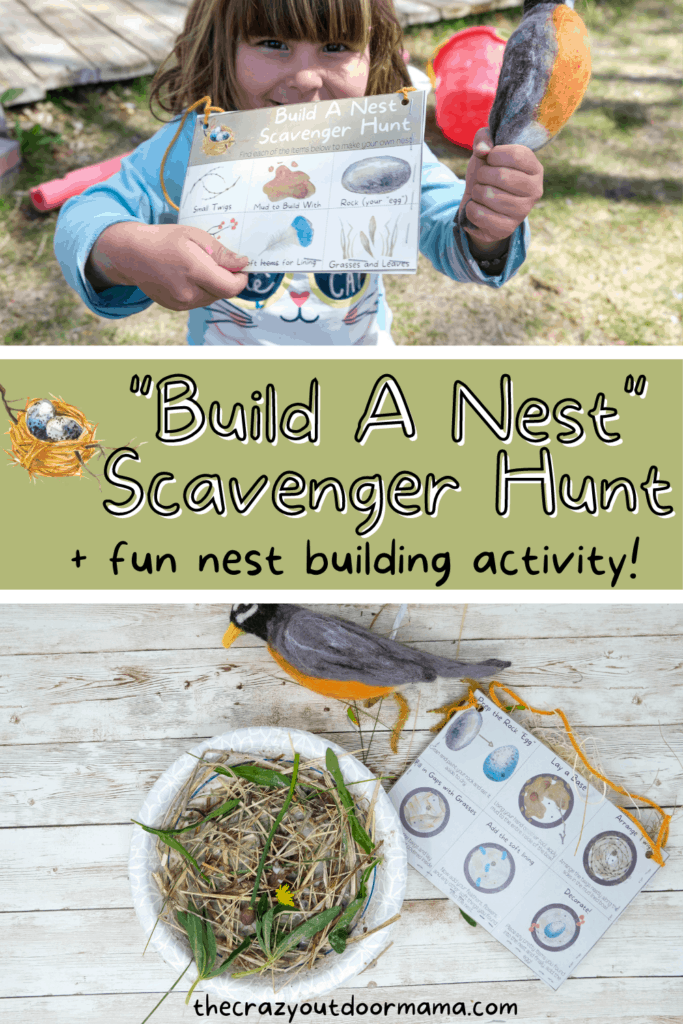 How to make this nature based nest craft with the kids
Since this craft uses a disposable bowl, the structure isn't super important making it way easier for kids of all ages to do. Depending on the age of the kids, the nests can be as detailed as is appropriate.
For fun, I also added a yarn hanger to it so the kids can see their toy bird of choice sitting in the nest they made on their pretty painted eggs!
Nest Building Craft + Printable Nesting Nature Scavenger Hunt!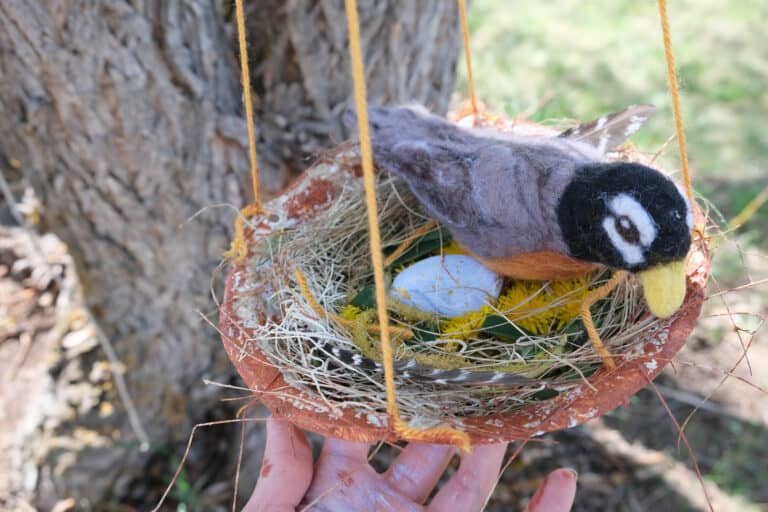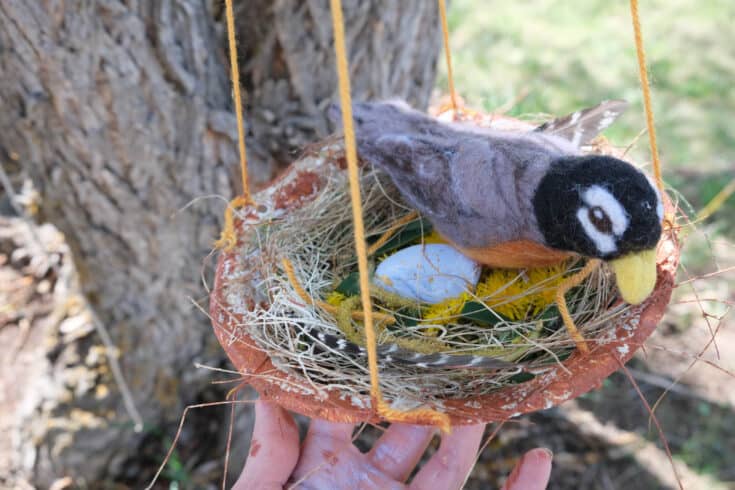 Celebrate spring in nature with this fun nest building craft + scavenger hunt! Learn a bit about the American Robin while making a cute nest for your kiddos hand paint eggs! For the cherry on top, set a cute bird stuffy in the nest!
Materials
Paper Bowl
Yarn
Glue
Printable Nest Scavenger Hunt Pack
Optional - Paint and supplies for finding and painting some rock "eggs"
Various amount of small twigs, grasses and other nature items
Tools
Stapler
Scissors
Hole Punch
Paint Brushes
Instructions
Print out the nest scavenger hunt and instructions - cardstock works best!
Create the cute "Scavenger Satchel" - Staple the scavenger hunt and instructions so that they are facing outward on 3 sides leaving an open top to put in the goodies. Hole punch a hole on each side near the top and make a strap of sorts so that your child/student will be able to wear it over their chest or shoulder.
Explain why each item is necessary... and set them out to find the items on the nest scavenger hunt printable - Explain how birds use each of the items to make a nest and to gather a fair amount of each for their own "nest". Feel free to sub mud for glue if you are somewhere it's not good to get messy! For my kids, since they are young, I just put a giant plop of glue/dirt in the middle of their bowl for them to spread out and use as needed! (P.S. I have an awesome American Robin Study Unit that goes along with this craft here)
Paint the rocks into eggs - It's fun, it's messy, it gets their attention and it's best to get done first so that they can dry while the rest of the nest is being made.
Now layer the nest - There are some general instructions on the card, but depending on the age, your kiddos may or may not follow that. My 5 year old definitely "planned" his layout where as my three year olds artistically smashed the items into the bottom and sort of filled it up. BUT - they all had fun!
Get it ready to hang up (optional, but easy and WAY fun!) - Hole punch 4 evenely spaced holes on the inner edge of the bowl. Tie evenly sized pieces of yarn to each hole. Bring them together and tie a loop at the end!
Notes
This pretty nest scavenger hunt is available at my Etsy store here as an instant download! (with AD FREE, visual instructions for future reference and inspo!)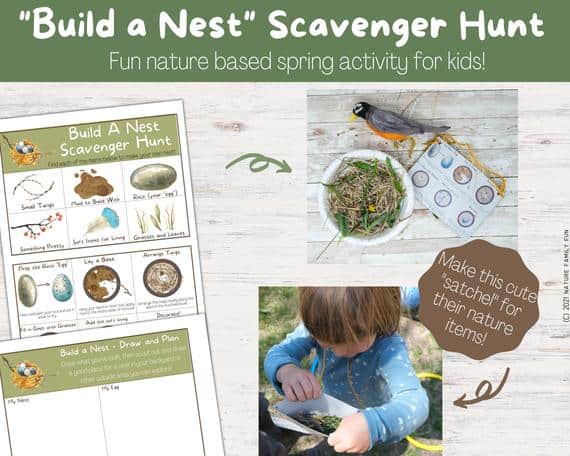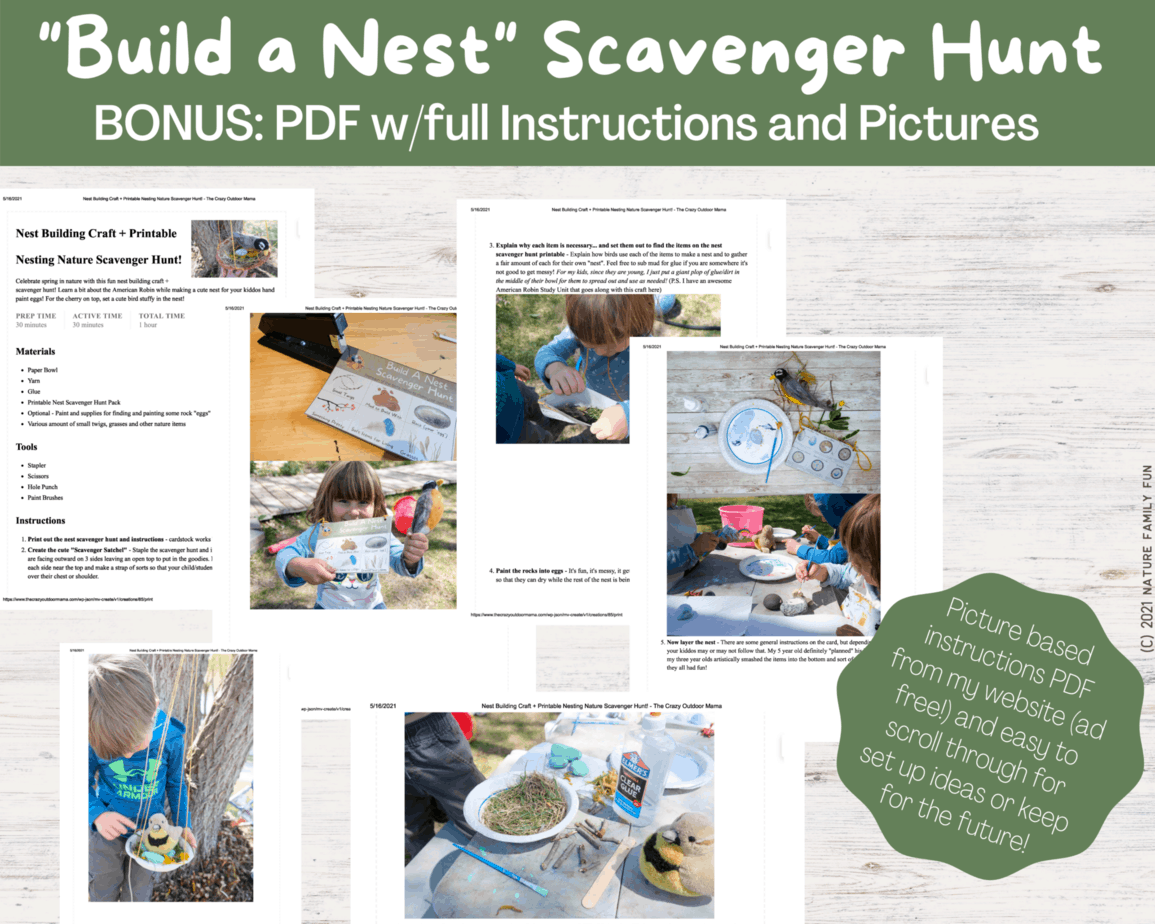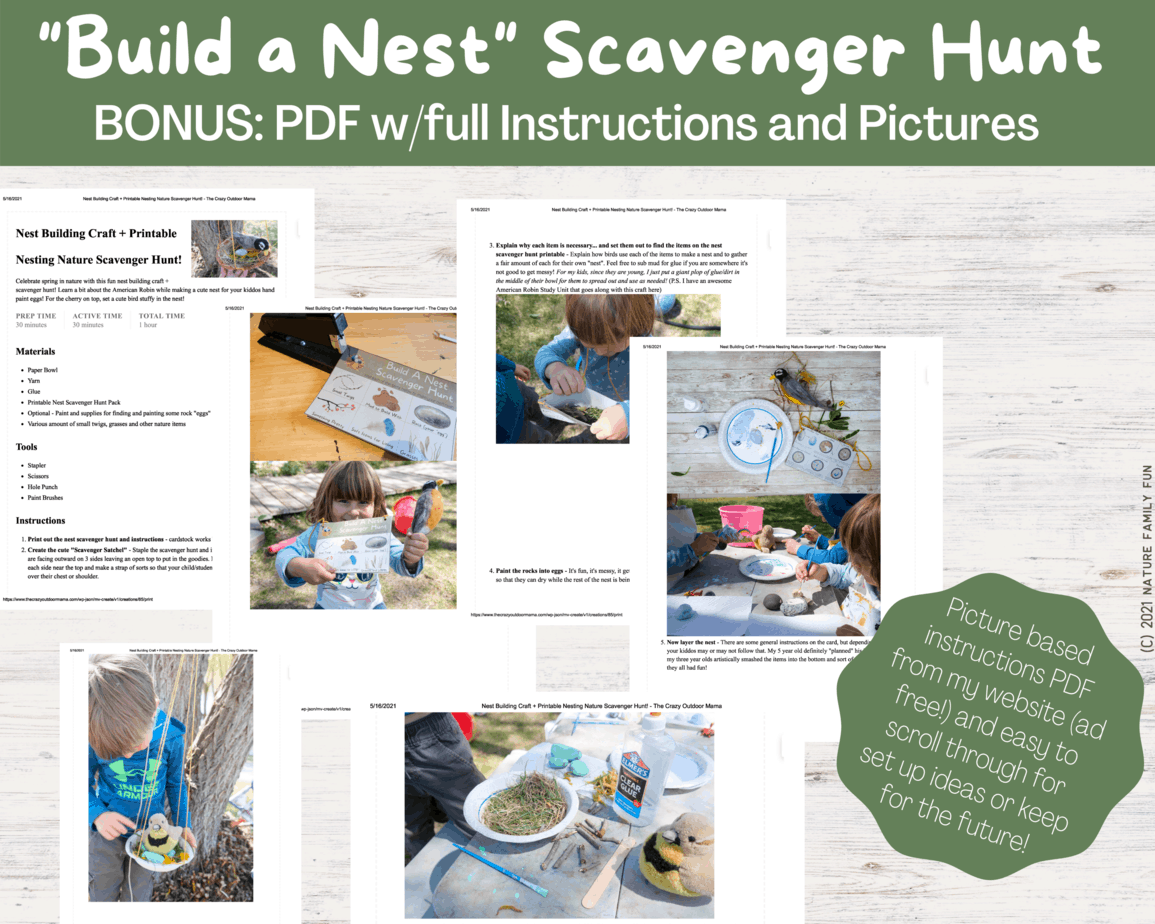 Recommended Products
As an Amazon Associate and member of other affiliate programs, I earn from qualifying purchases.
Why this is a PERFECT spring craft for those trying to include nature in their kids activities!
This craft uses creativity and a little critical thinking too! Give them the bowl ahead of time so that they can test that their gathered items will fit in the "nest" design!
Emphasize the different items needed for the nest
Something sticky – Mud is ideal, but glue is just as fine! It's hard to get the right consistency of "building" mud if you don't already have it outside, so there's no shame in using glue =P.
Bendable twigs to make a base/shape – if you see them struggling to find the correct type of this item, show how a hard, dry stick is tough to fit into their round nest compared to a plant stem or super fresher, bendier twig.
Things to fill in the gaps – leaves, grasses etc.
Some unique, pretty items to personalize the nest – This was one of the funnest parts for my kiddos – they all were trying to find something the others couldn't! It also is real – many birds will use things such as ribbons, strings and other non natural debris they find to add to their nest.
Soft things for warmth and insulation – I LOVE the sensory involvement for this one! My kids found fuzzy leaves, baby ferns and flowers!
P.S. Check out the picture below this one from my office window – you'll be pleasantly surprised at how long this activity will keep them occupied (without much help needed!) Not all Pinterest crafts have to be hard =P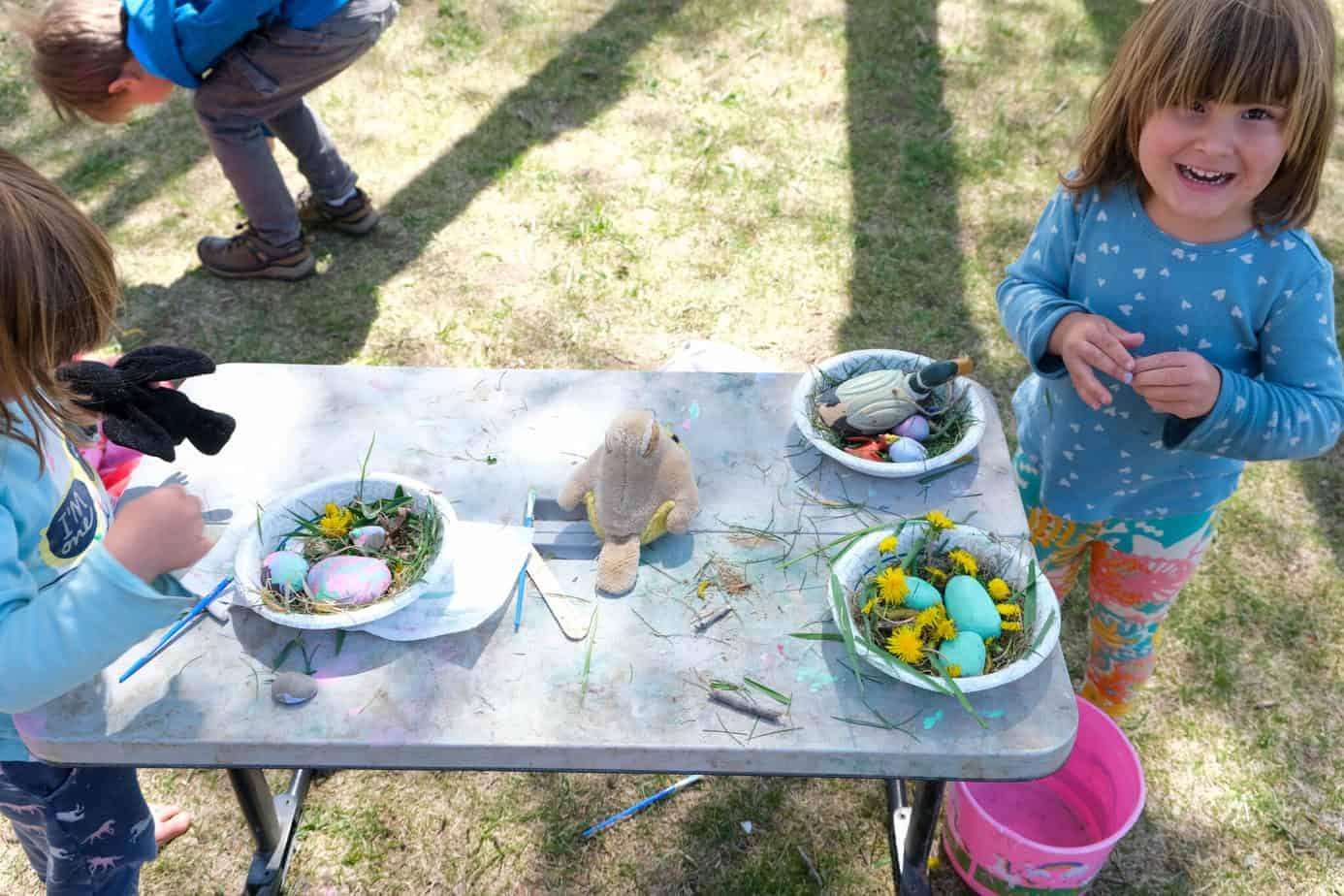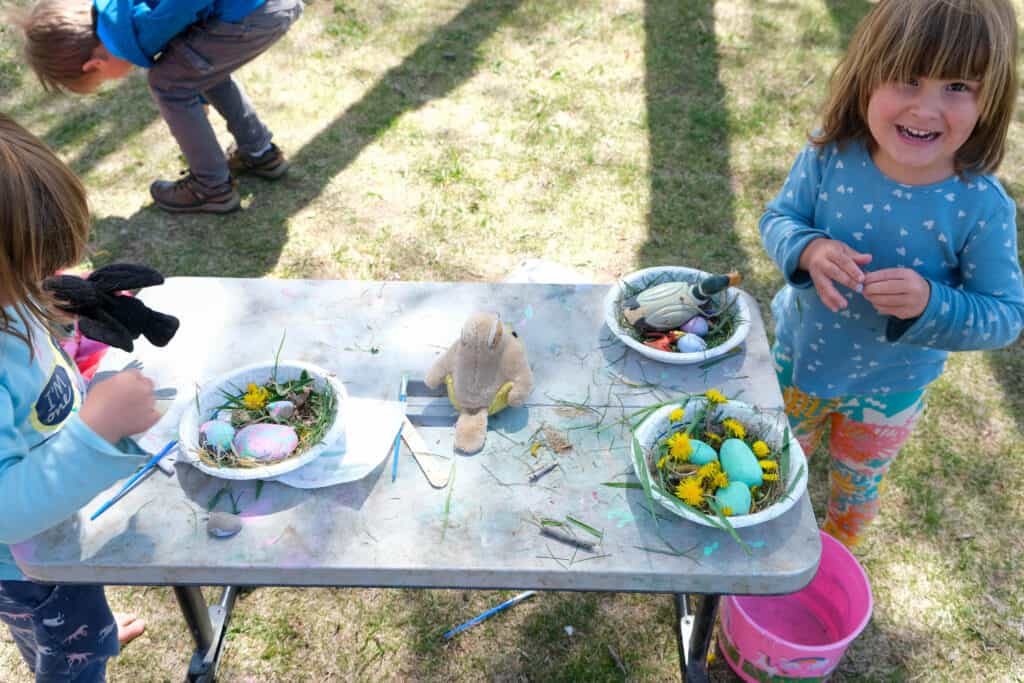 P.S., if you noticed that super cute American Robin stuffy in some of the pictures, I needle felted that. I love them that much (and why it's important to pass the love of the "common nature sightings" on)
Yup – they are my favorite sign of spring besides the fields of yellow dandelions!
Something I've noticed is that society tends to focus on the big things when it comes to nature – the National Parks, the peaks, the waterfalls, the rare animal sightings. But, to me, that all leads to everything else being sort of glanced over in search of the "special".
The goal of every single one of my crafts and activities is to make the "normal" just as special!
The joy in seeing my kids eyes light up at the cute American Robin that comes to our yard every morning the same way as they do when they see the massive, majestic mountains is something I will ALWAYS smile about <3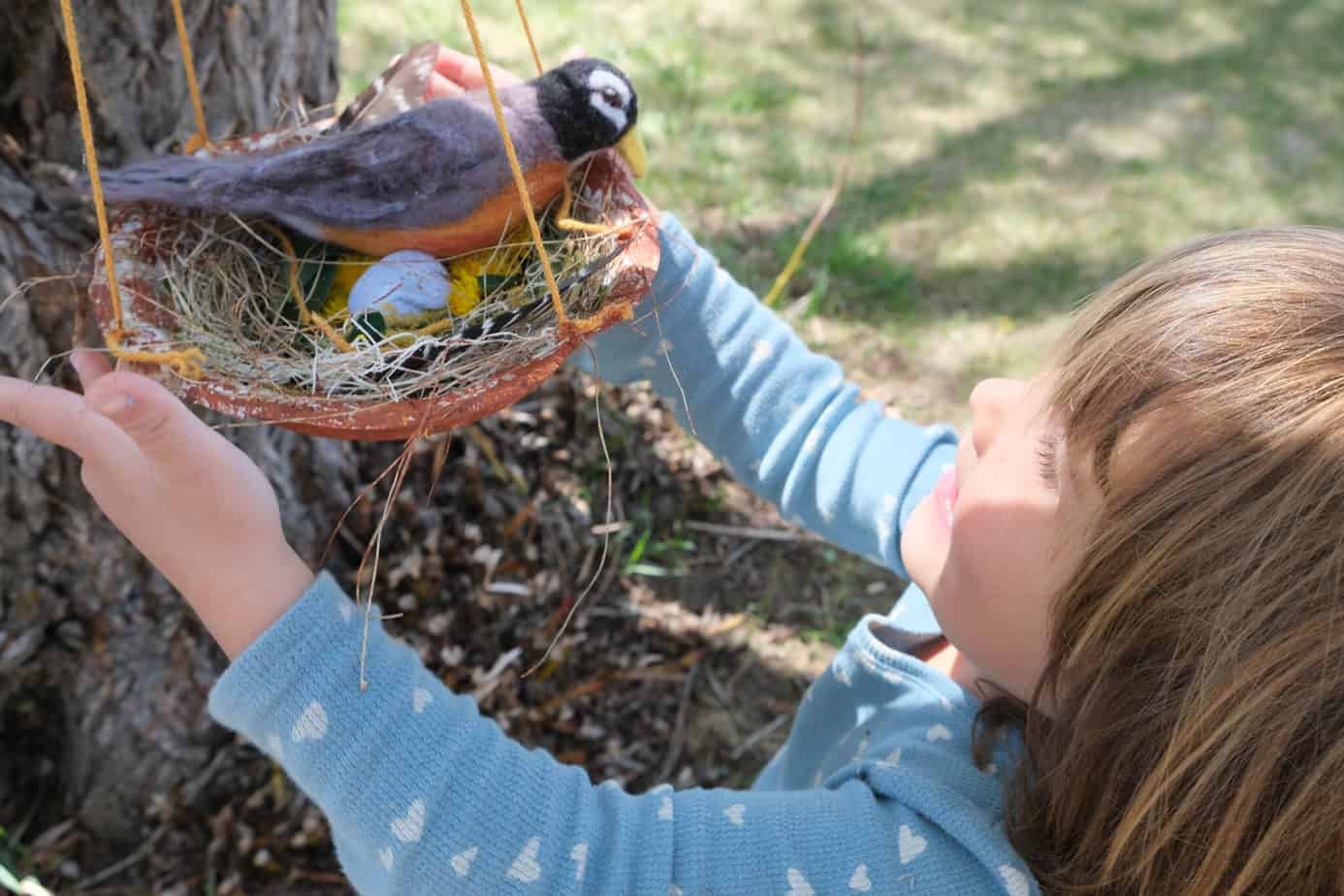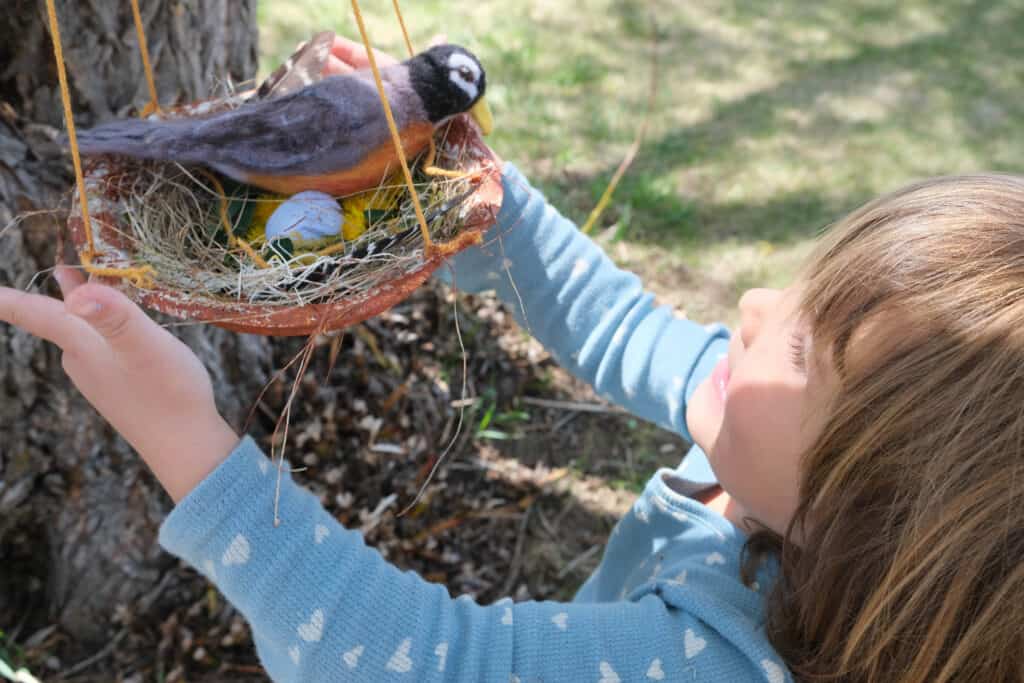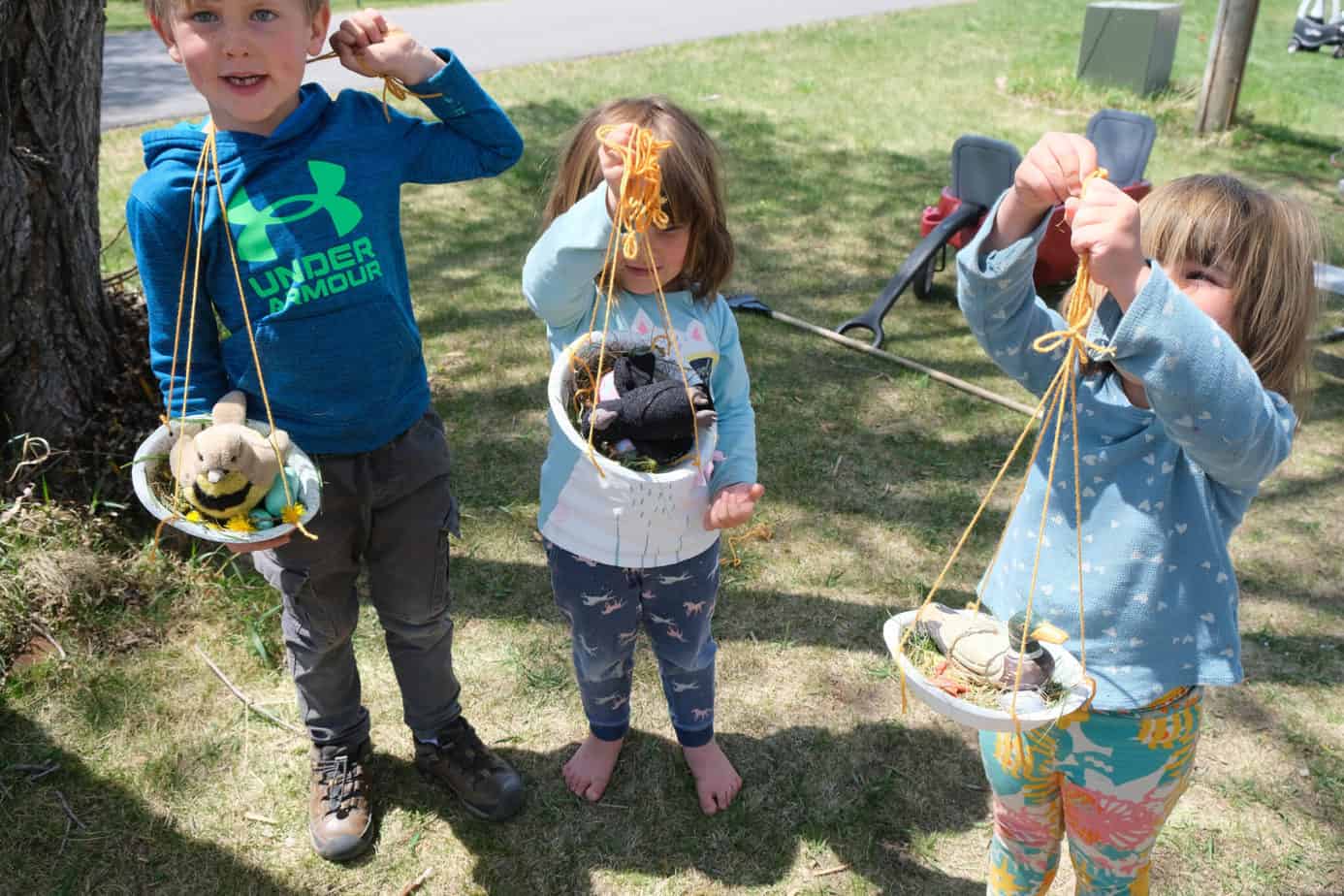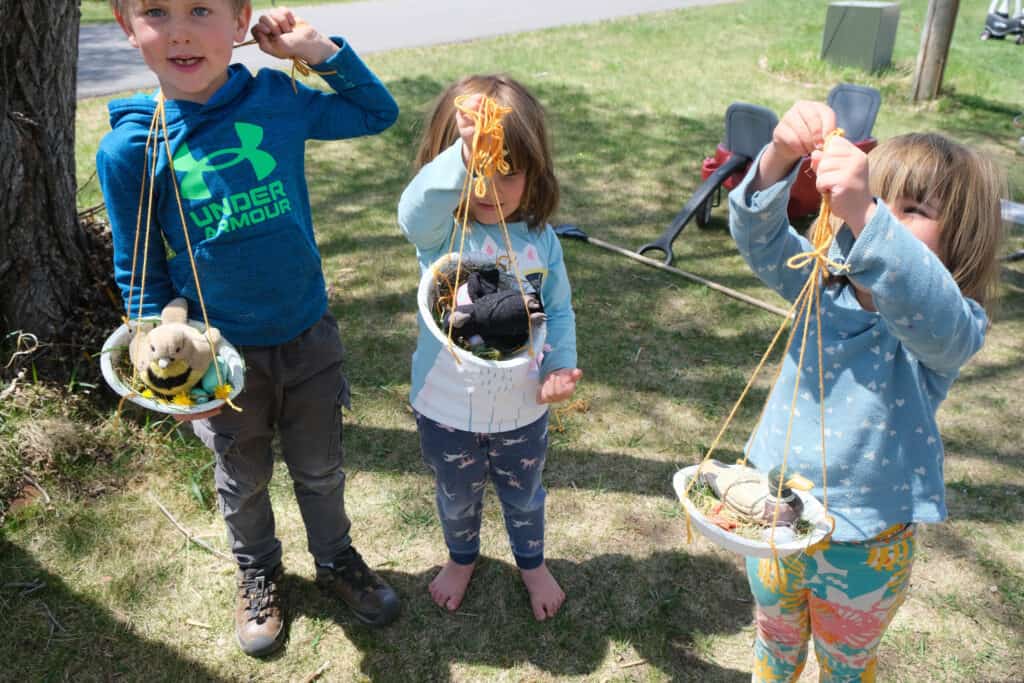 Get in nature this spring and purchase your "Build a Nest" Scavenger Hunt Pack" which includes
Nest Scavenger Hunt
Illustrated matching instructions
Activity Review Sheet
AD FREE instructions used in this article in a printer friendly format to look at for inspiration or to save for offline use later!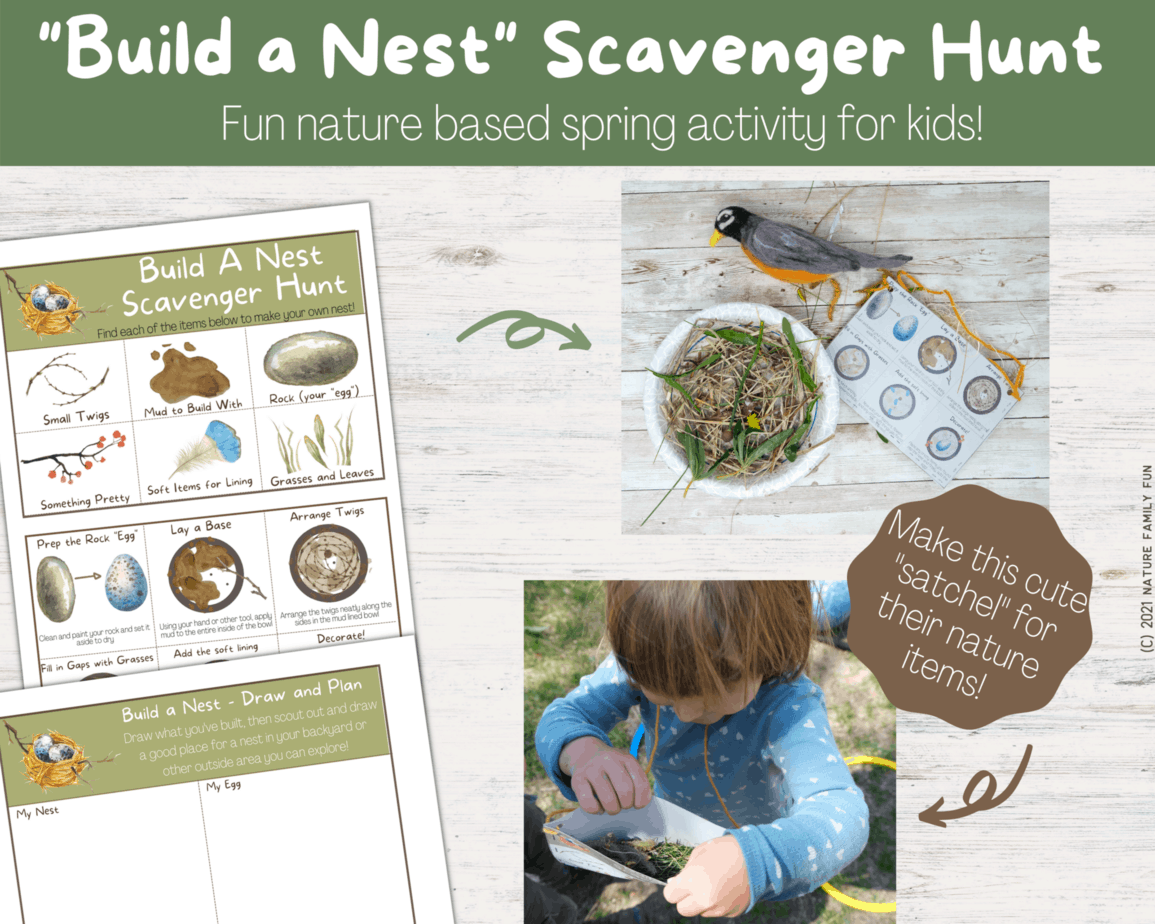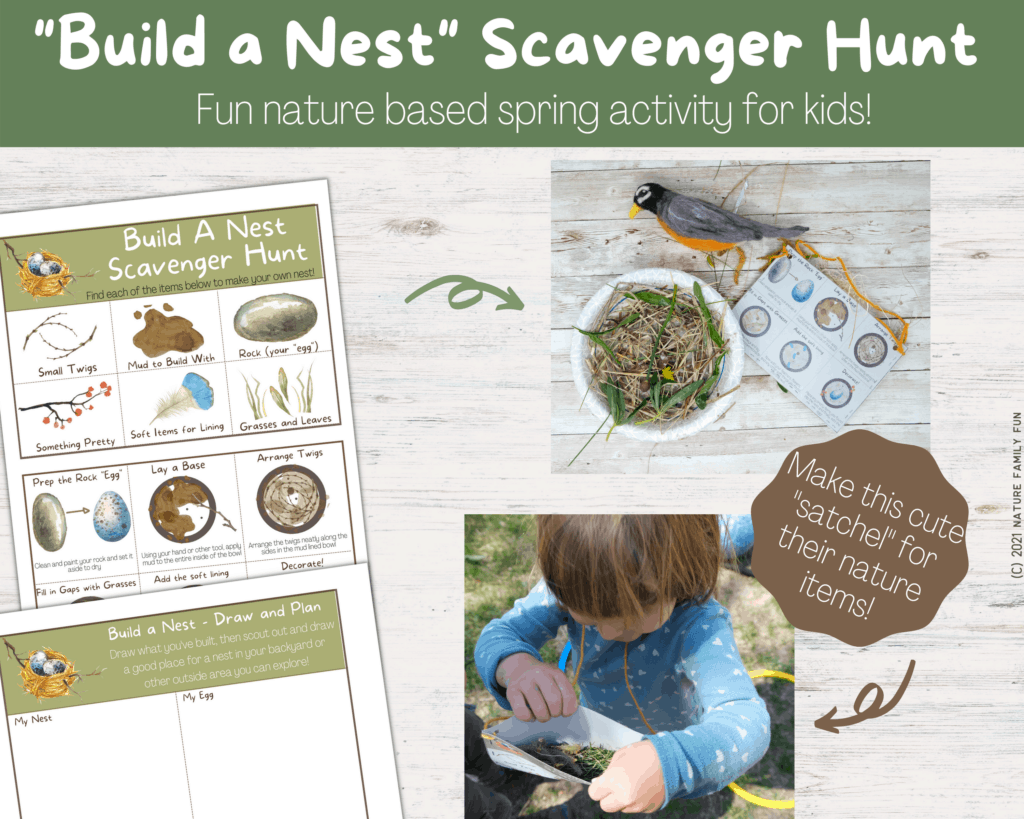 P.S. Check out the picture below this one from my office window – you'll be pleasantly surprised at how long this activity will keep them occupied (without much help needed!) I think I had at least half an hour to drink coffee and relax while they worked on their nests! Not all Pinterest crafts have to be difficult =P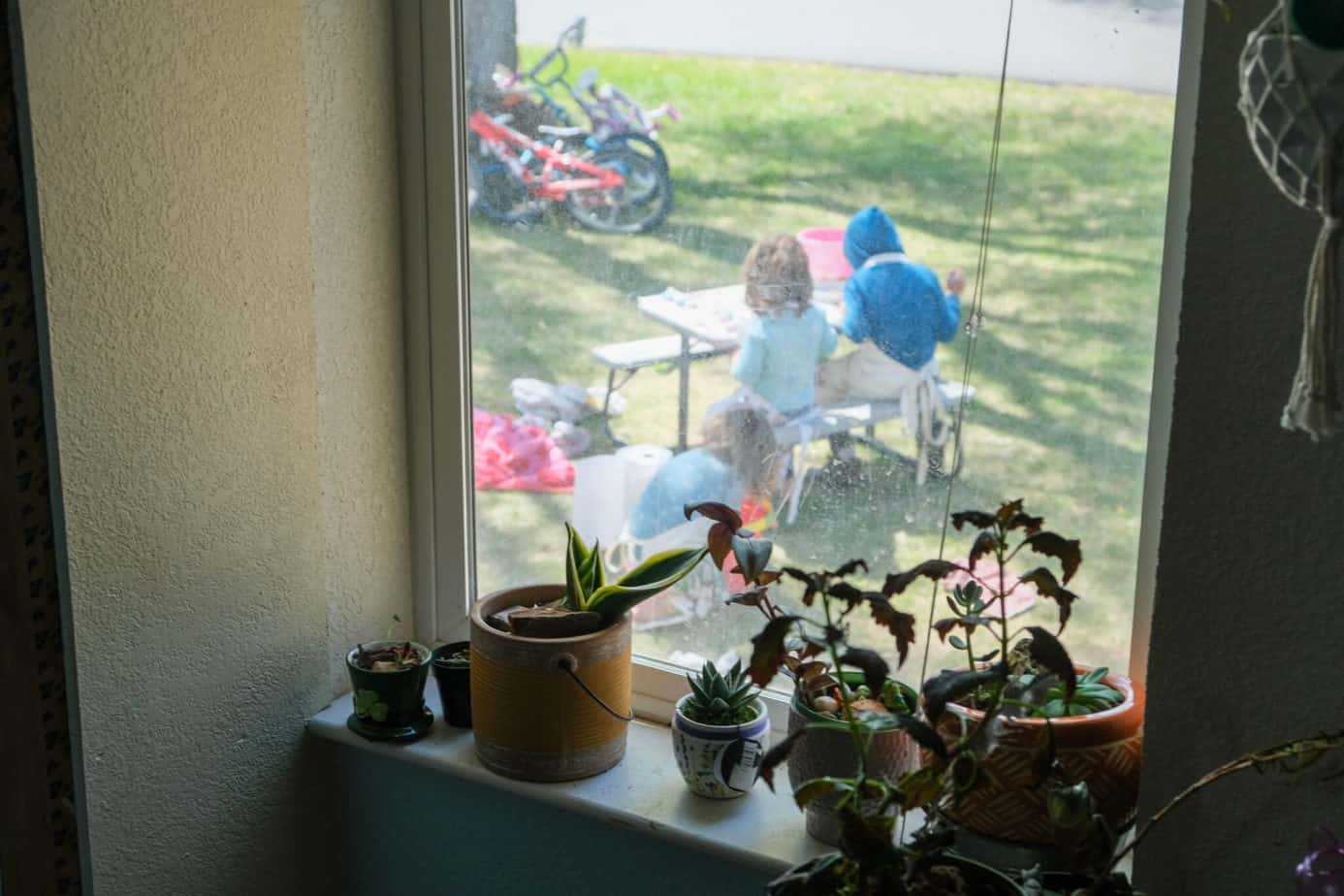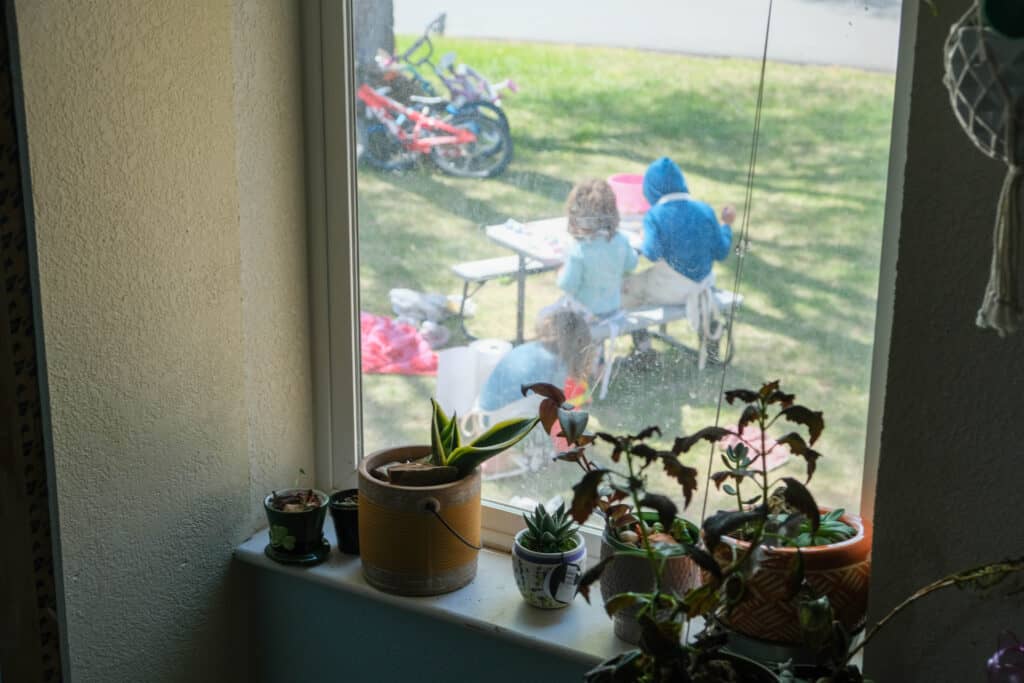 Latest posts by Stacy Bressler
(see all)