If you're looking to upgrade your mattress in your RV but aren't sure where to go, then check out my experience with Mattress Insider!
There are certainly some concerns at first – finding the right size mattress (since they aren't often standard) and figuring out sheets for a custom bed were some of ours. We were especially concerned about cost and if a mattress meant for an rv could ever be as comfy as a "normal" one.
Anyways, here are our thoughts regarding price, hassle, and comfort when it came to replacing our old mattress with a new one from Mattress Insider.
While the picture speaks for itself, scroll on down to find out more details about this mattress!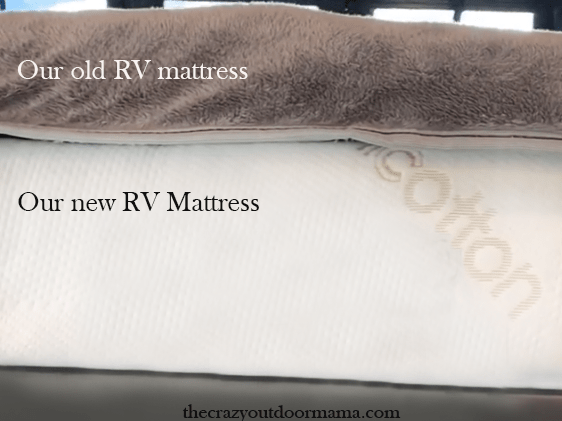 Why we chose to order a "bed in a box" (and actually loved it!)
I was SUPER sketch about ordering a mattress online that I'd never felt (this was during COVID-19 times when everything was closed) so I wanted to make sure I found a company that had a decent money back guarantee and time to try it out.
While it was scary at first (spending so much $$$ without actually trying it!), getting a bed in a box was a heck of a lot easier than buying it from a store.
It's nice and rolled up, easy to move, and there's no need to deal with securing the massive thing to your car (since it's shipped right to your house) I also didn't have a salesman pressuring me the whole time while I was figuring out which one I wanted, which is part of the reason I've actually been preferring online purchases lately.
For full transparency, I wanted to let you know I was able to reach out and get the mattress at a discounted price in order to review it. I also plan on reviewing other companies as well so you can get a clear view of the differences in each mattress!
Anyways, here were our main goals for the new mattress
Correct size so as to increase sleep area + stop kiddos from rolling onto the plywood below. You can see in the pic below where I circled the sides and all the extra bedding I tried to stuff in to prevent them from rolling onto the wood!
Go thicker to make it comfier for the kids since we needed to have a ton of bed rails around the bed (which secure with arms that go under the mattress – 1″ bumps are big for a 2″ mattress LOL)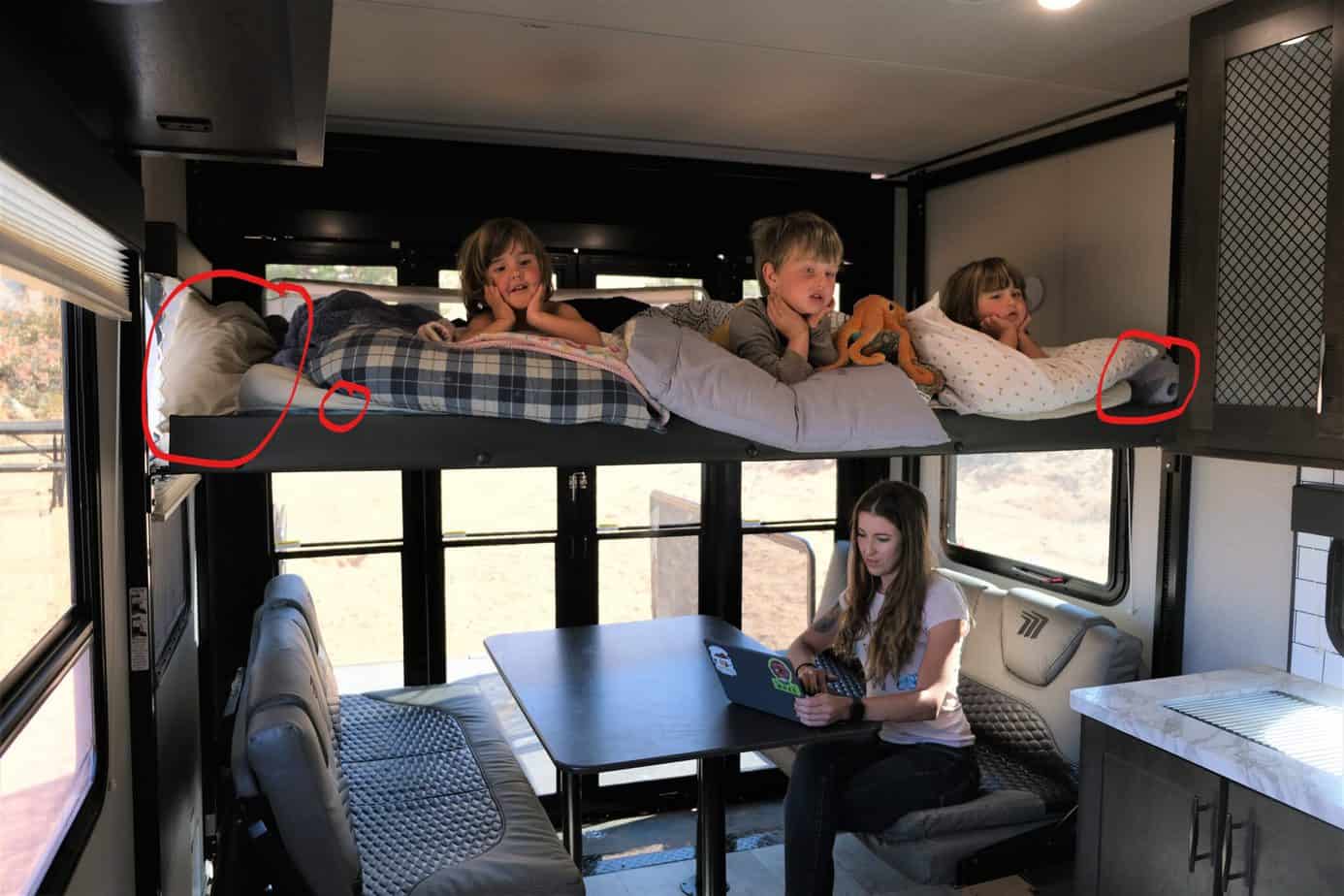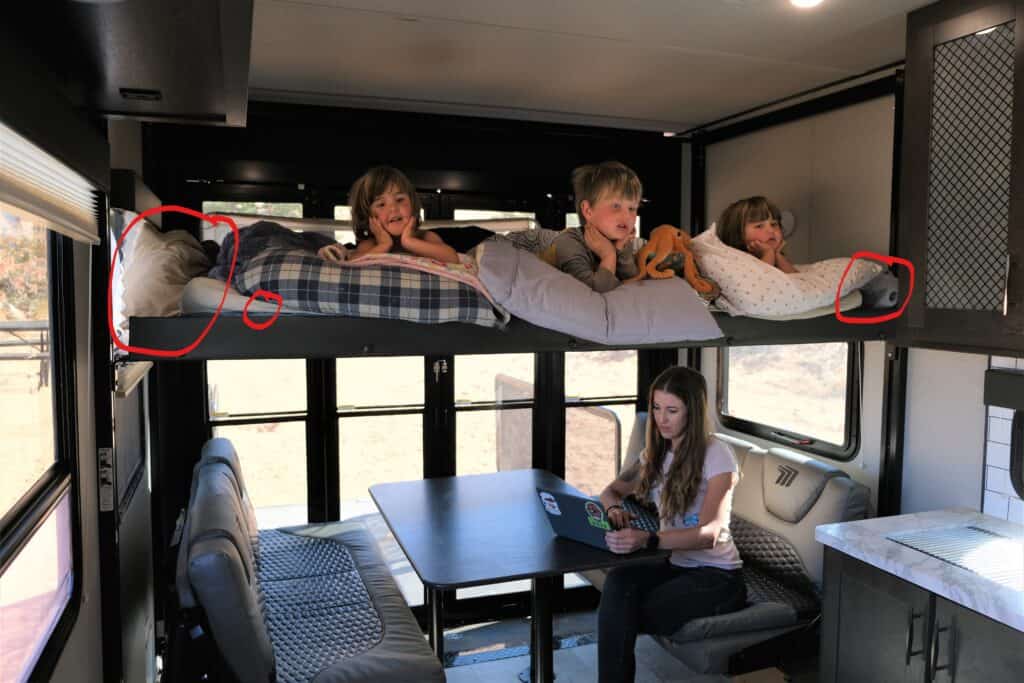 Things that stood out to me about Mattress Insider from their website while doing research
Very knowledgeable about the weird RV bed sizes and shapes – I felt good they had RV specific mattresses (sometimes traditional ones are too thick or heavy!) and a whole section and help line dedicated to finding the correct size
Non toxic / CertiPUR-US Certified (no terrible chemical smells from sitting in the heat!) – Obviously, this is important for health, but an added bonus of no junk is that there's no gross smell if it sits all day in the heat!
Actually quality and made in America (fast turnaround + high standards) – These are an amazing level of quality (see the video below!!) I hate getting stuff from Amazon and never really knowing if it's good or not because knock offs are so easily masked as the real thing.
Sounds super comfy (a must, of course) – I like the breathable material the mattress is made with (open cell foam) and the moisture wicking organic cotton cover. Hot sleep is impossible – if you've ever been somewhere without power or the AC couldn't keep up, you'll understand!
---
Our Mattress Insider RV Mattress Review
We got the 6″ Elation Gel Foam Mattress w/Organic Cotton and used it for our recent two week trip to Utah! It was AWESOME (I was jealous it was the kids bed! =P) – here are the key points that made it well worth the cost!
Price – Reasonable if You're Someone who Enjoys Sleep : I have pretty nice mattresses at home (Sleep Numbers!) and I'd say the one for our camper was equal if not better than the quality of the Sleep Number. Both the comfort and attention to detail was pretty impressive! Keep in mind that being an "RV Mattress" doesn't somehow make it cheaper than the nice mattress for your home! A quality place to sleep still cost the same to make, no matter where you sleep =)
Ordering Process – Easy: All the common RV Mattress sizes are already listed as an option and there are 3 levels of thickness to choose from. After I measured and ordered, a specialist called me to see the position I slept in (told her it was for my kiddos… still very nice!) and double checked I had the right size and such. It was nice to have a personal touch!
Shipping Process – Quick + Easy (EDIT: As of 5/4/21, there is a foam shortage so there may be delays in getting your mattress done)- Since it's made in the U.S. they are able to get the mattresses out pretty quick (in 14 days!). I also love how they shipped it – it came rolled up in a box which made it a heck of alot easier to get it into my camper and on the top bunk. If it wasn't so tightly wrapped, it would have been a pain to move. It's pretty thick!
Comfort Level – AWESOME and seems it will stand the test of time – Mine got tested two weeks straight with my 3 kids and their friends bouncing all over it… and there's not a single dent or picked stitch anywhere!! I had to sleep with my kids one night when they got sick on the new mattress and it was the first time I didn't wake up with a stiff back.
Right now (5/4/21) they have a sweet sale going on for $100 off the 8″ mattress! In light of the foam shortage, I'd get it while prices are still "normal"!
Down below is a quick comparison video of our old mattress Vs. our new one from Mattress Insider
---
Why we decided to upgrade our camper mattress
We have a Momentum 21G from Grand Design – overall, we've been pretty darn happy with it in terms of quality and functionality, however, there was one area that was lacking… the sleep situation!
The bed our kids sleep on had an incorrectly sized mattress on it that created a ton of sleep problems. They were constantly rolling onto the plywood and hitting their head, and I had to shove pillows and blankets in all the gaps daily (though this usually got messed up by the time they actually fell asleep).
We wanted a mattress that was the full size of the platform so there would be no more bare spots – with 3 kids sharing one bed, we really wanted to maximize the sleeping area!
We also were still in the bed rail stage to prevent rolling off the bed (especially since they were ontop!!), so we wanted a thicker mattress to cover up all the bars from said bed rails arms that tuck under the mattress.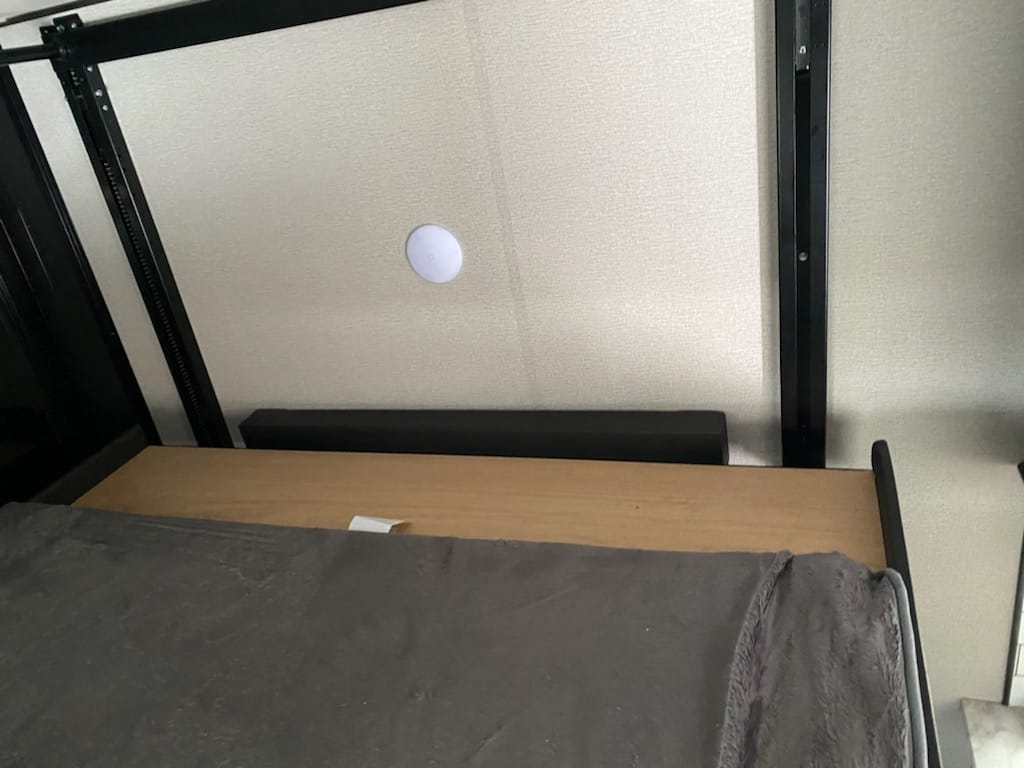 F.A.Q. about mattresses from Mattress Insider
I'll list some questions I had first, but then I'll add others as you guys ask them or I see them come up on other forums. Also, if you were interested in other options, check out some other ideas to get better sleep in your RV!
Can they make a cut corner mattress?
Yes! While I didn't need this, I saw they even have a handy guide to find the right measurements of the corner when I was checking out measurement stuff for my own mattress.
How would I get sheets for something that's custom?
They also sell custom size sheets you can get at checkout. I didn't, and I really, really wish I did because I'm currently using two full sheets as a fitted sheet.
Is shipping crazy because it's a giant heavy mattress? If I order custom, will I actually get it in time to enjoy it this camping season?
Shipping is free through Fed Ex thankfully (because it is big!) Best of all, since these mattreses are made locally in Colorado, they are usually able to ship pretty darn fast – 10 days or under!
Do they make other mattress types? I have a friend who has a van/boat/truck etc
Yes they do! There are even dedicated sections for some of these so it's way easier to order.
How to size + order a new RV mattress online
For those curious, here is how I ordered our custom gel foam mattress through Mattress Insider. It's not hard, just make sure you know your measurements! =)
How to Find Size of RV Mattress for Replacement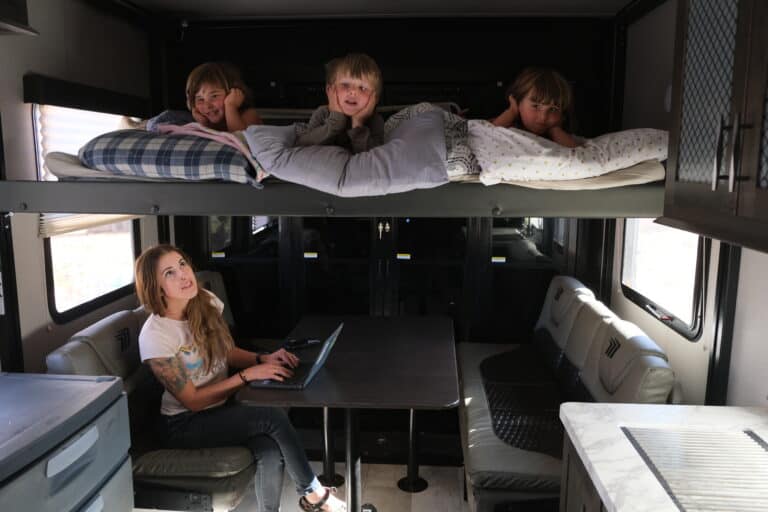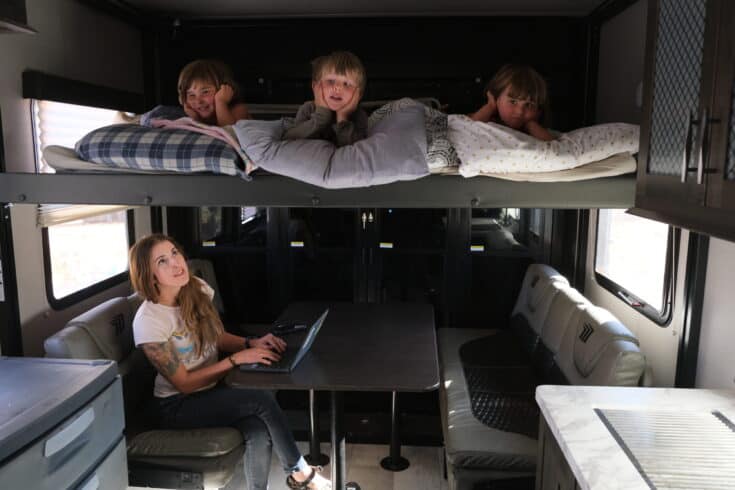 Learn the standard size of RV Mattresses to help identity what size your new mattress should be. Then learn how to measure and order a custom made RV Mattress if needed (rounded corners, shapes, multiple sided, RV nunks etc)
Tools
I am creating my custom RV Mattress on Mattressinsider.com
Instructions
Choose your luxury level - There are three levels of amazing comfort to choose from . All three are customizable to any size or shape you need (the prices are during the holiday season so be on the lookout for more savings like this!)
Choose your Size + thickness - Once you have the style you like, it's time to choose the size you need. MANY sizes are listed (check the picture!) and custom is always an option. It's pretty helpful to have access to your RV beds! Check out the notes for a great guide on how to do this (and common sizes!) Remember, measure the space it will be on NOT the mattress itself (it's hard to get an exact size sometimes if you try to measure the mattress and it may make you think you need custom!)
What if I need a custom size mattress? - The link with the full instructional is below in the notes, however, all you really need to do is measure the longest length and widest width of the surface the mattress will be on. Strangely shaped ones you'll need to call for (but you do at least get to talk to a PERSON right away!)
But where in the world do I find custom odd shaped fitted sheets for my new custom odd shaped RV Mattress? Don't worry - they can make some matching odd shaped RV bedding too! That link is in the notes below.
If using Mattress Insider - it'll be shipped to your door soon. Bring it in the RV, put it where it goes, and unroll! Especially at the time of this writing (Dec 2020) I appreciate anytime I can just stay home to get the things I need!
Recommended Products
As an Amazon Associate and member of other affiliate programs, I earn from qualifying purchases.
Latest posts by Stacy Bressler
(see all)