If you are an RV owner, then you know how thin the mattresses are that come with your camper are and likely want to replace those RV mattresses first!
There's a couple ways to go about this depending on your budget – everything from mattress toppers to luxrious, custom made RV specific mattresses!
Let me help answer some basic questions about replacing first, then move on to custom bed sizing options (and some general tips to take care of any new bed upgrades!)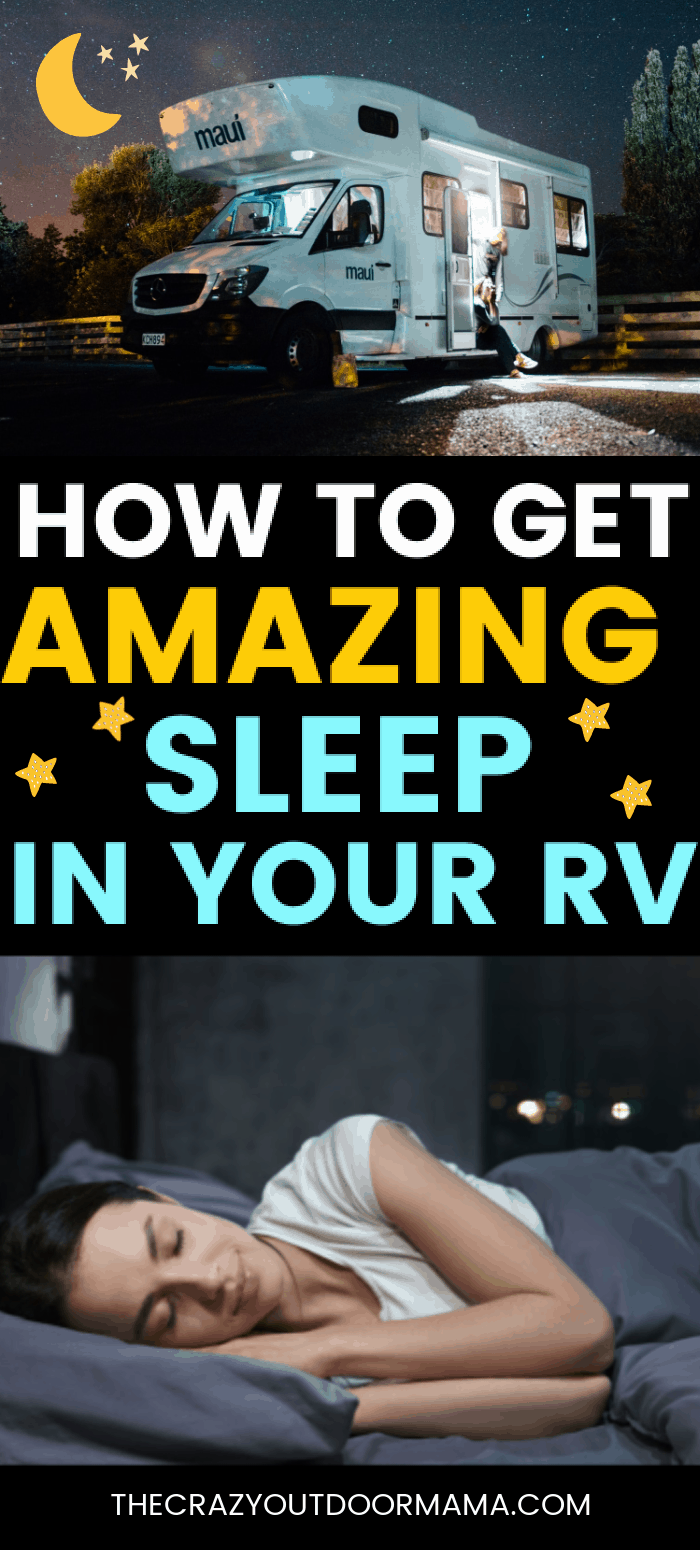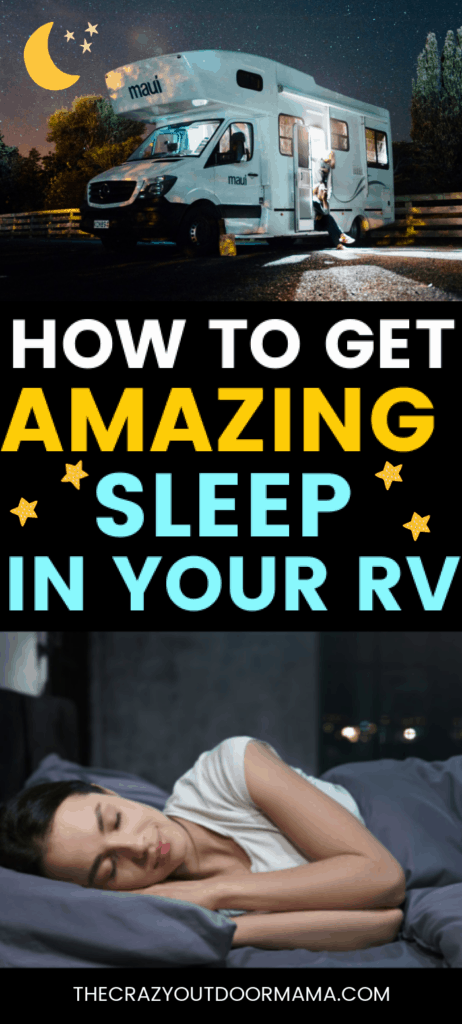 As an Amazon Associate, I earn money from qualifying purchases. You can read more about my privacy policy here! I am also an affiliate for various other programs and may earn money from those qualifying purchases at no extra cost to you.
How do find a replacement RV mattress that actually fits right AND is comfy?
Depending on how uncomfortable you are and how much you are looking to spend, there are couple of options.
I will try to organize the option by price for you – keep in mind, when it comes to sleep items especially, you get what you pay for!
Here is an overview of the best options, however, there are alternatives – read more to learn what they are!
---
Roll of Foam The cheapest option but will do till an upgrade!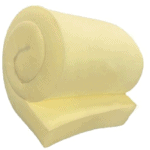 ---
Premade Topper -12+ years in the game have perfected their RV mattress.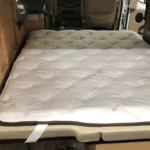 ---
Custom Mattress Replacement – If comfort is a priority for you, then the best way to go is just to get a whole new mattress! We got ours from Mattress Insider and loved it!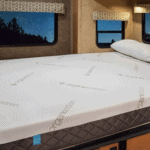 ---
Option 1: DIY your own topper from a roll of cheap memory foam
This is what we did for a LONG time! You can head to home depot and look for upholstery grade foam or buy some on Amazon.
Once you unroll it, just cut it to size and put it under you sheets! While it is inconvenient having to cut it all (foam is a pain in the butt!) atleast you can cut in corners and notches!
If you're on a budget, this can be a quick fix! Even just 2″ of memory foam has made a difference.
Option 2: Buy a memory foam topper or other premade addition
This is cheapest pre made option as there are various thicknesses of memory foam mattresses, so there's actually a decent price range to choose from.
Zinus Memory Foam 1.5″ to 4″ – This option is the cheapest out of the memory foam mattresses, and they even have thickness options to drop the price down lower if needed! Size options are
Zinus Memory Foam 6″ – 8″ – Though this thicker foam is from the same brand, they do add in things like charcoal to avoid moisture
CUSTOM Luxury RV Mattress Topper (w/ the highest density foam out there + straps for a tight fit!) If you can't swing a whole new mattress, but still want luxury, getting just a topper might be the key. There are even optional straps on this one to ensure a tight, no-slip fit!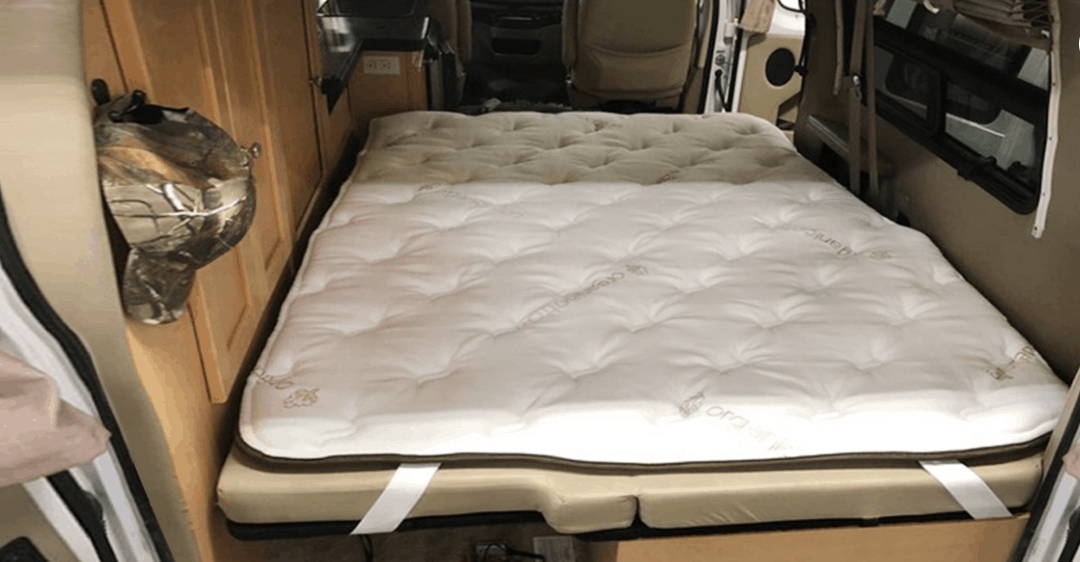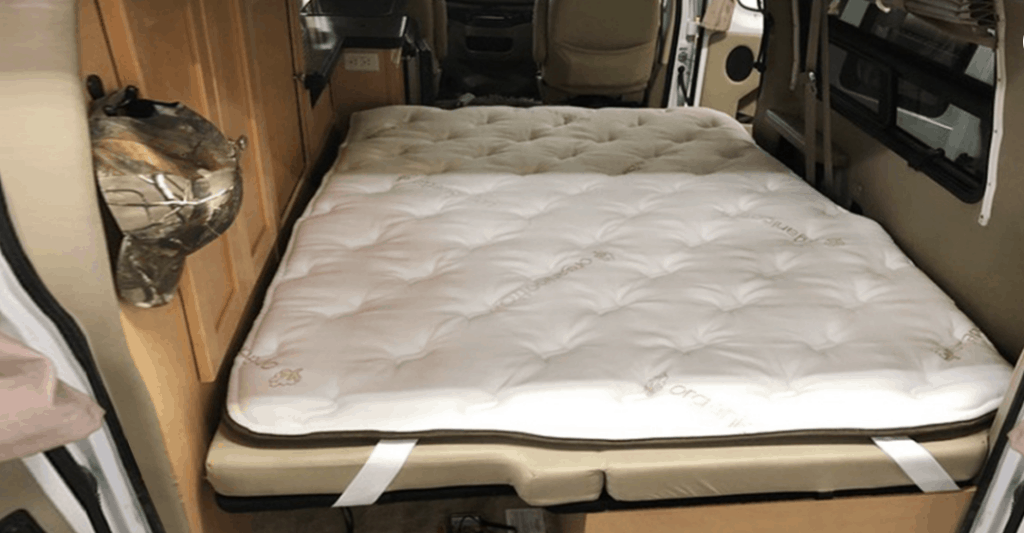 Option 3

:

Get a custom, new RV Mattress (it's the perfect size for YOUR camper right out of the box… and your back will feel UH-MAZING)
Now, if you're someone who enjoys a comfortable, luxurious RV camping experience then you'll likely want to go custom!
Why get a CUSTOM replacement mattress for your camper ?
You're sure to get an exact fit with no gaps or frantic stuffing in because you spent a bunch of money and don't want to send it back
Each mattress is rolled up into a box, so it's easy to get into your RV – not all the traditional mattresses do this
They can do special cut corners – While you can do this with a roll of foam, it's a whole heck of alot easier to have it professionally done so that everything is even and clean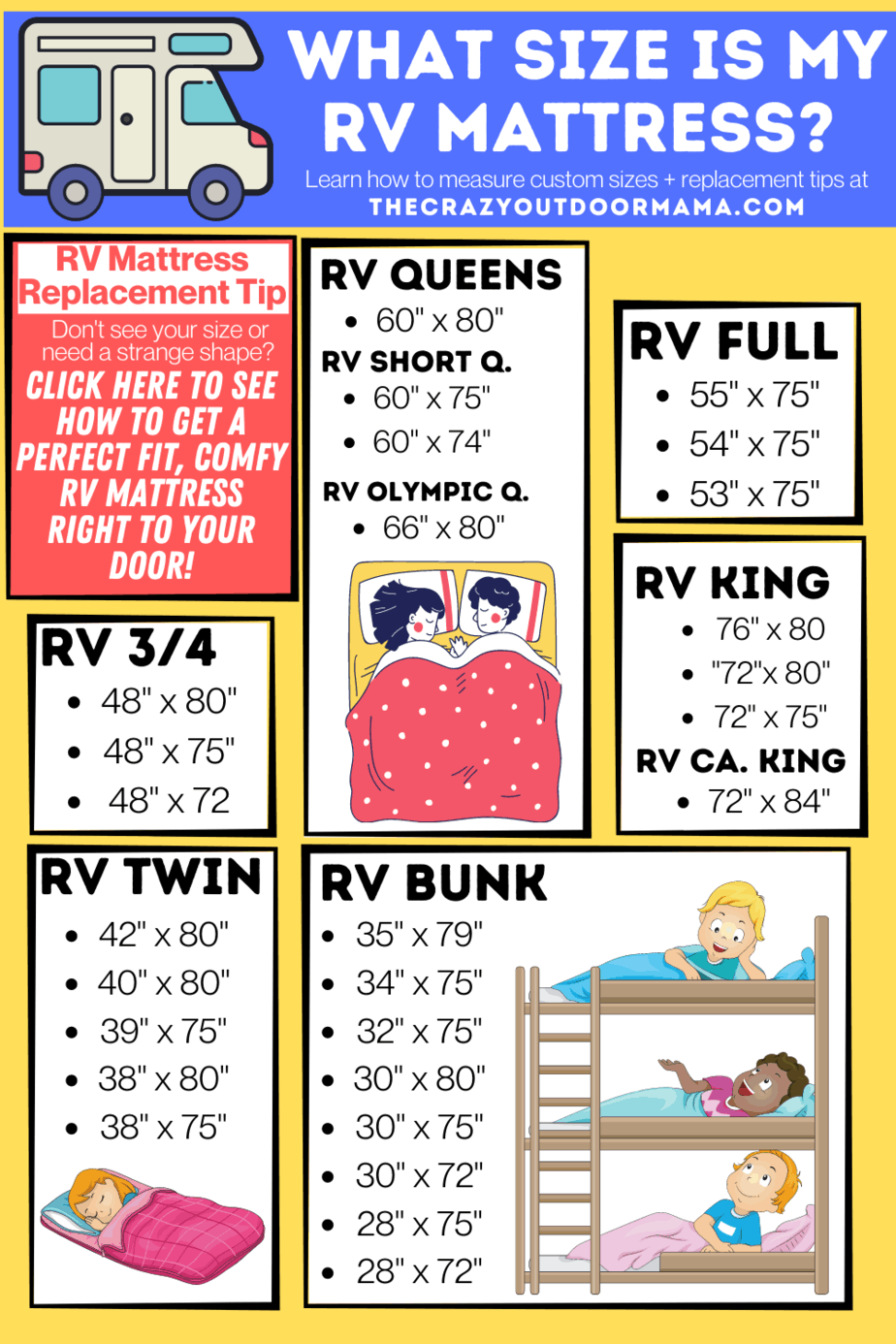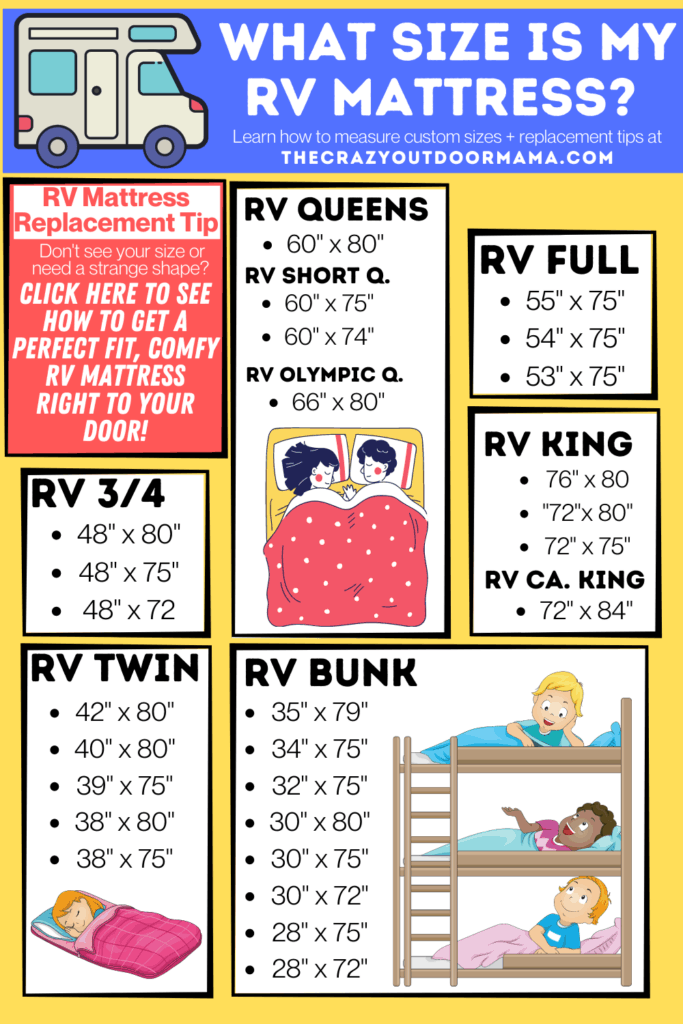 How to measure and order a custom size mattress for your RV (using Mattress Insider)
Through research, I found that Mattress Insider was the best brand/website to do this through for a couple of reason (though definitely do your own research if you'd like too!)
LOTS of experience (and local)– They've been doing this for 12 years! They can make any shape or size of mattress (including corners, L shapes and more!)
Zip Design to account for movement – In order to make the mattresses last longer (and feel just as good as that first day!) all the layers are zipped together internally so there is no movement!
Two designs in one – Each RV Mattress features a soft and firm side so that you can use either depending on your preference!
121 days money back – It's honestly scary buying something like a mattress online, so I liked how they had this offer just in case I spent the money and didn't like it for some reason.
Ships quick (and free on most!)– Probably because they're in America and made on-demand, custom mattresses will usually be received between 3 and 14 days after order!
NO STINK! – These mattresses are CertiPUR certified which means your RV won't stink like a chemical factory once you unroll it and set it up!
You can order custom size RV sheets too – that's my first question when I hear custom mattress.. but luckily,

you can get help with making your custom RV sheets here
How to Find Size of RV Mattress for Replacement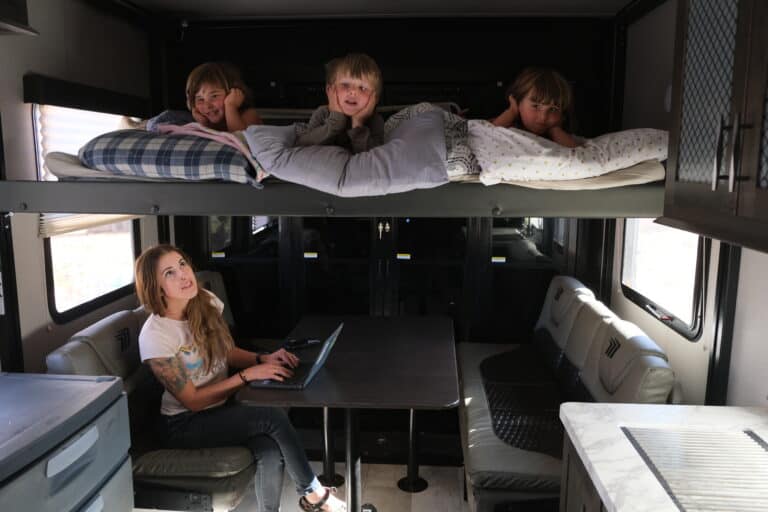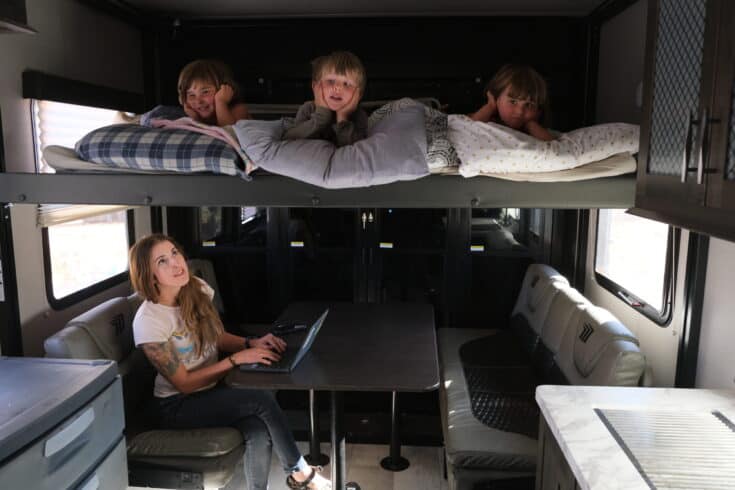 Learn the standard size of RV Mattresses to help identity what size your new mattress should be. Then learn how to measure and order a custom made RV Mattress if needed (rounded corners, shapes, multiple sided, RV nunks etc)
Tools
I am creating my custom RV Mattress on Mattressinsider.com
Instructions
Choose your luxury level - There are three levels of amazing comfort to choose from . All three are customizable to any size or shape you need (the prices are during the holiday season so be on the lookout for more savings like this!)
Choose your Size + thickness - Once you have the style you like, it's time to choose the size you need. MANY sizes are listed (check the picture!) and custom is always an option. It's pretty helpful to have access to your RV beds! Check out the notes for a great guide on how to do this (and common sizes!) Remember, measure the space it will be on NOT the mattress itself (it's hard to get an exact size sometimes if you try to measure the mattress and it may make you think you need custom!)
What if I need a custom size mattress? - The link with the full instructional is below in the notes, however, all you really need to do is measure the longest length and widest width of the surface the mattress will be on. Strangely shaped ones you'll need to call for (but you do at least get to talk to a PERSON right away!)
But where in the world do I find custom odd shaped fitted sheets for my new custom odd shaped RV Mattress? Don't worry - they can make some matching odd shaped RV bedding too! That link is in the notes below.
If using Mattress Insider - it'll be shipped to your door soon. Bring it in the RV, put it where it goes, and unroll! Especially at the time of this writing (Dec 2020) I appreciate anytime I can just stay home to get the things I need!
Recommended Products
As an Amazon Associate and member of other affiliate programs, I earn from qualifying purchases.
FAQ about RV Mattresses in General
Here are some questions I found myself asking while researching the best place to get our own new bed and sheets!
What common material options are there for RV Mattresses
FOR THE BUDGET – Foam – what's like in the mattress that came with your camper. Cheapest and thinnest out of all materials
FOR THE BACK AND ACHES – Memory Foam – Most people are familiar with this by now (it's a combo of soft + firm foam to create support) and it definitely is a big jump in price compared to regular foam.
FOR CAMPERS WHO NEED TO SLEEP COOL – Gel – If you love camping in the heat of summer, it's nice to have somewhere cool to nap.
FOR CAMPERS WHO FOCUS ON HEALTH ASPECTS – Latex – Try to get natural with no blends (it breaks down and discolors in heat and light faster). Latex is super comfy as well as being one of the "healthiest" things to sleep on since it doesn't release toxins or such over time. It's also naturally fire resistant, anti bacterial and anti fungal so there's no need to add those chemicals. Be aware, that makes this price go up!
P.S. if you do get a latex mattress, there is a scale for firmness! Latex International has a rating of 14 for super plush and 40-44 for extra firm. Most people find somewhere between 23-35 comfy!
What are some common camper mattress sizes?
There is a pretty large variety of sizes, but here are some common ones that are typically offered by RV Mattress makers.
Name
Size
RV California King
72″ x 84″
RV King
76″ x 80″
72″ x 80″
72″ x 75″
RV Olympic Queen
66″ x 80″
RV Queen

60″ x 80″
RV Short Queen

60″ x 75″
60″ x 74″
RV Full
55″ x 75″
54″ x 75″
53″ x 75″
RV Three Quarter
48″ x 80
48″ x 75″
48″ x 72
RV Twin
42″ x 80″
40″ x 80″
39″ x 75″
38″ x 80″
38″ x 75″
RV Bunk
35″ x 79″
34″ x 75″
32″ x 75″
30″ x 80″
30″ x 75″
30″ x 72″
28″ x 75″
28″ x 72″
(C) 2020 The Crazy Outdoor Mama
Is there a Sleep Number that's made for RVs?
I get it – you want to sleep as good camping as you do at home (I have a sleep number for my home bed!) You'll be relieved to know that you can get a camper specific Sleep Number at Camping World!
Click the picture below to check them out!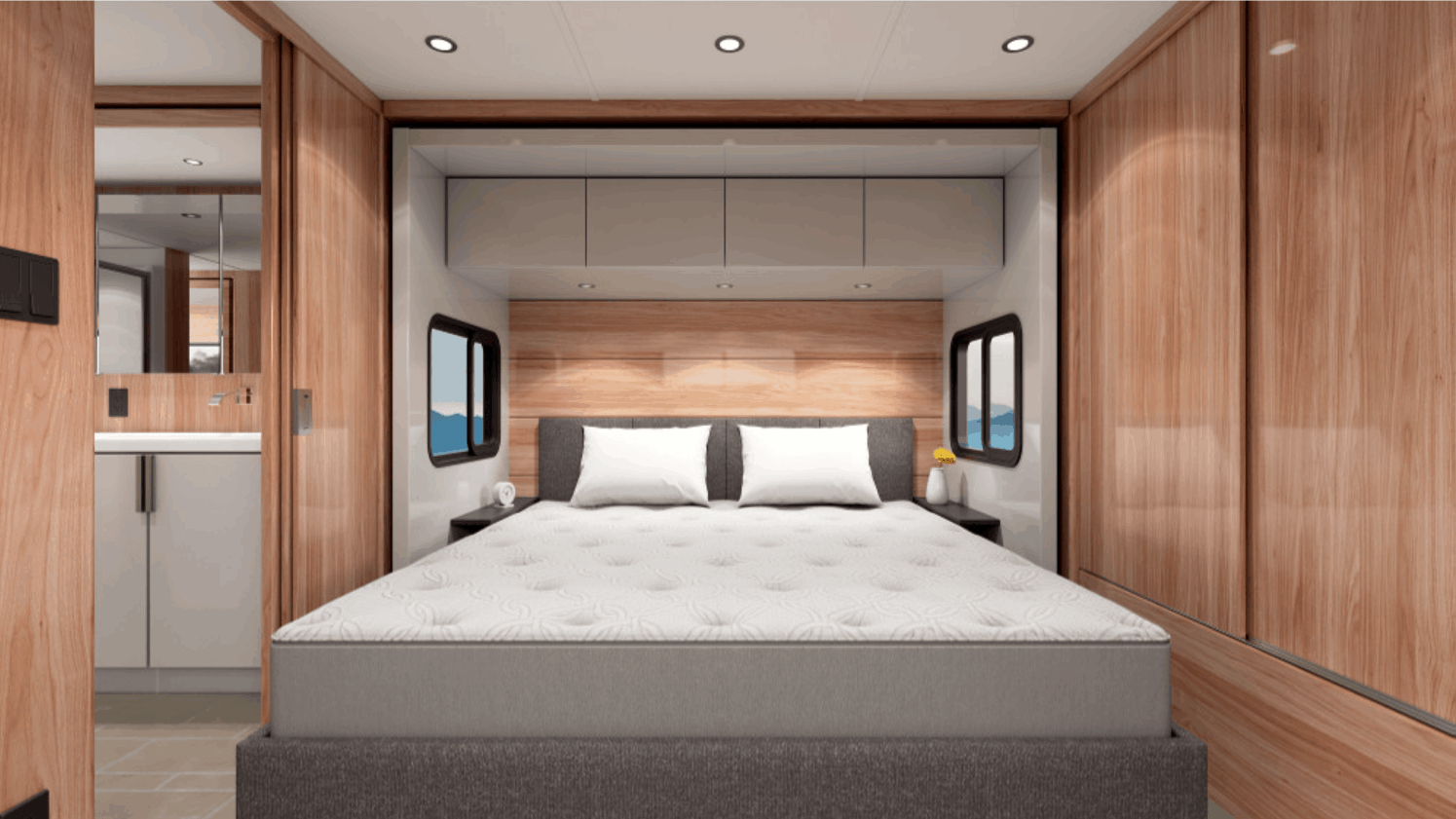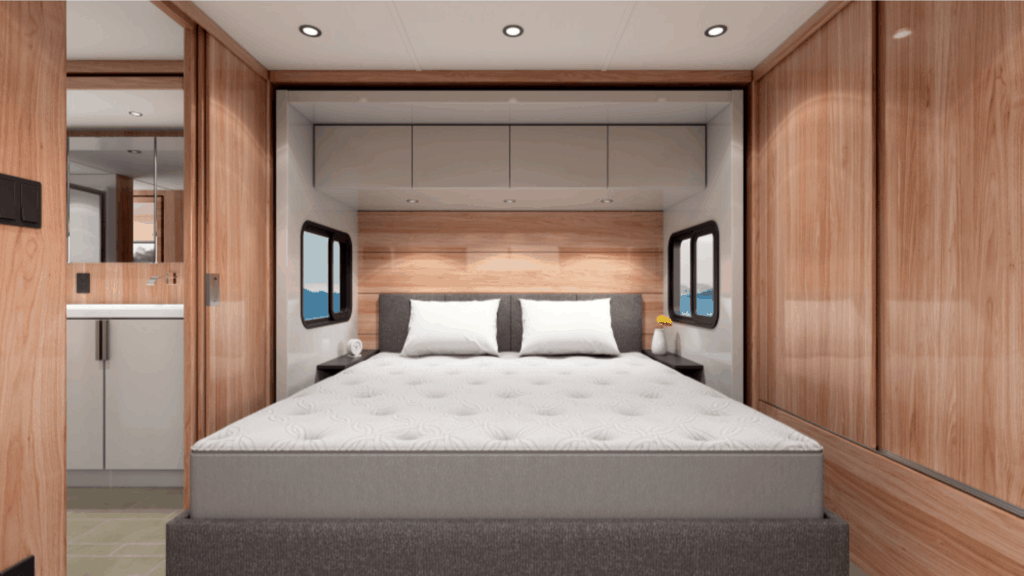 Why can't I just use a regular mattress for my RV?
While there doesn't SEEM to be many reasons why not to, here are some things to consider
Weight – Regular mattresses are typically far heavier than RV mattresses and can prove pretty darn difficult to maneuver and get into the correct spot. Not only that, but if you need to constantly move it to access things, make the bed etc, that mattress feels way heavier quick!
Size – If you want to get a perfect fit, it's unlikely you'll get it with a "normal" mattress. RVs are small compared to homes, so it makes sense that the beds are usually smaller or cut in specific shapes. If you don't mind rolling onto plywood in the middle of the night (or stuff some towels/body pillows there) it might not be an issue
Flexibility – Some beds need to be folded when notin use (such as our queen that's located in a slide). I don't think many residential mattresses can do this on the regular without getting pretty messed up.
How long does it take the "bed in a box" (if you order this style) take to fully puff up and be ready to use?
Memory foam mattresses from places like Mattress Insider typically are shipped compressed in a box ready to use, once removed and laid out, in just a couple of hours.
While it may seem inconvenient to do, it's actually alot easier to get a bed roll size box in the camper than it is a fully opened one!
What kinds of chemicals are in the memory/gel foam beds? Will my RV stink like chemicals when I set up my replacement mattress?
Any mattress CertiPUR certified could also be referred to as "no stink" certified! Here is what I found on Mattress Insider's website about the chemicals in memory foam mattress like the ones I recommended above
Low emission (low VOC's) for indoor air quality (VOC's are a large component of air pollution)
Manufactured without chlorofluorocarbons (CFCs) or other ozone depleters (commonly found in imported foam)
Made without PBDE flame retardants (PDBE's have been linked inconclusively to chronic illness in humans and animals)
Made without mercury, lead, and heavy metals
Made without formaldehyde (Formaldehyde has been labeled as a cause for poor indoor air quality)
Made without prohibited phthalates
Tested and approved for durability and performance
Non-Toxic
Does the "gel" part in gel foam mattresses freeze or something similar? What do I do for winter in my camper when temps fall below freezing?
It definitely CAN be affected by cold – luckily, it's very easy to deal with (no, you don't have to add "remove mattress" to your winterizing list!)
DO NOT compress it for storage – this can damage it! Instead, just leave it lying flat on the bed.
Let it "thaw" before use – Let the mattress itself (which may take longer than the air in the camper) completely thaw and rise above freezing.
In summary, if you dewinterize before a trip, your mattress should have enough time to thaw before use!
How do I find the right size for the rounded corners of my mattress (these are common in Airstream mattresses particularly!)
It's possible (and easy to order with your other custom measurements). Here is a video explaining how to do it!
But… what if I don't feel like measuring my corners. Can my replacement mattress have regular corners instead? How bad could it be?
It's human nature to take the easiest route, but this is a time where you want to do the little bit of prep work to really make your comfy mattress last even longer.
The incorrect corner shape can actually put excessive stress on your mattress!
How should I take care of my fancy schmancy amazing new camping mattress?
Just like any other item you care about, it requires some routine cleaning. I have three young kids so here's a couple things I do to keep our mattresses from getting gross!
Here's a full list of tips to keep your mattress clean, but below are my most used tricks!
How to clean up a pee (or any bodily fluid… blood, vomit etc) accident…
Soak up as much extra as you can and use an enzyme based cleaning product like Nature's Miracle (I use about 8 oz hydrogen peroxide + 3 tbs baking soda if I need to DIY) to spray the stain. Once dry, sprinkle baking soda and vacuum it up the next day!
Get a full, zippered mattress cover (especially for those RV bunks where the kids are!)
Whether you got kids, dogs, messy in bed eating habits or just like to keep it on just in case you spill something, a mattress cover is pretty standard for a nice mattress.
My favorite is this one because it zipper closed and protects ALL 6 SIDES (most just protect the top). After all, can bed bugs only enter through the top?
NO! Protect it all!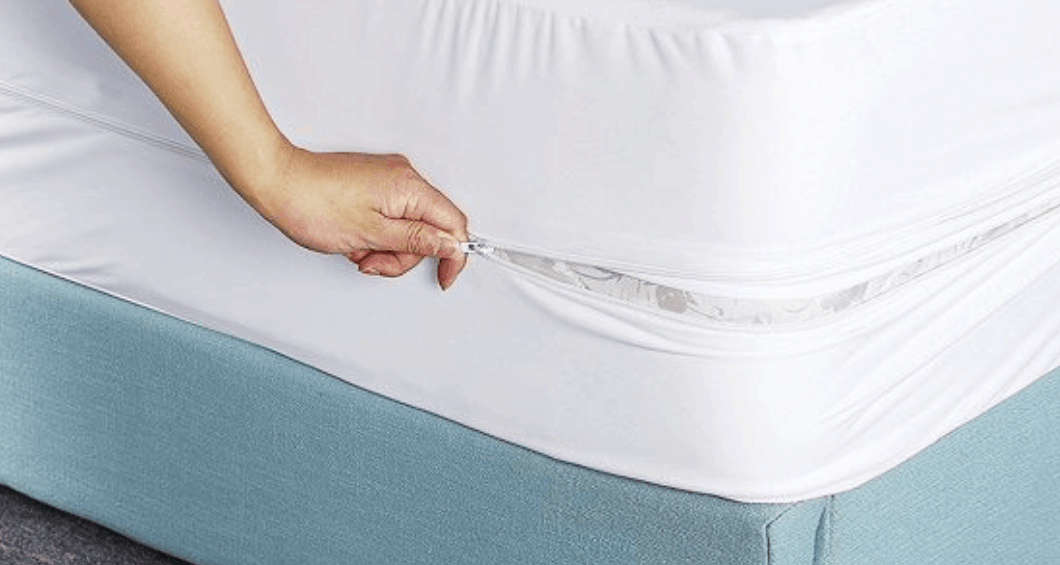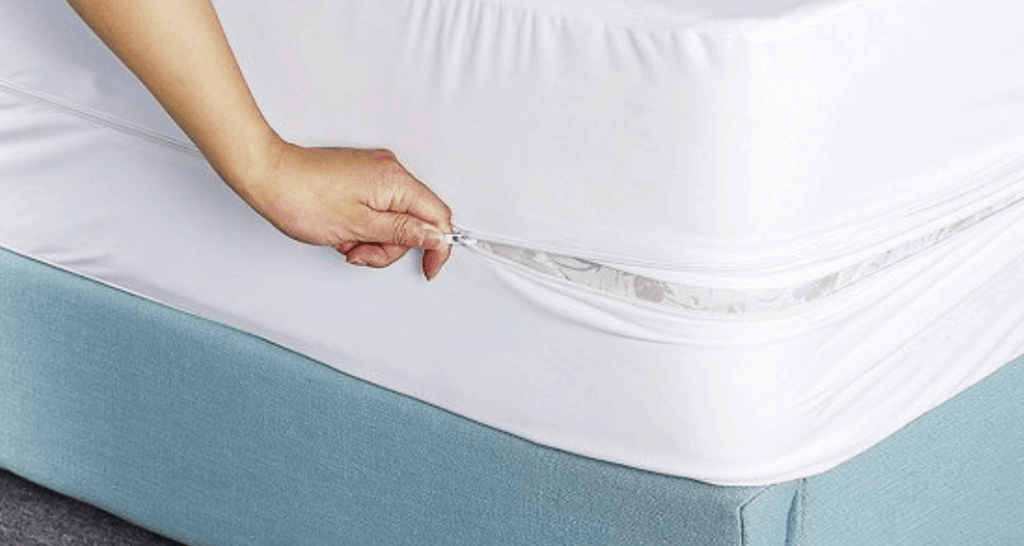 Get a moisture barrier to get some airflow under your mattress!
It only takes less than 10 minutes to install (you just cut what you need off a roll) but it can really make a difference in mildew issues in your camper.
Moisture happens for a couple of reasons – since they are mostly on flat surfaces, that doesn't leave much room for air flow. Temperature differences (think super cold camper but warm cozy person on top) can also cause condensation under the mattress that can't evaporate.
This material goes under your mattress to let some airflow in – it's also very flexible and you can't feel it when you're laying on it!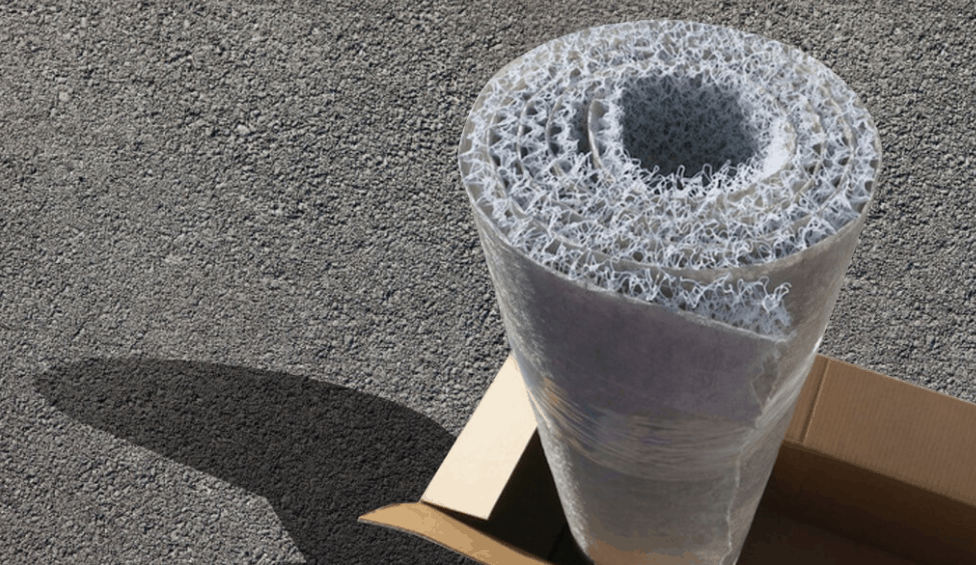 Ready to wake rested and ready for the day at camp?
Even "nice" campers have junky mattreses sometimes!
Better sleep pretty much improves every aspect of your life, so why not put the icing ontop of your camp experience with some upgraded sleep options or even a replacement mattress!
Here are some more RV articles to check out!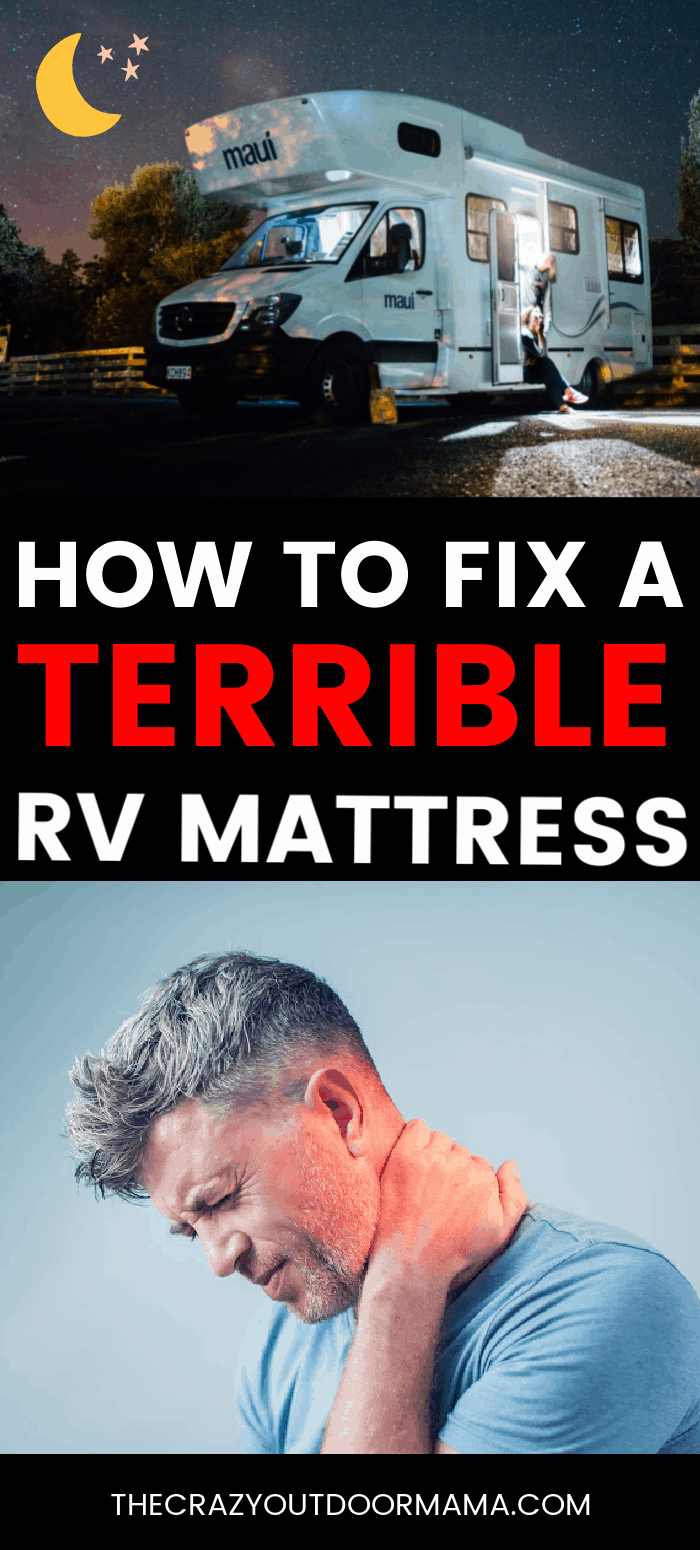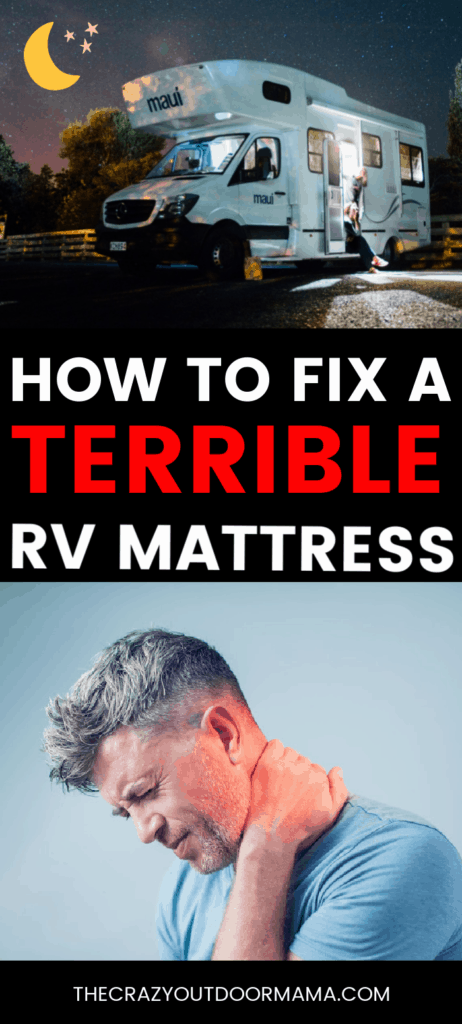 Latest posts by Stacy Bressler
(see all)