There's nothing worse than pulling up to your campsite and rushing to use the bathroom only to find your toilitries on the floor and spilling everywhere! So check out these shower organization ideas for your camper to make transit AND shower time more peaceful!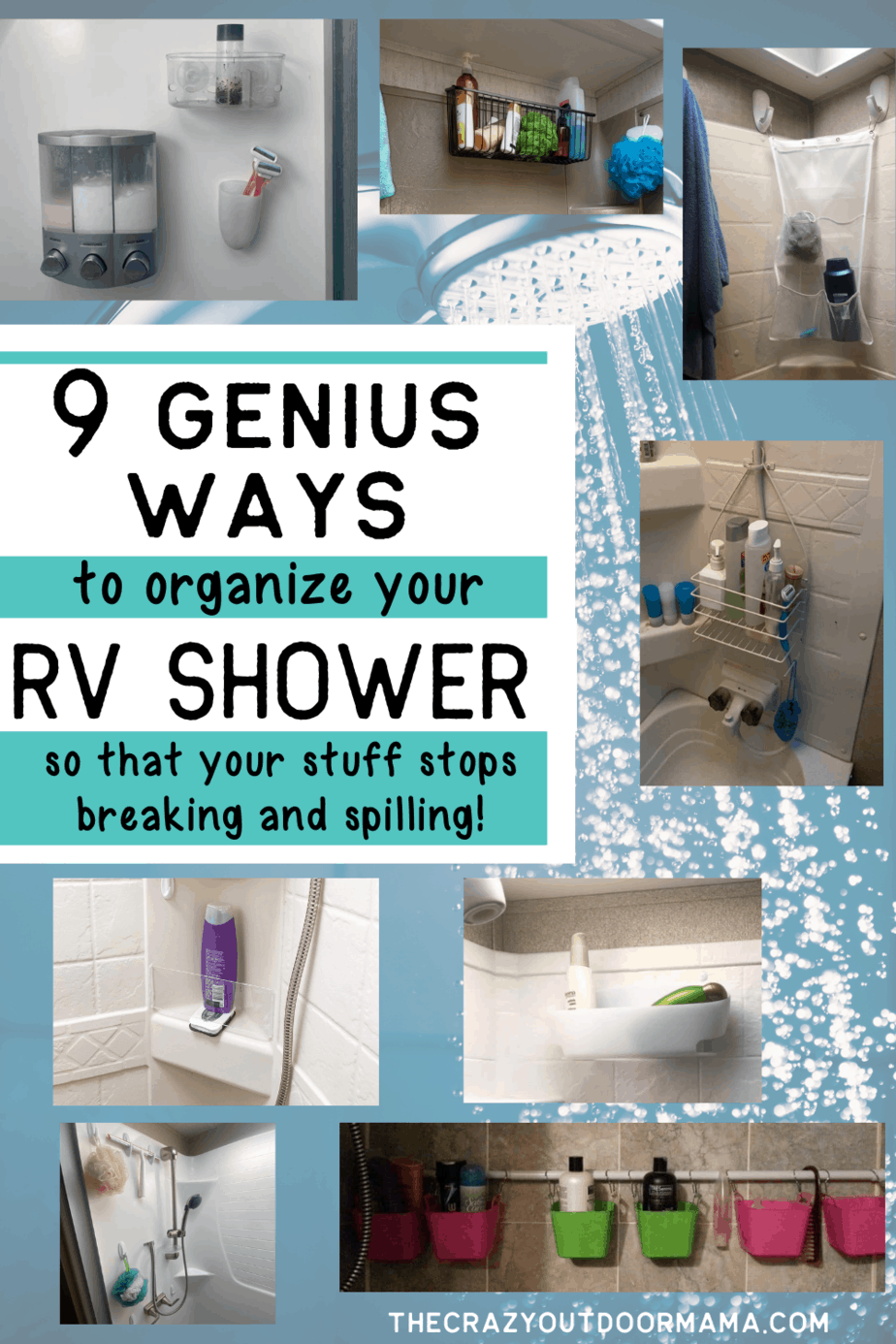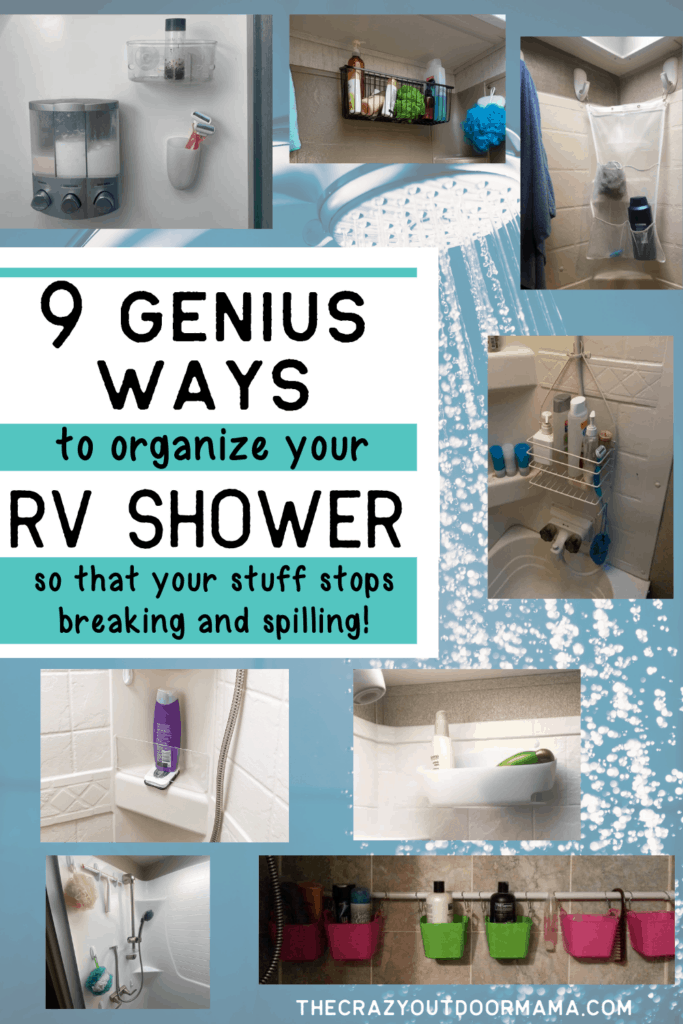 Organization in your RV Shower Space
From dispensers to hanging organizers, there's a wide variety of ways to organize your shower area that greatly depend on use. I know we personally use our whole shower area for storage and just have it easy enough to move out when we need to wash up.
If you're looking for more tips to organize your WHOLE camper bathroom, check out these 9 easy rv bathroom organization tips AND a printable plan to organize + clean it!
Here are some ideas (and products if I could find something similar to what's being used in the picture!)
1. Hang an extra tension shower rod in the back of your camper shower to hang deep baskets from!
I love that this set up requires no set up/take down (assuming your secure in your setup!) and that it allows for a ton of organization. This is super important if you have a bigger family so that everyone's things don't get mixed up!
A tension rod like this combined with some cute bins from the Dollar Tree could create something similar to these pics!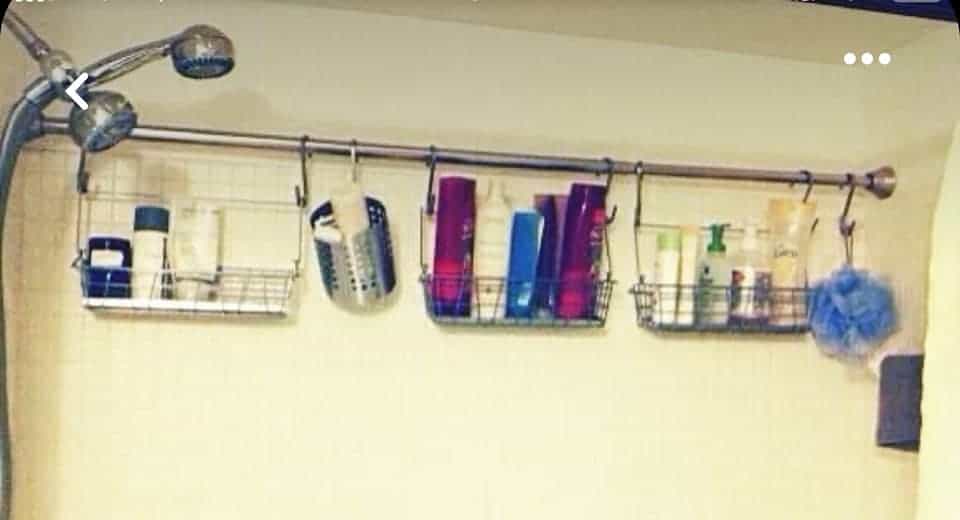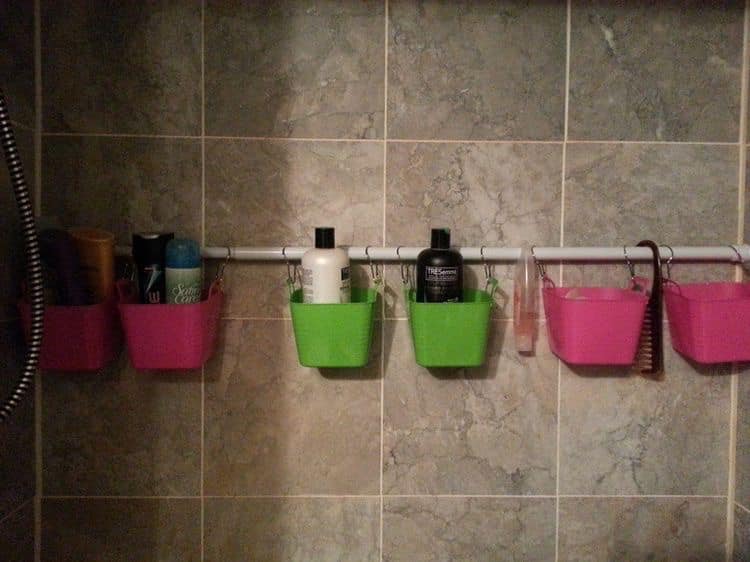 2. Permanantly mount a deep wire bin to the back of the camper shower wall for stability!
If you don't trust the suction cups or tension rods (if you boondock and go on very bumpy roads alot, they can get knocked off) then think about a more permanant solution such as this!
Just make sure that you're screwing into a stud and do NOT screw into the plastic! You may want to use an anchor just to be safe.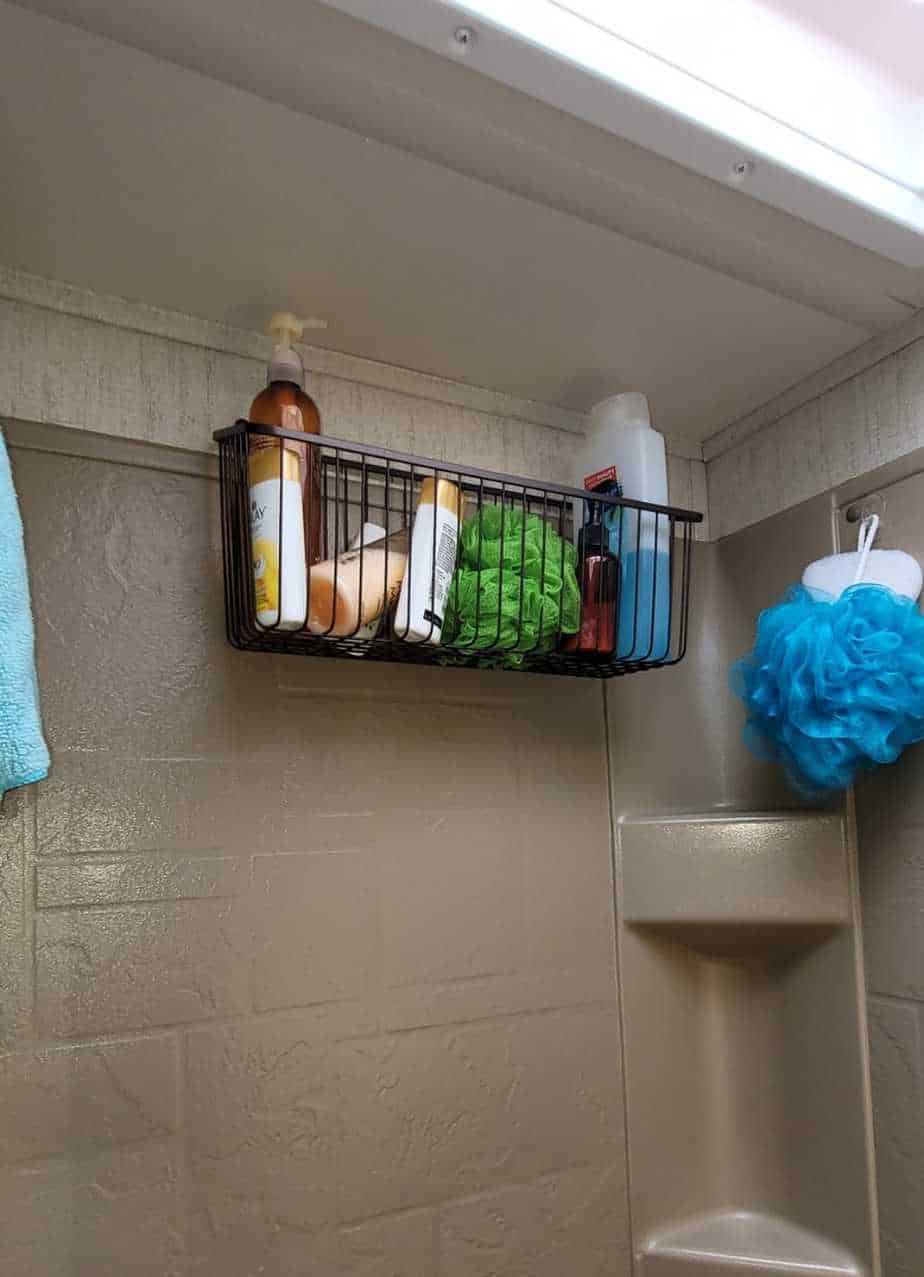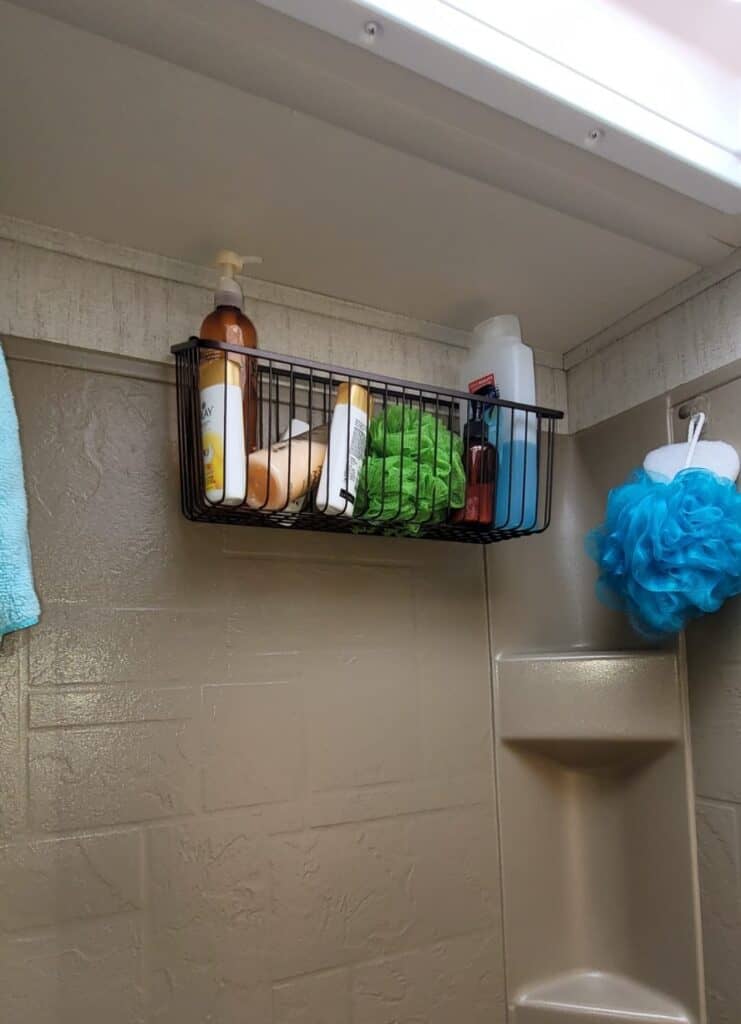 3. Try a mesh pocket hanger/shower liner- everything dries, no rust, easy to take down if needed and keep everything in place!
This is personally my favorite because it's just alot less work AND you can just lay it on the shower floor for piece of mind while traveling. There are a wide variety of these, but this one is a good price and EVERYONE seems to recommend it!
For even more storage, you can get a shower curtain WITH built in pockets!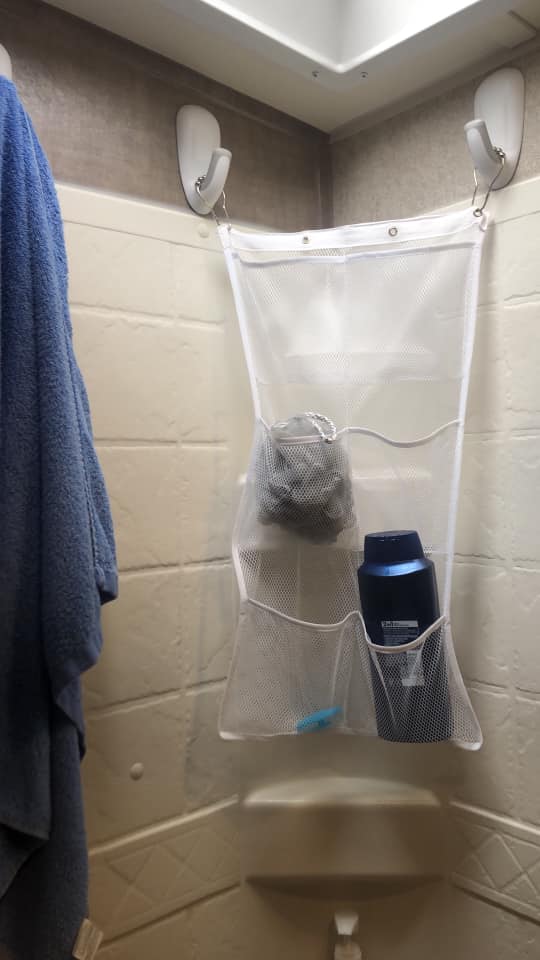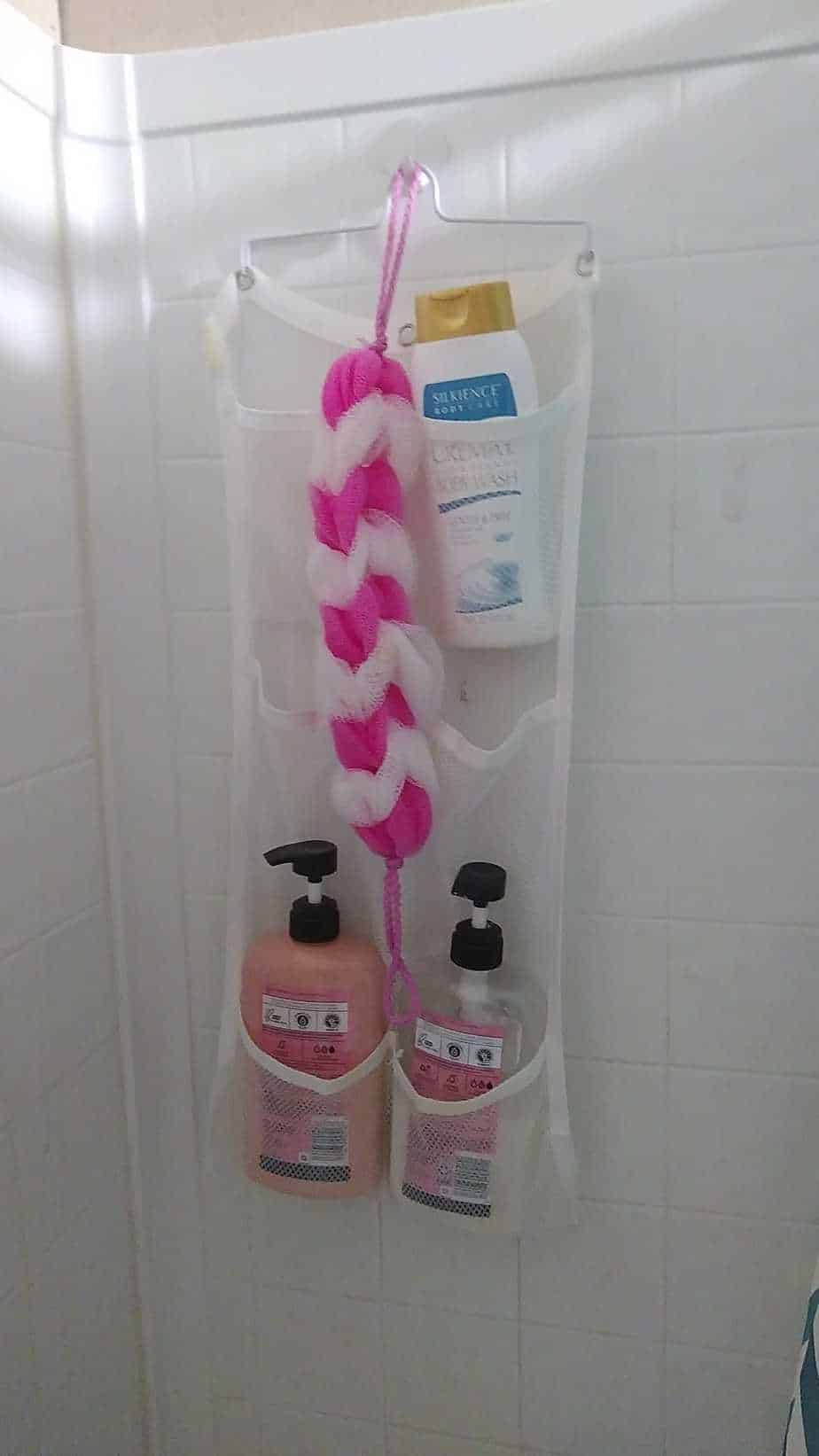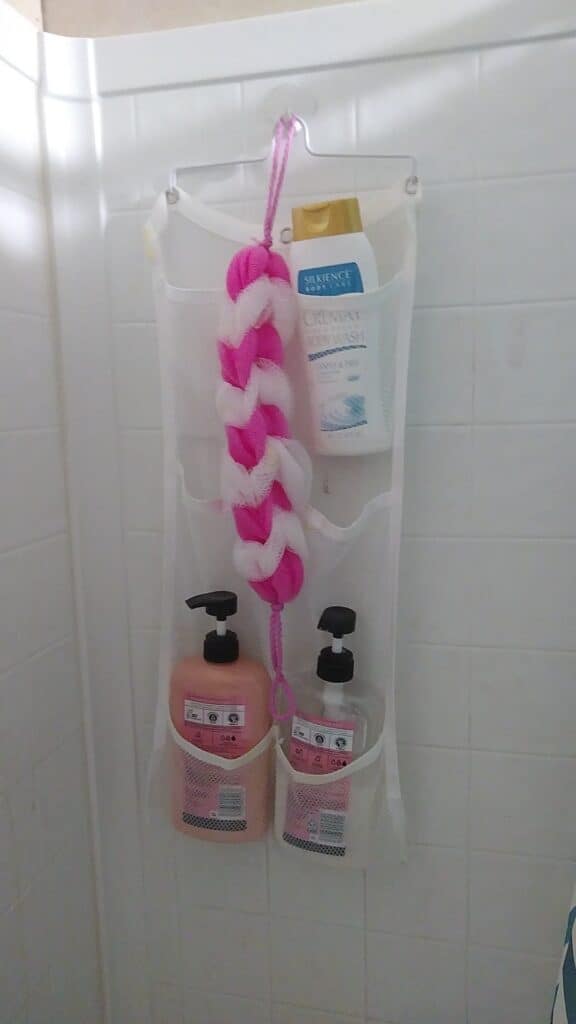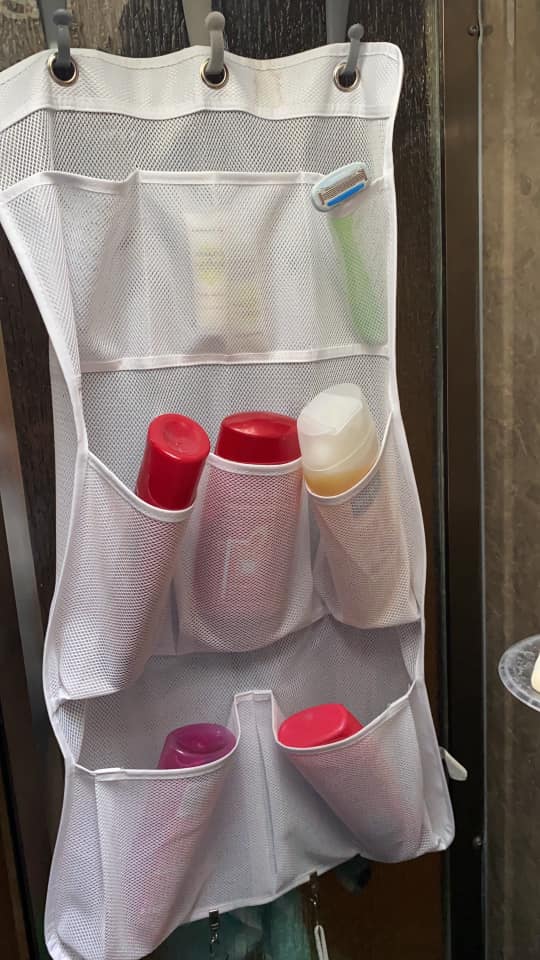 4. Of course, don't forget to utilize the shower head area itself for organization space with a shower caddy
This is probably what everyone thinks of since it's the most common way to organize our showers at home. This is alright, I just get nervous about the weight of all the toilitries hanging from a camper quality (Which is not always the best) shower head.
To each his own – for a small family, couples or single campers it might be the easiest way to do things!
Here's the more bucket style version in the first picture, and here's a shower head caddy closer to the second picture (but if you like the wire look, check the Dollar Tree first because they have simple styles like this!)
This spring tension shower caddy is a cool idea too – each shelf can hold 7.5 lbs and it's corner shaped so it takes up less space!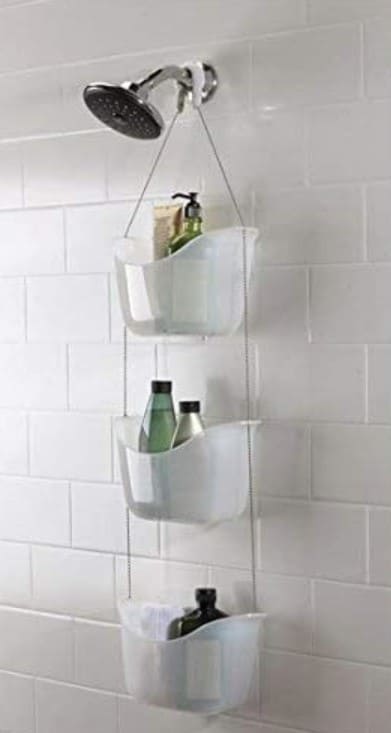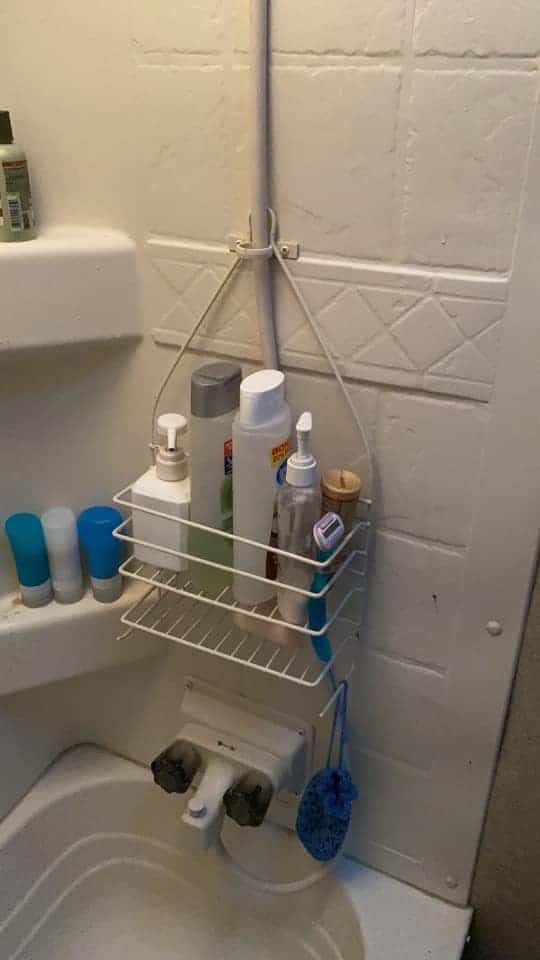 4. Command Hooks and other suction mounted things can be AWESOME for taking advantage of the ample hanging space in an RV shower
As long as you have sections of non textured wall in your RV shower, suction things should work great! There's even special "Bath" specific 3m hooks/products that seem to work pretty well – always give it a good tug before considering the job done though!
Tip regarding getting the suction cups to stay – use soft scrub to get rid of any old soap scum or other debris that could screw up the seal!!
What's in the pictures: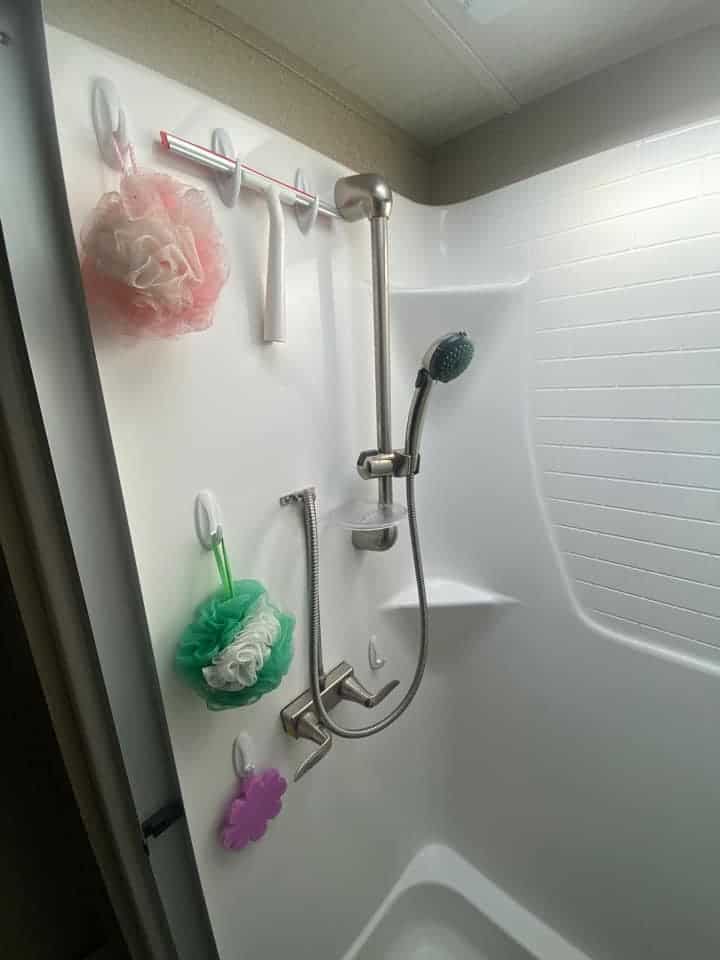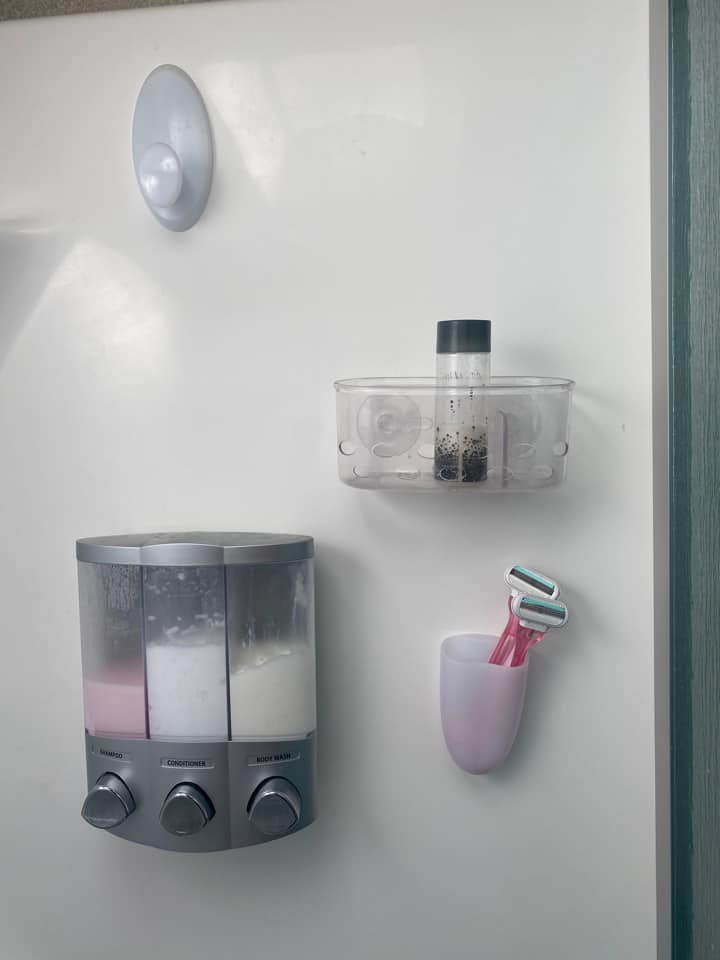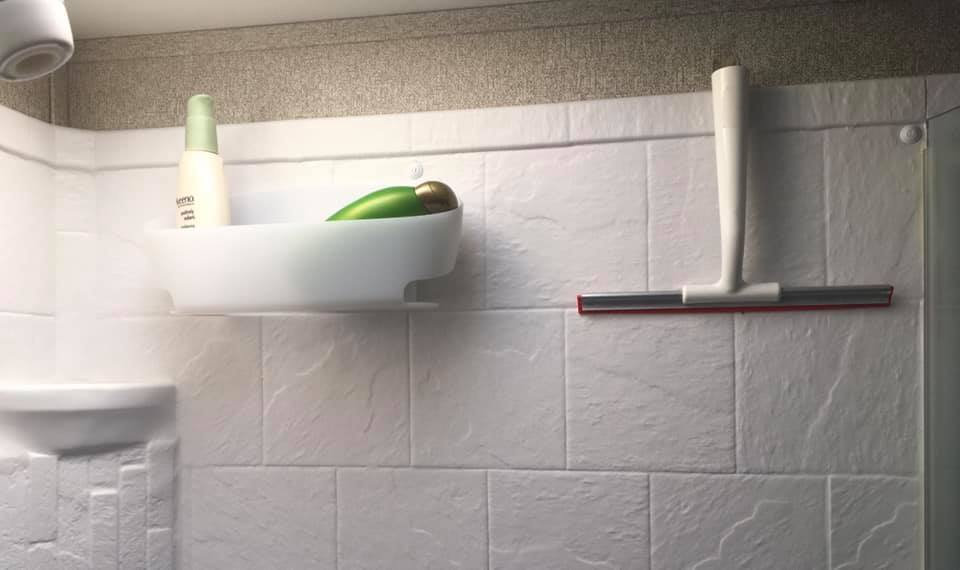 5. Put it all in a bin/portable shower caddy on the ground (simple and cheap!)
While there are tons of cool fancy ideas, it's also just as great to keep it all contained on the ground so there is no risk whatsoever of spillage! A couple extra minutes of set up doesn't hurt – you could even get a dual functioning portable shower caddy like this so that you can also use it in campground showers and such!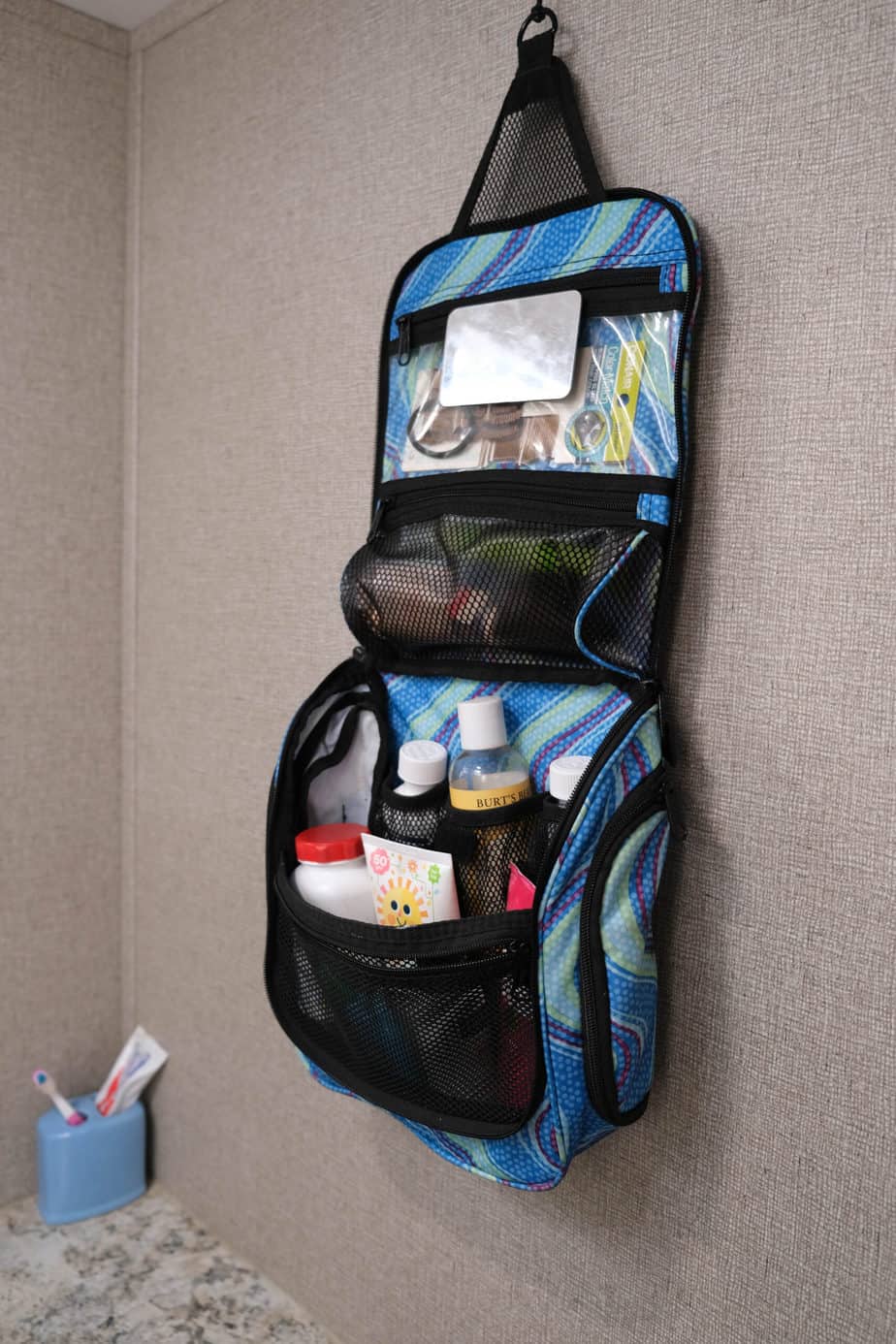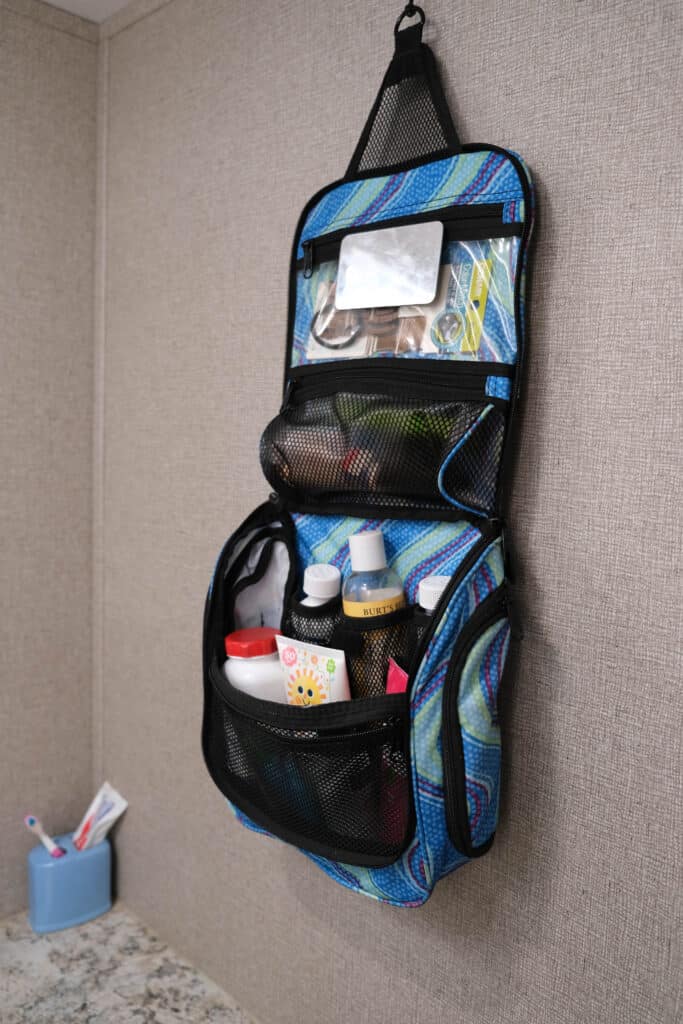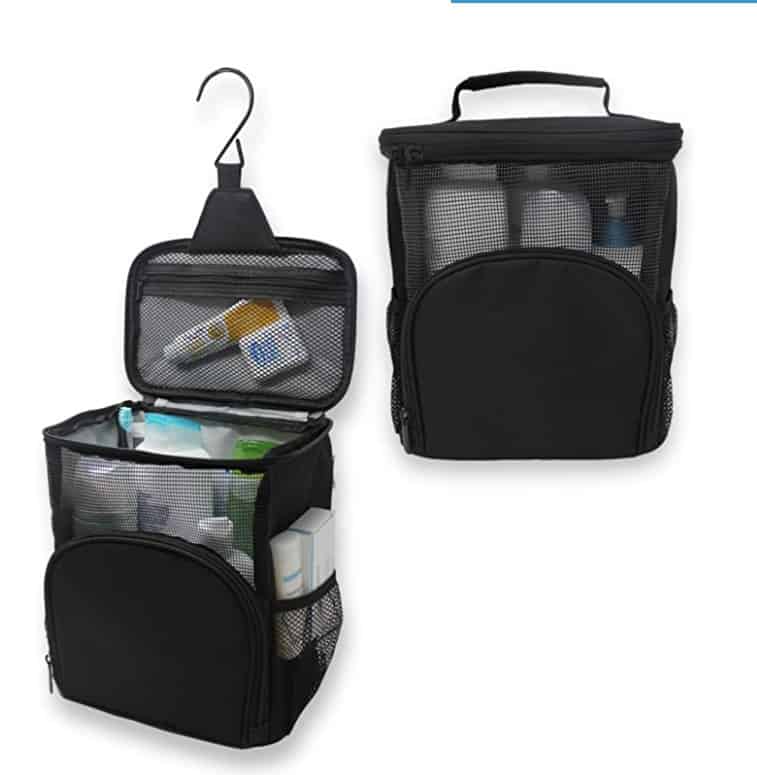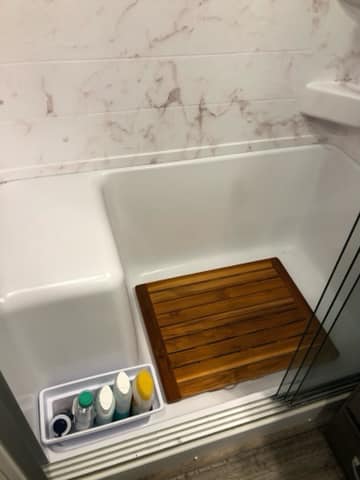 6. DIY corner bins with some plexi glass
Turn those useless shallow corners into something handy with some silicone and plexi glass!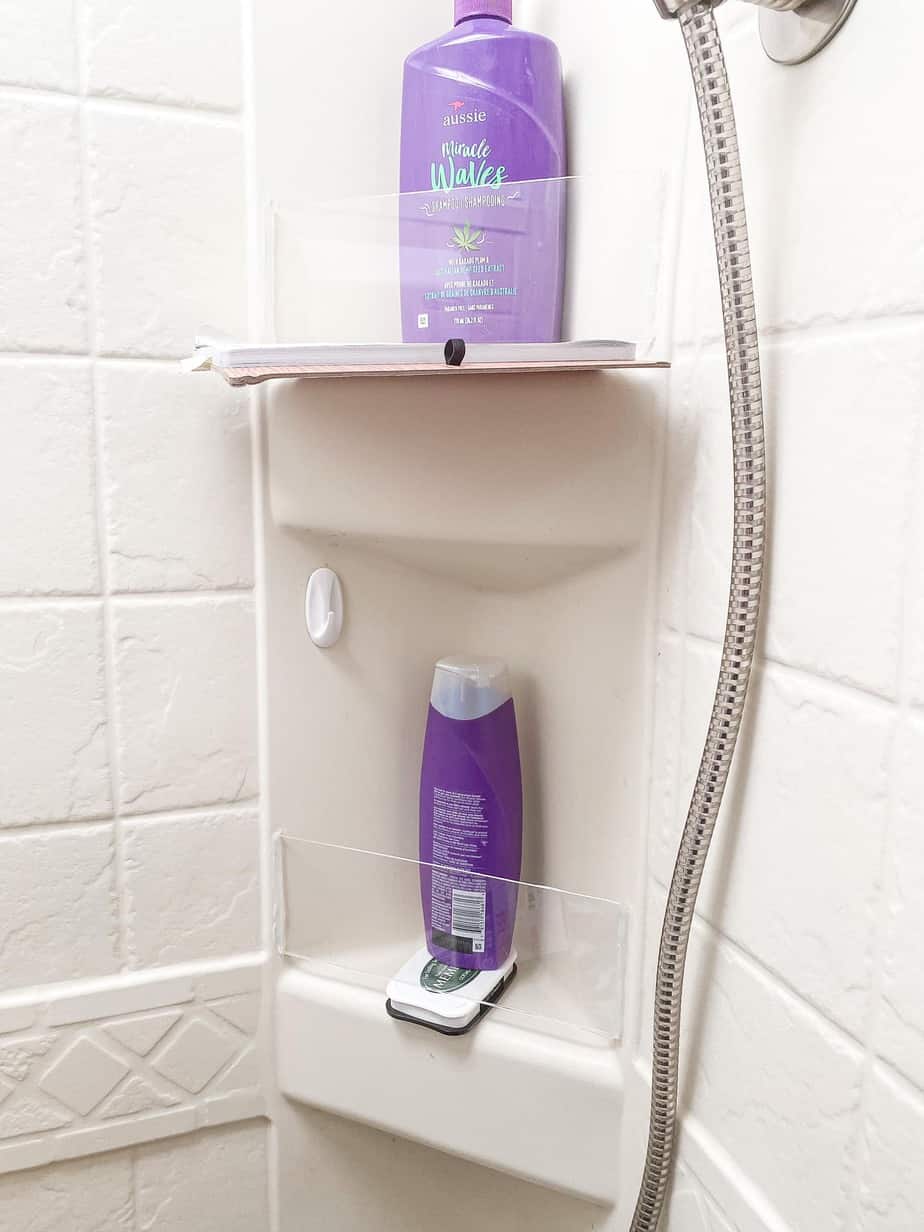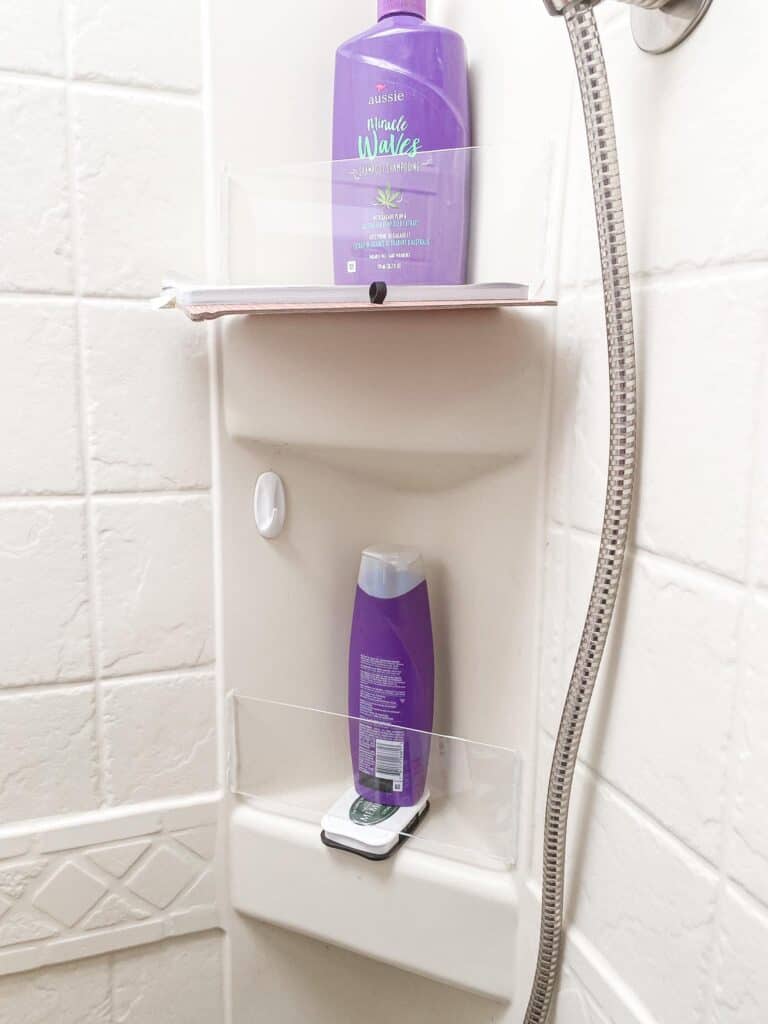 7. Bulky towel storage made possible!
Towels are a must, unfortunately, they are MASSIVE! Your best bet is to mount something on the wall or get something like a sweater hanger to store in your shower when not in use. We use this 4 bin sweater organizer that has an extra hanging rod on the bottom for the bulky things we still like access to (towels, blankets, diapers!)
If over the door works better for you (like in the second pic) here is a similar cute multiple rolled towel holder that mounts over the door!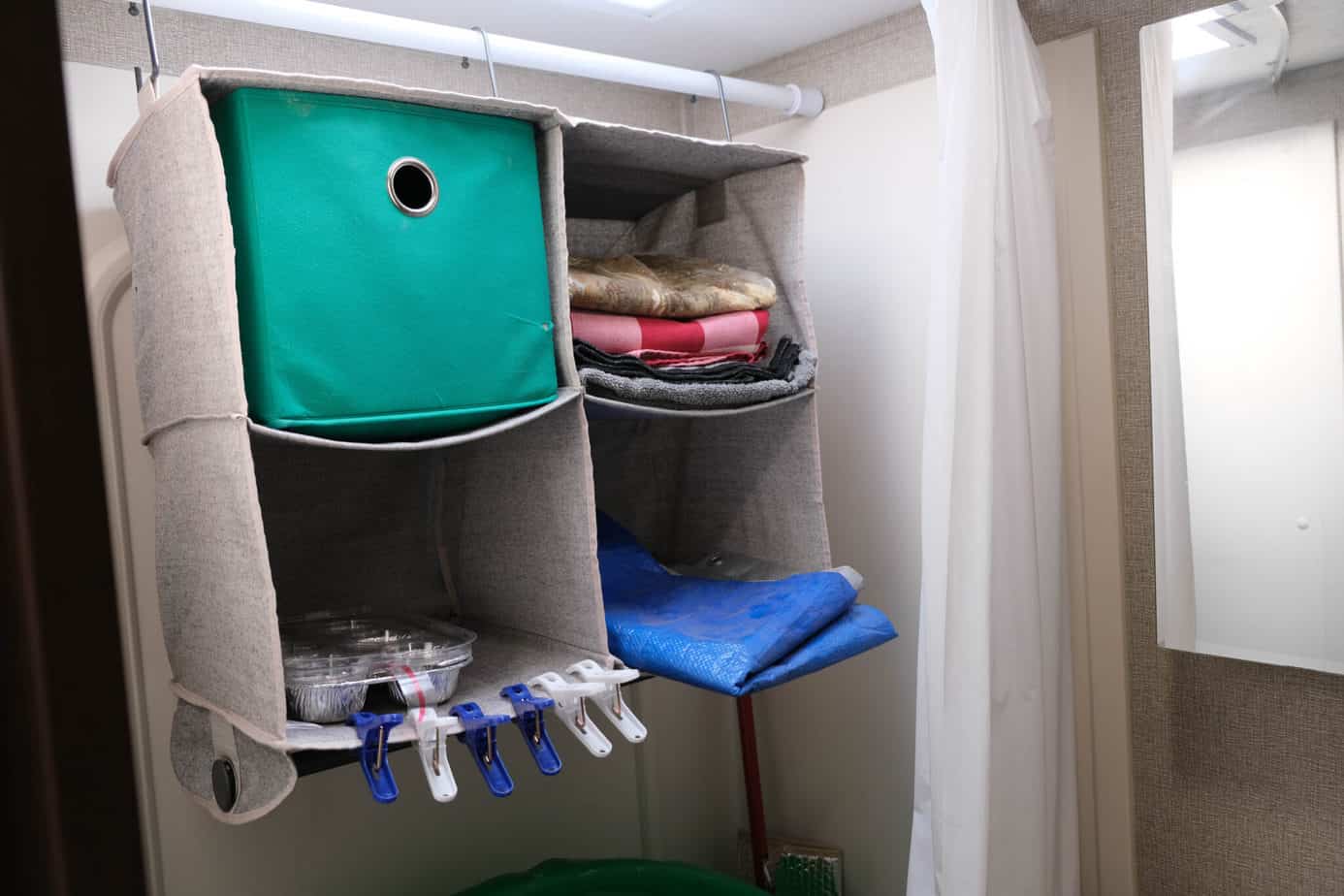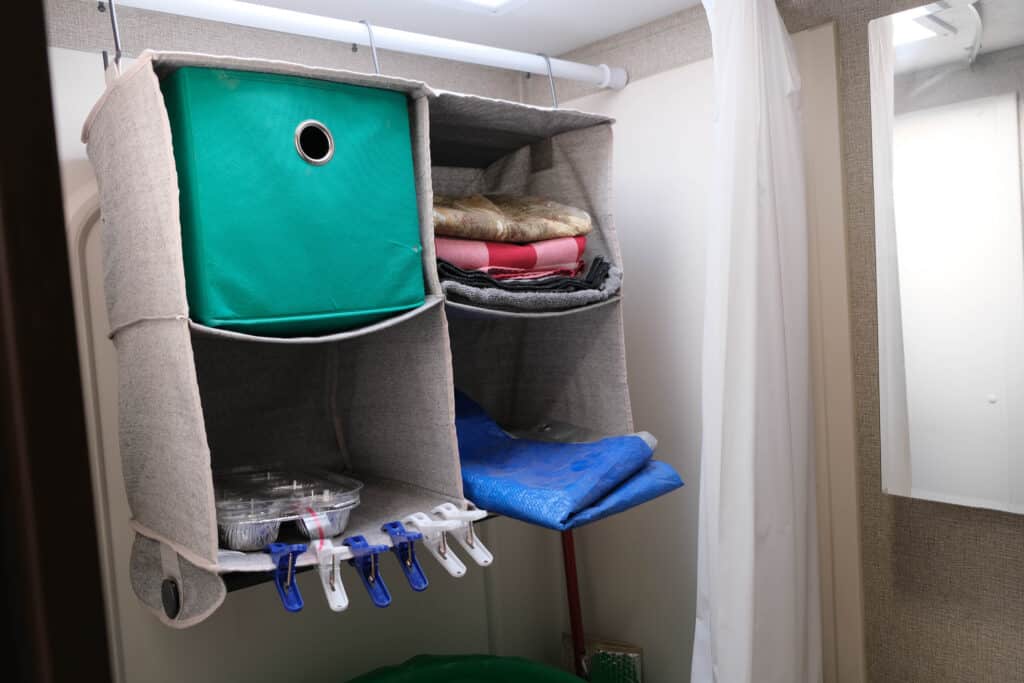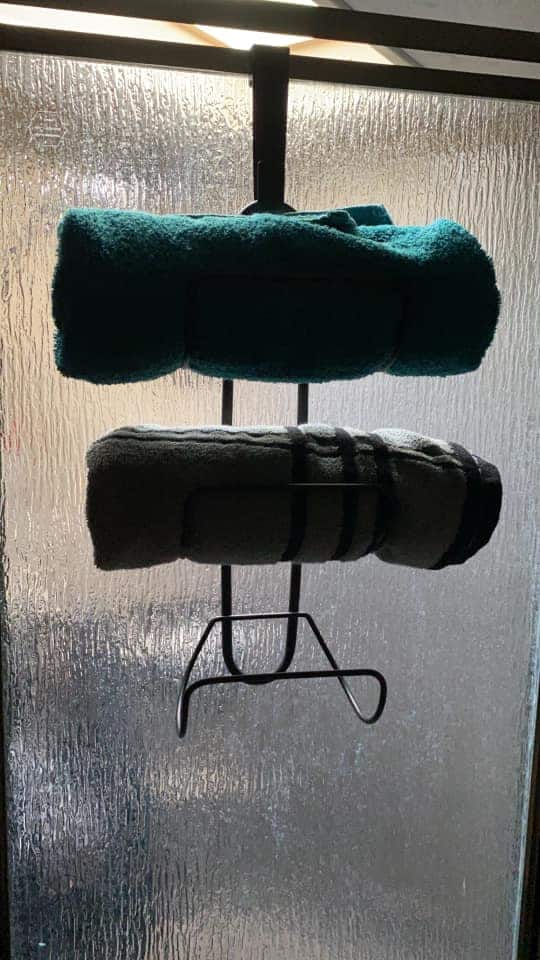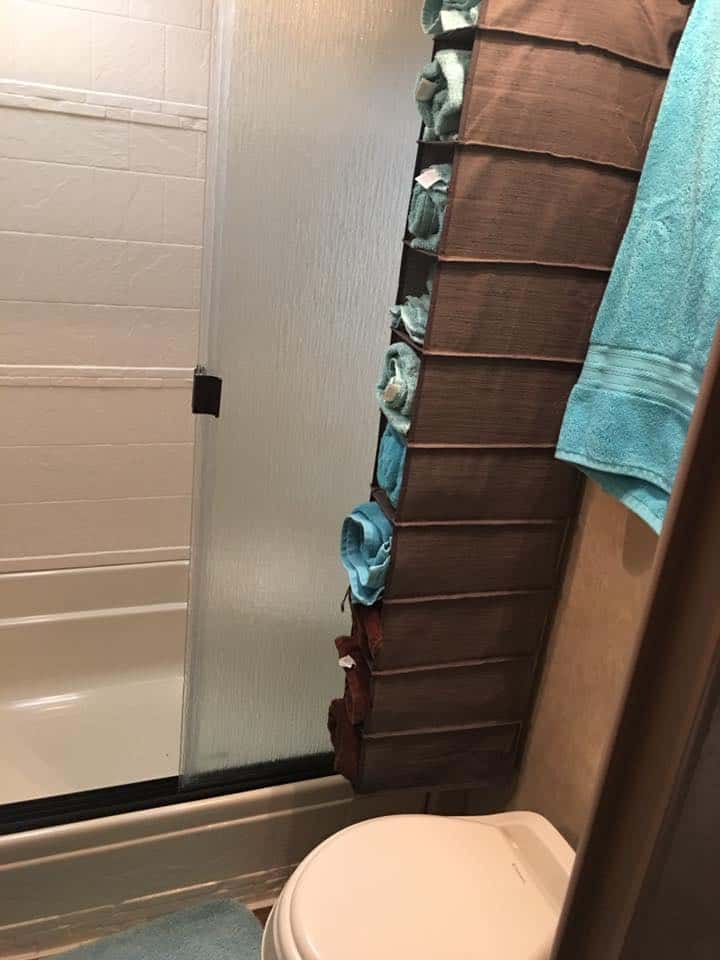 Ready to get your shower under control now? Bump it up a notch and clean + organize your whole bathroom!
If this is just the start of your relaxed, organized RV then you'll want to check out my other cleaning and organizing tips for campers!
Head to the full camper bathroom organization's tip guide here (where you'll find that handy printable below to keep you on task… I know I'm terrible about getting distracted sometimes!
Feeling SUPER ambitions? Then check out my master list of 61+ RV organization accessories that I keep updated with new finds!!