There are plenty of reasons to want a travel trailer under 5000 lbs. What's yours?
Do you want a little more comfort than tent camping but aren't ready to buy a huge towing vehicle?
Maybe you want an ultralight travel trailer to maximize MPGs on long road trips?
Or maybe your budget doesn't allow for both kids and a luxurious class A motorhome? And, well…since you've already got the kids, you've got to settle for a more reasonable travel trailer the family SUV can tow.
Whatever your reasons are, I've got you covered with this list of some of the best travel trailers under 5,000 lbs. There's something here for everybody—whether you're looking for a minimalist trailer a large car can tow or a rugged RV that's ready to go off the beaten path.
Before delving into the list of the best lightweight travel trailers, it's important to first consider your priorities.
What Are Your Priorities When Choosing a Lightweight Travel Trailer?
So aside from the weight, what are the main things you're looking for in an RV under 5,000 pounds? Here are a few questions that can help you decide.
How many people will be staying in the RV? Just you and your partner? Or will the kids/grandkids/a few dogs be coming along from time to time?
Where do you want to go with your camper? Across the country? To campgrounds in your local area? National parks? Back roads? Dirt roads? Off the grid? Everywhere!!?
How long will you be staying in your RV? Mostly long weekends? Maybe 2 weeks or more?
Do you need space for hauling other gear? Bikes, kayaks, camping furniture, etc.?
Do you prefer cooking and eating in your travel trailer or outside under an awning?
What features are most likely to annoy you over time? A super cramped bathroom? A tiny kitchen? A bed that doesn't let you spread out?
Do you prefer a smaller camper and better gas mileage or do you want the biggest travel trailer your vehicle can tow?
The fact is, you'll probably have to make some compromises with a 5,000-lb travel trailer. Don't expect a bathtub, queen-size bed, gigantic kitchen, and an espresso bar to fit in a travel trailer that weighs less than 5,000 pounds. (Although you'll be surprised what they fit in some of these options!)
That's why it's important to determine your priorities. Let's say you want a bathroom with plenty of space. Then maybe you can deal with a smaller kitchen as long as your RV has a decent size toilet and shower.
*If you're #1 priority is the bathroom, don't miss my article 11 Best Small RVs With a Shower and Toilet (Pics + Floor Plans).
Another thing that's important to understand before selecting a travel trailer is all the weight terms.
How to Understand Travel Trailer Weight Terms
So what are all these acronyms anyway? UVW, GVRW, CCC… it sounds like a list of secret government agencies, right!?
Let's have a quick look at these terms.
UVW: Unloaded Vehicle Weight
The UVW or unloaded vehicle weight is…drum roll please…the weight of an unloaded travel trailer! Amazing! LOL! It's also sometimes referred to as the "dry weight". Basically, it's the travel trailer as it comes from the factory before you add propane, water, accessories, suitcases, snacks, and maple syrup.
What this means for you: If you're looking for a 5,000-lb travel trailer, you'll need to find one with a UVW or dry weight that's less than 5,000 pounds.
Cargo Carrying Capacity (CCC)
The CCC or cargo carrying capacity is the maximum permitted weight of the cargo you load up in your trailer. That will include accessories, fuel, water, camping supplies, passengers, etc. Oh, and of course maple syrup!
GVWR: Gross Vehicle Weight Rating
The GVWR or gross vehicle weight rating is the maximum permitted weight of the RV. Basically, it's the combined weight of the CCC and the UVW. This is an important figure to look for when searching for the best travel trailer under 5,000 lbs.
Gross Combined Weight Rating (GCWR)
The GCWR or gross combined weight rating (say that 5 times fast, I dare you!) is the maximum allowable weight of both your vehicle and trailer. This includes all the weight of what you've got loaded in your towing vehicle (passengers, coolers, suitcases, firewood), plus your trailer and everything in it. Check for this on the inside of your vehicle's door frame or in your vehicle's owner's manual.
Those four are some of the most common terms to look for when searching for a lightweight camper trailer. 
Another question you might have is what kind of vehicle do I need to tow the travel trailers on this list?
What Kind of Vehicle Can Tow a Travel Trailer Under 5,000 lbs?
Most mid-size and full-size trucks with 6-cylinder engines or bigger have at least a 5,000-lb towing capacity. Still, before spending money on an RV, it's best to double-check.
It's really important to check the towing capacity of your vehicle if it's an SUV, small or mid-size truck, minivan, crossover, or large car. Its towing capacity can vary by several thousand pounds depending on the trim level, tow package, and engine size.
Just as an example…2WD models of the Honda Pilot can tow up to 3,500 pounds. But the AWD models are rated to tow up to 5,000 pounds. That's why it's important to check!
So if you haven't done so already, get out your owner's manual or do a quick search online and get the towing capacity for the exact vehicle you plan to tow your RV with. 
Find that you need something even lighter than 5,000 lbs? Then check out these two articles:
Now I'm sure you're anxious to get to the list of travel trailers under 5,000 lbs, so here you go.
List of the 11 Top Travel Trailers That Weigh Under 5,000 lbs
Please keep in mind that these are not ranked from best to worst or prettiest to ugliest. The best camper under 5,000 lbs for you will depend on your needs, budget, and vehicle. Choose one that works for you and then get out there and enjoy the outdoors!
IMPORTANT! There are soooo many different models and variations of these trailers, it'll make your head spin. For some on this list, I do feature a specific model for specific situations (just couples, couples with kids, people who prefer big bathrooms, etc.). And for others, I'll direct you to a specific model line of travel trailers with several options under 5,000 pounds.
Let's get started with an iconic travel trailer, the Airstream!
Source: Airstream.com
Classic Airstream design in a smaller package.
Pros: All of the models in the Bambi line have a GVWR of 5,000 pounds or less.
Cons: A little pricey with the 2023 Bambi starting at $59,300.
Enjoy the iconic Airstream travel trailers with everything people enjoy about the bigger ones, just in a compact package. The Bambi models have the same curved aluminum design and attention to detail as their bigger brothers.
The Airstream Bambi comes in four different lengths from 16-22 feet. All are one axle and come in at under 5,000 pounds. The shortest 16-feet long model has a GVWR of just 3,500 pounds. That means you can even tow it with a Subura Outback (as long as it has the 2.4L turbo engine).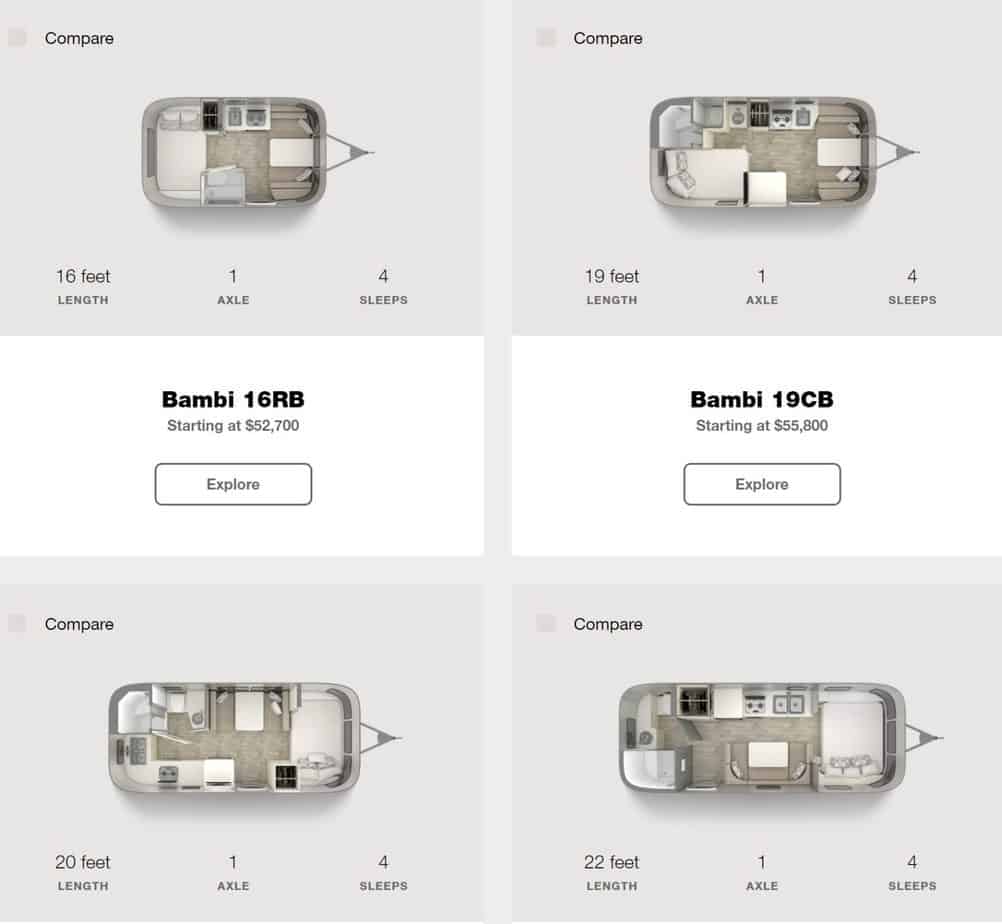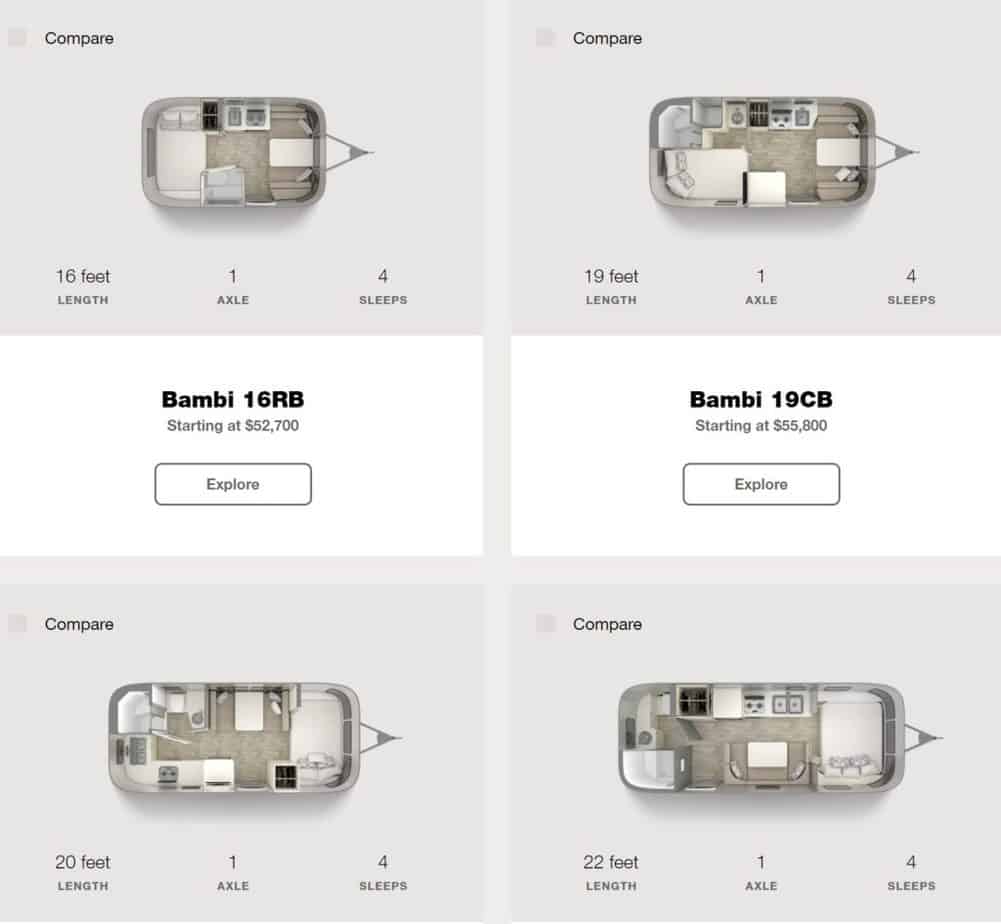 All of the floor plans make nice use of space. Each one – including the short 16' model – has dedicated sleeping areas. That means they have a bed, that's always a bed – no need to disassemble a dining table or flip open a couch in order to hit the sack.
Wanna learn more? Check out the official Airstream video tour.
Source: Airstream.com
A modern, adventurous take on a classic.
Pros: Excellent choice for adventures on the go. It's small and rugged enough to visit areas off the beaten path while still providing needed comfort.
Cons: The 16 is best for couples since it only has one sleeping area. Go with the 20 if you have kids.
If you like the freedom to take on some dirt roads and dispersed camping, the Airstream Basecamp and Basecamp X are really nice choices. Just like the classic Airstreams, the Basecamps are really well-built with lots of have practical features.
For example, the Basecamp, in addition to the side entry door, has a rear hatch you can open for easy gear storage. Just open it up and slide in skis, bikes, and even a kayak or two.
Even the smallest 16-foot models come with a wet bath, galley, and large seating area. The Basecamp 20 has an additional seating area that converts to a bed for a small child or two.
Source: Airstream.com.
If you need a more rugged version, go with the Basecamp X. It's got a 3" lift, more rugged tires, and an increased departure angle to handle rougher roads.
And fortunately, the basecamp is designed to be towed by SUVs and small trucks. Even the largest Basecamp 20X has a GVWR of just 4,300 pounds.
Check out the official Basecamp video tour.
Source: golittleguy.com
It's amazing what they fit in this tiny trailer.
Pros: Has an ultralight dry weight of just 2,320 pounds. But you still get a wet bath, microwave, 5.0 cu. ft. refrigerator, and tons of natural light with the stargazer window.
Cons: Probably a bit too small for couples with kids.
Source: golittleguy.com
It's amazing how much they've managed to fit in this ultralight travel trailer. In addition to the dinette area, which converts into a bed, the kitchenette with a sink, stove, and microwave, it also has a surprisingly roomy wetbath.
Source: golittleguy.com
There are plenty of windows and natural light which make it seem less claustrophobic inside. There's even an optional stargazer window above the dinette/bed that lets in even more natural light.
With a dry weight of 2,320 pounds and a GVWR of 3,500 pounds, this is a great travel trailer for couples with a small towing vehicle
Check out the video tour.
Source: olivertraveltrailers.com
Luxury features in a compact and well-built trailer.
Pros: Surprisingly comfortable for such a small travel trailer. Nice for RVing in the colder months thanks to its double-hulled fiberglass shell.
Cons: 2022 models start at $57,000, but they do come standard with a lot of nice options.
If you want a travel trailer under 5,000-lbs with a luxurious feel, you'll love the Oliver Legacy Elite. With just a quick look at the exterior, you might mistake its fiberglass construction for one of the more popular fiberglass travel trailers like the Casita or Scamp.
Source: olivertraveltrailers.com
But take a closer look and you'll see the difference. The Oliver Legacy Elite was designed to be durable, easy to use, and super comfortable. It's well-lit, both inside and out, with most of the interior lamps being touch-activated. Even the closets and upper molded fiberglass storage have interior lighting!
Little details, like the dovetailed birch drawers with soft-close hinges and a residential-style thermostat to control the furnace and A/C make the Oliver Legacy Elite feel more like a home and less like an RV.
Check out the official video tour here.
Quick Insider Tip for Choosing Your New Lightweight Camper
Seeing an ultralight RV's video tour or checking it out for a few minutes at an RV show is one thing. Actually camping in it for a few days is another. This is especially true if you've never camped before in a small travel trailer.
That's why I HIGHLY suggest renting before buying. RVshare is a really nice option for doing that.
RVshare lets you search for RVs by location and type or even search for a specific model. That way you can truly test drive a small RV before actually buying it and realizing you should've stuck with tent camping (or need to get a bigger trailer and towing vehicle).
Source: kz-rv.com
A wide variety of lightweight options to fit your needs.
Pro: From tiny trailers with outdoor kitchens to longer toy haulers, every single one has a GVWR of 5,000 pounds or less.
Con: Its lightweight construction and budget-friendly price mean it's not as rugged and durable as the more expensive options.
If you're looking for options that provide the utility and space your family needs without breaking the bank, check out the KZ Sportsmen Classic Ultra Lightweight line of trailers.
There are tons of different floor plans to choose from. If you're a couple looking for a step up from a teardrop style trailer, go with the short 100RK. It's got a queen size bed inside and an interior height of over 6'. Then on the backside, there's a truck door that opens for access to an exterior kitchen with a sink and refrigerator. This one's nice for small SUVs since the UVW is only 1,770 pounds!
Source: kz-rv.com
On the other end of the spectrum, you've got options like the 190BH complete with a queen bed, linen closet, bathroom, and bunk beds for the kids. And there are also two toy hauler options for active family adventures.
Check out the video tour for the 181BH model.
Source: jayco.com
Nice variety of floor plans that make excellent use of space.
Pros: Nice selection of floor plans for families with kids. Some even feature queen size beds, bunk beds, a bathroom with tub, and a dinette that converts to another bed.
Cons: Build quality is on par with other budget-friendly ultra-lightweight RVs.
Jayco has really packed a lot into the floor plans on these travel trailers. I mean… an 18-foot model with a large dinette/bed, bunk beds, plus a bathroom with an actual tub? Albeit, a small tub…but a tub!
Source: jayco.com
These are some really nice options if you'll be camping with your kids or grandkids but don't have the vehicle to pull a longer RV.
Check out the video tour of the 195RB model.
Source: scamptrailers.com
Tiny, simple, classic fiberglass travel trailers.
Pros: Simple, inexpensive, and lightweight. Even some 13' models are available with a small wetbath.
Cons: Interiors look a little dated, even on the newer models. Just think of it as slightly retro.
No list of lightweight travel trailers would be complete without the classic Scamp molded fiberglass RVs. Depending on the configuration, they start at about 1,200 pounds for the 13-foot models. That means even some well-equipped crossovers can tow one!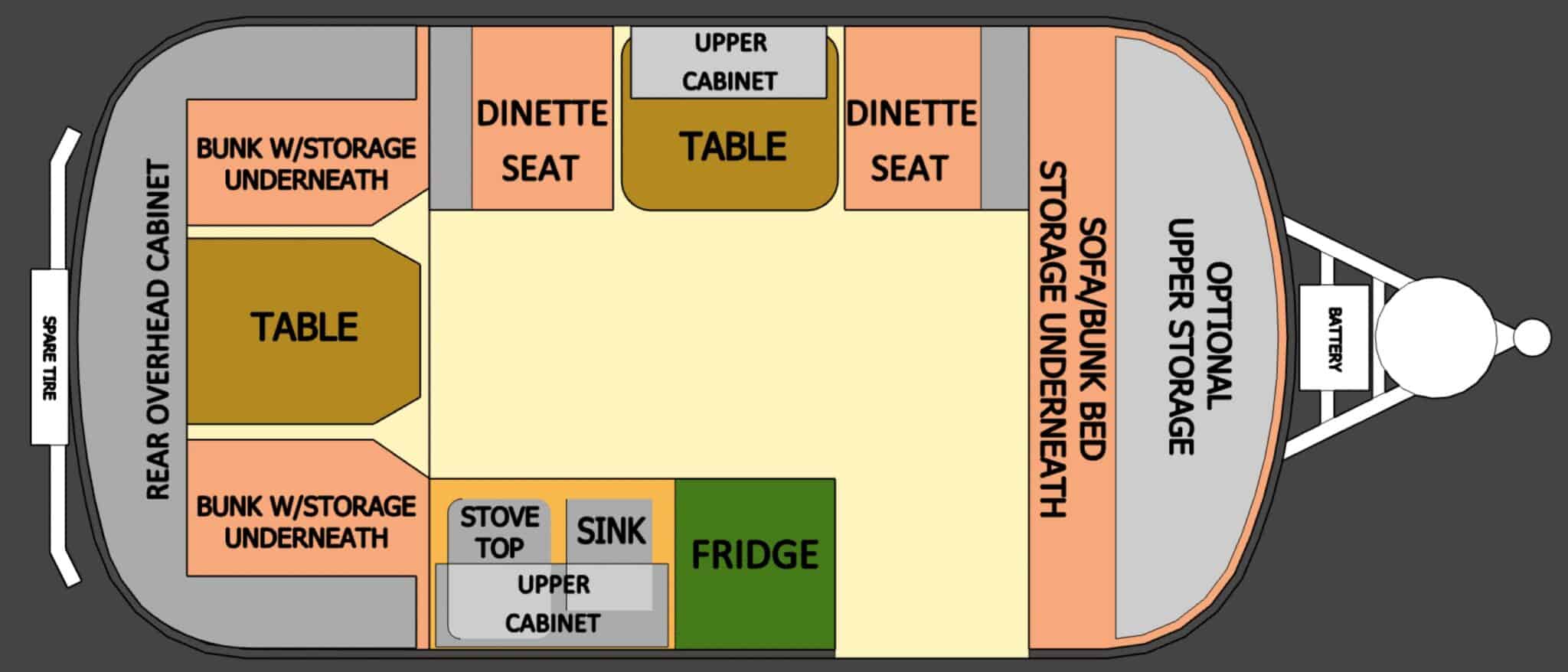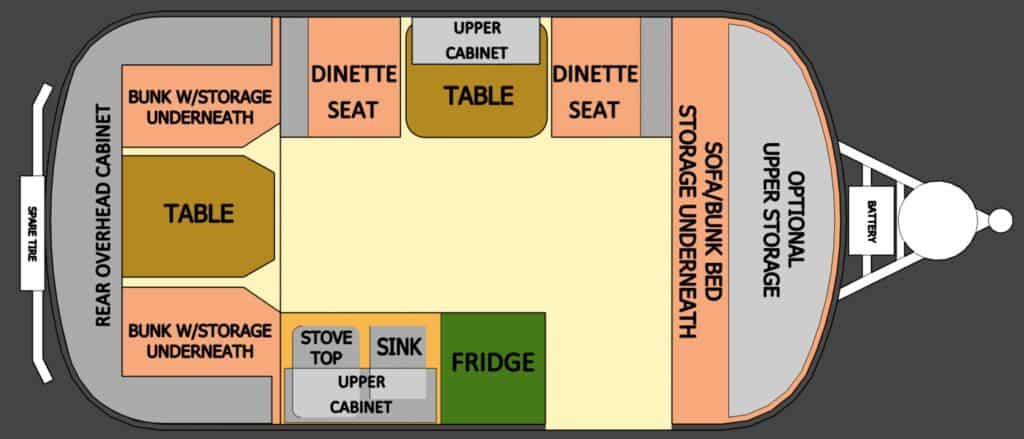 Only the largest 19-foot fifth-wheel models have a full-time bed. All the other models have a dinette that converts into a bed. One of the really convenient features of even the shortest Scamp trailers is that they're available with a wetbath. It's small, but that's not common to find on such small travel trailers.
Check out this video tour from a couple who lives full-time in a 16-ft Scamp trailer.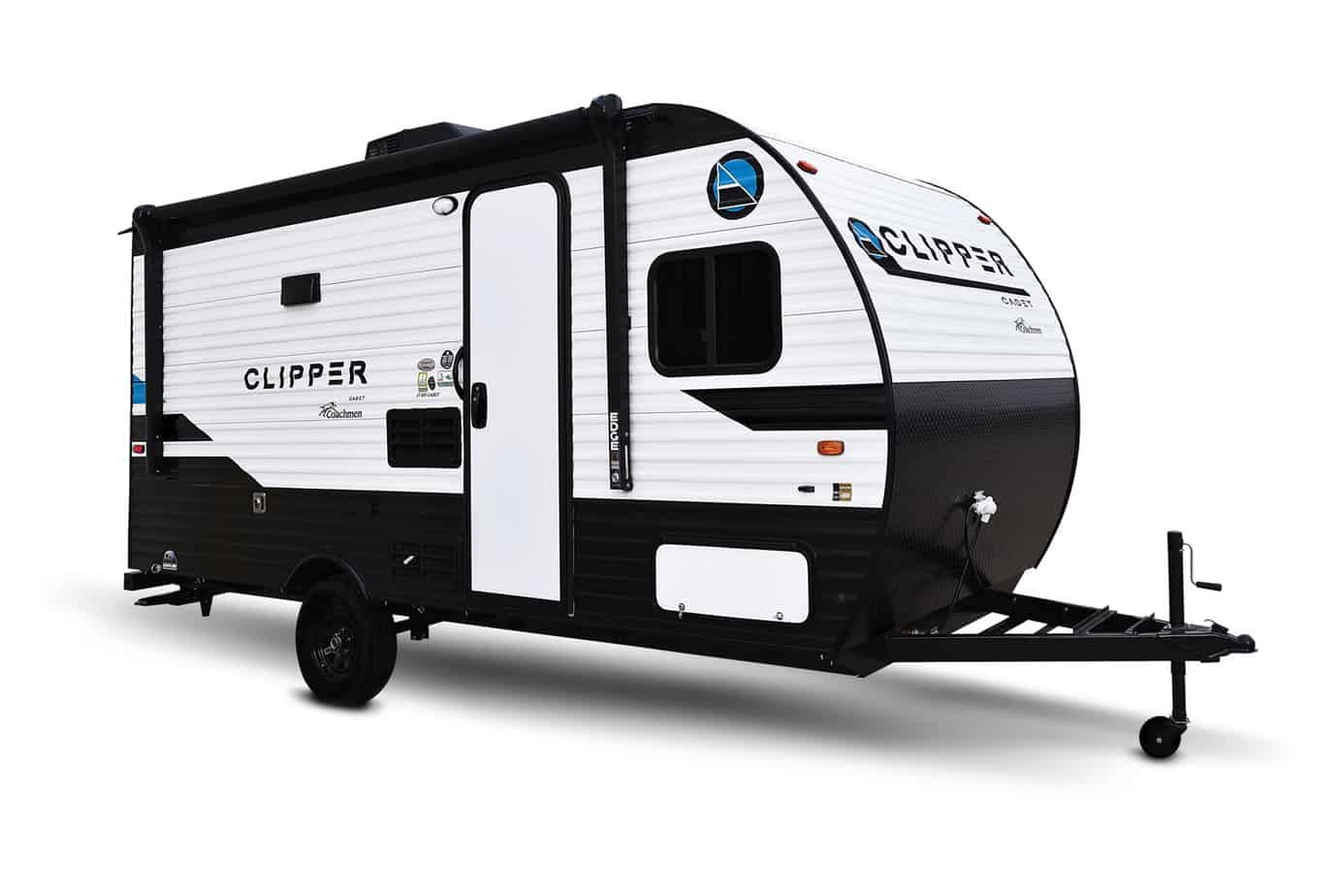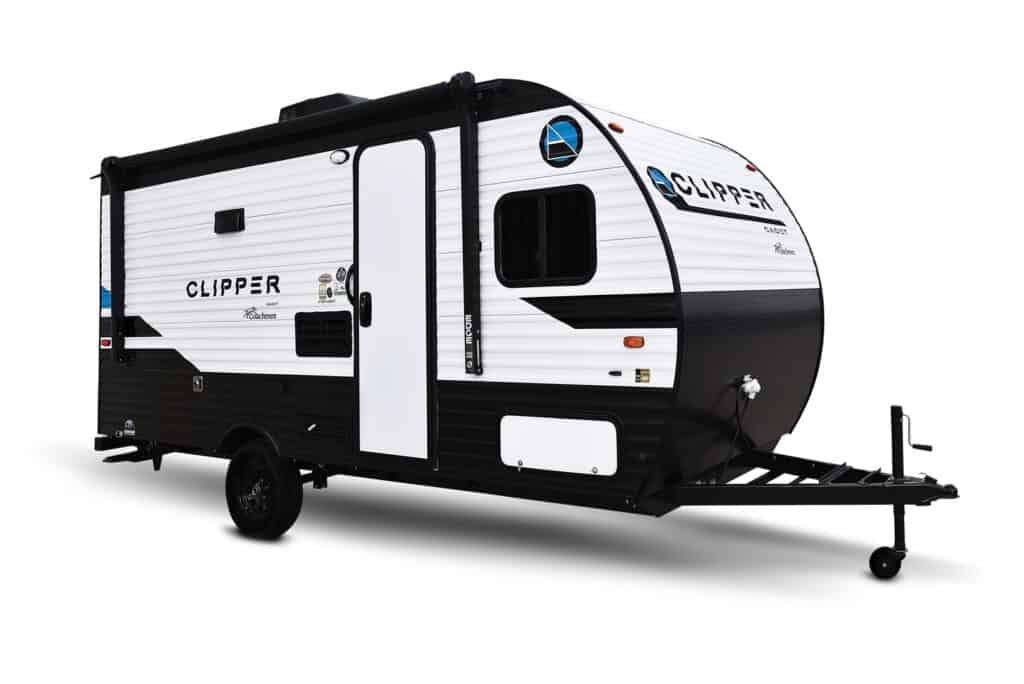 Source: coachmenrv.com
A great first trailer for couples.
Pros: It's got a huge bathroom for such a small trailer. And with the dinette slideout, there's plenty of space to move around inside.
Cons: Not a lot of countertop space in the kitchen.
Source: coachmenrv.com
If you'll mostly be camping as a couple and prefer a space that feels more like home and less like a travel trailer, this Coachmen Clipper 17FQS is a sold choice.
Unlike most 20' RVs, this actually has a comfortably sized bathroom that's probably bigger than a lot of apartment bathrooms. You don't need to be a contortionist in order to get in the shower or sit on the toilet. And the vanity has enough space for a coffee pot! (See the video tour)
And the GVWR is well below 5,000 pounds at just 4,251 pounds!
Source: coachmenrv.com
Check out the video tour here.
Source: winnebago.com
Built for the adventurer.
Pros: It's built for rough roads and easy adventure gear storage. The unique exoskeleton makes it really easy to strap outdoor gear like kayaks and bikes to the outside.
Cons: With an interior width of less than 7 feet, it's narrower than most other trailers of the same length.
If your RVing adventures take you from the local campground to long dirt roads, the Winnebago HIKE is the lightweight RV for you.
Source: winnebago.com
The first thing you'll notice is the exoskeleton. It really does a nice job of improving the trailer's utility for strapping down some kayaks or stringing up a clothesline. It comes standard with off-road tires, durable fenders, and multi-use gear storage areas.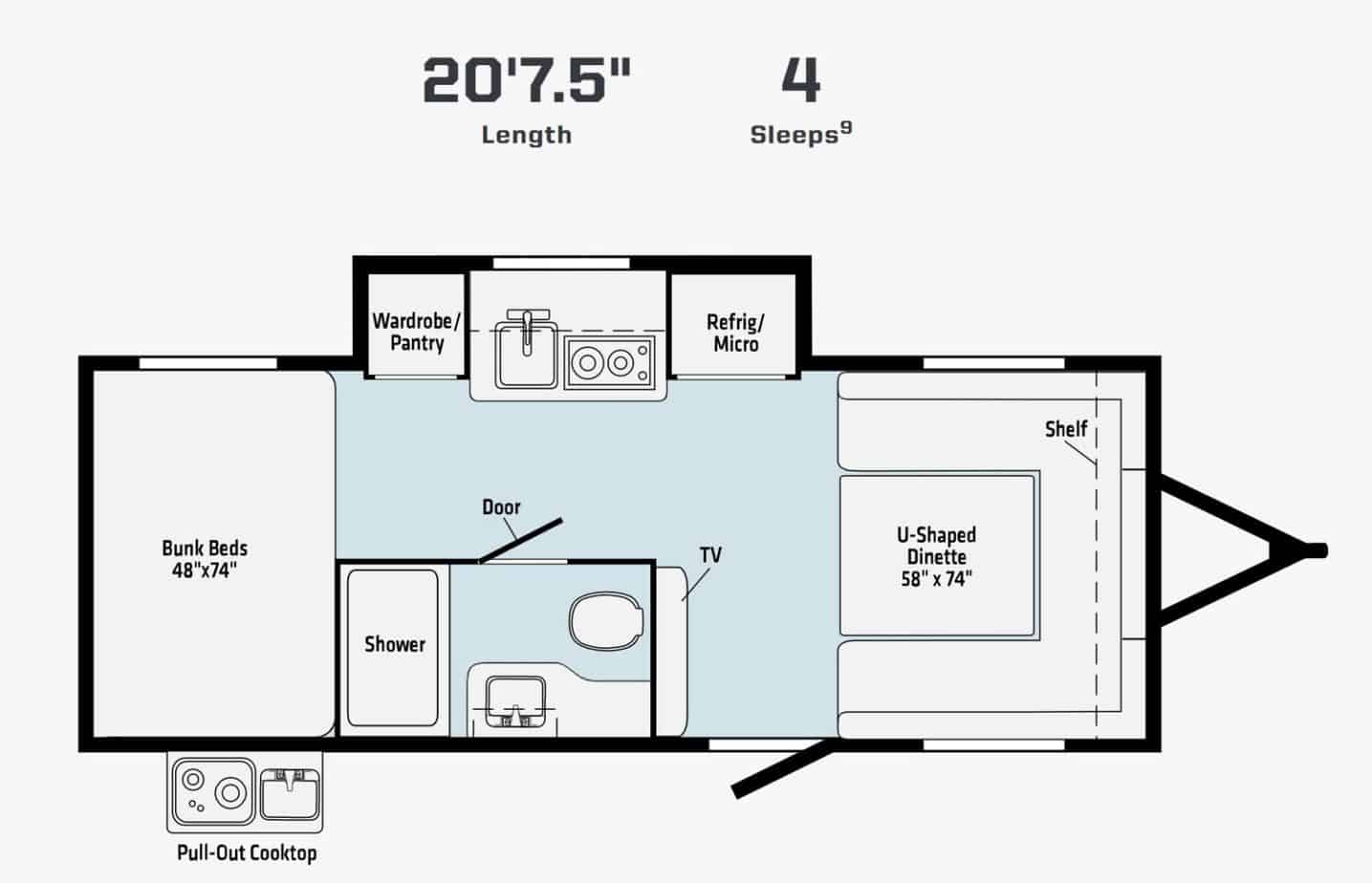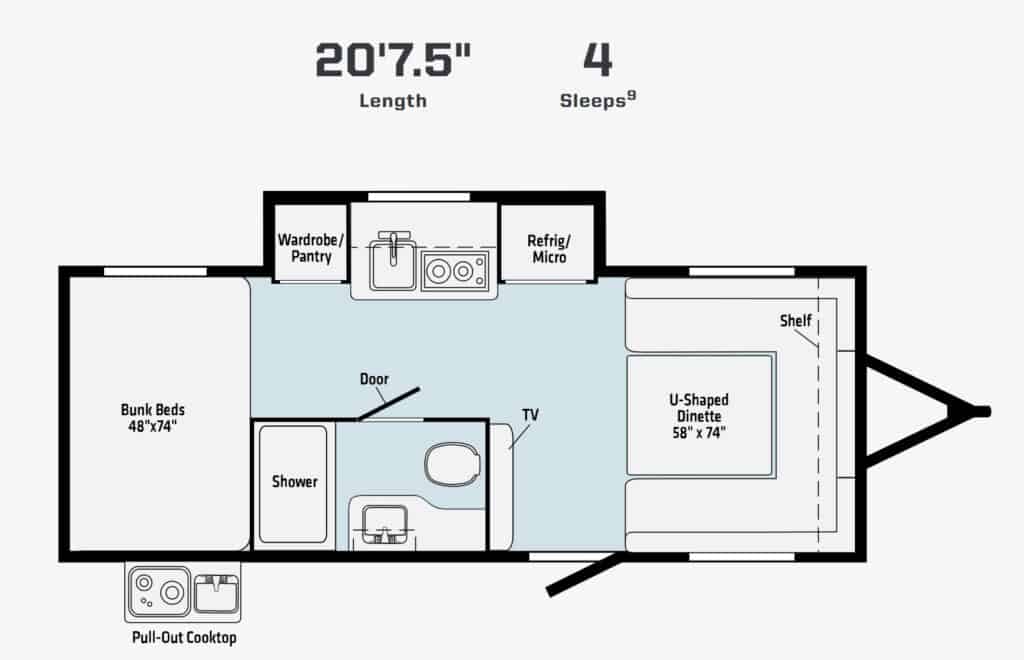 Source: winnebago.com
While all of these travel trailers have a dry weight of under 4,500-lbs, only the 20' models have a GVWR of 4,200 lbs. The longer 25' versions have a GVWR of 6,000 pounds.
Check out the video walkthrough to see more about the HIKE's features.
Source: travelliterv.com
Light on weight, big on features.
Pros: It's pretty awesome to be able to find a 16'+ length camper trailer with a dry weight of less than 2,000 pounds!
Cons: Low ceiling height isn't good if you're over 6 feet tall.
If you've got a small SUV or large crossover and can't settle for a pop-up camper or a tiny teardrop, the Rove Lite Ultra Lightweight trailers are for you.
Source: travelliterv.com
These RVs weigh just a hair more than the tiny 13-foot Scamp trailers thanks to a unique construction method. However thanks to the extra length, the living space feels waaay roomier inside. 
They give you three different floor plans to choose from. Each includes a wet bath and kitchen in addition to a combination of a sofa bed and dinette that converts into a bed.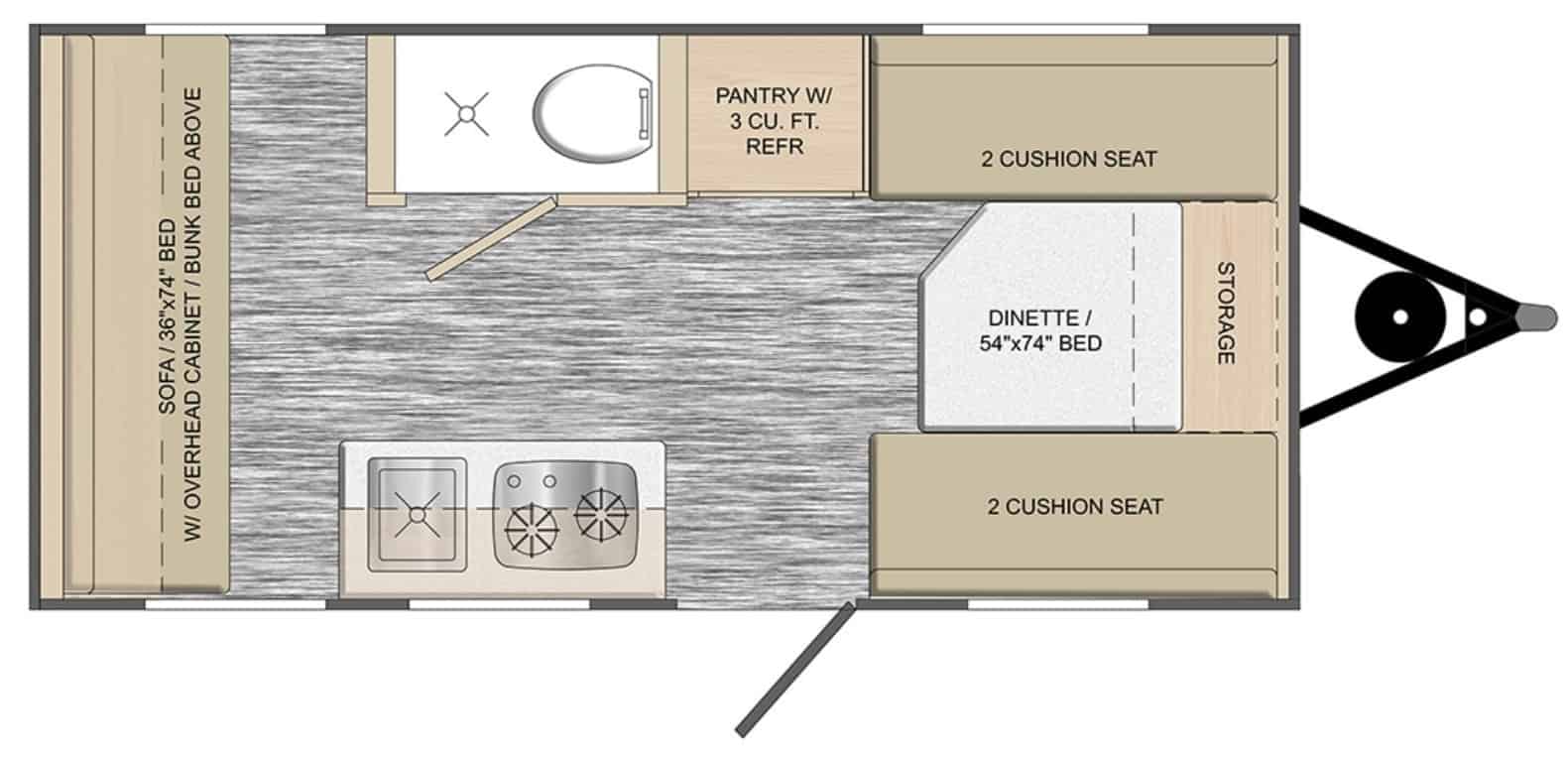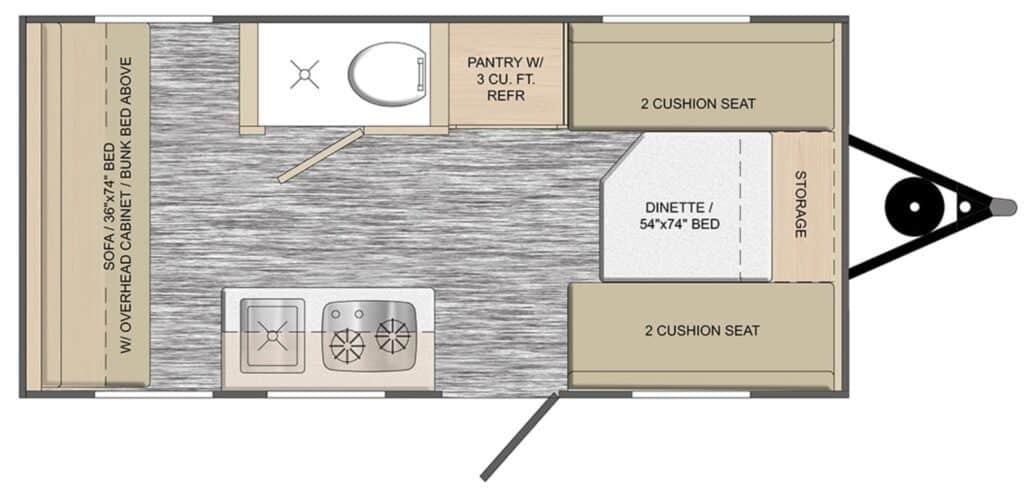 Source: travelliterv.com
Learn more about the Rove Lite trailers with the video tour here.
Source: taxaoutdoors.com
For the adventure seeker whose main goal is to enjoy the outside.
Pros: Rugged and ready for adventure. They're also available in overlanding versions which are great for extended trips in rough, off-grid areas.
Cons: If you're just staying on paved roads and established campgrounds, these travel trailers might not be the best for you. Other options provide more space and comforts at the same towing weight. 
The Taxa Outdoors Habitats definitely stand out. Their Nasa inspired design resembles a moon lander more than a traditional RV. But don't let their funky looks scare you off.
Source: taxaoutdoors.com
These are great options for the adventure-loving family who likes to spend their camping trips on dirt roads and out-of-the-way areas. They're hybrid trailers with a pop-top for extra headroom and ventilation.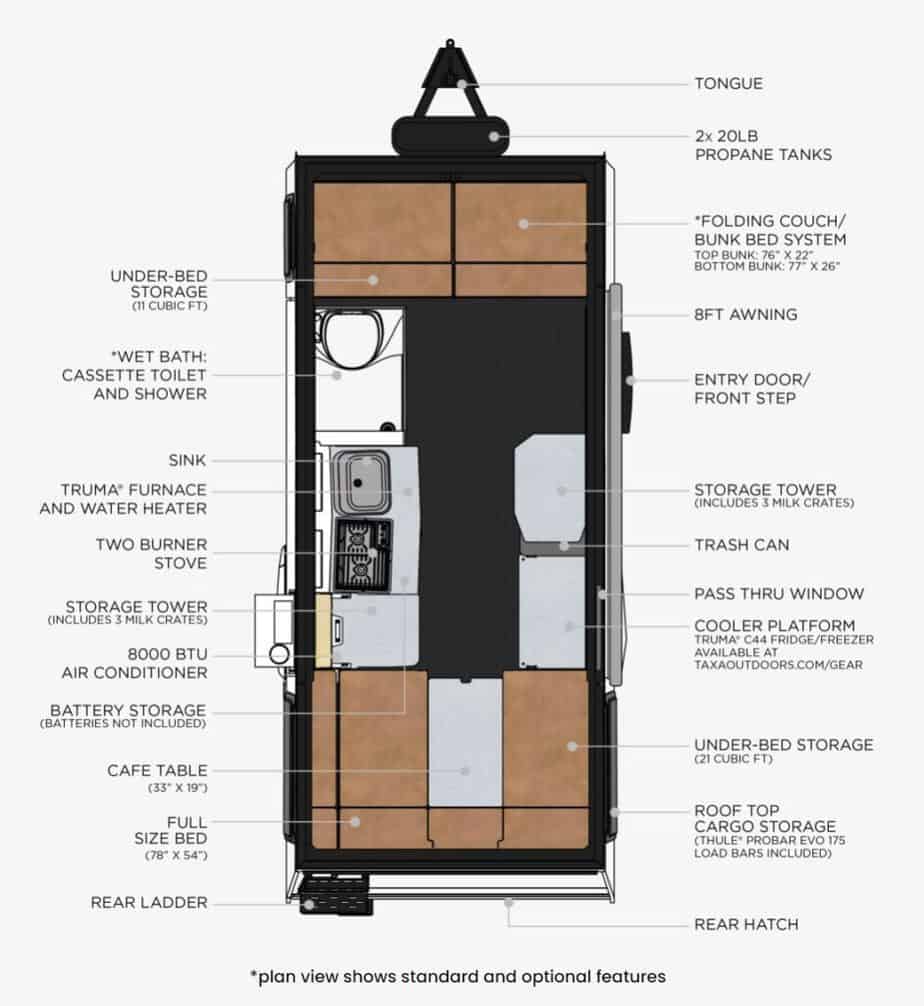 The Cricket and Mantis models both have GVWRs of less than 5,000 pounds. Even the Mantis Overland with its extra ground clearance, off-road tires and Timbren axle-less suspension has a GVWR of exactly 5,000 pounds.
Check out video tours of the Mantis and the Cricket travel trailers.
Advantages of Lightweight Travel Trailers Under 5,000 lbs
At first, it can be a little discouraging when you own a small SUV or van and are shopping for travel trailers you can tow. But fortunately, as you saw with the 11 options on my list, you really can get the bells and whistles of much larger RVs in some surprisingly compact travel trailers. 
Even if your vehicle has the towing capacity to pull a larger RV, there are still advantages to sticking with a smaller camper under 5,000 lbs.
Easier to Maneuver
If you've ever tried to back a 35-foot trailer into a tight camping spot, you know how frustrating it can be to maneuver a long trailer, especially without one of these backup cameras! So what you give up on storage space, you make up for with manuverability.
Save on Gas Mileage
This is a nice advantage especially if you're planning long road trips with your travel trailers. Not only will sub-5,000 pound RVs be cheaper to purchase, but they'll be easier on your gas bill as well.
Small Travel Trailers are Better for Exploring
This advantage goes hand in hand with the first one. Get a small travel trailer under 5,000 pounds and you won't be limited on where you can go. You'll be able to park at just about any campsite and drive down your favorite back-country roads.
Choose one of the rugged travel trailers from this list and you can leave the pavement behind and take a real overlanding journey away from the crowded campgrounds. 
Easier to Store When Not In Use
A monster RV might be too big to store on your property which will lead to extra costs. But a lot of the best lightweight travel trailers are less than 20-feet long and can be easily stored in driveways and sometimes even garages.
Smaller RVs are Easier to Rent Out
If you're looking to offset the cost of your RV by renting it out on a site like RVShare, you're likely to have better chances with a more moderately sized travel trailer. More people will have the vehicles to tow small travel trailers and will likely be less intimidated at the thought of renting a lightweight camper. 
Learn more about how to rent out your RV with my Step By Step How to Use RVshare to Rent Out Your RV (and not get gypped!).
Get Out There and Enjoy the Outdoors With Your Lightweight Travel Trailer!
There you go! Some of the best travel trailers under 5000 lbs. Whichever you choose, I hope you and your family will have loads of fun times while enjoying the outdoors!
Don't forget to send me a "Hello!" on Instagram or Facebook.
And for more RVing tips, tricks and guides, check out my other articles like…
Latest posts by Stacy Bressler
(see all)