If you're looking to make some extra money by renting our your RV, but are scared silly by the prospect of it getting ruined or losing out on a ton of money… let me be your guide!
It can be kind of scary lending out your "baby", especially if you don't know how difficult the process is, but I've combed through the entire set up and not only will be sharing screenshots of each step, but also including points of interest in the Terms of Service and important documents that will cover your butt should their be a dispute!
When I asked one of my favorite RV Facebook groups about renting out their RV, many seemed apprehensive about damages or careless renters. A look at complaints on their BBB (Better Business Bureau) might explain where some of those worries came from, but I have good news for ya'll
95% of peoples complaints regarding issues that came up with renting could have been prevented entirely had the known about some pretty handy resources (and completed them!)!
These include arrival and departure checklists to document and AGREE with the prospective renter of your RV about any damages as well as some training sheets so that both parties are satisfied with their camper operation knowledge.
Let me break it down for you – after all, the more you know the better prepared you'll be to make a decision!
If you want to check it out now, see how much money you could be making if you listed your RV (don't worry, it's free to list)
P.S. if you already know how to list your RV, scroll down to the RED TEXT for that "how not to get gypped" section!
Disclosure: This is a sponsored post by RVshare, however I do think this guide will help many owners make a more informed choice about using RVshare to rent out their RV!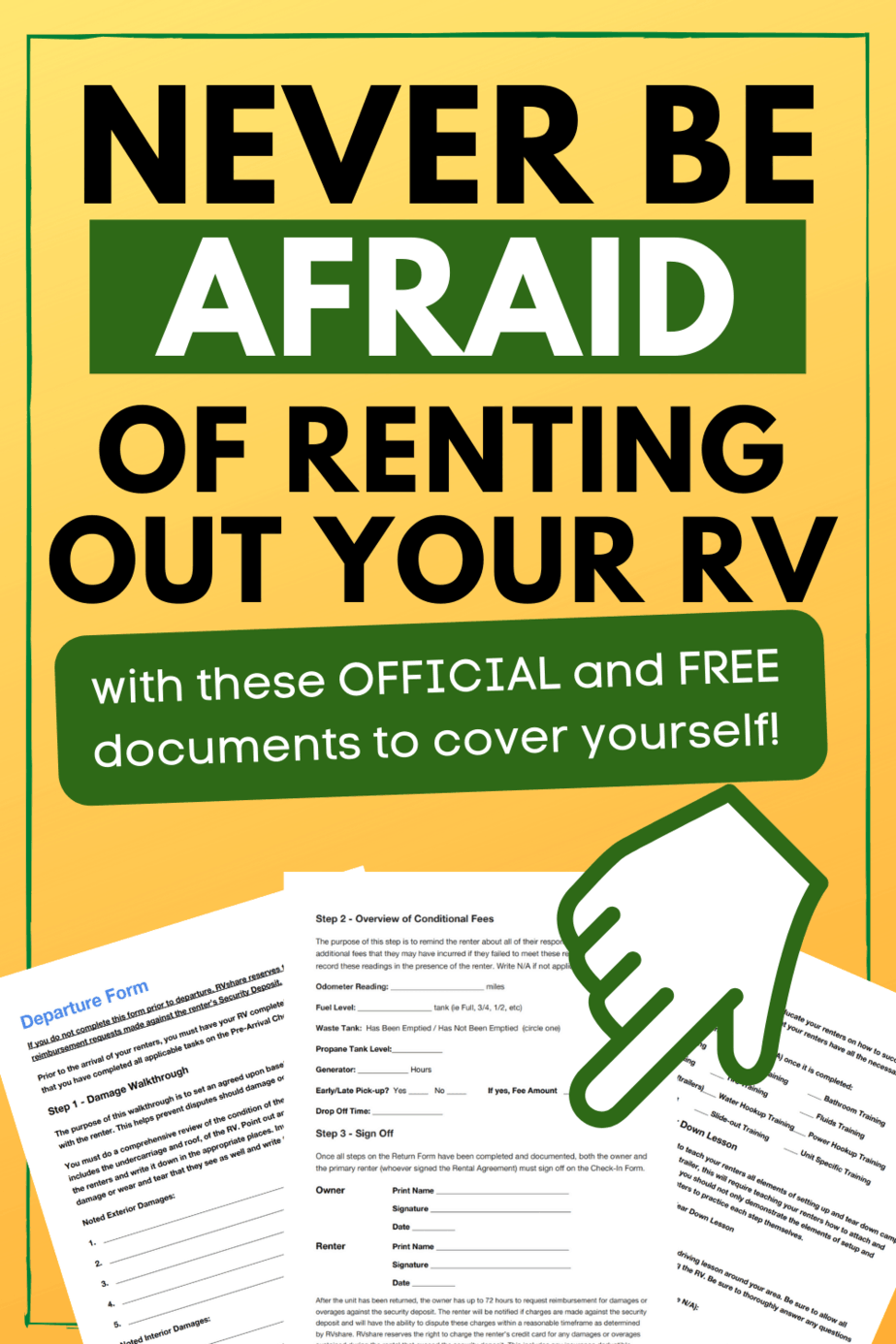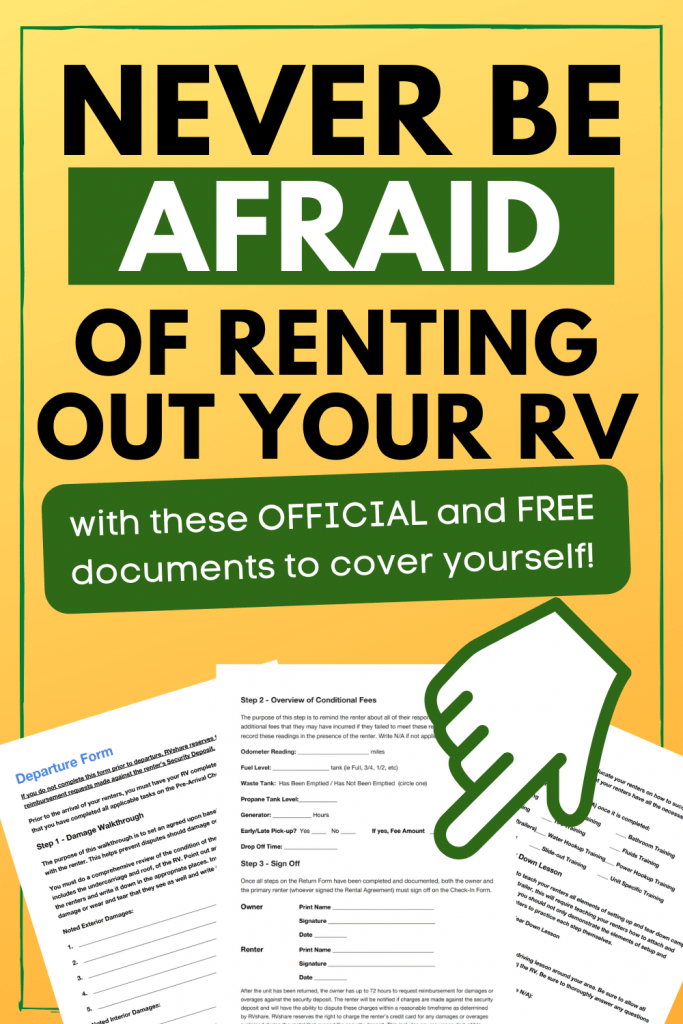 How to list your RV or camper for rent on RVshare
I'll be using RVshare's platform as an example, though I imagine the process is pretty similar on other ones too!
Some information to have handy is the VIN, year and model of your camper as well as some good looking pictures (a pretty scenic one is definitely one to include)
1. Getting Started
You'll start by filling out basic information – what type of RV you're renting out as well as contact information.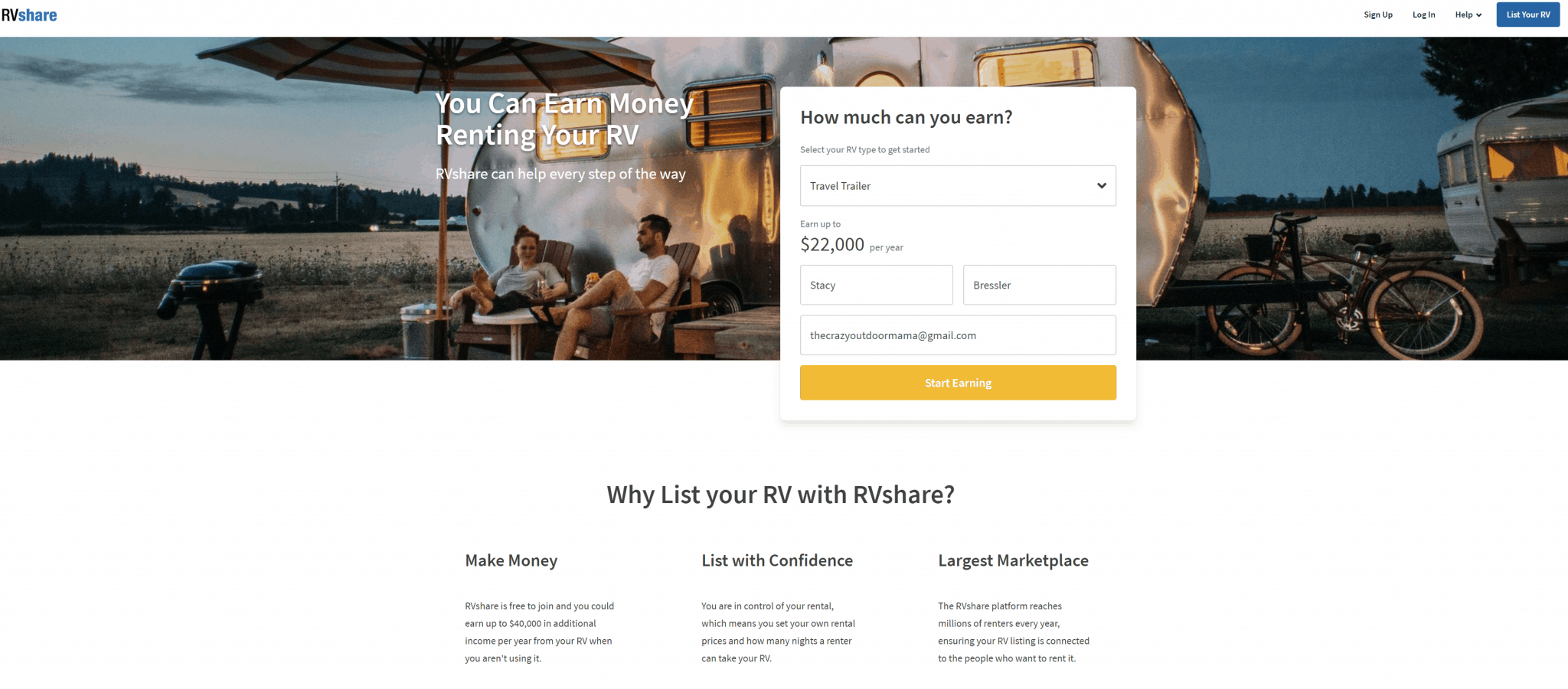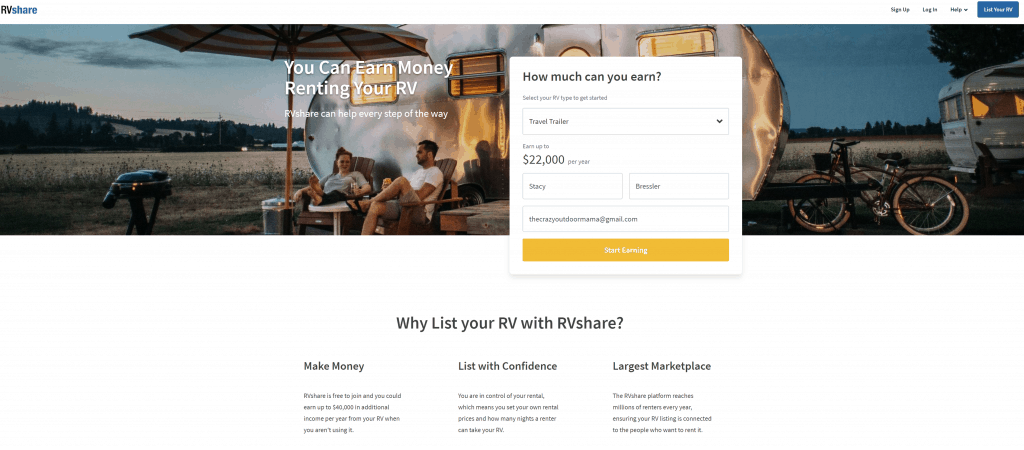 2. Add Location
This is so that RVshare is able to calculate going rates in your area. I like the option to be able to rent out a stationary camper for people who live near popular tourist destinations and have their camper on a piece of land ready to go!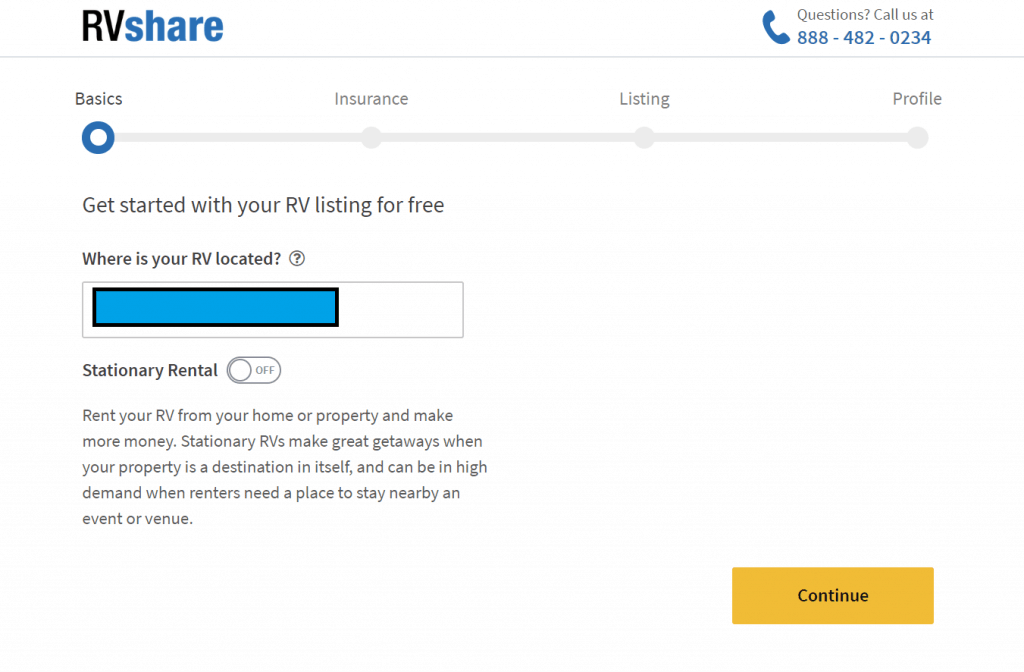 3. Insurance time!
This section coming up seems to be where most disputes stem from – what insurance does and doesn't cover etc. The good news is I combed through the entire Terms of Service and dived deep into their FAQ regarding this.
I'll have a special insurance section since there are so many details I want to add. For now I just want to start by showing the whole process – the in depth stuff I'll explain after!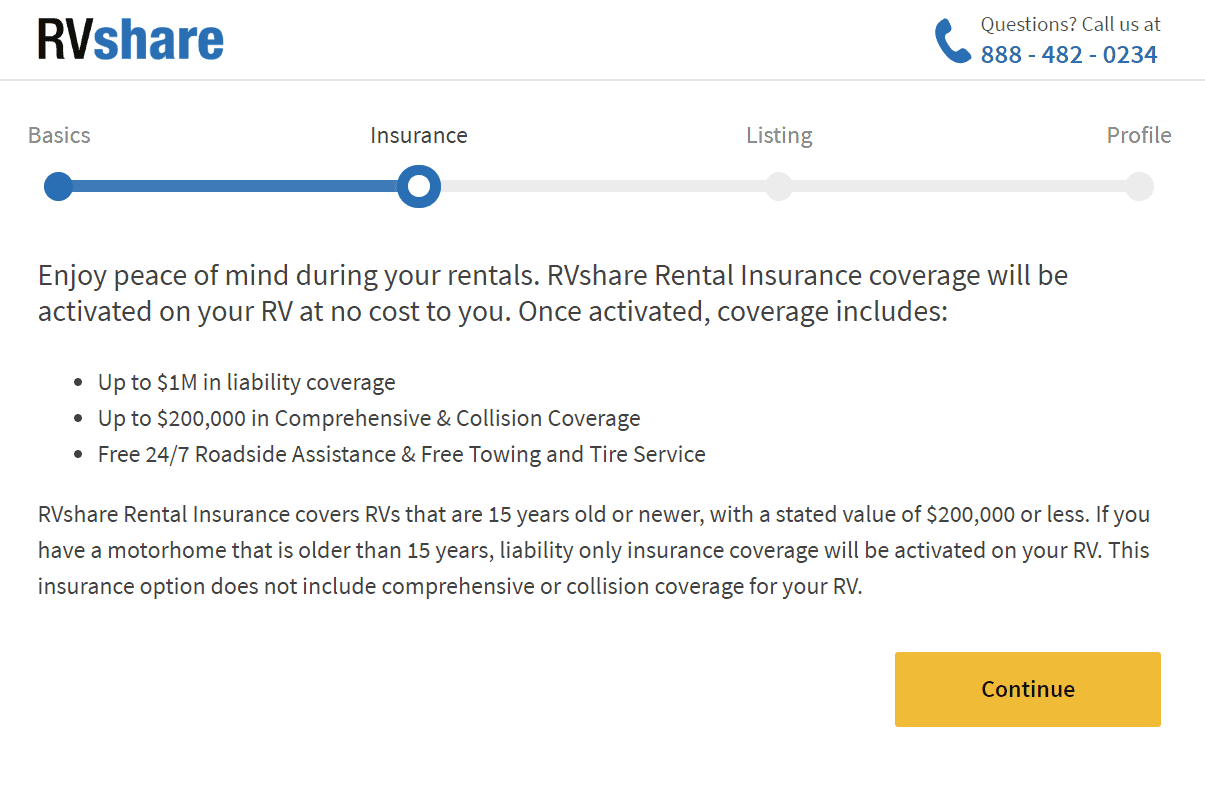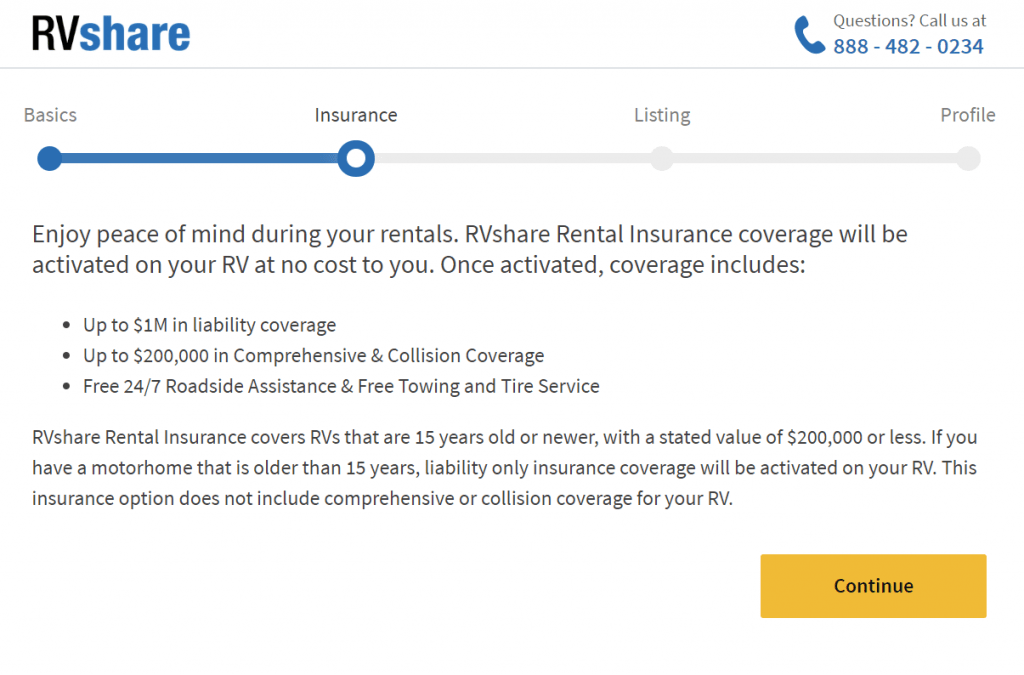 4. Insurance coverage cost per day based on value of your RV
Type in the value of your RV (it doesn't have to be exact as you can see by the ranges of the values) and RV sahre will choose an appropriate daily insurance price the renter will pay.
Keep in mind that YOU, as the owner, are not paying these rates. This is for the person RENTING your RV, and the renter will have the option to get increased insurance as well.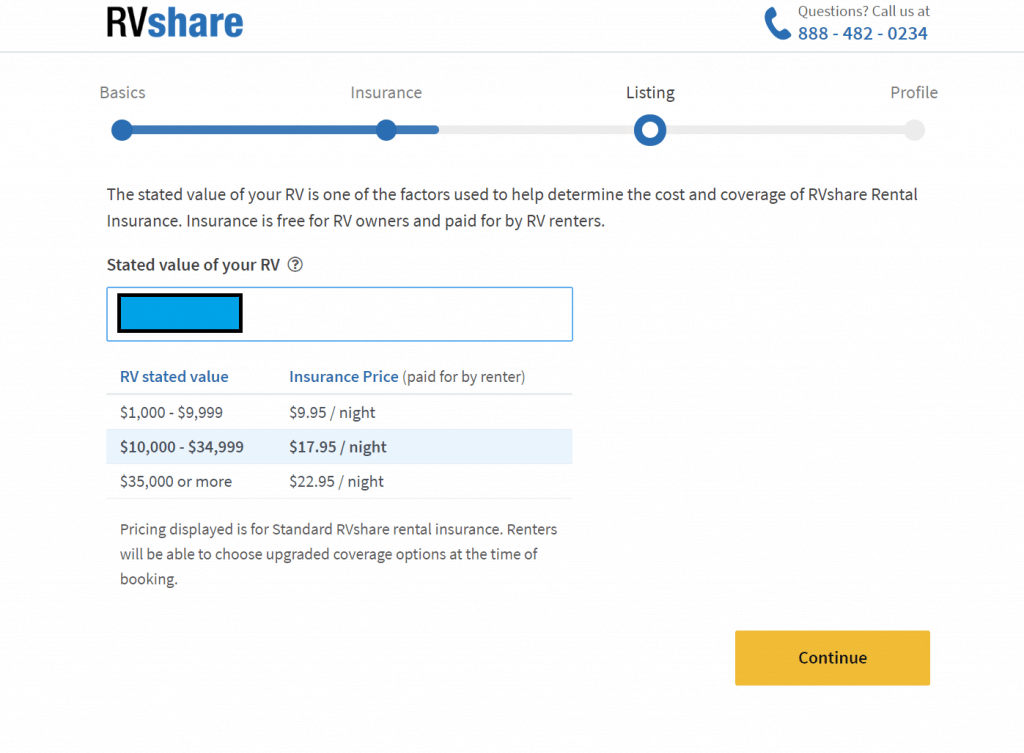 5. Detail time
Now is the time to put in all the information about your camper as well as some more details about yourself.
If you're having a hard time finding your model number (I did… shhh!) look near your door. The VIN number will often have the year, and this website is a great guide to finding the year from the VIN!
Below this screenshot is where I found my model number – to the left of my door!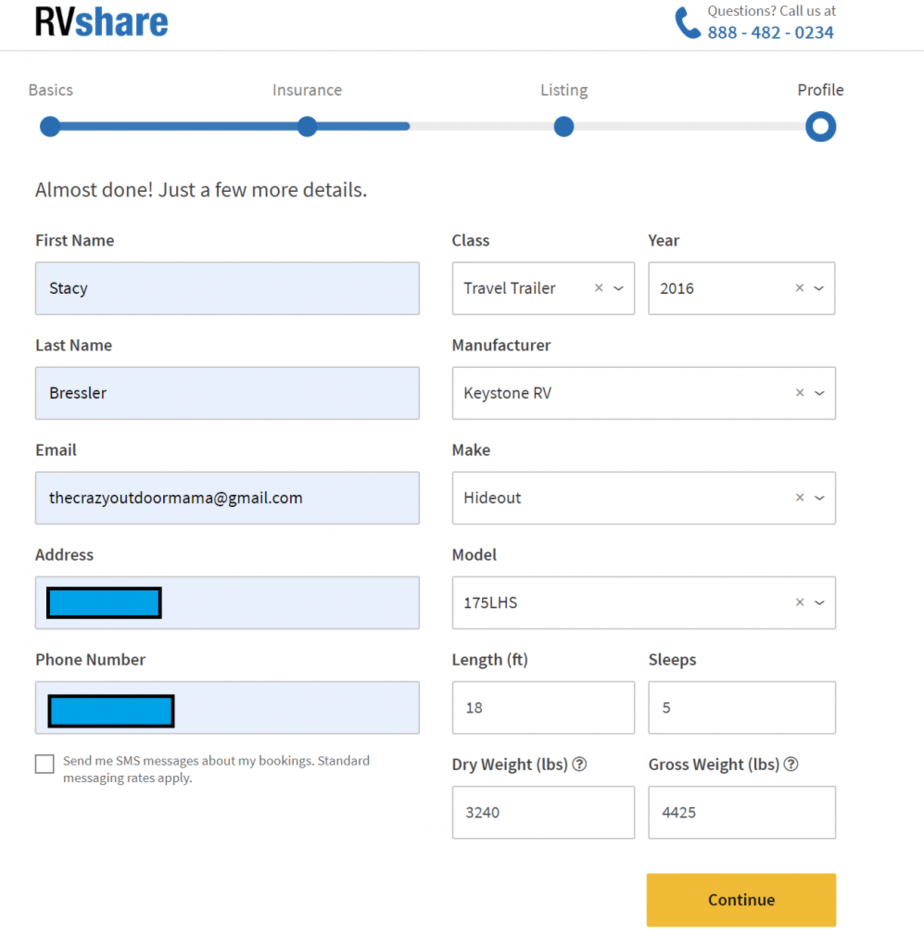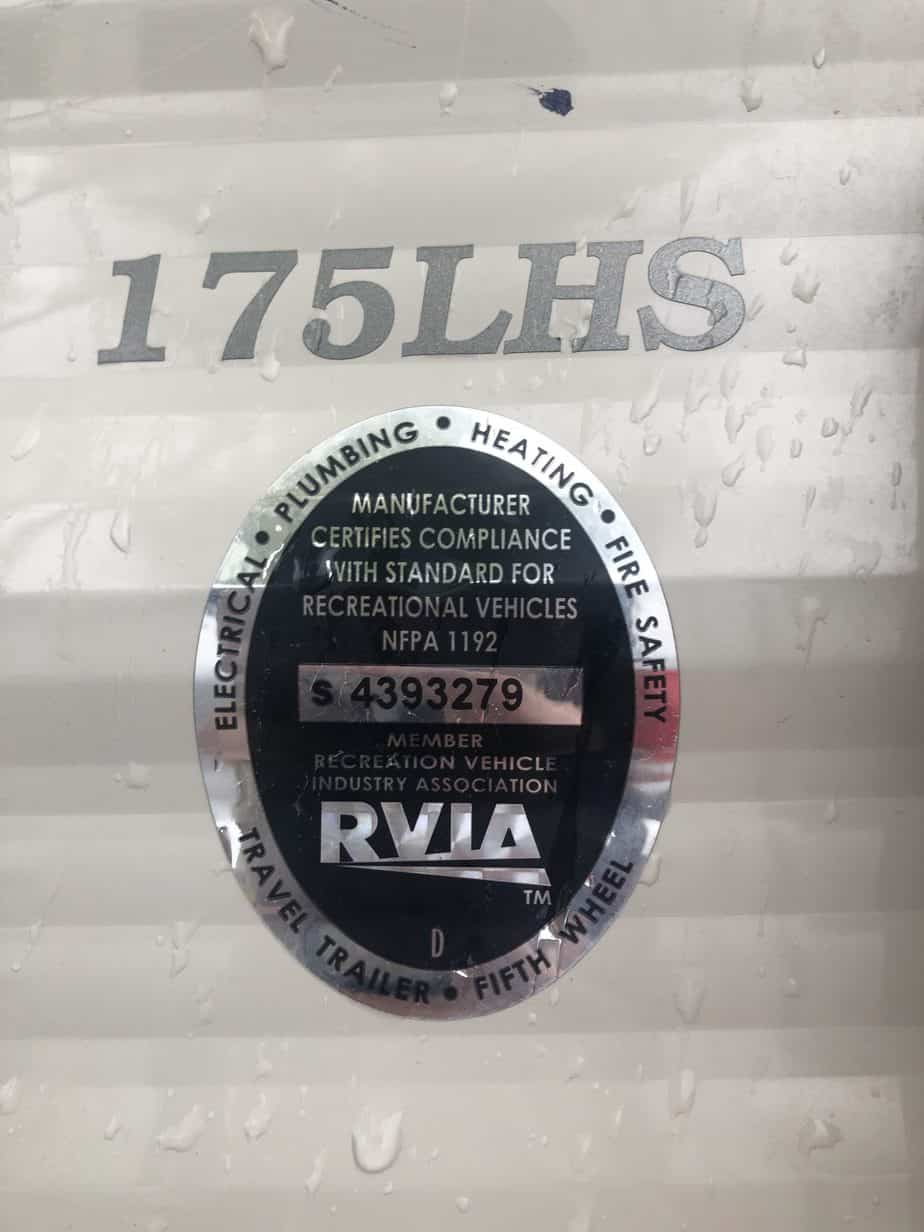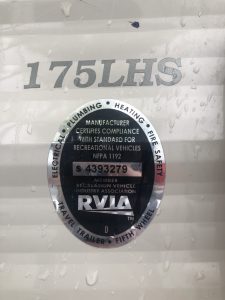 6. Enter your VIN
Your VIN can be found on the inside doorframe in most campers or on the registration if that's easier to get to!
RVshares insurance, MBA insurance is included with their services (meaning you don't pay, the renter does) and adds more coverage than what might be covered by your normal insurance since someone else will be using and, depending on your class of RV, driving it, so it's beneficial to get this. If not, you open yourself to more headaches by having to coordinate the additional insurance for yourself and the renter for each rental period.
When you scroll down to look at the insurance section, I'll show you those details!
I can't honestly think of why you would NOT want to opt into RVshares insurance partner, MBA insurance. If you want more info though, here is their website It seems like an easy, streamlined way to ensure you have the extra coverage you need during each rental period. Remember, you are NOT paying for this, the renter is.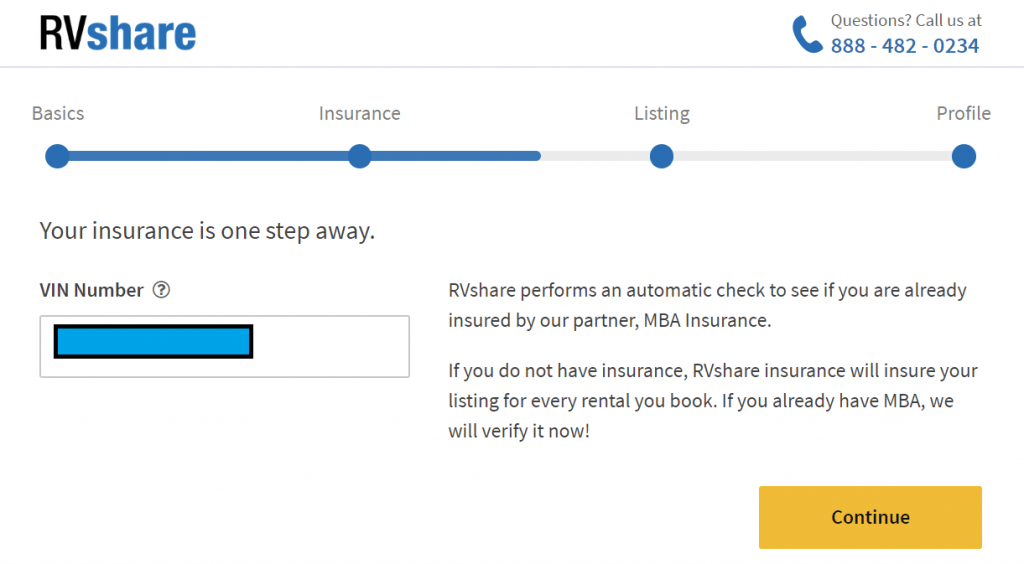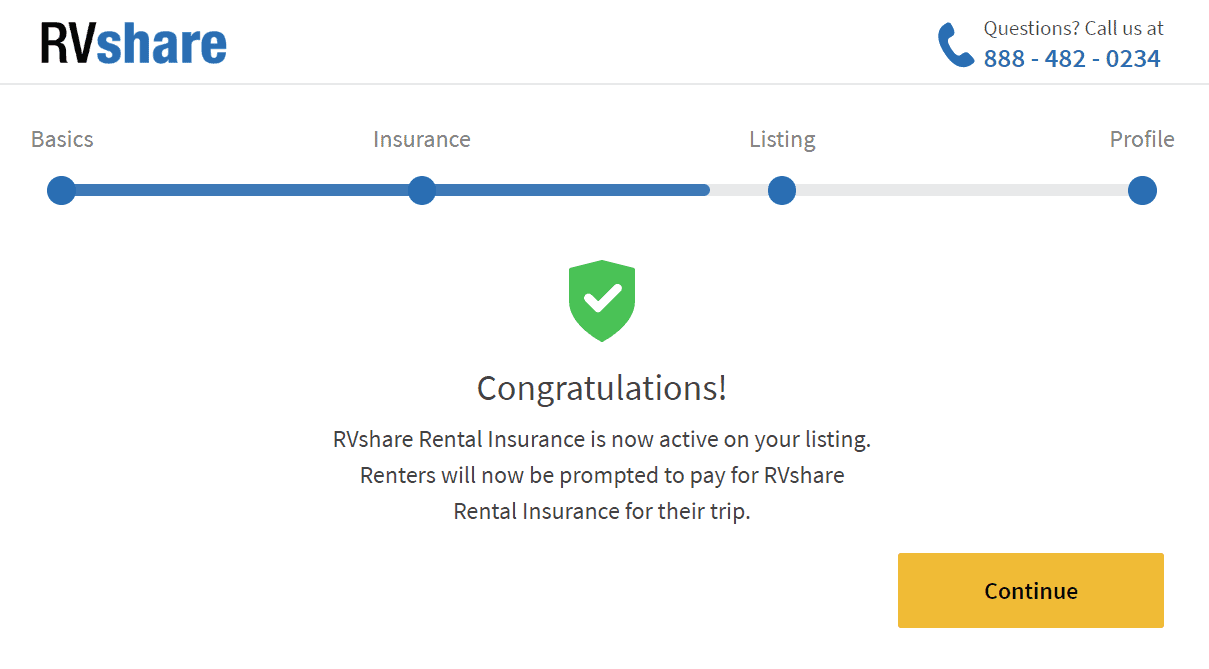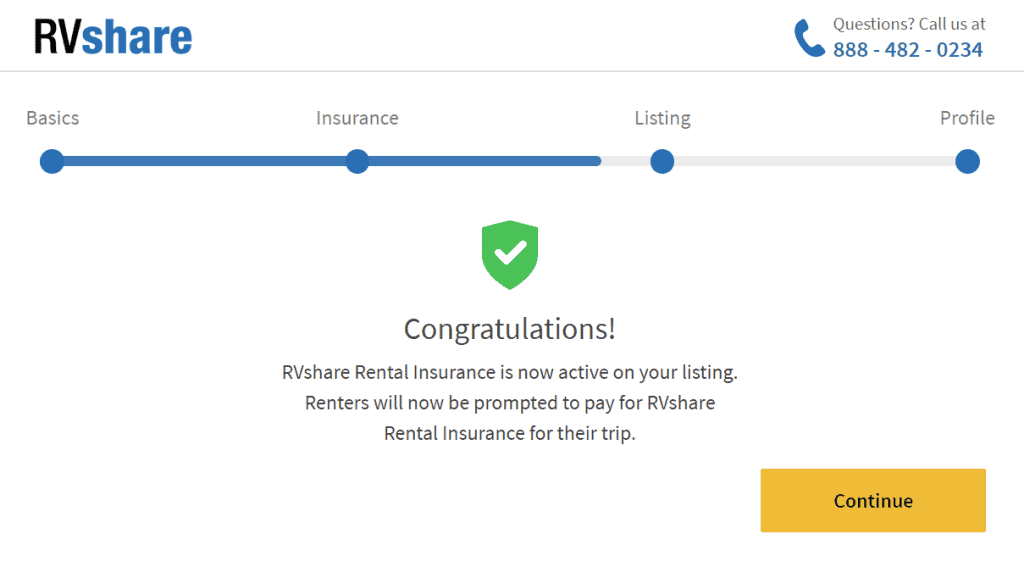 7. Build your RV rental listing!
Now is the time to do the fun part – describing the amenities of your RV and some of the additional services you can offer.
If you're a perfectionist, don't get stuck on this part – you can always come back later!
Also, at the end of this tutorial I'll give you the text I used for my own listing so that you can just copy and paste it, then modify the details to fit your own listing!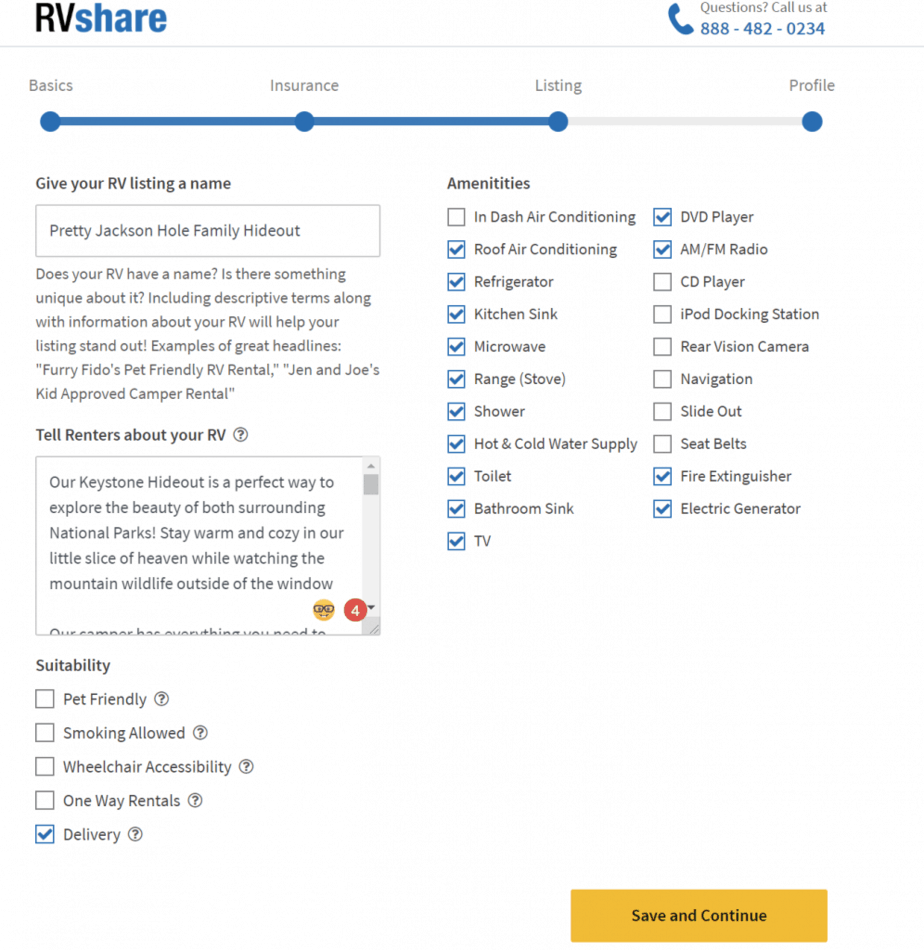 8. Enter the money details about your listing
Here are some things to consider – the rental pricing defaults to what is average around you area for your type of camper (the 109 shown was already typed in when I got to this page).
If you're just starting out, I'd recommend keeping it here until you get a feel for the market.
If you live near a tourist destination (I live near Grand Teton National Park and Yellowstone) then you may be able to get away with pricing it higher, especially during holidays.
When it comes to minimum trip length, you might want to do more than one day as you have to do a full deep clean after each rental. If you get too many bookings in a row, that gets to be alot of work!
The security deposit is really going to vary for different people – while a high deposit might scare off potential renters, it also makes it easier to get paid back for overages and small repairs. Anything that costs more than the security deposit amount requires more paperwork and such.
It seems common, after looking at a ton of listing, for owners to do a $1500 security deposit.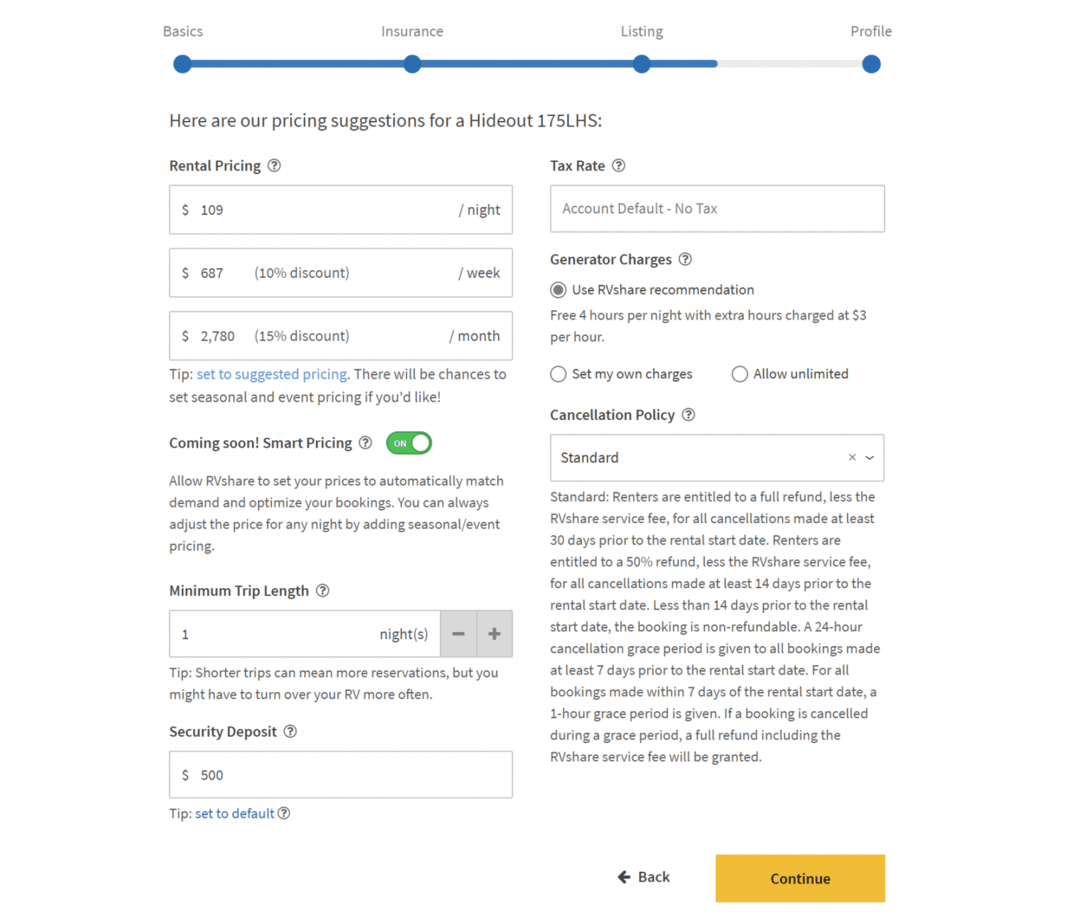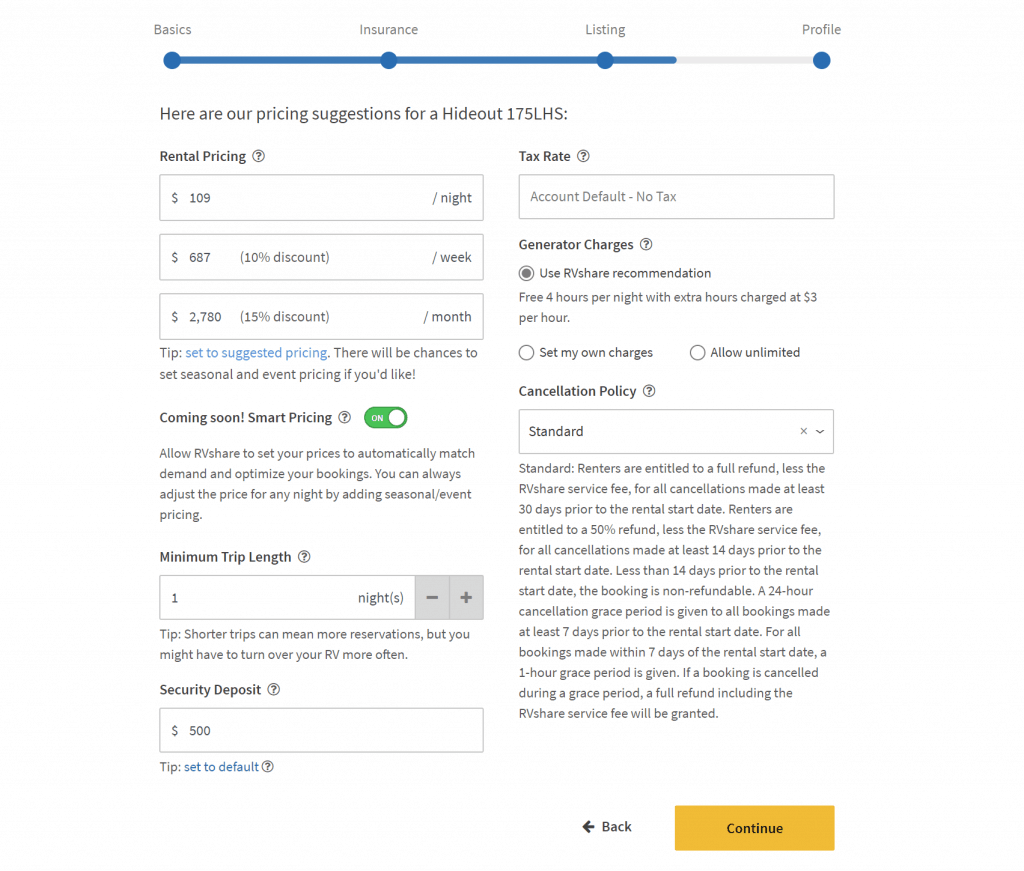 9. Picture time!
Photos, like any other platform, really help your listing stand out among others!
After surfing a ton of listings, it seemed the highest rated and most successful ones included a atleast one of the following shots – a good looking exterior (a pretty background definitly helps it really look good!), a floor layout plan, and an interior.
I did include an interior however it got cut off in my screenshot.
Make sure that the pictures aren't blurry, and that your camper isn't a mess as this probably makes the renter doubt the quality of your RV.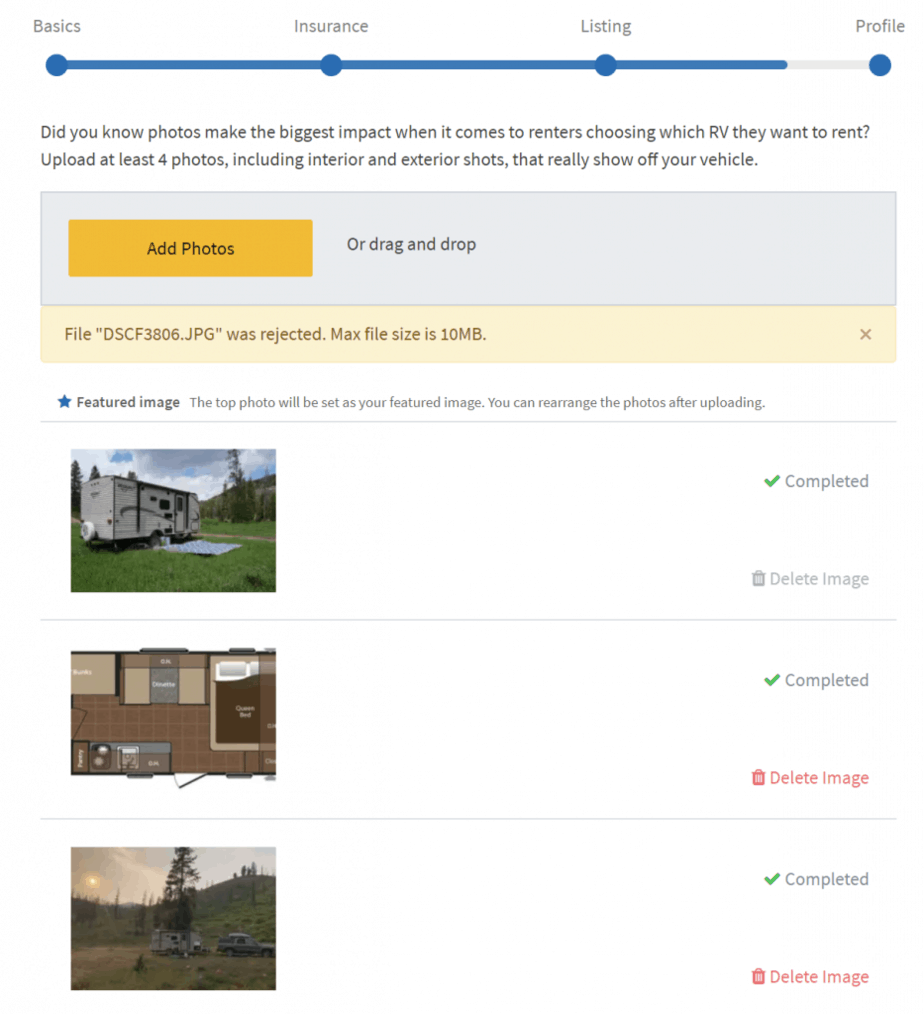 10. Profile + about you!
This is an important one – remember, people are going to have to feel comfortable meeting and renting from you!
Choose a nice picture of yourself (no one wants to rent from someone who looks creepy!) and include some basic information. It's a good idea to include some basic story behind your camper – everyone likes to hear the story behind what they're about to rent!
Regarding the terms of service and privacy policy you must agree to before publishing your listing, I have an in depth analysis (yes, I read through the entire thing). Scroll down to see the specific snippets that are super important to be aware of!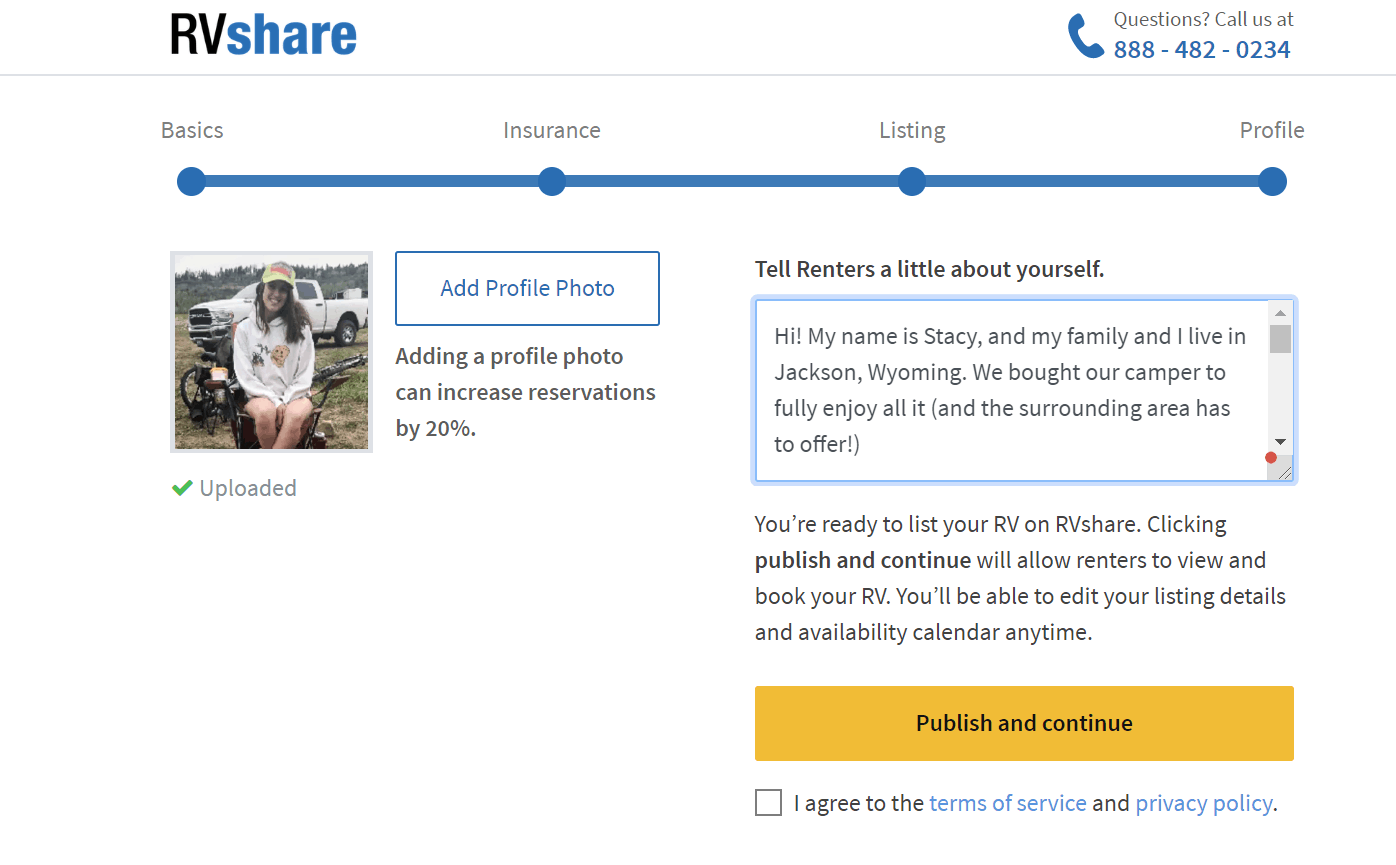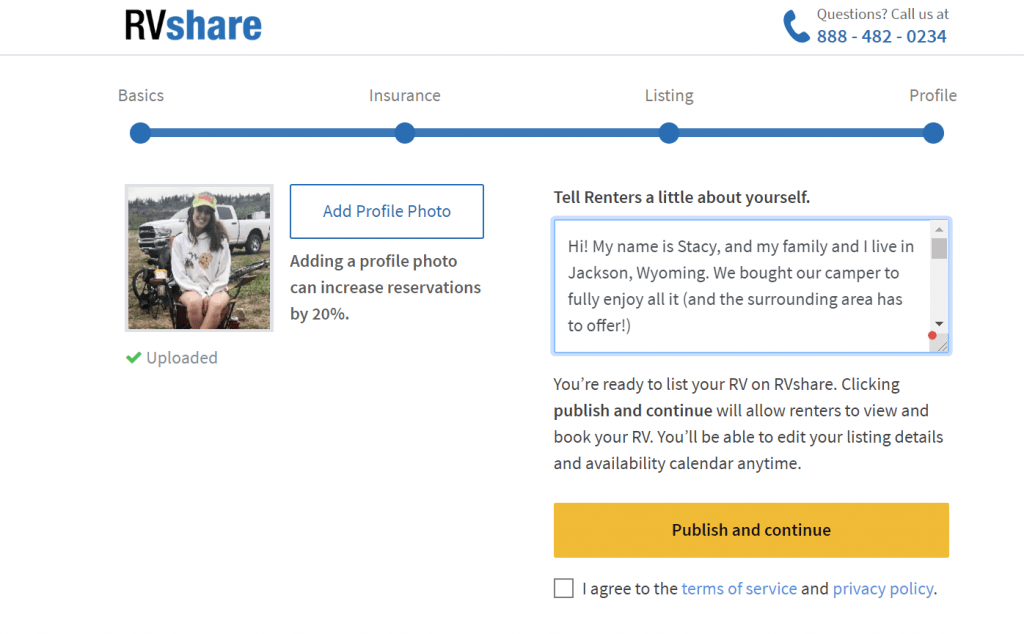 Yay! Your RV is now officially listed on RVshare.. now add the details to really make it shine!
YAY! Your RV is listed!
After you've finished the listing, you'll be brought to your "dashboard" which shows things like conversations, current rentals and reservations.
There are some more details, however, that you can add that weren't included in the initial set up.
The more details you fill in will create more information available on your profile… and the more info, the better!
To access your listing and edit the details, select "Listings" on the main navigation menu then click on the "Edit Listing" option that's next to the picture of your RV or camper.


Location and Delivery
An interesting option is delivery – this could make new campers who have never pulled a camper or driven and RV feel way more comfortable. This is the first option in the "Main Navigation" sidebar.
Here you can set your rates and ranges!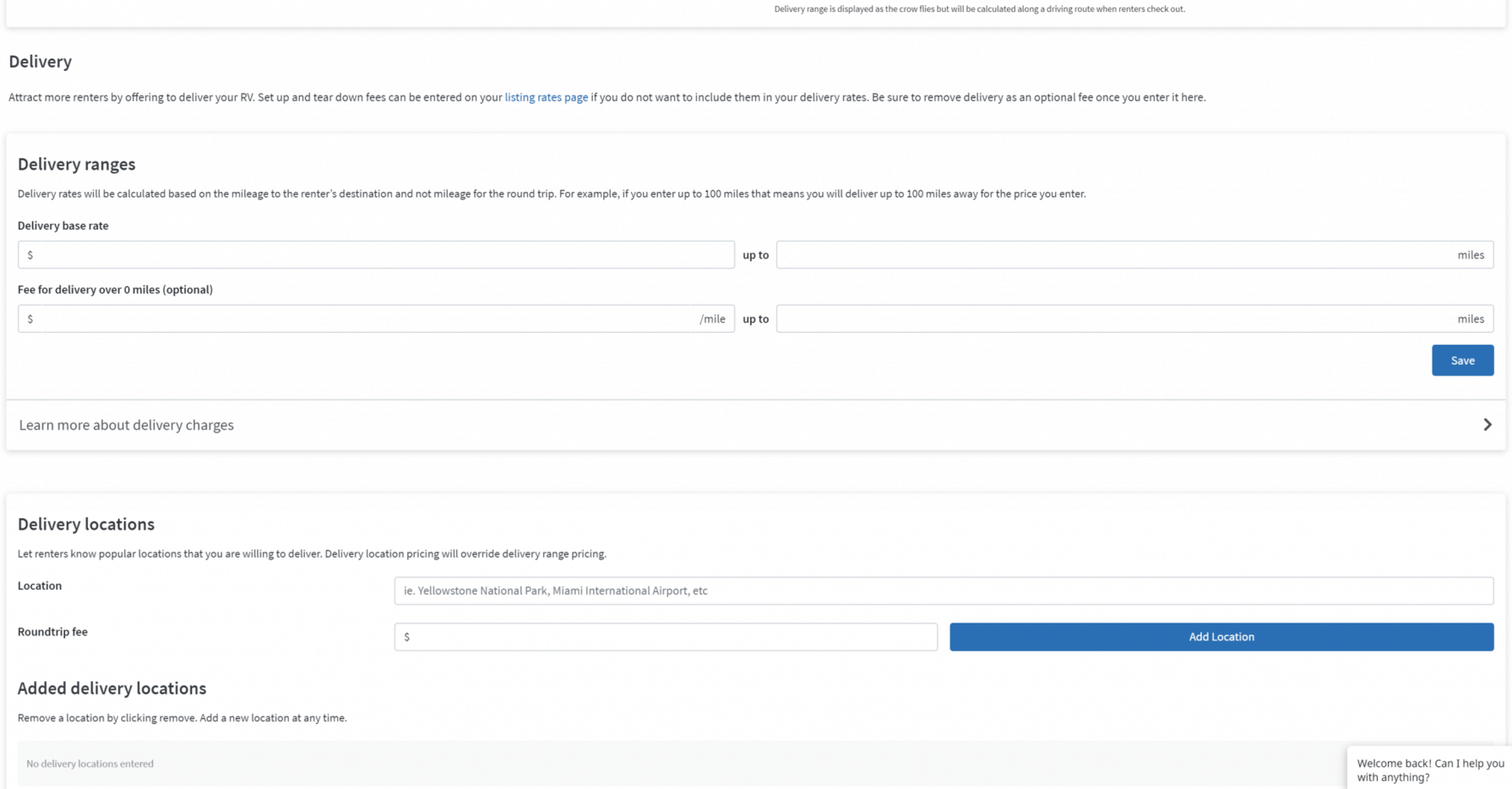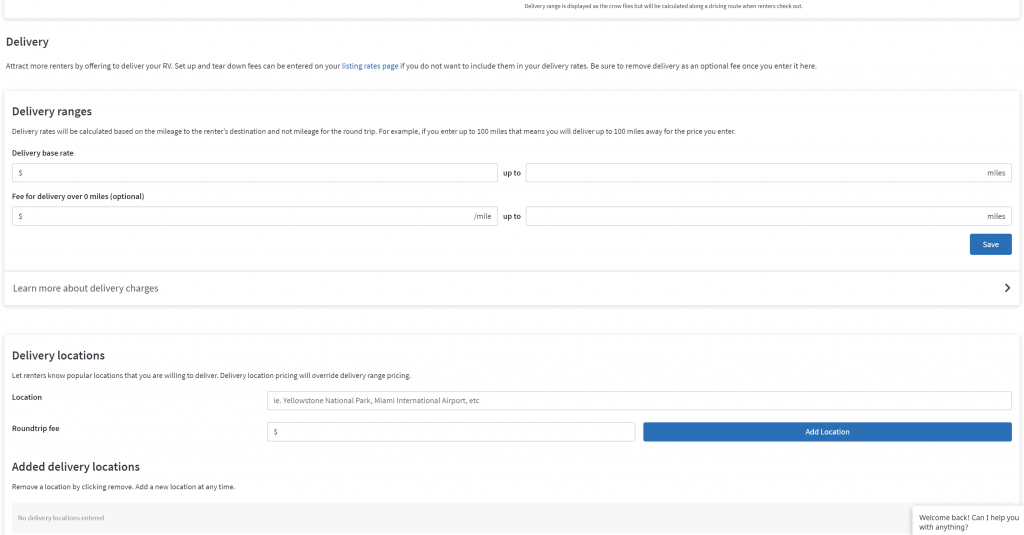 RV Details
This is the section where you verify the pre populated information RVshare did for you as well as enter more details related to the towable aspects of your camper (for those who own a travel trailer, of course)
The more details the better – so it's helpful for the renter to know things like if the hitch and anti sway bar will be provided. I imagine it also will cut down on the questions!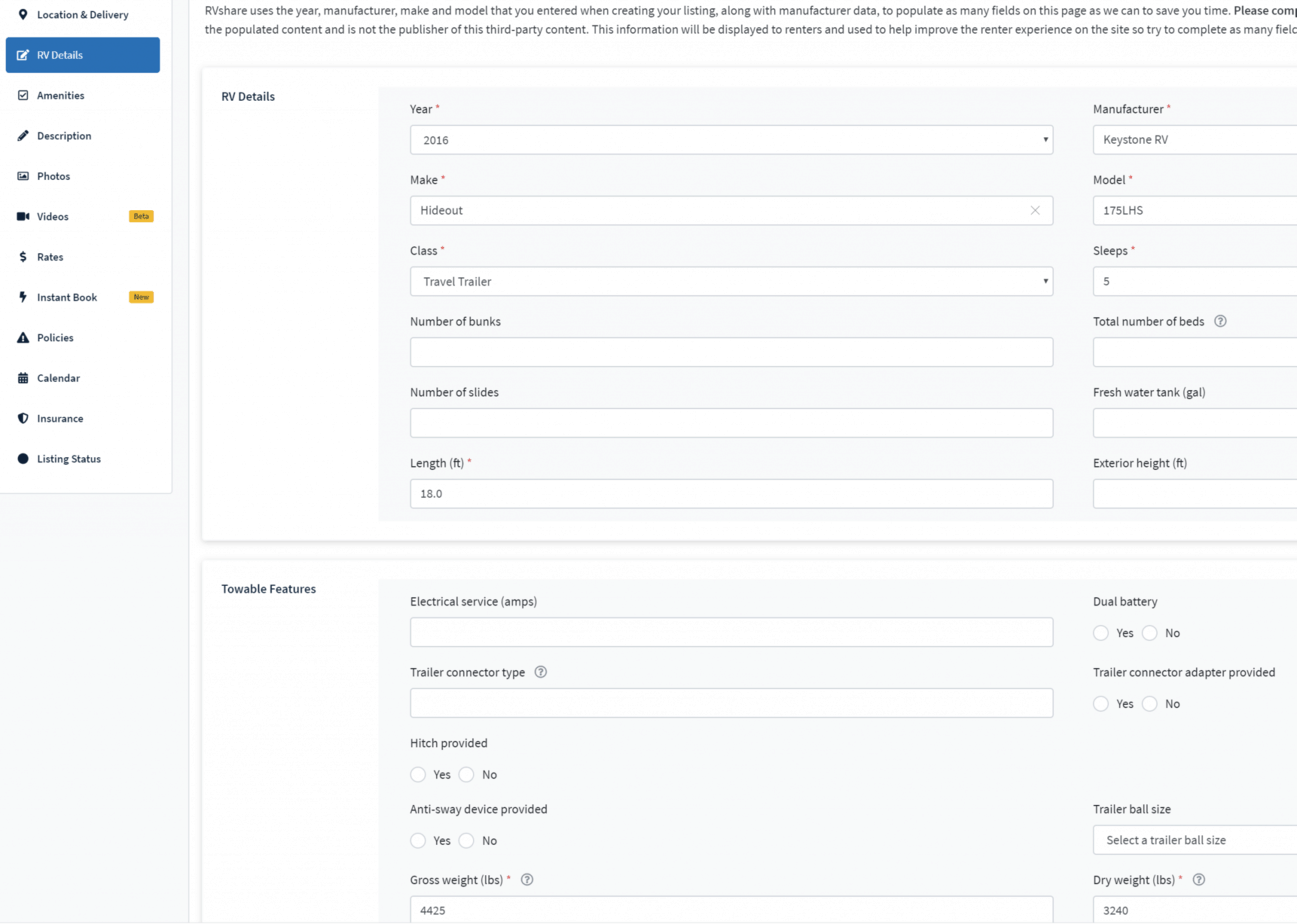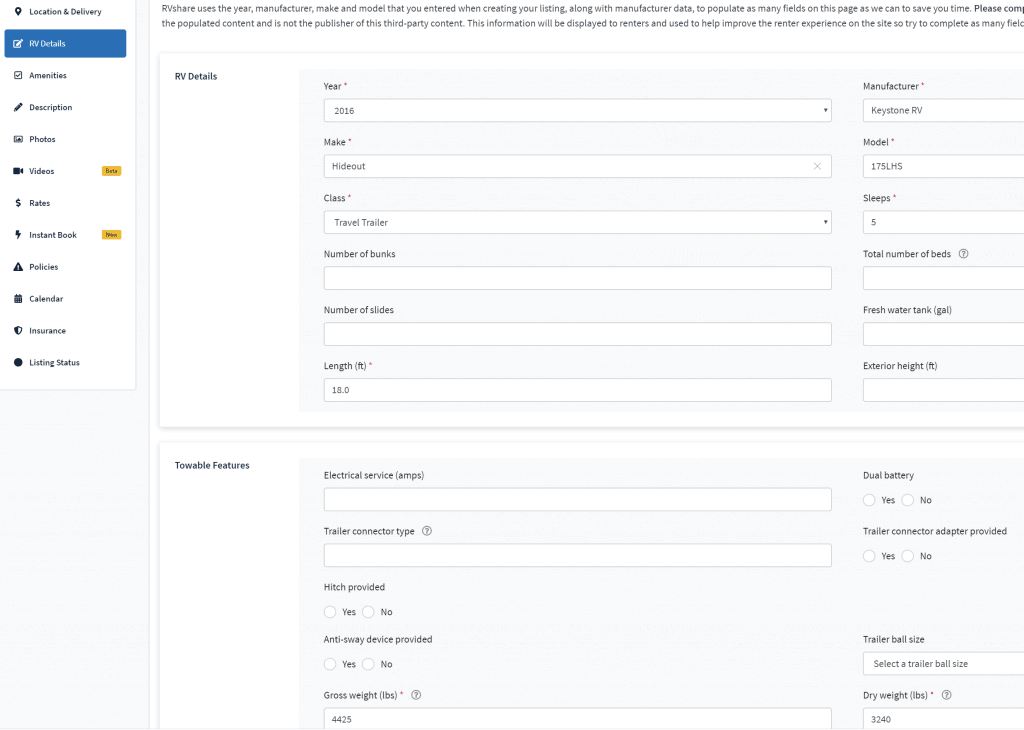 Amenities
This is where you can change things like if pets or smoking are allowed. I also like that it has a minimum age option – I've seen MANY owners list 25 years old in this section.


Rates + Create Additional Fees
This is the spot to be able to modify your rate for high demand dates such as holiday weekends, the Fourth of July and festivals.
I imagine this is where the notorious "Festival Fee" comes into play (see the "Add Fees" screenshot.
In some complaints, I've seen people say they were charged unreal "Festival Fees" for things like Burning Man and Coachella (up to $5,000!) Whatever fees you add, this is an important detail to tell your renters, EVEN if they don't ask. While you will be in the right, you'll likely get a terrible review and leave someone really, really upset when you charge them a fee they weren't expecting.
Now, I myself can't imagine charging that much ever, but if these owners are doing that, it must be for a good reason. I think we all know the crazy nature of some festivals, so to each their own!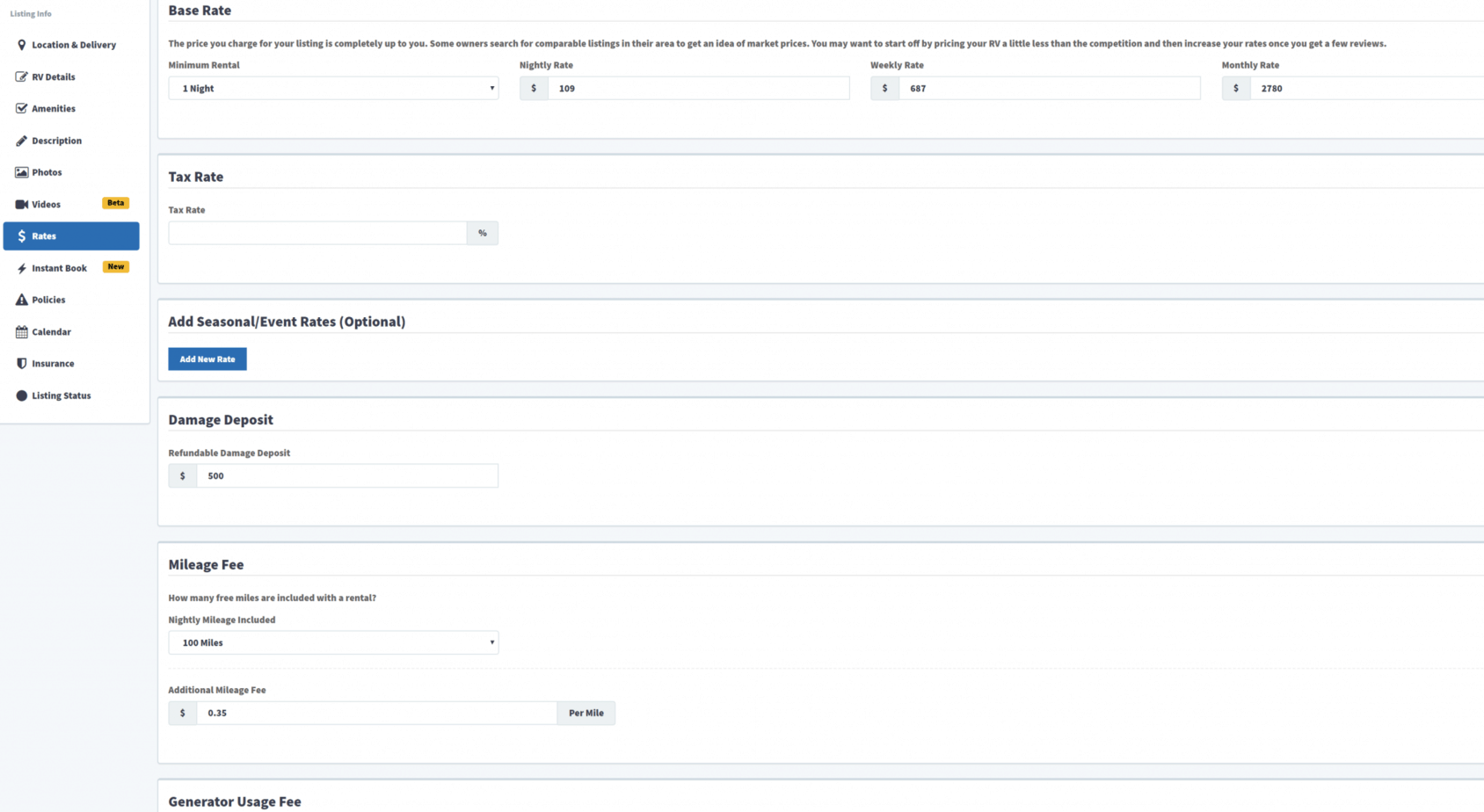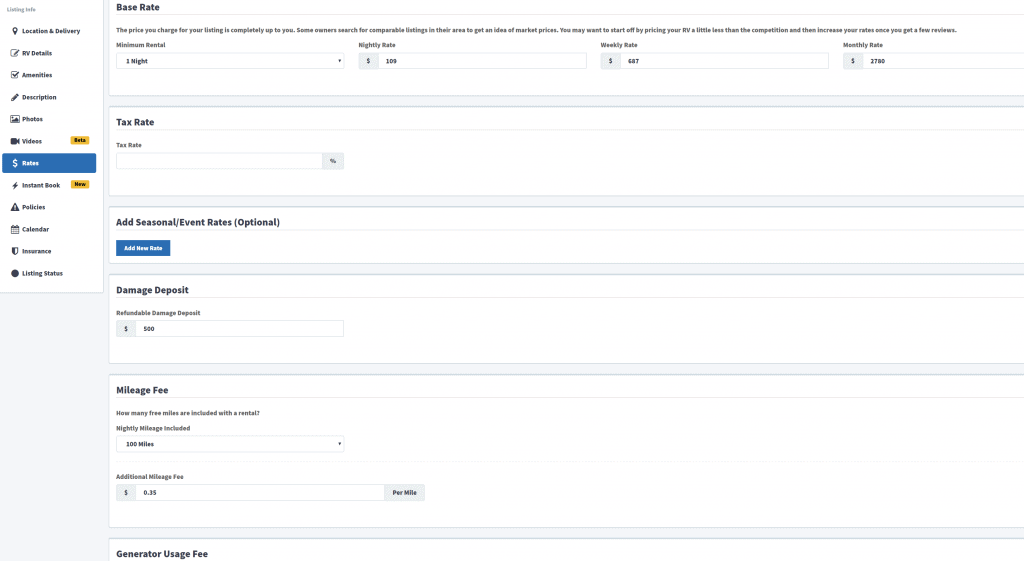 Here is the MOST important section out of the whole RVshare website – and probably the reason why most people who have bad experiences get burned
After reading around 200 reviews on the Better Business Bureaus website, the most common complaint was being charged for damages that the renter feel didn't come from them.
This meant that some or all of their security deposit would not be returned to repair the "damages" the owner said they found after it was returned.
I think most people don't know that RVshare has some really, really helpful forms that both parties are supposed to fill out, including a pre arrival, departure, and return form. These forms are supposed to be signed by each party (owner and renter) and while RVshare does say they MUST be done, you are only required to actually show them if a claim is made (which makes me think most people just don't do them)
Here is what RVshare says about them in their FAQ on their website:
Here's where to find those forms and what they entail – they cover the renter and YOU as the owner.


Pre arrival Checklist (for your rental)
This is only a portion of it, however the pre arrival checklist is a great resource for owners to make sure their camper is ready to be rented!
You don't know what you don't know, as they say, so this document is a guide on things to check in your camper.
I really love the ending of it (the portion pictured) that tells you to have your paperwork ready and to give yourself ample time to give a good walkthrough and send off to the renter. After all, the more your renter knows about the operation of your camper, the less likely they'll be to make a costly mistake!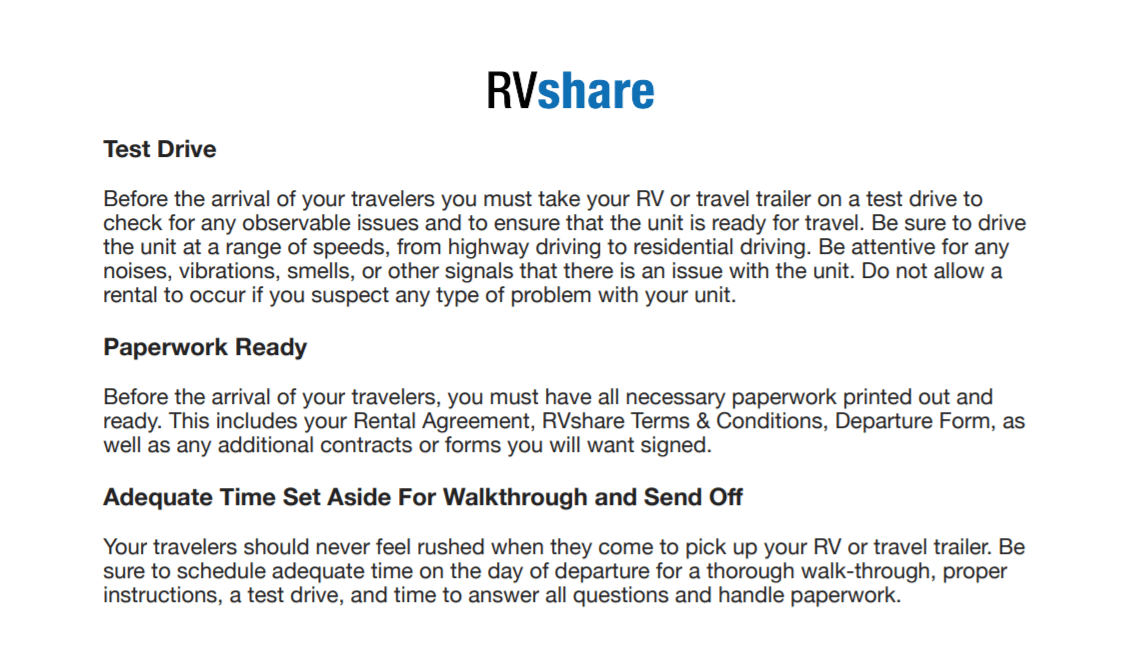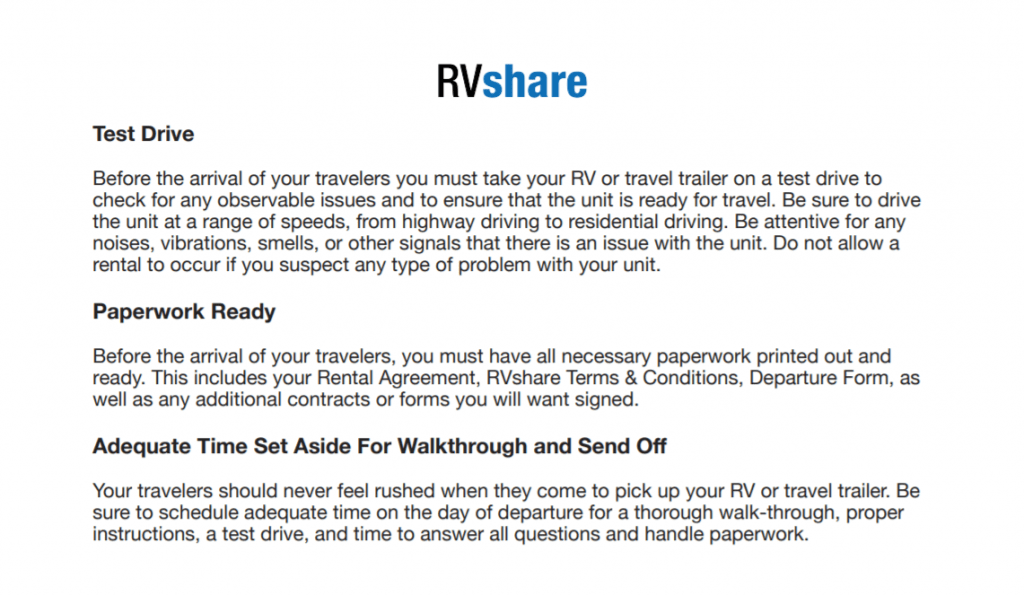 Departure checklist (for your rental)
This is one of three documents provided by RVshare, and I want to point out the underlined portion at the top
"If you do not complete this form prior to departure, RVshare reserves the right to reject reimbursement requests made against the renter's security deposit"
That means that these documents should be filled out before every single rental!
I also love that there's a checklist to instruct your renter on how to operate every aspect of your camper. As an owner, I would honestly make a small document with common questions just in case they forget!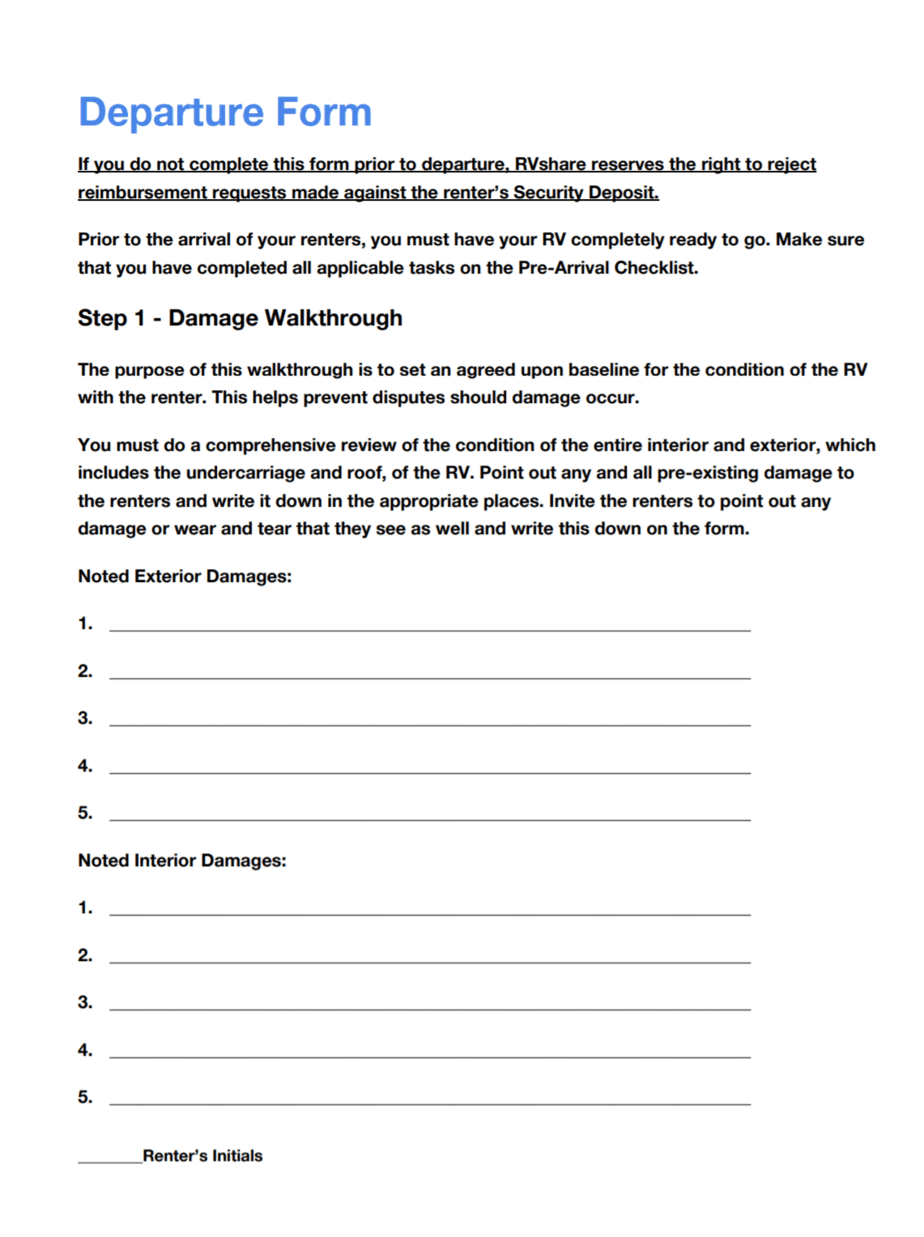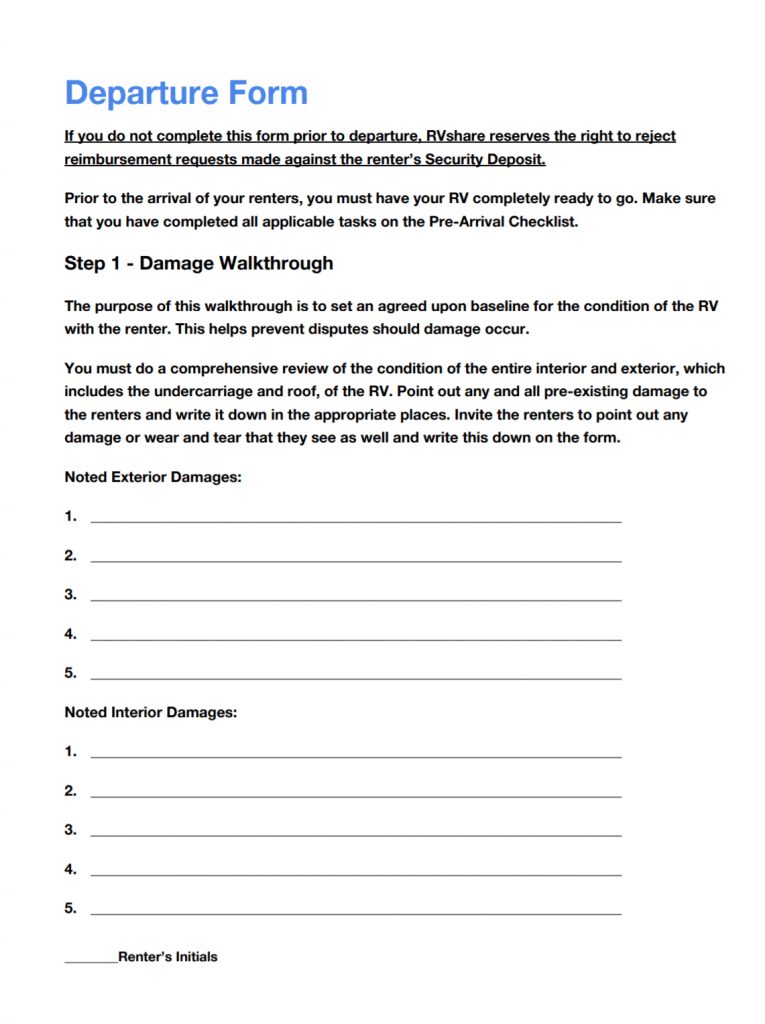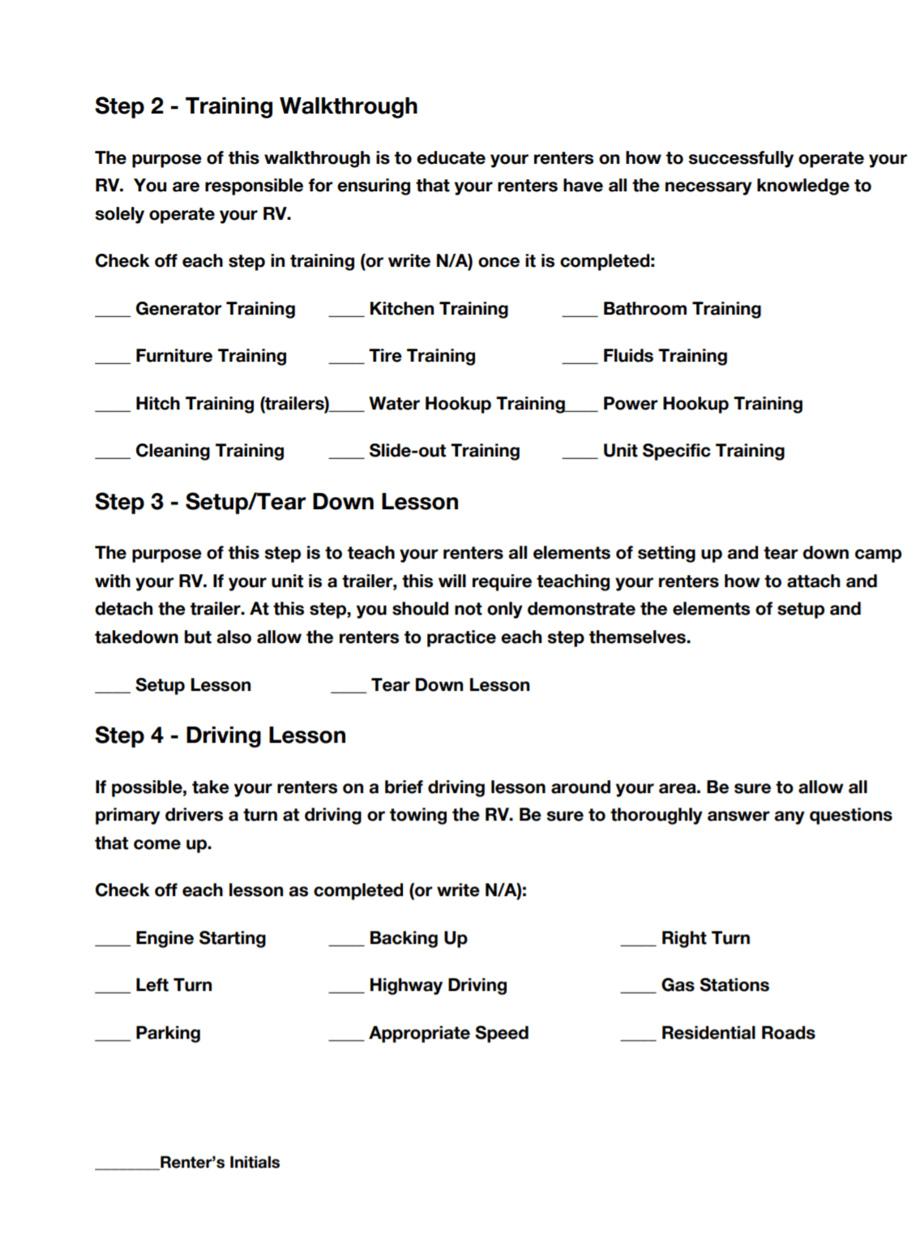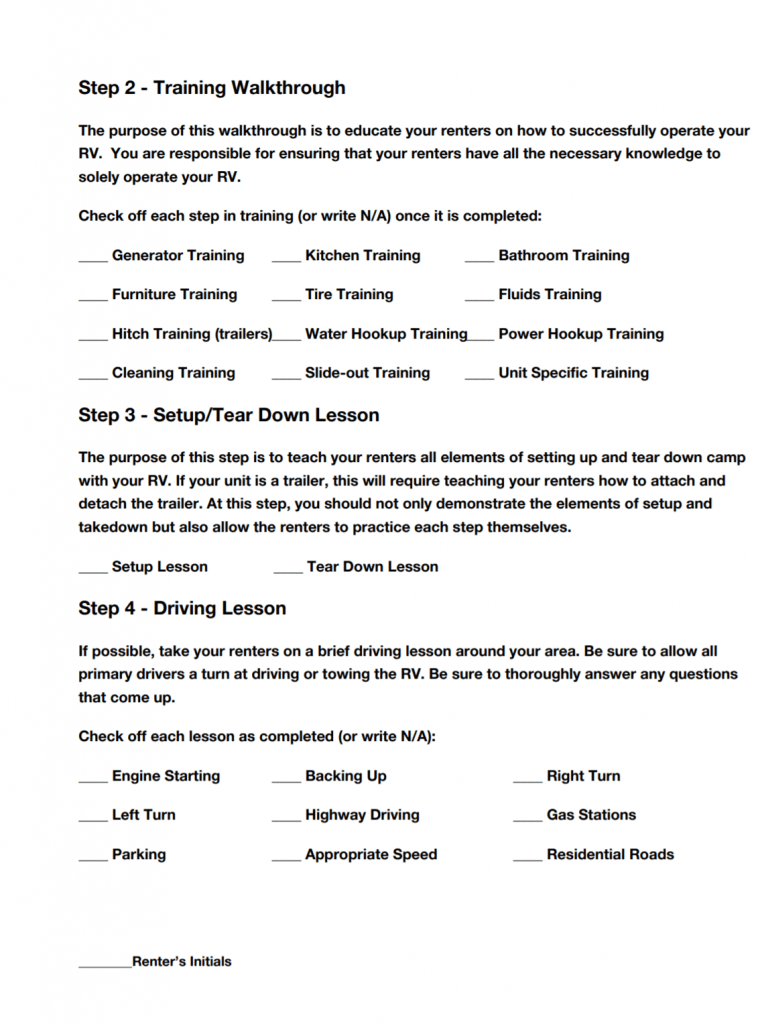 Return Checklist (for your rental)
This is page two of the return checklist, but the first page is just a damage walkthrough with the renter to assess any new damage that occurred during the rental period.
It's good to discuss any extra fees that the renter incurred and have them sign for it so that there are no surprises or sour taste left in both parties mouth so to speak!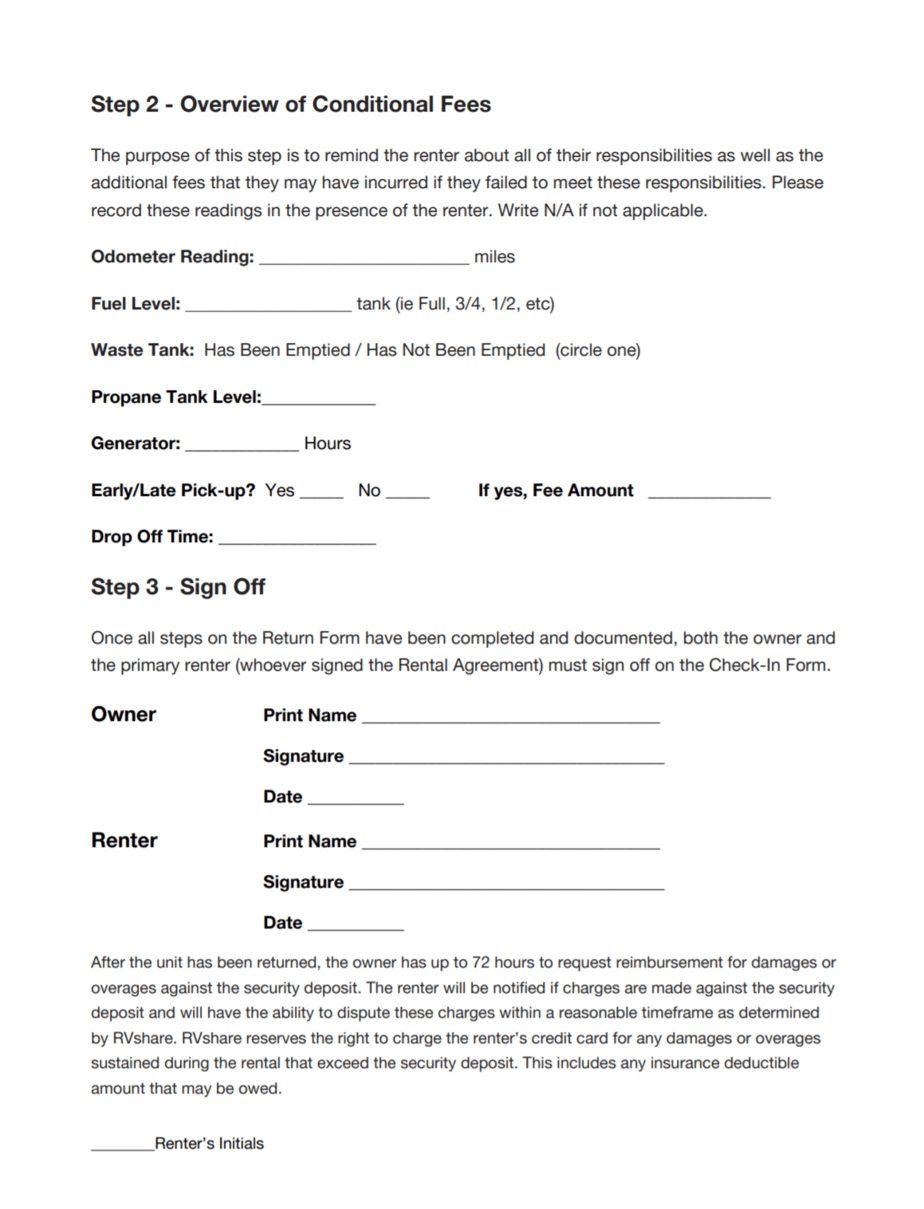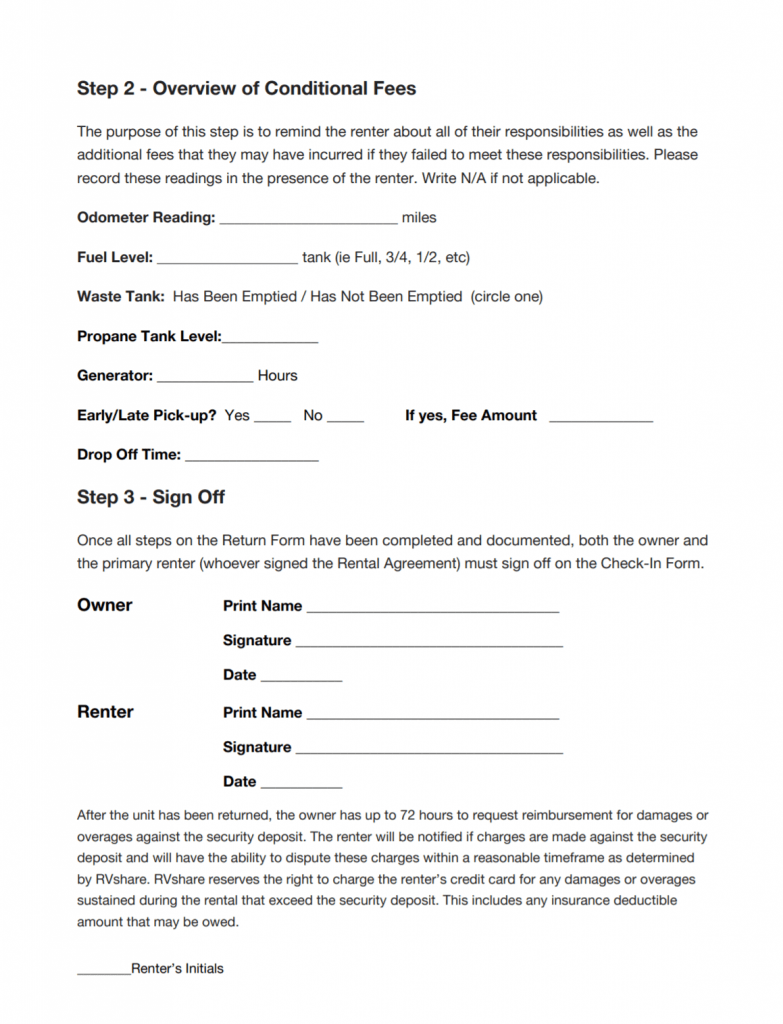 My top tips to not get "gypped" as an owner using RVshare
Look, it's important to keep in mind that RVshare is just a platform to find renters. To blame them for someone who wrecks your RV, or cancels last minute is the same as blaming Facebook when you try to buy something off of marketplace and it ends up being broken once you get it home.
My top tips to ensure a good rental experience as an owner are:
As an owner, bring the paperwork I mentioned above (it can be found on RVshares website) and make sure it is ALL filled out.
Make sure the renter is aware of any extra fees you have and how much they are
Take the time to actually teach the renter how to use your RV – don't schedule yourself so crazy that you don't have an hour to use if needed to do this!
Make sure your RV Rental is in good working condition – actually test it out before renting it!
I hope you feel better about the rental process (and making some extra money!)
There will always be some risk when lending out your RV, but I hope by being able to see the full process and seeing the documents available for you to use to ensure a good rental process that you feel more confident in this extra revenue stream!
---
---
Here are some more RV articles to check out!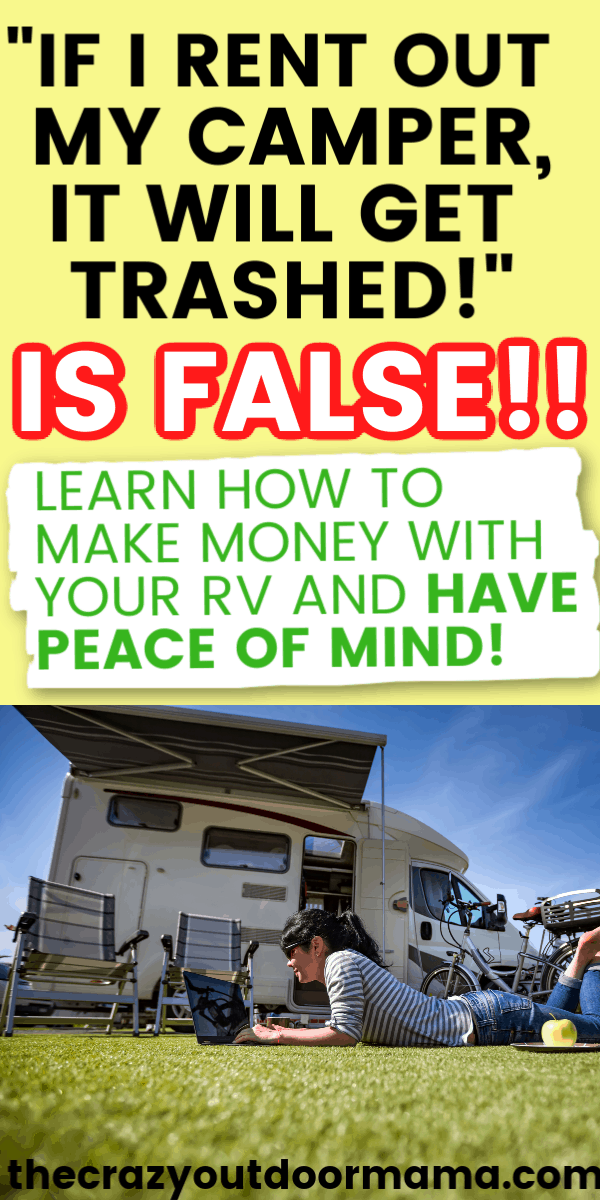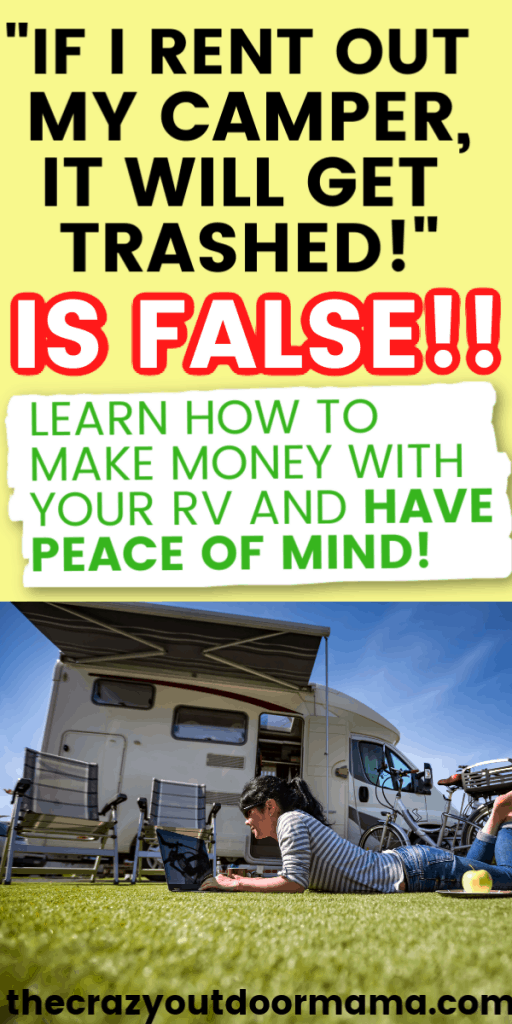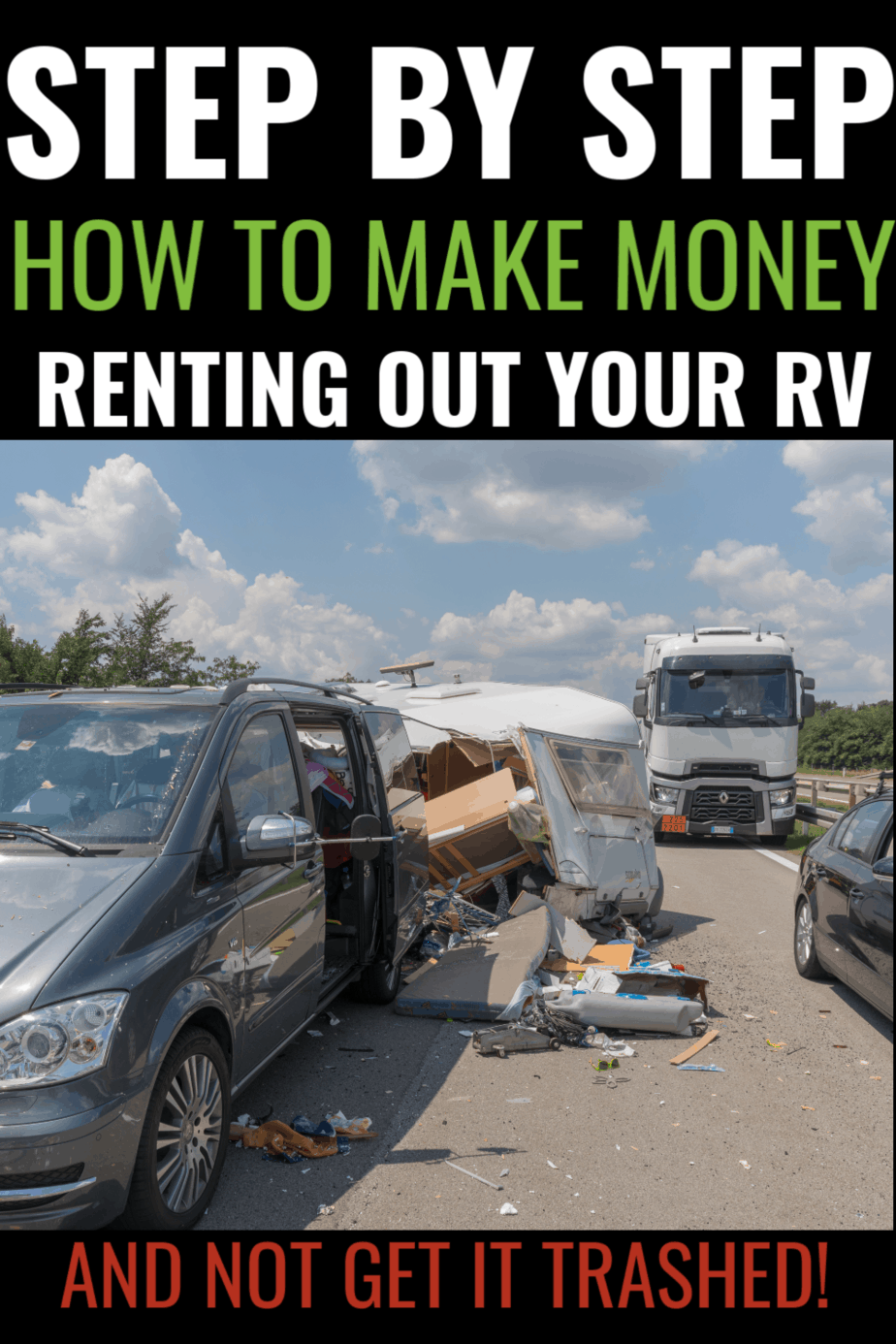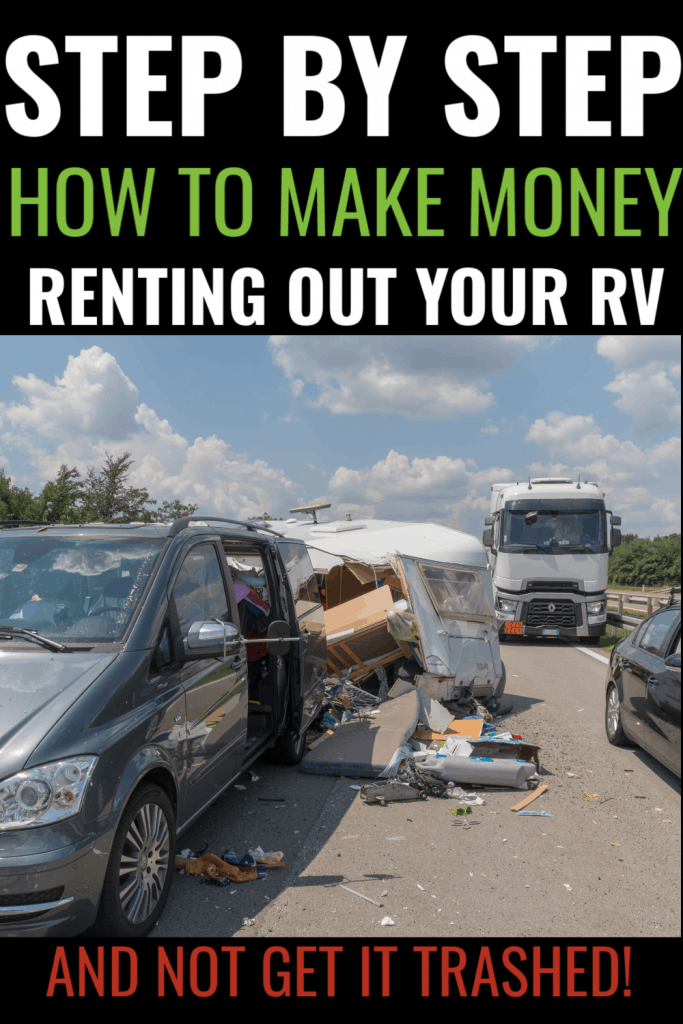 Latest posts by Stacy Bressler
(see all)