If you're looking for a safe and fun way to enjoy your summer, then an RV rental is perfect!
There are a few companies out there who have this sort of service, but RVshare is the oldest and was a pioneer! I also know it can be kind of intimidating renting something like an RV or trailer – there are so many things to learn!
What if you break something?
What if there's an accident?
How about if the owner claims that there are damages that you didn't actually do?
Well, as an RV owner and AVID review reader (I'm the person who reads 6 pages of reviews on Amazon before buying anything!) I have read some reviews on RV rental companies.. and there are alot of misunderstandings going on!
Just like any other rental platform, RVshare is just a middleman – they facilitate the process, but if you don't do your homework on who and what you're renting, you might not have a very good experience!
Here's the good news- I've read the entire Terms of Service, all the paperwork you'd normally just check the box for saying you did, and checked out the biggest complaints…and I'm going to give you my best tips to have the smoothest experience possible!
Disclosure: This is a sponsored post, however have tried the platform as both an owner and renter, and all opinions are my own!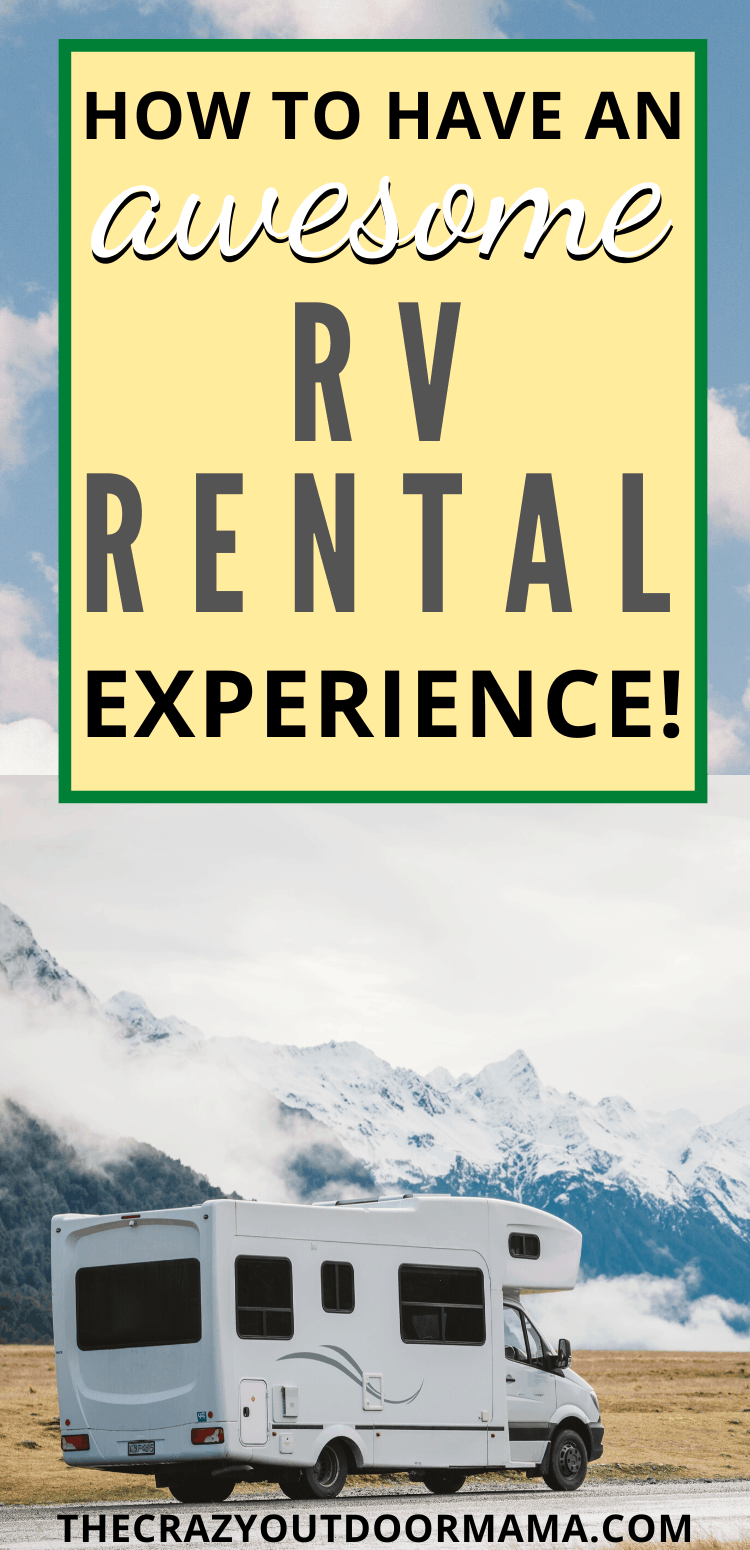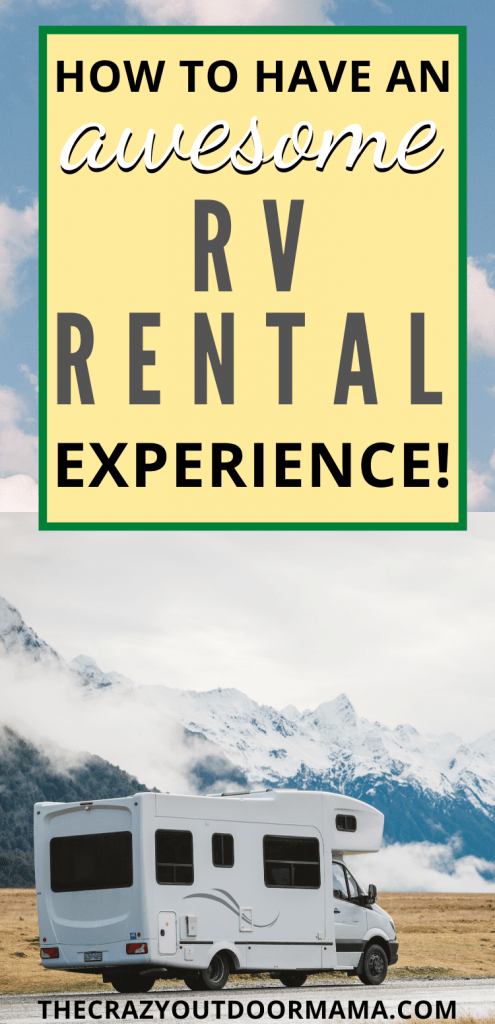 What to look for in a good RV rental company and how to make sure to have the best experience!
Renting an RV or camper is an awesome way to take a safe but fun family vacation! While it can seem intimidating at first, most rental companies have a pretty decent system in place to verify things like identity and proper turn over for each rental.
You'll want to make sure that the company can provide both the renter and owner proper paperwork and has a good customer support system.
I use RVshare, and will give you some tips on how to get the best experience with them!
1. Fill out the departure checklist
ALOT of complaints about RV rentals have to do with the owner saying that the renter did damage to the RV that they didn't actually do. Make sure to fill out the appropriate forms before leaving – RVshares departure form requires both the renter and owner to sign off on any damages present before leaving.
While you would think it's the owner's responsibility to provide these documents, you should bring them too so that you are covered no matter what happens!
You need, as a renter, to download and print this Departure From that RVshare has created that is designed to keep both owner and renter safe from disputes!
The RV rental departure form is four pages and includes the following
Damage walk through for exterior and interior to take note of any pre existing damges and to be signed by both renter and owner.
Training walkthrough to ensure you know how to operate all the features of the RV you're about to rent.
Set up/Tear Down Lesson Checklist –
Driving Lesson Checklist – Both renter and owner sign off to signify that each lesson has been taught and understood
Condition Check – This is where the owner and renter are both able to see and sign off on things like the tire pressure, oil and fluid levels at the time of renting
Overview of Fees – Fees like late drop off, dumping and other fees added by the owner are reviewed and acknowledged here so that you as a renter are not caught off guard by any surprise charges
Mileage and Tank Readings – The odometer and tank levels are recorded here
Additional Drivers + Sign and Send Off – Proof of insurance, license and exchange of contact info are signed off here as well as signatures
2. Make sure you know how to operate the rig (even if you've used a camper or RV before!)
Every rig has a couple unique features, so even if you feel like you're a competent RV user, it's good to go through and get the instructions from the owner just incase!
I really love this training provided by RVshare because it goes through each aspect of operation of the RV (and it includes a checklist so you don't forget to ask how to do something!)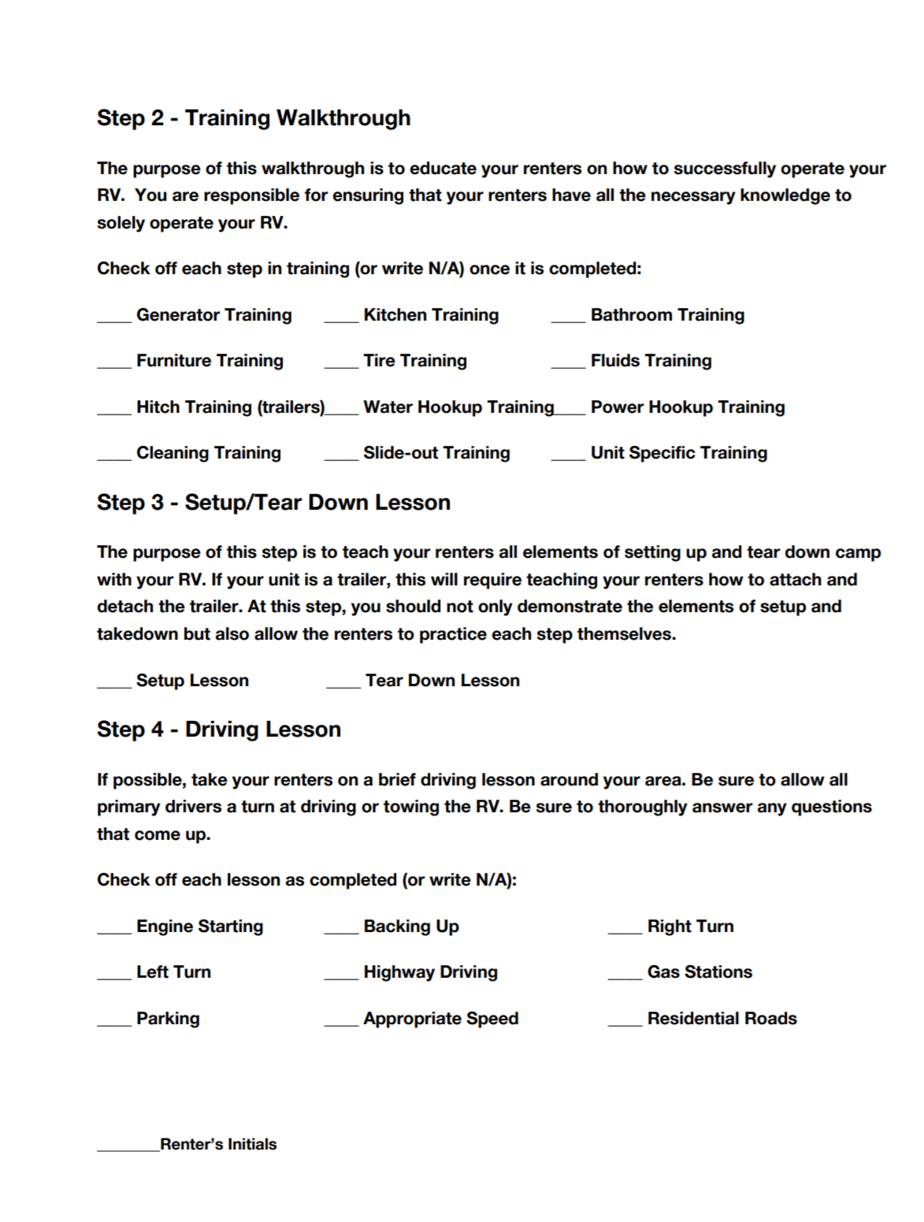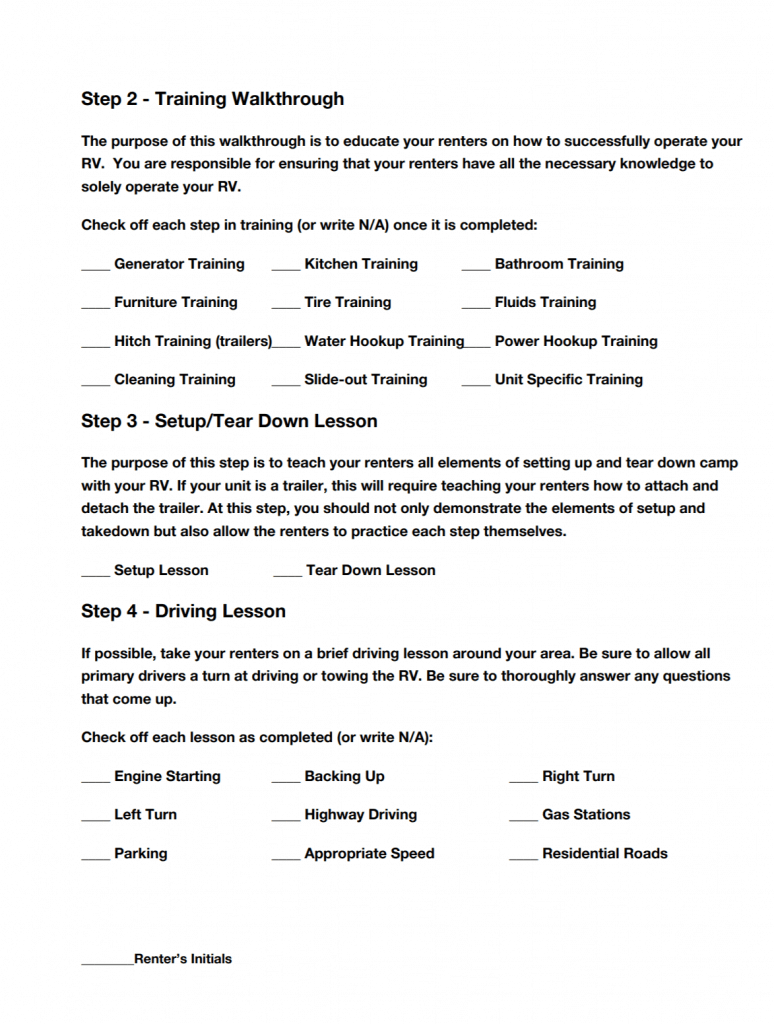 3. Make sure to ask the owner to set aside enough time to do a walk through with you
Make sure to specify that you want time to do a walkthrough with the owner in a well lit area. If you are able to go through with the owner and complete the Departure checklist provided by RVshare, then you'll both be able to agree on any previous damage as well as get training on how to use the specific rig.
Sometimes owners might, for the sake of time, do a quick trade off – while this might be convenient, it's not beneficical to either party.. especially if a dispute happens later on!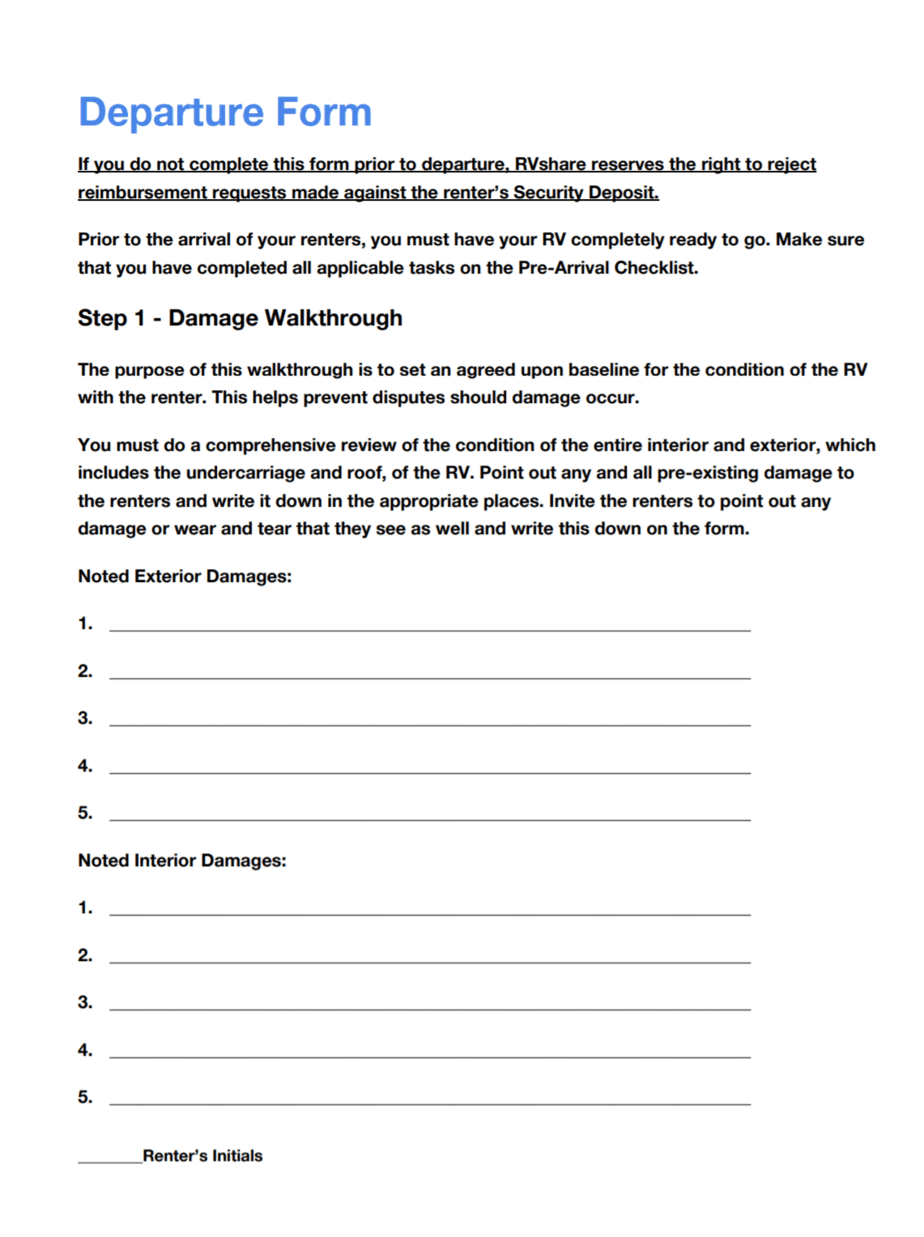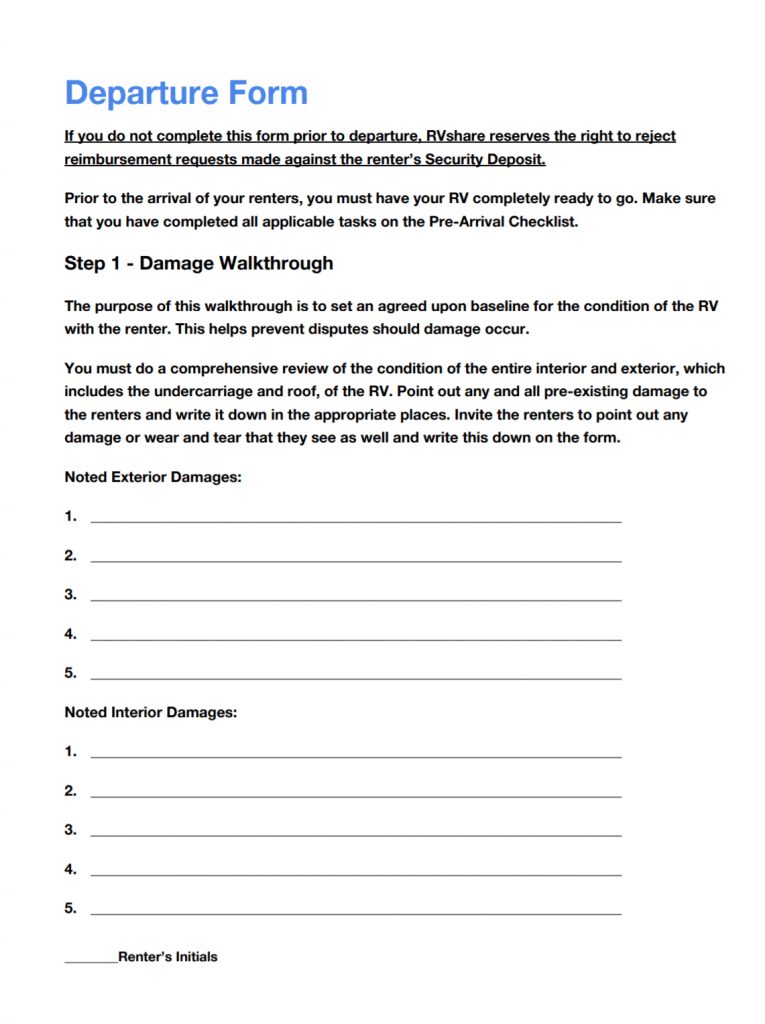 4. Ask about any fees that the owner charges (festival, pets, cleaning etc)
While this does show when you're looking at the rental, it can be easy to overlook (especially if you're excited to get a camper and go on vacation!)
Some people get blindsided by the charges and, while it's not in good taste for the owner to not have told you in person about them, they would probably be in the right if it came down to it.
To cover yourself, and just to be clear, ask the owner to clarify any fees they may charge before agreeing to the rental!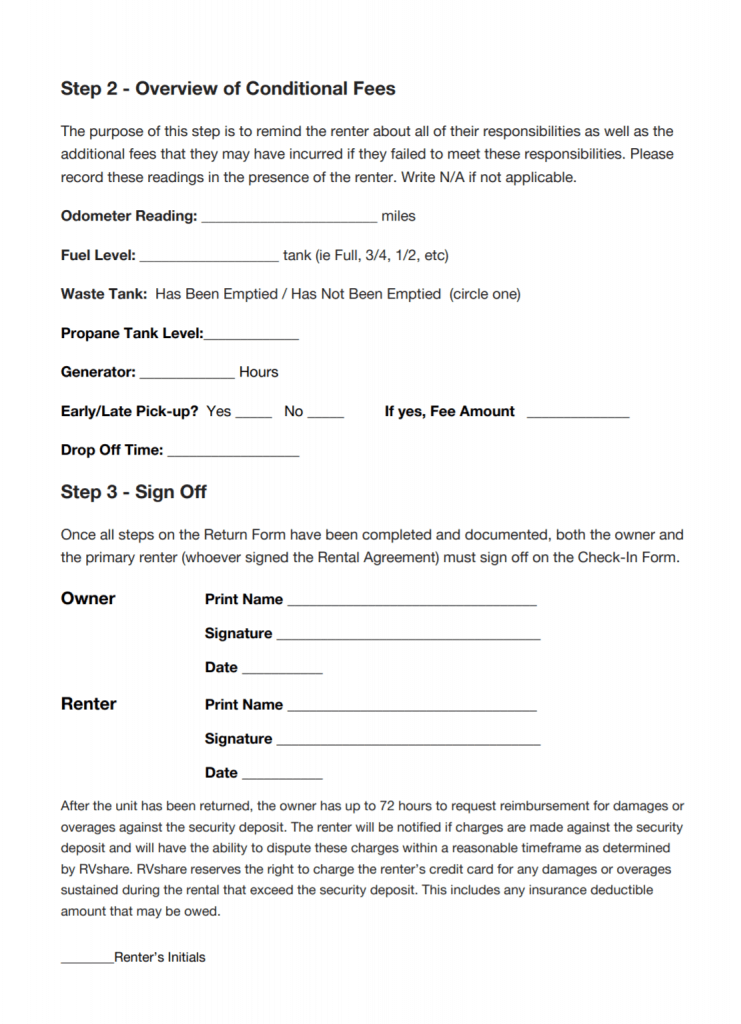 5. Verify that the contact information the owner listed is current and works so that they can be contacted in the event of an emergency
While hopefully you're vacation will go smooth and you'll never need to use the information, it's good to have in case something happens to your rental and you need their advice on what to do next!
Even if you are handy and know how to fix simple problems, you should always contact the owner and get permission to do so. This ensures that everyone is aware and OK with what's going on (and you don't get some crazy charge later)
How do you rent a camper from RVshare?
Here's a quick peak at what to expect when renting – the only "paperwork" you'll need is a form of ID (and they've really simplified the process to get that to them!)
1. Type in your location and pick your favorite!
The map shows prices in surrounding areas so that you can see if it's worth driving a bit more to pick up your camper to save money. There are also quite a few filters you can use to find exactly what you're looking for!


2. Double check the owners policies to make sure they fit your needs
Each owner is different – it's important to check out the rules, cancellation policy and fees that are listed at the bottom of the listing. You're able to message the owner if you have a question or need any clarification!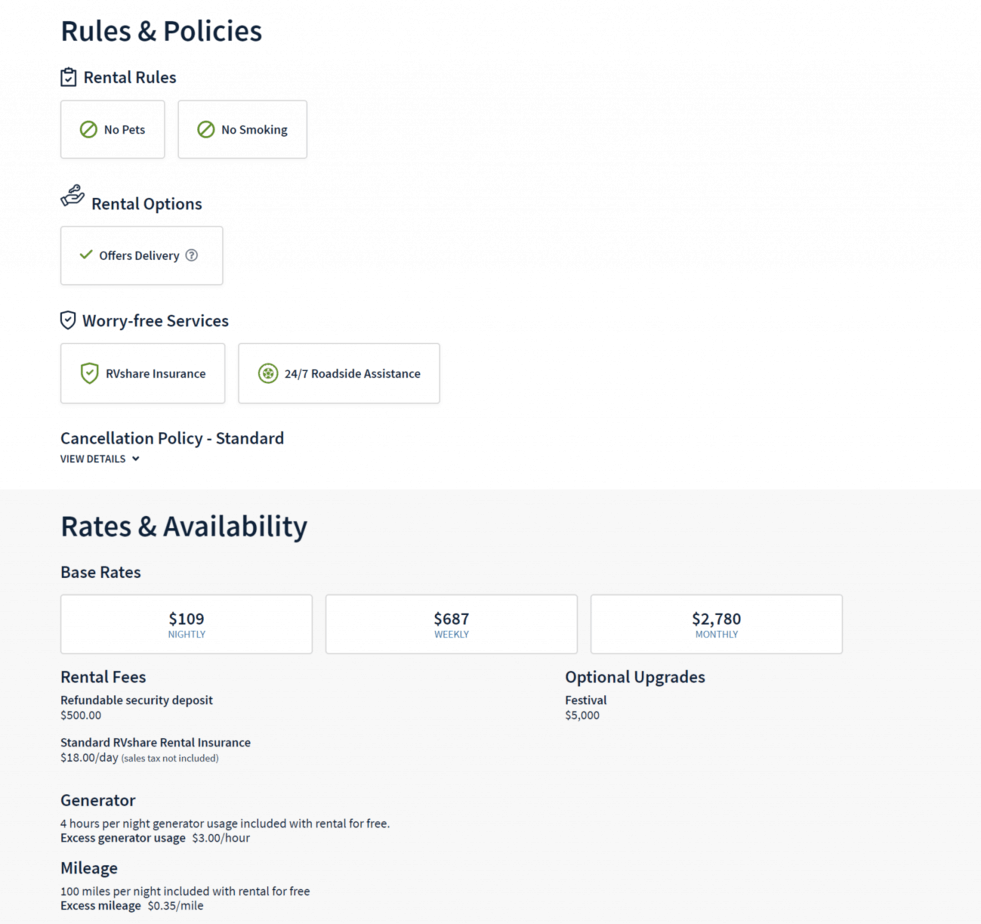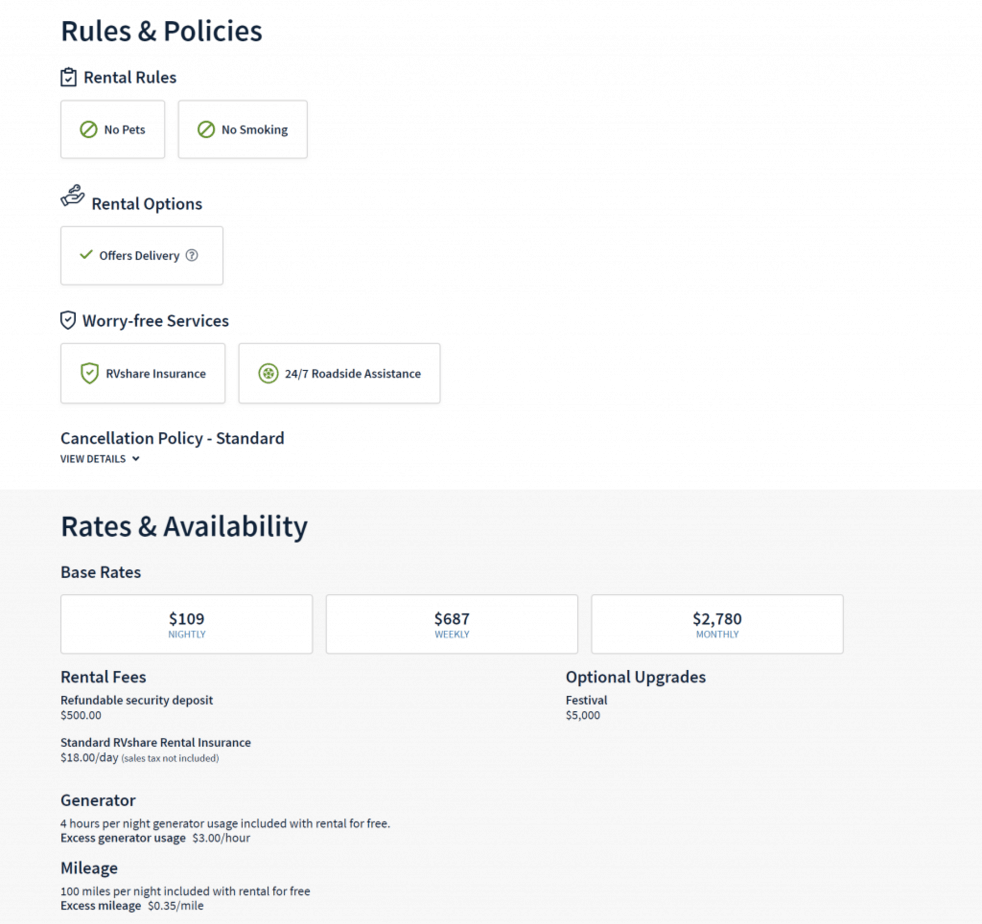 Make sure to check the fees!
Right before you're about to request to book, double check the fees!
There is a little question mark next to them right above "Request to Book" – click it to see a break down of the each fee!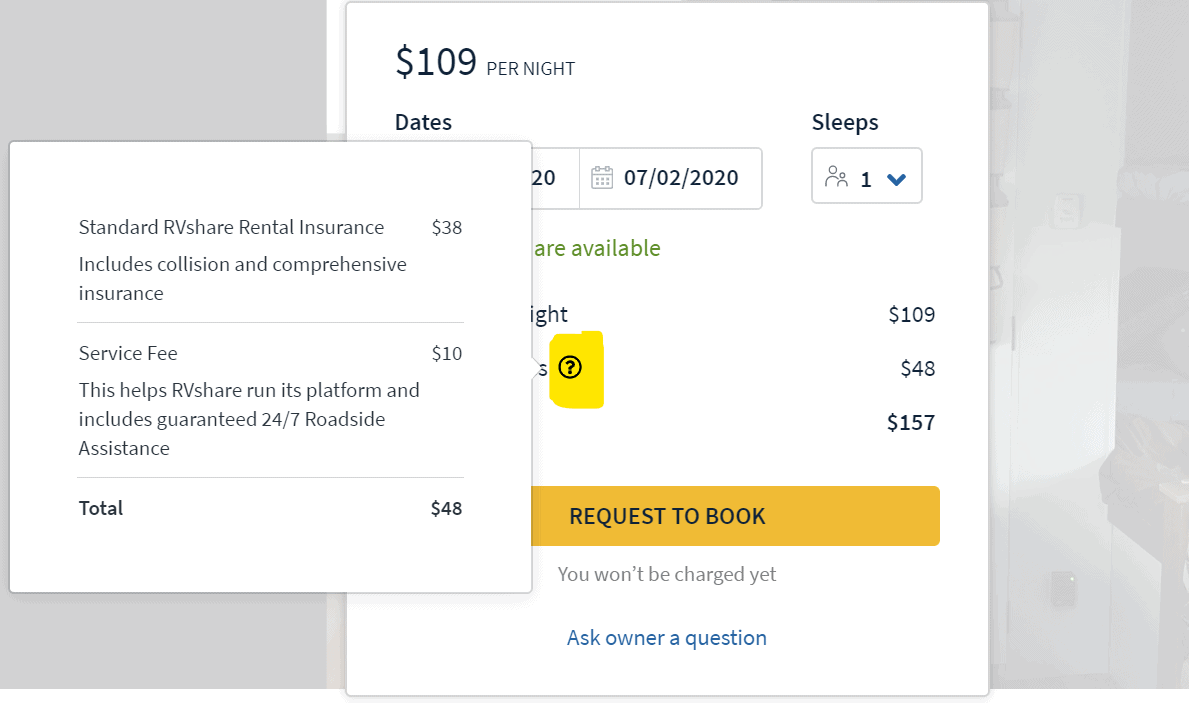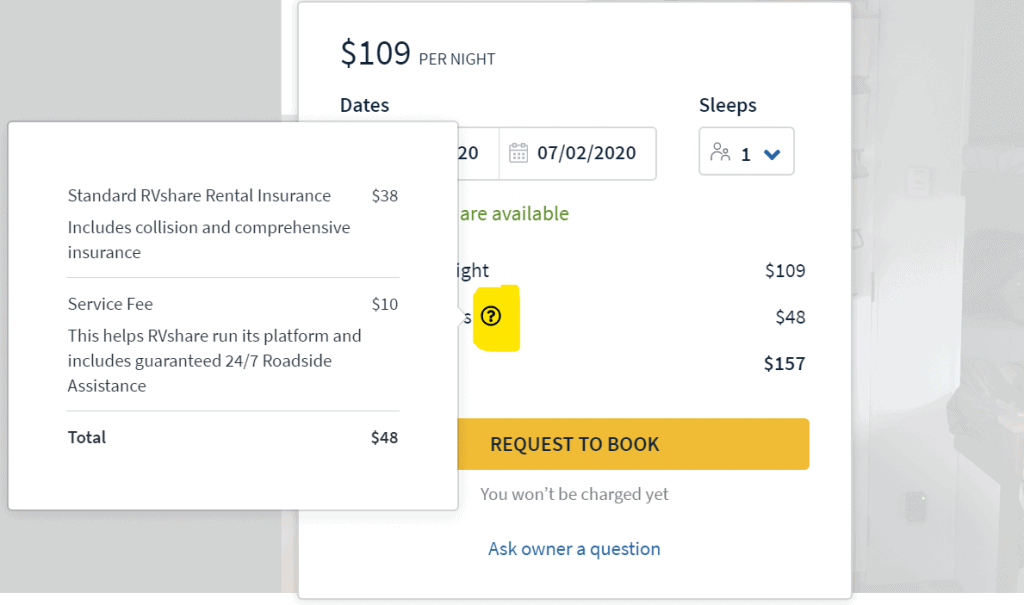 3. Start booking it!
You'll be required to give some basic information to check that you're a real person as well as clarification about where you're going/what you're going to do.
Remember, the owners are renting what is often their camper too – they don't want to rent it to someone who doesn't seem responsible and capable of taking care of their rig!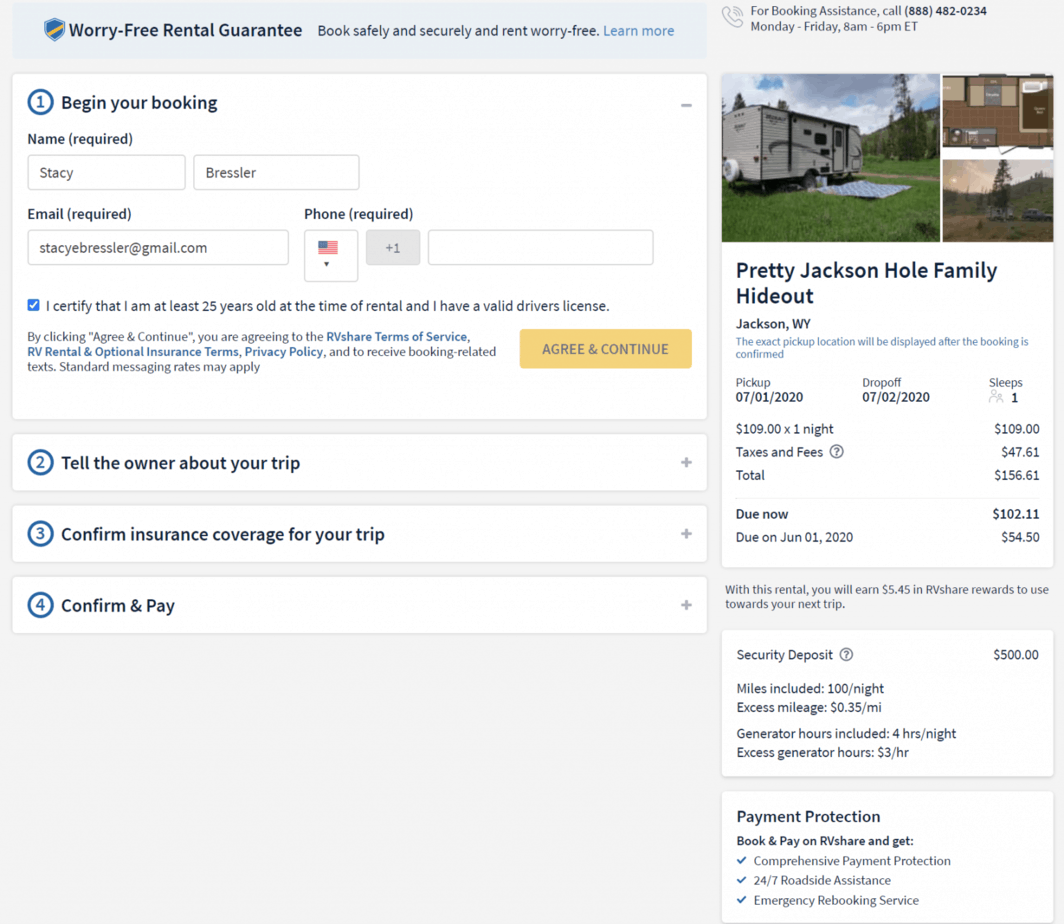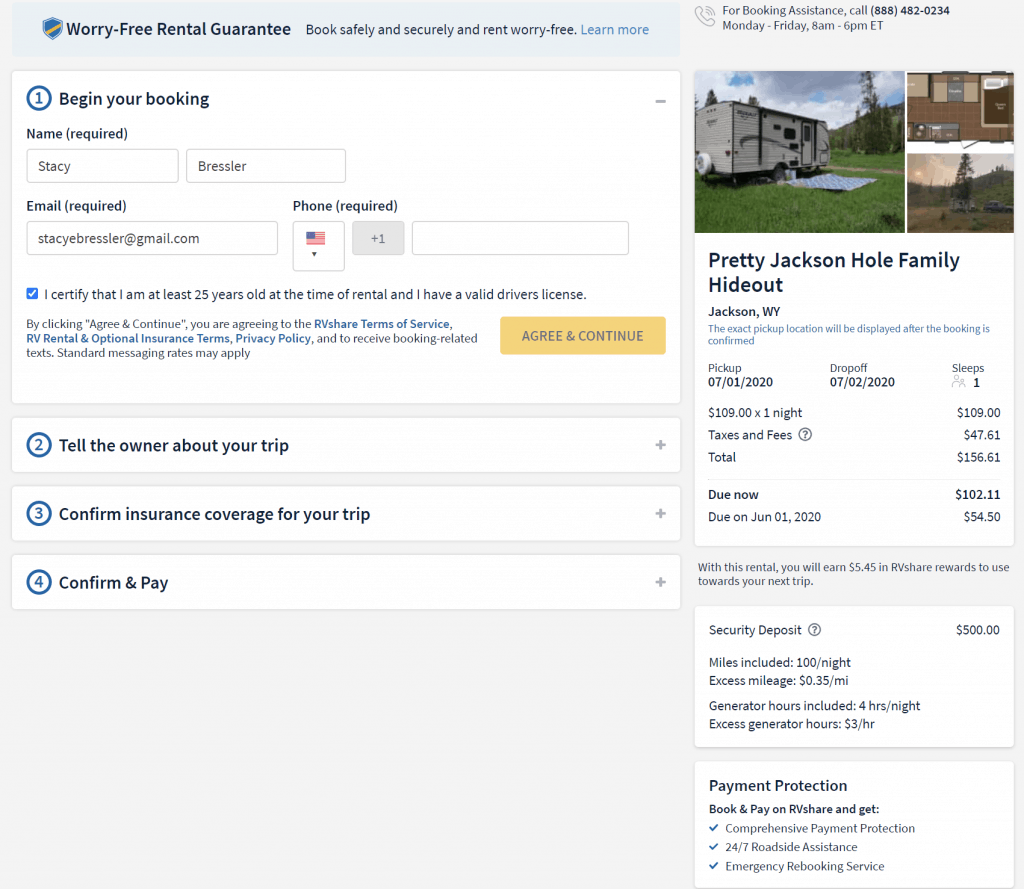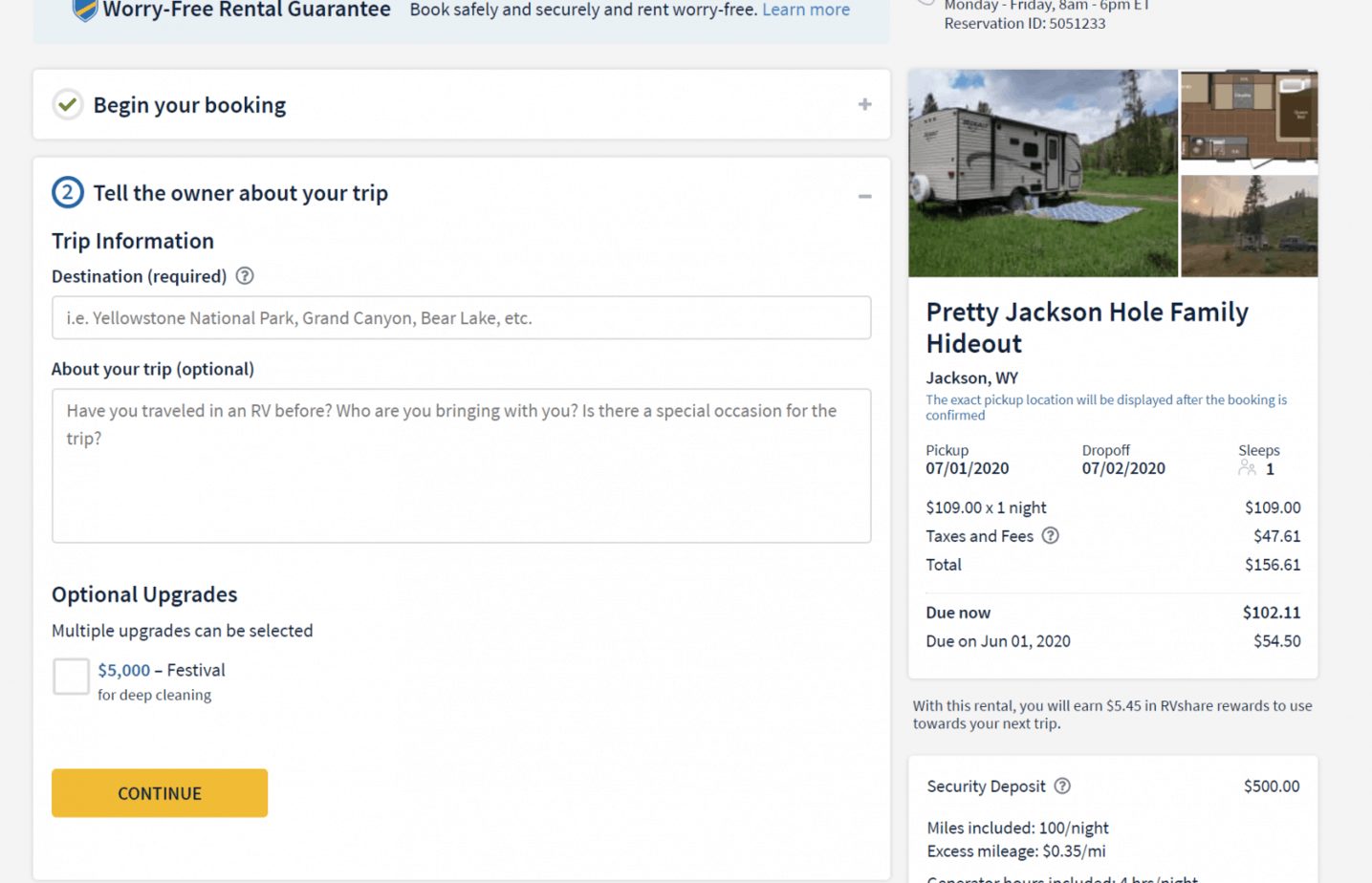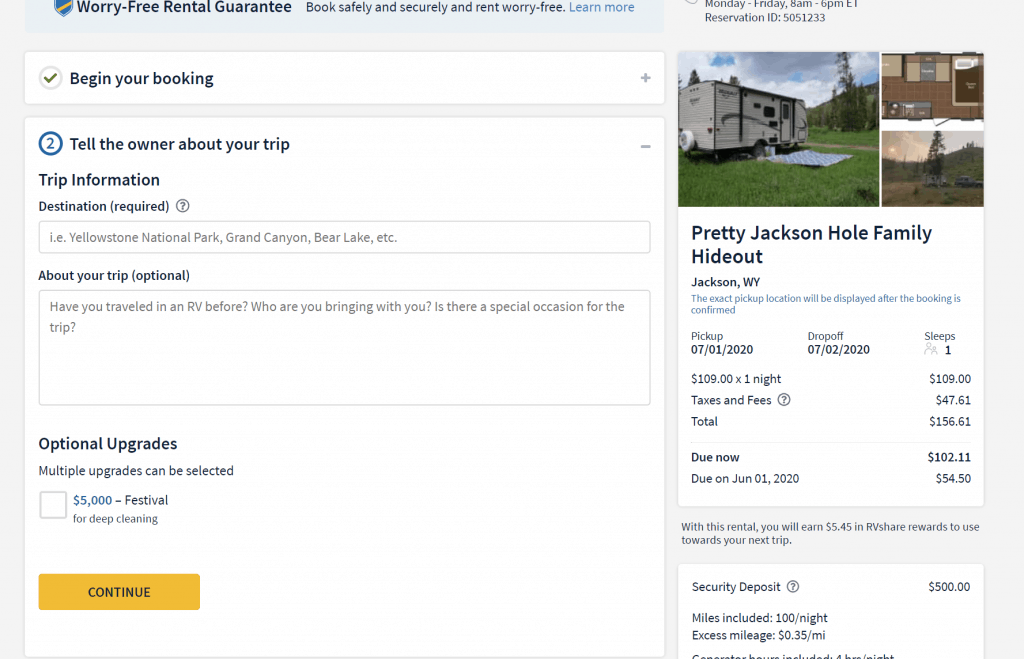 4. Pick your insurance amount
I'm a worry wart, so I'd always pick the highest amount of coverage. I'd recommend the same!
To find out what each level covers, click the little question mark at the end of the "Comprehensive Coverage" description.
Not only is the deductible lower, but it covers WAY more! Insurance is one of those things you hate paying for when you "never use it" but are extremely thankful for that unlucky day when you do need to! It's not a good place to cut costs.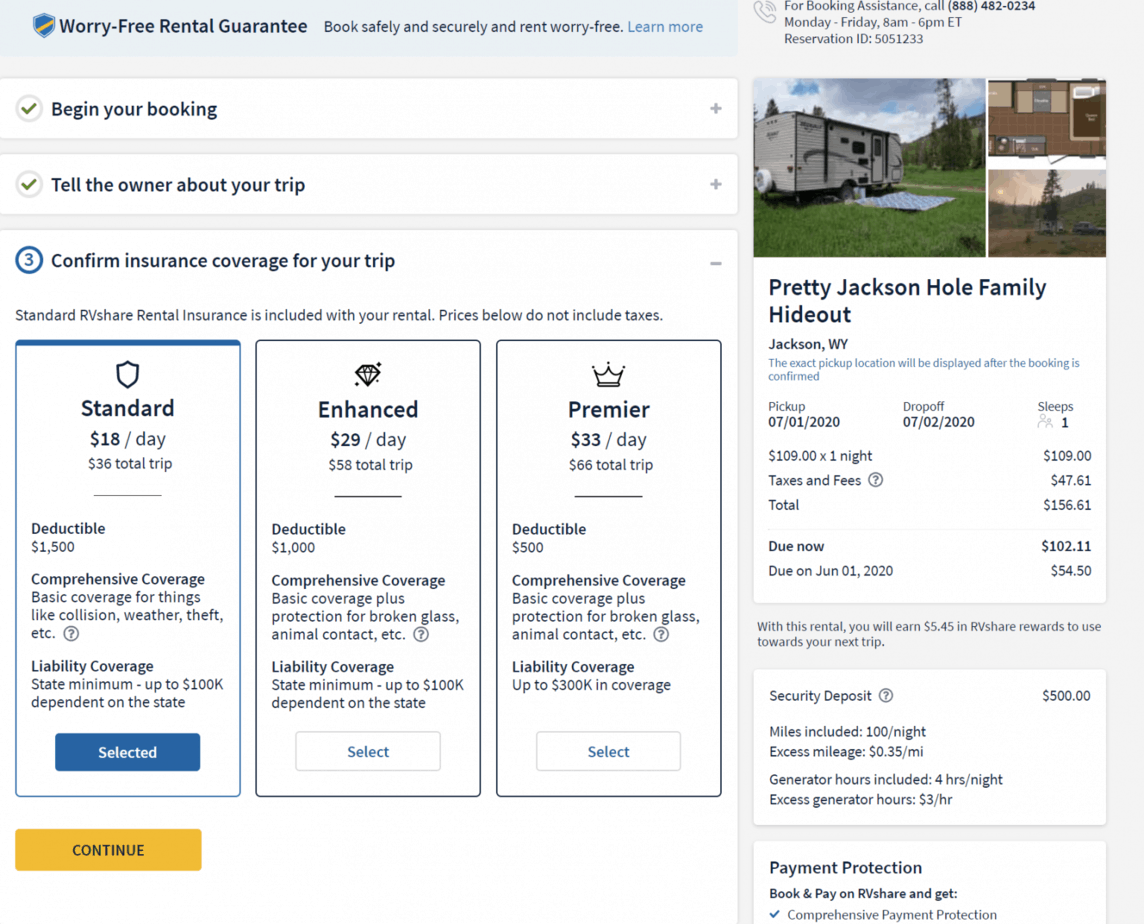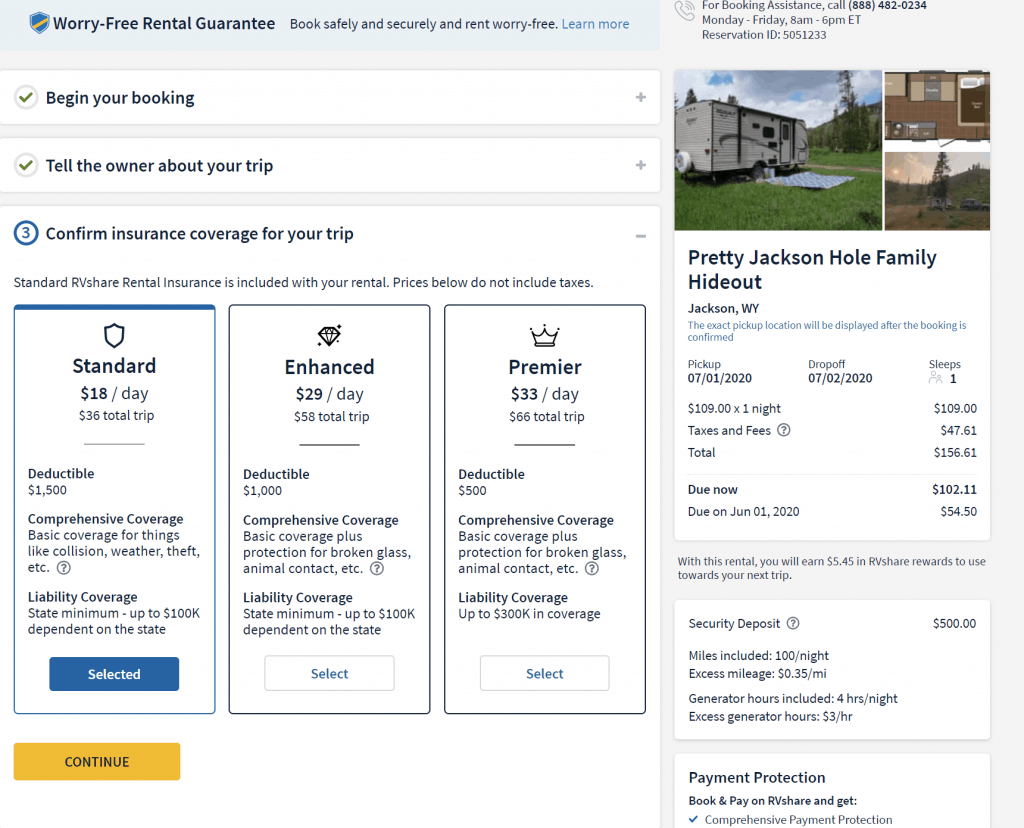 5. Fill in your payment details (but don't worry, you aren't charged right now!)
Fill in your info, and pay attention to the canellation policy. There are multiple levels of cancellation policies, and it's important to make sure that the owner has one that works for your and your situation!
You will only be charged if the owner accepts your request.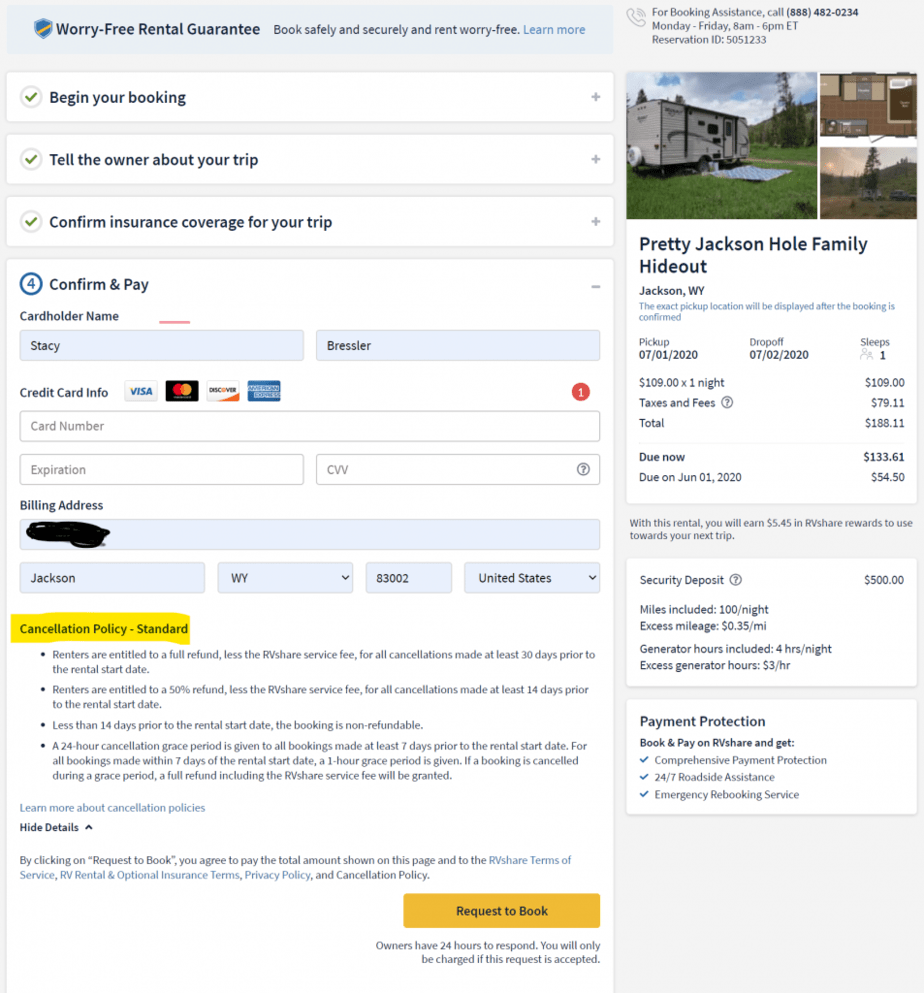 6. Verify your ID while you wait for confirmation from the owner
After requesting to book and filling in the forms, you'll get to this page with a breakdown of the price and when each of the charges will happen (which is super handy!)
Now it's time to verify your ID so that the owner knows who you are and that you're actually a person and not a fake account.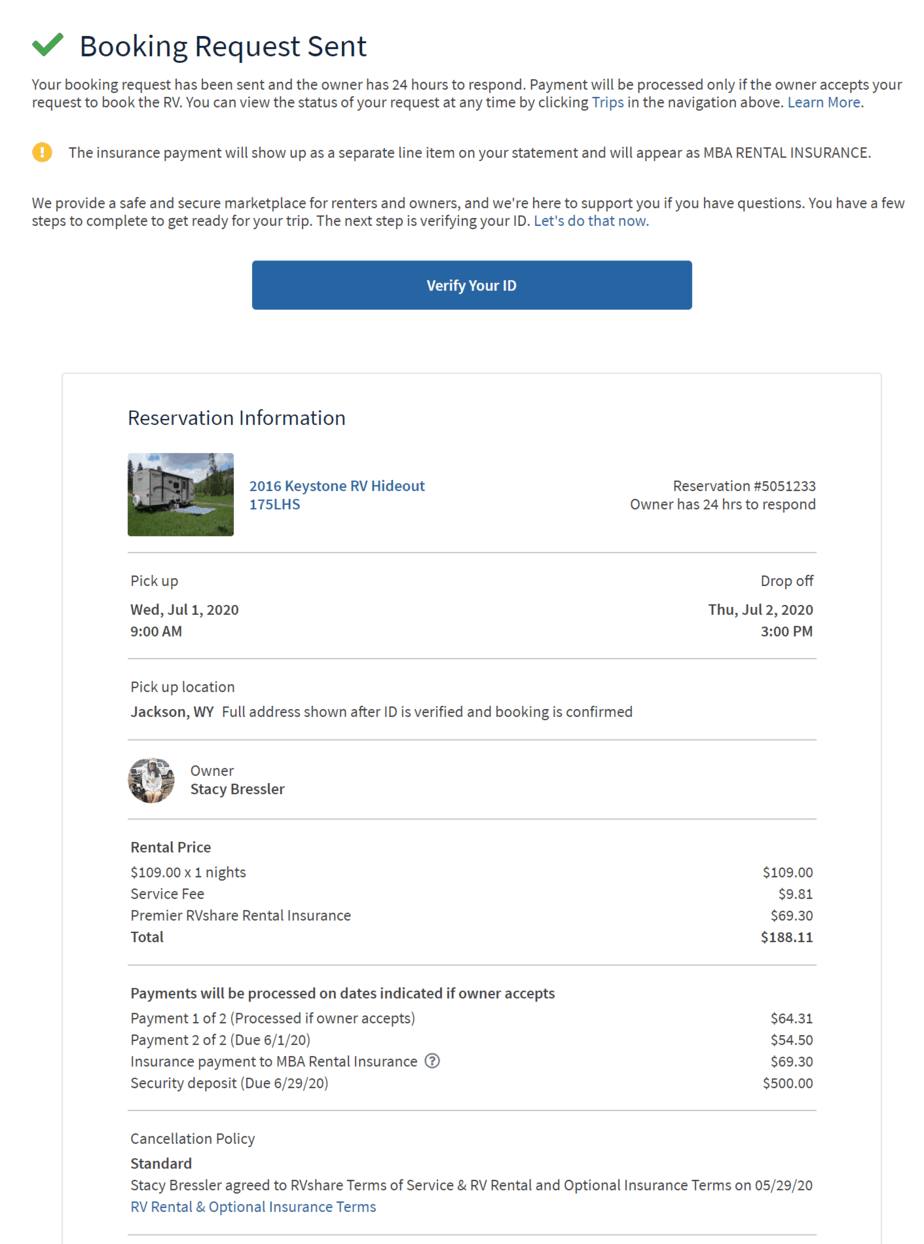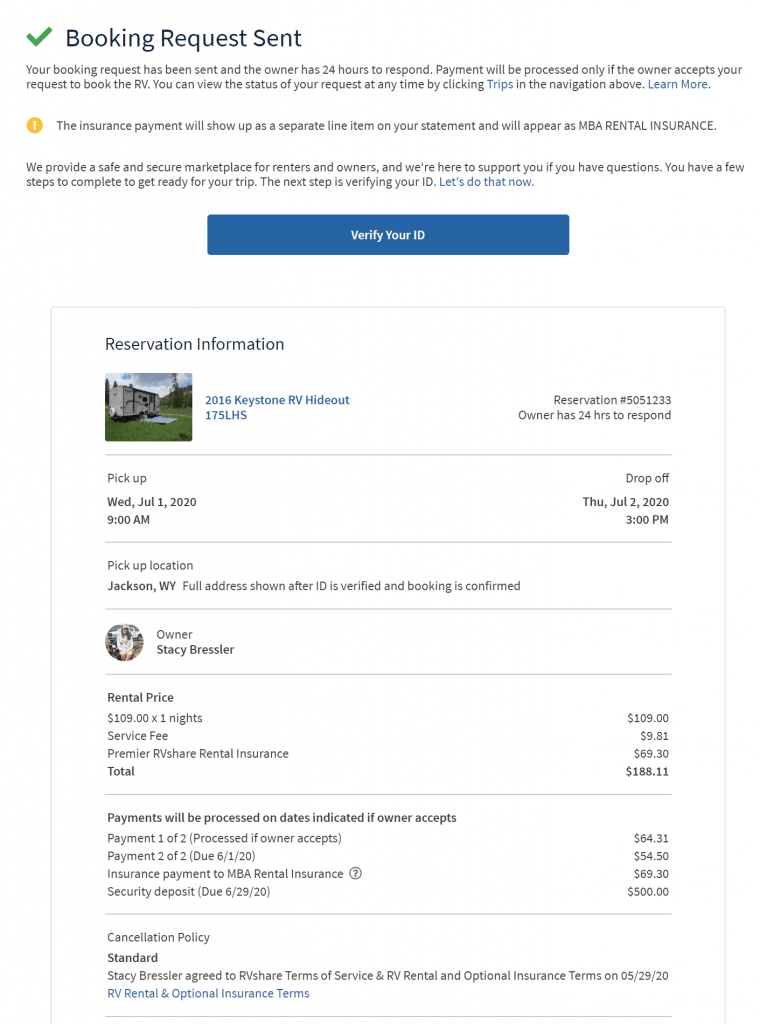 Submit your form of identification through RVshares streamlined process
After clicking to verify your ID, you'll be presented with a couple of different options (password, license, or other identification card) to establish your identification. To double check it's actually the right person using the provided ID, they also ask you to take a selfie!
This, to me, is just an added layer of security to let the owner know you're not a scammer using fake IDs or doing general shady things.
I chose to get the link to confirm my ID on my phone, but they also give you the option to get a link or scan a QR code!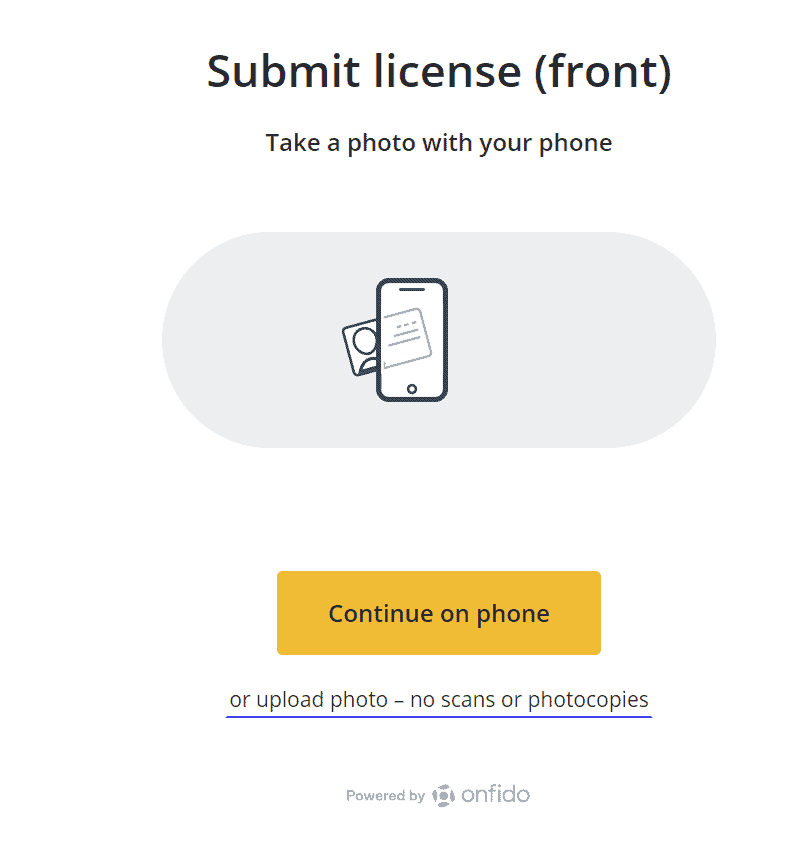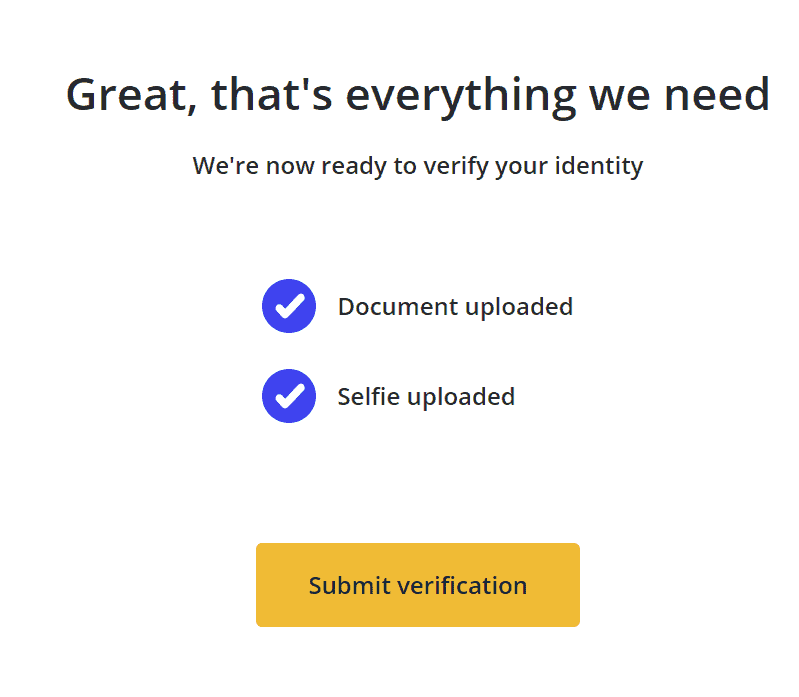 Done! Now wait to hear back from the owner and you'll be on your way!
The owner has 24 hours to respond to your request, so sit back and wait!
Make sure to bring your forms – they'll be in the "Documents" section of your dashboard menu. All printables I have shown you are part of the checklists RVshare provides on their website!
Do you feel a little more confident about renting an RV now? Let me know in the comments any questions or complaints you've heard so that I can do my best to help you with them!
With the 5 best tips and a step by step guide, I hope to help you feel more informed so that you can make the best choice for your family!
Here's that departure form just in case you want to check it out for yourself so you know what to expect
If you have some questions or have heard of someone with a bad experience, please leave it in the comments! I have seriously combed through everything that they have available (and have used the platform as both a renter and owner) and feel confident I can help clear things up a bit for you!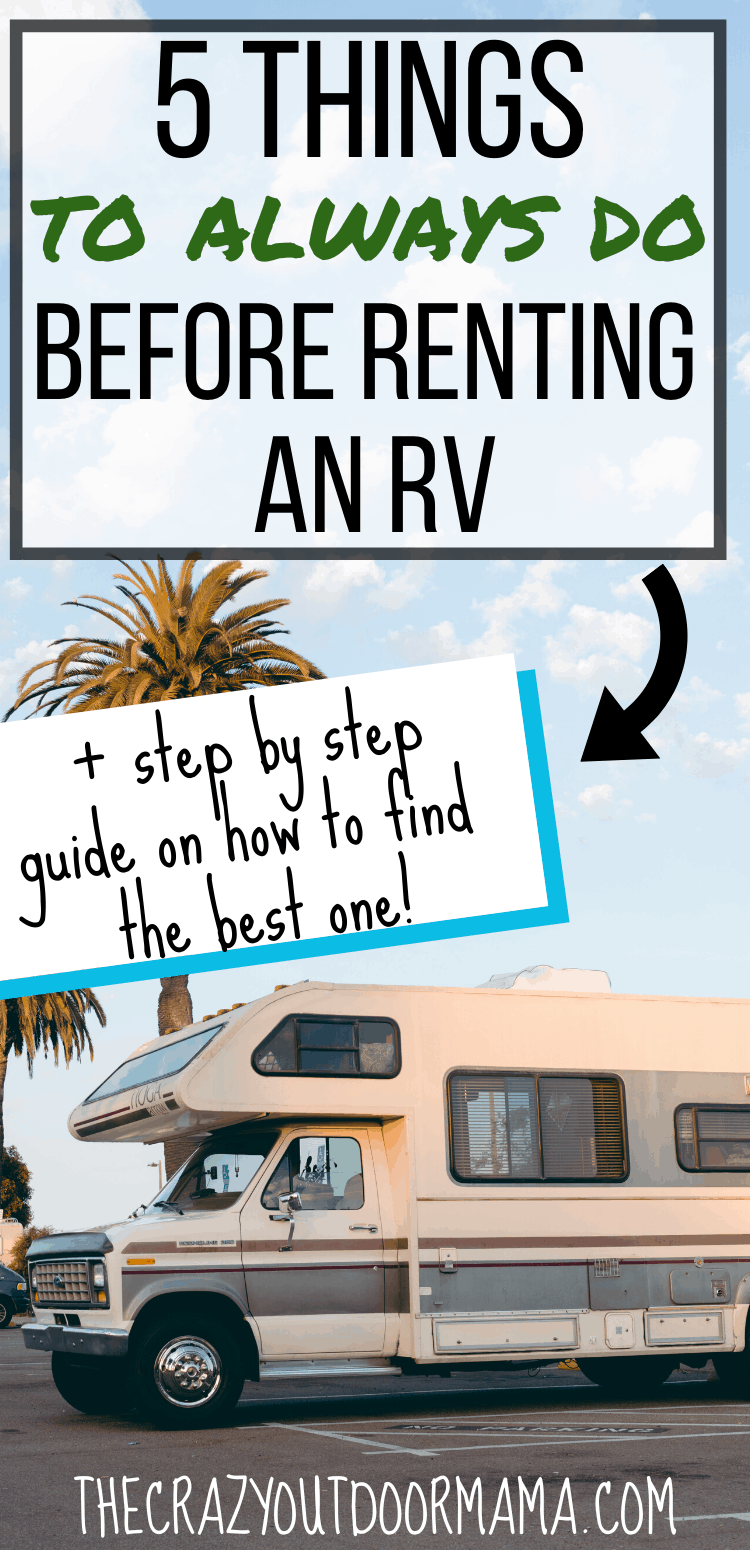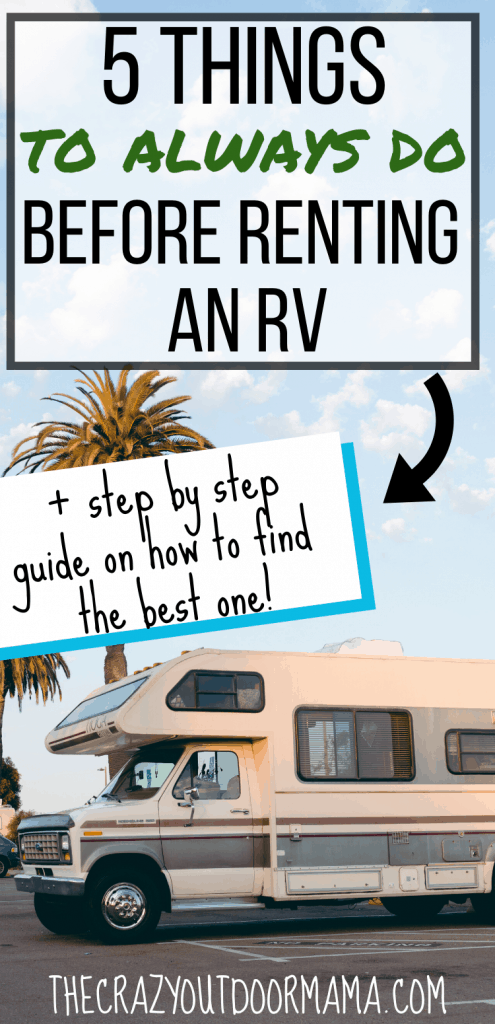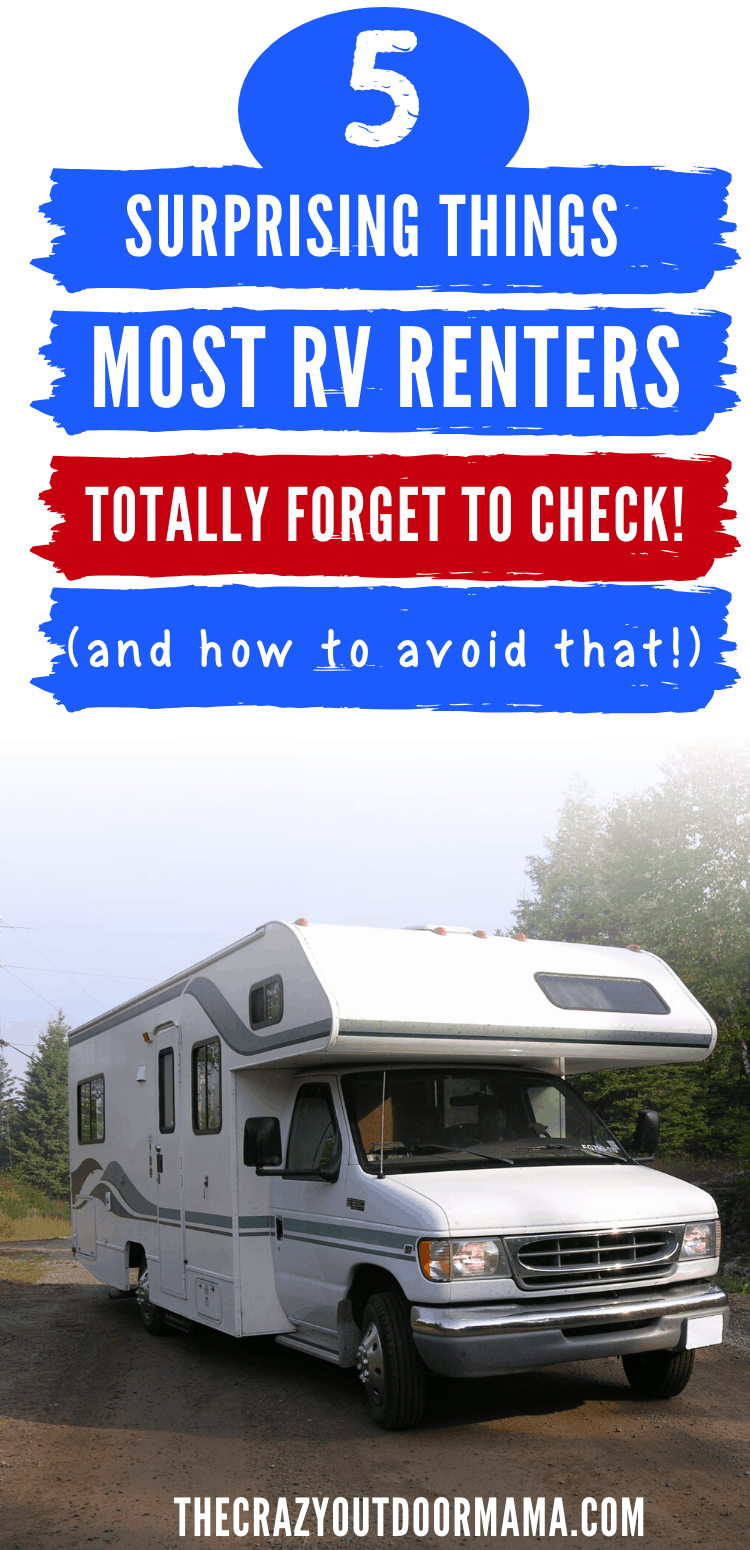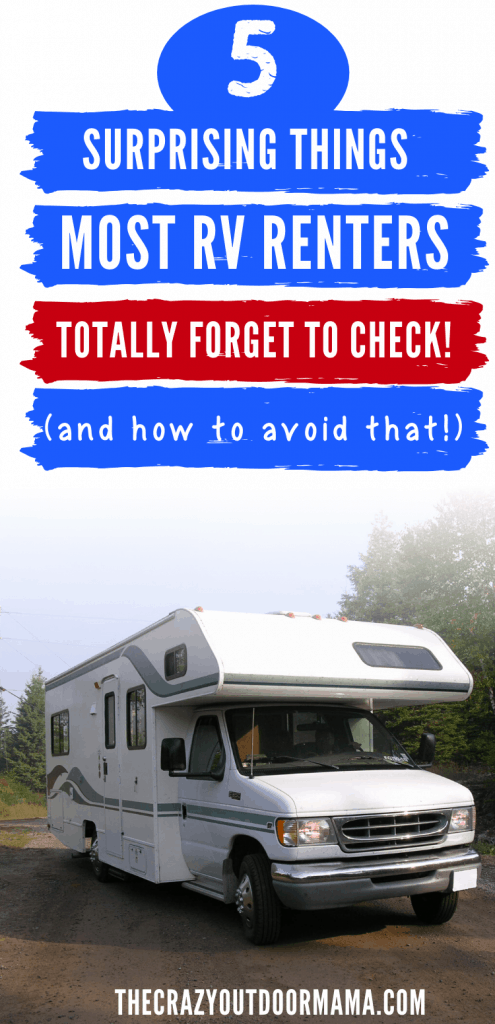 Latest posts by Stacy Bressler
(see all)