If you've ever worked your tail off all day, taken the pictures, then finally listed your camper on Facebook or some other site only to get crickets, then these quick fixes are for you!
This article is a mixture of both cheap fixes (most under $10) and simple picture taking tips that will make your listing look better for both selling and renting your camper. As of May 2021, the RV market is absolutely wild – the mix of low parts supply and a boom in camping interest has created a shortage of campers!
We posted our camper at 9 PM on Facebook Marketplace – within 24 hours we had 8 parties interested and ended up selling it for way more than we thought! These are all pictures I took with just my phone – you don't need professional pictures, just well-thought-out ones!
Something helpful to know is that we did originally list this one other time (for less, and with different pictures) and it never sold! We learned a few ways we could have done it better, so enjoy!
I want to mention that this guide is for selling or renting to actual people, not a dealer! =)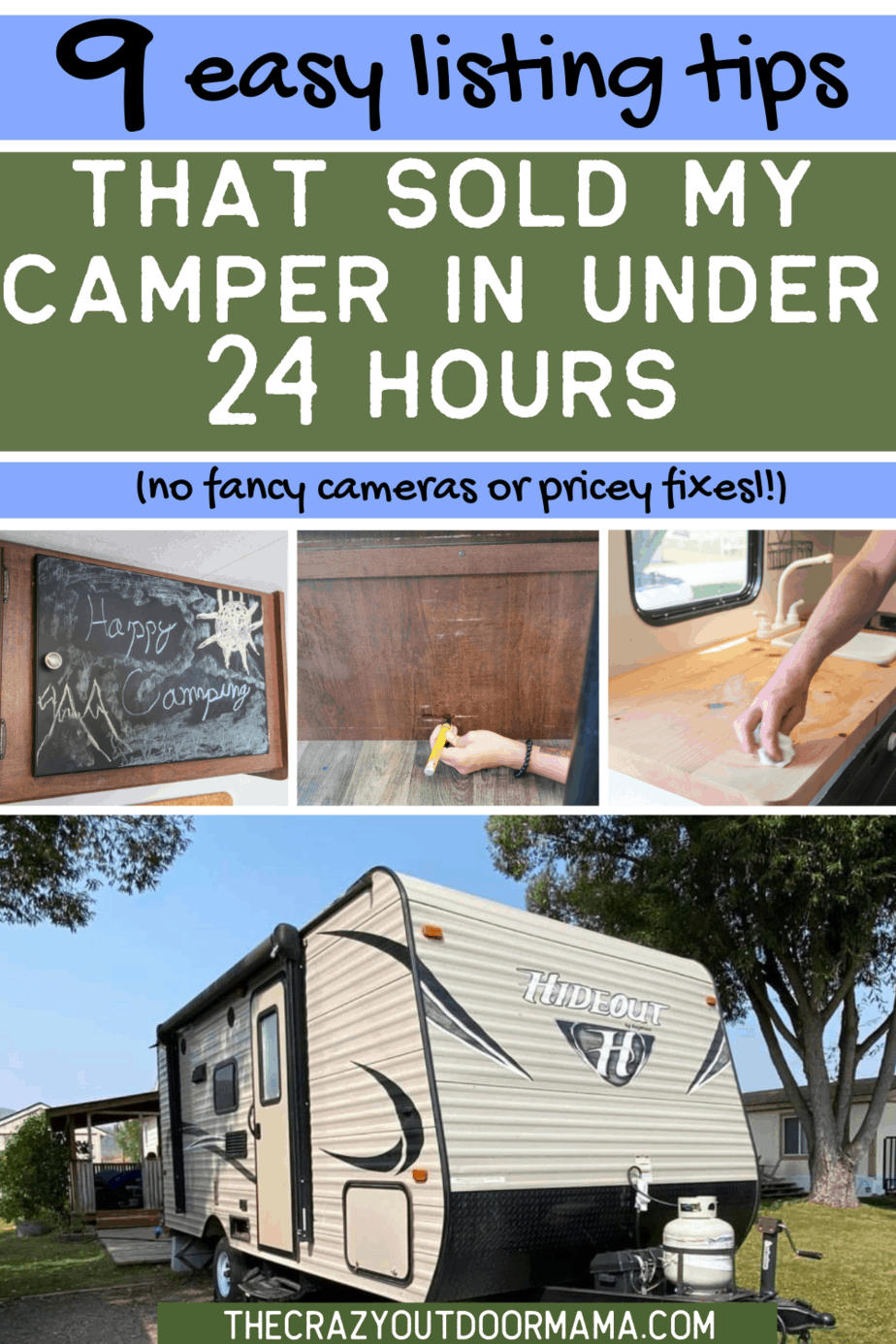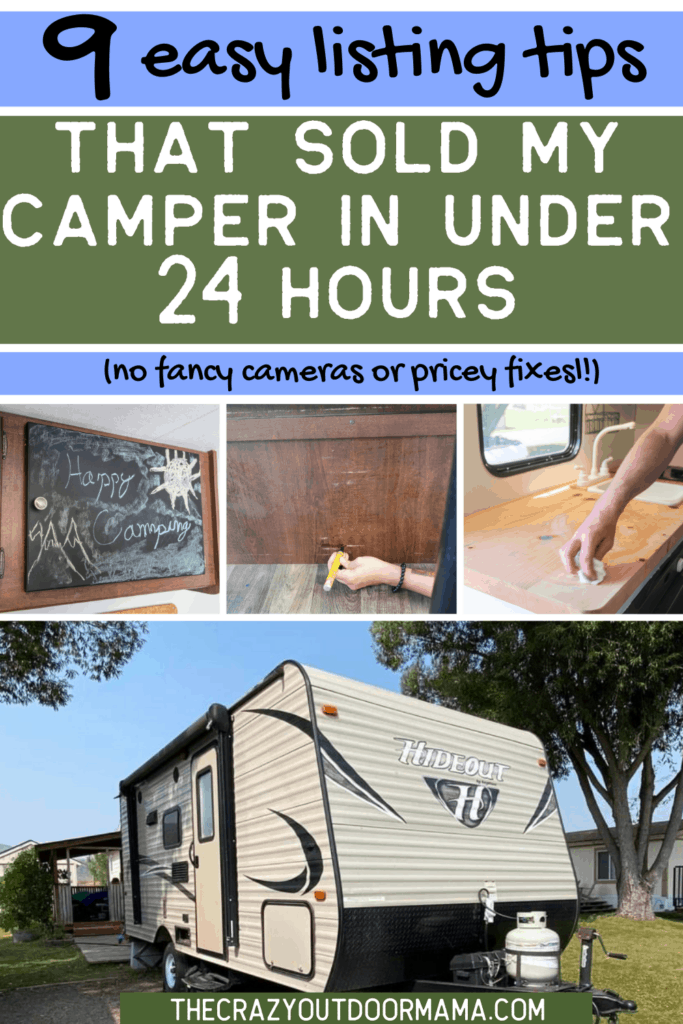 Do the obvious cleaning – mess will distract from how beautiful your camper is!
This usually goes without saying, but after looking at other listings, it seems some people just pull there most recent photo. This might work, and you might still get offers, but if you show how clean and well kept your camper is then potential buyers will assume your camper is worth the amount of money that you're asking.
Seeing stuff all over the counters, beds unmade, obvious stains all make it seem less valuable. Taking the extra time to pick up can totally increase the perceived worth of your camper!
I LOVE blasting my music and deep cleaning our camper – here are the dirtiest spots people ALWAYS seem to miss in a camper and a checklist so you can plan how much time you need! I even made a special list and article dedicated JUST to deep cleaning and tidying up camper bathrooms for resale/rental!
Always remember to use 0.5 zoom if you have an iPhone to make the camper feel bigger! It's hard for phones to really capture the insides of campers, and this feature really helps the interior seem more spacious and professional too!
Make any brights, brighter (including walls, sinks, faucets etc)
Take the time to wipe off smudges, scrub where needed, and touch up paint if possible! Cleanliness is so big for potentional buyers – seeing gross fingerprints, stains and stuck on food in the sinks is definitely going to turn people off.
The less work you leave for the buyer to do before it's camp ready, the more valuable it will seem! And no one likes to clean up someone else's mess anyways =P
I used a simple spray for the walls and a Mr Clean Magic Erased for almost everything else!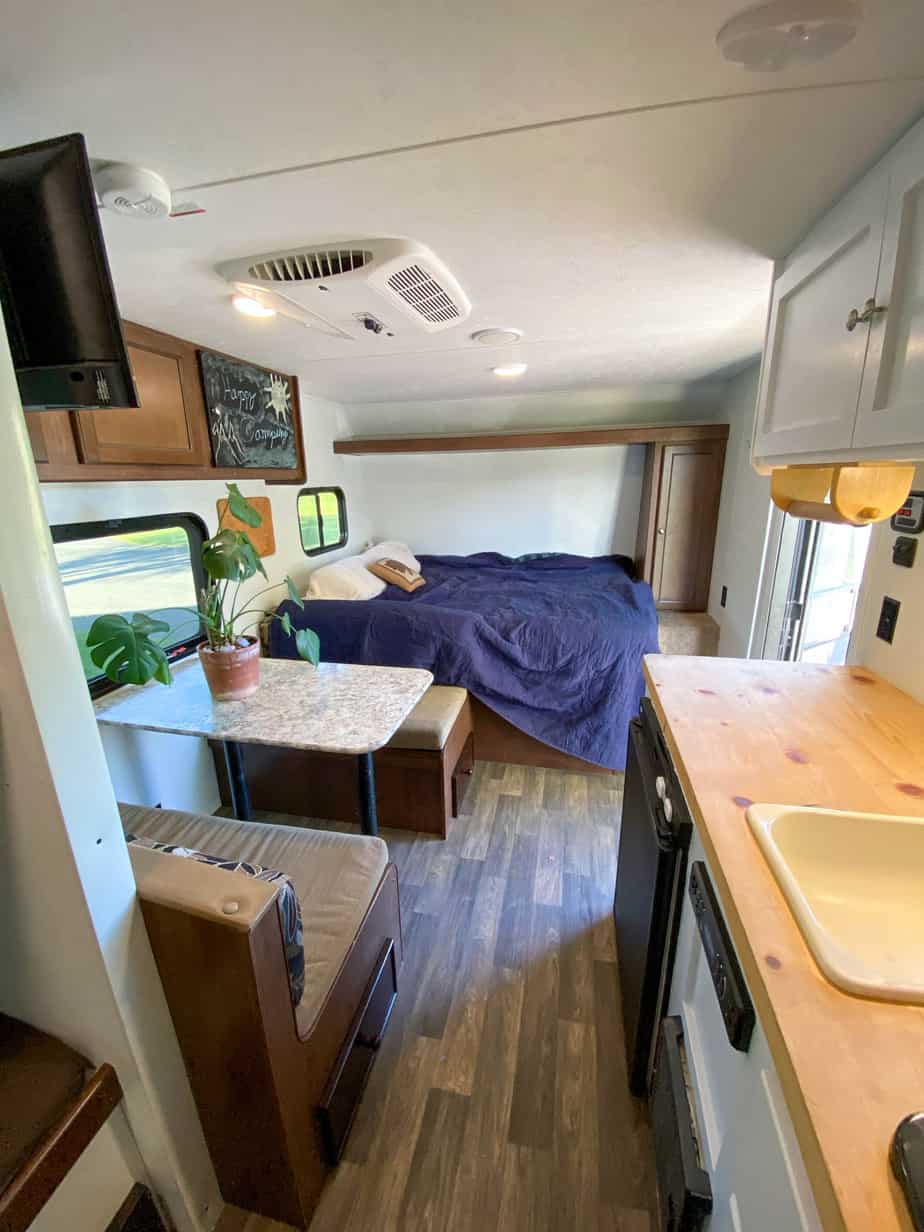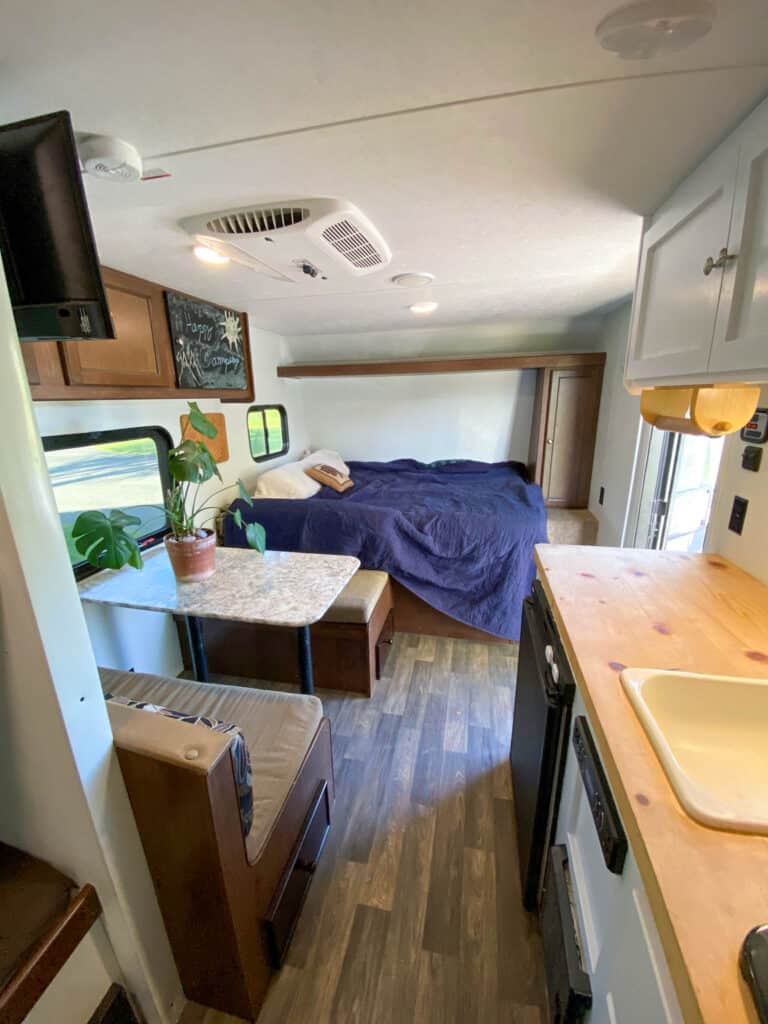 Here are some typically white spots in campers and RVs to make sure to clean up before taking pics or renting/selling
Walls
Sinks and Faucets (remove and clean the sink strainer!)
Refrigerator (don't forget the shelving and inside the freezer)
Door Edges and near door knobs
Switches, especially on ceiling lights and vent fans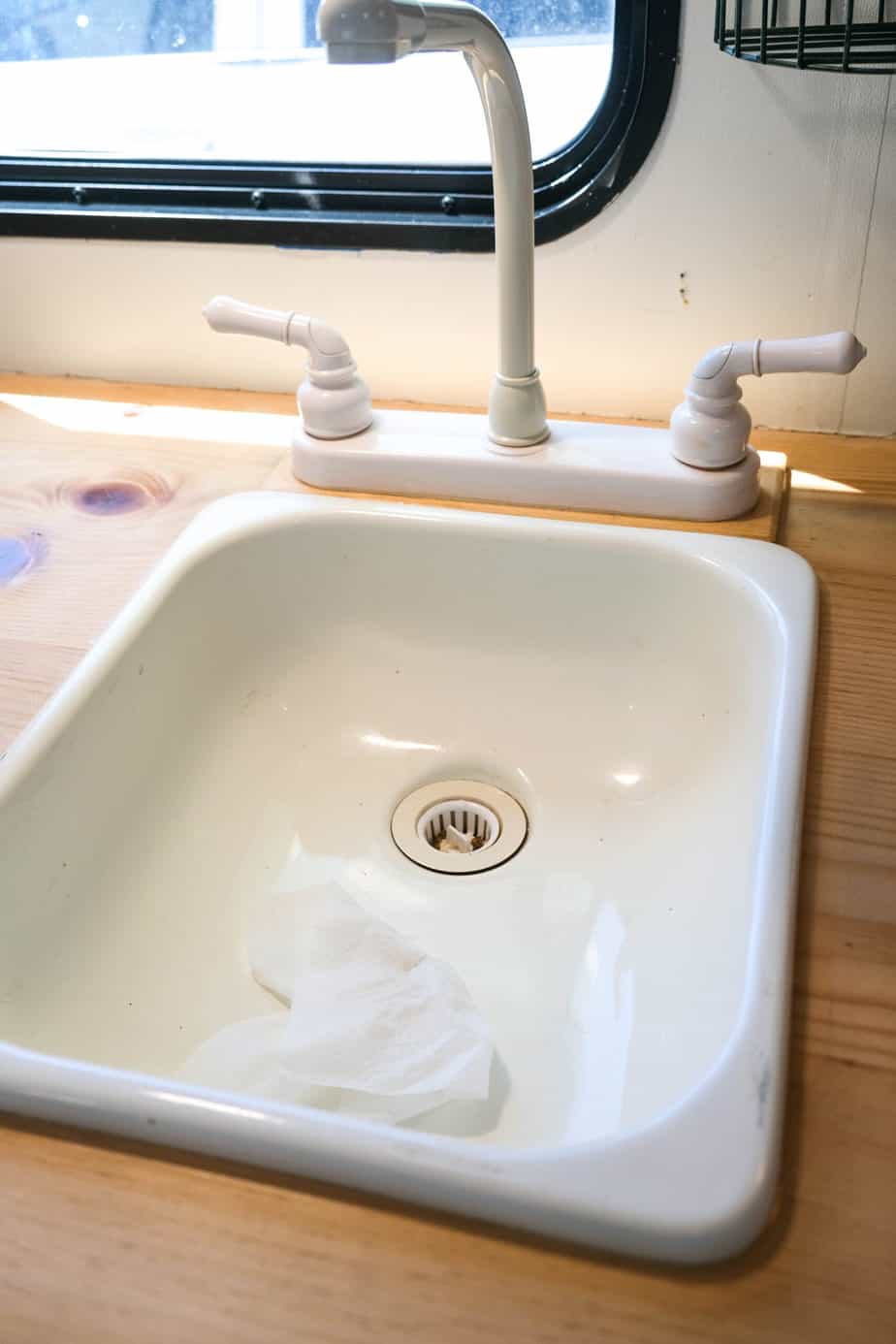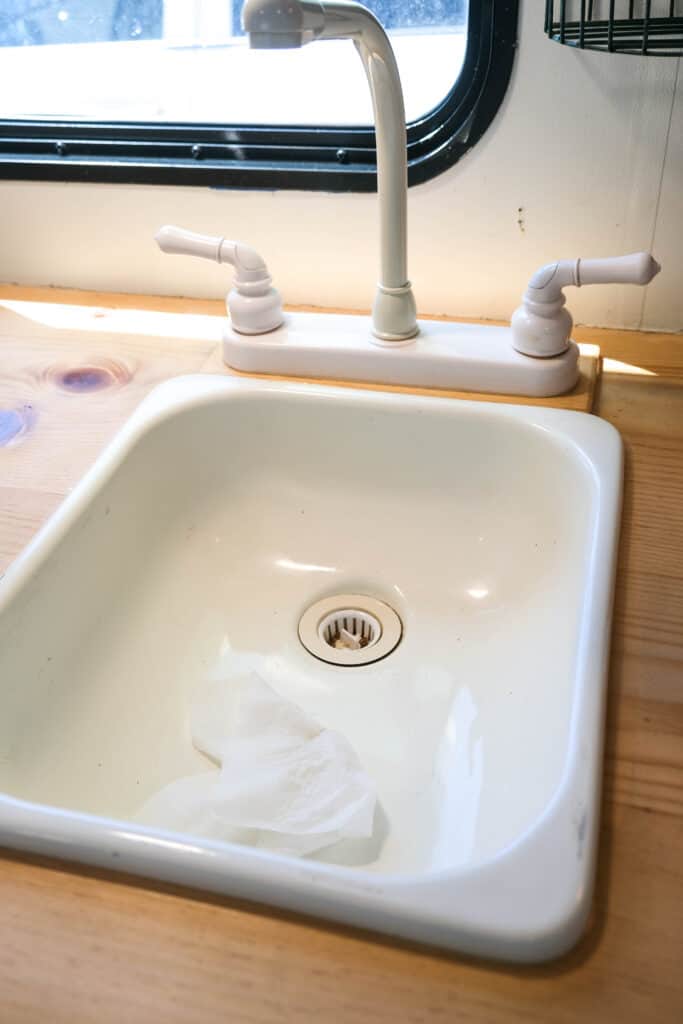 Touch up the wood elements (but buy this pen instead of a whole bunch of paint/stain!)
Most campers have some type of dark wood element, and it's no secret that it's thin as heck and scratches SUPER easy! The scratches are understandable since it's a used camper, but if you take the time to cover them up it REALLY helps the overall apperance!
We were able to fix 3 years with 3 kids worth of scratches with just one of these wood finish pens – we had a ton left too and can use it in our camper! It was super simple to use – you just draw over the scratches and wipe off with a rag in a couple of minutes. I did do a couple of extra coats in the bad spots (mostly around the bottom of the dining area where we stored a lot of stuff while in transit)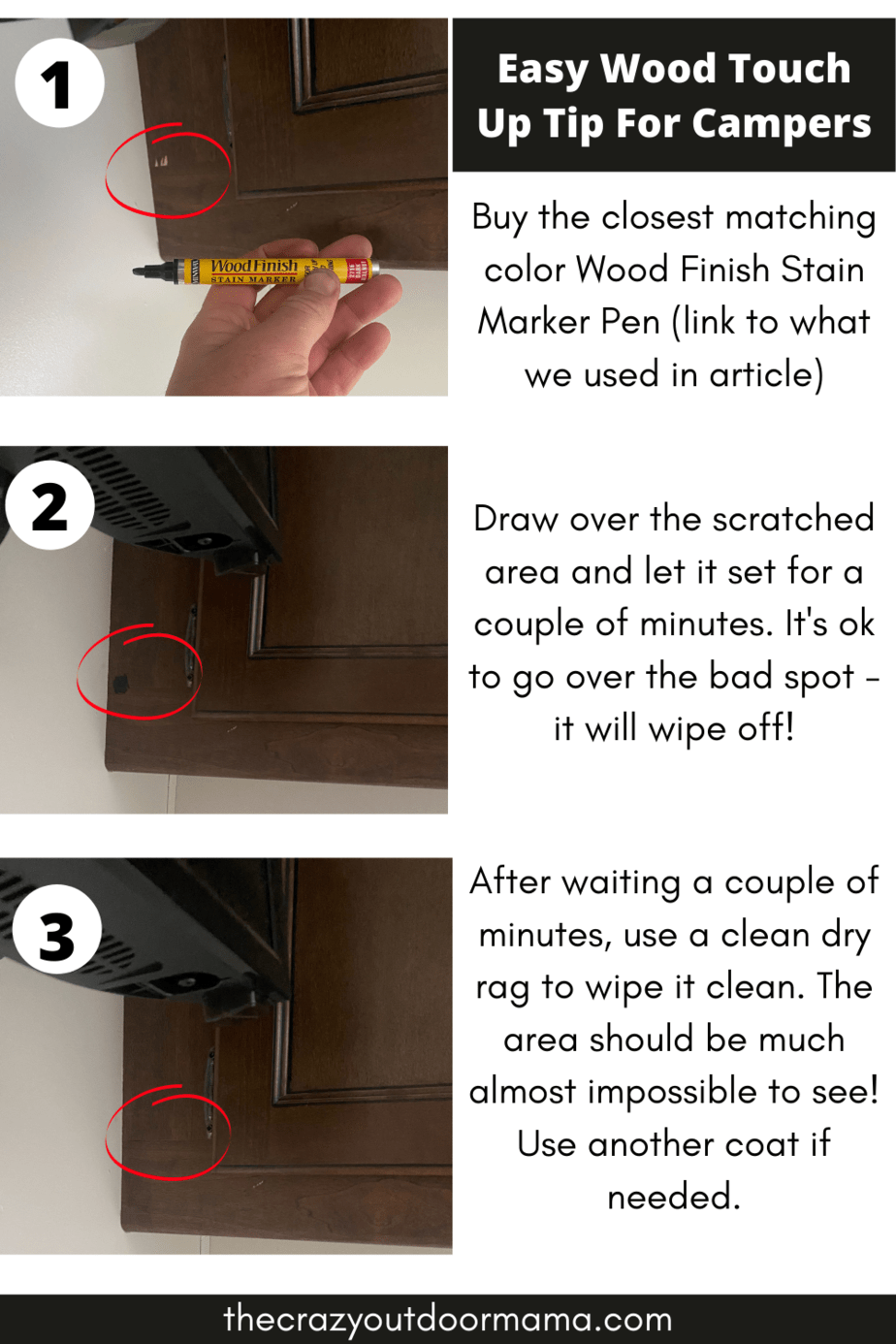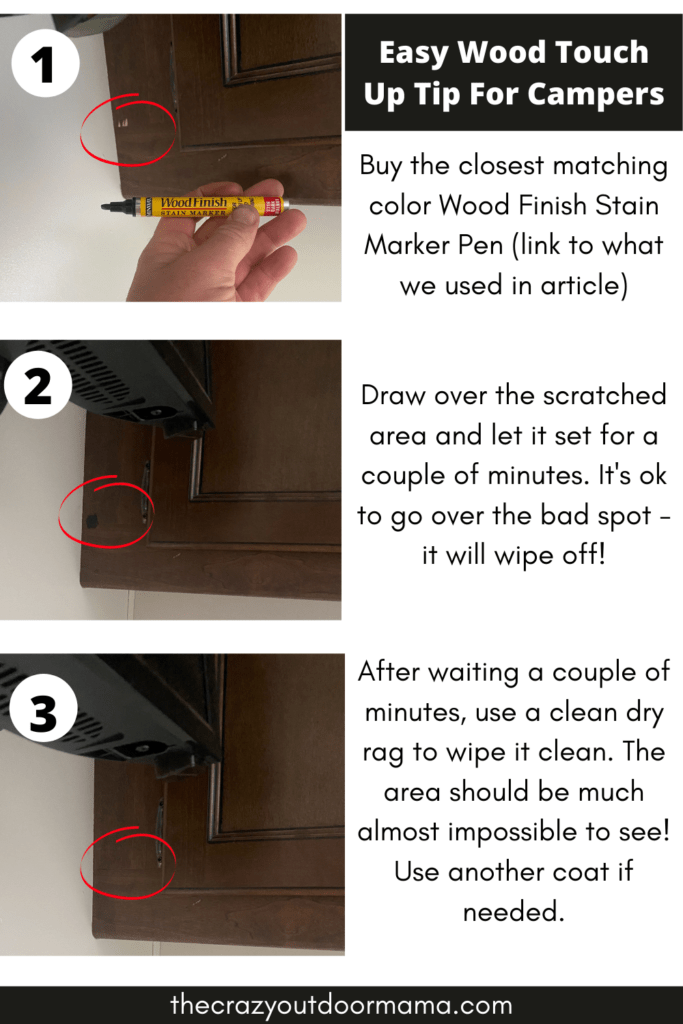 How to freshen up real wood camper countertops
If you made your own wood countertops or had custom ones made that are finished with wax/oil it's good to scrub the top layer off so that you can get rid of any discoloration and add a fresh coat of oil
These aren't super common as most camper counter tops, if they're wood, are sealed (they're alot easier to maintain!) but I thought I'd mention it in case you made your own like we did for this camper.
I used a mild detergent and aggressive sponge to scrub in circular motions all over the countertop. You should be able to get some gunk off – I had to keep wiping away dirty oil/water so I could continue scrubbing.
We used this oil to freshen our campers wood countertops as it is food safe, REALLY brings out the color in the wood, and has no chemical smell at all!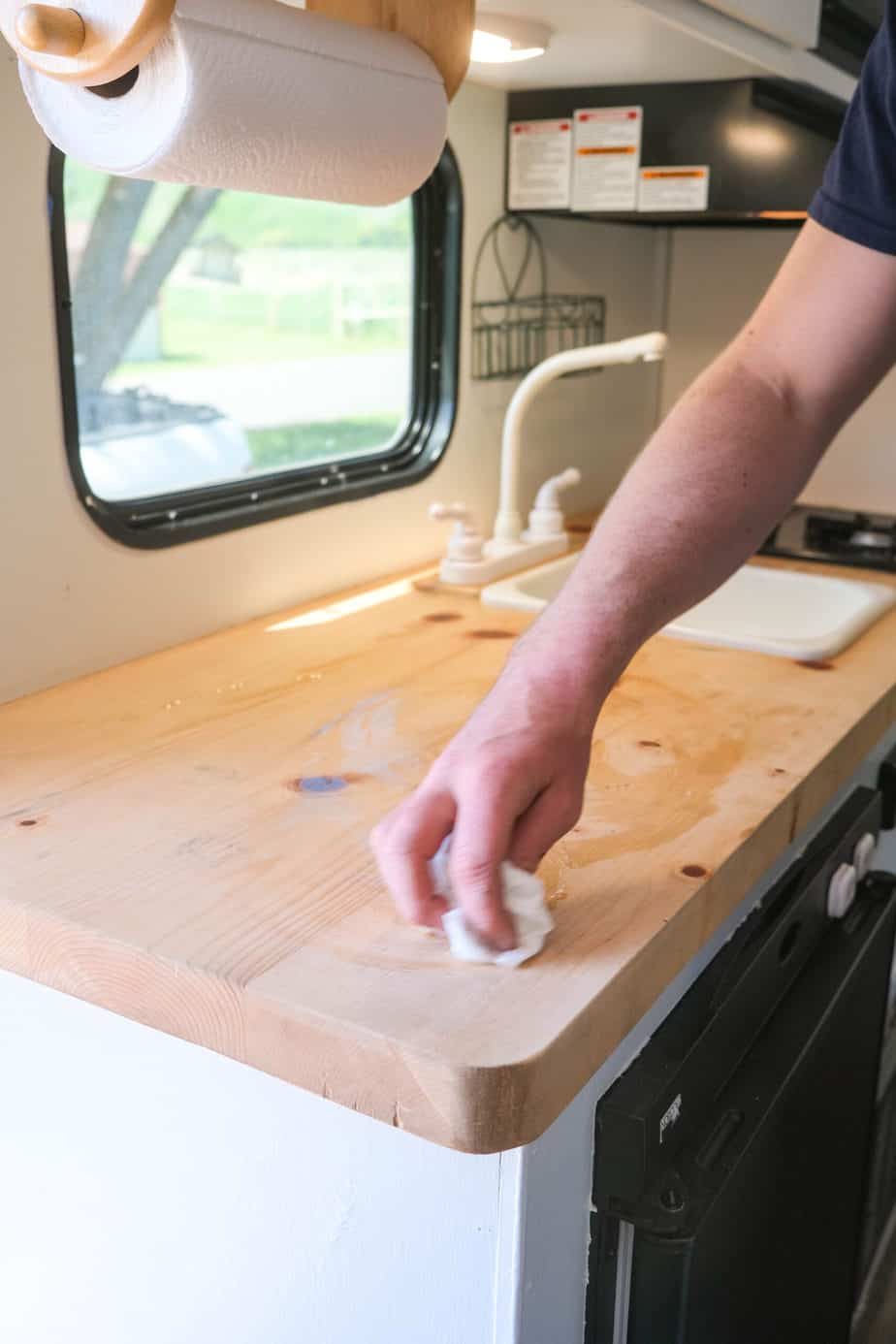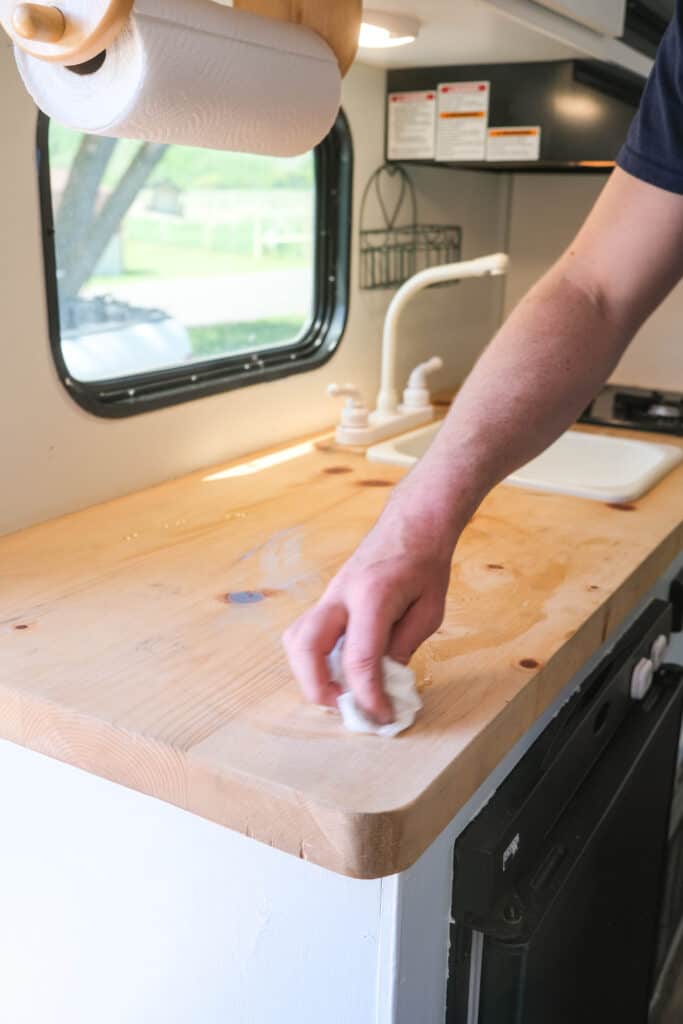 Keep staging decorations minimal – what you like, a buyer might not (and do NOT use personal pictures in the listing!)
When you look at a picture of your camper dinette, kids laughing and smiling, bed sheets unmade from a fun morning, you might smile – a buyer might think it's a mess and skip over your listing!
This might not seem like a big deal, but ALOT of things are sold on dreams and what ifs – campers being one of them. People love thinking of all they could do in it. Leave things minimally decorated so it looks like a blank canvas, ready to customize!
I do recommend adding some accents if possible – a beautiful plant on the table and some complimentary colored bedding can really go far!
P.S. Due to the shortage of rentals and hotel rooms, people are making tons of money by renting out their camper – check out how much you could make here with this RV Rental Calculator!!
Simple accents we added to our camper listing pics that made it look ALOT better:
Stick to simple colors – we put solid blue on the bed, a textured white blanket wrapped around the pillow (LOL!) and a fun, decorative pillow to top it off
Add a plant – Plants just making things seem more like home! I added my favorite plant as it was a good splash of color and trendy in the camping decor world right now.
Add in fun messages/decor anywhere customization is possible – If you have a corkboard, some picture holders, chalkboard, etc., make sure to erase any personal stuff you had and write something inspirational and camping-related.
Make the beds – Most people will know that the bedding does not come with the camper, so don't restrict yourself to only using your "camper" sheet set. Dress it up so people can imagine the possibilities!
Keep it bright – Even if we didn't already have our curtains removed, I think I might have done it anyways as it lets in a ton of light and makes the camper seem way more open! Plus, people just seem drawn to being able to see scenery out the window in pictures (just check out Instagram, haha!) so it makes your pictures stand out even more!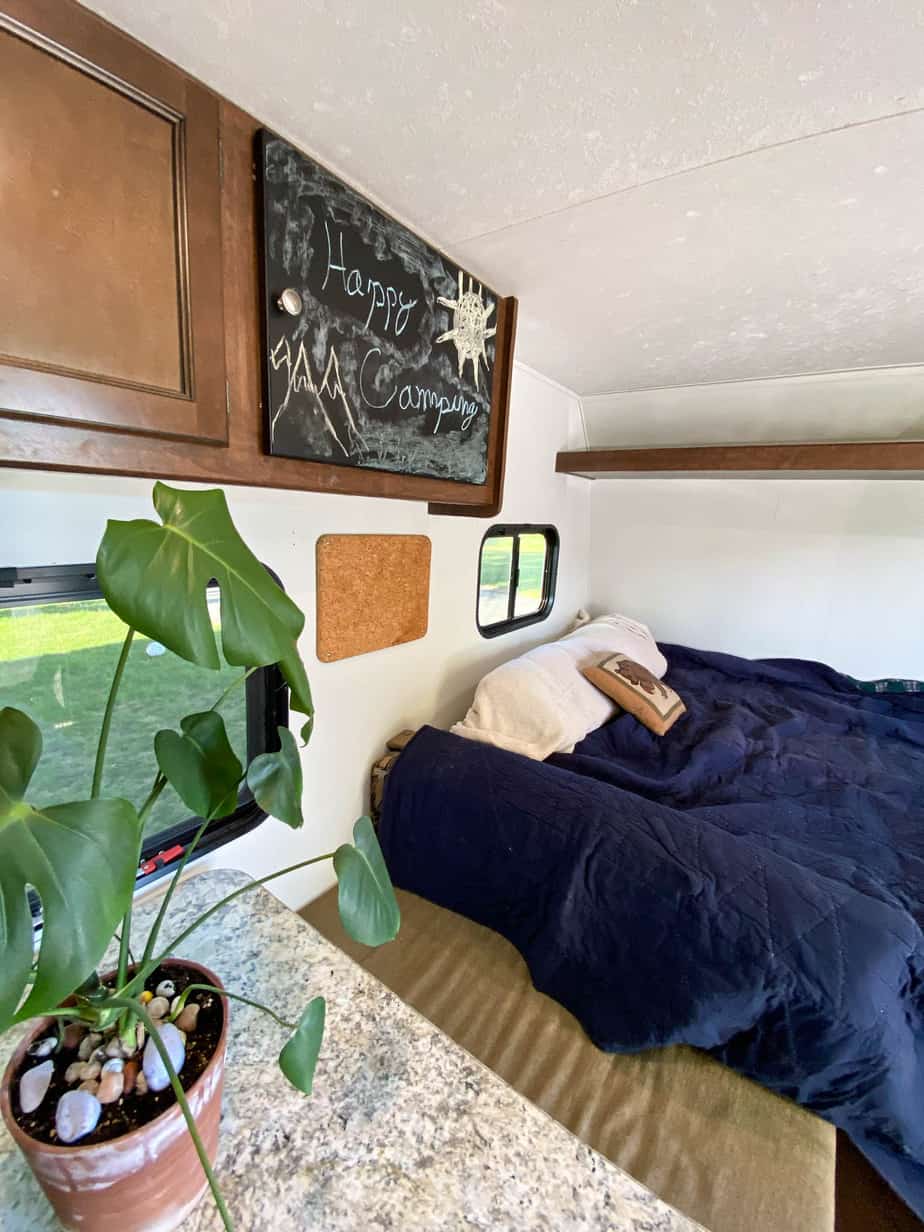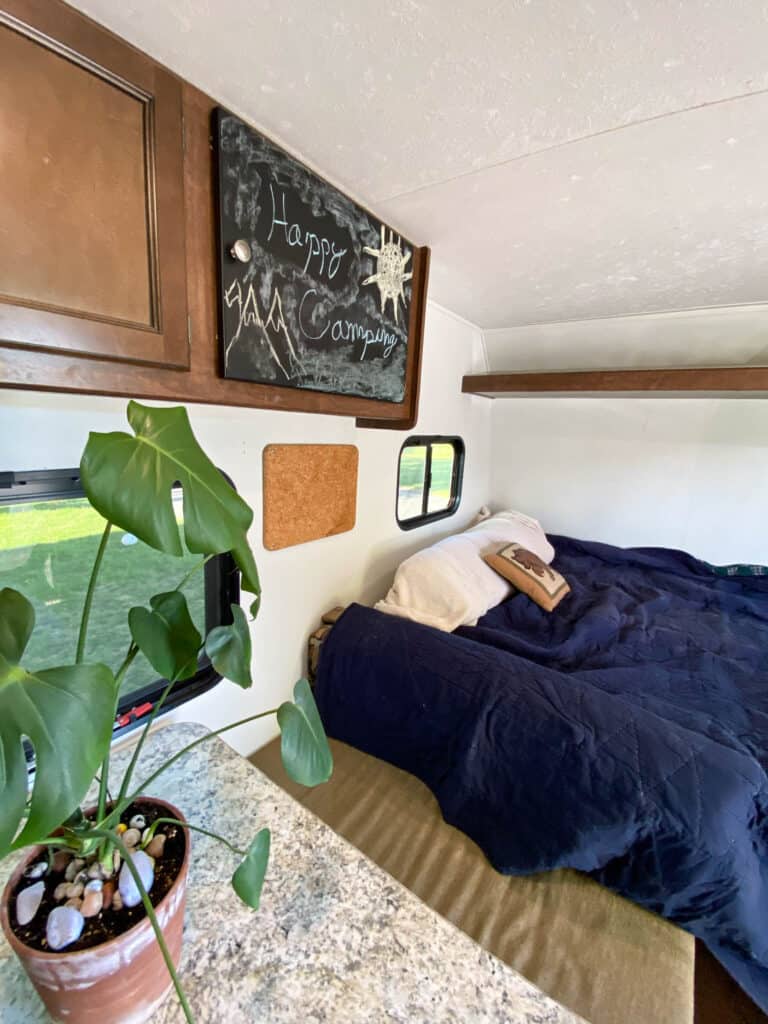 Own any mistakes/mess ups by being upfront in the listing
Being open about issues with your camper, WITHOUT being asked, seriously boosts people trust in you and in the value of your camper. It also helps down the line when problems come up – having everything already mentioned in the listing (and in person, when trying to seal the deal!) stops the potential blame game of if it was broken before or after the purchase!
Also, don't be afraid to make your personal repairs stand out! It's often hard to match the paint or style of whatever was broken, so it can sometimes look worse if you try – it will stand out, and buyers might wonder if you're trying to hide it but just did a poor job.
If you can't replace a part or match the paint, think about doing something creative that will make your listing stand out!
Some mistakes we owned included:
Turned the hole from AC Removal/Upgrade to a cute cabinet with a chalkboard front – We moved from a side unit to a top unit for increased durability, but that left a giant hole in the side of the camper with just a grate covering it! My husband was able to cut a piece of sheet metal to size to put behind the grate and then make a cute chalkboard accent thing. It turned out cute and people actually mentioned how it caught their attention because they liked it so much!
Painted and added small magnets to knocked out panels to make them functional storage spaces– To create more storage, we knocked out quite a few panels in our camper (a lot actually had a lot of space in them!) but we didn't really make anything lasting to hold the broken out panel in place. My husband added magnets and small woodblock backers behind the area the panel came from so that the cover would stay in place and look good while not in use (you can see one panel NOT on in the drawers picture!)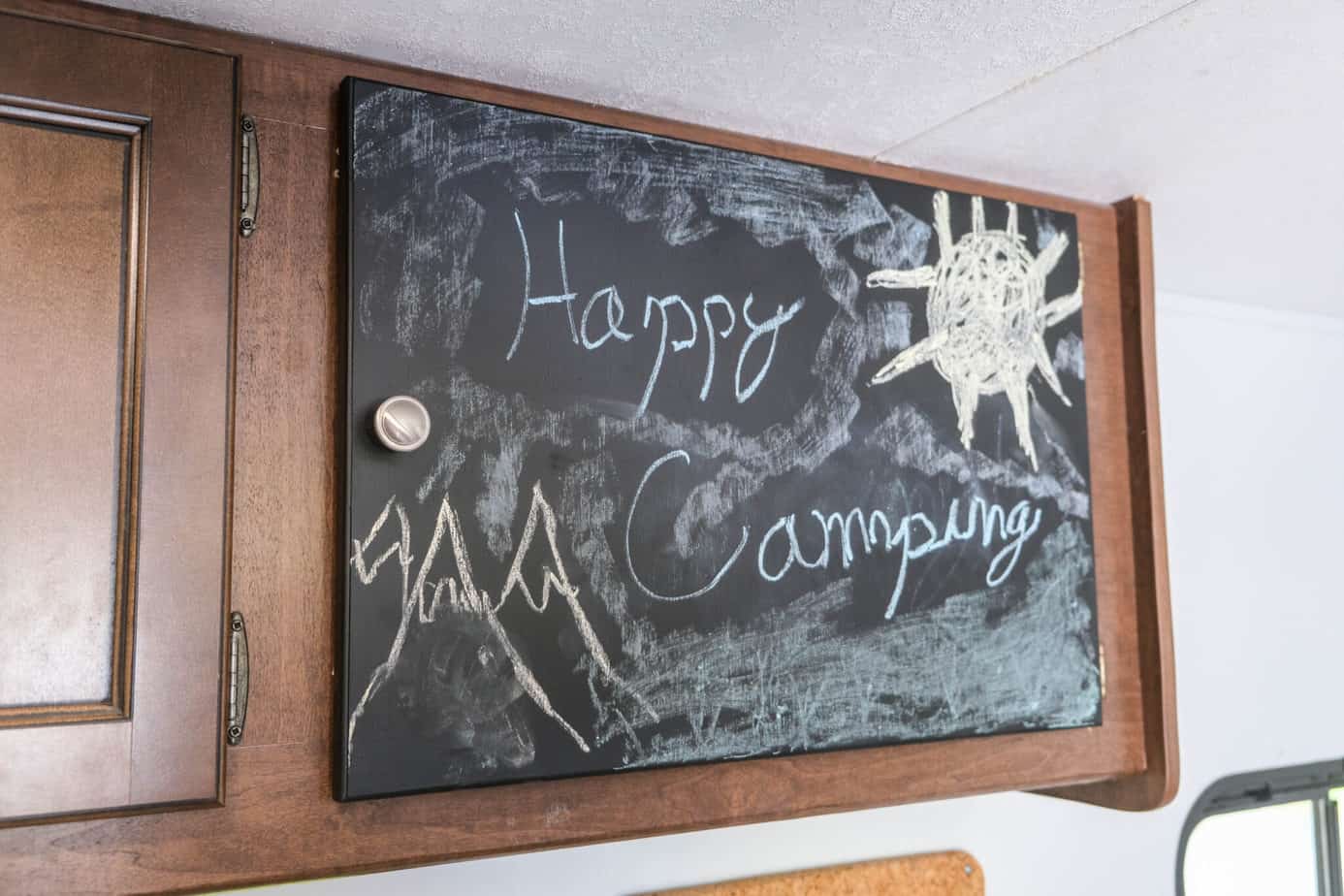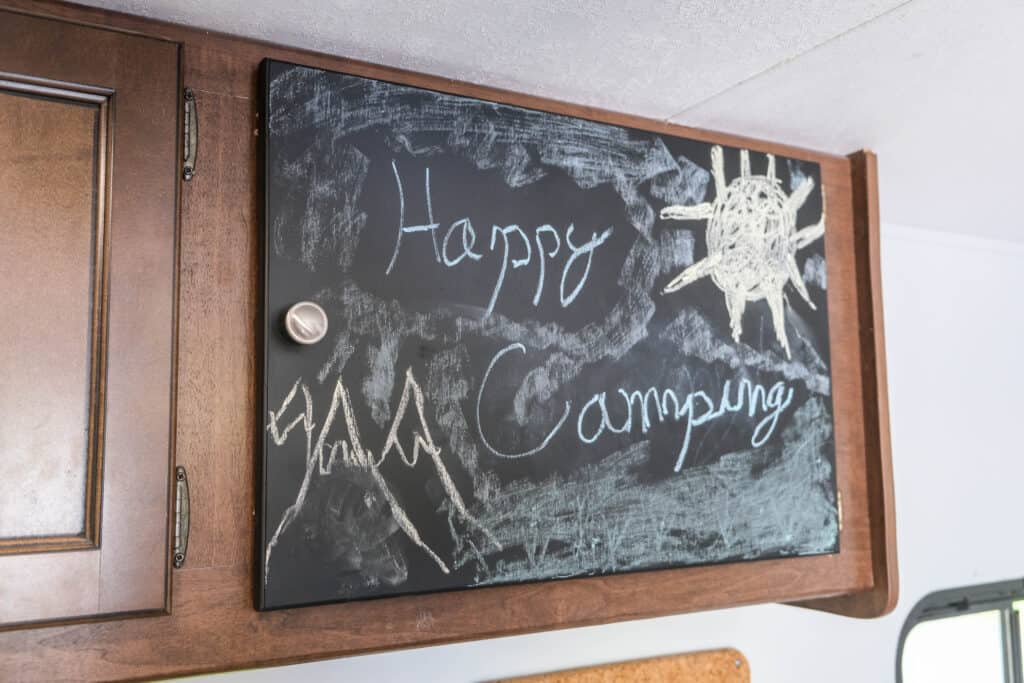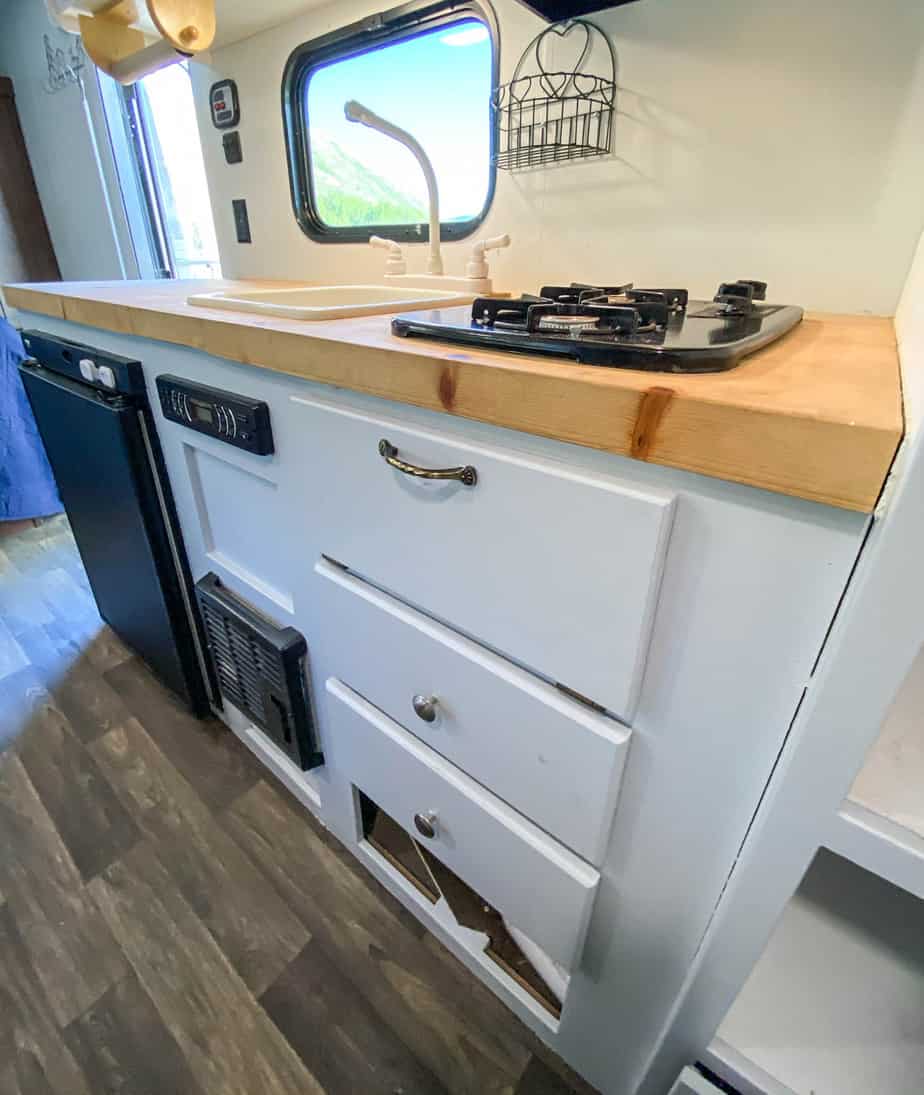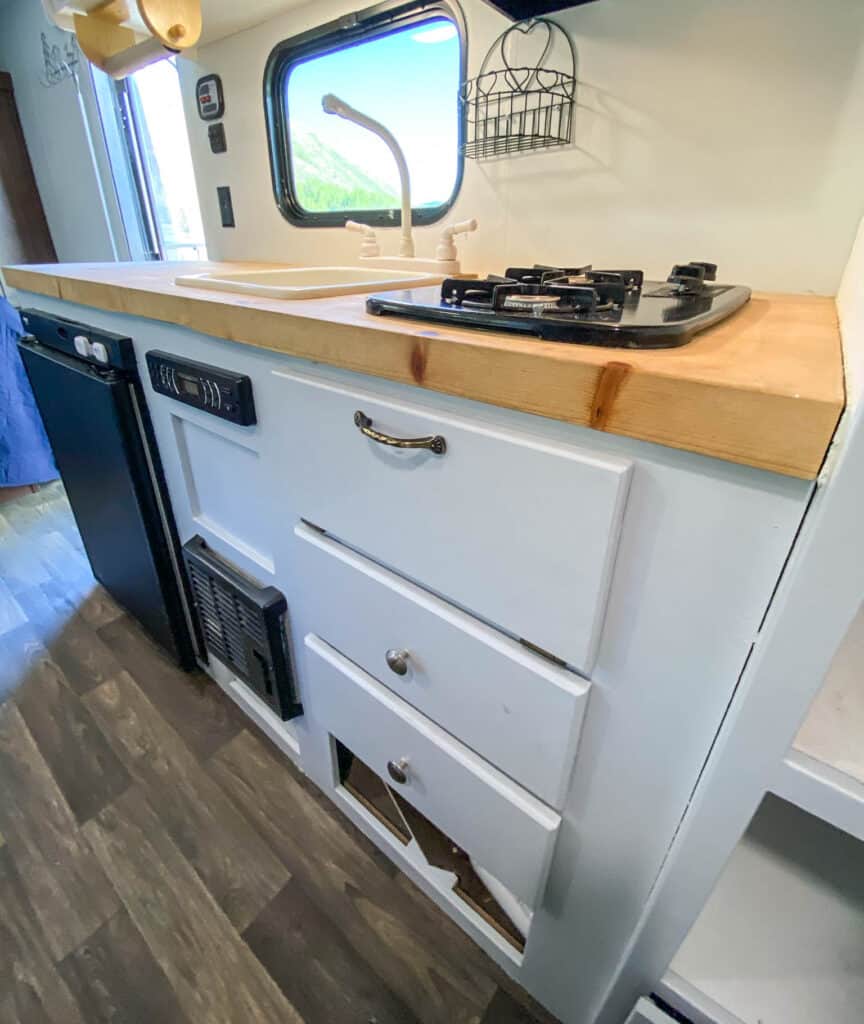 Clean the outside of your RV before taking pictures – make sure to unroll the awning and check for damage and mildew while you're there!
You don't have to go crazy, but if there's easy stuff to clean up where you can reach, it is worth doing. People really associate the clealiness of your camper with it's worth – so take the time to make sure they get it right!
We had a ton of mildew build up from being in storage all winter, but we were able to clean our awning with a Mr. Clean Magic Eraser (I know, I use it for everything!) and a rag.
There are some DIY awning cleaning solutions here if you don't want to buy the sponges too! I'll include that recipe below too – it works pretty darn good if a little sponge just isn't going to do it for your awning!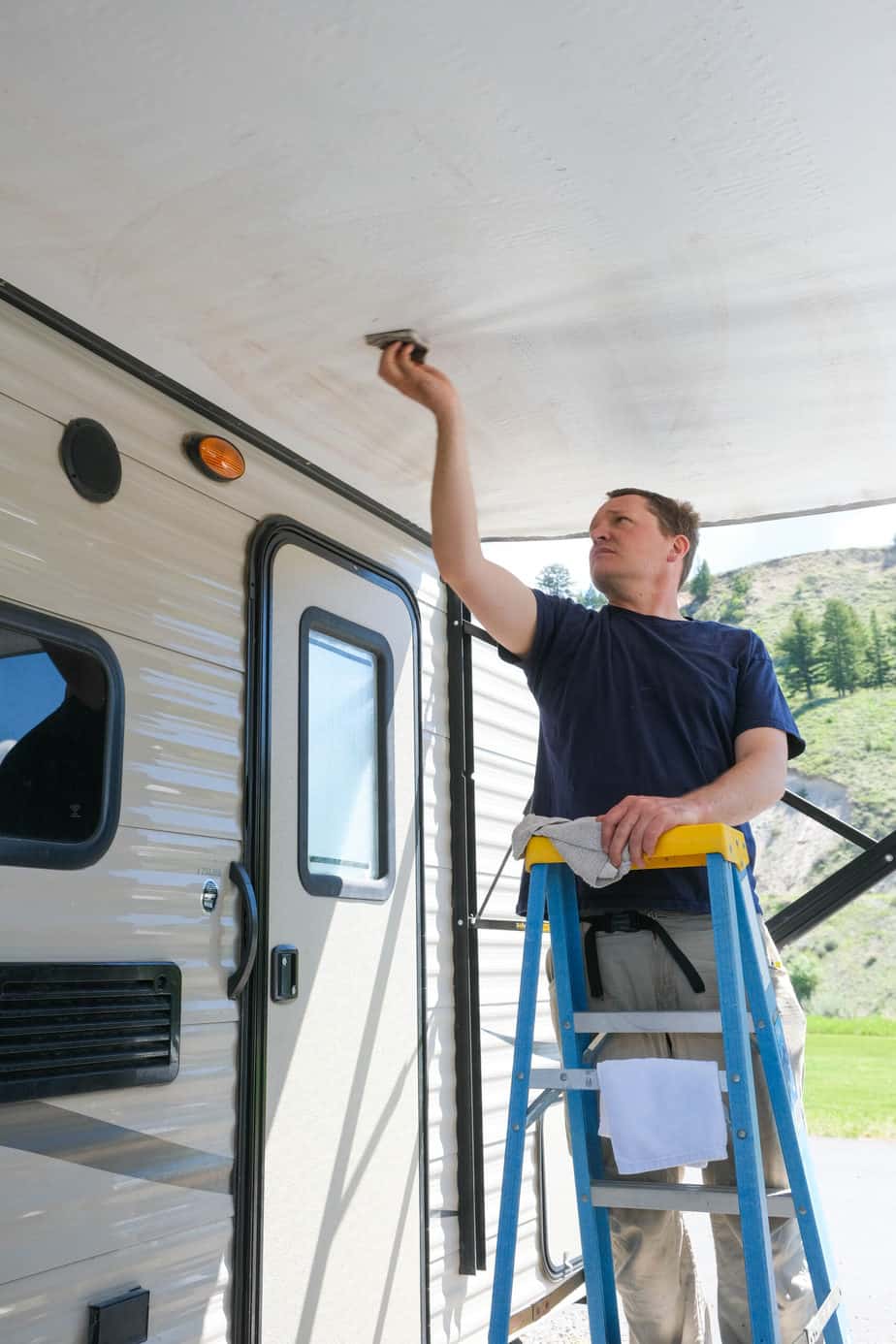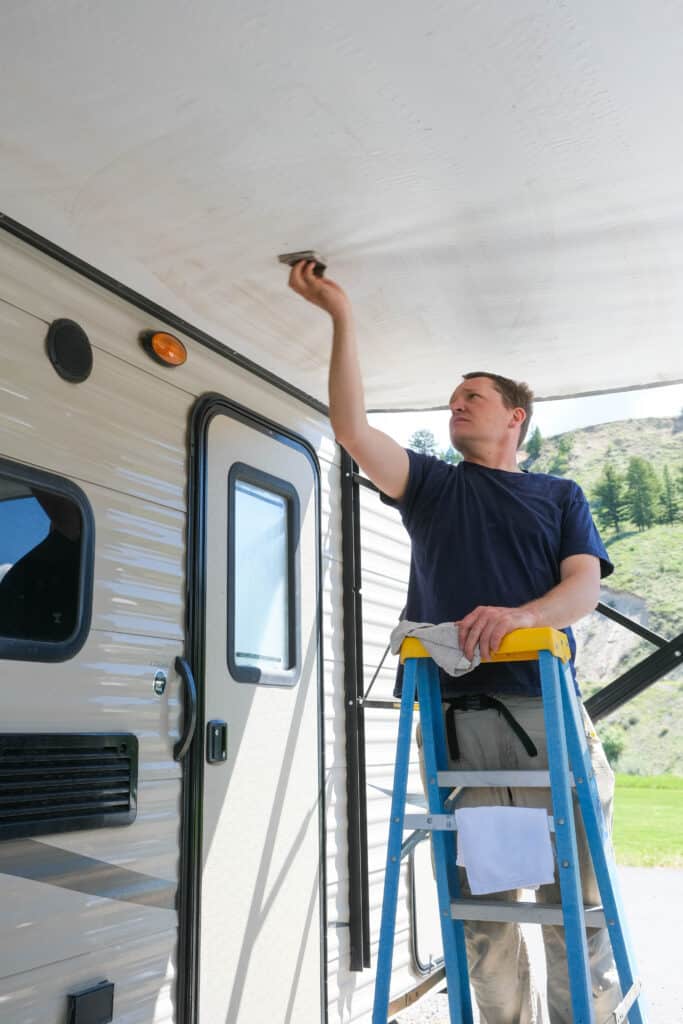 Take MORE pictures than needed, especially of the interior!
Make them fall in love with your camper listing before they even reach out by taking a TON of flattering pictures of your camper.
Include every aspect and angle you can of the interior – everyone has tons of exterior pics of their camper, but the inside is what matters for a variety of reasons. It is important for the buyer to clearly see the condition of the camper, so having pictures of the bathroom, bunks, kitchen area, storage spaces, closets etc. help them have an easier time getting the information they need without having to reach out.
The second picture is basically the same as the typical "door view" shot, but I took it lower to, again, give a spacious feeling!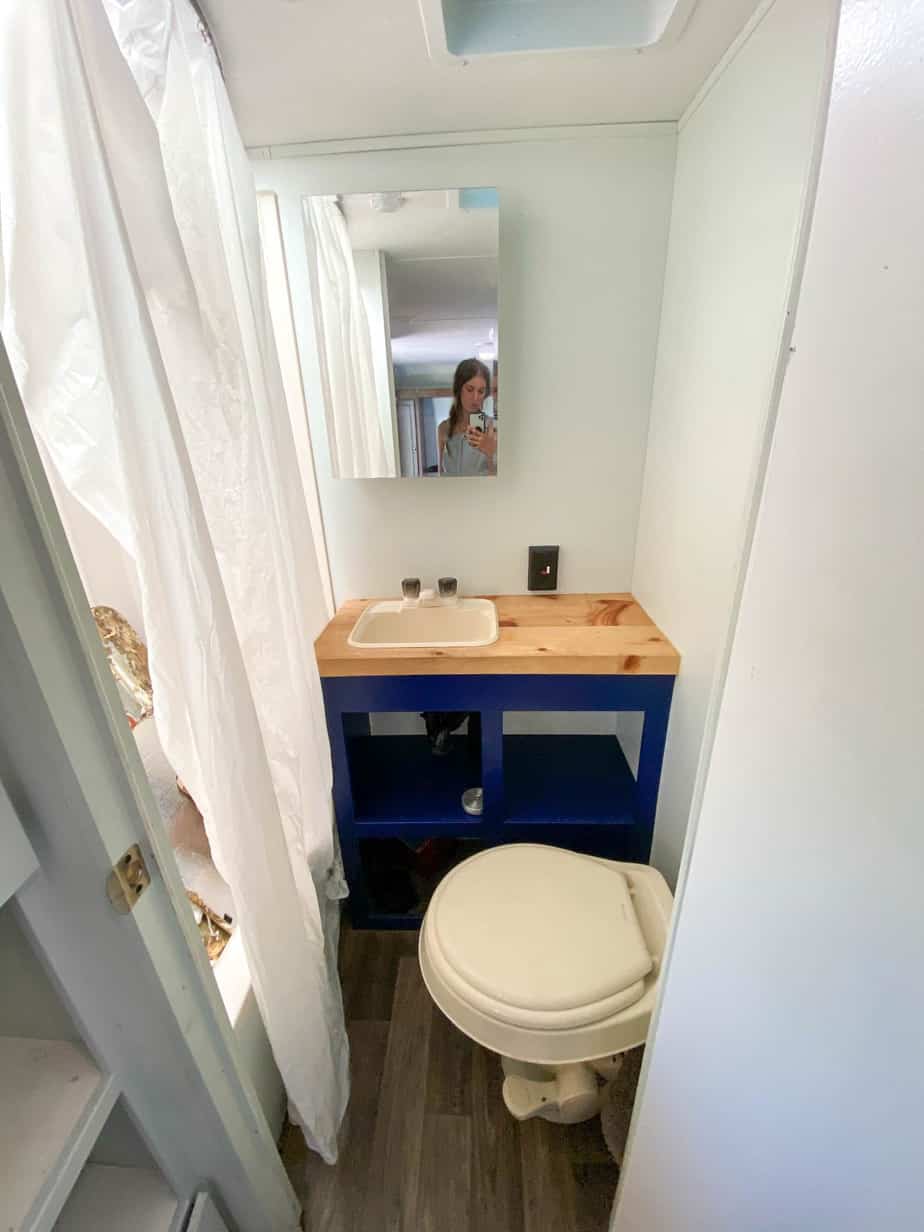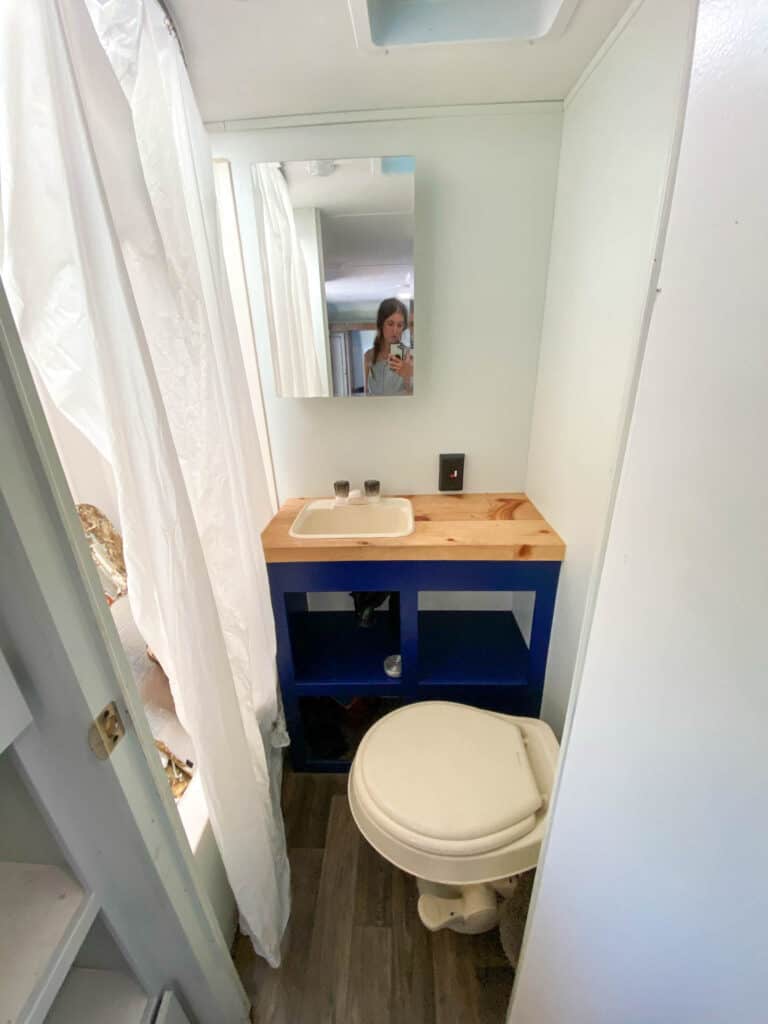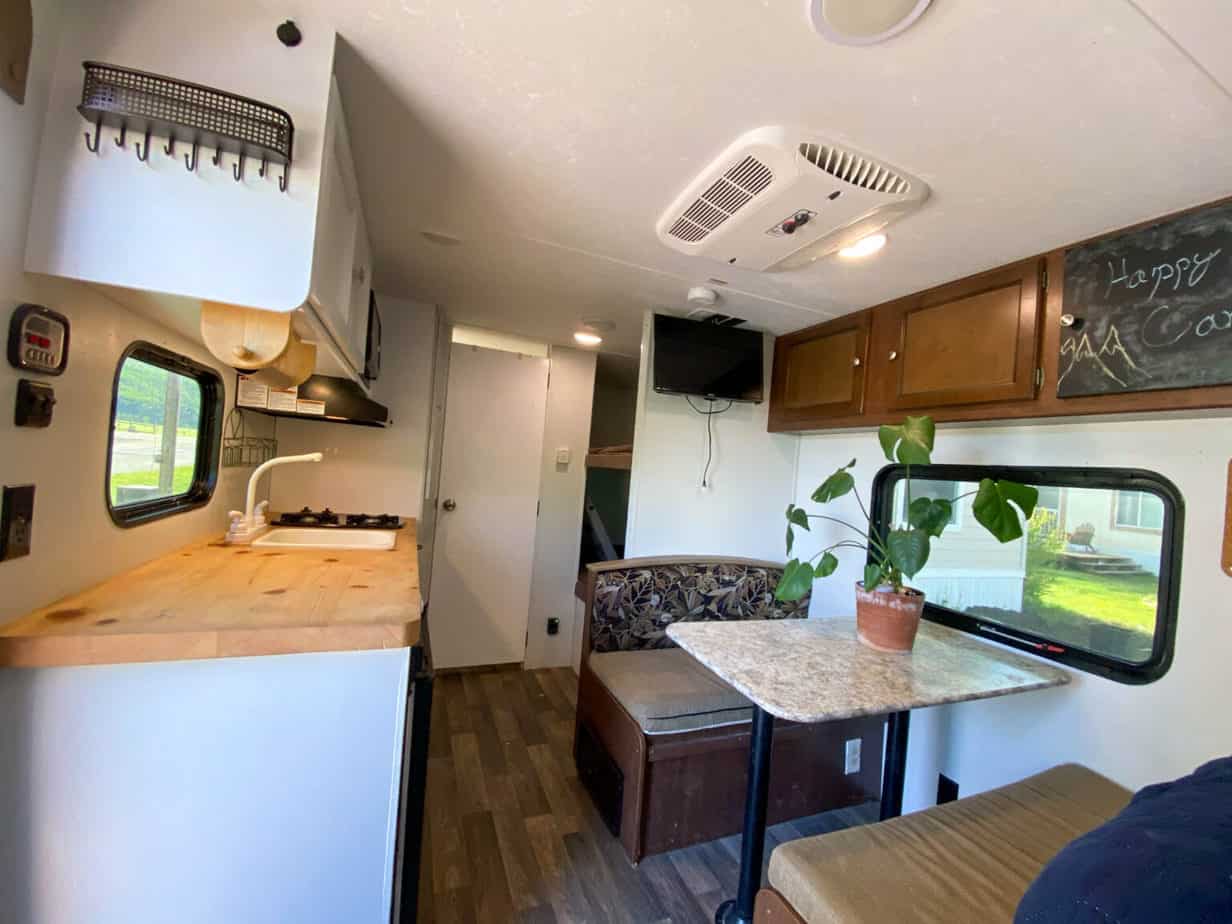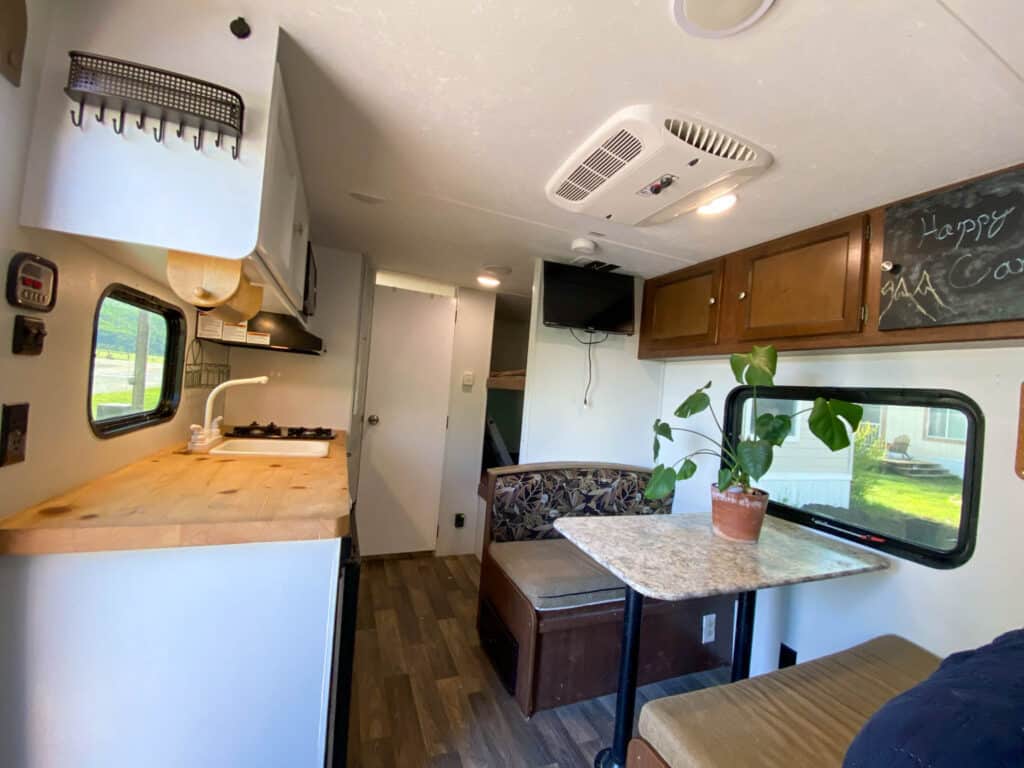 How to seal the deal when meeting buyers/renters in person for a walkthrough of your camper
Once you've gotten some responses, you'll likely get some requests to check it out too! This is when you might need to do even MORE cleaning than you did for the staging photos in order to get the best offer for your camper.
Remember, everyone's goal is to not get a lemon – welcome questions, and be up front about the issues so that both parties feel all was fair.
P.S. DO NOT SELL SOMEONE A LEMON. If your RV has known issues, and you're trying to get rid of it before it completely poos the bed, you are not a good person. Plain and simple. DO NOT downplay potential problems. DO NOT lie about water damage. DO NOT put a "bandaid" repair on so that it works just long enough that the next owner doesn't think the problem was pre existing.
I don't believe many people do this intentionally, but I just wanted to put that out there. It's a seller's market as of June 2021, so you'd be surprised at how many "issues" aren't actually a big deal when buyers are aware of the short supply right now. Just make sure to be upfront about those issues.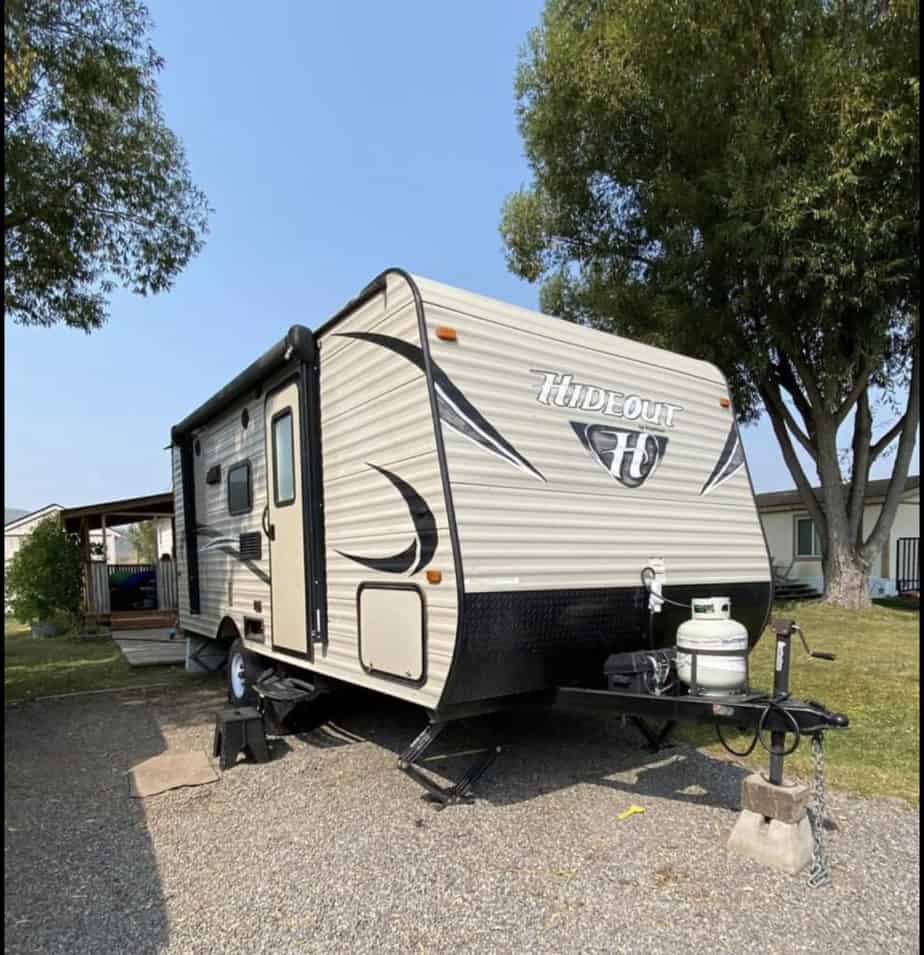 What to know and double check before the potential buyer/renter arrives
The LAST thing you want is for them to ask you to turn something on and have it break or not work on the spot! Save yourself the embarrasement and get these things done BEFORE they come!
Basic Info– The total weight of the camper is the most common, but it's also good to know additional things like how big the tanks are
Test the water – Turn on the sink and shower, flush the toilet, turn on the hot water heater to check for leaks or burst pipes. Have someone with towels standing by if you haven't used the camper in awhile, just in case!
Run the AC/freshen up inside – Using the AC is the best way, as it shows that it works AND feels so darn good on a summer day. It is also useful for just clearing the air (especially if it's been in storage or you've deep cleaned/painted and smells chemically)
Check the awning – Unroll it, clean it, and maybe even have it open and drying before your person shows up! I think it makes the camper look more inviting (and they can see that things are maintained)
Know and disclose issues – It helps to also have a solution if you're trying to sell the RV for a decent amount of money – for us, we were missing some parts and just let the person know that they were on the way. We also had a wheel bearing issue and agreed to knock off $500 for the money it would take to fix it.
Don't forget to mention upgrades you've done – Did you get a better AC Unit, lift it, add storage, or get custom additions for your camper? These all add value to a buyer and can definitely help counteract things if there were issues you needed to disclose
Have fun stuff for any kids that come! – I will say I had an advantage here since camping related stuff is my job (I gave the little girl that came some camping journals, camping toys and other goodies to make her happy!), but having things for kids to play with helps the buyer/renter have time to talk and not feel pressure or rushed by the kiddos!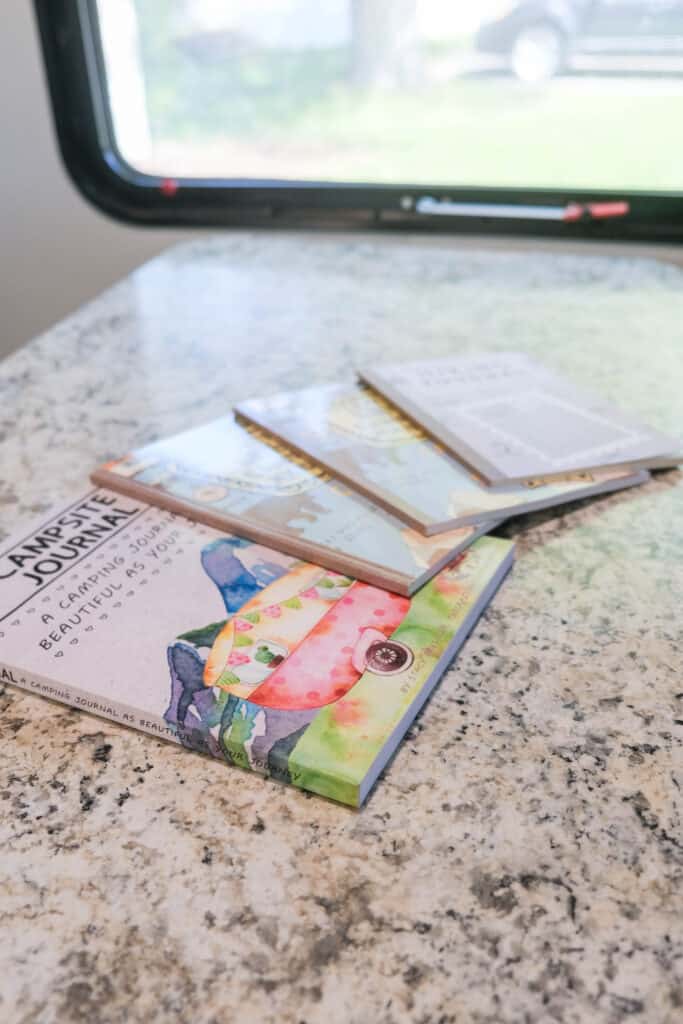 Do you have any little things you to make your camper seem more welcoming?
More people than EVER are buying campers – if you have experience with buying/renting I'd love to hear it below in the comments!
Latest posts by Stacy Bressler
(see all)