We all know how hard it is to get everything we want in life. We all want to eat a pile of pancakes without adding a few extra pounds, plan a vacation without thinking about a budget, and get an RV the size of a smart car with all the comforts of home. I can't help with your pancake problem, but let's have a look at some of the smallest RVs with a shower and toilet.
Now, if you have the means to get a huge class A motorhome with more comforts than most of us have in our stationary homes, by all means, go for it. Most will have showers and even tubs that give you the ultimate in camping comforts. (But then can you really call it camping?…just saying)
The rest of us who count every penny, pound, and inch of length when looking for a new RV, camper, travel trailer, or motorhome, need to pay serious attention to the shower and toilet. Get an RV with a well-designed bathroom and you'll be a self-sufficient camping family. Choose poorly, and you'll find yourself preferring the public bathhouse.
Before we get to my list of the smallest RVs with a shower and toilet, here are a few things you should keep in mind when deciding.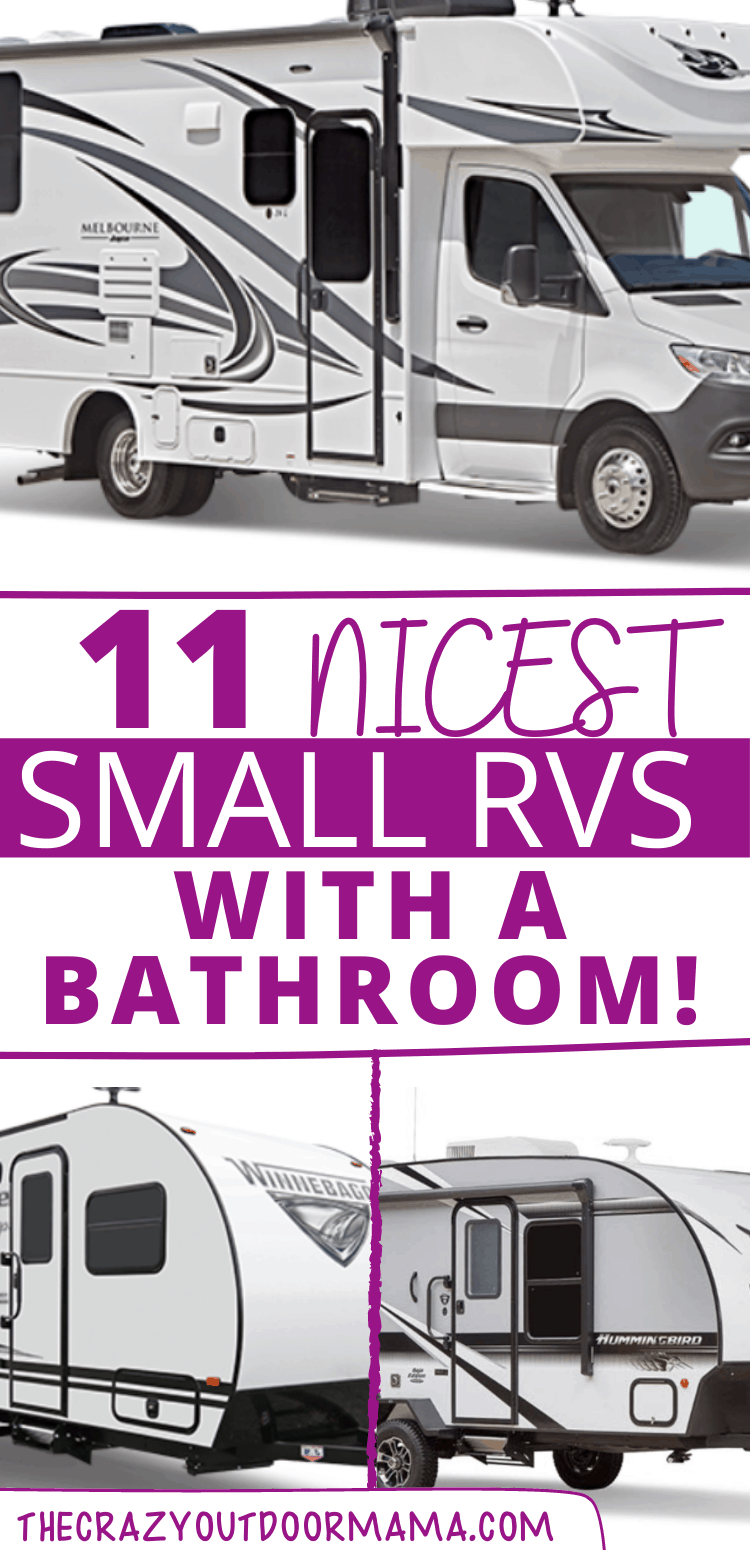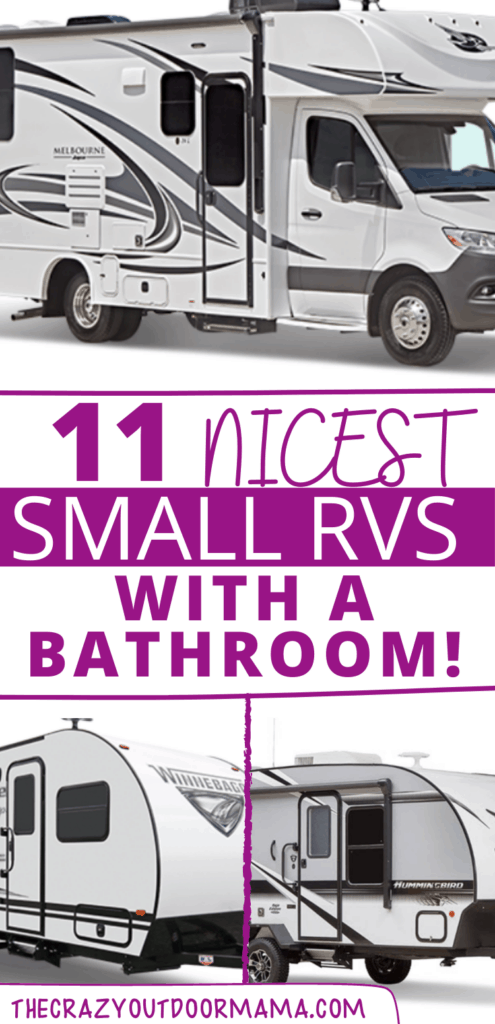 Be Flexible… With What You Call a Shower and a Toilet
If you're looking for a small camper with a full-size commode and shower complete with space to dance as you sing your favorite shower tunes, you may be a little disappointed. (You can still sing, just tone back the dance moves a bit.)
Most small RVs have what's called a wet-bath. A wet-bath is, drumroll… a bathroom that's designed to get wet.
There's a toilet, a floor drain, and many times a sink. What it doesn't have is a separate shower area, since the entire thing functions as a shower. These shower and toilet combinations make the best use of the limited space in small campers.
But don't worry, if you'd prefer to have a full bath, I've included some small campers with bathrooms that actually have a separate shower stall. There's even a small RV with a TUB, don't miss it!
If you're just looking at the RV's floor plan, it can be a little hard to get an idea of how the bathroom actually looks in real life. That's why I've included as many video tours as I can so you'll have a better idea of how the RV's shower and toilet really look.
Test It Out Before You Buy
Seeing a small camper bathroom in a video tour or at an RV show is one thing. Actually using it for a day or two is another.
That's why I HIGHLY suggest you first rent an RV with a small bathroom that's similar to the one you plan to buy. RVshare is a great option for doing that.
In addition to letting you search for RVs to rent by location and type, with RVshare you can even open the filter option and add the model name of the camper you're planning to buy. That way you can truly take it for a "test drive" to make sure it'll work before spending big bucks on a small camper with a bathroom you can't fit in.
Best Small RVs With a Shower and Toilet
When talking about small RVs, you're probably thinking of either a small travel trailer or camper, a class B motorhome (a campervan), or a small class C motorhome (the ones with the van front and a boxy back end).
In all of these categories, you can find small RVs that are around 20 feet long or less. They're lightweight, easier to maneuver, and usually cheaper, which is why so many of us prefer these types of small campers.
Please keep in mind that these aren't listed in any particular order. Each of these options has its advantages and disadvantages. It's up to you to find the camper with the perfect combination of features for your family.
Let's start with the good old pull-behind travel trailers. If you've already got a vehicle for pulling a small trailer and are on a budget, these are the ones for you. Fortunately, most of these small travel trailers with bathrooms are light enough that you can even pull them with some smaller SUVs and trucks.
Related: Check out these 61 tips to organize your small camper (and utilize every space!)
The Best Small Travel Trailers with a Shower and Toilet
Let's start with the little guy. With an overall length of just over 17 feet and a dry weight of about 2,300 pounds, this truly is a small RV. But don't let its cuteness fool you.

It's amazing how much they've managed to fit in this little teardrop inspired travel trailer. In addition to the dinette area, which converts into a bed, and the kitchenette with a sink, stove, and microwave, it has a surprisingly roomy wetbath.
They've made good use of space by not trying to squeeze a sink into the wetbath. The kitchen sink is right outside the bath so it's easy to use after taking care of business.

One of the disadvantages is a lack of privacy. The door to the wetbath is similar to a traditional shower door with a textured glass panel. That means anyone else in the RV can see what's going on in the wetbath (althought the finer details may be hard to make out).
All-in-all, this Little Guy Mini Max is an excellent choice. It's one of the smallest RVs on our list and is really nice for couples who go on solo camping trips.
Check out a video tour here
A small RV under 20 feet long with a FULL BATH. Is it really possible?
With the Jayco Hummingbird 16MRB, it is possible! While most of the baths on our list make it a little challenging to get your business done, this small RV has a spacious full bath with a separate shower, sink, and toilet.
The shower is a little tight for larger people, but the toilet has plenty of space around it so you won't have to worry about banging your knees off the sink or bathroom door. There are even some handy cabinets in the bathroom which are great for storing extra clothes, linens, or snacks you don't want your kids to find.

Check out a full video tour here.
No list of RVs would be complete without an Airstream. When most of us think about Airstreams, we imagine those long silver bullet style RVs. But Airstream actually has some smaller options like the Basecamp that have the same iconic quality and aluminum exterior.

The Basecamp 16 is… you guessed it, 16 feet long. That means it's probably shorter than the vehicle you'll use to tow it. Its wetbath is one of the smaller ones in our list, but it's still big enough to move around in. Plus, it has some simple features that up the convenience, like a small mirror on the back of the bathroom door and some hooks on the inside to hanging a towel or toiletry bag.
While some small RVs can feel a little claustrophobic, you'll love the panoramic windows at the front of the trailer. They give you a 180-degree view of whatever beautiful campsite you've found.
Check out a video tour here.
The Scamp is a great choice if you're really looking for the smallest of the small RVs with a shower and a toilet. It's a diminuitive 13 feet long and weighs only about 1,500 pounds. That means even smaller SUVs like a Toyota RAV4 or Subaru Forester can pull this little guy. (Always be sure to confirm the manufacturer's specifications before getting your RV).

There are several different versions of the Scamp 13, but only the Deluxe version with the "Front Bathroom" option has a wetbath. Despite its small size, they actually managed to squeeze a sink into the wetbath while still giving you enough room to move around a bit.
This is an excellent choice if you're not ready or able to upgrade to a larger vehicle, but would still like the self-sufficiency of a small camper with its own bathroom.
This is a nice trailer that gives you a little more space and a full bathroom. This trailer is just over 21 feet long, so it's our largest of the travel trailer options. It's a nice middle ground of short and light while still having enough space to camp with one or two small kids.

In addition to the shower and toilet, the bathroom also has a large vanity with some extra countertop space. This really makes you feel at home and lets you unpack all your toiletries, including your family's favorite toothbrush cup.

With the dinette converted into a bed and the large murphy bed folded down, it'll sleep three adults comfortably or a couple with two small kids.
Check out a video tour here.
Coachmen did the impossible with this little camper.
They actually fit a tub into a 16-foot travel trailer. Granted, it's no jacuzzi, but having a tub makes it easier to bathe the kiddos without getting water everywhere or even to do a little camp laundry if needed on longer trips.

Check out a video tour here.
So those are some of the smallest travel trailers you can get that still have a usable shower and toilet. What if you're thinking about a campervan or small motorhome? Let's look at a few class B and C motorhomes with onboard showers and toilets.
You might be surprised as how nice some of these bathrooms are.
Small Class B and C Motorhomes with Showers and Toilets
With sleeping space for up to four people, this campervan has a surprising amount of room for you and the kids. In addition to the wet bath, it has a large murphy bed that folds down in the back and a pop-top sleeping area that's perfect for the kids.
Check out a video tour here.
Coachman really knocked it out of the park with this class B motorhome. It's a nice choice for going on adventures as a couple while still maintaining a certain level of comfort.

Most campervans have a wetbath on the side of the vehicle. This van has a rear bath which lets the bathroom be a little roomier. It even has a flip-down sink and some extra drawers for storing clothes and gear.

Check out a video tour here.
This Class C motorhome has the nicest bathroom among the options on our list. Although this motorhome is just a little longer than some of the class B options on our list, it's amazing how roomy this feels inside, especially with the side pullout.
Check out a video tour here.
Built on the same Ford Transit chassis as some camper vans, this class C motorhome is just a hair bigger than most class B vans.

Jayco was really smart with the way they designed this camper's bathroom. Instead of trying to fit it all in one space, they split it up on either side of the vehicle. This lets you have a shower and toilet area that don't feel overly cramped.

The double bed in the back is raised up to allow for some convenient storage underneath that's accessible from the outside. That storage area is big enough for bulky beach toys, boogie boards, and camp chairs. (Hubby can even sleep there if he's not behaving!)
Check out a video tour here
The Winnebago Fuse is another small class C motorhome that fits a lot into its small size. It's also built on the Ford Transit platform and is only 24 feet long.
The Fuse has a unique layout that you don't normally find on smaller RVs, but it really makes the most of a small space. The bathroom isn't the biggest on this list, but it is a full bath with a separate shower, toilet, and sink.
With a queen-sized bed in the back and a convertible bed in the front, this small camper is a nice choice for couples traveling with their two small kids.
Check out this video walkthrough.
Which Small RV With a Shower and Toilet Is for You?
Yes, you can get a tiny RV and still have a shower and toilet. So which is the one for you? The tiny Scamp or the more luxurious Jayco Melbourne?
Whichever small camper you choose, be sure to check out more of my articles to help you and your family make a success of RV camping.
I also highly recommend renting (through a place like RVshare) before buying because RVs depreciate REALLY badly – so if you buy something and it's too small, don't expect to get near as much for it if you trade it in for an upgrade.
And since we all love making fun camp memories, I want to give you some FREE camp journal printables to help you keep track of everything from campground info to fun times you've had with the kids.
Get your FREE camp journal pages here.
Happy camping!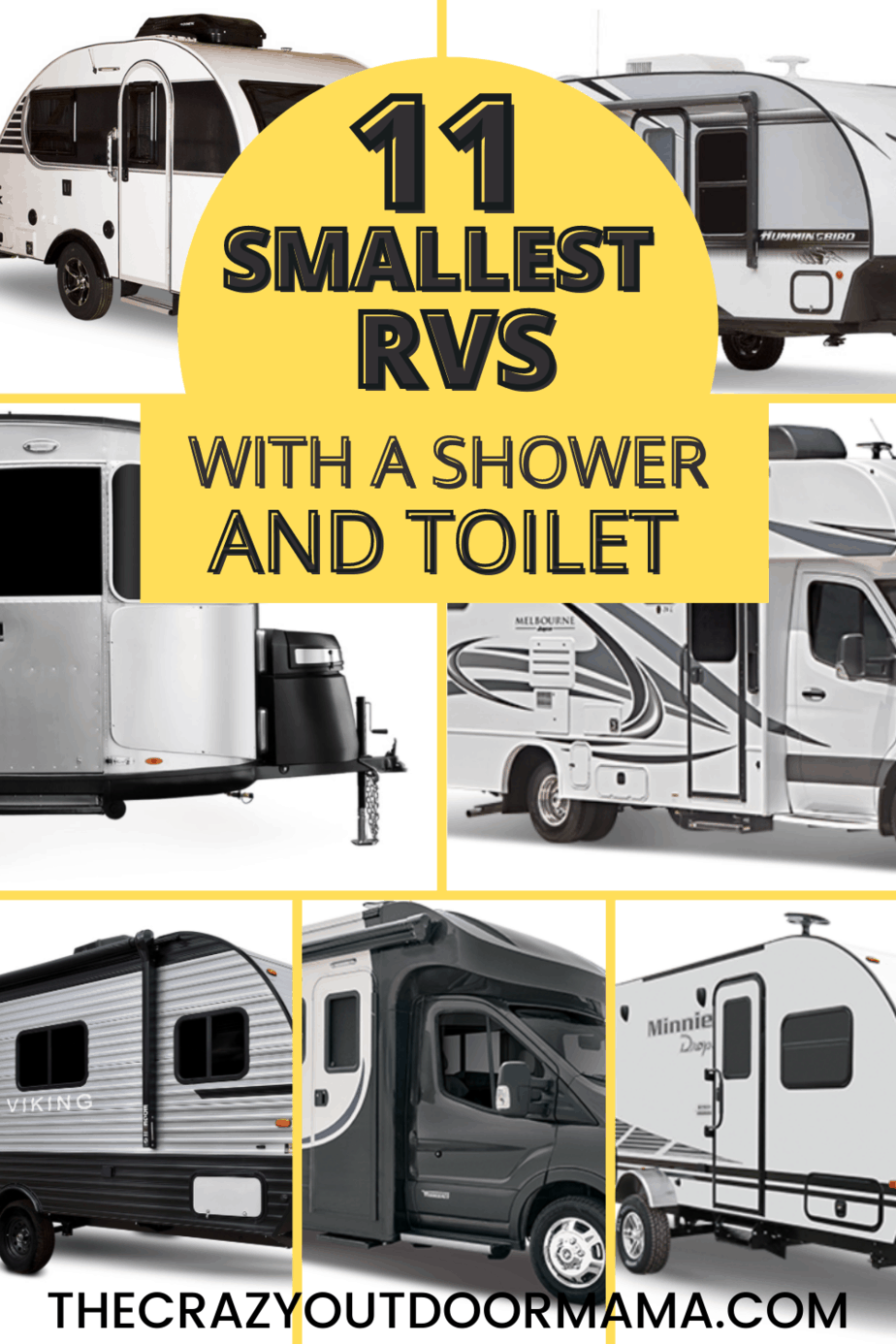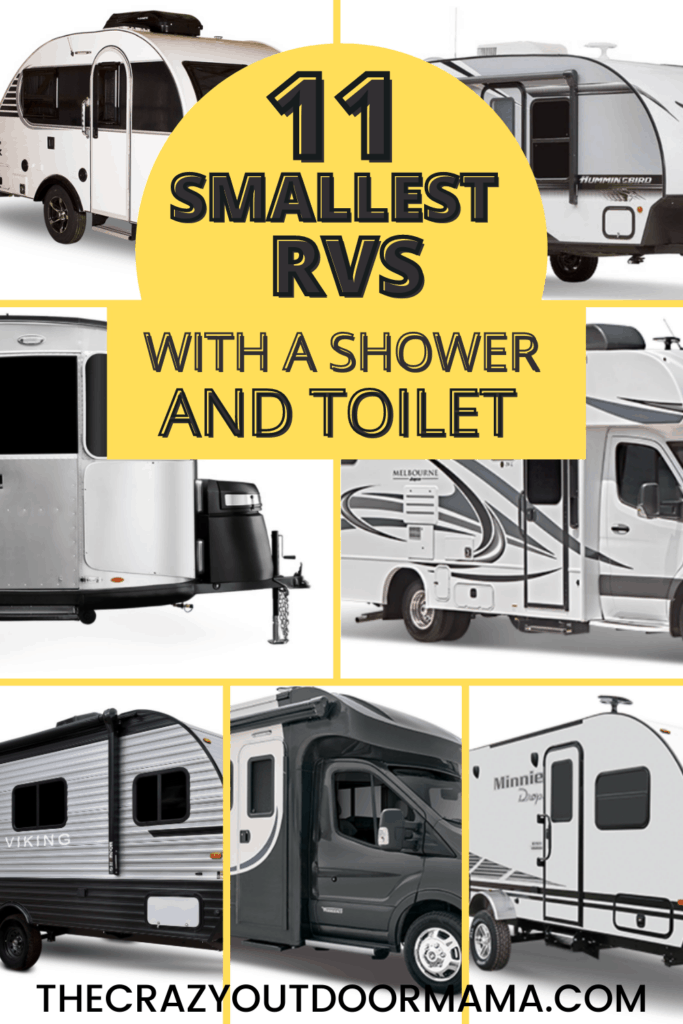 Latest posts by Stacy Bressler
(see all)