Rv camping… check. Tent camping…check. Backpacking…check. Kayak camping… hmmmm, not yet. If you've never gone kayak camping, it's time for a new adventure. The cool waters and remote river islands are beckoning, so grab your paddles and let's go!
Not so fast…
First, you need to read through this ultimate guide for camping with kayaks (if you're a canoe family, don't worry, almost everything in this kayak camping guide also applies for canoe camping). 
In this guide, you'll learn everything you need to know to plan your first kayak camping trip. Here's what I'll cover:
Essential kayak camping gear
Pro tips for planning your trip
How and what to pack on your kayak
List of kayak camping essentials you don't want to forget
Let's get started!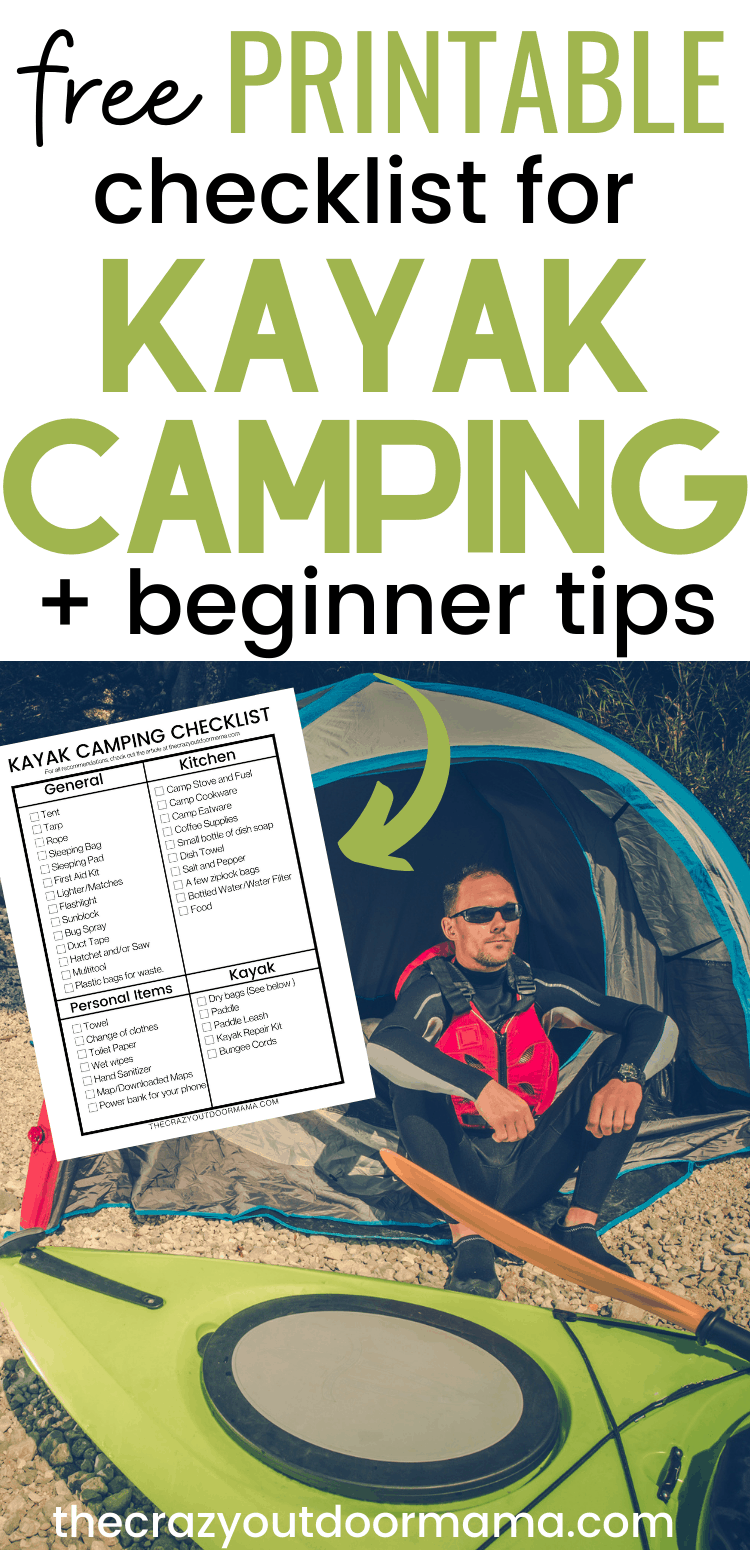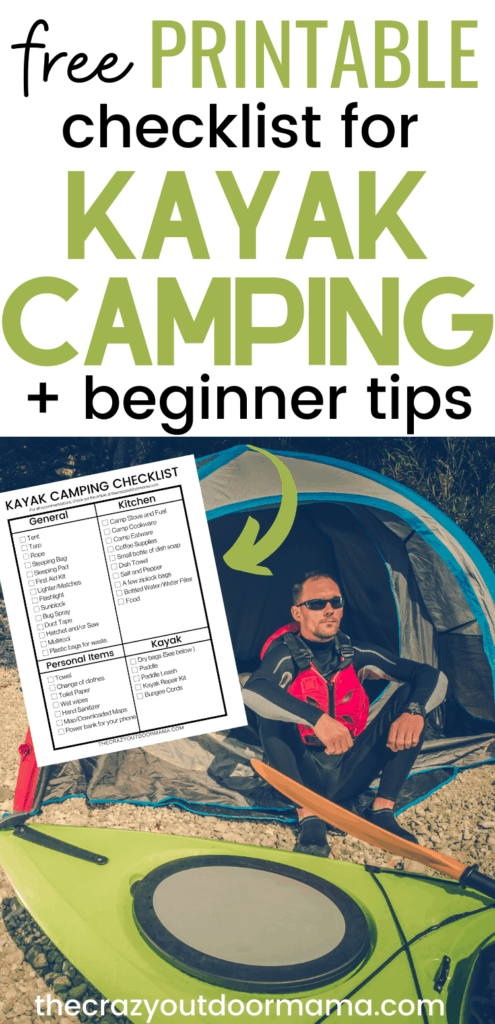 Why would anyone want to go camping with kayaks?
Camping by kayak – sounds kind of intimidating, right? Where am I gonna carry all my stuff? What if I don't find a campsite? What if I flip my kayak? (Cause y'all know that's gonna happen at least once.)
But if you think about it, using kayaks to camp isn't much different from normal backpacking. You use a lot of the same gear and kayak camping even has some advantages over backpacking.
With backpacking, you have to carry everything yourself which can get really tiring, really fast. But guess what? On a kayak camping trip, your trusty kayak does most of the work! You can even pack more gear when you're kayak camping since weight isn't as much of an issue. 
(No don't go grabbing your mini generators and espresso machines just yet, you still need to pack carefully. We'll see more about that later.)
And when you're backpacking, you know you'll complain about sore feet at least once during the trip. But with kayak camping, you can sit back, relax, and enjoy the view – no blisters necessary.
So there's no need to feel overly intimidated. A lot of this you can plan just like a normal camping trip.
But what about the kayak-specific parts? Keep reading and I'll give you some useful tips so you can launch your kayaks with confidence!
Basic Tips For Planning your First Kayak Camping Trip
Planning Your Route
Plan your kayaking route in the same way you would plan your trail routes for a backpacking trip. Except in this case, your trails are the waterways.

Before you start plotting destinations, make a rough calculation of how far you can paddle in a day. While experienced paddlers may be able to cover 15-20 miles in one day, most of us should plan for a lot less.
If you're on a lake or slow-moving river and have basic experience handling a kayak, you could probably average two miles per hour. So a 10-mile day will give you plenty of time to break for lunch, rest, and explore a little. 
If it's your first overnight trip, you'll probably want to ease into it. Just go for a night or two and don't try to cover too many miles.
Be sure to plan your first kayak trip on calm waters and of course check the weather before you go. Rivers can get dangerous with heavy rainfall and paddling in the rain is just miserable.
*Route Planning Tip – Search online for water trail maps of the area you want to visit. A lot of parks offer maps for paddlers with premarked campsites/campgrounds and other cool landmarks. For example, here's a cool site with awesome info for kayak, canoe, and SUP trips on Lake Tahoe and a guide to some of the Best Kayak Camping Trips for First Time Kayak Campers.
And last but not least, don't forget to plan your exit route.
Don't make the mistake of paddling downriver 20 miles only to realize you've got to paddle back upriver against the current and with sore muscles from the day before to make it to your vehicle. (I'm definitely not speaking from experience here.)

What To Pack
It's not as hard as you think. Most of the gear you use for backpacking trips can also be used for kayak camping – except your big stinky hiking boots. Leave 'em at home 'cause all you need are some good water shoes. (A little later I'll give you two great options for good water shoes for kayak camping.)
Although you can pack a bit more than when you go backpacking, it's still nice to have things like a tent, cook set, sleeping bag, camp stove, and other gear that's lightweight and doesn't take up a lot of space.
But because you're out on the water, there are a few extra things you'll need to get to make your trip a success. Don't worry, later on in this guide, I'll give you a list of all the essential kayak camping gear you need to pack so you don't forget anything.
Stay Safe
A safe trip is a fun trip. So as you're planning, keep these basic kayaking safety tips in mind.
Make sure you include a first aid kit in your camping gear. 
Get comfortable life vests that are easy to wear all day (especially if you're going with the kiddos). 
Plan your route carefully to avoid whitewater rapids or rough sections of the river. 
Always have a way to contact someone if you need help. 
Bring plenty of sun protection.
Tell a friend or family member that you're going kayak camping and give them a map of your planned route. (Make sure it's someone who doesn't like camping so they're not bummed you didn't invite them.)
Ok, so you've got some of the basics down. Now let's move on to the nitty-gritty.
Essential Kayak Camping Gear
Your Kayak
Almost any kayak can work for kayak camping. However, some types are better suited to certain people or types of camping excursions. Let's look at the two basic types of kayaks: sit-on-top and sit-inside. Although both work well for camping trips, they each have advantages and disadvantages.
Let's look at sit-in-tops first.

Sit-on-Top Kayak Pros:
A sit-on-top kayak for camping is best for new kayakers and fun-focused camping trips with your family.
They're stable and easy to use. Plus, they're great if you want to get off your kayak in the middle of the river to cool off. And even if you fall off or flip the kayak in deep water, just flip it back over and wriggle yourself back on – it won't be a pretty sight but you can do it. 
Sit-on-Top Kayak Cons:
If you're kayaking in cooler weather, sit-on-top kayaks aren't the best choice. Since you're sitting on top (duh!), it's much easier to get wet. That's fine when it's 90 degrees out and sunny, but when it's a brisk 50 degrees and you're paddling in cold river water, it's not as pleasant. 
Some sit-on-tops don't have waterproof hatches where you can store your gear. This isn't' necessarily a deal-breaker though. Most do have places where you can easily strap on your kayaking gear and with the right dry bags, you don't have to worry as much about having a waterproof hatch. 
*Get more specifics about using a sit-on-top kayak for camping here.
Sit-In Kayak Pros:
Sit-in kayaks are much better for cooler weather. Your lower body is protected from the cold wind and it's harder for your lower body to get wet.
If you want to take longer trips and cover more ground (I mean… water), you can find sit-in touring kayaks that are better suited to longer kayak camping adventures. They have a more streamlined shape and additional places to safely stow your gear.
Sit-In Kayak Cons:
With sit-in kayaks, you don't have as much freedom to get in and out of the water. And if you do happen to flip the kayak and fall out in deep water (pfff..like that's ever gonna happen), it can be really difficult to flip it back over, get all the water out, and get back in.
**If you want more help choosing your kayak check out my list of the 8 Best Kayaks for Your First Kayak Camping Trip.
We've covered the most important piece of equipment, your kayak. Keep going to see some more essential gear you shouldn't forget.
What to Bring Kayak Camping (and your free printable kayak camping checklist!)
Without further ado, here's the checklist of essential gear for kayak camping. Depending on your needs, there may be some more stuff you'll want to add to the list, but these are the things you especially don't want to forget.
Click on this link to be brought to the PDF of this kayak camping checklist!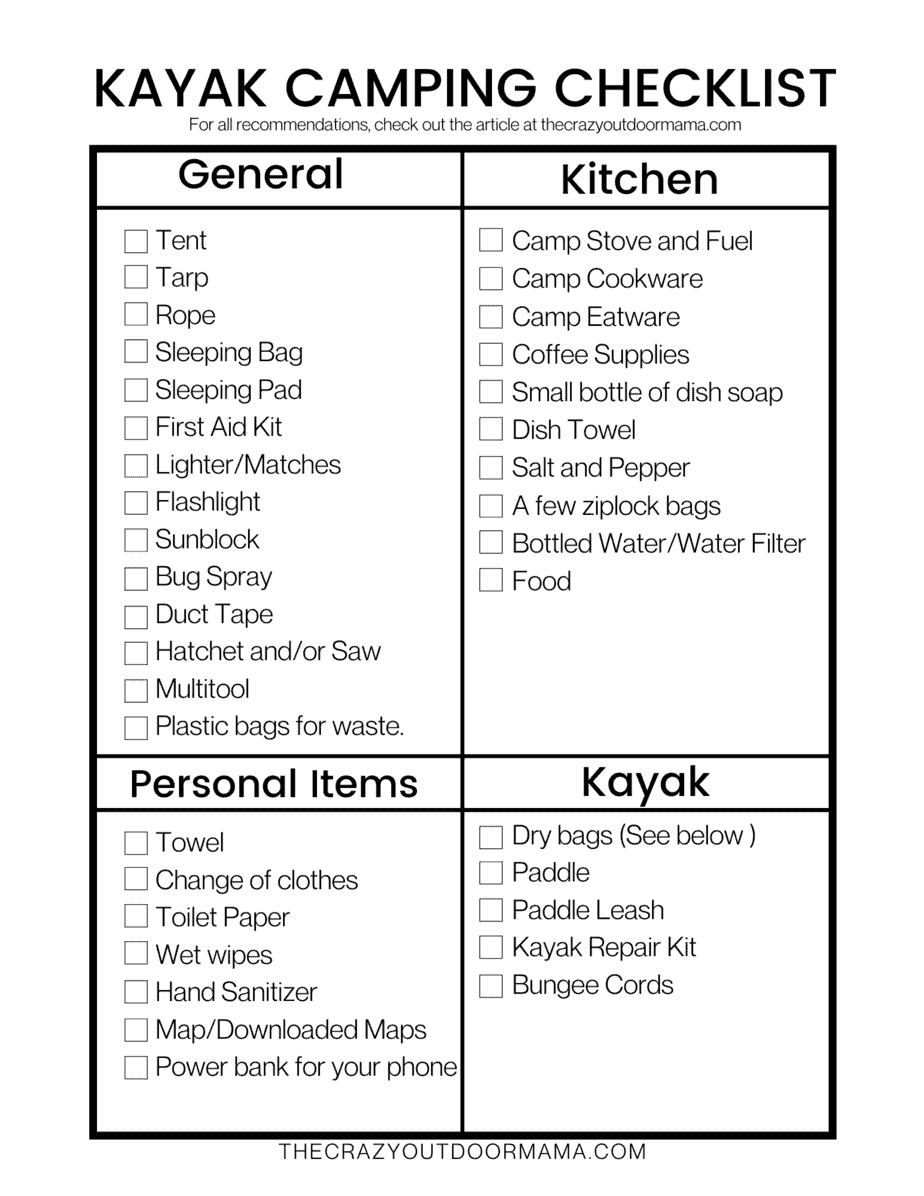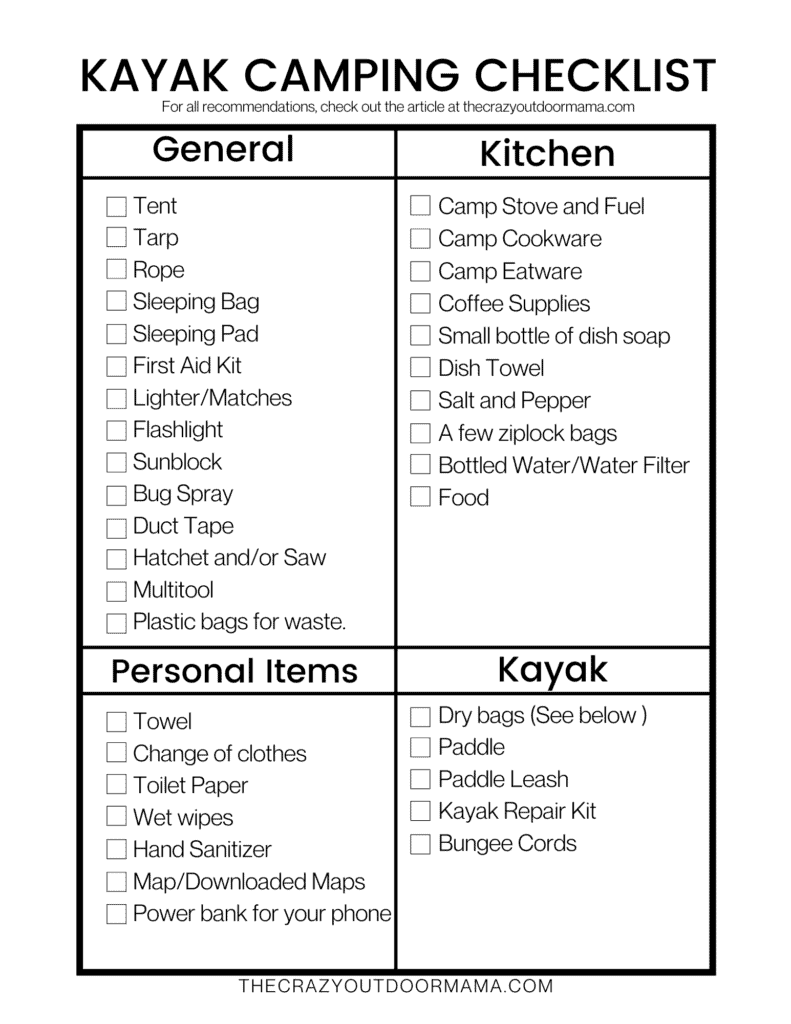 General Camping Gear
Tent
Tarp
Rope
Sleeping Bag
Sleeping Pad
First Aid Kit
Lighter/Matches (Or your favorite two sticks to rub together)
Flashlight
Sunblock
Bug Spray
Duct Tape (You should really have duct tape with you like 24/7, all the time, everywhere you go. That's just good life advice.)
Hatchet and/or Saw
Multitool
A few plastic bags for dirty clothes, garbage, etc.
Camp Kitchen
Camp Stove and Fuel (The

Solo Stove Lite

is a great option!)
Camp Cookware
Camp Eatware
Stuff for Coffee
Small bottle of dish soap
Dish Towel
Salt and Pepper
A few ziplock bags
Bottled Water or a Water Filter 
Food
Check out my article Camp Cooking for Kayakers – Your Kayak Camping Kitchen Guide to get some ideas for what food to pack and a few simple recipes!
Personal Items
Towel
Change of clothes
Toilet Paper (For those of us who aren't outdoorsy enough to use just leaves)
Wet wipes (If you really want to feel like you're glamping!)
Hand Sanitizer
Map (If you're going old-school) or a smartphone with downloaded maps
Power bank for your phone
Kayak Specific Gear
Dry bags (See more about these below)
Paddle
Paddle Leash
Kayak Repair Kit
Bungee Cords
A Few Simple Things That Will Make Your Kayaking Trip Easier
Here are a few simple gear items that you might not think about when packing, but will make your life a whole lot easier while you're on your kayaking trip.
Dry Bags
Dry bags are a no-brainer. They're made from waterproof materials and have special closures that keep water from getting in. And ff you'll be using your phone for navigating, be sure to get a small waterproof pouch with a strap that lets you see your phone while keeping it protected. 
Here are some great options if you need to get some dry bags.
-This one is a basic dry bag that comes in several sizes plus a bonus phone pouch.
2. Eark Pak Waterproof Duffel Bag
Perfect for when you have a lot of stuff to pack.
3. Yeti Waterproof and Submersible Bags
These are the last waterproof bags you'll ever need to buy. Loops on the outside make it easy to strap on your kayak. Drag 'em over rocks, rapids, sticks, and more – they like it rough.
Check out my DRY BAG GUIDE.
Sunglass Tether
River beds are filled with sunglasses that have been lost on kayaking and canoeing trips. You'll be in for a day or two of intense squinting if you lose your glasses in the water.
A strap like this Ukes Premium Sunglass Strap is comfortable and even floats so if your sunglasses do end up in the water, you might actually have a chance of retrieving them. 
Kayak Repair Kit
A small crack or puncture can quickly ruin your kayak camping trip, especially if you're far from civilization. So make sure to have a basic repair kit on hand. They're lightweight, inexpensive, and can help get you out of some sticky situations.
Here are two useful kits to bring along.
Good Water Shoes
These are worth their weight in gold. Sure you could go with just flip flops, but have you ever tried pulling a kayak up a muddy riverbank in flip flops? It's not pretty, believe me.
For a kayaking camping trip, look for something that's halfway between a traditional water shoe and a hiking sneaker. Here are two great options. 
Mishansha Quick Dry Water Shoes 
Comfy Kayak Seat
Some kayaks already come with a seat, but upgrading to get a little extra cushion under your bum and a touch of back support makes your days in the kayak a lot more enjoyable.
Here are two good options that'll work on most kayaks.
Time to Pack Your Kayak
So now you've got everything on your list. You double-checked it twice. It's time for your dry-run.
Skipping this step is likely to end up in a very embarrassing moment at the boat launch where you realize you can't actually fit all your stuff in your kayaks. 
So before your trip, take your kayaks and all your kayak camping supplies out in the backyard and figure out how you're going to pack it all.
Check out this video and my article on How to Pack Kayaks for some more detailed tips for prepping your kayak for your camping trip.
A couple of things to remember:
Keep things like bottled water, snacks, first aid kits, and navigation equipment in an easily accessible place that you can reach while paddling. 
Make sure everything that needs to stay dry is either in dry bags or a waterproof compartment. 
Try to distribute the weight evenly from front to back and side to side.
Make sure that dry bags and everything that's not in a compartment is strapped down so if you happen to flip you won't use your gear.
Ready to Go?
There you go, you've got everything you need to plan your first canoe or kayak camping trip! Once you plan your route, get everything on your list, fit it all on your kayaks, and finally make it out on the water, don't forget to HAVE FUN!
Splash each other with your paddles, belt out some campfire songs, and enjoy a peaceful cup of early morning coffee by the river. 
Looking for some more kayak camping inspiration?
And check out my other kayak camping articles:
12 Best Kayak Trailers for Easy Kayak Transportation
KAYAK CAMPING DESTINATIONS – 5 OF THE BEST PLACES FOR YOUR FIRST OVERNIGHT KAYAK TRIP
CAMP COOKING FOR KAYAKERS | YOUR KAYAK CAMPING KITCHEN GUIDE
HOW TO PACK YOUR KAYAK FOR A CAMPING TRIP – COMPLETE GUIDE + BONUS PACKING LIST
8 BEST KAYAKS FOR YOUR FIRST KAYAK CAMPING TRIP – COMPLETE GUIDE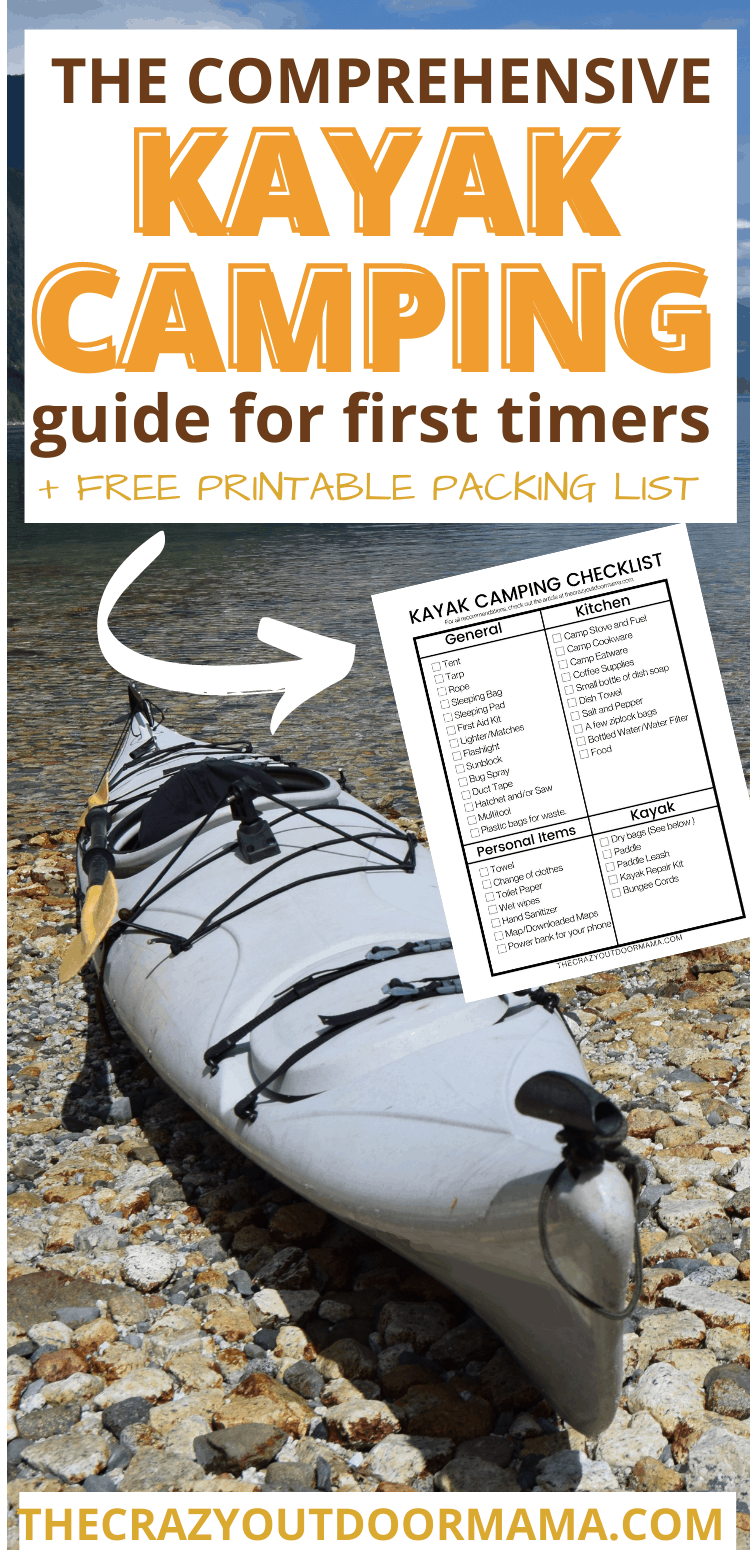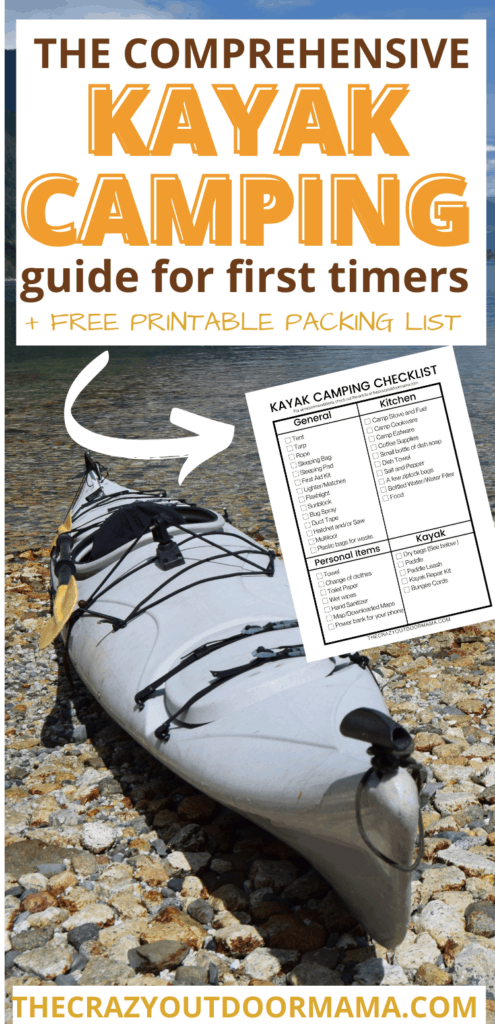 Latest posts by Stacy Bressler
(see all)