How much you enjoy your kayak camping trip can depend a lot on what gear you pack. Pack too little of the wrong stuff and it's easy to end up sunburnt, blistered, and hungry.
Pack the right kayak camping gear and you'll stay safe and have a blast! In addition to the basics like a kayak, first aid kit, sleeping bag, and other basic camping gear, what else should you bring along to help you enjoy your trip?
Here are my top picks.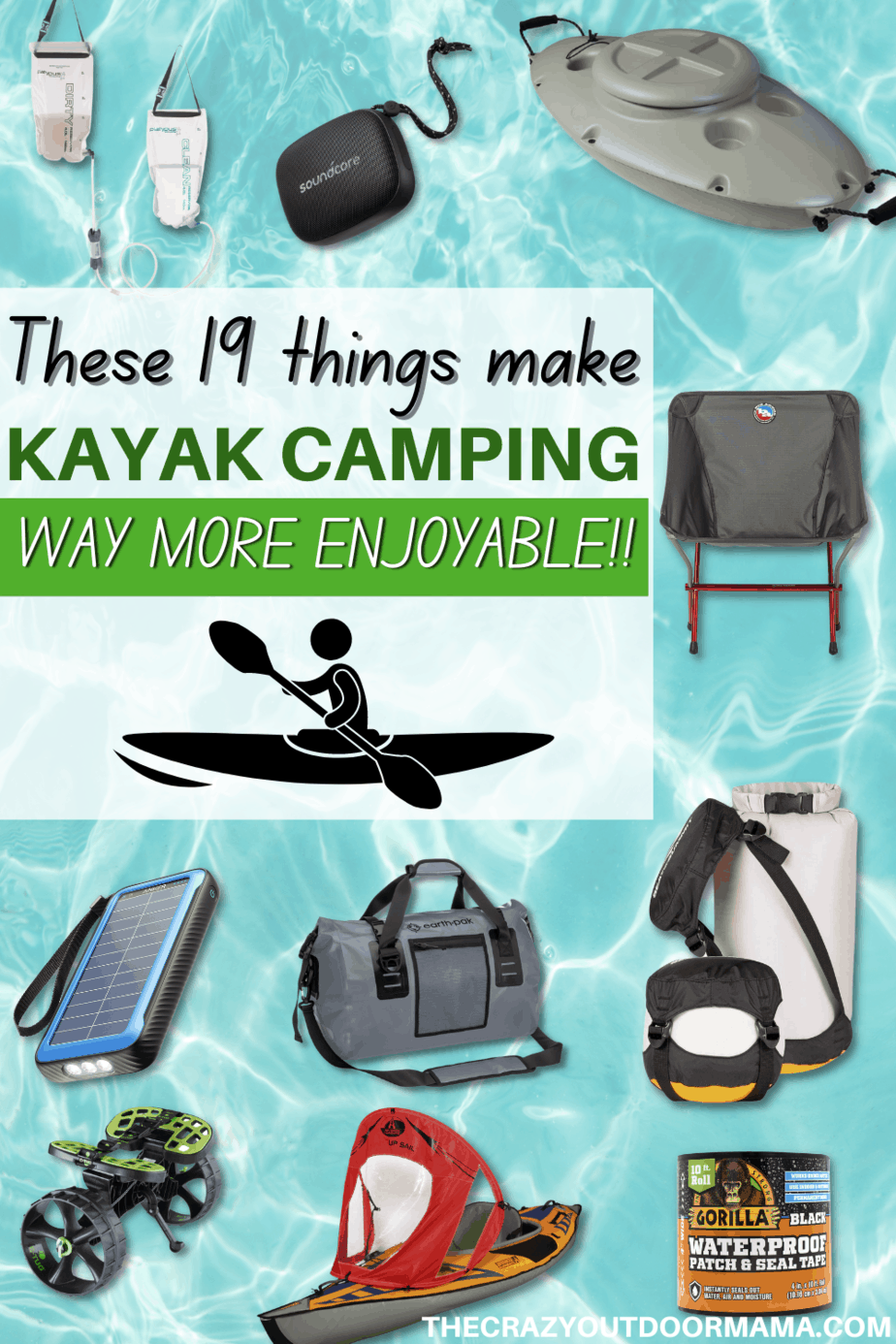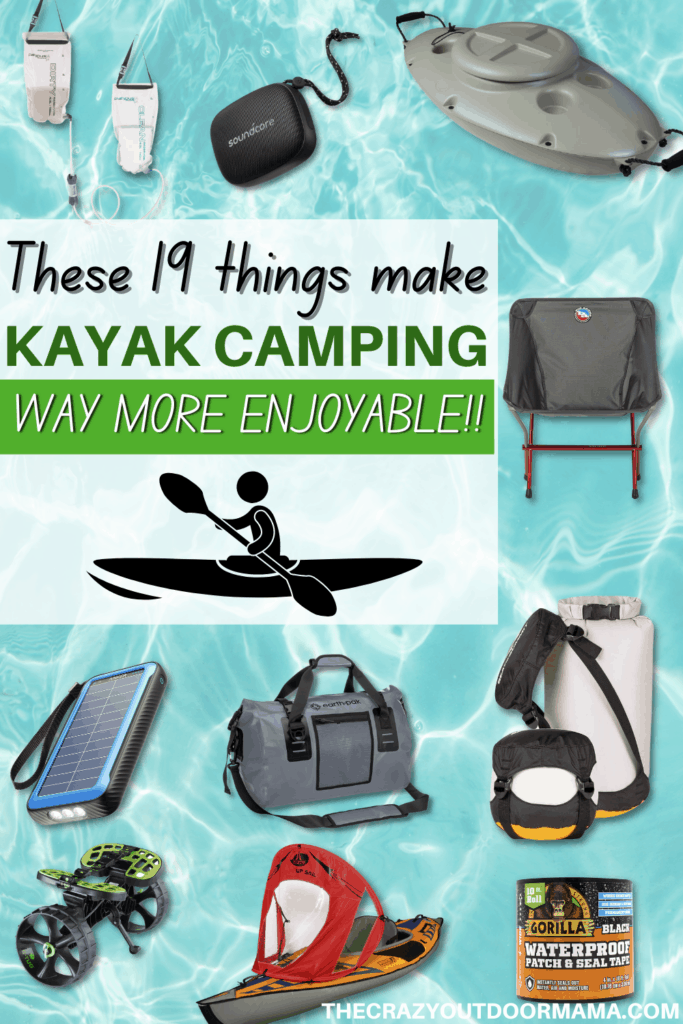 About this Gear
Just to be clear… this is not a comprehensive list of everything you should bring. (If you want that, check out my Ultimate Kayak Camping Checklist + FREE Downloadable Gear Lists) These are some cool items to add to your kayak camping gear that will make your next kayak camping trip a whole lot more enjoyable!
Even if you're an old kayaking pro, it's worth checking out some of these things.
Camping gear has come a long way in the last few years and there's some pretty cool stuff out there you probably never thought about taking—ultra-compact camp chairs, waterproof wireless speakers, a floating insulated cooler! Sweet! 
Keep reading and see how you can take your kayak camping to the next level!
19 Pieces of Kayak Camping Gear That'll Help You Have Your Best Trip Yet!
*Important! These aren't organized in any special way. Some are for comfort. Some are for fun.
For each item, I'll explain why it's worth getting one for your next kayak camping trip. Plus, I'll give you at least one of the top options for each piece of gear.
P.S. If you want help planning your next kayak camping trip, don't miss this post:
Duffel Dry Bag
A dry bag is an essential for any boating trip. Small dry bags are great for packing jackets, sleeping bags, and such. But if you're a heavy packer or maybe on a longer camping trip, it's worth it to get a rugged dry bag duffel. 
These are a bit larger than traditional dry bags and have extra straps and loops that make them a lot easier to securely strap to your boat. And if you'll be doing a lot of portaging, you'll appreciate having one with backpack straps that make it easier to carry.
Yeti makes their Panga series of waterproof duffels. They're overbuilt, rugged, and have straps that let you carry them like a backpack. However, they can get a little pricey. 
Earth Pak makes a basic waterproof duffel that'll give you extra storage space for items you need to keep dry. Plus, it's a whole lot cheaper than the Yeti!
Source: Amazon
Check out the Earth Pak Waterproof Duffel.
Compression Dry Sack
Another type of dry bag that you should consider for your next kayak camping trip is a compression dry sack. Compression sacks are great for reducing the size of gear like sleeping bags, jackets, and clothing. But most compression sacks are not waterproof. That means you'd need to buy extra dry bags to put the compression sacks in.
Why not kill 2 birds with one stone with a 2-in-1 compression dry sack? The Sea to Summit Event bags are a great choice.
Source: Amazon
They have a roll-top closure like many other dry bags. But they also have a waterproof, yet air-permeable bottom that lets the air out when you pull on the four straps to compress whatever you have inside. Pretty cool right!?
Check out the Sea to Summit Event bags.
Get a few of these and you might be able to compress your gear enough that you can fit a small camp chair! Speaking of camp chairs…
Lightweight and Compact Camp Chair
Camp chairs don't have to be a piece of gear that's limited to the car campers and RVers.
Now backpackers and kayak campers can have a comfy place to sit their bums thanks to a new generation of ultra-compact camp chairs.
Kayaks aren't exactly the most comfortable thing to sit in all day. Imagine after a long day of paddling—instead of sitting on a log, rock, or the ground—relaxing in a comfy camp chair by the fire.
Big Agnes makes some pretty cool compact camp chairs that are perfect for your next kayaking trip. The Mica Basin chair weighs just a hair over 2lbs and can support up to 300 pounds. Plus, it's actually comfortable to sit in! Not like some that are only just a hair more comfortable than a pointy rock.
Source: Amazon
Check out the Big Agnes Mica Basin.
Transparent Dry Bag
Have you ever needed something but then forgot which dry bag you put it in? It's REALLY annoying to have to open up each one, dig through the contents, and then finally find it once all your gear is strewn across your campsite. If that sounds like something that might happen to you, having one or two clear dry bags can make your life a whole lot easier.
They work just like a normal dry bag, except you can see exactly what's inside. So when you're trying to find your Crazy Camping Family shirt… you'll know exactly where it is. 
The SeaLine Baja View Dry Bag is a great choice. Don't miss their Amazon store, they've got a really cool selection of dry bags and backpacks!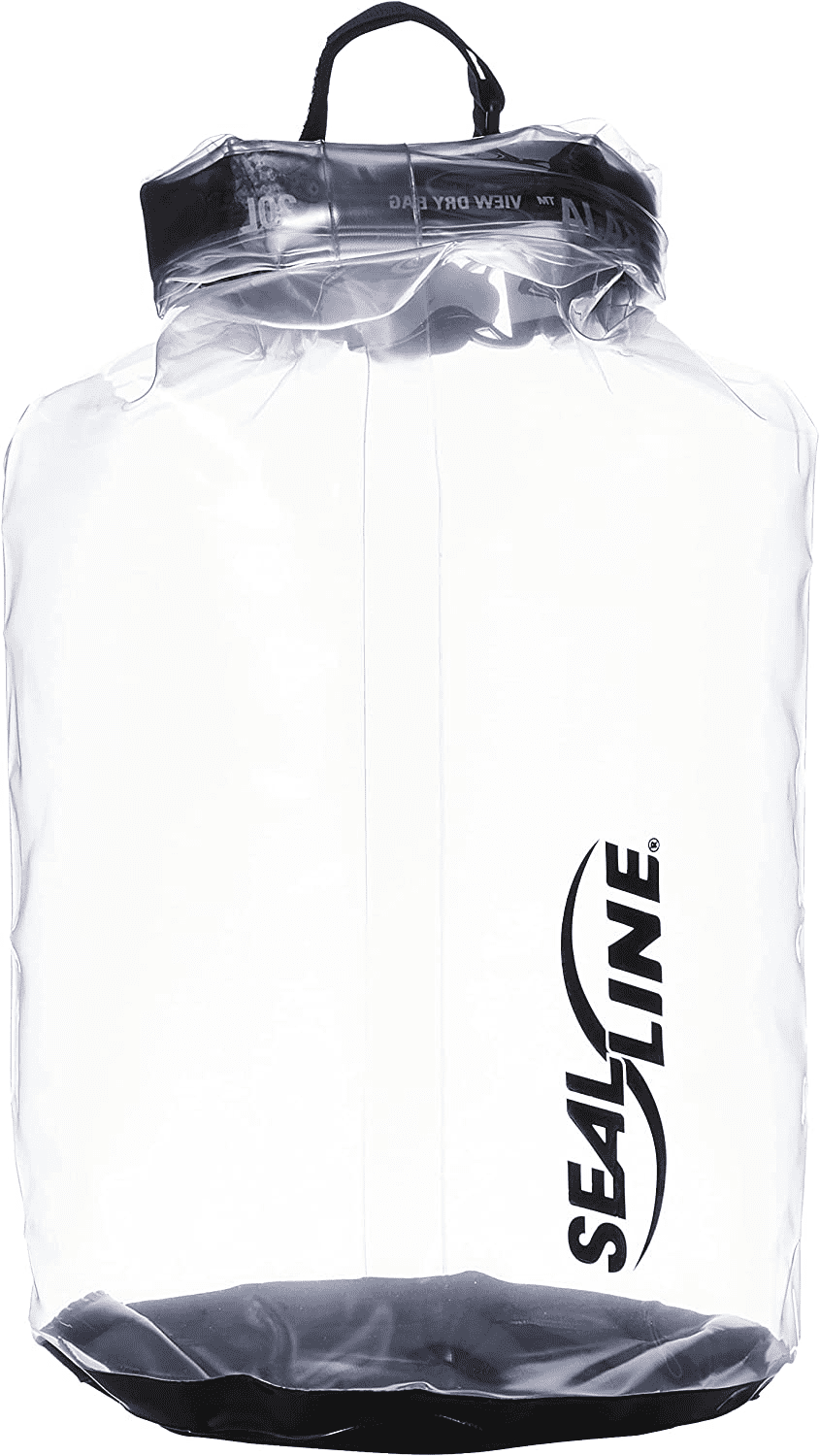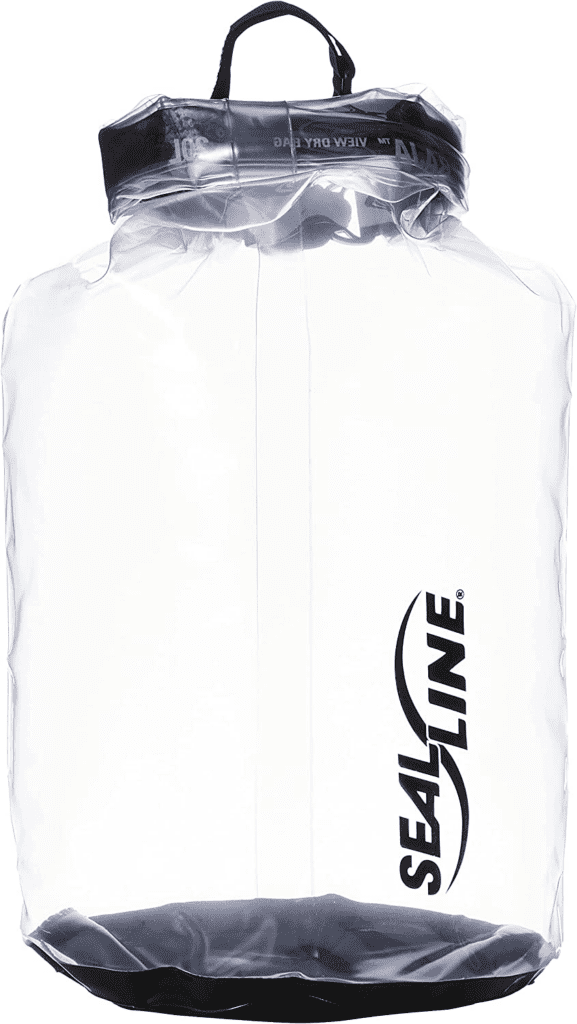 Check out the SeaLine Baja View Dry Bag.
*What size dry bags should you get? Don't miss my article What Size Dry Bags Are Best for Kayaking and Kayak Camping?
Waterproof, Rugged Accessory Case
Sure, you could put your phone, keys, and wallet in a ziploc bag and hope for the best. But a waterproof rugged accessory case—like the Pelican 1060 Micro—will give you 100% peace of mind. 
It provides IP67 waterproof, dustproof, and crushproof protection for your more delicate items. One of the product photos on Amazon even shows it strapped to the top of a kayak!
Source: Amazon
Check out the Pelican 1060 Micro.
Gravity Fed Water Filter
On extended kayaking trips, you're gonna need to filter some water. It's just impossible to carry all the water you need on a multi-day camping trip. Even on shorter trips, bringing a water filter can help reduce the overall gear weight and volume.
Gravity filters are a super convenient way to purify water, especially for a large group. Instead of getting an arm workout from a normal pump filter, a gravity-fed one does the work for you. While setting up a campsite, just fill up the top bladder with water, hang it from a tree limb, and in a few minutes, you'll have several quarts of water.
Check out the Platypus GravityWorks High-Capacity Water Filter.
Source: Amazon
And if you want more info on getting clean water while kayaking, don't miss my complete guide on How to Filter Water While Kayak Camping.
A Floating Insulated Cooler
Some floating coolers are made to be stationary and used in a swimming hole or next to your boat while it's not moving. But the CreekKooler Floating Cooler is actually made to be towed behind your kayak. 
Its 30-quart capacity is perfect for packing some extra food and drinks on extended kayak camping trips. It's also a great choice when kayak camping with groups since you can take turns towing it. 
It'll create a little extra drag behind your boat, but it's minimal—especially if you keep the tow rope short.
Source: Amazon
Check out the CreekKooler Floating Cooler.
Water Resistant Headlamp
Electronics and water do not mix. And since you'll be around a lot of water, it's worth it to look for water-resistant versions of common camping gear—like a headlamp.
The Energizer Vision is a budget-friendly choice. It's IPX4 water-resistant and features a rechargeable battery you can recharge with a USB cable.
Check out the Energizer Vision Headlamp.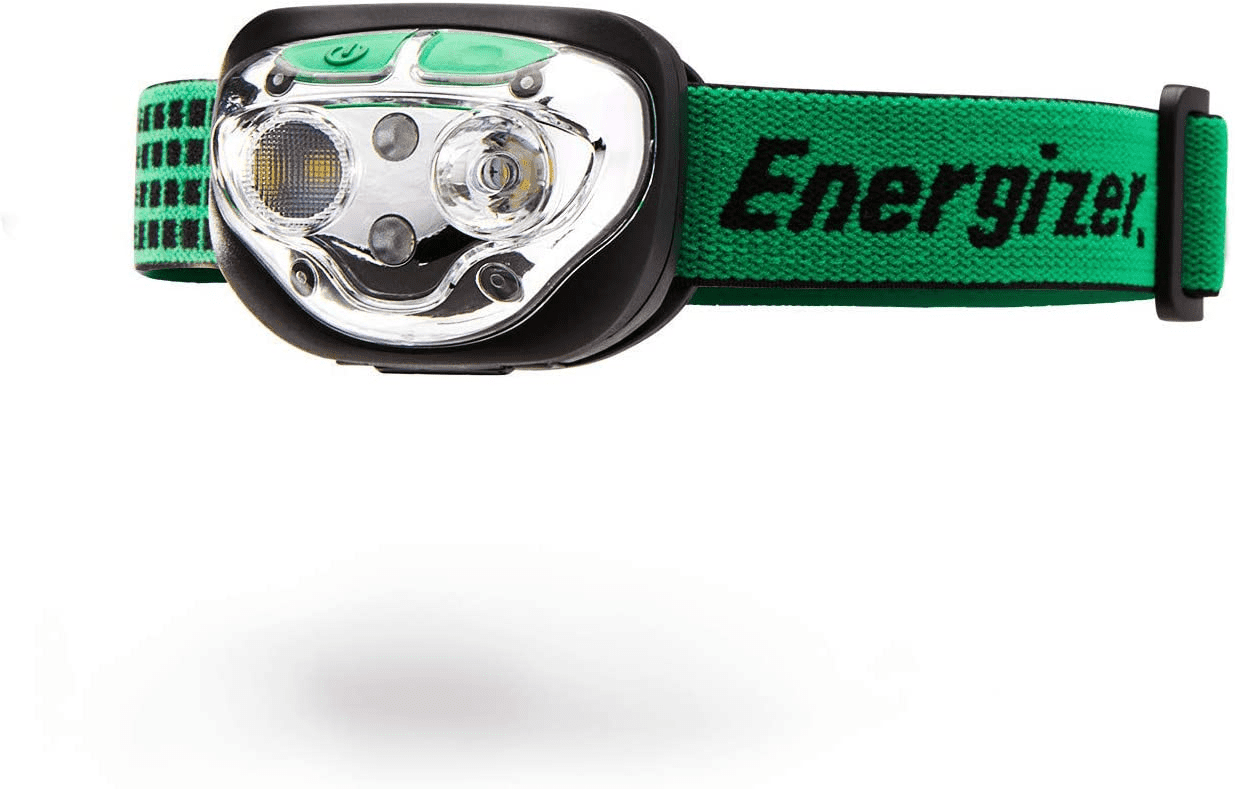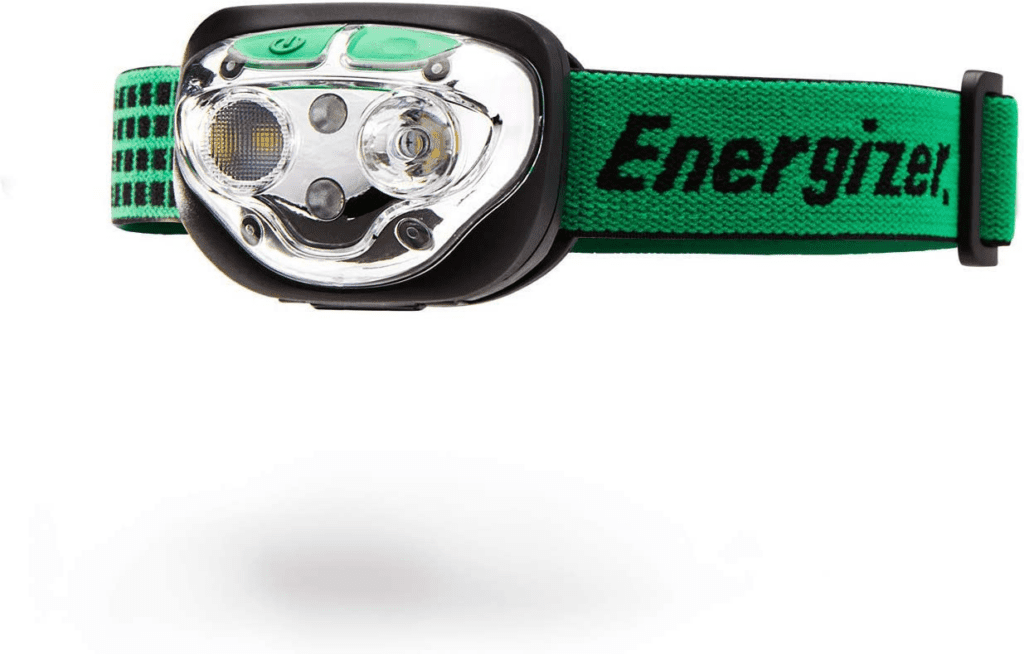 But how will you recharge it if you don't have access to an outlet? Check out the next piece of kayak camping gear.
Splash Proof Power Bank + Solar Charger
We depend more and more on our electronics, even when camping. Since most modern smartphones barely last a day on a full charge, a power bank is a smart choice to bring along camping.
But to deal with the rough (and wet) environment of kayak camping, it's smart to have a more rugged option.
The Anker PowerCore Solar is a perfect choice. The 10,000 mAh version has enough juice to recharge most smartphones 1-2 times. It's splashproof so you can strap it to the top of the kayak in the sun to help it recharge while paddling. Plus, it even has a built-in flashlight!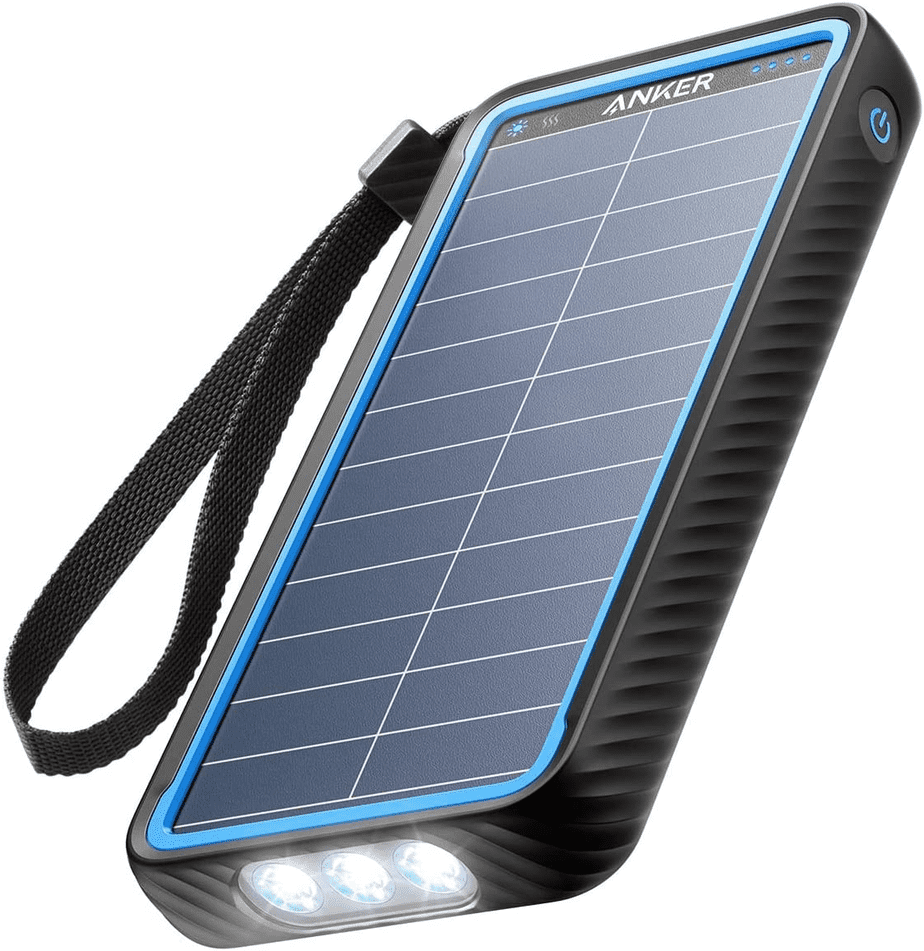 Source: Amazon
Check out the Anker PowerCore Solar.
A Better Sleeping Pad
We usually expect to not sleep as well while camping. But that doesn't mean you have to be content with sleeping on the cold ground or an outdated foam pad.
Why not try a self-inflating sleeping pad?
Sea to Summit makes some really great sleeping pads that are surprisingly comfortable and compact when rolled up. They inflate most of the way on their own and just need a few breaths of air to fine-tune the firmness. Plus, they do a really good job of insulating you from the cold ground. 
Check out the Sea to Summit Comfort Light. It weighs less than 1.5 lbs but still provides 2 inches of foam+air cushioning. Plus it packs up to about the size of a thermos.


Check the current price.
A Decent Multi-Tool
Most multi-tools are made for the construction site so they end up having a bunch of stuff you don't really need while camping. The Leatherman Signal, on the other hand, is a multi-tool made for camping.
In addition to the normal pliers, saw, knife blade, and bottle opener, it's also got an emergency whistle, fire-starting ferro rod, and an end that doubles as a small hammer you can use to help pound in tent stakes.
Source: Amazon
Check out the Leatherman Signal.
Patch and Seal Tape
Whether you're using an inflatable kayak or a hard body kayak, a ding, a crack, or a tear can put an end to a great kayak camping trip. That's why it's important to always have a kayak repair kit on hand. But trying to mix repair epoxy in the wild can get messy, especially if you don't have much experience using it.
A simpler alternative to a traditional repair kit is to use a type of sealing tape— like the Gorilla Waterproof Patch and Seal Tape. Imagine duct tape and superglue had a child that got into bodybuilding and steroids. That's Gorilla Waterproof Patch & Seal. Use it to seal cracks, tears, and dings in both hard body and inflatable kayaks.
Source: Amazon
Check out Gorilla Waterproof Patch and Seal Tape
Sail
When the wind's going the same place you are, why not make it work for you? A sail, like the Advanced Elements Rapidup Kayak Sail, helps you harness the power of the wind and give your arms a rest. It's lightweight and can easily be set up and taken down while you're out on the water.
Source: Amazon
Check out the Advanced Elements Rapidup Kayak Sail.
Waterproof Floating Phone Pouch
If you opted not to get a waterproof and rugged accessory case to hold things like your phone, then it's a good idea to get a floating waterproof phone case.
Waterproof phone cases protect your phone from moisture, but what happens if they accidentally get dropped in the water? They sink like a rock. Goodbye brand new iPhone 13 ProMax. 😬😵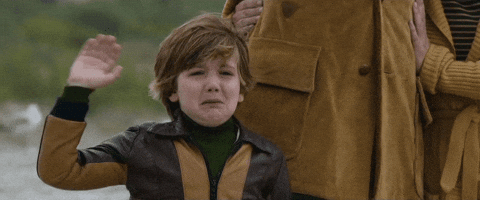 Get a floating phone case for kayak camping like the PSHYX Floating Phone Bag with an inflatable ring around the phone area. It protects your phone from the water and if it happens to slip out of your hands into the river, it's not gone forever.
Source: Amazon
Check out the PSHYX Floating Phone Bag.
Paddling Gloves
A long day of paddling can be hard on your hands. Get sun and blister protection with a set of paddling gloves like the Palmyth Stubby gloves.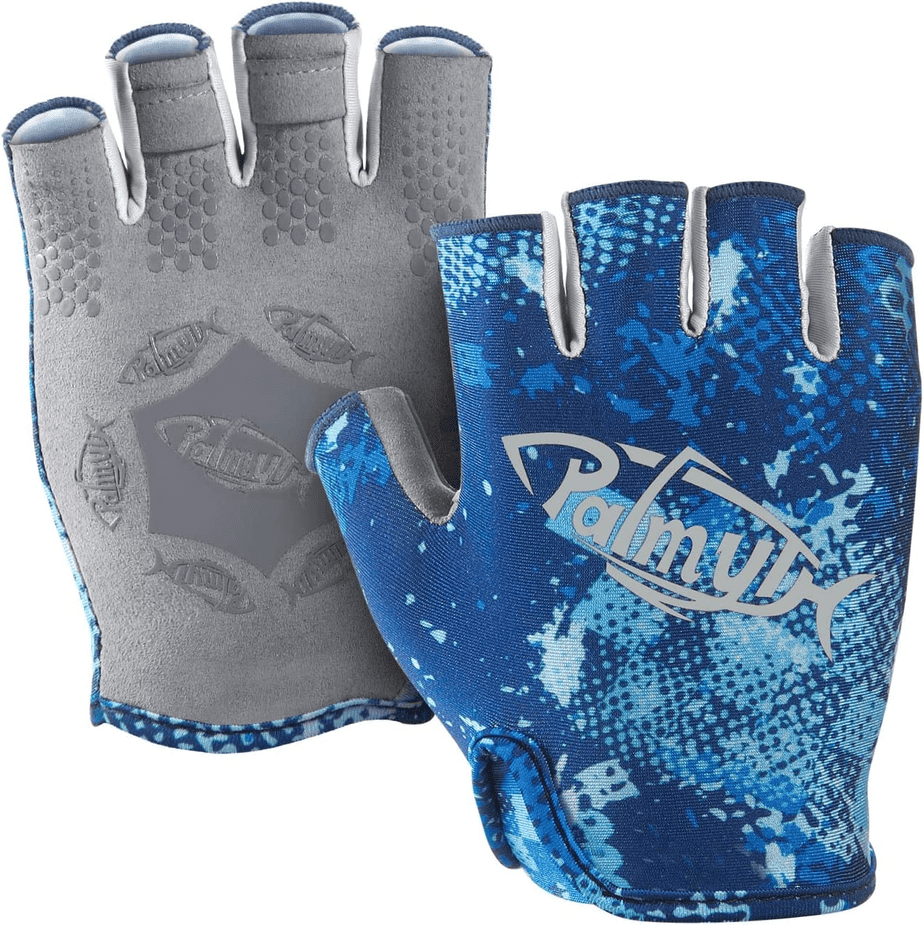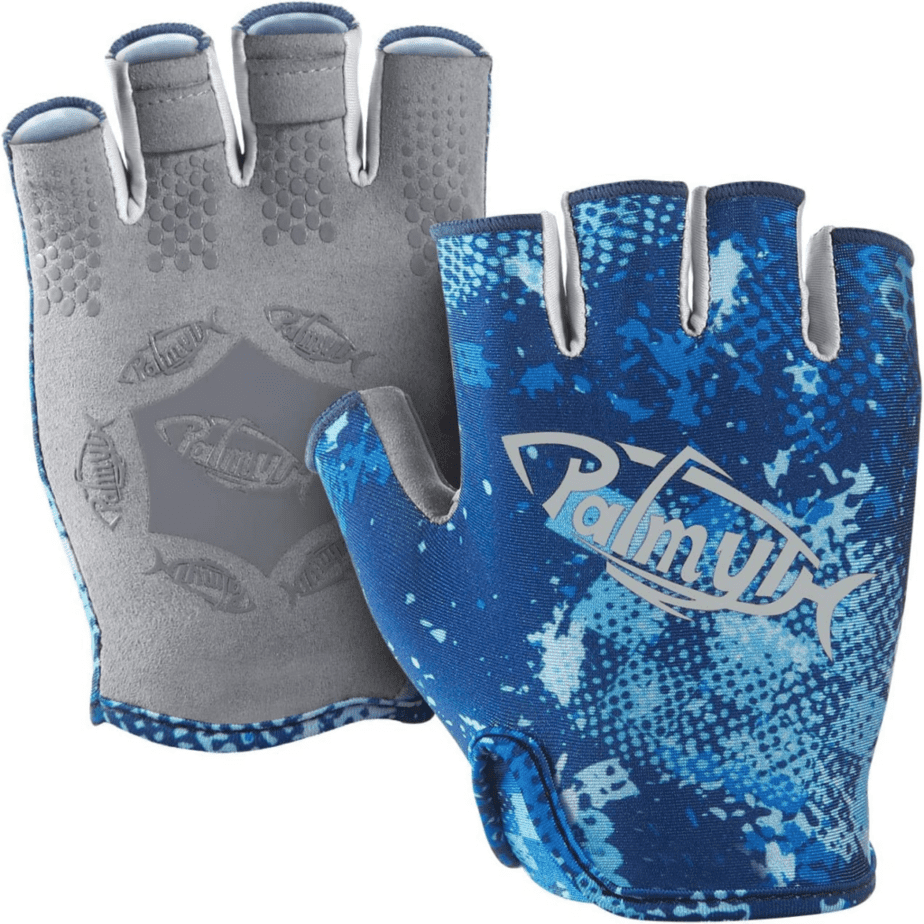 Check out the Palmyth Stubby Paddling Gloves.
Floating Sunglasses
Yes, I know… you'll look great with your Ray-Bans or Versace sunglasses while kayaking. But they're expensive.
And they sink.
You'd be surprised at how many pairs of expensive sunglasses are at the bottom of our nation's waterways.
A better option is to get a pair of floating sunglasses, like Bombers. They're fun, comfortable, and won't sink when they fall in the water. Plus, they don't cost an arm and a leg.
Source: Amazon
Check out Bomber Sunglasses.
Waterproof Wireless Speaker
Let's face it, you've probably fantasized at least once about paddling across a lake, wind in your hair, with Sailing by Christopher Cross playing in the background. A small waterproof wireless speaker can make those dreams come true. 😜🤣 It's also great for listening to your favorite playlist around the campground in the evening.
*Just don't play it too loud so as not to disturb other campers.
The Anker Soundcore Icon Mini is a great choice for boating. It's about the size of a deck of cards and has IP67 water resistance. Plus, it's got a built-in strap so it's easy to attach to your boat or backpack.
Source: Amazon
Check out the Anker Soundcore Icon Mini.
Kayak or Canoe Cart
An empty kayak can be heavy and awkward to get from your vehicle to the water. Portaging over rough ground with a fully loaded kayak is an even bigger chore.
The RAILBLAZA Ctug Kayak Cart makes this part of kayak camping a whole lot easier. It lets you wheel your kayak from car to water easier than ever. And you can even take it apart and pack it in your kayak for when you have to portage short distances during your trip.
Source: Amazon
Check out the RAILBLAZA Ctug Kayak Cart.
Comfortable Kayak Seat
Kayaks can be rough on your lower back and bum, especially on multi-day kayak camping trips. Enjoy paddling more with a supportive kayak seat. 
The Skwoosh High Back Kayak Seat with Lumbar Support is a nice option. It's got a gel pad seat cushion and adjustable straps to help keep you upright or let you kick back and relax. Plus, there's a lumbar support pillow that velcros to the back and can be moved up and down as needed.
Source: Amazon
Check out the Skwoosh High Back Kayak Seat.
Lightweight Sleeping Bag
Skip the giant sleeping bag you used to take car camping and graduate to a compact and lightweight backpacking sleeping bag.
The cool thing about a lot of compact sleeping bags is that they can fit through the waterproof hatch openings in most kayaks. So if you're able to pack them in the hatches, you're less likely to end up with a soggy sleeping bag when you paddle into your campsite.
The Marmot Voyager 55 is a great choice for a warm-weather sleeping bag and summer kayak camping trips. (It's one of the ones I featured in my article 11 Best Warm Weather Sleeping Bags for Summer of 2022)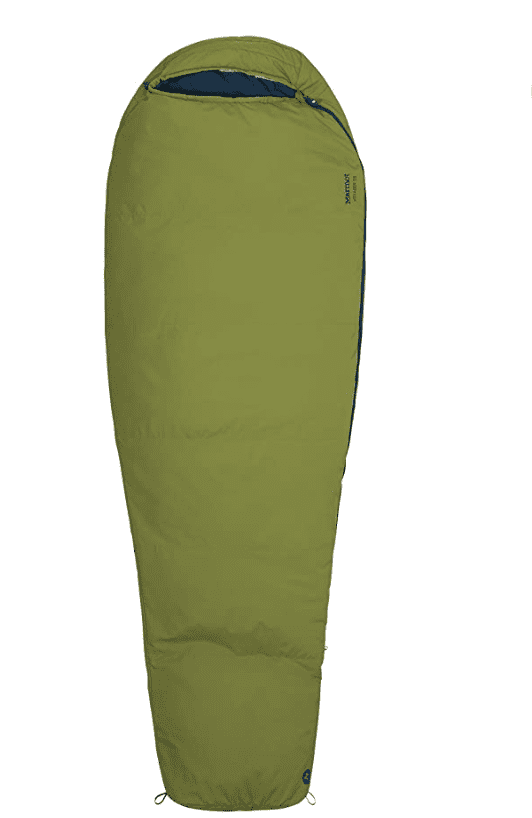 Check the current Marmot Voyager 55 price.
Ready to Take Your Kayak Camping to the Next Level?
Kayak camping gear that used to be considered a luxury or just too heavy, is now more easily accessible, lighter, and cheaper. That means you can pack more comforts that help you enjoy your kayak camping adventure without ending up with an overloaded boat!
Check out some of my other kayak camping articles that'll help make sure you have a blast (and avoid forgetting important items) on your next overnight kayaking trip.
Latest posts by Stacy Bressler
(see all)